Toys, fun, bouncing, spinning, engaging and interactive games, all while keeping your baby stationary in a location? Could it be? Parents love activity centers and exersaucers for many reasons. First, they are the perfect and relatively portable place to put your baby while you need to do something and guarantee you baby isn't moving. Need to shower? Get dressed? Take out the garbage? Activity centers are perfect for this. Second, the good activity centers are truly engaging for your child, combining several whole-body activities that combine multiple senses in play. For instance, the baby can bounce, walk/spin around, use their hands to manipulate little toys, and learn cause-and-effect relationships. There's also a little secret for parents who know their baby needs to poop but might be a bit constipated: activity centers are one of the best "homeopathic" laxatives! :-) We also want to point out that research shows that babies who use these activity centers, bouncers, and exersaucers, show no difference in motor development relative to babies who do not. So while there's no cause for concern with using these, there's also no cause to believe that it will benefit your baby in any particular way.
A good activity center tends to be around $100 - but you'll get a lot of use out of it, and likely will be able to sell it and get some money back after a year of use (think Craigslist!).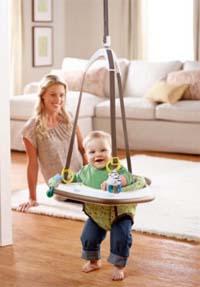 There are so many varieties of activity centers, the task of finding the perfect one can become a little daunting. So we're here to help you out a bit. We've scoured reviews, read up on recalls, asked over a dozen moms, and compiled all the information here in our list of the 5 best baby activity centers. These ratings and reviews are for 2016, and includes many of the new and popular activity centers that have recently hit the market. If you are looking for the best baby jumper, we recommend the awesome Graco Bumper Jumper (pictured to the right) which hangs from any household doorway and is high quality and tons of fun! It sells for only about $40 and is a great way to keep your baby occupied in a place where you can see them bouncing from several rooms.
Here are the new 2016 Reviews!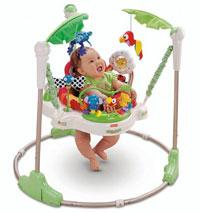 1. Fisher-Price Rainforest and Luv u Zoo Jumperoo. About $75, and a #1 best selling activity center. This activity center is very similar to the Baby Einstein one (#3 below). Like that unit, this activity center adds a "jumper" with elastic supports that provide a fun jumping/bouncing experience for your baby. Parents report that it's much bouncier, more so than the Baby Einstein, so your baby can go a bit "wild" jumping around. The lights/sounds are triggered by the bouncing or through hand contact, with zoo animal sounds that you can adjust the volume for. Note there is also a Luv u Zoo version of this jumperoo. The seat independently rotates 360-degrees to reach everything, it has a built-in teether toy and a tray for snacks, and parents report that it is very sturdy and well-constructed, and a bit lighter weight than some of the other units. Also, when things happen (and they always do!), like a ripped seat, Fisher-Price is super responsive to warranty repairs or replacements. Limitations? Some parents report that their baby is not tall enough to reach the floor, even on the lowest setting; this is also a reported issue for the Bright Starts model (#5 below). We tested it with a 7-month old baby who is 60th percentile for height, and he was able to reach the floor just fine. And others report that the hanging hippo and monkey are out of most babies' reach, and can be frustrating for your baby when they want them but can't quite reach. Overall, a great jumper activity center, worthy of its spot at the top of our list!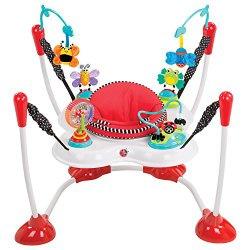 2. Sassy Inspire the Senses Bounce Around Activity Center. About $80. This is a new player to the activity center and exersaucer market. But they really started out with a bang, and their Bounce Around activity center is a big hit on the market right now. This option has a lot of the same features as some other activity centers on this list: the seat rotates 360-degrees, height adjustment, and several different toys to play with. This activity center is not quite as complex or overwhelming as the others, with a relatively simple structure and number of toys. What's really unique about this system is that it has removable toys - like a teething frog and butterfly, that your baby can grab and chew whenever they feel like it. With the other options, babies have to lean over in sometimes awkward ways to pull and chew on toys. Of course, there are some drawbacks to this; when the toys get pulled off, they can get lost or dirty, or chewed up by your pet! So some parents report that this can be a nuisance. Others, however, like this feature because it makes it much more convenient for cleaning the parts their baby chews on. This is a solid option, with a cool removable teether feature and fun toys and music. A very close second to the #1 Jumperoo.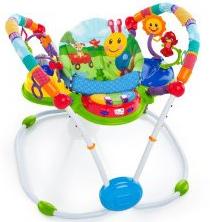 3. Baby Einstein Activity Jumper, Special Edition. About $90. This activity center adds a fun "jumper" with elastic supports that provide a fun jumping/bouncing experience for your baby. Parents report that babies really like how it has about a dozen different activities on it, that babies can spin around 360-degrees to reach all the different toy stations, and that it has a fun piano. It also has extra loops where you can attach additional toys - like your baby's favorite rattle or stuffed animal, and its music isn't as loud and obnoxious as some of the Fisher Price options. It also has easily adjustable height so you can lift it up slightly as your baby grows taller, and small tray area where you can place some finger foods like Cheerios or puffs. This activity center/jumper is good for babies from 4 months until they are walking/climbing; if your baby seems to be getting close to climbing out, then we don't suggest using an activity center anymore! Limitations? Parents report that it's not quite as bouncy as some other options, and that the seat opening can be a bit wide, which can cause some babies with lower core strength to flop forward/backward a bit; to solve this, some parents (like us!) place a folded blanket or small pillow in front to help the baby's posture.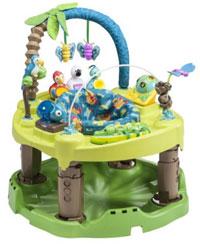 4. Evenflo Triple Fun Active Learning Center, Life on the Amazon. About $100. This is an awesome new addition to our activity center list. Rather than only being an exersaucer (as pictured to the left), it also can serve as a playmat and activity table. For newborns (0-4 months), the playmat is awesome for laying your baby down on the mat and letting them reach up to cute toys dangling above. Also a great opportunity to practice rolling and pushing up with their arms. After about 4 months, the exersaucer is a great entertaining option with several toys and music. We liked that the exersaucer has height adjustment so even the littlest of legs can reach the base. And the music wasn't excessively annoying like some other options. Finally, once your baby is of walking age (around 12 months), it converts into an activity table that's great for one or toddlers to play with. So this is definitely the most versatile option on our list, growing with your baby from newborn to toddler. In our tests, we thought the exersaucer configuration was definitely the best and most useful, though it's not very dynamic (doesn't really bounce or rock, just the seat spins to change direction). The playmat was a bit simple, not quite as plush as other options on the market, and doesn't integrate any tummy time supports; so we'd give the playmat about a 3 out of 5. The activity table is a great concept, but we didn't think it was very stable and our toddlers pushed it over a few times; so we'd give the activity table about a 3 out of 5. Overall, we think this is a great 4th option if you're looking for versatility that will last several years. As always, there's a trade-off between versatility and just how great any single configuration is.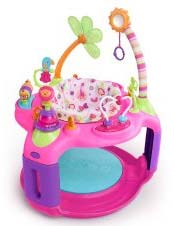 5. Bright Starts Sweet Safari Bounce a-Round Activity Center. About $60. Simpler, lighter weight, but still well-constructed and fun. Height adjustable, spinning seat, and a unique jumping mechanism with a bungee-loaded foot platform rather than a bouncing seat itself. So the baby gets some springy input, but without the dramatic and perhaps overwhelming physical and sensory experience of jumping like a lunatic, listening to loud music, and watching bright colors. This option has none of that, and we think that's a good thing for some babies. We're somewhat biased towards the relatively subtle activity centers, however, believing that lower sensory input might be a good choice for many babies who need a relatively calming environment. And, it's cheaper than half the price of any other options on our list, so that's definitely a good selling point. It's cheaper but also simpler, however, and some parents report that it's not really bouncy like any of the other options. So if you're looking for a wild jumpy ride, this is not the activity center for you! It is also quite a bit smaller than the other options on this list, with a small footprint. This makes it a bit limited in terms of play and stability, but also more compact and easier to collapse and store away.