One of the most helpful, intimate, and lightweight hands-free baby transporting system, baby carriers are as popular as ever. Strapped to moms, dads, grandmas, grandpas, nannies, and baby sitters, baby carriers are a comfortable and flexible solution for carrying a baby.
Here at Mommyhood101, we've tried over a dozen baby carriers, and we've also asked other parents and done extensive research online and through social media. The result is to help eliminate some of the guesswork and show you the best options of 2016.
In this baby carrier buying guide, we focus on three primary things you should look for in a baby carrier: the form factor, safety, ease of use, and flexibility. Of course, you will also want a baby carrier that is stylish and comfortable for you, so keep that in mind when perusing our list!
Form factor & Safety: There are so many varieties of baby carriers, from the basic wrap to somewhat sophisticated hiking carriers, there's something for everyone. For this article, we focus on wrap carriers, soft structured carriers, and hiking carriers.

Wrap carriers are the ultimate way to snuggle and cuddle your newborn in a customizable wrap solution that is safe (breathable), convenient (just a long piece of cloth!), and comfortable for both you and baby. Wrap carriers are a bit more time consuming than most baby carriers, and can have a major learning curve. These are for the adventurous new mom who is willing to spend the time to learn the perfect wrap technique. Once you get it right, you won't want to go back! Wrap carriers are awesome for getting in good skin-to-skin contact during the newborn weeks! Note that we do not recommend the cocoon-style sling carriers, which are somewhat controversial due to suffocation risks.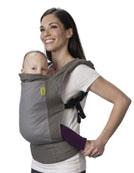 Soft structured carriers are the most popular and versatile baby carrier option, and come in many different shapes and sizes. Most can be strapped on your front or back, can carry the baby forward- or backward-looking, and are well tested for safety and durability. They are very well structured and supported, so there's minimal risk for your baby wiggling into odd positions like you sometimes see with a wrap. Not quite as customizable as the wrap carriers, and not quite as convenient to pack away for travel, but definitely a more user-friendly option without the major learning curve of a wrap carrier that involves wrapping and tying.
Hiking carriers. When dad takes the baby out for a long walk in the woods, he'll want a more macho carrier. A bulky, sturdy one with metal bars, mesh pockets, and maybe even logos that make him look like the king of the great outdoors. Either that or you're actually taking your baby hiking and want the type of back and hip support necessary for long treks. The hiking pack tends to be sturdier, provide better support for you (better distributed weight), and can stand on it's own with pop-out legs. But they also tend to be much heavier and do not pack well given the rigid frames.
Ease of Use: As detailed above, wrap carriers are much more difficult to learn and use relative to other carrier types. But, even within the soft structured carrier options, some are easier to use than others, with more intuitive attachments, easier zippers and snaps, and straps that aren't so tangled and confusing. In each of our reviews, we strongly consider each carrier's ease of use.
Flexibility: Can you use it on your front? On you back? Maybe even on your hip? Can your baby be front-facing, OR rear-facing? Does it fit all body types, wearable by both mom and dad? Can it easily be stuffed into a diaper bag, or into a carry-on? We consider all of these when making our recommendations of 2016's best baby carrier.
Top 5 Baby Wraps for 2016 (carriers are below!)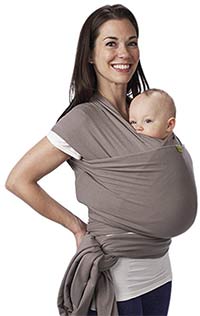 1. Boba Wrap Classic, about $40. The top-selling baby wrap on a ton of websites, this wrap has quickly become the leading wrap in America, and for good reason. One of the chief complaints about the Moby Wrap is that the fabric tends to stretch and loosen around the baby with time. Moms report that the Boba Wrap is less likely to strech with extended use, as it contains a soft blend of both French terry knit and spandex to keep things tight. Like the Moby Wrap (#2 below), this wrap lets you wrap in a near-unlimited number of styles and wrap configurations. Because it's a bit more stretchy, it tends to be more forgiving while you learn the wrap styles.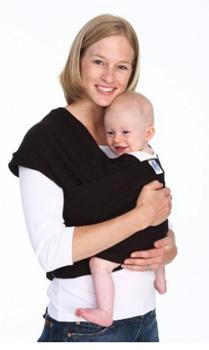 2. Moby Wrap Original, about $40. One of the originals, and for a long time this was the best rated baby wrap on the planet until it was surpassed by the Boba. Moms love it, and so will you, once you learn how to properly wrap and tie the darned thing! Carry in a near-unlimited number of styles and wrap configurations, making a custom and comfortable fit for you and your baby's unique needs. It's a great carrier for early newborns over 8 pounds, though it is rated for up to 35 pounds. Practically speaking, you're unlikely to use it once your baby is over 20-25 pounds since the fabric begins to stretch a bit. But overall, this is an excellent baby carrier that is second only to the Boba Wrap, featured above at our #1 spot.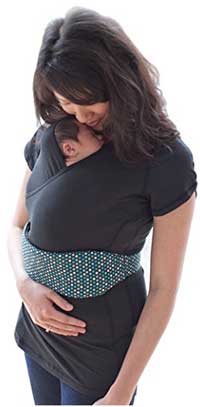 3. Nuroo Pocket Newborn Carrier, about $60. This is another great new product from the Nuroo line of baby gear, which also includes some excellent swaddlers and scarves). Known for high quality, comfort, and style, the Nuroo pocket carrier is designed to promote skin-to-skin contact by incorporating a carrier into a maternity shirt. In our testing, we didn't think this was really a "going out" type of carrier; instead, it was great for getting some skin-to-skin time in the house and around the yard without being completely naked! The way it works: you drape it over your shoulders like a cardigan, hold baby against your chest, pull left arm over and put baby in the pocket, then cross and hug with the right arm. There's also a cute padded belt to position under your baby's bum for extra support. So it's a little complicated to hold your baby while wrapping it up, but no more so than any other type of wrap - plus there's no tying or knotting, so that's definitely a bonus! Machine washable and suggested for babies from 4 to 45 pounds, we think this is an excellent way to get skin time while not having to wear a wrap without a shirt, and promote healthy brain development.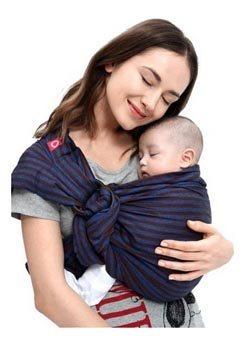 4. Mamaway Ring Sling Baby Carrier, about $70. Extremely popular in Australia for a few years now, this sling has recently hit the U.S. baby wrap market by storm. The Mamaway has surpassed the Moby and Boba as the new front-runner on the market. The Mamaway Sling is a super versatile carrier, tested to carry a child up to 100 pounds (!), with unique configurations that get you from infant through the toddler years. Unlike the cocoon-style slings that have been controversial due to the carrying position, this sling is fully adjustable, positionable, and safe if positioning is done correctly (like all wraps). It has not surpassed the Moby or Boba on our list, at least not yet, as we're waiting for it to prove itself for a few years. It's also rather expensive, and we're a little timid about sling carriers because of the previous issues. But we encourage you to check it out and watch the videos, it's an awesome alternative to the basic wrap.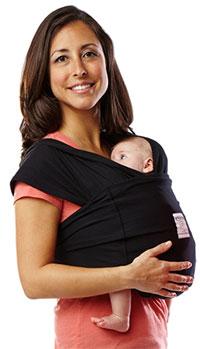 5. Baby K'tan Baby Wrap, about $50. OK we cheated here a bit, this isn't technically a wrap, it's a carrier that looks and feels like a wrap but without the headache of actually wrapping. Something they are calling a "ready-to-wear wrap." So it's somewhere between a wrap and a soft structured carrier; has the convenience of the carrier with the comfort and look of a wrap, and no complicated snaps, buttons, rings, or zippers. It has a single adjustable back strap for sizing comfort. No fabric stretching issues here. The Baby K'tan has some limited versatility in terms of ways to configure it on your body, and ways to position your baby. You can learn more about those by visiting the company's website to help you learn how to use it in unique ways. Also, while you're at it, check out the other great Baby K'Tan wrap options: the more breathable cotton mesh Breeze, and the moisture wicking Active.
Top 3 Soft Structured Baby Carriers for 2016 (hiking ones are below!)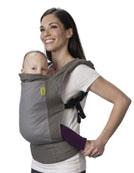 1. Boba 4G Carrier, about $125. This comes in all sorts of colors and patterns, and some are really adorable. This is the best-rated overall baby carrier, and gets rave reviews from parents. This is for infants and toddlers (from 7 to 45 pounds!), and includes a newborn insert to make sure your little one doesn't slide around dangerously. We've tried it ourselves and it is very comfortable and easy to use, and it fits both smaller and larger bodies - so both mom and dad can wear it comfortably. The waistband tends to hold a lot of the weight, so your shoulders don't get tired like they will with the Original Baby Bjorn (below). The little hood is great for sleeping or blocking bright sun. The only negative we found with this carrier is that the straps can sometimes be a little rough against the skin if you're wearing a tank top or something a little short around the waist.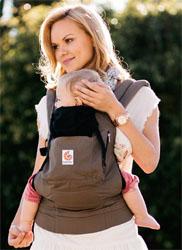 2. ErgoBaby Original Carrier, about $120. Most of you have probably noticed the cool Galaxy Grey ErgoBaby around town - with its twilight color and cute little stars. That was really the start of the Ergo revolution. This is an excellent baby carrier, just like the Boba 4G, and has many of the same advantages: comfortable and easy to use, fits smaller and larger bodies, and the waistband tends to hold a lot of the baby's weight (rather than the shoulders). People say the straps are more comfortable than the Boba straps, but reports vary, and the canvas material on the Original is reported to get softer with time. On the downside, some say the adjustments and buckles are out of reach in some configurations, which can be frustrating when someone else isn't around to help. The Ergo also has a zippered pocket and a hood. Newborn inserts are sold separately.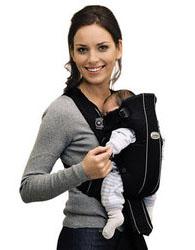 3. The Original BabyBjorn Carrier and BabyBjorn Baby Carrier One, about $60 & $140. The Original BabyBjorn is a classic, and really started the style revolution for soft carriers. Suddenly it was stylish to wear a baby carrier, and it was no longer giant, bulky, and utilitarian like the baby carriers your mom might have stuffed you into back in the 80's. The BabyBjorn still remains a staple in the soft baby carrier market, and the price of the Original version has fallen considerably since its introduction. The Original is very basic - shoulder straps only, not much adjusting, and no frills (no newborn insert, no waist strap, etc). It's a good carrier, but will make for sore shoulders and neck after about an hour of use. Because of these complaints, and because the market was getting taken over by the Boba and ErgoBaby, BabyBjorn decided to come out with their own version of a larger, more padded, and more versatile carrier. The One carrier is just like the Comfort model from last year, and has a lot of the basic capabilities of our top rated carriers: front-facing option, waist strap to relieve shoulder pain, multiple adjustments, soft padding, etc. But there is no newborn insert (8 pounds minimum baby weight), no storage pocket, no sleeping/sun hood, and is much bulkier and harder to store relative to the Boba and Ergo. Also, in our trials, we found that the BabyBjorn One doesn't quite take the weight off the shoulders like the Boba or Ergo.
Best Hiking Baby Carriers for 2016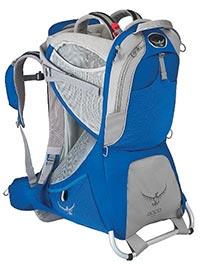 1. Osprey Packs Poco AG Plus Baby Carrier, about $260. Note that there is the Poco, the Poco Plus, and the Poco Premium. The basic Poco is about $250, the Plus is about $290, and the Premium can set you back over $300! Here we will focus on the middle one, the Poco Plus, but will tell you a bit about the upgraded features in the Poco Premium, and what you'd be missing out on in the original Poco. Look, this thing is a beast. If you're looking for a lightweight and easy to store carrier, stay away from this thing. This is for real hiking. Not hiking around Central Park or walking along a trail in town. Real hiking and camping, when you have no other choice but to wear a high-quality, sturdy, versatile, beast of carrier. Lots of attention to detail here, with several storage packs, a ton of sizing adjustments for comfort, well-ventilated back area to prevent sweating, a solid frame that's not *too* heavy, and a super comfortable seat for your toddler. This fits like a glove on nearly any body size, and is really the king of hiking carriers. It has a retractable sun shade, cell phone pocket on shoulder strap, hydration sleeve behind back panel, on-the-fly torso adjustments, and a LIFETIME WARRANTY (yes, you read that correctly). One of the things people really love about hiking carriers in general is that it stands up on its own: put it on a picnic table, buckle your kid in, then put it on your back. No more slinging it over your shoulder and hoping you don't fall over or the baby doesn't fall out. So how do the Poco, Poco Plus, and Poco Premium compare? The basic Poco has a lot of great features, like a mesh pocket with a zippered pouch, the hydration pack, torso length adjustment, and good back and baby ventilation. The Poco Plus adds a larger zippered pouch, a built-in sunshade, a phone pocket on shoulder strap, an adjustable waist strap, and a large zippered lower storage compartment. In addition to all of that, the Poco Premium adds a detachable day-pack (small backpack) that attaches to the back, and a changing pad with its own little pocket. If you have the money, the Poco Plus (or even Premium) is a no-brainer.
2. Kelty Journey 2.0 Child Frame Carrier, about $260. If you like the features of the Poco Premium, like the attached day-pack, sunshade, and wide array of adjustments, but don't like the price tag, then check out the Kelty Journey 2.0. This carrier has many of the same features as the Poco Premium, without the sticker shock. It has the adjustable torso length to accomodate wearers of different heights, a robust sunscreen, and several storage compartments. So why is it not #1 on our list? Well, the Kelty isn't quite as comfortable as the Poco, and when we compared the two we realized that the Poco really is a robust pack with considerable padding and leaves nothing to be desired. We also realized that, after walking a good bit, that our backs got considerably more sweaty while wearing the Kelty, so its ventilation isnt' quite as good. But if those things aren't worth the extra couple hundred dollars, you will likely be very happy with this Kelty pack! Happy adventures!