As a baby of the 70's my dad would lay a blanket down in the back of his Saab hatchback and let us crawl around and play on long road trips through snowy Maine. No car seats, no seat belts in the back seat; just slippery roads and some dumb luck. Somehow we got out unscathed, at least physically. Fortunately car seats, and parents, have come a long way since the 70's.
Looking for infant car seats? Go here.
Looking for booster seats? Go here .
Cheaper convertible car seats? Go here.
Need narrow options for fitting 3 in a row? Go here.
A bit of History: In the late 90's Britax released the first convertible car seat in the U.S., the Britax Roundabout. Rather than having a separate rear-facing infant seat and then a different forward-facing toddler seat, the convertible offered the convenience of a car seat that parents could simply turn around when their baby was big and heavy enough to be forward-facing. This concept was very new for parents and the car seat market, and people were somewhat slow to adopt the newcomer. Fast forward 10 years and convertible car seats became the fastest growing segment in the car seat market. Now, fast forward another 10 years and you'd be hard-pressed to find a parent who hasn't considered or purchased a convertible car seat.
What is a convertible car seat? The concept is great. Convertible car seats begin as rear-facing for your infant and then transition to front facing when your baby meets size and weight requirements. They also grow with your child, typically with adjustable shoulder strap height, buckle position, recline/tilt, and head rest. If you're not worried about losing the convenience of a carryable infant car seat with a folding handle (we review those here), then this is definitely the option for you! Convertible car seats can save you a lot of time and money versus buying an infant seat and then a separate toddler seat, and let you spend a bit extra on a nice stroller (our stroller reviews are here) or, god forbid, something nice for mom!
What to look for: There are a few things you should look for when trying to find the right convertible car seat. First, because you buy a convertible car seat to last for many years, avoid the hassle of shoulder straps that need to be rethreaded for adjustment. You will find that many well-rated convertible car seats require re-threading (particularly the inexpensive ones, which we review elsewhere). Second, if you're going to use the convertible car seat as an infant seat, then you want to make sure that it is capable of reclining far enough to make for comfortable rear-facing positions. If it does not, then your baby's head will flop forward when they fall asleep. Third, get a convertible seat with a wide weight range so it will last your child for many years. Finally, always buy new and go with a reputable brand so you can be confident that the seat is safe.
What we did: To find the best convertible car seats, we got 14 parents together to review a set of 11 convertible car seats. We included all of the major brands (RECARO, Graco, Peg Perego, Maxi Cosi, Britax, Safety 1st, and Evenflo). We did a thorough hands-on test of each unit, let our kids sit in them and give opinions, tested how stain-proof the fabric was, and read tons of reviews from fellow parents. What remained after this process was a group of 7 truly excellent convertible car seats that met and exceeded our expectations. These are listed below.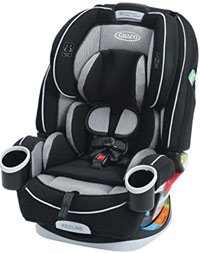 1. Graco 4ever All-in-One Car Seat, multiple patterns and colors. About $300, and worth every penny! Everyone agreed that this was the most versatile, comfortable, and functional convertible car seat available. It truly is an all-in-one seat, accommodating a weight range from 4 to 120 pounds. The secret is that it starts as a rear-facing infant seat (4 to 40 pounds) with a plush infant insert. Then it transitions to a front-facing toddler seat (20 to 65 pounds) without the infant insert. Then it transitions to two different types of booster seats, one with the highback still on it to position the vehicle's seat belt (30 to 100 pounds), and then finally you remove the back completely for a bottom-seat-only booster (40 to 120 pounds). This is the most versatile convertible car seat on our list: not only does it convert from an infant to toddler seat, it also converts all the way to a bottom-only booster. To meet this lifespan, the seat is rated for up to 10 years of use! In addition to that awesome versatility, there are a ton of other positive features here. First, the shoulder belts and headrest are easily adjusted using a handle positioned on the top (no rethreading ever needed). Second, the recline handle is right on the front and adjusts to a wide range of backseat slopes: this allows you to get the correct recline when used in rear-facing infant mode. It also has a built-in level to help you ensure it is mounted in an ideal, level position. Third, the InRight LATCH system is awesome and makes life easier when you need to pull it in/out of different vehicles. Of course, it also has easy to use seat belt pass-throughs for vehicles without the LATCH option. Fourth, we found it generally comfortable and soft, and very supportive for even very little (4 pound) babies with the included infant insert. The fabric is not quite as soft and plush as the RECARO (below), but it has a clear advantage: you can remove and machine wash it! Finally, it comes with two nicely positioned cup holders: for babies, these can be used for storing toys, for toddlers for sippy cups and snacks. Overall, we think you really can't go wrong with this safe, sturdy, well-made car seat, and it is very deserving of the #1 spot on our list.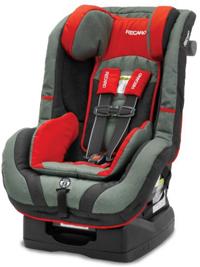 2. RECARO ProRIDE Convertible Car Seat, multiple patterns and colors. About $240-270 depending on color options. We all came to agreement that this was the second best for convertible car seats. The design is simple with primary and accent colors that suit both boys and girls. We really loved the side impact protection on this seat, with really large pillow-like head wings to protect the head and face, and substantial reinforcement all along the sides. All of our reviewers thought the seat felt very secure and supportive; there is nothing flimsy about this seat, it feels very well constructed, including the frame and fabrics, and it is super comfortable. The safety harness adjusts to babies from 5 to 65 pounds without requiring any annoying re-threading of the straps; the seat uses a clever knob that adjusts the straps and head rest up and down to accomodate a growing baby. The seat itself weighs a bit over 20 pounds. There's a rear-facing recline lever that allows you to adjust the seat to your vehicle's seat position, a built-in LATCH system with lower straps and a top tether, and a great mesh ventilation system along the sides that will keep your baby from getting too clammy. This seat is certified by RECARO for 6 years of use before expiration. The one negative about this seat is that it is quite big. This is what happens when it's bulky and safe, so one of our testers tried fitting it into her Honda Civic's small back seat. It fit quite well, but it was very tall, making it somewhat hard for her to see through her rear-view mirror when it was rear-facing (this is not specific to the RECARO). Not an issue when front-facing. We thought the straps were good at staying untangled, and that the chest and lower buckles were very easy to use. Other Downfalls? Well, the cover is not machine washable. You can remove and hand-wash and line dry, but do not attempt to put it in the washer or dryer; things will get mis-shapen and ill-fitting. This makes some sense given all the extra padding that makes this so dang comfortable. Outside of that, we think this is a fantastic car seat and we strongly recommend it.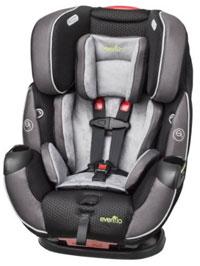 3. Evenflo Symphony Elite Convertible Car Seat, in 2 colors. About $200. This convertible car seat has a truly awesome weight range, accomodating babies, toddlers, and big kids from 5 to 110 pounds! With an upper weight capacity like that, this might very well be the only car seat or booster you will ever need to buy. The seat itself is heavy, coming in at about 25 pounds; it is made in the USA and is built tough to protect your baby and last your family for many years. The Sure LATCH system is awesome, you no longer need to pull to tighten the latch, just simply push it down and you'll see it self-tighten. This is an awesome system. The adjustable height harness is very easy to adjust upward as your child grows, without any rethreading hassle. The shoulder harness adjustment strap is right up front, as is the recline handle to help you get it perfectly level in the back seat of your unique vehicle. It also has two built-in cup holders that can be used for snacks, bottles, sippy cups, and toys. In our tests, we thought the cushioning on this seat was fantastic, supportive, and easily cleaned. It has removable cushions for infants, and they are incredibly comfortable. Negatives? Well, the price is a bit high relative to other options on this list. It also does not have highly breathable rear cushioning so if your baby heats up easily they will probably sweat more in this seat than the RECARO or Graco 4ever with side mesh.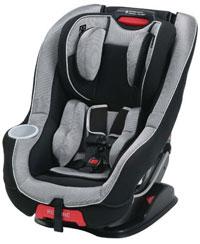 4. Graco Size4Me 65 Convertible Car Seat with Rapid Remove Cover, multiple patterns and colors. About $180. If you have a premature baby that below 5 pounds (but at least 4 pounds), this might be the seat for you. Like the Graco 4ever, this convertible car seat goes as low as 4 pounds with the included infant insert, but only goes up to 65 pounds. The seat itself is 19.2 pounds. It has special inserts that support even the tiniest of babies, and some of our tester moms thought this was awesome and seemed like it would be very supportive for even the smallest newborns. It uses a multi-position (5 positions on this one) harness and headrest that adjusts using a lever to pull it up or down to fit your baby's size. It also has 3 recline positions to suit most vehicle's seat positions, and a little cup holder that will definitely come in handy, and collect crumbs through the toddler years! Like the Graco 4ever, but unlike the RECARO, this Graco option has a machine washable cover that you can pull off really quickly; just take it off and throw it in the wash. The fabric is soft and breathable, but not quite as much as the Graco 4ever or the RECARO. So while it's cushy and comfy, the fabric isn't quite as soft as some others. The side impact protection seems substantial, though it does feel like it's not quite as sturdy or well-constructed as other options. We also found it a bit tough to tighten the harness properly at times, and the upper chest buckle was a bit hard to unbuckle. But at $180 we believe this car seat is a great deal: you get a comfortable, safe, versatile car seat that will last you for many years!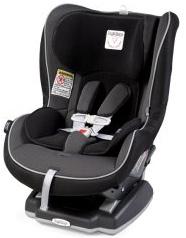 5. Peg Perego Primo Viaggio Convertible Premium Car Seat. About $350-400 depending on color options. This is the new edition of the excellent series of Peg Perego infant and convertible car seats. Much pricier than the competition, but for some good reasons. First, we really liked the fact that the rear-facing weight limit of the Peg Perego goes all the way up to 45lbs. Not many car seats came close to this weight limit and this is extremely useful given the recommendation by the American Academy of Pediatrics that that children be rear-facing until at least 2 years of age. For maximum safety, they advise keeping your baby rear-facing for as long as the car seat allows. Second, this is a very safe car seat with great side impact protection; Peg Perego uses shock absorbing foam on the sides of the car seats as well as below the seat to protect your child's head, neck, and spine in the event of an accident. Parents report that this car seat is extremely easy to install. The fabric is breathable and easy to clean (a big plus when your child spills milk all over the seat!) and the seat is relatively light (21lbs). Overall, this is a great car seat and would have been higher on our list if it weren't for the price; at $400 it's more than twice the price of several other options.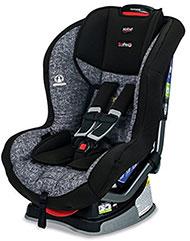 6. Britax Marathon G4.1 Convertible Car Seat, multiple patterns and colors. Between $220 and $255, depending on color options, and 17 pounds. It is rated for 5-65 pounds. No, we don't own shares in Britax, but we are certainly considering it. It never fails at appearing in our top 5 lists for infant car seats and convertible car seats. Britax does it well, and has been doing it for a long time. The Britax Marathon is the flagship convertible car seat, and it is excellent. Britax prides itself in a top-notch safety record, quality construction, and comfort. This car seat has great side impact protection, 10-point quick-adjust harness system, adjustable recline, and it feels very sturdy and comfortable. The fabric is also nice, but not machine washable. Overall, this is another excellent choice by Britax. It is a bit less expensive than some others on the list, has some great features, and comes with the Britax reputation for quality and safety. But overall it's quite simple, doesn't have a great weight range, and is not as comfy and plush as other options. If you're finding yourself on the upper end of the price range because of your color options, may we also suggest checking out the Britax Boulevard. The Boulevard is the higher-end seat, but very similar in most regards. From what we could tell, the key differences are that the Boulevard is a bit beefier and heavier, providing more shoulder room for the child. Also has a bit more padding behind and to the sides of the head, and provides a softer infant insert. But the added comfort and safety comes with some added cost, with the Boulevard coming in about $30-40 more than the Marathon.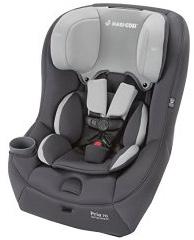 7. Maxi Cosi Pria 70 Convertible Car Seat, multiple patterns and colors. About $250 depending on colors, and about 18 pounds. It's called Maxi Cosi for a reason, this thing is really maximum coziness in a car seat. Definitely the softest one of the bunch, with the most comfortable padding and support. If you're looking for the cushiest car seat out there, this is the one for you! It's not the cheapest on our list, nor the most expensive. It's not the most fully featured, nor the least. But one thing is for darn sure, it is the softest and most comfortable car seat your baby will ever sit in! With 7 different styles and colors (click the picture to see more options), there seems to be something for everyone's tastes. Note that while most of the convertible seats on this list cover from 5 to 65 pounds, this one covers from 9 to 70 pounds. If you want it to go higher, check out the Pria 85. So it's sort of in an odd position: most newborns are less than 9 pounds, so unless you have a chunky monkey you'll need to get the Pria 70 with the Tiny Fit insert that supports newborns down to 4 pounds. The side impact protection is a bit like the pillow of the RECARO, and the cup holder a bit like the Graco. The Maxi Cosi has 3 recline positions, a multi-position quick-adjust harness and headrest, and super soft cloth that will make you smile every time you slide your baby into this little lounge chair! When they make one of these for grown-ups, please contact us to let us know, we'll be first in line! Downfalls? The recline options seemed limited, the fact that you need an insert under 9 pounds seemed odd, and the buckle release button was sometimes very hard to press down.
*We recently removed the Britax Advocate ClickTight Convertible Car Seat from our list because of a recent recall due to problems with the harness. For more information about the recall, please go here.