Looking for our reviews of all convertible car seats instead? Click here.
Looking for our reviews of infant car seats instead? Click here.
Looking for our reviews of booster car seats instead? Click here.
Looking for our advice on fitting three car seats in a row? Click here.
Everybody's looking for a good deal on something. Maybe you want to splurge on a luxury stroller but cheap out a bit on a car seat. Maybe you're more of a Toyota person than a BMW person. Maybe you came to the realization that all car seats sold in the US must meet the same safety standards regardless of brand or country of origin. Or maybe you are trying to save up for something that won't get ruined by goldfish crumbs and milk stains, like a new roof.
Whatever your motivations, we've got you covered. We pulled together 9 of the best-ranked car seats under $150 and put them to the test. Moms put their babies in them (ranging from 3 months to 3 years), tested out the buckles and straps, put them into and out of their cars, and gave us their honest opinions. We all hated some of them, and loved some others. We were surprised overall by what you could get for this price point, and thought all parents should give these a fair shot.
Since we're only considering convertible car seats under $150, we are not focused on the extras. We're not expecting the huge side impact protection, super plush padding, stylish patterns and colors. We went back to basics a bit, focusing on weight, ease of use, basic comfort, safety, and reliability. We were looking for something to fulfill somewhat basic needs: not too heavy, easy to get in and out of the car, not too bulky/large, easy to buckle/unbuckle, decently comfortable and supportive padding, good build quality, and something that seems sturdy and like it won't fall apart any time soon.
With those factors in mind, below are our Top 5 Inexpensive Convertible Car Seats of 2016.
1. Britax Roundabout G4.1 Convertible Car Seat. Britax makes some of the best and safest car seats on the market, and their pricier options consistently make it to the top spots as car seats go. This particular Britax, the Roundabout G4.1, is their cheapest convertible car seat option, with some excellent features and value. This Britax has a decent weight range for the price, suitable rear-facing for babies from 5 up to 40 pounds, and forward-facing is suitable for toddlers from 20 to 55 pounds (and up to 46" tall) with LATCH system. The Britax car seats are world renowned for safety, and it shows. The frame is sturdy, using the reliable Marathon frame style, and a 5-point harness. It also uses the LATCH system, has adjustable shoulder belt height, and an adjustable bottom buckle. It uses the Britax SafeCell Impact Protection, side impact protection, and has EPP energy absorbing foam. The seat reclines between 3 positions to ensure the right fit to your vehicle, and it is small enough to fit even in the backseat of a VW beetle! It is a bit on the heavier side at over 17 pounds, and another downfall is that to adjust the shoulder belt height you need to re-thread the straps from the back (the more expensive Britax seats don't require that, see our list here). Outside of those limitations (weight, and shoulder height adjustment), you will be hard-pressed to distinguish this from their best-selling Britax Marathon. Overall, we thought this was the biggest bang for the (small) buck, and highly recommend this car seat for the frugal parents looking for safety and quality. About $150-160 online, with two color options. Note that there is a newer version of this seat, but it's going for about $199 right now.
2. Graco MyRide 65 Convertible Car Seat. It's like Graco saw us coming a mile away. They pulled out all the stops and made convertible car seat for under $120 that competes with some of the better seats out there. It's not pretty, and the better color/pattern options are about $20 more expensive, but it's got some great features. The MyRide 65 is a true convertible car seat with a great weight range. Rear-facing is suitable for babies from 5 to 40 lbs, and forward-facing is suitable for toddlers from 20 to 65 pounds. That's a fantastic range for a convertible seat, nevermind one for this low price; that's the same range you get from the $200+ Recaro ProRIDE, or the $250+ Britax Marathon. By the way, those are the best ones out there if you're willing to spend the money. But back to the MyRide 65. Yes, it has a 5-point harness. Yes, it has the LATCH system! Yes, you can remove the cover and throw it in the washing machine. Yes, it has a removable newborn insert and headrest. It is side-impact tested, has 2 great little cup holders, supports children up to 49" tall, and only weighs about 16 lbs. Our reviewers thought that it was definitely the biggest bang for the buck, and also thought it was very comfortable and supportive for a $99 car seat. So what are the negatives? Well, it doesn't have some of the convenience features we've come to expect from a convertible car seat. First, when you need to change the shoulder strap height for your growing baby, you'll need to detach them completely from the rear of the seat and re-thread them through the frame. That's a bit of a pain. Second, the older version of this seat (the 2013 model) had some issues with the chest buckle being too difficult to open; Graco recalled the seat for this issue, and the new buckle is a bit better. Be sure you're getting the newer model, like the one being sold on Amazon which has the updated buckle. Finally, a couple moms didn't like the angle of the chest strap tightening belt, which requires you to pull straight down in order to tighten. Problem is, straight down is the vehicle's seat, so that doesn't work out very well. Under $120 online.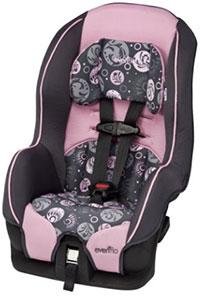 3. Evenflo Tribute Convertible Car Seat. Here's another excellent contender, and it's even a bit cheaper than the Graco MyRide, coming in at only around $50-80 depending on the color/pattern you select. Our test moms thought the Evenflo was easier on the eyes than the MyRide, and they liked the simple color patterns, some with just colors and some with some cute patterns (like flowers or paisley). The Evenflo Tribute is good from 5 to 40 lbs when rear-facing, and from 22 to 40 pounds when front-facing. That's a 25 pound lower weight limit than the MyRide, which can be inconvenient if you're not one of the parents who switches to a booster seat by then. Like the MyRide, it has the 5-point harness, a removable and machine washable cover, includes the LATCH system, has a cup holder (sort of dangling on the side), and is side-impact tested. It also uses those pesky shoulder straps that need to be re-threaded as your baby grows. But adjusting the length of the shoulder straps is much easier than with the MyRide, since the strap pulls straight forward for tightening. Unlike the MyRide, is only supports kids up to 40" tall, and does not include an infant insert. It does have a removable head pillow, but in our opinion this is not sufficient to keep a newborn head from flopping around. From our testing, we suggest this seat is best from about 12 months to up to 40 pounds. So it has a pretty limited range of use, but then again it's really cheap. In terms of comfort level, it's comparable to the MyRide: not great, but no complaints from the kids. Also, it is only about 9 lbs, which is extremely light for a convertible car seat. So, there are a lot of good things going on here, but also a lot of limitations relative to the MyRide. It is definitely a solid #3 option!
4. Disney APT Convertible Car Seat, Mouseketeer Minnie or Mouseketeer Mickey. If your kid loves Disney, this is really the seat for you. The little girls in our group went wild over the Minnie version of the seat. It's a bit different than the others on our list because its strength is in its style rather than its functionality. The Minnie has its cute pink color, swirly stitching, Minnie signature, and bowtie and Minnie ears. The Mickey has similar features but is black and deep red. These seats are super cute, and pack some basic functionality. First, it has a 5-point harness with front length adjustment, side-impact protection, is LATCH equipped, has 3 crotch buckle locations, 5 harness heights, and 2 little cup holders. But the weight capacity isn't so great, with 5 to 40 lb rear-facing, and 20 to 40 lb front-facing maximums. The maximum height is 43". Those numbers are pretty poor overall. Like the MyRide and Titan, it also has those annoying thread-through shoulder straps that are a pain to reconfigure for a growing baby. It was also really difficult to figure out how to attach Minnie's or Mickey's ears to the car seat, though we figured out that you have to thread the little black straps on the back of the ears through the slots above the shoulder strap slots, all the way to the rear of the seat. It does actually have 2 advantages relative to the Titan: first, it has 2 cup holders, and second, it includes the LATCH system. So with its restrictive weight and height limits, and what we thought seemed like not the best build quality, this seat is not worthy of a higher place on our list. But, given that it's definitely the cutest car seat below $100 for kids who love Disney, it's holding strong at #4 on our list. We found it online for about $65 for Minnie, and about the same for Mickey.
5. Safety 1st Guide 65 Convertible Car Seat. This comes in 4 different colors, click the image to see more options. Like the MyRide, this Safety 1st convertible car seat has a weight range from 5 to 40 lbs rear-facing, and 22-65 lbs front-facing. Those are excellent ranges for a convertible car seat under $100. It also has a huge height limit of 52" tall! It has the 5-point harness, side-impact protection, adjustable head rest that our testing kids thought was soft and comfy, and overall compact dimensions that leave enough space in our back seat for up to 2 other car seats or whatever else life throws your way. If you have a particularly small car, like a compact or coupe, this is a great car seat option. Like all the other models on this list, adjusting the shoulder straps requires re-threading through the back of the seat. It comes in at 14 lbs, which is middle of the road for weight. We thought the infant inserts were plush and provided ample padding, but we worried a bit that the lowest shoulder strap setting wasn't quite low enough for a newborn baby. The buckles were easy enough to use, and the fabric was soft and seemed like it would be easy to clean. It is also equipped with the LATCH system, which is a great bonus. The build quality didn't seem quite as good as the Graco or Evenflo, but this is likely because it doesn't feel as substantial since it's a much more compact seat overall. So, this is a great 4th option, especially if you have a smaller car or need to fit 3 car seats in a row. We found this online for about $90.