Our focus groups with moms revealed seven highly recommended infant car seats, made by brands such as Britax, Graco, Peg Perego, and Chicco. All of the car seats on our list have been vetted by a large group of moms and dads and put through hands-on testing. As always, our reviews are impartial and honest, and we didn't accept any freebie or discounted car seats to review. The car seats reviewed below range in price from about $80 to $300; if you're looking for something a bit cheaper, we suggest checking out our list of the best infant car seats for under $100, here. Before we begin the ratings, let's list a few things you should be thinking about when purchasing an infant car seat. Here are some important things to consider: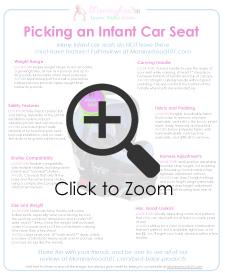 Ease of Use: This is probably the most important factor to consider when purchasing a new car seat. You do not want to deal with a frustrating latch, annoying seat belt mechanism, clumsy chest buckle, two-hands required handle folding, or an uncomfortable handle multiple times a day. Our advice is to go to the store. Be the strange person in the aisle with a baby doll testing out the seat belts, folding mechanisms, and handles. You won't care if you have the most stylish car seat in the new mom's group if you pinch your finger every time you fold down the handle, or find yourself cursing at the chest buckle while your baby is screaming. So we took the time to visit the local Babies R Us and tried out a ton of options. The options listed below have the best ease of use that we could find. In general, the pricier car seat options will be the ones that are more user friendly.
Price: Infant car seats vary widely in price, quality, and style. You will notice that some car seats sell for under $100, whereas others are upwards of $300! See our list of the best inexpensive (under $100) infant car seats here. In general, the more expensive car seats tend to be plusher, softer to the touch, more user friendly, use higher quality parts (snaps, handles, hinges), lighter parts, and come in a more stylish array of color and pattern options. Are more expensive car seats safer? No, when used correctly all car seats are safe and must meet requirements of the NHTSA. However, some of the less expensive brands may meet NHTSA minimum requirements whereas others go beyond those standards. A good example of going beyond NHTSA requirements to increase safety is using an anti-rebound bar to reduce rotational forces due to accident impact..
Baby Weight and Height: Babies come in all shapes and sizes. Maybe you had a 4 pound baby, maybe a 12 pound one (sorry!). Every car seat has its own unique minimum and maximum infant weights and heights. These guidelines are very important and can influence your baby's safety and comfort. Most infant car seats have a minimum baby weight of 4 pounds (1.8 kg), and maximum of either 30 pounds (13.6 kg) or 35 pounds (15.9 kg). But be sure to check the box or label because even within a single brand, different models have different specifications. Also, some models will include an insert for particularly small babies (4-11 pounds) to help support their body, these can also give them a snug fit and help them not feel like they're swimming in the seat. Looking for the best booster car seats for bigger kids, check out our reviews here.
Car Size: If you have more than one child, or you're still clinging to your youth and driving a convertible or sports coupe, you definitely must consider the size and fit of the car seat. Mainstream car seats are bulkier than ever, with more padding, more safety features and foam, and thicker plastic. Gone are the days when your car seat is only slightly larger than the baby itself. This can lead to issues fitting multiple car seats into the back seat, particularly more than 2 at once. Most cars will NOT fit 3 regular size car seats into the back seat, so unless you drive an Escalade make sure you take some measurements before you go buying something. To see our article about car seats that will fit 3 in a row, click here.
Stroller Type: What do you intend to do with the car seat once it's out of the car? If your baby is sleeping, do you want to be able to pop the seat out and stick it into a stroller? If so, be careful to make sure that the seat will fit your existing stroller, or if you want to be able to use one of the relatively universal snap-in strollers (which can be a pain!), test it out at the store first. Though we definitely recommend buying the folding snap-in stroller that's the same brand as your car seat (for Graco car seats: Graco Snugrider Elite Stroller and Car Seat Carrier; for Chicco car seats Chicco Keyfit Caddy Stroller Frame), here is an example of a snap-in stroller that can accomodate several brands of car seats: Baby Trend Snap N Go EX Universal Infant Car Seat Carrier
(though this has been discontinued by the manufacturer, you can still find some for sale).
Here are the Reviews for 2016!
#1. Britax B-Safe 35 and B-Safe 35 Elite Infant Car Seats.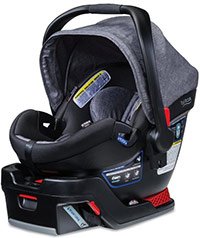 About $170-250 depending on whether you go for the regular or Elite version, and pattern choice. There's a reason that the Britax B-Safe Infant Car Seat is the #1 best-selling car seat on the market this year, because moms and dads love it, and you can't beat the Britax safety reputation (yes, this uses SafeCell impact technology). The B-Safe and B-Safe Elite come with a base that attaches into your car using either the Latch system or the conventional seat belt. Moms love the form and fit of this seat, and report that it does a really nice job supporting even very small (4+ lbs) infants with use of the included infant padding insert. As the baby grows, you can remove the additional body and head padding to give your baby a bit more room to grow. It also has simple to adjust head protection pads, a 35-pound weight limit, two crotch strap positions (a rarity!), multiple shoulder strap positions to fit a growing baby, and parents say it is very easy to snap the seat into and pull it out of the base using the hand lever. The B-Safe 35 and B-Safe 35 Elite have three primary differences that we could see: the elite adds quick-adjust head protection, adjustable shoulder straps without rethreading, and a bit more padding and higher quality fabric. Overall, we believe the extra $40 is worth the advantages of the Elite version. All those features in a car seat that weighs about 19 pounds (seat is 10lb + base is 9lb), which we understand may be quite heavy for some parents. But we think the Britax reputation for safety makes this extra bulk worthwhile. Relative to the Chicco KeyFit (see #2, below), the B-Safe Elite has slightly plusher and premium-feel fabric, and parents report that the fabric is easier to clean. The B-Safe also has a maximum baby height of 32" as opposed to the Chicco KeyFit's 30". Also, the canopy is much larger and truly covers a baby during bright sun, rain, snow, or simply for privacy and during a nap. The B-Safe is made in the USA and comes in a variety of colors/patterns. Yes, it's expensive, but we believe the quality, features, and safety reputation are well worth the cost. Here is the Britax B-Safe Infant Car Seat, and here is the Elite version.
#2. Chicco KeyFit 30 Infant Car Seat and Base.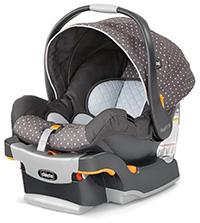 About $200. There's a reason that the Chicco KeyFit 30 is the #1 car seat in America! OK, so you've probably now realized that both companies market themselves as somehow #1, according to some obscure statistics they were able to calculate. Let's be clear that realistically you will likely be very happy with either seat and for us choosing a #1 for this list was very difficult. The Chicco KeyFit comes with a base that attaches into your car using either the Latch system or the conventional seat belt; moms report that buckling this base into the car is a bit easier than with the B-Safe, and it only weighs 15 pounds (seat + base; 5 lbs lighter than the Britax). The form and fit of this seat are very similar to the B-Safe, and both are soft and comfortable, and provide an infant insert to support very small infants (4+ lbs). Note that while the Chicco KeyFit has multiple shoulder strap positions, it only has one crotch buckle position (the B-Safe has 2). Moms report being happier with the Chicco KeyFit's shoulder straps, which are a bit wider and therefore aren't as prone to twisting as the B-Safe straps. However, the canopy is much smaller than the one on the B-Safe and makes it harder to fully cover the baby. In reality, the choice likely will come down to price, style, and your personal opinion of the systems when you see them in the store. The Chicco KeyFit 30 is about the same price as the B-Safe. Here is the Chicco KeyFit 30, with several different colors: Chicco Keyfit 30 Infant Car Seat and Base
#3. Graco SnugRide Click Connect 35.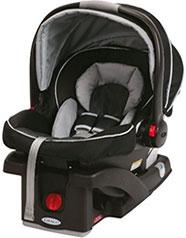 About $115-150. The Graco is one of the most popular and all-time best selling car seats on the market. For over a decade, Graco has been offering the SnugRide line, and people report being perfectly happy with it, but it's certainly without frills. Not as soft or plush as the B-Safe or Chicco, and maybe not as stylish or available in funky patterns (like the Britax Cowmooflauge, which is killer), but works pretty nicely and parents tend to like it. It's also about $50-75 cheaper than the Chicco or Britax, so that's something to keep in mind. Like the top 2 ranked car seats, this holds babies as small as 4 pounds, but goes up to 35 pounds, and has a 30" height limit. It weighs about 15lbs (seat + base). Many parents complain that it isn't really big or wide enough to fit a 25-30 pound baby, and don't recommend using it for that long. Overall, this is a relatively basic car seat that will function quite well, is safe and reliable, but may not last your baby's growth for quite as long as the others. The SnugRide is the least expensive of the group, coming in at around $130. Here is the Graco SnugRide Classic Connect 35, with different color options: Graco SnugRide Click Connect 35 Infant Car Seat
#4. Peg Perego Primo Viaggio 4/35 Infant Car Seat .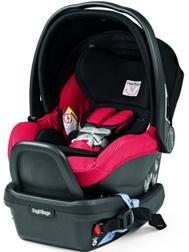 About $300, with some color options being more expensive than others. If you click on the picture, you'll see some additional colors and styles. Peg Perego was founded over 60 years ago in Italy, when founder Giuseppe Perego was motivated to make the finest baby carriage of the time, made of rubberized materials instead of wicker and sheet metal. Well, he succeeded, and the company was a bit hit in Europe for many decades. Fast forward to modern times, and Peg Perego has become a respected brand around the world for creating safe, durable, reliable, and comfortable baby products. There are several unique features for the Peg Perego, including adjustable side impact padding (6 positions up/down) to accomodate your growing baby, a comfortable handle, plenty of padding for even little babies (down to 4 pounds using an included dual-stage insert, up to 35 pounds), a soft and plush fresco jersey breathable cloth, a 5-point harness, canopy, and it's made in Italy (not China)! It is also one of the rare car seats to include the anti-rebound safety bar on the front, which is now standard in Europe but not yet required in the US. A bit beyond some other car seats on this list, this one has a 32" height limit for babies. The seat itself is relatively lightweight, coming in at only about 10 pounds. But together with the base it's quite a bit heavier (not that you'd be carrying it around with the base). It's not really the most comfortable to carry - especially given that the canopy opens up against the handle, so the only reasonable option is to carry it with the canopy retracted. Many parents also report that in addition to it being a bit cumbersome to carry around, the harness straps tend to spin around and tangle a lot, and some complain that many of the nice and affordable car seat covers (such as the JJ Cole) won't fit around the large side impact cushions. We also found a few things annoying in our own testing and evaluations: first, the handle releases require using both hands (one on each side), and second the canopy doesn't really cover more than the baby's head so everything from the diaper down will be soaked if you get caught in the rain. Overall, this is a great car seat with some limitations relative to the others. It's on our best car seat list, so you can't go wrong, especially since it comes in over a dozen styles! But for quite a bit less money, we'd go with the B-Safe. Here is the Peg Perego Primo Viaggio 4/35 Car Seat, with tons of different color options: Peg Perego Primo Viaggio 4/35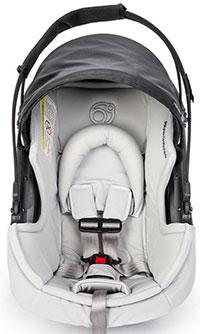 #5. Orbit Baby G3 Infant Car Seat.
This is truly the most awesome infant car seat concept to hit the baby market in the past several years! Not for the budget conscious though, this seat comes in typically between $400-500, topping out our list as the most expensive seat of the year. But for all that money, you get a ton of awesome features. First and foremost, this is called the Orbit seat for a reason: it rotates around on its base to give you great access to your baby when in the car, or attached to the (also expensive) Orbit stroller. We really loved this rotate feature when putting the baby into the backseat. You can keep the seat facing you, pop it into the cool base, and then rotate it to rear-facing. Also awesome for those days when you need to feed your baby with a bottle in the car, change your baby's diaper in the car, or want to pull your baby right up next to you at an outdoor cafe. It's really a great idea, and the Orbit G3 executes the idea very well. Now that we've gotten that out of the way, let's talk about some of the other awesome features. The deep cradle seat is deeper than the others on the list, which makes your baby sit nice and deep in a safe position that protects nicely from side impacts. Speaking of the seat, the cushion is super soft and breathable, and the infant insert is very snug and cuddly; the fabric on the seat is free of bad chemicals and irritants (certified by Oeko-Tek). Another great feature is the sunshade, which pulls out pretty far but then also has an extra "paparazzi shade" that covers the entire top to block the sun, rain, or prying paparazzi eyes! Sounds silly, but this was one of the best features of the seat, as it's great for when baby is napping and you want some privacy and protection from the sun. Putting the base into the car was a breeze, using the LATCH system and the cool "strongarm" knob that tightens the base down really quickly and evenly. And you'll know when you've installed it correctly, using the built-in green or red indicator. Unlike several of the other options on this list, however, it does not have adjustable leveling; the manual says to prop a towel under one side to level it out if needed. That's all fine and dandy, but we expected a bit more from a $450 car seat! Two other downfalls. First, with all these great features, it's quite a bit heavier (16 pounds!?) and bulkier than most others. And the handlebar isn't very comfortable for carrying it around; add the weight into that equation and you're in for a sore arm! Overall, this is an awesome and very unique looking and functioning car seat, but we're not 100% certain it's worth the high price tag.
#6. Evenflo Embrace LX Infant Car Seat.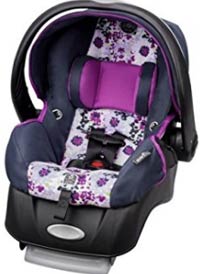 The Evenflo Embrace LX Infant car seat is the least expensive option on our list, at less than $100! This car seat accommodates infants from 4 pounds up to 35 pounds. The car seat itself weighs about 13 pounds and most moms commented on how lightweight it feels compared to some other car seats. This seat includes an easy to use LATCH system for the base and the seat is easy to snap into and out of the base. The fabric is easy to clean though some complained that the fabric can get warm and is not very breathable. This car seat also comes with 3 shoulder harness positions so that you can adjust the seatbelt straps to their appropriate positions as your baby grows. It's important to note that this car seat can only be used rear-facing. One of the biggest complaints that parents had about this car seat is that the canopy is not very large. Parents were also disappointed that there weren't many color options to choose from. Overall, though, this is a great car seat for the price! Here is the Evenflo Embrace LX Infant Car Seat, with different color options: Evenflo Embrace LX Infant Car Seat
#7. Baby Trend Flex Loc Infant Car Seat.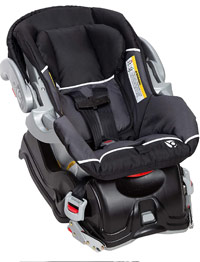 Baby Trend makes a great line of baby products that tend to be a bit less expensive than the major brands, but we also find that their products are not quite up to par with craftsmanship. This Baby Trend Flex Loc is no exception. All the major features are here: a nice 5 to 30 pound weight range, adjustable leveling base, no-rethread shoulder strap height adjustment, EPS energy absorbing side impact foam, a reasonably large canopy, and the ability to snap easily into several Baby Trend strollers like the Expedition Jogger and the Snap N Go EX. There are also some other great features. We really liked the soft multi-grip handle that allows you to carry it with your hand at a 45-degree angle or aligned with your body. This made it much easier for longer hauls, allowing us to switch hand positions to relieve some hand and arm pain! Not that it's particularly heavy: the car seat itself is only about 9 pounds, and the base is 6 pounds. It also has the typical removable infant insert for the little ones around 5-15 pounds. So with all these great features, why is it toward the bottom of our top 6 list? Well, we had a few gripes. First, the handle was a bit finicky to use, and we had repeated troubles getting it to go back easily. The mechanism isn't very easy to use, requiring you to push two finicky buttons (one on each side) to adjust. We looked around at other reviews and turns out this is a pretty common problem. Second, Baby Trend uses a somewhat unique crotch buckle design that is a little harder to buckly relative to others on this list. Finally, we also do not like the positioning of the lever to release the seat from the base, which is positioned at the front of the seat near the baby's feet. The problem is when rear-facing that side of the seat is jammed up against the seat of the car, making it difficult to use. So this unit has a lot of great features, but also some more design decisions that had us scratching our heads. Low cost, but also a bit lower on the ease of use! Here are several color options: Baby Trend Flex Loc.