Why you should care: An average of ten diaper changes a day for the first 6 months? About 2 wipes for wet, 5 wipes for soiled bums, that's about 30 baby wipes per day. Over 200 per week, nearly 1000 per month. Not to mention all the wipes you'll use for cleaning little hands and faces. With that much contact with your baby's bottom (and hands, arms, and face!), you better make sure what you're using is soft, sensitive, and durable.
At a rate of 1000 wipes per month you'll be wondering whether you should go with some of the cheaper options: Target Up & Up, CVS brand, etc. The problem is, while those options sometimes do a good job with sensitivity and fragrance, they tend to be very thin and easily break in your hand while wiping. That simply results in using more wipes because you need to double-up to protect your hands against the nasty stuff.
What we suggest: We recommend getting a better quality baby wipe, one of the sensitive options, that will be a bit thicker and give you better overall clean-up. You pay a bit more for better wipes, but you'll also use fewer and your baby will be less likely to develop diaper rash (click here to see our pictures and treatment options for diaper rash) from chemicals, fragrances, and excessive wiping. That will save you money and stress in the long run.
How to save some money: Driving to the store and picking up wipes, usually on a last-minute emergency basis, isn't really the best method. We suggest signing up for Amazon Mom (free trial!), which will give you a $20 cash credit, a 20% discount on subscribe-and-pay for diapers (see our diaper reviews here), and free 2-day shipping on nearly everything you buy there. Plus you get access to Amazon Instant Video; we have the Fire Stick and love it. Subscribe and save is great - you pick how often you want them delivered, and you save a ton; one of our moms is getting Pampers Swaddlers for about 25 cents each with free shipping. Don't like the wipes you got? Return them for free and they will refund your credit card. Amazon is excellent for these things, and you can save a ton of money by taking advantage of these offers.
What we did to test baby wipes: To review and rank the best sensitive baby wipes, we got together 5 moms. Two with a newborn, one with a 10 month old, one with a 15 month old, and one with a 2-year old that was beginning potty training. These moms did a hands-on test of 10 different major brands of baby wipes. These included: Pampers, Huggies, Target Up & Up, CVS, Amazon, YHYH, Seventh Generation, Walgreens, Burt's Bees, and Water Wipes. The moms felt them, smelled them, and used them to clean up wet and soiled diapers. After a couple hours we came to a verdict and rank ordered the top 5 best baby wipes.
Here are the best sensitive baby diaper wipes of 2016!
1. Bloom Baby Jumbo Sensitive Wipes. About 5 cents per wipe on Amazon right now. These are very new to the baby wipe market, and are by far the best available. We first tested these in January 2016 and were were amazed by how great they were. They smell great, they are durable and soft, they are large enough for several passes over a dirty bum, and the company making them (Bloom + Kind Inc) takes "sensitive" very seriously. They are 98% natural, without any of the harsh chemicals found in many wipes (like sodium lauryl sulfate, alcohol, chlorine or ammonium), but still contain an effective antimicrobial to make sure things are getting clean down-under. Made in the USA, these wipes are not only sensitive, they are also hypoallergenic and have never come into contact with nuts, wheat, or gluten. In our tests, even the most sensitive bottoms didn't show any signs of irritation or diaper rash after a few days of using these wipes, which is a pretty good testament to their effectiveness and sensitivity. The texture of the wipe is soft and flexible, with a little bit of stretch so they don't tear very easily. The texture is one of the best features: while most other wipes are smooth, this one adds a simple texture that helps immensely with cleanup! With pee, cleanup was extremely easy. With a poopy diaper, we folded them in half to ensure there was no break-through, and they were very effective. They are jumbo-size wipes, so even after folding them in half there is plenty of surface area to wipe effectively while keeping hands clean. We also liked the resealable packaging, which made it easy to keep the wipes fresh and moist without too much hassle. In our test, we only found one minor negative: when you pull out a wipe, the next wipe comes out of the package a bit too much before letting the first one come loose; if you leave it there without sealing it back into the pouch, a decent portion of the wipe will dry out after a few hours. This isn't much different from any of the other options, and we're grateful that the next wipe is indeed coming out in the first place (which is more than we can say for some other options!). Overall, these are the best baby wipes on the market right now, especially given the relatively low price per wipe. If you want another excellent wipe option for quite a bit more money, check out our #2.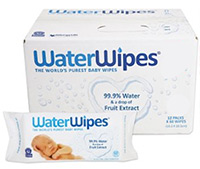 2. Water Wipes Baby Wipes, 99.9% Water. About 7 cents per wipe. When our boys were babies these weren't an option yet, which is unfortunate because parents absolutely love them. In our testing, we found these wipes to be the least irritating for sensitive bottoms, a good thick quality with a tiny bit of texture to help clean-up, and a great scent. That scent is grapefruit seed extract, which is .1% of the ingredients; the remaining 99.9% is just purified water on a cotton and wool wipe. That little bit of extract does something great - it gives it a pleasant subtle smell and also helps with clean-up. Other baby wipes contain all sorts of chemicals, many of which we cannot (and do not care to) pronounce. These are chemical-free, hypoallergenic, and are really great at reducing the risk of diaper rash. Our reviewers thought they worked really well and did a great job of clean-up. They also commented that it was nice not to have your hands and baby smell like chemicals after a diaper change. There were a few cons, however. First, the wipes were a bit harder to pull out of the package than the competition; one the one hand this is great because you won't accidentally pull out more than you need, but on the other hand it makes it difficult sometimes during a messy clean-up. We suggest pulling out 2-3 wipes before unfastening a soiled diaper! Also, because this is a water-based option, the water tends to settle a bit at the bottom of the package, making the top wipes less moist then the bottom ones. There are a few ways to solve this issue, but the one we found helpful was to simply turn the package over once in a while to get the moisture moving throughout the wipes. Overall, these are excellent wipes for parents who want the best and most sensitive wipes for their baby.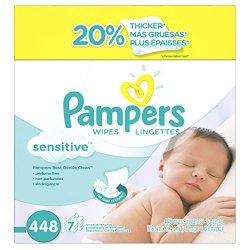 3. Pampers Sensitive Baby Wipes, Hypoallergenic Perfume-free. About 3-4 cents per wipe. These were the go-to wipes for three of the five moms who did this hands-on test. All of them swore by these wipes for their mildness, softness, thickness, durability, and scent. And you can't go wrong with the price either when you but them in decent quantity. You only need one wipe to get the wet jobs done, and likely 2 to get the dirty jobs done. That's because you can wipe then fold and wipe again. Not many other wipes are capable of that without worrying about things soaking through the wipe and getting on your hands. They are about 20% thicker than the Pampers Natural Clean variety, by the way. We also liked how they are very moist which makes clean-up easier. Some options like the Target Up&Up wipes are somewhat dry and rough. The Huggies sensitive are similar to these but not quite as thick, so even though they are cheaper you end up using more. Now for the negatives. First of all any sensitive wipe just isn't going to clean as well as the non-sensitive version; for example, the Pampers Baby Fresh wipes clean better than these, but they're not sensitive and don't do as good of a job preventing diaper rash. Second, the Water Wipes are completely natural so they don't have any of the alcohol or preservatives. But they do clean better than the Water Wipes. So if you're looking for a great, thick, sensitive wipe without any strong odors, the Pampers Sensitive is the right choice. If you prefer something a bit more natural, go with the Water Wipes. Note that the old Pampers Thick Care Sensitive wipes were even better than these, but they were discontinued a few years ago.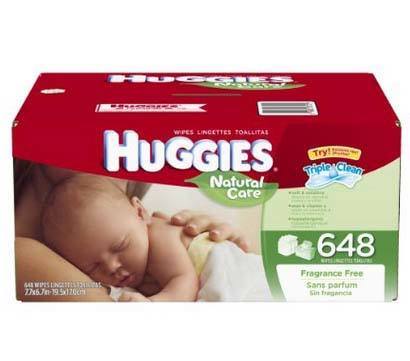 4. Huggies Natural Care Baby Wipes. About 4 cents per wipe. These are a direct competitor with the Pampers Sensitive wipes. One big difference 2 of the 5 moms noticed was the smell. Though they are fragrance free, there is a faint odor that 2 moms mentioned as a negative; the other 3 didn't notice it. These Huggies are fragrance-free, alcohol free, hypoallergenic, and very thick. Two of our moms said these were their go-to wipes, and they loved them. They are thick, durable, soft, and the moms reported no issues with diaper rash. They are a bit less oily then the Pampers, they don't leave the same slight film on your hands, which is good. However, we do note that Huggies contain parabens, which some experts believe could be harmful for your baby's health. Keep that in mind when you're making your decision, and do what you're comfortable with. Note that Huggies also makes a Simply Clean variety, but they are not hypoallergenic and didn't seem quite as thick.
5. Seventh Generation Original Soft and Gentle Free and Clear Baby Wipes. About 4 cents each. You can trust Seventh Generation to produce high quality, safe, natural alternatives to major brand baby wipes. These are the original Seventh Generation wipes which had a brief pause due to the release of the Thick and Strong version, which were not well-received by consumers. The Thick and Strong wipes were nice and thick, but people did not like the texture or durability. So Seventh Generation brought back these original Soft and Gentle wipes, and we're really happy about that. These wipes are free of dyes, parabens, fragrances, and alcohol. They are also hypoallergenic and sensitive for baby bottoms. For cleaning it contains coconut acid and citric acid, and to keep things sensitive it contains aloe. It also has some natural preservatives. Our moms noticed that these wipes had a pleasant odor, a nice texture, and they felt good about using something with ingredients derived from natural sources. So why is it not higher on our list? Well, two primary reasons. First, they are not as thick as many of the other options, and one of our moms said that some poop was able to get through during a dirty clean-up, so they had to use more wipes than they wanted to. Second, given that you have to use more, you would want them to be less expensive. However, they are about twice as expensive as the Pampers or Huggies options, and nearly as expensive as the Water Wipes.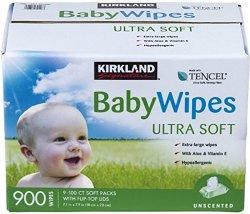 6. Kirkland Signature Baby Wipes, Hypoallergenic, Unscented. About 3 cents each. Anyone who has been to Costco has seen the Kirkland Signature, the mid-range house brand that has been making consumers happy since 1995. These were a big surprise for us; not one of our moms was a Costco customer, so they hadn't seen these wipes before our test. There are a lot of good things going for these wipes. They are hypoallergenic, alcohol free, unscented, made of renewable resources, and contain Vitamin E. We thought they were very soft, thick, and absorbant. Like the Huggies, however, 3 of our moms noticed an odor that wasn't as pleasant as the Pampers or as non-existent as the Water Wipes. Though these wipes are free of alcohol and are listed as hypoallergenic, they do contain some unfortunate preservatives that some moms report are harsh on bottoms. Note that a few years ago they were even worse, so some kudos to Kirkland for improving the safety of their wipes. Overall, these are truly good thick wipes.