This is a review of swaddling and receiving blankets. To see our review of swaddlers and sleep sacks, click here.
Our focus groups with moms revealed six primary brands who make soft, flexible, and durable swaddling and receiving blankets. These include Aden + Anais, Swaddle Designs, Margaux & May, and Wee Sprouts. Here are how the 2016 ratings and reviews stacked up:
#1. Aden + Anais Muslin Swaddle Blankets.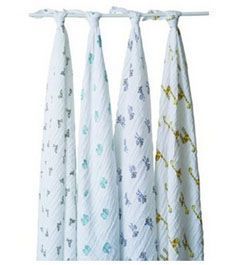 The Aden + Anais swaddle blankets come in two primary sizes, 44" x 44" and the larger "classic" 47" x 47" version. Most people prefer the larger size, so be sure that you're ordering the right ones; also, the word on the street is that the smaller ones are slightly thinner than the larger ones. In general, the Aden + Anais blankets receive fantastic reviews; they are warm yet lightweight, breathable, 100% cotton, and get softer with multiple washes. Moms report that they aren't the cutest blankets on the market, but they do the best job swaddling, and are great for other uses as well (covering the car seat, breastfeeding cover, tummy time blanket, etc).
These are the thinner and less expensive 44" x 44" ones: Aden + Anais Muslin Swaddle Blankets
These are the nicer and pricier 47" x 47" ones: Aden + Anais Classic Muslin Swaddle Blanket
#2. WeeSprout Organic Muslin Swaddle Blankets.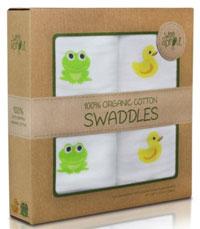 The WeeSprout are very similar to the Aden + Anais blankets, but they are made with 100% organic cotton, using a breathable, comfortable, soft, and flexible Muslin weave pattern. The great thing about Muslin cotton is that it actually gets softer as you wash it, rather than other fabrics and weave patterns that will get stiff, thin, and scratchy. Like all the swaddling blankets on this list, these can be used as an awesome 47" x 47" swaddling blanket, or as a nursing cover-up, play mat, burp cloth, stroller cover, tummy time blanket, and more! Another thing to note is that these WeeSprout blankets come in a nice looking box, so they can double as a great baby shower gift! The only downfall we found was that there are only a limited number of styles, so if you're not into rubber duckies or cute little frogs, then you're outta luck!
Here are the 47" x 47" blankets: WeeSprout Muslin Organic Swaddling Blankets
#3. Margaux & May Organic Muslin Swaddle Blankets.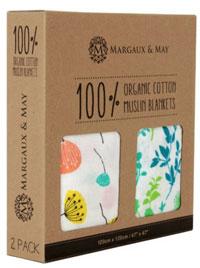 This was a toss-up between the #2 and #3 spots, and in both cases you're getting a super soft, super durable and comfortable swaddling blanket. They're both organic as well, so you don't need to worry about any harmful dyes, chemicals, or pesticides. In fact, they're also the same size (47" x 47"), both come in a cute box that makes for a great gift presentation, and we couldn't really tell them apart in terms of hand-feel. Both were breathable, soft, and flexible. And like the others, the more times through the washing machine, the softer it gets. There were only a couple small differences we could find between these and the WeeSprout. First, these were a tiny bit thicker, and second, these come in a few more patterns than the WeeSprout. The tie-breaker was really just those darn rubber duckies were so adorable we had to go with them!
Here is the Margaux & May Blanket: Margaux & May Organic Muslin Swaddle Blankets
#4. SwaddleDesigns Receiving Blankets.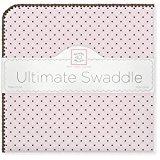 Let's be realistic. Swaddling has been done for centuries, even before the complex stitching of the Miracle Blanket or the invention of velcro. More traditional parents like the thought of simply using a blanket for swaddling! This is another versatile swaddling blanket option, a bit smaller than the others (40" x 40"), but certainly worth its cost. Though these are marketed as a receiving blanket, parents report loving these for swaddling. Moms report that these 100% cotton blankets are super soft (though a bit less so after a washing), and are made from a high quality and thick cotton. This is nice for those intermediate seasons, like Spring and Fall, when it's not quite warm enough for thin cotton, and not quite cold enough for micro-fleece. Only drawback is that it's a bit smaller in dimensions than the others, making it not ideal for swaddling a larger baby (like 24" +).
Here is a SwaddleDesigns Receiving Blanket: SwaddleDesigns Ultimate Receiving Blanket