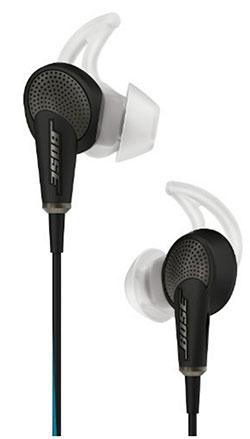 In my opinion, as a mom desperately in need of quiet time, these are the best in-ear noise cancelling headphones money can buy. No more head and ear pain from the large over-ear headphones, no more having to lie down only on your back while wearing the big clunky ones... put these in your ears and you're good to go. To test these out, we took them on a 15-hour flight from New Delhi, India to Newark, NJ. Screaming babies, engine noise, people talking loudly in all sorts of languages, and little me trying to get some desperately needed sleep before my baby woke up screaming!
These in-ear noise cancelling headphones worked amazingly well, and the rechargeable battery lasted the entire flight. And the small carrying case was ideal for flying. Compared to the QuietComfort 15 over-ear headphones, in my opinion the noise cancelling of these was about 90% of what those provide, and the music quality was about 95% of what those provide. But the comfort and convenience factors really outweigh that 5-10% difference between the systems.
Now I use them when I need some quick quiet mom-time without noisy disruptions, need to drown out the noise of my husband snoring, or want to listen to music in noisy environments like the coffee shop.
Highly recommended headphones. Note that you can buy either the conventional version of these that is great for Android and Windows phones, or the version that syncs up with your iPhone or other Apple device.