Best Scooters for Kids 2017 - Fun, Safe, Reliable
Scooters are a great way to get your kid outside exercising, training balance and coordination, and having fun. From about 3 years old upward, scooters are a super portable and versatile mode of transportation around the neighborhood.
Like a bike, scooters take a little bit of practice to get used to. If you start with a 3-wheeled scooter the practice time will be significantly cut down, your child will be less likely to fall and get road rash, and they'll be comfortable using it after the 2nd or 3rd try. For those reasons the 3-wheeled scooters are a great first option for kids; we got them for ours when they were 3, and they used them until they were about 6 and then switched to the 2-wheeled scooter. Note that the picture below shows our all-around best Maxi Micro 3-wheeled scooter: notice how it has 3 wheels and the handlebars adjust for a wide range of ages and heights? Excellent form factor and versatility. We've gotten a lot of questions about cute and fun helmets; we suggest checking out Raskulls, which has a number of cute options.
In addition to whether they have 2 or 3 wheels, scooters vary in a few other important ways.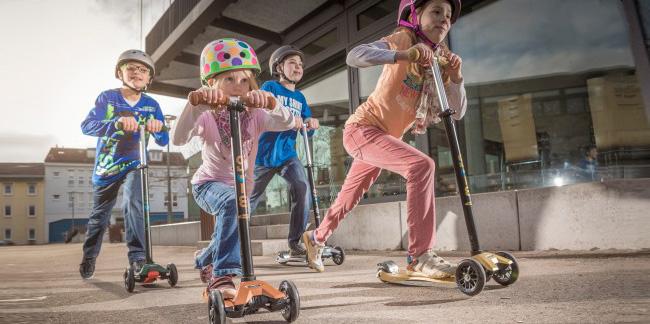 First, weight and height capacity are important, as many little scooters have rather low weight limits and handlebars that you will find a 4-5 year old growing out of quite quickly. Make sure you purchase a unit with a weight capacity at least 20 pounds heavier than your child, and height-adjustable handlebars.
Second, wheel size (diameter) is important. The larger the wheels, especially the front wheels, the more versatile the scooter is across varied terrains (even little pebbles and cracks on the road). If you purchase one of the less expensive scooters with tiny diameter wheels, there will be situations when your child will bump up against a pebble or crack in the sidewalk and the scooter will suddenly stop (possibly sending your child flying forward).
Third, stability is impacted by several factors, but we've found that the width between the two front wheels (on 3-wheel versions) is important, as is the standing platform width. In general the wider the gap between the two front wheels, and the wider the standing platform, the better the stability.
Fourth, a braking system is great to have and most are quite easy to use. Though most scooters are equipped with the push-down rear wheel fender brake, some do not include a brake at all. We recommend having a brake, especially for those downhill rides when you simply need to slow down a bit while cruising. In our tests, we've found that the wider and sturdier the rear step-brake, the better it works. The thin aluminum ones don't work very well especially when the wheel gets a bit wet and reduces friction.
With these factors in mind, we pulled together over a dozen of the most popular scooters on the market today, nearly half of which were 3-wheeled and the rest 2-wheeled (and one was electric!). They varied in weight capacity from 35 to 200 pounds, some had adjustable handlebars and some didn't, and some showed some build quality issues that emerged after only a few weeks of use. We strongly recommend 4 of the scooters we tested: The Mini Micro, Maxi Micro, and the Razor A3 and Razor A5. We review each of these below, along with a few additional recommendations.
Here are the Best Kids Scooters for 2017!
1. Maxi Micro Scooters. These are the best 3-wheeled scooters to get your child, and they make an awesome first scooter.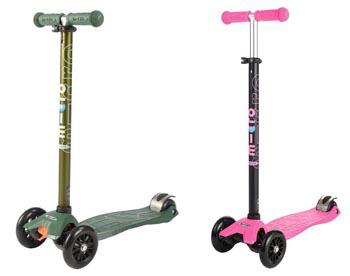 We really loved everything about them. The Maxi Micro is marketed for kids aged 5-12 with a weight limit of about 110 pounds. They are available in multiple fun colors, the boys who tested it liked the sleek silver Maxi version, and the girls tended to gravitate toward the purple Maxi. This is a safe, reliable, lightweight (about 5 pounds) scooter that is easy to learn, easy to maneuver, and tons of fun to ride! You might notice that there is a Mini and a Maxi version (the Mini is below at #2). The Mini is a bit more basic than the Maxi. The Maxi adds an adjustable handlebar height, dual rear wheels, and higher weight capacity (112 pounds). It is recommended for kids 5-12 years old, though our 4 year old started with the Maxi last year and it wasn't anywhere near too big. The front wheels are over 4.5" in diameter, with smaller rear wheels that are doubled up side-to-side for better braking, stability, and less chassis flexing around corners. The steering is easy to learn and control; to steer, kids lean right or left rather than turning the handlebars (like you would with a 2-wheeled scooter). The wheels are low resistance, bearings are smooth and quiet, the handles are soft and grippy, and the brake works well unless the rear wheels are wet (for that reason, we don't suggest riding in wet conditions with any scooter). This Maxi Micro runs about $130 online. You can detach the handlebars for travel or storage but for more convenience there's a more expensive foldable version (but usually out of stock/hard to find). For something a bit less expensive but also less versatile, see our #2.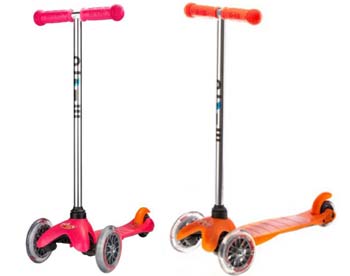 2. Mini Micro Scooters. This is the less expensive version of the Maxi Micro, intended for 3-5 year olds up to 44 pounds. They do not have the adjustable handlebar height, instead being fixed at about 24" tall which is the same as the Maxi's lowest setting. They also have a single rear wheel which makes it a slower braker, and they have more flex in the chassis (which reduces stability). The brake is also not quite as heavy duty as it is with the Maxi. But it also tends to be about $50 less expensive than it, so there's some compromise if you're looking to save cash. The neighborhood kids who tested these scooters thought the Maxi was capable of going faster, turning harder, and was generally more stable than the Mini. In our opinion, we recommend skipping the Mini and going directly to the Maxi unless your child is particularly small (like under 35" tall) or you're on a very limited budget. With the Maxi handlebars all the way lowered it is small enough (24" high) for the typical 3 or 4 year old, matching the Micro height, but having the ability to grow with your child. We did not find it more difficult to learn or manage than the Mini; in fact we found the Maxi somewhat better since it showed less overall frame flexing during turns, giving kids a bit more stability and confidence.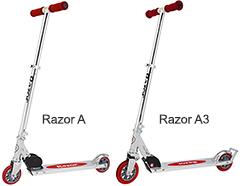 3. Razor A-Series Kick Scooters (A and A3). If you're looking for an excellent 3-wheel scooter, go with the Maxi Micro, but if you're looking for a little more challenge for a kid over 4-5 years old with great balance who wants to test his or her limits a bit, definitely go with the Razor A-series of scooters. The series is expansive, and it can be a bit daunting to figure out which one is perfect for your situation. We're going to help you out with that. The A-series scooters all have some great core features: adjustable handlebar height, durable and reliable rear brake, foldable to a portable size, lightweight aluminum frame, and a high weight capacity given their size and weight. They are all very well built, durable, high quality, and reliable. They have lower rolling resistance than the Micro series, due both to the fact that it only has 2 wheels and also harder tire rubber and good bearings. All things being equal (same kid, same surface, same exertion), that means the Razor will get moving a bit faster than the Micro. We liked the all aluminum construction on the standing platform and handlebar, making it about the same weight as the Micro but more durable and with less overall chassis flex around turns. It also has a great and easy to use folding feature that makes transporting or storage very easy. The series begins at A, and then goes through A2, A3, A4, and A5. The A4 and A5 are really for bigger kids, aged about 7-8+ who have already been riding a scooter for a couple years. They are larger and more unwieldy for a younger first-time scooter rider (we review the A5 below, for bigger kids and adults). For a first-time scooter rider, we suggest starting with the A version, which we think is suitable for larger 4 year olds and up. The A version is the smallest and lightest (and least expensive) in the series, coming in at only 5 pounds with a high 143-pound weight capacity. It has small, 98-mm diameter wheels, which we found to be high quality and low rolling resistance. The handlebars adjust down very low for the shorter kids, and up high enough to fit a 7-8 year old. The kids over 7 years old who tested the A version thought it was a bit too small for them (handlebars too low, platform too short, wheels too small). The next size we suggest is the A3 version (we suggest skipping the A2), which is an excellent 2-wheeled scooter that supports up to 143 pounds, but also has a higher handlebar height and longer platform. It also has a few little extras for fun riding - the front wheel has a bit of suspension to dampen rides over rougher surfaces, and it has a little wheelie bar on the back. See the little metal bar popping out behind the rear wheel? If your kid is looking to start doing tricks, they can lean way back without flipping backward, dragging along on the wheelie bar for fun. One of our older and more spirited test kids (8 years) was popping wheelies all the way down the road! The wheels are wider diameter, at 125-mm, which helps them get over smaller bumps and pebbles without stopping in place. This is a bit advantage over the A model, which tends to have some sudden stops over little pavement cracks and pebbles. So what are the downfalls of the A and A3 models? Well, they are 2-wheelers so it will take a bit longer for a first-time rider to get used to, and that might mean more falls in the interim. Also, the standing platform is very narrow, so while the pushing foot can rest temporarily on the Micro's platform, you'll be hard pressed to fit more than a couple toes onto these. Also, the small wheels on these scooters can cause them to get hung up on cracks and pebbles; the A3 is much better than the A, and the A5 is excellent but best for older kids and adults (see our review below). Note that the Razor, because it is a 2-wheeled scooter, uses the traditional steering system (not the leaning system).
Here are the Best Scooters for Babies and Adults!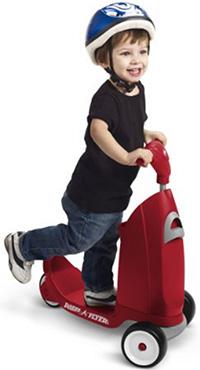 Best for the Littlest Ones (about 12 months to 2 years): Radio Flyer Ride to Glide Ride On Scooter. While the Micro and Razor series scooters are great for bigger kids, we also tested out scooters for the littlest kid in our group (he's 20 months). There aren't many options in this category, we only tested 2 (the other one we tested is also great, but harder to find), but we really liked the safety and features of the Radio Flyer Ride to Glide. The scooter is the most advanced option for this. Before you make it a standing scooter, you can use it as a super fun sit and ride toy. Since this article is about scooters we'll focus on that aspect, and if you want it without the side-down aspect, you can see the scooter-only option here. In our testing, we found this scooter to be sturdy and safe. It has 3 wheels with a very wide wheelbase on the front, so it was very hard to tip side-to-side. The steering is a simple point-and-go, and it doesn't have any extreme turning angles to keep things safe. It's very simple and the two little ones in our group figured out how to ride it pretty well after a couple tries. We think it's an awesome way to give kids exposure to the kick-scooter type of toy, and we think after a year or two using it they will hit the ground running with the Micro series. Cons? Well, for those looking for something that will provide a bit more of a scooter experience and less of a baby toy, hold off until about 2.5 years old and go with the Maxi Micro. Also, we think it's best suited for indoor play, or a very smooth asphalt driveway. In our opinion though, this is a great and relatively inexpensive way to get your baby scootering and having fun!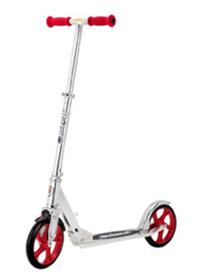 Best for Big Kids and Adults: Razor A5 Lux Scooter (for ages about 8 to 100!). Every once in a while we test out kids products and the adults in the group end up being drawn to a certain product and enjoying it just as much as the kids. That's exactly what happened when we tested out the Razor A5 Lux. It was too big for most of our kid testers, but the 8 year old and parents all had a blast on it. Even the tallest guy in the group, at 6'-3" tall and over 200 pounds, thought it was a blast. And he commented that he was impressed that it fit a size 12 shoe with some space to spare. The handlebars adjust to reasonably accommodate kids from about 46" tall all the way up to adults. The weight capacity is 220 pounds, and the scooter is really fun and stable to ride. The wheels are the biggest in the group, supporting higher weights but also less likely to slow down or stop over pebbles or cracks in the sidewalk, and overall a smoother ride without as much vibration. The brake worked really well, though it was a bit noisy - making the sound you'd expect to hear from aluminum fender rubbing on a hard rubber tire. This is the biggest of all our recommended scooters, supporting the largest height, age, and weight range. Even folded up (yes, it folds up easily!) it was rather big since it's about 3 feet long. Also relatively heavy, coming in around 9 pounds. It also has a very low standing height, so your inside leg (the non-pushing one) doesn't have to flex as much during pushing. It's very easy to fold open/closed, easy to adjust the handlebars, and feels very sturdy and well constructed. This is an awesome scooter that will really last you a lifetime. The adults in our group forgot how much fun scooters were, and several of them commented that an adult scooter is such an awesome concept. No more running alongside your kid, instead you can scoot with them for an awesome family activity. We found the Razor A5 online for about $80-90, in blue or red options. Finally, if you're a little worried about stability when learning to ride a scooter, you can get an awesome adult version of the Micro scooter (the three-wheeled ones) for adults up to 220 pounds!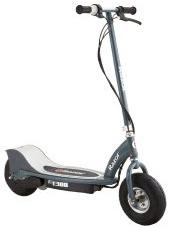 Best Electric Scooter for Big Kids and Adults: Razor E300 Electric Scooter. For the kids who have it all, including good coordination and vigilance, this electric scooter is an awesome toy for kids. They'll be the envy of the neighborhood for sure. When we tested the E300, kids literally came out of their houses to see it and try it out. It doesn't go *too* fast, only about 15mph. That's certainly fast enough to get a kid in trouble, but not fast enough to make sure trouble is around every corner. In our tests, on flat suburban streets, we were able to squeeze about 45 minutes out of a single charge. Charging time is about 12 hours, so it's perfect to charge overnight. The throttle control is an intuitive twist, and it includes a hand brake for fast stopping power. The standing platform is quite large, big enough for even an adult with size 12 shoes to stand with their feet to the side. The steering is stable, the pneumatic tires are big and strong enough for most surfaces. We took it on a gravel path and it did quite well, maintaining a pretty smooth ride even over the bumps. This is a truly awesome and fun scooter. Make sure you get your kids a helmet and elbow/knee pads - a 15mph fall is nothing to scoff at! Cons? Well, the battery charge time is a bit long, and the instruction manual is very specific about the charging patterns you need to maintain. If you do not follow the charge/discharge instructions, the battery will definitely die within a couple years.