New Recommendations for Rear-Facing Car Seats
Drive with peace of mind with these latest guidelines for car seat safety.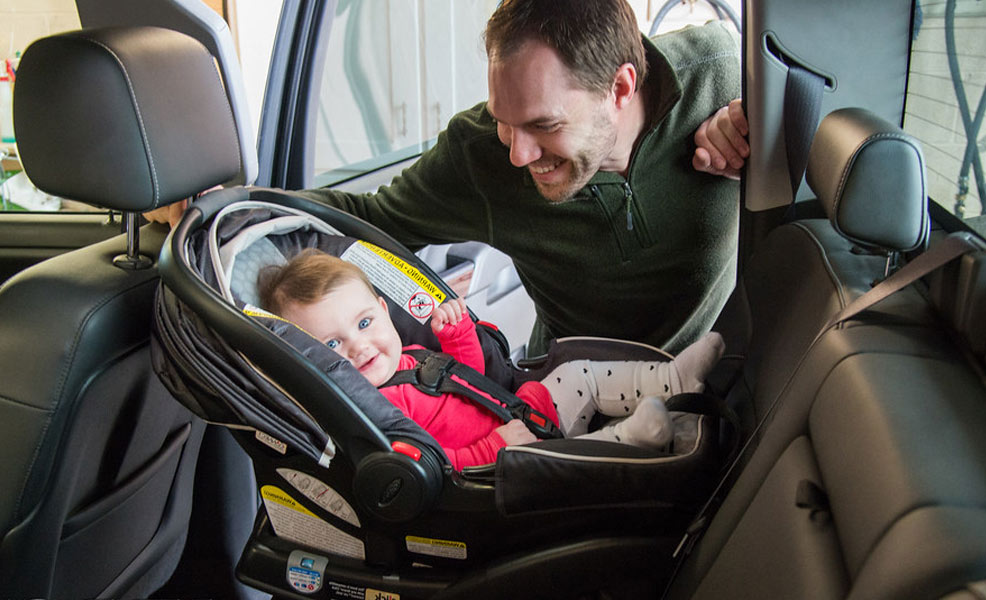 ---
Mommyhood101 independently tests and curates baby gear to help you make informed decisions. If you buy products through links on our site, we may earn a commission.
The American Academy of Pediatrics (AAP) recently changed their recommendations for how long children should remain in a rear-facing infant or convertible car seat.
As most of you probably know, the AAP previously recommended that children should remain in a rear-facing car seat until they are at least 2 years old.
The New AAP Car Seat Recommendation
The new recommendation as of 2018 states that children should remain in a rear-facing car seat until they reach the height or weight limits of the car seat. There is no longer any age limit for rear-facing car seats.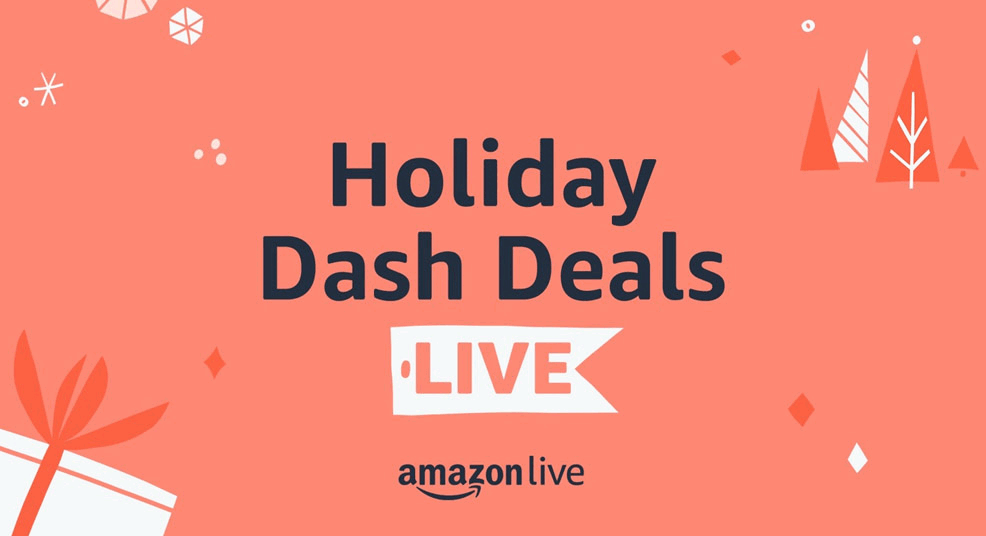 The good news is that the best infant car seats and convertible car seats have increased their weight and height limits to extend the rear-facing phase.
The new AAP policy states that children should remain rear-facing until they reach the height or weight limits of their rear-facing car seat.
Car Seat Weight and Height Limits
In a summary statement and technical report published in the journal Pediatrics, the AAP states that newer convertible car seats allow children to remain rear-facing until they are 40-50 pounds.
Most children can remain rear-facing past their second birthday. - Benjamin Hoffman, MD, FAAP
Accident Research Results
The old AAP recommendation stated that children should ride rear-facing until their second birthday, which was based on accident research showing lower injury risk for rear-facing children aged 1 to 2 years.
However, the AAP found that study to be slightly flawed and have updated their policy as a result. Specifically, the AAP does not have sufficient data to determine an exact age cut-off for rear-facing car seats, so they have removed the age limit entirely.
Instead, they note that rear-facing car seats are safest for protecting the child's head, neck, and spine in the event of an accident. In a rear-facing position, the car seat is situated in a way that helps it absorb most of the forces of a crash; in a front-facing position, children are much more likely to have their head and neck thrown forward in an accident, resulting in a higher risk of injury. This animation shows you an example of that difference: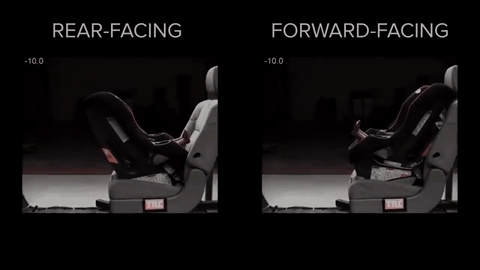 We recommend using an infant car seat until your toddler reaches the car seat manufacturer's height or weight limit. A great infant car seat will support your baby until they are about 35 pounds or 32" tall. It is very likely that they will reach that height limit before the weight limit.
After they reach the infant car seat's height or weight limit, we recommend transitioning to a convertible car seat. The best convertible car seats on the market can remain in a rear-facing configuration until your child is up to about 45 pounds (like the Diono Radian, which supports rear-facing up to 45 pounds or about 44" tall) or even as much as 50 pounds (like the Nuna Rava, which goes to 50 pounds or 49" tall, or the Graco Extend2Fit, which goes to 50 pounds or about 45" tall). Be sure to check out our reviews of the Nuna Rava and Diono Radian.
Always Read Manufacturer Recommendations
Note that you always need to read the owner's manuals for these car seats to see exactly what the manufacturer recommends. For example, the Graco Extend2Fit height limit is actually when your child's head is 1" below the grey headrest adjustment handle. That tends to be around 45" tall, but it varies a bit based on your child, how they position themselves in the seat, and how high you have the headrest positioned.
The other thing to keep in mind with this updated AAP rear-facing policy, is that when you transition from the infant car seat to the convertible car seat, you will likely no longer be able to use the LATCH system to secure the car seat into your vehicle. The LATCH system has a weight limit of 65 pounds (total car seat + baby weight), and most convertible car seats weigh at least 20-25 pounds. So that means your child will very likely be over the weight limit for the LATCH system and you will need to use your vehicle's seat belts to secure the convertible car seat into the vehicle.
All of the newly published AAP recommendations for rear-facing car seats:
Rear-facing until reaching car seat's limits.Infants, toddlers, and children should ride rear-facing for as long as possible. That usually means maxing out your infant car seat's height and weight limits, which tend to be about 30-35 pounds or 30-32" tall, depending on which infant car seat you're using. Then, new convertible car seats provide height and weight limits that allow your child to ride rear-facing until they are well over 2 years of age.

Use 5-point harness when forward-facing.Once your child does transition to forward-facing, they should use either a convertible car seat with a 5-point harness, or a combination booster with a 5-point harness, for as long as possible (i.e., until they reach the manufacturer's height or weight limits for the 5-point harness). In other words, don't transition early to a belt-positioning booster.

Extend the use of a belt-positioning booster. As we point out in our article about the most common car seat mistakes parents make, parents tend to stop using a booster car seat way too early. Once your child transitions from a 5-point harness to a belt-positioning booster, the AAP recommends they keep using the belt-positioning booster until they are tall enough that the vehicle's seat belt falls correctly on their lap and shoulder (i.e., not on their stomach and neck). The AAP suggests that the belt-positioning booster should be used until children are at least 4 feet 9 inches tall and are about 8-12 years old.

Always use a seat belt. You probably realize this already, but you'd be surprised how many parents let their children sit in the car (or wander around the car) without a seat belt at all. Bad idea, it only takes one person to rear-end you and send your child ejected out of the car onto a busy road. Keep them buckled at all times! Once they transition from a belt-positioning booster to using your vehicle's seat belts, make sure they are always using the lap and shoulder belt to optimal protection.

In the back seat until 13. This varies state-by-state, but the AAP policy recommends that children remain seated in the back seat of the vehicle until their 13th birthday.
Over the past 10 years, about 15,000 children under 14 years old died in car crashes. The proper use of a car seat can reduce the risk of injury of death by more than 70%.
With statistics like that, why risk your child's safety?