Best Organic Baby Formulas of 2023
Keep your little one nourished with these organic and non-GMO baby formulas.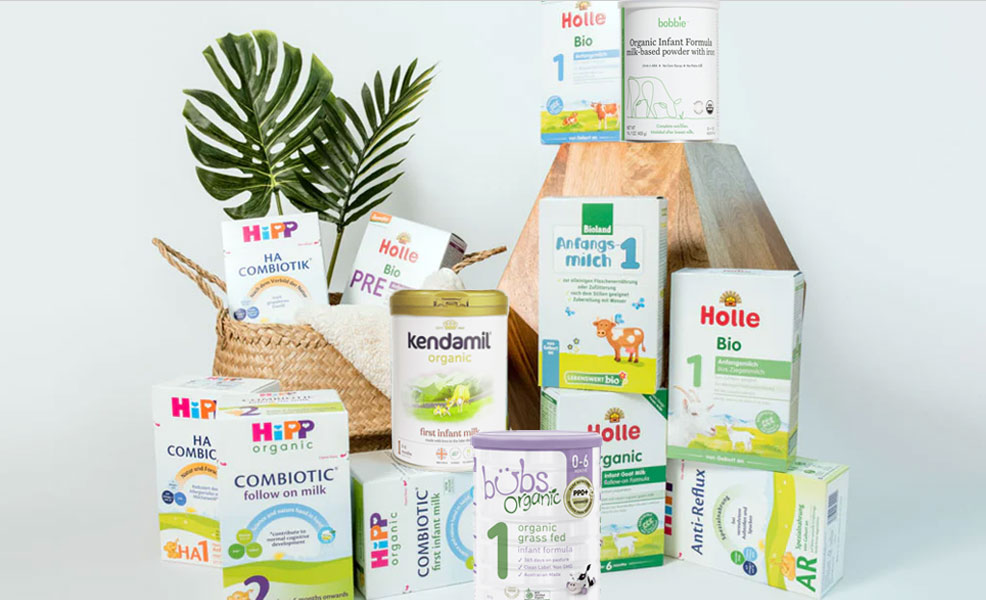 ---
Mommyhood101 independently tests and curates baby gear to help you make informed decisions. If you buy products through links on our site, we may earn a commission.
We all know the old mantra "Breast is Best," but not all moms can follow that advice. The good news is you're not alone: most US moms use baby formula to supplement or replace breastfeeding by 3-6 months of age.
Fortunately, there are very high quality and nutritious (to FDA & USDA standards) organic baby formulas to choose from, made in the USA and Europe.
We've been reviewing infant formulas for over 10 years. If we made our own organic formula, here is what it would look like:
✔️ Certified organic.
✔️ Meets federal feeding guidelines.
✔️ First ingredient is lactose or milk.
✔️ 60:40 Whey to Casein ratio.
✔️ Omega-3 fatty acids (DHA, ALA).
✔️ Omega-6 fatty acids (ARA, LA).
✔️ Amino acids.
✔️ Prebiotics.
✔️ Inositol, Lutein, & Choline.
✔️ No Gluten.
✔️ No sucrose, sugars, or corn syrups.
✔️ No maltodextrin.
✔️ No soy (soybean oil is OK).
✔️ No palm olein.
✔️ No nonorganic soy lecithin.
✔️ No carrageenan.
✔️ No DHA extracted with Hexane.
Of course, you also want the formula to mix easily and settle without bubbles or clumping, show high acceptance, and not cause gas, reflux, spit-up, constipation, and colic. And don't forget a fair price!
That's a lot to ask for, and very few formulas meet the needs of picky parents.
Full disclosure: Some of these baby formulas, including the Kendamil, Bubs, Bobbie, Loulouka, Lowenzahn, Baby's Only, and HiPP varieties, were sent to us as free test samples by the manufacturer.
Here are the top 5 formulas we've tested, followed by reviews of over a dozen options. Once your little one begins transitioning to solid foods, be sure to check out our list of the best baby cereals and purees for babies!
Over the past decade, we have tested and reviewed over 50 different infant formulas with over 150 different babies, including both U.S. and European brands.
Within each of the below reviews, you can find a link to our full hands-on review of the baby formula option. If you have any questions, please do not hesitate to send us a message!
Here are Our Top Picks!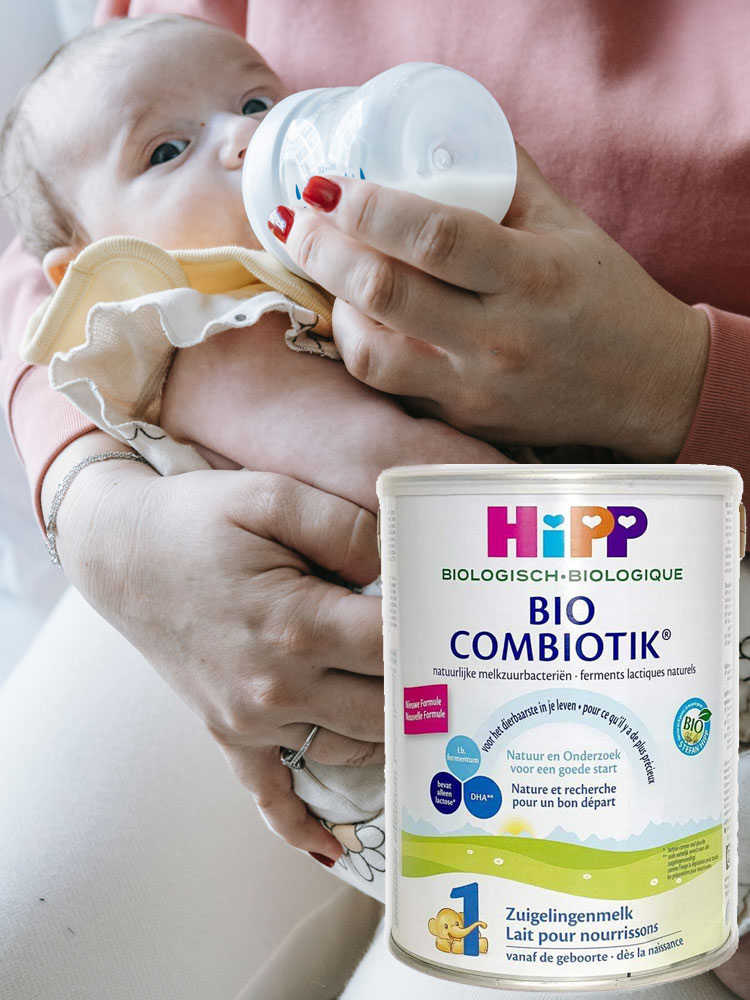 HiPP stands out for its high sensitivity and tolerability for infants who struggle to digest other baby formulas, making it a game-changer for babies with sensitive tummies. HiPP Combotic formulas are all made in Germany but are available in Dutch, UK, and German varieties. They all differ slightly, and our strong preference is for the Dutch version (see why here). HiPP Dutch is a skim-milk and lactose-based certified organic formula that contains both prebiotics (plant fiber) and probiotics for digestibility, Omega-3 (DHA, ALA), and Omega-6 (ARA, LA) fatty acids, and uses whey powder (and whey protein) along with a mix of vegetable oils (palm, rapeseed, sunflower). Similar to mature breast milk, it has a whey-to-casein ratio of about 75/25 and contains lactic acid bacteria cultures (B.lactis) that can help reduce colic and irritability (according to published research).
Even more compelling is what this formula does NOT contain: starch, gluten, maltodextrin, processed sugar solids, artificial preservatives or vitamins/minerals, soy (Stages 1-2), or GMO ingredients. It's a very comprehensive infant formula that is widely respected around the world for its macro- and micro-nutrient profile and is frequently recommended by pediatricians and infant feeding specialists for little ones with sensitive stomachs (always ask your pediatrician first!). The lower lactose content and the addition of prebiotics and probiotics make this the best sensitive baby formula option, while also making it relatively complete in terms of nutritional value.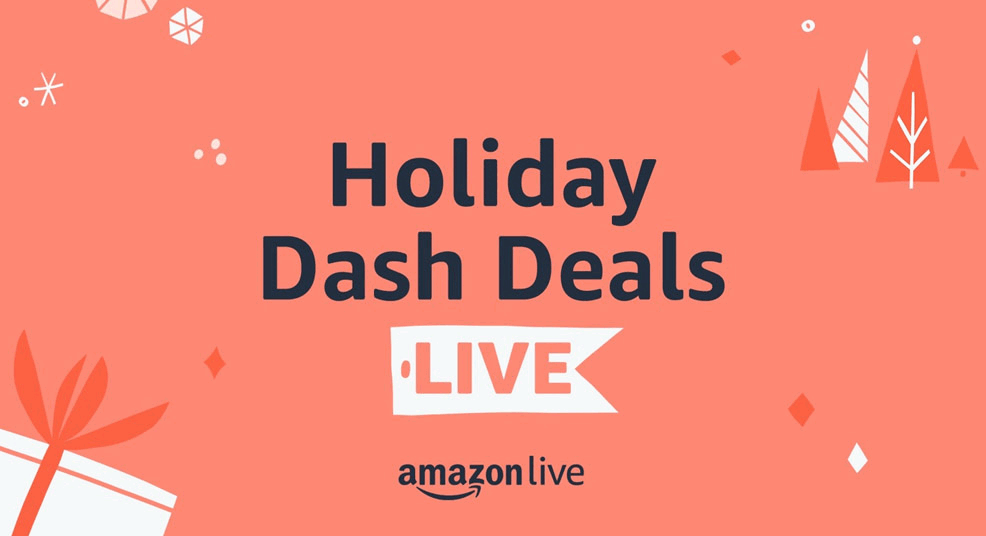 We have tested the Dutch, UK, and German versions of HiPP Combiotik (called Combiotic in the UK) in several infants and toddlers, and found very high acceptance rates, with none of them developing any signs of gas, bloating, colic, or discomfort. In our testing, we loved the Dutch formula in particular for its ingredients, consistency, ease of mixing, and lack of bubbles after mixing. For more details on our testing of HiPP formulas, see our full in-depth review of Dutch, UK, and German HiPP Combiotik. Cons? The HiPP formulas do contain some palm oil (alongside rapeseed and sunflower oil). Palm oil is commonly used in baby formula to provide the palmitic acid found in breast milk; however, some parents prefer other oils. As the most popular organic baby formula on the market, you might not be surprised to learn that Hipp Combiotic is somewhat expensive at about 23 cents per ounce of prepared formula (or $1.70/ounce of powdered formula); note that you can save 5% with our "Mommyhood101" coupon code at The Milky Box. Interested? You can check out the HiPP Combiotik Formula here!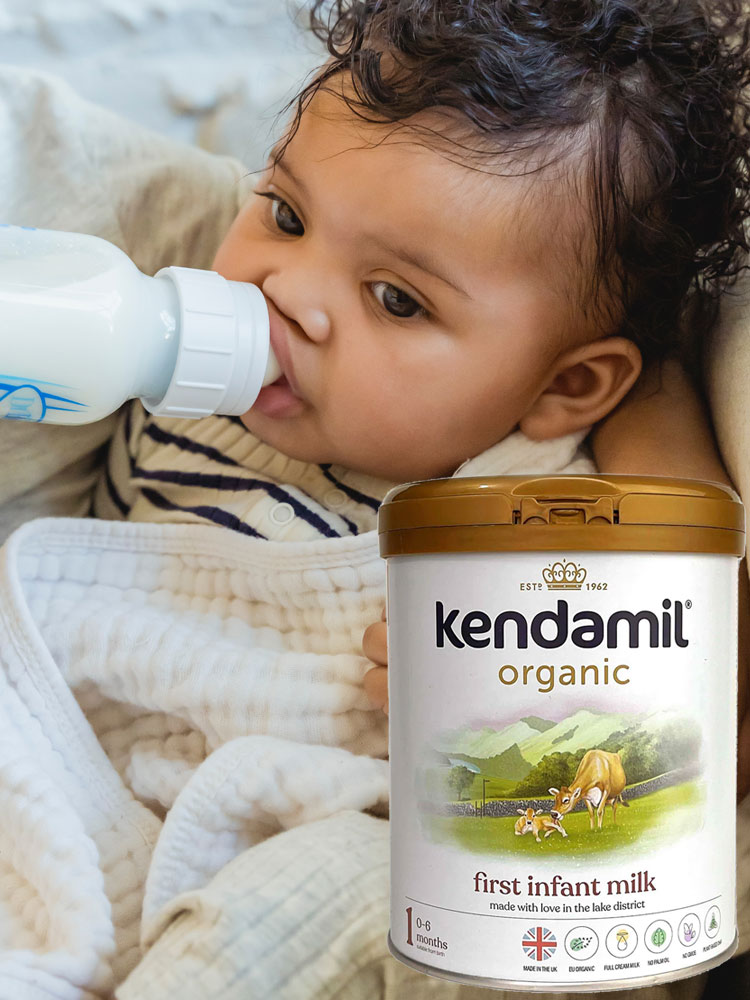 Kendamil stands out as one of the only organic, whole-milk baby formulas available on the market! Founded in 1962, Kendamil is one of the longest-running baby formula companies in Europe, with a long and reliable history of producing very high-quality baby formulas. They first launched this organic formula in 2018, and we were one of the first to get our hands on it for testing. Soon thereafter, Monde Selection awarded Kendamil with their prestigious Gold Metal award as the world's best organic baby formula, and you might recognize the name from its use by the Royal Family (the Duchess of Cambridge fed Kendamil to Prince Louis)!
What makes this formula so great? It is the only whole milk formula on our list, and it doesn't contain any of the nasty ingredients we prefer to avoid: gluten, soy, palm oil, sucrose, corn syrups, or maltodextrin. What does it have? Whole milk as the first ingredient, Omega-3 (DHA, ALA), Omega-6 (LA), amino acids, prebiotics (GOS from milk), inositol, and choline. Fats come from sunflower, coconut, and rapeseed oils, without any palm or soy-based oils. Also, we love the fact that it contains milk fat globule membranes (MFGM) just like breast milk, which are associated with healthy brain development and cognitive outcomes in children.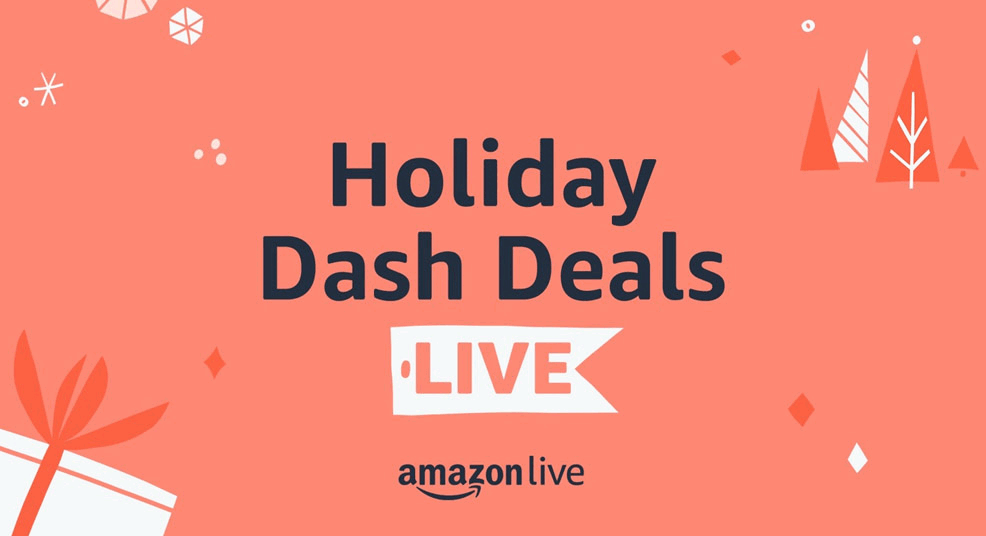 In our testing, we found that the formula mixed very well with warm water without any clumping, bubbling, or excessive foaming. You can see more details in our full review of Kendamil organic baby formula. We fed the Kendamil to three infants and two toddlers, and all of them readily accepted it and consumed their usual feeding amounts. Only one of the four babies, the 4-month-old breastfed one, developed a bit of gas. Her mom didn't attribute it to Kendamil, noting that the same thing happens when she tries any formula. It is important to note, however, that whole milk baby formulas can be a bit more difficult to digest, especially for infants with the most sensitive tummies. For them, we would try out the HiPP option, above.
The only other small drawback is price, with Kendamil coming in at about 22 cents per ounce of prepared formula (or $1.75/ounce of powdered formula). We do have a "mommyhood101" coupon code you can use here for 5% off. Overall, we love the new Kendamil organic baby formulas, available in Stages 1-3, and we're happy to feature them here on our list. In a bit of recent news: Kendamil partnered with the U.S. FDA to bring Kendamil formulas to the US as part of Operation Fly Formula, and their non-organic version is now available in the United States. Interested? You can check out the Kendamil Organic formula here!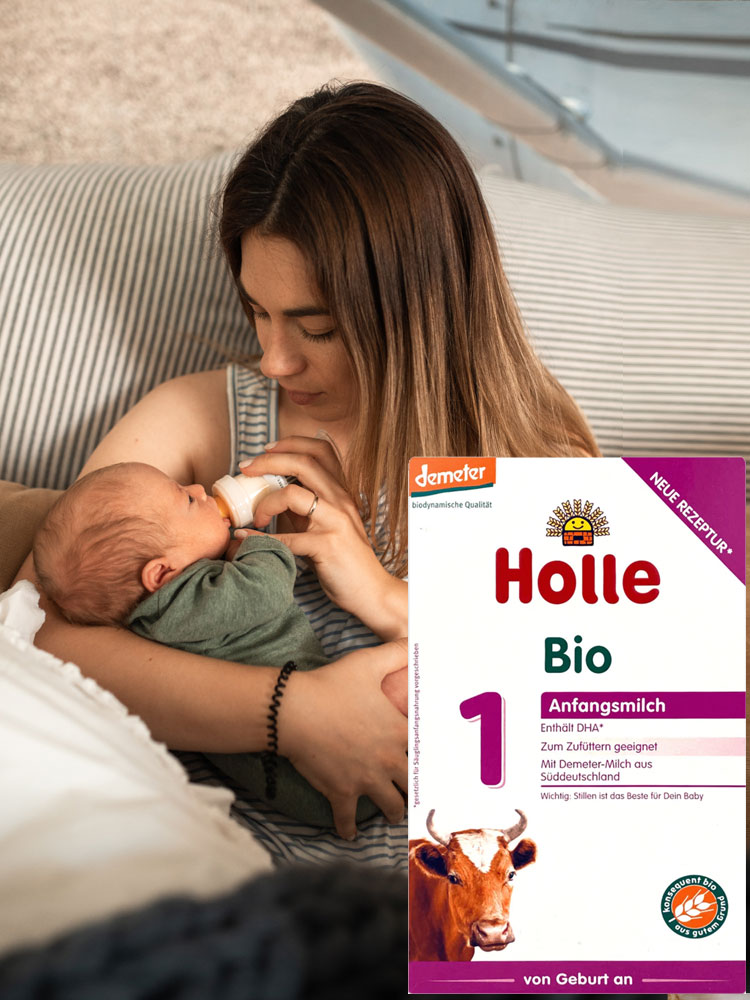 Holle formulas (pronounced "hoe-lay") are made by one of the oldest and most widely respected baby formula companies in the world, with over 85 years of experience making non-GMO organic baby food products. Based in Switzerland, they work directly with the best German raw organic ingredient suppliers and carefully track the sourcing, sustainability, and quality of every ingredient they include in their baby formulas. Ingredients are sourced from Demeter biodynamic farms, which hold the highest European certification for sustainable farming without chemicals and synthetic pesticides, herbicides, or fertilizers. This is an organic baby formula that you can truly feel good about.
The Holle Bio line comes in two infant formula stages, Holle Pre and Holle Stage 1, both intended for birth onward. It also comes in what the company calls "follow-on milk" (stages 2-4). We've personally tested the Pre and stages 1 and 2 varieties, in both Cow and Goat varieties, and are thrilled with what they have to offer. Each has no artificial preservatives, flavors, colors, thickeners, sweeteners, or chemicals. The cow version contains organic whole (Pre) or skim (Stages 1+) milk and whey powder as the first two ingredients, then organic vegetable oils (palm, rapeseed, sunflower), and vitamins and minerals.
In our testing, the Holle Pre was super easy to dispense and mix, and it showed a very high acceptance rate even for primarily breastfed babies, making it one of the best options as a transition formula or for parents who need to switch between breastfeeding and formula. We saw very low levels of gas, spit-up, reflux, or other gastrointestinal distress in babies using this formula, and we know many parents who are using it on recommendation from their pediatrician. We liked the fact that it contains Omega-3 and Omega-6 (LA, ALA, and DHA), and the nutritional profile meets US recommendations (USDA, FDA). Cons? First, it contains palm oil, which some believe can cause a bit of gassiness in babies with more sensitive tummies, and rapeseed oil (which is canola oil with more erucic acid). Second, it is pricey just like the other European formula options, coming in at about 29 cents per ounce of prepared formula (or $2.05 per ounce of powder). Fortunately, this European baby formula is available here in the US from certain online stores like The Milky Box, making it less expensive than it used to be. For more specifics about Holle, be sure to read our Holle baby formula review here. Interested? You can find the best deals on the Holle Bio Pre and Stages 1-4 baby formulas here!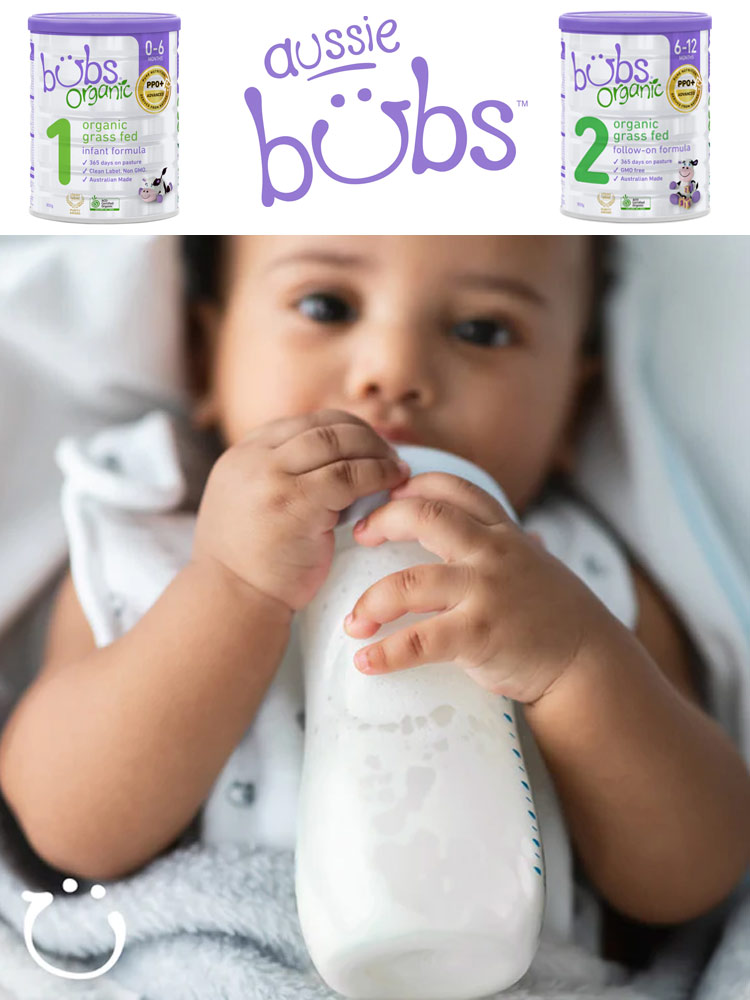 Operation Fly Formula has opened up the US market to new international formula options, including the very popular Aussie Bubs. The name may have been a dead giveaway that Bubs is made in Australia, but did you know that it uses milk from free-range, grass-fed cows in New Zealand, is FDA-cleared for distribution in the United States, and ships from offices in San Francisco? Consider yourself informed! Bubs is becoming increasingly popular in the United States, offering very high-quality certified organic formulas at a very reasonable price. This particular formula, the Bubs Organic Grass-Fed Infant formula (stages 1 and 2) is our all-time favorite.
We got our hands on the Bubs formulas in mid-2023 (thanks for the samples, Bubs!) for testing and were impressed with their quality, ingredients, nutrition, preparation, acceptance, and tolerance. Starting with quality, we love that this Bubs formula received the Clean Label Project Purity Award, which includes a very stringent certification process that ensures the farms, cows, milk, and all other ingredients are responsibly sourced and free of harmful contaminants. It is also certified organic by NASAA and ACO, uses milk from free-range and grass-fed cows in New Zealand, and has none of the nasty stuff we like to avoid: artificial colors or flavors, maltodextrin or food starch, preservatives, gluten, palm oil, or any added sucrose or corn syrups.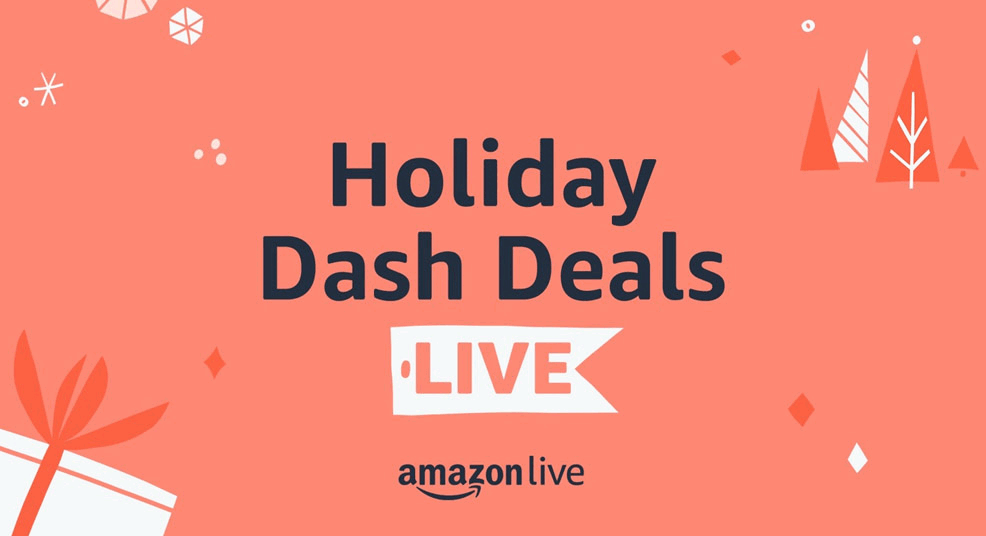 What it does have is a set of high-quality ingredients that include prebiotics (GOS), probiotics (bifidobacterium longum), amino acids, and biotin. The carbohydrates, proteins, and fats are thoughtfully combined to meet FDA and USDA guidelines while maintaining an ideal 60:40 whey-to-casein ratio (just like breast milk!). In our testing, the Bubs formula was very easy to prepare and mixed perfectly with room-temperature water; there were no excess bubbles, foaming, or clumps anywhere to be seen. The 2-month-old and 8-month-old test babies loved Bubs and accepted it like their normal bottle (or boob!) and showed no signs of any gastrointestinal distress (burps, spit-up, reflux, constipation, etc). If you are avoiding soy, this might not be the perfect baby formula for your family, but outside of that, we think it is a fantastic new addition to our list. The price is outstanding for the quality, coming in at about 20 cents per ounce of prepared formula (or $1.42 per ounce of powdered formula). Interested? Be sure to read our full Aussie Bubs review here, and you can check out the popular Bubs infant formulas here!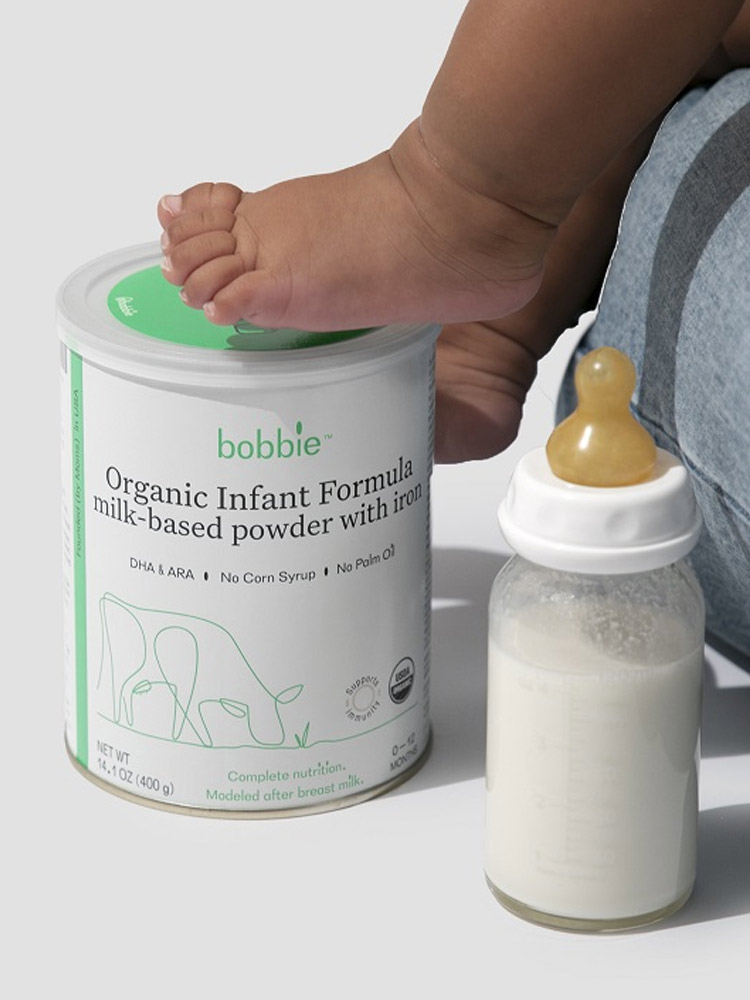 Bobbie is making waves among discerning parents with its European-inspired formulation, organic and non-GMO ingredients, and superior nutritional composition. Based in San Francisco and founded by two moms, Bobbie released their first baby formula early last year and we were excited to get our hands on it! For all the details and results of our testing, check out our full Bobbie formula review. The Bobbie formula is designed for infants from 0-12 months and is suitable for both supplementing breastfeeding or exclusively formula feeding. It is made in the USA, which means not only is it certified USDA organic it is also regulated by the FDA (which most European formulas are not).
If that doesn't give you peace of mind, the simple and thoughtful ingredients and nutrition facts will! The first ingredient in Bobbie formula is organic lactose and it also contains organic nonfat milk, organic high oleic sunflower or safflower oil, organic canola oil (they replaced the soybean oil with canola oil in 2023), organic whey protein concentrate, organic coconut oil, and organic linoleic (sunflower or safflower) oil. Just like human breastmilk, Bobbie formula uses lactose as a primary carbohydrate and maintains an ideal 60:40 whey to casein ratio. It also meets both US and EU requirements for DHA (Omega 3) content, iron content, and vitamins and minerals. In addition to DHA, it also contains ALA and LA, for additional essential fatty acids. Here's what Bobbie formula doesn't contain: palm oil, gluten, maltodextrin, starch, sucrose, glucose or corn syrup solids, or many any other suspect ingredients.
In our testing, the formula blended very efficiently with warm water (about 100 degrees F) and had a very nice texture and taste; there was no excessive bubbling, foaming, or clumping. Both of our testing babies, a 4-month and an 8-month-old, immediately accepted the Bobbie formula and never looked back! Importantly, neither of them developed any abnormal gassiness, reflux, or spit-up. In our experience, nearly every family who tries Bobbie falls in love with everything about it. Not only is it made in the USA with an excellent ingredient and nutritional profile, but it is also easy to order online, prepare, and use. The Bobbie ordering process is one of the best we've ever seen and is designed to give you all the information you need to make an informed decision about how much to order, when to order it, and how much to feed your baby. They have a monthly subscription program that is one of the easiest and most flexible we've ever used, allowing you to speed up or delay a shipment at the touch of a button. Bobbie is owned and operated by moms, and it shows in how they handle customer service.
Cons? It is certainly more expensive than most other US baby formulas, coming in at about 25 cents per ounce of prepared formula (or $1.80 per ounce for powdered formula), which is similar to European formula prices. It also isn't the best for more sensitive tummies given that the whey protein isn't partially hydrolyzed (see our new Bobbie Gentle Formula review for that!) and it doesn't contain prebiotics or probiotics (other than what naturally occurs in nonfat milk) to aid digestion. If your baby has a more sensitive tummy, check out HiPP Combiotik (above) or our ByHeart formula review for a similar option that includes prebiotics. Interested? You can check out the Bobbie infant formula here on their website!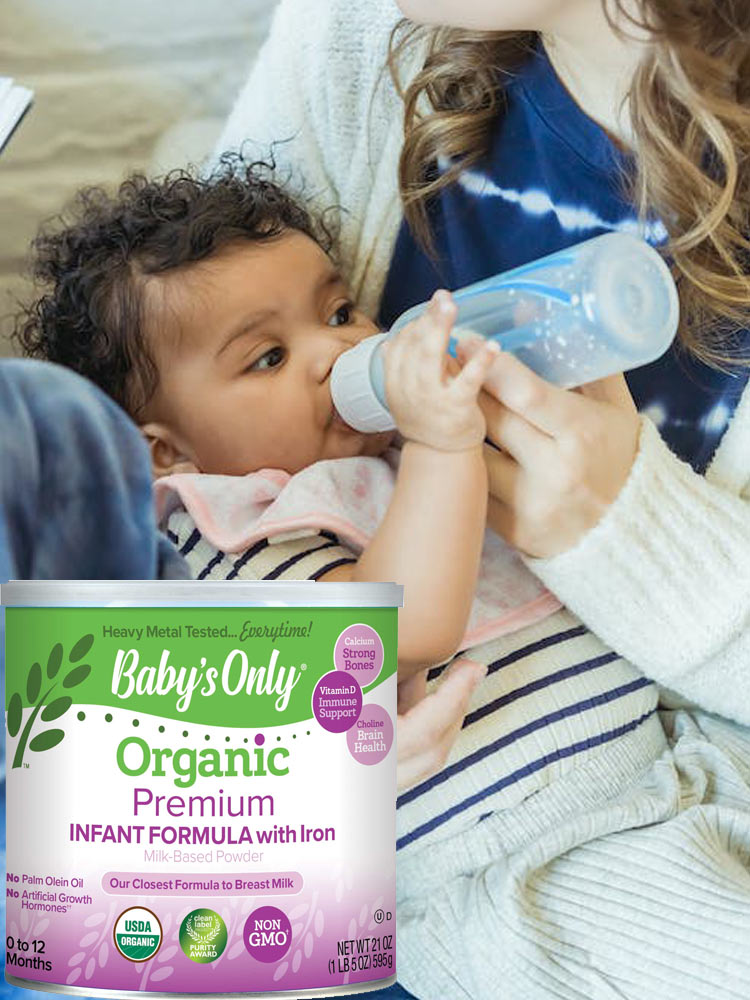 We are very excited to announce the new release of the FDA-approved infant formula from Baby's Only, the organic premium infant formula with iron! While most of the Baby's Only formulas are toddler formulations, this one is uniquely designed and approved for use with infants from 0-12 months of age. This is a very exciting new addition to the Baby's Only lineup, with some serious quality: it's USDA organic certified, a recipient of the prestigious Clean Label Project's Purity Award, non-GMO, and uses an ideal 60:40 whey to casein ratio (just like breast milk!). Baby's Only infant formula also includes choline, biotin, inositol, linoleic acid, and all the vitamins and minerals you expect in infant formula. More important is what it does not include: palm oil, corn syrup, maltodextrin or other starches, heavy metals, pesticides, or plasticizers. For ingredients, Baby's Only organic infant formula's first ingredient is organic lactose, followed by organic nonfat milk, oils (sunflower, safflower, soybean, coconut), and organic whey protein concentrate. These ingredients should look familiar because they're extremely similar to the Bobbie formula (reviewed above), but without the addition of canola oil. Nothing nasty in here, as would be expected from Baby's Only! What we also didn't notice on the label, however, were prebiotics, probiotics, omega-3 fatty acids, or amino acids.
In our testing, we tried out the new Baby's Only organic premium infant formula with a 4-week-old newborn and a 5-month-old infant. The newborn was formula-fed with Bobbie, and the infant was breastfed. Mixing the formula was simple and effective, using a ratio of 1 scoop (8.5g) to 2 ounces of (warm or room temperature) water. The instructions say to add the water to the bottle, then the scoop(s) of formula, and then shake well until the powder is dissolved. While the prepared formula did have a lot of foam on the top, there were no clumps or grainy textures. The formula flowed smoothly out of slow- and medium-flow bottle nipples, and tasted similar to most other formulas on this list (in our opinion); nothing special about the flavor, and not noticeably sweet or tart. The newborn and infant both showed high acceptance of this formula, and only the breastfed infant showed some hesitation during feeding and some mild indigestion afterward (this happens with other formulas he tries as well). Overall, we are grateful to have gotten our hands on this new infant formula (thanks for the samples, Baby's Only!) and happy to include it on our list! Coming in at about 19 cents per ounce for prepared formula (or $1.25 per ounce for powdered formula), the price is very competitive. Interested? You can check out the Baby's Only Organic Premium Infant Formula here!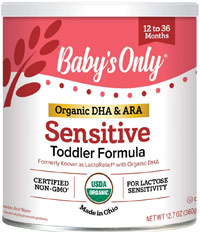 This is an outstanding option for toddlers (12+ months) who seem to have some issues related to digesting dairy, such as gas, reflux, or bloating. This is a lactose-free organic and kosher baby formula, with high levels of essential fatty acids that the baby's body converts to DHA (an omega-3) and ARA (an omega-6; learn about ARA in baby formula here). It is one of the best high-quality organic formulas for sensitive stomachs made in the US, and parents rave about its flavor - much better than the Similac Sensitive or Enfamil Gentlease, and it has no corn syrup or genetically modified ingredients. It also uses naturally sourced rather than petroleum-based vitamins, such as vitamin E acetate, DHA sourced from eggs rather than algae, and brown rice syrup instead of corn syrup solids. We are also impressed that Baby's Only has managed to make a great sensitive toddler formula without including many of the ingredients that we prefer not to find in a formula, such as glucose or corn syrup solids, palm oil, or DHA sourced using hexane. Instead, they took the high road and used ingredients they could stand behind.
In our testing with 3 infants (two were 3 months and one 6 months), they not only readily accepted this formula but also showed no signs of discomfort or gas whatsoever; in fact, the mom of one of these babies immediately switched to Baby's Only after the test! Note that while we are fully aware that the label says "Toddler Formula," the manufacturer suggests that this is only because they recommend exclusively breastfeeding babies under 1 year old, and therefore this formula has not been FDA-approved for infant feeding. Many parents feed infants with Baby's Only formula but always check with your pediatrician first. We also want to point out that this is one of the few baby formulas to receive the highest rating from the Clean Label Project, which is one of the best ways to tell you're getting a high-quality and sustainably sourced product. Negatives? Like any baby formula, some parents suggest that it can cause mild constipation, but we didn't experience any in our tests, and certainly, any gassiness will likely be less than with any of the non-sensitive options. Also, while it doesn't contain lactose, we're not super excited about having syrup and maltodextrin as the primary carbohydrate sources. Interested? You can check out the Baby's Only Formula here.
---
Secondary Options
These formula options may not be as great as the ones we list above, but they are still pretty good; we recommend these options, but not as strongly.
This is one of the original and best organic formulas on the US market, and over the past several years Earth's Best has made several improvements to its formula in response to both parent feedback and changing FDA and USDA recommendations. Like most of the best infant formulas on this list, the Earth's Best infant formula uses lactose as the primary carbohydrate, similar to breast milk. For protein, it includes nonfat cow's milk and whey protein concentrate, like many other formulas. For fats, it includes the usual suspects: palm oil, soy oil, coconut oil, and safflower or sunflower oils. The macronutrient profile is very similar to breast milk, just like with the Baby's Only formula. In addition, Earth's Best adds in some Omega-3 (DHA) and Omega-6 (ARA) via algal oil and M. Alpina oil, prebiotics, amino acids, and lutein. Other than the palm oil and soy oil, this is a great overall ingredient profile, very similar to what you find in other front-runners on this list.
In our testing, we thought the formula mixed really easily with water, without forming any clumps or major bubbling issues, and without leaving a powdery film in the bottle. The taste was very similar to Baby's Only and Lebenswert, as was the thin consistency similar to breast milk. We gave this formula to two families for testing, one with a 3-month-old, and one with a 7-month-old. The 3-month-old was formula-fed, and the 7-month-old was weaning from breastfeeding with supplemental formula. Both babies took the formula without any issues with acceptance, though one did have some spit-up and gassiness after. That same baby developed some constipation that was more than her parents typically saw with her usual formula (HiPP Combiotik Dutch). That might be attributed to the high iron content (1.8mg per serving), though there isn't much scientific evidence that formula iron content is linked to constipation or other stomach distress. In comparison to Baby's Only, Earth's Best appears to use the traditional hexane method for extracting DHA and ARA from lab-grown algae and fungus. Hexane is a solvent that is also used as a chemical degreaser and industrial cleaner and is a known neurotoxin. Some think there may be trace levels in baby formulas containing DHA and ARA extracted using hexane. We prefer to stay out of that debate given the lack of sound scientific data one way or the other, but you can read more about DHA in baby formula here. Interested? You can check out the Earth's Best baby formula here.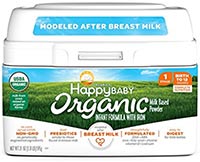 The best organic formulas should be modeled after breastmilk and allow flexible supplementing of breastfeeding and facilitate transitions. Just like breast milk, this formula uses lactose as the primary carbohydrate source, and it contains a macronutrient (proteins, fats, carbohydrates) profile that is very similar to breast milk. Protein is provided with nonfat cow's milk and whey protein concentrate, and fats come from palm, soy, coconut, and safflower and/or sunflower oils. Plus some added bonuses like two different prebiotics (FOS and GOS), Omega 3 and Omega 6 (DHA and ARA), and choline. It is organic, non-GMO (of course), and contains no corn syrup solids or other sweeteners, maltodextrin, or food starch. Like Baby's Only, the DHA is extracted without using hexane or other harmful chemicals, in this case using a water-based process. It is also kosher and the packaging and formula itself contain no BPA. There are no surprise ingredients in this formula, other than the palm and soy oils, and the dairy cows that supply the milk are only fed the best organic diets.
With about 100 calories, 2 grams of protein, and 5 grams of fat per serving, this formula has a macronutrient profile very similar to breast milk. It also doesn't taste much different from it, though some of our testers thought it wasn't quite as sweet as breast milk. While it does contain iron (1 mg per serving), it doesn't contain as much iron as many other formulas (which are typically around 2mg). Of course, we want to point out that the FDA and USDA advise against iron-reduced infant formulas, and there is no strong scientific basis for iron contributing to constipation in formula-fed infants.
Overall this is an excellent addition to our best baby formula list for several reasons, including its overall quality, ingredient sourcing, and nutritional profile. Cons? We did find it difficult to dissolve in water, taking a lot of shaking and stirring to get it to fully dissolve and not leave any clumps. So that was a bit more work than we may have desired, at least relative to other options on this list. If your baby has any food-related sensitivities, this does contain soy (just FYI). Also, like most formulas, it contains palm oil, which is a bit controversial for use in baby formula due to several risks (detailed in this research). Interested? You can check out the Happy Baby Formula at Amazon.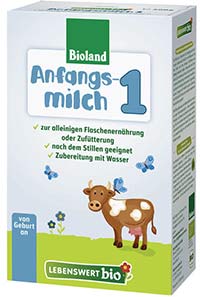 This Lebenswert formula sets the gold standard for how organic formulas should be sourced and manufactured. Based in Spain, the Bioland company has been making this top-rated European organic infant formula for several years. The Lebenswert formula is based on organic skim milk, organic whey, organic vegetable oils (palm, rapeseed, sunflower), organic lactose, and vitamins and minerals. The farms and ingredients are certified organic, they only use the best high-quality raw ingredients, and the company uses its profits to fund the conservation of natural resources. Even better, because this baby formula is suitable for use from birth onward, it is great for exclusive bottle feeding, which makes it a really unique addition to the organic baby formula market.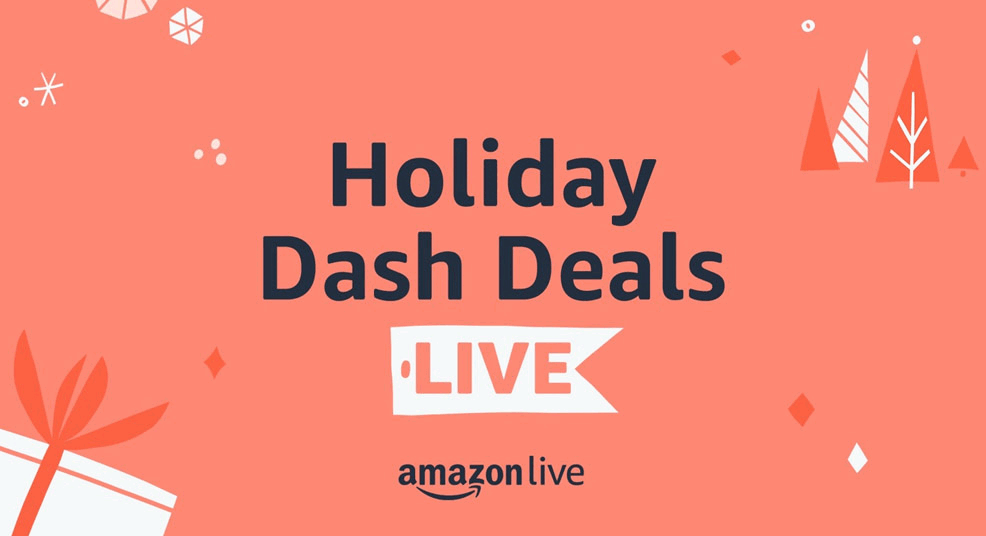 In our testing, we found that it tasted great without being too sweet or oily, mixed well with water, and caused the least gas of most other formulas on this list. That's impressive because some of them, like the HiPP options, are also really great at that. This is a baby formula intended for highly discerning parents who are looking for a European baby formula that doesn't break the bank. Cons? Many parents don't appreciate the inclusion of palm oil or rapeseed (canola) oil, and we agree with this sentiment. We also don't appreciate the inclusion of maltodextrin and food starch in Stages 2-3. Also, in comparison to Kendamil, Holle, and HiPP, Lebenswert has been slow to add Omega-3 fatty acids to their formulas, though a new European regulation finally forced them to include DHA and ALA (Omega-3) and LA (Omega-6) as of 2021, bringing them up to current recommendations. If you're intimidated by the fact that the information on the box is not in English, just head to The Milky Box website to see the ingredients and instructions in English. Or for even more details, check out our full Lebenswert baby formula review here. Interested? You can check out the Lebenswert Organics baby formula here.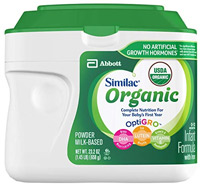 Similac makes a wide range of baby formulas, including the popular Pro-Advance, Pro-Total Comfort, Advance, Sensitive, Pro-Sensitive, Spit-Up, and Alimentum options. The sheer range of formula options can perplex even the savviest parents, and we find ourselves wondering how much of that range is marketing versus substantive differences in ingredients, nutrition, or sensitivity. This baby formula stands out from the pack because it's one of only two organic options offered by Similac, and the only option we believe is worth having on this list. This organic formula is suitable for infants 0-12 months and is based on organic nonfat cow's milk, with secondary ingredients including maltodextrin, sugar, and three oils: sunflower, soy, and coconut. Maltodextrin is a very common carbohydrate powder that is used as a cheap replacement for lactose, and also as a thickener and preservative; your body processes maltodextrin like sugar, so it can cause a quick blood sugar increase. A few of the best formulas on this list avoid maltodextrin entirely, such as the Loulouka, Kendamil, Lebenswert, HiPP, Plum Organics, and Happy Baby options, but it is considered a relatively harmless ingredient. Regarding sugar, it's relatively rare for an organic formula to add sugar, but realize that this formula does not use lactose or whey powder, which other formulas use to indirectly add sugar (and at least they didn't try to disguise processed sugar as a syrup solid).
We have no major issues with the sunflower or coconut oils and think they are a good replacement for palm oil, but we also understand that some parents might be avoiding soy due to potential allergies. Other ingredients include a variety of vitamins and minerals (including 1.8mg iron and 1.5IU vitamin E), lutein, DHA, and choline. Just as an FYI because we know parents worry about these things, the DHA in this formula is from Alpina oil and c. cohii oil, which are likely treated with hexane solvent, acid, or bleach as a part of their manufacturing. Baby's Only, for instance, derives DHA from egg phospholipids using water only. In our testing, we found that this powder did not mix easily or well in water, with the powder never fully dissolving. This made for a somewhat grainy formula that left a residue in the bottle. When we let it sit for more than a few minutes, we would need to shake the bottle again to avoid the water and formula separating. Shaking also creates a lot of bubbles that will likely cause issues with babies who are sensitive to gas and reflux. The two babies we tested it on readily accepted its flavor, and we tasted it ourselves and found it to be sweet and a bit tart, similar to breast milk. No issues with gas or discomfort were experienced, but the babies we tested on tend to be pretty resilient in this regard. Overall, we appreciate this new addition to the organic formula market and think Similac did a pretty decent job with it. Once they figure out the solubility issues they could have a real winner here, as long as you're OK with the addition of sugar, maltodextrin, and the way they source DHA. Costs about a dollar per ounce if you buy in bulk, which is a very good price for organic infant formula. Interested? You can check out the Similac Organic baby formula here.
Not on this list, but worth considering: Lowenzahn Organics formula review!
---
Discontinued Options
Discontinued: Loulouka
All Loulouka baby formulas were discontinued in late 2021, and were gone from the market by late 2022. If you are able to find Loulouka, it is very likely going to be expired. There are some rumors that Loulouka will return to market by 2024, and we'll be the first to update you if that's the case!
Discontinued: Amazon Mama Bear
Mama Bear is a private-label brand of Amazon specializing in infant products, including some top-rated diapers, wipes, and cleaning products. Their products are generally well-reviewed, and this Mama Bear Organic infant formula was no exception. However, we didn't appreciate their use of maltodextrin, corn syrup solids, or soy, and to our knowledge, this formula is no longer available as of this year.
Discontinued: The Honest Company
The Honest Company was founded by Jessica Alba with the intent to develop and market baby products with high levels of quality and transparency while offering premium products at reasonable prices. They offered two awesome organic infant formulas, but unfortunately, they were short-lived and discontinued after a few lawsuits related to misleading labeling practices.
Discontinued: Plum Organics
Plum Organics infant formula was discontinued; if you've been using it successfully, then you might want to get your hands on some supplies before they're gone!
Discontinued: Gerber Natura
The Gerber Natura organic baby formula was discontinued, so if you've been using it successfully you might want to get your hands on any remaining supplies! It was never in the top 5 of our list, but it did rank pretty decently next to some of the other options.
Discontinued: Happy Tot Grow Shine Organic Toddler Milk
The Happy Tot organic baby formula was discontinued several years ago, which is unfortunate because it was pretty decent!
Discontinued: Burt's Bees Formula
The same Burt's Bees we know and love for their broad range of beauty and personal care products, with their beeswax ingredients and adorable packaging, offered an organic baby formula for a very limited time. Unfortunately, it was discontinued around 2022.
---
Good, Bad, and Ugly Formula Ingredients
In general, baby formulas need a source of protein, fat, carbohydrate, vitamins, and minerals. For protein, formulas usually include one or more of the following: nonfat milk, skim milk, reduced fat milk, whole milk (milk can generally be cow or goat), soy milk, amino acids, casein, whey powder, and whey protein powder. Breast milk, for reference, is about 60% whey protein, and 40% casein protein; casein protein is digested slower than whey protein.
For fats, formulas usually contain a mix of vegetable oils, often palm oil, sunflower oil, coconut oil, soybean oil, safflower oil, rapeseed oil, and others. Holle and Bobbie both use canola oil, which is somewhat rare; canola oil is rapeseed oil with lower erucic acid.
For carbohydrates, the best baby formulas usually contain lactose (milk sugar), but others also use maltodextrin (plant-based sweetener and thickener), corn syrup solids, glucose syrup solids, brown rice syrup, or just plain sugar.
For minerals and vitamins, formulas tend to contain at least iron, calcium, potassium, zinc, folic acid, and vitamins A, B, C, D, E, and K. Some infant formulas also add in fatty acids such as DHA and ARA, some also add in bacteria, amino acids, prebiotics, and/or probiotics to aid digestion. To learn more, check out our article about DHA in baby formula.
Baby formulas vary widely in which of these ingredients they use, and how much of each they use. They also vary widely in the extent to which they use ingredients that are generally safe but might be sourced or extracted using harsh chemicals (such as hexane). These are all things to consider when picking a baby formula, and things we think about when doing our reviews.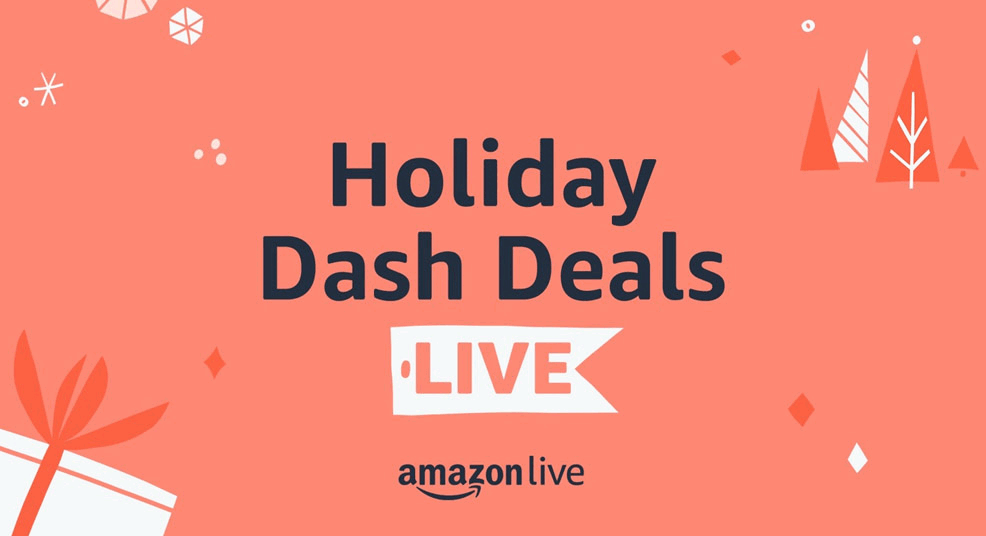 When we review ingredient lists for infant formulas, we are looking for a few primary things that should be included, and some others that should not be included. We categorize these as the good ingredients, the bad ingredients, and the downright ugly ingredients.
Good Ingredients
In general, most of the staple ingredients are safe bets. These include primary protein sources such as various kinds of milk (cow, goat, nonfat, skim, reduced fat, etc), whey, and protein powders (such as whey protein). Fats are a slightly different story, with certain oils being generally accepted as safe: palm oil, soy oil, coconut oil, safflower oil, canola oil, and sunflower oil. None of these oils contain cholesterol (which breast milk has), or DHA, which is a fatty acid linked to proper brain development (which is why many formula brands add DHA).
Of course, there are reports of some parents finding that certain oils upset their baby's tummy. There is also research suggesting that palm oil and palm olein in baby formula can cause gastrointestinal upset, limit the absorption of nutrients, and disrupt normal development. If you are at all concerned about allergies, then you'll need to decide whether you want to risk coconut or soy oils (ask your doctor). In terms of carbohydrates, lactose is generally the preferred source of sugar in formula, though some use maltodextrin or food starch.
Bad Ingredients
These ingredients fall somewhere between "OK" and "run away" and unfortunately they are very common in most baby formulas. For protein sources, most agree that a soy-based formula is not ideal given the controversy over the hormonal effects of soy consumption, and its generally poor nutritional profile relative to cow or goat milk (i.e., there's no whey or casein). A primary whey protein ingredient is also not ideal for similar nutritional reasons.
For fat sources, try to avoid formulas using palm olein (which is slightly different from palm oil) because it's not absorbed very well, can cause reduced calcium absorption, and can cause constipation and gassiness. For carbohydrates, try to avoid formulas using processed sugars such as maltodextrin, food starch, corn syrup solids, glucose syrup solids, and sugar itself.
For vitamins and minerals, we get a lot of inquiries from parents who are concerned about the manner in which these ingredients are sourced, which chemicals are used to extract them, and whether they might be harmful to their baby's health. In general, vitamins and minerals will be safe, but we find it more compelling when a baby formula manufacturer indicates how they sourced certain ingredients such as fatty acids, prebiotics, and probiotics.
DHA and ARA sourced from algae and fungal oils are not ideal sources of fatty acids if they are extracted using the solvent hexane. These commonly include M. Alpina oil, C. Cohnii oil, and Schizochytrium Sp. oil. Note that some manufacturers use water-based extraction processes, which are preferable.
Another concern is some pesky artificial ingredients that still show up in organic products, such as sodium selenate, taurine, docosahexaenoic acid, arachidonic acid, calcium chloride, choline bitartrate, cyanocobalamin, L-carnitine, lutein, cholecalciferol, inositol, beta-carotene, and biotin. While likely not dangerous, it is concerning that these synthetic ingredients are present (in very low quantities) in many organic products.
The Worst Ingredients to Avoid
Most of the really bad stuff is no longer present in baby formulas, especially not the best organic formulas.
These include sucrose, dioxins, artificial preservatives, artificial colors, artificial flavors, corn maltodextrin, food starch, high fructose corn syrup, corn syrup solids, partially hydrogenated oils, and genetically modified soy.
Some research has demonstrated that only about 20% of baby formulas are free of heavy metals and other toxins such as arsenic, cadmium, lead, and acrylamide, giving us some motivation for continuing to pursue organic baby formula options!
Conclusions
While breastfeeding is always the best choice for your baby, there are many barriers to breastfeeding that can cause moms to supplement or replace breast milk with baby formula. These can be medical, professional, social, cultural, or any other reason. Whether you have a low milk supply, a medical condition, or your baby is having difficulty latching, you should never feel guilty about choosing to supplement or exclusively feed with organic baby formula. The best thing for your baby is that they are loved and nourished, whether it is from breast or bottle!
Here's what we learned by putting together this formula guide: there are very few organic formulas on the market, especially in the USA. This is particularly the case with organic baby formulas suitable for newborn infants. European baby formula companies (like Kendamil, Holle, Lebenswert, and HiPP) have been taking the American market by storm, producing extremely high-quality organic baby formulas that are suitable for use as infant baby formulas. This has inspired new small businesses, such as Bobbie and ByHeart, to develop organic baby formulas here in the U.S. and compete with the European brands.
Infant formula comes in dozens of brands and varieties, and figuring out what's best for your baby can be daunting, especially for discerning parents. The best organic formulas contain all-natural and non-GMO organic ingredients, plus they are sourced from farms that feed their cattle high-quality foods without traces of pesticides, herbicides, steroids/hormones, antibiotics, or other harmful additives.
In the United States, USDA-certified organic formulas must contain at least 95% organic ingredients; that's a decent criterion, but not the most stringent. By comparison, European baby formulas must meet the EU Bio (organic) certification process, which has a more stringent 98% minimum organic content standard.
Non-organic formulas, in contrast, are more likely to contain trace chemicals such as pesticides, herbicides, fungicides, antibiotics, growth hormones, and heavy metals. They also tend to contain unhealthy ingredients such as corn syrups and corn syrup solids, starches and fillers, partially hydrolyzed whey protein, soy, canola, and palm oils, and Omega-3 and Omega-6 fatty acids extracted using hexane.
These aren't the best ingredients to have in any food, but never mind in your baby's first energy source!
Even five years ago, it was difficult to get your hands on European baby formulas and they were very expensive to import to the US. More recently, companies such as The Milky Box have popped up to fill the US distribution gap, making it more affordable and efficient to purchase European baby formulas online.
Another more recent option for infant toddler formula is goat milk formulas, like the Kabrita Non-GMO Goat Milk Toddler Formula, the amazing Kendamil Goat formula (see our Kendamil Goat review here!), the classic Nannycare formula (see our Nannycare formula review here!), and the new Jovie goat milk formula (check out our Jovie formula review here!). Be sure to check out our full list of the best goat milk formulas for a full list!
Whether you're breastfeeding or bottle-feeding, or switching between the two, be sure to invest in one of the best nursing pillows to keep yourself comfortable and your baby well-positioned for digestion, and one of the best baby bottles to make feeding easy and efficient.
Trying to figure out whether HiPP or Holle is best for your child? Check out our comparison of HiPP vs. Holle formulas!
Trying to figure out whether Lebenswert or Holle is best for your child? Check out our comparison of Lebenswert vs. Holle formulas!
As always, if you have any questions or comments, we invite you to visit us on our Facebook page and send a message!
Disclosures
While Mommyhood101 is based in the USA, it is intended to provide timely and valuable product information to an international audience. Some of the products on this page may not be regulated or approved by your local regulatory bodies, such as the FDA (in the US), the MHRA (in the UK), or other relevant agencies.
In the USA, the FDA does not approve infant or toddler formulas before they can be marketed; however, they must meet federal nutritional and labeling requirements, and manufacturers must notify the FDA before marketing a new formula.
Some of the infant formulas reviewed on this page may not meet those standards.
Please perform your due diligence before using any of the baby formulas reviewed in this article. Before choosing a formula for your child, always consult with your child's physician about what is appropriate for your unique needs.
Scientific References
Federal Requirements for the Manufacture of Infant Formula in the United States, United States Food & Drug Administration.
Whey and Casein Content of Human Breast Milk
Infant Formulas Supplemented with Probiotics Reduce Colic and Irritability
Benefits of Prebiotics in Infant Formulas
Review of Prebiotics and Probiotics in Infant Formulas
Risks of Palm Oil and Palm Olein in Infant Formulas
Infant Formulas with Canola Oil Support Normal Growth
Review of European Infant Formula Composition
Heavy Metal Content of European Baby Formulas, Concerns about Lead
Heavy Metal Content of US Baby Formulas, Concerns about Cadmium
Milk Fat Globular Membranes (MFGM) in Infant Formula Improves Neurodevelopmental Outcomes