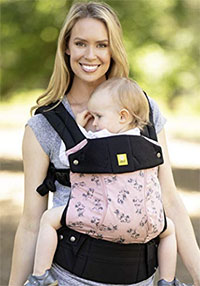 There are over 600 different baby carriers currently on the US market, with over 50 of them showing up in the last year alone! Some of them are made by flagship companies like Ergobaby, LILLE Baby, Boba, and Baby Bjorn, but many of them are knock-offs with poor quality control and sometimes even dangerous designs or features. Wearing your baby is becoming increasingly popular, but given how many different baby carriers are on the market it has gotten really difficult to figure out which ones are best for you and your baby.
To help make your decision easier, we took 19 popular baby carriers and put them to the test to find this year's best baby carriers. All of the carriers were purchased by us, we did not accept any freebies to ensure our reviews were honest and unbiased. We evaluated each carrier for ease of use, safety, comfort, versatility, breathability, durability, and long-term reliability. Seven moms and dads of different shapes and sizes tried out the carriers with 8 different babies ranging in age from 2 months to 2.5 years. In the end, we found several high-end (our first list) and relatively budget (our second list) baby carriers that are part of our essential baby gear list and also make great mother's day and baby registry gifts. If you're looking for baby wraps and slings instead, check out our reviews of those here.
This year we tested 24 different convertible car seats, putting them through hands-on evaluations of safety, reliability, comfort, features, and ease of use.
Below we quickly summarize our results, including rankings and ratings. Then we provide our comprehensive reviews of the top-rated convertible car seats that met and exceeded our expectations. There's a lot of information there, so get comfortable! Finally, toward the end of this article we detail some additional car seats that might be worth considering.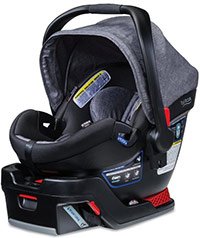 The infant car seat is one of the most important purchases you will make as new parents.
To help you make the best decision possible, three times a year we pull together new infant car seats and put them through hands-on tests to find the best and safest infant car seats of the year.
We consider Ease of Use, Flexibility, Baby Weight and Height Ranges, Safety, Car Size, and Stroller Types. We test all of the features, install the car seats in multiple vehicle types, read all the manuals, and pull together opinions from dozens of parents involved in our testing program.
This year we came away with about a dozen of the best infant car seats. Note that these are all rearfacing seats only, but to see our convertible and all-in-one car seats (2in1, 3in1) see our reviews here, and to see our reviews of booster seats click here. For more details about what we considered in our hands-on tests of infant car seats, scroll down to the bottom of this article.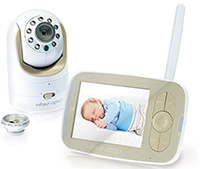 Our hands-on reviews put 32 video baby monitors to the test, examining their features, image clarity (day and night vision), convenience, reliability, safety, the range of reception, and versatility. We came away with over 15 of the top baby monitors of the year, including the top-ranked Infant Optics monitor to the super versatile Project Nursery monitor.
Below we list our top 5 baby monitor results, some of which are self-contained units, whereas some use wifi and your smart phone. Then we detail our in-depth reviews. After our buying guide, at the end of the article you can find more details about how we evaluated each model. Note that if you're looking for a sound-only baby monitor (an audio baby monitor), click here.