The Best Baby Swings of 2023
Soothe your baby while promoting development with these top-rated baby swings.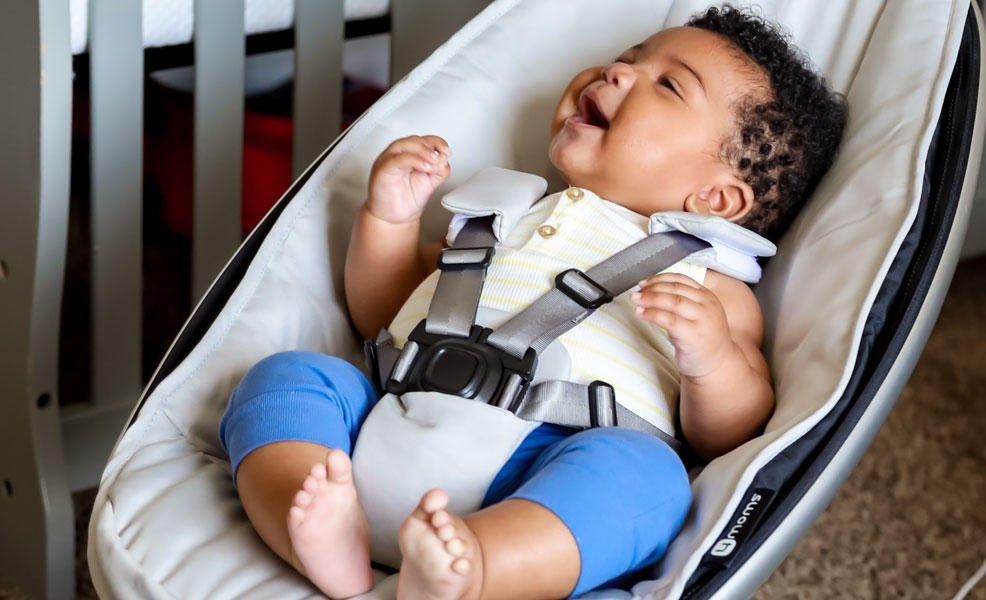 ---
Mommyhood101 independently tests and curates baby gear to help you make informed decisions. If you buy products through links on our site, we may earn a commission.
The American Academy of Pediatrics (AAP) recommends baby swings to help parents soothe a fussy baby and provide a safe place for infants to relax and watch parents catch up on grown-up tasks.
Research shows that infants tend to spend about 3 to 4 hours of daily awake time in a swing, car seat, or stroller. Given how much time your little one will spend in a baby swing, it's important to ensure that it meets stringent standards for safety, comfort, and functionality.
Just for fun, what does ChatGPT-4 think is the best baby swing!?
"Based on extensive research and analysis of consumer feedback, we have found that the Fisher Price Cradle 'n Swing is one of the most popular and highly-rated baby swings on the market." -ChatGPT-4
We've been reviewing baby swings for over 10 years, and if we made our own, here is what it would look like:
✔️ Weight limit at least 25 pounds.
✔️ Newborn support.
✔️ JPMA safety certified.
✔️ Exceeds ASTM test standards.
✔️ Lightweight (under 15 pounds).
✔️ Adjustable speed & vibration.
✔️ Adjustable motion types.
✔️ White noise & lullabies.
✔️ Machine washable fabrics.
✔️ Wall outlet and battery operation.
✔️ Easy assembly in under 10 mins.
✔️ Whisper quiet operation.
✔️ Simple integrated mobile.
✔️ Bluetooth smart control.
✔️ Highly stable, not top-heavy.
✔️ Durable and reliable operation.
✔️ Folds or disassembles for storage.
Of course, you will also want the swing to meet your style preferences, fit easily into your home, and meet your budget constraints. That's a lot to ask, and very few baby swings meet the needs of picky parents!
Full disclosure: Some of these swings, including a few 4Moms, Fisher Price, and Munchkin models, were sent to us as free test samples by the manufacturer.
To help you find the perfect baby swing for your family, throughout the year we continually put new baby swings through our hands-on testing to find the best and safest options of the year. Below are the top 5 options we found, followed by reviews of several options.
Some of the swings we tested were so comfortable and soothing that the babies were able to relax for upwards of 30-45 minutes while parents worked, cooked, cleaned, and (gasp!) got a little bit of relaxation themselves!
Other infant swings were noisier and clunkier and were not as soothing or comfortable. Some had great battery life while others didn't last so long, and some had great versatility and reliability while others did not.
If you're looking for a baby bouncer instead of a swing, check out our reviews of the best baby bouncers, where we review the Nuna Leaf and several other great options.
Here are the Best Baby Swings of 2023!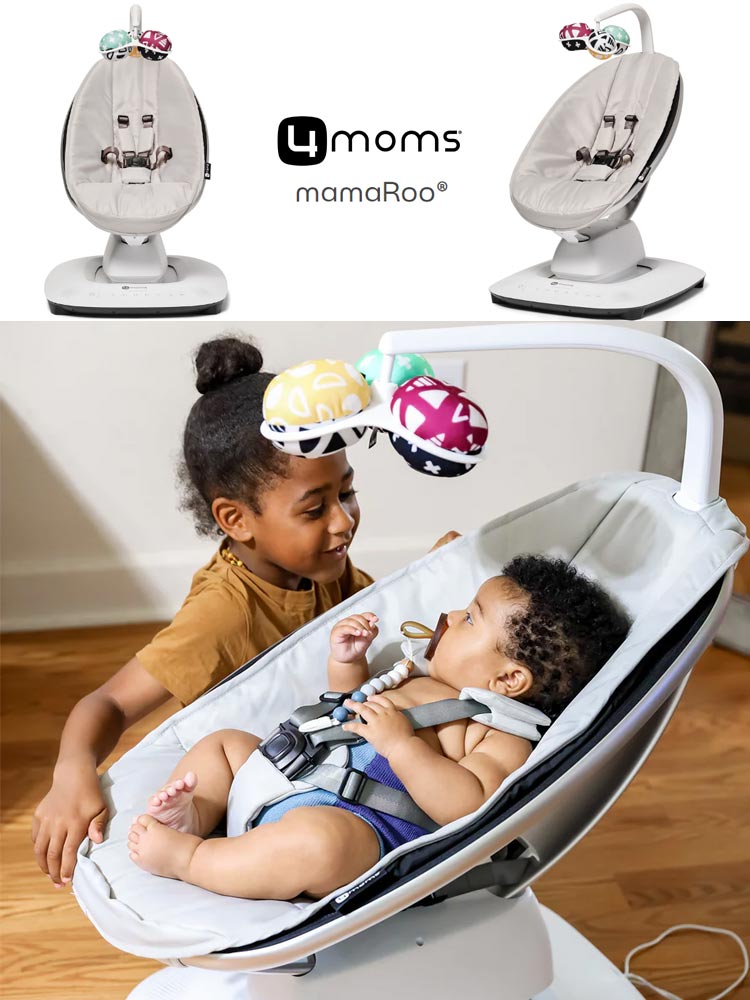 Definitely the coolest-looking baby swing on our list, and maybe even the most capable, comfortable, and fun! The original mamaRoo swing was released back in 2012, and we've been reviewing updates to it ever since. The current model, the mamaRoo 4 is the best yet, with superior versatility, comfort, and reliability. The most unique aspect of the mamaRoo is that it was the first swing or glide soother designed to mimic mom's natural soothing motions. Just like you bounce up and down and sway side to side when you're holding your baby, so does the mamaRoo! Out of the box, the mamaRoo swing takes about 5 minutes to assemble and doesn't require any tools. The buttons on the control panel are very intuitive - power, movement settings, speed, and music. We played around quite a bit with the 5 different motions (car ride, kangaroo, tree swing, rock a bye, and ocean wave) and were really impressed with the fluidity of movement, the modern design, and how quiet the system was overall. The speed settings provide ample adjustment range for different babies, and the music options (rain, white noise, ocean, heartbeat) were great; you can also plug in an MP3 player to play the music of your choice! In addition to controlling the swing from the front panel, you can download the 4Moms app on your Apple or Android device and control everything remotely. Given the mamaRoo's relatively elevated height, seating angle, and mobile position, we thought this was the easiest baby swing to get kids in and out of without frustration or back strain. We loved the wide range of adjustable recline, the removable and machine-washable seat cover, and the fact that it plugs into the wall so you don't need to worry about wasting a bunch of expensive batteries (which will definitely save some cash!).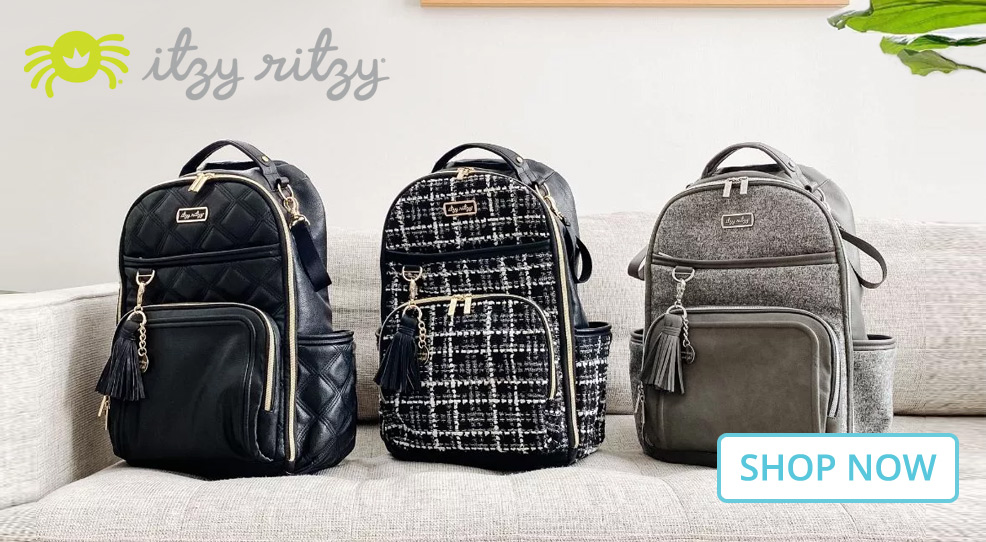 A small practical point is that the mamaRoo has a much smaller footprint than regular swings, making it less likely you will trip over the legs sticking out on the sides (like with the Fisher Price and Graco swings). The smartphone control of the swing was a luxury, but also very convenient if you're cooking or cleaning, post-c-section, or (god forbid) trying to take a nap! The mamaRoo supports babies from newborn up to 25 pounds or 6 months old. Like other baby swings, for safety reasons, you must stop using it once your baby starts to sit on their own. The weight limit is a bit low, but realistically your baby is more likely to hit 6 months old or begin sitting up long before they hit 25 pounds. The only exception to that is if your baby is in the 99.9th percentile for weight. Overall, this is an excellent, sleek, and good-looking swing/glider that your baby is likely to fall in love with (and fall asleep with!). It has all the right features and movements, and our long-term testing is going very well! Who else loves the mamaRoo baby swing? It's a top pick by our friends at Babylist, Babygearlab, WhatToExpect, and The Bump. Impressed? You can check out the 4Moms mamaRoo 4 Baby Swing here!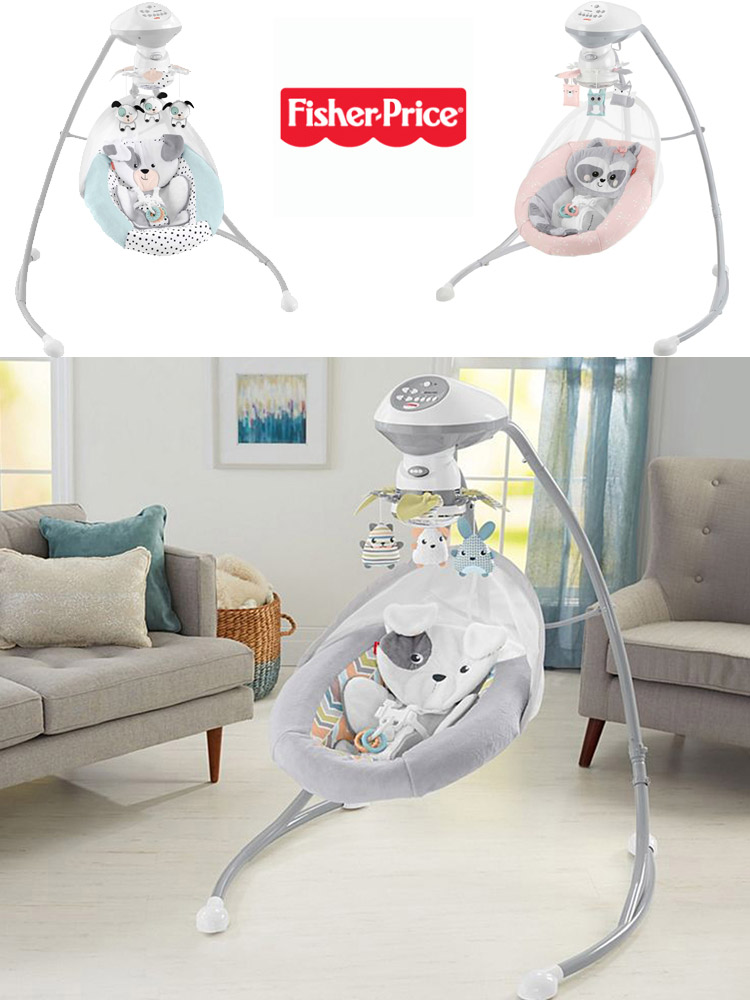 Update as of late 2023: Fisher Price appears to have discontinued all of their baby swings and they have become very difficult to find; if we learn more, we'll keep you updated, but in the meantime you should one of the other great options on this list! Every year, we keep going back to the top-rated Fisher-Price Sweet Snugapuppy Dreams Cradle 'n Swing. The Cradle 'n Swing units are available in a bunch of different themes, some are super adorable and some more adventurous, such as the Sweet Snugapuppy, Sweet Snugabunny, Rainforest Friends, and Sweet Snugabear. Many of the first-time moms in our group didn't realize how much these have advanced from 8-10 years ago. The current Cradle 'n Swing can swing either side-to-side or front-to-back with multiple (6) speed settings. The legs fold up for portability and storage, and it includes a wall plug to save a lot of D batteries (it can also run on 4 D batteries if you choose, but we prefer it as an AC-powered swing). There are songs and nature sounds, a motorized mobile, and a rotating and reclining seat. There is a volume control for the music and sounds, and an auto-off timer for the mobile, music, and sounds (20 minutes). The swing's motor senses the baby's weight to adjust motor torque to compensate for the weight of a growing baby and keep swinging speeds consistent.
Moms thought the seat was very plush and comfortable, and the fabric cover was easy to clean (it's machine washable, by the way). They liked that it had a good weight limit of 25 pounds (or 9 months), and some of the themes were ridiculously cute. Out of the box, assembly took about 25 minutes: it wasn't particularly complicated, but there were a lot of connections to be made. Another great touch is that the Cradle 'n swing includes a 5-point harness, which really helps keep your baby safe by preventing them from sitting up, leaning way forward, or otherwise freaking out their parents! Cons? Not much to speak of. The Cradle 'n Swing does not have a vibration mode, and when not plugged in it burns through batteries pretty quickly (they all do). Overall, this is an excellent option. Who else loves the Fisher Price Cradle 'n Swing? It's a top pick by our friends at Babylist, Babygearlab, and WhatToExpect. Impressed? You can check out the Fisher Price Cradle 'n Swing here.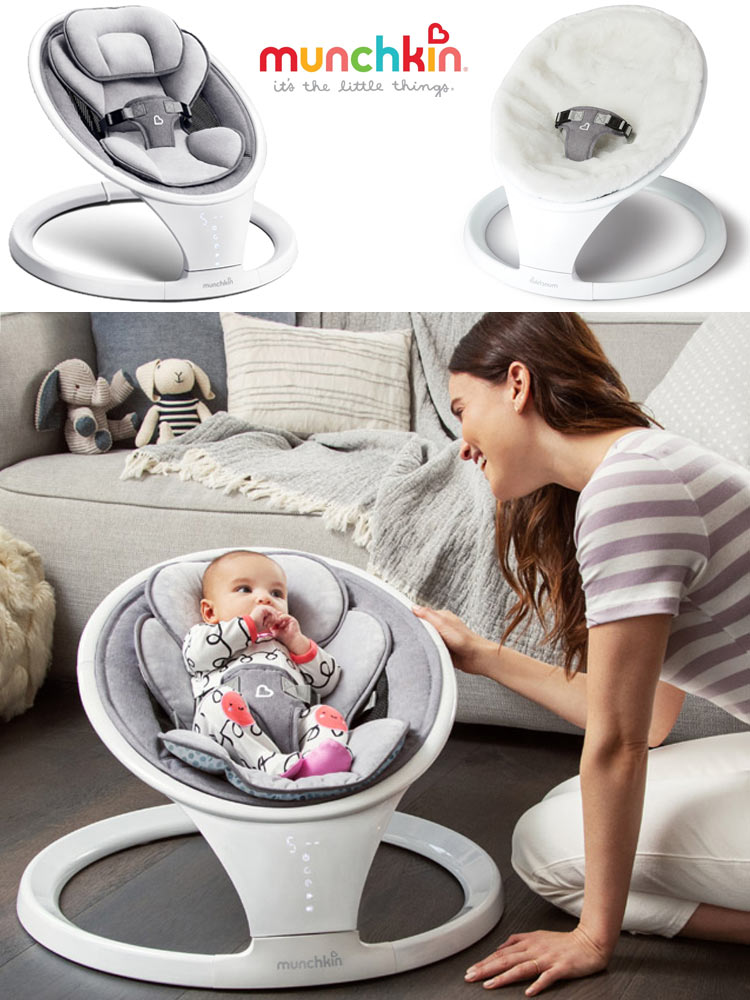 The Munchkin Baby Swing uses a smooth and soothing motion that is unique for this list, offering a relatively natural side-to-side sway while maintaining a very compact footprint more similar to a bouncer. Also somewhat unique is the Bluetooth feature, allowing you to use an app on your phone to play your (and hopefully your baby's!) favorite music. The Munchkin Swing also includes a small remote control so you don't need to crouch down and use the buttons on the swing to turn it on or off, change the swing intensity, or change the music. Finally, Munchkin markets this swing as lightweight and portable, owing to the lightweight frame and ability to pop off the seat for flat storage. We got our hands on the Munchkin Swing (thanks for the sample, Munchkin!) in the middle of last year and put it to the test with 2-month and 4-month-old babies.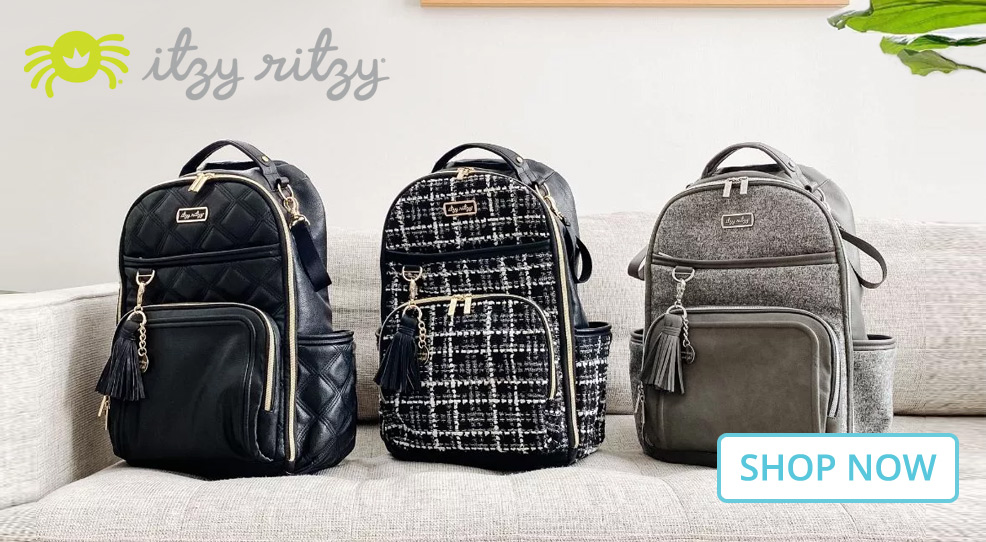 Out of the box, the swing was super easy to assemble: simply attach the seat to the ring base and plug it into a nearby outlet. No screws or other attachments are required. When you want to pop the seat off again for storage, simply push down on the small metal tab behind the control panel and lift up on the seat. Below that metal tab there is a white locking switch that you can use to lock out the swivel movement: push up on the switch to lock the movement, push down to unlock the movement. It's nice to have a lock to prevent swinging when you're putting the baby in, or taking them out. The entire swing is indeed very lightweight, coming in at only about 8.5 pounds, which is probably about the same weight as your little one! The seat is one of the best parts of this swing, with its super comfortable fabrics and padding that create a very snuggly spot for your baby. Not for sleeping of course, just for relaxing! Operating the swing was intuitive and simple; the front touch panel has a power button, a swing intensity button (from 0/off to 5), a timer button (press it to set an auto-off timer of 8, 15, or 30 minutes), a play/pause button to cycle through the various sounds (e.g., white noise, ocean waves, heartbeat) and songs (e.g., Beethoven, Bach), and a volume button (from 0/off to 5). The included remote control operates very similarly and has a decent range (generally speaking if you can see the swing, you'll be able to control it). The app was free for iOS or Android and connected easily (it's called MUNCHKIN on Bluetooth), and the speaker for streaming music was mediocre quality but definitely good enough for playing music at low volume. Be careful because a clever neighbor or visitor can connect without a password and play whatever music they want. We learned the hard way when our 12-year-old decided to connect to it from his bedroom and start playing Taylor Swift! The swaying motion was surprisingly soothing for both babies, especially at levels 1-3; both test parents thought that level 5 was a bit too fast for their baby. Note that this swing has a somewhat low weight limit of 20 pounds, or when your baby learns to sit up or roll on their own. Overall, we've been using this swing for over 8 months now without issue, and we think it's an awesome new addition to our list! Who else loves the Munchkin Swing? Our friends at Babylist and The Bump! Impressed? You can check out the Munchkin Baby Swing here!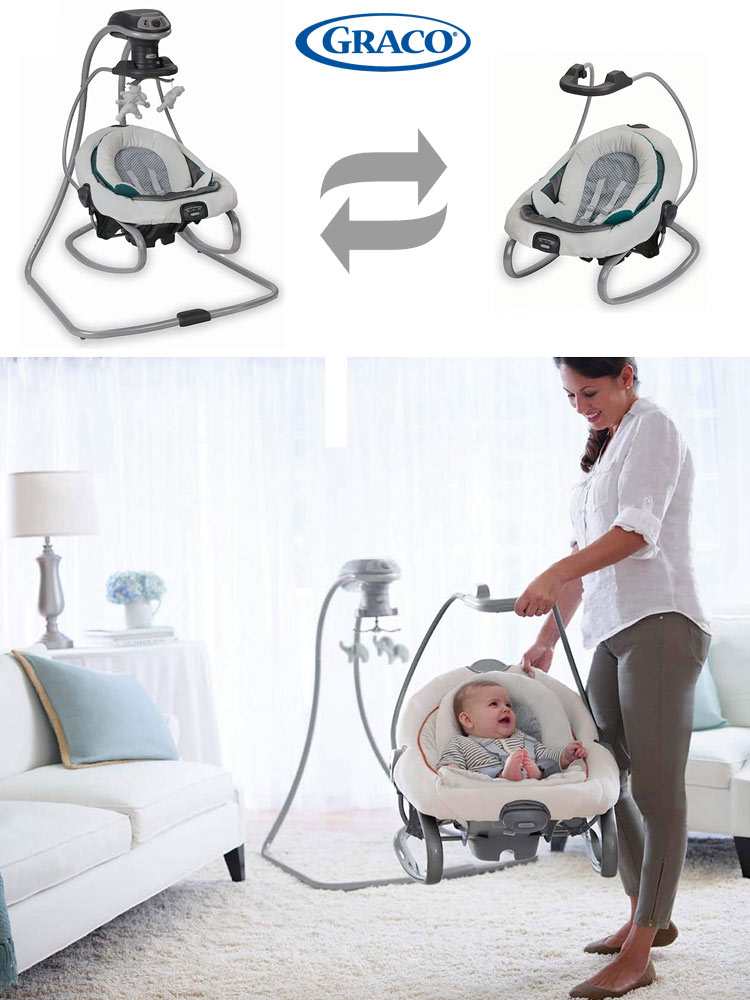 The DuetSoothe is one of several Graco baby swings, including the Soothe 'n Sway, Duet Glide, Simple Sway, EveryWay Soother, Sense2Soothe, Slim Spaces, Glider Lite, DuetConnect, DuoGlider, and Soothing System Glider. The biggest differences between these options are the type of motion, size, and advanced features. The DuetSoothe comes in at the relatively basic end, with two simple swing motions (front-to-back or side-to-side), a normal footprint, and no especially fancy features. It does have one unique feature that we loved: the swing seat can be removed and placed on the ground as a rocker. The rocker is simple and cute, and can be easily carried around with the clever handles positioned on the sides. The DuetSoothe also has a soothing vibration feature with 2 speeds, which works whether it's in swing or rocker mode. The seat can be rotated so the baby can swing side to side or front to back, and it can use 5 D batteries or plugs into the wall. We highly recommend using the plug, or the swing will burn through batteries pretty quickly. Other perks include simple music melodies and sounds, a roomy seat with a headrest and adjustable recline, a great 5-point harness (most are 3), and a relatively high 29-pound weight limit (minimum is 8 pounds and 1 month).
Out of the box, it took us about 20 minutes to put together, which was a little longer than we'd hoped. In our testing, we found the motor to be quiet and smooth, and the speeds to cover a great range (the highest is surprisingly fast!). While some parents have reported a clicking noise during swinging, ours was nice and quiet and continues to be after a few months of use. If that changes, we'll update this review. Coming in at only about 100 bucks, we think this is a great deal on a swing and bouncer seat combination. Cons? The Graco DuetSoothe Swing and Rocker's mobile doesn't rotate around like some others. The only other little gripe that is very common with baby swings is that the vibration box takes its own D battery, and can't be plugged in. Who else loves the DuetSoothe? It's a top pick by our friends at Babylist and Babygearlab! Impressed? You can check out the Graco Duetsoothe here!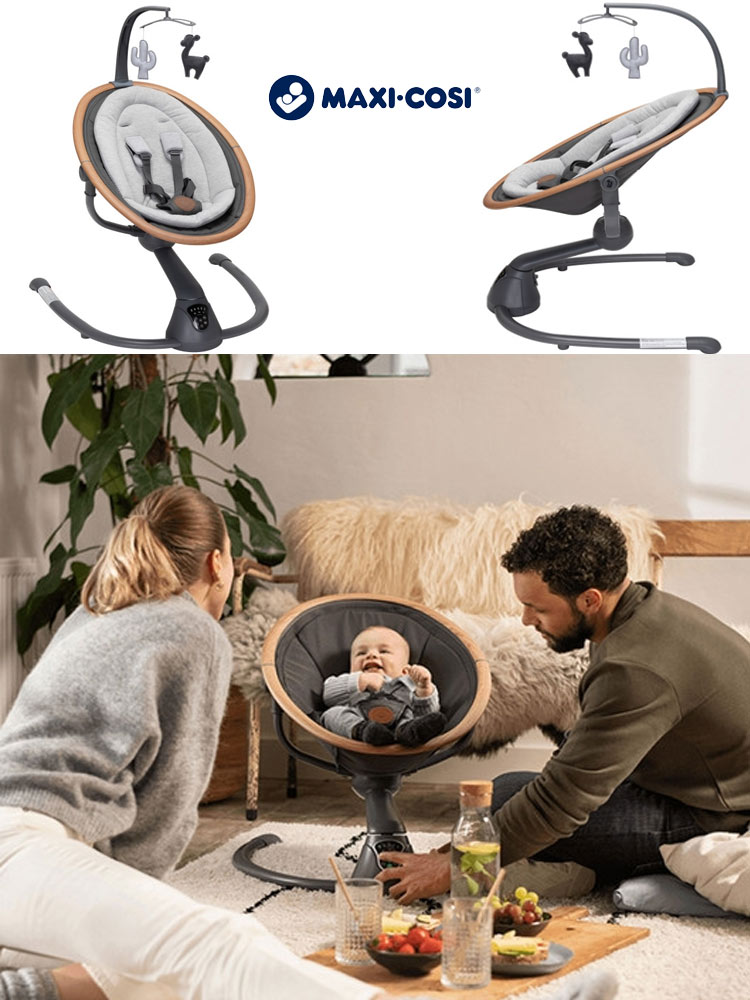 We all know and love Maxi-Cosi for their awesome line of super comfortable (maximum "cosi"!) infant and convertible car seats. But did you know they also make bassinets, high chairs, swings, and more? All of the Maxi-Cosi products are high quality and made with plush and comfortable materials, and their Cassia baby swing is no exception. We got our hands on the Cassia for testing late last year and walked away with a very positive impression. For features and specifications, it supports babies from birth up to 20 pounds, has two swing directions (front-to-back, side-to-side), smart swing activation when motion is detected, two recline positions, 360-degree rotation, a removable and washable cover, music/lullabies, and a slim profile and lightweight 10-pound build.
Out of the box, we thought it looked fantastic - we love the simple, modern look with the wood trim perimeter and graphite, blue, or blush accents. Assembly took about 15 minutes and you'll need a Phillips head screwdriver. The swing takes four AA batteries or (for added convenience and cost-savings) it can be plugged into the wall with the included power adapter. Turning it on, there are 5 swing speeds ranging from very slow up to faster than you'll probably want! There is a timer that lets you set an auto-off function after 8, 15, or 30 minutes of swinging. We loved the motion detection mode, which detects your baby's movement and reactivates the swinging - and it actually worked pretty well (except for when our dog bumped up against it!). There are about a dozen different lullaby options, but it lacked a white noise feature. Everything worked very well - the swinging was smooth and quiet, and both directions (front-to-back, right-to-left) were soothing and comfortable for our (3-month-old) test baby. For cons, there are a couple of little things worth mentioning. First, while we love the adjustable recline (upright or lay-flat), it would be nice to have a medium recline setting. Second, unlike some other options on this list, there is no remote control or Bluetooth connectivity. Coming in at about $199, we think the price is right given the beautiful design, build quality, and features - even with the small cons. Also recommended by Babylist, we think the Cassia is an excellent option for most families! Impressed? You can check out the Maxi-Cosi Cassia here!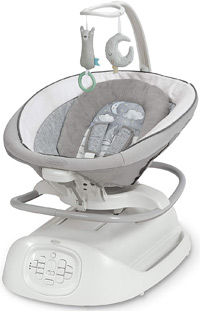 The 4Moms mamaRoo changed the baby swing and rocker/bouncer market forever, causing many of the bigger manufacturers such as Graco and Fisher-Price to figure out new ways to compete in the "multiple ways to soothe" market. Enter the Graco Sense2Soothe! We got our hands on the Sense2Soothe for testing last year (thanks, Graco!), and had a lot of fun with it. Out of the box, it felt sturdy and well-constructed, and it was super easy to assemble. It doesn't use any batteries, which is a nice touch, so you'll need to have it positioned close to an outlet. Once you get it set up and plugged in, the controls are pretty intuitive to use. There are four swing settings (motions), that all involve a basic side-to-side motion coupled with different intensities and timings. The seat can be rotated by 90 degrees, allowing you to choose between side-to-side motion versus front-to-back motion, making it a total of eight different motions to choose from. Note that you can actually rotate the seat to any 90-degree increment, which is nice to help orient your baby toward wherever the action is (or away from it!). There are also three different speeds to choose from, making for 24 different combinations of motion and speed. Not bad, especially when you combine it with the three recline settings! The buttons were all big and clearly labeled, though they are very low down so you need to get on your knees to access them (unlike a traditional baby swing that has the controls up top). In addition to motion and speed, there are two vibration intensities and a bunch of different sounds and melodies (with adjustable volume). Even at the highest volume, it wasn't very loud, so most of the sounds are pretty soothing and not alarming. Speaking of alarming, the coolest feature is cry detection, which detects your baby's crying and automatically starts the system. Once triggered by crying, the system goes through a sequence of eight combinations of motion and sound until it detects the crying has stopped (at which point it just stays in the final setting). That's the default setting and is activated by pressing the button with a star icon. Another really cool feature is that you can customize what you want the swing to do when it detects a cry: you turn on your preferred settings and press down the heart button until it flashes. Then, the next time you use the swing and press the heart button, it activates the custom soothing setting automatically when your baby cries. We really liked that feature - every baby is a little different and this lets you customize to your baby's needs. Does the cry detection false alarm? Sometimes, but pretty rarely. One of our kids yelled across the house and it activated, and it also activated when we turned on one of our vacuum cleaners (but not our other one). It didn't activate for other loud noises like doors, pots and pans, or low music. In addition to its use as a versatile swing, you can completely detach the seat from the base and use it as a portable rocker. It doesn't have any motion or other features in this mode, but it does rock nicely in response to your baby's movement (kicking, wiggling). In terms of weight and height limits, Graco says that this system should no longer be used once your baby starts attempting to crawl out, reaches 25 pounds, or reaches 30" tall (whichever comes first). Overall, we're super impressed with the features and versatility of this system. Cons? A couple worth mentioning. It's pretty expensive, the buttons are a little noisy (clicky), and there's no carry handle for quickly moving it around. Interested? You can check out the Graco Sense2Soothe here!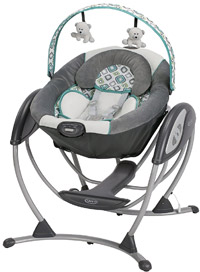 The classic baby swing, like the Cradle 'n Swing, has been around for nearly two decades! There are a few chief complaints from parents about the classic design: it's awkward getting baby in and out of the seat, the batteries are expensive, the motor gets loud over time, and it takes up a huge footprint in your home. Enter the Glider LX! Instead of having the large motor and control arm up top, Graco relocated it to the sides, making it much less awkward getting the baby in and out of the seat. The Glider LX also includes a power adapter so you have the option to plug it in or run on battery. Finally, the swing takes up 40% less space than a traditional swing, and the gliding motion is super smooth and calming. Additional features include the removable mobile with hanging toys, the infant seat insert, a five-point harness, 2-stage vibration, 6 gliding speeds, 10 melodies, 6 nature sounds, and a great weight range from 5.5 pounds up to 30 pounds. Out of the box, assembly took about 15 minutes; it uses a series of snap-in attachments rather than screws, which makes assembly a bit easier than with some other options. Before you attach the vibration control to the seat, be sure to put one D battery into the back of the box; note that the vibration will not work without that battery installed, as it doesn't receive power from the wall adapter. In our testing, we thought the gliding motion was smooth and a lot like the familiar feeling of a great nursery glider. The motor was quiet, the songs sounded fine, and it had a great white noise feature as well. The seat has 3 recline settings, which is awesome, and the seat cover can be removed and machine-washed. It didn't feel like the highest quality or sturdiest swing that we tested, but it's also only about $100. Cons? Not super sturdy construction, but we didn't run into any major issues with stability or quality. When running on batteries and not plugged in, it burns through batteries very quickly (5-7 days of normal use); also, the wall plug cord isn't super long so you might consider an extension cord if you're not placing it near a wall or outlet. Overall, we really loved testing the Graco Glider LX, and think the features and comfort are awesome, especially for the price. Who else loves the Graco Gliders? Our friends at Babygearlab, WhatToExpect, and The Bump. Interested? You can check out the Graco Glider LX here!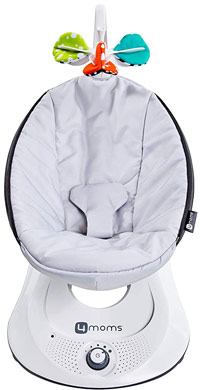 Do you love the concept of the mamaRoo but not the price? The rockaRoo might be an awesome option, coming in at about $100 less expensive and offering some nice soothing features in a relatively compact package. The rockaRoo uses a gentle front-to-back gliding motion to soothe your baby, often right to sleep! The swing has 5 speeds, supports babies from 6-25 pounds, and includes a plug-in wall adapter. We tested the rockaRoo early last year and really enjoyed it! Out of the box, the rockaRoo only took about 5 minutes to assemble: snap on the seat support arc, snap on the seat, and then snap on the mobile. Definitely one of the simplest baby swing assemblies we've experienced. The seat uses a 3-point harness just like the mamaRoo. The gliding motion is very similar to a parent cradling a baby and rocking back and forth, especially at slower speeds, which we appreciated. The movement was very quiet, and we hope that lasts! Movement speed is controlled by a simple knob up front, and there really are no other bells and whistles. You can plug in an mp3 player to it, and play music via its internal speaker. And we did like the removable and machine-washable seat cover. We found the seating position to be a little too upright for a newborn, and there is no adjustable recline; in our opinion, this would be most suitable for babies from about 2-6 months, which is pretty limited overall. We haven't used the rockaRoo for very long to assess reliability, but we will update this article if there's anything to report. Overall, we think this is a very simple and soothing glider by 4moms and a great alternative to the mamaRoo for parents on a tighter budget. Realistically, we think for $150 most parents might be happier with a relatively basic baby swing, but we'll let you decide! Who else likes the rockaRoo? Our friends at The Bump call it a top pick. Interested? You can check out the 4Moms rockaRoo Baby Swing here!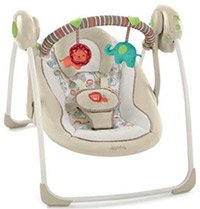 This is a super portable baby swing for space-constrained situations, smaller homes, and portability. You can place it on the floor in a tight spot, and you can fold it up and bring it along with you as a travel swing. It fits easily into a medium or large suitcase, and into even the smallest trunks. But don't let the small size fool you, this baby swing is capable of most things that the larger ones are. It has multiple (six) swing speed settings (and it swings front-to-back which is more natural than side-to-side), and in our testing, we thought that the settings were pretty quiet, even at medium to high speeds. The only noise was when you adjust the swing speed, the knob itself is quite loud, and there is a minor clicking sound until it attains a new speed setting (especially when slowing down); it wasn't really loud enough to wake a sleeping baby, but definitely could if the baby is a light sleeper. The baby swing does have some music options, including nature sounds and lullabies, which were fine, so it can swing infants but also keep them interested in the music while the swing is turned off. The swing also has a timer so the batteries won't get burned out prematurely. Speaking of batteries, it takes 4 "C" type batteries, and in our usage, they lasted about a month with daily use. There is no cord for plugging it in, so swapping out batteries every month or so can get expensive. Keep that in mind when you're considering the relatively low (about $55) price point, as one of the more expensive options above might end up being cheaper in the long run because they include a wall plug. Our testing babies found it very comfortable, and the fabric was easy to wipe clean and machine washable (cold water). Ingenuity says the Cozy Kingdom swing can be used with babies up to 19 pounds, but the swing strained quite a bit with a 14-pound baby, so that seemed like a more reasonable limit. Other downfalls? Well, it's so portable that it's also very low to the ground, and parents might get frustrated having to kneel down so low to get the baby in and out. The only other cons with this infant swing were that there is no vibration setting, and only two adjustable recline settings that position the baby pretty far back, which is ideal for comfort (napping shouldn't really happen in an inclined sleeper like this) but not great for a sit-up position where baby can watch what you're up to, or do some playing or bottle-feeding. So, if you're looking for a great portable baby swing, this is definitely an awesome option at a great price! If you're willing to spend a bit more, the Ingenuity Inlighten Cradling Swing is also a great option, as is the Ingenuity DreamComfort Inlighten Cradling Swing, so check them out. Who else likes the Ingenuity swings? Our friends at WhatToExpect and The Bump call them top picks! Interested? You can check out the Ingenuity Cozy Kingdom Swing here.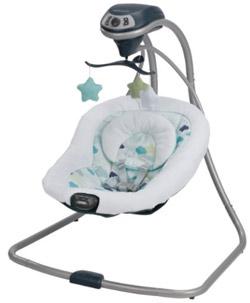 This is a super simple, relatively compact, highly reliable, and versatile Graco Simple Sway swing that comes in at a great price point of under $100. What makes it relatively simple is that it has a small frame design, helping it take up much less space than typical baby swings, making it great for smaller rooms or apartments. The mobile is also quite cute and simple, but like the DuetSoothe, it doesn't spin around overhead. But that's where the simplicity ends because this inexpensive swing actually has quite a few features. It can play 10 different music tunes, or 5 different nature sounds. It has 2 vibration settings (we'd call them low and medium), and 6 swing speed settings. It swings side-to-side, includes a 5-point harness, and supports babies from 5 to 30 pounds. It can use four D batteries, or simply plug into the wall with the included power adapter. The seat cover removes easily and is machine washable, which is a nice touch. What it doesn't have are recline settings (the seat has a fixed recline position), the ability to switch to front-back swinging, or easily folded legs for storage. We also thought the seat was a bit lacking in terms of support and cushioning, especially for smaller babies. This would be remedied by having some additional recline positions, or by giving better head and neck support (or maybe an infant lumbar wedge?). The motor could be a bit loud at times, especially on higher speed settings. So overall, this is another good relatively portable option for a reasonable price, but it does leave a bit to be desired in the adjustability and comfort departments. Interested? You can check out the Graco Simple Sway here!
Frequently Asked Questions
What is the Best Baby Swing? For this year, the best overall baby swing is the 4moms mamaRoo Baby Swing, offering comfort, versatility, and soothing motions that will definitely relax and lull your baby to sleep. In our testing, it was the best combination of features, comfort, and reliability!
What is the Top Rated Baby Swing? The top-rated baby swing according to reviews is the Fisher-Price Sweet Snugapuppy Dreams Cradle & Swing. Not only did this win our hearts and minds during our hands-on testing, it also receives the highest overall ratings across the primary e-commerce sites.
Are Baby Swings Good for Babies? The American Academy of Pediatrics (AAP) and recent scientific data suggest that: 1) infants under 4 months of age should only use the most reclined swing position, 2) parents should check swing safety to prevent tipping and folding, 3) shoulder straps should be used if the incline comes up more than 50 degrees, 4) toys on mobiles should be out of reach, 5) always check weight limits before placing a baby in a swing, 6) the seat should stay relatively flat during swinging to prevent tipping, and 7) if your baby falls asleep in the swing, you should move him or her to a firm sleeping surface (bassinet, crib). These precautions will increase the safety of baby swings and reduce the risks of suffocation, airway closure, tipping, and poor hip and back development due to an inappropriate ergonomic position.
How Long Can You Use a Baby Swing? Just like a car seat, baby swings have weight and height limits, and recline positions should be set according to the guidance found in the owner's manual. Most baby swings have a weight limit of around 25 to 30 pounds, with a height limit of around 25-28" tall. Many swings also have a developmental limit - for instance, Fisher-Price swings suggest parents stop using the swing when their baby can crawl out of it. The only way to know exactly what weight, height, and developmental limits your baby swing has is to read the owner's manual. The Graco and Fisher-Price websites have downloadable manuals in PDF format, so definitely take advantage of those.