The Best Travel Systems for Baby: 2023 Reviews
They say never wake a sleeping baby. These travel systems make that a reality.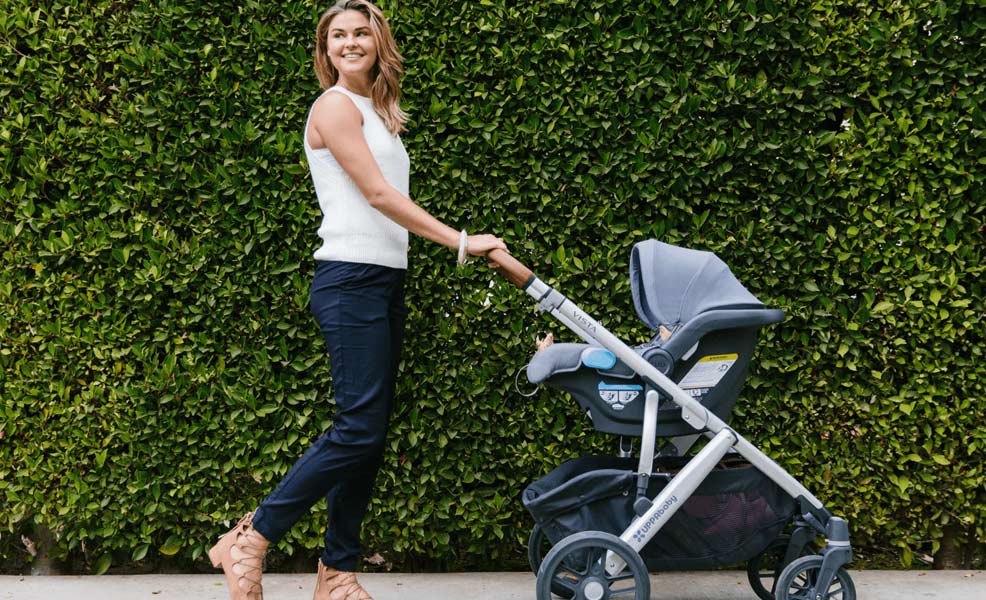 ---
Mommyhood101 independently tests and curates baby gear to help you make informed decisions. If you buy products through links on our site, we may earn a commission.
A travel system combines an infant car seat with a compatible stroller, allowing you to easily attach and detach the car seat as needed.
The ability to easily pop the car seat onto the stroller is a game-changer, helping your baby stay sound asleep when transitioning into and out of the car.
Just for fun, what does ChatGPT-4 think is the best travel system!?
"The UPPAbaby Vista Travel System consistently receives high ratings and positive reviews, making many experts and parents consider it the best travel system available on the market." -ChatGPT-4
Our robot overlords have spoken, and we tend to agree!
Fortunately, we've been reviewing travel systems for over 10 years, and if we made our own, here is what it would look like:
✔️ Fits Chicco car seats.
✔️ Fits Britax car seats.
✔️ Fits UPPAbaby car seats.
✔️ Fits Graco car seats.
✔️ Reversible seating position.
✔️ Expands to fit two+ children.
✔️ Bassinet & toddler seat included.
✔️ Easy car seat attachment.
✔️ Stroller weight limit ≥50 pounds.
✔️ Stroller frame ≤20 pounds.
✔️ One-handed recline & fold/unfold.
✔️ Compact fold fits midsize trunk.
✔️ No-rethread harness.
✔️ Big, UPF 50+ canopy.
✔️ Canopy with peek-a-boo.
✔️ Four-wheel suspension.
✔️ Large diameter wheel.
✔️ Locking front wheel(s).
✔️ Smooth and easy to maneuver.
✔️ Adjustable handlebar height.
✔️ Durable construction.
✔️ Stands when folded.
✔️ Storage pockets & large basket.
Of course, you will also want the travel system to fit your style (color, patterns) preferences and meet your budget constraints. That's a lot to ask, and very few travel systems meet the needs of picky parents!
Every year we update our travel system reviews with new and updated models that pass our hands-on testing. Below are the top 5 travel systems, followed by detailed reviews of over a dozen different models.
Full disclosure: Some of these travel systems, including the Maxi Cosi, Doona, Britax, and Baby Jogger models, were sent to us as free test samples by the manufacturer.
If you've been around our site, you know that we absolutely love the Chicco, Britax, and UppaBaby car seats. Conveniently, those same companies also make several awesome strollers, including the Chicco Bravo, Britax B-Free, and UppaBaby Vista.
Unfortunately, sometimes putting the perfect car seat on top of the perfect stroller can cause unexpected issues: the stroller can become top-heavy and unstable, the car seat doesn't attach or detach easily from the stroller, or the stroller suddenly becomes challenging to maneuver.
As always, if you have any questions or comments, send us a message via our Facebook page
Here are the Best Travel Systems of 2023!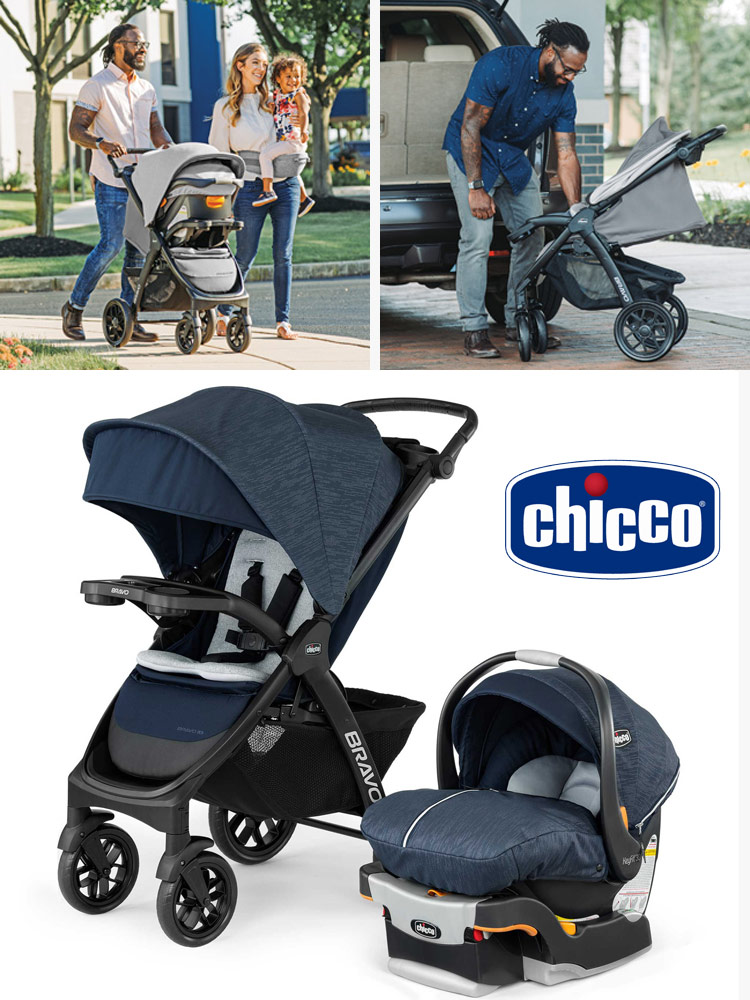 The Chicco KeyFit 30 and KeyFit 35 are two of the most popular and best-selling infant car seats on the market, next to its new sibling, the Chicco Fit2. Take that awesome KeyFit car seat and combine it with the versatile Chicco Bravo stroller, and you have a stellar combination. What makes this travel system different is that the stroller can be used in several ways. When your baby is too little for the big stroller, you can completely remove the stroller seat and use it as a lightweight frame for attaching the car seat. Super easy to fold up, throw into the trunk, and pop open. Or, you can leave the stroller seat attached and use its huge canopy to completely cover the car seat and your baby. In this manner, the stroller can function as simply a stroller frame for connecting the car seat, or as a complete stroller that can also have the car seat attached. Of course, both seats can't be used at the same time by two children, but it does give you access to the large canopy. That's an awesome feature and we really appreciated Chicco's ingenuity. A couple of other things make this stroller stand out, including the cup holder and parent tray, all-wheel suspension, adjustable handlebars, a large storage bin, decent canopy size, and one-handed folding (the handle is under the seat). The KeyFit 30 and 35 car seats support infants as small as 4 pounds and as heavy as 30 or 35 pounds (respectively), and the stroller seat supports kiddos up to 50 pounds.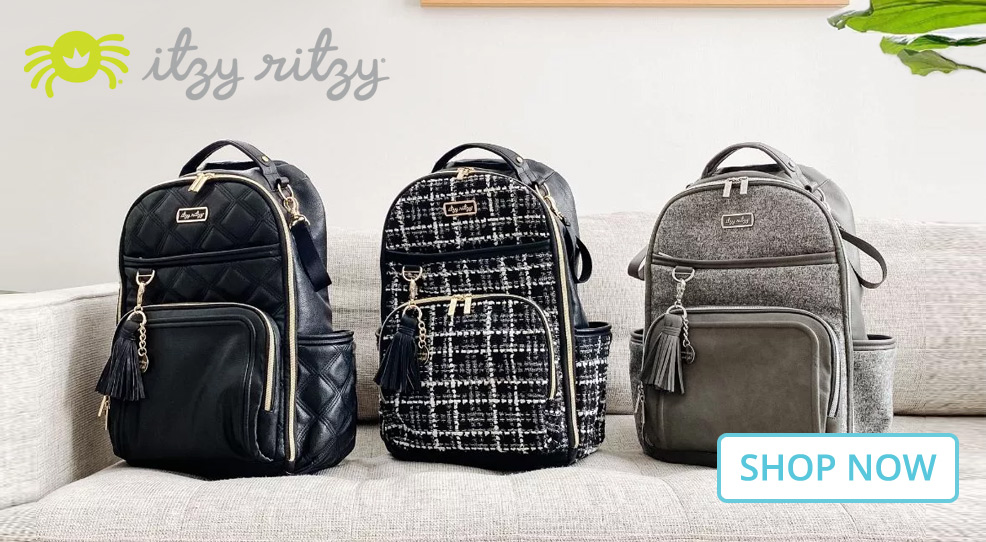 The car seats are amazing, safe, and overall great quality; it has been at the top of our best infant car seat list several times and for good reasons! The KeyFit car seats are a hair smaller and lighter than the B-Safe, and some of that weight savings is by not having a steel-reinforced frame, though it is equipped with energy-absorbing foam, side-impact protection, and an easy installation process. The KeyFit's big brother, the Fit2, also has some excellent features and specifications (see our review of it here), so if you prefer that seat you can buy it separately and attach it easily to the Chicco Bravo frame. Speaking of attachments, the travel system comes with a car seat attachment bar that looks a bit like a bumper bar, that the car seat attaches to (and detaches from) super easily. No issues there, and we loved the versatility of this combination! A bit less expensive than the UppaBaby or Britax travel system, coming in at around $300-350 depending on color options, but definitely not cheap! Who else loves the Chicco Travel System? Our friends at Babylist, BabyCenter, and WhatToExpect all consider it a top pick! Impressed? Check out the Chicco Trio Travel System here.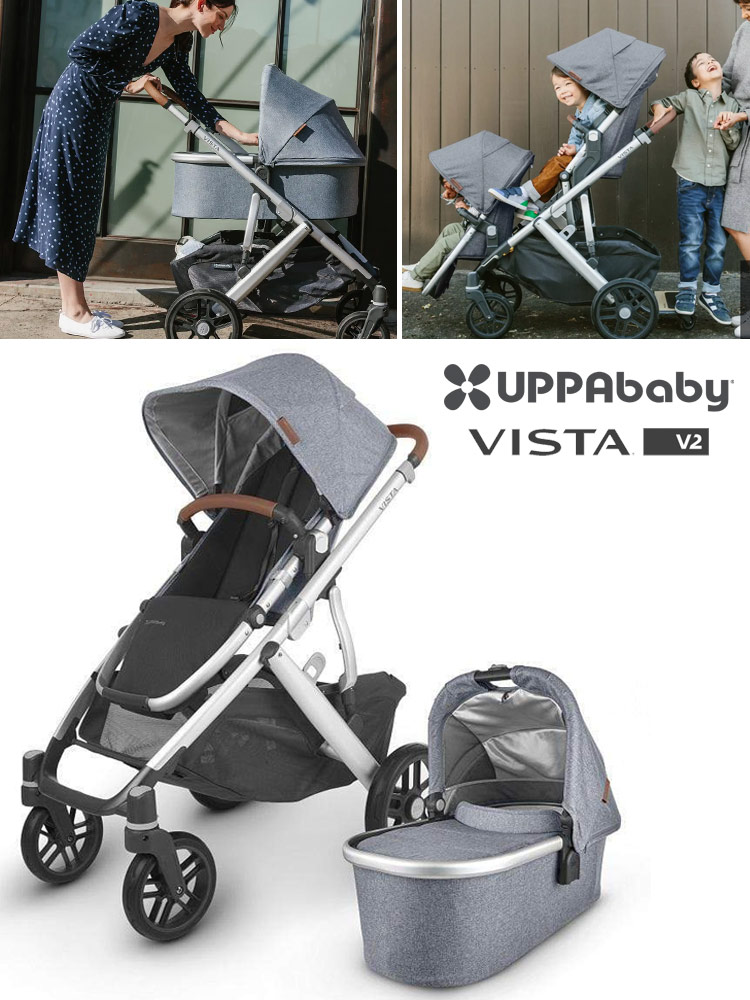 The UPPABaby Travel System is definitely one of the sharpest-looking travel systems on the market, with the sleek urban lines and aluminum on the Vista stroller, and the high-end detailing of the Mesa car seat. This is definitely head-turning baby gear, and you'll pay for it! This UPPABaby travel system is the most expensive on our list, coming in at about $1000 for the stroller, car seat, and bassinet. We'll let you decide whether it's worth it. While it's a big investment, you're getting some great features and luxury. Starting with the Mesa car seat, which is usually around $350, is a top-rated infant car seat that is usually listed in the top 5 of our best infant car seats list. It's one of the easiest-to-install and use car seats we've ever tested, with its auto-tightening LATCH system, seat belt lock-offs, adjustable recline base, easy-to-use level indicators, and no-rethread shoulder harness. For safety, it has a double layer of side-impact protection, EPS energy-absorbing foam, and supports babies from 4 up to 35 pounds rear-facing. In our testing, we found it super comfortable and easy to use, with premium quality throughout.
We didn't like that some of our test babies had sweaty backs after sitting in it during the warmer months, but the Merino wool option did help alleviate that situation (Merino Wool is very breathable). The stroller is one of the best in existence, though it is quite expensive. It has class, style, durability, reliability, and versatility. It's truly a one-in-a-million stroller, and if we could take the Chicco Fit2 or Britax B-Safe and combine it with this stroller, we would be like kids in a candy store! The stroller has an enormous canopy, a big storage bin, a reversible seat (front-facing or parent-facing), and extraordinary versatility. It can be used with the carriage alone, with the toddler seat, or with the car seat that snaps in without any adapter. Or, it can be used with TWO kids! You can do two car seats, two toddler seats, a car seat and toddler seat, two carriage bassinets, and several other configurations. It has amazing versatility, and that baby carriage attachment is second-to-none. In our testing, we fell in love with the stroller and we don't know how we've survived without having it in our lives! This is really the travel system of your dreams, save for some minor limitations of the car seat and the extravagant price. If you can afford it, we think it's worth the splurge! Who else loves the UppaBaby travel system? Our friends at Babylist, WhatToExpect, and The Bump also call it a top pick! Interested? Check out the UPPABaby Travel System here.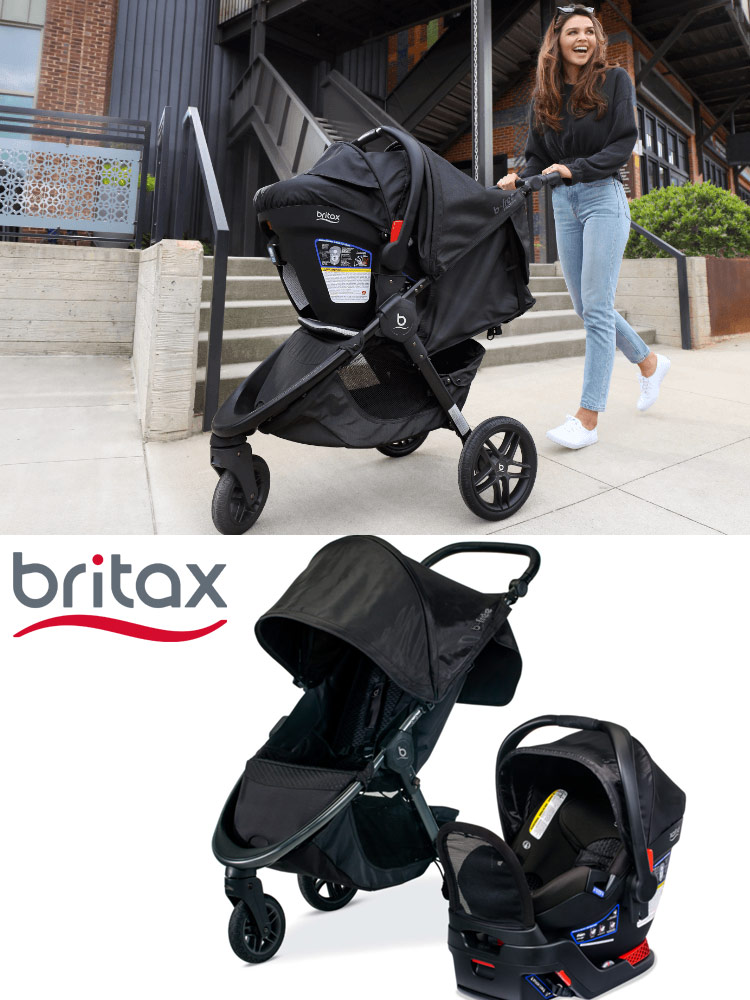 What do you get when you combine the top-rated Britax B-Safe Gen2 infant car seat with the awesome all-new Britax B-Free or B-Lively stroller? You get a winning travel system that is truly awesome in every way! The car seat itself is feature-rich and carries the Britax reputation for safety, reliability, versatility, and quality. Made right here in the USA, the B-Safe Gen2 supports babies as little as 4 pounds and as heavy as 35 pounds (or 32" in height). The Britax car seat is a little bit heavier than most options (just like with its convertible car seats), but that's because it has a steel-reinforced frame, substantial side-impact protection, and EPS energy-absorbing foam. Safety always comes first with Britax, and the B-Safe is their flagship car seat with a fantastic crash test and safety reputation. The new Gen2 version of the B-Safe is bigger and roomier than the previous version, providing a more spacious and comfortable shoulder area for bigger babies. It comes in two versions, the FlexFit and the FlexFit+, only the latter of which includes an anti-rebound bar on the car seat base. While it's a bit more expensive, we strongly recommend the FlexFit+ for added safety. Now for the stroller. Britax offers their travel systems with several stroller options, including the B-Free (our favorite), B-Lively (lighter weight), B-Ready (good versatility), and B-Agile (good price). In our experience, the B-Free and B-Lively are the best all-around strollers for use as a travel system. In addition to their core features (lay-flat recline, one-handed fold, all-wheel suspension, huge canopies, and compatibility with all Britax and BOB infant car seats), the B-Free adds a higher weight capacity (65 vs 55 pounds), adjustable handlebar, all-terrain tires in a three-wheel configuration, and more storage pockets. We really love the folding mechanism of these strollers, which is truly a 1-handed operation (push a button on the side and then grab the handle at the back of the seat and pull up - super easy!), and the 20-pound (B-Lively) or 22-pound (B-Free) weight makes them more manageable than other strollers with a similar feature list.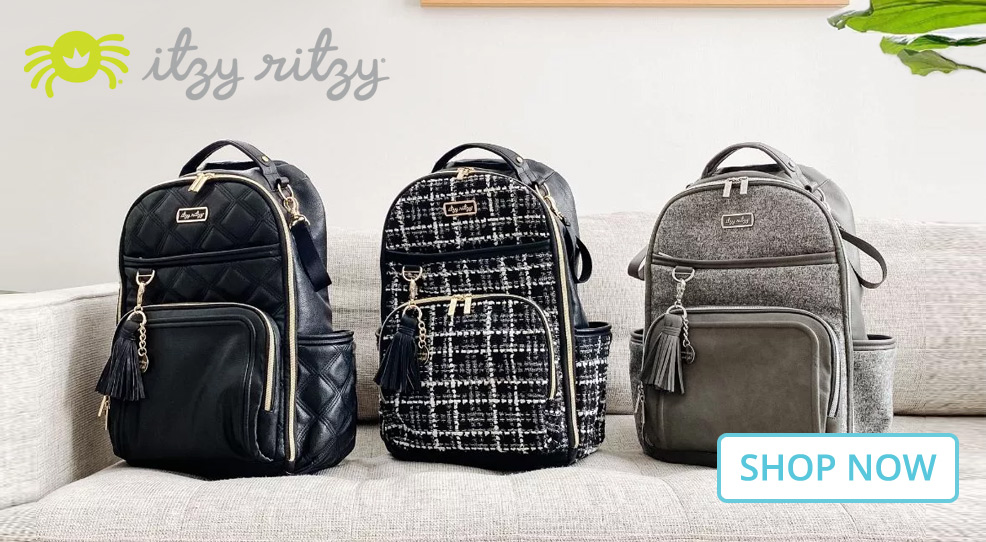 The B-Free is also easy to push and steer with one hand, which is nice given that there's no cup holder to hold your coffee! Some cool things we found were the hidden zipper pocket underneath the footrest area, which you flip up to access the storage bin, the zip-open canopy extension that made the canopy truly huge, and the zip-open peek-a-boo window. Attaching the car seat to the stroller is very easy - the travel system comes with two car seat adapters, one for each side of the stroller. Once you snap the adapters on, you can leave them on for as long as you need, and the car seat very easily snaps onto and off the stroller. It worked like a charm, and were super impressed with this combination! Definitely worthy of this top spot on our list, though it is a bit pricey coming in at about $550. Who else loves the Britax travel systems? Our friends at Babylist, What2Expect, and The Bump consider them a top pick! Interested? Check out the Britax Travel System here.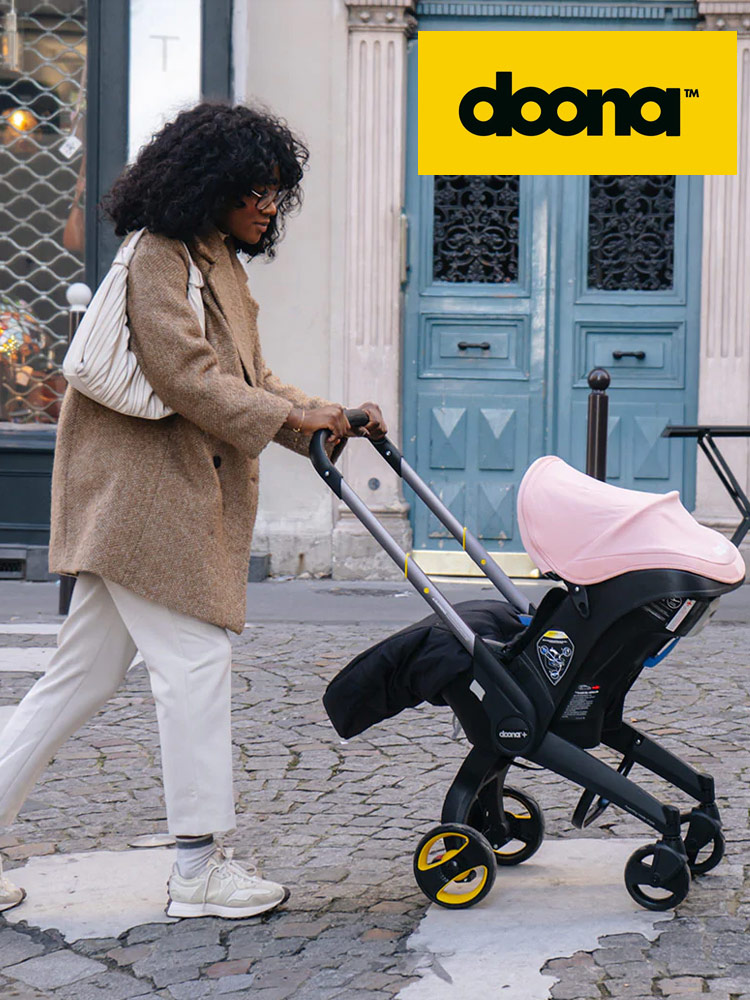 The Doona gets a lot of points for originality and convenience as the only travel system that converts from a car seat to a stroller using an integrated frame and wheels. This integrated travel system is for parents who are tired of lugging around a separate stroller and car seat, having the stroller take up too much space in the back of the car and entrance to the house, and worrying about car seat and stroller compatibility. The Doona solves all of that by mounting a folding stroller frame right to the bottom of the car seat, allowing you to switch quickly back and forth between the car seat and stroller mode in about 5 seconds. It's a perfect option for families with smaller homes or apartments, smaller vehicles, and families that travel a lot by ride-sharing or taxi. The Doona accommodates babies as small as 4 pounds, making it a nice option for preemies, and all the way up to 35 pounds (or 32" tall). Those are pretty standard specifications for a car seat, and match the best ones out there (such as the Britax B-Safe Gen2 and Chicco Fit2). To accommodate such small babies, it has a super soft lower infant insert that you can remove once your baby is about 2-3 months of age. The head support side impact system has plush memory foam, and all of the seat fabrics are high quality and soft. Speaking of safety, it has three layers of side impact protection, EPS energy-absorbing foam, and a handlebar that doubles as an anti-rebound bar when installed in a vehicle. Clever! The Doona system does include a separate LATCH-equipped car seat base, though it can also be installed using the European belt path for a base-free installation. The car seat is surprisingly easy to install into the vehicle, especially if you're using the base. The only downsides are: the harness requires rethreading, no steel-reinforced frame, the canopy isn't as large as we'd prefer, and the seating area is somewhat narrow for larger babies.
So what about the stroller? Well, we don't need to consider how easy or hard it is to attach the car seat to the stroller since they're integrated, so that's a definite bonus! To transition between the car seat and stroller modes, you pick up the car seat with one hand and use the other hand to push a red button on the back and squeeze the wheel release lever. The wheels drop down from the bottom and click into position. Because the Doona weighs about 16.5 pounds, this isn't an easy feat if you don't have reasonable upper body strength. Once the wheels are down, there are two modes - you can use it in what Doona calls pull-along mode which simply means that the car seat handle is pointing straight up, and full stroller ("on the go") mode which involves positioning the handle down and towards yourself. The stroller is pretty bare-bones and basic, which is to be expected given that it has to fold up into the bottom of the car seat and maintain a reasonably low profile. Specifically, the wheels provide a somewhat rough ride quality and there are none of the basic stroller features you might want: storage basket, pockets, cup holders, trays, etc. One of our biggest gripes with the Doona concept is that we got our backseats a bit dirty from the stroller's wheels; not a huge deal and can be solved with a seat cover if you're worried. This is a truly innovative travel system that solves a very common problem, and we're overall impressed with the idea and execution. Who else loves the Doona travel system? It's a top pick by our friends at Babygearlab and WhatToExpect! Interested? Check out the Doona Car Seat to Stroller Travel System here.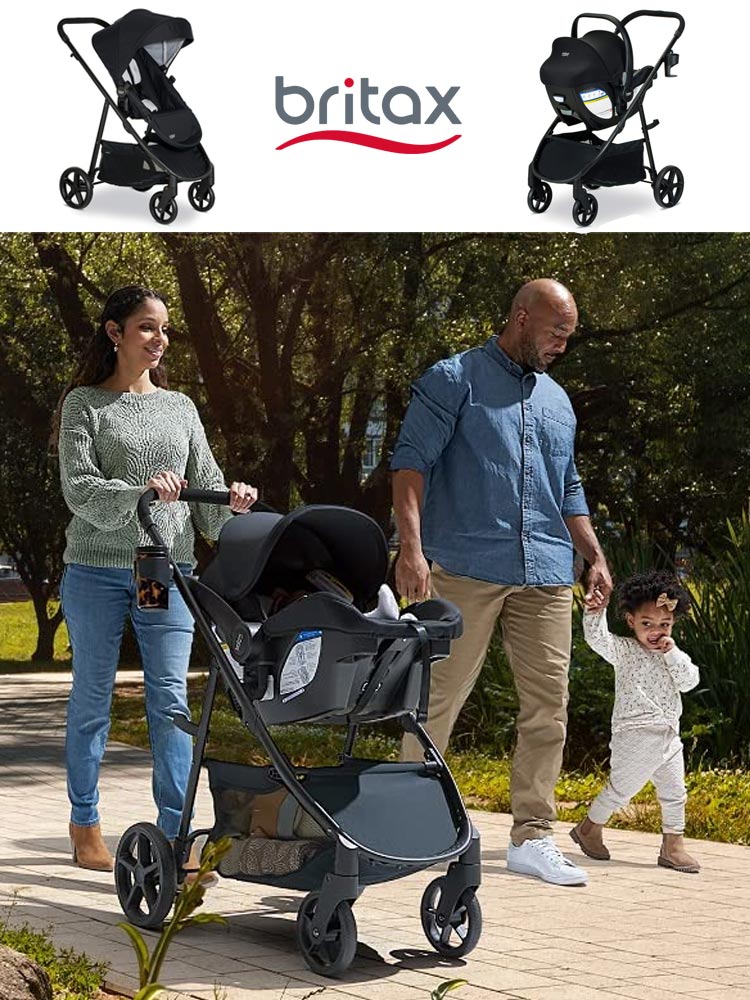 Britax is world-renowned for making high-quality car seats and strollers with superior safety features, comfort, and versatility. Their flagship infant car seat, the B-Safe Gen2, is one of the best-selling car seats in the world and consistently sits at or near the top of our annual list of the best infant car seats. Traditionally, Britax travel systems combine a full-size one-piece stroller with an adapter that allows you to attach the B-Safe car seat; these work well but are somewhat heavy and can have limited versatility. That said, we were excited to see this new addition to the Britax lineup for three primary reasons. First, the Willow Brook stroller uses a modular design that allows you to attach a toddler seat in a forward- or rear-facing position, or the Willow infant car seat in a forward- or rear-facing position. Second, the ability to detach the toddler seat (rather than it being integrated into the stroller frame) means that the stroller is much lighter weight when the infant car seat is attached. Finally, the Willow Brook travel system is much more affordable than most other travel system options from Britax, including the B-Free and B-Lively, coming in at about $450 including the stroller frame, toddler seat, and infant car seat.
We were lucky enough to get our hands on a sample of the new Willow Brook travel system in mid-2023 (thanks, Britax!) and were excited to test it out. Starting with the Willow infant car seat, we absolutely love how Britax took the successful ClickTight system from their convertible and booster car seats and integrated it into the base of the Willow. The ClickTight system provides a very secure installation that gives you confidence that your child is safe in the vehicle. They also integrated their new RightSize system that helps you make fine-tuned adjustments to the hip, shoulder, and crotch areas, resulting in a perfect fit as your little one grows. The car seat also uses the famous SafeCell crumple zone technology, quick-push LATCH connectors, and the cover can be removed and machine washed. Limitations include a relatively low weight limit of 30 pounds, the shoulder harness requires manual rethreading to adjust the height, and there is no load leg or anti-rebound bar integrated into the base. Of course, at this price point, those features shouldn't be expected from a Britax travel system. For the stroller, we loved the toddler seat, its canopy and recline settings, the comfort and quality of the seating materials, and the easy-to-use five-point harness. Attaching and detaching the toddler seat and infant car seat was simple and intuitive, and we loved how both seats can be attached front-facing or rear-facing. The toddler seat can be used with a child up to 44" tall or 50 pounds. The stroller wasn't quite as smooth, sturdy, or nimble as the Britax B-Free (see above), but at this price point, we thought it performed surprisingly well. The frame is lightweight yet strong, the folding/unfolding sequence is easy and effortless, and our test toddler loved the tray with its snack area and cup holder. Oh, and parents get a cup holder too! Notably missing was an adjustable handlebar, expansion to two children, and wheel suspension. Overall, we loved this new addition to the Britax lineup of high-quality travel systems that prioritize safety and functionality. The Willow Brook does this at a relatively accessible price point and we thought it showed surprising levels of quality and versatility. Highly recommended for parents looking for the Britax reputation without breaking the bank! Interested? Check out the Willow Brook Travel System here.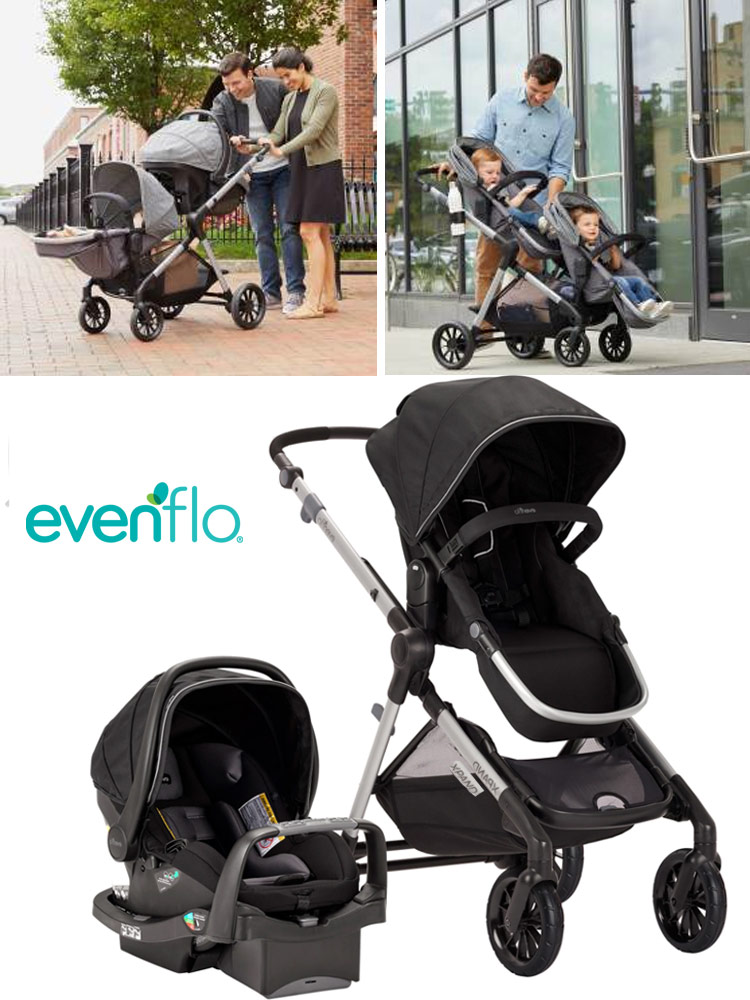 We've always associated Evenflo with inexpensive baby gear that was never really impressive in any given way. Our experience with the Evenflo Pivot Xpand travel system changed our opinion for the better. We were super impressed with what Evenflo pulled off here. They made a truly impressive travel system that not only feels, looks, and acts like a much more expensive stroller and car seat combination, but is available for about $400. We realize that seems expensive for an Evenflo travel system, but hear us out! This system combines the great Evenflo SafeMax infant car seat (about $200) with the new and super versatile Pivot Xpand stroller. Add those two together and you end up with a truly awesome travel system that caught us off-guard! Where do we start with this stroller? Evenflo pulled out all the stops. This stroller has a super rich feature list: adjustable handlebars, a HUGE lower storage bin, self-standing fold, rear-wheel suspension, cup holder, and versatility that makes any stroller on this list look like a chump! This stroller has 22 different modes and functions as both a single stroller and double stroller, combining the infant car seat and toddler seat in tons of different ways. The fact that it can work as a double stroller is why they call it the "Xpand" system, a little bit like the Britax "B-Ready" system, and it defies the assumption that double strollers need to be huge and cumbersome. Here are some of the things we loved: the toddler seat can be reversed to be front-facing or parent-facing, or it can be reclined back to make it more like a baby carriage. And it can be put up front or lower down, without using any adapters. That's right, the adapters are built right into it, which is truly amazing!
We never thought we'd be saying this about an Evenflo product, but this stroller really rocks - it feels high quality and sturdy and looks super chic and modern. One of our reviewer moms wrote "this stroller is amazing, can I buy the sample?" That's a ringing endorsement from a mom who uses the UPPABaby system, which costs three times as much. The only thing we'd suggest to Evenflo is to make the tires a bit thicker and better quality, they are somewhat thin and cheap. So how about that car seat? This travel system includes the Evenflo SafeMax, which is their top-of-the-line infant car seat. It supports babies as small as 4 pounds (with the infant insert) and as heavy as 35 pounds (or up to 32" tall). What makes it so safe? Well, it has big side-impact protection and kudos to Evenflo because it is the only car seat that has been roll-over tested. It also has an anti-rebound bar, which reduces rotational forces and the potential for injury in the event of an accident. And it's very comfortable, with thick padding and soft-touch fabrics that are also pretty easy to clean. Installation was easy, it was easy to attach and detach from the base and the stroller, and we thought the seat actually felt very high quality (especially for the price) and we were impressed overall. Cons? Well, the handlebar was a bit cumbersome to adjust, the shoulder harness required rethreading from behind to adjust, it's surprisingly heavy, and it's just not up to par with the Britax, Chicco, or UppaBaby car seat options. There's a lot to love here, especially with the stroller, and we think you'll be happy overall with this travel system. As an update, we've been testing this system for over 2 years now and it has withstood the test of time! The wheels are a little worn at this point, but nothing major to report. Who else loves the Evenflo travel system? It's a top pick by our friends at Babylist, BabyCenter, Babygearlab, and The Bump. Interested? Check out the Evenflo Pivot XPand Travel System here.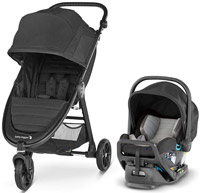 Baby Jogger is well-known for their awesome City Mini GT2, City Select, City Tour, and City Summit (jogging) strollers. But they aren't so big in the car seat market, though their City View convertible car seat has some pretty good reviews (including ours!). This travel system comes with the Baby Jogger City Mini GT2, their most popular and one of their most expensive strollers. The City Mini GT2 is stylish, versatile, high quality, easy to maneuver, and comfortable for the littles. It is ranked in the top 5 for the best luxury strollers of the year, given its easy fold, sturdy and durable build quality, adjustable handlebar, big forever air all-terrain rubber tires, large UV50 canopy coverage (and peek-a-boo window), and the super high weight limit of 65 pounds. In our testing, we loved the hand brake (rather than the foot brake), how easy it was to steer, the super comfortable seat (with adjustable calf support), and the one-handed fold. The GT includes a car adapter for the City GO infant car seats. However, we didn't like that everything is an add-on for more cost - like the parent tray, cup holder, other car seat adapters, child tray, rain cover, etc. It's expensive as-is (about $370), and it really starts to add up when you add in accessories. Relative to the regular City Mini, the GT2 version brings the higher weight capacity, the hand brake, adjustable handlebar, and big wheels; so a lot of what we like is bound specifically to the GT2 model. There's a lot to like here, but also some limitations that keep it from ranking higher in our lists. By default, the City Mini stroller is compatible with the Baby Jogger City GO infant car seat. The City GO is a pretty decent car seat, and this was the first time we actually got our hands on it for testing. It supports babies from 4 to 35 pounds (or up to 32" tall), and has nice plush infant inserts. The fabric itself is great, but the padding is substantial. We liked certain things - the seating area itself is nice and wide, when placed on the floor is has a rounded base so parents can rock it front-to-back, and the base and car seat aren't excessively wide.
But we didn't like a few things. First, it felt a little outdated relative to the top-rated Britax, Chicco, UPPABaby, and Peg Perego car seats. Second, clicking it into and out of the base, or attaching/detaching from the stroller wasn't anywhere near as easy as the higher-rated travel systems. Third, the canopy was large but also a little clumsy - it clicks loudly and has a crunchy fabric noise when you're adjusting it. Fourth, adjusting the harness didn't involve rethreading (which is great), but it also was a total pain to adjust since you need to do it from the rear. And we couldn't figure out how to remove what we assumed was the upper infant insert padding (around the shoulders and head), but it doesn't come out and makes it really cramped once our test babies were over about 4 months old. Together, those are some big limitations for an infant car seat priced around $250. So what are the other options? If you really like the City Mini GT2 stroller, you can purchase an adapter to make it work with your favorite car seats. For example, there's an adapter for the Britax B-Safe, the Chicco KeyFit 30/35 or Fit2, the Peg Perego Primo Viaggio, and the Graco SnugRide Click Connect models (see all their adapters here). That was smart of Baby Jogger, to provide so many adapters to make it possible for parents to purchase one of the best strollers on the market (the City Mini GT2) and couple it with their favorite car seat (which was not likely to be the City GO). That's also one of the reasons we've included this travel system up here on our list, since the City Mini stroller has so many compatibility options that make it a potentially winning situation for picky parents who want to mix and match! Who else loves the City Mini GT2 as a travel system? Our friends at Babylist! Interested? Check out the Baby Jogger Travel System here.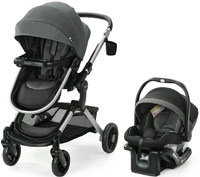 We love the Graco Snugride car seats, which offer serious bang for the buck, with high-quality materials, comfort, versatility, and safety at a very reasonable price point. What Graco was lacking, however, was a high-end stroller to match the Snugride car seats. Well, enter the new lineup of Graco Modes travel systems! From the fewest to most features, they have the Modes Element, Modes Pramette, and Modes Nest. The Modes Nest system adds the Snugride 35 Lite Elite model (rather than the DLX or LX), a height-adjustable seat, an expandable storage basket, and a self-standing fold. It's the most expensive of the Modes models, coming in at about $399, but we think it's also the most sophisticated and functional of the models. You already know we love the Graco Snugride car seats, and the 35 Lite Elite is no exception. This car seat usually sells for about $170 and is one of Graco's higher-end models, offering Snuglock installation, Simply Safe (front adjust) harness system, side impact protection, and a washable removable cover. It supports babies from 4 pounds up to 35 pounds, or 32" tall, while maintaining a super lightweight build of only 7.2 pounds. The Modes travel system includes not only the car seat but also the base with its 4-position adjustable recline to fit a variety of rear seat inclines. The car seat pops into and out of the stroller using the Snuglock system, which is a simple and easy mechanism.
The stroller has a ton of helpful features, with highlights including a seat that is not only reversible (front- or rear-facing) but can also recline and turn completely into a lay-flat infant bassinet (so you don't need to purchase a separate one!)! One of the most unique aspects of this stroller is that the seat is height adjustable, allowing you to raise the seat up closer to you, or push it down farther away. That simple feature is something we ended up loving during our tests, because it helps suit parents of all arm lengths (maybe not a t-rex, however) and makes it possible to easily pop a pacifier back in, or even bottle feed your baby while strolling. Awesome idea, and well executed! The stroller also has a huge storage basket, folds very easily, and we found it highly maneuverable and sturdy. It was smooth over the bumps, nicely sized for doorways and tight turns, and fit readily into the back of a CR-V, Outback, Accord, or RAV4. And bonus points for having a cup holder. Cons? Well, attaching the car seat and toddler seat wasn't entirely confidence-inspiring. Sometimes we thought we heard an audible click but it wasn't actually attached, so you need to double-check that things are lined up appropriately. Also, assembly took about 45 minutes and seemed needlessly complex! Other than those minor gripes, we love this new addition to our list and think it's an awesome solution for parents looking for Snugride travel system! Who else considers the Graco Modes travel systems a top pick? Our friends at Babylist! Interested? Check out the Graco Modes Travel System here.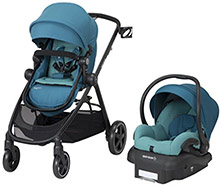 Maxi-Cosi, as the name suggests, makes some of the coziest baby products on the market, including their adorable and comfy infant car seats (the Maxi Cosi Mico Max) and the super versatile and luxurious convertible car seat (the Maxi Cosi Magellan Max). But comfort is not the only thing they do right. Their products are well-made, high quality, safe, and versatile; this Zelia travel system is no exception. While the Maxi Cosi Mico infant car seat is on our best infant car seat list, it isn't near the top of our list. That's mostly because we found things a little finicky, cumbersome, and too pricey for our tastes. But to be fair, it's in the top 10 for the year, making it a really great option. It supports babies from 4 to 30 pounds (or up to 32" tall), has big inflated side impact protection, EPP energy-absorbing foam, and it's actually pretty lightweight given its relatively bulky footprint (mostly in its width). While the canopy of the car seat isn't great, the canopy of the Maxi Cosi stroller is pretty impressive.
In fact, there are a ton of things that are really impressive about this stroller. First, the seat can be folded down into a lay-flat carriage bassinet for your baby. Second, the seat is completely reversible so your baby can face forward or backward. Third, it supports babies as small as 5 pounds and kiddos up to 50 pounds, which is a pretty respectable range. It also has a cup holder, a huge canopy (did we say that already!?), a peek-a-boo window, a well-sized storage bin, one-handed folding, a bumper bar, and a decent recline. There were some limitations, however. First, it was a bit of a pain getting the car seat to attach and detach from the stroller because it requires really good hand-eye coordination to attach it, and then two hands to detach it from each side. Second, it was nice that it was a little lighter weight than some others on this list, but it also didn't feel as sturdy or well-constructed as others. And that's unfortunate because it's about $400 for the travel system, and that's a lot to cough up. Interested? Check out the Maxi Cosi Zelia Travel System here.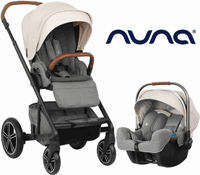 Nuna makes several very high-quality strollers and travel systems, all of which are compatible with the popular Nuna Pipa infant car seat (the Pipa, Pipa Lite, and Pipa Lite LX). These include the Nuna Demi Grow stroller, Nuna TRIV stroller, Nuna Mixx, Nuna Pepp, and Nuna Tavo. Most of these strollers are available as travel systems, simply combining the sale of a Nuna stroller with one of the Nuna Pipa models. Typically the Nuna Pipa is about $300 if purchased alone, the Nuna Pipa Lite is about $350, and the Nuna Pipa Lite LX is about $399. Note that the Lite versions need the base, while the non-Lite version can be installed in a vehicle without a base. When you purchase a Nuna travel system that combines one of these car seats with a stroller, you end up spending only a little bit less than you would be purchasing them separately. For instance, the Nuna Mixx stroller costs about $650 alone, but when combined with the Pipa Lite LX it's about $999, saving you about $50. We got our hands on the TRIV, Mixx, and Tavo for testing, and we were impressed with the quality of all of them. Nuna makes high-end products that are simple, stylish, lightweight, and functional. So while we're including the Mixx travel system here, realize that you'll be very happy with any of these options - this just happens to be the model we fell in love with! So what's to love? Let's start with features. The Pipa Lite LX supports babies from 4 up to 32 pounds (or 32" tall), and only weighs 8 pounds without the base (the base is about 14 pounds and includes a load leg). The car seat is Greenguard Gold certified and contains no fire retardant chemicals. It has an awesome "dream drape" canopy that provides full UPF 50+ coverage from the elements (with a peek-a-boo window), side-impact protection, a base crumple zone, included infant insert, FAA certified for air travel, and modern quick-connect LATCH. What it doesn't have is a no-rethread harness, anti-rebound bar, or steel-reinforced frame.
Regarding the stroller, its integrated toddler seat supports up to 50 pounds while weighing a hefty 27 pounds. But that weight brings some awesome features, like a true lay-flat sleeping recline (with 5 positions), a no-rethread harness, a super intuitive and easy one-handed fold, very high quality and plush padding and fabrics (including a removable and washable seat liner that is insanely comfy, revealing a high airflow mesh back), four-wheel suspension, an amazing full-coverage canopy, reversible seat, adjustable handlebars, pop-up footrest and boot cover, an included Mixx ring adapter (that allows one-handed attachment of any Pipa car seat), and super easy fold and unfold. In our testing, we fell in love with the smoothness and maneuverability of this stroller, which were both fantastic. We also think it's the most comfortable stroller we've ever tested, and that's saying a lot! We loved the magnetic canopy extension (the dream drape), the no-rethread harness height adjustment (which is really rare), and the fact that the seat can be converted from a thick and warm pad to a relatively minimalist and high airflow mesh seat back. Together, the Nuna Pipa and Mixx make great partners, and you can also purchase the Nuna Mixx bassinet to attach for newborns, infants, and hopefully longer naps! That's another $150. To be honest, we're not in love with the Nuna Pipa in general, we think for the price it's rather limited in features while prioritizing style and weight savings. But the stroller more than compensates for those limitations, with its comfort, maneuverability, and style. We think it's an excellent stroller, making this a pretty darn good travel system overall. Limitations of the stroller include no cup holders or storage pockets for parents, no ability to expand to two children (check out the awesome Nuna Demi Grow for that), and a somewhat limited-size storage bin. Overall, if you're sold on the Nuna Pipa already, this is a great way to integrate it with a super high-quality, stylish, and surprisingly functional stroller. Who else recommends Nuna travel systems? Our friends at Babylist, WhatToExpect, and The Bump! Interested? Check out the Nuna Mixx and Pipa Travel System here.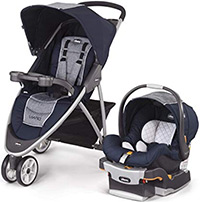 This Chicco Viaro baby travel system is very similar to the Chicco Bravo (above) in a few ways. First, it includes the top-rated Chicco KeyFit 30 or 35 infant car seat, which is a truly fantastic infant car seat with a great reputation and track-record for safety, comfort, versatility, ease of use, and style. You can't go wrong with the KeyFit 30, making this automatically a great option for discerning parents. Second, it includes a quality stroller that uses a lightweight aluminum frame, a 3-wheel design, and many features (a great storage basket, one-handed fold, weight limit of 50 pounds, etc) that will sound very familiar with the Chicco Bravo. What are the differences between the Chicco Bravo and Chicco Viaro? The Viaro uses a 3-wheel design while the Bravo uses a 4-wheel design, which makes for some differences in stability and maneuverability: the Bravo is a bit more stable, while the Viaro is a bit more maneuverable. Another difference is that the Bravo uses an awesome adjustable-height handlebar that makes it suitable for both shorter and taller parents, whereas the Viaro's handlebar is not adjustable.
In our testing, the height was fine for average-height parents, but taller parents or grandparents (over about 6 feet) might get a sore back and shoulders after pushing this stroller. The Viaro also isn't as versatile in its settings - the Bravo lets you reconfigure the seat and canopy to remove elements to shave off weight and basically allows you to use it as a car seat stroller frame without all the added bulk and weight. But the Viaro doesn't let you reconfigure in this way. There are also some other differences worth considering: the Bravo's canopy is bigger, its rear brake is more substantial, and it has a four-wheel suspension (the Viaro is only front suspension). How about some benefits of the Viaro: it has a great snack and bottle tray for your toddler or big kid, and it is a bit lighter (18 versus 23 pounds). In our testing, we loved that the Viaro was easy to maneuver, relatively simple and lightweight, and easily fit the KeyFit (and Fit2) car seat. We found some minor annoyances such as the fact that it doesn't lock into a folded position, and the rear brakes were individually locked as opposed to a yoked locking system. So overall, the Viaro generally pales in comparison to the Bravo. But if you're looking for a relatively simple and more cost-effective travel system that works perfectly with the KeyFit 30, this could be a great option for you. Interested? Check out the Chicco Viaro Travel System here.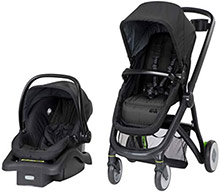 Safety 1st makes some great strollers and infant car seats with good features and safety at very reasonable prices, making this one of the best bang-for-the-buck travel systems available. Safety 1st sent us this system last year for testing, and we were pleasantly surprised. Especially for the price, coming in at around $299 for what amounts to being a super versatile system, especially the stroller. Let's start with the Riva stroller, which is really impressive. It's made with 85% recycled materials in a zero-waste facility right here in Indiana, USA, making it one of the "greenest" travel systems on our list. Out of the box, assembly was super easy, and folding/unfolding the stroller can be done one-handed. We are fully impressed with the fact that the toddler seat can be converted to a fully-flat bassinet carriage, or can be completely removed so you can use the stroller frame with the attached car seat only. The toddler seat, bassinet, and car seat can also be positioned forward-facing or parent-facing, thus the 6-in-1 claim. The stroller supports babies as small as 4 pounds (in bassinet mode), though we couldn't find a maximum weight or height limit for the stroller; we suspect it's a bit lower than others on this list, because the toddler seat space is a bit cramped for kiddos over about 3 years old. The stroller itself is one of the lightest around, coming in at only 18 pounds, making it easy to carry when folded, super maneuverable, and easy to travel with. We also loved how big the lower storage bin is, the cup holder, and how easy it was to clean the fabric surfaces.
Cons? Well, some of our testers thought that the plastic felt a little flimsy and unfinished relative to other strollers, and that folding it (collapsing it) wasn't as easy as they thought it could be. Now, let's consider the car seat. This is the biggest challenge with this system. We do love the Safety 1st Onboard 35 Air car seats, which appear on our best infant car seat lists. But this travel system comes with the Onboard 35 FLX, which is not even listed on Safety 1st's website. It's basically a bare-bones version of their best-selling car seats, and has some big limitations as a result. Let's start with the good stuff - the car seat supports babies as small as 4 pounds (using the included infant insert) and up to 35 pounds, it has a 5-point harness, side-impact protection, and is super lightweight. It does click easily into and out of its base, and we had no major complaints other than the fact that it's super basic and lacks many features of higher quality car seats (including their own). The shoulder harness requires rethreading for adjustment, the crotch buckle is in a fixed position, the handlebar is stiff and somewhat uncomfortable to carry, the seat padding is thin, there is no steel-reinforced frame or anti-rebound bar, and the canopy leaves something to be desired. So the question is whether you can combine the Riva stroller with one of their higher-quality car seats? Yes, the higher-end Onboard 35 Air car seats fit the stroller, but it doesn't seem like you can purchase the stroller without it being part of the travel system. Interested? Check out the Safety 1st Riva Travel System here.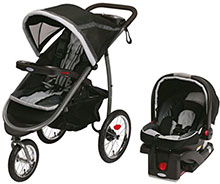 Graco is famous for its expansive line of SnugRide Click Connect infant car seats. In fact, the assortment of SnugRide car seats is so expansive that it confuses the heck out of parents, so much so that we created our SnugRide buying guide to help clarify the features and cost of each model. This Graco travel system includes the SnugRide Click Connect 35, which is the most basic of the SnugRide car seats. Let's start with what it has: a broad weight range from 4 to 35 pounds (or up to 32" tall), a narrow (just over 18" wide) and lightweight (7.5 pounds without the base) shell, 6 recline positions, side-impact protection, energy-absorbing foam, the Click Connect system that makes it super easy to snap into and out of compatible Graco strollers, and it's FAA approved for air travel (just like all of the car seats on this list). Now let's consider some of this car seat's limitations: the harness requires rethreading from the rear for height adjustment, it uses old-style hook LATCH connectors, it doesn't have the rapid remove cover, nor does it have the True Shield or Safety Surround side impact protection. As we said, it's a pretty basic car seat. Some minor annoyances with it include the smaller-than-ideal canopy, the somewhat flimsy padding and infant insert, and the handlebars requiring two hands to adjust. So you're getting an overall very basic car seat that usually sells for around $130. Now for the stroller.
This thing is very heavy and sturdy, coming in at a hefty 30 pounds that rivals even some of the biggest double strollers! But we do admit that while all that weight makes it cumbersome to lug around, it actually makes it feel very firmly planted on the ground, which is a nice feeling. It has pretty large diameter wheels, and the front wheel can be locked out for jogging. We love the fact that it has two cup holders for parents, a tray for your cell phone (though it's a little small for some newer devices), and a little compartment for holding keys and anything else you can squeeze in there. Your child has a pretty similar bumper bar and tray, also with two cup holders and a little tray in the center. The best part of that is you can open one side of it and swing it out of the way, which made it much easier to pull toddlers in and out of the stroller. You can also remove that bumper bar entirely, but that makes it impossible to attach the car seat since it's part of the Click Connect attachment. It has a good-sized storage bin on the bottom, folds easily with one hand (though it's super heavy), reclines reasonably well (but nowhere near lay-flat, only about 45 degrees), and it supports kids up to about 50 pounds. Not bad for a stroller that amounts to only about $160. Cons? Well, in addition to being excessively heavy, it doesn't fold down into a very compact package. You need to have big biceps to lift it, and a big vehicle to fit this in, and that's not helped by the fact that the rear wheels are so big and don't quickly detach like some other models. And frankly, it's not so easy on the eyes - it doesn't look anywhere near as nice as the $90 more Evenflo. So overall, you're getting a jogging travel system for less than $300, which is about half the price of the BOB jogger (above). So if you're looking for a jogger travel system for a reasonable price, this could be a great option. Interested? Check out the Graco FastAction Travel System here.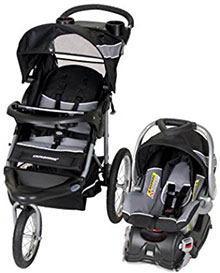 If you're looking for the cheapest jogging travel system with a decent quality jogging stroller and a super basic car seat, this might be a great option for you. This Baby Trend travel system screams basic, and the low (about $199) price tag is evidence of that. Starting with the stroller, this travel system uses the Expedition Jogging Stroller, which is down near the bottom of our best jogging strollers list. It's not bad, it's not great, but it really is a sweet deal for parents looking for a basic jogging stroller. There are some impressive things going on here: it has very large diameter rubber pneumatic tires that are 16" (front) and 12" (rear) in diameter, which is actually quite large and that makes it great at absorbing small and moderate bumps, and going over cracks and gaps in the sidewalk without any issues. It also has cup holders and a small cubby for phones and keys, comfortable handlebars, a decently-sized lower storage bin, and a reclining seat (but doesn't go anywhere near lay-flat). Those big wheels make for superior comfort and maneuverability, especially impressive for a stroller at this price. There is no front suspension, however, which makes it a bit more jarring over the bumps than most other options on this list. It also doesn't have adjustable handlebars for taller parents, and the seating surface doesn't feel anywhere near as comfortable as other options on this list. Folding it up, it folds into a decent footprint, but it's still quite large with those hulking wheels popping out from the sides.
Now for the car seat, which is the Baby Trend EZ Flex-Loc infant car seat, which typically sells for around $110 or so. That low price always means limited features. It supports babies from 5 to only 30 pounds, and only up to 30" tall. So that's a pretty limited range of height and weight for an infant car seat, making the transition to a convertible car seat happen pretty early for many parents. But to be fair, most toddlers will be itching to get out of this seat anyway, given that it's relatively sparse in its padding and comfort features. It does have side-impact protection and energy-absorbing foam, an infant insert, and a surprisingly comfortable handlebar for carrying. The seat itself is also pretty lightweight and snaps into and out of the stroller with ease and convenience. So that's all good. So overall, this Baby Trend travel system is the most inexpensive travel system on our list, and it shows in many ways. But it might be sufficient for parents looking to save some cash and get a pretty decent jogging stroller and a super basic infant car seat. Interested? Check out the Baby Trend Expedition Travel System here.
What to Look for in a Travel System
The best baby travel systems combine an infant car seat with a perfectly-matched stroller to give you excellent compatibility, versatility, comfort, safety, and cost savings. Ideally, you want to combine the best of both worlds - the best infant car seat and the best stroller, and you want it to be super easy to attach and detach them from each other.
Over the past 10 years, we have tested dozens of travel systems. Some were relatively expensive, like the ones made by Nuna, Baby Jogger, Maxi-Cosi, Uppababy, Peg Perego, Britax, and BOB. And some were more reasonably priced, like the ones made by Graco, Chicco, Safety 1st, Baby Trend, Evenflo, and Cosco. Did price matter? Yes, it was strongly correlated with quality, versatility, safety, and reliability. In fact, several of the least expensive options didn't even make it onto this list!