The Best Baby Gates of 2023
Keep your baby out of harm's way with a top baby gate that is secure and easy-to-use.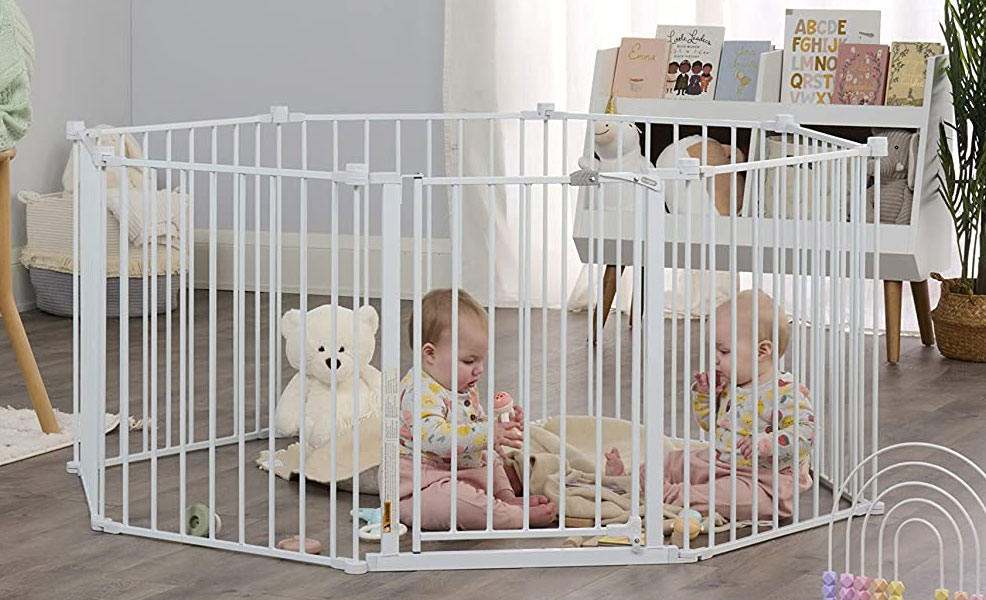 ---
Mommyhood101 independently tests and curates baby gear to help you make informed decisions. If you buy products through links on our site, we may earn a commission.
Baby gates are critical elements of effective childproofing, keeping your baby out of harm's way and giving you much-needed peace of mind. Unfortunately, not all baby gates are created equal: some are sturdy and versatile, whereas others are flimsy and limited.
Just for fun, what does ChatGPT-4 think is the best baby gate!?
"I can confidently say that the best baby gate on the market is the Regalo Easy Step Walk Thru Gate. This gate is designed with both safety and convenience in mind, is JPMA certified and meets ASTM safety standards." -ChatGPT-4
We don't always agree with robots, but we do think this is a great option!
Every year we gather and review at least a dozen baby gates. We test installation locations (doorway, hallway, stairs), sturdiness, safety, ease of installation and use, and versatility.
Baby Gates NOT for Stairs
Baby Gates for Stairs
What to Consider
Full disclosure: Some of these gates, including the Kidco and Munchkin models, were sent to us as free test samples by the manufacturer.
This article has two sections. First, we review baby gates intended for doorways and other wall openings.
Second, we review baby gates intended for use at the top or bottom of stairways. You can jump to the second section and see only baby gates for stairs by clicking here.
Here are the Best Baby Gates of 2023 (not for stairs)!
Never use a regular (pressure-mounted) baby gate near a stairway!.
This poses a serious trip hazard due to the lower rail. Adults and children can trip over the rail and fall down the stairs. We've read the horror stories and seen the results - do not try it!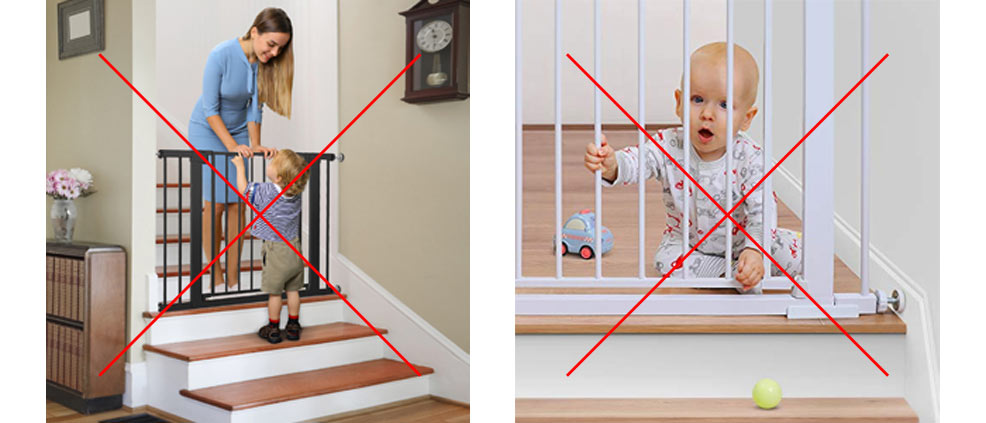 In the above photos, notice that the lower bar remains fixed in place when the gate swings open. Avoid this type of baby gate if you're mounting near the stairs.
If you want to place a gate at the top or bottom of your stairs, jump to our Gates for Stairs section!
Below are the top 5 baby gates for use in doorways and other openings, but not on the stairs.
Below are the in-depth reviews of each of these options, plus several more!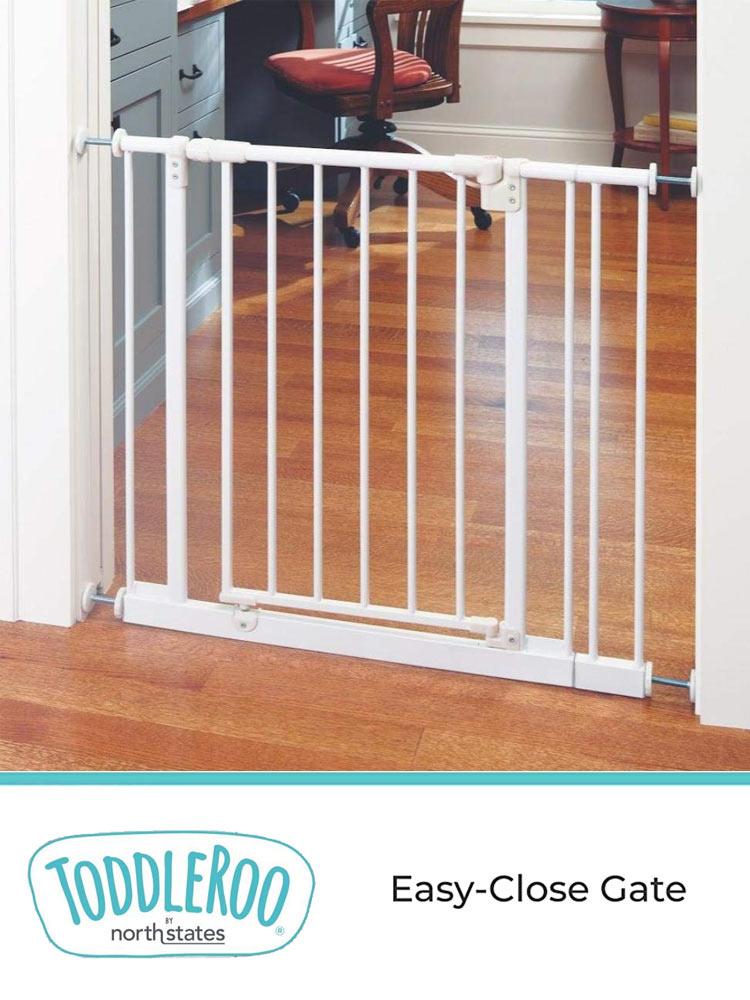 Usually about $60. The top-rated North States Supergate was one of the best reviewed baby gates on the market, and was recently renamed the Toddleroo. The Toddleroo is a tension gate, meaning that there is no assembly required, it basically squeezes itself into your doorway. They provide wall cups that hold the tension arms in place to prevent slipping forward/back when baby pushes or pulls on the gate. The wall cups can screw into the wall, or to avoid screw holes in your wall you can use the double-sided mounting tape like we did. The tape comes in the box. It has a 2" tall threshold on the bottom, so it is NOT recommended for use at the top of stairs due to the tripping hazard. We found that the gate is very sturdy and uses a clever locking mechanism that has two settings - one that requires only lifting the gate to open it, and another that involves twisting the lock for extra security. In both cases, we found that it only takes a couple minutes of practice to perfect a one-hand opening.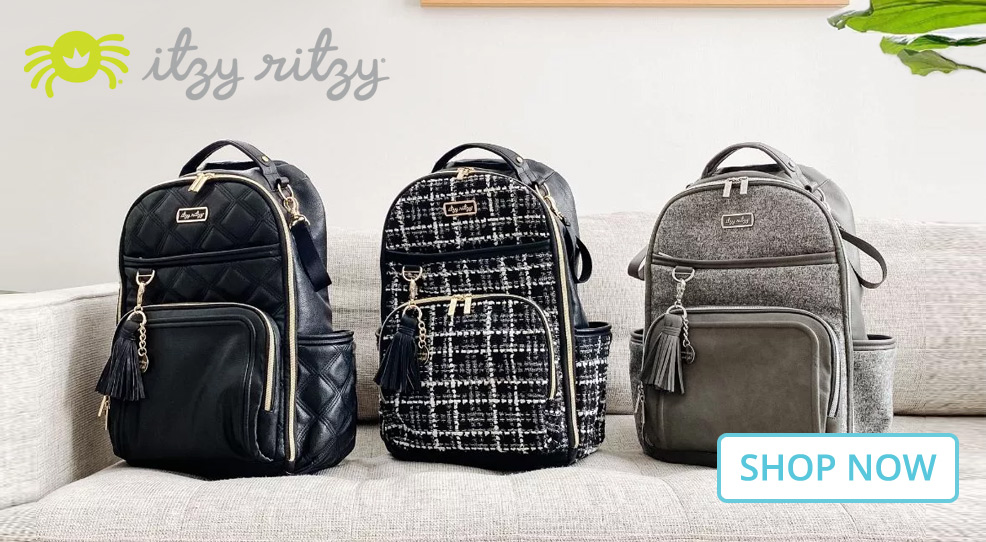 The gate also swings both directions for convenience, and it swings shut very easily (but not automatically). You can lock it into the open position as well, as needed. The gate includes extensions that come with it, and in our testing, we found that it can fit doorways from about 31" to 38" wide. It measures 29" high when installed, making it easy for taller adults to step over it rather than opening it (we do this a lot!). This safety gate is also available in white or bronze, and this is the third year that this gate has appeared at the top of our best baby gates list! Who else loves the Toddleroo? It's a top pick by our friends at Babylist and Babygearlab! Impressed? You can check out the North States Baby Gate here.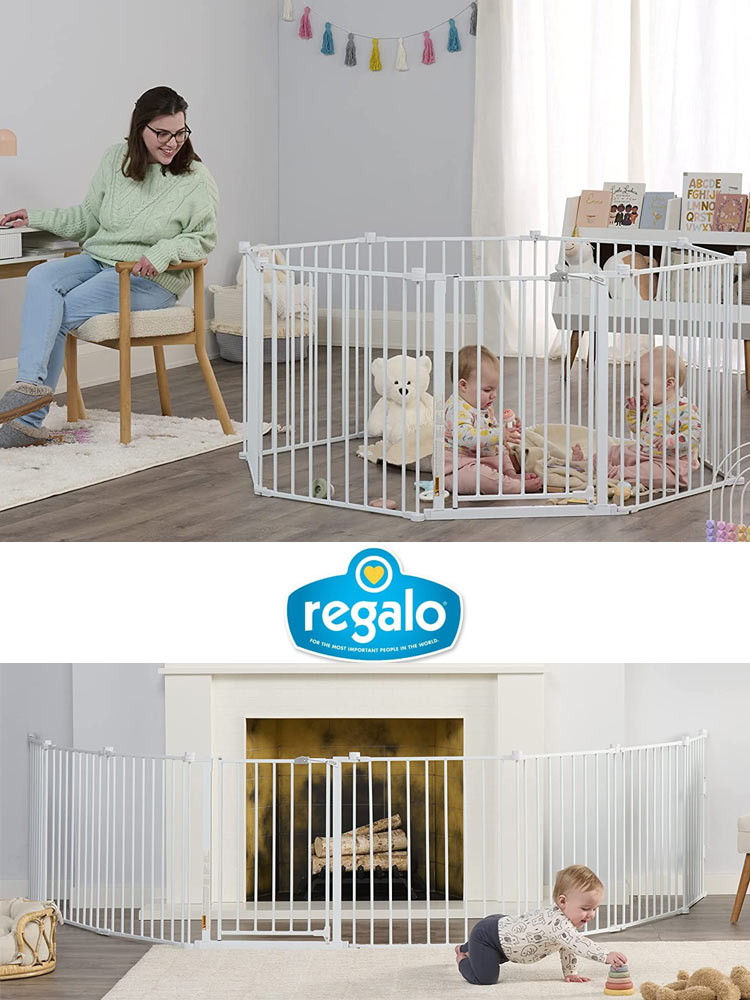 Usually about $90. Have a doorway wider than the usual 40-42" maximum of typical baby gates? Want to close off an entire section of the house, block the fireplace, or secure a large opening between rooms? Then the Regalo 192" super wide gate is probably the best option for you. This gate is comprised of eight independent detachable gate sections that can be put together in any configuration (like two on one side, four on the other), with the door counting as one of the eight sections. This means you can set up the gate in a doorway, between room openings, or even configure it as a large play yard by making an octogon shape. When we received the box for testing we were immediately overwhelmed by how large the gate is, how many pieces there are, and how much hardware it comes with. But we quickly realized a few cool things: first, the entire thing stands on its own like a big accordion, so you can stand it up while configuring it, and make markings on the wall (for mounting) super easily, and second, after a few minutes of reading the manual and arranging the gate around our room, we realized it was just like any other gate, but much more versatile. Another great feature is that on the top of each joint where two gate sections come together there is a tightening knob that will effectively fix the gate into your desired position.
We set it up in front of our fireplace, and then again as a play yard. For the fireplace, we used the included hardware to mount each end to the wall on both sides of the fireplace (we found studs first). It was an awesome way to make sure your baby is safe during the colder months when you might be operating your fireplace or wood stove. The door works pretty well and seems well-constructed and sturdy, though we do want to point out that it requires two hands to open. My husband figured out how to open it with one-hand, but he has pretty big hands and frankly it looked a little awkward when he did it. The door is not spring-loaded so it doesn't close on its own, and there is a step-over bar on the bottom, making it structurally rigid even when the door is open. Putting it together as a play yard involved removing some of the mounting hardware, pulling together the two sides, and sliding a connector rod down into the holes. Once we figured out how to do it, it was pretty straightforward. We love testing this super wide baby gate, and think it's an awesome way to make flexible configurations around your house, in doorways, between rooms, and more. Other than the two-handed door lock, we think it's perfect for most people and situations. Who else loves the Regalo Super Wide baby gate? Our friends at Babylist, Babygearlab, and WhatToExpect also call it a top pick! Interested? You can check out this Regalo 192-inch Super Wide Baby Gate here.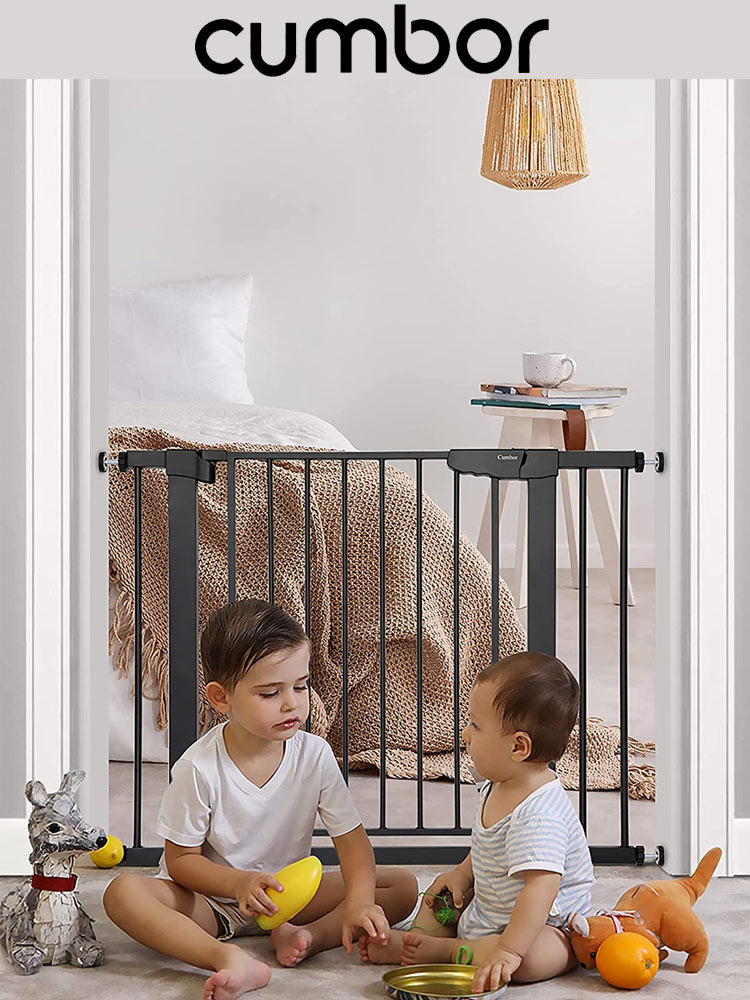 Usually about $80. This is a pressure-mounted baby gate that can also be mounted with hardware for extra strength. The Cumbor baby gate has attracted some attention from parents since being honored with the Mom's Choice Award, and for good reason! The Cumbor is available in two heights, at either 30.5" or 36" tall, and in three colors - black, brown, or white. For width, it is expandable to openings as narrow as 29.5" and as wide as 40.6". If you mount it using pressure-mount only, it will resist up to 150 pounds of force; but if you mount with the included hardware, it will resist up to about 200 pounds of force. Great specs! Configuring the width is done by virtue of two included extensions - one double-bar and one single-bar extension. Other features include automatic swing-shut hinges, a stay-open setting, the door can swing open in either directions, and it has a relatively wide door opening (22").
Out of the box, we were impressed with how lightweight but durable this baby gate felt. We were also impressed with the clarity of the installation instructions. To install, remove the plastic wrap but DO NOT cut the zip-tie securing the gate together until after installation (ours had a big warning on it). You can install the gate using only the pressure mounts and avoid the plastic positioning hardware altogether, or you can get extra security and stability by using the included hardware. We used the 3M tape and a screw on each of the four plastic wall cups, which gave us some extra security and peace of mind (highly recommended!). If you do not have studs or wood trim where you are mounting the gate, it also includes screw anchors. Once you get the gate installed and adjusted, you can cut the main zip tie and do some fine-tuned adjustment. Installation was a breeze, and we loved how clear the instructions were. The gate opened and closed smoothly, and the lock can be opened/lifted with one hand (and it's surprisingly toddler-proof). We appreciated how the gate swings in either direction, how it swings shut on its own, and how you can lock it into the fully open position. However, we noticed that the gate will not automatically latch or lock shut when you let it swing closed, you'll need to give it a final nudge into the locked position. The only other con is that Cumbor advertises this baby gate for the use near stairs, which we strongly discourage for safety reasons! Other than that, we love this new addition to our list! And we're not alone - it was also recently given the prestigious Mom's Choice Award! You can check out the Cumbor Baby Gate here.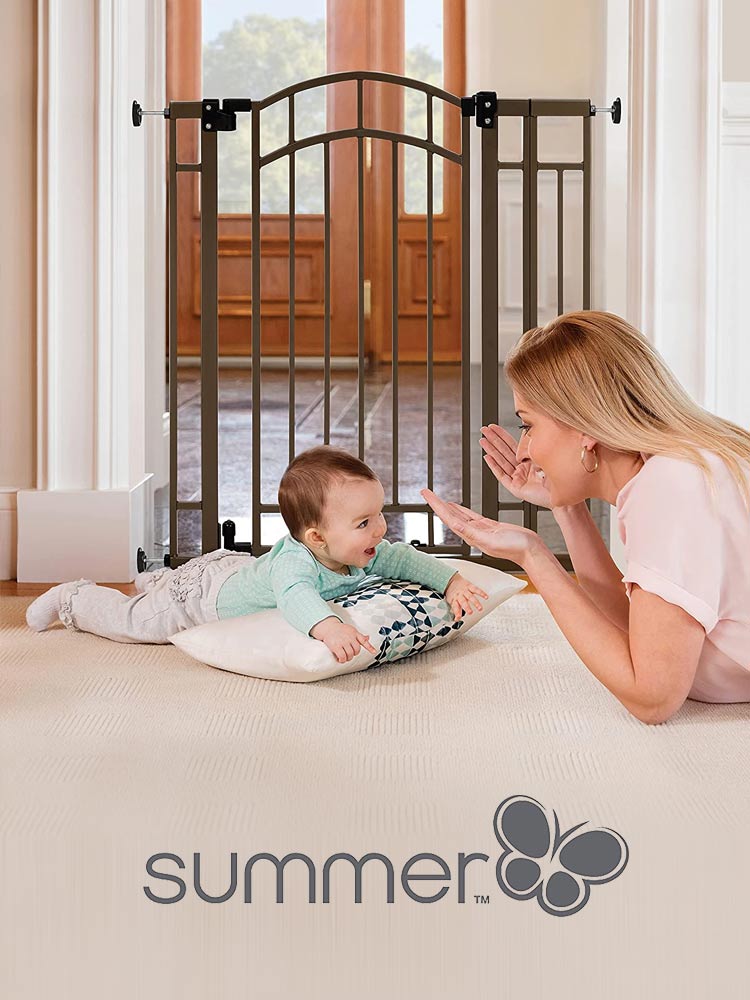 Usually about $65. The top-rated Summer Multi-use baby gate differs from the North States Toddleroo in two primary ways. First, the Summer Infant gate is 34" tall (36" tall at the peak) while the North States gate is only 29" tall, making it an extra tall walk-through gate. It is difficult to know whether this is a pro or con. On the plus side, parents don't need to reach down so far to open the gate, and they don't need to worry about climbing as much. On the negative side, in our testing we realized that a lot of men and taller women like to simply step over the gate sometimes, especially when their hands are full or they're in a hurry. You will be hard pressed to step over this extra tall gate, so that's a definite down-side of its tallness. Second, the Summer Infant gate swings shut (swings closed) and locks automatically, which is super helpful - no more turning around and pushing it to shut. However, this also means that it uses a stop bracket (which is reversible to change swing direction), which sometimes snags your pants leg as you pass through. Couple that with the narrow opening (about 17" wide opening), and it can be a pain sometimes.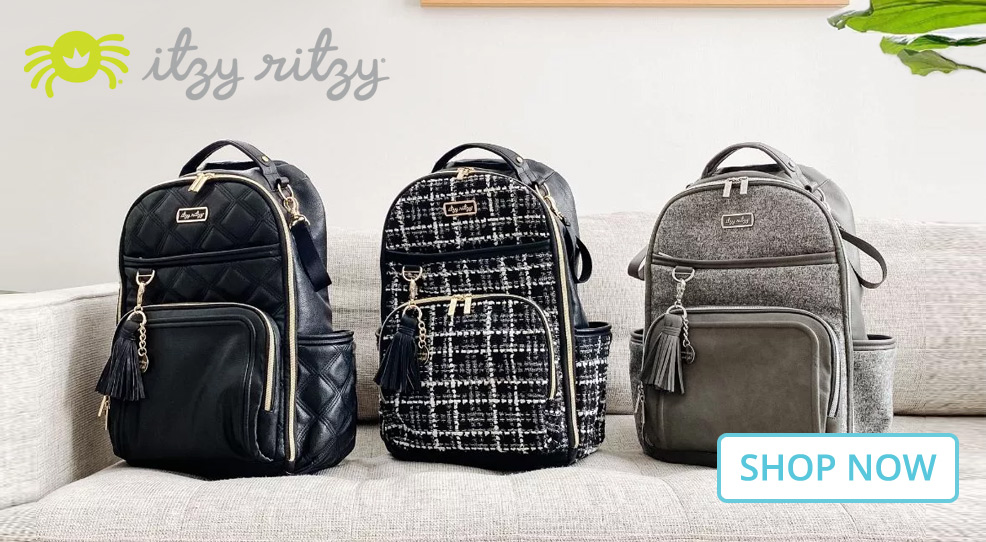 The North States gate swings both ways for convenience, but doesn't auto-close like this one. Also, the Summer Infant gate is tension-mounted (even with the hardware kit, it's still tension-mounted) and very sensitive to the amount of tension you set during installation; if you over-tension, it will squeeze the opening too narrow and the gate won't shut; this isn't specific to this gate, however, so if you find your gate isn't closing properly always check tension first. So, there are some pros and cons for each, and you'll need to make an informed decision for your particular situation. Overall, however, you're getting one of the best gates currently on the baby market, regardless of whether you choose the Summer Infant or North States Supergate. Note that the Summer Infant Multiuse gate markets itself (on Amazon and on its own website) as good for use in doorways or at the top of bottom of stairs. They do this by allowing you to choose whether you're using a tension-fit (doorways) or mounted (stairs) option, while making sure you change gate swing direction so it doesn't open over the stairs. In our opinion, however, because the gate has a bar across the bottom that may pose a tripping hazard, we do not recommend installing it at the top of stairs. In fact, a parent emailed us and let us know that the instruction manual for the Deco actually says "to prevent falls, never use at top of stairs." In our testing, the widest doorway we could fit the gate into was 48" using the included extensions, so this definitely qualifies as one of the wider gates that could be used in larger doorways and openings between rooms. Who else recommends the Summer Infant Deco baby gate? Our friends at Babylist, Babygearlab, and WhatToExpect! Interested? You can check out this Summer Infant Baby Gate here.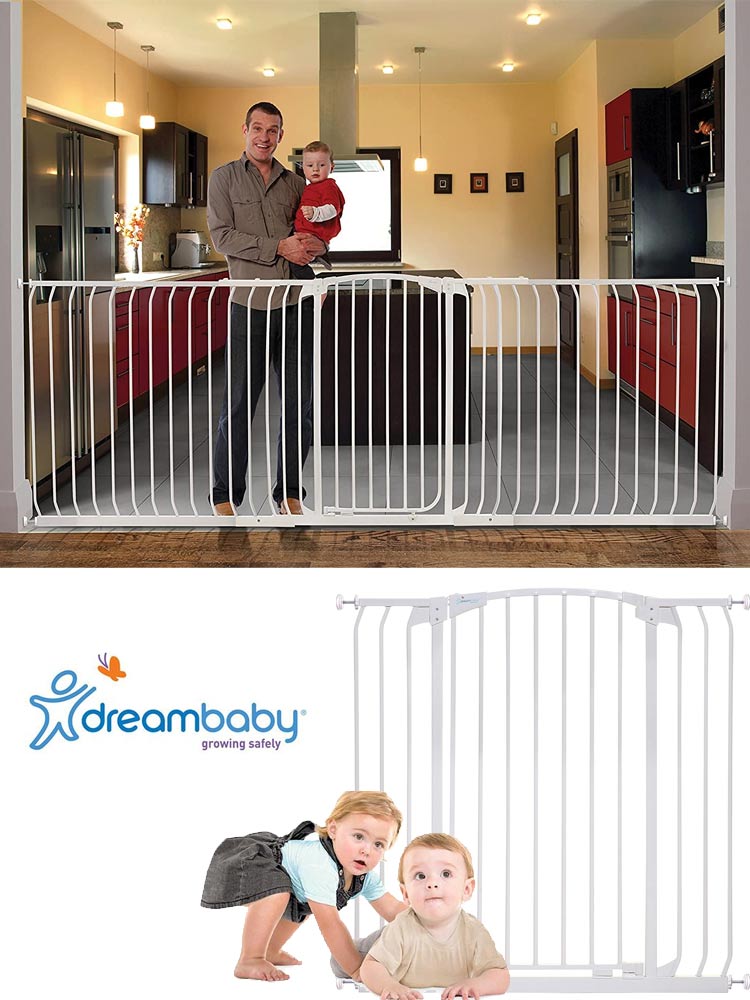 Usually about $90. The DreamBaby gate is very similar to the Summer Infant option above. It is a tension extra tall gate with a 2" threshold along the bottom edge, very sturdy construction, a child-proof locking mechanism, one-handed opening, swings both directions, and automatically swings shut. The opening is about 18" wide, which is better than many other options. This gate, if bought from Amazon, includes extensions for people with doorways larger than the typical 31", which is why it's the "extra tall and wide" version. In our tests, we could get it to fit a doorway as small as 38" wide, and as wide as about 70" (which is more like an opening between rooms than a doorway!). If your doorway is smaller (normal, like 28-32" wide), you can get the same gate but not as wide for about $50. Disadvantages? It doesn't have a hold-open feature to keep it open at 90-degrees, unlike the North States safety gate. Also, in one of our test units, the locking mechanism failed after a few months of use. The other one is still going strong without issues, so not sure what happened in the quality assurance department. As with any gate, be careful of small parts (screws, nuts) that can fall off if not tightened properly, so be sure to occasionally check the gate for loose parts. Interested? You can check out this DreamBaby Gate here.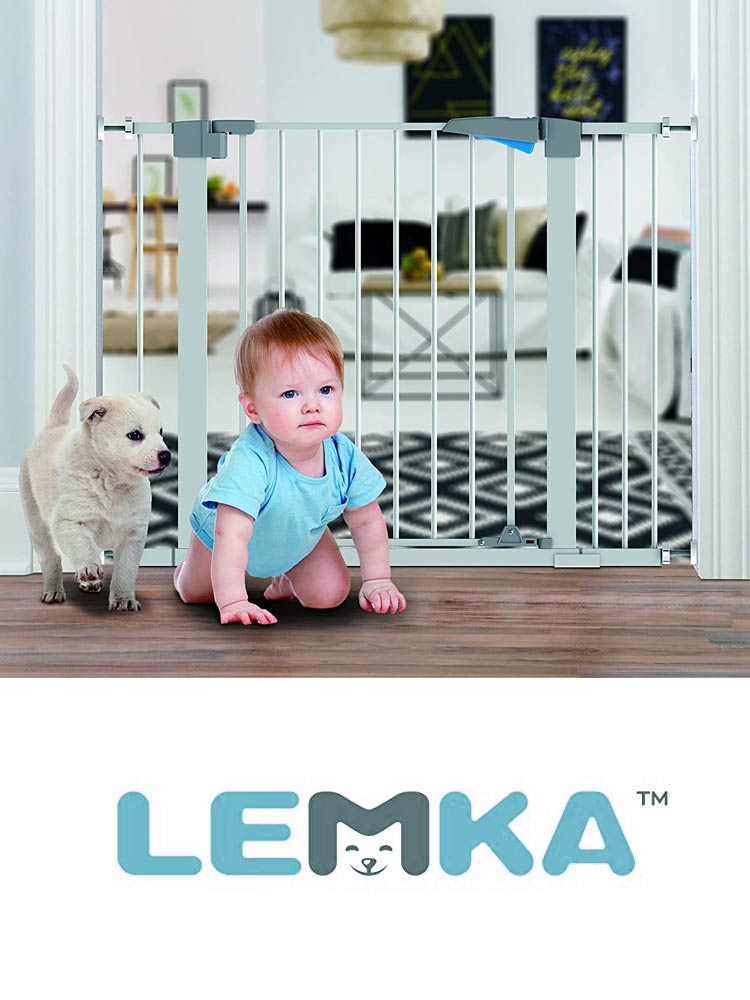 Usually about $60. The Lemka is a new addition to this list, and we're impressed by its quality and versatility. It's a pressure mount gate which means that it cannot be mounted at the top (or bottom) of the stairs due to the bottom rail (trip hazard). Instead, it's perfect for doorways and between rooms. To accommodate a wide range of openings, this baby gate comes in a 31" width with a wide range of extension sizes that can fit openings from 31" to 47" wide (at about 30" tall). It uses telescopic screw rods to pressure mount into 4 included wall cups that can (and should) be screwed onto the wall. Without any extensions, the gate can fit a doorway between about 31" and 33" wide. The assembly instructions were a bit challenging to follow partly due to language barriers, but we've been doing this for a while so it only took about 15 minutes to install. All of the parts seem to be decent quality, including the mounting rods, hinges, and locking mechanism. There are some cool features offered with this gate. First, it's easy to reverse the swing direction so you can customize the swing to your situation. Second, it uses a hinge that allows you to open it really wide (beyond 90-degrees) and it will stay open; if you open it to a swing less than 90-degrees it auto-closes reliably. Third, the locking mechanism can be opened one-handed if you have reasonably strong thumbs and good manual dexterity - you need to push forward on the thumb latch and pull up at the same time. This two-step mechanism is pretty good at keeping curious toddlers from opening the gate. Finally, the gate is lead-free and uses non-toxic paint. Overall, we're really happy with this baby gate and think it's a great option if you're not planning on mounting it at the top of the stairs. We're unclear how it will hold up long-term, so we'll update this after about 6-12 months of continued use. Interested? You can check out the Lemka Baby Gate here.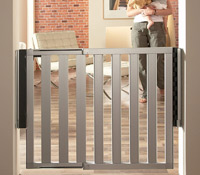 Usually about $180. No, that's not a typo - this is one of the most expensive baby gates we've ever tested! The Munchkin Loft aluminum baby gate is quickly gaining popularity this year, for parents looking for a relatively sleek and modern baby gate that doesn't make their home look cluttered or dated. Munchkin makes some great baby gates in general, but this one really takes the cake. Out of the box, the weight and sturdiness of the aluminum build are immediately apparent, and its big wide bars are sleek and modern, looking pretty dapper with their brushed aluminum finish. This is a hardware-mount baby gate without any tension-fit or bottom step-over bar. While this might make it seem appealing to use at the top or bottom of stairs, we advise against it because the door can swing both ways, including out over the stairs if it's mounted at the top of a staircase. That's a bit of a safety issue for kids who like to push and lean on a gate, and will make some attempts (hopefully unsuccessful ones!) to open the latch. Anyway, mounting this gate was actually pretty clever. We liked a few things about it. First, we appreciated how the mounting hardware was a long vertical piece with multiple screw holes, giving it a super sturdy attachment to the wall. Second, we liked how attaching the gate to the hardware involved sliding the entire gate down into the wall mount, which again made it sturdier than most other gates. Third, we loved how even once you've adjusted the width of the gate, you can fine-tune it using built-in Integrated Tuning System that lets you adjust how much the wall mount sticks out, to fill any tiny gaps during installation. Speaking of which this gate accommodates openings from 26.5" to 40" wide, and stands just under 31" tall. Opening and closing the gate is a breeze, with a clever locking mechanism that you basically grip and squeeze with one hand. No kids under 3 could get it open on their own, which was nice to see. Overall, we loved this gate and thought it was one of the sturdiest and most substantial gates on the market; and if the brushed aluminum appeals to your aesthetic, it could be an awesome option for you. While it's one of the best gates we've ever owned, we find it hard to justify the steep price tag - otherwise it would be higher on this list. The only other downfall with this gate is a relatively complicated and involved installation process that you need to make sure you get exactly right, or the gate may not lock shut properly; if you or your significant other are not particularly handy, please consider hiring a carpenter to handle the gate installation! Who else recommends a Munchkin baby gate? Our friends at Babylist and WhatToExpect! Interested? You can check out the Munchkin Loft Aluminum Baby Gate here.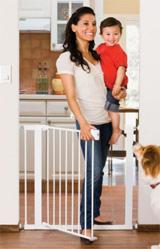 Usually about $50. The Munchkin Easy Close metal baby gate is well-reviewed, but not quite as well as the North States or DreamBaby models. It is also a tension gate with a 2" threshold along the bottom edge. The locking mechanism is well-reviewed as highly child-proof. The gate does not have an auto close feature, and some parents report that it can be annoyingly difficult to push closed sometimes, particularly when you only have one hand available. Even if you swing it closed forcefully, it requires you to open the latch mechanism to get it to latch shut. We also found that this particular tension-fit gate requires quite a bit of outward pressure for mounting, so it is very restricted to solid doorway frames on the sides. The Munchkin Easy Close metal gate fits doorways as narrow as 29.5" wide, and up to 35" wide when using the one included extension. If you're trying to fit a wider opening, you'll need to purchase some more extensions. Who else recommends a Munchkin baby gate? Our friends at Babylist and WhatToExpect! Interested? You can check out this Munchkin Baby Gate here.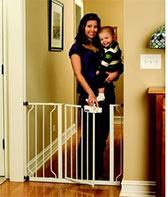 Usually about $35. The Regalo Easy Step baby gate is a great option, and one of the best-selling baby gates on the market. Because it is not for use near stairs, it uses pressure mounts for installation that push out against two walls. It fits openings from about 29-39" wide, and in our testing, we needed to add an extension to get it to fit one of our larger openings of about 42". Or you can just purchase the wider version that includes extensions for up to 50" applications, or the enormous and frankly quite excellent Regalo 192" super wide baby gate! That Regalo super wide gate is perfect for sectioning off an entire room or making a circular playpen. The gate uses a unique lever-locking mechanism, which we found logical to use, but some of our reviewers said they needed to use two hands to open it (to pull back and lift up simultaneously), which was a pain. Personally, my husband and I could do it with one hand after getting the hang of it. We also found the opening pretty narrow, especially for wider thighs and hips, or if you're carrying something. It's also rather short, so if your toddler is becoming a monkey this definitely won't stop them. There is a taller version of this Regalo gate, which you can check out here. Note that the gate only swings one way, it cannot be reversed. Also, when you close it, you need to latch it yourself using the same (difficult for some) locking mechanism. Overall, we thought the build quality was quite good, and when mounted correctly it felt very secure and not possible for little fingers to figure out (with older kids about 5+ able to figure out with both hands). Note that while this gate suggests it can be used at the top of stairs, we do not suggest this type of application: it has a step-over rail at the bottom of the gate, which is a tripping hazard for that type of application. Who else likes the Regalo Easy Easy Step baby gates? Our friends at Babylist, WhatToExpect, and Babygearlab! Interested? You can check out this Regalo Baby Gate here.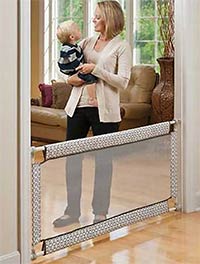 Usually about $40. The Evenflo Soft and Wide baby gate uses a different concept than all the other gates on this list. It doesn't have a door, and it doesn't swing open and shut like most other gates. Instead, it's a bit like those old wooden expansion gates our parents used when we were kids (the retractable baby gates that were really good at pinching fingers, and easy to climb on!), in that you install it and leave it. As long as it's not too high for adults to easily step over, then it usually just stays in place most of the time. Because it either needs to be removed or stepped over, it's not a good option for the bottom or top of stairs. It uses a pressure-mounting system, pushing out lateral force against the two adjacent walls. This particular baby gate is actually pretty nice; in our testing, we liked that the gate itself had nice padding and cloth over it, and that it used a sheer mesh that baby can look right through to see what's going on in the next room. It's a great basic gate that's cute, sturdy, and reliable. The installation was much easier than any gate you need to screw into a wall, as this one requires no tools or anything. You just adjust the outer knobs to the right diameter of your opening, and then secure the gate in place. There is a good installation video here, that we found really helpful for our install process. The gate adjusts narrow enough for small doorways (down to 38" wide) and wide enough for openings between rooms (up to 60" wide). It's the usual 27" tall, but that's if you mount it basically all the way down toward the floor - you can also come up a few inches from the floor and make it quite a bit taller. That makes it more difficult for kids to climb over the gate, but also makes it more difficult for you to step over as well! We know a lot of parents who use this type of baby gate in their homes, though it doesn't work very well when you're wearing a dress or skirt or if you're shorter than like 5'5"! Anyway, this is a great baby gate if you are looking for a stationary gate that's high quality, relatively easy to install, durable, and safe for your baby.
---
Here are the Best Baby Gates for Stairs in 2023.
The top of the stairs is a difficult and dangerous location, and there are only a few baby gates for stairs that we recommend. Do not use a pressure-mounted baby gate at the top or bottom of your stairs!
Here are our criteria: no step-over bar along the bottom edge (you do not want to trip at the top of your stairs!), can be attached to a variety of configurations (railing posts, banisters, walls with moldings), wide enough to fit a variety of stair configurations, doesn't automatically swing shut (so there is no risk of the gate swinging and bumping you or a baby in the back, risking a fall down the stairs), is easy to use in our hands-on testing, and well-reviewed by both us and fellow parents.
When picking a baby gate for use at the top or bottom of stairs, be sure to first survey your situation and figure out what surfaces you need to attach to. Are they wood, metal, or drywall? Also check the angle of installation: are attachment points directly across from each other, or will the gate need to be installed at an angle? Once you survey the situation and take measurements, you'll be better equipped to make an informed decision about which gate might work in your situation. Feeling confused? Feel free to send us a message on Facebook or email, and we'd be happy to help!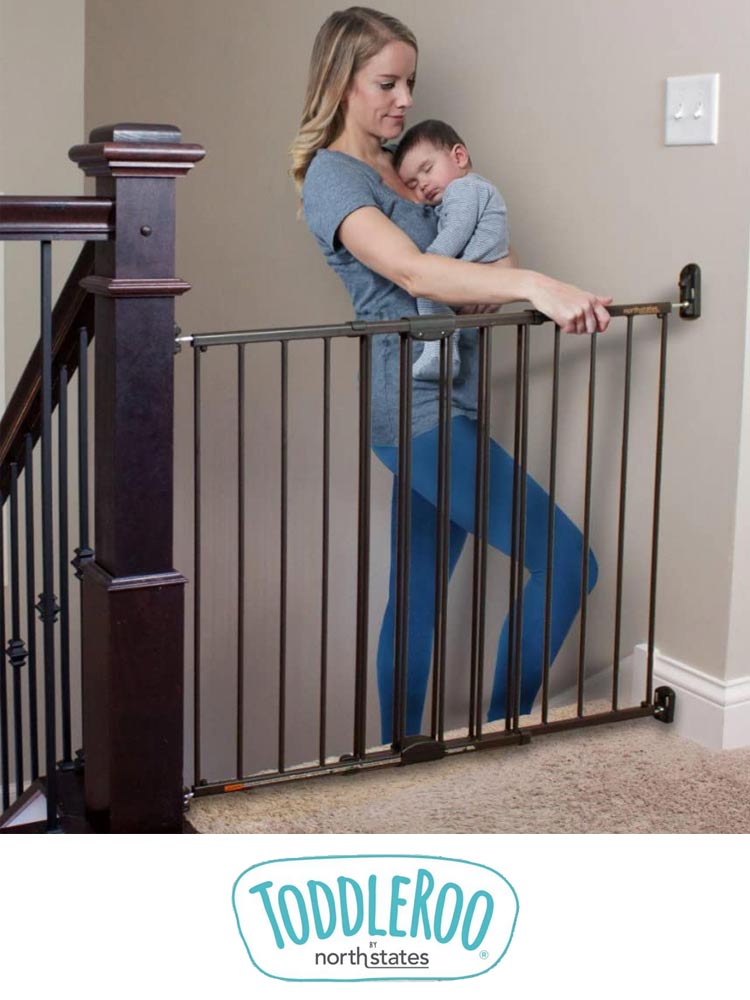 Usually about $50. The Toddleroo replaces the old North States Supergate, which was also an awesome gate for the top or bottom of stairs. The Toddleroo has a bunch of great features, including one-handed open, swing-over-stairs prevention, highly adjustable from 29" to 48" width, a good height (31" tall), durable constuction, and a gate that swings closed very easily. For testing, we purchased the gate for about $50 directly from Amazon, and installed it at the top of our basement stairway. In our home, there is no door at the top of the basement stairs leading down to the finished basement, so it's a pretty dangerous spot for curious kids. The gate uses hardware installation so we suggest having a power screwdriver (or at least a manual one), measuring tape, and level. The instruction manual was pretty clear regarding how to install, and installation only took about 20 minutes to put the gate into a 37" wide space at the top of the stairs. Once installed, the locking latch allowed for a one-handed operation, making it really easy to open - you basically grab the gate with one hand and push down on a button with your thumb. We really like this locking mechanism! The gate swings open and shut freely and easily, without any spring-loaded shut, which is ideal for the top of the stairs. We actually had a slightly off-level mounting surface that caused the gate to try to swing shut a little bit automatically, which is why we suggest using a level to make sure your wall is truly vertical (unlike ours!), and using shims under the mounting hardware as necessary. The other things that are ideal: the installation hardware prevents the gate from swinging open over your stairs, there is no bottom kick rail that you could possibly trip over, and the gate swings open really wide to really open up the stairwell when open (which great for when you're carrying something up or down the stairs). Since not all mounting services are even with one another and one side might be at a slight angle, another benefit of this gate is that the hinges can be mounted at an angle up to about 15-degrees while still being able to effectively close the latch on the other side. After a year of use, the locking mechanism and hinges all work like new, without any obvious wear and tear on any of the hardware. We're impressed with the simplicity, safety, and style of this baby gate and think it's the perfect baby gate for the top or bottom of your stairs! Who else loves the Toddleroo stair gate? Our friends at WhatToExpect, Babylist, and Babygearlab call it a top pick! Impressed? You can check out the Toddleroo here!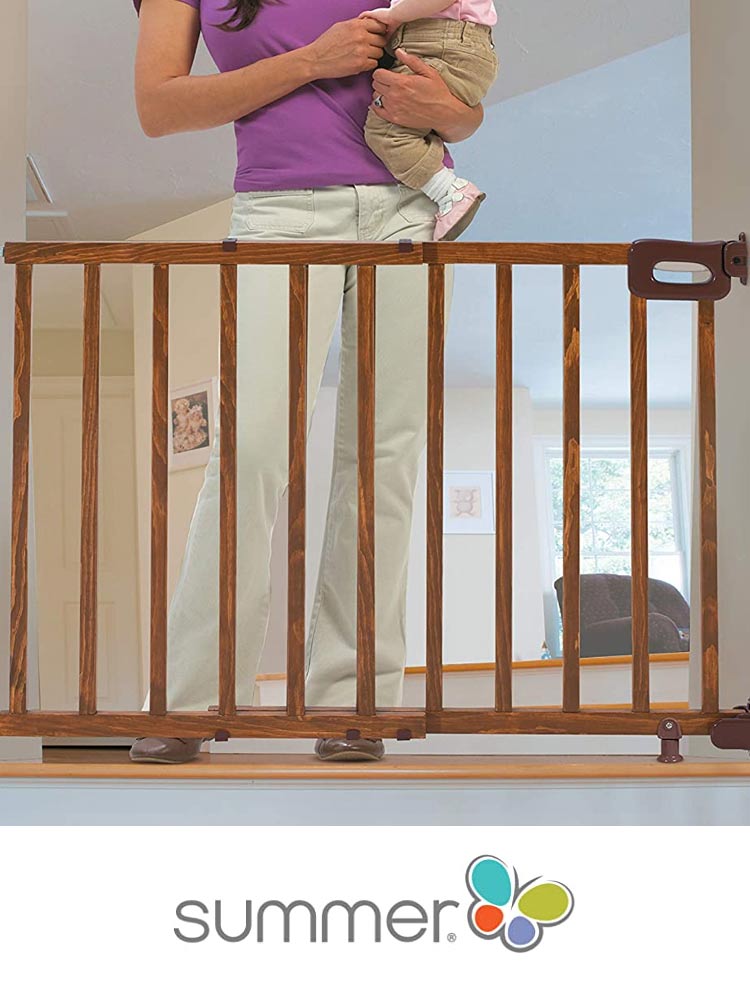 Usually about $60. This is a great bang-for-the-buck baby gate that has some great build quality, safety, and usability. We were really impressed by what Summer Infant has squeezed into this inexpensive baby gate that's designed for the top or bottom of stairs. Out of the box, it had a nice classic wooden style that reminded us of older gates, but this one definitely has much better modern features. Assembly and installation was just as involved as the other stair gate options given that you need to attach everything to the side walls and make sure that you have a good anchoring there (i.e., either to a stud in the wall, or using super strong anchors - preferably not the little ones provided with the gate). We were able to install it in our rather wide (44") hallway at the top of our stairs without any issues. One side was attached to the top bannister post of the stairs (a 3" x 3" wood post), and the other side to the wall that happens to have a stud in it. If you're not comfortable screwing the gate into your wooden bannister, then you can buy a separate installation kit that basically uses straps to attach that side to the bannister so you don't need to put holes in the wood. While we got it into a wide 44" opening, it can go even wider - up to 48" wide, according to the manufacturer (or as narrow as a 30" span). So that's pretty wide, especially for a relatively inexpensive gate. The gate itself is 32" tall, and it gets mounted about 1" above the floor, making it about 33" tall in total. which is about average for a baby gate. While we mounted the gate at the top of the stairs, it could theoretically be mounted in doorways or anywhere else, since the upper and lower unidirectional swing-stoppers are removable. Those are important safety features when used by the stairs, but not necessary when used anywhere else. We liked the one-handed operation, the strong and sturdy construction and hook-latch closure. We didn't like that you can't just swing it shut, the wood was a lighter color than in the photos, the wall mounting kit is pretty confusing and imperfect, and it doesn't include the kit for attaching to your bannister without screwing into it. But then again, it's only $40 so maybe those concerns aren't that major! Interested? You can check out this Summer Infant Deluxe Baby Gate here.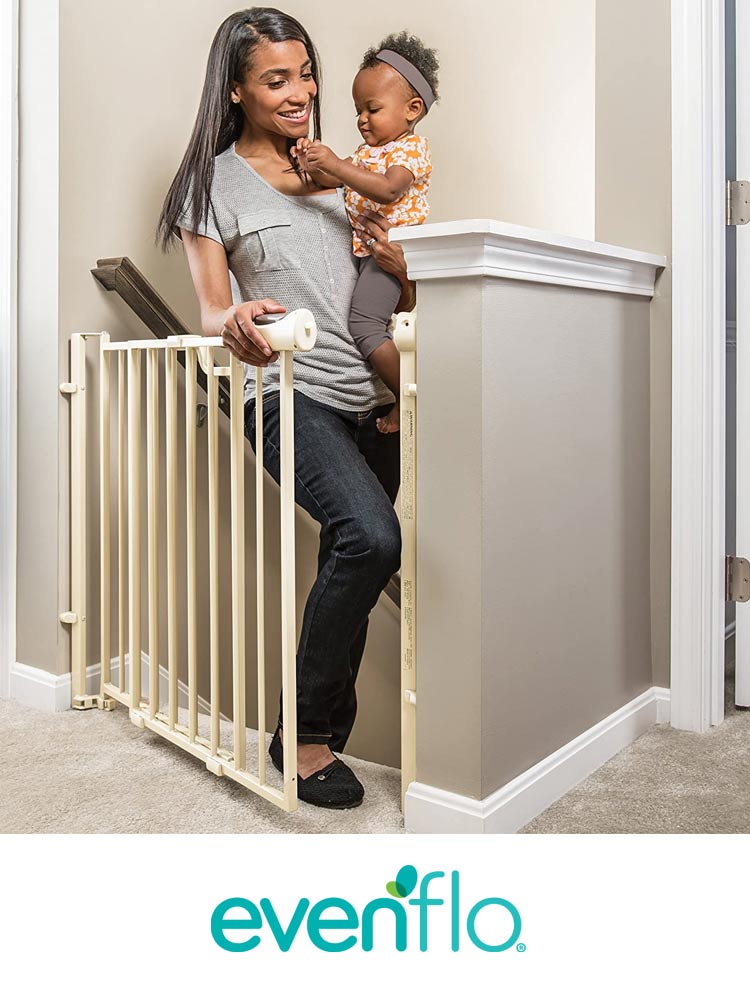 Usually about $50. This is the second year the new Evenflo Easy Walk Thru gate appears on our list of best baby gates, and it's here for some really great reasons! The gate stands about 30" tall, which means that if you mount it 2-3" off the floor, it will stand about 32-33" high. It has no bottom rail, so is intended for use at the top of stairs, though we were also able to get it working very nicely in regular doorways as well. It expands to fit openings from about 29" to 42" wide, but is not as versatile as the Toddleroo in terms of the angles it can accomplish or types of surfaces it can mount to. It uses two screw-mounts on each side to mount to most surfaces, including wood and drywall (assuming a corner with a stud behind it, or the use of heavy duty anchors). It can be mounted in either direction (left or right-handed opening), as the gate can swing either way. It includes a removable swing-stop bar that can be attached to prevent the gate from swinging out over the steps. We thought the lock release handle was pretty easy to use, and after a few tries can be opened with one adult hand, while still being too difficult for even our sneaky 3-year-old to figure out. Speaking of the lock, there is a handy red/green indicator to tell you whether the gate is securely locked, which is reassuring. Note that if you have an opening wider than 42", there are no extensions available that we are aware of, so we suggest going with the Toddleroo. After 6 months of use, the gate shows consistently great performance, without any signs of malfunction coming any time soon. We do suggest that once you have the gate mounted in your preferred position, that you use something like a zip-tie or a bolt/nut to tighten the gate into your preferred width. This is because the width of the gate can actually be pushed and pulled when the gate is open, and this gets more possible over time. With a little zip tie to secure the two gate pieces together, the problem is solved forever. You can also go wild and drill a hole through both pieces and attach them to each other using a bolt and nut, but it seems like overkill! Overall, an excellent and easy to use baby gate with some great features! Interested? You can check out this Evenflo Baby Gate here.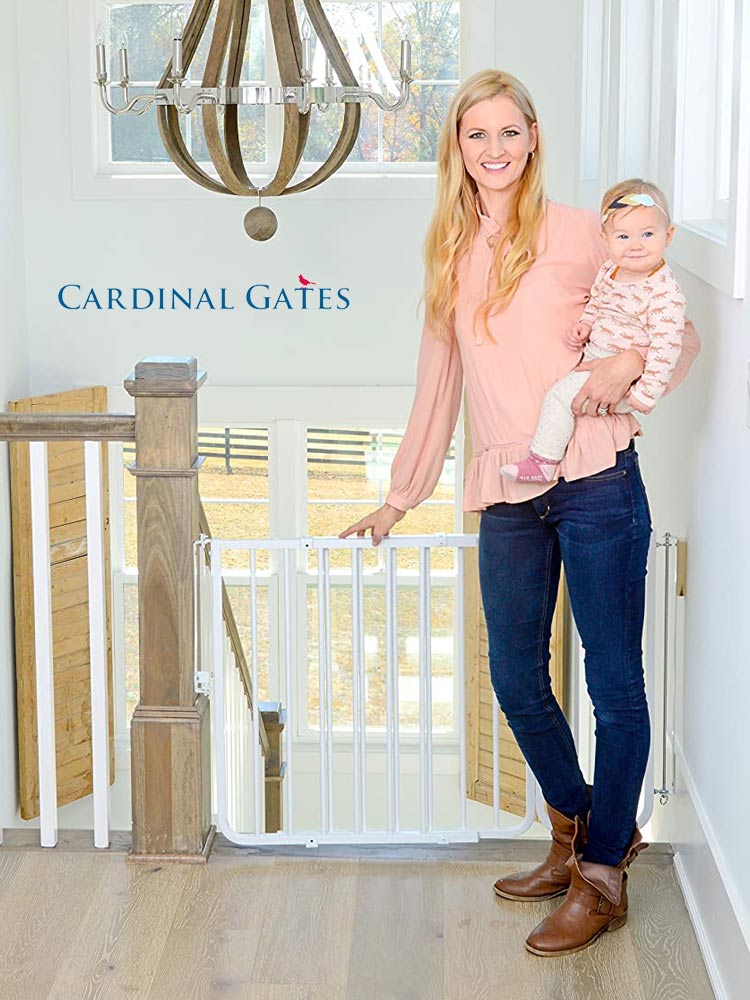 Usually about $70. This Cardinal baby gate comes in white (pictured), brown, black, and wood. It uses a really unique locking mechanism that none of our testing kiddos could figure out, which is a good thing! The best part is that it took about 5 tries for adults to master it, and once they did it was easily unlocked with one hand. The secret is to push down on both latch tabs while pulling up on the gate. That type of manual dexterity won't be found in a sneaky toddler trying to thwart your every attempt at keeping them safe! It meets all of the criteria we mentioned above: no step-over bar along the bottom edge, it can be attached to railing posts and/or walls, and is very well-reviewed. It doesn't swing shut automatically behind you, though it does close automatically if you give it a forceful swing shut. What's most unique about this gate is that it can be mounted in all sorts of awkward mounting situations and angles. It can accommodate up to a 30-degree angle for those imperfect stairway scenarios, making it a great option for unique angles between railings and adjacent walls. Notice how the pictured is mounted at an angle, that's a great capability that can fit basically all sorts of wall and railing layouts. A lot of parents message us asking what type of gate to get when they don't want to drill into wooden banisters at the top or bottom of their stairs, and this is the one we suggest. The reason is that it comes with straps that can be used for mounting instead of screwing holes into the wood. It does have a stop-bracket to prevent swinging out over the stairs, but this is optional if you decide not to install it (which we don't recommend!). The width adjusts from 27" to 41.5" wide, and it is just under 30" tall. In our testing, we found the Cardinal gates installation a little complicated, but we do note that there is a great video here (see the 5th image) that shows a step-by-step installation. Very helpful for those who aren't super handy, and the Cardinal Gates Stairway models are some of the best baby gates of the year! Interested? You can check out this Cardinal Baby Gate here.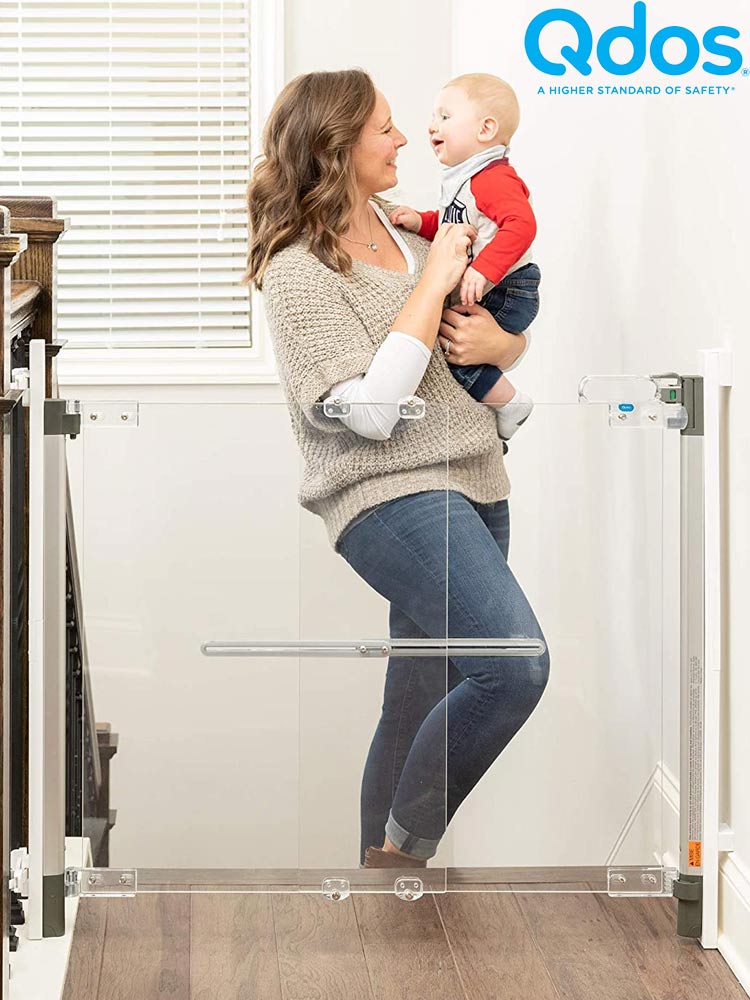 This see-through baby gate by Qdos is most expensive baby gate on our list, coming in at about $230! Do you loathe the sight of a big ugly baby gate ruining the asthetic of your modern home? Well, this might be the solution for you! The Qdos Crystal designer baby gate uses a completely clear see-through acrylic plastic that helps keep your home design visible and the baby gate less likely to stick out like a sore thumb! When we first got our hands on the Qdos for testing, we honestly thought it was overpriced and frankly a bit silly. But then we installed it at the top of our stairs and it actually looked beautiful and way less cluttered and noisy than a typical white baby gate. The Qdos gate expands from about 29.5" wide up to 39.8" wide, and has decent flexibility being mounted at an angle up to about 20 degrees. Perfect for the top or bottom of stairs, or in doorways or openings. Installation was relatively straightforward, though the instructions left a little something to be desired. The installation hardware does come with a couple convenient things: one is that the mounting rails can be easily installed using two screws on each side, second is that the kit includes handy baseboard adapters that help comform to relatively thick and tall baseboard trim. If you don't want to screw into your wall or banisters, Qdos sells a great stair mounting kit. They also sell a great baseboard kit to fit even larger baseboard trim. Once installed, the Qdos opens one-handed using a sliding thumb mechanism, and opens and closes relatively smoothly. There is a horizontal bracing piece that makes it less likely your toddler will walk or run right into the gate without noticing it's there. Some might think it would look better without that piece, but we think it's a good safety feature. Other than the poor installation instructions and the high price, we have no real cons to report. Overall, we think this is an excellent and innovative baby gate that, if it meets your asthetic and budget, is totally worth the price! Interested? You can check out this Qdos Crystal Designer Baby Gate here.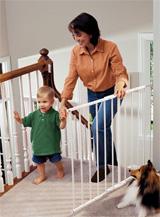 Usually about $50. The KidCo gates used to be really well-rated and widely available, but that's becoming less and less the case over the past couple years. The Safeway baby gate is definitely one of the best gates all-around for the top of the stairs, but it's increasingly hard to find. The Kidco Safeway gate meets a lot of the criteria we mentioned above: no step-over bar along the bottom edge, can be attached to railing posts and/or walls, and is well-reviewed. It also has a one-handed operation, doesn't automatically swing shut, and in our testing we found it sturdy and reliable. It also prevents swinging out over the stairs with a one-direction swing/hinge mechanism. You can easily reverse this for your specific stairway configuration. Obviously, at the bottom of the stairs it can only swing one way to begin with. It is also available in black or white, to suit different styles. In our testing, we found that the provided screws were a bit too short and may not have a strong enough hold. In the end, we purchased different screws, though we do think it probably would have been completely fine with the existing screws. For people who don't mind drilling/screwing into their railings, this gate is an excellent option. We configured the Kidco Safeway gate for openings from 28" to 43.5" wide, and even got it to work really well on an oddly-angled wall by using the included hinge mounts. We love the locking mechanism, which is basically identical to the Toddleroo gate, involving gripping the gate with one hand and using your thumb to push down on a little lever. Super easy, and it swings open freely and nice and wide, and swings closed easily with a gentle push. Interested? You can check out this Kidco Baby Gate here.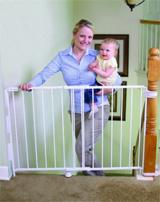 The Regalo top-of-stairs baby gate fits all of our criteria, and has several other great features. First, this is one of the only gates on the market that attaches without having to drill holes or install screws into your railing posts. It uses Velcro straps, so it was very easy to install. Second, it can be opened and closed with one hand, and does not automatically swing shut (so you can leave it open during naps, or when everyone is downstairs already). Third, the railing comes with hardware so that you can attach it to two railings (one on each side), two walls (one on each side), or a wall on one side and railing on the other. Finally, the gate is well-reviewed for being sturdy, reliable, difficult for little kid hands to open, and long-lasting. The gate also swings both directions for convenience, though some may not like it swinging out over the stairs. People report using it on openings from 26" to 42" wide. A few limitations though. First, one of our testing babies figured out how to rip open the velcro and basically remove the entire gate from the railing! So that was scary. Also, there have been some recent reports about lower quality craftsmanship, like some flaking paint, failed welding points, etc. Note that our unit didn't have any of these issues, but just keep that in mind.
How We Pick Baby Gates
Once your baby starts crawling and pulling up on furniture and toys, you will realize just how dangerous your house is! Stairways, fireplaces, exterior doors, glass furniture, fragile decorations. You name it, your baby will soon find it! To prevent your baby from getting hurt or gaining access to a certain area, most parents install baby gates at various places around the house. For instance, at the top and bottom of stairs, blocking a fireplace, or in the middle of a room as a little baby corral. Parents also use them to secure play areas, like a play-room, without having to close the door. Baby gates are also great for keeping that curious, jealous, or toy-gobbling dog away from a newborn! Not surprisingly, there are different gates that are better or worse suited for each of these uses.
There are a lot of considerations when choosing a baby gate. Here are some of the more important ones:
Where you plan to put the gate matters! Simple swing-open gates are great for doorways and at the top and bottom of stairs. But the ones that are tension-fit require walls on each side to support the outward pressure mounts; do not attempt to install these tension-fit gates in situations where one side is a wall and the other side is a railing post (like at the top or bottom of stairs). The outward pressure mounts will push the railings to the side and eventually give you a wobbly railing. The outward pressure mount gates are easy to install, but simply not safe near stairs. Also, do not install a gate at the top of the stairs if it has a bottom (step-over) rail - this is a serious tripping hazard, and should always be avoided. Because of these different uses of baby gates, we categorize gates by their primary uses: ordinary/doorways, versus top-of-stairs (sometimes called a banister gate). If you ever plan on using the gate near the stairs, then check out something like the Kidco Safeway gate, which is fantastic and can also be used in doorways if needed. The other option is to seal off an entire area (like a baby corral), or seal off a room with a very large entranceway; in either case, something like the North States Metal Superyard gates would work really well.
The gate needs to be sturdy! Babies will amaze you with their ability to foil all your best attempts to keep them safe. They will try to pull the gate, push the gate, climb the gate, lean on the gate, or bite the gate! All of the gates recommended below are rated as the best in terms of sturdiness, to help you keep your sanity when you can't have your eyes on baby 100% of the time. And if you're using a baby walker (see our best baby walkers here), you'll want to be extra careful!
The locking mechanism needs to be child-proof! This seems obvious, but there are a lot of gates on the market with locks that babies figure out before their second birthday. Avoid gates with a simple button lock, or a simple lift-open mechanism. Your baby may not figure out how to open the gate now but give him or her another year and you'll be kicking yourself for not buying a gate with a better, relatively child-proof lock. All of the gates recommended below have well-reviewed locking mechanisms that are reliable, easy for parents to use, and difficult for babies to figure out (or physically grasp).
Little fingers pinch very easily! We don't recommend any of the wooden retractable gates, wooden expanding gates, or the gates with the pressure locking bars. These increase the risk of finger pinching, and in some cases lacerations, and should be avoided. But if you have a pet-only home and you're trying to keep your dog in certain areas, they're quite good for that purpose!
You want to open the gate with one hand! Carrying the baby? A laundry basket? Groceries? Talking on the phone? The last thing you'll want to do is put something down because both hands are required to open the gate's locking and swing mechanism. All of the gates recommended below have well-reviewed locking mechanisms that can be opened with one hand. It's a complicated trade-off between making it difficult for a baby to open, while keeping it easy enough for an adult to open with one hand. This usually means the locking mechanism will require larger hands to grip and pinch/rotate/slide. As a result, some adults with smaller or weaker hands (like older relatives) tend to have some difficulty with modern gate locks.
Make sure your doorway isn't too wide! Some baby gates come with extensions to accommodate larger doorways, but other gates do not. Keep in mind, if your door opening is greater than 31" wide, then you will likely need at least one extension. In our recommendations, we provide specifications regarding door widths and when available, links to extension kits that fit the application.