The Best Baby Carriers of 2023
These carriers keep your little one close & comfy during boundless adventures.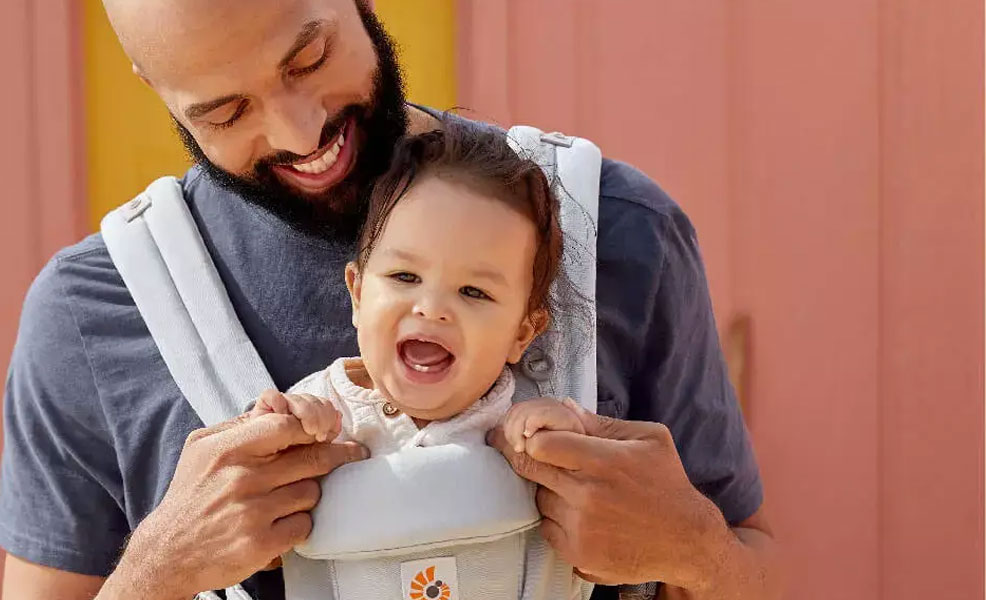 ---
Mommyhood101 independently tests and curates baby gear to help you make informed decisions. If you buy products through links on our site, we may earn a commission.
Baby carriers help you form an intimate bond with your little one, holding them close to your chest where they can sense your warmth and security.
They also offer superior convenience during travel and have several documented advantages for child development. But which ones are the best!?
Just for fun, what does ChatGPT-4 think is the best baby carrier!?
"According to my research, the best-rated baby carrier is the Ergobaby Omni 360 carrier. This baby carrier is suitable for newborns to toddlers and can be used in multiple positions, including front-facing, back-facing, and hip carry." -ChatGPT-4
We don't always agree with robots, but we think they might be onto something!
We have been reviewing baby carriers for over 10 years and appreciate the challenges faced by parents trying to find the perfect carrier. If we made our own baby carrier, here is what it would look like:
✔️ Soft-structured & intuitive design.
✔️ Newborn support (7+ pounds).
✔️ High weight limit (45+ pounds).
✔️ Comfortable straps & belt.
✔️ Adjustable everything!
✔️ Front- and back-carry.
✔️ Facing in and facing out.
✔️ Hip carry compatible.
✔️ Fetal tuck position compatible.
✔️ Ergonomic M-position for hips.
✔️ Breathable fabrics.
✔️ Organic or certified fabrics.
✔️ Lightweight design.
✔️ Fits petite and plus-size parents.
✔️ Storage pockets or pouches.
✔️ Crossable straps.
✔️ Lumbar support.
✔️ Machine washable.

Of course, the best baby carrier should also fit your personal style in terms of fabrics, colors, and patterns. It also needs to fit your budget, be strong and durable, and last for several kids to come. That's a lot to ask!
Full disclosure: Some of these carriers, including the Contours, Beco, Ergobaby, and Moby models, were sent to us as free test samples by the manufacturer.
Baby-wearing is more popular than ever, providing an easy way for parents to keep their little ones nearby and protected while in and out of the house.
Baby carriers also hold some advantages for development and well-being. For example, research shows that baby carriers can help new parents bond with their baby, calm a fussy baby, and learn about their needs and behavior (1, 2). According to the International Hip Dysplasia Institute (IHDI), a properly worn baby carrier that supports your baby's hip in the M-position can also encourage healthy hip development, a proposal supported by pediatric and orthopedic research.
To find you the best baby carrier of the year, we tested out 11 new models and 4 updated models. We carried infants from 4 weeks to 11 months old, and toddlers from 12 to 30 months. Our testers included petite, average-size, and plus-size parents, to ensure appropriate adjustability for all shapes and sizes.
Here are the top five baby carriers we found, followed by reviews of about a dozen different options.
The soft-structured baby carrier provides you with all the intimacy and versatility of a baby wrap, with added convenience and ease of use. A baby carrier is faster to put on and take off ("don and doff") than a baby wrap, will provide more substantial support for a growing infant and toddler, and is generally more comfortable for longer journeys.
Looking for a less expensive option? Check out our list of the best budget baby carriers!
Here are the Best Baby Carriers of 2023!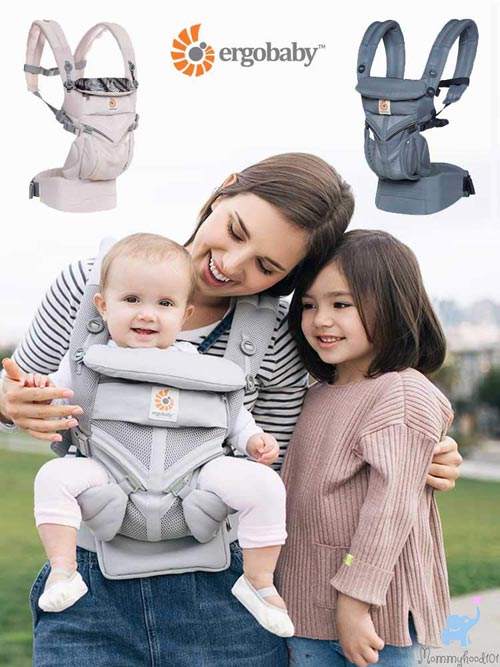 The Ergobaby Omni 360 is the best overall baby carrier of the year with its beautiful design, amazing versatility, superior comfort, and reasonable price. The Omni 360 supports infants from newborn and up, with a minimum weight of 7 pounds and a maximum of 45 pounds (48 months), using four carrying positions. As ErgoBaby says, the Omni 360 is for all babies, in all positions, without the need for additions. Starting with newborns, the soft-structured carrier can be used in a front carry position with the baby facing the parent (0+ months), then in a front carry position with the baby facing out (5+ months), then in a hip carry position with the baby facing the parent (6+ months), and finally in a back carry position with the baby facing mom (6+ months). The ErgoBaby Omni 360 accomplishes all of this without any additional infant inserts, through a series of adjustments made at the hips, neck, and head. All positions place your child's hips and legs in the ergonomic M-position, provide excellent support and can be used with the adorable and sun-protective (UPF 50) privacy hood.
This Ergobaby 4-position carrier is definitely the most comfortable carrier on our list, and we found it to be lightweight, comfortable, soft, and easily adjusted to nicely fit nearly any body shape. It is an excellent baby carrier for plus-sized parents, with long and widely adjustable shoulder straps and a hip belt. We wore it for several hours around town and along some trails, and our backs and shoulders felt completely fine. The lumbar support is great, and we love that the straps can be crossed for additional support and comfort. It was easy to put on, take off, and adjust, even when carrying the baby. The detachable zippered pouch was great for a pacifier, keys, and phone, and attaches in an easily accessible position. We absolutely love the Omni 360 and are happy we got to try it out! No major cons to speak of, though it can get expensive with certain patterns or organic fabrics. Who else thinks the ErgoBaby Omni 360 is one of the best baby carriers your money can buy? Our friends at Babylist, Babygearlab, WhatToExpect, and The Wirecutter! The best deals are usually found directly through ErgoBaby, but it's also available at Amazon.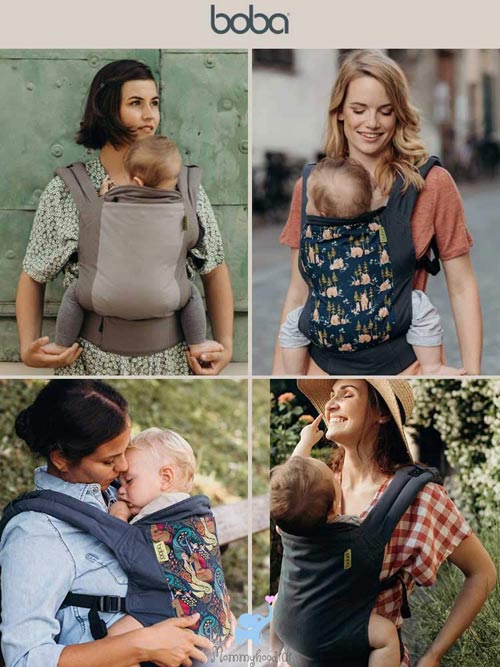 The BOBA carrier has been near the top of our best baby carrier list for a few years now, and for some great reasons. It is comfortable, stylish, durable, very well-made, and reliable. The thick waistband tends to support a lot of the baby's weight so your shoulders don't get too sore, with a nice even distribution around the body. We also liked that the waistband has two adjustment points, which helps to even out the cinching around the waist. It also has adjustments for the shoulder straps right under the armpits, helping you customize the fit even when wearing your baby. The BOBA includes an infant insert, supports from birth (7 pounds) all the way up to 45 pounds, and has a small zippered pocket along the waist. Working with an infant insert is a bit awkward relative to having it integrated into the system, but it does provide excellent support and places the hips and legs in a beautiful M-position. We found the range of strap adjustment to be very flexible, fitting a wider range of body shapes and sizes, including petite and plus-size parents.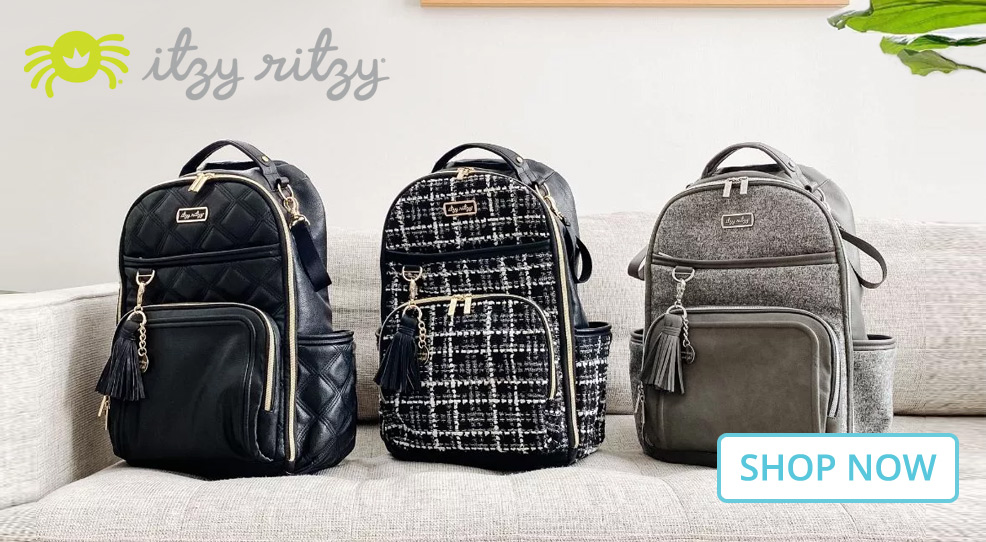 In our testing, the BOBA was amazingly comfortable and high quality, making it a difficult decision between the ErgoBaby and the 4GS. We do think the ErgoBaby Omni 360 edges out the BOBA for comfort, but it's very likely different for each parent and baby. The BOBA is a bit lighter, simpler, and more intuitive than the ErgoBaby, and is also about $50 less expensive. But you're not getting the same versatility with carry positions with the 4GS, which does not support a front carry with the baby facing outward, or a hip carry. In terms of overall quality, the Boba 4GS carrier is on par with the top-rated baby carriers, they both have high-quality seams and stitching, reliable straps and buckles, and good shoulder padding. We haven't had any issues with rips or tears from any of our top carriers. Who else thinks the BOBA is one of the best baby carriers available? Our friends at Babylist, Babygearlab, and The Bump! Impressed? You can check out the 4GS at the BOBA website or at Amazon.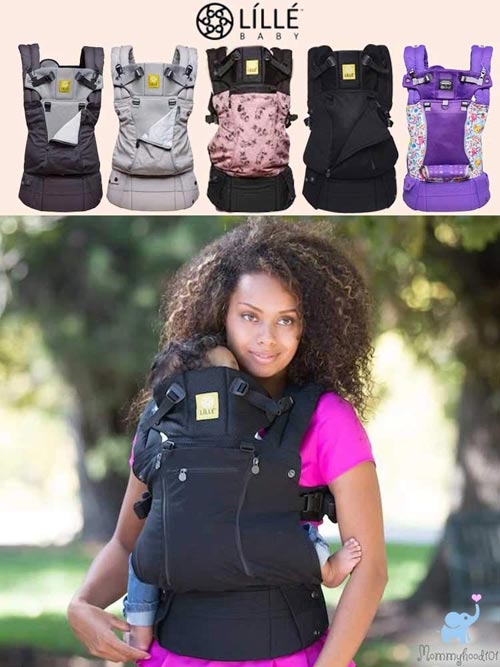 The LÍLLÉbaby is one of the best baby carriers of the year with tons of features, good looks, and high versatility. The LILLEbaby series uses beautiful and highly functional Scandinavian styling and includes very extensive features. LILLEbaby makes three categories of carriers: the LILLEbaby COMPLETE series, the CARRY-ON series, and the ESSENTIALS series. As the name would suggest, the COMPLETE series is the most versatile, with six carry positions, and a wide weight range that includes infants down to 7 pounds, and big kids up to 45 pounds. If the range of models wasn't confusing enough, even within the COMPLETE series they have the All Seasons, Airflow, Embossed Luxe, and Original versions. We have personally tested the Complete All Seasons, SeatMe All Seasons, and the popular LILLElight. Unless you live in a very warm climate, we highly recommend the Complete All Seasons model, which uses a cotton exterior fabric, a highly breathable 3D cool air mesh lining, and an awesome zip-down front panel. As weather changes and you spend more time in the sun, that panel allows you to adjust the airflow to your baby's back, sides, and torso, effectively cooling things down or warming things up on the fly.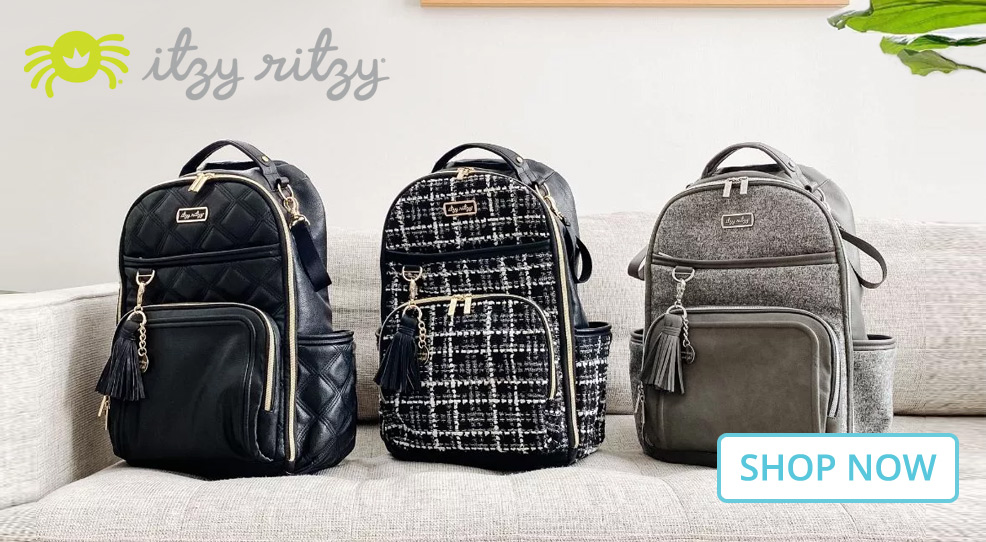 There were several other features we loved about this carrier. First, there is no awkward infant insert to deal with: the carrier can be configured to support little ones as small as 7 pounds without any insert. Second, the carrier transitions into 6 different carry positions: a fetal tuck, fetal tuck with legs out, front carry front- and rear-facing, hip carry, and a backpack baby carrier up to 45 pounds! We found all 6 positions to be highly supportive, easy to configure, and very comfortable for not only your little one but also for mom and dad. Third, we appreciated that your comfort was taken into consideration: the nice wide waist belt, a large lumbar support pad, and thick and comfortable shoulder straps. Fourth, it has some additional little features that are worth mentioning: it has a little hood to protect your baby from the elements (sun, rain), it comes in a ton of styles and colors, and it has a zippered storage pocket on the front panel that's big enough to fit a wallet and keys. In our testing, we also found that it was rather easy to put on and take off, to adjust to various parent and child shapes and sizes, and to put your baby in and pull them out. We did need to read the manual and watch a few instructional videos before mastering it, mostly because there are so many adjustments and features to take advantage of. Downfalls? Not many, but if we are being picky: the storage pocket is hard to access when the panel is unzipped, and it's somewhat large for newborn babies (we suggest 10+ pounds). Overall, the LILLEbaby Complete All Seasons is a truly great baby carrier highly deserving of this spot on our list. Who else thinks the LILLEbaby is one of the best baby carriers on the planet? Our friends at Babylist, Babygearlab, WhatToExpect, and The Wirecutter all consider it a top pick! Interested? You can check out the LILLEbaby Carriers here!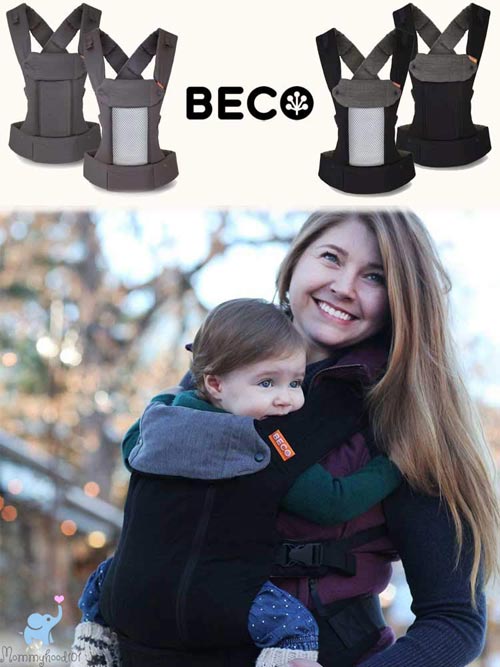 This is our first year with a BECO product on our list, and we're thrilled to have tried out their BECO 8 baby carrier! The BECO 8 is the most versatile baby carrier we've ever tried, and also the coolest. Not just cool-looking, but also super cool for your baby, with a 3D mesh to provide excellent airflow during the warmer months, and a zip-up panel to maximize warmth in the cooler months. For versatility, the BECO 8 supports... you guessed it... 8 different carry positions! These include front carry facing in with or without newborn support, front carry facing out, hip carry, and back carry. If you're counting, that's only 5. To be fair, BECO exaggerated a bit by adding a few positions that simply involve unzipping the front airflow panel. Marketing - we get it. Even so, as a 5-position baby carrier, the BECO really excels. It includes an infant insert to support newborns from 7-15 pounds and then supports toddlers and big kids up to 45 pounds. Other features include a detachable privacy hood, removable lumbar support, a waist belt pocket, and the ability to cross the shoulder straps for comfort and support. In our testing, we absolutely loved two things about the BECO. First, the shoulder straps are super wide, padded, and comfortable. Honestly, that alone is worth the money! Second, we loved the firm waist belt that did a great job staying in place and transferring the child's weight away from the shoulders and onto the hips.
The BECO 8 was great for both petite (down to a 25" waist) and plus-size parents (up to 54" waist), and we tested it on parents ranging from about 5'4" to 6'2" - anything taller than that and it might not be an ideal fit. As an all-season baby carrier, we love the warmth during the winter and cool flow during the summer, though we do believe the mesh could provide even more airflow than it currently does. Overall, this is an excellent baby carrier that while expensive, will prove itself useful for many years, contexts, and babies to come! We're excited to have tested it out and to feature it on our list of the best baby carriers! Interested? You can check out the BECO 8 directly at the BECO website.
The Baby Tula Explore is a completely new design by Baby Tula, with superior versatility and comfort. We first got our hands on the Explore for testing last year and we were super impressed with it. Out of the box, it is stylish, has super soft and durable fabric, and feels very well-constructed yet lightweight and flexible enough to stuff into a big diaper bag. We tried it out in all of its 5 positions: front-carry facing the parent (with adjustments for infant, baby, and toddler), front-carry facing out (for toddler), and back-carry for baby and toddler. Adjusting between the three front-carry options was easy, simply reconfiguring the upper and lower parts of the "Explore panel". The lower panel is in the seating area and adjusts using snaps, and the upper panel adjusts between short and tall positions depending on your baby's height and head and neck control. All of these adjustments are necessary to make it possible to support babies as small as 7 pounds and up to 45 pounds, or from 0 to 48 months of age. We found that putting on the carrier was pretty simple, basically the same as most others on this list. It was a bit less bulky than other options, with a slightly smaller torso pad on the bottom front, and no lumbar pad. Comfort was really great, and in our testing, we thought it was most comfortable on moms and dads taller than about 5'3" and heavier than about 120 pounds; it was a bit large and the shoulder straps were a bit too long for relatively petite parents (especially skinny ones).
Some specifics that we really liked about the Tula Explore: it has a nice waistband pocket for storage, a removable hood for naps and shade, a really nice ergonomic lower panel design that supports hip development, and it's also a good baby carrier for plus-size parents given its extended waist and shoulder adjustment range. We were really impressed with this baby carrier's versatility, comfort, ease of use, and style. The price is pretty high coming in at about $180, but we think it's worth every penny. Some little cons to consider: it cannot be used as a hip seat, and it tends to get a bit hot during the summer (but see the Tula Coast Explore which adds a mesh front). Other than that, we're really happy to have tested this newer model and think it's an awesome addition to our list! Who else thinks the Tula Explore is one of the best baby carriers of the year? It's a top pick by our friends at Babygearlab, The Bump, and WhatToExpect. Impressed? You can check out the Tula Explore carrier here.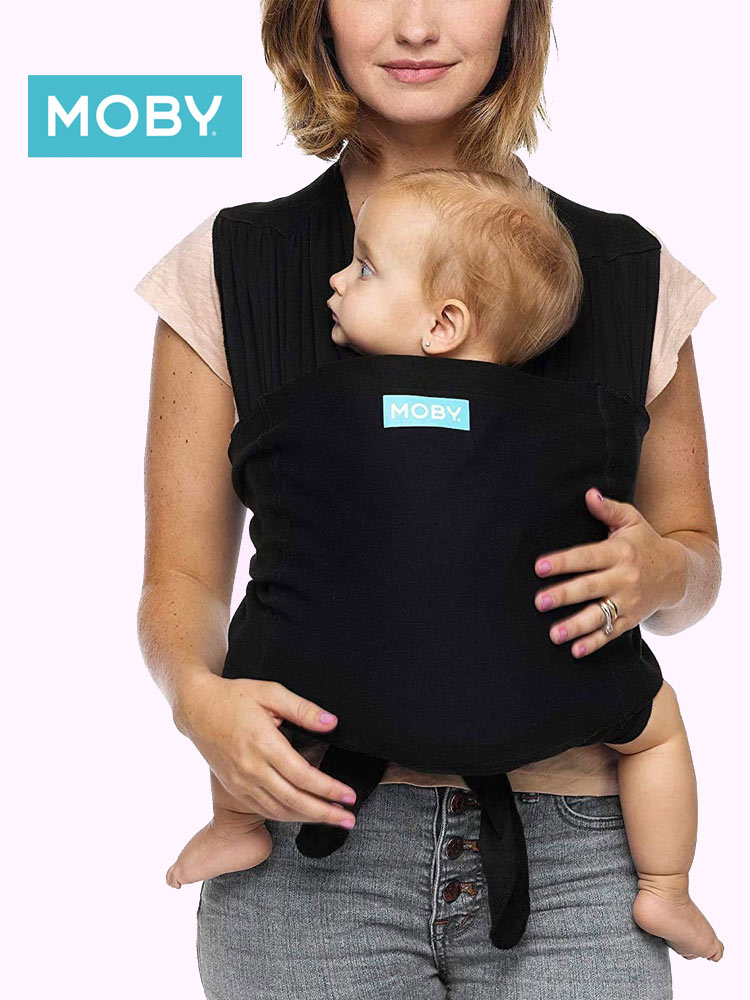 We all know and love Moby for their super comfortable baby wraps, but you might not have realized that they also make some awesome soft-structured baby carriers! The Moby Fit is the answer for people who want the super soft and comfortable feel of a Moby wrap but with the convenience and versatility of a carrier. We got our hands on the Moby Fit for testing late last year and thought it was an excellent new addition to our list. Out of the box, our first impression was that the fabrics were high quality, soft, and cozy, and we were able to fit it on three different parents of various shapes and sizes. It is a one-size-fits-all baby carrier and is suitable for both petite and plus-size women and men, and everyone in between. The Moby Fit is suitable for babies as little as 8 pounds and all the way up to 33 pounds. Not a huge range, but it hits the perfect carrying age range from infant to nearly 3 years old for most toddlers. The Moby Fit is only for the front-carry position but is versatile enough to use inward- or outward-facing. For infants, it supports the neck and head in the very same way as the Moby Wrap, using super wide shoulder straps to let your baby snuggle up to your chest. Nice touch!
The Moby Fit goes on like a t-shirt over the head, and then you adjust the sizing by tugging the fabric through two rings positioned at the back sides. It's a little tricky to figure out at first, but Moby has a great instructional video on YouTube that helps a ton! Once you put the carrier on, don't forget to put the sash on at the end, putting the logo out in front and tying it in the back as a final mandatory safety step. Overall, the infants and toddlers both loved the Moby Fit, and the toddlers appreciated the front-facing position. Both were very comfortable, even on longer journeys. The super wide and flexible shoulder straps help a ton. The only challenge we faced with the Moby Fit was the two adjustment rings on the back; two of our reviewers (half of them) said the rings were a little uncomfortable against their back, especially with heavier babies. This is one baby carrier that would be suitable for an in-store try-on before purchasing, if possible. However, if you're worried about the rings, you can also consider Moby's Easy Wrap which is very similar but without the adjustment rings. Overall, we think the Moby Fit is excellent and we're happy to have tested it out! Who else thinks the Moby Fit baby carrier is an awesome choice? Our friends at Babylist! You can check out the Moby Fit here.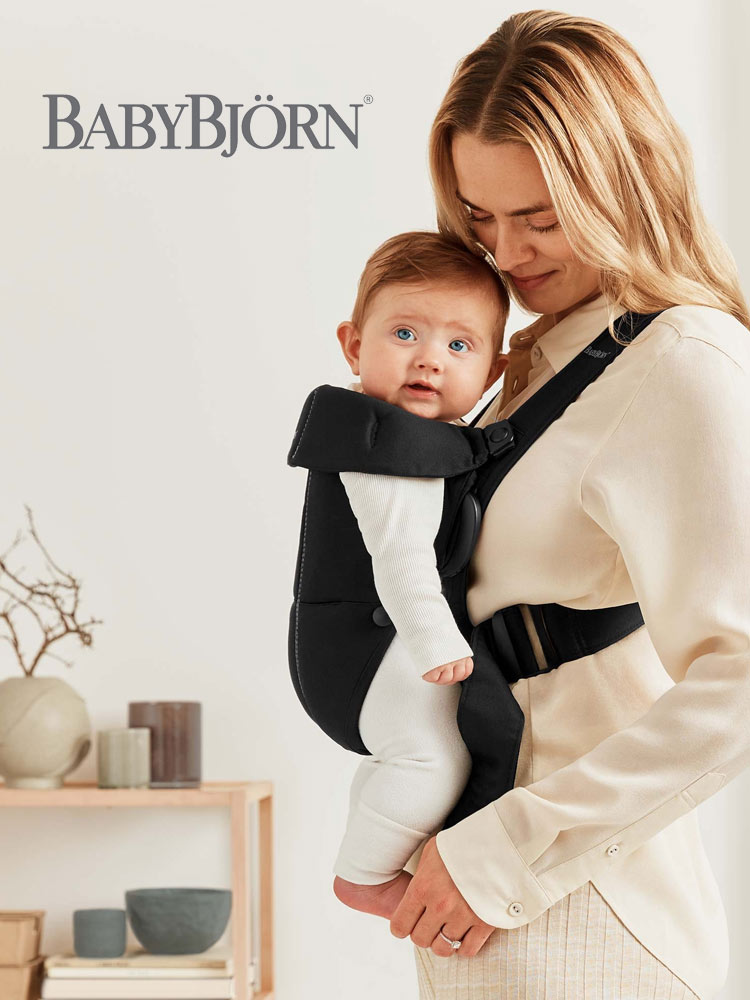 News flash! The classic and revolutionary BabyBjorn Original carrier is being phased out in favor of the new BabyBjorn One. However, due to the sheer demand for the Original carrier, BabyBjorn decided to reinvent and rename it the new BabyBjorn Mini Carrier. The Original BabyBjorn carrier is a classic and really started the style revolution for soft-structured baby carriers. By moving beyond the previously large, bulky, and utilitarian baby carriers of the 80s, BabyBjorn made it stylish to wear a baby carrier! The BabyBjorn carrier still remains a staple in the soft baby carrier market, and the price of the Original version has fallen considerably since its introduction. The BabyBjorn Original model is very basic and simple - it has shoulder straps but no waist strap, limited adjustments, and no other bonus features like a newborn insert, waist strap, pocket, or hood. The new BabyBjorn Mini Carrier follows that same theme. But where it lacks in versatility, it compensates with soft fabrics, great infant support, comfortable and intimate newborn baby carrying, and a great price, all wrapped up in a super lightweight and compact package.
The BabyBjorn Mini (we dislike that name because it's actually a bit larger than the Original) can support babies as small as 7 pounds and up to 24 pounds (or 21-30" tall). This corresponds to approximately birth up to 12 months. In our experience, the Mini is perfect for birth to about 6-8 months, offering an awesome front-carry facing-in solution for baby-wearing in the home and on short trips. After about 5 months, the BabyBjorn Mini also supports front carry while facing outward, but we think you'd be better off with a more full-featured baby carrier for a child over about 17 pounds. The lack of a waistband to help transfer the weight of the child off your shoulders is our primary concern with a heavier baby. Overall, this is an awesome newborn carrier with a long history of safety and quality, and the price is about half what you would pay for other top-rated baby carriers. For families looking for something to get them through the first several months with comfort, style, and intimate contact with their infant, this is an excellent option. Who else loves the BabyBjorn carrier for these purposes? It's a top pick by our friends at Babylist, Babygearlab, WhatToExpect, and The Bump. Impressed? You can check out the BabyBjorn Carrier Original version here!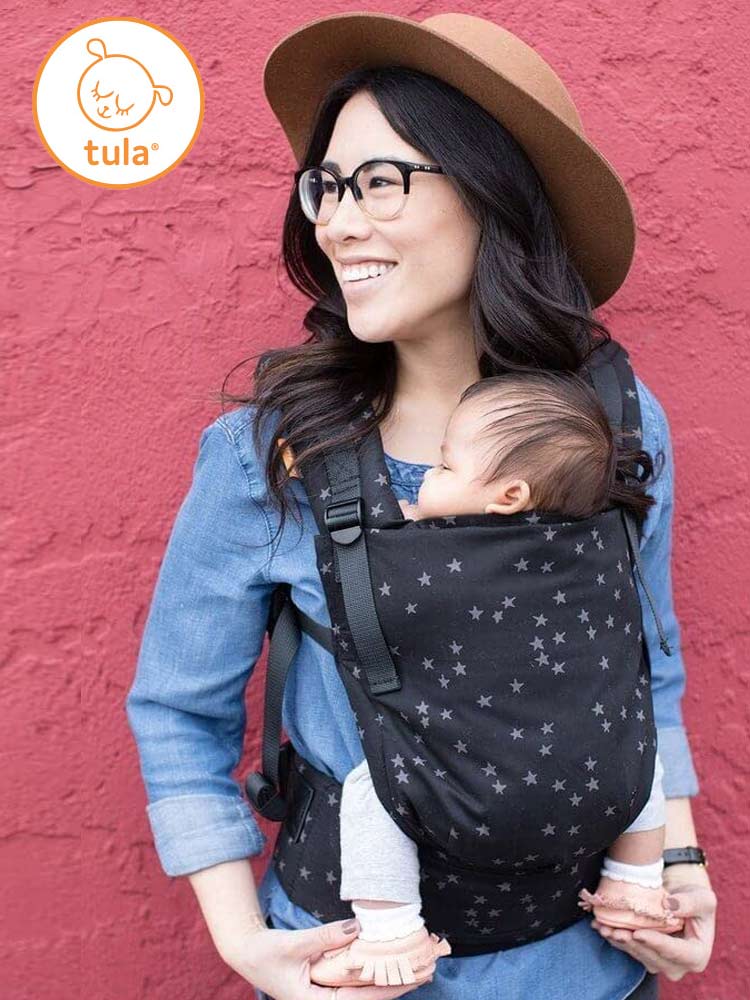 This Baby Tula FreeToGrow Carrier is most similar to the BOBA 4G. It's a really fantastic baby carrier that has recently taken the baby carrier market by storm. And for some great reasons! First, let's talk about specifications. It supports babies as small as 7 pounds without the need for an infant insert, and up to 45 pounds, which will bring you well into toddlerhood; so this carrier is great at accommodating different sizes as your baby grows. And it has a lot of adjustments to help make sure that different shapes and abilities (e.g., different head and neck support) are well supported. In addition to your baby's shape, this is also a great baby carrier for plus-sized parents, with a waistband that adjusts up to 57". The final specification worth mentioning is that it allows for carrying your baby in a front carry position (facing parent), or on your back (facing parent); so there is no forward-facing capability here (check out the Explore for that). Second, let's talk about convenience features and comfort. The front pocket is perfect for keys or a couple of pacifiers and was able to fit an iPhone in there without any issues. The fabric is like a canvas material (it's 100% cotton) and we found that it's not highly padded or thick, making it breathable and suitable for use in warmer weather. There is also a great hood that actually matches the pattern of the carrier, which is a nice touch relative to most other carriers that use a solid hood color.
In terms of comfort, this was about the same as the Tula Explore - super comfortable with nice thick straps and buckles. The waist strap is super comfy, and we never ran into issues with a sore back or shoulders. It has a nice ergonomic design that fits quite nicely. It's also comfortable and ergonomic for a little baby, with some thick leg padding that helps keep the legs (and hips) in a good position for longer walks (and reduces the risk of hip dysplasia). The front panel can be adjusted from about 11" tall to about 17" tall, which gives you good versatility for a growing baby. Third, let's talk about some of our impressions. It's comfortable, high quality, and super adorable. The available patterns are really cute and range from simple solid colors to some really nice patterns that aren't too gaudy or bright. Putting it on was easy enough, though the rear buckle height adjustment wasn't as easy to do while wearing as some other carriers on this list. Other cons? Well, with smaller babies between 7-12 pounds or so, we thought that a little better and more adjustable head and neck support would be appropriate (especially for skinnier babies). The Tula Explore has a bit more padding and support, so consider that if you think this might be an issue with your little one. It also would be nice to have the forward-facing capability with a carrier that costs around $100. Overall, it's a fantastic addition to our best baby carrier list, with only a few minor drawbacks. Who else thinks the Tula Free to Grow is one of the best baby carriers available? Our friends at Babygearlab call it a top pick! Interested? You can check out the Tula Baby Carriers here!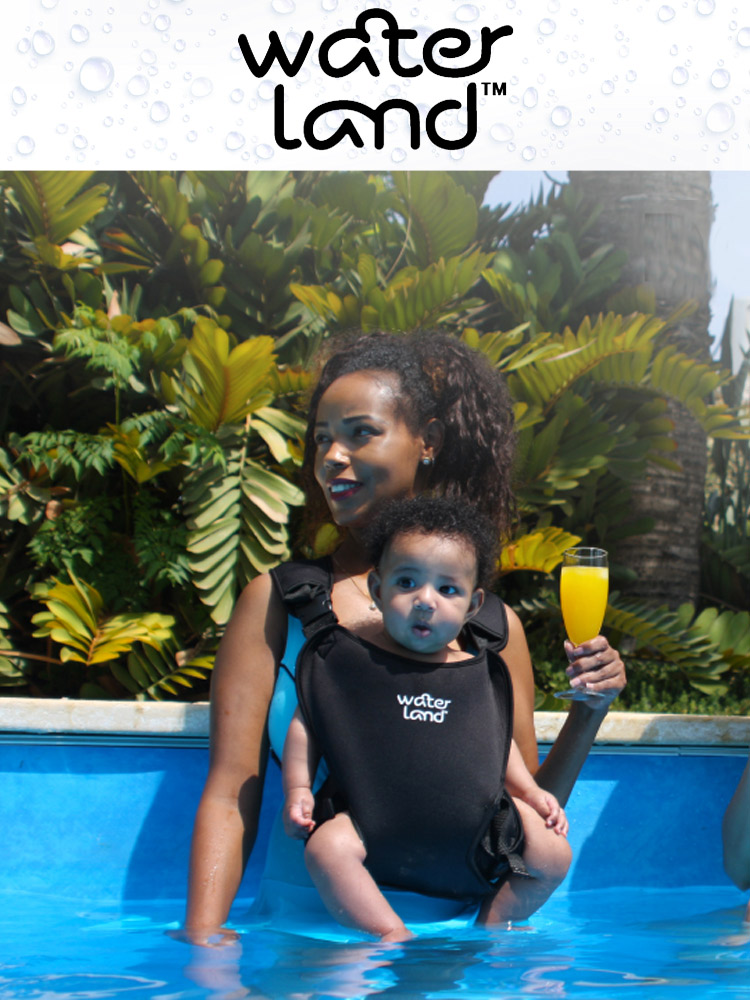 Babies and toddlers can be challenged to slowly and safely integrate into the water. You want them to feel secure and confident near the water while having fun and staying safely within mom or dad's reach and watchful eye. Whether you are at the water park, pool, or beach, the WaterLand baby carrier offers adventure and safety with a unique neoprene fabric that keeps your baby (and you!) cool and comfortable. We got our hands on the WaterLand baby carriers late last year for testing (thanks for the samples, WaterLand!) and we were impressed with their ingenuity and quality. The wetsuit material (neoprene) shell is breathable, flexible, and comfortable while being the perfect alternative to a soaking wet and uncomfortable fabric baby carrier. In our testing, we took the WaterLand carriers to the beach and water park for some testing with a 4-month-old and 11-month-old baby. Out of the box, we loved that the carrier comes with a little carrying pouch so you don't need to worry about stuffing a wet baby carrier into your diaper bag. The carrier was a bit confusing to put on at first, but once it's sized to your body you can slip it on and off like a t-shirt. The buckles and adjustments were high quality and easy to use, and the fabric and neoprene straps were comfortable and supportive. The carrier uses crossed straps on the back for higher comfort and less chance of the shoulder straps falling down the arms. It can only be used with babies 4 months and older (and 13 pounds and up), but can support toddlers up to about 2 years or 33 pounds.
The beauty of this baby carrier is what is provides for parents: rather than bending down and constantly holding your child, your hands are completely free! Your baby is up-close to your body while you expose them to the water at a safe and comfortable (for you and them!) pace. We found ourselves walking through the falling water at the water park, walking into the ocean at the beach, and sitting in tide pools, all while keeping our hands free to build sand castles and splashing around with the babies. We even used it in the beach shower to rinse off! When you're done, the neoprene material dries out quickly and we didn't have any issues with shrinkage or deformation. Cons? It can be a little difficult to figure out at first, but the instruction manual was helpful. Also, we think it's likely most suitable from about 4 to 12 months. It's a bit small for toddlers, though smaller toddlers should be completely fine. Overall, for parents who want to give their baby some water adventure and frequently visit the pool or beach, we think the WaterLand carrier is an excellent option at a pretty reasonable price! The only reason it isn't higher on this list is because of its niche/specialized use case. Interested? You can check out the WaterLand Baby Carriers here!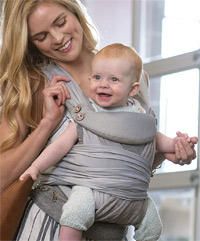 We are always thrilled to get our hands on new baby carriers, especially when they are making awesome changes to the style and functionality of the typical baby carrier. Enter the Boppy ComfyChic, with its awesome hybrid design that includes elements of a soft-structured baby carrier and the stretchy and versatile fabric of a baby wrap. And it's not just for style, the wrap actually needs to be configured and tied, and adds a super comfortable element for your baby, allowing you to customize the support in various areas (mostly the bum!). Out of the box, we were immediately overwhelmed by the carrier and how exactly we were supposed to use it. If you watch the Boppy how-to videos on YouTube, you'll learn a couple of tricks to make things more convenient. Once we watched the videos, we tried it on me (size 2), my husband (size 36 waist), and my neighbor (size 12). In all cases, it was able to adjust to the body type, and the long straps make it a great baby carrier for plus-sized moms and dads. The ComfyChic has four carrying styles: front carry facing-in, front carry facing out, and hip carry. The fourth carry position is simply the newborn front carry facing in with the upper head support folded upward (no infant insert is needed). For reference, the minimum weight is 8 pounds, with a maximum of 35 pounds. We tested it with a 10-pound 2-month-old, a 22-pound 11-month-old, and a 28-pound two-year-old. For the baby and toddler, everything worked really well, and we liked how easy the waist belt, shoulder straps, and seat width adjustments were. In our experience, the 28-pound toddler was definitely up against the maximum practical weight limit of the carrier. The straps are really quite long and can be a little overwhelming the first few times you put the carrier on, so you might want to recruit some help for your first try. By the way, if you're looking for an awesome hip-carry baby carrier, this is a great option - the hip carry configuration was comfortable and supportive and didn't leave us with a sore neck and shoulder (which is rare!).
All of the fabric is comfortable and soft, there are no uncomfortable seams or straps on the inside that will contact the baby, and the fabric wrap portion helps you get things nice and cozy. Speaking of the wrap, it was really our biggest challenge with this carrier. With the 10-pound baby, we didn't have any issues with stretching or sagging with the fabric during wearing, but we did notice that happening quite a bit with the 22-pound baby and of course the 28-pound toddler. That sort of stretching is important, and one of the criteria we use when testing the best baby wraps. If you're planning on using this until your child is about 1 year old, it won't be an issue, and it also won't be an issue if you don't anticipate wearing it for longer than about 45 minutes at a time. Some little things we liked were the zippered storage pocket on the waistband, which isn't large enough to fit any modern smartphones, but definitely big enough for other little things like keys, pacifiers, or some cash. It also comes with a little storage pouch that we appreciated, otherwise all the straps and fabric make it a little more complicated to pack and travel with. Another little note is that it's a bit heavy and thick for hot climates. It does have a breathable back, but the combination of the carrier and wrap makes it a little hotter for both mom and baby. Overall, we love the concept here, and think it's an awesome carrier with only a few small limitations; in the future, we hope that Boppy decreases the stretch of the wrap fabric a bit, which will help with our primary gripe. Interested? You can check out the Boppy ComfyChic Carriers here!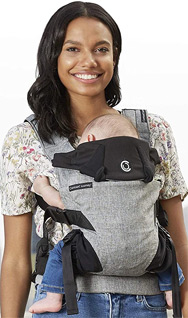 The new Contours series of baby carriers is winning over hearts and minds, ranging from the simple Cocoon carrier to the Love 3-in-1 carrier, and then the flagship Journey 5-in-1 carrier. The Journey comes in two varieties, the regular Journey, and then the Journey GO which adds 3D mesh breathable fabric to keep things cool during the summer months. We've reviewed all four of these carriers, and were most impressed by the Journey models. We're going to focus on the regular Journey, but keep in mind that everything we say can apply to the Journey GO, which is more suitable for babies who tend to run hot or parents who like to go on longer treks during the hot summer months; in those cases, the Journey GO is likely the better (and slightly more expensive) option. We first got our hands on the Journey series for testing in early 2020 and put it through testing while at the grocery store, hiking in the woods, and strolling around town. Out of the box, the carrier looks and feels high quality and lightweight. The fabrics are durable and wipeable while maintaining softness. The buckles, snaps, and adjustments are high quality, and overall things seem stitched and attached very well. Putting it on, the adjustments were suitable for both me, a relatively petite mom, and my husband over 6 feet tall and 220 pounds.
The overall fit is most similar to the LILLEbaby carrier in terms of adjustments and comfort level. The carrier supports 5 different positions: newborn fetal tuck (starting at 8 pounds), front carry parent-facing with legs out, front carry outward-facing, parent-facing hip sling-style carry, and a backpack-style parent-facing configuration. The maximum weight is 45 pounds overall, and at the lower end (8 pounds) there is no infant insert required. The seat of the carrier has a wide range of adjustments, promoting a nice hip-friendly positioning for newborns, up to a narrower and more toddler-appropriate seat. It also has an adjustable head support via two small zippers that help expand the width as necessary, shoulder straps that allow for either criss-cross or backpack-style carrying, and a huge detachable hood (sunshade) that is highly adjustable. We were also really impressed with the three huge zippered pockets, big enough to fit a modern smartphone. There is also a huge main zippered pocket that is basically the entire center front of the carrier; this is also where the sunshade is stored, but there is plenty of room for additional items. Just be careful what you put in the giant pocket, such as keys or anything else with sharp edges, since they will be up against your baby's back with only a thin fabric in between. We found the shoulder straps to be very comfortable, and the waistband to be supportive, and our test babies (one 5 months, one 2 years) both really enjoyed their time in the carrier. Overall, we really liked it and thought it was a great new addition to our best baby carrier list! Cons? We wish the waistband was a bit taller, and the Journey did get a little hot in the summer, with the 5-month-old getting a very sweaty back during our walk. Just FYI the Journey GO model, with its cool mesh fabric, never had that issue. The shoulder straps did loosen a bit during carrying (with the heavier 2-year-old child), but they were easy to adjust on the fly. Finally, this carrier isn't as thickly padded as some other options, but that can be better for weight and heat. Interested? You can check out the Contours Journey Carriers here!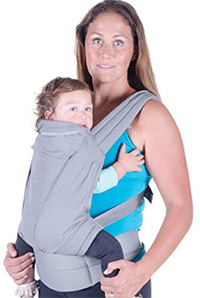 This Onya Pure carrier is the newest addition to Onya's lineup of excellent and versatile baby carriers that are great for longer treks through the great outdoors. Just as the Onya Outback is being phased out, Onya released this awesome Pure model that has similar versatility but with higher breathability and a simpler overall setup. The Onya pure can support a newborn as small as 7 pounds and toddlers and bigger kiddos all the way up to 45 pounds. While we don't suggest trying to lug around a 45-pound kid in a carrier during lengthy hikes, it can make a good backup when their little legs get tired and they need a little boost. The Pure offers three carry positions: front inward-facing, rear inward-facing, and also hip carrying. In our testing, we found all of the positions pretty comfortable. The carrier offers versatility for strap configuration - you can configure it as an H, or as an X that crosses the straps across the back or chest. We definitely suggest the X cross-strap configuration for higher comfort over longer carries, and it's a better option for parents who get uncomfortable with the straps rubbing under the arms. The Pure is designed to have high breathability so it makes for a great spring and summer carrier, offering a front panel that can be unzipped and rolled up to reveal a highly breathable mesh that helps keep your baby's back nice and cool.
In our testing, the mesh also helped keep us cool in the 100+ degree weather (with 75% humidity) we had last summer. The panel tucks away really nicely without any issues with it being bulky or accidentally falling down. The straps and waist are super thick and comfortable, and we loved the adjustable webbing on the waist and the new buckle. The buckle requires a two-step process to open, but we thought it was super easy to open with one hand and prevented the possibility that a curious older sibling could reach up and unbuckle the strap, or that it could accidentally unbuckle (partially or fully) when bending down. We were worried about the two-step buckle but were pleasantly surprised with its ease of use. This is a simple carrier that is lightweight and highly breathable, it's a great option for summer hikes and journeys, and for easily packing/stuffing away into a suitcase or backpack. Downfalls? Nothing too serious. Because it's a relatively basic carrier, there is no pocket for storing keys, a pacifier, or anything else. There is also no hood for blocking the sun or promoting naps. We also think it would be great to have a front carry outward-facing position like some of the more expensive carriers, especially with bigger kiddos who get easily bored with inward-facing. Overall, we think this is a great lightweight and highly breathable option that is worth checking out, especially given its reasonable price point, high reliability and durability, and Onya's great reputation for quality and service. Usually can be found for under $140, and it comes in several simple color options. Interested? You can check out the Onya Pure Baby Carriers here!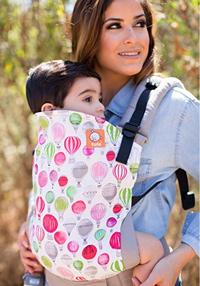 This is one of several Baby Tula baby carriers on our list, and for some great reasons: they make some of the most adorable, stylish, and trendy baby carriers on the market. While the Tula Explore is the relatively premium version with the most versatility, this option offers some excellent bang for the buck! It is not only more reasonably priced, but it is also quite comfortable, has a simple design, and is lightweight. We liked the front Velcro pocket, though it was a bit difficult to access for moms with shorter arms or larger babies. It can be used from 15 to 45 pounds, giving it a decent upper range but a very restrictive lower range. Basically, you're not going to be able to use this carrier until your infant is a few months old unless you purchase the separate infant insert. But once you use it, you and your baby will definitely love it! The shoulder straps are highly padded and comfortable, the baby thigh/leg supports are softly padded, the hood is well-sized and removable, and its simplicity makes it quite easy to get on and off. However, while the baby thigh/leg padding is a nice touch, note that that area is not adjustable like it is in our better options, so there will be a sweet spot when your infant fits perfectly, but before then it will be too wide and maybe a bit uncomfortable for the baby.
After about an hour of wearing, several of our test moms did complain of some back pain and said it would benefit from cross-straps and lumbar support. They also noted that it doesn't have very good circulation, and thought it could benefit from some 3D cool air mesh for better airflow. Finally, it does not support a front carry outward-facing position for your baby, only parent-facing. Overall, the TULA ergonomic carriers are great but have some basic limitations. For the price, we were expecting it to be a real winner and walked away thinking it was great, but not quite as great as some others at the same price. It is available in a ton of truly beautiful colors and patterns, putting many of the other carriers to shame! Tends to sell for under $100 online, making it one of the best deals on a premium baby carrier. Interested? You can check out the TULA Baby Carrier here.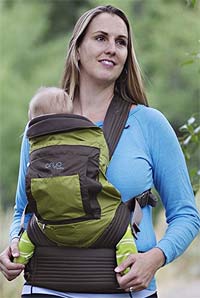 This is a relatively new addition to our list, and we are happy to have tried it out. It's a relatively new baby carrier to the market, and we were really impressed by its quality, comfort, convenience, and versatility. We tried it out with the separate newborn baby booster insert, which is sold separately for about $30. With the insert, it supports babies as little as 7 pounds and up to 15 pounds; when you remove the booster, it can go from 15 pounds all the way up to 45 pounds, which is awesome for backpack-style carrying. Speaking of a backpack, this baby carrier can be used as an inward-facing front carrier, an inward-facing rear "backpack" carrier, or an outward-facing "backpack" carrier. There are a few things that make this baby carrier unique relative to its competition. First, it has a good-sized pocket on the front that can fit a small wallet, keys, or even a diaper and a couple of the best baby wipes. It also has a key loop on the bottom, and some toy loops up on the shoulders - these loops were awesome for attaching a pacifier tether or hanging a fun little toy. Second, the belt and straps are very durable, high quality, and comfortable. They reminded us of the LILLE Baby straps in our testing, they were just that good. All those wide straps make for comfortable carrying that is adjustable and supportive, including the option to wear the shoulder straps in an X-cross design on your back, which helps a ton for heavier babies and longer journeys; crossable straps can really be a lifesaver on long treks! Third, this baby carrier can transition to a portable seat for any chair with a back (like at a restaurant or Starbucks), you place the baby in, buckle the shoulder straps to the back of the chair, and there is an awesome built-in lower harness. This feature is amazing for toddlers who can sit up independently and is unique to the Onya carrier.
When we tested it out, we also found the seating position to be very comfortable for not just the parents, but also the baby - the thighs were nicely supported and the angle of the legs was comfy. It also has an SPF-protective hood that tucks away out of view when not in use, which is great when it's too sunny or it starts sprinkling outside. Downfalls? Nothing major here. We wish it had an outward-facing front seating position like the Ergo and LILLE Baby, but it only does inward-facing. Outward facing can be done, but only in backpack mode. Also, shorter babies tend to sit pretty deep in the seat until they are about a year old, making it hard for them to look around while being carried since the side of the carrier comes up really high. Once they are taller, like 12-15 months, they can start to look around from side to side and see over the carrier fabric. So overall, just some minor issues, overall we think this is an excellent carrier, and worth a shot. It's only down here on our list because we think it's being phased out by Onya, in favor of the new Onya Pure (which we review above and is an outstanding carrier). The Onya Outback can usually be found for under $150, and there are many cute color options! Interested? You can check out the Onya Outback Baby Carriers here!
Conclusions
Why Baby Carriers are Important, and Our Review Process
For full details about how to choose a baby carrier, check out our new baby carrier buying guide!
Babies love being held close to mom or dad, feeling the warm comfort of their chest and the gentle rhythm of their breathing and heartbeat. But unless you're Ronda Rousey or Mark Wahlberg, your arms and shoulders are going to get very tired from lugging around a growing baby all day. That's where baby wraps and slings and soft-structured baby carriers come in!
Each year, there are dozens of new entrants into the baby carrier market, making it challenging to make an informed decision about which ones are best for you and your baby.
Soft-structured carriers are the most popular and versatile baby carrier option and come in many different shapes, sizes, prices, and quality levels. Most can be strapped on your front or back to carry the baby parent-facing or outward-facing, and are well-tested for safety and durability.
Rather than a wrap, soft structured carriers have an intrinsic padded structure that gives the baby reliable support, minimizing the risk of your baby wiggling into odd positions like you sometimes see with a wrap or sling. Not quite as customizable as the wrap carriers, and not quite as convenient to pack away for travel, but definitely a more user-friendly option without the major learning curve associated with learning how to wrap a baby.
What to Look for in a Baby Carrier
Baby Carrier Ergonomics
To ensure proper hip and back development, the ergonomics of a baby carrier are very important. There are a few things to look for here. First, for the first few months, you want your newborn infant to adopt the C spinal alignment, which means there is a nice curvature to your baby's back, with legs tucked up. This is called the "fetal tuck" position, and it reduces pressure on the spine and hips, promoting calmness and easier digestion.
Second, you want your infant baby's (3+ months) buttocks and hamstrings to be supported, putting the baby into a "frog leg" or W-position. In other words, you never want the legs to be dangling down below the carrier (just from the calves down), and this is true for at least the first couple of years of life. In contrast, you also don't want just the feet sticking out of the sides.
When testing out the carriers, we looked for the fetal tuck for newborns, and a maintained frog leg position for infants, toddlers, and bigger kids. Of course, we also need to think about ergonomics for mom and dad, not just for the baby. As your baby gets heavier, you will realize that ergonomics will become increasingly important to maintain back, shoulder, neck, and hip comfort.
The best baby carriers have crisscrossing shoulder straps that serve to evenly distribute weight on your body and prevent the straps from falling off your shoulders. They also have a tall waist belt that effectively transfers weight from your shoulders to your hips. Most premium carriers are great examples of this. This is essential for wearing the baby on your front, or on the rear as a baby backpack.
Note that one common issue is compatibility between diaper bags and baby carriers: when you're baby-wearing, it's cumbersome to also carry a diaper bag. Some of the best carriers have storage pockets that can fit some baby essentials, like a diaper and wipes, a pacifier, and maybe some other small baby gear items. In those cases, you can leave your diaper bag at home or in your vehicle.
Baby Carrier Versatility
Gone are the days when a baby carrier can only support a single carrying position. You no longer need separate infant, toddler, big kid, and hiking (backpack) carriers. Nowadays, if you invest in a carrier for newborns, it will be versatile enough to support multiple carrying positions as the baby grows into a toddler and beyond.
At the low end, some carriers have 2 positions, usually front-carry parent-facing, and outward-facing. At the high end, carriers have six positions, including front carry parent-facing newborn (fetal tuck), front carry parent-facing infant (legs out), front carry outward-facing toddler, hip sling, and back carrier (like a hiking carrier). The best ones tend to be more versatile and last from newborn (about 7+ pounds) until about 4 years old (about 45 pounds), but they also tend to be the most expensive ones.
Baby Carrier Safety & Reliability
Safety is of critical importance when evaluating a baby carrier, and there are a lot of factors to consider here. How is the stitching along the important seams, and where the buckles and zippers attach? What is the quality of the zippers? What is the quality of the clips, fasteners, adjustment slides, loops, and Velcro? How do these components stand the test of time, with repeated wearing and adjustment?
Some carriers use lower-quality fasteners, zippers, fabrics, and stitching, and don't do well with repeated wearing. The last thing you want is a malfunction of a weight-bearing component. Safety also considers the baby's position, the breathability of the fabric, and the appropriate head and neck support. Our reviews consider short-term hands-on use, and reviews from long-term use, pulling together a wide range of data regarding these safety considerations.
Note that we do not include any ring sling-style carriers on our list, given the safety concerns with these carriers. Specifically, while ring slings can be very comfortable and safe when used correctly (and with the appropriate baby ages and sizes), there have been some cases of misuse and negligence. That doesn't mean that you can't use a ring sling, just that you need to be more careful. Here's a good article from Mayo Clinic summarizing that point.
Baby Carrier Ease of Use
Some carriers look great, feel great, and are super comfortable and reliable, but are a total pain in the butt to put on, take off, or adjust. Carriers have come a long way in terms of convenience and ease of use, but some are still quite poor in this regard. Our best baby carriers list carefully considers the ease of donning, doffing, and adjusting the carrier.
Baby Carrier Comfort & Breathability
After ergonomics are considered and you are certain the baby is in a proper position for safe carrying, comfort is a determining factor as to whether the baby will stay content during an extended journey. The padding needs to be in all the right places: along the back contour, where arms and legs meet open air, on the bum, and wherever a body part might come in contact with a fastening or adjustment component. Less padding around the head and face to ensure breathability and high airflow where it matters. Many premium baby carriers have a zip-open front panel that reveals high airflow mesh fabric that can help keep your baby cool during the warmer months. We love these!
Baby Carrier Cost
Carriers vary widely in pricing, from as low as about $25, to upwards of $250 for the higher quality and more versatile ones with all the bells and whistles. Because our list values versatility, reliability, comfort, safety, etc, it also tends to include some of the more expensive carriers, with a lower price range of around $100, up to around $300. We do provide some limited reviews of lower cost (and limited feature) options in our reviews of inexpensive baby carriers article. Some of these less expensive options have some great features and can make a really great baby registry gift!