The Best Baby Gear of 2023: Top 75 Products
From pacifiers to cribs, we put all of the best baby gear together in one big list!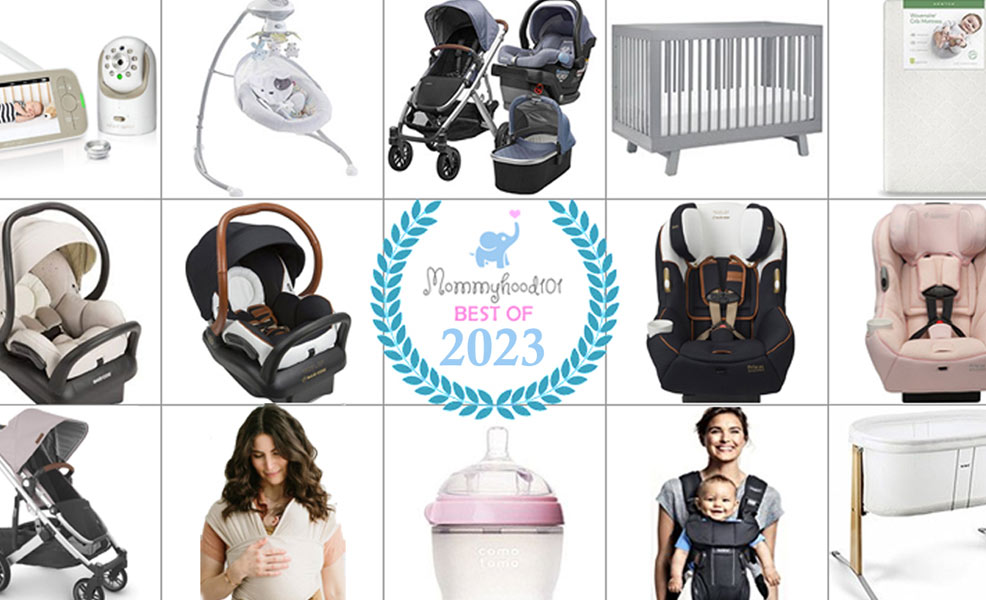 ---
Mommyhood101 independently tests and curates baby gear to help you make informed decisions. If you buy products through links on our site, we may earn a commission.
Check out the #1 winners from every baby gear category we review! Or, use the search box to find what you're looking for.
---
#1 Best Baby Carrier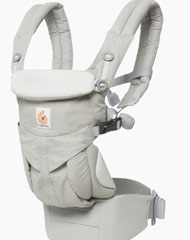 One of the most essential baby products you will purchase, the baby carrier provides the comfort and intimacy of babywearing with superior convenience and ease of use. The ErgoBaby accomplishes all of that and more with its beautiful design, amazing versatility, superior comfort, and reasonable price point. It supports newborns as small as 7 pounds and has a very high maximum weight of 45 pounds, allowing you to maximize the use of all 4 carrying positions all the way up to nearly 4 years old! Check out our full list of amazing baby carriers, including options from Boba, Tula, Beco, LILLEbaby, and Onya, and learn why the ErgoBaby Omni 360 is the best baby carrier of the year!
SEE ALL THE BEST BABY CARRIERS >>
SEE THE BEST BUDGET BABY CARRIERS >>
---
#1 Best Baby Wrap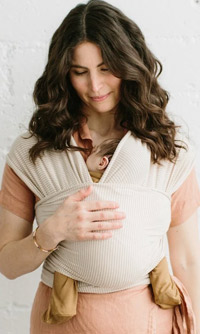 The Solly, Boba, Moby, Baby Ktan, and CuddleBug baby wraps are all top-selling options that have quickly become essential baby gear for new parents. The Solly ended up at the top of our buying guide this year for several reasons. We found it to be super soft with its Modal fabric sourced from Austrian beechwood trees, which was comfortable for mom, dad, and baby, flexible and versatile for several body types, and over the course of our testing, we didn't experience any issues with sagging or excessive stretching, or pilling fabric. We were able to achieve some really nice c-shape spine support with several Solly wrap methods, and we thought the wrap felt really secure and safe in these positions. The Solly wrap is relatively lightweight, providing an awesome spring, summer, and early fall option, and we loved all the little features like a pacifier pocket, personalized video tutorials, and good plus-size wrap options.
SEE ALL THE BEST BABY WRAPS >>
---
#1 Best Infant Car Seat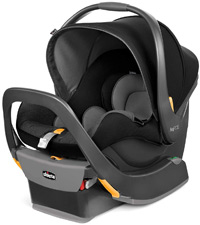 The Chicco KeyFit 35 offers superior quality, quality, comfort, and convenience at a very reasonable price. One of the most popular infant car seats of all time, the KeyFit has proven itself worthy of a top position on our list. As the big brother of the KeyFit 30, the KeyFit 35 has everything that the flagship car seat offers, plus a higher weight and height capacity, no-rethread adjustable harness height, European belt routing, and an anti-rebound bar. Chicco took awesome and made it amazing! In our testing, we loved the premium SuperCinch LATCH connectors, EPS energy-absorbing foam and side-impact protection, preemie support (4 pounds) with the included infant insert, machine washable fabrics, RideRight bubble levels to help installation, and 6-year expiration. Everything about this car seat is fantastic, including the price! Check out our full reviews for details on not only the Chicco, but also several great options by Britax, UPPAbaby, Nuna, Graco, Clek, and more!
SEE ALL THE BEST INFANT CAR SEATS >>
---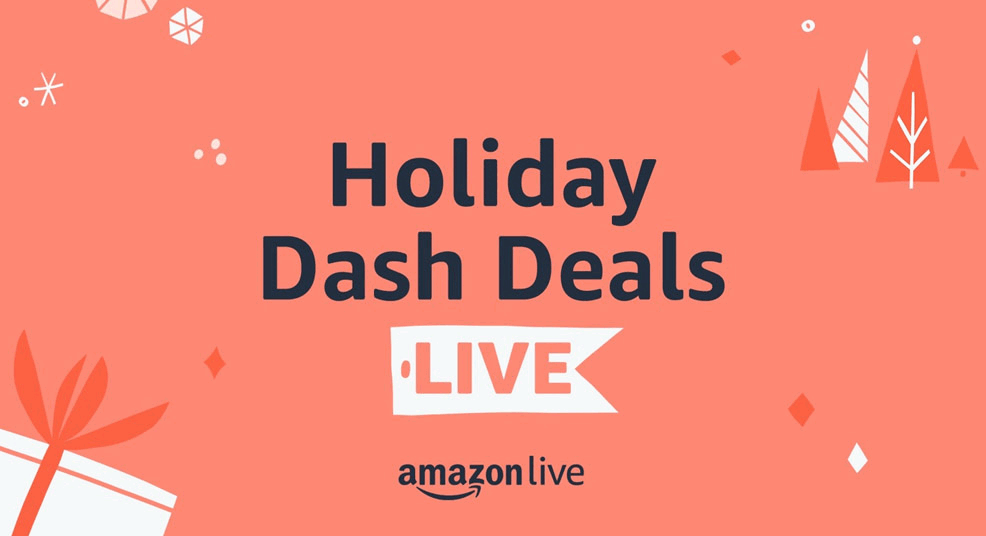 #1 Best Convertible Car Seat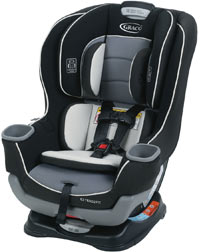 The Graco Extend2Fit never ceases to impress us with its safety features, superior quality, easy installation, versatile adjustments, and high-quality fabrics. You can't beat the comfortable fabrics, thick side-impact protection, steel-reinforced frame, energy-absorbing foam, and convenience features. Given the amazingly low price, those are some amazing convenience and safety features! Combine those positives with the fact that this car seat can support babies up to 50 pounds in the rear-facing position, which is the safest way to ride, and you've got a clear winner! Check out our full reviews for additional options from Chicco, Clek, Nuna, Britax, and more.
BEST CONVERTIBLE CAR SEATS >>
---
#1 Best Booster Seat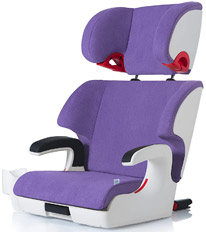 The Clek Oobr has been slowly creeping its way up our list of the best booster seats, and for some great reasons. Made in Canada by a company with a strong reputation for quality, style, simplicity, and safety, the Clek Oobr hits all the right spots. It supports children from 40 to 100 pounds and 38-57" tall using the vehicle's seat belt (as a belt-positioning booster), then as a backless booster, it can support from 40-57" tall. That's an awesome weight and height range, and it's complemented by some serious features: adjustable recline, rigid lower LATCH connectors, magnesium-reinforced frame, side-impact protection, EPP energy-absorbing foam, and well-positioned belt guides. Take all of the features and versatility and combine them with Clek's commitment to sustainable and low-emissions fabrics and materials, and you've got a clear winner! Check out our reviews of the Oobr, along with other awesome options from Chicco, Britax, Diono, Graco, and more!
SEE ALL THE BEST BOOSTER SEATS >>
---
#1 Best Narrow Infant Car Seat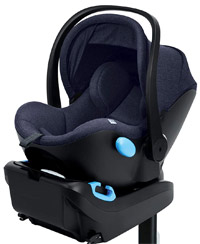 The Clek Liing comes in at a super slim 16.9" wide, with a base that only measures about 13" wide! But don't let the narrow profile fool you, this car seat packs some serious capabilities and features. Among them are some excellent safety features such as awesome crash test performance, a load leg, side-impact protection, energy-absorbing EPP foam, and premium low-emissions fabrics. For comfort, the entire seat has beautiful fabrics, excellent padding, and one of the best recline systems we've seen. The Clek Liing can support infants and toddlers from as little as 4 pounds (using the two-stage infant insert) up to 35 pounds or 32" tall. Add that range to an industry-leading 9-year warranty, and you've got yourself a clear winner with serious longevity! The Liing wins the contest, but be sure to check out the other narrow infant car seat options we found from Chicco, Nuna, Graco, and Cybex!
ALL NARROW INFANT CAR SEATS >>
---
#1 Best Narrow Convertible Car Seat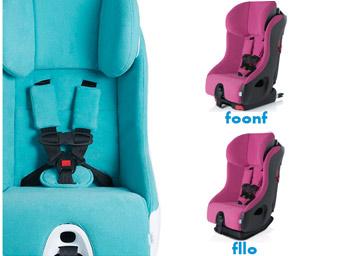 The Clek Foonf and Fllo are the narrowest full-featured convertible car seats on the market, coming in at only 16.9" wide at their widest point. And the Foonf and Fllo are not just narrow, they're also some of the best overall convertible car seats of the year, offering excellent versatility, comfort, safety, and convenience features. Both the Foonf and Fllo are fantastic car seats, designed and manufactured in Canada, and equipped with side-impact protection and an anti-rebound bar while rear-facing. They accommodate children from 14-65 pounds, or from newborn to 65 pounds if you purchase the separate "infant thingy" insert. Even more impressive is that rear-facing they can support children up to 50 pounds, letting you reap the safety benefits from rear-facing for as long as possible! Overall, we love these car seats, and small distinctions between them can be seen in our full review, where we also consider options from Diono, Combi, Peg Perego, and more!
ALL NARROW CONVERTIBLE CAR SEATS >>
---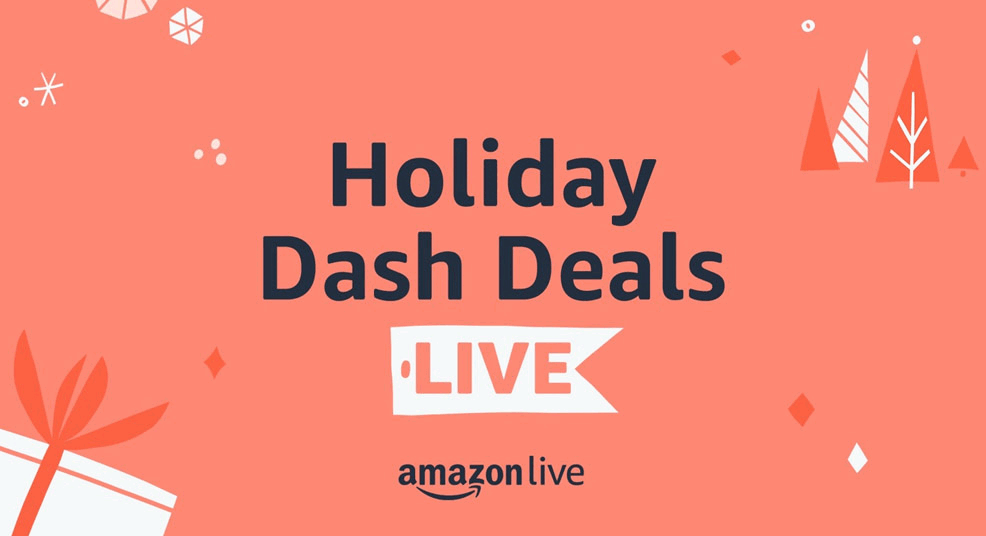 #1 Best Narrow Booster Car Seat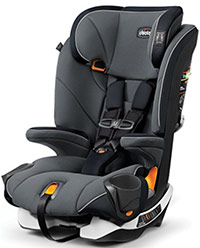 The Chicco MyFit is not only one of the best overall booster seats of the year, but it's also one of the narrowest booster seats you can find without compromising comfort or safety. Coming in at only 17.5" wide at its widest point, with a base that's about 16" wide, this narrow booster seat is perfect for fitting 3 in a row, especially when positioned next to a rear-facing infant car seat. This booster seat converts from a combination booster with harness (25-65 pounds), to a belt-positioning booster (40-100 pounds), with a maximum height limit of 57". This booster seat is sturdy, stylish, versatile, easy to use, safe, and high quality. Check out our full buying guide for more details!
SEE ALL NARROW BOOSTER SEATS >>
---
#1 Best Budget Infant Car Seat (under $100)
The Graco SnugRide infant car seats are one of the most popular lines of rear-facing car seats ever made. They have the Snugride 30 model with a 30-pound weight capacity, and the Snugride 35 model with a 35-pound weight capacity. They are great for small newborn babies as low as 4 pounds and have some great features at a very low price. This SnugFit model provides outstanding bang for the buck with its rich convenience and safety features including a no-rethread harness, infant head and body cushions, harness pads, an anti-rebound bar, and a LATCH-equipped base with an adjustable incline. All this versatility in a safe and lightweight infant car seat, the Graco Snugride SnugFit 35, which costs under $150? Sweet deal! Check out the other cheap infant car seats we found from Evenflo, Safety 1st, and Baby Trend!
ALL BUDGET INFANT CAR SEATS >>
---
#1 Budget-Friendly Convertible Car Seat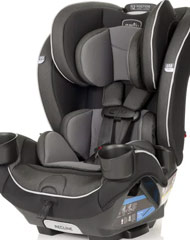 While our best convertible car seat buying guide considers car seats that range from about $150 all the way up to $450, the Evenflo EveryKid is at the top of our budget-friendly convertible car seat list (under $150). If you know anything about Evenflo, you know they make high-quality baby products that transcend nearly everything your baby will touch in the first two years of life, and they have an excellent reputation for safety and versatility. The Evenflo Everykid is no exception, and it has an impressive array of safety and convenience features for a car seat at this price point, including energy-absorbing foam, side-impact protection and testing, a no-rethread harness height adjustment (12 positions!), adjustable recline, seat belt lock-offs, and quick-connect LATCH attachments. It is a rear-facing infant car seat from 4-40 pounds, and a front-facing toddler car seat from 22-65 lbs.
ALL BUDGET CONVERTIBLE CAR SEATS >>
---
#1 Best Diaper Bag
Overall, we absolutely love this diaper bag! It is big (about 1300 cubic inches), very well-made, and has a ton of dividers and pockets (10 to be exact) to organize all your baby gear. It has insulated side pockets big enough to fit even the widest baby bottles and keep stored at a nicely controlled temperature, easily accessible small pockets, and zippered pockets for personal stuff like car keys and a wallet. It has a lot of inside storage that is perfect for diapers, toys, sunscreen, and more. It also looks fantastic, and it is one of the most popular diaper bags of the year! Check out all of our best diaper bags, including options from Freshly Picked, Petunia Pickle Bottom, Skip Hop, JuJuBe, TWELVElittle, and more!
SEE ALL THE BEST DIAPER BAGS >>
---
#1 Best Sensitive Baby Wipes
Baby wipes, especially sensitive baby wipes, can be very hard to evaluate and compare. Even after nearly 10 years of research to find the best sensitive baby wipes, we are constantly checking out new additions to the market and trying to be as objective as possible in our evaluations. Water Wipes have been around for several years, and this is the first year we're featuring them at the top of our list. Why? Because they are 99.9% water with a bit of grapefruit seed and soapberry extracts. We've never tested a more sensitive wipe with the best score from the Environmental Working Group (EWG) for its low-risk ingredients. Not only are they hypoallergenic, sensitive, and chemical-free, but they are also very effective at cleaning up the dirty stuff! Check out all of our baby wipe reviews, including options from Honest Company, Babyganics, Pampers, Bloom Baby, and more!
ALL THE BEST BABY WIPES >>
---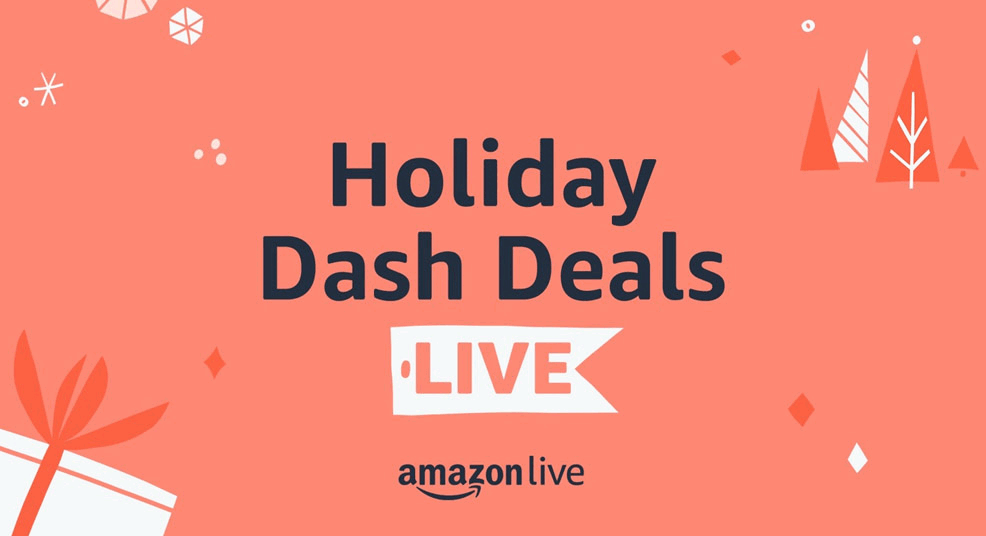 #1 Best Baby Wipe Warmer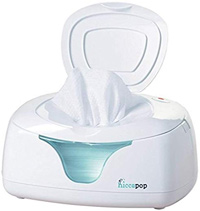 No infants like the feeling of a cold baby wipe suddenly freezing their little tushy! The Hiccapop baby wipe warmer is the solution to that problem, and it passed our hands-on testing with flying colors. It had even and reliable heating that wasn't too hot, it didn't brown the wipes or melt the plastic on the wipe packages, it was easy to reload and dispense from, and it felt like it had pretty decent build quality. Not to mention that it's available for only about $35, putting it squarely in the middle of all the other baby wipe warmers we reviewed.
SEE ALL THE BEST WIPE WARMERS >>
---
#1 Best Cloth Diaper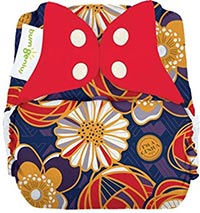 Cloth diapers vary widely in shape, size, functionality, versatility, and style. The bumGenius line of cloth diapers is superior in all of these areas, with a one-size fits all approach, innovative snap closure and fitment system, superior absorbent pads and leg opening gussets, easy wash and dry, durable and high quality, and stylish colors and patterns. The bumGenius Freetime is a top-rated all-in-one cloth diaper that combines the waterproof diaper cover, soft inner liner, and attached absorbent pads into a single cloth diaper system that parents are raving about!
SEE ALL THE BEST CLOTH DIAPERS >>
---
#1 Best Diaper Pail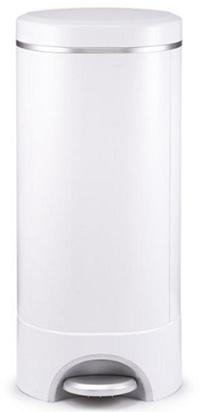 Dirty diapers smell terrible, and every nursery absolutely needs a good quality diaper pail to seal in the odor and keep things fresh without having to bring every single dirty diaper outside immediately! The Munchkin diaper pail passed our tests with flying colors: it was easy to use, stylish, durable and reliable and did a fantastic job sealing in the odors from dirty diapers. The step-to-open foot pedal is so much better than having to use two hands or having to touch all the potentially dirty surfaces around the pail's lid. Coming in at just over 2 feet tall, it can fit a decent number of diapers before you need to refill using the ring-style bag system. And it's stylish and sleek, fitting in with a clean contemporary style. Did we mention that it holds in the smell really well? That's really the most important thing, and everything else is a bonus!
SEE ALL THE BEST DIAPER PAILS >>
---
#1 Best Diapers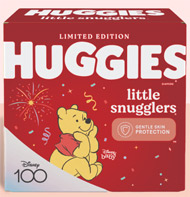 If you're not using cloth diapers, then you will want a sensitive, absorbent, comfortable disposable diaper that doesn't suffer break-throughs during the day or night. Combine that with the softness you'd expect to be touching your newborn or infant's bottom, and it can be a tough set of criteria to fulfill! The awesome Huggies Little Snugglers are up for the toughest of tasks! Ranging from sizes newborn up to size 6, the Little Snugglers are trusted by parents worldwide for their excellent fit, sensitivity to rash-prone skin, and superior protection. In our testing, we thought they were everything you need in a diaper, especially if you're focused on creating a fool-proof barrier to wet and soiled bums!
SEE ALL THE BEST DIAPERS >>
---
#1 Best Diaper Rash Cream
This natural, sensitive, and high-quality diaper rash cream contains soothing zinc oxide (non-nano!), and organic ingredients, and has been tested by pediatricians to provide prevention and rapid relief of mild to moderate diaper rash. In addition to zinc oxide, it contains several soothing ingredients such as coconut, shea butter, and tamanu to protect, soothe, and heal diaper rash. More important is what this diaper rash cream does not have, including parabens, lanolin, petrolatum, mineral oil, or synthetic fragrance. It performed excellently in our testing, and it's our new family favorite at the diaper-changing table!
SEE ALL BEST DIAPER RASH CREAMS >>
---
#1 Best Baby Bottle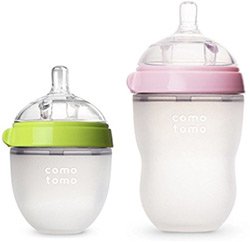 This baby bottle mimics breastfeeding like no other bottle on the market. A little more expensive than other bottles, but you're getting a truly fantastic baby bottle with excellent anti-colic venting, a flexible and squeezable body, and a nice wide 3" nipple base that gives it an amazing natural shape and feel. Not only do they have a nice modern and stylish look, but these Comotomo baby bottles are also second-to-none in their overall performance.
SEE ALL THE BEST BABY BOTTLES >>
---
#1 Best Bottle Warmer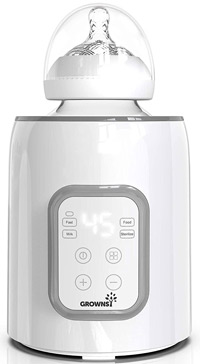 The best bottle warmers provide fast and even heating for breast milk or baby formula with high reliability, great features, and ease of cleaning and use. Typical shortcomings include early failure, build-up of minerals and nasty residue, and uneven or unreliable heating. This new bottle warmer is simple, easy to use, reliable, efficient, and very reasonably priced (under 50 bucks)! Even better, it fits wide Tommee Tippee, Comotomo, and AVENT bottles perfectly, as well as taller (9-ounce) Dr. Brown's bottles, all without any issues. It provides five core features: fast bottle warming, normal bottle warming, defrosting, food heating, and sterilization. It passed our tests with flying colors! Check out additional options from Kiinde Kozii, The First Years, Philips AVENT, Tommee Tippee, Dr. Brown's, and more!
SEE ALL THE BEST BOTTLE WARMERS >>
---
#1 Best Bottle Sterilizer and Dryer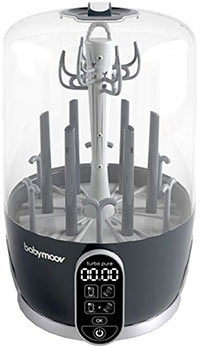 The baby bottle sterilizer is more than it seems, allowing you to sterilize not only bottles but nearly everything else your baby comes in contact with! Pacifiers, bottle nipples, bottles, teething toys, and more! The Babymoov is a truly awesome all-in-one steam sterilizer and dryer system integrated into one compact appliance that can fit even smaller counter spaces. In our testing, we not only found it super effective and easy to use, but also reliable, stylish, simple, and quiet. All of that for what amounts to a pretty reasonable price for such a versatile unit, and we were thrilled with the results of our testing! It fits all of the baby bottles we tested, including wide-mouth and tall, plus pacifiers and nipples, with room for more. A great baby registry gift, this is an awesome top-rated bottle sterilizer and dryer that deserves its top spot on our list!
SEE ALL BEST BOTTLE STERILIZERS >>
---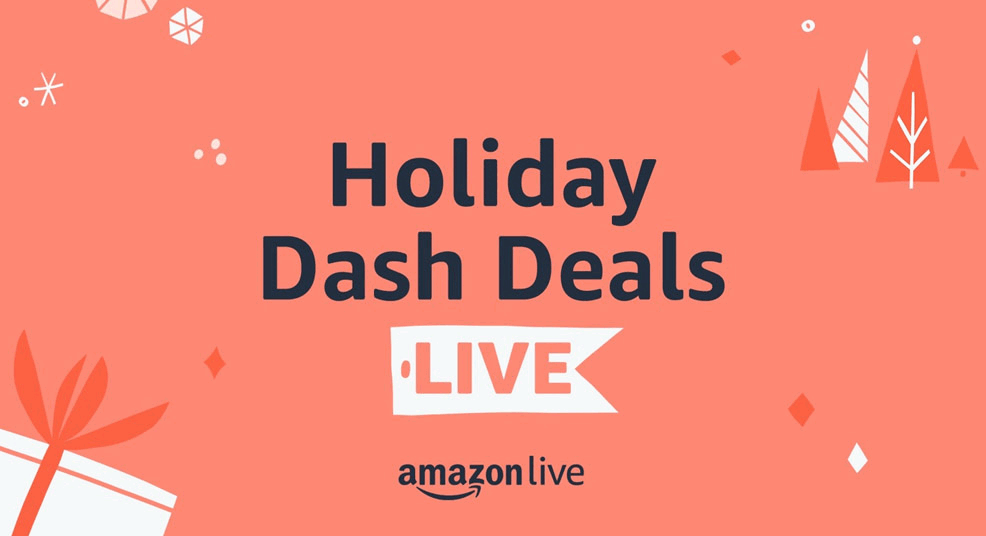 #1 Best Organic Baby Formula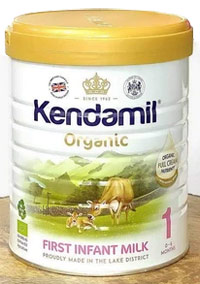 High-quality organic baby formulas are difficult to find in general, and organic infant formulas (suitable for 0m+) are even harder to find, especially for babies who get gas, bloating, or reflux challenges when digesting dairy. Fortunately, European formula brands have built a very strong reputation for their high-quality ingredient sourcing, manufacturing practices, and nutritional compositions. The biggest European formula brands are Kendamil, HiPP, Holle, Loulouka, Topfer, and a few others. At the top of our best organic baby formulas list is the amazing Kendamil formula, which combines everything we love about high-quality European baby formulas with omega-3 (ALA, DHA), and a nutritional composition, viscosity, and taste that are very similar to breast milk. With no additives, preservatives, artificial ingredients, starch or maltodextrin, or GMOs, this baby formula is perfect for supplementing or replacing breast milk. The Kendamil baby formula is very deserving of this spot on our list! Check out our reviews of additional options from HiPP, Holle, Lebenswert, Loulouka, Bobbie, and Baby's Only.
SEE THE BEST BABY FORMULAS >>
---
#1 Best Goat Milk Formula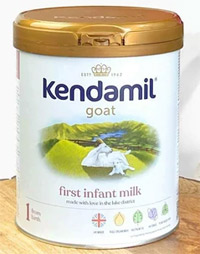 Goat milk baby formulas are becoming more popular than ever, and there are tons of awesome options flooding the market! Whether you're looking for a gentler formula option for your little one's sensitive tummy, to reduce your environmental impact, or simply to prefer the nutritional value or taste of goat milk, we found you some fantastic options. The best goat milk formula of the year is the amazing Kendamil Goat infant formula, which combines non-GMO ingredients with excellent nutrition to make an easy-to-prepare formula that was well-accepted and well-tolerated by the babies who tested it for us. With full cream whole goat milk that is high in A2 beta-casein protein, a whey-to-casein ratio that rivals breast milk, and none of the nasty stuff you should avoid, Kendamil Goat is the obvious choice for discerning parents and sensitive tummies! Check out our full list of several excellent options, including conventionally-grown and organic goat milk formulas!
SEE THE BEST GOAT MILK FORMULAS >>
---
#1 Best Nursing Pillow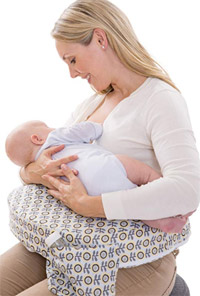 Once you've held your baby for more than a few minutes you'll realize why nursing pillows are a baby essential! They help get your baby into the perfect feeding position and prevent sore arms, shoulders, and necks. The Brest Friend nursing pillow provides the best support for breastfeeding moms or bottle-feeding parents, with its deep, flat support, its highly versatile and adjustable waistband, and its convenient storage pocket. The firmness is perfect to provide support for your tired arms while giving your baby a comfortable place to relax. Ideal for moms of all shapes and sizes, including plus-sized moms, this is an awesome nursing pillow that passed our tests with flying colors! Highly recommended!
SEE ALL THE BEST NURSING PILLOWS >>
---
#1 Best Organic Baby Cereal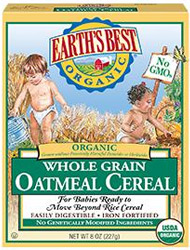 If you're looking for an excellent first baby cereal with high-quality and simple ingredients, then we've got something for you! Earth's Best makes some of the best baby cereals on the market, with both oatmeal and rice varieties, all made with whole grain and without any of the nasty ingredients we like to avoid. The top baby cereal is the Earth's Best organic oatmeal cereal, not the rice version which could have high levels of heavy metals. In our research and testing, we found that Earth's Best uses fantastic manufacturing standards, superb ingredients, and quality control, and is simple-tasting and nutritious. We think this is the best first baby food on the market, and our test babies agreed! Mix it with a little bit of breast milk and they'll fall in love! Check out several additional options from Holle, Earth's Best, Gerber, and more!
SEE ALL THE BEST BABY CEREALS >>
---
#1 Best Organic Baby Food Puree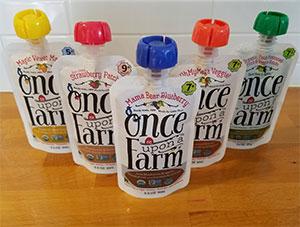 Once Upon a Farm is certified organic and uses responsible ingredients that are sustainably sourced and packaged, using high-quality manufacturing standards. Once Upon a Farm holds itself to very high standards, as demonstrated by the overall quality of its baby purees. These taste fantastic and fresh, come in a ton of flavor varieties, and provide great nutritional value. We especially loved the Fairest of Pears and Magic Velvet Mango flavors, and the Chocolate Ever After flavor is as good for parents as it is for babies! All of the samples we tested had a very fresh taste and the fruits and vegetables were high quality like they were fresh-picked! Check out our reviews of several additional baby food options from Plum Organics, Serenity Kids, Mama Bear, and Sprout Organics.
SEE ALL THE BEST BABY FOODS >>
---
#1 Best Baby Food Maker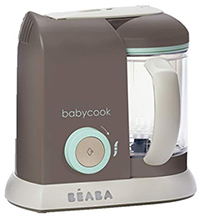 Baby food makers are designed to steam cook, puree, chop, dice, and otherwise prepare your baby's favorite fruit and vegetable purees right on your kitchen counter. This is great for parents who want to control which produce (fruits, vegetables) they use, control the quantities they make, and possibly save a bit of money in the process. The BEABA Babycook is fantastic at all of these tasks, and in our testing we found it to be fast, effective, quiet, high quality, and more reliable than any other baby food maker on the market. A bit more expensive than most others, but definitely worth it.
SEE ALL THE BABY FOOD MAKERS >>
---
#1 Best Sippy Cup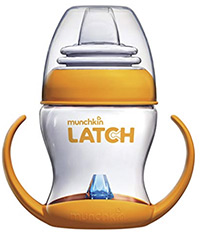 Munchkin makes a wide range of baby bottles and sippy cups, and their LATCH series is truly top-notch. This Latch Transitions sippy cup is no exception: it is the perfect first sippy cup for babies over about 4 months old. It uses an awesome soft and flexible spout design that has a shape and feel that is slightly reminiscent of the bottle nipple, making for an easier transition away from a bottle. It has awesome anti-colic venting, and convenient handles that are easy for little hands to grip, and we didn't encounter any issues with leaking or spills. And that's super important when you're dealing with babies as young as 4 months old!
SEE ALL THE BEST SIPPY CUPS >>
---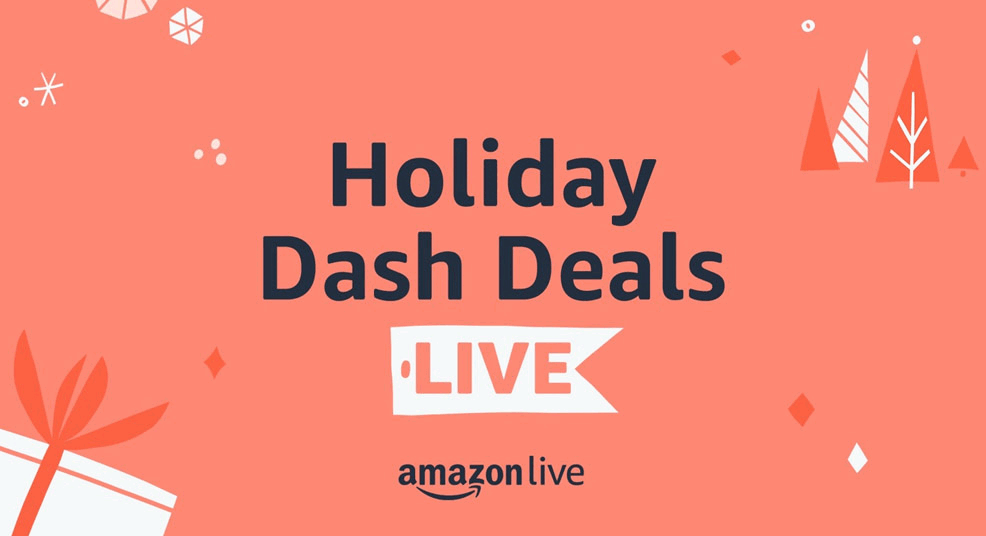 #1 Best High Chair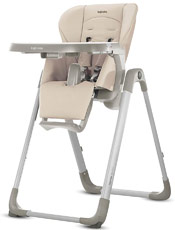 When your baby is ready to join the family at the dinner table and explore first foods, you want a high chair that not only fits your style needs but also supports good posture for digestion and is safe and easy to use and clean. The Inglesina My Time high chair combines safety, ergonomics, style, and features into the ultimate high chair that is well-deserving of the top spot on our list of the best high chairs. It's a little more expensive than some others, but it offers superior fabric quality and comfort, a huge range of adjustability for height and recline, a 5-point harness (like a car seat!), a crotch bar to stop slouching, a footrest for comfort, and wheels for portability. Speaking of which, it folds up and the tray can be removed for washing. A great high chair, or put on some fun Skip Hop toys and use it as an activity center!
SEE ALL THE BEST HIGH CHAIRS >>
---
#1 Best Breast Pump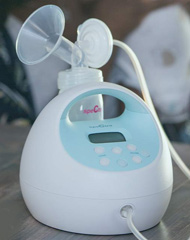 The Spectra S1 offers everything you could possibly want in a breast pump, and more! This includes advanced pumping features, high power and comfortable suction, superior reliability, portability, and versatility. We loved not only how effective this breast pump was for stimulating let-down and extracting breast milk, but also how quiet it was, how long the battery lasted, and how portable and lightweight it was. It is also high quality, durable, and reliable - and it looks great! We think the Spectra S1 is the best breast pump available, and we think you'll agree! See how it compares to Medela, Motif, Elvie, Willow, and several others!
SEE ALL THE BEST BREAST PUMPS >>
---
#1 Best Nursing Bra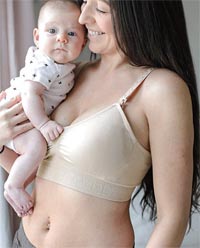 We have been super impressed with the comfort and versatility of the Kindred Bravely Sublime nursing bras, and are excited to feature them at the top of our list! Ideal for breastfeeding moms looking for comfort and simplicity, the Simply Sublime bras use super soft nylon and spandex fabrics to nicely accommodate the constant changes in breast size you'll experience throughout the day. Using a series of clip-down cups, the bra provides easy breastfeeding or pumping access, and we love the wireless construction that still keeps breasts well-supported. The fit of these bras is amazing, using adjustable shoulder straps and a rear panel with hook and loop closure, and is great for both plus-size women and everyone else! One of the most comfortable and versatile nursing bras we've ever tested, and we highly recommend it!
SEE ALL THE BEST NURSING BRAS >>
---
#1 Best Organic Nipple Cream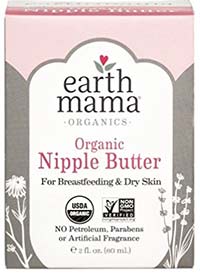 Nipple creams are an essential tool for any breastfeeding mom to help keep nipples soft, hydrated, and ready to provide sustenance at even the least convenient times! This completely organic nipple cream is great for treating chapped, chaffed, tender, and cracked nipples for all breastfeeding moms. Having all organic ingredients means that you don't need to wipe them off before breastfeeding, and you don't need to worry about what your baby is putting in his or her mouth. This nipple cream works wonders for soothing and healing tender nipples, and is high quality and reasonably priced. Forget lanolin nipple creams, they are generally unsafe for application to mucous membranes (like your nipples). Instead, pick a nipple cream that you can feel safe and comfortable with.
SEE ALL THE BEST NIPPLE CREAMS >>
---
#1 Best Baby Monitor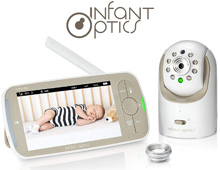 The Infant Optics DXR-8 PRO is a completely new release from Infant Optics, building on the popularity of the classic DXR-8. The PRO model is the best overall baby monitor of the year, offering a huge 5" high definition (720p) display, active noise reduction, higher zoom levels, and customizable alert brightness and volume levels. Everything works perfectly with the new DXR-8, the video looks great during daytime and night, the reception range is excellent, and we loved the new alert features. Coming in at about $199, it's a great price for what is sure to be a long-lasting, reliable, and highly effective baby monitor. Check out our reviews of several different options from VAVA, Nanit, Miku, iBaby Care, and more!
ALL THE BEST BABY MONITORS >>
---
#1 Best Crib Mattress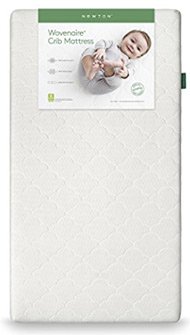 This Newton Wovenaire crib mattress is made right here in the USA, and has a ton of accolades: it is Greenguard GOLD certified, won the JPMA innovation award, and is recommended by Dr. Sears. And there's really good reason for all of that, including its lack of latex, springs, urethane or polyurethane foam, allergens, and glues. Instead, it uses an innovative air-puffed (90% air) food-grade polymer at its core and has extremely low off-gassing odors and VOCs. Not to mention it's comfortable, safe, reliable, and very well made. It fits snugly into our test cribs, has a washable cover and core, and the entire thing can be recycled (if you can fit it in your recycling bin!). Given that your baby will be sleeping on it several times a day for several years, it's important to find a crib mattress that meets your high standards for chemical emissions and safety. Check out our reviews of several different options from Avocado, Naturepedic, Lullaby Earth, and Babyletto!
SEE ALL THE BEST CRIB MATTRESSES >>
---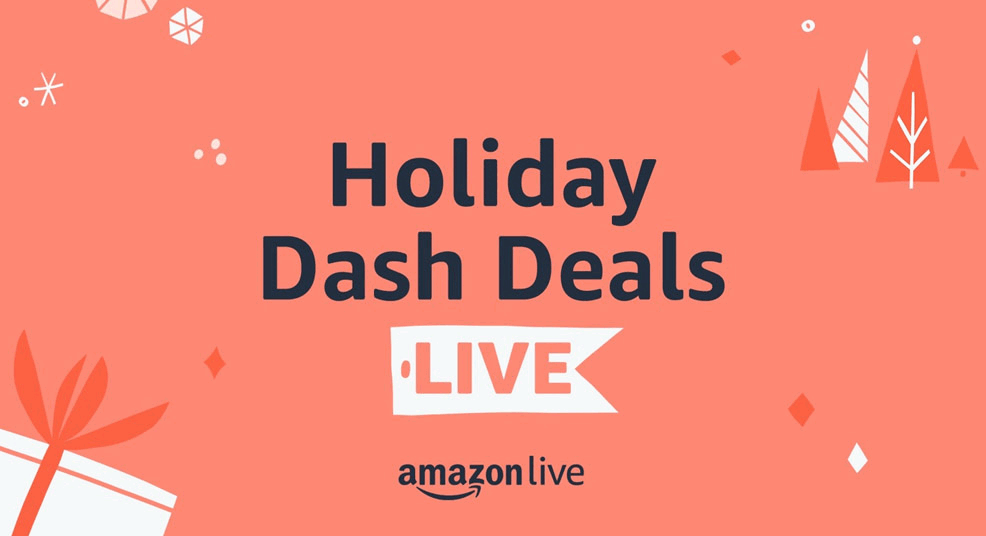 #1 Best Convertible Crib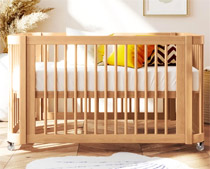 Nestig has been making a huge splash on the crib market, and we're proud to feature two of their products on our list of the best cribs: the Wave and Cloud. The Wave is this year's winner, transitioning fully from a mini crib to a full-size crib, to a toddler bed, to a full-size bed! Not only is it versatile, but it's also beautiful, durable, easy to assemble, handmade to order in Brazil, and looks amazing in any modern home. Check out our reviews of several additional options, including the amazing Nestig Cloud and Babyletto Hudson!
SEE ALL THE BEST BABY CRIBS >>
---
#1 Best Bassinet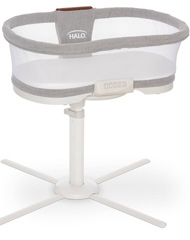 HALO made something a bit more natural, peaceful, and relaxing than most other bassinets, and we fell in love! The only movement is through the flexibly-sprung metal feet that allow the bassinet to gently and subtly rock side-to-side in response to your baby's motion, just like a classic cradle. Of course, you can reach over and gently rock the cradle too. It has great mesh sides that are breathable and help you peek at the side to check on your baby. The entire bassinet is lightweight, easy to move, and uses only high-quality and soft-touch fabrics and safe surfaces. It fits right up beside the bed as a convenient co-sleeper alternative and is high quality and well-made. Check out our reviews of not only the HALO, but tons of additional options from BabyBjorn, 4Moms, Mika Micky, Fisher Price, and more!
SEE THE BEST BASSINETS >>
---
#1 Best Travel Crib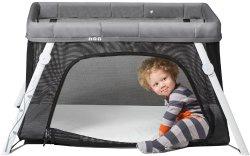 Travel cribs have come a long way since the original Graco Pack n Plays of the 80s and 90s, and the Lotus portable crib is a great example of innovation, quality, durability, and safety. We fell in love with its features, lightweight, portability, style, and the fact that it can fit right into an included backpack. It doesn't get any better!
SEE ALL THE BEST TRAVEL CRIBS >>
---
#1 Best Baby Gate (not for stairs)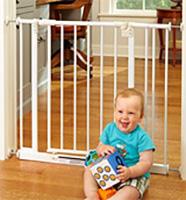 The top-rated North States Supergate was recently renamed the Toddleroo, and it's definitely one of the best-reviewed baby gates on the market! The Toddleroo is a tension gate, meaning that there is no assembly required, it basically squeezes itself into your doorway. The gate is relatively easy to install, has a true one-handed opening, fits narrow or wide doorways, has high-quality hardware, and is a joy to use! Check out our full reviews of not only the awesome Toddleroo, but also options from Regalo, Summer Infant, DreamBaby, and more!
ALL BEST BABY GATES FOR DOORWAYS >>
---
#1 Best Baby Gate (for stairs)
Yes, we picked the Toddleroo as the best baby gate for both doorways and stairwells! It's important to realize, however, that these are two very different gates. The Toddleroo comes in a tension-gate variety that is perfect for doorways and between rooms of your home, and this version is perfect for the top or bottom of stairs. The two primary differences are the way it's installed, and that there is no bottom rail tripping hazard. This baby gate does a great job fitting into awkward installation scenarios, between walls, railings, and irregular angles. It's perfect for the top of your stairs, and we think you'll love it! Check out our full reviews of the Toddleroo along with over a dozen different baby gate options!
ALL BEST BABY GATES FOR STAIRS >>
---
#1 Best Nursery Humidifier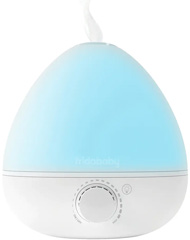 A nursery humidifier has unique requirements relative to a regular humidifier, as it needs to be quieter, dark at night, safe, reliable, and germ-free. Bonus points if it lasts all night, does not beep loudly when empty, and automatically adjusts to the humidity level of the nursery. This FridaBaby BreatheFrida ultrasonic cool mist humidifier accomplishes many of those goals with style, simplicity, and ease! It is one of the quietest, most adorable, and most reliable humidifiers we've ever tested, with a nice 1.9-liter water tank, safe and reliable functioning in our tests, a night light (that can be turned on or off), ultrasonic filtering to keep things clean, and humidification for about 12 hours on a single tank of water. Awesome!
SEE ALL THE BEST BABY HUMIDIFIERS >>
---
#1 Best Nursery Glider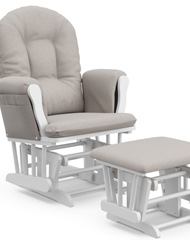 This is a comfortable and durable nursery glider and ottoman that will leave any tired parent feeling relaxed and ready for the next adventure! Perfect for reading books, bottle and breastfeeding, cuddling, and rocking to sleep, this beautiful nursery glider offers superior comfort, quality, and reliability. Made from high-quality and sustainably-sourced wood, the Storkcraft Hoop offers surprising build quality and features for the price. In our testing, we fell in love, and fell asleep! Check out our full reviews of several additional options from Dutailier, StorkCraft, Baby Relax, Delta Children, DaVinci, Babyletto, and more!
SEE ALL THE BEST GLIDERS>>>
---
#1 Best Baby Bathtub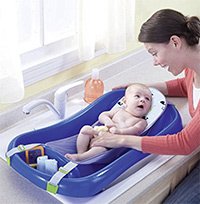 Another important baby essential, a great baby registry gift, and a piece of baby gear that will get tons of use. The right baby tub will keep your baby safe and comfortable, and make bathtime easy and fuss-free for parents. And with some bath toys and bubbles, it can be really fun for both of you! The First Years bathtub has been around for decades and has proven itself as a clear winner. It uses an infant hammock for newborns that suspends them safely up above the tub until they're ready to sit unsupported. With its sturdy and lightweight construction, convenient drain plug, and low price, it's the perfect pick!
SEE ALL THE BEST BABY BATHTUBS >>
---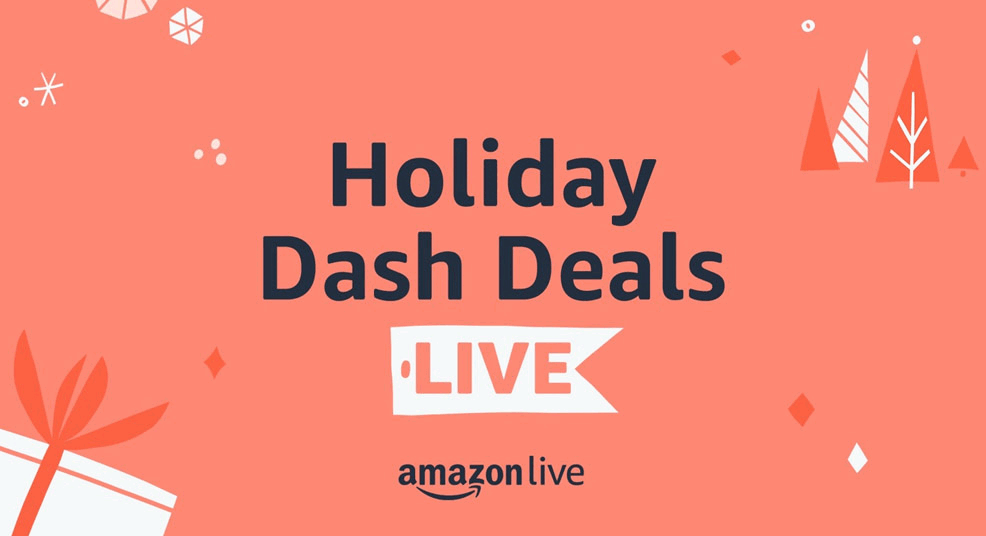 #1 Best Bandage for Babies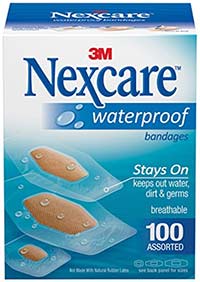 Nicks, cuts, and scrapes can be traumatic for babies and parents alike, but this awesome bandage will help keep boo-boos clean and protected. These Nexcare bandages were the best we could find for their levels of waterproofing, comfort, and flexibility, and their super strong adhesive. They are also latex-free and do a great job keeping germs out of a cut. We were so impressed with them that we ended up buying ourselves several different sizes for use in babies and adults! Putting them on is a little different from regular Band-Aids, but you'll quickly figure it out. And once you do, you'll come to realize that they are very different from the Band-Aids of your youth: they actually stay on in the shower, don't peel at the edges, and don't leave a messy residue when removed.
SEE ALL THE BEST KIDS BAND-AIDS >>
---
#1 Best Baby Lotion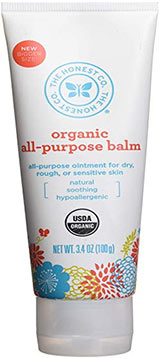 Once you start bathing your baby, you'll realize that he or she will have a little drier skin, sensitive skin, and maybe even some eczema or rashes. You'll need to find a baby lotion that is both sensitive and effective and has ingredients that won't make you worry about hazards associated with long-term use or a little bit of it getting into your baby's mouth or other mucous membranes. This baby balm is a super thick, super gentle, and super effective baby moisturizer that pleases even our toughest test parents! We use it on dry skin, baby rashes, eczema, diaper rash, and anything else that needs a little soothing moisture. A little pricier than most other baby lotions, but a little really goes a long way! And we love the Honest Company for its organic products and solid business philosophy, and the fact that it was founded by Jessica Alba doesn't hurt!
SEE ALL THE BEST BABY LOTIONS >>
---
#1 Best Baby Laundry Detergent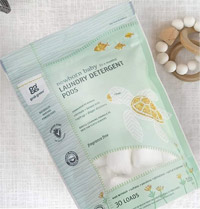 Finding the perfect sensitive laundry detergent for your little ones is truly challenging. You want it to be super sensitive and contain no harsh chemicals, but you also want it to be somewhat effective against even the worst stains. Unfortunately, sensitivity and effectiveness tend to not go hand in hand! We put 15 different sensitive baby laundry detergents through hands-on testing for sensitivity, stain-fighting, fragrance, cost, and ingredient safety. In the end, the Grab Green baby laundry detergent pods were the clear winner, with high sensitivity, excellent stain-fighting abilities, a fragrance-free version, reasonable cost, and a commendable ingredient safety profile. When testing samples of these pods in our Grab Green baby laundry detergent pads review, our clothes came out feeling softer and smelling more amazing than ever - highly recommended!
SEE ALL BEST BABY LAUNDRY DETERGENTS>>
---
#1 Best Kids Probiotics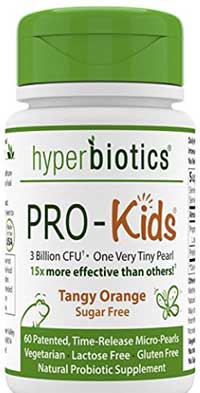 Prebiotics and probiotics are becoming increasingly popular for babies, children, and adults. And the effect of probiotics on developing brains and bodies is becoming increasingly complex, pointing at bidirectional relationships between gut health and brain health. In other words, keeping a healthy gut is important for the brain, and a stressed brain can influence the guy. These Hyperbiotics probiotics are specially made for kids using small pearls that can be easily swallowed and maintain their structure and function all the way down into the lower areas of the GI tract. That means that they will slowly release the prebiotics and probiotics when the pills have made it to the area of the stomach where they can be most useful. They are vegetarian, lactose-free, non-GMO, all-natural, and contain no nuts, sugar, soy, or artificial ingredients. So you can feel pretty good about these kids' probiotics, not to mention that they also contain a prebiotic to help with absorption.
SEE ALL THE BEST KIDS PROBIOTICS >>
---
#1 Best Baby Thermometer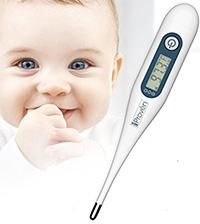 Another baby essential, but not one you'll need to keep in your diaper bag, is the baby thermometer! This essential goes in the bathroom, linen closet, or kitchen drawer (as long as you clean it well!), and gets used when you suspect your little one might have a fever. To find the best baby thermometers, we tested oral thermometers, rectal thermometers, and forehead (temporal) thermometers, putting them to the test for accuracy, reliability, ease of use, and battery life. While rectal is still the best overall method for getting your little one's temperature, we were impressed by several of the infrared options as well. In our testing, we found that this iProven baby thermometer was awesome in several regards, not the least of which is the extremely low price!
SEE ALL BEST BABY THERMOMETERS >>
---
#1 Best Sound-only Baby Monitor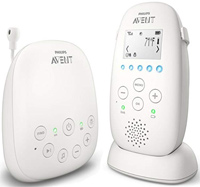 If you're more traditional or simply looking to save a little bit of money, you might be considering simpler baby gear, including an audio-only baby monitor without all the fancy digital video features. This Philips Avent DECT model has some of the clearest and most reliable baby monitor reception we've ever seen, and a ton of features to boot - including a two-way intercom, nursery temperature monitoring, remotely-controlled nightlight, lullabies, and a rechargeable battery that lasts nearly 18 hours! For about $100 it's a bit steep for an audio-only baby monitor, but we think it's well worth the cost! Check out our full reviews of several different options from VTech, Hello Baby, Hatch, and Hello Baby!
SEE ALL AUDIO BABY MONITORS >>
---
#1 Best Teething Toy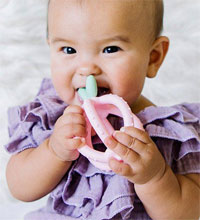 We reviewed over 20 different teething toys, including necklaces, bracelets, stuffies, icy gel packs, and teething mittens, and this one came out on top! Itzy Ritzy sells a full line of teething toys, and we specifically fell in love with the teething rings and teething mitts. The rings provide an adorable and versatile teether with high sensory input from textured silicone surfaces. Even better, they can be refrigerated for an extra-soothing experience! The teether mitts are similarly cute and functional and are perfect for infants who have a tendency to self-soothe by putting their hands in their mouths. Highly recommended for babies about 2-3 months and up!
SEE ALL THE BEST TEETHING TOYS >>
---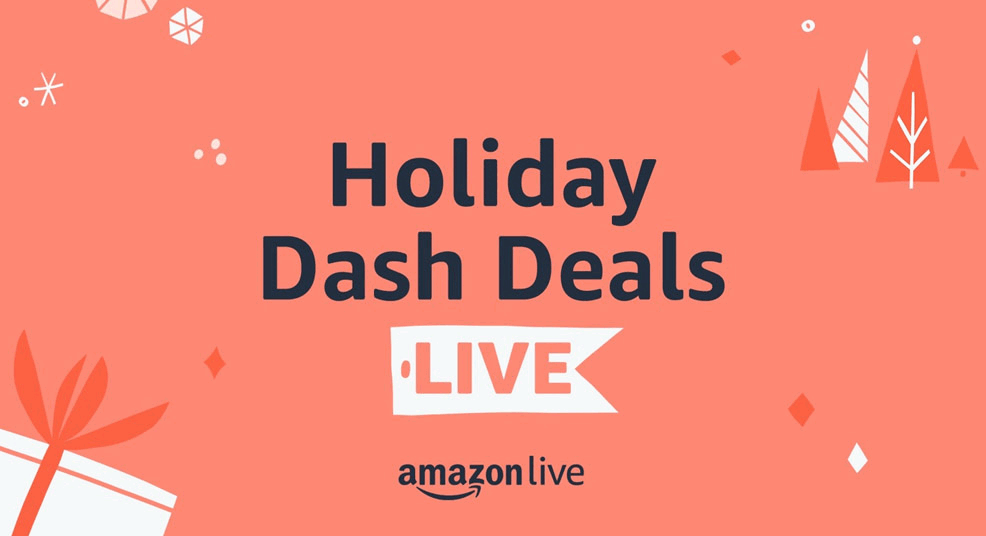 #1 Best Baby Toothbrush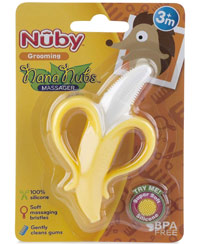 This is a fun, effective, safe, and durable first toothbrush that passed our tests with flying colors! We loved the wrap-around silicone bristles, the bright and fun colors and shapes, the grips for little hands, and the wide handles to prevent the toothbrush from going too deep into the mouth. It's small, inexpensive, BPA-free, and very effective as both a gum brush for babies who are starting teething and the first toothbrush for babies who are first cutting their gums. Doubling as a teether, this is an awesome and versatile first toothbrush that won't break the bank! Be sure to check out all of our reviews of baby and toddler toothbrushes.
SEE ALL BEST BABY TOOTHBRUSHES >>
---
#1 Best Baby Toothpaste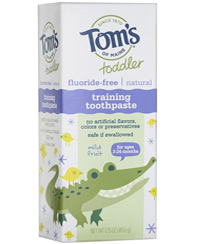 While the AAP recommends using baby toothpaste containing fluoride starting when the teeth start to first break through the gums, many parents and pediatricians are hesitant to use fluoride toothpaste at such a young age. So we review both toothpaste options, with fluoride and fluoride-free. This particular fluoride-free option was truly awesome, and our test babies loved its mild flavor and texture. With all-natural ingredients and the solid reputation of Tom's of Maine, this toothpaste stood out as a great first toothpaste option! Not only was the taste nice and mild, and therefore more acceptable for picky babies, it was also surprisingly effective at cleaning. The price is relatively high, but still towards the lower end per ounce in comparison to other options on our list. Overall, it's an awesome first baby toothpaste! Be sure to check out our fluoride options as well.
SEE ALL BEST BABY TOOTHPASTES >>
---
#1 Best Baby Swing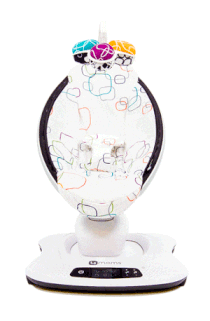 The baby swing provides a comfortable place to soothe and entertain your little one with a smooth repetitive motion that helps relax and calm a fussy baby. The 4Moms MamaRoo is definitely the coolest-looking baby swing on our list, and maybe even the most capable, comfortable, and fun! The original mamaRoo swing was released back in 2012, and we've been reviewing updates to it ever since. The current model, the mamaRoo 4 is the best yet, with superior versatility, comfort, and reliability. The most unique aspect of the mamaRoo is that it was the first swing or glide soother designed to mimic mom's natural soothing motions. Just like you bounce up and down and sway side to side when you're holding your baby, so does the mamaRoo! Amazing, and highly recommended! Check out our full reviews of additional options from Fisher Price, Graco, 4Moms, and more!
SEE ALL THE BEST BABY SWINGS >>
---
#1 Best Baby Playmat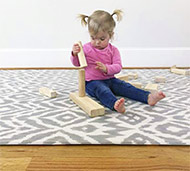 This roll-up style foam play mat is awesome! Wander and Roam has really raised the bar for baby playmats, making this stylish, non-toxic, super soft and thick, and fun mat without including any of the nasty chemicals found in some options. We loved how there is no off-gassing out of the package, that it's not only non-toxic and free of lead, latex, phthalates, and formaldehyde but also not made with PVC foam. We also love the fact that it's made by a woman-owned small business that truly cares about its products and customers. Just as importantly, we found the Wander and Roam play mats to be super soft, plush, durable, waterproof, and great-looking! Check out our reviews of several different play mat options, including those from Weegiggles, Berry Lane, Skip Hop, Baby Care, and Hape!
SEE ALL THE BEST BABY PLAY MATS >>
---
#1 Best Baby Sound Machine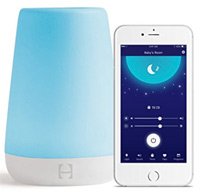 This is an awesome baby sound machine that syncs with an app on your smartphone to play white noise, nature sounds, and lullabies. It has adjustable volume, adjustable brightness night light, and can be set to act as a time-to-wake sleep trainer. That means that at a certain time (like 7 am) it can slowly turn on a preset light color to train your toddler when it's late enough to wake up. In our testing, we found it to be cute, reliable, versatile, and easy and intuitive to use. You really can't go wrong with this awesome baby sound machine!
SEE ALL BABY SOUND MACHINES >>
---
#1 Best Exersaucer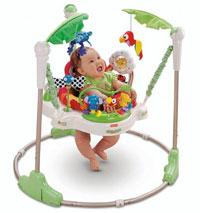 The exersaucer is a fantastic way to keep your baby entertained and safe while you do work, cook, clean, or take a much-deserved break! The Fisher-Price exersaucers are some of the best ones out there, and the rainforest jumperoo is the best we've tested (be sure to read our full Jumperoo review!). This best-selling activity center provides hours of jumping fun and exercise, with some awesome (Skip Hop style) toys that can join in on the wild jumping party! There are lights and sounds that you can adjust, and the height is adjustable as well.
SEE ALL THE BEST EXERSAUCERS >>
---
#1 Best Baby Bouncer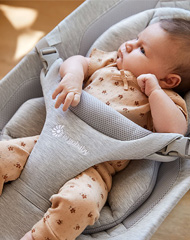 ErgoBaby is best known for its high-quality and top-rated baby carriers and has recently expanded its line up to include baby bouncers and high chairs. And we're happy they did because they made the best baby bouncer on the market! The new ErgoBaby Evolve has an adjustable recline, a removable infant insert, a three-point harness, a high 28-pound weight limit, and a lay-flat storage mode. While it looks a lot like the BabyBjorn Balance bouncer, it has some features that make it stand out. These include an infant positioning pillow, a removable harness, and more! Read more about what makes this the best baby bouncer of the year in our full round-up article!
SEE ALL THE BEST BOUNCER SEATS >>
---
#1 Best Baby Swaddle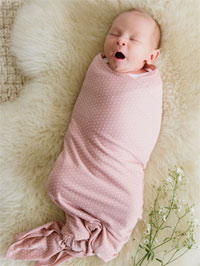 Another baby essential that makes an excellent baby registry gift and is an important part of any baby gear arsenal, is the swaddling blanket. Solly has been doing swaddling blankets for a long time and doing it consistently and with high quality. These beautiful Lenzing modal (a sustainable Austrian fabric derived from beech tree pulp) swaddling blankets are super high quality, amazingly soft, adorable, and perfectly sized for swaddling newborns and infants up to about 2-4 months of age. Not only are these super soft out of the box, they only get softer as they age and are washed! Check out our full reviews of several additional options HALO, Miracle Blanket, Woombie, and Summer Infant!
SEE ALL THE BEST SWADDLERS >>
---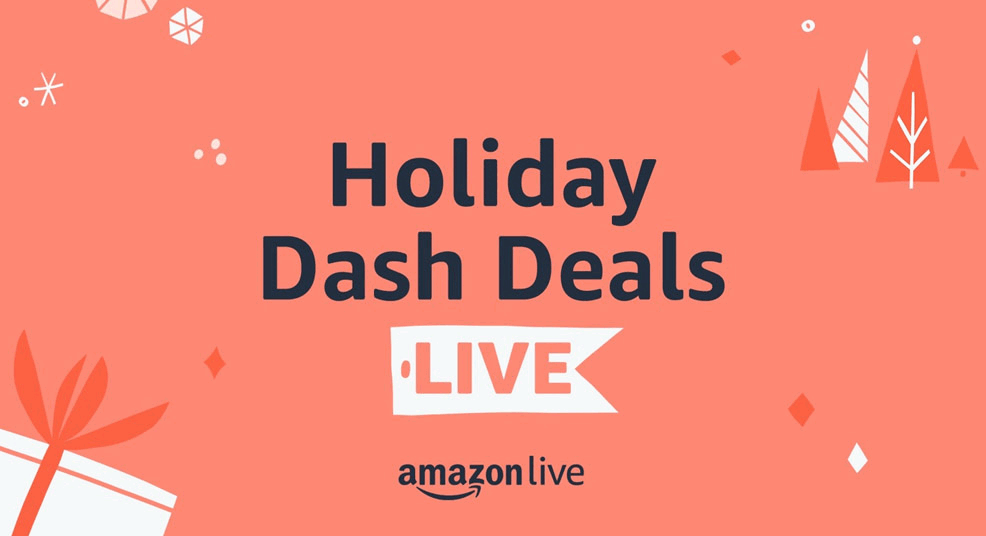 #1 Best Baby Book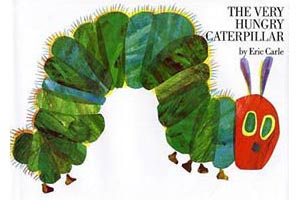 Parents and kids have very strong opinions about baby books, but there's really nothing to dislike about this top-rated board book! Eric Carle fascinates babies and parents with a simple visual and verbal experience that teaches about fruits and vegetables, delicious desserts, counting, days of the week, and the growth from a caterpillar to a beautiful butterfly. It also teaches you to slow down and avoid a belly ache when you're too hungry! With its basic colors and interactive pages, this is the best board book for babies. Check out our full list of over 50 of the best baby books!
SEE ALL THE BEST BABY BOOKS >>
---
#1 Best Bilingual Baby Book: English-Spanish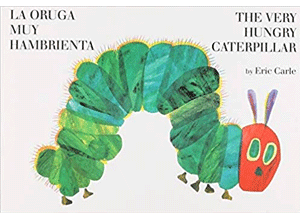 We read over 50 bilingual children's books to find the best bilingual English-Spanish books for babies, toddlers, and big kids! If you haven't figured it out already, we really love the Very Hungry Caterpillar, and this Spanish adaptation of the popular baby book is awesome - not only does it showcase the vivid colors and amazing story, but it figures out clever ways to keep the story and rhymes intact in the Spanish version. Watch as La Oruga Muy Hambrienta feasts on fruits, veggies, and deserts, and practice counting, colors, days of the week, and natural concepts, all while practicing Spanish and English associations!
SEE ALL THE BEST BILINGUAL BABY BOOKS >>
---
#1 Best Play Kitchen
The Hape play kitchen is our favorite overall for the year, and there are so many things we love about it! First, it's made by Hape, which is one of the best overall toy companies with responsible business practices, high-quality wood products and paints, and an eye for style and function. This wooden play kitchen is made of premium quality wood (not particle board), and every part feels like it was made with care and precision. Second, it's a super simple and high-quality design that doesn't take up a huge space in your home, is very well-made, and will last your family for many years. Overall, it's perfect! Check out our reviews to see how the Hape compares to other options from KidCraft, Step2, Melissa & Doug, and more!
SEE ALL THE BEST PLAY KITCHENS >>
---
#1 Best Baby Walker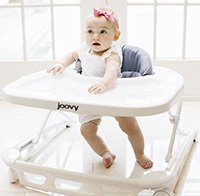 Baby walkers have been popular for several decades, as a fun way to get your baby moving around the house while also contained within a seat that is surrounded by favorite toys and other baby gear. Baby walker safety has come a long way, and they are now safer than ever, with lower rail guards to decrease the risk of rolling over an edge, and a wide radius around your baby to keep them from reaching up onto counters and other dangerous areas. The Joovy Spoon Baby Walker performed really well in this regard and was also very well-constructed, and super versatile.
SEE ALL THE BEST BABY WALKERS >>
---
#1 Best Toddler Trampoline
Toddlers and big kids have seemingly unlimited energy, and parents are constantly looking to find safe and rewarding ways for kids to get out their energy. The kid trampoline is an excellent and fun way to do exactly that. Not only is it great for training balance and coordination, but it's also long-lasting fun that will wear out even the most energetic child! The Original Toy Company trampoline is the best toddler and big-kid trampoline we've tested, competing with the Bazoongi for this top spot. It's a perfect size, folds up for storage, uses durable metal springs that don't break as often as the bungee springs, and has the perfect amount of springiness for little kids.
SEE ALL BEST KIDS TRAMPOLINES >>
---
#1 Best Infant Sensory Toy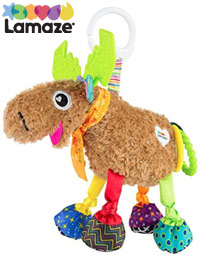 A good set of sensory toys will stimulate your baby's senses while keeping them occupied and entertained, providing auditory input (like the sound of a rattle), tactile input (feeling different textures and shapes), visual input (high contrast colors and unique shapes), and oral input (like a good teething toy) . Mortimer the Moose is an expert at all of that! With his soft fluffy body, crinkly feet, high contrast and colorful body parts, teether toy tail and ears, and a convenient hanging ring, this sensory toy will find a special place in your baby's heart! With bright colors, high contrasts, rough and soft textures, and a smile that lights up the room, Mortimer is ready to help soothe your baby!
SEE ALL THE BEST SENSORY TOYS >>
---
#1 Best Toddler Sensory Toy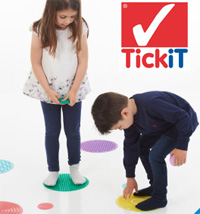 This is another amazing sensory toy brought to you by TickiT, one of the most popular brands in the sensory product market! When your little one learns how to walk and is seeking a unique whole-body sensory experience, these silicone sensory circle pods will provide hours of fun! Each circle has a unique texture to provide tactile input on the bottoms of your toddler's feet. Use them on the floor, in a high chair seat, on the table and counter, and invite some friends to make for fun social activities like hopscotch or Twister! Reasonably priced and super durable, these are an awesome addition to any sensory toolkit!
SEE ALL THE BEST SENSORY TOYS >>
---
#1 Best Learning Toy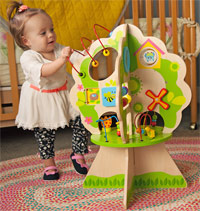 Once your baby can sit, pull-up to stand, or walk, they will be ready to experience this amazing Fat Brain Forest Discovery Tree! This amazing learning toy helps your child build perceptual and fine motor skills, learn to recognize colors, match patterns, identify cause and effect relationships, and learn about object permanence. Basically, it will help them along with all of their cognitive milestones! The Forest Discovery Tree has swirly loops, sliding colored beads, fruits and animals that scoot along through wooden grooves, and a mirror so they can look at their beautiful self! Check out our full list of educational toys for infants and toddlers!
SEE ALL THE BEST LEARNING TOYS >>
---
#1 Best Pacifier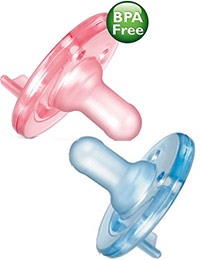 When over 1000 hospitals hand out this pacifier to parents of newborns every single day, you know either the company has struck a great deal with the hospitals, or it's a truly excellent newborn pacifier! In this case, we believe it's both! This newborn pacifier uses a non-orthodontic shape that is a great match to a mom's nipple and is designed to prevent nipple confusion when switching from breastfeeding to pacifier. It uses a one-piece construction made of 100% silicone that is BPA and BPS-free. We love it because babies love it, and it doesn't interfere with breastfeeding as an orthodontic pacifier can. Not only are these highly effective and super simple, but with the excellent price point you can probably even afford to lose a few!
SEE ALL THE BEST INFANT PACIFIERS >>
---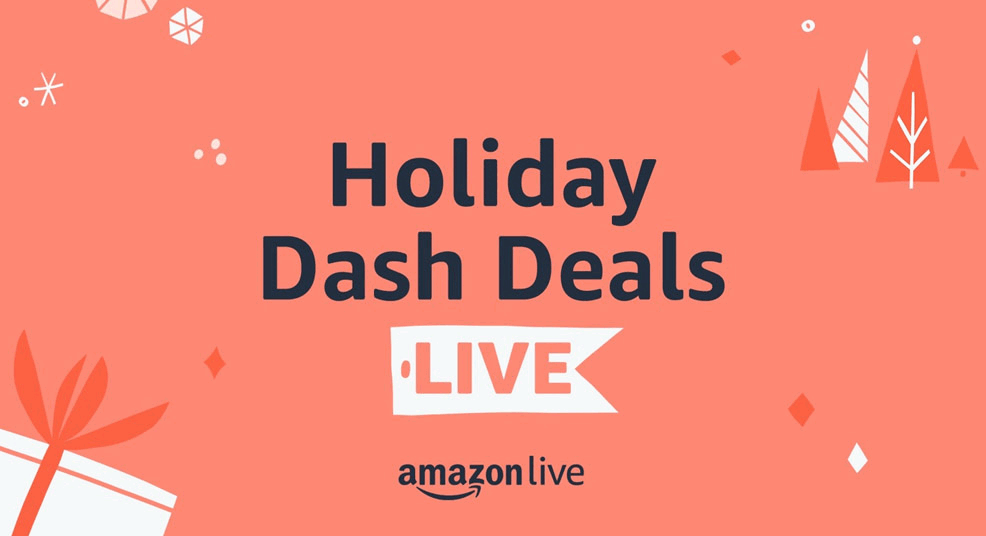 #1 Best Stroller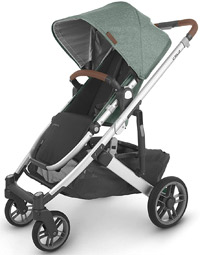 UppaBaby makes some of the best-looking and best-performing strollers on the market, including the popular UppaBaby Vista and UppaBaby Cruz. The main difference between the two is that the Vista is typically sold as part of a travel system including the UppaBaby Mesa car seat and detachable infant bassinet, and can be converted to a double stroller in a ton of different configurations (infant and toddler, two toddlers, etc). But it's also a very expensive (like $1300) system! The UppaBaby Cruz is Vista's younger brother and is sold as just the stroller itself, with any bassinet attachment being sold separately. This saves on cost tremendously while offering basically all of the features of the Vista other than the multi-child capability. Features include a reversible toddler seat, attachable bassinet, suspension, telescoping handlebar, a huge canopy and storage basket, true one-handed folding, no-flat tires, and maneuverability that is second to none. It's stylish, very well-built and durable, and we absolutely love it!
SEE ALL THE BEST STROLLERS >>
---
#1 Best Double Stroller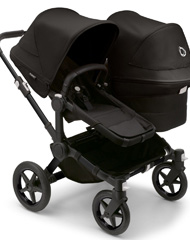 Whether you have twins or just two children very close in age, the double stroller is an essential piece of baby gear to keep parents sane and kids from becoming tired and grumpy on longer treks. The Bugaboo Donkey 5 Mono + Duo stroller is really the cream-of-the-crop double stroller, with everything you would possibly want, including style, features, reliability, safety, and surprisingly good folding that can allow it to fit into the trunk of a midsize car. This double stroller has a smooth ride, good dimensions for fitting through doors and hallways, and surprisingly reasonable weight given its capabilities. Check out our full reviews of additional options from Baby Jogger, Bugaboo, UPPAbaby, Joovy, and more!
SEE ALL BEST DOUBLE STROLLERS >>
---
#1 Best Jogging Stroller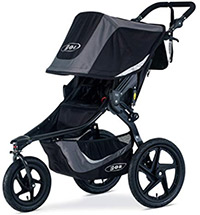 The BOB Revolution jogging stroller is at the top of two of our lists - the best double stroller and the best jogging stroller. And it's an outstanding performer in both of those cases. We loved so many things about this jogging stroller, which has become an essential piece of baby gear for parents looking to keep fit and enjoy the outdoors with their babies. It has premium feel fabrics, amazing versatility and adjustability, suspension for a smooth ride, a super comfortable seat, a good storage bin, real rubber tires, a large sun canopy, a great hand brake, and a safe stable ride that feels luxurious.
SEE ALL BEST JOGGING STROLLERS >>
---
#1 Best Travel Stroller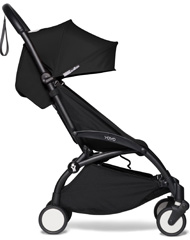 Sick of lugging around a 30+ pound stroller, folding and unfolding it, heaving it into the back of your car, and dreading trips up or down the stairs? Well, a lightweight travel stroller might be the perfect solution! Whether you travel a lot, need to up or down stairs a lot, need to pull the stroller in and out of the trunk all the time, or simply want a highly maneuverable and lightweight stroller, the Babyzen YOYO2 is an amazing do-it-all stroller that tops our list! The Babyzen YOYO2 stroller is high quality, lightweight, and has a ton of awesome features including multiple adjustments, a huge sun canopy, a large storage bin, and a peek-a-boo window. And it can fold down into one of the most compact packages we've ever seen!
SEE ALL TRAVEL STROLLERS >>
---
#1 Best Luxury Stroller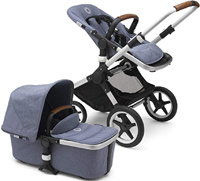 Bugaboo makes a wide range of luxury strollers, with the super fancy Bugaboo Donkey coming in at about $1600, and this amazing Bugaboo Fox coming in at about $1300. This high-end stroller exudes luxury and style with its brushed aluminum and wood trim, high-quality fabrics, and detachable bassinet. This amazing stroller supports newborn babies in the bassinet and then supports kids up to 50 pounds in the stroller seat. At only 21 pounds, that's some excellent versatility, not to mention all the great features such as a huge storage basket, super compact fold, and an unparalleled steering system that provides amazing maneuverability. This stroller is the most luxurious and high-quality we've tested in many years, and we're happy to feature it at the top of our list!
SEE ALL BEST LUXURY STROLLERS >>
---
#1 Best All-Terrain Stroller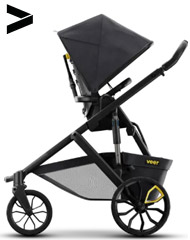 Veer is relatively new to the baby gear market, and they are making a huge splash with their highly versatile, durable, high-quality, and off-road-worthy products. Veer sells all of their products separately: the seat, bassinet, stroller frames, bicycle adapter, and more. This particular combination includes the Switchback toddler seat and the &Roll stroller frame, making for a winning combination that is high quality, durable, and feature-rich. In our testing, the Veer performed outstandingly well on both smooth surfaces and rugged terrain including gravel and dirt trails, in sand and snow, and on a big trip to Acadia National Park. In all cases, we were impressed with the child- and parent-centric features, the beefy suspension, high versatility and adjustability, the smooth ride, high maneuverability, and the comfortable seating. It's expensive, but we think it's worth every penny, and we're happy to feature it at the top of our list!
SEE ALL BEST ALL-TERRAIN STROLLERS >>
---
#1 Best Travel System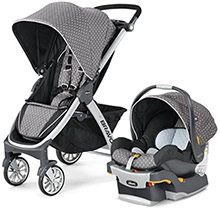 Chicco makes some of the best overall infant car seats and strollers, and when you combine them you make for one truly fantastic baby travel system. The Chicco Keyfit 30 and 35 car seats combine perfectly with the Chicco Bravo stroller, the flagship Chicco stroller with excellent features, ride quality, and bang for the buck. When you consider the comfort, features, versatility, and safety of this stroller and car seat combo, you'll realize why Chicco is consistently topping our charts as best-in-class for baby gear. Check out our extensive list of the best travel systems, including options from Britax, UPPAbaby, Doona, Baby Jogger, Maxi-Cosi, and more!
SEE ALL THE BEST TRAVEL SYSTEMS >>
---
#1 Best Kids Face Masks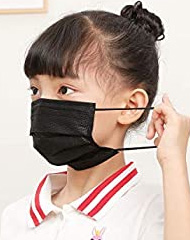 You may not have heard of DIOLV before, and it might sound like an odd name, but trust us when we say their disposable kids' face masks are amazing! These masks are perfect for smaller kids' faces (and some small adult faces!), using a surgical style 3-ply construction with non-woven outer and inner layers and a melt-blown filtering liner. They are comfortable, fit a wide range of small faces, and are very reasonably priced. The only downside is they are disposable and generate a lot of waste; we think it's worth the convenience, especially knowing that surgical masks outperform cloth masks. Check out our reviews of several different options.
SEE ALL THE BEST KIDS FACE MASKS >>
---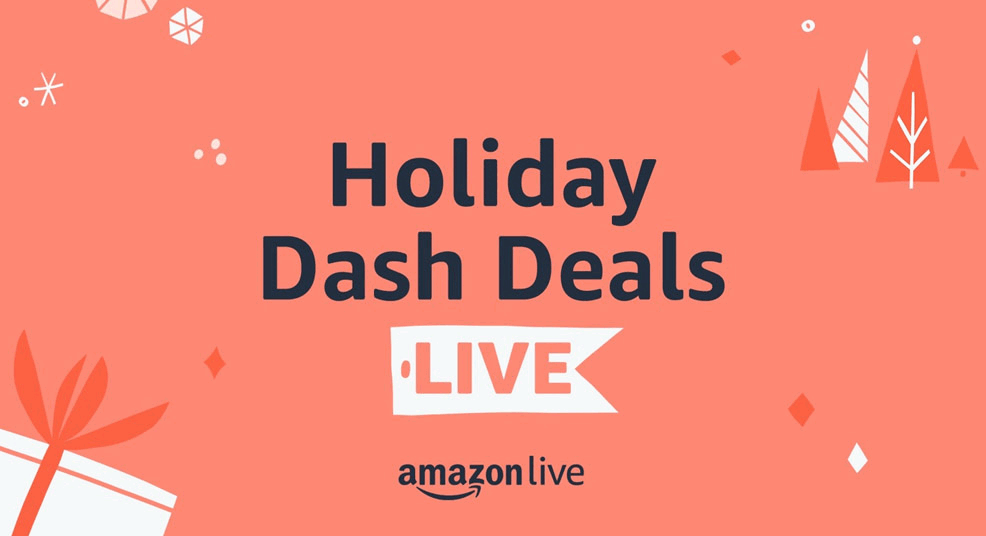 #1 Best Baby and Toddler Sunscreen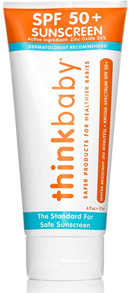 Sensitive sunscreen is a must-have baby essential that needs to be included in any diaper bag full of baby gear! It's super important, especially at a young age, to minimize exposure to the sun's harmful rays, reduce the risk of painful sunburns, and reduce the odds of developing excessive wrinkles and melanoma at an older age. ThinkBaby makes the perfect baby and kid sunscreen, using only relatively low-risk pigment Zinc Oxide (20%) to provide the highest possible (50+) SPF protection. The ingredients are all safe and sensitive, excluding colors and fragrances, parabens, and other bad stuff! In our tests, our children had no adverse rashes or other reactions, it stayed on very well in the pool or ocean, and we got absolutely no complaints about stinging in the eyes or sunburns. A bit harder to rub in than the cheap chemical-based sunscreens, and quite a bit more expensive, but worth it!
SEE ALL THE BEST KIDS SUNSCREENS >>
---
#1 Best Kids Kick Scooter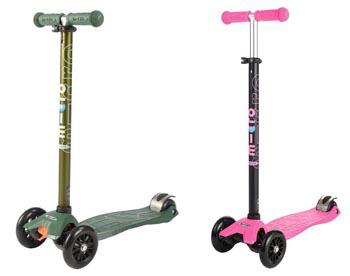 The kick scooter becomes popular around 3 years of age, and the three-wheeled scooters are the best way to train the balance and coordination necessary to start, turn, and stop a riding toy. The Micro Maxi series is absolutely fantastic, reliable, durable, versatile for many ages and weights, and has great stopping power. The weight limit is all the way up at 110 pounds, making it surprisingly strong for such a lightweight and nimble scooter.
SEE ALL THE BEST KIDS SCOOTERS >>
---
#1 Best Power-Wheels Toy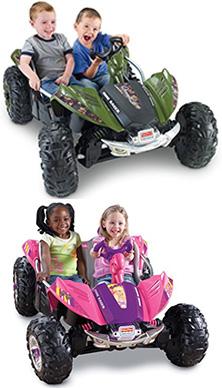 The best power wheels can be super fun while maintaining safety, reliability, and maneuverability. In our buying guide, we found several excellent power wheels options that will make great ride-on electric toys for kids ranging in age from about 3 to 10, including two-seater ATV-style dune racers, adorable tractors, and rugged-looking Jeeps. We realized some key features of this Dune Racer option that made it stand out from the crowd: good traction on the tires to decrease slipping, a low center of gravity to decrease tipping, and the ability to support up to 130 pounds, including a driver and passenger. The seats were reasonably comfortable and well-positioned, the steering and pedals were easy to reach, and it went fast enough for a thrill but not so fast that parents were panicking (there are two speeds and a parent lock-out). We found it in pink, camouflage, green hunting style, Batman, and more.
SEE ALL THE BEST POWER WHEELS >>
---
#1 Best Mosquito Repellent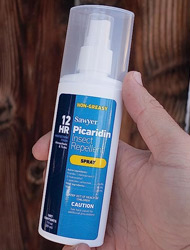 Your diaper bag needs some safe mosquito repellent if you're going to venture into the woods this summer. Fortunately, mosquito and insect repellents have come a long way, no longer using DEET, and incorporating innovative and effective ingredients that do a great job repelling mosquitoes and ticks without feeling greasy and possibly having negative health effects. This Sawyer insect repellent uses Picaridin, a new weapon in the arsenal against mosquitoes and ticks. Very similar to IR3535, it lasts for up to 8 hours after the first application. In our testing, it worked really well without having too strong of an odor, and no greasy feel on the hands or body, and we felt confident in its ability to protect against pesky bites and even more dangerous mosquito-borne illnesses like Zika. While there are a ton of sprays, lotions, stickers, and other contraptions available, we think this is the best option for little ones.
SEE ALL THE BEST BUG REPELLENTS >>
---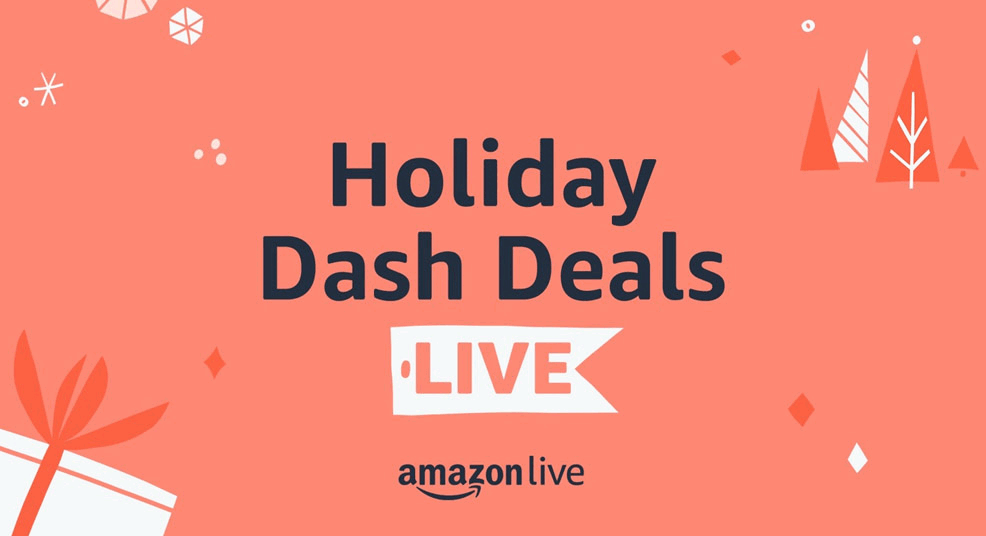 #1 Best Toddler and Kids Bike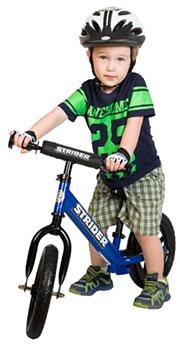 Once spring comes along, your child will want to get out and explore the world, whether on a scooter, bicycle or by foot. Before they've learned how to ride a bicycle, and starting as young as around 2 years old, they can start to learn some of the basic bike riding skills by practicing on one of the Strider balance bikes. These are one of the best inventions out there: the concept is that they are easy to ride and learn, allowing kids to keep their feet on or close to the ground at all times for balance and braking, and get the hang of balancing a two-wheeled bike. Then, when they're old enough to graduate to a bike with pedals and brakes, they will be able to transition to a big-kid bike with relative ease. That makes learning to ride a bike so much easier for both kids and parents, and pediatricians and physical therapists suggest skipping training wheels altogether, so these bikes are the perfect option before putting your kid onto a pedal bike without training wheels.
SEE ALL THE BEST KIDS BIKES >>
---
#1 Best Outdoor toy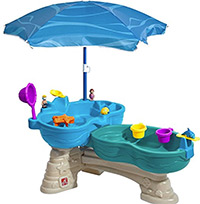 Looking for a way to keep your toddler or preschooler entertained outdoors while stimulating their senses, having fun, and not breaking the bank? Us too! A water table provides tons of fun and versatility almost year-round! Fill it up with water, sand, water beads, or anything else, and watch your child play! Filling and dumping cups, squirting water with toys, and entertaining themselves and their friends for hours! This Step2 water table is one of the best, with its large capacity (5 gallons), fun squirt toys and fish catapult, and a sun-shielding canopy. Check out our full reviews of over a dozen different great outdoor toys for toddlers and preschoolers.
SEE ALL THE BEST OUTDOOR TOYS >>
---
Notes and Conclusions
Our list of best baby products is perfect for finding great baby gift ideas for girls, baby gifts for boys, filling out your baby registry checklist, or finding perfect baby shower gift for a new baby! All of the products on this list are top-rated and passed our hands-on tests with flying colors, made by some of the best baby gear brands like Graco, Summer Infant, HALO, Britax, Fisher Price, Gerber, Baby Jogger, First Years, Medela and Munchkin. You really can't go wrong with any of those brands, and many of the products we've identified are also reasonably priced for online shopping or in-store so you won't need to max out your credit cards! Some great baby shower gift ideas are to buy a baby bathtub or a signature diaper bag and fill it up with smaller baby essentials, like lotions, creams, bath toys, diapers, diaper cream, and other personal care products, onesies, or nursing pillows. That should run you under about $100 and make the gift not only large and nice looking but also super useful for new parents!
Looking for resources for planning a baby and plotting your baby's development? Check out our pregnancy guides and parenting resources!
---
Here is our Complete List of Baby Product Reviews: