The Best Baby Cribs of 2022
Between overnight sleeping and daytime naps, your child will be spending thousands of hours in their crib, making the crib and crib mattress two of the most important nursery investments you'll make.
When we review a crib, we test them for quality, features, safety, and longevity. Style is a personal preference, so we try to capture a broad range of styles, from classic to mid-century and modern. Below are the top 5 best cribs of the year, followed by in-depth reviews of several additional options.
While a beautiful nursery is important, you want to prioritize more than just style and good-looks! The perfect crib will also be safe, sturdy, high quality, and versatile. For versatility, a convertible crib is key, not only letting you adjust mattress heights to accommodate newborns, infants and toddlers, but also transitioning to a toddler bed and beyond.
The Nestig models, like the Cloud crib (pictured below in our testing), have some of the best versatility on the market!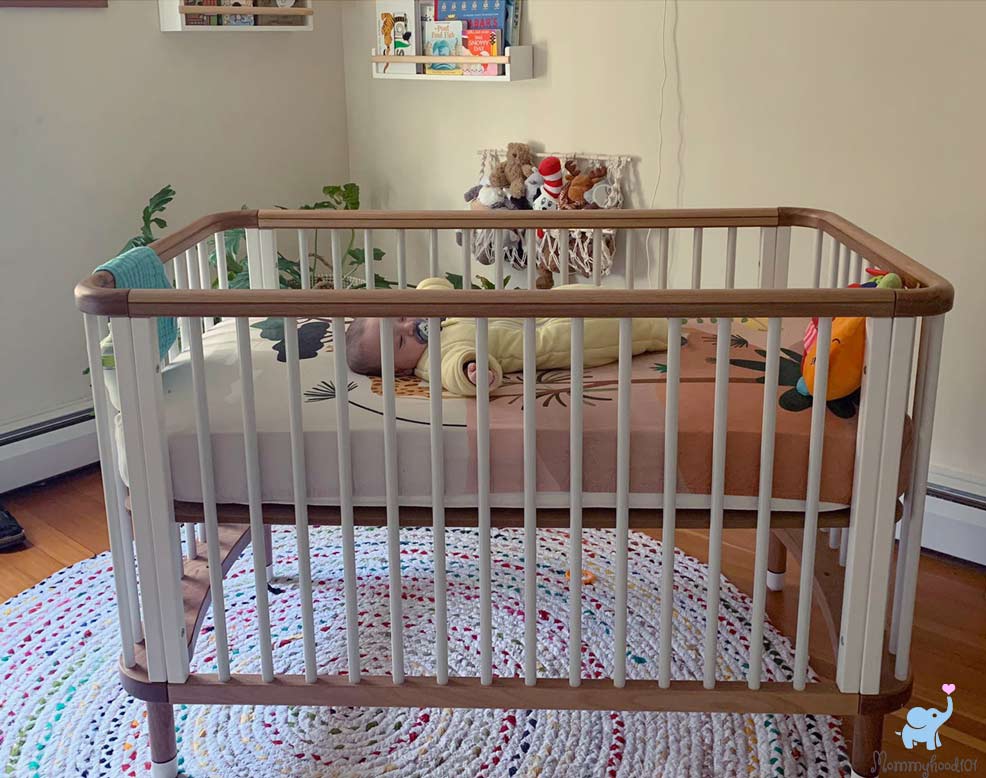 Finding the perfect crib can be tough, especially with hundreds of different convertible cribs available on the market! You want it to be cute and match the style of the nursery furniture (like the nursery glider), conform with all current safety standards, be versatile and transition easily to a toddler bed, and be easy to assemble, well-built, and affordable. For details about how we evaluated each of these factors, see the bottom of this article and check out our full crib buying guide.
Full disclosure: Some of these cribs, including the Nestig, Stork Craft, and Ikea models, were sent to us as free test samples by the manufacturer.
Here are the Best Cribs of 2022!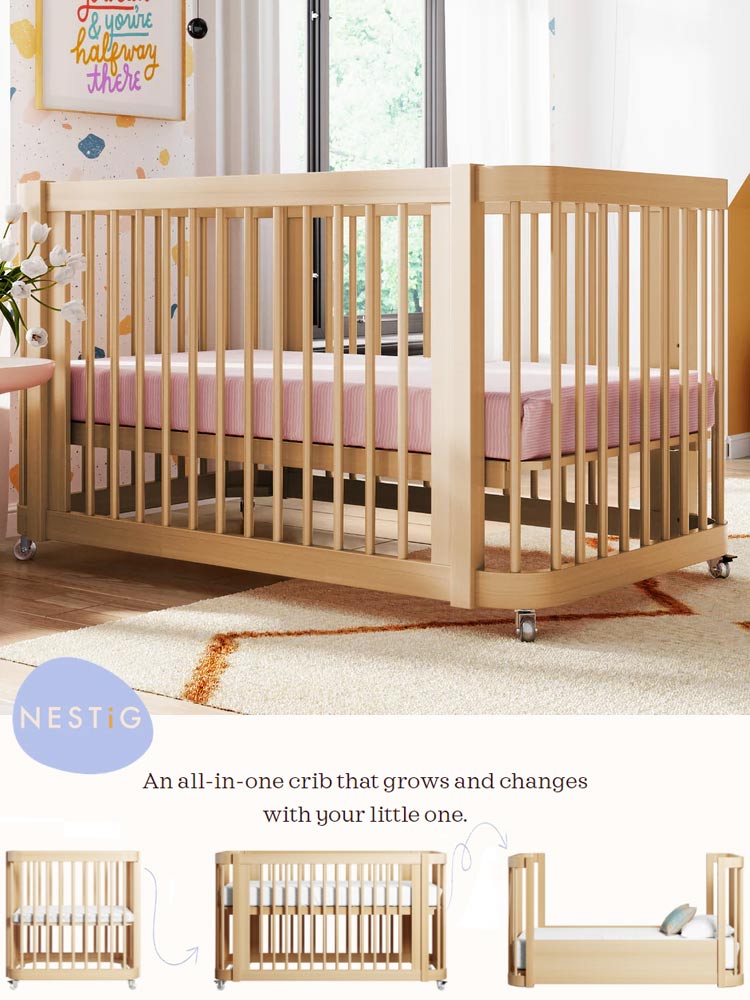 Sustainably-sourced natural Brazilian pine meets a beautiful flowing modern style in the unmistakable Nestig Wave! Handmade in Brazil in small batches, the Wave is not just about style and sustainability, it's also got serious substance: it converts all the way from a mini crib, to a full-size crib, to a toddler bed without purchasing any extra parts! It's also JPMA certified, free of lead, phthalates, and toxic finishes, and is produced by an American-owned small business. Clearly the Nestig Wave has a lot going for it in terms of style, sustainability, safety, and substance! To test how it performs, we got our hands on the Nestig Wave late last year (thanks for the sample, Nestig!), and were blown away by its easy assembly, beauty, sturdiness, versatility, and overall quality.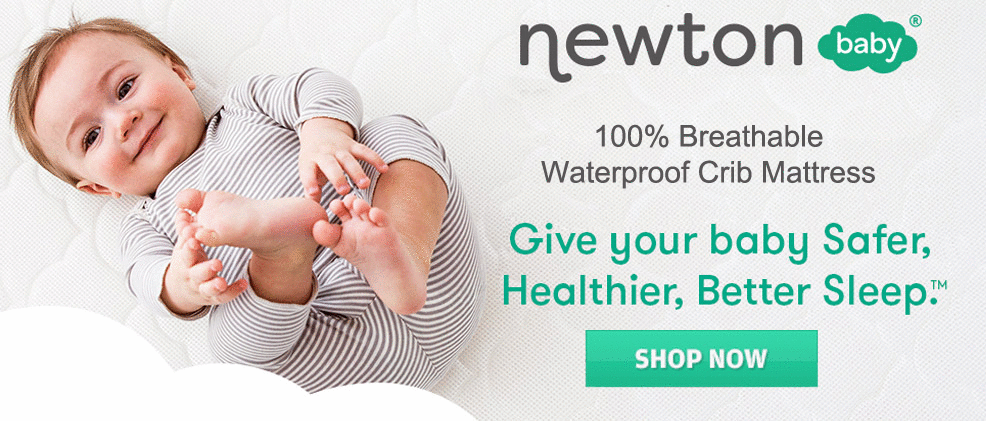 Like its name, the Nestig Wave arrives in waves: in our case, first the included mini crib mattress arrived, then two additional boxes arrived. One box housed the mini crib parts, and the other box included the conversion parts; this makes it easy to store the extensions until you need them. Assembling the mini crib took about 25 minutes and is even faster if you have a handheld drill driver with Allen attachments. Once assembled, the mini crib is not only beautiful and stylish, it can also be easily wheeled between rooms (with its locking and removable wheels) and fits through interior doorways without any hassle. The mini crib includes a custom-size mini crib mattress (the Burt's Bees bassinet sheets fit very nicely), which ends up sitting about 17" up off the floor. It's comfortable, easy to move around in the home, has great airflow, and the mattress is comfortable while staying nice and firm for infant safety. When converting to the full-size crib, the Wave grows in stature and robustness, offering three mattress heights (about 5", 11", and 16" off the floor) and expanding to fit any standard size crib mattress (we suggest the Newton crib mattress!). In our testing, we kept the locking wheels on the full-size crib to make it easier to vacuum underneath and rescue the errant lovie or pacifier. Everything felt very sturdy and well constructed on the full-size crib, with the pieces fitting nicely together, no creaking or squeaking when baby starts to roll (or jump), and the mattress fit very nicely with less than a 1cm gap around the perimeter. The Nestig is suitable for children up to about 35" tall or until they begin to climb, whichever comes first. After that point, you can transition it to the toddler bed using the included solid wood extensions. The toddler bed remains the same size and continues to use the crib mattress, but gets rid of the sides to allow your (newly independent!) child to climb in and out as they please. We can't say enough about how beautiful and impressive the Nestig Wave is! Is it expensive? Yes, it's typically $599. But when you consider that you might be able to skip a bassinet entirely, there's no separate purchasing of conversion kits, and that your child can use it from birth up to about 4-5 years old, we think it's a pretty smart investment! Impressed? You can check out the Nestig Wave here. Order this crib 3-4 weeks early, since they are custom made to order!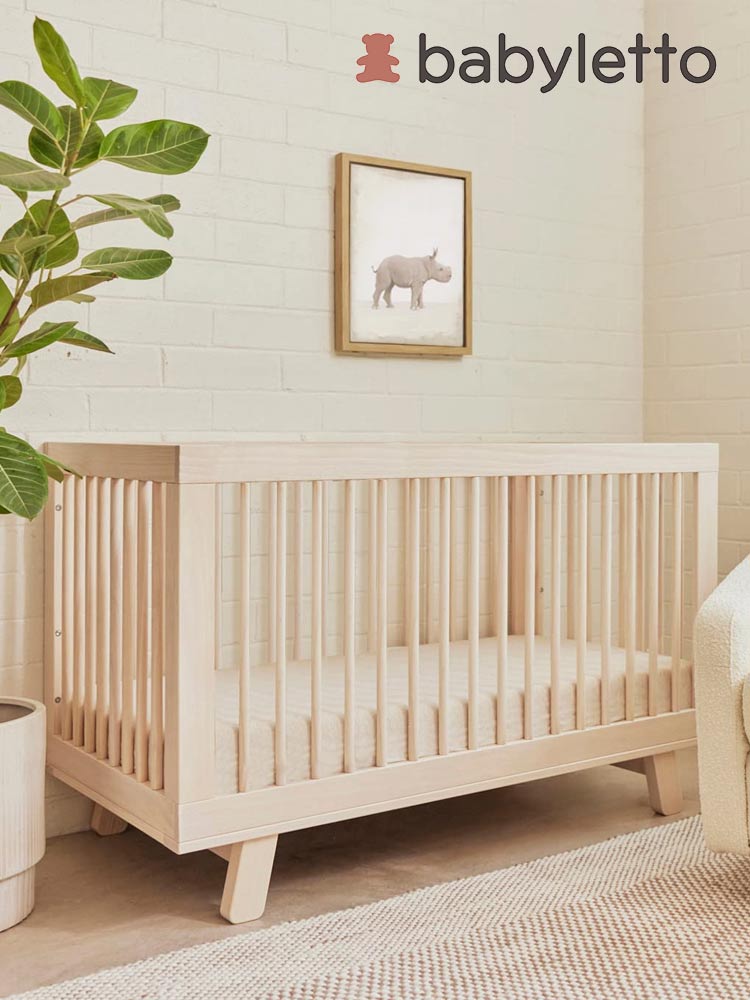 The Babyletto series has become very popular over the past 5 years, with parents seeking well-built cribs that not only look great but are easy to assemble, have great features, and don't completely break the bank. Babyletto designs are perfect for stylish parents who don't want to compromise on design or safety and are willing to pay a slight premium above a traditional crib. We first became aware of the Babyletto cribs back in 2018 when several parents emailed us asking whether we had reviewed the Hudson. Well, we got our hands on one and were not disappointed! The Hudson 3in1 convertible crib is no exception to the popularity of the Babyletto series, it's an awesome baby crib that converts from a full crib, to a toddler crib (with an included rail), to a daybed. The Hudson uses an awesome mid-century modern design with squared corners and rounded spindles, making it look sleek, simple, and modern. Out of the box, assembly took about 30 minutes, which is about normal, and the included instructions were very clear. You attach the feet, then 3 sides, then the mattress spring, and then the front side. It comes with an Allen wrench, but you will also need a Philips head (cross-head) screwdriver. There were 4 mattress heights on our unit, giving it nice versatility from newborn to toddler. The assembled crib is very sturdy and heavy, no worries about it creaking and flexing with a bouncy toddler! It has a weight limit of 50 pounds for the toddler bed, which means you'll make it until about 4-5 years old before out-growing it in weight or height.
Beyond the excellent style, quality, and functionality of this crib, there are some additional aspects to feel great about. The crib is Greenguard Gold Certified, which means it is tested to ensure it has very low chemical emissions. Made with sustainably sourced New Zealand pine, this crib is also free of lead, phthalates (e.g., BPA), over 360 other volatile organic compounds (VOCs), and over 10,000 other chemicals. It also far surpasses several CPSIA, CFR, and ASTM requirements for build quality (e.g., spindle load support), and chemical and heavy metal content. And if that's not enough to make you feel good, it also comes in several visually appealing colors, including grey (pictured), white, slate, espresso, natural pine, and some two-tone varieties. By the way, the top-rated Babyletto Pure crib mattress fits this crib perfectly. Overall, this is a truly excellent crib. The only downfalls are the price, which tends to be a bit more than most other cribs on this list, and it doesn't convert to a full-size bed. In our opinion, it's worth it for the peace of mind regarding safety and sustainable sourcing, and most parents do not use a crib's components beyond the toddler bed stage. Babyletto also makes an amazing mini crib, for those looking for something more compact and portable (and a great bassinet alternative!). Who else loves the Babyletto Hudson? Our friends at Babylist, Babygearlab, and WhatToExpect all consider it a top pick! Impressed? You can check out the Babyletto Hudson here.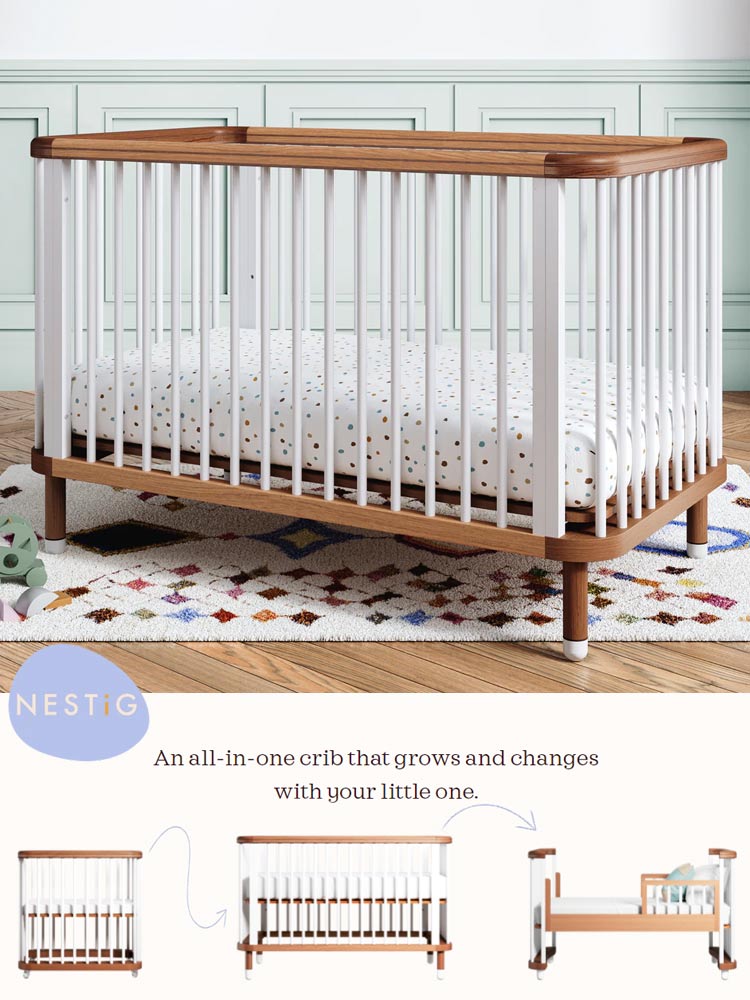 Nestig is relatively new to the crib industry and is making waves with their beautiful styles, quality craftsmanship, and unparalleled versatility. We got our hands on their new Cloud crib last year for testing (thanks, Nestig!), and were blown away by its features and capability. You can see our full review of the Nestig Cloud here. The first thing you'll notice about the Cloud crib is its beauty, style, and sophistication. As you get closer, the next thing you'll notice is the high quality craftsmanship, the beautiful real Brazilian mahogany wood, smooth steel spindles, and its smooth lines. Once you get your hands on it you'll notice the build quality, sturdiness, and versatility. The versatility of the Nestig Cloud is one of its biggest selling points: it can convert between three modes - mini crib, full size crib, and toddler bed! Not only that but all the components you need to perform those transitions are included right in the box, so there is nothing extra to purchase! Out of the box, assembly took about 15 minutes for the mini crib, which is appropriate from newborns to about 6 months of age. Nestig includes a mini crib mattress with the Cloud crib (the Burt's Bees bassinet sheets fit nicely), and offers an upgraded Lullaby Earth mattress that's a bit higher quality; not necessary, but it does add waterproofing and Greenguard GOLD certification. The mini crib is amazing, it includes rolling and lockable wheels and is perfectly sized for rolling around the nursery, between rooms, or right up against your bed. Mattress height is adjustable between three levels and we loved that the mattress platform is a beautiful wood instead of the squeaky and bouncy metal mattress supports typically found in cribs. Transitioning from mini crib to full size crib takes about 30 minutes, and the full size crib is appropriate from newborn until your child begins to climb or reaches 35" tall (whichever comes first).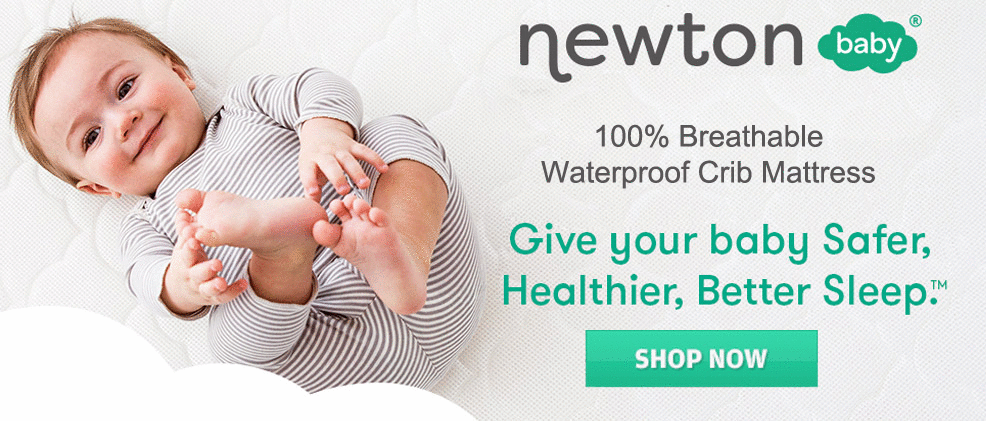 The style and overall sturdiness and build quality of the crib are excellent and we loved the unique color and form variability in the natural wood products. Built in Brazil at a family-owned workshop, the Cloud uses sustainably-sourced Brazilian mahogany hardwood that is smoothly contoured and adds a premium look and feel to the upper and lower crib. We tested it with the Newton crib mattress and Avocado crib mattress, and both fit very nicely without any gaps larger than one finger's width. The Avocado fit a bit better than the Newton, for what it's worth. Everyone who sees our nursery with the Nestig Cloud absolutely loves it and it's the first thing they ask about - where did you find it, how much did it cost, and why don't I have one!? The beautiful and airy construction helps it look sleek and compact even in a small nursery, promotes amazing airflow, and fits beautifully into any modern nursery decor. For safety, the Nestig Cloud is JPMA certified and is free of lead, phthalates, and toxic finishes. What more could you ask for!? There are only a few minor cons to point out. First, the included mattress is relatively low quality, though we do realize that it's included for free and you'll likely only use it for few months. Second, the byproduct of using natural woods that are partially hand-crafted is you'll see some natural variability in color and shape; so the wood trim might not all be identical in color, and it might not fit together like mass-produced precision-machined crib parts would. Personally, we love the natural variability in color and shape, but some parents might be bothered by it. The Nestig Cloud comes in at $599. We think this is a great deal for a premium crib like the Cloud, especially if it lets you skip purchasing an expensive bassinet. Overall, we think the Nestig Cloud is truly beautiful and discerning parents will find it the perfect addition to any modern nursery! Impressed? You can check out the Nestig Cloud here.
This high-quality convertible crib uses the popular spindle style slats, bringing back nostalgia from the cribs of yesteryear! Parents tend to either love or hate this style, so it's solely a matter of personal preference. If you like the style, you're getting an excellent 3in1 convertible crib. DaVinci has one of the most solid reputations in the crib industry for making high quality, sturdy, and versatile cribs. The Jenny Lind crib has Greenguard Certification for lead, phthalates, and chemical emissions, making parents confident that it will not have dangerous VOC emissions. Like other DaVinci cribs, the Jenny Lind is made with solid wood sourced from sustainable forests. It has also won several awards, including from BabyCenter, Baby Bargains, and National Parenting Publications, so it has a great following and reputation. For convenience, it also has a 4-level mattress height adjustment, an included toddler rail, and a medium-height profile to make things not too difficult for getting your baby in and out. For an even lower profile, you can remove the caster wheels. It comes in several color options including White, Cherry, Ebony, and adorable baby blue Lagoon and yellow Sunshine. It converts from an infant crib to a toddler bed with an included toddler rail, and then to a daybed if you remove that rail. It does not have the capability to convert to a full-size bed (thus the "3-in-1" rather than "4-in-1").
In our testing, we were impressed with how easy assembly was, taking only about 15 minutes and following a very logical sequence. All of the parts were good quality and there were no moderate or major scratches or dings to be found. There was a small scratch on the back of a front leg, but once assembled it was totally out of sight (and very small to begin with). We loved the versatility of having 4 crib mattress heights to fit a growing baby and maintain safety when your baby begins to stand (and climb!). If you like the spindle style crib, this is a great option, and the wheels made it very convenient to move around in the room (like for cleaning underneath and behind). All mattresses we tested (Newton, Avocado, and Naturepedic) fit nicely into the Jenny Lind without any gaps or too much of a squeeze. When I was growing up, my baby niece had a crib that was very similar in style to this, but with the dreaded drop-side! I remember how classic it looked in her nursery, and love how DaVinci has brought back this awesome style. Cons? Well, like we just said, it's not a 4-in-1, so that might be limiting for some parents. Who else loves the Jenny Lind crib? It's also a top pick by our friends at Babygearlab, WhatToExpect, and The Bump! Impressed? You can check out the DaVinci Jenny Lind here.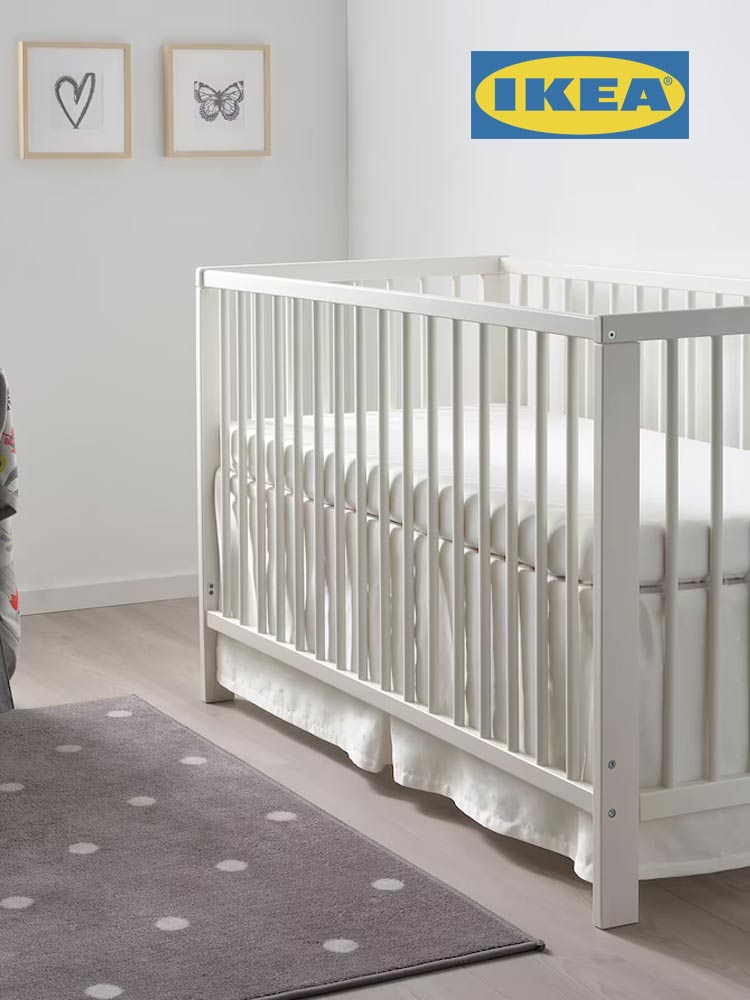 With nursery styles shifting towards more modern and simplistic furniture, Ikea's time has finally come! The Gulliver crib looks simple and sophisticated at the same time, with clean lines and thin, nicely rounded slats. Its simple looks are complemented by relatively simple functionality. Like all Ikea products, assembly is a little involved. Once completed, for the relatively low price ($99) it's a surprisingly sturdy and well-constructed crib. The entire crib is relatively compact, though it accepts a standard mattress size; the compact size allows it to squeeze through normal interior doorways without disassembly, which is convenient. Adding to its simplicity, it has only two height settings - one for infants (high up) and one for toddlers (low down). That's considerably less than most cribs, but it covers the essentials. The Gulliver is also a 2-in-1 crib, allowing you to remove the front side to convert to a daybed crib without a toddler rail. Once assembled, it's ready for your favorite crib mattress; Ikea sells an organic latex mattress, but for those worried about latex allergies, you can find a better one on our list of the best crib mattresses. We tried it with the Newton and Naturepedic, and both fit nicely. The crib was sturdy and stable, and had a very low profile that allowed us to reach in easily even when the mattress was on the lower setting. There was no off-gassing odor from the solid wood frame. We also tested the crib out in toddler daybed mode, which was an easy transition. The crib definitely became a bit less sturdy without the front panel, which probably would have been helped by a toddler rail. Cons? For the price, our standards were low. But it's worth pointing out that 2 height settings is very limited, it is only a 2-in-1 rather than 3-in-1, the screw holes don't look great on a white crib, and it has no toddler rail. But overall, we need to reiterate the price point! For only $99, we were very impressed with the overall quality, and think it's a nice-looking and simple crib that is accessible to the masses! Who else loves the Ikea Gulliver crib? It's also a top pick by our friends at Babylist, WhatToExpect, and The Bump! Impressed? You can check out the Ikea Gulliver here.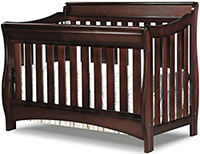 This 4-in-1 convertible baby crib is one of several cribs made by Delta Children that pack some serious bang for the buck, great styling, and sturdy build quality. These include not only the Bentley, but also the Emery, Canton, and Heartland models. We got our hands on the Bentley for testing last year, and were impressed with its versatility, quality, ease of use, and sleigh crib style. It's one of only a few solid wood cribs that are available for under $300. The one we tested was made of solid cherry wood that was heavy and good quality: ours didn't have any dings, blemishes, touch-up paint, or cracks. Out of the box, assembly was surprisingly easy and took us about 20 minutes with the included tools. Note a few things: first, expect some expansion and contraction of solid wood so that screw holes might not line up perfectly. Consider assembling it with loose screws throughout, and then once all the screws are in, you can tighten them down. Second, do not over-tighten the screws, or you might run into trouble with stripped hardware or cracked wood. Once it is assembled, it has some great features, including a 3-position mattress height, and several layers of lead-free stain for durability. Once your child starts chewing on the top rail, you'll see why this is important! We found the metal frame springs to be strong, the dimensions to perfectly fit two test mattresses (the Naturepedic, and Newton Wovenaire), and the entire thing to be very sturdy and strong. The highest mattress setting was high enough for us to comfortably reach inside to lift a baby, and the lowest was low enough to prevent climbing in young toddlers. While it does not include a toddler bar or conversion kit to turn it into a full-size bed, it does have the capability to achieve 4 functions: crib, toddler bed, daybed, and full size bed. You can find the toddler bar and full size bed conversion kit pretty easily online, and they are reasonably priced. Overall we really appreciated this crib, and think it makes a great addition to our best cribs list. Be sure to check out the Delta Children Emery, Canton, and Heartland models as well! Cons? Well, there are only 3 height adjustments rather than 4 (but that's not a big deal), it is not GreenGuard Certified and we have no idea how they source their wood. Not all parents care about those aspects, but it's worth pointing out. This crib usually sells for about $250 online, and is available in Black Cherry (pictured), Chocolate, and White. For those who might be interested there is also a matching nursery dresser. Who else loves the Delta Children cribs? Our friends at Babylist and Babygearlab list them as top picks! Interested? You can check out the Bentley 4-in-1 Convertible Crib here.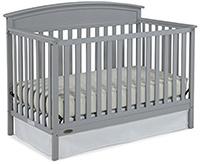 This is an excellent bang-for-the-buck crib, with high levels of versatility and quality for an excellent price. This solid wood crib meets several government standards, including those of ASTM and CPSC, and is JPMA certified. It uses solid pine wood sourced from New Zealand, along with wood veneer. In our testing, the Graco Benton 4in1 convertible crib only took about 15 minutes to assemble with a cordless drill/driver. Mattresses fit very well into the corners, and reaching in and out of the crib was easy even for shorter moms. The styling is simple, with some farmhouse-style colors and curves. The mattress adjusts among 3 height positions, like many others on this list. It converts to a toddler bed, which basically means removing the front, and positioning the mattress on the lowest setting, and attaching a toddler rail (sold separately). Then a daybed, which means positioning the mattress higher and removing the toddle rail, and then finally to a full-size bed with (not provided) frame rails. For the toddler bed, it does not include a toddler rail, so you will need to purchase one of the universal ones. This wasn't surprising given the relatively low price, so even with a separate toddler rail purchase you'll still be saving quite a bit relative to most other options. Overall, we found this to be sturdy, decently constructed, and reliable. Who else likes Graco cribs? Our friends at Babygearlab and The Bump call it a top pick! Interested? You can check out the Graco Benton here.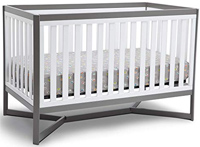 Trying to find a crib with style and design that stand outs against the crowd? Check out the two-tone Tribeca crib that makes you feel like you're living in a industrial-style Tribeca loft, but without the price! Delta Children has been making high quality cribs for over 50 years and we've featured several of them on this list. They always combine a popular style with great functionality, versatility, safety features, and high build quality at a reasonable price. The Tribeca model comes in at about $250, which is towards the upper end of Delta cribs, but for some pretty good reasons. The style and construction are very unique, with its sleek x-cross base, trendy two-tone finish with steel grey and white, and orthogonal but soft-edged lines. Out of the box, this crib was heavy and it felt like every part was good quality. Assembly took us about 45 minutes, the tools were included in the box, and the instructions were pretty clear. We first assembled it as a regular crib and tested out all the mattress heights, 3 of them to be exact. The top height was great for easily reaching in to tend to a newborn, and the lowest height was nice and low to prevent risk of an adventurous toddler climbing out. Speaking of safety, the crib is JPMA certified, meets or exceeds CPSC and ASTM standards, and is tested for all heavy metals. All of the hardware and wood felt high quality and fit together really well. We threw a mattress in it and stood and jumped in it (well, our 5 year old did!), and the crib was sturdy and strong. We tried three mattresses in it, the Newton, Moonlight Slumber, and Dream on Me. All fit perfectly, especially when the mattress had squared corners. We also converted it to the toddler bed (the toddler rail is not included, sold separately) and the daybed (the daybed rail is included), and both worked well. We didn't do the final conversion to a headboard and footboard on a full-size bed, but we think the conversion seemed easy enough (you'd need to buy the bed rails and mattress separately, of course). Other things we noticed were that the paint was not easily chipped or disturbed, and the mattress spring support did not squeak or creak. The only cons to speak of were that the toddler rail is not included, there is a bit of off-gassing smell from the wood for a few days after assembly, and the price is a bit high around $250. But for this style, quality, and capability, we think this is a great option! Who else likes Delta cribs? Our friends at Babylist and Babygearlab call them top picks! Interested? You can check out the Delta Tribeca crib here.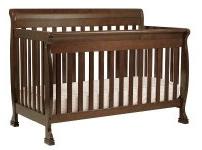 This Davinci Kalani 4in1 convertible crib has been around for several years now and has changed quite a bit along the way. It is an awesome choice for someone looking for high versatility and safety, may not be looking for the mid-century modern look, or isn't willing to pay the price premium for a premium crib. It is an awesome, handsome crib made by a company with a great reputation for quality, safety, and convenience. This crib has it all: Greenguard Gold Certification for lead, phthalates, and emissions, 4 mattress height adjustment levels, a low profile to help you reach in and out, and it surpasses all current safety standards. It also uses New Zealand pine sourced from sustainable forests, which makes you feel good about your purchase. This crib has won several awards for its great features and quality, including from BabyCenter, National Parenting Publications, and Babble. It comes in several finishes including Cherry, Espresso, Black/Ebony, White, and Chestnut. It converts from an infant crib, to a toddler bed with a rail, to a daybed without the rail, all the way to a full-size bed (but of course you will have to buy the full-size mattress and frame). Out of the box, assembly was just like any other modern crib - intuitive and relatively efficient. It took about 20 minutes to lay out all the parts and then assemble it. The wood was all high quality, and we didn't find any dings, scratches, or dents on it. We loved having 4 mattress height adjustments and the peace of mind that our chew-happy toddler wasn't putting anything dangerous in his mouth when he decided to gnaw on the top rail! Overall, we had a great experience with this crib, and think it deserves this high spot on our list. Cons? First, we tested out the white version and didn't like that the dark-colored screws stood out so much visually. Second, DaVinci used to include the toddler rail with this crib but recently stopped including it, even though they have not lowered their prices at all. Finally, we found that during assembly it was a little too easy to scratch the thin finish on the wood. Overall, this is a reasonably priced crib option with really excellent features, but you will need to get your own toddler rail and the build quality isn't as great as it used to be. Interested? You can check out the DaVinci Kalani here.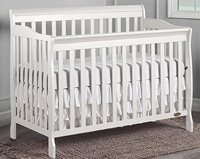 This is one of the best budget cribs on our list, coming in at only about $150, offering a wide range of colors, and showing some pretty impressive overall build quality and versatility for this price point. Dream on Me is known for making stylish and relatively inexpensive cribs, but are not necessarily known for their build quality. In this regard, we're happy to say that we were pleasantly surprised by the Ashton! Out of the box, the solid wood pieces (New Zealand pine) were lightweight and nicely finished; we didn't find any big dents, scratches, or dings in the wood. Assembly was the same as most cribs, taking about 15-20 minutes. The set included an Allen wrench, but we used our powered screwdriver to make things more efficient. All of the bolts and nuts went together easily and without any issues, and the instruction manual was easy enough to follow (the manual was attached to the metal crib support frame). Just FYI, if you find any issues with damaged wood or anything else, Amazon is pretty good about offering partial refunds or full returns. There are three mattress height settings, and once assembled we found that all three of our test mattresses (Colgate, Naturepedic, and Newton) fit very nicely. The crib was relatively lightweight but also reasonably sturdy, and there were no gaps or seams anywhere once all the bolts were tightened. Dream on Me says this is a 5-in-1 crib, with the five functions being crib, toddler bed (with toddler rail), day bed (without toddler rail), full-size bed with footboard, and full-size bed without footboard. The final two modes feel like they're cheating a bit, but we'll allow it. Being one of the cheapest cribs we've reviewed, we weren't surprised to find a few things: no toddler rail was included, the screw holes were exposed and very visible, and the finish was a bit thin. But we need to remind you that you're getting a pretty decent quality, sturdy, and safe crib in a style that might suit your needs, for only about $150. Who else recommends the Dream on Me Ashton crib? Our friends at Babygearlab! Interested? You can check out the Dream on Me Ashton crib here.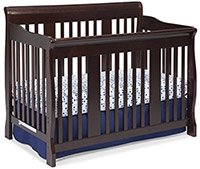 This 4in1 convertible crib has a beautiful traditional styling, and we think it looks fantastic in espresso, grey, and white. Stork Craft has an excellent reputation for build quality and customer service. This crib has several great features: solid pine and composite construction, meets or exceeds government safety standards for construction and finishes (ASTM, CPSC, and JPMA), has 3 mattress height adjustment levels, a low profile to help you get your baby in and out, a separately-purchased toddler rail for easy conversion, and a long reputation for great build quality. This crib converts from an infant crib to a toddler bed (you need to purchase the toddler rail separately), then into a daybed (front and toddler rail removed), and finally into a full-size bed using the back and front as headboard and footboard (but the metal bed frame is sold separately). It comes in several finishes, including Cherry, White, Brown, Espresso, and Gray. The gray is a nice soft-looking modern gray finish. In our testing, we thought it assembled easily, and was sturdy, stylish, and overall good quality. Cons? Well, it has only 3 rather than 4 height adjustment settings, which may or may not affect you at all; it simply means there is more space between the settings. Realistically, you'll likely only use 2 or 3, because once they start standing you'll want it nice and low! It also does not include the toddler rail, or hold GreenGuard Certification for finish quality and emissions, or use wood from sustainable forests, so if you're into those things you should definitely check out the others on this list. Overall, this is a nice and competitively priced crib and you can't really go wrong with it. Note that there is also a matching changing table available as well. Who else recommends Stork Craft cribs? Our friends at Babygearlab! Interested? You can check out the Stork Craft Tuscany here.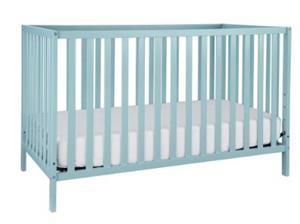 This is a relatively basic, no frills crib that still has a great build quality and a solid reputation for safety and reliability. This crib is relatively lightweight, easy to assemble, and complements a minimalist nursery style. The crib is made with sustainable solid New Zealand pine wood and uses a non-toxic finish that is lead and phthalate free. Like the best on this list, it has 4 adjustable mattress heights to accommodate a wide range of baby height and mobility. When we assembled it, it only took about 20 minutes using a battery powered screwdriver. We found that at first it was a bit wobbly but we tightened down the bolts and it became much sturdier. It has a low-profile height to make it easy to put the baby in and out. It's important to note that it doesn't include the rail to convert to a toddler bed, which surprised us when we received it. You can either buy their recommended DaVinci toddler rail (which we thought was way too small), or you can buy a better universal toddler conversion kit for only about $20. This crib comes in several great colors, including traditional White, baby blue "Lagoon," cute yellow "Sunshine," Espresso, and light Gray. Cons? Well, it doesn't come with the toddler conversion rail which is unfortunate, and some customers report that it's not as sturdy as they'd like (but see our note above about assembly). Overall, this is a great, no-frills option that is also one of the least expensive on our list.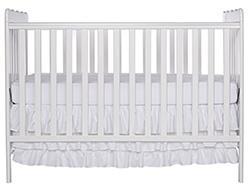 This is a classically styled crib with some great features and a price point that's usually under $100. There's a lot to like about this 3in1 convertible crib. First, the wood is high-quality solid pine wood and stain that is free of BPA (phthalates), lead, and latex. Second, it has 3 mattress height positions for versatility and safety when your baby begins to roll, crawl, and pull up to stand. It is available in white, cherry, natural, black, and espresso colors, and we love the simplicity of the classic design. It's a no-frills crib, and it fits well into a minimalist nursery style. Third, it is a 3-in-1, allowing you to convert from a crib to a toddler bed with a rail (not included, but sold here), and then you remove the rail to make it a "daybed." In our testing, we found assembly to take about 30 minutes (with two adults), and we thought the overall build quality was quite high, especially for a crib at this price point. The wood and attachments felt solid, and even with that the entire crib only weighed about 35 pounds. Cons? Well, it doesn't include the toddler rail, which brings the price up a bit when that time comes. And we suggest buying the rail now rather than waiting since it's difficult to predict whether the compatible rail will be available in the future. It also only has 3 mattress positions, while we generally prefer 4 for added versatility. We also don't see any GreenGuard Certifications for materials or finishes, and no information about sourcing materials from sustainable sources. Of course, those things are basically impossible to find at this price point. Overall, this is an excellent, no-frills crib for simplicity and functionality. Definitely recommended for the budget conscious crib buyers!
How to Pick a Crib
Safety. Here at Mommyhood101 we take safety very seriously. Where does a baby spend most of his or her time? In the crib, car seat, carrier, and stroller!
All these baby products need to conform to the most updated regulations and safety standards, just like we see with the best convertible car seats and best strollers, all of which are designed with safety in mind.
Cribs have come a long way with regard to safety. Many traditional cribs featured a drop-down side to help parents reach their baby: these were banned for good reason in 2011. We won't get into why they were banned here, but suffice to say you should never purchase a drop-side crib online or at a yard sale! Older cribs can also have an unsafe gap width between slats. Current standards call for 2-3/8" (2.375") maximum distance between slats, but older cribs have wider gaps leading to little heads getting stuck between slats. We made that sound cute, but we promise it is not something you want to happen.
Some cribs also have decorative cut-outs, maybe of a cute animal or character, but these should also be avoided as there is a risk of getting a little arm or leg caught. Finally, never get a crib with decorative rail posts that stick up on the corners; these are a snag hazard and need to be avoided.
Fortunately, cribs have come a long way, but so have parents' needs: fast forward and there are many new safety criteria we're all looking for. First, Greenguard and other certifications for lead, phthalates (BPA), and other chemical emissions. Second, you want the crib to be strong with high slat load strength, good stability, and low frame flex. Third, you want to make sure the company does not have a bad recall history and customer ratings for things like lead paint use (like this one), and ensure that it does not have any recent recalls. Finally, you want to make sure you get a mattress (usually sold separately) that is high quality with squared corners (see our best crib mattress reviews here).
That's a lot to think about for any parent, nevermind first-time parents trying to find the perfect crib for their baby among all the other things they're worrying about! Don't worry, we did the work for you. Our best crib list only includes cribs that meet these stringent safety criteria.
We don't want to freak you out, but here are some of the most common questions we get about bedding basics for a crib, with one consistent answer: NO! Are crib bumpers safe? Are pillows safe? How about decorative pillows? Are thick blankets safe? Are sleep positioners safe? No, no, no, no, and no! They are all unsafe due to suffocation risks: see here and here for details. Kids bedding is different, but for babies under a couple years old, you need to be really careful, and to be safe you need to keep any baby gear out of the crib.

Versatility. Convertible cribs have become the norm, complementing the smaller and more portable systems like Moses baskets and bedside bassinets. Convertible cribs accommodate a much wider age range by converting in response to developmental stages. For infants, the convertible crib starts as a basic crib with four sides. These always have an adjustable mattress height, so you start with the highest setting with a newborn and then gradually move the mattress support lower as your baby gets older. This makes it easy to reach in when you have a newborn, and then you move it lower to ensure your newly mobile baby (crawling, pulling up) cannot climb or fall out when they begin pulling to stand. Even better is a mini crib like the Nestig cloud, which can basically replace a bassinet entirely and then convert to a full size crib!
About a year after getting to that lowest setting, maybe when your toddler is about 3 years old, you convert the crib to a toddler bed. This happens by removing the front side and replacing it with a (typically included) toddler rail; if it's not included, you can purchase separate universal toddler rails. The toddler bed is designed to give your toddler some independence but also keep them from rolling out of bed in the middle of the night.
Then when you think your growing child (maybe around 4 years) is ready for a daybed you can remove that partial rail. Finally, many convertible cribs will also convert into a full-size bed for the "tween" and teenage years, using the back and front sides as a headboard and footboard.
A convertible crib saves you from purchasing multiple different beds along the way, keeps the style consistent for many years, and gives your growing baby easier transitions with the familiar look and feel of their own crib. All of the cribs we review convert at least from infant to toddler bed, and some go far beyond.
Beware of convertible cribs that advertise as 6-in-1 or even 7-in-1 convertible cribs: these usually do exactly the same as a 4-in-1 (crib, toddler bed, daybed, twin bed headboard/footboard), but their marketing people figured out they can add more uses if they count with or without the headboard and footboard separately. Silliness aside, we suggest going up to a 3in1 crib or 4in1 crib if you truly believe you will use the same head/footboard as part of a twin or full-size bed. Here is a great example of a convertible crib that goes from infant all the way to teenager, the DaVinci Kalani convertible crib:

Comfort & Convenience. There are a few things to look for here. Now that there are no drop sides, you want to make sure the mattress height is adjustable between at least 3 levels. Like we said above, you want to start a newborn baby at the highest level and then move it down as your baby becomes more mobile and there's a risk of crawling/standing/climbing. Second, you want to pick the right mattress for comfort and safety. We review and rank the top rated crib mattresses here, but to summarize you want one without harmful emissions, with even and firm support, with squared-off corners, and with dual firmness. If you get a good quality mattress, it will fit snugly into the crib and provide many years of comfortable and safe sleep. You also want the crib to be low profile, without really tall legs that make it difficult for you to reach in and out.
Finally, for convenience, you want a crib that doesn't take hours to assemble! You basically only want it to have the 4 walls and mattress support. You attach the 4 sides together then put on the mattress support. If it's more complicated than that, then it's worth paying a lot more at a specialty store and having them assemble it for you. Most parents buy cribs online nowadays and report assembly taking about a half hour to an hour. Modern cribs include not only the instructions and parts but also all necessary tools (typically just Allen wrenches).
If you're looking for a travel crib that's super portable and easy to assemble and disassemble for travel, check out our reviews of thebest travel cribs.
Cost. We want to point out that most parents want to spend under about $300 on a crib, though you can certainly go much higher than that for premium cribs. Some top cribs go above $1000, upwards of $3000 in some cases. Those include cribs by companies such as AFK Furniture, Corsican, Bratt Decor, Newport Cottages and Natart Juvenile. In general, you will tend to get higher-end stylings, hand-crafted parts using traditional carpentry and wood joining techniques, made in the USA or Canada, and maybe even white-glove service.
But remember you're only using the crib for a few years, all of the cribs on our list meet ASTM and CPSC guidelines for safety, and many of them meet additional emissions and quality standards. You might have some gift cards or coupons that you can pull together to make the price more tolerable! We've put together our list of cribs based on three assumptions that we've gathered from our website readers: First, most new parents want to spend under about $300 for a crib, and realize that paying more than that often doesn't result in tangible differences in safety or features. Second, most new parents want their crib to be functional and stylish, and style is a subjective preference that is unique to every parent. And third, people looking for higher-end cribs will likely already know certain companies and models based on experiences of their friends and families.
Of course, there are also several places to buy a crib with a moderate to high price and superior quality. These include Pottery Barn furniture (PotteryBarn Baby), Crate and Kids, and others. These tend to be very high quality products at a price point that is quite a bit more than what you'll find on Amazon or Target, but lower than some of the very high end crib manufacturers that we list above (like Newport Cottages and others).
At the lower end of the price range, if you're looking for a crib with modern styling at a reasonable price, we encourage you to consider an Ikea crib. There are several great Ikea cribs and Ikea toddler beds available, including the Gulliver (reviewed above). They tend to require more assembly than others and might not be quite as sturdy as other cribs on this list, but they are definitely great bang for the buck if you like the contemporary crib style.