The Best Crib Mattresses of 2023
Every baby should sleep like a baby. Make it a reality with these top crib mattresses.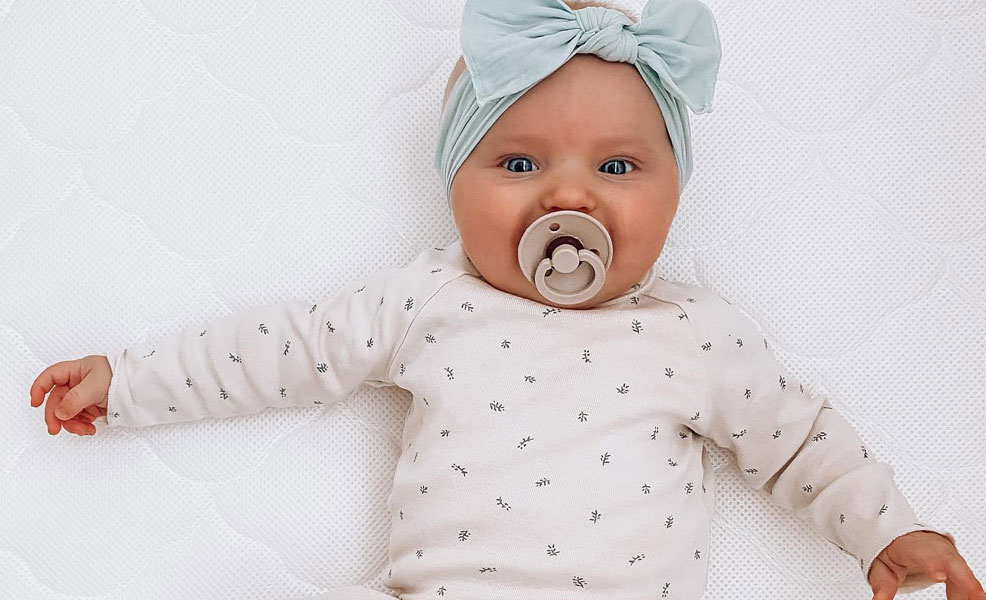 ---
Mommyhood101 independently tests and curates baby gear to help you make informed decisions. If you buy products through links on our site, we may earn a commission.
Your little one will spend thousands of hours sleeping on their crib mattress, making it one of the most essential nursery purchases and critical for your infant's safety and well-being.
But which crib mattress is the best for your family?
Just for fun, what does ChatGPT-4 think is the best crib mattress!?
"The most recommended crib mattress is the Newton Baby Crib Mattress. This mattress is made with a unique material called Wovenaire, which is breathable, washable, and completely free of foam, latex, and adhesives." -ChatGPT-4
We don't always agree with robots, but we think they might be onto something! After over 10 years of reviewing crib mattresses, if we made our own, here is what it would look like:
✔️ Dual-firmness.
✔️ Breathable cover & core.
✔️ Natural or organic materials.
✔️ Washable waterproof cover.
✔️ Lightweight construction.
✔️ Greenguard GOLD Certification.
✔️ MADE SAFE Certification.
✔️ Ships flat, no unrolling.
✔️ Quality stitching and seams.
✔️ Snug fit to crib perimeter.
✔️ Sustainable materials & sourcing.
✔️ Reasonably priced.
✔️ No polyurethane foam.
✔️ No memory foam.
✔️ No chemical flame retardants.
✔️ No vinyl covers.
In our desperate search to meet these criteria, every year we put about a dozen crib mattresses to the test. Some are newly introduced to the market, and others are revamped classics. Only the best crib mattresses we find make it onto this list.
Full disclosure: Some of these mattresses, including the Newton, Avocado, and Emily models, were sent to us as free test samples by the manufacturer.
The American Academy of Pediatrics (AAP) encourages parents to use a firm and flat crib mattress to reduce the risk of Sudden Infant Death Syndrome (SIDS). Research also shows that some crib mattress designs can reduce exposure to harmful chemicals, increase breathability and airflow, and reduce the risk of suffocation.
Below we list our top 5 crib mattresses, followed by in-depth reviews of nearly a dozen different options.
Because mattresses tend to perform well on some factors but not others, we try to clarify exactly what makes the crib mattress worthy of inclusion: is it the breathability, organic materials, ease of cleaning, versatility, or longevity?
We leave it up to you to prioritize what is most important for your family. At the most basic level, it needs to fit in the best baby crib you can find; at the most advanced level, it needs to fit your materials sourcing and sustainability needs.
Modern parents are very aware of safety-related issues like Sudden Infant Death Syndrome (SIDS), volatile organic compounds (VOCs), toxic flame retardants, and heavy metals. Mattress companies have followed suit, making breathable mattresses with low or zero VOC emissions, and carefully testing for heavy metals and other toxins.
To be fair, it's very challenging and expensive to make a mattress that honestly and reliably meets these goals. While unfortunately common, there is no excuse for misleading advertising and claims of natural, organic, or otherwise safe materials. We are careful to exclude mattresses from any companies using Greenwashing techniques.
Here are the Best Crib Mattresses of 2023!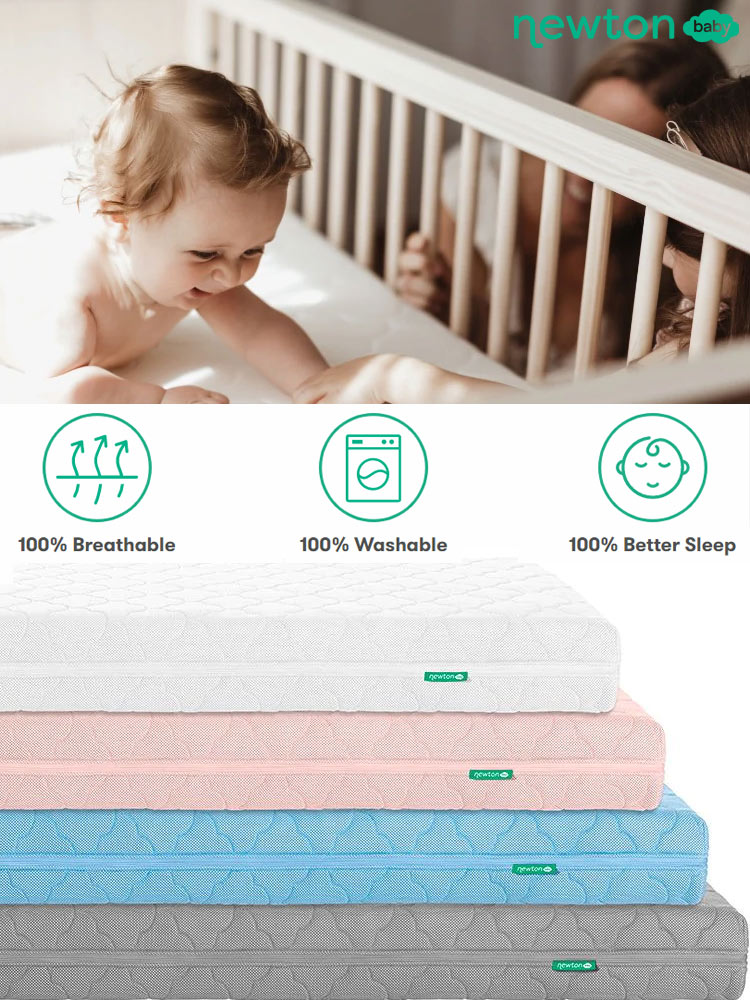 The Newton stands out as the safest crib mattress on our list, with its completely breathable (and washable!) design. This top-rated Newton Wovenaire crib mattress is recommended by Dr. Sears, made right here in the USA, Greenguard GOLD certified, and the winner of the JPMA innovation award. Different from other crib mattresses, the Newton isn't dual firmness; in other words, it doesn't have one firm side for babies and a softer side for toddlers. Instead, Newton found a sweet spot between the firm and soft for the entire mattress, so you never have to worry about which side of the mattress your baby is sleeping on. We recently got our hands on the Newton mattress for testing (thanks for the samples, Newton!), and we loved it! Out of the box, we were worried that it might be too soft for an infant and not soft enough for a toddler, but honestly, they did an excellent job finding the perfect mattress firmness for both infants and toddlers. Using foam would have made it easier to put a higher-density foam on one side than the other. Instead, Newton developed a food-grade Wovenaire polymer core that allows them to completely avoid the use of polyurethane foam and metal springs.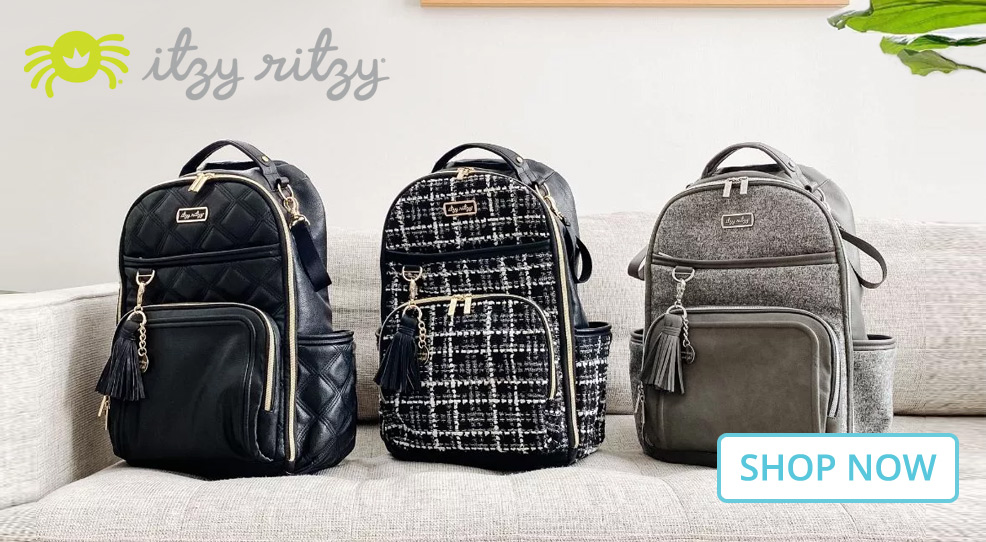 There are three primary advantages of the Wovenaire core (see our picture of the core in our in-depth Newton crib mattress review). First, because it's 90% air the mattress is extremely breathable and lightweight. The high breathability can reduce suffocation risk, and the lighter weight makes sheet changes a breeze. Second, the Wovenaire core avoids harmful chemical emissions from polyurethane foam and has much higher durability. Third, the core is completely washable: simply remove the zip-off cover and you can spray it with your shower head or a garden hose! Made from the same polymer used for food-grade yogurt cups, Newton has received a ton of praise for their innovative core!
To summarize, we found the Newton crib mattress comfortable, a great fit for both of our test cribs, odor-free (no off-gassing), breathable (we tested it ourselves!), and super comfortable. Not only is there a lot to love about this Wovenaire crib mattress, but there's also a lot of bad stuff that's missing: heavy coil springs, polyurethane foams, allergens, latex, toxic flame retardants, and adhesives. The mattress comes with a washable and highly breathable zip-off cover that Newton advises parents to use without a mattress protector or sheet, at least for the first few months (to increase safe sleep). The edges of the Newton mattress are nicely squared so that it fits snugly into our test crib without excessive gaps. Newton also claims that the core is entirely recyclable, though I challenge you to fit it in your recycling bin! As a downfall, there's nothing natural about a polymer core, though we do appreciate that it's food grade, Greenguard GOLD certified, washable, and free of polyurethane foams. All of this greatness comes at a price, the Newton Wovenaire costs about $299, though they often have discounts on the Newton site (Amazon listing is here). If you value high breathability, quality construction, and the outstanding convenience of a fully washable cover and mattress core, then this is definitely the mattress for your family! Who else considers the Newton crib mattress a top pick? Our friends at Babygearlab, Babylist, WhatToExpect, and The Bump! Impressed? You can check out the Newton Crib Mattress here.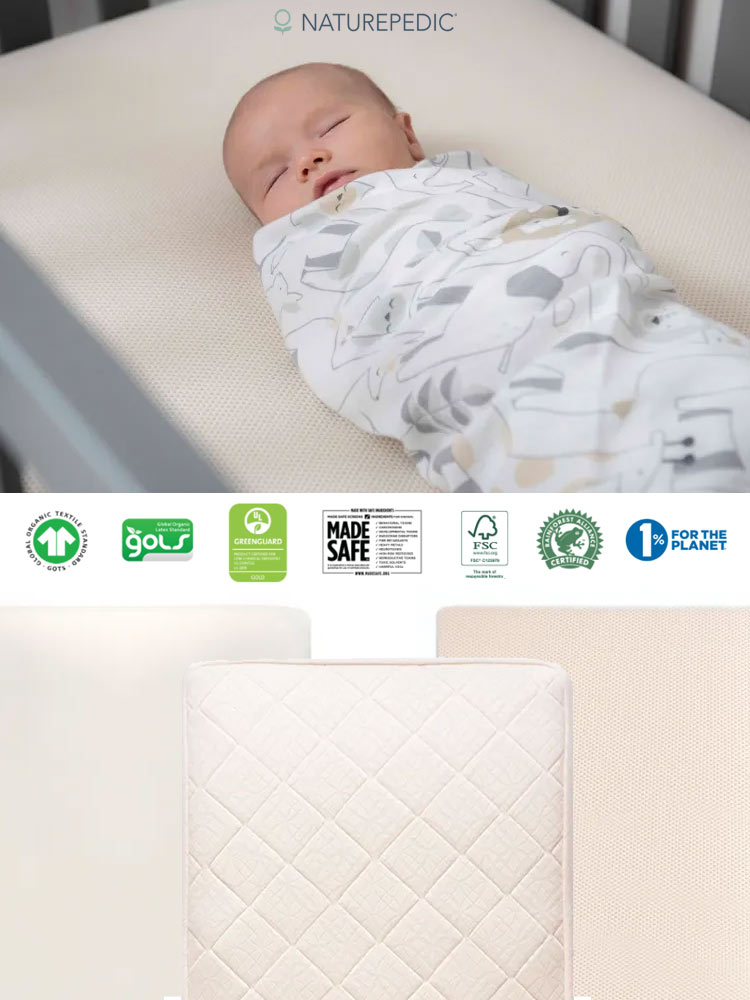 The Naturepedic crib mattress stands out for its high-quality organic construction and breathable cover. We purchased the Naturepedic Breathable crib mattress late last year for hands-on testing, and we think it's truly amazing! This U.S.-made organic mattress is made with high-quality materials, has dual firmness (one baby side and one softer toddler mattress side), and you can choose between a core with coil springs or lightweight wavesupport. We chose the more traditional coil core rather than the wavesupport polyethylene core. The coil core has 252 springs, organic cotton padding, and an organic cover. In our experience, a coil core helps the mattress avoid developing indentations or lumps over time, maintains good support over the course of several years, and you don't need to worry about nasty off-gassing from a foam core. While a bit heavier (19 pounds) and a bit more expensive, we think coil cores are a great option. This mattress meets Greenguard GOLD and GOTS certifications, is made with seamless edges, has squared corners, and has excellent reviews. It is also hypoallergenic, and it's not just the cover that's organic, it's all materials (other than the springs themselves, of course). In our testing, we loved the breathable organic cotton cover that was extremely easy to remove and clean. The entire mattress was basically odorless, and we thought it fit very snugly in our test (Babyletto) crib. The construction quality was overall very high, and we anticipate this having great longevity. Inside the cover, the mattress tag indicates that it is made with organic fiber batting and non-GMO PLA batting (polylactide batting). Everything looks, smells, and feels fantastic with this mattress; for dual-firmness, the infant side is super firm and the toddler side is nice and soft. The seams and stitching are high quality, the cover is breathable and comfortable, and the waterproof core liner is organic cotton fabric with a waterproof coating.
One of the unique aspects of this mattress is that the breathable cover is not zip-off, it works like a fitted sheet. Why is this awesome? Well, this coil spring crib mattress is a hefty 19 pounds, which will make it cumbersome to completely pull out of the crib for cover changes. This type of cover, however, simply gets pulled on over the edges so you don't need to pull the mattress out of the crib. Nice touch! In addition to its Greenguard GOLD and GOTS certifications, this mattress is also MADE SAFE certified, which is one of the most stringent certification processes that exist (the Avocado also holds this certification). Parents can feel good about this mattress in terms of its materials (organic), manufacturing (in the USA), certifications (numerous), and comfort. That's a slam dunk if you ask us!
There are two little things to point out, however. First, it's a pretty heavy mattress. If you're concerned about that, Naturepedic also makes a lightweight version that uses a unique wavesupport polyethylene core (that's the same core material used by Newton). Second, the waterproof liner on the mattress core is great because it means that you're not going to ruin your mattress when an accident happens, and it's super easy to wipe clean. While we usually don't like waterproof coatings, it's worth pointing out that Naturepedic has a patented waterproofing technique that uses plant-based polyethylene production using non-GMO sugarcane. That combines the best of both worlds: an organic mattress cover and core with a plant-based waterproof coating that is food-safe and does not contain any phthalates, vinyl, perfluorinated compounds (PFCs), or other hazardous waterproofing materials. The MADE SAFE certification is a powerful testament to that fact. Expensive? Yes, but we think it's worth it - highly recommended! Who else considers the Naturepedic a top pick? Our friends at Babygearlab, Babylist, The Bump, and WhatToExpect. Impressed? You can check out this Naturepedic Crib Mattress here!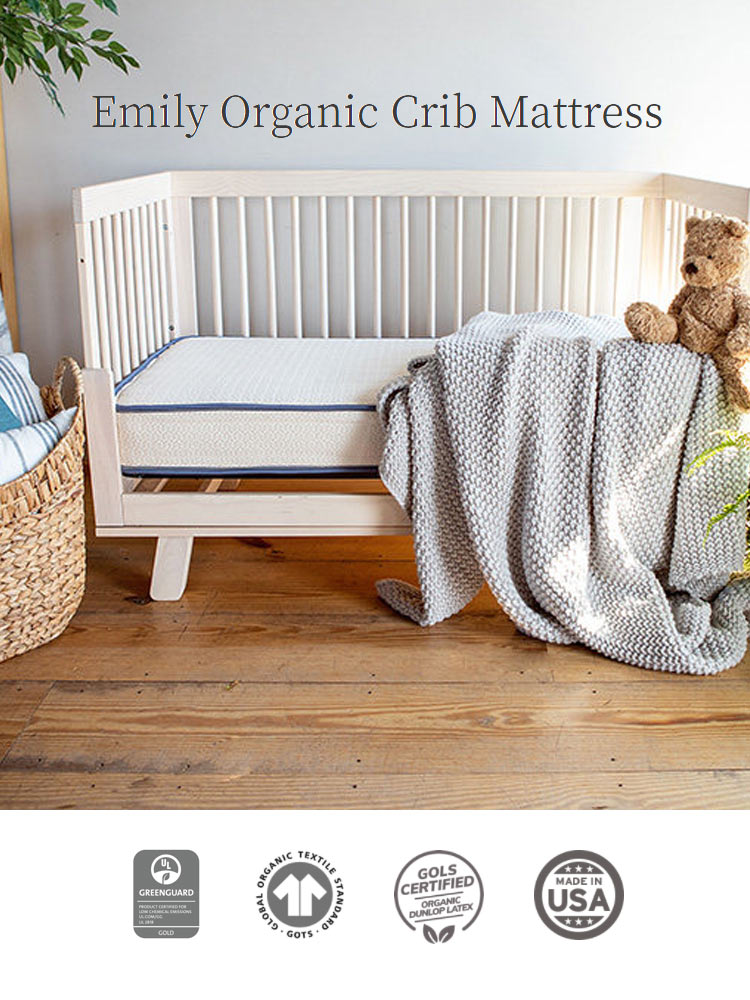 The Emily crib mattress stands out for its natural construction, certified organic materials, and sturdy innerspring core. The Emily is made by My Green Mattress Company, which might sound cheesy but we promise it's amazing! Made right here in the USA, the Emily crib mattress is very high quality, uses certified organic materials, and holds GOTS, GOLS, and Greenguard GOLD certifications. The Emily uses a coil spring core (150 springs) covered by a layer of organic wool and an organic quilted cotton cover. It has a highly breathable organic cotton cover with wool batting underneath, with the cotton giving it exceptional airflow and keeping things cool in the summer, and the wool keeping things warm in the winter. Under the plush and comfortable cover is a very high-quality mattress core with 150-coil innerspring, edge and corner supports, organic coconut coir, and organic wool batting.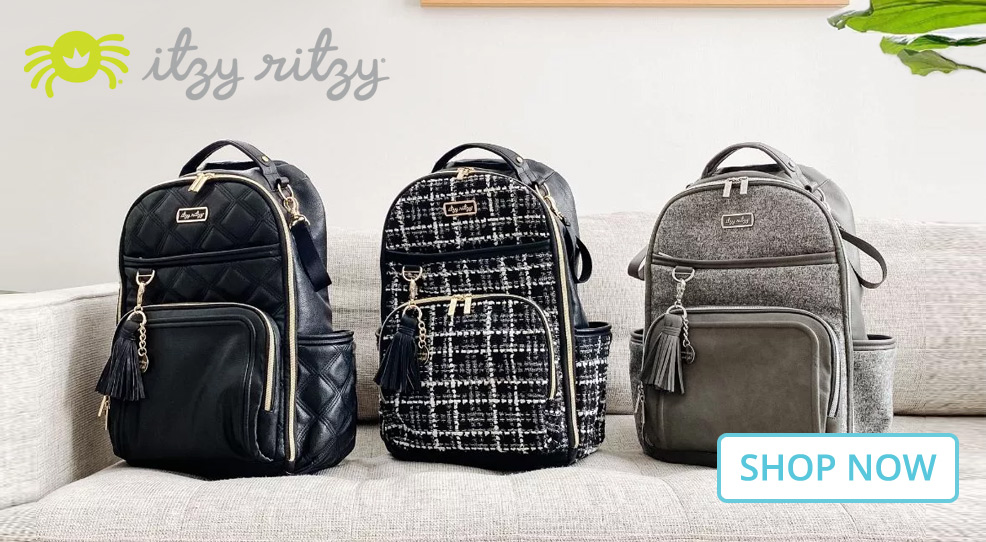 As we learned in our hands-on Emily Crib Mattress Review (thanks for the samples, My Green Mattress!), the mattress comes shipped flat which is always our preference (nobody likes unrolling a mattress!). Out of the box, we didn't detect any odor at all, which jives with the fact that it's Greenguard GOLD certified for very low chemical emissions. When we put it into the crib, it fits snugly into the edges and corners. It was firm enough for a baby but not too firm for a toddler, it's like the perfect firmness (very similar to the Newton Wovenaire) for comfort at all ages. For better or worse, the innerspring construction means it can be quite fun for a toddler learning to jump in their crib! The mattress is double-sided like the Newton mattress (not dual-firmness), meaning it does not have different firmness levels on each side. On the one hand, we prefer dual-firmness mattresses, but on the other hand, it's nice to be able to turn and flip the mattress to avoid sagging and dips. Overall, we really like the Emily crib mattress, and after our long-term testing, it has slowly worked its way up higher on this list! Cons? No dual-firmness, and you'll need to purchase a separate mattress cover or protector. Just like the Avocado, you do not want to have an accident on this beautiful mattress! Who else loves the Emily mattress? Our picky friends at Babygearlab! Interested? You can check out this Emily Natural Crib Mattress here.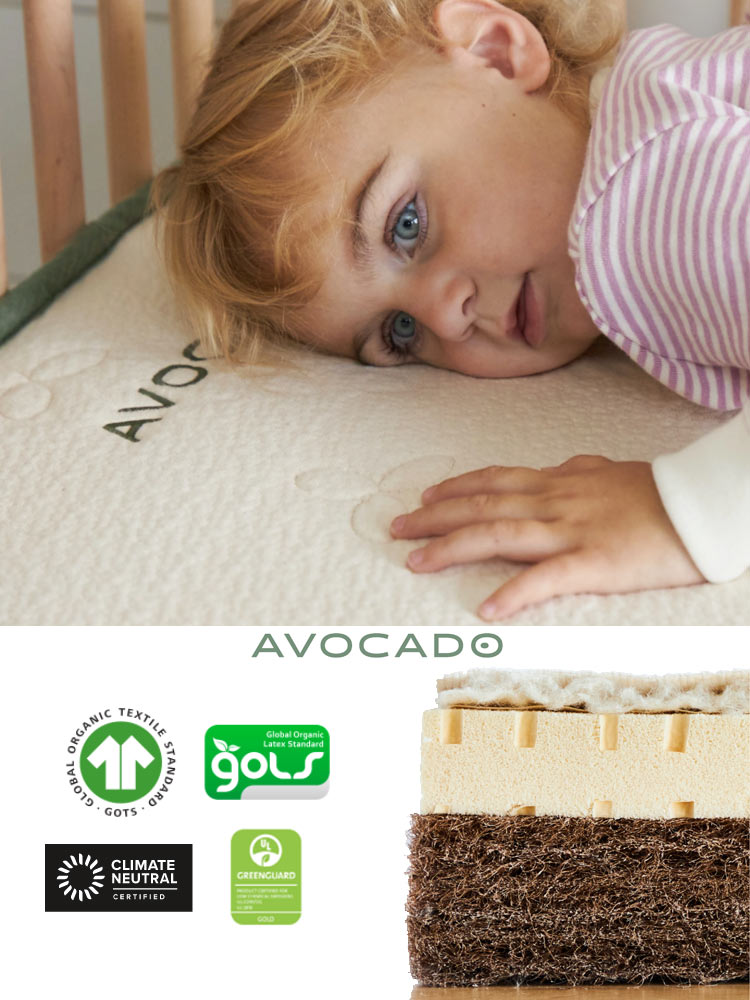 This crib mattress stands out for its extremely high-quality organic construction with sustainable materials! The Avocado is most similar to the Naturepedic, with a few key differences. The Avocado does not have a waterproof layer or a 3D mesh breathable cover. However, it does have a beautifully quilted surface and a fully organic construction with GOTS, GOLS, MADE SAFE, and Greenguard GOLD certifications. We recently got our hands on the Avocado for testing (thanks for the samples, Avocado!), and were blown away by its quality materials and construction. It offers everything a discerning parent would want, including all the proper organic certifications, an organic coconut husk and latex core, a breathable surface and core, and a truly beautiful hand-made construction from right here in the USA (California). Just as important is what this mattress does not have: polyurethane or polyurethane foam, chemical adhesives or flame retardants, vinyl, heavy metal springs, chemical flame retardants, plastics or polymers, or off-gassing. Instead of using a plastic polymer core (like the Newton Wovenaire or Naturepedic WaveSupport), the Avocado uses an organic coconut husk core infused with flexible organic latex. Like the Newton, Emily, and Naturepedic, the Avocado crib mattress ships completely flat so you don't need to spend time worrying about whether it will expand properly after being rolled up tightly.
As a first impression, there is absolutely no odor or off-gassing, and the organic cotton quilted surfaces are unbelievably beautiful, soft, and durable. The craftsmanship is second to none in quality, including the fabrics, seams, and stitching. In our compression testing, the infant side is very firm (as it should be for safety), and the toddler side is very soft and responsive. For details, you can see our full Avocado crib mattress review. The cover and core are both breathable, which helps with safety and airflow during warmer months. The mattress is wonderful, and parents concerned with sustainability can rest assured that the Avocado crib mattress is made under impressive manufacturing conditions, and its materials are farmed and sourced using sustainable methods that help protect the earth, farms, employees, and your child's future. You can read all about Avocado's sustainable practices and certifications at their site. Suffice it to say it's an impressive list of credentials.
The only con is that the Avocado does not include a removable protective cover - you can either purchase one separately from the Avocado mattress, or use your own cover of choice. Either way, we strongly suggest using a waterproof liner or cover so you do not ruin this beautiful mattress! Outside of that, we think it's perfect and we are grateful to have tested it out. Not only does it offer the highest quality construction on this list, but the price is surprisingly reasonable for an organic crib mattress, coming in under $300. Interested? You can check out this Avocado Green Crib Mattress here.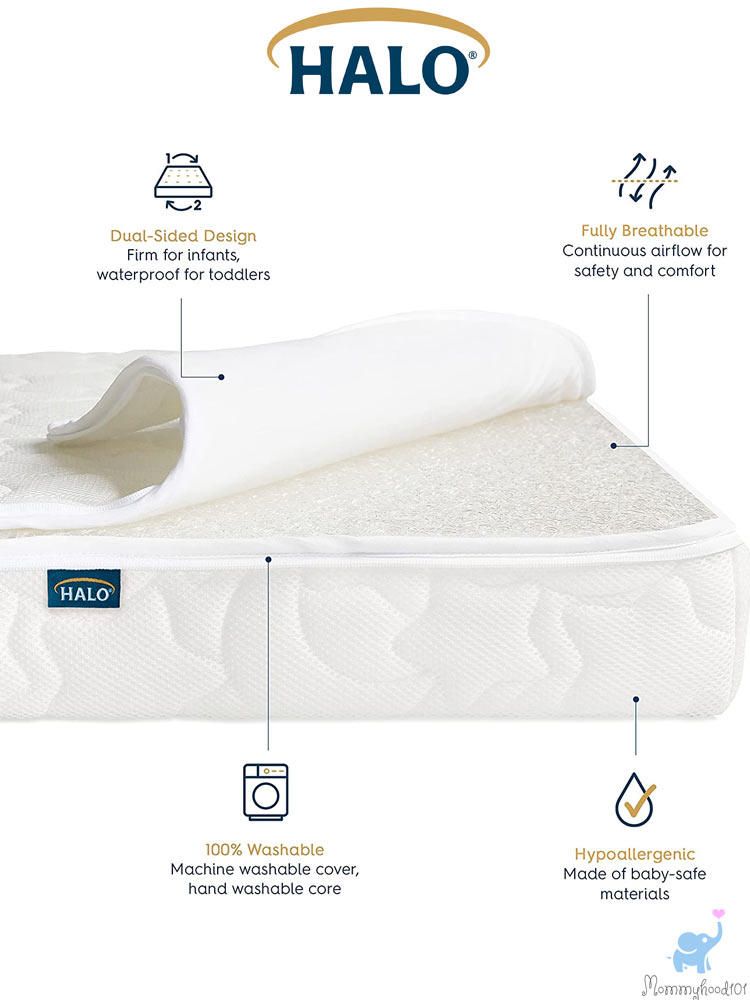 We wondered why it took so long for someone to copy the successful design of the Newton crib mattress, and offer it at nearly a 30% discount... enter the Halo Dreamweave! The Dreamweave crib mattress uses a very similar design to the Newton, combining a washable food-grade polymer core with a zip-off quilted cover that is breathable, machine washable, and hypoallergenic. The use of the web-like polymer core allows the mattress to be completely free of polyurethane foams, latex, springs, glues and adhesives, and chemical flame retardants. You and your child can breathe easy knowing that this mattress doesn't have any of the nasty foam emissions, uses a completely breathable cover and core, can be washed thoroughly in the event of an accident, and holds Greenguard GOLD certification. In our testing, we loved the Dreamweave and thought it was a formidable competitor to the popular Newton. It shipped flat in a large box, which means there was no unrolling or expanding necessary - just pull it out of the box and bag and it's ready to go! In fact, Halo made the 3d mesh breathable cover comfortable enough that you won't need to purchase separate sheets, and washable enough that you don't need to purchase a mattress protector.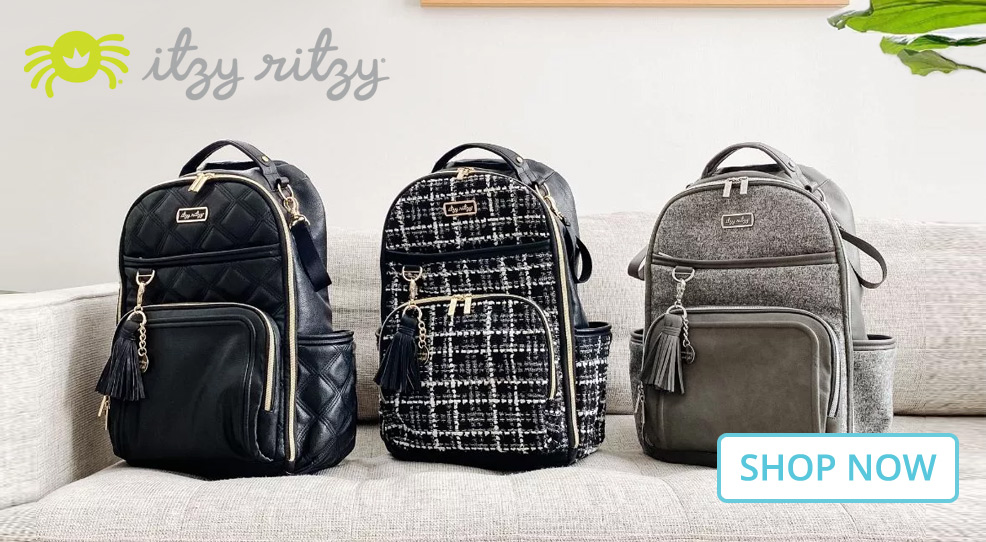 One of the primary differences between the Halo Dreamweave and Newton crib mattress is that the toddler side of the Halo cover is waterproof, whereas the Newton charges about $50 more for this feature. Basically, the mattress prioritizes breathability on the infant side by not including a waterproof barrier but adds this barrier on the toddler side - which is when you'll really need it (as their bladders get bigger, and then during potty training and possibly night wetting). We found this mattress to have ideal firmness for an infant, but also enough cushioning for a toddler to be comfortable - Halo found a nice sweet spot between firm and soft to keep it safe but also comfy. The breathable cover is reasonably soft on the skin, but we suggest adding a breathable muslin sheet to make things a bit softer. The second difference we found between the Halo and Newton is that the core is a bit noisier in the Halo: when you compress the core, it makes a subtle crinkling sound. The Newton mattress does this too, but the Halo was a bit more pronounced. The mattress fit our test Babyletto, Davinci, and Nestig cribs perfectly without excessive gaps along the perimeter; sheet changes were a breeze with its lightweight construction, and the toddler and infant sides of the cover are clearly marked. Note that this is not a dual-firmness mattress, it simply has two cover sides (one waterproof for toddlers, one not), but both sides are similarly firm. Overall, we love the Dreamweave crib mattress and think it's an excellent option for parents who want the premium Newton features and safety, but at a bit of a discount. Interested? You can check out this Halo Dreamweave Crib Mattress here.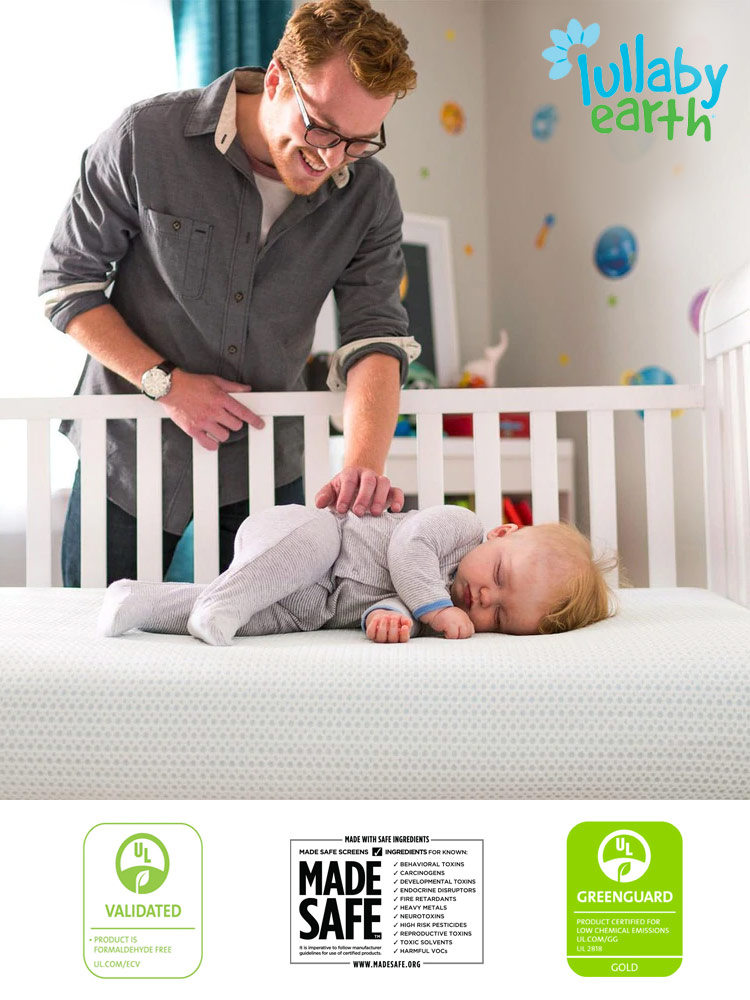 Breathable, waterproof, dual-firmness, and MADE SAFE Certified? For only about $250? Sounds great! The Lullaby Earth crib mattress is very popular, and for good reason! Their relatively new dual-firmness crib mattress is Greenguard GOLD and MADE SAFE Certified for low VOC emissions, 100% recyclable, extremely lightweight, has a 6" thickness, seamless edges for easy cleaning, and includes a waterproof cover with a breathable surface. Instead of coils or a foam core, this uses the same WaveSupport core as the Naturepedic, made from food-grade polymer. The MADE SAFE Certification is very compelling, requiring not only minimal VOC emissions but passing a very rigorous series of tests regarding all materials used in production. In our tests, the infant side was nice and firm, and the toddler mattress side was much softer. The corners are almost squared, somewhere between a rounded and squared edge; it fits nicely in our test (DaVinci) crib. Given the slightly rounded edges, there might be more risk of losing/dropping pacifiers into the corners.
The Lullaby Earth mattress was very lightweight, maybe a few ounces less than the Colgate even, so changing sheets was a breeze. The cover is a highly breathable 3D mesh with a non-vinyl waterproof backing. The cover can be machine-washed. Under the cover, the outer mattress lining is easily cleaned and has a nice seamless edge. Made in the USA, the entire mattress seems to be well constructed, and it does have good long-term durability. Cons? Nothing major! While we love the waterproof cover with its breathable surface, any waterproof layer likely contains some plastics or chemical coatings; so while the core of the mattress is MADE SAFE certified, it's unclear whether the cover is as well. Outside of that, we think the Lullaby Earth Breeze crib mattress is a great option for discerning parents! Who else loves the Lullaby Earth? Our friends at Babygearlab, Babylist, and WhatToExpect. Impressed? You can check out the Lullaby Earth Crib Mattress here.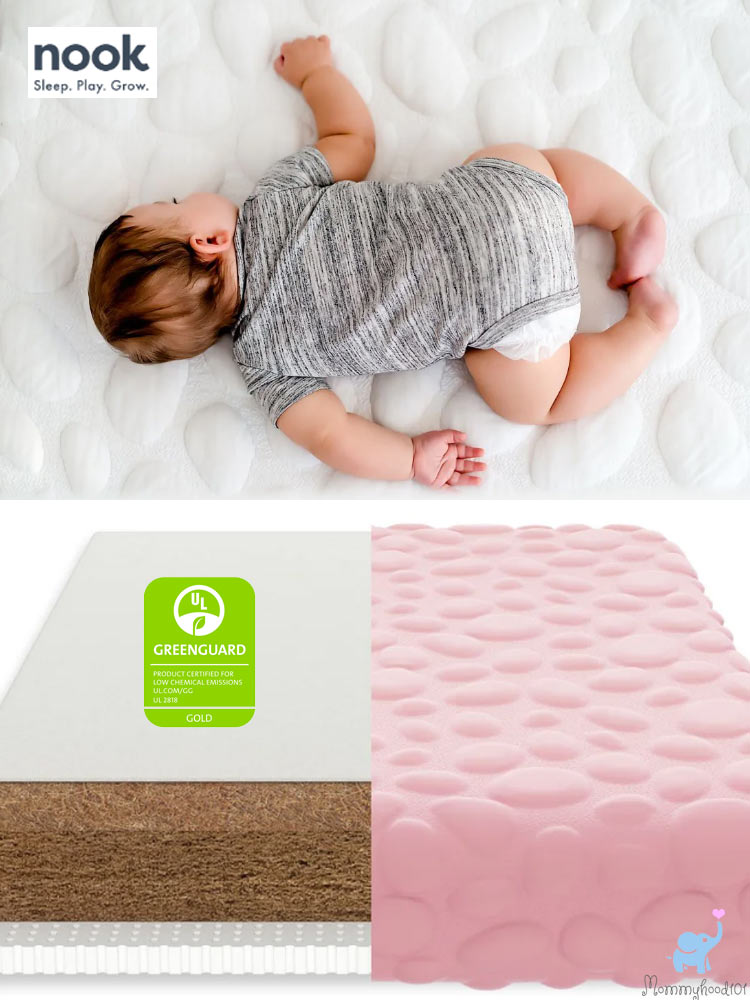 We love testing new additions to the baby gear market, and this new Nook Sleep Pebble organic crib mattress is no exception! We got our hands on the Nook Pure crib mattress late last year for testing, and we think it's a great option, most similar to the Avocado (above) in construction and price. When it arrived, we were happy to see that the mattress ships flat, so you don't need to unroll and wait for it to rise (or if you're unlucky, not rise!). Taking it out of the bag, the mattress didn't have any obvious odors or off-gassing, which was great. There were a few immediate things we really loved. First, the mattress cover is supremely soft and cozy. Honestly, we love the concept of the pebble cover, which has little islands of plushness scattered across the surface - I wish they made these sheets for grown-ups! The cover itself is made of organic cotton, organic eucalyptus lyocell, an organic poly blend, and what Nook calls the 3D SafeSleep Technology (a breathable mesh that reduces the risk of SIDS). The cover is also water resistant (NOT waterproof) and fits the mattress very snugly. About that mattress - it's great! The core is very similar to the Avocado in construction, including the coconut coir (husk) and latex core. The mattress is dual-firmness, with the infant surface comprised of coconut husk, and the toddler side having a softer latex layer underneath. The infant side is very firm and shows an appropriate level of compression and responsiveness.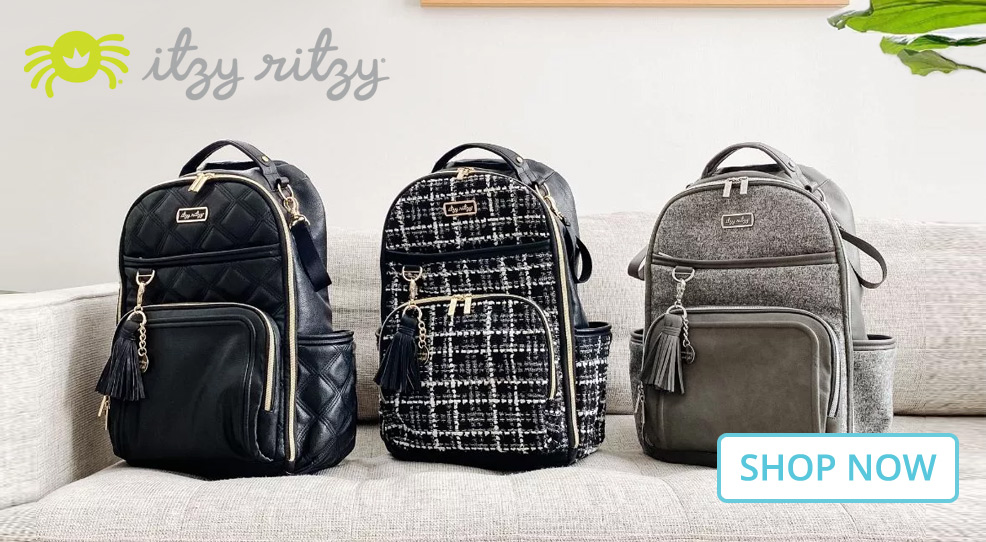 The toddler side is a bit firmer than we expected, but also very comfortable. The overall dimensions fit perfectly into our Nestig Cloud and DaVinci test cribs. Cons? Well, we couldn't help but compare it to the Avocado, which we know and love. As you know, Avocado does a fantastic job with transparency and organic certifications (GOTS, GOLS, MADE SAFE, Greenguard GOLD), but other than Greenguard GOLD it's difficult to figure out exactly what certifications the Nook maintains. Second, the Avocado is a bit softer on the toddler side, likely due to the cozy wool layer they use. Third, it's very heavy (25 pounds!) and at this price, we were expecting a waterproof cover, though we do realize that is very challenging to make a waterproof crib mattress cover that is also organic. The only advantage relative to the Avocado is the removable cover. Overall, we think it's a great option with some small drawbacks, including the price. Available in several colors to match your nursery. Interested? You can check out this Nook Pure Organic Mattress here.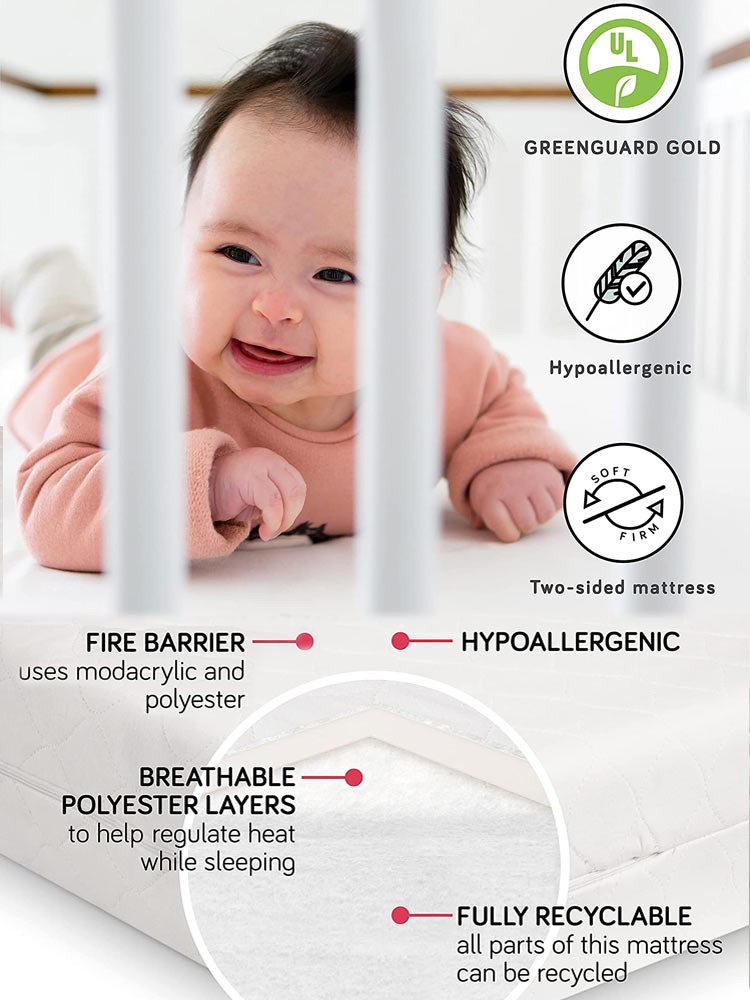 About $199. This Babyletto Pure Crib Mattress is relatively new to the baby mattress market and is the perfect pair for our top-rated Babyletto cribs. This mattress has so many great things going for it. First, it is dual-sided, with a nice firm newborn side and a relatively soft toddler side. Second, it is hypoallergenic and dust mite and allergen resistant. Third, the core is non-toxic and does not contain polyurethane foam; instead, it uses layers of polyester fiber. The core also doesn't contain soy, vinyl, PVC, chemical flame retardants, dyes, allergens, phthalates, PFCs, synthetic latex, or other high VOC (off-gassing) materials, and it is Greenguard GOLD certified. Like the Newton crib mattress, the core can be recycled - so if you chopped it up and squeezed it into your recycling bin that dream can become a reality! Above the core, there is a softer batting layer that is made of modacrylic fiber and polyester. What's modacrylic fiber? It's a synthetic acrylic fiber that is hypoallergenic, mildew-resistant, and highly durable. Fourth, it has an awesome cotton cover with a vinyl-free waterproof liner on its underside; that cover zips on and off easily and can be machine washed. They call this the "hybrid" cover since it has a soft cotton top and waterproof liner bottom.
Finally, we thought the Babyletto Pure was comfortable and fit amazingly well into our Babyletto and DaVinci cribs. Snug as a bug, without any gaps at the sides or corners. The two sides were nicely structured - it was very firm on the newborn side, and the other side was the perfect softness for a toddler, and there was good edge support. Cons? A couple of minor things. First, we found the zipper on the cover lower quality than we would have liked, and we thought for sure it would break at some point soon. It hasn't broken yet, but that could change! Second, after machine washing (you need to hang it dry) the cover shrank a bit and made it a pain to stretch back onto the mattress. Also, this mattress is not made in the USA, it's made in Taiwan, for what it's worth. Overall this is an excellent crib mattress with only a few downfalls worth considering. At this price, we think it's worth it for the non-toxic materials, dual-sided construction, waterproof cover, and excellent fit. Who else loves the Babyletto Pure crib mattress? It's named a top pick by our friends at Babygearlab, WhatToExpect, and The Bump. Impressed? You can check out this Babyletto Pure Crib Mattress here.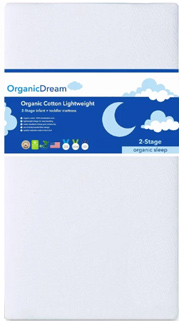 We got our hands on this organic crib mattress early last year, and we were blown away by its comfort, features, versatility, quality, and price. Made in the U.S.A. from domestic and international (Canada and Europe, and none from China) materials, this is one of only a few mattresses on this list that are Greenguard GOLD certified, use OEKO-TEX certified fabrics, and have 100% organic cotton surfaces. Those are some outstanding credentials, complemented by superior 2-stage (dual-firmness) versatility, a removable and machine washable cover, and hypoallergenic and breathable surfaces. In our testing, we fell in love with several things. First, it was surprisingly lightweight, coming in at about 12 pounds, which is impressive given its awesome 6" thickness. Lighter mattresses are great for easy lifting, sheet changes, and cover changes. Second, that super thick and lightweight mattress makes for superior comfort. The infant side is super firm, as it should be, but the toddler side is soft and responsive, making for a comfortable sleeping surface that your toddler will definitely appreciate. The edges and corners are nicely reinforced to prevent sagging, and the slightly rounded corners fit well into our DaVinci test crib. Third, the organic fabric cover is soft and comfortable - you could even have your baby sleep directly on the cover if you don't have a clean sheet, or simply don't want to use a sheet in the first place.
We removed the cover and machine-washed it, and we didn't experience any major shrinkage - it was a little tighter going back onto the mattress, but it zipped up just fine, thanks to the subtle stretch in the cover fabric. Speaking of the cover, it is water resistant for up to 16 hours, which means that if you detect a wet bed you'll have a chance to wash the cover before ruining the mattress core. Fourth, we really liked the organic cotton sleeping surfaces and were confident with its low chemical emissions and Greenguard GOLD certification. There were no strong odors or off-gassing when we took it out of the package. Cons? Nothing obvious to report, so that's good news. We should point out that the entire mattress is not organic, only the surfaces. The core is made from food-grade polymer (i.e., plastic) that carries Greenguard certification, similar to the Newton. Now that we've had it for over a year, we're happy to report that the fabrics, stitching, zippers, and core have held up very well so far! Interested? You can check out the Organic Dream Crib Mattress here.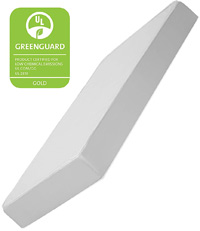 You probably recognize the DaVinci name from their great line of convertible cribs, typically within the top 5 of our annual crib reviews. With cribs, DaVinci is known for making stylish and reasonable quality cribs for a great price. This is similar, though we don't think the quality and bang for the buck are present in this DaVinci crib mattress. Coming in at $80, at first glance, this seems like a great price for a Greenguard GOLD baby mattress made in the USA. When we took it out of the box, we were immediately amazed at how lightweight it was - only about 5 pounds! Talk about super simple to flip, change sheets, and take out for cleaning. But let's consider that "flip" part closely because this is not a dual-firmness crib mattress. Instead, both sides are the same firmness, which was definitely closer to toddler firmness in our experience. The waterproof cover is permanently attached (not zip-off) and feels like a typical vinyl cover but a little softer and doesn't have that crinkle noise that vinyl covers typically make. DaVinci says it's not vinyl, so we're assuming it's PEVA (like a shower curtain liner). The core is a layered polyester fiber, which is one of the reasons it's so lightweight. We appreciate that there's no vinyl or polyurethane foam used in this mattress and no chemical flame retardants. In terms of fit, it was a bit small for our DaVinci crib, and only a tiny bit small for our Babyletto crib. We did like the squared-off corners, but the mattress seemed a bit small overall (at least the one we tested). The mattress is only about 5" thick, and to be honest we found it a little flimsy overall. There was also a tiny spot on the cover's stitching that was coming undone; it was only about a half-inch long but thought it wasn't a good sign of quality control. Overall, if you're looking for a Greenguard GOLD crib mattress at a relatively low price and don't need dual-firmness, this might be a good option for you. Interested? You can check out this Davinci Crib Mattress here.
---
Additional Baby and Toddler Crib Mattress Options
While we do not strongly recommend any of these options, they can be great budget picks for parents who aren't concerned with polyurethane foam cores or vinyl covers. In general, if you're comfortable picking a mattress with a polyurethane core, definitely look for one that is Greenguard GOLD and CertiPUR-US certified.
We suggest not paying over $100 for a polyurethane core crib mattress, especially with a vinyl cover. The following crib mattress options are in no particular order, but if you click on them it will take you to our full review:
How We Pick Crib Mattresses!
For more information about how we test and select crib mattresses for inclusion on this list, check out our lengthier crib mattress buying guide!