The Best Baby Monitors of 2022
Before baby monitors existed, parents would get out of bed and quietly peek into the nursery to check on their baby - are they sleeping, comfortable, and safe?
The best baby monitors give you convenience and peace of mind, with a continuous view of your little one without needing to sneak around on your tip-toes!
We've personally tested nearly 100 different baby monitors over the past 13 years of running Mommyhood101, and they've come a long way! Here are the top five baby monitors of the year, followed by reviews of over a dozen different options.
For new parents, a good baby monitor will give you peace of mind that your baby is safe and sound during naps and overnight. It will also give you a bit more flexibility, allowing you to go to different floors of the house, out on the deck, or in the backyard without worrying that you won't hear a wake-up or cry for help from the nursery. Some will stream to your mobile device, while others have a parent unit; and some baby monitors have both capabilities!
Don't think you need one of the best video baby monitors? Check out our reviews of audio-only baby monitors!
If you ever have questions about how we do our testing, or how we arrived at our results, please send us an email or message us on Facebook. We usually respond within a couple hours!
Full disclosure: Some of these baby monitors, including the Nanit, VAVA, Miku, Cubo, Owlet, Lollipop, and Safety 1st models, were sent to us as free test samples by the manufacturer.
Here are the Best Baby Monitors of 2022!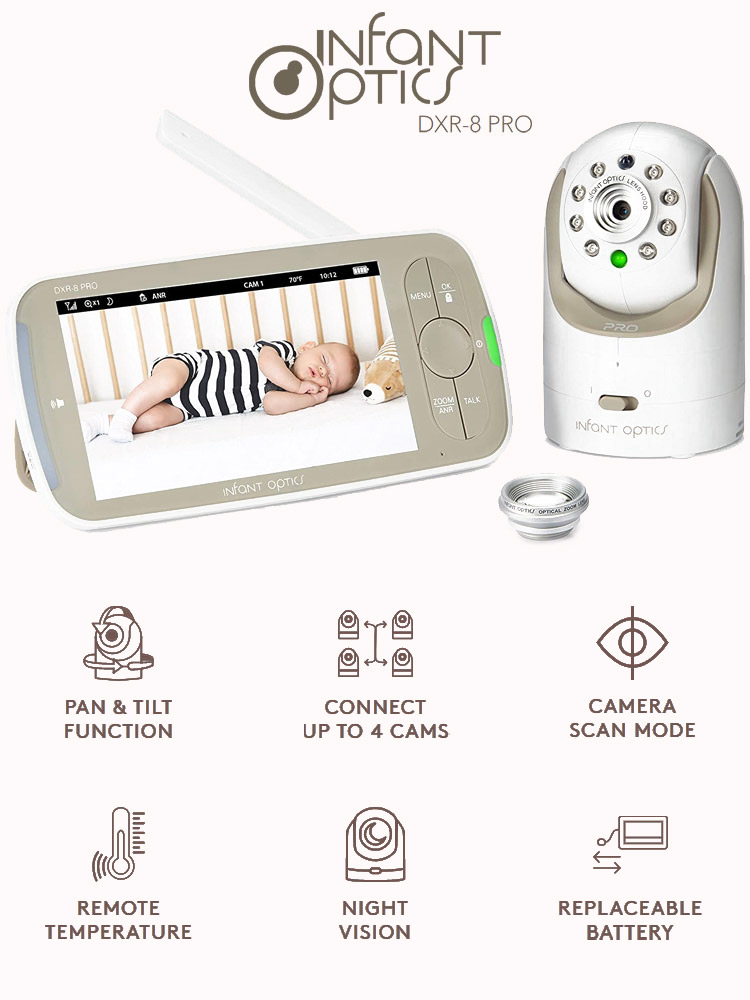 The Infant Optics DXR-8 is the best all-in-one baby monitor of the year, and one of the most popular baby monitors of all-time. It has been sitting pretty at the top or among the top two spots on our best baby monitor list for the past 5 years! Along with a great feature list at a reasonable price, it also has the best reliability we've seen in a baby monitor. To be fair, the original DXR-8 was getting a bit dated, with its relatively small 3.5" screen and a lack of advanced features. We are happy to report that Infant Optics leveled-up and released the DXR-8 PRO with a huge 5" high definition (720p) display, active noise reduction, higher zoom levels, and customizable alert brightness and volume. We got our hands on it for testing in December and, don't tell the old DXR-8, we think we have a new favorite! In our testing, the DXR-8 PRO's screen brightness and color quality were fantastic, as were the day and night vision video quality. The large 5" monitor is complemented by a higher capacity battery, coming in at 2800mAh versus the original 1200mAh, which helped us achieve a battery life around 4 hours with the screen on the highest brightness setting. Infant Optics does sell a portable power bank for the DXR-8 PRO that can extend battery life up to 24 hours; of course, if you have a nearby wall outlet, you can just plug it in and not worry about it. The audio is very high quality, and the two-way talk intercom lets you talk or sing to your baby without getting out of bed. The awesome new active noise reduction lets you filter out a continous background noise, such as a fan or humidifier. In our tests, this worked impressively well with a box fan, humidifier, and a Hatch Baby Rest sound machine. For more details, see our full Infant Optics DXR-8 PRO review here!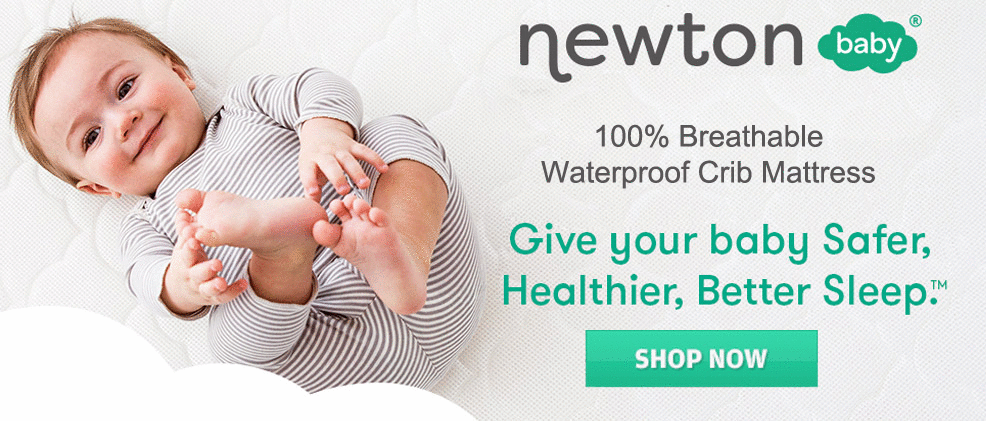 The signal reception and range were impressive, allowing us to venture into the yard or basement without connectivity issues or alerts. For relatively basic features, the DXR-8 and DXR-8 PRO both have a remotely adjustable pan/tilt/zoom camera, two-way audio intercom system, nursery temperature monitor, standby mode with audio only (screen off), and encrypted wireless communication. An additional zoom lens is included just in case your mounting situation is relatively far from the crib, and a wide angle lens is available for purchase separately. Both the DXR-8 and DXR-8 PRO video baby monitors are expandable up to 4 cameras to place in various locations in your home, and you just press a button on the receiver to toggle between the various camera locations. The menu is very user-friendly and it's easy to take advantage of all the advanced functions. The original DXR-8 is about $150, and the new DXR-8 PRO is typically about $199. We think this baby monitor will very likely last you for many years, so that seems like a very reasonable price. Overall, you can't go wrong with the DXR-8 or DXR-8 PRO, and it really boils down to whether you're willing to spend the extra cash to get a larger screen and a few additional features. Who else thinks the DXR-8 is among the best video baby monitors of the year? Our friends at Babylist, Babygearlab, The Wirecutter, and WhatToExpect. Impressed? You can get the original Infant Optics DXR-8 here, and the new DXR-8 PRO here.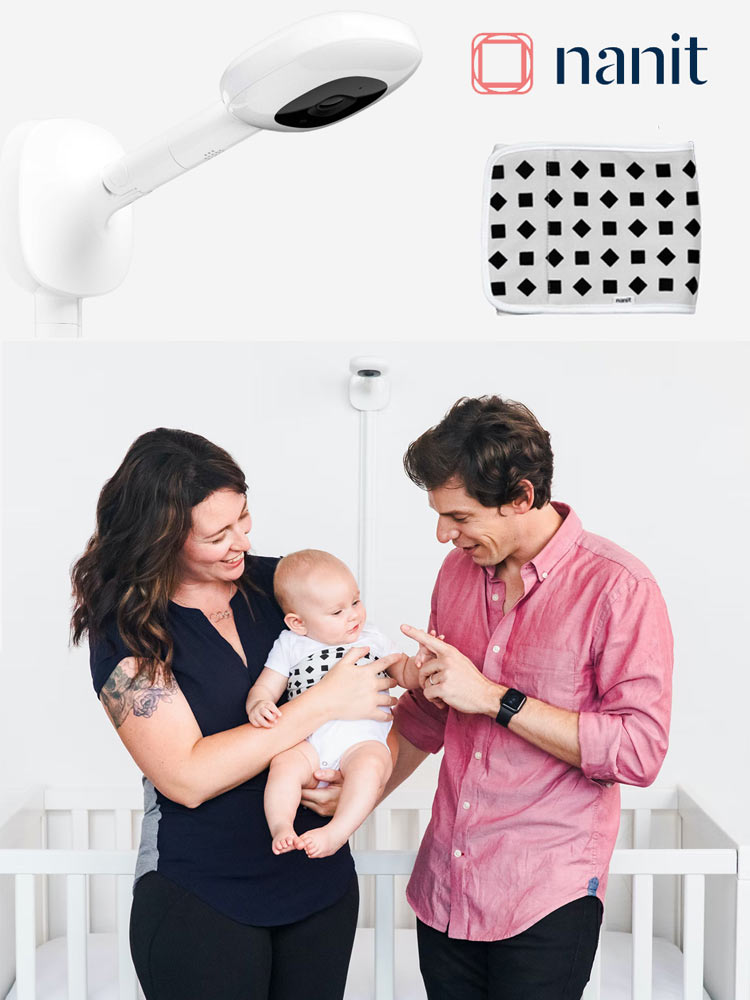 The Nanit Pro baby monitor builds upon Nanit's immensely popular Nanit Plus (featured below) to provide some extra features including full high definition (HD) resolution at 1920 x 1080, a soft nightlight positioned atop the camera, higher quality night vision, and new buttons and status indicators. Outside of that, both the Nanit Plus and Pro will use the same smartphone app, Nanit Insights smart features, and have compatibility with the same suite of Nanit's famous breathing wear. We got our hands on the new Nanit Pro baby monitor earlier this year for hands-on testing (thanks for the samples, Nanit!), and you can read our full Nanit Pro review here. Suffice to say, we loved the new Nanit Pro baby monitor and it performed amazingly well in our testing! We think it is definitely the best baby monitor with smartphone streaming, for several reasons. First, we love the versatility available for mounting the Nanit: you can choose between a wall mount, floor stand (no drilling holes in your wall!), or a multi-stand that can be positioned on any nearby furniture or shelf. Second, when you purchase the Nanit, it includes everything you need to get up and running: the essential hardware (mounting screws, a little bubble level, cord covers), excellent instructions, and a free one-year subscription to Nanit Insights (for tracking sleep patterns and growth, and storing videos). Third, the features are truly amazing: to summarize a few awesome ones, it includes nursery temperature and humidity monitoring, remote zoom, two-way talk, nature and white noise sounds, movement and sound alerts, and it can be paired with up to 5 cameras!
In our testing, not only did we install and try out the Nanit Pro camera, we also tested their awesome line of breathing wear. The Nanit Pro includes a small breathing band (like a Velcro swaddler) that you can wrap around your baby's tummy to monitor the rise and fall of their breathing. You can also get sleep blankets, swaddlers, and pajamas that use the same array of shapes to make breathing monitoring possible. We love this feature, and think it's a must-have for any (even slightly) anxious parent! If the camera doesn't detect breathing, it issues a red alert which will sound an alarm on your phone and on the camera itself (just in case your phone battery has died, or has somehow disconnected from streaming). It worked perfectly, and we love the peace of mind offered by Nanit's new technology. Speaking of new tech, they also have Smart Sheets that can monitor your baby's growth over time. The new applications of machine vision offered by Nanit are truly excellent, and we applaud their innovation! Overall, everything was easy to set up and worked perfectly in our tests. Streaming was fast over wifi and cellular networks, the app was stable and reliable, and the image quality was excellent in both daylight and darkness. We only found a few very minor cons: the growth monitoring accuracy could be improved, and the Nanit Insights subscription becomes pay-to-play after the free year has lapsed. Not huge deals but worth mentioning! Who else loves the Nanit baby monitors? Our friends at Babygearlab, Babylist, WhatToExpect, and The Bump. Interested? you can get the Nanit Pro Baby Monitor here!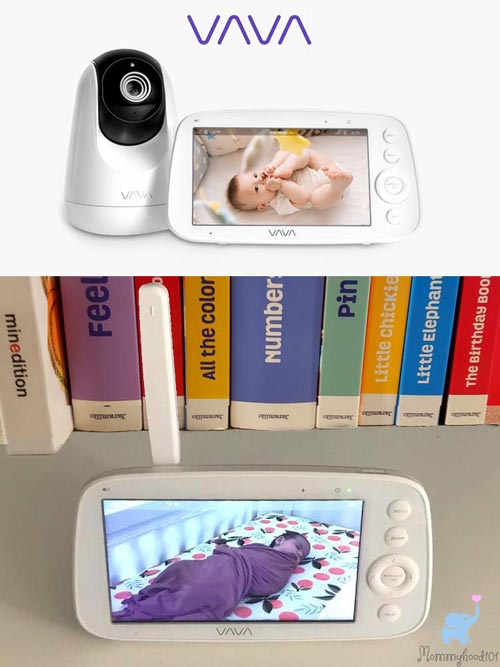 We got our hands on this baby monitor for testing late last year, and we were very impressed with the quality, battery life, range, screen size, and versatility of this baby monitor. Out of all the baby monitors on this list, this one has the best battery life. It's not cheap, coming in at around $160, but given its features and quality, we are super excited to showcase this as one of the best video baby monitors of the year, right up near the top of our list! Out of the box, everything feels very high quality and easy to assemble and use. The charger cords are nice and long, the base unit's kick-stand style leg is sturdy, and the antenna is easily folded out and adjusted. Starting it up, the base unit quickly finds the camera unit and starts streaming high definition (720p) video on a huge 5" IPS display. IPS stands for in-plane switching and provides superior color quality relative to other displays on this list. Once we got through setup, which took about 5 minutes, we were blown away by the quality and features. For features, it has a remote camera pan (side-to-side), tilt (up-down), and zoom (2x and 4x) capability, audio-only mode, a visual sound level indicator for when you mute the device, two-way intercom talk system that is loud and high quality, nursery temperature monitoring with alerts, an amazing battery life, and multi-camera (up to 4) capability.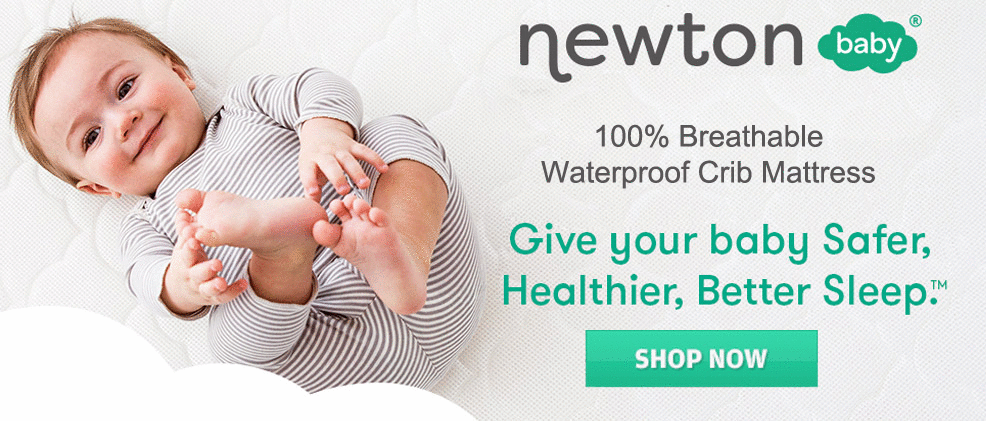 Combine that amazing feature set with really high quality daytime and night vision video quality, and you've got a truly stellar baby monitor that can compete head-to-head with any other monitor on the market. The settings were also really impressive, with a snooze timer that will wake you up after a set amount of time, an auto-off timer that will turn the screen off after a set period of time, and a setting to allow you to switch between multiple cameras at 15-second intervals (you cannot see all cameras at once on a split-screen). Let's talk about battery life, because it's super impressive. In our testing, we found that if the screen is on the entire time the unit will last for about 12 hours on batteries, but if you are using it for audio only and turn the screen on only once in a while, the battery lasts upwards of 24+ hours. We were extremely impressed, and VAVA is also proud of the fact that it includes a super-capacity 4500mAh battery. Reception range was also very good, and as long as the antenna was pointed upright on the base unit we never had any issues, even when on different floors of the house or outside in the yard. Cons? Not many to speak of. No ability to set up alerts for noise or movement. Of course, if the volume is on you're going to hear any noise, and even if the volume is off you'll see the LEDs light up on the front of the base unit to indicate the presence and extent of noise. In our long-term testing (over a year now), the VAVA has only minor connectivity issues, and the kick-stand broke on one of the three units we're testing (it fell off the table onto a tile floor, so not entirely surprising). Interested? You can get the awesome VAVA Baby Monitor monitor here, and watch our video review here.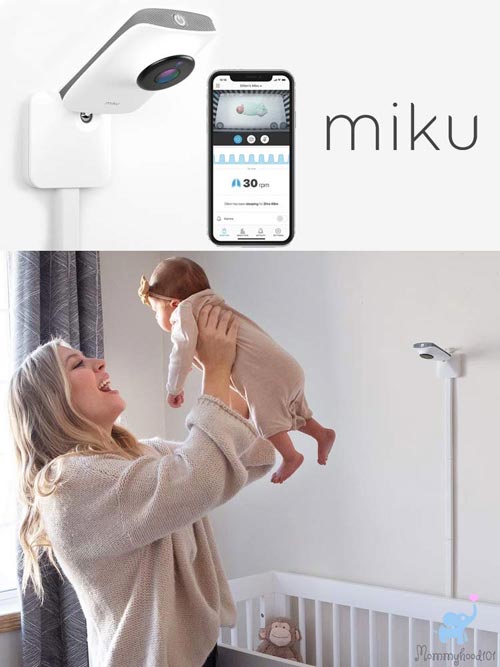 Looking for the versatility of a wifi baby monitor with the peace of mind of a baby breathing monitor? This might be the perfect option! The Miku Smart baby monitor packs some serious features, quality, reliability, and speed. Out of the box, the Miku includes everything you need to easily place the camera on a dresser or other furniture, or mount it to the wall. For the wall mount (which is required if you want to use the baby breathing monitor capability), it includes an easy to use wall attachment, screws and anchors, and a screwdriver and measuring tape. It also includes six cable guides that help hide the wire and keep it out of your baby's reach. The power cord is nice and long so you can basically mount it anywhere in the room, and there is a handy little bubble level included on the wall attachment to help you get a proper mounting angle. Once we got it mounted to the wall using the very intuitive instructions, we were off to the races! Simply download and install the free Miku app on your Apple device or from Google Play store, and plug in and turn on the Miku camera. Start up the Miku app and you'll be guided through a few easy steps to get the camera connected to your wifi and start streaming on your mobile device. We tested the streaming on our home wifi and out of the house on a 4G connection, and both worked really well. The 4G connection made for a slightly lower quality and higher latency video stream, but definitely on-par with the other wifi monitors on our list. The video was crisp and clear (up to 1080p HD), and the night vision worked very well.
The Miku uses machine vision to interpret the rise and fall of your baby's belly, which will alert you if it no longer detects expected movement (note that it is NOT a replacement for any breathing or pulse monitor your doctor may recommend). It also monitors the temperature and humidity levels of the nursery, has a high quality two-way talk, sleep tracking (with some saved videos and activity logs you can review), and sounds and lullabies. You can stream the secure encrypted (256-bit) video on more than one device simultaneously. You can also setup more than one Miku camera on your app, but you cannot view more than one camera at a time (which is normal for most baby monitors). In our testing, we didn't experience any issues with lag, poor video quality, connectivity, or anything else. If your internet does go down but your home wifi network is still working, you will still be able to stream video locally on your wifi network. To be honest, everything worked really well! The speaker was really high quality for the two-way talk and lullabies, the nursery temperature monitor was one of the best overall - both accurate and responsive, the breathing and movement detectors worked really well (as did the sleep tracking), and the app interface was intuitive and easy to use. One great feature relative to the Nanit is that all of the sleep tracking capabilities are subscription-free, which means you won't have to pay for features once a trial period ends. We love that! The only drawbacks with the Miku are no remote zoom or pan/tilt function, and the price is really steep. Compared to other wifi baby monitors with similar feature lists, like the Nanit, it is about $100 more, but that might be worth it if you want the peace of mind of an integrated breathing monitor. Our friends at WhatToExpect also think the Miku is one of the best baby monitors of the year! Impressed? You can get the Miku Smart Baby Monitor camera here.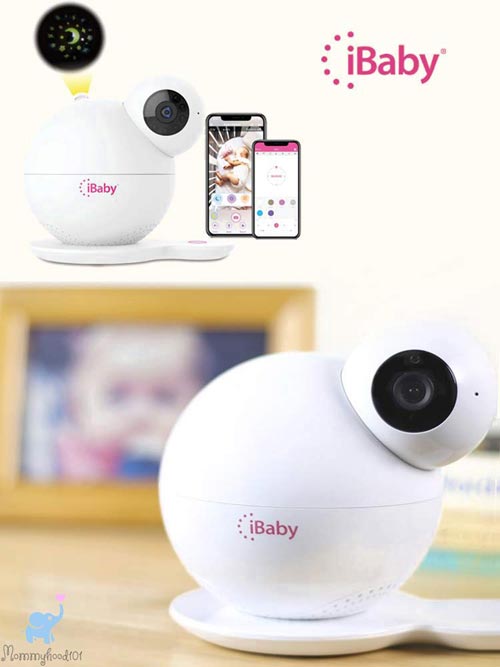 This is the baby monitor that everybody wants to love, with its unique and cute style, its wifi capability, and its huge list of awesome baby monitor features. The iBaby M7 is the newest addition to the iBaby Care line of wifi baby monitors, released last year and slowly gaining traction and popularity among discerning parents. It builds upon the popular M6S baby monitor by adding a few features, including support for both 2.4GHz and 5.0GHz wifi signals (dual band), a moonlight soother projection system, air quality sensor, and diaper and feeding time alerts. When we setup the camera and installed the app on our Andoid device (also compatible with Apple iOS), we first had some difficulty getting the camera to connect. It turns out that our camera was too far from our wireless router - the manufacturer recommends that the camera is within about 15-25 feet of the router or it will have a poor connection. As a little hint, there is a black reset button on the back of the camera, and if you hold it down for about 45 seconds you'll hear a little jingle and that will reset it. We needed to use that trick to get it working. Once we got it working, it was easy to add the iBaby camera to the app and we were off to the races. And we were impressed with all the features. You could play lullabies, music, white noise, and even bedtime stories; you can even add your own music to the options, which is a very cool capability. Up on top of the camera is a little projector that will beam the "moonlight soother" projection onto the ceiling; it can be still, rotating, or turned off completely. Another hint is that the "help" button on the camera unit will turn the projector on or off when you don't have your mobile device to control it. Additional features include motion and sound alerts, temperature and air quality alerts, remote camera pan and tilt, and diaper and feeding alerts (these were actually pretty useful).
The app was intuitive, reliable, and easy to use. Multiple users can access it simultaneously from different devices (use the "Invite & View Users" option), and the same app can be used to cycle between different iBaby cameras you have set up around the house (even the older M6 cameras can be added to the app). We thought the video quality was very good, it uses high definition and its night vision was clearer than many of the other options on this list. You can have your device's screen off and the app will prompt an alert when there is noise or movement, so you don't need to keep your phone's screen on all night. The app also lets you save photos and videos to your device, and you can be confident with its security because it's streaming encrypted to the state-of-the-art Amazon AWS servers. The only major downfall of this baby monitor is the connectivity: you need to have the camera very close to your home's router for it to get a good connection. Once it's connected, we were really happy with it, but that little caveat keeps it from being higher up on this list of the best baby monitors. So overall, this is a feature-rich wifi baby monitor that has some great things going for it, and is worthy of this spot on our list. Interested? You can get the iBaby Care M7 Baby Monitor here.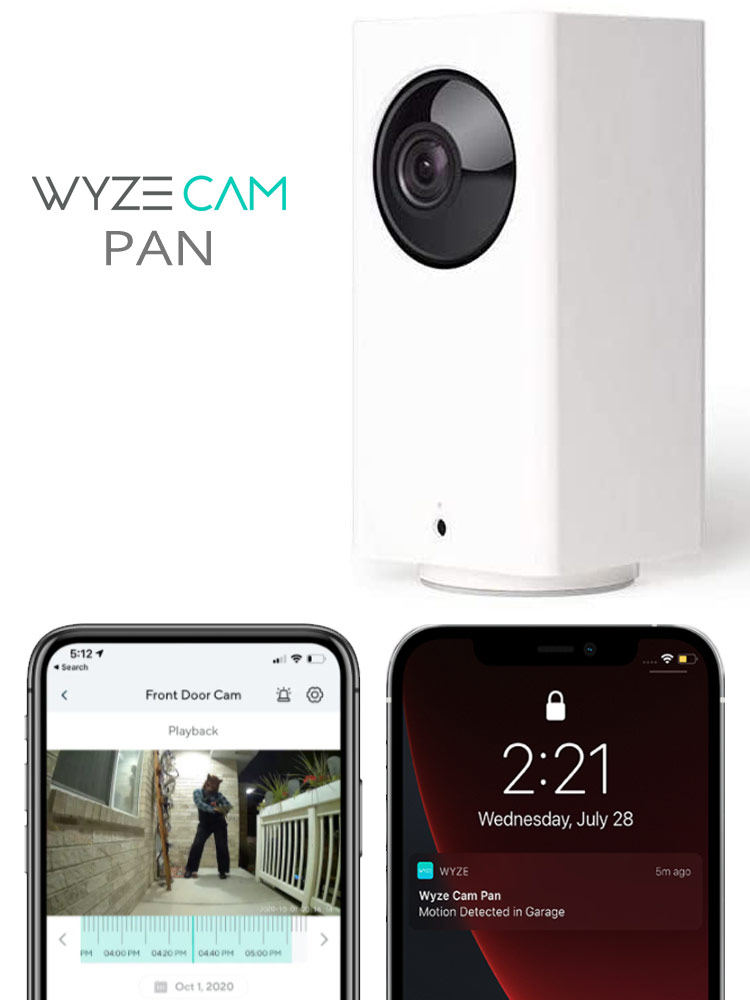 The WAZE Cam Pan v2 is a welcome addition to our list of the best baby monitors, and has secured a special place as this year's best budget pick! Exactly what do we mean by budget? Well, how does fifty bucks sound!? The WYZE has set the standard for what consumers can expect from any WiFi video monitor, and this one also doubles as an excellent baby monitor. We got our hands on the WYZE Cam Pan v2 for testing late last year and were blown away by the features. Here's a summary of some of the best ones: high definition 1080p video, color night vision, two-way intercom, remote pan, tilt and zoom, and motion and sound detection alerts. That's a great feature list for a camera twice the price, nevermind one for $50! While the WYZE Cam wasn't designed as a baby monitor per se, it does a fantastic job in that role. With an increasing number of high-end and very expensive wireless baby monitors such as the Nanit and Miku, the WYZE is a welcome addition. No, it doesn't include many of the baby-specific features such as heart rate and breathing monitors or sleep tracking, it's a great back-to-basics option offering WiFi capability that lets you view the camera from anywhere in the world on your own mobile device - from your own bedroom, outdoors, at work, or while on that desperately needed date night! Note that while we never considered the original WYZE Cam for inclusion on this list, there is one major thing that separates the WYZE Cam Pan v1 from the new v2: Starlight mode, which is a color night vision feature that does a fantastic job making even the darkest nursery look like it's daytime around the clock!
In our testing, there were several things we loved about the WYZE Cam Pan v2. First, it was very easy to setup using the Apple (iOS 12+) or Android (v7.0+) app, and it's also compatible with the Amazon Alexa and Google Assistant (Hey Google, show me the nursery!). It includes a 6-foot cord, so you might need an extension cable if you plan on mounting on the wall above a crib. Wireless video streaming was very smooth and high quality, even on a larger tablet-size display. While on 4G LTE instead of WiFi, the quality did decrease a bit, but the streaming video server did a good job buffering the video so it never had any major issues. The view on the nursery was excellent, and we loved the wide 120-degree field of view in combination with the ability to pan (move side-to-side), tilt (move up-and-down), and zoom in. The tilt function was good enough to allow us to set the WYZE on a nearby bookshelf and angle it down about 30 degrees for a great view into the crib. The motion and noise alerts were reliable and easy to set up using the app, and the night vision was definitely better than most baby monitors on the market; rather than saturate the scene with shades of green or make everything grayscale, the WYZE Cam Pan v2 makes it look like near-daylight conditions in the nursery (and there are no bright lights emanating from the camera). Honestly the first time we saw the night vision in action, we thought we accidentally left the nursery light on! One final feature to mention is that the WYZE Cam Pan v2 includes free rolling cloud video storage that saves the past 14 days of video; you can also upgrade to a longer duration subscription, if needed. Because this is a relatively budget option, it is missing a few things you might be looking for. Specifically, it's great for the more tech-savvy consumers because the customer support is relatively poor, the two-way audio and digital zoom weren't the best quality (but passable), and be careful during setup to avoid putting in any credit card information unless you want to be sucked into a long-term committment that's nearly impossible to cancel! Overall, this is an awesome budget baby monitor for parents looking for a great WiFi solution that can be used for years after it serves its role as a baby monitor! Who else thinks the WYZE Cam Pan v2 is awesome? Our friends at Babylist and WhatToExpect! Impressed? You can check out the WYZE Cam Pan v2 here.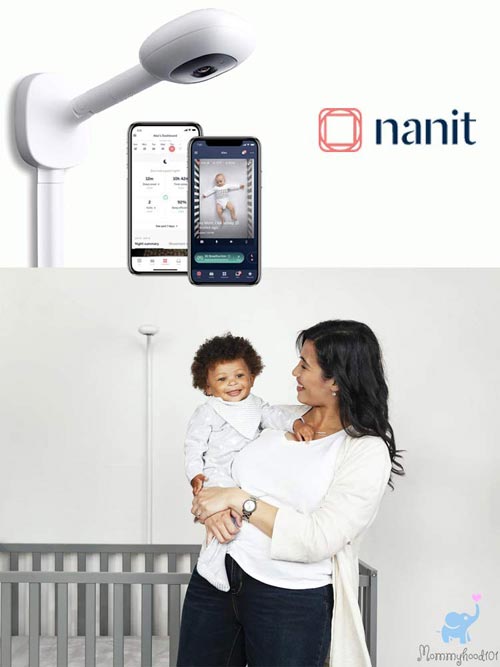 The Nanit Plus Camera is one of the best baby monitors with WiFi, as the older sibling to the Nanit PRO. The baby monitor market is exploding with high-quality baby monitor options that use a wifi camera connected to an app on your smart phone. The Nanit Plus Camera Video Baby Monitor and Sleep Tracker is a great example of that, and is the best wifi baby monitor of the year! Out of the box, the system is very well designed and made with high-quality components. The camera itself looks sleek and modern, and streams high definition (a bit higher than 720p, at 1280 x 960) digital video and digital audio to an app on your phone. The app is freely available for Android and Apple devices, including phones and tablets. Video and audio streaming use your home's existing wifi router, either directly to your device (when you're at home) or through the internet (when you're out of the house). In our testing, if you're at home the video streaming is very fast (low latency) and high clarity. And if your internet goes down, it will still work as long as you're still connected to your router. On a 4G LTE connection, the video was also surprisingly high quality. It can get a bit choppy from time to time but we found that a common theme with any wifi-based camera system streaming over a cellular connection. The Nanit Plus Baby Monitor is packed with features. First, there is an awesome digital zoom feature that you control directly from your app - intuitive touch inputs are used, like pinching to zoom out, and spreading your fingers to zoom in. Definitely preferred to a series of buttons. Second, it has temperature and humidity sensors so you can keep track of nursery conditions. We compared the temperature display and humidity readings to our hygrometer and the Nanit Plus Camera was very accurate in both regards, but particularly with temperature. Third, we loved the wall-mount because it gives you a really nice overhead view of your baby, but you can also purchase a separate Nanit table mount to place the camera on a nearby surface like a dresser. Fourth, the Nanit includes all of the wall mounting hardware and the cord-hiding strips to keep the wires out of baby's view and reach. Fifth, the camera quality was excellent in both day and night vision conditions, with high pixel density and color quality. Finally, there are some other nifty features, like the ability to receive sound or movement alerts, have audio running in the background of your phone (which is great for nighttime), a night light that you can control right from the app, and encrypted communication.
When you combine those features with the monthly subscription ($10/month) for Nanit Insights, you can also can track your baby's sleep habits (including videos). With the Nanit Plus, a 1-year trial is included for this service, which covers the first year of life when sleep tracking is most important. In our testing, everything worked really well, and we were consistently impressed by the streaming video quality and sensor accuracy. The difference between the Nanit versus Nanit Plus is that the Plus adds two-way talk intercom, nature sounds and white noise, a free one-year subscription to Nanit Insights, and access permissions for all the features (so you can set it it up differently for yourself versus other caregivers). One little con is having no remote tilt or pan function. And yes, it's expensive, coming in at about $299 (or $250 for the non-Plus Nanit Camera), but we think it's totally worth it. We have been using the Nanit Camera Plus for over two years now, and it has been consistently reliable, and we absolutely love how intuitive and stable the app is. The only thing better than the Nanit Plus is the new Nanit Pro (above)! Who else thinks the Nanit Plus is among the best baby monitors of the year? Our friends at Babygearlab, Babylist, WhatToExpect, and The Bump. Interested? you can get the Nanit Plus Baby Monitor here!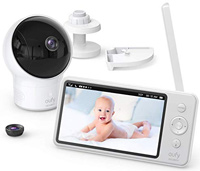 This baby monitor is most similar to the VAVA and DXR-8 PRO in terms of features, including the 5" display at 720p high definition, remote zoom, pan, and tilt, two-way talk, nursery temperature monitor, lullabies, and high quality night vision. But it also has some features that those do not, including a wide-angle lens that doesn't need to be purchased separately, and a variety of wall and crib mounts. The crib mount is especially nice, and the wide angle lens makes it possible to use the camera in a close-up position. Out of the box, we found it easy to setup and get working - there were no unexpected issues or hiccups to speak of, and the included power cords were nice and long. We used the corner wall mount and also tried out the crib mount with the wide angle lens, and were impressed with the versatility without making separate purchases. We tested the Eufy Spaceview in day and night conditions and the display was surprisingly good quality, and we were impressed with the low latency connection between the camera and parent unit. Range was superb - we only had issues with lost connection when we went about 150 feet away from the house, in the corner of our backyard. It never had connectivity issues when we went into the basement or 2 levels above the camera, so that was nice to see; note that we kept the antenna on the parent unit fully extended in our tests.
The controls and interface are intuitive and easy to use, the push-to-talk feature was clear and loud, and the built-in music/lullabies were a nice touch. There is an Instant Alert system you can activate that will sound an alert when your baby makes a loud noise, though the audio is on during this time so you'd likely hear it either way. The zoom was digital so it left something to be desired in the clarity department, but that's the case with most of the best video baby monitors on this list. The Eufy can support up to 4 cameras that can be selected between (or automatically cycled between), but the eufy add-on cameras are a bit expensive, coming in at about $100 each. Cons? Well, the battery life was nowhere near as impressive as with the VAVA, due to its 2900mAh battery (versus the VAVA's 4500mAh). The kickstand seemed like it could be easily broken; in fact, the entire parent unit seemed a bit more fragile than the VAVA and Infant Optics models. Also, while we appreciated the crib mount we were a little worried about the camera popping off and falling into the crib, so we didn't use that mount overnight. Other than that, we thought this was a great new option by Eufy, and we're happy to have reviewed it! Who else thinks the Eufy is one of the best baby monitors of the year? Our friends at The Wirecutter also selected it as a top pick! Interested? You can learn more about the Eufy Spaceview Baby Monitor here.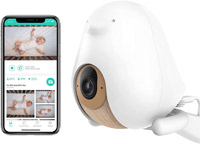 We got our hands on this early last year and were very impressed with its features, versatility, connectivity, style, and video quality; you can read our full Cubo Ai Plus review here. The Cubo Smart Baby Monitor has 1080p HD streaming video, cry detection and photo capture, danger zone alerts, two-way audio intercom, nursery temperature and humidity monitor and alerts, face covered (e.g., with a blanket) and rollover alert, and compatibility with multiple cameras. Out of the box, everything feels and looks very high quality. It includes everything you need: a standing floor stand, a crib rail mount, and a mobile stand for placing on a nearby table. That's three different mounting possibilities without purchasing anything additional (unlike the Miku or Nanit). The Cubo Ai app was easy to install on both Android and iPhone, and it took about 2 minutes to activate an account and begin streaming through a mobile device. Once you start streaming, features abound: nearly everything is customizable through the app, including temperature alert range, humidity alert range, cry alert sensitivity, clear night vision, night-light activation, status light on/off, roll-over alerts, danger zone definitions, and more. We loved the range of customization, especially for nursery temperature and humidity, and cry alerts (do you want it to alert you for a whimper or fuss, or only for a real cry?). The danger zone alerts allow you to draw a polygon over any area of a scene, and if movement is detected in that area you'll get an alert. In our testing, we had a couple finicky issues with the camera connectivity but only when switching between WiFi and 4G LTE. In both cases, video quality was impressively high once connected, and latency was only about 1 second on WiFi and about 2-3 seconds on cellular (4G LTE) networks. The interface is very intuitive, and it includes the ability to drag a cursor to go back in time several hours (up to 18 hours) to see what happened at certain times of the night.
We appreciated that the Cubo included two wall plugs so if you prefer to travel with a baby monitor, you don't need to unplug your home system. The temperature and humidity were accurate, the two-way intercom was high quality sound, and all of the alerts worked very reliably without many false alarms. We loved the ability to go back and review videos without having to purchase any type of subscription. Also, the camera takes a ton of photos throughout the day or night whenever it believes it detected an event; most of these are useful and some are seemingly random. Note that there is no baby breathing monitor capability here, unlike the Miku. If we're being picky, there are some little drawbacks to mention. First, the floor stand is a little flimsy and wobbly, though they do include a velcro strap to secure the stand to a crib rail. When the camera is on the end of the floor stand's arm, ours tilted a bit to the side and there was no clear way to fix that. As a funny aside, there is also a somewhat odd water bag included that you're supposed to fill with water and place into the floor stand's base to prevent tipping, but we just threw a few weights in there instead. When we did test the bag it didn't leak or anything. Second, when the stand is Velcro'd to the crib, baby kicking or movement can make it wiggle/sway quite a bit; we actually detached it from the crib and secured it to a nearby dresser instead, which solved that minor annoyance. Third, attaching the camera itself to the stand can be really challenging. Once it gets lined up perfectly it snaps on very nicely, but getting it to line up takes several attempts. Of course, these are all pretty minor gripes about an otherwise fantastic WiFi baby monitor that has great features, reliability, and a really sleek and cute design that is unparalleled in the baby monitor market. Price? About $250, which puts it in a competitive price-point relative to the other top-rated wifi baby monitors on this list. Interested? You can learn more about the Cubo AI Smart Baby Monitor here.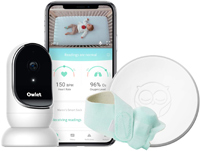 While the Owlet Smart Sock has been around for several years, the addition of a video camera incorporated into the same mobile app is relatively new. We got our hands on this device earlier this year (thanks, Owlet!) and were really excited to test it out. We did place the Smart Sock onto a couple test babies, and it seemed to work just fine - we're not going to get in depth about the sock and whether it provides accurate or reliable pulse oximetry or heart rate measurement, since we're not medical doctors (we have PhD's, not MD's!). Out of the box, the Owlet baby monitor system seems to use very high quality components. The camera itself reminded us a bit of the Miku model, with a sleek white and black design and a shiny silver bezel. The included socks came in three sizes, with the smallest one - made for a 6 lb baby's tiny feet - fitting on our thumb! There is a slim base station that is used to connect to the socks both for charging and wireless communication when the sock is on your baby's foot; the base station can also provide basic status information without opening your app (through a series of colored glowing lights). Setting up the system was easy enough. You place the base station wherever convenient - we put it on our bedside table, and plug it into the wall using the included adapter. The sock electronics slide into and out of the socks themselves and attach to the base station for charging. While there are three socks included, there is only one monitoring device that can be slid in and out of one of the socks. To setup the camera, you need to plug it in using the included wall plug adapter, and install the Owlet baby monitor app in your smart phone (Apple or Android). Once you open up the app, it will ask you to make an account and ask you about your WiFi information, and then pair the app with the camera. Once it's paired, which only took a couple minutes total, the app will start streaming video from the camera.
We mounted the camera on the wall about 3 feet above the crib using the included mount and cord covers, which provided a wide enough angle to see the entire mattress. The camera itself attaches to the base with magnets, which made us a little nervous when mounting above the crib, though it feels pretty secure and it never fell off the base. You will need to adjust the angle of the camera during this mounting process, since it does not have remote pan or tilt functions from the app. There is a digital zoom, but those are never very good quality; be sure to mount the camera at a height that will let you view all four corners of the crib, so you can avoid using the zoom. Once you get things up and running, our first impressions of the video quality were pretty good - it streams in 1080p high definition, and when on your home WiFi the connection latencies were great! The latency was only about a second or two, which is generally unnoticeable. We appreciated the nursery temperature monitor, the two-way talk, the high quality night vision, and how you can put the video as full-screen on your device (phone, tablet) and still see your baby's current heart rate and oxygen levels! The Sock itself rarely lost connectivity, only about once a week or so in our testing, but the camera was a bit more finicky. It intermittently showed relatively high latency, and once in a while it would drop its connection from the app. This happened mostly while out of the house on a cellular connection. Also, the price is very steep, coming in at around $400, making it the most expensive baby monitor on our list - that might be worth the peace of mind, but we'll let you make that determination! So overall we love the concept here, combining the assurance of being able to monitor vital signs of your baby while also having a video baby monitor with great potential. As new firmware updates are released we expect the stability to improve, which it did in the recent update. Who else likes the Owlet is one of the best baby monitors of the year? Our friends at Babylist call it a top pick! Impressed? You can get the Owlet Baby Monitor Smart Sock + Baby Monitor Camera here.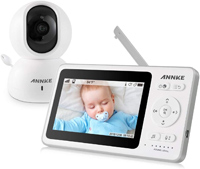 We got our hands on this new video baby monitor for testing last year (thanks, Ankke!), and were pleasantly surprised with its features, versatility, range, and overall bang for the buck. Coming in at only about $99, this baby monitor offers a 4.3" LCD display, two-way talk, cry detection alerts, nursery temperature monitor and alerts, lullabies, and a few other little features like an included wall mount, feeding reminders, expandability to 2 cameras, and remote pan, tilt, and zoom. It's most similar to the Eufy and VAVA monitor in terms of features, but we think those offer a bit more bang for the buck, especially given the bigger screens, longer battery life, and better quality video. Out of the box, things are pretty simple and straight-forward to setup. It comes with two charging adapters (both using micro-USB cables), a three-screw (screws included) wall mount, a little reset pin for resetting the device, and a user manual. Once you plug it all in, everything is easy to setup and we didn't run into any challenges getting it up and running. The screen is rather small at only 4.3", while the parent unit itself is still surprisingly large - a bit too large to easily fit in your pocket. The camera unit has a convenient tripod screw hole on the bottom, which gives you flexibility with mounting options (including the wall mount).
The first thing we noticed about this baby monitor is the video quality isn't on par with the 720p resolution of some of its primary competitors, like the Eufy or VAVA. This includes both daytime and night vision. Not to say that you can't see your baby at all times - you can - it's just that the overall resolution and size of the video leave something to be desired. The audio was quite good however, and we appreciated the little audio level indicator. The cry alerts also worked pretty well, save for a few false alarms when the HVAC system turned on, or when a loud truck drove by our house. The buttons and menus were easy to use and reasonably intuitive. In our testing, we got about 5 hours of continuous operation out of the battery with video on, and about 9 hours in power-saving mode. This relatively low battery life isn't entirely surprising given that the battery itself is only 1200mAh, which is less than half the capacity of the Eufy monitor, and about 4 times lower than the VAVA monitor. Reception was actually pretty good and among the best video baby monitors overall, and we were impressed with the range - both between floors of the house and also from indoors to outdoors. Overall, we think this is a good option for parents on a budget, and it's performing well in our longer-term (over a year now!) testing. Not the best baby monitor of the year, but definitely deserving of a spot in the top 10! Interested? You can check out the Annke Baby Monitor here.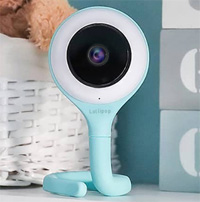 The Lollipop baby monitor uses a cute and innovative video camera on a flexible stick that can bend to attach to a crib rail, stand on its own, or mount onto the wall with an included mount. This mounting versatility is great for the different stages of development. For new babies that aren't old enough to stand up and grab the camera, it can be mounted right on the crib's upper rail, giving you the perfect view onto your sleeping baby. Then for child safety, as your baby gets older and becomes more mobile, it can be moved to the wall or on top of a nearby dresser and give you a good vantage point into the crib. The camera connects to your existing home WiFi, and you use your smart phone to connect to the baby monitor (there's a free mobile app for the iPhone or Android). If the camera and your phone are both connected to your home wifi, you will get real-time streaming within your home over the local area network, and you can turn on privacy mode to keep the signal from traveling to the cloud for processing (i.e., it will stay in your local area network, the signal never leaves your home). This makes the stream much faster, but also makes sure that it will still work during an internet outage - a huge selling point. When you leave your house and connect to your cellular carrier or to a different wifi, the camera's signal will travel through Amazon's cloud computing service then get bounced down to your phone's app. The cloud computing does two things. One is that it makes it possible for you to remotely connect to see your live camera wherever you are, as long as you have your phone. Second, it will analyze the sound to check for crying and send you an alert. And it seems pretty specific to crying, rather than sending alerts whenever there is a little other noise (like a door closing, dog barking, or HVAC turning on or off). It also saves little 30-second video clips from when the crying was detected, so you can go back (like with a DV-R) and see what was going on. Nice touch! And that cloud service is completely free to you, paid for by Lollipop.
There are a few additional baby monitor features worth mentioning: there are alerts for both crying detection and noise detection, and there is a proximity sensor that you can customize (set up a virtual boundary around the crib) to alert you if your baby leaves the defined boundaries. The digital video is streamed in high definition (720p), and we found that it has generally good video and digital audio sound quality. One of the features we really liked was the ability to stream just the audio overnight. In our testing, this worked really nicely, but it's worth noting that it only works in this mode when you are on the same wifi connection as the baby camera (i.e., you're at home). We found this baby monitor's video quality to be very high, including night vision quality, though the "real-time streaming" did sometimes get delayed by a few seconds, especially when streaming through the cloud to our iPhone on a 4G connection. A few cool things worth mentioning. Mounting was easy, no more drilling into the crib or using adhesives. You can also buy the Lollipop monitor with a separate sensor for about $50 more that will tell you some additional information about your baby's room, like room temperature sensors, air quality, and humidity sensors. You can also play sounds for your baby through the app, like white noise, trickling water, or even the sound of the vacuum. You can also setup multiple cameras to view on the same app. So there are tons of great features here, and overall we thought it worked really well in our testing. Drawbacks? It gets pretty laggy when streaming through cellular networks, but that's not really Lollipop's fault, and it's true for most wifi baby monitors. Also, it's a bit expensive if you compare feature-for-feature with its primary competitors (Nanit, Miku, Cubo) and factor in the cost of accessories. Interested? You can check out the Lollipop Baby Monitor here.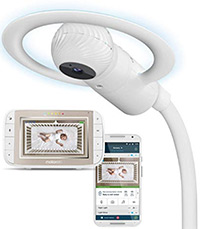 For the parents who can't decide whether to purchase a wifi or traditional baby monitor, this Motorola Halo+ combines two of the best baby monitor features available: a video parent unit that can sit on your bedside table, and the ability to also stream video over WiFi! It's one of the only baby monitors with a parent unit and WiFi capability (also see our Hubble Nursery Pal review and Motorola PIP1510 review). So now you can use the traditional parent unit during the evening and night, but then use your smart phone any other time (and any other place). Out of the box, this system includes a cool looking camera system with a crib mounting arm and an integrated glowing night-light (or light show) and speaker (two-way), and a decently-sized (4.3" diagonal) color screen parent unit that you can keep on your bedside table or move anywhere around the house. What's nice about this system is that it will work even if your wifi is down, since the parent unit uses traditional radio frequency transmission. The crib mounting system is the same as used for many crib mobiles, and you can attach it in a few minutes to the side of basically any crib (including ones with slats or spindles). That mounting system is good for about 6-8 months or until your baby gets curious and starts to climb - then you'll want to remove anything they can put their foot onto for climbing out of the crib! At that point, you can remove the camera from the arm and simply place it on a nearby dresser or changing table. One point about the crib mount - we loved that the arm extended down to the floor from where it mounted onto the crib, with the wires securely inside. In other words, all wires are on the floor instead of anywhere near the baby (nice touch!). The parent unit display is pretty basic, smaller than several others, but it had decent image quality and was pretty reliable. On the Hubble app (free for Android and iOS/Apple devices) the video quality looks surprisingly great, especially when your phone is connected to your home wifi. After using it for a few weeks, we ended up relying mostly on the app on our smartphone because it simply looked better than the parent unit and was way more convenient.
Let's consider some of the other features we really liked. First, it has the two-way talk function so you can not only listen to your baby but also talk back (or sing back!) when needed. Second, it has a choice of several lullabies you can play as well, and if there isn't one you like, you can download more or make your own using the Hubble app. Third, it has an integrated nightlight or ceiling lightshow projector, though the latter wasn't so great unless at a perfect height relative to the ceiling and not too close the wall. A few more perks include the nursery temperature monitor, the high quality night vision, the ability to stream live to the app while watching video on the parent unit at the same time, and the powerful Hubble app that gives you access to things like sleep tracking (e.g., when baby fell asleep, woke for feeding, etc), movement triggered videos (and notifications to your phone), age-related baby facts and hints, and schedule tracker (e.g., feeding, diaper changes, pumping, etc). What doesn't it have? Apparently you can add up to 4 cameras to the system, but extra Halo+ cameras do not appear to be available anywhere. You can search Google for the camera's model number MBP99CONNECT to see if any are available. Also, we were pretty disappointed that there is no remote pan, tilt, or zoom functions - any movement of the camera will be a physical adjustment, which is unlike older Motorola baby monitors with a parent unit. We think the high price combined with the inability to remotely pan/tilt/zoom the camera make for some pretty big limitations. But if you really want a system that can fulfill both the wifi and non-wifi functions, this might be the best baby monitor option for you! Interested? You can check out the Motorola Halo+ Baby Monitor here.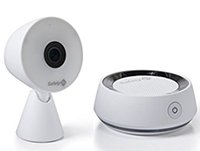 We got our hands on this monitor in the middle of last year for testing. It's a wifi baby monitor, just like many other options on this list, meaning that it connects to your wireless router to stream a digital video and audio signal to your smart phone wherever you are in the world. What's unique about this Safety 1st wifi baby monitor is that it also includes a wireless speaker pod that you can place anywhere in your house so you can listen in on your baby when you don't want to turn on your smart phone. This is nice during the night when you don't want to turn on your bright screen, or when your phone battery is low and you need to recharge. And the speaker pod has a battery that lasts for about 10-12 hours, so you can easily bring it into different rooms. There are some additional features worth mentioning. First, it streams video in high definition 720p, which has great pixel density and color contrast. Second, we were impressed with the nice wide-angle lens on the camera (130-degrees horizontal field of view), which means that it's more accommodating if you want to position the camera closer to the crib. Third, you can set up movement and sound alerts and customize the sensitivity of the alerts on your app to make sure you're getting an alert when it's important, and avoiding false alarms. We liked that you can change the sensitivity of the alerts, and thought that feature worked pretty well in our testing. The auto-recorded 30-second video clips were also a nice touch so you can see what was going on when the alert was triggered. The night vision was pretty good quality, you can zoom in and out (but you can't pan or tilt) using the app, there's a two-way intercom so you can talk to your baby, and you can expand the system to multiple cameras that you can toggle between using the app. Setup was pretty easy, so that's definitely good, though the owner's manual was a bit difficult to understand at times. And once we got it running, it seemed to stay up and running pretty reliably, so that's also a plus.
Unlike some other WiFi baby monitors, there's no necessary subscription to store the 30-second clips you record for 30 days in the cloud. So here are some things that we didn't like about this monitor: first, many times when we open the app on our phone, the live stream doesn't connect immediately - sometimes we would restart the app, and other times we'd just need to wait several seconds. That's frustrating when you just received an alert and go to see what's going on, but can't. Second, if your internet goes down you're in trouble. Unlike most others, it will not revert to streaming over your local area network in the event of an internet outage - so even if you're at home, you won't be able to use the app or otherwise view the video. Third, the camera has a bright light on it that can't be turned off, which we ended up covering with electrical tape. Finally, we found the speaker pod unusually difficult to use, and were disappointed that a charger wasn't even included with it (or maybe it was just missing from our box?). Anyway, so there are some really nice features and high potential for this to be a great baby monitor, but in the end we found several limitations that made it difficult for us to justify spending upwards of $200 on it. Update: it's been over two years now and things are still working very well with this baby monitor, and we're appreciating its long-term reliability! Interested? You can check out the Safety 1st HD wifi Baby Monitor here.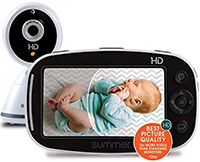 This is a recent release from Summer Infant, and is their most premium baby monitor offering. Among baby video monitors, the Baby Pixel Zoom packs serious features: remote pan, tilt, and zoom of the camera, a high-definition 720p resolution 5" color display, voice activated video, lullabies and white noise, two-way talk, nursery temperature monitoring, and expandability up to 4 cameras (check out the extra cameras here). In addition to those must-have features, Summer added on a bunch of extras that are worth mentioning. First, the zoom capability was impressive (6x) and maintained reasonable visual clarity even at higher zoom levels; this was convenient when we placed the camera farther from the crib and needed to zoom in a bit to see details. Second, there is a virtual boundary monitoring system that will alert you if your baby rolls or scoots out of the frame of boundaries that you can define yourself; this is a nice touch for babies who wake up without a peep but then tend to wiggle or crawl around. Third, there is an awesome moonlight night vision booster; this feature makes a subtle white glowing light to temporarily add light into the room to help you see colors and details during nighttime. It wasn't very bright at all, but it did make a big difference in visual clarity.
The range was pretty good indoors and outdoors, and there was a nice alert that would tell you when you were getting out of range. The battery life was also very good (like 12+ hours!), likely due to the auto-dimming power save feature that would dim the screen after like 30 seconds if you're not interacting with the interface (and if your baby isn't making any noise or leaving the virtual boundary). Note that if the monitor unit is plugged in, the screen stays on unless you turn it off yourself. Cons? It would have been nice to be able to turn off the power-saving mode when using the battery so that you can keep the screen on at all times, even if battery life will suffer. We also had found some limitations with range when we ventured into our yard or basement. Outside of that, we were really impressed with this new addition to the baby monitor market. It's a little expensive relative to others (over $200), but might be worth the added cost for your situation. Interested? You can check out the Summer Baby Pixel monitor here.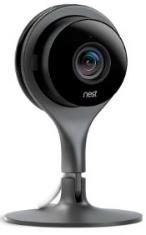 This is a powerful solution for the relatively computer savvy parents who want flexibility, accessibility, and convenience. The Nest Cam is not just a great baby monitor, it is a wireless video camera that can be placed anywhere and will communicate with computers and smart phones; many people even use it as a home security camera for its ease of use and placement, high-quality video, and as a monitor with night vision it is pretty unsurpassed. Install the App and view your baby through your cell phone no matter where you are, or use it as a powerful security camera for when you're traveling or out of the house. Want to check in on the babysitter while you're out on date night to make sure your baby is napping on time? Want to move the camera to monitor the dog or your home while you're away? Easy, and with the 130-degree wideangle lens, you can place it in even small rooms and maintain a good field of view. If you're away from home, you can also set it up to alert you to any movement: it will send an alert to your phone (or an email) along with a photo of what's going on.
Like many baby-oriented video monitors, it also supports two-way communication with a built-in microphone and speaker, has 8x digital zoom, and has great night vision. It also has 1080p quality video, day and night. But it's also a bit expensive for a camera-only system, coming in at about $165. This is a powerful and flexible system that has a very high-quality digital video color and night vision camera, a wide field of view, access to cloud computing, and tons of convenient bells and whistles. If you ask us, this is one of the best and most flexible solutions for baby monitoring. It's a bit lower on our list because it's not technically a baby monitor so it doesn't include things like sleep mode (turn on only in response to noise, or turn off the screen but still maintain sound), and of course there is no dedicated bed-side monitor for it. We also don't like that you need to subscribe to the Nest Aware for $10/month if you want to remove annoying banner ads on the app or software package. After paying $165+ for this, you would think the app would be included without annoying ads?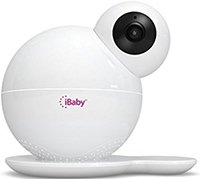 iBaby makes a wide range of baby monitors. From cheapest to most expensive this includes the iBaby Monitors M2, M2S, and M2 Plus, iBaby M6, M6T, and M6S, and the new iBaby M7. The M2 series is usually under $100 and is pretty poorly reviewed overall. The M6 series is usually about $125 and is decently reviewed. Finally, the new M7 is brand new and only differs from the M6S in that it has a smell detector and night sky projector that can shine the moon and stars onto the ceiling (our review of the M7 is above). There's truly a lot to love about the iBaby M6S. It looks great, is pretty easy to setup, and has a ton of appealing features. Some highlights are that it uses 1080p high definition video, it senses room temperature and humidity levels, has an air quality sensor (measures the presence of volatile organic compounds or VOCs in the nursery), is dual band wifi compatible (2.4 and 5GHz), and a two-way intercom. It also can record HD videos, remotely pan (rotate) and tilt up/down, and you can setup alerts for motion and sound, and VOCs (from 1 to 4 with 4 being best). So it basically has everything that might be on your list of baby monitor essential features, and we were really excited to set it up. Out of the box, we found it easy to download the app to our smart phone (Android or Apple), connect to the monitor and connect it to wifi, and get things up and running. A couple notes here - first, your wifi password needs to be shorter than 32 characters or the app won't accept it, and second, there is no way to manually set an IP address for the camera. When we used it on our home wifi network, we found that the images were clear and decently fast (low lag), and the night vision was high-quality and not too grainy.
We especially liked the pan and tilt features from the app, which allows you to move the camera's view angle around without going into the nursery (and it uses a cool screen-swipe gesture to do it). Once we left our home's wifi connection and tried to connect to the camera from a 4G LTE or a different wifi network, that's when we started to run into problems. It was choppy and laggy, which to be honest is what we expected when attempting to stream 1080p HD video outside of your home network. So we changed the resolution settings on the app (Settings - Display Settings - Resolution) to downgrade it to a lower quality stream; that seemed to help a bit. We also had difficulty connecting to the camera at times, whether we were at home or elsewhere, which was one of the more frustrating things about the iBaby Monitor M6S. The temperature and humidity sensors seemed to work pretty well, and we confirmed their accuracy with a separate thermometer and hygrometer (they were pretty decent in accuracy). For the two-way intercom, the speaker in the camera seemed pretty poor quality so it was hard to hear my voice when attempting to speak to (or sing to) our baby. Finally, we had some issues with alerts coming through to the app as intended. We setup the temperature, humidity, and VOC alerts, and had really intermittent alerts when we tested them out. The temperature and humidity sensors seemed to be reading just fine, they just weren't reliably triggering an alert when they deviated from a range. For example, we set a temperature alert for 80 degrees then blew a hair dryer at the camera; it warmed way up, but the alert wasn't triggered, so that was frustrating. We didn't test the VOC sensor, though one could imagine you could open up a can of paint next to the camera and see if it sends an alert. So overall, we have a decent wifi baby monitor that has some excellent features but also leaves a lot to be desired in the reliability department. Interested? You can check out the iBaby M6S Baby Monitor here.
Discontinued Baby Monitors:
Cocoon Cam Video Baby Monitor (WiFi with breathing monitor). The Cocoon Cam baby monitor was discontinued, along with its streaming services and support, as of early last year.
Arlo Baby video baby monitor (WiFi). The original Arlo baby monitor was discontinued as of last year, though Arlo does appear to be transitioning to a new product. The sales team at Arlo says "there are no updates as we speak" and "we don't have any update whether there will be a new kind." If another Arlo baby monitor gets released, we'll get our hands on it and review. For now, you can still get the Arlo Baby monitor in various formats (like with special stands) at Amazon.
Philips AVENT DECT video baby monitor. The Philips AVENT SED630 was on our list for a few years, but was discontinued as of last year. Philips DECT only sells audio baby monitors at this point.
Looking for a baby monitor without video? Be sure to check out our reviews of the best baby monitors with sound only.