The Best Bassinets of 2023
From classic designs to modern smart bassinets, your baby will love their new digs.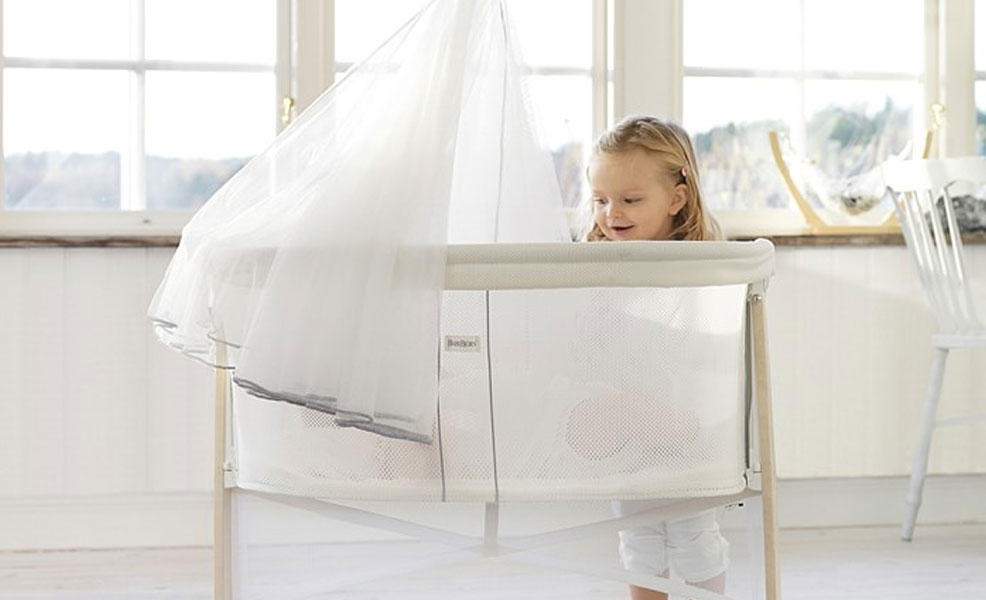 ---
Mommyhood101 independently tests and curates baby gear to help you make informed decisions. If you buy products through links on our site, we may earn a commission.
According to pediatrics research, your newborn baby will sleep for about 16 hours per day during the first few months of life. During this time, sleep is one of the primary and most important functions of the brain, playing an important role in your child's development and well-being.
The best bassinets will help your baby fall asleep faster, sleep for longer, and have a more restful sleep. They will also help ensure your little one is safe and sound, comfortable, and practicing safe sleep practices as recommended by the American Academy of Pediatrics (AAP).
Just for fun, what does ChatGPT-4 think is the best bassinet!?
"I can confidently recommend the HALO Bassinest Swivel Sleeper as the best bassinet currently available on the market. This bassinet offers several features that make it stand out from its competitors." -ChatGPT-4
We've been reviewing bassinets for over 10 years, and appreciate how difficult it is to find the perfect model for your family. If we made our own bassinet, here is what it would look like:
✔️ Flat and firm sleeping surface.
✔️ Removable mattress.
✔️ Machine washable sheets.
✔️ Lightweight and portable.
✔️ Stable, not easily tipped.
✔️ Dropside for bedside convenience.
✔️ Breathable mesh sides.
✔️ Padded upper edge.
✔️ Adjustable height.
✔️ Swivel orientation.
✔️ Swaying or bouncing motion.
✔️ Sound and vibrations.
✔️ Suitable for newborns & premies.
✔️ 25-pound weight limit.
✔️ Bluetooth smartphone integration.
✔️ Adjustable sun canopy.
✔️ Includes sheets.
✔️ Storage basket or pockets.
✔️ JPMA & ASTM certified.
✔️ Greenguard GOLD certified.
Of course, you also want the bassinet to fit your personal style preferences, materials sourcing and sustainability preferences, and your budget. That's a lot to ask!
Full disclosure: Some of these bassinets, including the 4Moms and Graco models, were sent to us as free test samples by the manufacturer.
Below are the top 5 best bassinets we found, followed by full reviews of a dozen different models.
To help you find the perfect bassinet for your family, every year we gather the newest, most popular, and top-rated bassinet models and put them to the test. The bassinet is an essential addition to your baby gear collection, and it makes a great gift for new parents.
In the first year of a baby's life, a lot of time is spent focusing on getting your baby to sleep through the night, nap frequently during the day, and spend less time fussing. A good bassinet can help make those dreams a reality!
Here are the Best Bassinets of 2023!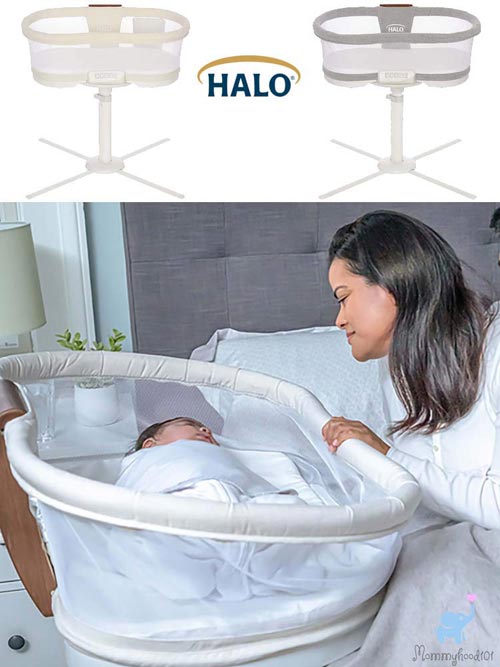 This bedside HALO BassiNest bassinet truly does it all: bassinet, co-sleeper, adjustable base to fit all bed heights, nightlight, sleep sounds, soothing vibrations, feeding timer, rotation and swivel 360-degrees to bring you closer to your baby, mesh ventilating sides, and excellent build quality. In our testing, everyone loved this bassinet! It looks great, feels sturdy, and is adjusted to fit a variety of circumstances, including our tall bed and our living room sofa (from 24-34" tall at the level of the mattress)! One of our testing moms commented on how great it was after a C-section so she could lie down on the couch or bed and it would adjust to fit either scenario perfectly. Most importantly, she didn't need to get up in order to easily access the baby. The sidewall lowers down to make your baby lie down right at the same level as you. And it doesn't take a C-section for mom to need some serious relaxation! We loved how the feet slide under the side of our bed and sofa, helping bring the bassinet right up to the side of the bed. With its mesh sides and firm mattress, you might not be surprised to learn that the CJ Foundation certified this bassinet as the safest alternative to bed-sharing for reducing SIDS risk.
In our testing, we only came upon two negatives. First, the comfort level of the mattress is somewhat thin relative to some of the competition. Of course, firm mattresses are recommended for newborn babies to reduce the risk of SIDS, so this is to be expected. Some parents purchase a padded insert to make a softer surface, but this contradicts Safe Sleep guidelines and we do not recommend it. Second, we had a hard time getting the mattress perfectly level at times, especially at higher height levels, but we got it figured out after a few minutes of adjustment. Both versions of the Halo BassiNest Swivel Sleeper: the Premiere and Luxe versions are usually about $300, and support babies up to 5 months old or 20 pounds. There is a less expensive Essentia Series HALO bassinet, but it doesn't include the music, timer, vibrations, nightlight, or nature sounds. If you're looking for simplicity, Essentia could be a great option for your family. Who else loves the Halo? It's also a top pick by our friends at Babylist, Babygearlab, WhatToExpect, VeryWellFamily, and The Bump! Impressed? You can check out the HALO BassiNest here.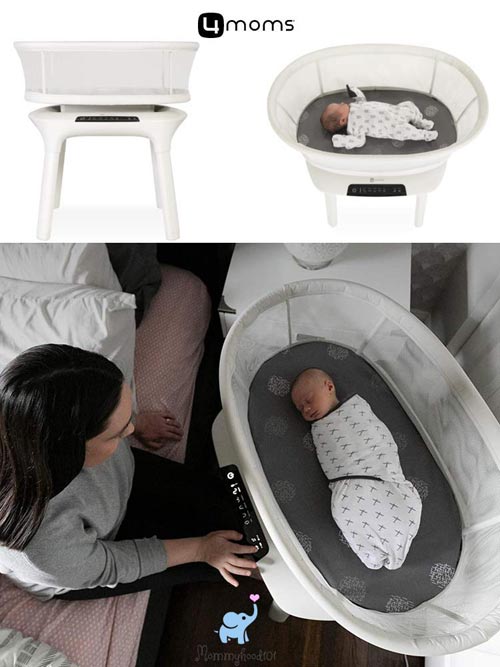 This 4moms mamaRoo bassinet was released in late 2020 and the folks at 4moms were nice enough to send us a sample for testing (thanks, 4moms!). Overall, we were very impressed with the features and functionality of this bassinet. For basic specifications, the bassinet is 34.5-39" high and supports newborns up to 6 months of age or 25 pounds. It has a firm but reasonably supportive mattress, see-through and breathable mesh sides, adjustable height legs (using the 4.5" extensions), and a storage basket that can be purchased separately for about $30. For more advanced specifications, the bassinet can sync with your smartphone over Bluetooth and you can control a ton of cool features: it has 5 unique motions (car ride, kangaroo, tree swing, rock-a-bye, and wave), 4 white noise options, 5 speeds, and an auto-off timer. You can control all of these from your device, or by using the buttons on the front panel of the bassinet. The 5 motions are designed to replicate the movements you use to comfort and soothe your baby, and in our testing we found them to be quiet, gentle, and relaxing. Connectivity with the App was OK but not super reliable, so we tended to simply use the buttons on the bassinet itself.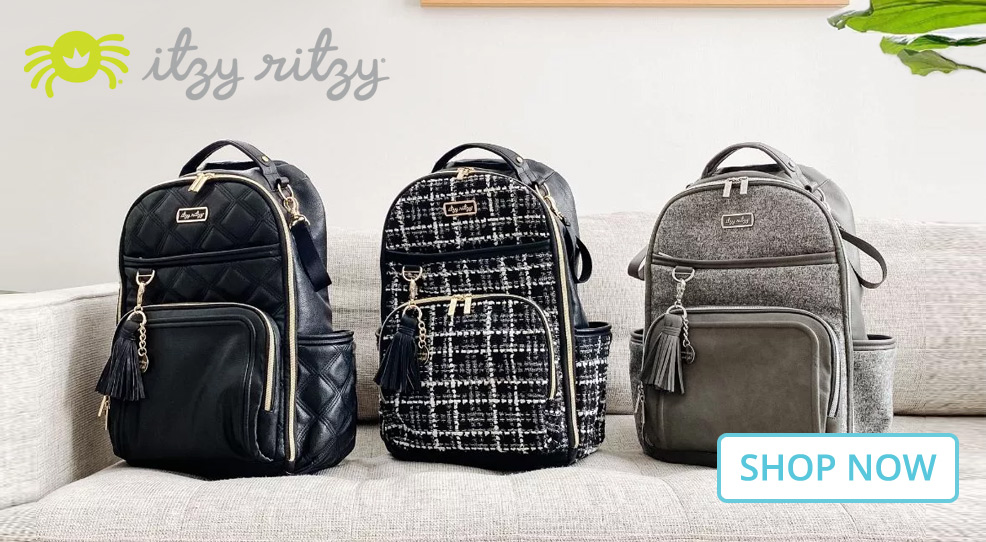 We gave the bassinet to two families to test out, one with a 4-week-old boy, and one with an 11-week-old girl. Both families loved having the opportunity to try it out and made several comments about how impressed they were with the technology and the motions and sounds. Their babies both took to the new bassinet without any issues, with the boy using it for daytime naps and the girl using it overnight. The girl's parents raved about how much easier it was to settle their daughter to sleep with this bassinet, keeping them from bouncing and rocking her in their arms for 20 minutes at bedtime. And that's exactly the intent, to make things easier for parents, reduce the latency to sleep onset, and help babies sleep better and longer. The mamaRoo achieves all that and more, but it does come at a substantial cost - about $350 to be exact. The only con other than price is that some parents have reported early failure of the bassinet's motor after a few months of use; it hasn't happened to us after over 6 months of use, for what it's worth. Who else considers the 4moms Mamaroo bassinet a top pick? Our friends at BabyList, BabyCenter, VeryWellFamily, and What2Expect! Interested? You can check out the 4moms mamaRoo Sleep Bassinet here.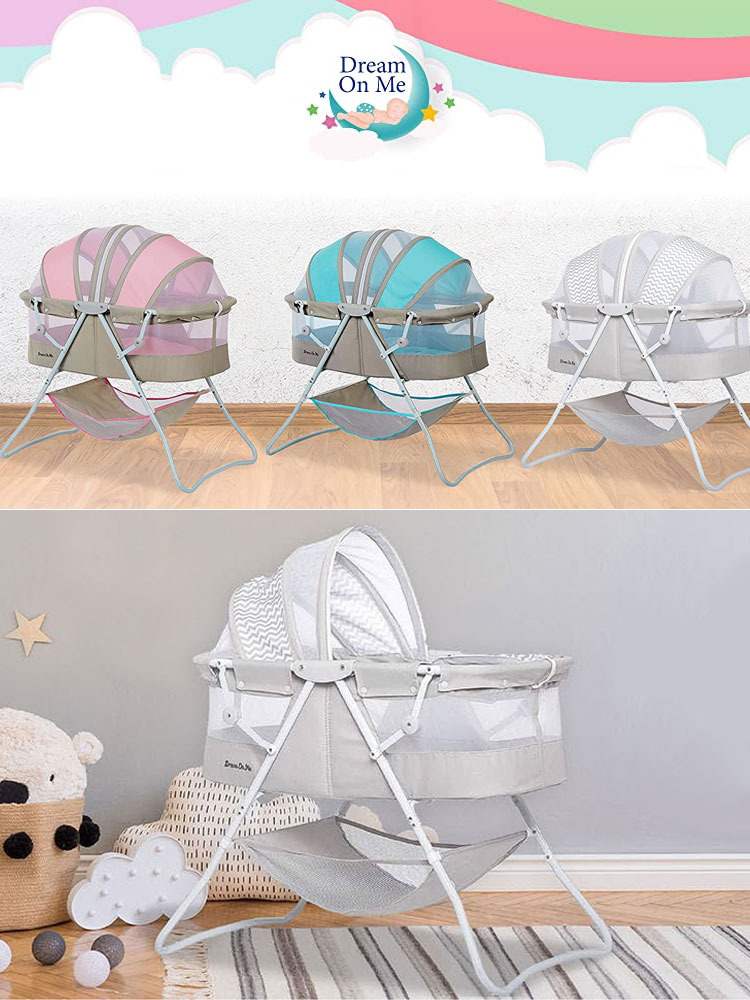 The Dream on Me Karley is one of the least expensive and most capable bassinets on our list, and we were excited to get our hands on it for testing (thanks for the sample, Dream on Me!). For those who haven't heard of them, Dream on Me is a USA-based company (based in NJ) that has been making baby products for over 30 years with a focus on quality, safety, and fair pricing. Their crib mattresses are some of the best-selling on the market, and their Karley bassinet is not far behind. Features and design make the Karley stand out, including its zip-top double canopy with full coverage, breathable mesh sides, durable fabric, and a lightweight aluminum frame (only 12 pounds!) that can be folded easily for storage. With all those features and availability in over a dozen colors, you might expect this bassinet to be upwards of $150 - well, you can go ahead and divide that price in half - the Karley is typically available for only about $75!
In our testing, the Dream on Me Karley bassinet arrived completely folded up and packaged in an unexpectedly small box. Unpacking it, we found it to be surprisingly lightweight and easy to fold open, or shut. At first, we thought the lightweight aluminum frame made it feel a bit flimsy and we were worried that it wouldn't be sturdy or stable. However, after unfolding and assembling it (simply attach the legs and storage basket) we were pleasantly surprised with its ability to stand nicely on its own, with a relatively rigid frame and legs. The upper edge of the cradle is about 27" off the floor, making it a good height for a bedside configuration; it is also about 35" long and 20" wide (from leg to leg). The size is great for an infant and it's unlikely they will outgrow it in height before they outgrow it in weight (25 pounds), age (3 months), or mobility (stop using a bassinet if your child can push up on their hands and knees). We loved the storage basket and the full-coverage canopy! The canopy can be propped open from either side giving you flexibility in positioning your baby, and when both sides are open they can be zipped together in the center. This is not only awesome for versatility, privacy, and shielding from some light, but it's also a great bassinet for camping and other outdoor activities where you might be worried about mosquitoes or other flying insects. The only small cons are a lack of height adjustability and a mattress that could be improved a bit (it's thick but not very supportive). The cons are definitely not deal-breakers at this price point! Who else thinks the Dream on Me Karley is an awesome option? Our friends at Babylist, BabyCenter, and VeryWellFamily. Interested? You can check out the Dream on Me Karley bassinet here.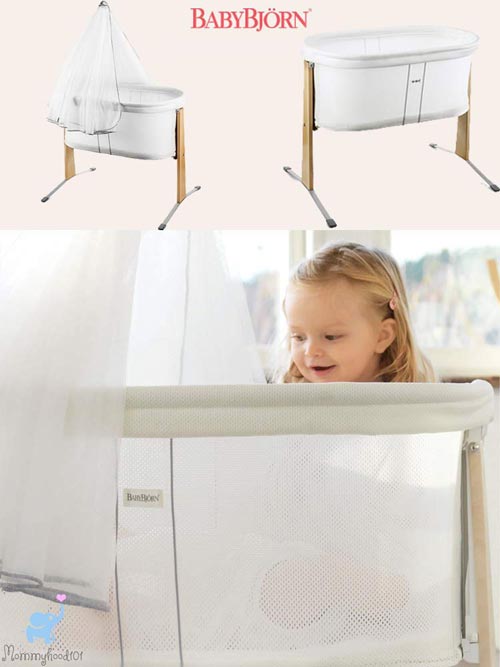 In our opinion, and in the opinions of our mom and dad testers, this is the most beautiful and stylish bassinet on the list. It doesn't have a ton of bells and whistles like music, vibrations, motorized rocking, or anything fancy like that. Instead, BabyBjorn made something a bit more natural, peaceful, and relaxing. The only movement is through the flexible metal feet that allow the bassinet to gently and subtly rock side-to-side in response to your baby's motion, just like a classic cradle. Of course, you can reach over and gently rock the cradle too. It has great mesh sides that are breathable and help you peek at the side to check on your baby. The entire bassinet is lightweight, easy to move, and uses only Oeko-Tex fabrics and safe surfaces. In our tests, we found that the height is good for fitting snugly right up to the side of a normal-height adult bed, with the legs sliding underneath without any issues. Our test bed was 23" tall, and the top of this bassinet was about 26" tall, making it a nice height. The height made this a great bedside bassinet option for us, and a good co-sleeper alternative; if your bed is any taller than 23" you might want to consider the Halo Bassinest instead. The mattress is firm but surprisingly comfortable and supportive, and we like how the surround is made with fabric only so there are no bars or anything to bump up against.
We used the BabyBjorn cradle bassinet for over 6 months and found some minor issues, not including the high price. We love BabyBjorn's dedication to using safe materials wherever the baby might contact a surface, but the board that supports the mattress is made of MDF (just like most others), and the mattress is made of polyurethane. None of that is surprising, but we thought that they should be more transparent about the materials. That being said, this is a beautiful, safe, lightweight, comfortable, but very expensive bassinet! The BabyBjorn cradle bassinet usually costs about $350, and supports babies from newborn to about 6 months old (the weight limit is 17 pounds). Who else loves the BabyBjorn? It's a top pick by our friends at Babylist, Babygearlab, WhatToExpect, and The Bump. Impressed? You can check out the Baby Bjorn Gentle Rocking Cradle Bassinet here.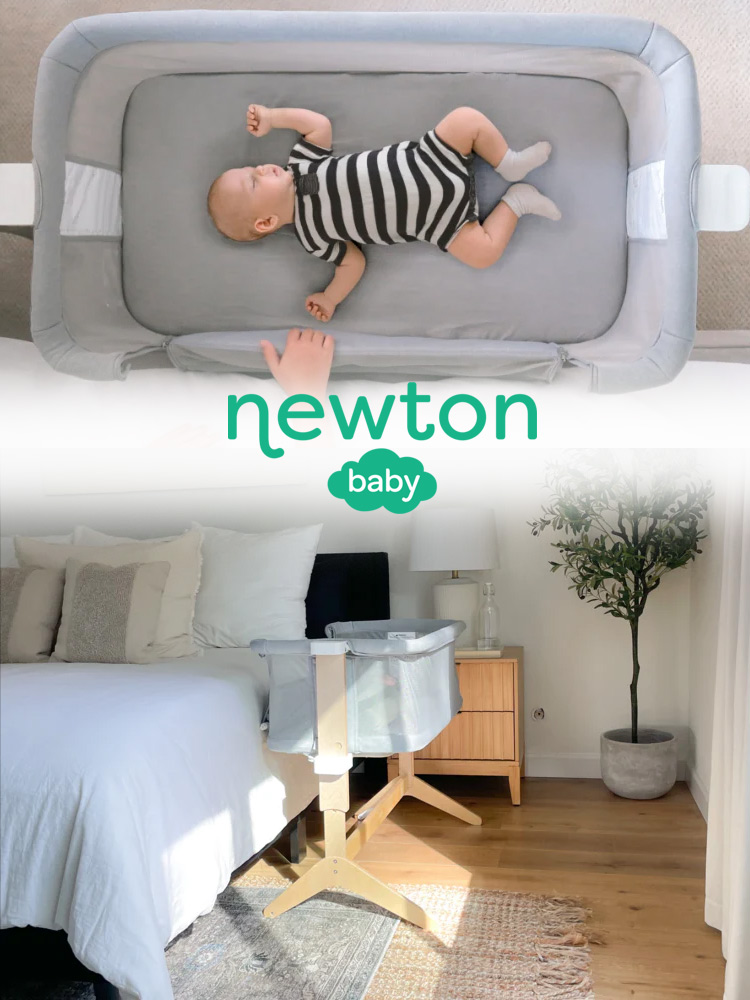 If you're looking to keep things simple yet sophisticated, the Newton bassinet might be the perfect choice. It combines a stylish birchwood frame with a beautiful and functional mesh bassinet that packs a ton of features. These include breathable mesh sides and soft upper padding, an enormous sleeping surface (about 35" x 19"), adjustable height (about 26.5" to 32"), a drop-down side access panel for bedside sleeping, and a miniaturized version of the famous Newton crib mattress. The crib mattress uses Newton's Wovenaire technology which is breathable, washable, and recyclable. It's also Greenguard GOLD certified and contains no polyurethane foams or other materials with harmful emissions.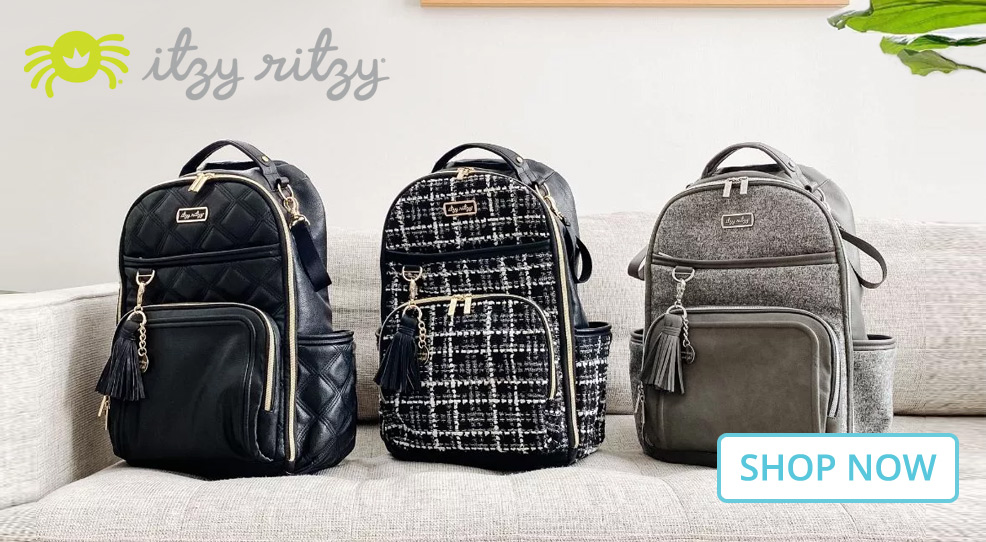 Thanks to Newton, we got our hands on their bassinet for testing in late 2023. For all the details, you can read our Newton bassinet review here. To summarize, we loved the high-quality materials, including the smooth wooden frame, the stainless hardware, and the durable and soft mesh and fabrics. The wooden frame makes the bassinet very stable, owing to a relatively heavy base and flip-down stabilizing feet, making it stand firmly on the floor. But it's also relatively lightweight, coming in under 20 pounds and making it easy to move between rooms. The drop-down side panel is amazing and the zippers and details are all very high quality, and the height adjustment extends over 5" to help it fit beside shorter and taller adult beds. The mattress is firm yet comfortable, and is truly breathable (we checked!); the ability to remove the mattress core and wash it in the shower (and throw the cover in the washing machine) is a game changer! Overall, we love what Newton has done with this bassinet and think it is the perfect option for parents looking for simple styling, no gimmicky technology, and high quality at a reasonable price. Speaking of which, the Newton bassinet is less expensive than the BabyBjorn, coming in at about $299 (but there are often discounts at the Newton website), and supports babies from newborn to about 6 months old. Impressed? You can check out the Newton Bassinet here.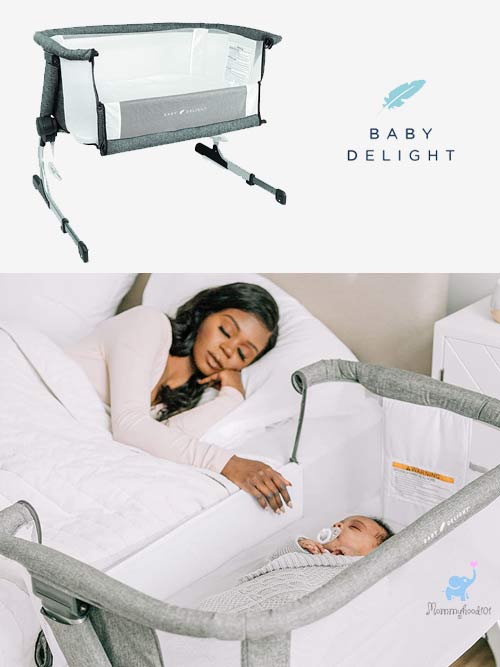 Here is another bedside sleeper option that is surprisingly similar to the Mika Micky and Simmons Kids options, both of which offer the ability to scoot the bassinet right up to the side of your bed. The Simmons Kids is the cheapest option (about $100), the Mika Micky is about $150, and this one is about $199. Given its similar side-access feature to the Micka Micky, we're going to compare it primarily to that model. Let's start with what we liked about this bassinet. First, out of the box, it was really easy to assemble and took us under 10 minutes to pop it together. All of the parts felt like they were decent quality, and it has very long feet that can extend way under your bed. The only part we didn't like was the mattress, which we thought could be better quality and more comfortable (especially for the price). The sheet was perfectly fine, nothing to write home about. It also has two safety straps to attach it to your bedside to keep it flush with the side of your mattress. Second, once it was set up, the adjustments were pretty easy. It has six height settings, with a maximum height of around 18" (from floor to bassinet mattress) and a minimum height of around 13". That maximum height might not be high enough for some parents with high bed frames or thick mattresses, so we suggest measuring your bed height before picking a bedside bassinet.
If your mattress is above about 22" high (it probably is), you might want to consider the Micka Micky (which is suitable for beds up to about 26" high) or Newton bassinet (which is suitable for beds up to about 31" high) instead. Third, it has a nice zip-down flap on the side for convenient access to your baby, which is a must-have for moms recovering from a C-section or those who simply want to make their lives a bit easier. Finally, it's a bit heavy coming in at 20 pounds, and it only supports babies up to 20 pounds (or 5 months old); by comparison, the Mika Micky supports babies up to 33 pounds or until they can pull themselves into an upright position. There is a small mesh pocket on one side of the bassinet, but it's not really accessible from the bed. Overall, we liked the easy setup and functionality and thought it makes a decent competitor against the other bedside sleepers on this list. We'd definitely pick the Mika Micky over it, but that's for you to decide! Interested? You can check out the Baby Delight Beside Me Dreamer Bassinet here.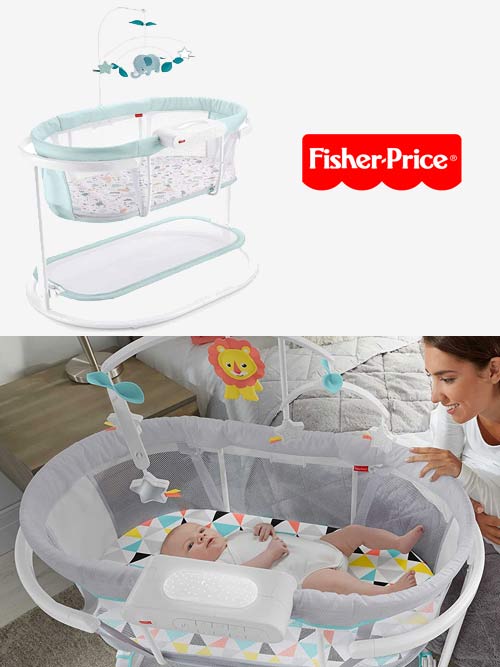 To be completely honest, we were very excited to test out all the new features on the Soothing Motions bassinet! It has an adorable mobile with hanging stars that reminded us of a classic bassinet from our childhood, calming vibrations, lights, and soothing sounds, a light projector that projects stars onto your walls and ceiling, a nightlight, natural swaying motion that gets triggered by your baby's movements (or your gentle push), modern styling, storage shelf, and the safety and reliability of Fisher-Price. What more could you ask for in a bassinet!? We had high expectations, and we're happy to note that we weren't let down! We enjoyed testing this bassinet, and our testing babies got many hours of valuable sleep while using it. We liked that it was sturdy, that when it's rocking it doesn't tilt the sleeping surface at all (so baby doesn't drift towards one side during the night), that it uses a nice breathable mesh on the sides, and that the bassinet and its mattress are overall a pretty good size (the mattress itself is 31" long, and 15" wide), without the bassinet being too large to easily position in your room or move around. We found the oval base to make it nice and sturdy on both hardwood and carpet, though we do note that the bassinets with wheels are definitely easier to scoot around (like rolling it up to the edge of your bed for a feeding).
The biggest downfall we found with this bassinet is that it's only about 28" tall from the floor to the upper edge of the bassinet (of course the mobile sticks up another 20" or so). That height was just about the same height as our mattress when positioned against the side of our bed, but since the bassinet mattress is another 10" lower than the upper edge, it made reaching in a little challenging. Unfortunately, the bassinet height is not adjustable. Note that for safety when you are using the bassinet at a bedside, you want the walls of the bassinet to be higher than the top of your mattress - this keeps things from falling into the bassinet, like your pillow or blanket. So it might not be great for a bedside sleeper bassinet, depending on your situation. Another minor downfall is that it does include one fitted sheet for the mattress, but you'll be hard-pressed to find another replacement sheet of this size and shape. So, there are a lot of great things about this bassinet, with only some relatively minor limitations. Sells for about $150. Who else loves the Fisher-Price Soothing Motions? It's also a top pick by our friends at Babylist and VeryWellFamily! Impressed? You can check out this Fisher Price Bassinet here.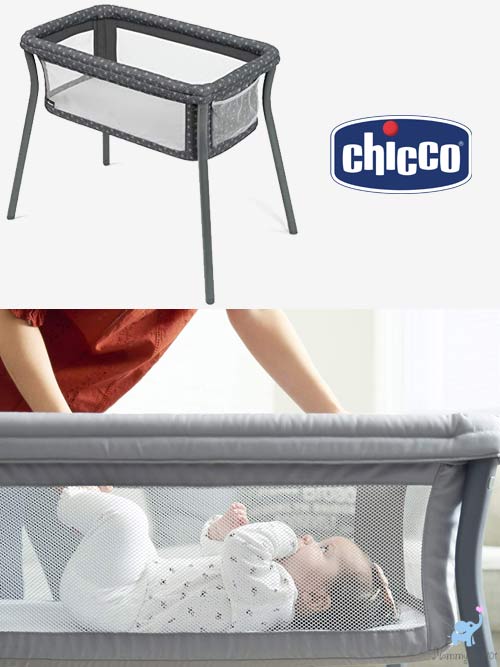 This is marketed as a travel crib, but it's basically a simple, lightweight, and easy-to-transport bassinet travel crib. It comes with a big bag that can be slung over your shoulder and thrown into the trunk for an easy road trip, or under the plane for a farther journey. It's perfect for both home use and travel purposes, helping you save a little cash. When we received it, we were impressed with how lightweight and airy the bassinet was. It uses high-quality lightweight materials, and the fabric was soft and easy to wipe clean. It is also removable for machine washing, which is brilliant. We liked the mesh windows on each side to provide both airflow and a vantage point for parents wanting to peek in on the baby. Assembly was a snap, literally: you simply unfold the basket, snap the legs on, and you're good to go. The bassinet mattress is similar to the Baby Bjorn, and surprisingly thick and comfortable. Definitely more than what's expected for a lightweight travel bassinet. On the carpet, the bassinet was stable and sturdy. On hardwood flooring, the anti-slip feet helped a bit, though it was still easy to bump around, but definitely not "tipsy" in either case. Compared to the Baby Bjorn or Halo, it certainly feels and looks less elegant, which makes sense given that it's about a third of the price! The bassinet area is about the same size as the Baby Bjorn, and the overall comfort factor is about the same. Of course, it's not as stylish and doesn't feel as high quality as the Bjorn, but it's definitely great overall.
In our testing, we liked how the bassinet hangs down on the bottom, which means that when your baby kicks or wiggles it sways a little bit side-to-side. You can also reach over from the bed and push gently on the bottom to give it a little sway and calm a fussy baby. Not sure whether that was intentional on Chicco's part, but it works! Out of the box, the overall bassinet was a little larger than we expected, coming in at around 3 feet long, making it a surprisingly large travel bassinet that is still portable and easy to move. Cons? The mattress quality and comfort leave a little something to be desired, especially with the crease in the middle (for folding). Also, the weight limit is low for a travel bassinet (20 pounds), and the sheet that comes with it is thin and rough, and not waterproof. Overall, this is a great deal for a functional and practical bassinet that is superb for traveling, especially at a price point of around $100. Who else loves the Chicco Lullago? Our friends at Babylist, BabyCenter, What2Expect, and The Bump! Interested? You can check out the Chicco LullaGo here!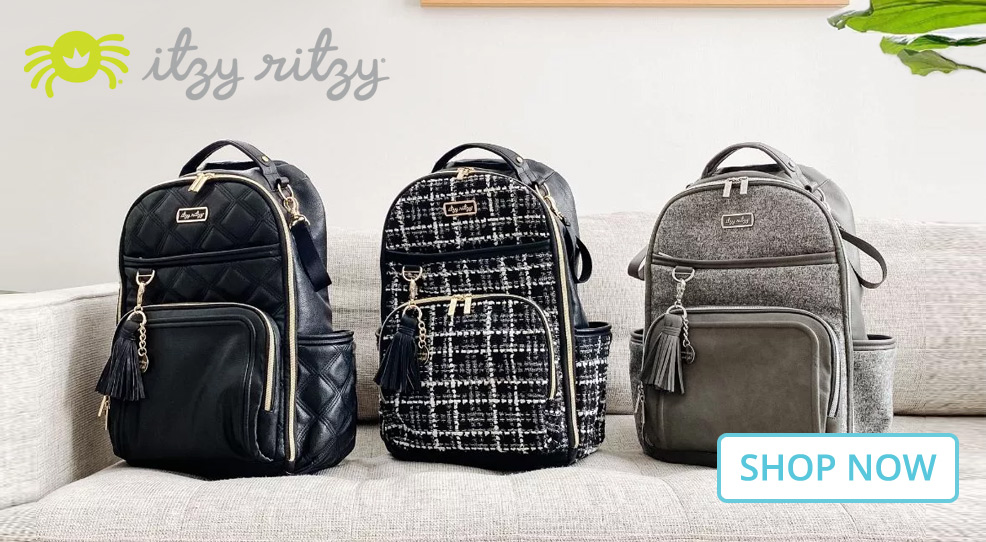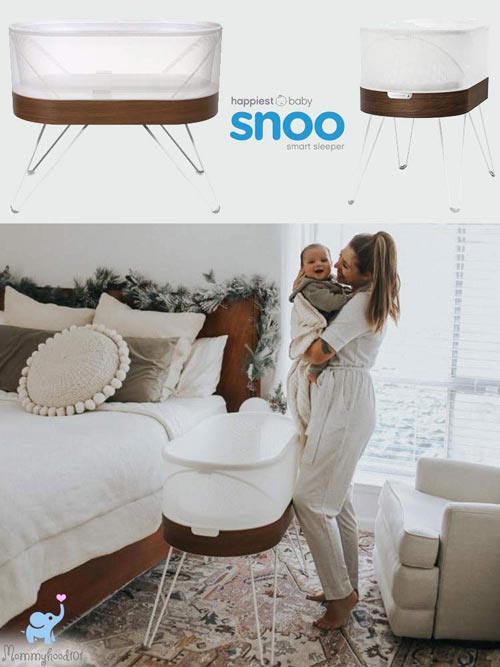 Parents keep asking us about the SNOO Smart Sleeper bassinet system. To be honest, we were intrigued by it as well! It was created by Dr. Harvey Karp, the same person who wrote the Happiest Baby book series, and it looks amazing and sophisticated. And it has features to match the look - using an app, you can set the bassinet to automatically respond to fusses and cries with a gentle white noise and soothing rocking motion that is supposed to help calm your baby back down. This all sounds great, and we were excited to give it a shot. We checked it out at the CES conference and we loved several things about it: the simple, modern, and sophisticated styling with white mesh and wood styling trim, the included SNOO Sacks that clip onto the sides of the bassinet to prevent rolling, and the user-friendly app. The app lets you track sleep habits, remotely control the sensitivity and intensity of white noise and rocking, and set up and receive alerts. It truly is a Smart Bassinet in every regard, and one of very few on the market (that will likely change as competitors see how successful the SNOO has been!). SNOO makes claims that this bassinet will significantly increase sleep duration and quality - some parents absolutely swear by the SNOO, and most parents see some improvements when they use it. When we tried the SNOO, the representatives showed us all of the features, and how to use the app, and we even got a chance to place a baby inside and see how she liked it. It was comfortable, the mattress was soft (not too soft for newborns though), and it includes three SNOO Sack swaddlers (one S, M, and L size). It also includes a nice sheet, and we want to point out that the SNOO Sacks and Sheets are all certified organic, which is a nice touch! While the mattress itself is not Greenguard certified, SNOO let us know that it does comply with all required and optional regulations and standards, such as ASTM, CPSC, CFR, CA Prop 65 and FCC, and JPMA.
The gentle rocking motions were absolutely amazing - quiet, smooth, and very soothing. Just watching this basinet do its job will gently lull you to sleep! It's clear that this bassinet has a ton of awesome things going for it, and we're happy to include it on our list of best bassinets. But there are also some cons. First, let's consider the price: it's well over $1000 for a bassinet, making it one of the most expensive bassinets we've ever seen. Yes, there are other bassinets at that price, but they are the more luxurious hand-carved wooden spindle bassinets, which are also a little ridiculously priced in our opinion! Second, in our testing we found the app connectivity a little finicky - sometimes it would work really well, and other times it would crash or not connect successfully. Third, while SNOO makes some serious claims about how well this bassinet will help your baby fall asleep and stay asleep, we want you to take those claims with a grain of salt. Yes, it will probably work for most babies, but do nothing for a few babies, and still other babies might hate it! That's normal, and unfortunately, you won't know which category your baby falls into until you buy it (or rent it!) and test it out. Finally, let's talk about what you're not getting for nearly a thousand dollars: no mobile, no drop-side, no portability, no recline, no lullabies or music (just white noise, vacuum, and thunderstorm types of sounds), no wheels, and no storage bin. So overall, we think this is truly a great bassinet that really is revolutionizing the baby bassinet market; but we also think it has some limitations that are worth considering, and it definitely is not the panacea for all your baby's sleeping woes! Especially not at this price! Who else loves the SNOO? It's also a top pick by our friends at Babylist, WhatToExpect, VeryWellFamily, and The Bump. Impressed? Check out the SNOO Smart Sleeper bassinet here!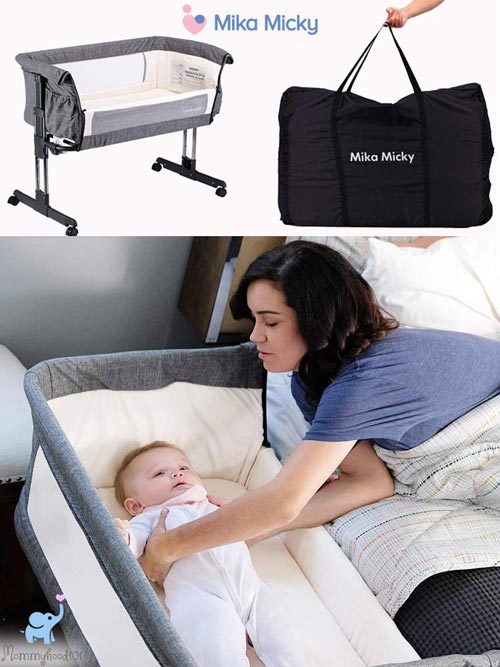 Parents frequently ask us which bassinet is the best bedside sleeper with a drop-side, and we think this is one of the best available on the market! It is one of the simpler bassinets on our list, without any fancy vibrations or music, mobiles hanging overhead, storage, or shade cover. Instead, what you're getting is an awesome bedside bassinet that has all the right adjustments to make it fit perfectly right up beside your bed for effortless feeding and transfer in and out of the bassinet. This makes it a great option for parents who want the bassinet right up against the bed for easy night-time feeding, but also a great option for c-section moms who need a few days of recovery in bed. Let's talk about its best feature - the bedside versatility and drop-side. First, it fits beside a wide range of bed heights: if the top of your mattress is anywhere between 18" to 26" off the floor, then this bassinet will adjust properly for your bed. The bassinet itself adjusts between about 24" to 33" high (across 7 height positions), but realize that you want the edge of the bassinet's mattress to be about 1-2" below the upper edge of your bed's mattress. If you put the bassinet lower than that (even though it might seem convenient for reaching in), there is an increased danger that a blanket or pillow will flop off your bed and into the bassinet. That's the primary risk with any bedside style bassinet, and you need to be very careful and respect that risk: read the owner's manual carefully to ensure you're positioning the bassinet properly against your bedside. Second, once it's set up next to your bed, you will love how easy it is to drop the side down (using a zipper on each side), and how low it drops. Note that this bedside sleeper attaches to your mattress using two adjustable tether-type straps, which keep the bassinet nice and snug up against the side of your bed.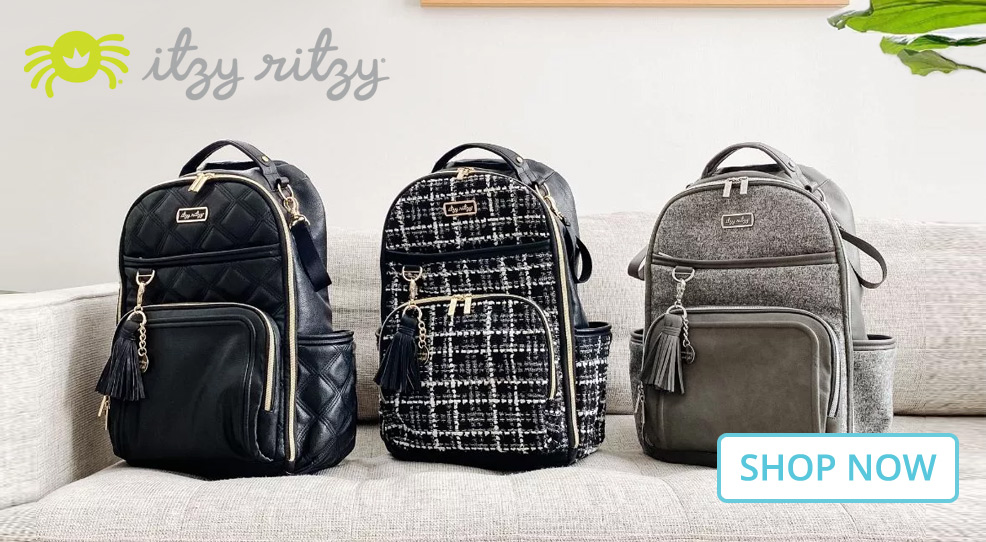 Other features? We found the mattress to be perfectly comfortable and not too thin like many bassinets. The entire bassinet is easy to fold up and it comes with a carrying case so you can throw it in your trunk for a trip; it's not the most portable or lightweight bassinet by any means, but it does a good job. There is a small pocket pouch on each side, perfectly sized for putting a swaddling blanket, pacifiers, and extra sheets or waterproof mattress protectors. We also liked the mesh sides for their style and breathability, the size is really quite substantial (people also use this as a bassinet for pets!), and the locking wheels made it easy to scoot around the bedroom (especially on hardwood or Berber carpet). It's also reasonably priced (about $150) and we thought the fabric style and quality were pretty good. Cons? Not many, but of course, it would be nice to have a storage shelf or some vibrations, white noise, or lullabies. But that's probably too much to ask in a bedside bassinet at this price point! Overall, this is an awesome option for parents looking to sleep with their baby right next to the bed (without the dangers of actual co-sleeping) without dropping too much cash on the Halo BassiNest or BabyBjorn Cradle Bassinet. Interested? You can check out the Mika Micky Bedside Sleeper Bassinet here.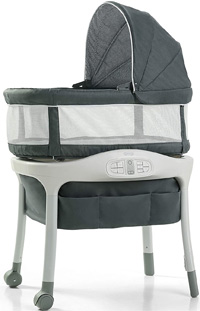 Looking for a smart bassinet that doesn't cost over a thousand dollars!? Graco made a great option for tech-savvy consumers who want to leverage the latest in cry detection technology and adaptive soothing, including gentle motion, vibration, white noise, melodies, and sounds. Pretty slick, and comes in at about a third of the price of the SNOO. We got our hands on this for testing in late 2020 (thanks, Graco!). Out of the box, the Sense2Snooze took about 10 minutes to put together, basically popping on the legs and canopy, and plugging it into the wall. Bring along a cross-head (Phillips head) screwdriver. There are a few things we noticed during assembly. First, lots of mesh around the sides help with visibility and breathability. Second, the fabrics and padding are high quality, and the mattress is pretty decent, striking a good compromise between too firm for comfort and too soft for safety. The canopy is pretty big and can be reversed to shade either side of the bassinet. There are a few storage pockets that are big enough for the simple things - a few diapers, a small pack of wipes, and pacifiers. We had to read the manual to figure out how to use all the buttons, but once we got a hang of it we were good to go. The rocking motion is more like a front/back sliding motion than it is actual rocking, and it has three speed settings. There are also multiple settings for vibration intensity (2), various songs (10), soothing sounds (10), and white noise. Volume can be adjusted too, and there is a cool nightlight that you can turn on - it's nice and dim, so you can use it to find a pacifier in the middle of the night rather than turning on your phone's bright flashlight. Once you find a nice combination of settings, you can set that into the system's memory for later use. Or, you can let the system figure out what the best combination of movement, vibration, and sounds is to soothe your baby back to sleep.
In our testing, we think that some babies would do well with this, whereas others might be a little overwhelmed by all the movement and sounds; each baby is a bit different, and you'll need to make a judgment call. When we tried it out with a crying baby recording, we found that it took about 5 seconds or so to start some gentle movement, and if that didn't resolve within several seconds, it kicked in some vibration and music. We shared this bassinet with two different moms, one with a 3-month-old and one with an 8-month-old. The 3-month-old seemed to find it pretty soothing and it worked well to calm her down; the 8-month-old was a little indifferent to it, and the parents needed to find the ideal combination for him and keep using that. Both parents had several little positive things to say about it, without any major concerns. One parent mentioned that you don't really want to let the bassinet choose all its own combinations of movement, vibration, and sounds; instead, they suggested finding a combination that you think will be right for your baby, saving it into memory, and only using that. They noted that the bassinet tends to go a little overboard when left up to its own devices, at least for their child, so it was nice to have that customization feature. The other parent mentioned that the wheels were a little awkward to use since there was no handle on the other end, and one mentioned that the buttons were a little too "clicky" sounding. Also, we should point out that while we compared this to the SNOO, it's pretty basic - you can't control it from an app, it doesn't help you track sleep habits, and it doesn't have all the organic fabrics and certifications of the SNOO. Overall, we think this is a pretty great first smart bassinet by Graco, and we're impressed with its functionality and features. The primary feature, automatic sensing and soothing, wasn't perfect, but with some effort, you should be able to get it right for your child. Who else loves the Graco Sense2Snooze? It's also a top pick by our friends at Babylist and BabyCenter. Impressed? You can check out the Graco Sense2Snooze Bassinet with Cry Detection here.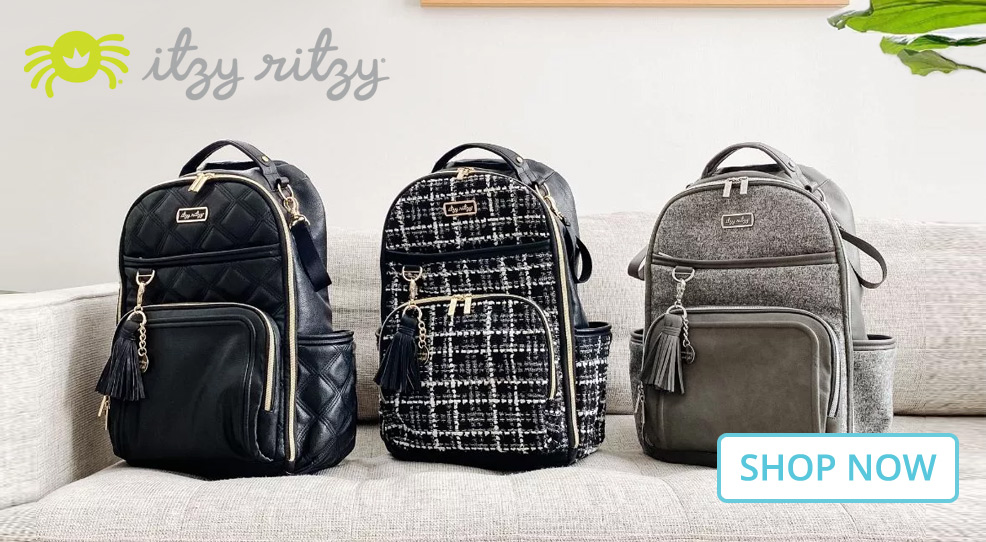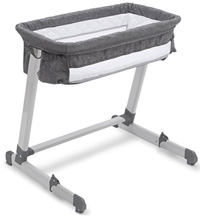 This may sound nerdy, but we get really excited when there are new baby gear releases that look like they will solve some of the biggest challenges parents face. This Simmons bedside sleeper bassinet was poised to solve the challenge of not wanting to co-sleep due to the safety risks, but wanting your baby right up next to you in bed. This lets you easily look over, hear your baby's breathing and movements, reach easily to get your baby in and out for breastfeeding and give you that nice feeling of closeness with your newborn baby. This baby bassinet is a bit like the Halo and Baby Bjorn in that it is designed to slide its legs right under your bed, allowing you to scoot the bassinet right up against your bed. But this one is even a bit better than those in its ability to squeeze in really close to the bed. The adjustable height allows you to fit beds of different heights and mattresses of different thicknesses, and in our measurements, it seems to go up/down about 5" total between 5 different settings. The leg design is a bit like a drafting table, making it super sturdy and allowing you to turn sideways on your bed with your legs underneath it and easily pick your baby up without your knees bonking into anything. We really liked that aspect of it. The overall size of this bassinet is quite large. They call it the "city sleeper" but it's unclear what they mean by that because it's certainly too large for a small city apartment bedroom. If you have a large master bedroom this won't be an issue, but keep that in mind. Another thing we really liked about this bassinet is that the sides are partly made of mesh so while you're laying in bed you can peek into the bassinet a bit. It has quilted fabric on the inside and a stylish jersey-style fabric on the outside. The mattress is surprisingly thick and comfortable for a bassinet mattress, so we liked that aspect. It does have some small pockets on the sides for storage, but nothing like the big baskets on some other models. In our testing, there were some things we weren't so pleased with. First, we already mentioned how big this is, and it's also quite heavy. Second, given how big and heavy it is, it's super difficult to move around, especially on a carpeted floor. There are no wheels on the bottom, and the feet do not slide. That's a good idea for safety, but a bad idea for convenience, and in our opinion the biggest limitation of this bassinet. Third, we wish it had more storage, either with bigger pockets or a basket underneath. Finally, it could definitely be better looking. It has nice fabric and design, but there is something institutional-looking about this bassinet and several parents made that same comment. Overall you're getting a sturdy, comfortable, and versatile bassinet that is ideal as a bedside sleeper. But it does have some clear limitations; without those, it would definitely be higher on this list! Interested? Check out the Simmons Kids by the Bed City Sleeper bassinet here!
Conclusions
When our firstborn child arrived, my mother-in-law dropped off an old Moses basket bassinet from the early 80s, the one my husband slept in as a baby. It was a big wicker basket lined with an old yellowed cotton sheet, with a 1-inch thick vinyl-covered mattress with a big gap between the sides of the bassinet and its edge. It was up on folding wooden legs with plastic spinner wheels.
It tipped easily, the legs accidentally folded if they bumped something (or if you kicked them a bit), there was little to no air circulation for the baby, and the mattress was ill-fitted. Not to mention it was nearly impossible to find the right size sheet or mattress pad! It might have been the best Moses basket of the 80s, but it left something to be desired in the 21st century!
Needless to say, I kindly declined to use the dated bassinet for overnight sleep. Instead, we put it in the dining room so we'd only use it while we were within reach and could keep a close eye on our baby. Mom was a little offended that I didn't want to use it ("it was good enough for him! he turned out OK!"), but then caved and gifted us a new one for overnight use.
The newer one was dramatically better: safer, more comfortable, more versatile, lighter weight, and overall had a smaller footprint. And much more likely to soothe your baby, with its relatively modern features. It's on our list! Fortunately, bassinets have come a long way since the '80s. Some are still quite bad, most are "OK" and only a small number are really excellent.
While bassinets are super useful, they definitely are not essential and there are some great bassinet alternatives out there for parents looking to save money and reduce the number of transitions for their baby. For example, there are some excellent mini cribs that transition to a full-size crib and toddler bed - a good example can be seen in our Nestig Cloud crib review!
Like the car seat, the bassinet is a baby essential for parents who want to keep their little one close by during the first several months of life (usually under six months). Note that you should stop using a bassinet when your baby can roll over, move around, sit up, or otherwise do anything that might compromise safety in a sleeping area with sides that are only about 10" tall! Our top-rated bassinets for your baby fulfill all of our criteria, and we hope that you've appreciated some of our honest insights into what to avoid and what to check out.
Interested in finding a full-size or travel crib for your baby? Check out our lists of the best convertible cribs and best travel cribs. For more information about bassinets, check out our full bassinet buying guide! Good luck, and if you have any questions about our top-rated bassinet list feel free to contact us!