Best Infant Car Seats of 2023, Tested & Reviewed
Keep your little one comfy and safe in one of these top-rated infant car seats.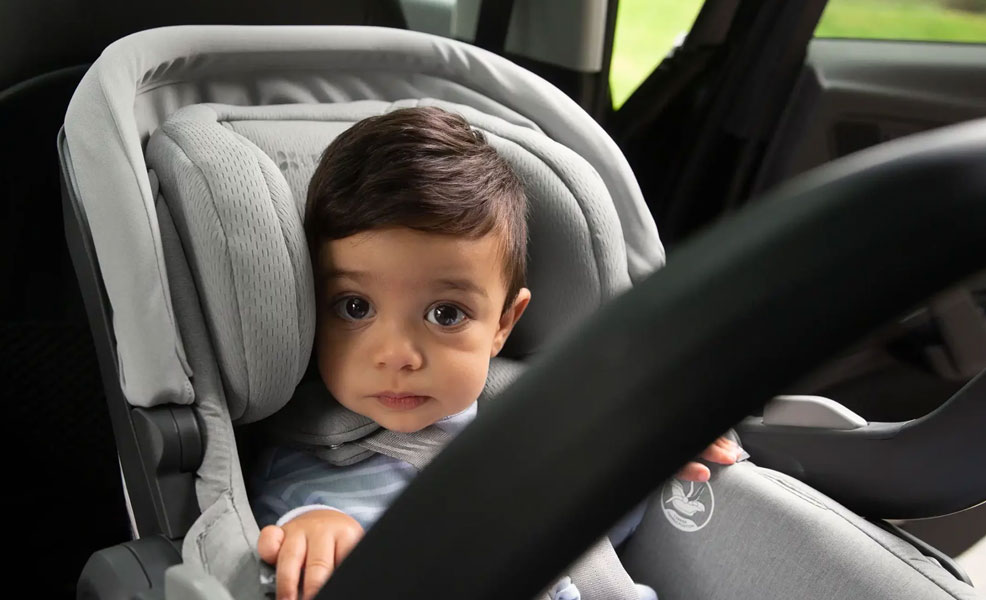 ---
Mommyhood101 independently tests and curates baby gear to help you make informed decisions. If you buy products through links on our site, we may earn a commission.
During the first two years of life, the infant car seat is an essential element for any family on the go, conveniently popping out of your vehicle and onto your stroller without waking a sleeping baby.
For maximum safety, the NHTSA and AAP recommend your child rides in a rear-facing car seat for as long as possible; this usually means until they are 2 years old or they reach the car seat manufacturer's weight or height limits. For added safety and a 43% lower risk of injury, the car seat should also be installed in the middle of your back seat.
Just for fun, what does ChatGPT-4 think is the best infant car seat!?
"I can tell you that the best infant car seat currently available is the Chicco KeyFit 35. This car seat has consistently received top ratings for its safety, ease of use, and comfort." -ChatGPT-4
In this case, we think our robot overlords are onto something! We've been reviewing infant car seats for over 10 years, and if we made our own, here is what it would look like:
✔️ Weight limit 35 pounds or higher.
✔️ Height limit 32" tall or higher.
✔️ Adjustable harness & headrest.
✔️ No rethreading required.
✔️ Quick-release LATCH.
✔️ Seat belt lock-offs.
✔️ European belt path.
✔️ Side impact protection.
✔️ Steel-reinforced frame.
✔️ EPS energy-absorbing foam.
✔️ Crash crumple zones.
✔️ Anti-rebound bar or load leg.
✔️ Excellent crash test ratings.
✔️ Removable newborn positioner.
✔️ Machine washable cover.
✔️ No flame retardants.
✔️ Breathable fabrics.
✔️ Narrow and lightweight.
✔️ Intuitive & easy installation.
Of course, you will also want the car seat to fit your style (color, patterns) preferences, fit well in your vehicle, and meet your budget constraints. That's a lot to ask, and very few car seats meet the needs of picky parents!
Full disclosure: Some of these car seats, including the Maxi Cosi, Doona, and Chicco models, were sent to us as free test samples by the manufacturer.
To help you find the perfect infant car seat for your family, we put over a dozen infant car seats through hands-on tests to find the best and safest options of the year. Below are the top 5 options we found, followed by reviews of a dozen models.
The infant car seat is one of the most important purchases you will make as a new parent, preceding the transition to a convertible car seat and, eventually, a booster car seat.
To make your decision easier, our testing considers Ease of Use, Flexibility, Baby Weight and Height Ranges, Safety, Car Size, and Stroller Compatibility. We test all of the features, install the car seats in multiple vehicles, read all the manuals, and pull together opinions from dozens of parents involved in our testing program. This year we came away with a dozen of the best infant car seats. For more details about what we considered in our hands-on tests of rear-facing infant car seats, scroll down to the bottom of this article.
Here are the Best Infant Car Seats of 2023!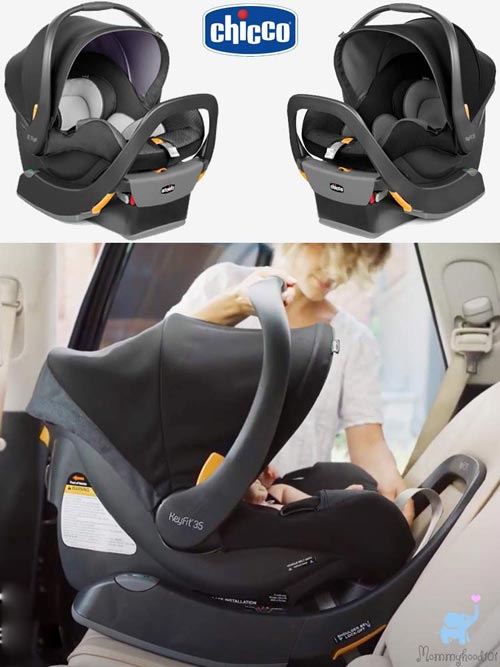 About $150-200. Chicco's flagship KeyFit 30 has a solid reputation for safety, quality, comfort, convenience, and reasonable pricing. It's definitely one of the most popular infant car seats on the market and has held that position for nearly 10 years. Enter the KeyFit 35, which took the core design of the KeyFit 30 and improved on it in four primary ways: a higher weight and height capacity, no-rethread quick-adjust harness height, European belt routing, and an anti-rebound bar. The core features of the KeyFit 30 versus 35 are very similar, including premium SuperCinch LATCH connectors, EPS energy-absorbing foam and side-impact protection, preemie support (4 pounds) with the included infant insert, machine washable fabrics, RideRight bubble levels to help installation, and 6-year expiration. We love both KeyFit models because they have a beautiful design, easy installation, high-quality and comfortable fabrics, broad stroller compatibility, and lightweight construction that makes them relatively easy to carry around. As parents and the owners of this site, we have hundreds of hours' worth of experience using the KeyFit car seats, and as scientists we are impressed with their excellent NHTSA ease of installation and crash test ratings. With the AAP's recommendation to keep your child rear-facing for as long as possible, we welcome the KeyFit 35's higher weight (35 pounds) and height (32") capacity, and its extra couple inches of leg room. With the KeyFit 30, you'll likely be upgrading to a convertible car seat around 14-18 months old (most babies reach 30" height by this age), whereas the KeyFit 35 should last until around your child's second birthday. We also love the added peace of mind of the anti-rebound bar on the KeyFit 35, and its larger canopy.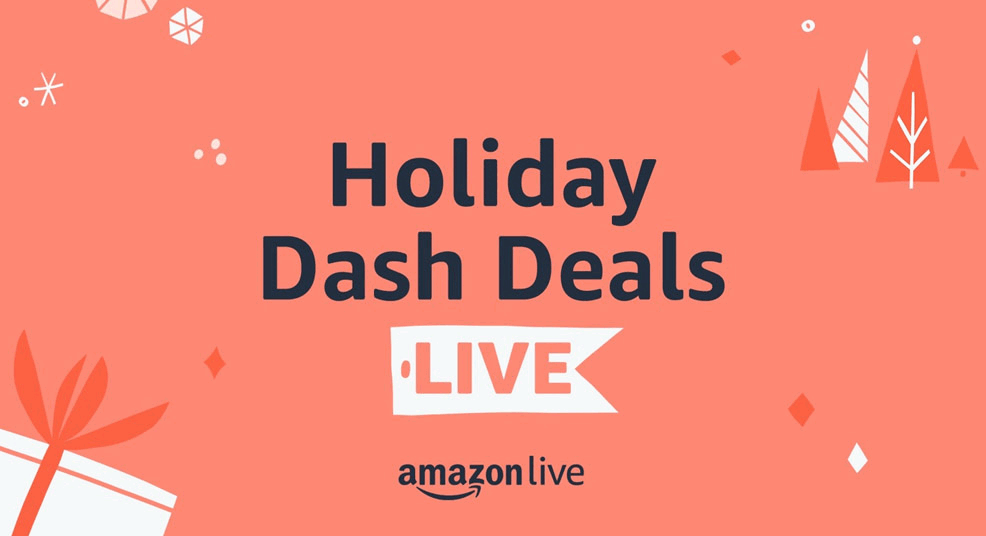 When it was first released, the KeyFit 35 was usually about $250, but its price has slowly fallen over the past year, putting it in a very competitive position: with its amazing features, safety, comfort, and convenience, it's a clear winner at this price point! We definitely prefer the KeyFit 35, but also realize that many parents are looking to use an infant car seat for the first year and then transition to a rear-facing convertible car seat, which makes a strong case for the KeyFit 30. This makes sense especially if your baby is below the 70-80th percentile for height and weight; if they're relatively big or tall, they might grow out of the KeyFit 30 at a surprisingly young age (especially in height). No major cons to speak of with the KeyFit 35. It does only have one crotch buckle position, which is limiting, and it's lightweight (9.6 pounds for KeyFit 30, 10 pounds for KeyFit 35) but not as light as some competitors like the Nuna Pipa. Highly recommended, and we'll let you figure out whether the 30 or 35 is best for your situation! Who else thinks the KeyFit is a top pick? Our friends at BabyList, BabyCenter, WhatToExpect, and Wirecutter. You can check out the KeyFit 30 and KeyFit 35 here!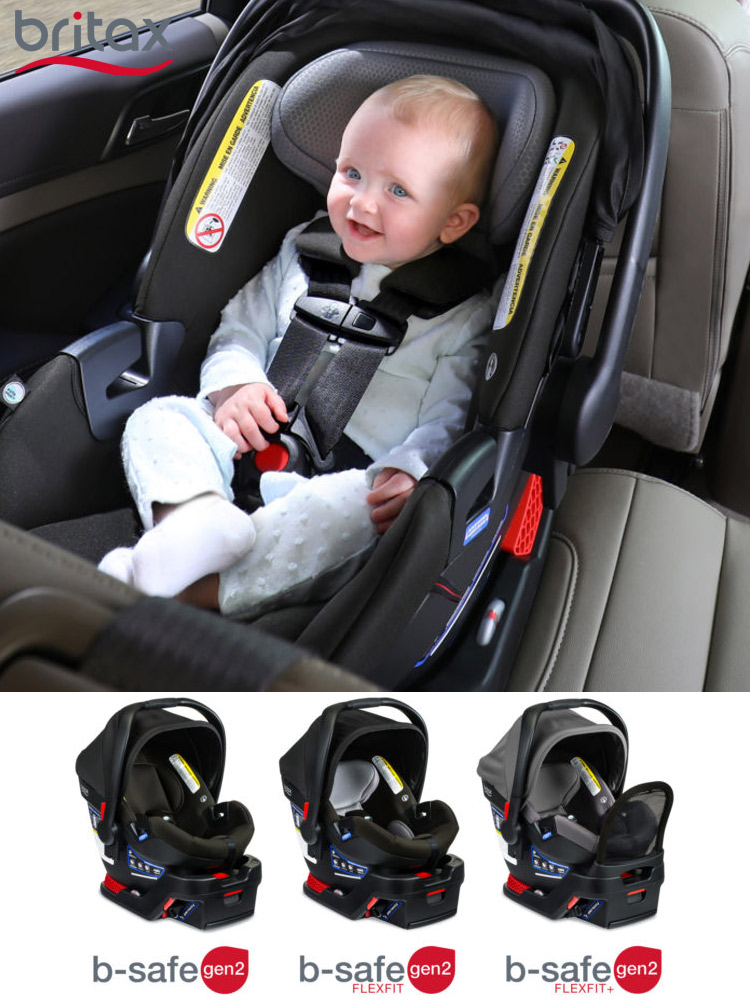 Usually about $200-300, depending on options. Note that Britax appears to be phasing out the B-Safe in favor of the new Willow S car seat (which we are currently testing and will include in our 2024 round-up!). Just when you thought the B-Safe 35 couldn't get any better, Britax releases the next generation of infant car seats, the Britax B-Safe Gen2, with some truly amazing features and specifications. The original B-Safe 35 had a couple of little drawbacks, namely a somewhat narrow bucket, heavy materials, and a high price. While Britax didn't fix the weight issue (they never do!), they definitely improved upon the width and pricing while maintaining the safety and quality they're famous for. They've also added a super soft and durable fabric that is completely tagless (for comfort and sensory reasons). If you've researched the B-Safe 35, the specifications should sound familiar: the Gen2 supports infants as small as 4 pounds and all the way up to 35 pounds or 32" tall. The harness height adjusts between four positions (from the back, without rethreading), and the crotch buckle adjusts between two different positions. Relative to the B-Safe 35, the Gen2 has slightly more comfortable crotch buckle positions. Unfortunately, the Gen2 is about a half pound heavier than the B-Safe 35, which makes sense given the slightly more spacious seating area. For safety, the Gen2 uses the SafeCell impact-absorbing crumple zone, side-impact protection, energy-absorbing foam in the shell, a steel-reinforced frame, and most importantly a secure and intuitive installation process with the SafeCenter LATCH feature. There are three versions of the Gen2 B-Safe: the basic Gen2, the Gen2 FlexFit, and the Gen2 FlexFit+. The FlexFit adds the European belt guide, which lets you install the car seat without the base using the vehicle's lap and shoulder belts (in the classic European routing), making it perfect for secure installs in ride-sharing and taxis. The FlexFit+ (plus) adds the anti-rebound bar to reduce rotational movement in the event of an accident. We tested and recommend the Gen2 FlexFit+ specifically, but most of our insights apply to the lower (and less expensive) models as well.
In our testing, we tried out the B-Safe Gen2 with a 4-month-old baby and were blown away by the overall quality, comfort, and ease of use. Out of the box, the Gen2 feels very high quality, especially the fabrics, plastic, and connectors. The base is very sturdy and we love the SafeCell crumple zone to help absorb impact, the spring-assisted adjustable recline, and level indicators (that were very easy to read), and the quick-push LATCH connectors. In the center of the base is the SafeCenter LATCH connector, which lets you put your weight onto the base (we like to use a knee) while pulling up on a single center strap to tighten both LATCH connectors simultaneously. It worked very well and helped us secure a great base installation. The base also has steel frame reinforcement, which increases weight a bit but is very reassuring. The car seat itself clicks onto the base very easily, with an audible click to inspire confidence. The seat fabrics are excellent, very comfortable, and soft, and we love how the padding contours the body snugly without being too restrictive. The new Gen2 shell is super spacious, which is perfect if you have a little chunky monkey! The shoulder harness straps were very large and nicely padded, making it basically impossible to have the straps digging into your baby's neck and face. It was easy to get a nice incline position, even in vehicles with a sloped rear seat, without using a pool noodle (and we love the spring-loaded recline feature!). The buckles worked very smoothly and without issues, as did all of the adjustments. The harness height adjustment isn't quite as simple as some others, as it needs to be adjusted from the back. The good news is that it doesn't involve rethreading: you squeeze the harness height adjuster on the back and pull it up or down to adjust the height. It works perfectly and is a nice compromise between a quick-adjust harness (which tend to bind and become difficult to adjust) and full rethreading. Overall, we love this car seat - the test baby was super happy and comfortable, the fabrics were soft and luxurious, and with the Britax reputation, we can rest assured that your baby is safe and sound. Downfalls? Our only major gripe is weight - it's a heavy car seat! However, we do realize that's necessary for this level of quality and safety. Who else loves the new B-Safe Gen2? Our friends at Babylist and What2Expect! Interested? You can check out the Britax B-Safe Gen2 here.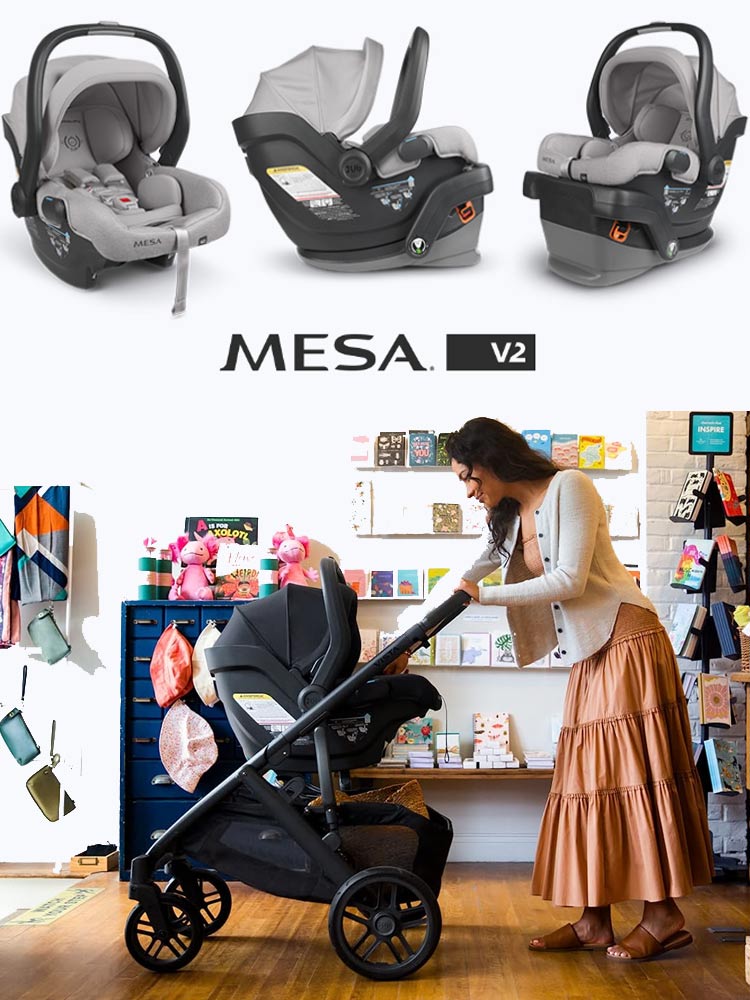 Usually about $500. This is a more expensive option than most other infant car seats, but the newest UPPAbaby Mesa (the V2) has some serious safety and convenience features that might make it worth the splurge! For basic specifications, an infant insert is included to accommodate newborns and preemies as small as 4 pounds, and the seat goes up to a 35-pound weight capacity (32" height), which is industry-leading (and frankly, expected at this price point). Coming in just under 10 pounds, there are many convenience and safety features given a relatively low overall weight (the base adds another 9 pounds), making the seat's weight a non-issue. It's also relatively narrow, with a 15.5" wide base, and adding about 1.5" to that due to the handlebar levers sticking out on the sides. The Mesa is a good option for fitting three car seats in a row because the bottom of the base is very narrow, allowing LATCH and buckles on adjacent car seats to fit close together. Features abound, including beefy side impact protection, no-rethread harness and quick-adjust headrest (5-positions), removable and washable (and Greenguard GOLD!) fabric, an infant insert and low harness position for smaller (4-11 pounds) infants, and European belt path routing. According to UppaBaby, its safety features help the Mesa perform up to 4-times better on side-impact crash tests than any other premium infant car seat on the market.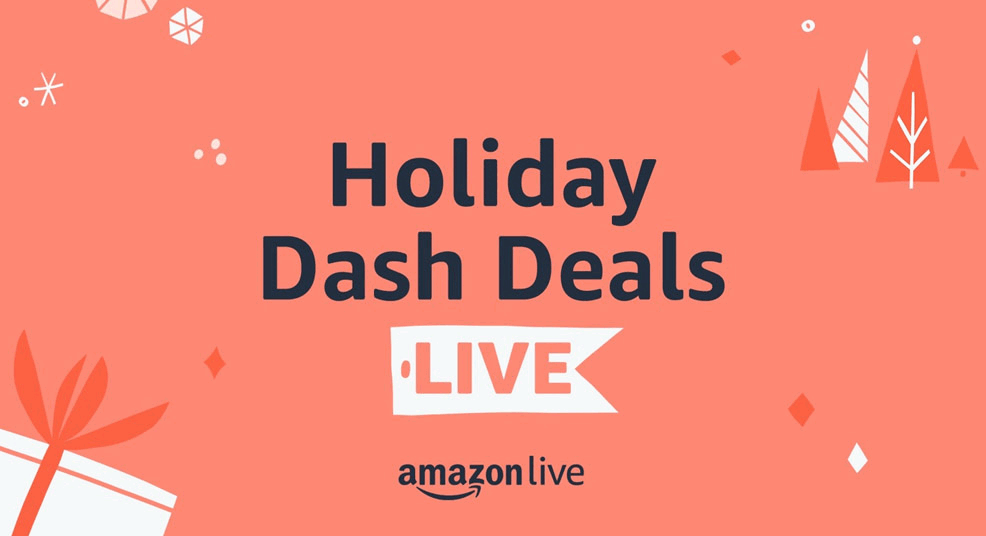 We got our hands on the Mesa V2 late last year and there were a few things that really stood out. First, we loved how easy and versatile the installation was. The SMARTSecure system makes installation take literally 30 seconds (plus the time to read the instructions!), and the level indicators make you perfectly confident that you've achieved an excellent installation. It's honestly one of the easiest to install and use car seats we've ever tested, and the option to use the European belt path provides great versatility when you're not using the base. Second, all the adjustments were smooth and easy including the adjustable foot for leveling the base, and the harness height and tightness. Third, the new Mesa V2 has a great canopy that is a bit larger than the original Mesa and no longer interferes with the carry handle when they are both in an upright position. Finally, we think the new handlebar position (they call it a 4th position - in between upright and fully forward) is a clever way to integrate an anti-rebound bar without adding weight or bulk. Nice touch!
The Mesa V2 is one of those car seats that looks and feels extremely high quality and will be sure to turn heads. It has the safety and convenience features to match, beautiful and durable fabrics, and is directly compatible with the Vista and Cruz strollers without adapters (adapters are needed to attach to the Minu or Ridge). For cons, there are only a few to mention. First, there is only one crotch buckle position, which is something that differs from the original Mesa; given its position, we don't anticipate many issues here, but if you have a very large baby it could become an issue. Second, the price is steep, but we think the easy and versatile installation combined with high-quality fabrics and safety features could make it worth every penny! That's for you to decide. Who else thinks the UPPAbaby Mesa is a top pick? Our friends at Babylist, What2Expect, BabyCenter, and TheBump! Interested? You can check out the UPPAbaby Mesa V2 here.
UPPAbaby Mesa vs Mesa V2: Key Differences
While we review the newest UPPAbaby Mesa V2 above, it's worth considering what has changed with the V2 relative to the original Mesa. First for the similarities: they are the same weight (9.9-pound seat, 9-pound base), dimensions (17" W x 25.8" L x 23" H), and capacities (4-35 pounds and up to 35" tall). They both have no-rethread harnesses, an adjustable headrest with side impact protection and EPP foam, a four-position leveling foot, seatbelt lock-offs, removable and washable seat fabric, compatibility with the VISTA and CRUZ strollers, and the popular SMARTSecure installation system.
That said, there are four primary differences between the original Mesa and the new Mesa v2 car seats. The new Mesa V2 has:
A larger SPF 50+ canopy with better coverage.
Installation option using the European belt path (without the base).
A more supportive and comfortable infant insert.
A new carry handle position for anti-rebound protection.
One thing the Mesa V2 does not have relative to the original Mesa is two crotch buckle positions. That was a peculiar decision by UPPAbaby, though we do believe the new position is ideal for both smaller and larger children. Outside of that, all of the new Mesa V2 features were definitely welcome additions. In our original review of the Mesa, we complained that the canopy would interfere with the carry handle when both were in the upright position; now that's fixed. We also thought it was limiting not to have the European belt path option; now that's fixed as well. Finally, we commented that most infant car seats at this price point have an anti-rebound bar; now the smart folks at UPPAbaby added a very clever solution to this problem. Overall, we love how UPPAbaby listened to parents and reviewers and came out with a new model that has all the right features without increasing the weight or bulk. Nice job!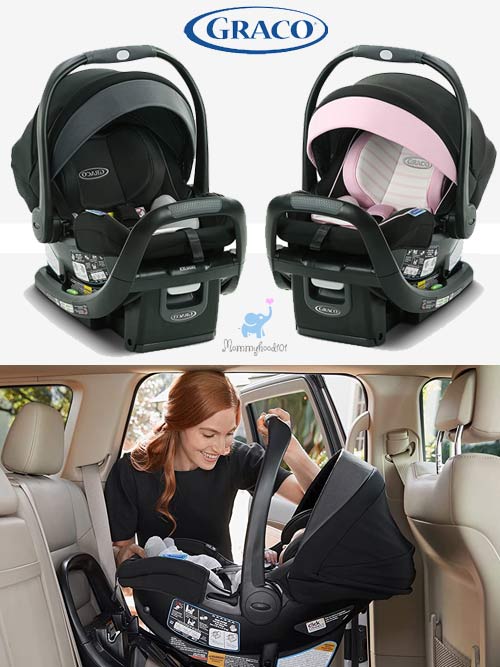 Usually under $230. The Graco SnugRide series of car seats is one of the most popular and all-time best-selling on the market. For over a decade, Graco has been offering the SnugRide line, but they only recently stepped up their game and added the SnugFit line with the anti-rebound bar parents have been asking for. Why? The anti-rebound bar provides increased safety and protection in the event of a rear-end accident, helping to stabilize the car seat and absorb the rotational forces that can be harmful to your baby. The SnugRide infant car seats have the reputation of being relatively simple and no-frills, and the SnugFit 35 DLX is no exception. Not as soft or plush as the B-Safe or Chicco car seats, and maybe not as stylish or available in funky patterns (like the Britax Cowmooflauge, which is awesome), but it works pretty well and parents absolutely love it. Feature for feature, it's also about $50-75 cheaper than the other brands, so that's something to keep in mind. The SnugFit 35 DLX supports babies as small as 4 pounds (with the infant insert) and goes up to 35 pounds with a 32" height limit. It attaches with the Graco InRight LATCH system, or with the car's safety belt. It is side-impact tested, and uses EPS energy-absorbing foam for safety, as part of its TrueShield side impact protection technology that protects not just the head but all the way down to the hips. One of the biggest advantages to the SnugFit, in addition to the anti-rebound bar, is the addition of no-rethread harness height adjustment!
We were happy to find that the headrest and harness height adjusts up and down together, using the convenient button on the top of the headrest. The seat itself is reasonably lightweight, coming in at about 9.5 pounds, and we personally liked how easily it snapped into and out of the base. Speaking of which, the SnugLock system is compatible with any Click Connect stroller, so you can snap this car seat into any stroller or base that also uses the Click Connect feature. So that makes compatibility with strollers and travel systems much easier, especially when nearly every stroller on the market makes an adapter to fit the SnugRide car seats. With the base, the combo weighs only about 17 lbs (seat + base). In our testing, one of our chief grievances about this car seat is that it didn't seem big or wide enough to fit babies over about 25-30 pounds, especially if they have broad shoulders. It's super supportive and comfortable for infants, but then as they grow bigger you might begin to realize its limitations. Overall, we absolutely love what Graco has done with the SnugRide line, especially with the no-rethread shoulder harness, the high-quality fabrics, and the anti-rebound bar. Coming in at only about $230, these represent an excellent feature set for such a reasonable price. Given how easy we found the installation and functionality, and the overall comfort and safety, we think this is a solid best-bet infant car seat for parents who are looking to save some cash while maintaining confidence in Graco's solid reputation for car seat quality and safety. If you're confused about the giant range of Graco Snugride car seats, check out our SnugRide comparison tables here. Otherwise, you can check out the SnugFit 35 DLX here!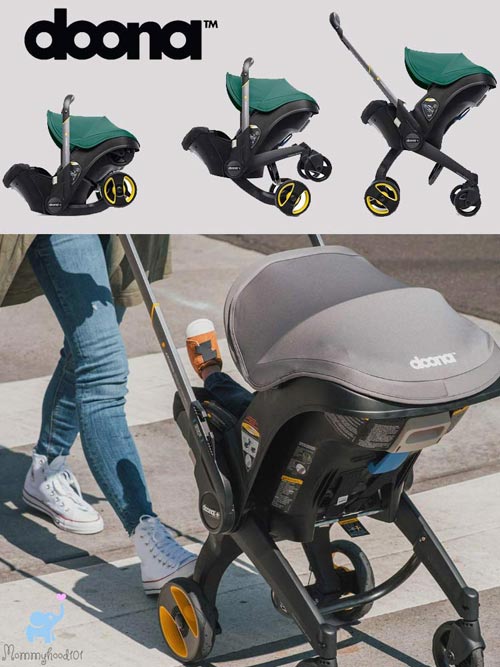 Usually about $500 (whoa!). This is the only infant car seat that includes an integrated stroller, making it a super unique addition to our list (and to the baby gear market in general)! This slick design transitions from a plush infant car seat to a stroller in about 5 seconds, with stroller legs and wheels that fold down from the underside of the car seat. It's the perfect travel companion, a great alternative to a big travel system, and is perfect for city dwellers with limited storage space. We got our hands on the Doona for testing last year (thanks, Doona!) and were super impressed by its versatility and ease of use. Let's talk about the car seat first. The car seat supports babies as little as 4 pounds and as heavy as 35 pounds, or up to 32" tall (whichever comes first), making it a great option for preemies with its included infant insert and super cozy memory foam head support. For safety, it has 3 layers of side-impact protection, EPS energy-absorbing foam, and when placed in car seat mode the handlebar acts as an anti-rebound bar. No steel-reinforced frame, though it is really quite heavy as-is (about 16 pounds) and that would basically render it impossible to carry with a baby inside. Of course, carrying your baby in the car seat is not something you'll typically do with the Doona given the integrated stroller. For features, it has a 5-point harness, LATCH equipped base, a removable washable cover, and it is FAA approved for air travel. Our impression of the car seat was really positive - we found it to be high quality, comfortable and soft, and well-featured.
The only things we could have hoped for were an adjustable harness without rethreading (it requires rethreading from the back), a bigger canopy that would extend farther down, and a bit wider seating space for chunky monkies. Second, let's talk about the stroller. This is the cool part! You simply put the handle into carrying mode (straight up), pick up the car seat, and pull on a lever on the back and the legs and wheels drop down underneath in a nice smooth manner. Super simple and fast to do, and it's a really impressive design. It worked perfectly with repeated use and after taking it over bumpy surfaces and throwing it into and out of our vehicles. The stroller itself is very functional, easy to steer and maneuver through tight spaces, and reasonably stable. Some down-falls of the stroller itself are that the wheels are somewhat hard and cause vibration and bumpiness on uneven sidewalks, it's not stable or sturdy enough to allow you to hang your diaper bag on the handlebar, and there are none of the conveniences of a true stroller (like a storage basket, cup holders, phone/key tray, etc). Another minor annoyance we found was that when folding it up and putting it into your car, if the wheels are dirty or wet that means your pants and the car's seat will also get dirty and wet. This is unlike a regular stroller that you'd likely throw in your trunk. Outside of that, the car seat and stroller combination was easy to fold up and snap into the base (or belt into the vehicle without the base), though it is definitely pretty bulky and wide. Once we had used it a few times, we started to wonder why we would ever lug around a separate car seat and stroller! Overall, we were impressed with the idea and innovation, and think it's definitely worthy of a top spot on our list! There are some drawbacks, of course, not the least of which is the hefty price tag (about $500!). But when you combine a high-end infant car seat and stroller, you'll likely be close to that total price anyway. Who else thinks the Doona is a top pick? Our friends at BabyList, WhatToExpect, BabyCenter, and Babygearlab. Perfect for jet-setting parents who demand innovation and style, you can check out the Doona Infant Car Seat and LATCH Base here.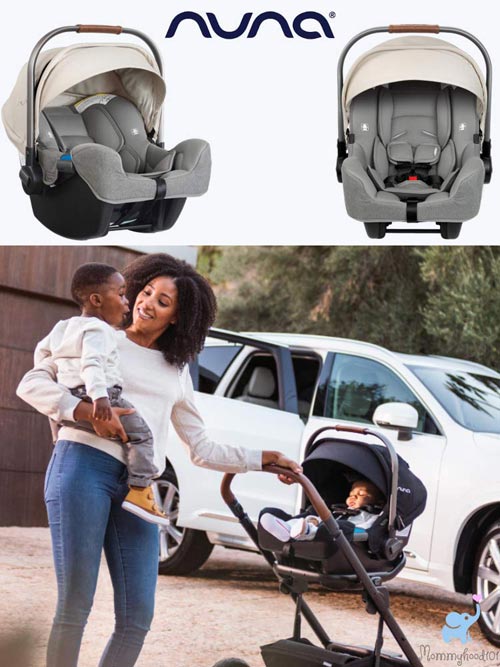 Usually about $300. This is a stylish, simple, sophisticated infant car seat made by Nuna International, a boutique baby gear company based in Amsterdam. They have European styling and simplicity, and some safety features that are very common in the EU but relatively rare in the USA. The Nuna Pipa seat itself is made in China, like most on this list, and can be pretty hard to find at typical big-box stores. It's generally available at Amazon, PishPosh Baby, and a few other high-end department stores. In our testing, we really loved this infant car seat. It has super soft and high-quality materials with micro knit fabrics, soft and thick padding where it's needed most (like on the crotch buckle!), and a truly amazing canopy that has a nifty "dream drape" extension that basically covers the entire baby to protect from the elements (UPF 50+). It supports babies as little as 4 pounds with the included infant insert, making it an ideal infant car seat for premature babies. Plus, it supports up to 32 pounds or 32 inches long. All that weight and height range while weighing under 8 pounds! The base is about 14 pounds, but nobody walks around with the seat attached to the base. This is one of the safest infant car seats we've ever tested, for a few reasons. First, it has the basic 5-point harness, crumple zones in the base and load leg, deep and thick side-impact protection, and EPS energy-absorbing foam. Second, it includes a stability leg, which is very common in the EU: the stability leg attaches to the bottom of the car seat's base and extends down to your car's floor. Like an anti-rebound bar, the load leg limits rotational forces by absorbing impact in the event of a crash.
Installation was a breeze using the easy LATCH connectors. Note that the LATCH connectors on this seat are rigid, which helps a ton to achieve a secure installation but might limit which seating positions you can use. For example, the center back seat of many vehicles does not use the standard 11" LATCH spacing, so you'll need to install using the vehicle's seat belt. It's worth pointing out that most infant car seat manuals dictate the same, but the Nuna enforces this point with the rigid LATCH connector spacing. In our testing, we were really impressed with this infant car seat and thought that it was quite luxurious with its fabrics and overall fit and finish. Speaking of fabrics, the Pipa uses certified GOTS organic cotton without any chemical fire retardants, and they source not only fabrics but also their foams and dyes to ensure they are free of harsh chemicals and VOCs. The Nuna Pipa is compatible with some of the most popular strollers (using an adapter): the Baby Jogger, UppaBaby, Stokke, Bugaboo, Mamas & Papas, and Maxi-Cosi. Of course, it's also directly compatible with Nuna strollers without using an adapter. Downfalls? It doesn't have a quick-adjust harness, unlike others at this price point; this means you need to re-thread the harness from the rear every time you need to adjust its height. Fortunately, that is rare, but definitely a hassle. That issue, combined with the high price (about $300), is the primary limiting factor. Is it one of the best infant car seats available on the market? Yes, especially if you value the style and lightweight build quality, but you'll need to shell out some extra bucks and possibly be annoyed by having to manually rethread the harness straps. Those are compromises you make when you want an amazing car seat to weigh only 8 pounds! Note that if you're interested in other super compact and lightweight infant car seats, be sure to check out the Cybex Aton and others in our reviews of narrow car seats. Who else thinks the Pipa is a top pick? Our friends at BabyList, WhatToExpect, and TheBump. Interested? You can check out the Nuna Pipa here.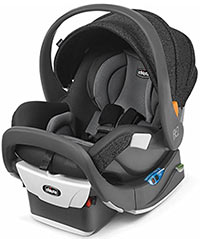 About $280, and is available in several color options. This is a relatively new Chicco infant car seat that passed our hands-on testing with flying colors. We're excited to have it on our list, and think it's a great example of a high-quality, safe, durable, and versatile car seat. But it's also quite expensive, about the same price as the most premium B-Safe Ultra or Endeavors, so keep that in mind when comparing them. It has everything you've come to expect from a high-quality infant car seat: lower infant insert (for babies as little as 4 pounds), adjustable shoulder harness and headrest without rethreading, two crotch buckle positions, EPS energy-absorbing foam, side-impact protection, lock-offs on base, large and removable canopy, bubble level indicators, premium LATCH connectors, European belt routing, removable and washable seat cover, and one-handed adjustments.
The Chicco Fit2 expands on the already-great KeyFit 30 and KeyFit 35, with several key differences. First, the Fit2 has two unique rear-facing positions, one relatively reclined for infants up to about 10-12 months of age (basically until they are able to crawl and walk), and a second one relatively upright with a bit more leg room. The second position is designed for toddlers up to about 35 pounds and 35" in height (or 24 months old), whereas the Keyfit 30 only fits up to 30 pounds or 30" tall, and the KeyFit 35 is limited to 32" tall. Second, the Fit2 has an anti-rebound bar built into the base similar to the KeyFit 35 but not KeyFit 30, to reduce rotational forces in the event of an accident. Third, the Fit2 has more shoulder harness and crotch buckle adjustments to fit growing babies, and the shoulder strap height is adjustable without rethreading (like the KeyFit 35). Fourth, we found the fabric to be generally plusher higher quality, and the canopy a bit larger and higher quality, especially relative to the KeyFit 30. Finally, it's made in Italy rather than China, and because it supports up to a higher weight, it's also a bit heavier coming in at 11 pounds without the base. That's about it on the differences. With either the KeyFit or Fit2, you're getting a truly excellent car seat, though the Fit2 is better suited for parents willing to spend a bit more for a more expansive height limit, and higher quality fabrics and padding. Limitations? Well, it is difficult for us to justify the added cost over the KeyFit 35 unless you have a super tall baby. Second, the upper shoulder and head space are a bit narrow, though removing the upper infant insert helped that situation, and it's worth mentioning that it's not as narrow in the shoulders and hips as the original B-Safe 35. Overall, this is a fantastic addition to our list, and we're excited about it! Interested? You can check out the Chicco Fit2 here.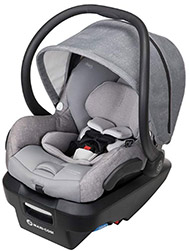 About $250. Maxi-Cosi is constantly improving its car seats, and this Maxi-Cosi Mico 30 (and Mico Max Plus) infant car seat is no exception. This is a truly adorable infant car seat, with some really plush and soft fabric. The Maxi-Cosi infant car seats not only look amazing, but they are also definitely one of the coziest and comfiest infant car seats on our list. It is, indeed, Maxi-Cosi! This infant car seat supports 4 to 30-pound babies, with a maximum height of 32". The lower infant insert must be used for babies weighing from 4-5 pounds and can be used for as long as you'd like (according to the owner's manual). A great specification with this car seat is that the height range is up to 32" tall, without having the higher weight limit (which in our opinion isn't usually as important as the higher height limit). Note that your baby's head must always be at least 1" below the top edge of the car seat. It's also a very lightweight car seat, coming in at about 9.6 pounds without the base (the base is 7 pounds), and features a detachable canopy and washable fabrics that can be removed without rethreading the harness. The pricier Maxi-Cosi Mico Max Plus 30 model adds the inflated air side protection cushions, which gave us peace of mind that our little one was safe and sound. Couple those with the EPP energy-absorbing foam and the awesome load leg, and you've got yourself a very safe car seat. We thought the fabric was very easy to wipe clean, and easy to remove for machine washing. The Mico Max adds an anti-rebound bar, and the Mico Max Plus adds a zippered "MaxShade" canopy extension for about 6" of extension with mesh sides for improved ventilation. There are a few other advantages of the Max Plus: First, the Plus uses a high-quality denim-like fabric that is self-wicking and provides nice breathability to prevent sweaty backs. Second, the Plus uses a load leg rather than an anti-rebound bar; the load leg extends down from the bottom of the base and pushes down onto the floor of the vehicle. This is in contrast to the anti-rebound bar, which pushes up against the rear seat back. This means that the Max Plus maintains increased safety in the event of an accident, but you end up with a narrower (only 13" wide versus 15.5" wide for the Max) and shorter (only 23.5" long versus 24.5" long for the Max) base.
In our testing (thank you for sending us a sample, Maxi-Cosi!), we thought there were some awesome features and functionality with this seat. We loved the soft padding on the harness and crotch buckle and the fact that the crotch buckle flips forward when unbuckled so it's out of the way when you're putting the baby into the seat. We also liked that the car seat can be installed with or without the base, that the base itself uses seat belt lock-offs for a secure install (or premium LATCH connectors), the Max Plus load leg is super easy to use, and that the base has three recline settings that will help compatibility with most rear seat slopes. The canopy is great, and the cover removes and re-installs easily for washing. Most things feel very solid and well-constructed, with some exceptions that became minor annoyances during use. First, the canopy and carry handle interfere with each other a bit when the handle is upright and the canopy is open. When you're placing the car seat onto the base and rotating the canopy and carry-handle back out of the way, the handle pushes up against the canopy and doesn't easily lock all the way back into place. It gets a bit frustrating. Second, there are giant warning labels on the upper cushion that are right where your baby's head and face will be resting during naps as they grow taller. This means that instead of your baby's face is up against the cozy fabric, it might be up against the plastic labels. That was a strange design choice. Finally, the harness height adjustment requires rethreading. Outside of those concerns, this car seat has a lot of excellent things going for it, and it is definitely deserving of this spot on our list! Our friends at Babylist and What2Expect also agree that it's a top pick! Interested? You can check out the Maxi-Cosi Mico Max Plus here.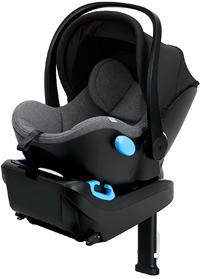 Usually close to $400, which is really the only reason this car seat isn't in the top 5. We got our hands on this car seat earlier this year and we're incredibly impressed with its style, shape and size, comfort, safety, and versatility. The Clek Liing is one of the only infant car seats actually made in North America, up north in Canada, and one of the only ones with a load leg. And we probably don't need to tell you, but Clek has an amazing reputation for making extremely high-quality and stylish products, but you'll pay for it! Out of the box, the first thing we noticed is that the Clek Liing only weighs about 9 pounds without the base, making it super easy to carry around. The base is a bit more substantial at 17 pounds, especially with the load leg and rigid LATCH connectors, but that will be left in your vehicle so it doesn't really count. Even with the lightweight car seat build, the materials - plastics, and fabrics - all feel really high quality and plush (we loved the C-Zero+ fabric, which is anti-microbial and stain, moisture, and odor resistant - not to mention free of chlorinated and brominated flame retardants). For basics, the Liing supports babies as small as 4 pounds (with infant insert) up to 35 pounds, and up to 32" tall (or at least 1" clearance between the top of the head and the top of the shell). It has a 7-position recline, a European belt path for installation without the base, and a huge canopy with a giant peekaboo window. For safety, it has a beefy metal load leg to increase stability during a crash (with 13 length settings, from 10" to about 21"), EPP energy-absorbing foam, and a two-piece shell with side-impact protection. To help with installation, it has a seatbelt tensioner lock-off in the base, rigid lower LATCH anchors, three harness heights (with manual rethreading), and a very small profile that is great for fitting three in a row (it's only 17" wide). Installation is awesome if you're using the rigid LATCH anchors because they basically ratchet into place in a truly confidence-inspiring manner. The belt-tensioning system, if you're using the vehicle's seat belt with the base, is also a pretty great belt lock-off system. A little note is that the Clek should be used with the handlebar facing straight up while in the vehicle. The load leg was easy to extend and adjust; it's mandatory in Canada for infants over 22 pounds, but in the US is optional. If you're not going to use the load leg in the US, then Clek suggests installing it with the vehicle's seatbelt instead of the LATCH system. If you're installing the Liing without the base, you can use the American or European belt paths, both of which have bright blue routing guides (the US belt path guides are on the sides).
We tried out the Liing with a 5-week-old, 3-month-old, and 8-month-old. Comfort was top-notch in all cases, though we needed to do some adjusting with the biggest infant - the removable upper and lower infant inserts help quite a bit in perfecting the fit. The handle is amazing and doesn't interfere with the canopy, and we can't emphasize enough how nice it is to have such a lightweight and compact car seat! Everything on this car seat seems thoughtfully designed and placed, and that made us feel really good about using it. Overall, we think this new addition to our best infant car seat list is top-notch! Cons? Price is the obvious issue for most parents, coming in typically between $350-400, which is a big "ouch" in the pocketbook! Also, we were surprised to find that the harness height requires rethreading, which was unexpected in this price range. Another little con is that the Clek Liing has limited stroller compatibility; it works with most strollers compatible with Maxi-Cosi, Cybex, and Nuna car seats (and the car seat adapters for those models should work as well). This is a truly awesome new addition to our list and we're proud to feature it. Not for all parents, but definitely a front-runner for those with a bigger car seat budget and a desire for style, substance, and quality. Interested? You can check out the Clek Liing here.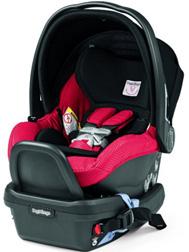 About $300, with some color and pattern options being more expensive than others. Peg Perego was founded over 60 years ago in Italy when founder Giuseppe Perego was motivated to make the finest baby carriage of the time, made of rubberized materials instead of wicker and sheet metal. Well, he succeeded, and the company was a big hit in Europe for many decades. Fast forward to modern times, and Peg Perego has become a respected brand around the world for creating safe, durable, reliable, and comfortable baby products. There are several unique features for this Peg Perego that make it one of the best infant car seats of the year, including adjustable side impact padding (6 positions up/down) to accommodate your growing baby, a comfortable handle, plenty of padding for even little babies (down to 4 pounds using an included dual-stage insert, and up to 35 pounds), a soft and plush fresco jersey breathable cloth, an adjustable-height 5-point harness (no rethreading necessary), good-sized canopy, EPS energy-absorbing foam, color-coded European belt routing, and it's made in Italy (not China). It is also one of the rare car seats to include the anti-rebound safety bar on the front (along with the Chicco Fit2, KeyFit 35, and Britax Endeavours), which is now standard in Europe but not yet required in the US. A bit beyond some other car seats on this list, this one has a 32" height limit for babies.
And it's beautiful. When you get your hands on it and see its smooth lines, modern patterns, quality stitching work around the edges, and feel its quality fabric and padding, you will realize why people are willing to pay a premium for this seat. Some of the seat's trim honestly looked like it was hand-tailored by an Italian designer. Nice touch. The seat itself is among the heavier on the list, coming in at about 10 pounds. Together with the base, it's quite a bit heavier (not that you'd be carrying it around with the base). We have a few primary negatives with this car seat: first, it's not really the most comfortable to carry given that the canopy opens up against the handle, so the only reasonable option is to carry it with the canopy retracted. We found that in addition to it being a bit cumbersome to carry around, the harness straps tend to spin around and tangle a lot, and some of our moms complained that many of the nice and affordable car seat covers won't fit around the large side impact cushions. The canopy is not very large and the cover is a total pain to remove for cleaning. Finally, it does not have a steel-reinforced frame like the B-Safe Ultra, but that's the case with most car seats on this list. Overall, this is a great car seat with only minor cons relative to the others. Given the overall high quality, great style, and versatility, we're proud to feature it on our list! Interested? You can check out the Peg Perego Primo Viaggio here. There is a newer model of the Primo Viaggio, called the Nido infant car seat, which includes the load bar for extra safety, and a bigger "cocoon" type canopy (but it's also about $50 more expensive).
Conclusions
How to Pick the Perfect Infant Car Seat
To learn more about what to look for in a car seat, check out our full car seat buying guide here. Our hands-on testing and focus groups with over two dozen parents got down to the nitty-gritty on about 15 of the best infant car seats on the market. Every year we're impressed by the new models hitting the market, and we love getting our hands on awesome new baby gear! A big thanks to the brands that send us demo versions of their car seats for testing this year!
Along with input from very vocal parents, our annual hands-on reviews and ratings help us identify several of the best and safest infant car seats of the year, made not only by big brands like Britax, Graco, and Chicco, but also by newer, growing, and niche brands like Maxi-Cosi, Peg Perego, Cybex, and Clek. Whether you're going to buy one yourself or put it on your baby registry, doing the research is critical for finding the perfect car seat for your newborn baby at a reasonable price!
All of the car seats on our list are not only well-rated, safe, and comfortable, but they also pass the test of time: reliability is very important for baby products, and sometimes the best-looking and functioning car seats can lead to disappointment after a few months. For example, malfunctioning chest buckles, finicky harness adjusters, and rips from poor fabric stitching.
As always, our reviews are as impartial as possible, and we are always honest about which car seats were given to us for testing. We do not let this bias our reviews - in fact, some of those are pretty far down on our list!
The infant car seats included in our reviews are all restricted to use as rear-facing seats, of course, so they will not function as front-facing car seats, all-in-one car seats, highback booster car seats, or youth boosters. Those can be seen in our other articles: the best convertible car seats and the best booster car seats.
The best infant car seats typically range in price from about $150 to $350; if you're looking for something a bit cheaper, we suggest checking out our list of the best budget-friendly infant car seats. Finally, we also suggest you check out our reviews of the narrowest car seats if you're trying to fit three car seats in a row.
Ease of Use
This is probably the most important factor to consider when purchasing a new car seat. You do not want to deal with a frustrating latch, annoying seat belt mechanism, clumsy chest clips, finicky handle adjustments, or an uncomfortable carrying handle multiple times a day. You won't care if you have the most stylish car seat on the market if you pinch your finger every time you fold down the handle, or find yourself cursing at the twisted harness straps while your baby is screaming!
Over the past 10+ years that we've been writing reviews, we have tested over 80 different infant car seats, putting them to the test with both calm and wiggly babies, with summer and winter outfits, with and without the base, and made sure they were not only intuitive to use, but also easy to buckle, unbuckle, attach to and detach from the base, adjust the incline, rotate the handle, adjust the canopy, and remove the cover for washing. In general, we found the pricier car seat options also tend to be more user-friendly, but that doesn't mean you need to break the bank. There are some really great options for about $150. Because proper car seat installations are the most important factor in car seat safety, we do focus disproportionately on the ease of seat installation.
Price
Speaking of price, infant car seats vary widely in quality, style, and (importantly) price. You will notice that some car seats sell for under $100, whereas others are upwards of $350 or more. There are usually very good reasons for the price differences. In general, the more expensive car seats tend to be plusher, softer to the touch, more user-friendly, use higher quality parts (snaps, handles, hinges, clips, fabric, stitching), lighter parts, and come in a more stylish array of color and pattern options. They may also use organic fabrics, highly breathable fabrics, and/or fabrics without chemical flame retardants. Because these fabrics tend to be more expensive, many of the car seats using advanced fabrics tend to compromise a bit on other features.
Are more expensive car seats safer? No, when used correctly all car seats are safe and must meet the requirements of the NHTSA. However, some of the less expensive brands may meet NHTSA minimum requirements whereas others go beyond those standards. A good example of going beyond NHTSA requirements to increase safety is using an anti-rebound bar or load leg to reduce rotational forces during an accident, or double and triple side-impact protection. Overall, expect to spend about $150 for a good quality car seat, between $150-250 for a high-quality car seat, and over $300-350 for a fancy seat with all the extra safety and convenience features. If you see some real standout features, it might be worth the extra cash. It's nice to know, however, that you can get one of the best infant car seats on the market for only about $150, and rest assured that it is a safe option for your baby.
Baby Weight and Height
Babies come in all shapes and sizes. If you're lucky you will have a 7-9 pound baby, but many moms deliver a bit early or deliver a baby bigger than they expected. You might be on the lower end of the spectrum with a cute little 4-pound baby, or on the higher end with a chunky-monkey 12-pound baby (like me!). It's important to realize that every car seat has its own unique minimum and maximum infant weights and heights.
Car seat height and weight guidelines are very important and directly influence your baby's safety and comfort. Most infant car seats have a minimum baby weight of 4 pounds (1.8 kg), typically by using an infant insert, and a maximum of either 30 pounds (13.6 kg) or 35 pounds (15.9 kg). Be sure to check the box, label, or manual because even within a single brand or model (such as Chicco KeyFit), different versions have different specifications. Some models include an infant insert (upper insert, lower insert, or both) for particularly small babies (e.g., 4-11 pounds) to help support their body, which can also give a snug fit and increase safety. Always read your car seat's manual to check the manufacturer's recommendations for when to use and remove the lower insert. You can see our list of car seat expiration dates and owner's manuals here!
We also want to point out that it's unlikely you'll reach a car seat's weight limit before reaching the height limit. In other words, your baby will probably end up too tall for their car seat before they end up too heavy. That's expected, but keep that in mind when you're considering whether weight limit or height limit is the more important factor (we suggest focusing on height limit more than weight limit). If you want something that can support infants (rear-facing) as well as toddlers (front-facing), check out our list of best convertible car seats, some of which can support babies as small as 4 pounds and bigger kids all the way up to 100-120 pounds.
In our opinion, you will be best served by an infant car seat and then transitioning to a convertible seat later in development. The primary reason for this advice: infant car seats detach from the base and have a handle for carrying a sleeping baby, and convertible car seats do not. Infant and convertible car seats are not the only types of car seats on the market. There are also combination seats that start as a booster with a harness and then convert to a full booster seat, and also the booster seats themselves that use the vehicle's shoulder belt (and some use the LATCH system). In terms of height, most infant car seats support toddlers up to 30, 32 or 35 inches tall (or until the top of their head is about 1" below the top of the car seat, but check the manual for specifics). Most children will hit 30" tall by about their first birthday, so if you want to extend the use of your infant car seat, you might consider some of the options that support toddlers up to 35 inches tall (like the Chicco Fit2).
Safety
Car seats sold in the USA must meet federal (NHTSA) safety standards and requirements, so no matter which car seat you choose, you can rest assured that it has been thoroughly safety tested for babies and toddlers. It is important to note, however, that some seats go far beyond the federal safety standards, taking child passenger safety very seriously. There are a few good examples of that. First, some car seats have more substantial (thicker and/or additional layers) side impact protection near the shoulders, head, and/or torso. At a minimum, these will provide greater comfort for your child's sleepy head during naps; at the most, they might provide some extra security during a side-impact crash. Second, anti-rebound bars and load legs are becoming more popular, such as the one seen on the Peg Perego Primo Viaggio, the Chicco Fit2, and the Evenflo SafeMax infant car seats; the idea here is that the anti-rebound bar can reduce rotational forces in the event of a crash. This means that, for instance, in the event of a front-end crash, the infant seat will not have such an extreme rebound toward the back seat.
It's hard to justify spending more money for a luxury seat (like the UppaBaby Mesa) that doesn't have this modern safety feature. Similarly, some modern infant car seats use a load leg that extends down from the back of the car seat onto the floor of your vehicle. A good example of this is the new Peg Perego Primo Viaggio Nido infant car seat, which is an upgrade from the regular Primo Viaggio. The load leg is also designed to reduce rotational forces, and together with the rebound bar can reduce rotational forces by up to about 50%. Worth the cost over a traditional car seat design? That's for you to decide. Even if some extra peace of mind is important, it may or may not be worth the extra $100+.
Also, regarding safety, we do not recommend using any car seat accessory that is not manufactured by the company that made the car seat and designed it specifically for the car seat. Examples include harness tie-backs, detachable cup holders, or car seat covers. If you are at all concerned about a proper installation, most local police or fire departments have a Child Passenger Safety Technician (CPST) who can help make sure infant seats are properly installed; they will check belt adjustments, harness heights (shoulder belt height), recline, seat belt paths, LATCH use, car seat and base compatibility, travel system integration, and make sure your infant car seat base is installed properly in your vehicle.
Note that most of the seats on this list are very easy to install, featuring a no-rethread harness, bubble recline indicators, and comprehensive owner's manuals to make sure you're doing things correctly. Definitely read the manual and watch some videos online to reduce the risk of doing something wrong like installing a top tether when rear-facing (about 99% of the time, top tethers are only for forward-facing car seats), not appropriately reclining the seat, or having a loose fit. Note that all of the seats on this list are approved for car seat travel on airplanes by the FAA. Finally, always check car seat expiration dates to make sure you're in the clear.
Car Size
If you have more than one child or a smaller vehicle like a Honda Civic or Toyota Prius, you definitely must consider the size and fit of the car seat. Mainstream infant seats are bulkier than ever, with more padding, big side impact protection wings, more safety features and foam, and thicker plastic. Gone are the days when your car seat is only slightly larger than the baby itself.
The increasing size of infant car seats is a good thing, given the increased comfort and safety. However, it can also lead to two fitment issues. First, when trying to fit multiple car seats into the back seat, particularly more than 2 at once. Most cars will NOT fit 3 infant car seats into the back seat, so unless you drive an Escalade, make sure you take some measurements before you go buying something. Be sure to check out our article about narrow car seats for fitting 3 in a row. Second, the larger infant car seats can be problematic when rear-facing. This is especially true with taller drivers and passengers. With the vehicle's seat slid back for a taller driver, it will likely press against the top of the infant car seat. Always check both your car seat's manual and vehicle's manual to ensure that it is OK for the top of the car seat to be touching the back of the vehicle's front seat; some vehicles do not allow this because it interferes with the vehicle's safety systems (including the airbags), and some car seat manufacturers also do not allow this contact. Keep that in mind if you have a smaller vehicle or taller driver or passenger because these newer infant car seats are getting huge! Pro-tip: always install a rear-facing car seat behind the shorter adult!
Stroller Type
What do you intend to do with the car seat once it's out of the car? If your baby is sleeping, do you want to be able to pop the seat out and stick it into a stroller? If so, you will want to purchase a travel system or be careful to make sure that the seat will fit your existing stroller, or if you want to be able to use one of the relatively universal snap-in strollers, be sure to check compatibility.
Graco has made compatibility questions easy with their Click Connect system, which ensures that your car seat will fit any stroller or infant car seat base that is also labeled as Click Connect. Though we definitely recommend buying a stroller that's the same brand as your car seat, universal adapters are making things much more versatile than they used to be. Be sure to check out our lists of the best strollers, and our reviews of the best lightweight strollers.