The Best Baby Bottles of 2023
Keep your child nourished and happy with a baby bottle that feels just like mom.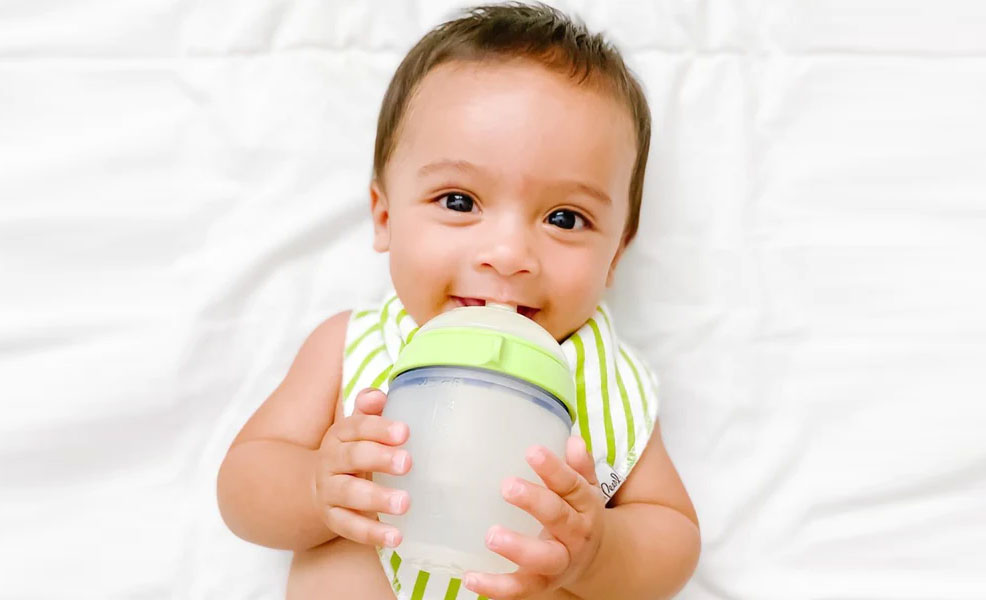 ---
Mommyhood101 independently tests and curates baby gear to help you make informed decisions. If you buy products through links on our site, we may earn a commission.
Whether you're breastfeeding or formula feeding, picking the perfect baby bottle is one of the most important decisions for your little one.
Research shows that bottle and nipple shapes and sizes influence milk intake, gas and indigestion, oral development, and your little one's ability to regulate consumption. Given the importance of finding the perfect baby bottle, pediatricians recommend trying several different styles of bottles and nipples to see which one is best suited for your baby.
Just for fun, what does ChatGPT-4 think is the best baby bottle!?
"Three brands that receive consistently high marks from parents and experts alike are Dr. Brown's, Comotomo, and Philips Avent. These bottles have venting systems to reduce colic and gas, mimic the shape of a breast, and are great for moms who are transitioning between nursing and bottle feeding." -ChatGPT-4
We don't always agree with robots, but they are definitely onto something! We've been reviewing baby bottles for over 10 years, and if we made our own, here is what it would look like:
✔️ Glass or silicone materials.
✔️ Shatter-proof materials.
✔️ Small, medium, and large sizes.
✔️ Stands on its own, hard to tip over.
✔️ Silicone, no-collapse nipple.
✔️ Breast-like nipple shape.
✔️ Slow, medium, fast flow nipples.
✔️ Anti-colic vents.
✔️ Orientation-independent venting.
✔️ BPA, PVC, lead, phthalate free.
✔️ Disassembles for cleaning.
✔️ Wide neck for easy cleaning.
✔️ Dishwasher & sterilizer friendly.
✔️ Microwave friendly.
Of course, you will also want the baby bottle to fit any style and color preferences, be compatible with the best breast pumps, and also fit your budget. The good news is that even the most recommended infant bottles are usually under $10-15. If you're not interested in plastic or silicone, check out some glass baby bottles.
Full disclosure: Some of these bottles, including the Dr. Brown's, PopYum, Flipsi, Kiinde, Comotomo, Tommee Tippee, Munchkin, Hegen, Playtex, Baby Brezza, and Chicco models, were sent to us as free test samples by the manufacturer.
Here are our top 5 recommended baby bottles, followed by our full reviews of about a dozen options. If you're breastfeeding, be sure to check out our list of the best breast pumps, and if you're formula feeding, check out the best organic baby formulas or the best goat milk formulas of the year!
Newborn babies feed about 8 to 12 times per day. If you're using a bottle for even half of those feedings, you want to make sure it's not going to cause gas, stomach upset, spit-up, or colic. You also want to make sure the bottles promote a good latch and prevent lazy feeding, do not exacerbate nipple confusion, are free of harmful chemicals, and are easy to clean and use. The best baby bottles can do all of this and more!
In our testing, we fill the bottles up, hold them upside-down, warm them, freeze them, feed newborn babies and infants with them, clean them by hand and dishwasher, sterilize them, and test the various nipple flows.
Here are the Best Baby Bottles of 2023!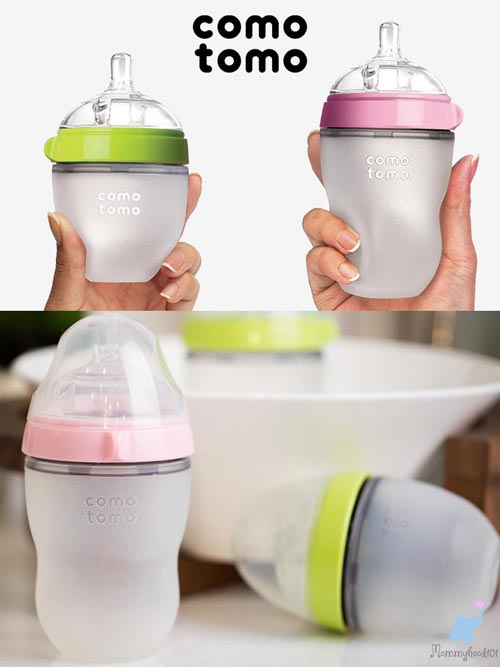 A little pricier than most other options on this list at around $12 per bottle, with green and pink versions. The Comotomo bottles are taking the baby bottle market by storm, offering a very wide nipple base and a more natural nipple shape and feel, these are perfect for moms who want to switch flexibly between breastfeeding and bottle feeding. We loved the unique soft and squeezable silicone feel of the bottle, as did our test babies who could comfortably grip the bottle while feeding. The width of the nipple base and its soft pliability makes it a very natural baby bottle feel - in our testing, we found that babies are able to make cheek, the tip of the nose, and chin contact with the wide nipple base, promoting a nice latch-on resembling the physical aspects of a real breast. If you want to mimic breastfeeding, this is the bottle for you. The vent design is quite unique and easy to clean. Rather than using a long tube, the bottle uses two small vents positioned at the base of the nipple. The soft squeezable bottle is nice for adding a bit of pressure to the feed to mimic the let-down. During feeding, we noticed that the entire wide base of the nipple elongated and retracted very smoothly, much like a natural breast, allowing a really nice rhythmic suckling motion. This is rare to see in even the best baby bottles. The venting mechanism worked really well, and all of our test babies seemed to be comfortable after feeding without any gas or colic. While feeding, you can see that there is minimal vacuum building up in the bottle, which is reassuring. It's made of high-quality silicone, and like all of the bottles reviewed on this list, there are no phthalates, lead, BPA, or latex in this bottle. In a more practical sense, the wide base made it easier to clean, and we also liked the small tab on the side of the wide green base ring, which made it much easier to grip and open or tighten the bottle. That's really helpful when your hands are wet. Speaking of wet hands, you can clean the bottle by hand, but it's also dishwasher safe and appropriate to put in a bottle sterilizer.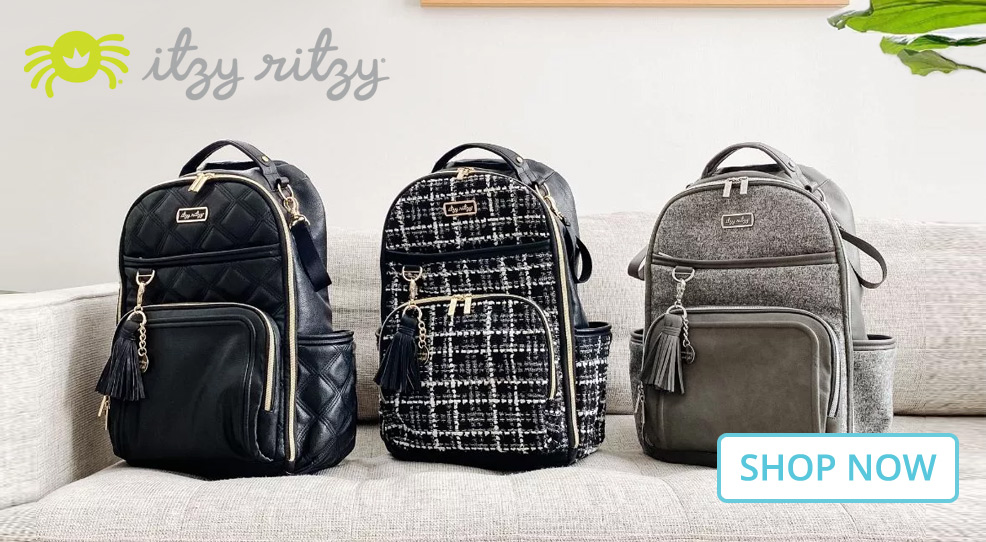 Overall, this baby bottle is a fantastic option and over the past 3 years, it has slowly climbed into this top spot, which we think is highly deserved. We tested the 250mL version (about 8.5 ounces), which is the larger one. There is also a smaller 150mL (about 5 ounces) version that is a bit less expensive. Drawbacks? Just a few, mostly related to the translucent bottle, which can make it hard to see the number labels on the side. We realize that's being a little picky, but it did make it a bit more difficult to see how much milk was remaining, especially during nighttime feedings. Want to fit a Comotomo baby bottle onto a Medela breastmilk pump? You'll need this adapter. Overall, we think this is one of the most realistic baby bottles with excellent safety, features, and reliability, and they are without hesitation the best bottles on the market this year. Who else loves the Comotomo baby bottles? They're a top pick by our friends at Babylist, Babygearlab, and WhatToExpect! Impressed? You can check out the Comotomo bottles here.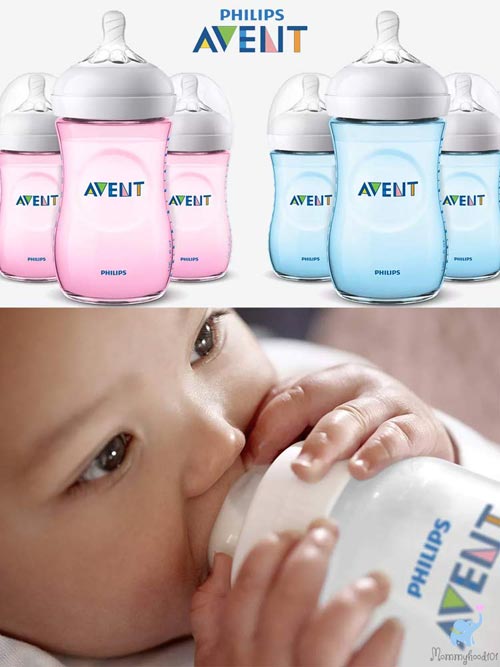 About $7 per bottle and is available in 4-ounce or 9-ounce sizes. Philips AVENT bottles have been around for several years, but they are an innovative company that continually improves its bottles to accommodate the changing needs of moms and emerging research and development. The Natural series of AVENT bottles is no exception and is one of the best all-around baby bottles of the year, available in both plastic and glass versions. The base and nipple are quite similar in form and function to the Tommee Tippee, but with a slightly narrower nipple base, and a narrower overall bottle as well. We found that the nipples were soft and compliant, promoted comfortable and fast latch-on, and the twin-valve venting system was quite good at preventing air swallowing, gas, and colic. The twin valves are unique to the others on this list, with tiny slits at the very far edges of the nipple that help air get into the bottle to prevent a vacuum from forming. The reasonably wide nipple base promotes a relatively real breast feel, and the wide neck promotes easier cleaning, though not quite as easy as with the Comotomo Natural Feel Baby Bottle. Definitely invest in a bottle brush!
All Philips AVENT bottles are BPA-free and free of other harmful chemicals. We prefer the glass, though we do understand that it's a bit heavier and makes moms nervous about breakage. Like the Tommee Tippee and Comotomo, the Philip AVENT anti-colic bottle has a nice ergonomic shape that helps babies to hold their own bottle. The venting system is quite nice, as it has no extra parts to clean, and we found that it works pretty well. The threads fit most of the best breast pumps, such as Philips, Medela, and Spectra, though some need an adapter. Downfalls? Over the past few years, the Philips AVENT Natural bottles have used increasingly thin plastic, though the functionality hasn't seemed to change. We also didn't think the venting system was as good as the Comotomo. And with the natural glass version, it seems prudent to have a silicone sleeve for better grip and safety. Who else loves the Philips AVENT baby bottles? They're a top pick by our friends at Babylist, WhatToExpect, and The Wirecutter! Interested? You check out the Philips AVENT Natural bottles here.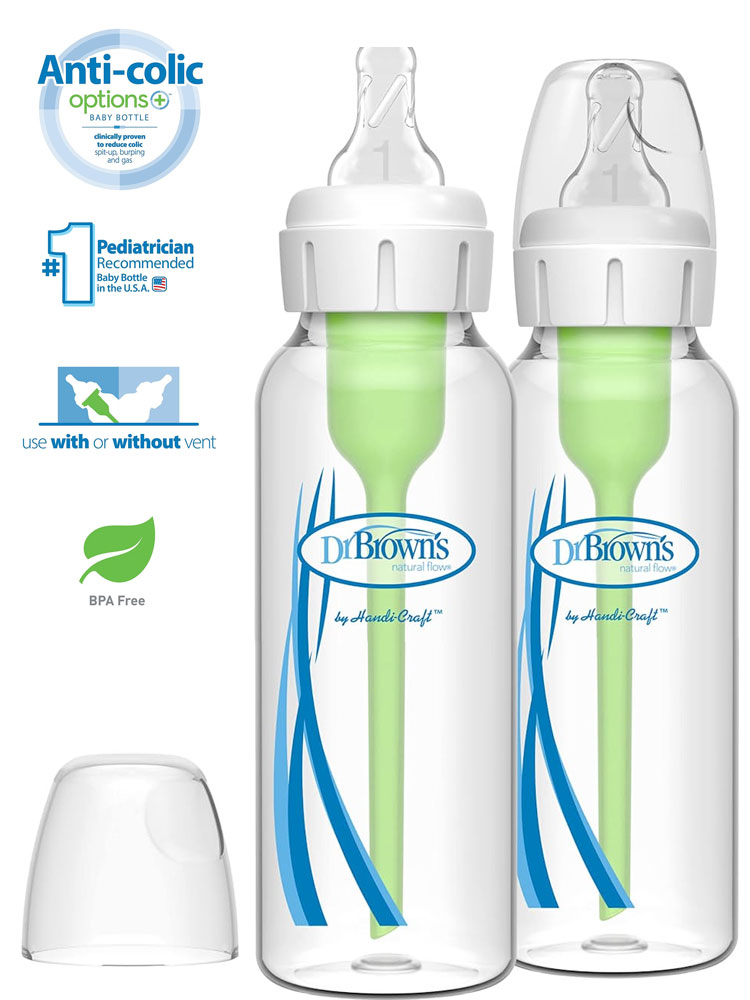 About $8 per bottle, and is available in 4-ounce and 8-ounce sizes. These are truly excellent bottles, especially for parents concerned about gas and colic. Dr. Brown's has been making the original anti-colic, anti-gas, anti-fuss bottles since 1996. They use a unique vent system designed by Dr. Brown himself, a pediatrician who patented a two-piece venting system that prevents the negative pressure "vacuum" that typically forms in bottles while a baby feeds. Like actual breasts, these bottles create a positive-pressure flow and are great for moms who switch between breast- and bottle-feeding, or moms who only bottle-feed. The vents are excellent at preventing colic and gas. The original glass version of this bottle was extremely popular for about two decades. Unfortunately, the company phased them out and introduced new and lower-cost BPA-free plastic bottles. Needless to say, parents were in an uproar about this change, and Dr. Brown's eventually responded by introducing an all-new glass version of their Options+ bottles. They sent us samples of these awesome glass baby bottles late last year (thanks, Dr. Brown's!), and we put them to the test!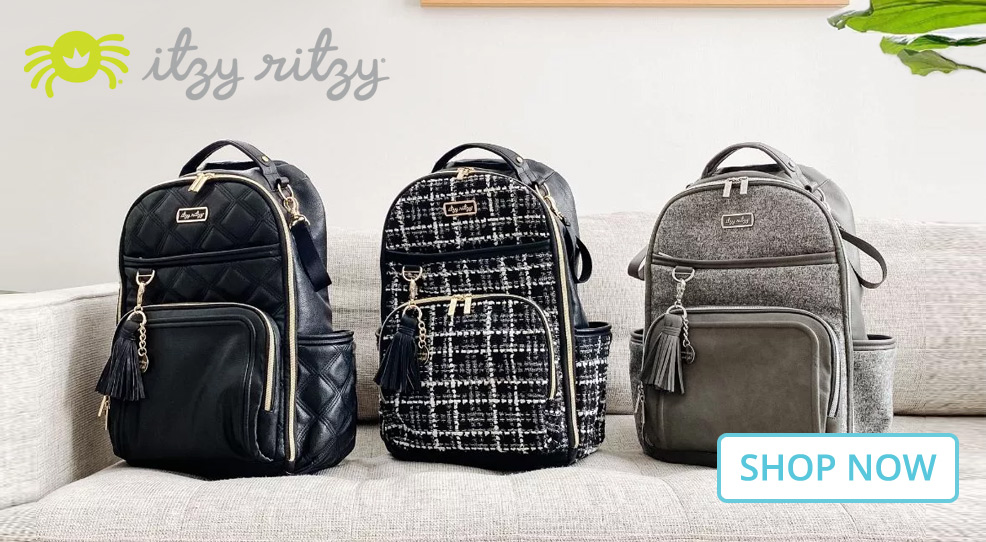 The newest Dr. Brown's Options+ glass baby bottles are lighter-weight and shatter-proof, with definite advantages over the traditional glass version. In our testing, we found superior colic and gas prevention, great fit and function of the traditional-style nipple and collar, and minimal leaking unless vigorously shaking to mix infant formula. One unique aspect of the Options+ bottles is the ability to use the bottles with or without the venting system. Infants will benefit from the venting system for reducing gas and spit-up (it's amazing!), but toddlers likely won't need it - when it's time, simply pop it off and the bottle works perfectly without it. The nipple is soft silicone with good structure and sensory feedback, and all the plastics (the collar and venting mechanism) are free of BPA, BPS, and BPF. Only two little cons: first, the venting system is an extra part to clean (but we think it's worth it!), and second the glass is a bit heavier to hold during feeding. We definitely suggest purchasing the silicone sleeves to protect the bottles, just in case one gets dropped on a hard surface; the glass is strong but better safe than sorry! Overall, we think these are excellent baby bottles with an anti-colic system that is second to none, and definitely among the best glass baby bottles on the market. Who else loves Dr. Brown's baby bottles? They're a top pick by our friends at Babylist, Babygearlab, and WhatToExpect! Interested? You can check out Dr. Brown's bottles here!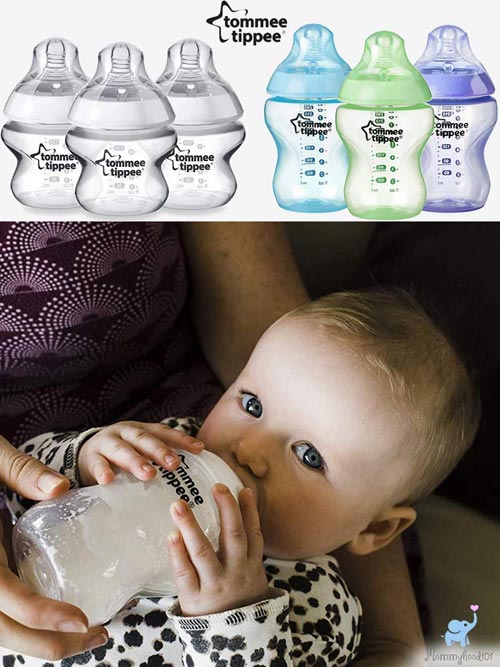 About $6 per bottle, which comes in 5oz or 9oz sizes. These Tommee Tippee Closer to Nature bottles are a close runner-up to some of the best brands, like Comotomo, AVENT, and Dr. Brown's, and you will realize that they are actually quite similar in shape, venting, and nipple. They have a wide body with nice curvature for grip (your grip, and baby's grip!). The nipple itself is not quite as wide and convex as the Comotomo, though it is basically somewhere in between the AVENT and the Comotomo in terms of nipple shape and size. In our test, we found that these nipples do replicate a natural elongation and retraction movement, though not quite as pronounced and natural looking as the Comotomo. Given their wider and shorter stance, these bottles were particularly easy to clean. The venting on the nipple is very similar to the Comotomo, except there is only a single vent.
The single vent typically worked very well, but we noticed that it's more likely to be covered by the cheek, lips, or chin, which means it won't be venting very well if you're not watching closely during feeding. That's a distinct disadvantage relative to the Comotomo, as is the less natural form and function nipple. Still, given its overall shape and high probability of achieving a good latch, the Tommee Tippee Closer to Nature is a great option for moms who want the flexibility of switching between breastfeeding and bottle-feeding. Because the nipple and its surround are relatively realistic, the baby does not become accustomed to a different nipple style and subsequently rejects breastfeeding (nipple confusion), or develops a lazy latch because of a nipple shape that stays in the mouth without much effort. Of course, this type of rejection or lazy latch situation is rare, but if you have a very particular baby this is a great option. Who else loves the Tommee Tippee baby bottles? They're a top pick by our friends at Babylist, Babygearlab, and WhatToExpect! Interested? You can check out the Tommee Tippee Bottles here.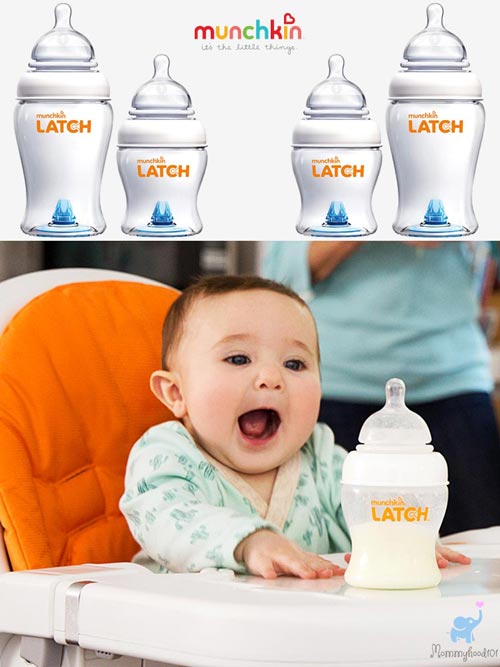 About $7 per bottle, and is available in 4-ounce and 8-ounce versions. The Munchkin LATCH bottles have some truly innovative features. The unique anti-colic valve is located on the bottom of the bottle, which reduces the complexity of the washing process relative to the Dr. Brown's option. As the baby consumes more milk, the valve slowly allows air to enter the bottle, decreasing the negative pressure and reducing air ingestion. Less air being ingested means less burping and colic. In our testing, we thought the valve did a great job at reducing gas and colic. It was nice not having to worry about lips or cheeks blocking a venting valve on the nipple. The valve's placement can make it a little tricky to clean, but using the dishwasher's top rack was super easy and effective. During our test feedings, there was one occasion when the nipple became pushed in a few times, which was a bit frustrating to have to pull/pop back out intermittently. This didn't happen with all the babies, but it's worth mentioning. Let's talk about why they named this the "LATCH" bottle. Latching onto a natural nipple is something that comes innately to most babies, and there is a symbiotic relationship between the baby's mouth position, sucking rhythm, the nipple, and the milk release. Latching is when the baby sucks the nipple back to their soft palate.
As any breastfeeding mom knows, a good latch means a good let-down and a very satisfied baby and mom. Munchkin was inspired by the latch process and created a nipple that mimics the feel, movement, and let-down of a mom's breast. The nipple stretches as the baby sucks, to allow the nipple to maintain a good latch, a bit like what we experience with the Comotomo. The Munchkin LATCH also has dynamic milk flow: when the baby pushes more against the nipple, the flow increases (just like mom's). Finally, the accordion-style Munchkin Latch nipple also flexes with head and arm movement, helping the baby keep a latch and minimize air ingestion even towards the end of the bottle. First introduced onto our list five years ago, the Munchkin LATCH has consistently impressed us! Note that Munchkin also makes some great sippy cups that we find to be some of the best on the market. Who else loves the Munchkin LATCH baby bottles? They're a top pick by our friends at Babylist and WhatToExpect! Interested? You can check out the Munchkin LATCH bottles here!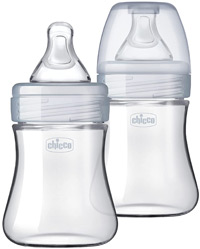 We are super excited to feature the all-new Chicco Duo baby bottles on our list, which represent a substantial innovation in the baby bottle market! They are the first and only baby bottles to offer the best of both worlds: they have a glass-lined interior combined with a plastic exterior. The glass is the only material in contact with the formula or breast milk (in addition to the silicone nipple), but the outside is protected by plastic to protect it from breakage during a fall. We tested the Chicco Duo late last year and were very impressed with several aspects of this new baby bottle. Be sure to check out our full Chicco Duo baby bottle review here! In summary, we found the bottles to be super lightweight yet of durable build quality. They use a very thin spray-on layer of glass on the inside that doesn't significantly increase the weight of the bottle. The bottle itself has a wide and stable base and a super soft and nicely textured silicone nipple.
We experienced great venting and no signs of gas in the babies who tried the bottle, which was super reassuring. Even more so was the fact that every baby we tested it on readily accepted it and seemed to prefer it over their existing bottles - and that's saying a lot! The bottles are dishwasher safe (top rack) and we experienced no leakage before or after running them through the dishwasher. The only con we came upon with these bottles is that the graduated markings on the side are very light grey/silver and can be challenging to read. This makes it hard at times to figure out exactly how much milk is in the bottle, which can be frustrating. Overall, we highly recommend these bottles, with that one caveat. Who else loves the Chicco Duo baby bottles? They're also recommended by our friends at Babylist! Interested? Check out the Chicco Duo Bottles here.
The MAM anti-colic bottles are about $6 each, and come in three sizes: the smallest 5-ounce version, a larger 9-ounce version, and a towering 11-ounce version for those super-hungry toddlers! MAM also offers three nipple flows, slow level 1 (0+ months), medium level 2 (2+ months), and fast level 3 (4+ months). There are so many things to love about these bottles! Like all the bottles on this list, they are free of BPA and BPS. They use an innovative SkinSoft nipple that has a slight texture to help babies keep the silicone nipple in the mouth, making it quite a bit less slippery than most bottle nipples. That worked wonders when we tested it, as did the nipple's unique semi-flat shape that was easy to put into the mouth and conforms to a shape that's a bit more like mom's nipple when it's under a bit of pressure. The nipple was impressive, though it would probably benefit from a slightly wider base to get a good sensation of the breast up against the cheeks. According to MAM's research, their nipples have a 94% acceptance rate for babies, and that's really impressive. The babies we tested on didn't reject it either, so that's saying something. The bottle is nice too, with a slightly bumpy texture to help babies to hold onto it. Marketed as an anti-colic baby bottle, the MAM uses a vent attached to the base, similar to the Munchkin LATCH.
We found that it worked very well, we never had any leaking issues, though it was a bit of a pain to clean and assemble yet another part. Because the valve prevents a vacuum from building up inside the bottle during feeding, it's a great bottle for preventing gas, colic, and reflux. Overall, we really liked these bottles, and want to point out that MAM also makes some of the best pacifiers on the market. Just one downfall, and it's the complexity of the cleaning and assembly. The bottle separates into the nipple, nipple ring, cap, bottle, and vented base (which itself is 2 parts). So that's 6 parts for a single bottle. The two-part base screws onto the bottom, then you place the nipple onto the top of the bottle and then screw on the nipple ring. So there's an extra step involved in disassembling, cleaning, and assembling the MAM Anti-Colic bottles, making them a bit more hassle than most others on this list. Overall, we highly recommend these bottles, with that one caveat. Who else loves the MAM baby bottles? They're a top pick by our friends at Babylist and WhatToExpect! Interested? Check out the MAM Bottles here.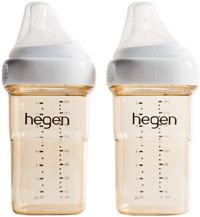 Every time a new baby product gets released or introduced to the U.S. market, we get super excited to try it out! New to our list, we've truly been geeking out about the Hegen baby bottles! Coming in at nearly $20 per bottle they're definitely the most expensive baby bottles on our list, so they had a lot to prove before we even took them out of the box! The Hegen bottles are available in several sizes, including 2 ounces, 5 ounces, 8 ounces, and a very large 11-ounce version. They also have multiple nipple flows, and a huge assortment of accessories that can make pumping and storage way more organized and efficient. The bottles themselves have a few unique design features. First, the nipple is off-center (similar to a natural breast) to help promote upright eating, and the nipple itself has a unique elongated spiral shape to promote a natural latch. Second, an array of anti-colic vents is built into the base of the nipple to help reduce negative pressure, backflow and reduce gas and colic. Third, the way the nipple and collar attached to the bottle is completely unique: you simply press it down to attach and lock it in place with a small clockwise twist.
Once you get the hang of it, it's much easier than a typical screw-on collar and can be done one-handed after a little practice. Fourth, Hegen has been very thoughtful in designing these bottles: they are super easy to clean, easily stackable, have very clear graduated markings, can be reconfigured into sippy cups, food storage containers, and water bottles, and guard against overheated milk (the bottle will leak if you overheat the breastmilk or formula, to show you that it needs to be cooled before feeding). In our testing, they never leaked, the anti-colic valve worked really well, and the older infants seemed to be able to grip the square-shaped bottle better than with a traditional round bottle. Four of the five test babies (two breastfed, three bottle-fed) took to this bottle without any issues at all, while one of the bottle-fed babies didn't seem to like the nipple. Overall, we think these are an excellent and clever new addition to the baby bottle market, and we were happy to get the opportunity to test a few samples (thanks, Hegen!). Cons? Just that they take some getting used to, the square design might not fit all accessories (bottle warmers, sterilizers), and of course the steep price. Interested? Check out the amazing Hegen Bottles here!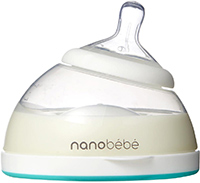 About $11 per bottle. The Nanobebe started a bit of a revolution in the baby bottle industry - with its unique shape and style, parents were flocking to the Nanobebe as a bottle option that looked and felt like a real breast. The idea was that something with this shape and size would facilitate easy transitions between bottle-feeding and breastfeeding, and many parents reported exactly that. When we tested these bottles, we generally had the same opinion. We found them not only super innovative in design, but also highly functional and practical for several reasons. The bottle uses a unique shape that both parents and babies can easily grab onto, and bears a striking resemblance to a breast, especially from the perspective of the baby. As a parent, we found gripping the bottle to be very different from a typical bottle, but actually comfortable and we didn't get any hand strain that was unique to this bottle (there is an indentation on the bottom that's a perfect place for your thumb!). The double venting provides great anti-colic protection that doesn't involve any special positioning or orientation for it to work. The bottle shape is really unique for a couple of reasons: first, it makes warming the bottle's contents much faster than with a typical bottle because there's not as much volume in a given area, making heat propagate through the milk or formula much faster than with a wider bottle. Nanobebe claims that this aspect cuts warming time in half, and doubles the number of nutrients that remain in the milk after heating. We agree that warming times were cut down considerably, but we also couldn't fit the Nanobebe into any of our bottle warmers, and couldn't test the second claim without spending several thousands of dollars on laboratory tests (we looked into it!). Second, we didn't realize this, to begin with, but these are super convenient for stacking and storage. Not only were we able to stack empty bottles in the cabinet, but also stack pumped milk in the fridge, resulting in a ton of space savings.
After about a week of usage, we were really impressed with this innovative baby bottle - it was easy to use, showed low potential for producing gas or colic, was surprisingly easy to clean (the bottom comes off entirely), and the two babies we tested it on latched right on and enjoyed feeding from it. After a couple of weeks of using it in more practical situations, we stumbled upon some cons. First, the unique shape of the bottle makes it difficult to find an appropriate place for it when you're out of the home. It's way too wide to fit into a typical bottle holder on a diaper bag, into a baby bottle warmer, or in a cup holder on a car seat or stroller. And it takes up a big footprint when placed into the main compartment of a diaper bag. Second, when looking through the side of the bottle it's easy to tell how much milk your baby has consumed and how much is remaining, but the base of the bottle is not see-through so it was tricky to check milk levels while feeding (without tilting your head way to the side). So overall, we really appreciate the unique shape and features of the Nanobebe bottle, but also found some minor drawbacks that are most relevant for when you're on the go. Who else recommends the Nanobebe bottles? They're a top pick by our friends at Babylist and WhatToExpect! Interested? You can check out the Nanobebe Anti-Colic Baby Bottles here.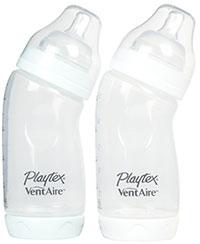 About $4 per 9-ounce bottle. Playtex has been making excellent and innovative baby bottles and sippy cups for several decades, and the Ventaire is no exception. This model uses an angled bottle shape that makes it much easier to comfortably hold and tilt the bottle during feedings. This helps your arm from getting sore, but also puts the baby in a relatively upright and natural position for feeding, without having to tilt their head and body back. This can help reduce gas and colic, and there is also some mixed evidence that a relatively upright feeding position can reduce the odds of ear infections, so that's another possible advantage. Like the Munchkin and MAM, these Playtex baby bottles use an air flow valve at the bottom to help air enter the bottle and prevent a vacuum from forming as the baby drinks the milk or formula. In our testing, we thought the valve did a very good job of keeping the flow rate nice and consistent, and also preventing too much air swallowing, burping, and spit-up. The nipple is nowhere near as wide and natural feeling as the Tommee Tippee or Comotomo, but our test babies did latch on easily and nobody rejected it, and we saw no signs of nipple confusion after using it several times. It uses a similar nipple texture to the Dr. Brown's to promote an easy latch. Cleaning was easy, with dishwasher-safe (top-rack) parts that are all removable (the bottom valve, nipple, and lid, can all be cleaned separately).
The pack we got came with slow-flow nipples suitable for little babies (0-3m), though you can purchase medium-flow and fast-flow nipples separately. There are a lot of great things about this bottle, and we think it's worth including on this list. However, there is one major downfall that we encountered: the venting mechanism on the base of the bottle tended to leak. We tested out the three bottles that came in the pack, and after leaving filled bottles on the counter (or in the fridge) for a couple of hours, there was a puddle formed under two of them. So overall this is a great bottle, but the odds are you might have a leaking problem as we did. Who else recommends the Playtex Ventaire baby bottles? They're a top pick by our friends at WhatToExpect! Interested? You can check out the popular Playtex Ventaire bottles here!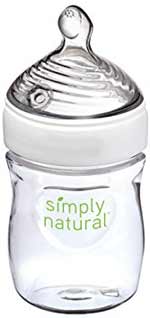 About $5 per bottle, which comes in 5oz or 9oz sizes. Nuk bottles use one of the most innovative nipple designs available on the market. The orthodontic nipple has several unique features: an angled top to help get correct tongue positioning on the nipple, feeding holes (from 3 to 9 of them depending on nipple flow rate) that release milk upward toward the palate of the mouth, an hourglass shape to help teeth develop and lips to close properly around the nipple, and an anti-colic vent system that is positioned at the base of the nipple. These soft silicone nipples are great, but we want to be clear that they seem most helpful for babies who are not breastfed. In our testing, we thought that this nipple style promoted what we call a "lazy latch" which means that the baby doesn't need to work their jaw or tongue very hard at all to maintain a latch and feed successfully. This is partly due to the shape of the nipple, but also its flexibility and ability to reorient based on the position of the mouth. Not having to work hard to maintain a latch is a bit unlike breastfeeding, so there is definitely a risk that babies who are fed with this nipple style will have a difficult time transitioning back and forth between breast and bottle. If you're looking to exclusively bottle feed your baby, this is an excellent option. Not to mention that it has fantastic anti-colic properties - the vent works really well to relieve pressure from inside the bottle and prevent swallowing air (and the gas that ensues!).
Now that we've covered the bottle nipples, let's move on to the bottle. It comes in 5 ounces and 9 ounces sizes and is made from BPA-free Tritan plastic (see the end of this article for some thoughts about Tritan). The bottle has volume markings on the side, though we're scratching our heads wondering why in the world they made them in white print - making them basically impossible to see when milk is in the bottle! Because these bottles use Tritan, they are very hard and clear, but because they are somewhat thin they are also brittle. We cracked one of the bottles by dropping it only about 2 feet above a hardwood floor, so that wasn't very compelling. Even the glass Dr. Brown's bottles don't crack under those circumstances (at least in our experience). So there's a lot of love about this bottle, but also some concerns, and it's probably best for babies who are exclusively bottle-fed. Who else loves the Nuk Simply Natural baby bottles? They're a top pick by our friends at Babylist, Babygearlab, and WhatToExpect! Interested? You can check out the Nuk Simply Natural Bottles here.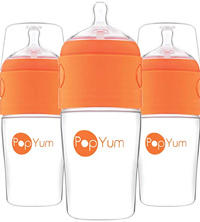 We struggled with whether to include these baby bottles on this list or to make an entirely new list of the best formula-mixing baby bottles. This new type of baby bottle allows you to separately store formula and water (or breastmilk) in a bottle within two isolated chambers, and then combine the ingredients when you're ready to feed. These include the awesome PopYum, Mixie, b.box, and TwistShake options. All of these new baby bottles allow you to prepare bottles that are ready for mixing, making them a great option for babysitters, daycare, or grandparents. In our experience, the PopYum is the best option on the market for formula-mixing baby bottles, given its ease of use, quality, natural nipple shape, and anti-colic valve. Out of the box, there are 5 basic parts: the BPA-free plastic bottle itself (we used the 9-ounce option), the silicone nipple and nipple collar, a travel cover/cap, a funnel for pouring formula, and the formula sealing cap. With all of these systems, you'll need to sit down for a couple of minutes and follow all of the instructions carefully; we're not going to lie, this can be a little overwhelming to figure out the first time! The basic idea is you fill up the nipple and collar area with dry formula powder (use the little funnel to keep the powder from getting on the edges), then seal it off by popping on the clear cap (use your thumbs to push it into place). Then fill the bottle itself with water or breastmilk, and screw the nipple/collar onto the bottle. Then you're all set! At that point, you will have a nifty way to carry the correct amount of liquid at the bottom, and powder at the top. And we shook it and put it upside-down and didn't have any issues with water getting into the formula compartment (or vice-versa). Here's the trick, and where the bottle gets its "pop" name: to let the formula dump into the water, you simply squeeze the two side buttons and the clear cap that separates the formula from the water will pop off and fall into the water along with all the formula. Put your finger on the tip of the nipple and go ahead and shake it to mix the formula and water (or breastmilk). It's pretty cool once you figure it out - in fact, our kids use it now to make chocolate milk with some Nestle powder at the top and milk at the bottom! Once you've mixed it all together, you'll realize that you'll need to shake the bottle a bit more than in most cases because the powder was in the entire nipple and tiny dry clumps of formula sometimes stick to the insides of the nipple. This is a little unfortunate because it makes more bubbles in the formula, which will delay feeding a bit while you wait for the bubbles to settle down. The genius here is that you can do all of this with one hand - you can hold your baby with one hand, and with the other hand you can handle the entire formula mixing process without any awkward balancing acts!
The nipple comes in four different flow rates, and we thought it had a very nice and natural shape that mimics breastfeeding very nicely. This makes it a nice candidate if you're combination-feeding with breast and formula. The anti-colic valve works well, and we were overall impressed with the bottle itself, even without the formula-mixing capability. Cleaning was a bit of a bear. The nipple is very deep and has a lot of contours so cleaning and drying can take quite a bit longer than most baby bottles, and with this one, you want to be extra sure the nipple is completely dry before use (so the formula won't clump and stick inside of it). It's also quite a bit bigger than a normal baby bottle due to the formula chamber, so it takes up a lot of room in drying racks or diaper bags, and it might be hard to fit into your baby bottle warmer (height-wise). We measured it at exactly 7 3/8" tall and 2 5/8" wide. Another small issue is that squeezing the buttons to make the bottle "pop" can be strenuous and frustrating when you squeeze as hard as you can but it doesn't pop as it should, or the cap only pops out halfway. Overall, we are really impressed with these new baby bottles and they provide an awesome option for parents looking to make formula mixing more convenient and consistent while also maintaining the functionality of an excellent baby bottle! Just be forewarned that cleaning can be tougher than usual, the excessive shaking can introduce bubbles, it can be difficult to use at times, and it's a lot of parts to keep track of. Who else recommends the PopYum baby bottles? They're a top pick by our friends at Babygearlab! Interested? You can check out the PopYum Baby Bottles here.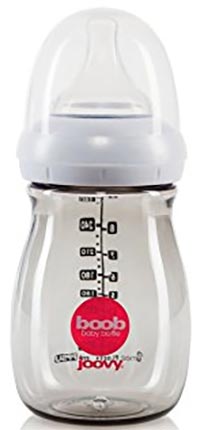 These are a recent addition to our best baby bottles list and made a great impression during our hands-on reviews. These bottles come in three varieties: Glass, PPSU, and PP. The glass bottles are our most recommended, and we believe these bottles, in particular, deserve a very high spot on this list; the glass is very strong, the bottle is comfortable to hold, and they come with nice outside silicone grippers (impact absorbers if dropped!) that you can easily pull on and off. For the plastic versions, the PPSU is slightly grey-tinted, not very vulnerable to staining, discoloration, or cracking, and tends not to absorb colors or odors as much as other plastic types. Finally, the PP is very similar to the PPSU, but not as invulnerable to the absorption of colors and odors. We found so many things to love about these bottles. First, the venting was really fantastic. Joovy uses a venting ring that goes onto the opening of the bottle before you screw on the nipple. And it worked substantially better than many of the other venting approaches, which should result in less gas, fussiness, spit-up, and colic.
Good venting is so important in a baby bottle! Second, we really liked the countors of the bottle itself, which make it not only look nice but feel nice in the hand; especially the glass bottle with the silicone sleeve on it felt really nice to hold. The only drawback with this shape, relative to something like the Tommee Tippee, is that it can be slightly more difficult for babies to hold since it is overall thicker in the middle. Third, the soft silicone nipples were really quite good and were great for preventing nipple confusion. The shape of the nipples is very similar to the Avent nipples. Finally, we found them easy to clean (including the vent ring), and we appreciated that they are dishwasher safe and safe to sterilize. Our only gripes with these bottles are: first, the vent ring is a bit of a pain, since you need to put it on each time before screwing on the nipple. This can be tough for late-night feedings when you're stumbling around trying to get a bottle ready, possibly while also holding a baby in one hand. Second, we are all about boobs and their contributions to life, but we're not sure it was the best marketing decision to place the word BOOB front and center on each bottle. We don't mind it, but it might be off-putting for some! These bottles are a bit pricey, coming in at around $13 each for glass, $10 each for PPSU, and $6 each for PP. We think the glass is totally worth it. Who else recommends the Joovy Boob baby bottles? They're a top pick by our friends at Babygearlab! Interested? You can check out the Joovy Boob Bottles here.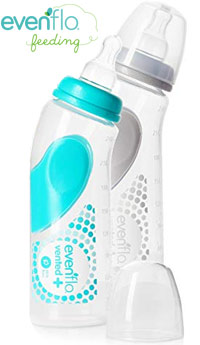 Evenflo is known for making quality baby products at a very reasonable price, and these Evenflo Feeding Angled baby bottles are no exception. Coming in at only about $3 each for the 6-ounce or 9-ounce models, these bottles are among the cheapest bottles on this list. And they did not disappoint! These bottles have a couple of great features. First, they use the convenient and ergonomic angled shape similar to the Playtex bottles, helping parents (and babies) hold the bottles at a comfortable angle while still allowing the milk to flow all the way to the last drop. Parents swear by this shape and we completely agree - the only challenge is when your baby begins to hold their own bottle, they might not get the angle correct for a while. And they are tipsier on the counter or high chair (or in a cup holder) than straight bottles. Second, the bottles have a great venting system that is among the best on this list, using the ProFlo venting system that offers great venting and low colic and gas without having multiple parts to clean. Third, with a good bottle brush, we found them easy to clean, and they are top-rack dishwasher safe as well. The shape makes them a little awkward to position in the dishwasher, they may not fit in a bottle warmer, and they take up a lot of room in a baby bottle sterilizer, so keep those trade-offs in mind.
The bottle and nipple are among the narrowest on this list. The narrow opening can make it more challenging to pour formula powder into, but it does make it easier to attach directly to most breast pumps. The nipple is ideal for bottle-fed babies and may not be great for breastfed babies given its size and shape. That said, we found that the nipple and venting system worked very well for bottle-fed babies, and the bottle did a great job minimizing gas and discomfort for babies with more sensitive tummies. Like all of the baby bottles on this list, these are BPA-free and we didn't have any issues with cracking or breaking when dropped. Some additional gripes were that the travel lids were a little challenging to snap off at times, and you might need to invest in a longer and more flexible bottle brush to clean all the way down into the angled bottom. Who else recommends the Evenflo baby bottles? They're a top pick by our friends at The Wirecutter! Interested? You can check out the Evenflo Angled bottles here.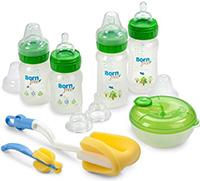 About $5 per 9-ounce bottle. The Born Free bottles are relatively new to the baby bottle market (like the Comotomos), but they are making quite a splash. Like most fuss-free bottles, these use a unique ActiveFlow venting system that reduces gas and colic. In our testing, the ActiveFlow venting did indeed work very well, though we did find it a bit aggravating to have yet another small plastic piece to clean, assemble, and probably misplace! Like basically all modern bottles, the silicone nipple shape feels relatively natural and does a nice job controlling flow. If you get a gift set, it also includes some handy accessories: bottle brushes, silicone sleeves, level-3 (fast) nipples, and often a cool little formula holder and dispenser. One unique feature of these bottles is that they hold a bit more milk than the typical 4 and 8-ounce bottles, leaving a bit of room at the top when you mix in the formula, which makes the mixing process much easier and more effective. Overall, we consider these bottles great for formula-fed babies, given that the nipple and base are not very natural-feeling (like the Comotomo or even Tomee Tippee). Overall great bottles and good enough to make it onto our annual list. Also reasonably priced if you purchase it with the accessories. Note that we also tested out the newer model, the Born Free Breeze, but it didn't make the list due to a poor (and collapsing) nipple design.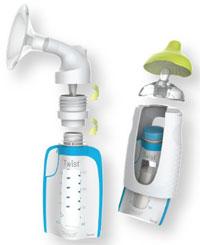 It's not really fair of us to put a system like this in a list of baby bottles, but we had the opportunity to try it recently so we figured you all would like to read a bit about it. The concept is that you can use pouches similar in size and function to a juice pouch, to connect directly to your breast pump, use for freezer storage, and then use for feeding. The idea is that instead of using the typical Medela or Lanisoh bags for pumping and freezer storage only, you can also use them for feeding. It makes this possible by incorporating a screw top onto the pouch instead of the usual Ziplock closure. The screw top can be directly attached to your manual or electronic breast pump. Then after pumping, you put a cap on the screw top and throw it in the refrigerator or freezer. When you're ready to feed your baby, you can thaw a pouch in a bowl of lukewarm water (or use the Kiinde bottle warmers). Then, slide the pouch into the Kiinde Squeeze bottle, squeeze out the air, and attach a nipple. The first time we tried this feeding system process we were impressed by how easily the pouch transitioned from one mode to another, from pumping to storage, and storage to feeding. Kiinde also makes a nifty (though limited capacity) storage rack for your freezer to prevent random piles of pouches from stacking up and falling over. In any event, we have to applaud Kiinde for coming up with such a comprehensive system that handles the entire process from pumping to feeding. But the question we ended up asking ourselves was whether it was really a problem that needed solving. After pumping, you still need to clean the pump parts and the pump-to-bag adapter threads. Why not a small bottle while you're at it? So maybe that saves a little bit of clean-up time, but not much.
Also, during our testing, we thought it was challenging to tell exactly how much milk was getting into the bags. We pumped until the milk got to the 4-ounce mark and then poured it into a Medela breastmilk bottle and it was only about 2.5 ounces; turns out the milk wasn't heavy enough to really puff the bag out and get an accurate volume measurement. But we do realize that's no different than any other breastfeeding pouch on the market. So we considered that maybe we were in the same position as before: pumping into a glass or plastic bottle to get an accurate measure, and then pouring into a bag for storage. Personally, we find the breastmilk bottles much better than the pouches. How about the other feature, the fact that you can feed directly from the pouch, using an attachable nipple? We really liked this part. The nipple is good quality with a nice wide base, and the bottle does a nice job preventing gas and reflux due to the pouch not containing any air (the baby acts like a vacuum to suck out the milk, squeezing the pouch empty as they go). You can also squeeze the bottle a bit to simulate a let-down. So maybe it's worth it after all? The pouches are about the same cost as the conventional (Medela and Lanisoh) pouches, but with the nifty cap. And if you puff out the bag a bit before pumping it will give you a more accurate volume indication. Overall, we think this concept is awesome, though the execution has some challenges. We say give it a try, but don't expect miracles. You can get a starter system with pouches, adapters, nipples/squeeze bottles, and freezer rack for about $30 online. If you want the bottle warmer as well (note that it only fits Kiinde bottles), you can get the gift set for about $70 online. So certainly this system will set you back a bit relative to just purchasing some bottles and pouches for storage, but we think it might be worthwhile if your baby really takes a liking to the nipples, as it will certainly save you some time and energy.
Discontinued Baby Bottles
Baby Brezza Baby Bottles. We liked the sleek design of these bottles, the nipple shape and feel, and the compatibility with other Baby Brezza products. But these bottles seem to have been discontinued.
Flipsi Baby Bottles. We liked the easy-clean design, nipple shape, and all-silicone surfaces of these bottles, but they are either impossible to find or simply discontinued.
Conclusions
We want to stress that baby bottles are not a one-size-fits-all solution. This is one of the main points we make in our baby bottle buying guide. Every baby latches and suckles a bit differently, every baby is comfortable with a different nipple length, width, and flow, and every baby is more or less prone to gas and colic.
You will need to be receptive and responsive to your baby's preferences, which might change quite a bit over the first year of life. The secret is to try at least a few best baby bottle options to figure out what works best for your baby. Of course, that approach can get expensive and time-consuming, but it's likely well worth it for your baby's comfort (and your sanity!). Also, if you're supplementing a breastfed baby with bottle feeding, you will likely find success with the nipples that are more like natural breasts, to mimic breastfeeding as you'll find with the Comotomo and Tommee Tippee (which both make great newborn bottles, especially for breastfed babies). The more the nipple feels like mom's, the easier breastfed babies will transition between bottle and breast. Of course, every breast and nipple has its own unique size and shape, so think about the mom's unique attributes before picking a nipple style and nipple size.
Breastfed babies have unique requirements due to the switching between breast and bottle. But if you're exclusively bottle feeding, something like the Dr. Brown's, AVENT, or Born Free options might be perfect baby bottles for your situation.
Regarding burping, spit-up, and colic, all of the anti-colic bottles in this buying guide do a fantastic job of preventing air bubbles and vacuum pressure from forming in the bottle. So when it's feeding time, you can be confident that the internal vent systems will minimize the risk of gas and bloating for your baby. The best bottle for gas seems to be any of our top options, though Dr. Brown's has really proven itself in this area for many years, demonstrating large reductions in gas and acid reflux with bottle-fed babies (of course, any of these bottles can be used with breast milk or formula). One of the best ways to help prevent gas and spit-up is to ensure proper positioning during feeding, so definitely check out one of our nursing pillows to help keep your baby upright and make feeding more comfortable for both you and your baby.
Another thing to think about is the shape of the nipple for encouraging proper tooth growth, which usually means that an orthodontic nipple has an indent where the gums and teeth meet the nipple (giving it an hourglass shape). The Nuk and Munchkin nipples are good examples of that. If you're looking for a great bottle warmer to go along with the bottle you've chosen, check out our reviews of the best baby bottle warmers.
We also want to make sure you realize that BPA-free does not mean that the plastics used will not leach estrogenic chemicals into milk, particularly when the materials are stressed (like heated or microwaved). In fact, a recent study published in Environmental Health demonstrated that several BPA-free products, including BPA-free baby bottles, still leached harmful chemicals. For example, some studies demonstrate that the plastic used in Nalgene water bottles (called Tritan) leaches estrogenic chemicals. Of course, nobody knows the short- or long-term consequences of this, but it is worth considering. In comparison, the study found no evidence that two particular plastics, COC and COP, leach these chemicals.
Overall, because of the potential risks associated with estrogenic chemicals being leached from plastics, we highly recommend glass baby bottles (check out the Dr. Brown's, Joovy Boob, and Avent glass versions).
The same goes for sippy cups, which can also include harmful chemicals in their parts, though it is even harder to find glass sippy cups than it is to find glass baby bottles.
We did recently test out a new stainless steel baby bottle made by thinkbaby, and we loved the concept and not having to worry about plastics leaching chemicals into milk or a glass bottle shattering when dropped. But the stainless steel bottles fell short in a few regards: first, the threaded nipple ring is very brittle and easy to crack (and when they're stainless collars they tend to leak), and we couldn't find any replacements online. Second, the stainless bottle was easily dented when dropped, and it was dented in the dishwasher as well. They also tend not to be insulated and don't help milk hold its temperature for very long. We suspect these will improve and become more common over the next few years, so we'll keep an eye on this growing trend. In the meantime, you can see our list of the best stainless baby bottles (or best glass bottles).
For toddlers, most parents transition away from a baby bottle to a sippy cup or straw cup. We recommend skipping the sippy cup entirely and going straight to the straw cup. The suction required to successfully use a straw cup is great for the development of lip, tongue, and cheek movement and control, and there is some research suggesting that this benefits speech production. Some great options for first sippy cups and straw cups can be found in our best sippy cups review.