The Best Diaper Bags of 2023
These top diaper bags will help keep you prepared without sacrificing style.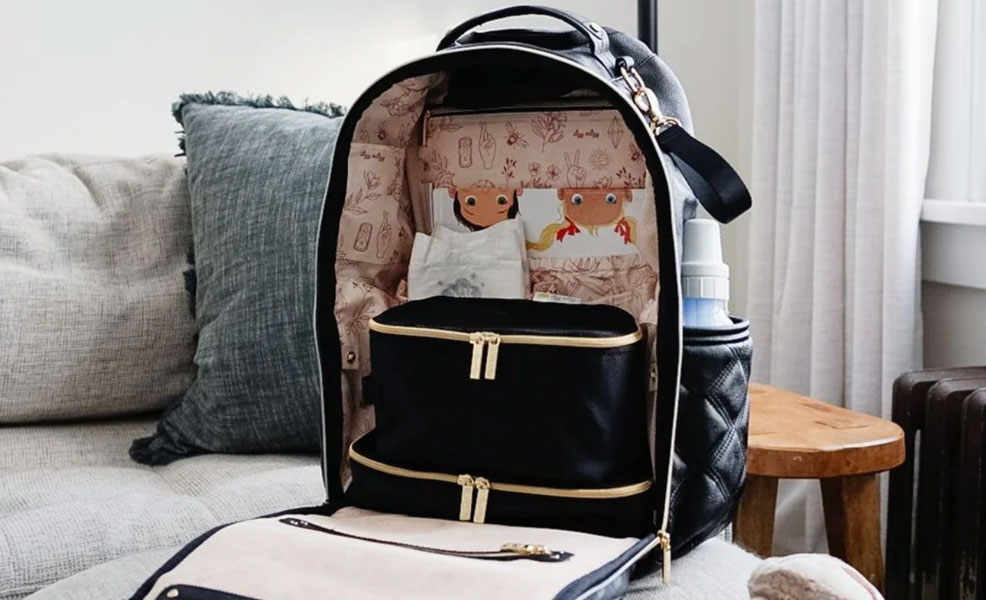 ---
Mommyhood101 independently tests and curates baby gear to help you make informed decisions. If you buy products through links on our site, we may earn a commission.
You might eat for two while pregnant, but soon you'll be carrying for two! The best diaper bags help you carry around baby essentials comfortably and with style.
Research shows that you will need to change your baby's diaper about every 2 hours. When your little one has a wet or dirty diaper, pediatricians suggest changing it immediately to reduce the risk of diaper rash, urinary tract infection, and a fussy baby.
In other words, if you leave the house for more than about an hour, you'll want to be prepared!
Just for fun, what does ChatGPT-4 think is the best diaper bag!?
"Based on several factors, the best diaper bags on the market include the JuJuBe B.F.F., the Itzy Ritzy BOSS, and the Skip Hop Forma diaper bags. These diaper bags are spacious, durable, comfortable to carry, stylish, and reasonably priced." -ChatGPT-4
We don't always agree with robots, but in this case, we think they might be onto something! We've been reviewing diaper bags for over 10 years. If we made our own diaper bag, here is what it would look like:
✔️ Over 1 cubic foot of space.
✔️ Backpack, tote, and shoulder modes.
✔️ Outer insulated bottle pockets.
✔️ Outer key & wallet pocket.
✔️ Top and side access points.
✔️ Stands upright on its own.
✔️ Rubberized bottom & feet.
✔️ Waterproof fabric.
✔️ Included changing pad.
✔️ Included diaper & wipe tote.
✔️ Interior liner.
✔️ Divided interior with pockets.
✔️ YKK zippers.
✔️ Machine washable.
✔️ Lightweight but durable fabric.
✔️ Comfortable carry straps.
Of course, you will also want it to fit your style preferences, including its design, colors, patterns, and materials (cloth, leather, vegan leather). Finally, the diaper bag needs to be durable and reliable, fit your budget needs, and conform to any requirements you have for sustainable materials sourcing. That's a lot to ask!
Full disclosure: Some of these diaper bags, including the Itzy Ritzy, Twelvelittle, Bag Nation, and Paperclip models, were sent to us as free test samples by the manufacturer.
Here are our top 5 recommended diaper bags, followed by in-depth reviews of about a dozen options. Be sure to also check out our reviews of the best diapers, the best cloth diapers, and best diaper rash creams!
The diaper bag is one of the most important baby essentials for a prepared parent. Once you leave the house, you will need to bring a ton of supplies like diapers, baby wipes, a changing pad, snacks, baby bottles, burping cloths, pacifiers, baby lotions, diaper rash creams, cloth diapers, and a change of clothes. Plus don't forget your own stuff, like your wallet, phone, and keys!
The good news is that there are hundreds of baby diaper bags on the market designed to make your life much easier, and we did all the research for you!
In our tests, we stuff the diaper bags with tons of baby products, toss them around, spill liquid in them, test any waterproofing claims, force the zipper open and shut, and put a 25-pound weight inside to make sure the fabric and straps are durable and comfortable. What remains is a group of diaper bags that withstand our tests and the test of time!
Here are the Best Diaper Bags of 2023!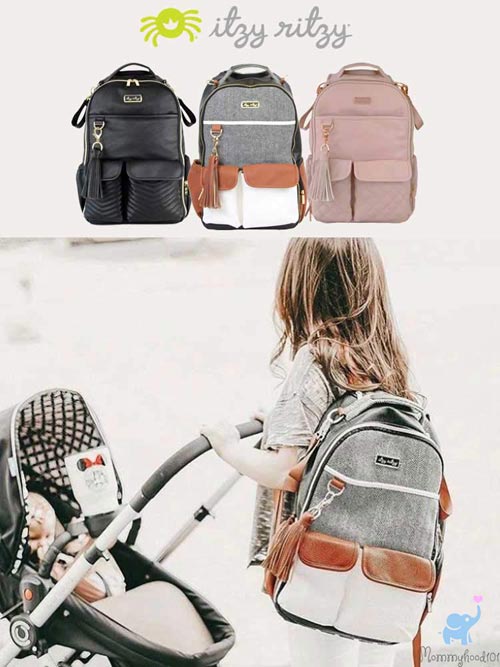 This is one of the trendiest backpack diaper bags available on the market right now, so if you like the style you're not alone! One of our most popular Pinterest pins of all time, moms are loving this diaper backpack's styling, features, and versatility. It's not only available in the styles shown above, it's also available in florals, tweed, heather gray, and tons of beautiful colors like blush pink and olive green. All of Itzy Ritzy's bags are stylish, and beautifully designed, and are often mistaken for something other than a diaper bag - that's a good thing! Of course, you'll probably have baby bottles sticking out of the side pockets and pacifiers hanging from clips - dead giveaway! The Itzy Ritzy Boss is a feature-rich diaper bag that doesn't just look great, it has the performance to match, including 7 pockets on the outside (including two insulated baby bottle pockets), zippered and lined top and side pockets for your keys and wallet, and convenient front pockets with flap closures. When we got our hands on it for testing, it was much bigger than we expected based on the pictures; the inside is really cavernous (about 1300 cubic inches) and there are 10 different dividers and pockets for organizing all the stuff you'll be lugging around. We loved how the entire diaper bag stands steadily on its own with its thick rubber feet, and the large zippered pocket opens up the entire front for easy access. Importantly, when you do open the front, it doesn't trigger a waterfall of baby gear tumbling out onto the floor, by virtue of a mesh liner on the lower half. Combine that divider with all the different pouches and zippered pockets, and you can really do a nice job organizing your baby essentials. There's enough space and dividers to separate diapers, wipes, extra clothing, pacifiers, extra bottles, and more. Speaking of changing diapers, it comes with a cute changing pad that folds up nicely and fits inside without taking up too much space. Additional features include stroller straps (always be careful using these), vegan leather on the pockets and tassels (so you can feel good about not harming animals), and a comfortable carrying handle.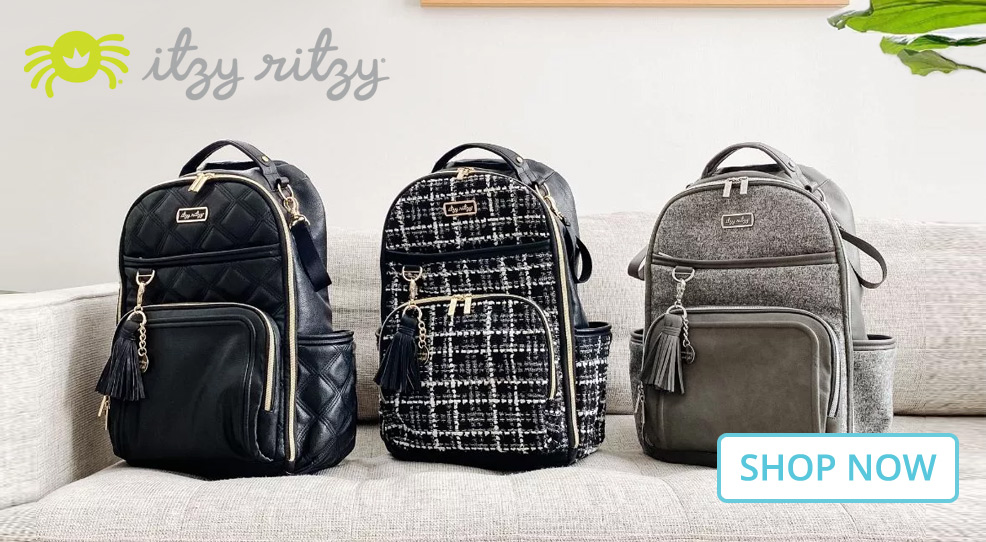 Overall, everything worked pretty well in our testing - it felt high quality, and looked fantastic. The functional aspects of the bag worked very well and we haven't had any issues with quality control of the zippers or seams. We strongly suggest purchasing diaper bags directly from the manufacturer to avoid possible counterfeits (you'd be surprised!) and the issues that come along with them. The only little gripe we had was that the shoulder pads could be a bit more comfortable when you're carrying it for longer periods of time. Overall, we loved it and are happy to feature it on our list! Who else loves the Itzy Ritzy Boss backpack diaper bags? It's also a top pick by our friends at Babygearlab and The Bump. Impressed? You can check out the Itzy Ritzy Boss here.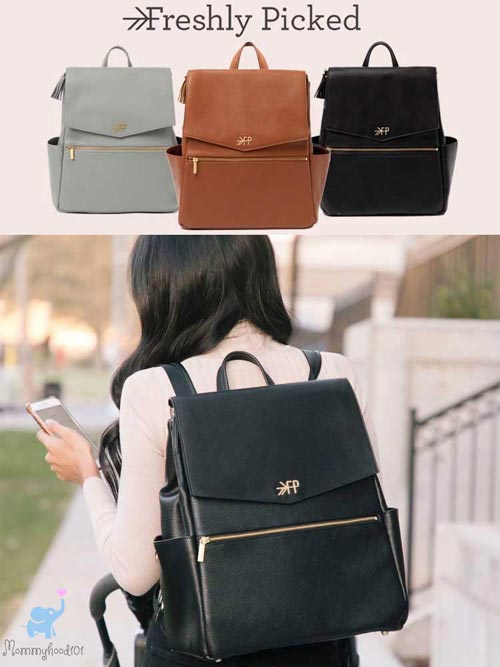 The Freshly Picked line of diaper bags is super popular this year, coming in both backpack and carry-all styles and offering a wide selection of muted and stylish colors such as butterscotch tan, fig, birch, and desert rose. We got our hands on a butterscotch tan model for testing, and we really loved it! Let's start with the fact that this is a vegan leather bag that helps lower any guilt you have about animal cruelty, but without looking cheap or plastic. The material feels great, is stain resistant, and can be wiped down with your favorite baby wipes without any issues. In addition to the outer material, all of the hardware is high quality and stylish, including the reliable YKK zippers and excellent stitching around the seams. Open up the large zippered top to reveal a spacious interior (about 1300 cubic inches) with a perimeter of diverse pouches and zippered pockets. There's a ton of space in here, including 6 pockets of various sizes, one of which is zippered. The large open interior is great if you need to carry a breast pump, a cooler for expressed milk, or anything else that might be too large for a smaller diaper bag.
Trying it on, it was certainly more stylish and versatile than it is comfortable, owing mostly to the relatively narrow shoulder straps. It wasn't uncomfortable by any means, but don't expect the padding of your old high school backpack! After a few months of use, we found the diaper bag to be not only stylish and high quality, but also super durable and user-friendly. We loved the metal feet on the bottom that kept the bag itself off the ground (and out of water) and thought the stitching and seams were durable, and the zippers easy to use. The bag stands upright on its own, the changing pad was simple and high quality, and it does come with stroller straps and a shoulder strap to convert it to a tote. Yes, it's expensive like the Itzy Ritzy, but that's to be expected for a designer diaper bag with awesome features and build quality. The only other little con is that while the bag does have bottle-sized outside pockets, they aren't insulated. Who else loves Freshly Picked diaper bags? Our friends at Babylist, Babygearlab, and The Bump! Impressed? Check out the Freshly Picked Convertible Backpack diaper bags here.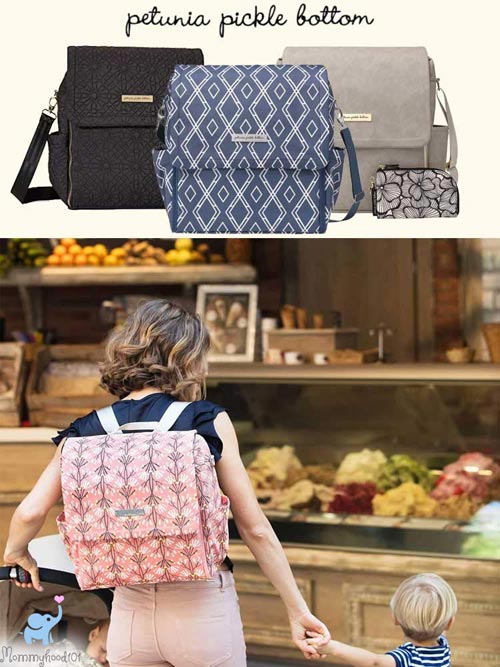 The Petunia Pickle Bottom diaper bags and backpack diaper bags are among the most popular, stylish, and high-quality diaper bags available on the market. The styles are awesome and range from quilted black with gold trim, to flowers and abstract watercolors. The designs are subtle and give the bags a high-end look. While the price reflects that sophistication, we believe it's justified by high quality and great functionality. The bag we tested, the Indigo model pictured to the right, was made right here in the USA of cotton canvas that has a durable glazed coating on it for stain and water resistance. For functionality, there are several inside pockets (8 of them), including two with zippers, and 3 outside (two for baby bottles on the side, and one larger one on the front that holds the included diaper changing station and pad). There's plenty of space inside (about 1200 cubic inches), and plenty of pockets for organizing baby care products, and the top opens up nice and wide for easy access. In terms of versatility, it also has several carrying options. You can carry it like a tote using the top grab handle, use it as an over-the-shoulder diaper bag, or a backpack diaper bag, or attach it to the stroller using the included stroller straps. It looks best as a shoulder diaper bag, but when your shoulder gets sore it's great to have the option to wear it as a backpack.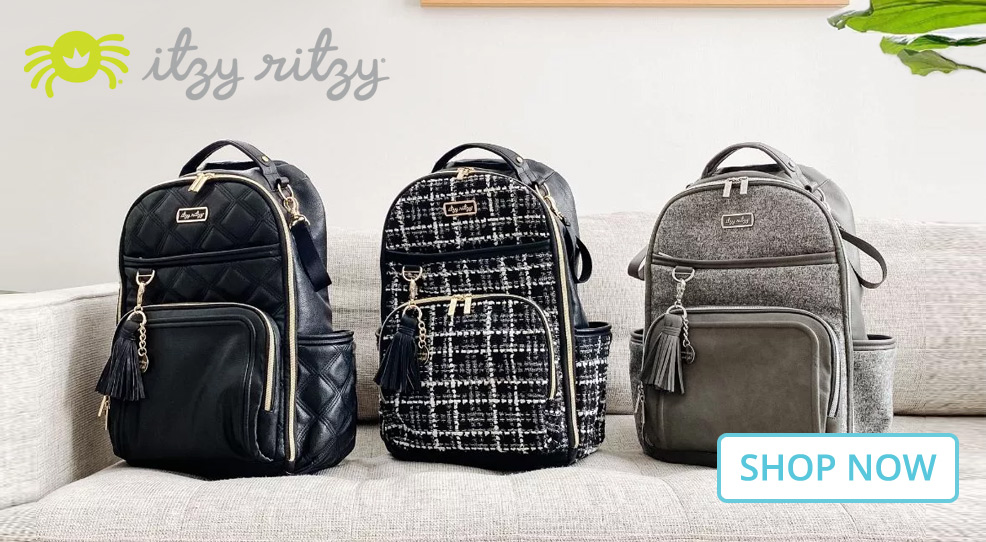 In our testing, we found the bag to be generally high quality, stylish, versatile, functional, and really large. It stands upright on its own, which is really nice - in other words, it doesn't tend to topple over like some other diaper bags. Maybe that's why it's called the Boxy model since the bottom is pretty boxy and stable. We also liked that it came with a sleek plastic baby wipe holder or diaper tote that made trips to the changing table much easier. Speaking of which, did we mention the zip-out changing pad? Awesome! There's really a lot to love about this diaper bag - but is the price worth it? Well, there are some minor limitations to consider. First, there are no insulated pockets for bottles, including the bottle pockets on the sides. Second, the fabric is available in cotton canvas, embossed stitching, and plush chenille. We actually only tested the cotton canvas, but we made the mistake of putting it in the washing machine after a milk spill, which wasn't a great idea. Some of the stitching came loose, so we suggest hand-washing or putting it in a laundry bag on the gentle cycle. Finally, the backpack straps aren't padded so they're not the most comfortable straps in the world - same with the shoulder strap, but they definitely look nice and are lightweight. We think this is an awesome option if you love the style of Petunia Pickle Bottom! Who else loves Petunia Pickle Bottom diaper bags? Our friends at Babygearlab and WhatToExpect! Impressed? You can check out the Petunia Pickle Bottom Boxy Backpack diaper bag here.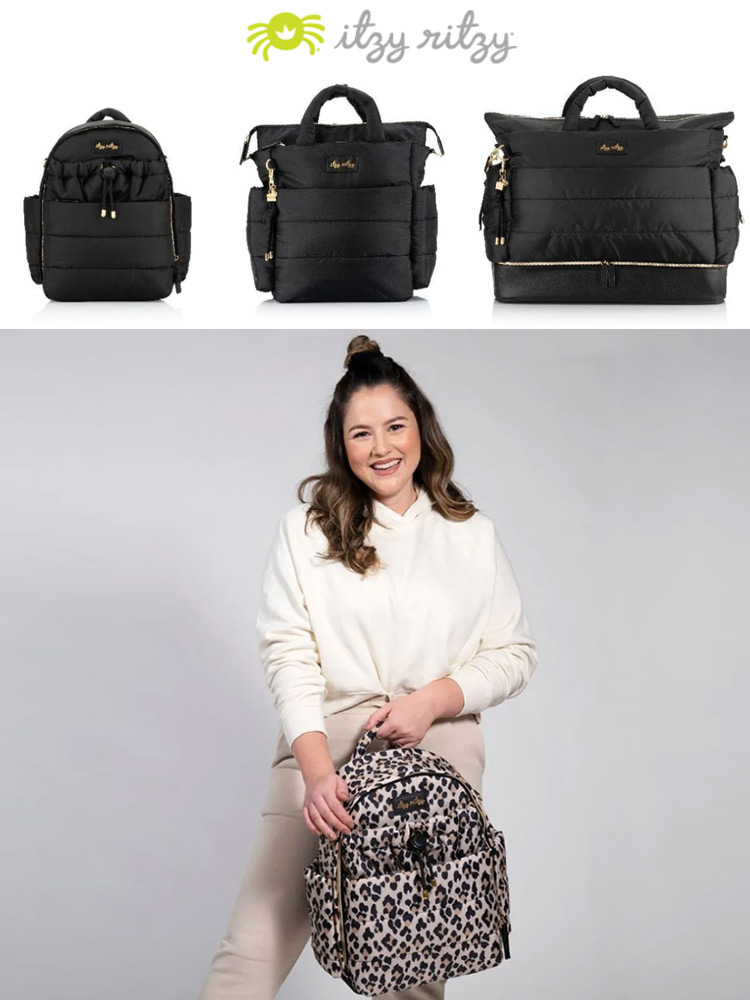 The Dream Series of Itzy Ritzy diaper bags combines a lightweight and stylish puffer-style bag with excellent functionality and versatility. The Dream diaper bags are available in three sizes: a Dream Backpack, Dream Convertible, and Dream Weekender. The backpack is large in size with over 1500 cubic inches of space. The Dream Convertible offers the flexibility to switch between a tote and a backpack and has a similar capacity to the Dream Backpack. Finally, the Dream Weekender is absolutely huge, offering over 2300 cubic inches of space and being the perfect size for a night away with your little one. All the Itzy Ritzy diaper bags are designed in the USA and come in a beautiful array of colors and patterns, including the popular leopard and black. Itzy Ritzy doesn't mess around with style and their diaper bag quality and functionality are second to none! The Dream series bags are no exception, including strong hardware, high-quality zippers, quality stitching and seams, and quality fabric that is both soft and durable. Not to mention all of the essentials you might be looking for: insulated bottle pockets, smartphone pocket, key clip, stroller straps, and a nicely sized (and one of the nicest we've seen) diaper pad!
You can see our full Itzy Ritzy diaper bag reviews for all the details, but in our testing we absolutely loved them! A few things are worth mentioning. First, all of the bags have a thick rubber bottom that helps the bag stand on its own but also protects the fabric from anything that might be on the ground, including water, dirt, or sticky old bubble gum! Second, the pockets in all the bags are expansive and well organized. The backpack diaper bag has a couple of extra perks: a front-open zipper for easy access, comfortable backpack straps, and a laptop pocket. The weekender diaper bag has a few perks as well: a huge lower storage area that is perfect for shoes, diapers, and wipes, and a trolley sleeve to help you attach the bag to a retractable suitcase handle. Nice touch! Third, both bags are surprisingly large - much bigger than suggested by the photos, and you can realistically fit everything you need into these bags while the puffer-style fabric keeps it lightweight and manageable. Finally, all of the hardware is not only high quality but really beautiful, and the clip-on cord charms are a nice touch! The only cons we found were not specific to the Itzy Ritzy, but the bags are made in China (for what it's worth) and they tend to be more expensive than some of the cheaper competitors. We think the Itzy Ritzy bags are definitely worth the price, but they won't fit all budgets. Overall, we love these diaper bags and think they are perfect for parents looking for a puffer-style bag without comprising on functionality, versatility, or quality. Impressed? You can check out the Itzy Ritzy Dream series of diaper bags here.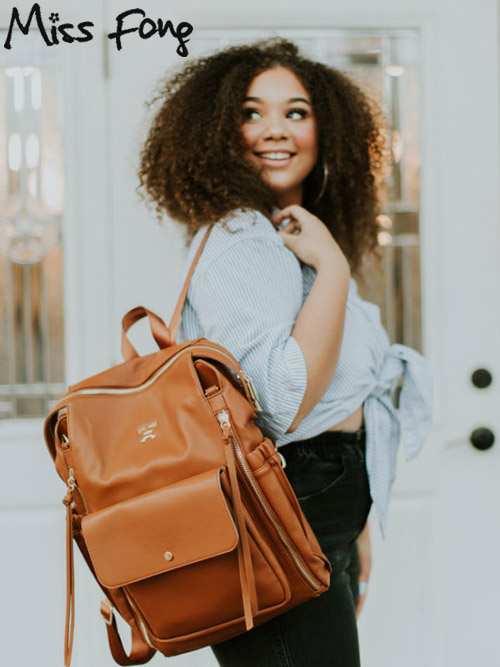 If you know about the Fawn Design diaper bag, which has risen in popularity over the past couple of years, you know that it's not only beautiful and functional but also very expensive (usually just under $200). For a faux leather diaper bag that does seem a bit excessive. Enter Miss Fong! This is basically a Fawn Design dupe (knock-off) that is not only a third of the price of the Fawn Design, but in our opinion, it is equally high style, quality, and functionality! If you love the look and aren't worried about label-lookers, the Miss Fong diaper bag is an awesome option. Out of the box, the bag came packed in a nice drawstring fabric storage bag. After removing the plastic wrap, our first impression was that the material was soft and felt high quality, the hardware was beautiful and strong, and there wasn't excessive branding and labels (like there is with the Fawn Design version). Opening it up, the main compartment is lined with a nylon fabric that is super easy to wipe clean, the zippers move smoothly and feel strong, and the backpack shoulder strap adjustments are easy to use. In addition to the shoulder straps, as a convertible diaper bag, the Miss Fong also includes a cross-body strap, shoulder strap, and a tote handle. There is also a color-matched waterproof changing pad.
On the outside, there are three zippered pockets (with an easy-access pocket behind each), and a larger unzippered pocket on the back that can double as a suitcase/luggage handle sleeve. Inside, there is a very large main compartment, two insulated bottle pockets, two zippered pockets, and a ton of mesh expandable pockets. We were able to fit baby formula, a breast pump, and several diaper-changing accessories into the bag without any issues. With all of that space and versatility, somehow Miss Fong figured out how to make this medium-capacity bag not look ridiculously large on more petite moms! Like all bags made of faux (PU) leather, the bag can be wiped down to clean, but cannot be machine washed. A couple of little perks we noticed versus the Fawn Design bag: the Miss Fong diaper bag can stand on its own without tipping over, the interior is nicely lined, there is an exterior baby wipe pocket, it can be slid onto the handle of a suitcase, and the two insulated bottle holders are a great touch. The only downfall we encountered is that over time (over a year) and after repeated daily use, some of the zippers and seams began to deteriorate a bit. That isn't unique to this diaper bag, of course, but worth mentioning. For about $50 we think this diaper bag is unbeatable if you love the style and functionality but don't want to break the bank! Impressed? You can check out the Miss Fong diaper bag here.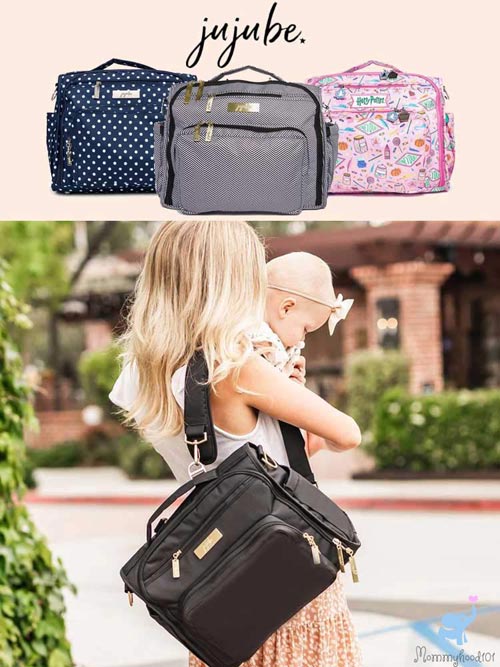 After falling in love with this diaper bag during our testing, we are happy to say that we are best friends forever with the JuJuBe BFF! We love the style and functionality of this versatile and (relatively) unisex convertible diaper bag. It converts from a regular over-the-shoulder diaper bag, to a messenger bag, and to a super comfortable backpack with soft shoulder pads. So just when your arm or shoulder is getting sore, you can untuck the backpack straps from the side pocket, and off you go - in style and comfort. But it's not just versatile, this diaper bag is also super functional. It has outside and inside pockets, 3M-insulated baby bottle pockets, and clever see-through plastic pockets inside so you can see what you're looking for before you go digging through messy pockets. Nice touch!
The BFF diaper bag is medium in size, at about 1000 cubic inches of space, but we found it big enough for one baby, and the fact that you can open the main compartment nice and wide really helps you organize and fit all of your supplies, and prevents you from randomly searching through a deep pile of baby gear. Given its relatively high price, it does have a few drawbacks to consider. The zippers and fabrics were not the highest quality, especially in comparison to something like the Freshly Picked bags. They're good, but not quite on par with the heavy-duty zippers and easy-clean fabrics of some other bags. Who else loves the JuJuBe BFF? Our friends at WhatToExpect, Babylist, Babygearlab, and The Wirecutter all consider it a top pick! Impressed? You can check out the Ju-Ju-Be BFF diaper bag here.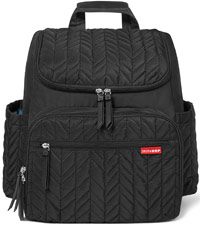 Skip Hop makes a great range of high-quality diaper bags, including totes, backpacks, and convertible models. The Forma is definitely their best backpack-style diaper bag. Out of the box, it feels pretty substantial and durable, and it's surprisingly compact for a diaper bag. Measuring about 14" wide, 16" wide, and 8" deep, it has a total volume of about 1 cubic foot (or 1728 cubic inches), which is basically the biggest on this list. Not to mention the insulated side bottle pockets, which add a bit more space. There are two main ways to access the bag, from the main top zippered door, and another large compartment accessible from the front. In the main space, there is a pocket for the changing pad and a couple of elastic storage pockets. In the front storage area, there are two awesome removable pouches - one is a zippered insulated pouch and a great way to keep bottles and food chilled with a small ice pack (a flat square one is perfect), and the other is a zippered mesh storage pack that's perfect for diaper changing supplies (diaper, wipes, cream). Those two pouches fit perfectly side by side in the front compartment. There is another zippered pocket on the front that is the perfect size for your cell phone, wallet, and a couple of other small things.
Everything is very functional and practical, and we loved the inclusion of the storage pouches and the insulated bottle pockets. The Skip Hop bag has high-quality zippers, clips, zipper pulls, and stitching. The shoulder straps are nicely padded and relatively comfortable, there is a carrying handle on the top, the bag stands on its own without tipping over, and the clip-on stroller straps are integrated into the front of the shoulder pads (rather than an extra attachment). The fabric is soft and water-resistant, and it can be hand-washed or wiped down as needed. No major downfalls to report and the price is right, coming in at only about $70. Who else loves SkipHop diaper bags? Our friends at Babylist, Babygearlab, WhatToExpect, and The Wirecutter! Impressed? You can check out the Skip Hop Forma Diaper Backpack here.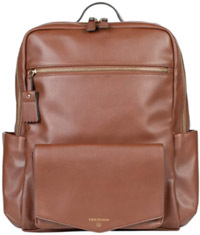 The TWELVElittle Peek-a-Boo backpack diaper bags are a great example of not needing to hurt a cow to get a bag that looks, feels, and acts like real leather! This vegan leather diaper bag is available in brown, black, striped, and soft pink colors, and it looks beautiful in all styles. We got our hands on one of the Peek-a-Boo bags late last year for testing, and we really loved its style and functionality. For style, we loved the clean lines, contrasting zippers, and simple shape. For functionality, it has a capacity of about 1000 cubic inches, putting it squarely into the medium-sized diaper bag category. But where it lacks in sheer capacity, it makes up for convenience. Starting on the outside, the Peek-a-Boo has a versatile outer pocket with magnetic closure that can be used as a handy baby wipe dispenser (the case is included) or a regular storage pocket. We love diaper bags with special baby wipe compartments, and this one is executed surprisingly well! Also on the outside are two uninsulated bottle holders, one on each side, a top carrying handle, the shoulder straps, and a couple of D-rings to help you attach to your stroller (using included stroller straps).
On the inside, the bag has two elastic holders that work well for bottles, a pocket for the included changing pad, smaller pockets for diapers and other items, a zippered pocket for your personal belongings (wallet, phone), a velcro loop for holding your pacifier, and a little key hook. Of course, it also has a decently sized open area where you can fit some basics like a change of clothing, baby food, or formula. If you're carrying a breast pump around with you, it's probably a bit too small for you. We found that all of the zippers functioned smoothly and seemed high quality, the shoulder straps were surprisingly comfortable, and the baby wipe dispenser was truly amazing! It also has a nice pass-through sleeve that can be used to attach to a suitcase during travel. And if you're wondering, it's free of toxic foams and PVCs. No real downfalls here other than the relatively small size, the somewhat high price (about $170 for the brown one), and it doesn't have any feet on the bottom to keep the fabric off the ground. Those are pretty minor concerns for what is an awesome diaper bag! Who else loves TWELVElittle diaper bags? Our friends at Babygearlab, WhatToExpect, and The Bump! Impressed? You can check out the TWELVElittle Peek-a-Boo here.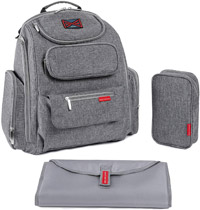 This is an excellent backpack diaper bag and one of the all-around highest-rated diaper bags you can find on the market! And there are some great reasons for that. It's an amazing diaper bag backpack that doesn't stand out as a diaper bag: no excessive patterns or colors that make it obvious, just a simple and stylish diaper bag available in black or heathered grey. And it has features galore: it can be carried with the top handle, as a backpack, and it includes strong built-in straps so you can hang it on the back of your stroller. There are so many pockets, 14 of them in total, there is bound to be one that's the perfect size for what you need to haul around! There is a very large insulated baby bottle exterior pocket on one side, pockets for little things like your phone and pacifiers, larger things like baby lotion and a stuffed animal, and there's an awesome baby wipe dispenser on the side. You won't realize how awesome that is until you fill it up and need to quickly grab a wipe while you're out. Just reach back and pull one out. Simple, and we are starting to wonder why all diaper bags don't have this awesome feature!
One thing we were really surprised by is how deceptive the main compartment is: you think it's going to be small but then you open it up and realize it's actually really big. Big enough that we could fit in: The Spectra S2 breast pump and accessories, diaper rash ointment, the changing pad (it's included), burp cloths, disposable diapers (or cloth diapers), and an extra change of clothes. And there was still room to spare. We really liked how large (about 1 cubic foot, or 1700 cubic inches) and versatile this backpack diaper bag was in our testing. We also thought the zippers and fabric were high quality, and the fabric seemed to do a decent job repelling water. We didn't rest it in a puddle or anything, but we noticed that splashing it with water didn't get into the bag at all. It also came with a small diaper tote that's the perfect size to fit a diaper, a small tube of cream, and a couple of wipes; the perfect size for bringing to the restroom or changing table. Overall this is an excellent diaper bag backpack that is versatile and highly functional. Only a couple of small drawbacks. First, there have been reports of quality control issues with this bag. We didn't have any issues, but some moms report ripping near zippers, or the insulated pocket coming apart at the seams. But we want to point out that this company is very responsive to their customers, and they will replace the bag if you have any issues, which is reassuring. Second, the backpack straps and padding aren't the most comfortable in the world, but we were happy to strap it onto our stroller after our shoulders got sore. We found it online for around $60, which we think is a good price for all this functionality. Interested? You can check out the Bag Nation Diaper Bag Backpack here.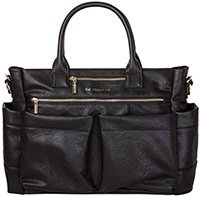 This is an enormous and stylish black vegan leather diaper bag with every pocket, compartment, nook, and cranny you need to make for a perfect journey with your baby! In our testing, this designer baby diaper bag received the most attention from other moms - every time we used it we got comments about how nice it is and questions about where we found it. We weren't surprised by all the attention given how nice this bag is! It is designed as a large tote, coming in at about 19" wide, 13" high, and 7" deep, meaning that it has nearly a full cubic foot of space inside (about 1600 cubic inches), which is really cavernous! It's not just inside space that makes this diaper bag amazing, it's also the two zippered outside pockets and the five additional outside pouches that are perfect for quick access to baby wipes, bottles, pacifiers, and the included changing pad (using the large rear pocket). There is an amazing lined pocket on the front that can be used for anything wet - like a wet bathing suit or clothing while keeping the rest of the bag and its contents dry. It also has two insulated pockets on the inside that are perfect for keeping a bottle or snack chilled during a trip, and a ton of additional space that is perfect for holding a nursing cover, blanket, or change of clothes. The changing pad comes with a little travel pouch that's the right size for a diaper and wipes when you want something to quickly bring with you to the restroom or changing table. It also includes a shoulder strap that you can use to carry it across your chest, and stroller straps to help you attach it to your stroller (but be careful with that!).
This diaper bag has a ton going for it, but just as importantly here's what is missing: PVC, latex, glues, heavy metals, phthalates, and BPA/BPS, AZO dyes, polyurethane foams, and toxic flame retardants. That being said, we love nearly everything about this black faux leather diaper bag and think it's an amazing addition to this year's diaper bag buying guide. The Honest Company also makes a backpack version of this bag, called the Honest Company City Backpack Diaper Bag, for about the same price, which is worth checking out if you prefer that style. Downfalls? Well if we're being really picky, the zippers were finicky sometimes, and the tote straps were a good size for holding with your hand or forearm but not quite big enough to put on your shoulder (unless you have skinny arms and tiny shoulders!). It's also on the higher end for price, coming in at around $150. Interested? You can check out the Honest Company Everything Tote diaper bag here.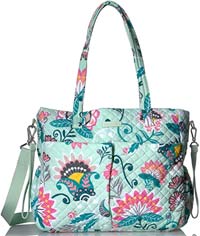 If you like the style of Vera Bradley products, we've got good news for you: they make a great series of diaper bags that match the look and feel of popular Vera Bradley handbags, backpacks, and purses. These include the tote diaper bag style (pictured) and the backpack diaper bag style (see it here). This particular tote-style diaper bag is not only in the classic style of Vera Bradley and available in about a dozen different colors and patterns, it's also spacious, well-made, and versatile. We got our hands on the Ultimate Baby Bag early last year for testing, and loved several things about it: First, there is no compromising the classic Vera Bradley floral style and texturing, which we think is well represented in the diaper bags. Second, the 100% cotton quilted fabric is high quality and durable, while still feeling soft and comfortable against the skin. Third, the straps are long enough (12" strap drop) to actually go comfortably on your shoulder, and there is an optional (clip-on/off) padded shoulder strap for cross-chest carrying. Note that the bag also includes detachable stroller straps on both sides, but be careful when using them. Fourth, the bag has a zippered top and stands upright on its own, and it's a good compromise between an excessively small or large diaper bag, coming in at just about 0.8 cubic feet of volume (about 1400 cubic inches)./span>
Inside, the bag is lined with polyester to help prevent issues with stains and stickiness, and there are six mesh pockets with elastic tops (one on each end, and two on each side). On the outside are two additional large pockets. No zippered pockets inside or out, and no insulated bottle pocket. In our testing, the main zipper functioned well, the stitching and fabrics were durable and high quality, the overall bag was very lightweight when empty, and the straps were strong and comfortable. No issues with the hardware or anything else. Our primary gripes with this bag are the lack of insulated bottle pockets, no zippered inner or outer pockets, and somewhat limited space if you're formula feeding and need to carry larger supplies (or breastfeeding and need to carry a pump). In those cases, the bag would fill up pretty quickly. Overall, we are happy to have tried out this Vera Bradley diaper bag, and think it's a great addition to our list! Coming in at about $80-120, it's in a rare position to be high quality but also reasonably priced for a designer diaper bag. Interested? Check out the Vera Bradley Signature Ultimate Diaper Bag here.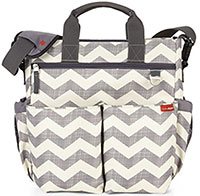 Skip Hop makes some excellent diaper bags, and this is no exception. The Skip Hop Duo Signature has a slightly more modern styling than the classic lines and colors of the Grand Central models and is shaped more like a tote or over-the-shoulder bag than it is a purse. It's narrow and deep rather than wide and short, and a bit smaller overall than the purse-shaped models (about 1000 cubic inches), so it's good for someone who doesn't want to be lugging around a truly enormous diaper bag. It's also about the same width as most strollers, so it doesn't stick out on the sides a lot when you hang it on the handlebars. But while it's smaller overall, it's still super functional. It has 10 pockets, a separate insulated bottle holder, a breathable side pocket, a key ring clip, a diaper changing pad, and a great interior liner. The Skip Hop Duo's main interior pocket is super deep and we loved the lining, it was soft but also rugged enough to make wipe-cleaning easy. The padded shoulder strap was comfortable, as were the padded carry handles.
We were able to fit everything in that we needed, including diapers, wipes, baby bottles, and clothes. Being relatively tall and narrow, we found that when it was fully loaded it did tend to topple over sometimes. We also found it less convenient to reach in and easily grab something, since things tended to get stacked on top of one another, so this design might not be for everyone. Also, the changing pad was a bit small relative to some others on this list, and most parents we talked to agreed that the styling was a bit dated (one said "early 2000s Target brand"). Clearly, the Skip Hop Duo Signature model is an excellent diaper bag, with some minor drawbacks worth considering. Note that Skip Hop also makes a Skip Hop Duo Diaper Backpack that is very similar to this but in the backpack style, and is also very well-reviewed. Interested? You can check out this SkipHop Duo Signature diaper bag here.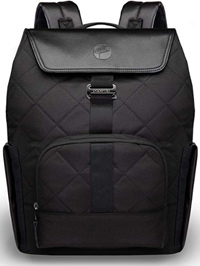 Stylish, versatile, durable, high quality, and ethically sourced materials? Sign us up! We got our hands on this awesome diaper bag early last year (thanks, Paperclip!) and we've been super impressed with it. Out of the box, it feels super high quality with tough quilted fabric, thick padding on the shoulder straps and back, and solid zippers and clips. It has the look and feels to justify the relatively high price tag, and its features make this diaper bag really stand out. Let's start with the diaper changing pad capability: this doesn't simply include a changing pad that you unfold and stuff back in, the changing pad itself is fully integrated into the bag (and removable and washable too) so that it becomes a really innovative diaper changing station capability. Basically, you unzip a rear compartment and fold it down to reveal a thick and comfy changing pad with mesh pockets to store diapers, diaper rash cream, and baby wipes for easy access during changing. Maybe we're late to the game here, but we've never seen something so cool in a diaper bag, and it's one of the main reasons it holds this high spot on our list! When you're done with the diaper change, you simply fold the pad back into the backpack and zip up the back. Easy peasy. And if you need to wash or use the changing pad separately from the bag, you can unbutton it easily./span>
The "paperclip" moniker likely comes from the style of the clips used on the main compartment and the changing pad, with its shiny silver style and paperclip-inspired shape. These clips not only look nice, but they are so much easier to use than the typical plastic buckles that require a two-handed operation. Additional features include a well-organized series of outside and inside pockets, some zippered and some not, and adjustable inside pockets to accommodate different-sized bottles, food or formula containers, etc. The inside is medium-large sized, with about 2 cubic feet of space (in our measurements), and a total of 7 inner pockets when you include the mesh diaper changing pad pocket that is accessible from inside the bag. Note that this backpack diaper bag stands on its own when full, and we found the shoulder straps very comfortable and adjustable and appreciated the loops for attaching pacifiers or anything else you'd like to. Everything is awesome here, and we need to emphasize that this company is also very impressive in their use of Bluesign manufacturing standards, creating designer diaper bags with recycled ocean plastics and wipe-clean vegan leather, making you feel good about how they have sourced materials in an ethical and sustainable manner. Cons? Well, we wish the top opening were a bit larger when spread open to help with access, and the price is very steep for a backpack diaper bag. But if you can stomach the price, this is truly an awesome and innovative diaper bag option! We will update this review with longer-term test results in a few months. Interested? Check out the Paperclip JoJo diaper bag here.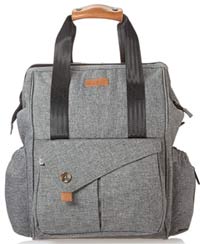 This is a great backpack-style diaper bag that is cheap, stylish, durable, convenient, comfortable, and feature-rich. It's a relatively large diaper bag that you can carry as a hand-tote or as a diaper bag backpack. It has a modern gender-neutral style, helped by the heather gray color, the leather accents, the asymmetrical front pocket, and its vintage style button. It's the sort of bag that both mom and dad will be willing to wear, making it one of the few obvious unisex diaper bags on our list. And it has some great features. First, we loved the side baby bottle exterior pockets, the zippered wipe dispenser on the side, and the hidden pocket on the back (up against your back) that can hold valuables without the risk of pick-pocketing. That's great if you live in the city or travel to urban areas where that's an issue (like on the subway!). We also liked the substantial padding against the back, to keep things comfortable for longer excursions. It also includes stroller straps on the sides, though we warn you to be careful about attaching diaper bags to strollers due to the tipping hazard. In that regard, it's definitely a good size for throwing into the stroller's bottom basket, but still big enough to hold most of your stuff. Speaking of size, the main compartment is really quite large (nearly 1 cubic foot of space, or about 1700 cubic inches) and is divided well into a mesh pocket area, a zippered pocket, and elastic pockets for holding smaller items./span>
We were able to fit everything necessary into the bag without any issues. It's great to have a nicely divided main compartment, to prevent things from sinking down to the bottom and remaining elusive in your desperate search for that last clean pacifier! We also want to point out that this company is very responsive to customer concerns. This is their third version of this great diaper bag, with improved stitching and reinforcements based on customer feedback (and if you have the older version with an issue, you can email them and they'll send you the newer one for free!). And the price is right too, coming in around $40. Cons? Well, you won't be surprised to hear that it's not the highest quality diaper bag in the world given the relatively low price. After about 1.5 years of testing, we've had issues with torn seams and broken zippers. To be fair, the company is VERY responsive so if you run into issues they will definitely work with you, but realistically we prefer not to have any issues in the first place. So, if you're looking for the comfort and convenience of a backpack, this is a great option given the low price, just don't expect super high quality! Interested? You can check out the HapTim Backpack diaper bag here.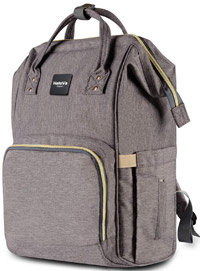 This is one of the biggest bang-for-the-buck diaper bags on this list, with great style and functionality. Note that if you don't like the pinkish coral color, it comes in a ton of additional styles. This diaper bag is a hand-tote that converts into a comfortable diaper backpack. It's not very large, coming in at about 800 cubic inches, but it does have a nice array of compartments and pockets. What we really loved about it is that it's only like 35 bucks, and it has some features that make it competitive with the best bags on this list. It has side pockets, one of which has a slit in it so it can dispense baby wipes. It also has a zippered mom pocket on the outside that can fit keys and a phone, and the top zippered compartment that opens up nice and wide and is well-divided into a main space for diapers, clothes, clothing, blankets, and more. It also has a zippered mom pocket on the inside, and an insulated zippered baby bottle pocket on the front that can fit up to 3 baby bottles (mostly the modern short and wide ones, not the classic tall and narrow ones)./span>
The Halova diaper bag has a clever way of dividing its space, as you can use the front pocket for just bottles, or you can push it back into the main compartment and use it for much larger things. That will end up being a separate space at the bottom of the main compartment, and this works out well because it brings the bottom of the main compartment up much higher (which makes it less likely to lose things in the cavernous depth). We found the bag to be reasonably comfortable to wear, though we wish it had longer shoulder straps and a bit more space inside the main compartment. Overall, we found this diaper backpack to be surprisingly great for its relatively low price. And when something is this cheap, we're careful not to expect super high-quality zippers or stitching, soft hand-feel for the fabrics, a big enough compartment to carry a breast pump or formula containers, or anything fancy like stroller straps or removable zippered pockets. Once you calibrate your expectations, we think you'll be surprised with what they've pulled off! Interested? You can check out the HaloVa diaper bag here.
Diaper Bag Buying Guide
Note that there are a few diaper bags that we've tested and do not recommend, mostly due to concerns with quality control. These include the FIVEMAX diaper bag backpack, and the diaper bag by DoDo Babies.
A diaper bag needs to not only look great and be durable and lightweight, it also needs to fit tons of baby essentials and supplies like diapers, baby wipes, a changing pad, snacks, baby bottles, burping cloths, pacifiers, baby lotions, diaper rash creams, cloth diapers, and a change of clothes.
When choosing the perfect baby diaper bag, there are several factors you should consider. Think about how you want to carry it. We suggest lugging around a 10-pound tote with you for half an hour and deciding whether you find yourself wanting to carry it on your back. If so, then definitely consider one of the convertible diaper bags that can convert into a diaper bag backpack, like the JuJuBe. If your arms and shoulder feel fine, you might be OK with a more conventional style diaper bag. This might be a tote diaper bag that uses large handles and a shoulder strap (like the Honest Company tote), or a messenger-style diaper bag worn across your chest (like the Skip Hop Duo). Better yet, check out the convertible diaper bags that can easily swap between a tote with shoulder straps and a diaper bag backpack. You'll be thanking us when you take it to Disney!
Also, think about what happens when you need to do other things, like pull your baby in and out of the car seat. Will it flop annoyingly off your shoulder, stay on like a baby diaper backpack, or can you place it on the ground and not worry about it getting ruined by some water or tipping over and spilling its contents? The water issue is why we don't consider leather diaper bags in this article, given our less-than-stellar experience with liquids and leather bags (water, milk, lotions). But if you really want the stylish black leather diaper bag, check out some of the awesome vegan leather options on our list!
No matter which style you choose, you should think about how you'll be able to put it onto one of our best strollers: would you put it down in the stroller's basket, or would you like to hang it on the stroller's handlebars? If the latter, you should go ahead and buy a diaper bag that includes stroller straps, like most of our top-rated bags. Of course, always use caution when hanging the diaper bag on the handlebars of your stroller: when you take your baby out, the stroller will flip over backward (unless the bag is super light)! So definitely make sure that the stroller you choose has a nice large basket to fit your diaper bag, or that you're comfortable wearing it on your body.
To figure out how big of a baby diaper bag you'll need, put some thought into how many things you'll want to be carrying around. It's not just for baby diapers and baby essentials (don't forget nipple cream, lotions, baby sunscreen, and maybe even one of the smaller best breast pumps), but the baby bag will also be responsible for holding the contents of your purse unless you plan on carrying both the baby bag and your purse around all day (which we don't suggest!). So that means you'll want to make sure the baby diaper bag is big enough to hold all of the baby essentials along with things like your wallet, keys, lip balm, tissues, makeup, sunglasses, and anything else you carry around in your purse on a daily basis. Otherwise, it's not really about finding the right diaper bags for moms, it becomes more about shoving in all the baby stuff and leaving mom's things behind! For each of our diaper bag reviews, we provide its approximate volume in cubic inches, to help you make a size determination. Smaller bags are usually below about 700 cubic inches, medium ones are about 750-1300 cubic inches, and large diaper bags are above 1350 cubic inches (and get up to about 1 cubic foot of space).
Finally, pick a bag that will last you both in durability and style. If the bag only looks good with certain outfits, you'll find yourself frustrated or wanting to buy multiple bags. A black or red bag, or one with relatively neutral colors/patterns can work with nearly any outfit. Of course, some of the really stylish baby diaper bags can also get really expensive; so maybe dig into some of those gift cards you might have left over from your baby registry, or put your favorite on a new baby registry (see our best baby registries here) if you haven't had your baby yet! Finally, it's worth considering a diaper bag that is water resistant, to protect the bag's contents from damage during rain or accidentally being set on a wet surface.