The Best Strollers of 2023
Whether cruising the 'hood or hitting the trails, these are the best strollers available.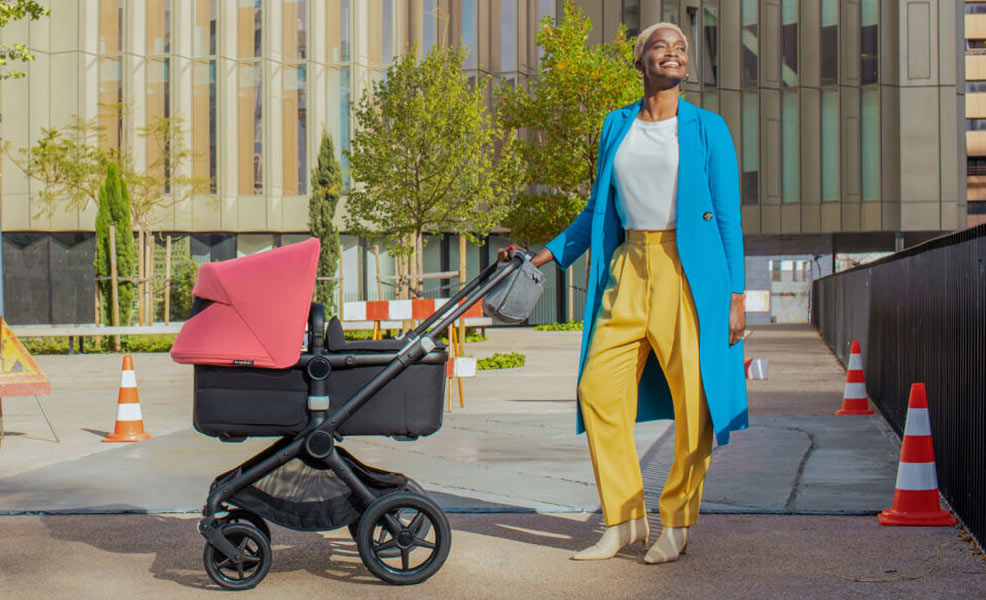 ---
Mommyhood101 independently tests and curates baby gear to help you make informed decisions. If you buy products through links on our site, we may earn a commission.
Over the past decade, we have reviewed over 85 strollers across all the categories: jogging, lightweight, umbrella, double, luxury, and travel systems.
Across those tests, we have found an amazing set of strollers that we think you'll love! Below we categorize each of the best strollers we've found by their primary capability, and provide summarized results for quality, ease of use, comfort, and durability.
Note that these are all 5-star rated because they are the best from each of our annual stroller round-up articles. After we review each of them below, be sure to check out the others on the respective annual best-of lists.
While some of the strollers we tested were really quite bad, some were truly excellent and we're excited to tell you all about them! The strollers that end up at the top of our lists show very high quality, durability, ease of use, and comfort.
We all loved these strollers, and you don't need to take just our word for it - ask around and you'll find out that these are consistently some of the best strollers on the market - and parents rave about them!
As always, if you have any questions, feel free to send us an email or message us on Facebook.
Here are the Best Strollers of 2023!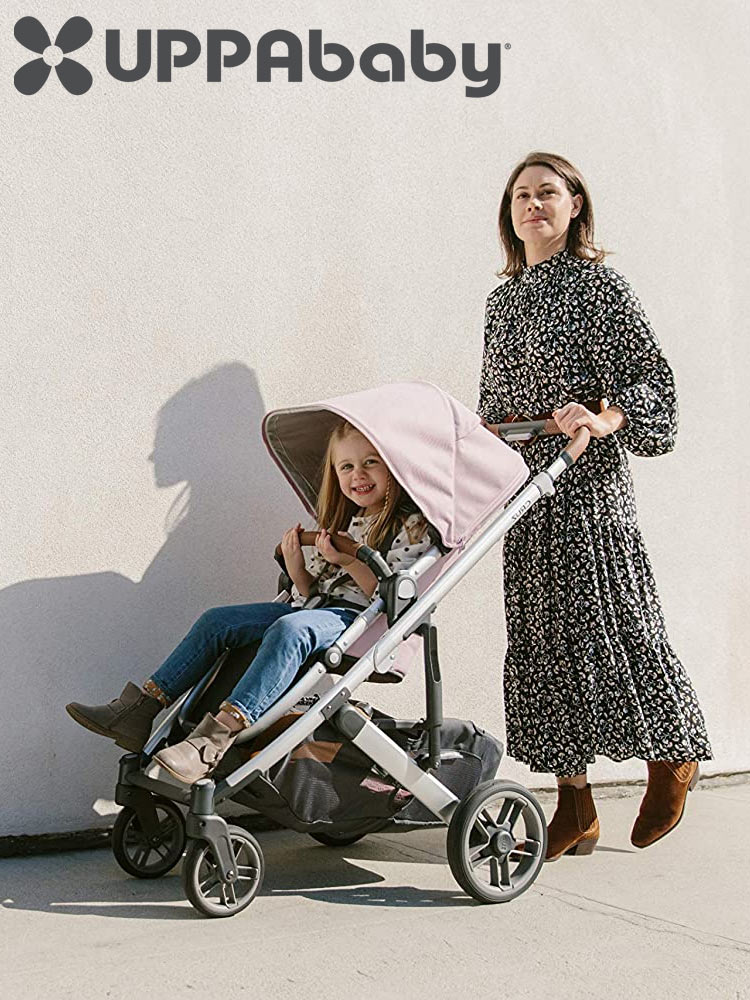 Most parents are familiar with the UppaBaby Vista stroller, which is UppaBaby's high-end stroller with multi-child support and a bassinet. The UppaBaby Cruz gives you all the "compact without compromise" excellence of the Vista, but without the bassinet adapter (it's sold separately) or the capability of having multiple children (though you can purchase a standing PiggyBack adapter). You get all the style, maneuverability, versatilility, and quality, but without the multi-child versatility or super-steep price tag. For specifications, the Cruz supports babies from birth if you purchase the optional bassinet (about $200) or SnugSeat infant attachment (about $50, basically an infant positioner). It has all the features you've come to expect from any high-end stroller including all-wheel suspension, one-handed 5-position seat recline, adjustable telescoping leather handlebar, a huge zip-out canopy extension, a height-adjustable canopy (amazing!), a gigantic storage basket, and reversible seat.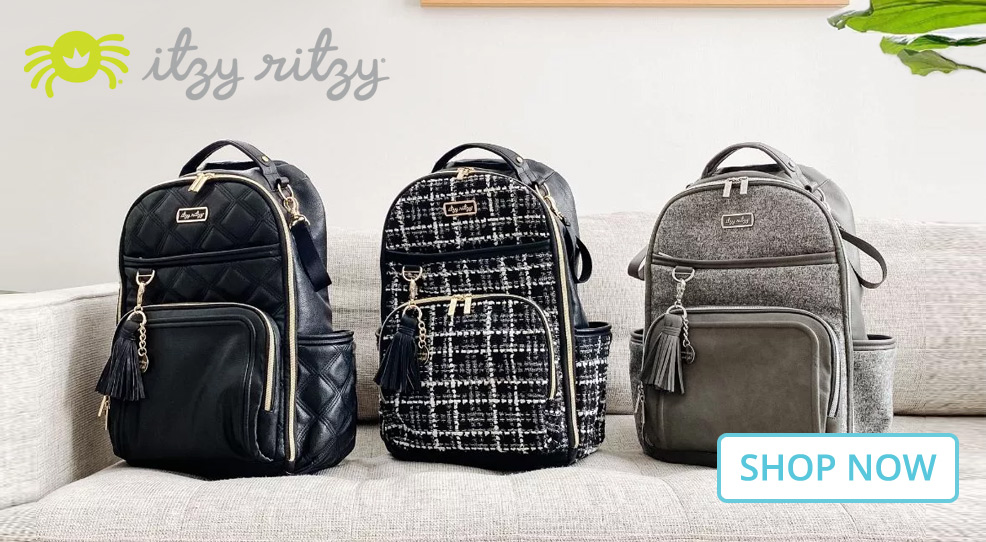 Everything is thoughtfully designed including the easy-access basket, super easy folding, its ability to stand on its own when folded, and the easy-to-use recline and canopy adjustments. The canopy extension is pretty amazing itself, because it zips out from where the parent is standing, not from the front. It's the little things that make the Cruz stand out from the crowd, and of course the beautiful styling doesn't hurt at all! We've used the Cruz at least 100 times over the past decade of its evolution, and the Cruz V2 is truly superb: highly maneuverable, comfortable seating fabric and position, and a super smooth ride overall. Everything feels, looks, and acts high quality. Coming in at a hefty $650 plus accessories, we wouldn't expect anything less! Definitely worth the price if you've got the money to spend.
Who else lists this stroller as a top pick? Our friends at Babygearlab and The Wirecutter.
---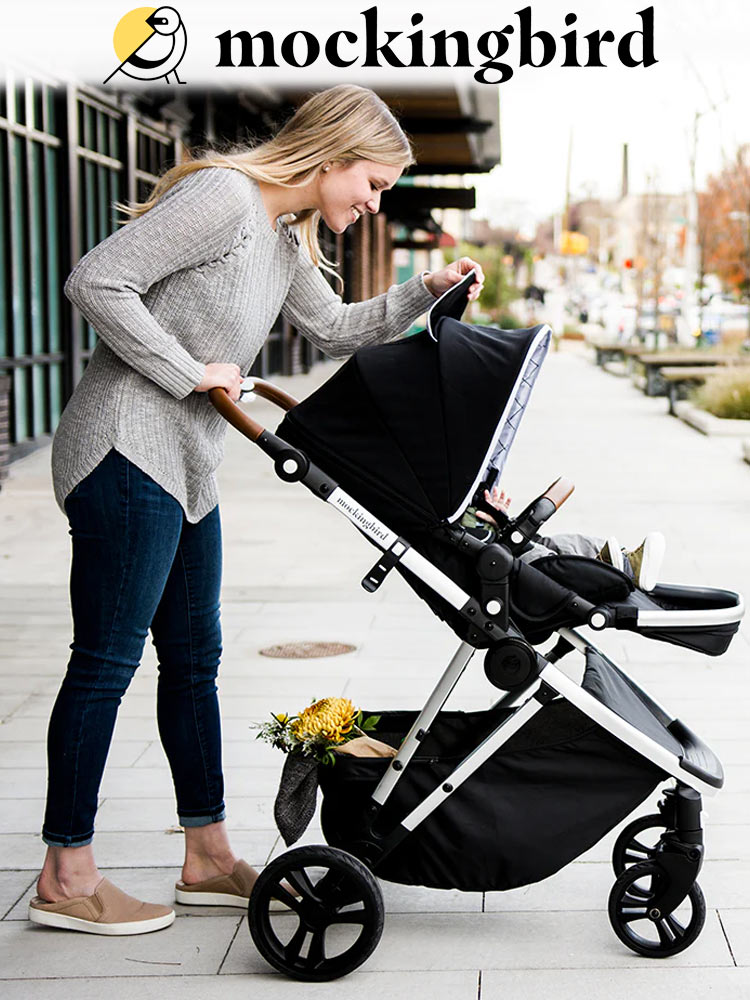 We got our hands on the new Mockingbird Single-to-Double stroller for testing earlier this year (thanks, Mockingbird!) and were extremely impressed with its quality and versatility. Mockingbird is disrupting the stroller market by introducing a stroller that is nearly as versatile as the UppaBaby Vista V2 but for less than half the price, and bringing it direct to consumers!
The beauty of this Mockingbird stroller is not just in its looks - it also has some serious versatility. Most parents will begin using it as a single stroller when they have their first child. With an infant, it can be used in three ways: with an infant car seat attachment (purchased separately, $30), with a bassinet carriage (purchased separately, $140), or with an infant insert (purchased separately, $30). For most parents, the infant car seat attachment will work perfectly, and it is compatible with most major car seat brands (Britax, Chicco, UppaBaby, Graco, etc). Once your baby reaches about 4-6 months, they will be ready to use the toddler seat, which can be configured in a front-facing or rear-facing position. Even with one (or all!) of these adapters, the Mockingbird is still about 40-50% cheaper than its closest competitor! As an added bonus, you can purchase an awesome bassinet stand that allows you to use hte Mockingbird bassinet on-the-go and at home! For details, see our full Mockingbird bassinet stand review.
Once your second child comes along, that's when the Single-to-Double stroller lives up to its name! You can configure the toddler seat alongside an infant car seat, bassinet carriage, or an additional toddler seat (purchased separately, $120) in over 19 different ways, providing for some serious double stroller versatility owing to its unique modular design.
Not only is this stroller versatile, in our testing (see our full hands-on Mockingbird Single-to-Double Stroller Review!) we also found it to be smooth (with seat and frame suspension), maneuverable, easy to adjust and fold, and it has all the right features: adjustable handlebar, reclining and nearly lay-flat seat, large storage basket, one-handed fold, a large and spill-resistant canopy with peek-a-boo window, and more! For the price, we think this stroller is poised to make a huge impact on the stroller scene, bringing style, sophistication, and versatility into the price range of most parents! Mockingbird has updated their 2nd seat kit recently so that an infant car seat and toddler seat can be positioned in more versatile ways - specifically, even when an infant car seat is attached, you can now position the toddler seat up front in a forward-facing position!
Cons? Just a few. Taller parents will find the rear axle positioned far back and possibly disrupting their normal stride, and the wheels are a bit small in diameter for bumpy terrain (or a bit of snow or sand). Also, it's quite large and cumbersome when used with two toddler seats, just like the Vista.
Who else lists this stroller as a top pick? Our friends at Lucie's List and Babylist!
---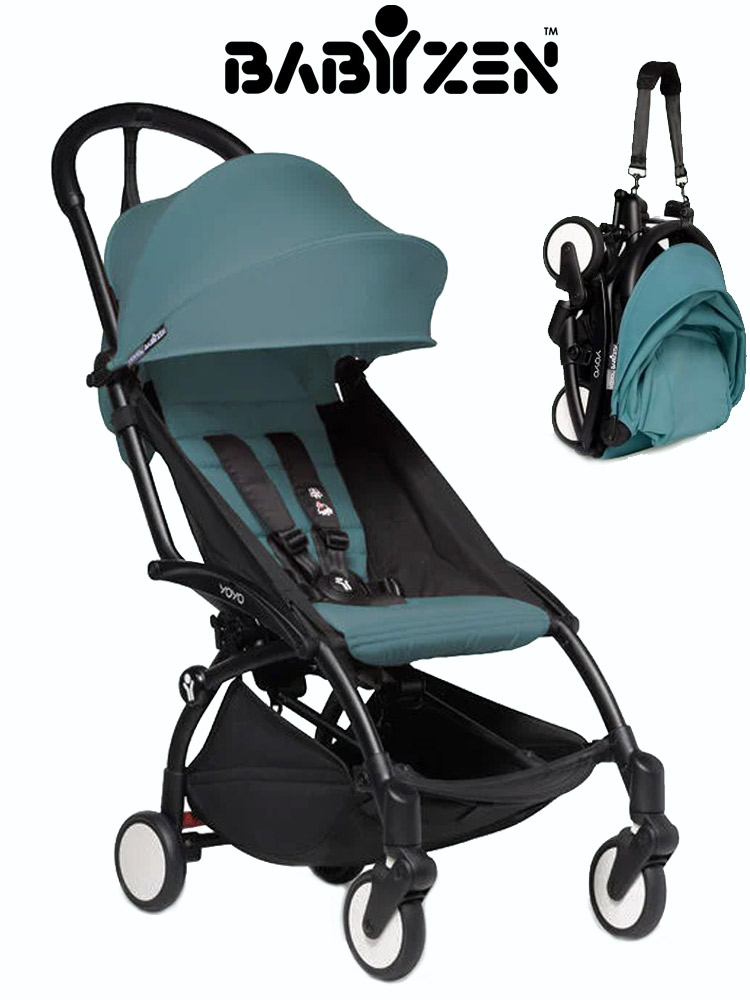 We first got our hands on the Babyzen YOYO2 for testing late last year, and were blown away by its lightweight build, compact fold, high quality components, and beautiful styling. It's a small stroller intended for jet-setting parents who want to be able to fold their stroller into a very small bag and even fit it into the overhead bin on an airplane. The Babyzen YOYO2 is the perfect stroller for this task, and offers surprising comfort and versatility for a lightweight (about 13 pounds) and super compact (folds to 20.5" x 17" x 7") travel stroller.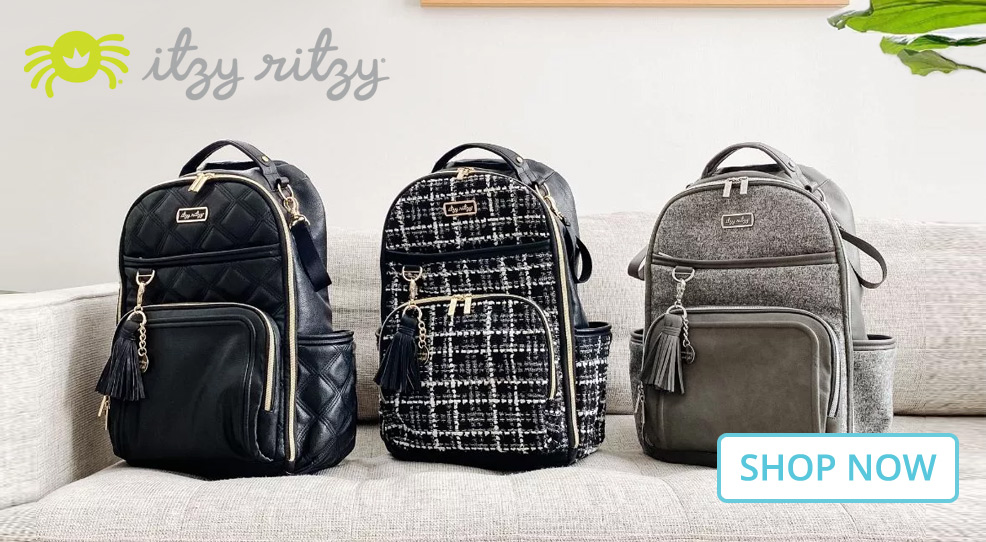 In our testing, we loved the multi-position recline, large waterproof and sun-protective canopy (with peek-a-boo window), the high weight range (from 6 months unless you gett eh bassinet or newborn pack accessories, and up to nearly 50 pounds). Everything was easy to use - the folding and unfolding are smooth and effective, all adjustments are high quality and intuitive, and the stroller was extremely manueverable and easy to fit through very tight spaces. Overall, we had very few things to gripe about - the only thing we could come up with was the somewhat unintuitive folding and unfolding process. Outside of that, we think the Babyzen YOYO2 is the obvious best travel stroller of the year!
Who else loves this stroller? Our friends at WhatToExpect, Babygearlab, and The Wirecutter also consider it a top pick!
---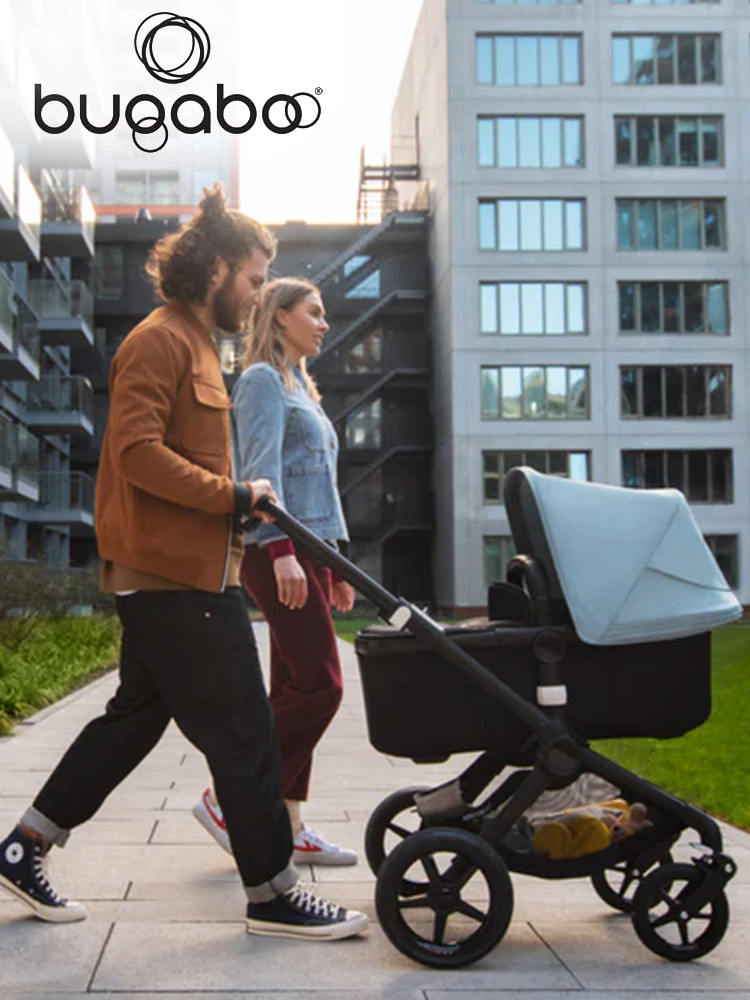 The Bugaboo Fox 3 brings superior style, quality, brand recognition, durability, and versatility. It is truly beautiful not only in its appearance but also in how smoothly everything works: its adjustments, wheels, turning radius, and attachments. In the photo you'll notice that the Bugaboo Fox includes not only the typical toddler seat but also a super comfortable bassinet suitable for use from newborn onward. The toddler seat can be used from 3 months onward, and has a capacity of nearly 50 pounds (48.5). In our experience, your child will outgrow this stroller in height and width long before they reach that upper weight limit. One of the coolest features of this stroller is the folding: the first fold brings it down to an 18" x 24" x 35" self-standing fold, and a second fold can drop that down to 8" x 21" x 26", which competes with even the ZOE for compact size and portability!
Of course, this is not a lightweight stroller, coming in at about 21 pounds, but that's to be expected with all the high quality parts, including its large wheels, reversible seat (that can detach and stand on its own!), adjustable leather handlebars, comfortable fabric and padding, and huge basket. The Bugaboo fox is compatible with several infant seats such as the Nuna Pipa, Chicco KeyFit, Britax B-Safe, Maxi-Cosi Mico, Peg Perego Primo Viaggio, and Cybex Aton and Cloud. While this is a single stroller, just like with the UppaBaby Cruz, you can purchase a separate standing rider board to attach to the back. Overall, this is a superb and beautiful stroller, but we can only justify listing it on our best luxury strollers list given its cost of about $1200. Eek!
Who else lists this stroller as a top pick? Our friends at Babylist.
---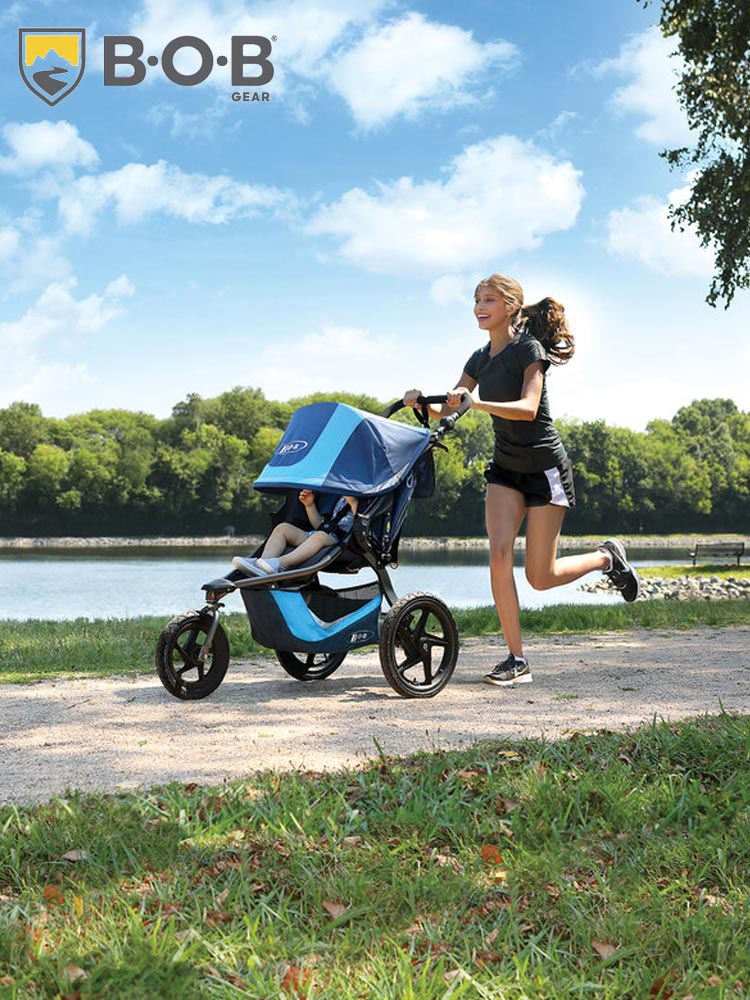 BOB Gear makes an amazing line of jogging strolleres, including the BOB Alterrain and Alterrain Pro (new in 2020), the BOB Rambler, and the BOB Revolution Flex 3.0. The Alterrain Pro is the most expensive of the bunch ($600) and boasts a truly amazing suspension system for trail running and a hand-brake, the Revolution Flex 3.0 ($500) we believe is the best all-around jogging stroller, and then their least expensive is the BOB Rambler ($400). All three of their main offerings are truly amazing, though most parents will not need the extra heft and capability of the Alterrain Pro model (though it does look amazing!). There are a few important things to look for in a good jogging stroller, including the leg swing space (to suit a long stride while running), adjustable handlebars, wrist tether, locking front wheel, large diameter and low-resistance wheels and tires, high stability forward-tracking, and storage to keep things off your body. You can go ahead and check all those boxes because the BOB Revolution doesn't compromise on any of those features!
The only little thing it's missing is a hand-brake to slow down a descent, which you'll need to upgrade to the Alterrain model to find. One of the amazing aspects of this jogging stroller is that it packs all that jogging punch but also has great basic stroller features: no-rethread harness height, huge storage basket, nice-sized canopy, five different pockets, peek-a-boo window, high maneuverability, a super smooth ride, easy foot brake, one-handed recline adjustment, and near-flat recline. There are some little things that are great too, like the seat has small ventilation slots to help airflow in the summer heat, a comfortable handlebar, easy buckle/unbuckle harness, and smooth folding. It's a jogging stroller so it doesn't fold to a very compact size, but it's not terrible coming in at 38" x 25" x 16" with wheels on, or 35" x 20" x 10" with wheels popped off. Overall, we have logged hundreds of hours jogging with the Revolution Flex 3.0, and have only great things to say about it!
Who else lists this stroller as a top pick? Our friends at WhatToExpect and TheBump.
---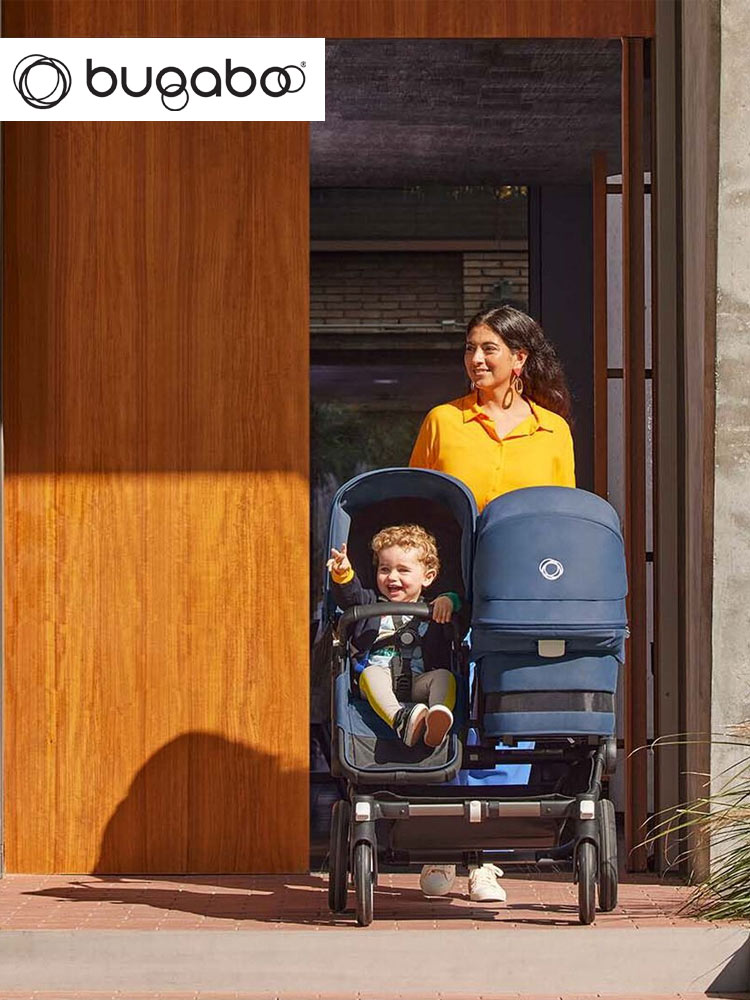 Not only is the Bugaboo Donkey 5 one of the best luxury strollers around, it is also holding the top position as the best double stroller on the planet! With its side-by-side design, the Bugaboo puts comfort, visibility, and parents' convenience first and foremost, while maintaining a relatively narrow profile of only about 29" wide. But don't let the compact size fool you, this stroller can support up to about 49 pounds per seat, with additional weight in the large lower basket! The Bugaboo Donkey Duo has many of the best features you'll be looking for, including adjustable handlebar height, an included infant bassinet, reversible seats, large canopies with peek-a-boo windows, pockets, suspension, and some other little perks. These include a toddler seat that can stand on its own when detached, and zippered pockets for your belongings.
The style of the Bugaboo Donkey 5 certainly turns heads and we fell in love with not only its beauty but also its maneuverability and versatility. The craftsmanship is second-to-none, the seats are super comfortable and the fabrics are very high quality. With its smooth operation and folding, it helps bring together the rare combination of luxury, comfort, usability, and versatility. Relative to the outgoing Donkey 3, the Bugaboo Donkey 5 stroller offers a higher seating position, mesh bassinet panels for airflow, a new harness system, and additional convenience accessories. Cons? Well, the price is likely out of some parents' budget! Overall, if you have the cash and want an excellent double stroller (and single stroller!), this is the best one you can find!
Who else lists this stroller as a top pick? Our friends at Babylist and WhatToExpect!
---
We are excited to feature the new Veer Switchback &Roll stroller at the top of our list of the best all-terrain strollers, and for some great reasons. These include versatility, quality, and off-road capability. For versatility, the Veer &Roll stroller frame can be used with a bassinet, one or two Switchback toddler seats, and one infant car seat and one Switchback toddler seat. Additionally, the Switchback seat can be popped onto the back of your bicycle or used with a camp base for sitting and chilling out (they call it the &Chill adapter!).
For quality, the Veer is second-to-none for quality, coming in at a similar quality level to front-runner strollers such as those by BOB, UppaBaby, and Bugaboo. Quality is very important for an all-terrain stroller because you need a high-quality and durable frame, and very high-quality components (hinges, bearings, latches, and other parts) to avoid breakage while on the trail. For off-road capability, the Veer Switchback &Roll has it in spades - large wheel diameter, puncture-free tires, high-end adjustable shock absorbers, a large storage bin, and adjustable handlebars.
Your little one will lounge in the comfortable and highly padded seat while you easily maneuver this nimble and easy-to-steer stroller around town, on the trail, and wherever your outdoor adventures take you. While the Veer Switchback &Roll is a bit more expensive than most other all-terrain strollers, we think the versatility, quality, and off-road capability make it worth every penny!
Who else lists this stroller as a top pick? Our friends at Forbes, The Bump, Pregnant Chicken, and Mom.com!
---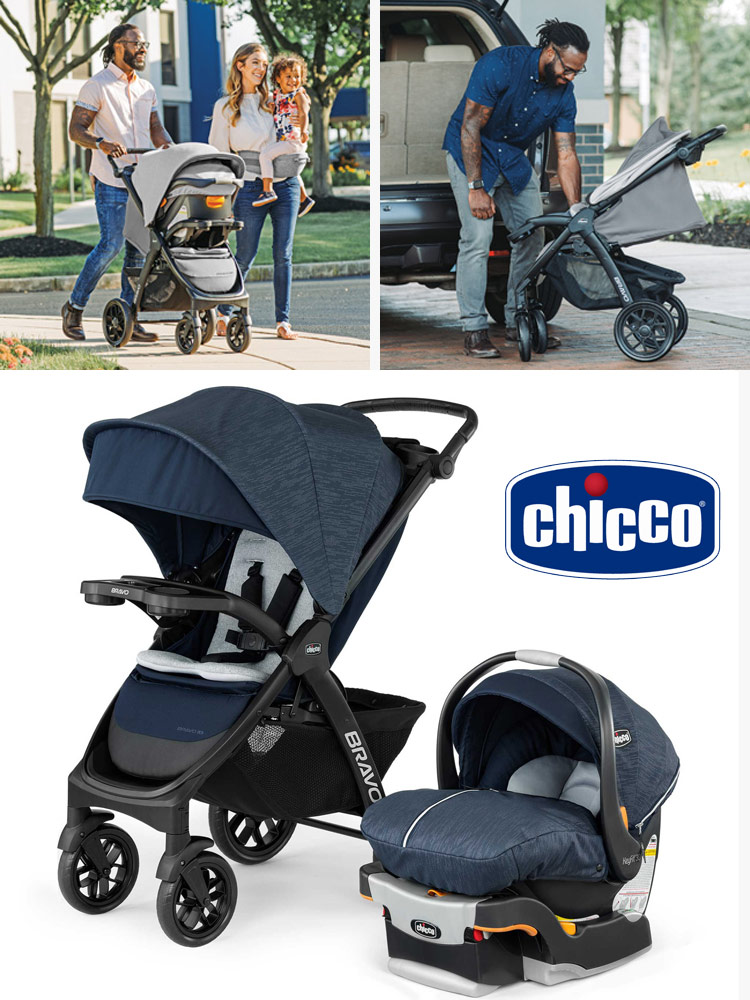 What happens when you combine the top-rated infant car seat with the awesome Chicco Bravo stroller? Magic! This travel system fits together like a glove and we love everything about it! Chicco makes a wide range of infant car seats, including the KeyFit 30 and 35, and Fit2, all of which are absolutely awesome and provide great bang for the buck. Speaking of which, this complete travel system costs only about $350, which makes it once of the least expensive ones on the market. While we love the KeyFit car seats, this article is about strollers, so let's focus on the Bravo!
We've never seen the Chicco Bravo sold alone without the car seat, but given that the KeyFit tends to cost about $160, you're paying less than $200 for the stroller itself. Given the price, we had certain expectations about what the Bravo might be like, but we're happy to say we were pleasantly surprised! Obviously it accepts the KeyFit car seat, but it also accepts the Fit2 just in case you end up with that car seat in the future. One great feature of this stroller is that you can remove the toddler seat entirely and use the stroller frame as a car seat caddy, or you can recline the toddler seat and attach the infant car seat to it. With the latter option, you can basically cocoon your baby into a protected nest with both the stroller canopy and car seat canopy, which is great for privacy and sun and rain protection. The Bravo itself weighs 23 pounds, and supports children up to 50 pounds.
We won't list all of the stroller's features here, but here are some that stood out in our testing: the adjustable handlebar, one-handed folding that stands on its own, near lay-flat reclining seat, a parent tray with cup holders, and the child tray (which doubles as the car seat adapter). For a sub-$200 stroller, that's a very impressive feature list. And it doesn't even begin to consider the huge storage basket, the comfortable seating, or maneuverability. The only con with this stroller is that it's a 4-wheel stroller with 9" rear and 7" front wheel diameters; those aren't huge, but they are plenty large enough to successfully handle an uneven sidewalk, curbs, and steps with ease. Not quite big enough for a trail, and can be tough to push through grass or sand. Outside of that, for the price this Chicco Bravo and car seat combination are amazing, and we're happy to feature it here!
Who else lists this stroller as a top pick? Our friends at Babylist, Baby Center, and WhatToExpect!
---
Conclusions
There are thousands of strollers on the market, including the big brands like Graco, Baby Jogger, BOB, Britax, UppaBaby, ZOE, Baby Zen, Maclaren, Chicco, Doona, Bugaboo, and Nuna. And that's only naming the big, popular brands. There are also several newcomers like the popular Mockingbird stroller that are gaining a lot of traction but tend to have some quality control issues.
Picking the perfect stroller for you and your baby can be really challenging, even after you've decided on which category you need (or categories!) - single, double, jogging, luxury (with bassinet!), lightweight travel, etc. Some companies make it relatively easy and offer 2-3 options, whereas others offer a daunting array of models that vary from store to store and year over year.
Some of the strollers we've reviewed over the years didn't do so well with quality: they had flimsy plastic parts, the canopy cracked or tore easily, or the wheels broke after a few months. Some also had tires that would wear down really quickly after 3-6 months of use.
Some also weren't so easy to use: folding was difficult or cumbersome, handlebars were at an uncomfortable angle, wheel brakes were hard to use, steering radius wasn't so great, or the recline adjustment was nearly impossible to use. Finally, some of the options just weren't very comfortable, with hard back-rests, poorly positioned foot rests, hard plastic parts along the side where your baby leans while napping, etc.
All of the strollers listed here are the best overall strollers on the market, and you can rest assured you're making a great decision! If you ever have questions you can always reach out to us on Facebook or email and we're happy to help!