The Best Baby and Kid Sunscreens of 2023
Protect your little one's sensitive skin with a top-rated toddler and baby sunscreen.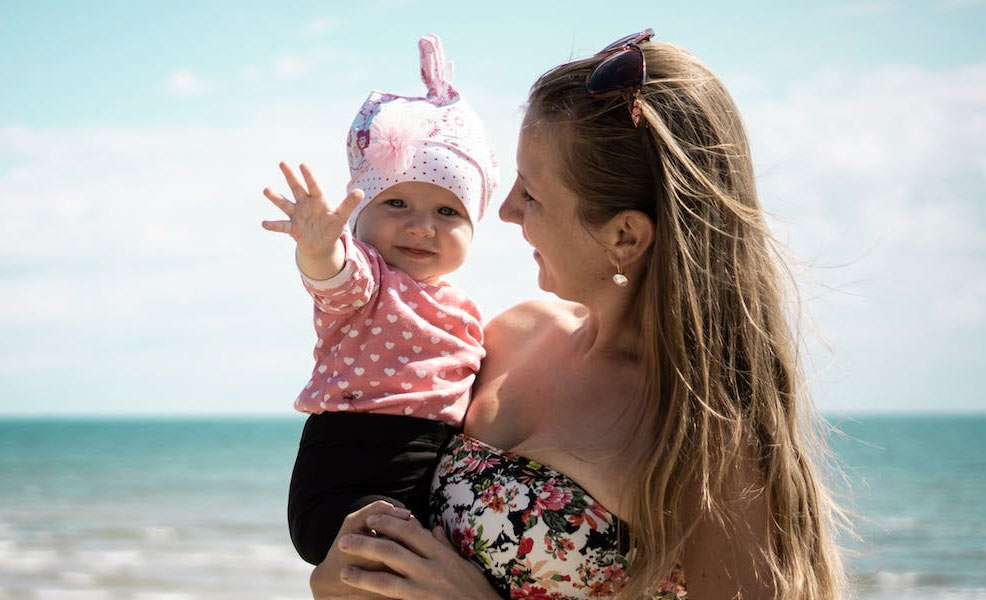 ---
Mommyhood101 independently tests and curates baby gear to help you make informed decisions. If you buy products through links on our site, we may earn a commission.
A bad sunburn will ruin even the best summer vacation! Suddenly the fun and relaxing vacation you planned turns into a burning, itching, peeling nightmare! Never again!
The good news is that our hands-on reviews found in several excellent baby and kids sunscreens with excellent ingredient safety, easy application, and effective sun protection. Below are the top 5 kids sunscreen lotions we found, followed by our full reviews of several options!
The American Academy of Pediatrics (AAP) recommends that when infants younger than 6 months cannot be fully clothed or kept in the shade, to apply sunscreen on any exposed skin. Once your infant is over 6 months, the AAP recommends applying sunscreen to all areas of the body.
Given recent scientific results demonstrating that all active sunscreen ingredients (avobenzone, oxybenzone, octocrylene, homosalate, octisalate, and octinoxate) are absorbed into the bloodstream and remain detectable for several days, parents are searching for relatively low-risk sunscreens without exposing their children to harsh chemicals.
In line with the Food and Drug Administration's guidance (FDA) and AAP, we strongly recommend using mineral-based sunscreen lotions rather than sprays. Why no sunscreen sprays? Spray sunscreen can catch fire, children can inhale their harmful chemicals, and it's difficult to see areas you've missed during application (resulting in higher sunburn risk).
To find the best sunscreens your little one, we considered several factors in our reviews: chemical exposure, sunscreen effectiveness, length of protection, resilience during water play, the difficulty of application, oily hand-feel, and of course, price! For more details about how we considered these factors in our hands-on reviews, scroll down to the bottom of this page. Otherwise, let's get into the results!
Full disclosure: Some of these sunscreens, including the Baby Bum, ThinkBaby, and Babyganics varieties, were sent to us as free test samples by the manufacturer.
Here are the Best Baby Sunscreens of 2023!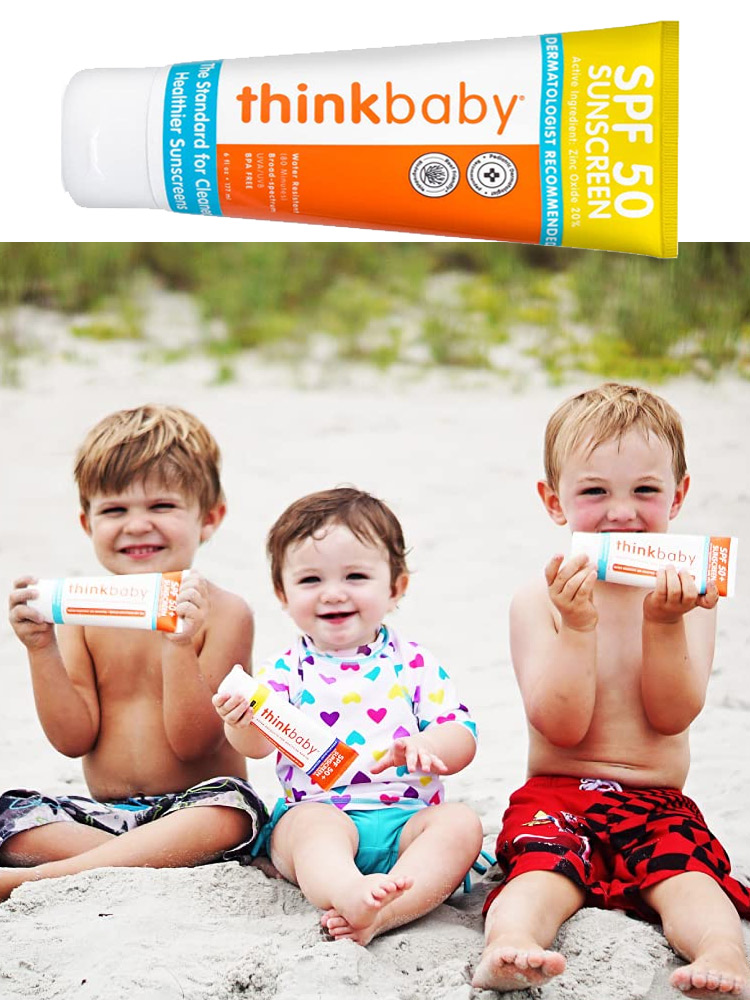 Note that Thinkbaby and Thinksport Kids mineral sunscreens appear to be identical, so if you can only find one of them, or one is cheaper, then go for it! Thinkbaby is the best overall sensitive and chemical-free sunblock option, coming in at about $3 per ounce, and holding the title as the #1 rated baby sunscreen on the Environmental Working Group's (EWG) website! The Thinkbaby sunscreen is 20% Zinc Oxide (non-nano), which is a low-risk chemical pigment that offers excellent sun protection while also being reef-friendly. More importantly is what the Thinkbaby sunscreen does not have: phenoxyethanol, parabens, PABA, phthalates or BPA, oxybenzone, avobenzone, dioxane, or any other harsh chemicals. In fact, this particular sunscreen was the first to pass the Whole Foods rigid sunscreen inspection process (their premium care requirements), and they're known to be quite picky with what they consider for Health & Beauty products. This sunscreen offers the highest possible protection of 50+ SPF, with the highest possible level of water resistance (80 minutes)! Note that these numbers don't just impress us, they are FDA-established maximums for any sunscreen.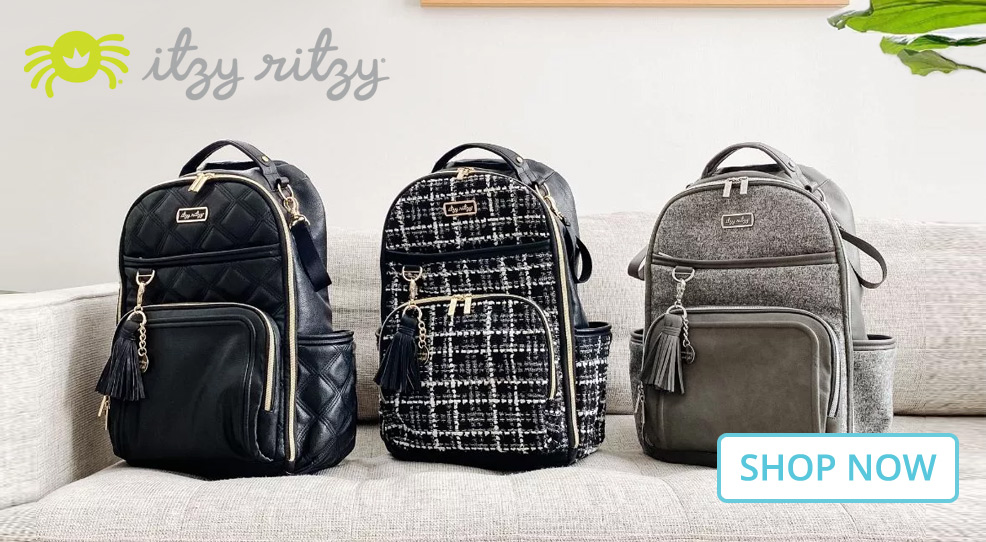 In our tests, we found the Thinkbaby sunscreen thick and creamy but also very easy to dispense and spread onto the skin. It left a faint white residue that went away after a few minutes, leaving behind a slightly shiny film. The odor was basically non-existent, at first smelling a tiny bit like citrus fruit, but then fading to nearly no odor at all. In our testing, we quickly realized that you need to reapply this sunscreen about every 2 hours to avoid getting pink. A final point is that this baby sunscreen uses non-nano zinc oxide, which is considered safer for coral reefs than nano-scale zinc oxide; so if you're considering some ocean swimming, this is an awesome reef-safe baby sunscreen option. Overall, we think this is excellent and effective, especially with repeated application throughout the day. It is basically tied with the Baby Bum for ease of application and effectiveness, but we prefer sunscreens without phenoxyethanol. Thinkbaby also makes an awesome baby face and body sunscreen stick at SPF 30, which we've had great experience with (especially for a quick reapplication). Who else loves the Thinkbaby sunscreen? Our friends at Babylist, Babygearlab, WhatToExpect, and The Bump also consider it a top pick! Interested? You can check out this Thinkbaby sunscreen here.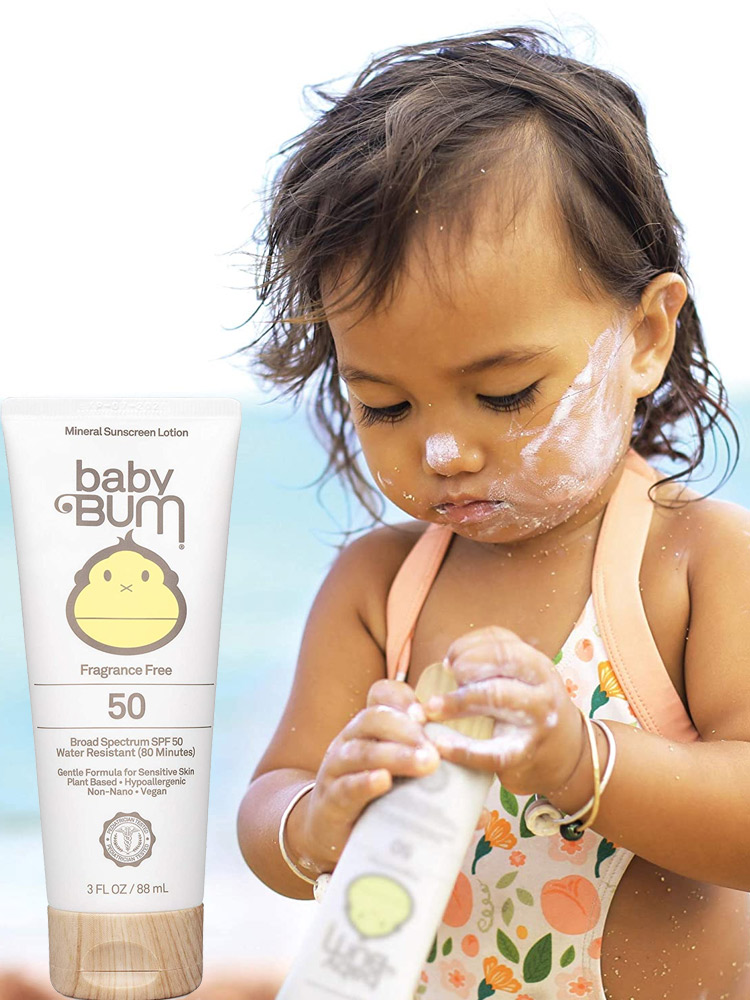 Trust the Bum! Sun Bum has been making fantastic sunscreen for babies, kids, and adults for about a decade and we've been consistently impressed with the quality and effectiveness of their products. They make plant-based sunscreen formulas that are reef friendly, cruelty-free, vegan, gluten free, hypoallergenic, and free of sulfates, parabens, phthalates, dyes, fragrances, and silicone. What's left for them to include? Mineral-based protection with 20% zinc oxide, coconut oil, shea butter, and other ingredients that are hypoallergenic and developmentally-friendly. In fact, the Environmental Working Group's (EWG) safety database scores this sunscreen a 2 out of 10, meaning that it has one of the lowest possible toxicity and bioaccumulation scores. That makes us feel pretty good about putting this on our little ones!
But how does it perform? Like any mineral-based sunscreen, it's thick and a bit of a chore to apply; that's not surprising given the 20% zinc oxide protection. It will leave a bit of a faint white film, but you'll be happy it did because the protection is truly fantastic. We applied and spent several hours in the sun and we were completely protected. It worked in the pool and on the beach, without any issues of lowered effectiveness. And we liked that it didn't have any harsh fragrances, only the mild smell of cocoa butter. This sunscreen is on the more expensive side, coming in at about $4.50 per ounce. Cons? Like most sunscreens, intense sweating (beach volleyball, anyone?) will cause it to drip into the eyes and cause some stinging, so we always suggest keeping a towel nearby to wipe sweat from your brow. That's pretty unlikely with babies or toddlers, but could happen when they rub their hands in their eyes. All but one ingredient in the Sun Bum is rated as very low risk (scores 1 or 2) by the EWG, namely phenoxyethanol (a common preservative used in personal care products) which scores a 4. That is the only mildly concerning ingredient and why Thinkbaby comes out on top. Overall, this is an excellent sunscreen that is easy to apply, smells great, and is extremely effective at preventing sunburn! Who else loves Baby Bum sunscreen? Our friends at Babygearlab, The Bump, and WhatToExpect also consider it a top pick! Interested? You can check out this Baby Bum sunscreen here.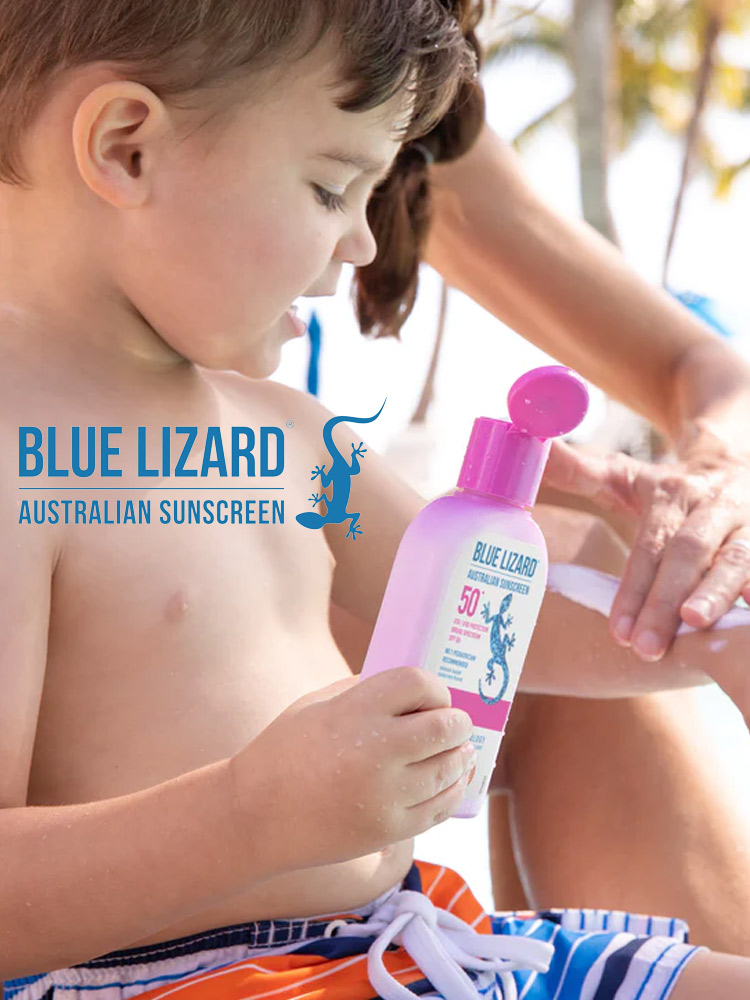 This Blue Lizard sunscreen is sensitive, fragrance-free, and a suitable option for kids and adults alike. Blue Lizard baby sunscreen uses a combination of Titanium Dioxide at 8% and Zinc Oxide at 10%, and is paraben-free and fragrance-free. The Environmental Working Group (EWG) rates this sunscreen as a 2 overall, just like with Thinkbaby and Sun Bum. In our tests we found that it was a bit thicker than some other options on this list, but works impressively well at preventing sunburn. Our 3 test kiddos had no adverse skin reactions or sensitivity, and when reapplying approximately every 2 hours, not one of them was even slightly pink by the end of the beach day (save for some toe areas we neglected to reach!). None of them complained about any eye stinging either, which I will say is rare in our household! Blue Lizard baby sunscreen doesn't contain any high-risk chemicals, though it does contain phenoxyethanol and several other low-to-moderate risk ingredients like dimethicone, chlorphenesin, and castor oil.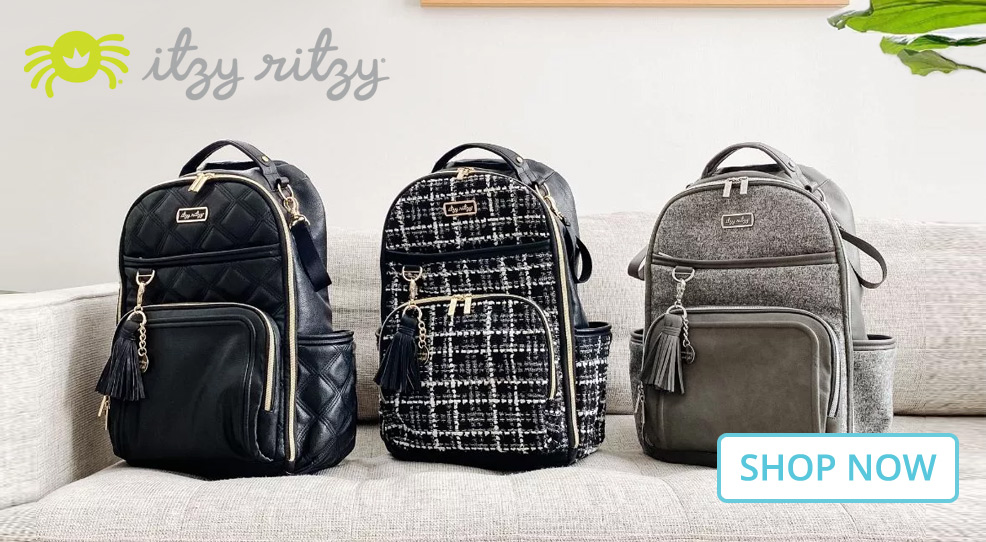 The price is great, coming in at about $2.50 per ounce. Be sure to reapply frequently and monitor closely for burns. Blue Lizard also makes a 30 SPF version of this sunscreen, which is less thick and also less expensive, but sun protection will not be quite as good. Who else recommends the Blue Lizard baby sunscreen? Our friends at Babygearlab, WhatToExpect, and The Bump all consider it a top pick! Interested? You can check out this Blue Lizard sunscreen here.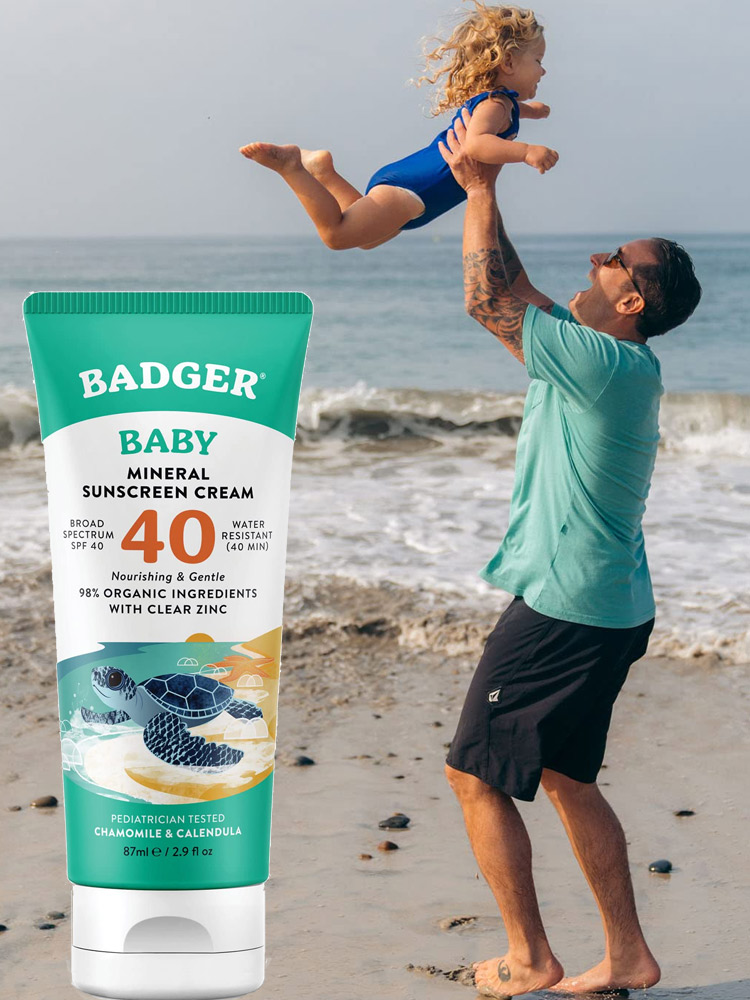 This is the simplest, 100% natural, and non-GMO and 95% organic baby and kid sunscreen on our list. The Badger Balm sunscreen somehow only contains 6 ingredients, the first being reef-friendly non-nano 18.75% Zinc Oxide, and the rest some fancy oils and natural scents of citrus and vanilla. We thought it smelled great and was a refreshingly simple option in an otherwise chemical-saturated sunscreen market. This is evidenced by the Environmental Working Group's rating of 1 or 2 for every single ingredient in this sunscreen, which we've never seen before! It offers 40 minutes of water protection, and should be reapplied at least every 2 hours. In our testing, we thought that it was rather thick and a bit too chalky white for our tastes. It also rubbed off a bit onto our swim-suits and beach gear, and stained one of our black car seats. While it was pretty thick and more difficult to apply, it did awesome in our beach testing, with no signs of pinkness or sunburn on our little ones. Since it's only SPF 30 (not 50), be sure to apply it more frequently and monitor carefully for sunburns. A small con is that the scent was a bit overwhelming for one of our kids, but not the other. The price was also a bit high, around $5 per ounce on average; the tube we tested was only 2.9 oz and cost us about $15. Note that Badger also makes a Baby Badger sunscreen with chamomile rather than vanilla scent. We haven't tried that option yet, but will update when we do. Overall, we think this is an excellent option for parents looking for the most minimalist sunscreen available, though it is more expensive and relatively challenging to apply. Who else loves Badger Balm sunscreen? Our friends at WhatToExpect, Babylist, and The Bump! Interested? You can check out the Badger Balm Kids sunscreen here.
Earth Mama takes health and beauty products very seriously, considering the sustainability, safety, and sensitivity of all ingredients they choose for their products. This is especially the case for their baby products, such as baby lotions and this sunscreen. The Earth Mama Baby Mineral Sunscreen offers an SPF level of 40 from an eyebrow-raising 25% zinc oxide content! But it's the other ingredients that make this sunscreen so impressive - coconut oils, beeswax, olive oil, raspberry seed oil, pomegranate seed oil, jojoba seed oil, shea butter, tocopherol (vitamin E), and calendula flower extract. In fact, these ingredients are so innocuous that even the EWG gave it the safest possible rating of 1! We've actually never seen that before with a sunscreen, and were immediately impressed with what Earth Mama achieved!
We put this sunscreen to the test on a sunny beach day in Cape Cod, and were very impressed with its overall effectiveness. All four of us, two kids and two adults, used the Earth Mama (reapplying every two hours) and not one of us got even the slightest bit pink. Even my half-Irish husband, so that's saying a lot! But with all that effectiveness and those natural ingredients, you will compromise on a few things. The first is that it's very pasty and white, and that chalky white finish doesn't rub in or fade away quickly like some others. With 25% zinc oxide content that's not entirely surprising, but it's worth pointing out. Also, for that same reason, you might find that the sunscreen can rub off and stain some clothing or baby gear (car seats, strollers) simply due to the high zinc oxide content. Again, that's not necessarily unique to the Earth Mama, but worth pointing out. If you're looking for an all natural sunscreen that is great for sensitive skin and has the safest rating we've ever seen from the EWG, then Earth Mama is your best bet. Just be prepared for your children to look a little ghostly white on the beach! Totally worth it. Who else recommends Earth Mama baby sunscreen? Our friends at Babylist and The Bump all consider it a top pick! Interested? You can check out the Earth Mama Baby sunscreen here.

We all know and love the wide range of Aveeno lotions, including their popular line of baby lotions and daily moisturizing lotions. New to our best baby sunscreen list as of last year, the Aveeno Baby sunscreen offers SPF 50 protection with a whopping 21.6% zinc oxide content. The Environmental Working Group (EWG) gives this sunscreen an overall rating of 5, making it moderate risk; this higher risk level is likely due to some unfortunate ingredients such as phenoxyethanol, dimethicone, chlorphenesin, and glyceryl behenate. Given these ratings, this sunscreen isn't ideal for babies or toddlers with relatively sensitive skin, or for parents worried about environmental and health-related risks of chemical exposure. That being said, it's a very effective sunscreen. We tested it while on a 6-hour hike in the Arizona summer and found that it applied easily and smoothly, was not pasty or chalky, and any residual white color faded away over time. The sun protection was excellent. We needed to reapply every 90-minute or so due to the intense sun, but it worked excellently at preventing sunburns. We didn't have any issues with it rubbing off onto our baby carrier or clothing, and there were no strong odors. Overall, we loved the ease of application and effectiveness of this sunscreen, and the price is moderate - about $3.00 per ounce. Our only concerns were the relatively high-risk ingredients. Who else recommends Aveeno Baby sunscreen? Our friends at Babylist, Babygearlab, WhatToExpect, and The Bump all consider it a top pick! Interested? You can check out the Aveeno Baby sunscreen here.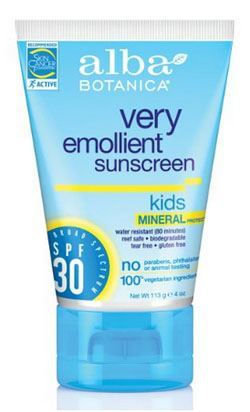 We absolutely love Alba Botanica, especially their sunscreen options for adults, like their Hawaiian Sunscreen SPF 45, which smells and works great without any high-risk chemicals. This kids mineral sunscreen uses a combination of Titanium Dioxide at 2% and Zinc Oxide at 14.5%, and is reef-safe, biodegradable, gluten-free, paraben-free, and free of artificial colors, oxybenzone, and avobenzone. Note that this isn't the case with all of their Kids sunscreens: their SPF 45 version contains some of the moderate-risk chemical sunscreen ingredients. This particular one, the Kids Mineral version, is quite a bit better. The Alba Botanica Mineral Baby version is also quite good, but when we tested it out the lotion had separated into oil and solids. The Kids version offers 40 minutes of water protection and goes on smooth and thick without any oily residue. We also loved that it had very little odor. In our testing, it performed very well, protecting the 2 kids that used it on the beach (reapplied every 2 hours), without any evidence of sunburn. There were a few concerns when reviewing the ingredients list, including phenoxyethanol, benzyl alcohol, and dimethicone. The Benzyl Alcohol in particular has a rating of 5 by the EWG, and is likely to cause skin irritation in babies or toddlers with sensitive skin. We didn't experience that in our testing, but the toddlers we tested it on do not have sensitive skin. Interested? You can check out the Alba Botanica Kids sunscreen here.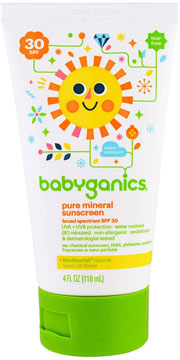 Note that Babyganics has several sunscreen options, but only two of the ones we've found actually use only mineral-based active ingredients. These are the Pure Mineral-based Lotion and the Mineral-based Stick. While all of the Babyganics options do not include PABA, phthalates, parabens, fragrances, or nano-particles, some of them do use active sunscreen ingredients other than zinc oxide and titanium dioxide (like octisalate). Most parents will want to steer clear of those options. This review is for the Pure Mineral based Babyganics lotion. Like all sunscreens using only mineral-based active ingredients, the Babyganics Pure Mineral-Based Sunscreen goes on quite thick but does rub in with a little effort. If it's not rubbing in all the way, you might be using too much (you will always see a light haze with mineral sunscreen, but it shouldn't be totally ghostly!). In our tests, we found some good reasons to include it on our list: we found that it is great for highly sensitive skin, it doesn't contain many common irritants, and it does an excellent job protecting against sunburns. In our testing, we re-applied every 40 minutes with use in water (pool or beach), and every couple of hours without use in water. We didn't experience any pinkness or burns, though we did tan a bit more than expected. Our primary gripe with this sunscreen option is that the brand name "Babyganics" implies that this is an organic option, which it is not. That misled us and likely many others (a settlement was reached a few years ago after a class action lawsuit was filed for this misleading marketing). Another issue is that yet another lawsuit was filed against Babyganics (and their parent company KAS Direct), claiming that Babyganics sunscreens may not provide the full SPF 50+ protection claimed on the packaging, with independent testing showing that it only reached about SPF30 protection. Yet another downside is that Babyganics appears to have discontinued their "Pure Mineral" line of sunscreens (likely due to the lawsuit), and they are becoming increasingly hard to find. To our knowledge, however, there has been no Babyganics sunscreen recall. The question remains: Is Babyganics sunscreen safe? If you can find their Pure mineral-based sunscreen still, we think it's a good option, though we think there are plenty of better options to choose from on this list.
How to Pick a Baby Sunscreen
You may have noticed that our baby sunscreen reviews are solely concerned with lotions, avoiding sunscreen sprays entirely. There seem to be three primary risks of using spray sunscreen:
1. The risk of spray sunscreen catching fire after it is applied. The FDA reports at least 5 incidents of bodies being burned following spray sunscreen use (from a grill, cigarette, etc.).
2. The risk of chemical inhalation during application. There is concern that inhaling aerosol-borne chemical particulate matter can be dangerous for kids' health.
3. The difficulty of seeing where you've applied sunscreen. It is hard to tell whether your kid is entirely covered when you use spray sunscreen, leading to a risk of sunburn.
Consumer Reports recommends not using spray sunblock until the FDA completes its full investigation into these issues.
Chemicals in All Sunscreen! We want to be clear that we don't know of any sunscreen options that contain no chemicals whatsoever. Whether it's oxybenzone or avobenzone, zinc oxide or titanium dioxide, to protect against burns and lower your risk of melanoma you'll be applying chemicals directly to your skin. Chemicals happen to be very effective at blocking the sun's harmful rays, but some are more toxic than others.
Sunscreen Chemicals to avoid: Here are the key sunscreen chemicals to avoid, according to the Environmental Working Group: Oxybenzone, Octinoxate, Homosalate, Octisalate, and Octocrylene. Many of these tend to penetrate the skin, enter the bloodstream, and even cross the blood-brain and blood-breastmilk barrier. They also tend to be related to hormone disruption and skin allergies. And let's not forget methylisothiazolinone and parabens.
Safe Sunscreen Chemicals: Here are the relatively low-risk sunscreen chemicals, according to the same group: Titanium Dioxide, Zinc Oxide, Avobenzone, and Mexoryl SX. There is no evidence of hormone disruption for these and they have little to no skin penetration. But each is highly effective at preventing sunburn. The best way to avoid a sunburn is to stay out of the sun or keep your body covered with clothing! In addition to sunscreen, you might also want to consider some mosquito repellent for kids when they're outdoors, especially in mosquito prone areas or they're out near dawn or dusk.
Frequently Asked Questions (FAQs) About Sunscreen
Is Babyganics sunscreen safe? The Babyganics mineral-based sunscreen has come under fire recently, including being the target of a class action lawsuit. The complaint alleges that Babyganics mineral-based sunscreen does not provide the SPF claimed on the packaging. Rather than SPF50, the complaint says that independent testing showed it is more like SPF30. So that makes us answer No, the Babyganics sunscreen is not safe to use, unless you use it like a lower SPF sunscreen.
Was there a Babyganics sunscreen recall? No, we cannot find any evidence that the Babyganics sunscreen has been recalled by Babyganics or its parent company KAS Direct. Babyganics has discontinued their mineral-based sunscreen, however, likely due to the class action lawsuit.
What is the best baby sunscreen? A good mineral-based sunscreen with a high SPF is the way to go. In our testing, we have found the ThinkBaby and Baby Bum mineral-based sunscreen lotions to be effective, high quality, non-toxic, eco-friendly, and relatively inexpensive. We also really like the Blue Lizard and Badger Balm mineral-based sunscreens for babies and toddlers.
What sunscreen SPF to use on a baby? At least SPF 50, but even higher is better. And limit their direct sun exposure, have them wear long sleeves and pants when possible, and put a sun hat on their head. Be sure to reapply the sunscreen repeatedly, try to keep your baby in the shade, and watch them closely for signs of a sun burn.
What age can babies wear sunscreen? The Mayo Clinic and other health and pediatric organizations advise against using sunscreen on an infant younger than 6 months old unless it is the only option. Instead, they advise to keep your baby out of the sun as much as possible. When you must use a sunscreen on a baby under 6 months old, use a mineral-based sunscreen.
Can adults use baby sunscreen? Of course. The only difference is that baby and toddler sunscreens tend to be more sensitive, contain fewer toxic ingredients, and have a higher SPF. Adults should be using a higher SPF, and they can only benefit from fewer harmful ingredients and more sensitive formulations.
What brand of sunscreen is safe? Sunscreen safety, especially for babies, comes down to three issues. First, not using toxic ingredients. Second, having a high enough SPF to adequately protect the baby or toddler. Third, frequently and adequate applications as instructed by the manufacturer. If you do all of those, you can get a high SPF sunscreen with no toxic ingredients, and use as directed. Great examples are the Baby Bum mineral based sunscreen, Blue Lizard, and ThinkBaby mineral sunscreens.
Is Sun Bum Baby Bum a good sunscreen? Yes, in our testing, we have found the high SPF and mineral-based options very effective, non-toxic, easy to apply, and not sticky or smelly.