The Best Baby Thermometers of 2023
No more guessing games, get an accurate read with these thermometers.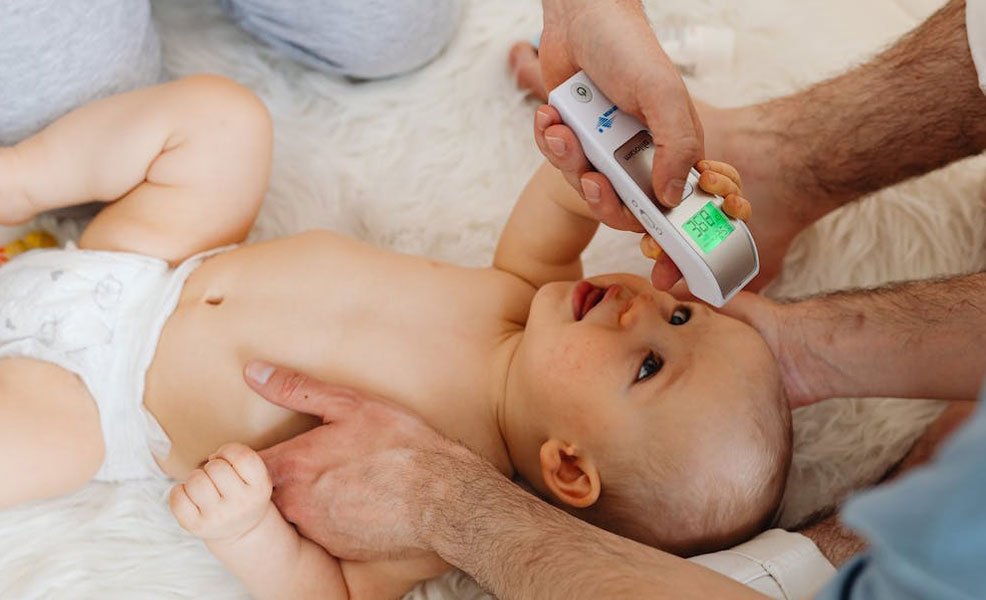 ---
Mommyhood101 independently tests and curates baby gear to help you make informed decisions. If you buy products through links on our site, we may earn a commission.
Achieving an accurate fever assessment has never been more important, and is often a recommended first step before calling your pediatrician.
There is an overwhelming number of thermometer options on the market, including forehead, rectal, tympanic, armpit, and oral thermometers. Finding the perfect thermometer for your little one can be a challenge.
Just for fun, what does ChatGPT-4 think is the best baby thermometer!?
"After analyzing various factors such as accuracy, ease of use, safety, and overall popularity, I have identified the Kinsa Smart Thermometer as the best overall." -ChatGPT-4
Our robot overlords have spoken, and we think they're on the right track!
Fortunately, we've been reviewing thermometers for over 10 years. If we made our own, here is what it would look like:
✔️ Accurate to 0.2° F.
✔️ Over 99% reliability.
✔️ Forehead or oral.
✔️ Measurement < 10 sec.
✔️ Audio tone when complete.
✔️ Easy-to-read screen.
✔️ Intuitive buttons.
✔️ Last reading memory.
✔️ Waterproof build.
✔️ Automatic shut-off.
✔️ Readings in F or C.
✔️ Portable w/storage case.
✔️ Comfortable to use.
✔️ Fever alert.
Of course, you will also want the thermometer to fit your budget constraints. That's a lot to ask, and very few baby thermometers meet the needs of picky parents!
Below are the top 5 baby thermometers we found, followed by in-depth reviews.
In line with recommendations of the American Academy of Pediatrics (AAP), we prefer rectal thermometers for at least the first three months of an infant's life, and then transitioning to an infrared forehead thermometer.
When you call your pediatrician to report a fever, some of them will not accept anything other than a temperature taken with a rectal thermometer, though forehead thermometers are usually a sufficient alternative.
In our testing, we focus primarily on thermometer accuracy, reliability, and ease of use. We also consider how long a reading takes, how reliable the thermometer is after repeated use, the comfort level when a temperature is being taken, and whether the thermometer can be used in more than one way (rectal, temporal, tympanic, oral, armpit).
If you are ever in doubt about the accuracy of your thermometer or whether your child actually has a fever, contact your child's pediatrician. As always, if your child is running a fever, contact your child's pediatrician for guidance.
Full disclosure: Some of these baby thermometers, including the VAVA, iProven, and Elepho models, were sent to us as free test samples by the manufacturer.
Here are the Best Baby Thermometers of 2023!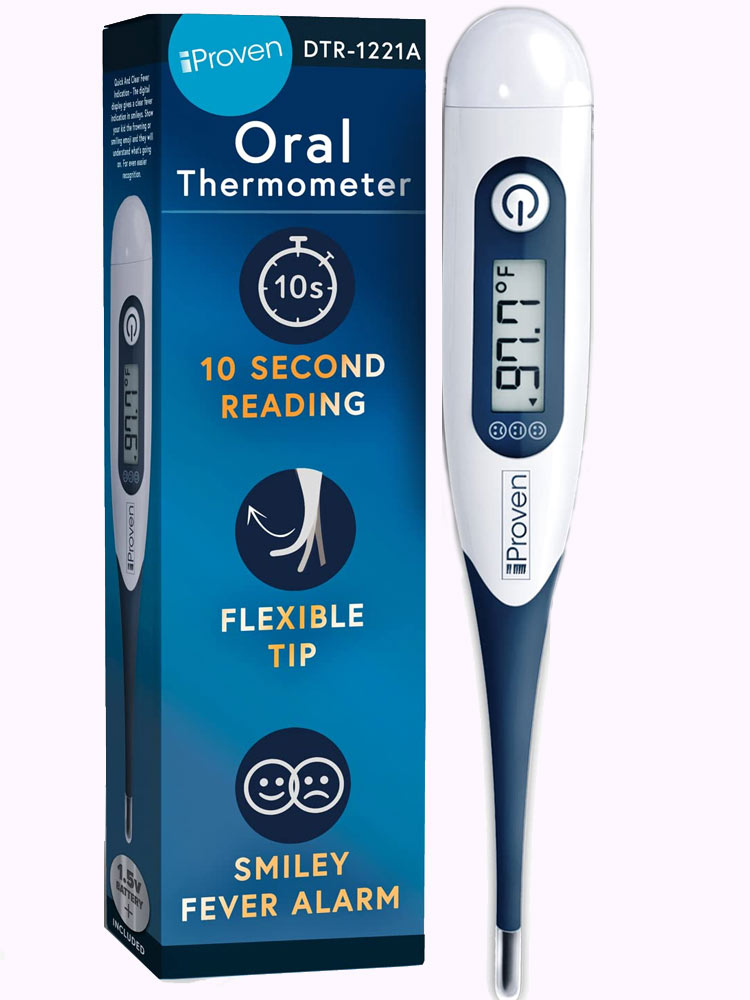 If you're going to use the rectal method, which we recommend for a baby under 1 year old, this is the thermometer to check out! This iProven model is definitely the simplest and best thermometer we've tested in terms of features and reliability. First, it gives very fast and accurate readings. In our testing, most readings took under 10 seconds, with the longest being about 12 seconds. Second, it's flexible and can be used as a rectal thermometer, an axial thermometer (armpit), or an oral thermometer for when you're dealing with an older kid (or yourself!). Third, it has some awesome features: it categorizes the temperature as Good, High, or Too High (using a series of smiley faces), it has a soft flexible tip, the numbers are easy to read, and it is waterproof.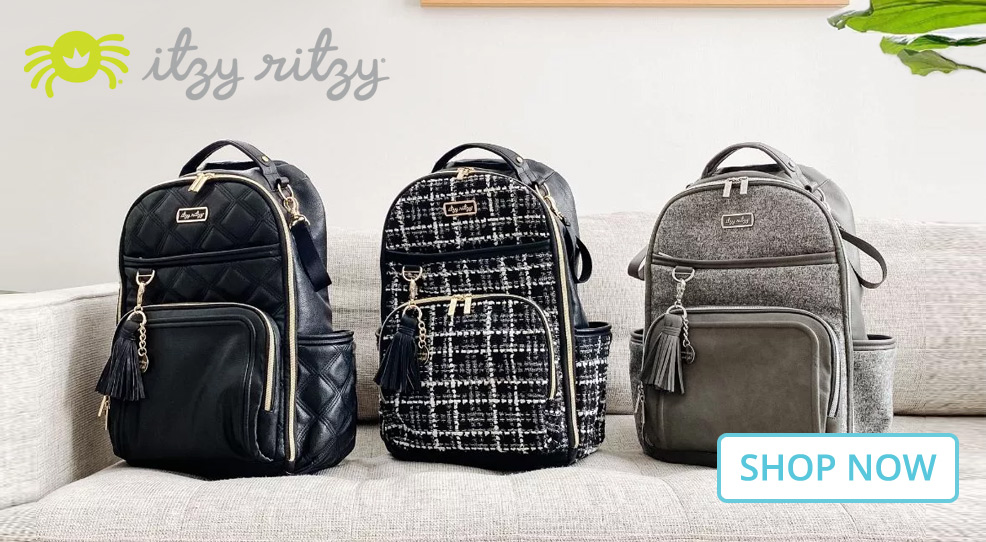 With the iProven thermometer, you'll not only have peace of mind that you're getting an accurate reading, but that it's gentle, easy to interpret, and very simple to clean. In our testing, we found the readings to be very reliable: over the course of 5 consecutive reads, it only varied by about 0.2 degrees maximum, which is quite good. Note that this is also excellent as an oral thermometer, though of course all oral thermometers slightly underestimate how high a fever is. If you plan to use this as a rectal thermometer for your baby, you might want to purchase two of them and keep them separate! Typically under $15 online, this is a fantastic deal on a versatile, accurate, and efficient thermometer for rectal and oral use! Who else loves the iProven thermometers? Our friends at Babylist and WhatToExpect also consider them top picks! Interested? You can check out this iProven thermometer here.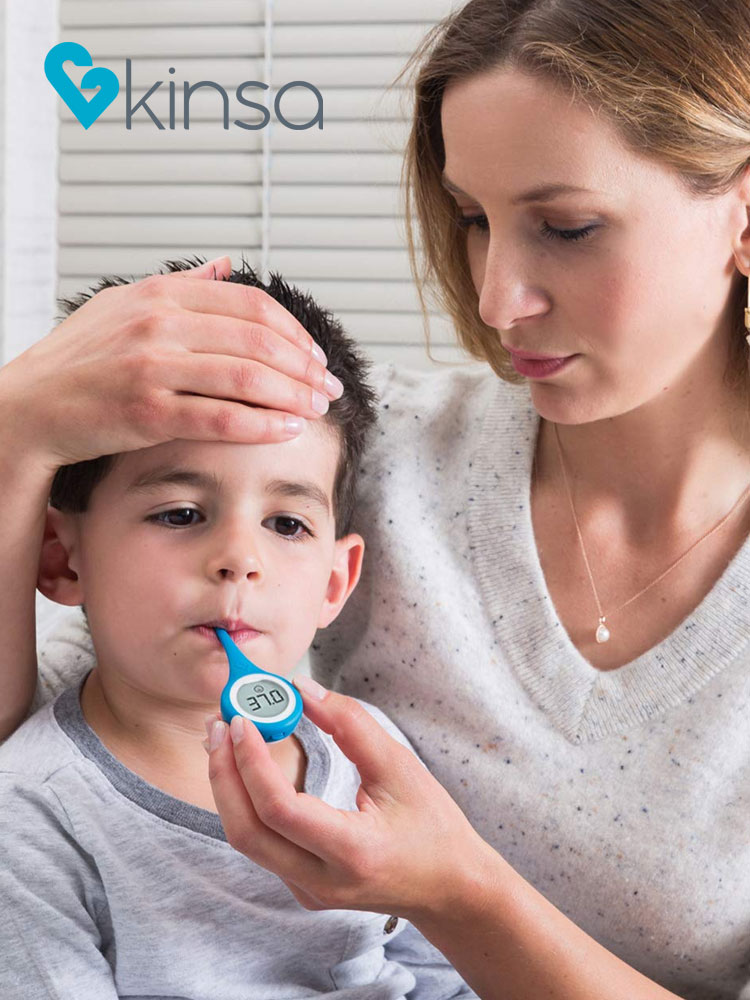 We're proud to introduce the first smart baby thermometer we've ever tested - the Kinsa! This thermometer can function on its own as a simple oral, rectal, or armpit thermometer, but also has the capability to connect to an app on your smartphone to help you visualize, understand, and record measured temperatures. When we first got our hands on the Kinsa for testing, we were a little skeptical. Maybe we're old-school but we immediately wondered why anyone would need a smart thermometer when they could just write down temperatures on a traditional piece of paper. But then we tried it out and fell in love! Starting with the thermometer itself, we compared it to the iProven model (above) for accuracy and found it not only accurate but also very reliable; temperature readings did vary by about a tenth of a degree (F) over attempts, but this is pretty normal. If anything the temperature did read a bit higher than the iProven, usually by about half a degree. The screen on the thermometer is backlit and very easy to read and understand, and there is a fun bubble-popping game on the screen that your kids can play while waiting for a full reading. Basically, bubbles float onto the screen and your child has to tap them to make them "pop" - cool concept and a great distraction! Of course, this only really works if you're taking an oral temperature!
The app also works well and is very intuitive. You can setup different profiles for each child (or adult!) in your household, and it will save all of your readings over time. It also will let you input how you took the reading, any medication administered, and give you some guidance about whether the temperature is responding well to treatment. We were pleasantly surprised not only by how easy the app was to use, but also how helpful it was - after a few days of using it, our smart thermometer skepticism was completely gone, and we totally get why people would love the concept! Did we mention that this only costs about $25 for a smart thermometer? Great deal! Who else loves the Kinsa Smart thermometer? Our friends at Babylist, WhatToExpect, and The Bump also consider it a top pick! Interested? You can check out this Kinsa thermometer here.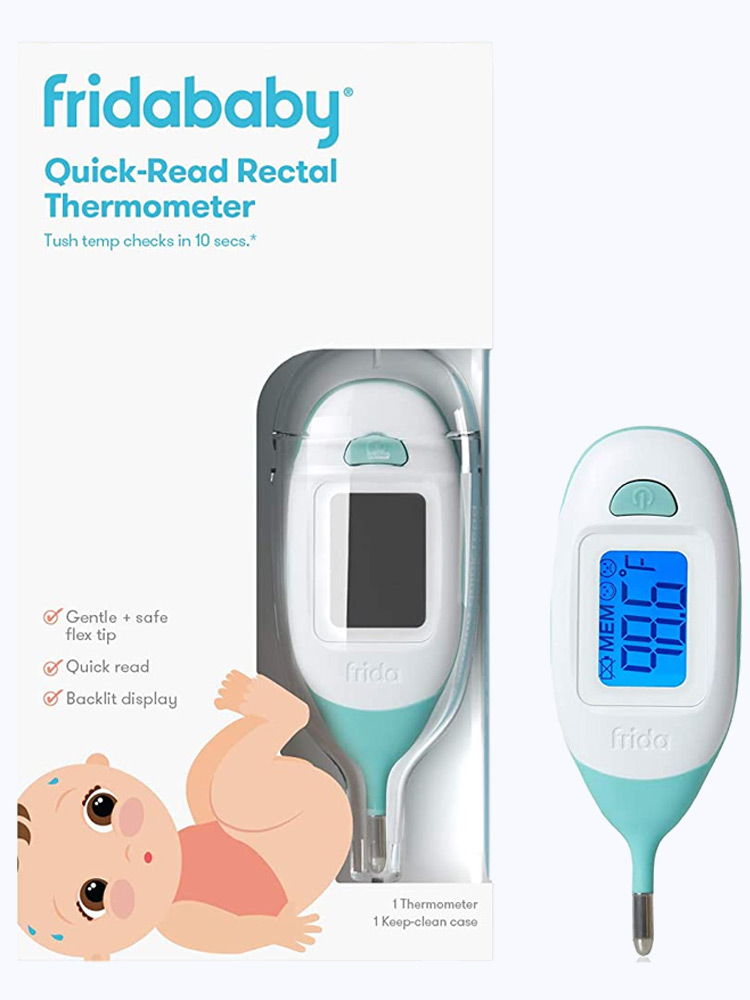 If taking a rectal temperature makes you a little anxious, the FridaBaby rectal thermometer might be the perfect great option for you. Similar to the classic Vick's rectal thermometers, the FridaBaby has an ideal shape and nicely flexible thermometer tip for keeping things comfortable while taking a rectal temperature. Another little bonus is that it takes an accurate reading in only 10 seconds, reducing the awkward and uncomfortable waiting time of other rectal thermometers. This is one of the best-selling rectal baby thermometers on the market this year, and for some really good reasons: it is fast, accurate, and reliable. In our testing, this thermometer read within 0.1 degrees of both the iProven (above) and a classic mercury thermometer. It was also very reliable over repeated testing. The screen is super simple and easy to interpret, with large backlit numbers that are easy to read in the dark. The screen also has a memory function that lets you cycle through the 10 previous readings. We've had this for over a year and have used it about 20 times, and the battery is still going strong. Since it's a coin-style battery (CR2032) you might not have any kicking around your home, so you might want to purchase a few extras to keep on hand. When using a rectal thermometer, you'll want to put a little bit of lubricant on it (we use Vaseline or Eucerin), but don't worry you can clean this with warm soapy water (or disinfectant wipes and/or alcohol, if desired).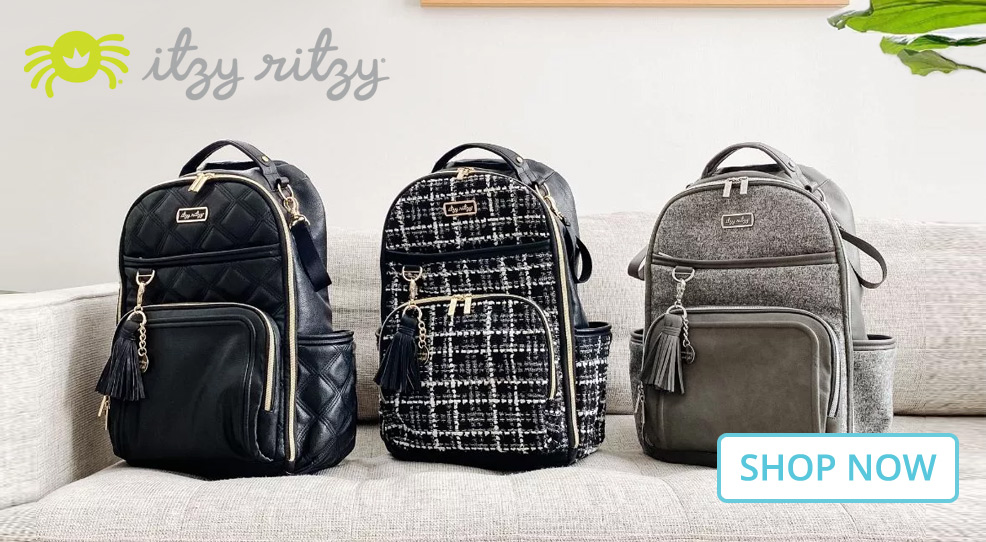 Overall, we love the FridaBaby thermometer. The only downfall is that it's not versatile for use in the mouth or armpit, given its shape and size. However, for parents who are a little timid about taking a rectal temperature (like us!) we highly recommend this for accurate, fast, and reliable readings! Who else loves the FridaBaby Quick-Read Rectal Thermometer? Our friends at Babylist and WhatToExpect call it a top pick! Interested? You can check out the FridaBaby Quick-Read Thermometer here.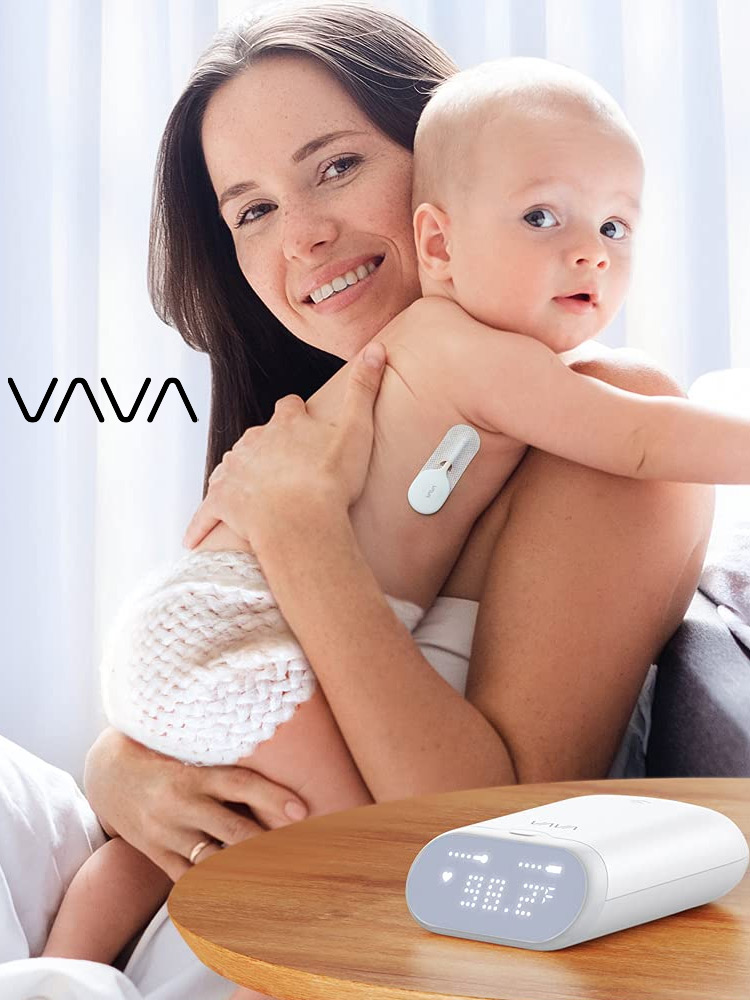 This is the only baby thermometer on our list that provides continuous monitoring of your baby's temperature during the day and night, transmitting real-time temperature readings to a parent unit. The VAVA works by attaching a silicone sensor patch to the underarm area (under the armpit) of your baby, using included medical-grade adhesive. This patch contains a temperature sensor, rechargeable battery, and wireless transmitter that continuously read your baby's skin temperature and transmit it to a parent unit. On the parent unit, there is a large digital display that tells you your baby's current temperature, and if the temperature goes over 100 degrees F it will beep, and if it goes over 102 degrees F it will beep and show red blinking lights. These alerts are sufficiently loud to wake a sleeping parent, and that's the idea: giving you the peace of mind that you'll know immediately if your baby has a rising fever during naps or nighttime sleep.
VAVA sent us a sample of this smart baby thermometer for testing (thanks, VAVA!), and we were very impressed with its features and ease of use. Opening the box, you find the silicone sensor patch, 10 pieces of adhesive tape, and the base station. The base station has a clever sliding door where you can store and charge the sensor patch. In our testing, we charged the sensor patch for about an hour and a half before first use. Applying the sensor patch to your baby is relatively easy. You attach one side of the dual-sided adhesive tape to the sensor, and the other side to your baby. VAVA suggests placing it about an inch below the armpit: high enough to get a good reading, but low enough that the tape isn't in the folds of the armpit (which might cause it to fall off). This placement of the sensor achieves a rough approximation of axillary (armpit) temperature. Research shows that axillary and rectal temperatures are reasonably correlated, but that axillary temperature tends to show lower readings (by about 0.5 degrees F) relative to rectal. Basically, if the VAVA device is telling you a temperature of 100 degrees F, it's likely more like 100.5 degrees F. We tested the VAVA smart thermometer in two babies, one who had a mild fever (likely related to teething) and another who had a normal body temperature. The VAVA did an excellent job taking readings, maintaining continuous readings overnight and throughout the next day, and didn't send any false alarms. It did alert us that the first baby had a mild fever, which was reassuring. The battery in the sensor patch lasted about a day (24 hours), as advertised. Overall, we think the VAVA offers parents excellent peace of mind though real-time temperature readings and automated alerts. While it cannot fully substitute for the accuracy of a rectal reading or a medical-grade thermometer, we think it's an awesome option for parents who would find this real-time temperature information reassuring. The price is steep, but it's also providing a unique capability that we think is worth every penny. Who else loves the VAVA Smart thermometer? Our friends at Babylist also call it a top pick! Interested? You can check out this VAVA Smart Baby Thermometer here!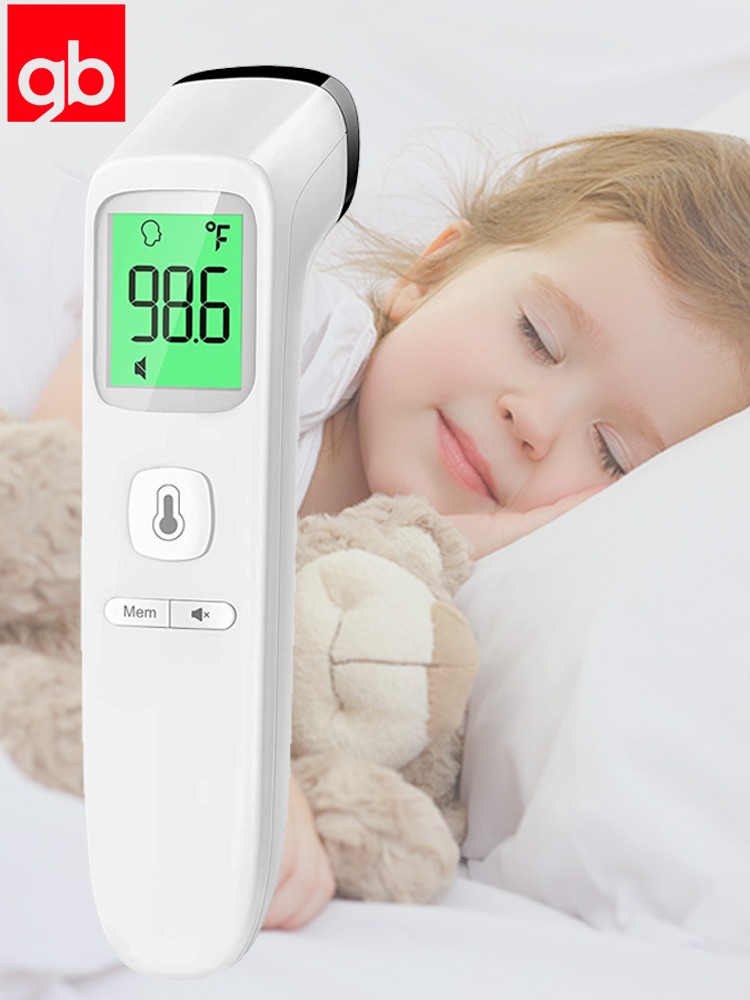 According to the AAP, forehead temperature readings are high accuracy, second only to rectal temperatures. We have tested dozens of infrared forehead thermometers over the past 10 years, and this is definitely a top pick! One downside of infrared thermometers is that they have a 20-30 minute wait time: the device and the child should be in the same room for at least 20-30 minutes before testing. This wait time allows the device and child to acclimate to the same room temperature before attempting a reading. This doesn't mean the device can't quickly take a temperature within a few seconds of a previous one, it just means it will be less accurate. This is a downfall for all infrared thermometers, whether they're being used on the forehead or in the ear. Most parents do not have an issue with this, simply storing the thermometer in a place where the child tends to be anyway during the day or night (like in the nursery or living room).
When parents report that infrared forehead thermometers are less accurate, it's partially because they are not fully following the manufacturer's instructions, including this wait time. Anyway, back to our review of the Goodbaby thermometer! For features, this thermometer has a bright backlit screen with large numbers that are very easy to read, and a menu system that's super simple to navigate. We loved the ability to use it as a forehead thermometer for quick fever checking, and the color-coded screen that tells you whether the temperature is in the normal (green), high (orange), or very high range (red). In our testing, we compared the temperature readings of this versus 4 other infrared temporal thermometers (Safety 1st, VIVE, iProven, and Braun) and this came out right in the middle of the tight temperature range. It was also reliable over repeated testing, showing very low variance. Measurements are taken about 1" from the forehead, and only take about 2 seconds. Fast, simple, and reliable - what more could you ask for!? How about a memory feature to save previous recorded temperatures, and the ability to measure temperatures around the home? You got it! Who else loves the Goodbaby thermometer? Our friends at Babygearlab call it a top pick! Interested? You can check out this Goodbaby Infrared Thermometer here!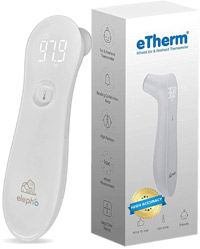 The Elepho eTherm is a simple, no-frills infrared forehead thermometer that hits all the right spots: it is accurate, reliable, easy to use, has a backlit screen, and can be used as both a forehead and ear thermometer. We first got our hands on this thermometer for testing in late 2020 (thanks, Elepho!), and were pleased with its features. Out of the box, it includes two AAA batteries, and a little instruction manual. To measure a temperature, you gently touch the thermometer to the surface of the forehead and press and release the button. The device will beep once and the temperature will display in very large white numbers, along with a smiley face. If the temperature is too low or high for an accurate measurement, it will read Lo or Hi, respectively and beep 4 times. While we thought the smiley face might turn into a frown at high temperatures, it doesn't change as a function of recorded temperature.
In our testing, we found the device to be very accurate and reliable. At first we were surprised that it's not contact-free, requiring you to hold it gently up against the forehead, but we think this resulted in more accurate measurements, and higher reliability over repeated readings from the same spot. The device comes set up for forehead readings, but you can pop off the cap and it becomes an in-ear thermometer. The diameter of the ear probe was a bit larger than we'd prefer for a child's narrow ear canals, but it worked very well for tweens and older. In our own ears, it was surprisingly consistent, and somehow the device knew it was taking an ear (versus forehead) temperature reading - you know the smiley face we were talking about? That turned into a little picture of an ear when doing an in-ear reading; somehow the device knew that the forehead cap was off, which was pretty neat. After taking a reading, the device automatically shuts off in about 10 seconds. Cons? Well, it doesn't have any other fancy features: no color-coded fever grade indicator, no ability to measure temperatures around the home, and no memory for previous readings. But what it does have is a super easy to use and, in our testing, very accurate temperature reading for both forehead and ear. Highly recommended! Since this is new for this year, we will update in a few months if we encounter any reliability issues. Interested? You can check out the new Elepho eTherm forehead thermometer here.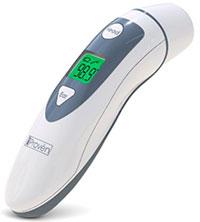 Another great infrared forehead thermometer, the iProven DMT-489 is a great option. One of the best features of this thermometer is that it can measure both forehead (temporal) and ear (temporal) temperature, and it does it in about 5-10 seconds. It uses an adapter on the top that you can swap between a probe for the ear, or a wide curved surface for the forehead. Both of them work wonderfully and seem to be highly accurate. You must read the instructions, however, to make sure you're positioning it in the right location on the forehead, and waiting the 20-30 minutes to calibrate to the child and room. Also make sure the sensors are clean because they are very sensitive to dirt or oil - you can clean with a bit of alcohol if needed. Note that you need to factor in a bit of a difference between a forehead and rectal reading. Most of the time, a forehead thermometer will read about half a degree (0.5 deg) to a full degree (1 deg) lower than a rectal temperature. So if it measures about 101, your baby is likely about 101.5-102 deg F. Always follow-up high readings with a rectal thermometer and a call to your pediatrician. We tried to test out the ear (tympanic) version a bit, but didn't find it quite as easy to position properly and get a good reading. So the convenience factor is great here, as is the flexibility to use it for forehead or ear. Interested? You can check out the iProven Infrared Forehead Thermometer here!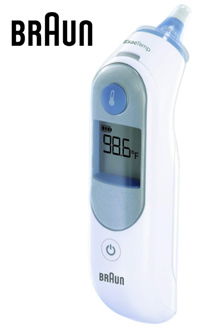 The Braun ThermoScan is a trusted line of infrared thermometers used by millions of parents and pediatricians, and this IRT6500 model is no exception. This model is specifically designed to serve as a tympanic membrane thermometer, meaning that it involves probing the ear canal. Ear temperature is not as accurate or reliable as rectal or forehead temperature, but is about the same accuracy as an armpit thermometer (called an axillary thermometer). According to pediatrics research, tympanic (ear) temperature can be a decent and fast way to noninvasively screen for fever, and are most useful in children older than 3 years of age. For younger ages, pediatricians usually recommend using a rectal thermometer. Probing an ear can be uncomfortable for some children, so keep that in mind when you're picking which type of thermometer to use. Anyway, back to the Braun ThermoScan review! Out of the box, this thermometer comes with everything you need to take a temperature, including two AA batteries, a set of 21 probe covers (they call them lens filters), and a little storage bag. All you need to do is pop off the protective cap and pop on a lens filter, power up the thermometer, and wait a few seconds while it does a self-testing sequence. Once the screen shows three dashes (---), it's ready to use. Push the thermometer snugly into the ear and press the start button (it looks like a little thermometer icon). If a successful reading is made, a few seconds later there will be a long beep and a temperature will be displayed. If there are any issues with the reading, it will beep a bunch of times and you'll need to try again (reposition it, or put on a clean filter).
In our testing, it took us a few times to figure out how to successfully get tympanic readings; we suggest trying it out on yourself or partner first to help you figure out a good strategy before trying it on your child. Braun claims that this thermometer obtains accuracy within a half degree F, and within a quarter degree F for test-retest reliability. In our testing, we found it hard to get accurate readings relative to a rectal thermometer; in about half of our attempts, it was about 1-2 degrees different than rectal, in both directions. This isn't completely unexpected since nothing is as accurate as a rectal thermometer, but we also believe it has a lot to do with accurately positioning this thermometer (which is really challenging). We also found that the display was very difficult if not impossible to read in the dark (it's not backlit), and there is no memory recall to see previous readings. Note that the IRT6510 fixes both of these little issues, but we haven't tested that specific model. In our use, we found that we could reuse the probe covers about 4-5 times after just cleaning them off with baby wipes, and when they got too funky the thermometer would give us a little alert that the lens filter was too dirty (there's a little indicator on the lower right of the screen). Overall, we like the concept and think that infrared tympanic thermometers hold a lot of potential, but it will definitely take a lot of practice to get a reliable reading at home. Who else recommends the Braun ThermoScan? Our friends at Babylist, Babygearlab, WhatToExpect, and The Bump all consider it a top pick! Interested? You can check out the Braun ThermoScan Ear Thermometer here.
Other Models:
These thermometers didn't make it onto our list for quality control, accuracy, or reliability issues:
- The iHealth No-Touch Forehead Thermometer gave us consistently low readings relative to other infrared forehead thermometers; when we contacted the manufacturer, they accused us of using it incorrectly and were not willing to refund our purchase.
- The American Red Cross Infrared Forehead Thermometer gave us accurate readings for about a week and then suddenly stopped working. We tried swapping the batteries and banging it around in our hand, but no dice.
- The Safety 1st Easy Read Forehead Thermometer gave accurate readings, but was a bit of a hassle to position on the head. The device uses a pair of lights that you need to align perfectly on the head to ensure correct distance; other devices achieved similar temperatures to the Safety 1st without worrying so much about distance to the forehead.
How to Pick a Baby Thermometer
Accuracy. First of all, you want the thermometer to be accurate. What that means is that you want it to take an accurate (valid) reading, likely within +/- 0.2 degrees of your baby's true temperature. Below we give you the run-down on which measurement method (ear, forehead, mouth, rectal, armpit) is most accurate, based on published scientific data.
Reliability. Second, you want the thermometer to be reliable. What this means is that it will accurately read your baby's temperature if you used it 5 times in a row - instead of giving a different reading every time, you want it to be stable.
Rapid readings. Third, you want the thermometer to be fast. No parent wants to hold a thermometer anywhere for over 10-15 seconds, especially not with a fussy baby who is feeling uncomfortable to begin with.
Easy to use. Finally, you want it to be convenient and easy to use. You do not want to take out the instructions every time to figure out how to use it, change the batteries every few weeks, or have something so bulky or fragile that you can't easily take it with you when traveling. Note that we do not recommend any of the traditional glass and mercury thermometers; they are fragile, dangerous, and sometimes take forever to get an accurate reading.
The Most Accurate Type of Thermometer
Rectal Thermometers: Rectal is the gold standard for assessing a fever temperature, and will always be the most accurate. To use a rectal thermometer, you need to insert the thermometer about a half-inch into the rectum and wait about 10-15 seconds for the temperature to be read. Awkward and frustrating at the same time, especially with a squirming and fussy baby. The American Academy of Pediatrics recommends using a rectal thermometer for at least the first three months of an infant's life. If you are not comfortable using a rectal thermometer with your baby, the second-best option for accuracy is the infrared forehead thermometer. However, note that many pediatricians require you to use a rectal thermometer if you're calling them to report a fever (so maybe keep one around for backup, even if you choose another method).
Oral Thermometers: These tend to underestimate fever temperatures relative to rectal, which means that whatever reading you get on an oral thermometer, you can generally add about 1 degree to it for accuracy. Because they are not highly reliable, oral thermometers have been largely phased out in favor of rectal and forehead thermometers.
Tympanic Thermometers: These measure temperature at the ear drum (the tympanic membrane), and tend to both over- and under-estimate temperatures, making it challenging to get an accurate reading. According to research, you will likely be over or under the actual temperature by about 1-2 degrees when using a tympanic thermometer.
Forehead Thermometers: A new popular option measures fevers by scanning the forehead using infrared light. This forehead method is also less accurate than rectal (in both the positive and negative directions), but is more accurate than armpit or in-ear measurements. We have had great luck with both accuracy and reliability of modern infrared forehead thermometers, many of which we review above. In general, though they are less accurate than rectal, variation versus rectal is typically only over- or under-estimating by about 0.5 degrees.
Armpit Thermometers: These tend to under-estimate fever temperatures by about 1 degree, so if you use an oral thermometer in the armpit, you'll want to add about 1 degree to it for an accurate reading. Most pediatricians do not recommend the armpit (axillary) measurement.
Overall, we strongly suggest rectal as the best way to take a baby's temperature, but as a back-up we suggest using an infrared forehead thermometer.