The Best Newborn & Infant Pacifiers of 2022
Suckling on a pacifier can help calm and soothe a fussy baby, help them fall asleep and stay asleep, and even reduce the risk of sudden infant death syndrome (SIDS).
While pacifiers are controversial to some, research shows that using a pacifier during the first 6 months of life only has benefits to your baby's health and safety.
Here are the top 5 pacifiers we found, followed by full reviews of several different options.
Pacifiers are a bit controversial among parents. Some parents want to avoid their baby becoming too dependent on a pacifier, think that it might interfere with breastfeeding, or believe it might cause dental problems or increase the rate of ear infections.
At the bottom of this article, we go into depth on the pros and cons of pacifier use, including which pacifiers to use at what time, and how to transition away from a pacifier. These aren't opinions, all of our recommendations are based on published pediatrics research.
There are two main types of pacifiers:
Newborn pacifiers: These pacifiers are cylindrical in shape and designed for use during the first 8-12 weeks of life.
Orthodontic pacifiers: Once your child is over 8-12 weeks of age, they will likely transition to an orthodontic pacifier, which is shaped to contour to your baby's tongue and the roof of their mouth.
Expand the table of contents to jump to an age-appropriate option for your child.
Full disclosure: Some of these pacifiers, including the Chicco, MAM, and Itzy Ritzy models, were sent to us as free test samples by the manufacturer.
When picking the perfect pacifier, you might want to also consider which of the best baby bottles might use a similar (or even the same) nipple shape, to help with transitions.
Here are the Best Pacifiers of 2022!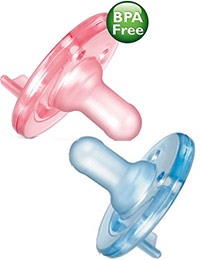 This is the best pacifier for newborns, from 0-3 months of age. The Philips AVENT Soothie Pacifier is the #1 pacifier distributed by hospitals across the country. That's not only because Philips has struck an amazing deal with hospitals, but also because they are a widely trusted newborn pacifier for safety, effectiveness, acceptance, and low risk of nipple confusion. For safety, they are made with silicone and are BPA-free, latex-free, have air holes around their shield, are durable and one-pieced, and are way too big for a baby to fit into her mouth! For functionality, they have a great shape that closely resembles a nipple, giving them high rates of acceptance and low rates of nipple confusion. They use a tab design for parents to grab and pull in or out; they avoided using a ring to prevent newborns from hooking a finger on it and accidentally pulling it out of their own mouths. For cleaning, they can be steamed, boiled, or dishwashed for sterilization, and the back of the nipple is completely hollow so water will never get trapped inside the pacifier's nipple.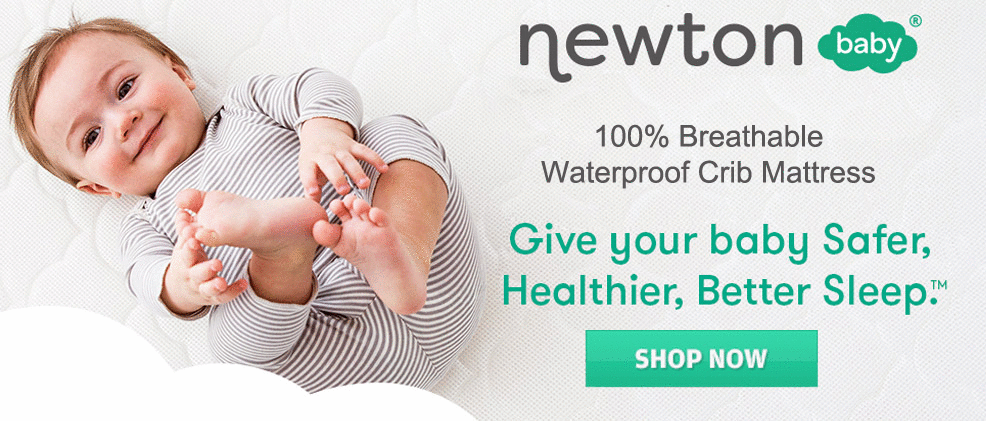 The nipple is small enough to fit newborn's little mouths, the shield isn't large enough to bump up against the nose of *most* babies, and they adhere to the pacifier guidelines of the American Academy of Pediatrics. We also need to point out that each pacifier is only about 2 bucks and they come in pink, purple, blue, green, or yellow. What's not to love!? Well, they're not the cutest pacifiers, and as your baby gets a little more tongue control they will be able to easily pop it out of their mouths. We think it's the perfect first pacifier for newborns aged 0-3 months. Who else recommends the Philips AVENT Soothie Pacifier? Our friends at Babylist, Babygearlab, and WhatToExpect also consider it a top pick! Impressed? You can check out the Philips AVENT Soothie Pacifiers here.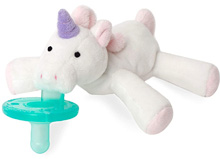 This is the best pacifier for infants from about 3-6 months of age. It doesn't get much more adorable than a WubbaNub pacifier, with its awesome cylindrical nipple shape and its plush animal attachments. While we showcase the Unicorn here, the WubbaNub is available in over 50 cute animal designs, including the popular giraffe, reindeer, and lamb. We usually recommend using a newborn pacifier without a plush attached for the first 0-3 months of life, and then graduating to a WubbaNub for between 3-6 months. This is for a few reasons. Newborns have little control of their hands and arms, increasing the odds that they will grab and yank the WubbaNub pacifier right out of their mouths. By about 3 months, however, your infant will become more aware of their pacifier and gain a bit more control of their hands and arms. At this point, the WubbaNub will also start to become a familiar favorite friend, helping to soothe your baby a bit more than using just a pacifier. The WubbaNub also helps in a few additional ways: it helps keep the pacifier from falling on the floor or far away, with the animal helping the pacifier land on your child's chest, tummy, or lap.
The first time your infant spits out their pacifier in a car seat or stroller, you'll see why this is such an awesome benefit! The pacifier itself is very similar to the AVENT Soothie, with a 100% silicone construction that is free of BPA and Latex. The nipple itself is a great diameter for infants 0-6 months, and the nipple shield has two air holes for breathability. The pacifier itself is permanently attached to the plush animal, which makes cleaning and sterilizing the WubbaNub a little tricky. There are basically three options. First, you can hand-wash the entire WubbaNub and let it hang dry. Second, you can put it in a mesh laundry bag and throw it right into your washing machine and then hang it to dry. Third, you can fill a mug with boiling water and dip the pacifier portion into the boiling water for 2-4 minutes to sterilize it. We used the second and third option: we would machine wash the entire thing, and then sterilize just the pacifier part by dipping it in a mug of hot water. Easy enough! Overall, we love the WubbaNub and think it's the best pacifier for 3-6 month old infants; with its superior convenience, style, and effectiveness, it's worth every penny! Who else loves the WubbaNub? Our friends at Babylist, Babygearlab, and WhatToExpect also consider it a top pick! Impressed? You can check out the WubbaNub Pacifiers here.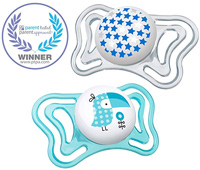 This is the best pacifier for infants 6 months and up. The new PhysioForma line of Chicco pacifiers was developed with a panel of pediatricians, orthodontists, and neonatologists. It combines the best in soothing and modern science to support breathing, tongue positioning, and gum and tooth development. The nipple uses a nice curve that facilitates an even distribution of pressure across the palate, along with tiny ridges to stimulate and guide tongue position. Combined with a subtle satin-like texturing, this is a truly orthodontic pacifier that conforms to the guidelines of the American Academy of Pediatrics. It's also worth noting that it's not made in China - instead, it's designed and made in Italy, and is free of BPA, phthalates, and latex. These pacifiers have a great lightweight "barely there" shield for superior comfort, and lower rates of indentations and redness on the face. The Light line of Chicco pacifiers comes in three sizes - 0-6 months, 6-16 months, and 16+ months. In accordance with AAP recommendations, we suggest using this orthodontic pacifier for babies over 6 months of age. In our testing, we loved the satin feel of the nipple, its subtle tongue stimulating texture, and its ability to conform nicely to the inside of the mouth. In contrast to one-piece silicone pacifiers, orthodontic pacifiers can be a bit harder to clean given some of the nooks and crannies. The two-pack of these pacifiers usually includes a sterilizing case and two pacifiers: one for daytime use and one glow-in-the-dark version for overnight use.
At first, we thought the glow-in-the-dark pacifier was a bit of a gimmick but then quickly realized how convenient it was when the pacifier was spat out or tossed in the middle of the night! The glowing cap made it much easier to find in the dark, and we want to thank Chicco for this little blessing! The handle knob makes it more challenging for infants to accidentally remove the pacifier from their mouth, which is good - though it's still super easy for a parent to grip. Who else loves the Chicco PhysioForma pacifiers? Our friends at Babylist and Babygearlab also consider them a top pick! Interested? You can check out the Chicco PhysioForma Pacifiers here.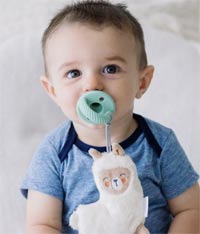 We all know and love Itzy Ritzy for their amazing line of diaper bags, loveys, and teething toys, but did you know they also make some of the most adorable and effective pacifiers? The Sweetie Soothies line of pacifiers spans from newborn (non-orthodontic, 0-6 months) to toddler (orthodontic, 6-18 months), and all are made of 100% food-grade silicone, are BPA, phthalate, and PVC free, and meet ASTM safety standards. The pacifiers have an easy-to-grasp loop, dual vent holes, and super soft nipples. The conventional soothie style for infants is shaped very nicely, with a very subtle contour towards the tip. The orthodontic style for older little ones (6+ months) has a great shape for hitting the tongue and palate in an appropriate way, without putting undue pressure on the gums where teeth are sprouting.
In our testing, the Sweetie Soothers were taken immediately by our three test babies (4 months, 8 months, 13 months) and did a great job soothing them during the day, naps, and at bedtime. We didn't have any issues with the pacifier popping out of mouths, at least not more than any other pacifier we've tested. The silicone was soft yet durable, and the nipple size will be great for most infants. Always boil a new pacifier before its first use, and be sure to clean them regularly. These Itzy Ritzy pacifiers are top rack dishwasher safe, and you can also boil them, wipe them off, and wash them with soap (but avoid using antibiotic soaps on silicone, as well as abrasive cleaners). If you love the colors and styles of the Itzy Ritzy, you're not alone, it's one of the most popular pacifiers of the year! And if you love these but also love the style of the Wubbanub, be sure to check out the Itzy Ritzy Sweetie Pal soothies that incorporate awesome pacifiers with an adorable soothie animal, like Peyton the Sloth and Lane the Llama! Interested? You can check out the Itzy Ritzy Pacifiers here.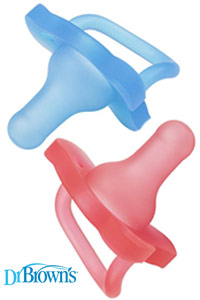 This is a fantastic pacifier for newborns from 0-3 months old, and it has some awesome features. This pacifier basically takes all that we love about the Philips and improves it with a butter-fly shaped shield that won't bump up against little baby noses, and definitely looks cuter than the big circle. It uses the same little venting holes, is BPA-free and latex-free, and is made of 100% silicone. Just like the Philips, it's easy to dishwash, steam, or boil, and has a hollow nipple that won't trap water inside. The nipple itself is exactly like the Philips nipple, so it's a great little size for newborns and is shaped much like mom's nipples. A big difference between the two options is that the HappyPaci uses a non-orthodontic nipple that's actually shaped just like the nipple used on Dr. Brown's baby bottles (one of our top rated baby bottles!). That means if you're bottle-feeding your baby, this is a great pacifier for combining with those bottles. Another big difference is that these pacifiers use a loop gripper that is super convenient for parents and can easily clip onto a diaper bag or anywhere else. They're about $2 each just like the Philips. The only down-fall of that loop is that babies can accidentally (randomly) swing their hands up and pull it out of their mouth. That's rare, but will become more intentional and common as baby gets a bit older. So this is a great alternative to the Philips AVENT, offering a non-orthodontic pacifier that is a little cuter and more functional, but that loop might cause some accidental removals. Interested? You can check out the Dr. Brown's HappyPaci Pacifiers here.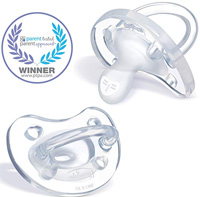 This is an awesome option for babies from about 3-6 months of age. We introduced the PhysioForma line of pacifiers up above when talking about newborns, but it's worth reiterating that these pacifiers are based on physician and scientist guidance, developing pacifiers that support breathing, tongue positioning, and gum and tooth development. These infant pacifiers use a one-piece soft silicone construction with a vented shield; the nipple uses a nice curve that facilitates an even distribution of pressure across the palate, along with tiny ridges to stimulate and guide tongue position. Made in Italy, this pacifier is free of BPA, phthalates, and latex. It's available for newborn babies and older, with three different sizes (0-6 months, 6-12 months, and 16 months onward). We suggest using this pacifier for 3-6 months and then switching to one of the orthodontic options below. In our testing, all 4 of the babies loved this pacifier and didn't show any signs of rejection. It was also rare for it to accidentally pop out, and it stayed in the mouth very nicely during napping. There were a few things we loved about it. First, the one-piece design has no nooks and crannies to clean. Second, the plastic sterilizing case was convenient and easy to bring along for storage. Third, we didn't notice any pacifier indentations or marks on our test babies' cheeks, and the handle was easy to grab onto for both parents and infants who want to control their binky destiny. Downfalls? Not many! For one, it does collect a lot of fuzz and lint when moist, but that's pretty normal for a silicone pacifier. And second, because it's a slightly orthodontic nipple design, it might cause a bit of nipple confusion in some breastfed babies. Interested? You can check out the Chicco PhysioForma Newborn Pacifiers here.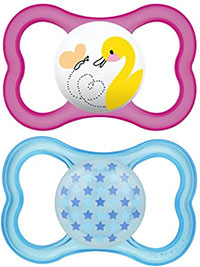 These pacifiers are great for babies about 6 months and older. The MAM orthodontic pacifiers are one of the most popular overall orthodontic pacifiers on the market, and for good reason. Their new sensitive skin pacifiers are really excellent. The sensitive skin aspect keeps moisture from building up between the shield and the cheeks, to lower the risk of irritation and rash. It does this by opening up the shield entirely instead of having a few holes in it. In our testing, this design is very effective at reducing irritation in babies with sensitive skin, and all of our test babies loved these pacifiers. This wasn't especially surprising given a recent study showing a 94% acceptance rate of these pacifiers among babies. That's huge, and matches our experience. These are an orthodontic pacifier, which means that the nipple shape is designed to conform to your baby's mouth instead of pushing up against their upper and lower gums. The nipple also has an anti-slip "SkinSoft" surface to make it more comfortable in the mouth (more like skin) and make it less likely to pop out of the mouth unintentionally. The silicone is super soft, BPA-free, and is odorless and tasteless, even before boiling it. We loved these pacifiers and found them durable and reliable after several washes and boilings, and hours of suckling! Some other things we liked were how there is no up-side or down-side, so there's no risk of putting the pacifier in upside-down which is a risk with many other orthodontic pacifiers. We also liked the sterilizer case they come in: simply put some water in it and pop it in the microwave for 3 minutes - and voila, you have a sterile pacifier! Who else loves MAM pacifiers? They are also recommended by our friends at Babylist and Babygearlab! Interested? You can check out the MAM Orthodontic Pacifiers here.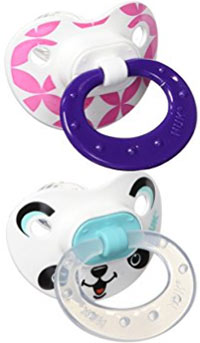 NUK and MAM make some of the best baby bottles on the market, and they are very competitive in the pacifier space as well. These NUK pacifiers have an interesting design for sensitive skin - rather than removing the majority of the shield, they left the shield but put grooves on the inside extending from the holes downward, so air can travel in and move along the cheeks. It's an innovative design that seems to help reduce irritation and rashes. There are a few differences between these and the MAM. First, the orthodontic silicone nipple is directional, meaning that there is a right-side-up for the pacifier. Second, the nipple is really awesome - it has channels on the top for up against the palate (roof of the mouth), and a contoured design that allows the tongue to move along the bottom of the nipple very nicely (they call this a "scooped" nipple cavity). The nipple is shaped just like the popular NUK bottles, which means that there's less likelihood for confusion or rejection when switching between the pacifier and bottle. The shape of the shield is a bit heart-shaped, which helps parents realize which side is up and which is down, but also is comfy against the lips and cheeks. They are really great pacifiers, and are also pretty cheap - usually under $2 each. There are only minor down-falls relative to the MAM. First, they are directional, which means that your baby might pull it out and put it back in upside-down, defeating the purpose of the orthodontic nipple. We forgive them for that, given how great the orthodontic shape is. Second, it doesn't come with a sterilizing container like the MAM (check out our full list of the best baby bottle and pacifier sterilizers of the year!), and the shields aren't as good at preventing irritation around the mouth. We're being picky here! Interested? You can check out the NUK Orthodontic Pacifiers here.
---
Conclusions
Are Pacifiers Bad for a Baby?
Most of the concerns about pacifier use aren't based on facts. First, for healthy babies that are born at term (not prematurely) there is no relationship between pacifier use and breastfeeding (see the research here), so there is no evidence that it will reduce breastfeeding frequency or quality in otherwise healthy babies. Second, while some parents are concerned about the slight increase in ear infection risk, the Mayo Clinic states that lowering the risk of SIDS is much more important than a very small increase in the rate of ear infections that occurs in babies older than 6 months.
We do know, however, that prolonged use of pacifiers beyond 18-24 months, especially non-orthodontic pacifiers, can cause some misalignment of the teeth (see the research here).
Should Babies Use Pacifiers?
That's really your call as a parent. If you want the benefits of a pacifier but are worried about over-dependence or anything else, then here's what we suggest. First, you don't need to worry about negative impacts of pacifier use from 0-6 months of age. According to the research, there are only benefits of pacifier use at this age. From 6 to 12 months, there is a slight increase in the risk of ear infections, and after 18 months there is a risk of misaligned teeth. If you choose to use a pacifier, here's our advice:
From 0-6 months: Our advice is to begin with a newborn pacifier that best resembles the shape and feel of mom's nipple. We list those pacifiers first in our list. If you are only bottle-feeding, then we suggest using a pacifier shape that matches your baby bottles. The Dr. Brown's bottles and pacifiers are a great example of that. Getting a pacifier that closely matches the shape of your primary feeding method (nipple or bottle) will reduce any difficulty switching between a pacifier and feeding. If you're breast pumping and bottle-feeding, this also applies to you!
From 6-12 months: This is the time frame when there is a slight increase in the risk of ear infections with pacifier use. If possible, this would be a good time to transition away from the pacifier, if that suits your baby and your lifestyle. If not, this time frame is when we suggest switching to an orthodontic pacifier.
From 12-36 months: If your toddler is still clinging to their pacifier and you're going to let them continue, we suggest trying to limit access and using only an orthodontic pacifier. With our babies, during the second year we transitioned away from a pacifier to something else baby could chew and suck on while relaxing or falling asleep. We used the Mombella Ellie Elephant Teether, which was an amazing little tool for transitioning away from the pacifier. Be sure to also check out our reviews of the best teething toys, and best baby toothbrushes and toothpastes!
You are here:  

The Best Newborn & Infant Pacifiers of 2022
Related Articles to Check Out!