Best Inexpensive Baby Carriers of 2023
Achieve comfort and affordability with one of these top-rated baby carriers.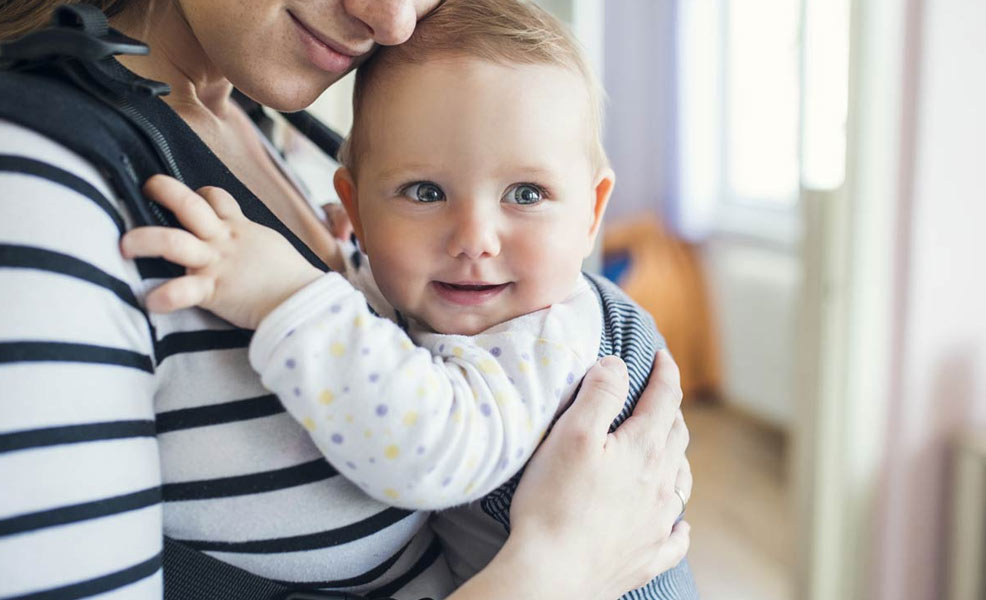 ---
Mommyhood101 independently tests and curates baby gear to help you make informed decisions. If you buy products through links on our site, we may earn a commission.
Are the best baby carriers not fitting your baby-wearing budget? We have good news: you can get an awesome baby carrier for only about 50 to 75 bucks!
We have been testing baby carriers for over 10 years, and have tried most of the carriers currently available on the market. Some of them are as cheap as about 20 bucks, whereas others cost upwards of $300!
Just for fun, what does ChatGPT-4 think is the best budget baby carrier!?
"After conducting market research and analyzing expert and parent reviews, the Infantino Flip 4-in-1 Convertible Carrier is the best overall for comfort, versatility, ease of use, and affordability." -ChatGPT-4
Our robot overlords have spoken, and they're exactly right!
We've been reviewing inexpensive baby carriers for over 10 years, and if we made our own, here is what it would look like:
✔️ Weight limit 30 pounds or more.
✔️ At least 3 ways to carry.
✔️ Adjustable straps.
✔️ Adjustable waistband.
✔️ Fits petite or plus-sized.
✔️ Adjustable head support.
✔️ Padded shoulder straps.
✔️ Ergonomic M seat position.
✔️ Greenguard GOLD certified.
✔️ Non-toxic fabrics & dyes.
✔️ Machine washable.
✔️ Comfortable to wear.
✔️ Lightweight but durable.
✔️ High-quality buckles.
✔️ Easy to put on and take off.
✔️ Removable bib.
Of course, you will also want the carrier to fit your style (color, patterns) preferences and meet your budget constraints. That's a lot to ask, and very few budget baby carriers meet the needs of picky parents!
Each year we update this list with the best baby carriers that won't break the bank, trying to keep the cost under about $75 for a fully-featured carrier.
Here are the top five budget baby carriers we found, followed by our full reviews.
Picking the perfect baby carrier can be challenging, especially when you have a tight budget!
Well, we did the work for you and found some excellent options for you budget-savvy mamas!
Full disclosure: Some of these baby carriers, including the Evenflo and Infantino models, were sent to us as free test samples by the manufacturer.
Are the best baby carriers not fitting your baby-wearing budget? We have good news - you can get an awesome baby carrier for about 50 bucks!
We've been testing baby carriers for over 10 years, including options from trusted brands like BabyBjorn, ErgoBaby, and Boba, and popular emerging brands like Beco, Baby Tula, and Onya. Our testing evaluates the ease of use, safety, comfort (for baby and parent!), versatility, breathability, and long-term reliability.
Here are the Best Budget Baby Carriers of 2023!
Relatively inexpensive carriers tend not to have the quality, features, or versatility to be ranked among the premium carriers, but they are definitely worth considering if you're looking to save some cash!
Note that if you're looking to save even more money, take a look at our annual list of the best baby wraps.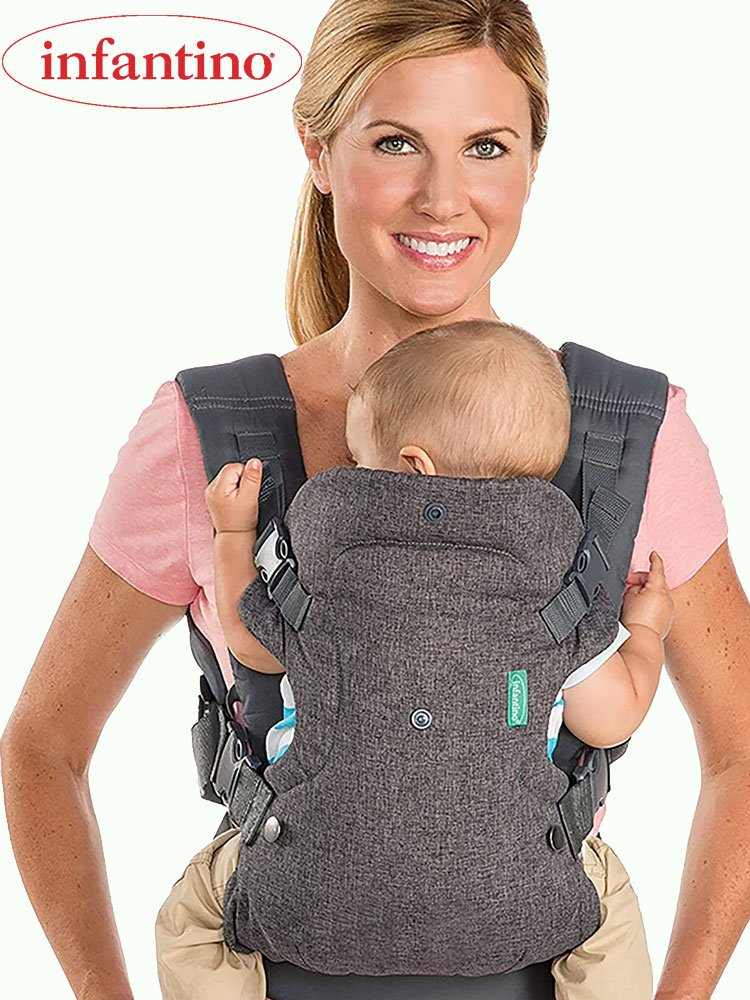 Style, versatility, quality, and a fantastic price? Get us two of them! The Infantino Flip 4-in-1 baby carrier is an excellent inexpensive baby carrier with some great features and simple but trendy styling. Supporting babies from 8 up to 32 pounds, this baby carrier can be worn in 4 ways: front carry parent-facing for infants with the seat flaps buttoned back to support a narrow baby, front carry parent-facing with a wider seat for older babies (using the seat flaps), front carry facing-out for babies with head/neck control, and back carry parent-facing for older babies. Technically, it supports facing-in and facing-out as a front carrier and can be used as a backpack baby carrier. For about $35 that's excellent versatility. It achieves a wider baby weight range by having an adjustable seat width by opening or closing two thigh flaps on each side of the bum and having adjustable leg and chest openings. For the parents, it also includes an adjustable waist belt and shoulder straps, keeping things more comfortable and supportive for various body types (speaking of which, the waist belt adjusts from 24-47"). While the Infantino Flip can fit skinnier moms, it also does a great job for plus-sized moms and dads up to about 250 pounds.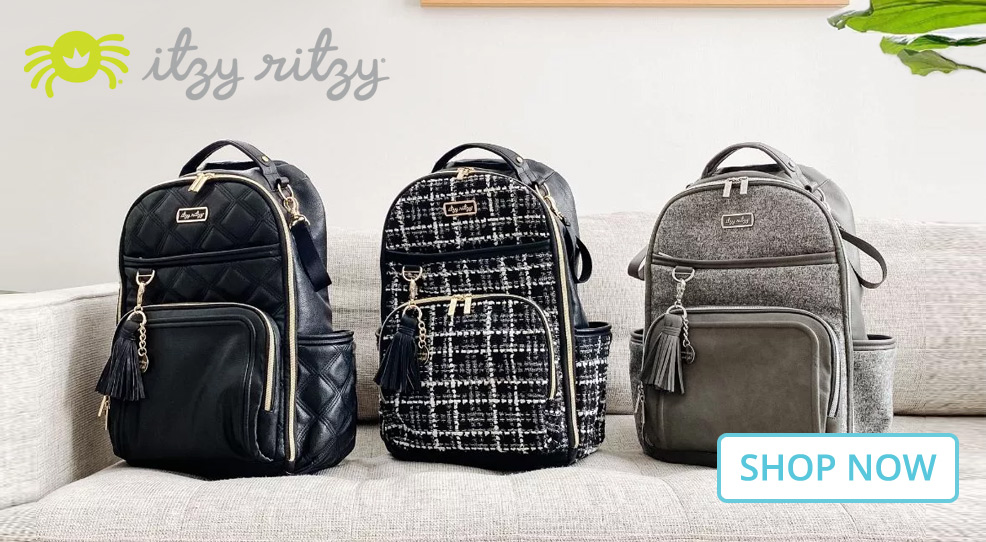 In our testing, we found the carrier to be very lightweight, breathable, and generally reliable with moderate-quality buckles and adjustments. We loved that you can throw the entire baby carrier into the washing machine, and it didn't shrink or become deformed. The shoulder straps were decent - not nearly as nice or comfortable as you find with the more expensive best baby carriers, but reasonably padded. Carrying a baby over 15 pounds for a couple of hours and you will probably find yourself in some back and shoulder pain, unlike with some of the more premium carriers. The Infantino Flip Advanced baby carrier does include a drool pad with a velcro attachment, which we found of limited value: it works best for front carry outward-facing but also tends to fall off and can be easily removed by a baby. It's a decent idea but not well executed. A few limitations, but did we mention how cheap this baby carrier is!? Needless to say, we're impressed by the bang for the buck! Who else thinks the Infantino Flip is a great budget baby carrier? Our friends at Babylist, Babygearlab, and WhatToExpect. Impressed? You can check out the Infantino Flip here!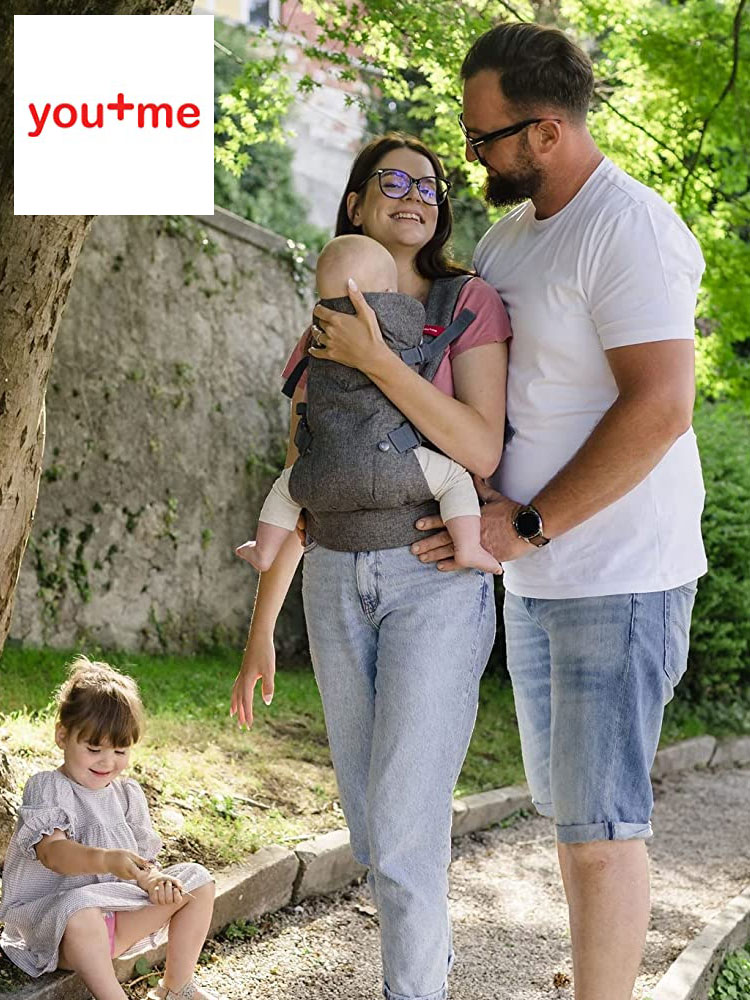 This is a great back-to-basics soft-structured baby carrier with some great versatility, especially given the price point of only about $30! There are 4 carry options: front-carry facing in (regular newborn and wide-seat for toddlers), front-carry facing out (6+ months), and back-carry facing the parent (regular newborn and wide-seat for toddlers). Similar to most others on this list, You+ME achieves the 4-in-1 designation by changing the width of the seat, allowing for a comfortable transition from newborn to infant. This baby carrier supports newborns as small as 8 pounds, and bigger kids up to 32 pounds, has a breathable 3D cool mesh inner lining that helps with airflow, an adjustable (fold-down) headrest, a bandana drool bib, and great adjustability to suit differently-shaped parents.
The You+ME baby carrier is machine washable in cold or warm water, and we recommend hanging it to dry. In our testing we found it to be comfortable and versatile, the shoulder straps to be sufficiently padded, and the shoulder and waist straps to be sufficiently adjustable for plus-sized (or otherwise big or tall) parents. The carrier area itself is relatively small and most suitable for taller and thinner babies; we think 8-22 pounds is the ideal range for this carrier. With chunky babies who have thicker thighs, the carrier's leg holes can get a bit uncomfortable. Outside of that, we found the shoulder straps to be comfortable for longer journeys, the 3D mesh airflow to work well in the warmer months, and all of the buckles and straps to be secure and reasonable quality. For an inexpensive baby carrier around $30, we think the You+ME carrier is an excellent option with surprisingly good versatility, comfort, and quality. Interested? You can check out the You+ME ergonomic baby carrier here!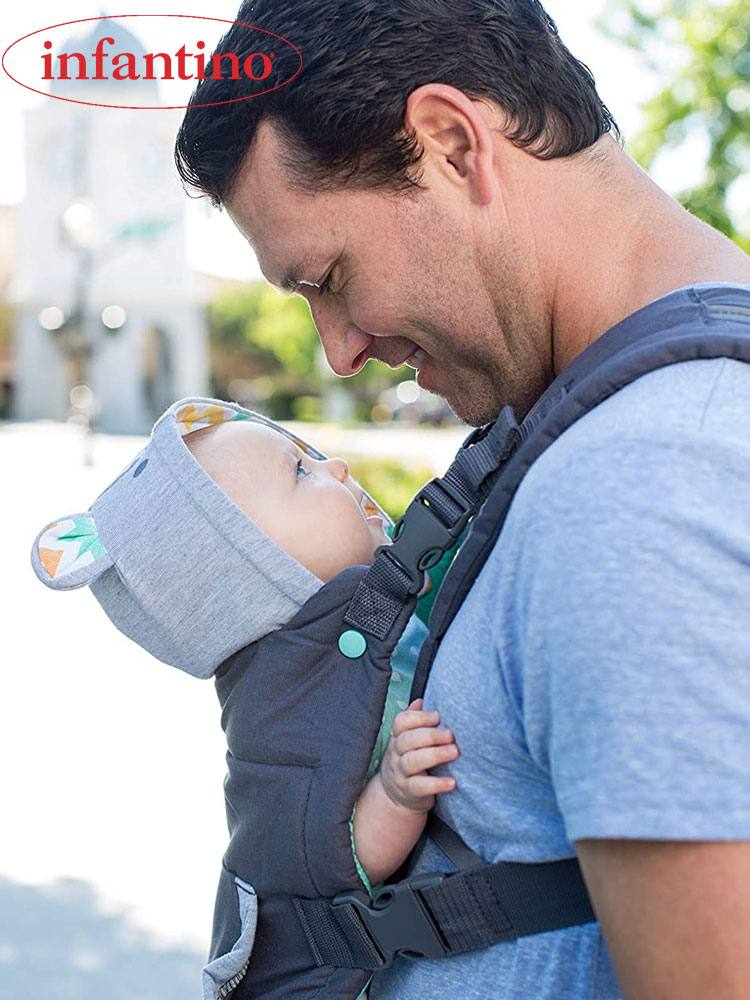 Infantino makes a wide range of baby products and several varieties of baby carriers. They have over a dozen baby carrier options, some of which are difficult to tell apart from others, and some are not really worth considering. We will say that we're impressed by the pricing and features of the Infantino line, with an overall reliable and secure set of carriers at great prices. As with all the others on this list under $50, it has a limited weight range, versatility, and comfort. The Cuddle Up is included in this list for a few reasons. First of all, it is adorable, with a cute bear hood cover that goes on like a soft hoodie cap and has cute little ears. When it's off, it has a cute colored chevron pattern on the fuzzy inside. It's the only carrier on this list that has a hood that can actually keep your baby's head a little warm in the fall. Second and continuing the hoodie theme, it also includes a front pocket just like your favorite hoodie, though we point out that things can fall out of it at times, particularly when taking the baby in/out or taking the carrier off. Third, we found the pads to be reasonably supportive and the adjustments were sufficient. Not too much back or shoulder pain. Carry positions are relatively limited, only supporting two: front carry parent-facing, or back carry parent-facing. It also only supports from 12 to 40 pounds, which is limited for infants under a few months old, though it's not surprising at this price point! Usually about $40 online. Click the above image to see more details.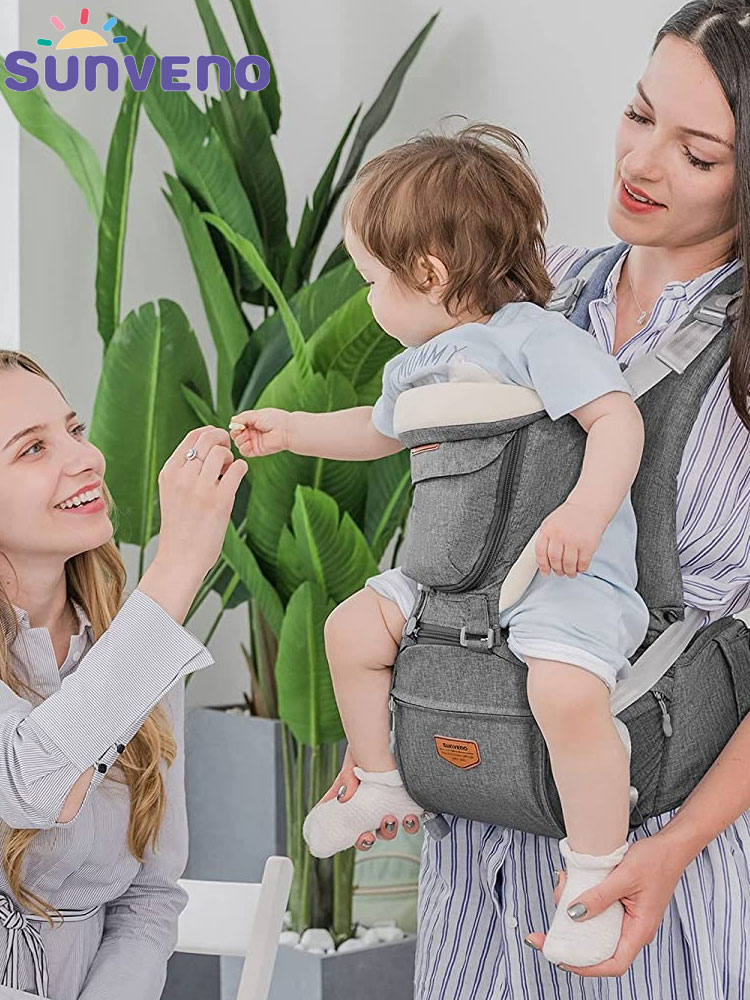 This is a new release this year, and we were excited to get our hands on yet another cheap baby carrier that offers some great versatility with the added bonus of a convenient and comfortable hip seat. The hip seat is primarily used early on in your baby's life, from newborn to about 6 months of age when parents will benefit from getting a little bit of their weight off while being held in a cradle hold or parent-facing against the chest. The hip seat is great for this and can be used with or without shoulder straps. The shoulder straps help a ton to prevent the hip seat from sagging under the weight of your baby, and we are happy to report that the straps are actually pretty comfortable and can be used in the typical H configuration or an X cross-strap configuration. But the Sunveno is way more than just a hip seat! It offers support for newborns up to about 36 months of age (or about 35 pounds), and can be used in front carry as either parent-facing or outward-facing. And it has an impressive set of features for this price point, including a hood to block the sun or wind, a front zippered storage pocket, a side zippered storage pocket, and a little bottle pocket (not insulated) on the other side. The front area has a panel that can be unzipped to reveal some mesh for higher breathability. There are also some convenient Velcro-attached drool shields or bibs that can be attached to the upper edge (when outward-facing) or the shoulder straps (when inward-facing).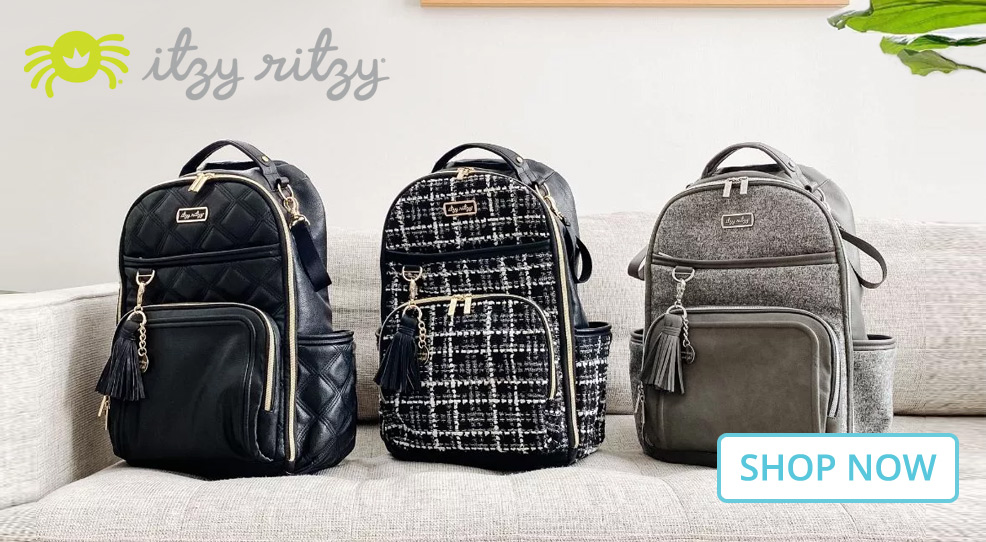 In our testing, we were impressed with the feature set and versatility for the price. It wasn't especially comfortable and could benefit from a taller waist belt, wider shoulder straps, and lumbar support. Also, it cannot be used as a backpack carrier, taller babies will quickly out-grow its relatively limited height, and its relatively short waist strap is not a great option as a baby carrier for plus-sized parents. Overall, this is a decent option. Definitely worth checking out if you're looking for a versatile hip seat that won't break the bank! Tends to go for about $50 online. Interested? You can check out the Sunveno hip seat baby carrier here.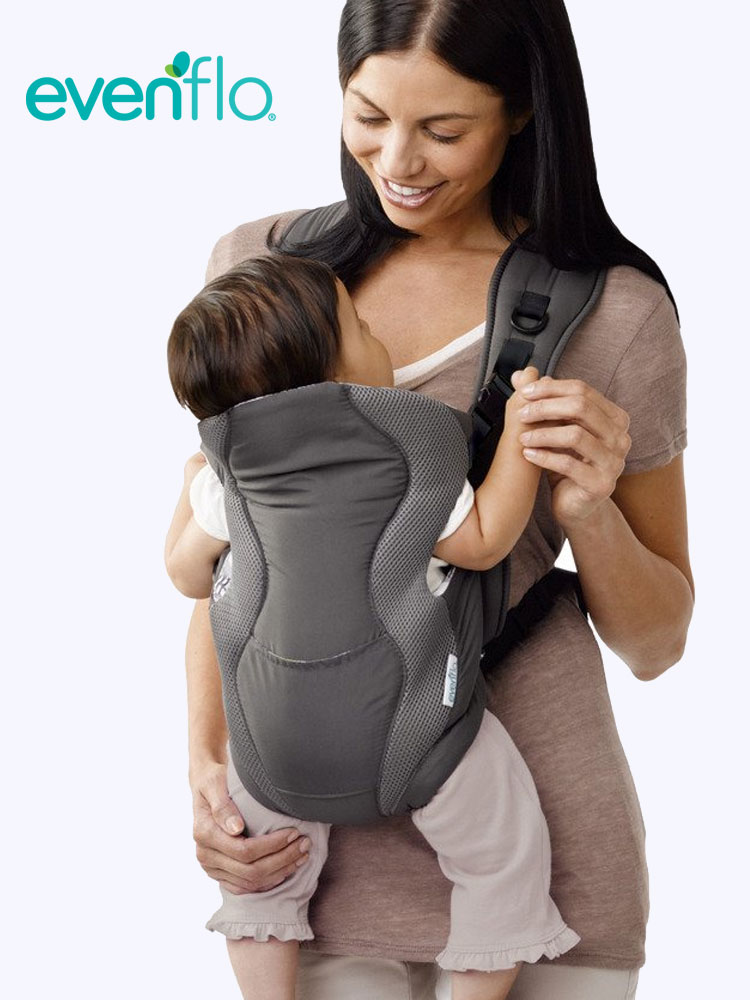 One of the least expensive baby carriers on the market, this breathable Evenflo carrier packs some great bang for the (very little) buck! Coming in at less than $20, this baby carrier is available in the grey chevron pattern (pictured to the right), a grey and neon yellow pattern, and a black and neon pink color. We only tested the grey chevron version, and we were impressed by the simplicity, fabric quality, versatility, and comfort. Out of the box, the fabric feels reasonably soft but also durable, and the buckles and adjustments feel of decent quality. The entire thing is very lightweight, and the shoulder strap padding is surprisingly thick and soft. It includes a removable drool bib and a little instruction manual to help you figure out fit and configurations. Speaking of configurations, it can be used inward-facing and outward-facing, and with or without the fold-down neck support pad (depending on the baby's age and configuration). It supports babies as small as 7 pounds and as large as 26 pounds. Your baby's back or tummy is up against mesh fabric that provides a bit of breathability for warmer months. Putting the carrier on was simple, and we appreciated the cross-strap configuration of the shoulder straps, which tends to be much more comfortable than vertical straps. The cross-straps use a clever set of slits that allow it to adjust automatically to you when you tighten or loosen the bottom strap adjustments. It's overall pretty comfortable and we tested it with an 8-week-old baby facing in and a 6-month-old baby facing out. It's surprisingly large and is a good baby carrier for plus-size moms or dads given its range of adjustments. Everything worked perfectly well, but it's overall pretty minimalistic. It's missing many of the features of the pricier carriers, such as a more ergonomic position for your baby's legs and hips, a zip-down panel for airflow and temperature control, a hood, storage pockets, adjustable bottom width to accommodate a growing baby or a back-carry option. But for less than 20 bucks, you're getting a reliable, reasonably comfortable, and decently versatile (in terms of weight range and carry positions) baby carrier. Interested? You can check out the Evenflo Breathable Soft Baby Carriers here!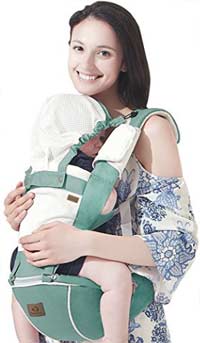 This is an awesome hip-seat option, one of only a few hip-seat carriers on our list. This one is super versatile, with 6 different carrying positions. It can be used in the front carry position, for inward or outward facing (3-36 months), on your back forward facing ("backpack position"), and as a versatile hip or front seat. So without the hip seat it's a pretty typical carrier: you can use it as early as 3 months, and it supports babies up to 44 pounds. It has tons of awesome little pockets for cell phones, pacifiers, and keys, and a ton of adjustments to make it fit virtually any mom shape and size. We loved the number and range of all the adjustment straps! It also has a nice breathable hood that attaches using little loops, so there is no loud snap or clip that might disturb your sleeping baby. They also did a nice job with the softness of the fabrics, nice wide and padded shoulder straps and hip belts, and overall decent fit and finish. It is a big carrier, and we thought that it would be most appropriate for babies over about 4-5 months unless you have a larger baby. Otherwise, it's a bit roomy.
The hip-seat aspect is nice. When worn like a typical carrier, it does a nice job of putting most of the baby's weight on your waist rather than back and shoulders. It can also be worn independently of the rest of the carrier. This is great for very little babies, for resting their bum or side on the hip seat, for instance, while nursing, or rocking to sleep. It's also great when they get a bit bigger and can hop onto the hip seat and use their arms to hold on - this is great for toddlers and older. Overall, we really liked this carrier. The only drawback is really the large carrier size that doesn't accommodate smaller babies. There's also the fact that it's a Chinese company and made in China, which makes the descriptions and instructions a bit difficult to digest. Overall, this is a great carrier, especially for the price. Usually around $75. Interested? You can check out the Bebamour Baby Carrier here!
---
Conclusions
Why Baby Carriers are Important, and Our Review Process
For full details about how to choose a baby carrier, check out our new baby carrier buying guide!
Babies love being held close to mom or dad, feeling the warm comfort of their chest and the gentle rhythm of their breathing and heartbeat. But unless you're Ronda Rousey or Mark Wahlberg, your arms and shoulders are going to get very tired from lugging around a growing baby all day. That's where baby wraps and slings and soft-structured baby carriers come in!
Each year, there are dozens of new entrants into the baby carrier market, making it challenging to make an informed decision about which ones are best for you and your baby.
Soft-structured carriers are the most popular and versatile baby carrier option and come in many different shapes, sizes, prices, and quality levels. Most can be strapped on your front or back to carry the baby parent-facing or outward-facing, and are well-tested for safety and durability.
Rather than a wrap, soft structured carriers have an intrinsic padded structure that gives the baby reliable support, minimizing the risk of your baby wiggling into odd positions like you sometimes see with a wrap or sling. Not quite as customizable as the wrap carriers, and not quite as convenient to pack away for travel, but definitely a more user-friendly option without the major learning curve associated with learning how to wrap a baby.
What to Look for in a Baby Carrier
Baby Carrier Ergonomics
To ensure proper hip and back development, the ergonomics of a baby carrier are very important. There are a few things to look for here. First, for the first few months, you want your newborn infant to adopt the C spinal alignment, which means there is a nice curvature to your baby's back, with legs tucked up. This is called the "fetal tuck" position, and it reduces pressure on the spine and hips, promoting calmness and easier digestion.
Second, you want your infant's (3+ months) baby's buttocks and hamstrings to be supported, putting the baby into a "frog leg" or W-position. In other words, you never want the legs to be dangling down below the carrier (just from the calves down), and this is true for at least the first couple of years of life. In contrast, you also don't want just the feet sticking out of the sides.
When testing out the carriers, we looked for the fetal tuck for newborns, and a maintained frog leg position for infants, toddlers, and bigger kids. Of course, we also need to think about ergonomics for mom and dad, not just for the baby. As your baby gets heavier, you will realize that ergonomics will become increasingly important to maintain back, shoulder, neck, and hip comfort.
The best baby carriers have crisscrossing shoulder straps that serve to evenly distribute weight on your body and prevent the straps from falling off your shoulders. They also have a tall waist belt that effectively transfers weight from your shoulders to your hips. Most premium carriers are great examples of this. This is essential for wearing the baby on your front, or on the rear as a baby backpack.
Note that one common issue is compatibility between diaper bags and baby carriers: when you're baby-wearing, it's cumbersome to also carry a diaper bag. Some of the best carriers have storage pockets that can fit some baby essentials, like a diaper and wipes, a pacifier, and maybe some other small baby gear items. In those cases, you can leave your diaper bag at home or in your vehicle.
Baby Carrier Versatility
Gone are the days when a baby carrier can only support a single carrying position. You no longer need separate infant, toddler, big kid, and hiking (backpack) carriers. Nowadays, if you invest in a carrier for newborns, it will be versatile enough to support multiple carrying positions as the baby grows into a toddler and beyond.
At the low end, some carriers have 2 positions, usually front-carry parent-facing and outward-facing. At the high end, carriers have six positions, including front-carry parent-facing newborn (fetal tuck), front-carry parent-facing infant (legs out), front-carry and outward-facing toddler, hip sling, and back carrier (like a hiking carrier). The best ones tend to be more versatile and last from newborn (about 7+ pounds) until about 4 years old (about 45 pounds), but they also tend to be the most expensive ones.
Baby Carrier Safety & Reliability
Safety is of critical importance when evaluating a baby carrier, and there are a lot of factors to consider here. How is the stitching along the important seams, and where do the buckles and zippers attach? What is the quality of the zippers? What is the quality of the clips, fasteners, adjustment slides and loops, and Velcro? How do these components stand the test of time, with repeated wearing and adjustment?
Some carriers use lower-quality fasteners, zippers, fabrics, and stitching, and don't do well with repeated wearing. The last thing you want is a malfunction of a weight-bearing component. Safety also considers the baby's position, the breathability of the fabric, and the appropriate head and neck support. Our reviews consider short-term hands-on use, and reviews from long-term use, pulling together a wide range of data regarding these safety considerations.
Note that we do not include any ring sling-style carriers on our list, given the safety concerns with these carriers. Specifically, while ring slings can be very comfortable and safe when used correctly (and with the appropriate baby ages and sizes), there have been some cases of misuse and negligence. That doesn't mean that you can't use a ring sling, just that you need to be more careful. Here's a good article from Mayo Clinic summarizing that point.
Baby Carrier Ease of Use
Some carriers look great, feel great, and are super comfortable and reliable, but are a total pain in the butt to put on, take off, or adjust. Carriers have come a long way in terms of convenience and ease of use, but some are still quite poor in this regard. Our best baby carriers list carefully considers the ease of donning, doffing, and adjusting the carrier.
Baby Carrier Comfort & Breathability
After ergonomics are considered and you are certain the baby is in a proper position for safe carrying, comfort is a determining factor as to whether the baby will stay content during an extended journey. The padding needs to be in all the right places: along the back contour, where arms and legs meet open air, on the bum, and wherever a body part might come in contact with a fastening or adjustment component. Less padding around the head and face to ensure breathability and high airflow where it matters. Many premium baby carriers have a zip-open front panel that reveals high airflow mesh fabric that can help keep your baby cool during the warmer months. We love these!
Baby Carrier Cost
Carriers vary widely in pricing, from as low as about $25, to upwards of $250 for the higher quality and more versatile ones with all the bells and whistles. Because our list values versatility, reliability, comfort, safety, etc, it also tends to include some of the more expensive carriers, with a lower price range of around $100, up to around $200. We do provide some limited reviews of lower-cost (and limited feature) options toward the end of this article. Some of these less expensive options have some great features and can make a really great baby registry gift.