The Best Budget Infant Car Seats of 2023
These affordable infant car seats are safe and sound without breaking the bank.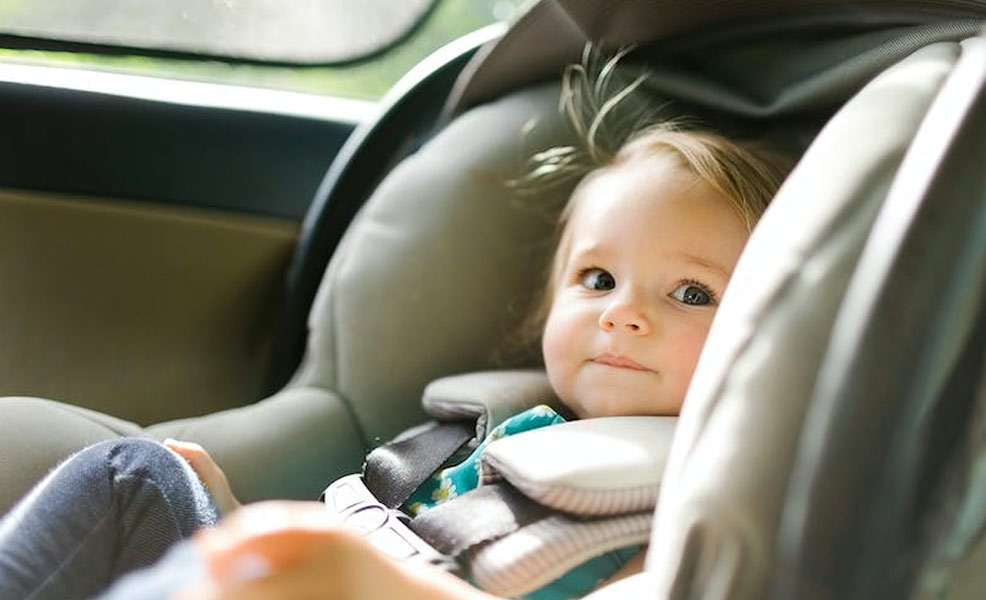 ---
Mommyhood101 independently tests and curates baby gear to help you make informed decisions. If you buy products through links on our site, we may earn a commission.
Finding it hard to justify spending upwards of $200-300 on one of the best infant car seats of the year?
The good news is that there are several great car seats for under about $125 to $150, without totally compromising on features or safety for your little one.
Just for fun, what does ChatGPT-4 think is the best inexpensive infant car seat!?
"Based on my analysis, the Evenflo LiteMax 35 Ifant Car Seat offers exceptional safety features, including a rollover-tested design and energy-absorbing foam. Customers have also noted its comfortable seat, machine-washable cover, easy installation, and lightweight design." -ChatGPT-4
Our robot overlords have spoken, and they actually made a good suggestion!
Fortunately, we've been reviewing inexpensive infant car seats for over 10 years, and if we made our own, here is what it would look like:
✔️ 35-pound weight limit.
✔️ 35-inch height limit.
✔️ Lightweight, under 10 pounds.
✔️ Newborn support (4+ pounds).
✔️ Soft & comfy seating area.
✔️ No-rethread harness.
✔️ Side-impact protection.
✔️ Anti-rebound bar.
✔️ LATCH-equipped base.
✔️ Adjustable incline.
✔️ Large canopy.
✔️ Intuitive installation.
✔️ Machine washable cover.
✔️ FAA certified for air travel.
✔️ Adjustable headrest.
Of course, you will also want the car seat to fit your style (color, patterns) preferences and meet your budget constraints. That's a lot to ask, and very few car seats under $125-150 meet the needs of picky parents!
The top 5 inexpensive infant car seats are below, followed by our in-depth reviews.
We've been testing car seats for over 10 years, looking for the perfect balance of safety, comfort, features, versatility and price. While most of the below car seats do not make it onto our list of the best infant car seats, they provide impressive capabilities at a relatively inexpensive price.
Note that if you're looking to save even more money, check out the best inexpensive convertible car seats, which help you avoid purchasing yet another car seat when you're ready to transition to forward-facing.
In our hands-on reviews, we considered Safety, Ease of Use, Versatility, Comfort, Reliability, and of course, Cost. For more details on how we used these factors to find the best budget infant car seats of the year, scroll down to the bottom of this page.
Update: Note that this list used to only include car seats under about $100. This is the third year, however, that due to inflation we've had to increase our maximum budget to about $150. Still much cheaper than the full-featured infant car seats, but certainly pricier than they used to be!
Full disclosure: Some of these car seats, including the Baby Trend and Evenflo models, were sent to us as free test samples by the manufacturer.
Here are the Best Cheap Infant Car Seats of 2023!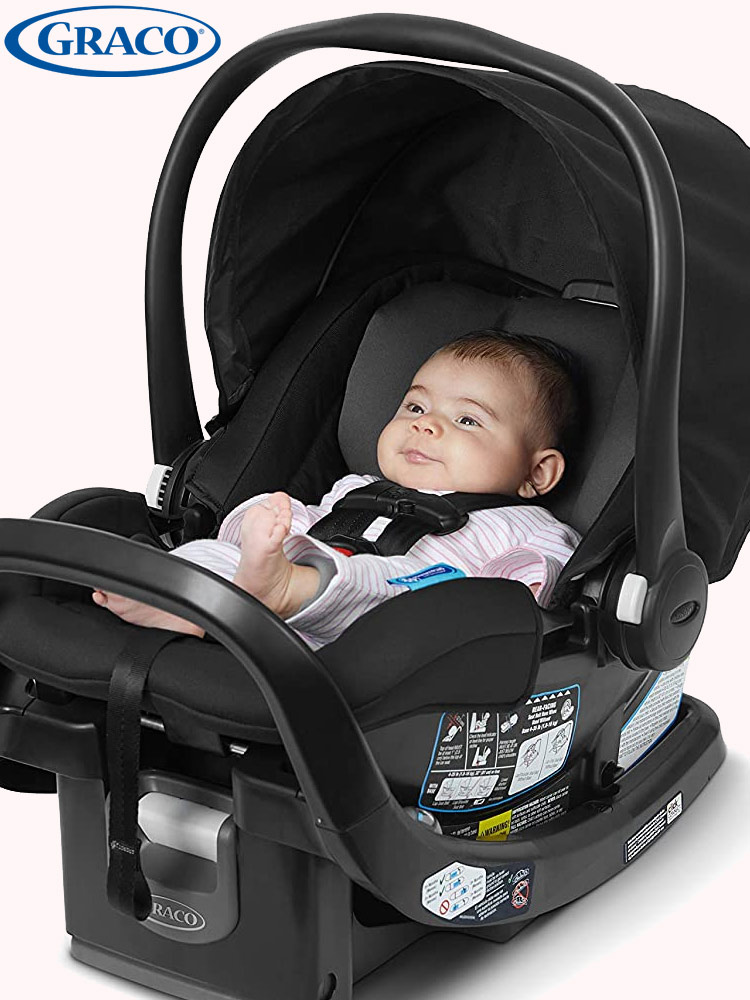 The Graco SnugRide line includes versions with a 30-pound or 35-pound weight limit, called the SnugRide 30 and 35, respectively. Recently, some SnugRide 35 models have lowered their price to under about $125-150, such as this awesome SnugFit 35 infant car seat. For this price, you are getting an impressive set of specifications and features. For specifications, this infant car seat can support newborns as small as 4 pounds and toddlers up to 35 pounds (or 35" tall, whichever comes first). The seat itself weighs under 9 pounds. For features, SnugFit 35 includes several convenience and safety features you may not expect in a car seat at this price: a no-rethread harness, infant head and body cushions, harness pads, anti-rebound bar and LATCH-equipped base (with adjustable incline), a large canopy, and impressive side impact protection. That is a very impressive set of features for any car seat, nevermind one at this low price!
For more information about these car seats, see our Graco Snugride comparison tables! In our testing, we loved the SnugRide SnugFit 35! Installation was easy with the included LATCH system, the adjustable base incline to accommodate varied back seats, the pendulum-style level indicator, and the no-rethread adjustable harness. The most important safety features of any car seat are proper installation and use; and Graco makes those a breeze! We were able to get two infants, one 2 months and one 7 months, positioned very comfortably and safely in this car seat. The canopy was very quiet and provided decent coverage, the handlebar was easy to adjust (requires two hands), and the anti-rebound bar and side impact protection made us feel confident that our little one was safe and sound. Graco infant car seats, including this one, clicks very easily into most Graco strollers, including the popular Modes models. Cons? The canopy could be larger, and we prefer quick-connect LATCH adapters to the traditional hook style. Of course, you'd need to pay substantially more for those features. Overall, it's no surprise that the SnugRide is the all-time most popular and best-selling line of infant car seats, with its superior quality and surprising bang for the buck. Interested? You can check out the Graco SnugRide SnugFit 35 infant car seat here.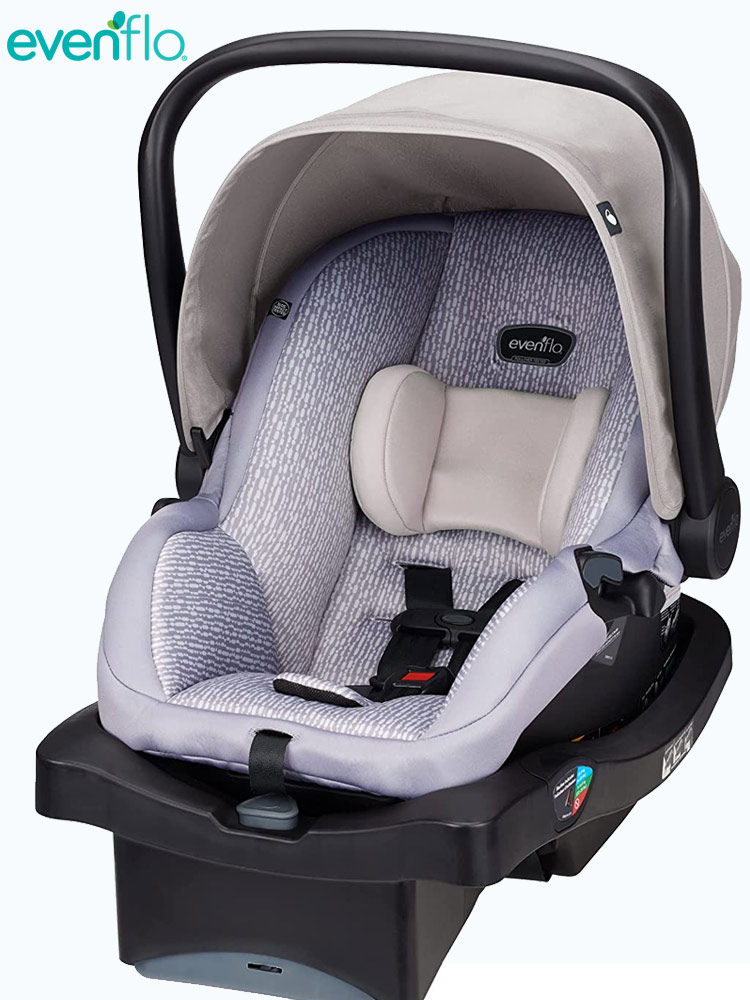 Similar to its predecessor Evenflo Embrace LX, the Evenflo LiteMax 35 infant car seat is an awesome option, with some great features and an even better price. First and foremost, this seat is rated for babies from 4 pounds (using the infant head rest, which is included) all the way up to 35 pounds, and 17-32 inches long! That's an awesome weight and length range for a car seat under 130 bucks! Second, it's really lightweight when taken off the base, around 8 lbs. Getting it into and out of the base was pretty smooth and easy, without any issues. Like the Graco, the shoulder straps can be loosened and tightened using an up-front strap, though it's not as conveniently positioned as with the Graco: it's a bit too far forward, sometimes causing it to be trapped between the car seat and vehicle's seat. There are four shoulder strap positions to adjust for a growing baby, but they require re-threading from the back of the seat.
We also love this car seat's safety features: it structurally withstands 2-times the federal crash test standard energy (impact) levels, and, in addition to meeting or exceeding all federal side impact standards, was built to withstand a rollover crash. The base has four reclining positions, increasing the likelihood that your baby will be safe and comfortable during long car rides. It also includes belt pockets that store the seat belt buckles when the seat is unoccupied, to prevent them from getting too hot in the sun. While we liked the concept, they don't work very well - we found that either the buckles weren't all the way into the pockets, or they would simply fall out. Let's talk about some of the other cons, especially relative to the Graco. First, the canopy doesn't do quite as good of a job covering your baby from the elements. Second, the fabric is easy to clean and machine washable, but it's not very breathable, which we didn't appreciate. That being said, this is a great car seat option, especially if you're looking for something that's lightweight, safe, and inexpensive, and does a pretty darn good job for the money! Interested? You can check out the Evenflo LiteMax 35 here.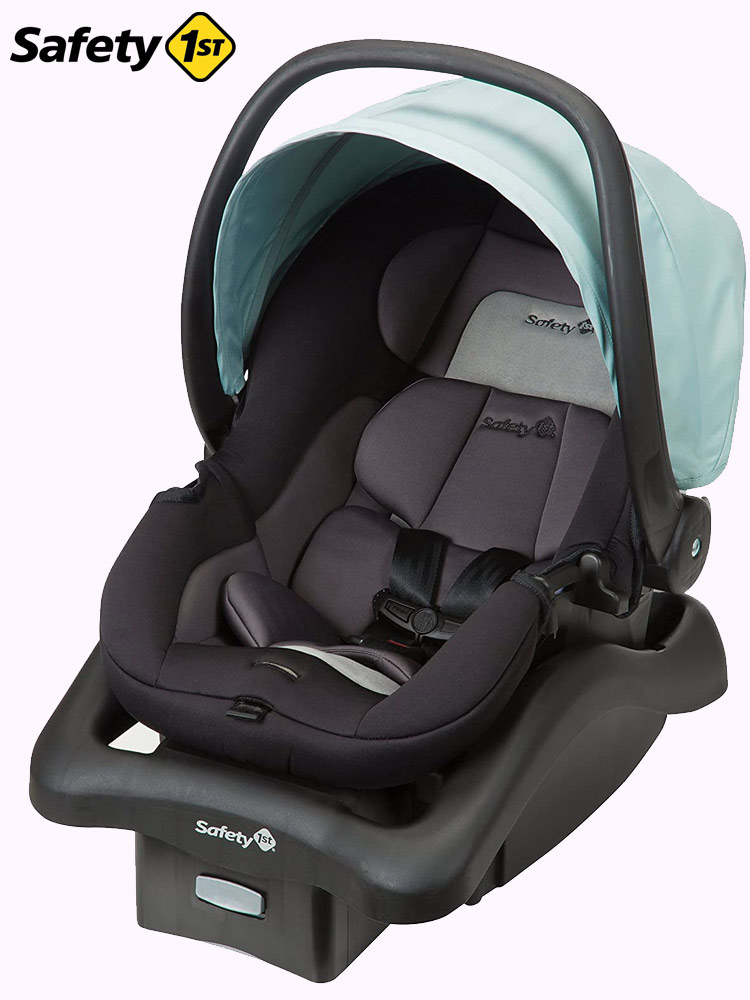 This is another truly awesome car seat for under $150, with some great safety and convenience features, versatility, and comfort. For basic specs, this car seat fits newborns as little as 4 pounds with the included infant insert, and toddlers as heavy as 35 pounds (or as tall as 32"), matching the Evenflo. It includes a base that installs using the LATCH system or vehicle's seat belts, or it can be installed without the base using European belt path. The harness height adjusts between 4 positions with rethreading from the back, and the crotch buckle between 3 positions. Speaking of adjustments, there is a 2-position adjustable recline foot on the base, and we found the harness length easy to adjust. Installing the car seat was easy enough: it uses a level on the side to help get the recline correct for different ages (4-11 pounds versus 11-35 pounds) and vehicles, and the traditional hook-style LATCH connectors were easy enough to use.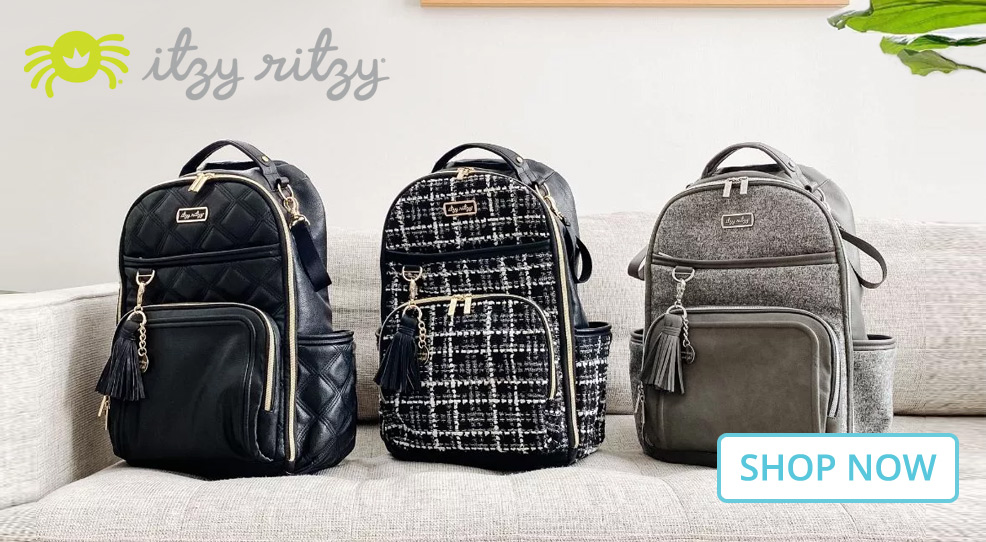 The narrow front recline foot made the seat a little more tippy than we'd like when installed, even after putting a lot of tightening pressure on it. The seat itself was impressively comfortable and soft for this price range, and we liked the infant insert and soft side impact padding. The handlebar was easy to adjust and comfortable enough, and the canopy was decent though certainly smaller than some other options. The car seat attaches to QuickClick strollers, is only about 7 pounds without the base, and it's ready for air travel with its FAA certification. The manual says not to machine wash or dry the seat cover, so we didn't risk it, but it was generally easy to wipe down. One additional quirk worth mentioning is that the lower buckle is pretty big and rubs up uncomfortably on thicker baby thighs. Overall, we think this is a pretty impressive option for under $150, with only a few drawbacks related to getting a secure installation and a potentially uncomfortable crotch buckle. Interested? You can check out the Safety 1st Onboard 35 Infant Car Seat here.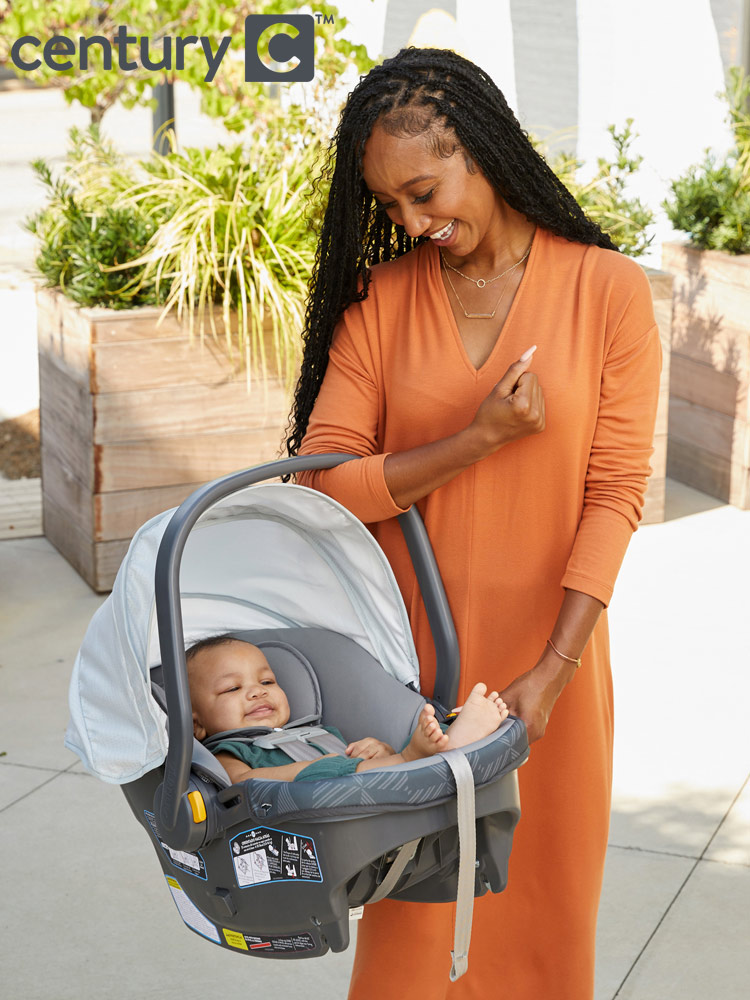 The Century Children's Products company has been around for several decades, and recently revamped their image and product line to adapt to the 21st century. With that, they made new commitments to the environment and sustainability. These include their awesome Happy Planet collection of fabrics, which are made with recycled water bottles, and their partnerships with non-profit organizations that support family services. This new Century Carry On 35 infant car seat caught our eye late last year and we had to get our hands on it for testing! For features, is supports infants rear-facing from 4-35 pounds while maintaining a super lightweight build under 7 pounds. It has side-impact protection, a four-position carry handle, machine washable fabrics, and an infant head positioning pillow (for use up to 12 pounds). For installation, it includes LATCH connectors (the traditional hook-style ones), a 3-position adjustable recline, and it can be installed with or without the included base. For adjustments, it includes two crotch buckle positions and four harness heights.
We got our hands on it for testing and were pleasantly surprised by the overall quality and features. Out of the box, the first impression is that it's surprisingly lightweight, even with the base attached. Without the base it's one of the lightest car seat's we've tested, and the quality doesn't seem to suffer hugely. Some of the typical budget limitations are there, such as using harness height adjustment that requires rethreading from the back and the old-style LATCH connectors. But honestly the oddest part of the entire car seat is that the canopy is permanently attached to the carry handle, which we've never seen before. There is a hole where you can put your hand to grab the handle, of course, but this introduces a few limitations. For example, you can't carry the car seat with the canopy down, you can't carry the car seat with your arm through the side of the handle (the side-carry), and you can't attach anything to the handle (you shouldn't be doing that anyway, but just pointing it out!). Another little limitation of this design is that when the car seat is in the backseat and the canopy (or handle) is up, you can't quickly reach back to help with a dropped pacifier or anything else. Without this design decision, this would definitely be ranked higher on this list: the fabrics are soft and durable, the cushioning is sufficient, the buckles and adjustments are all easy to use, the base is easy to install when using LATCH, and the car seat attaches and detaches easily from the base. Another perk is that it has a sticker stating that it's certified for airplane use. Combine all of that with its super lightweight design and low price, and you've got a really great option!Interested? You can check out the Century Carry On 35 infant car seat here.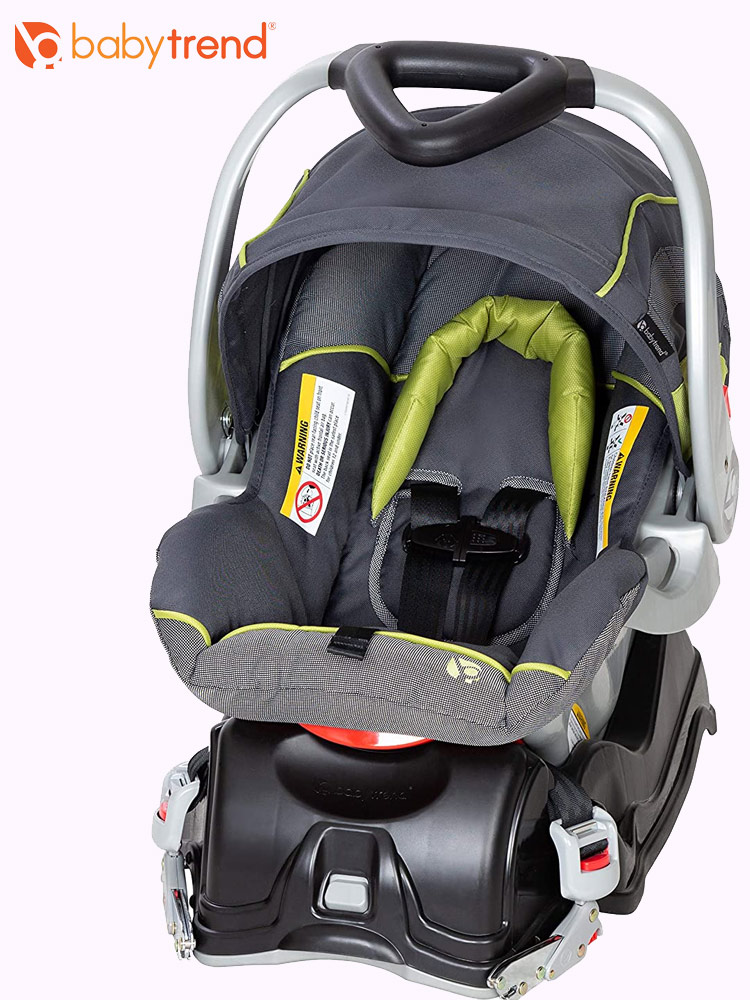 This Baby Trend car seat isn't the most attractive or stylish on the list, but it has some great things going for it, and an extremely good price. For starters, we love the carry handle that allows you to carry the seat in a bunch of different positions. Rather than forcing you to carry it with your arm parallel to your body, you can also hold it at a bunch of other angles, which is perfect for when your baby gets a little heavier and your arm gets sore from lugging her around! Second, this seat has an adjustable 5-point harness that requires minimal re-threading from the back. What does this mean exactly? This car seat is very rare as it only has two harness height slots that you need to manually rethread. However, you can adjust up and down within a height position by using a knob on the back of the car seat. It's the only hybrid harness height adjustment we've tested, and it's an interesting concept. Basically, you will only have to rethread the harness once in the life of the car seat, which is a nice touch. Other seats will require 3-4 rethreadings to move across the 4 or 5 harness height positions. For a car seat under $125, this is a pretty nice feature. Third, the fabric is soft, easy to clean, and surprisingly breathable. We found that it clicks easily into and out of the base without any issues.
Finally, it uses an up-front shoulder strap adjuster to loosen or tighten, and it is conveniently positioned for adjustment even when connected to the base and up against the vehicle's back seat. But there were some little things that annoyed us in our tests. We found the shoulder straps a little flimsy, which caused them to twist around and frustrate us when we went to buckle in the baby. Installation was easy enough, but there were no belt lockoffs and the recline was limited, especially for newborns. We also thought the handlebar was really difficult to adjust; we had to press the buttons really hard for it to come loose, and then we found ourselves pushing pretty hard on it to adjust it back or forward (that was one of the most frustrating aspects of this seat!). The weight range isn't great either, supporting from 5 to 30 pounds. Speaking of weight, it felt a bit heavier than most other options on this list. Finally, we also found the crotch buckle really difficult to figure out and finicky at times. After several attempts we finally figured out how to get it done with one hand, which was great, but it took a lot of time to master! Interested? You can check out the Flex Loc car seat here.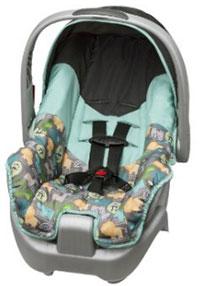 This Evenflo option is the cheapest infant car seat on our list! Coming in usually under $80 or so, this car seat has some great features, but also some big limitations. Let's start with the positives. The Nurture has a great safety record, and uses a 5-point harness with 3 shoulder height adjustments and 2 crotch position adjustments (both with re-threading). The cushion was soft and breathable, and machine washable (and we thought it was pretty easy to get on and off). Finally, we were surprised that it was both lightweight (about 6 pounds), and felt pretty sturdy and decently constructed. Installation was straight-forward and we were able to get a decent install after a few minutes wrestling with the vehicle's belts. The advantages stop there. The canopy is small, there is no infant insert, the shoulder strap adjustment is difficult, there is no LATCH system, and attaching to the base was nowhere as easy as with the others on this list. Finally, its very limited in weight range, supporting babies from 5 to 22 pounds. It was a tough call figuring out which car seat would be in this position, or the last position. But given the great low price point of this car seat, it's a good option for people on a very tight budget looking for a safe, reasonable car seat without frills. Interested? You can check out the Evenflo Nurture here.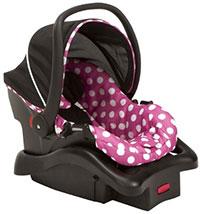 This adorable car seat definitely compromises flexibility for the cute factor! The Mickey ears and the pink polka dot versions got our test moms excited about this car seat, but after reviewing some of the options their excitement tapered off. Let's be clear that there are some great features here, especially for a cheap infant car seat. First, its 5-point harness is adjustable across 4 heights (with re-threading), and the crotch buckle is adjustable across 3 settings. Second, it was reasonably lightweight, making carrying around time quite a bit easier. Third, we thought the positioning of the shoulder strap adjustment was quite good, being high up enough to make adjustment possible even when the seat was attached to the base. Finally, let's comment again on how darn cute this thing is! But the positives end there. The weight range is extremely low, ranging from a great minimum of 4 pounds, but topping out at a measly 22 pounds or 29" tall. That's a really low upper limit and is quite disappointing! This seat is only to be used rear-facing. We also assumed the cute bowtie insert was for infant head support, but found that it did a pretty poor job overall of supporting a baby's head from flopping side to side. Finally, the build quality wasn't great; the carrying handle flexed a lot with a 20 pound baby in it, and the sun visor was flimsy. Overall, it's an OK last option for our list. If you think the Disney pattern is awesome, then this is the seat for your baby! Note that this is largely the same seat as the Cosco Light N Comfy seat.
How to Pick a Cheap Car Seat
Safety
We want to be clear that all of the car seats on this list, and all of the car seats sold legally in the U.S. conform to the very same government (NHTSA) safety standards. Some do have some extra safety features. Realizing that a proper installation is the most important safety feature of all, our top-rated Snugride Snuglock car seat includes the awesome belt lock-off base that makes installation easy and successful. Other features, such as anti-rebound bars and load legs, however, are very unlikely to be found in a car seat under $125-150.
To ensure the car seat is safe, never borrow or purchase a used car seat unless you are 100% certain it has not been in an accident, and is not close to expiring. Once you pick a car seat, be sure to install it using the manufacturer's recommended configuration, installation methods (seat belt or LATCH), and recline.
If you ever have any doubts, go to your local police or fire department and they will take the time to make sure you've done everything perfectly. Most towns have at least one Child Passenger Safety Technician (CPST) on staff.
To learn more about car seat safety and how different safety features are used and what to look for, check out our buying guide for car seats here.
Ease of Use
For most car seats under $150, you will likely need to make some compromises in this area. Some of the features to look for are: a handlebar that can be adjusted with one hand, a handlebar grip that is at a 45-degree or 90-degree angle to your body to make carrying easier, multi-position recline, seat belt lock-offs, modern quick-release LATCH buckles, and shoulder straps that can be adjusted to a growing baby without any rethreading from the rear of the seat.
Outside of that, other things are important to keep the seat from being super annoying: you want a chest buckle that doesn't pinch you or take too long to unbuckle, shoulder straps that aren't flimsy and twist around, and a base attachment/detachment mechanism that isn't a super pain in the rear!
Baby Size
Infant car seats are typically rated from about 4 or 5 pounds (newborn) up to 30 or 35 pounds. Most seats in the sub-$100 range will top out at 30 pounds, and/or not go down all the way to the 4 pound minimum. Be sure to read the specifications.
If you haven't had your baby yet, but are already well into the third trimester, you're probably safe getting a seat with a 5 pound minimum. In terms of the weight limit of 30 or 35 pounds, we find that usually the 30 pound limit is sufficient for 80-90% of babies. By the time your baby is tipping over the 30 pound mark, they're usually getting too tall for the infant car seat and ready to transition to a convertible car seat. They should still remain rear-facing at that point, so definitely check out our reviews of the best convertible car seats some of which can support children up to 50 pounds rear-facing!
Comfort
Your baby will be thanking you for finding a comfortable car seat. You want the seat to be plush and comfortable, with a soft fabric that is breathable. The breathable part is one of the most important issues: if it's not breathable, your baby will wake up soaking wet from a nap and probably screaming from all the uncomfortable sweat that has built up his/her body. That's not fun for anyone!