The Best Sippy Cups of 2023
Sip in style with these top-rated straw and sippy cups for your growing toddler.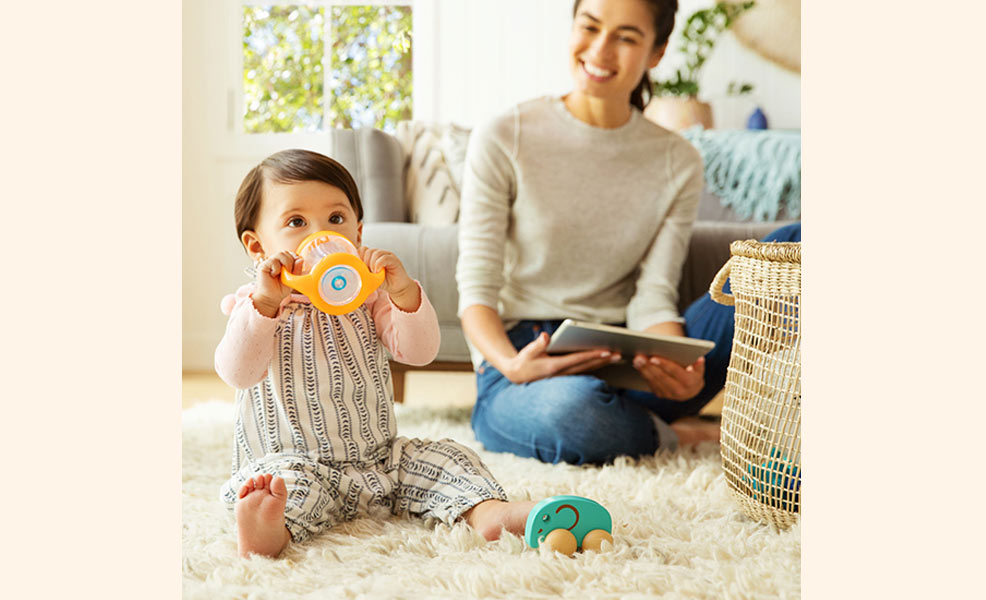 ---
Mommyhood101 independently tests and curates baby gear to help you make informed decisions. If you buy products through links on our site, we may earn a commission.
The American Academy of Pediatrics recommends phasing out the baby bottle and transitioning to an open-mouth cup before your child is 2 years old.
Sippy cups are perfect for easing this transition, and most toddlers will start using them between 12-18 months of age. The best sippy cups will provide appropriate flow, positioning, and sensory input for toddlers learning how to drink on their own.
Just for fun, what does ChatGPT-4 think is the best sippy cup!?
"Based on expert recommendations and parent input, I can confidently recommend the Munchkin Miracle 360 Trainer Cop for its spill-proof design and ease of use." -ChatGPT-4
We don't always agree with robots, but we think this is a good choice!
Fortunately, we've been reviewing sippy cups for over 10 years and have found some excellent options.
Below we list the top 5 sippy cups of the year, followed by in-depth reviews of several additional options.
To prepare our reviews, we researched health, speech, and dental recommendations to ensure top-rated sippy cups aligned with child wellness, and we considered the life of on-the-go families who need a strong, simple, reliable sippy cup for use at home, in the car, or at the playground.
We then pulled together the most popular and best-rated sippy cups, including trainers, straws, spouted, and rimless cups. We filled them up, toted them around, tipped them over, shook them upside down, and ran them through the dishwasher. We offered them to five different babies and toddlers and took notes on ease-of-use for each one.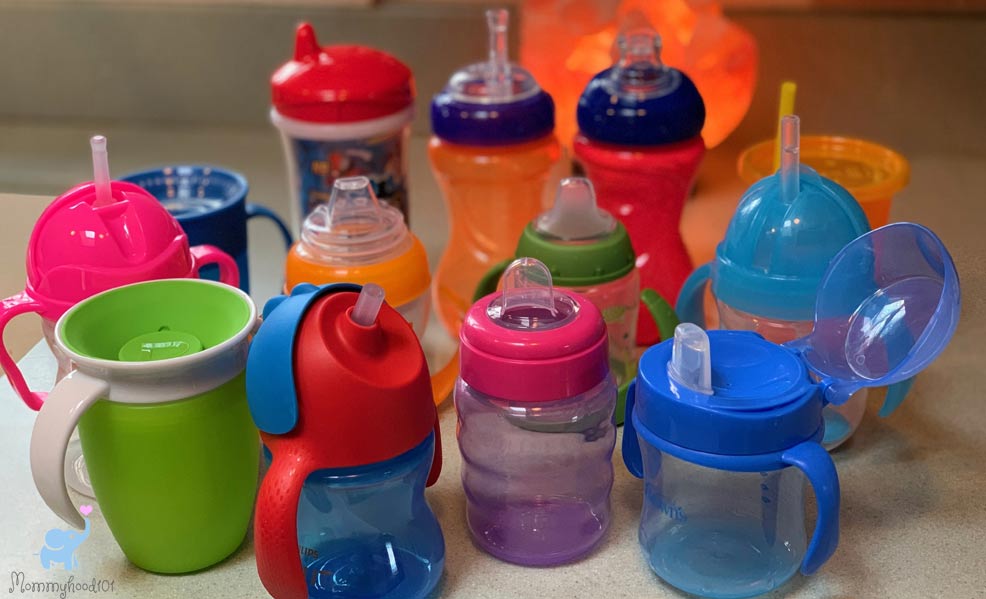 Our top 10 models include some pediatrician- and dentist-recommended brands such as Munchkin, Dr. Brown's, and Avent. See our observations and feedback below. Cups are organized by age recommendations.
Full disclosure: Some of these sippy cups, including the AVENT and Munchkin models, were sent to us as free test samples by the manufacturer.
Here are the Best Sippy Cups of 2023!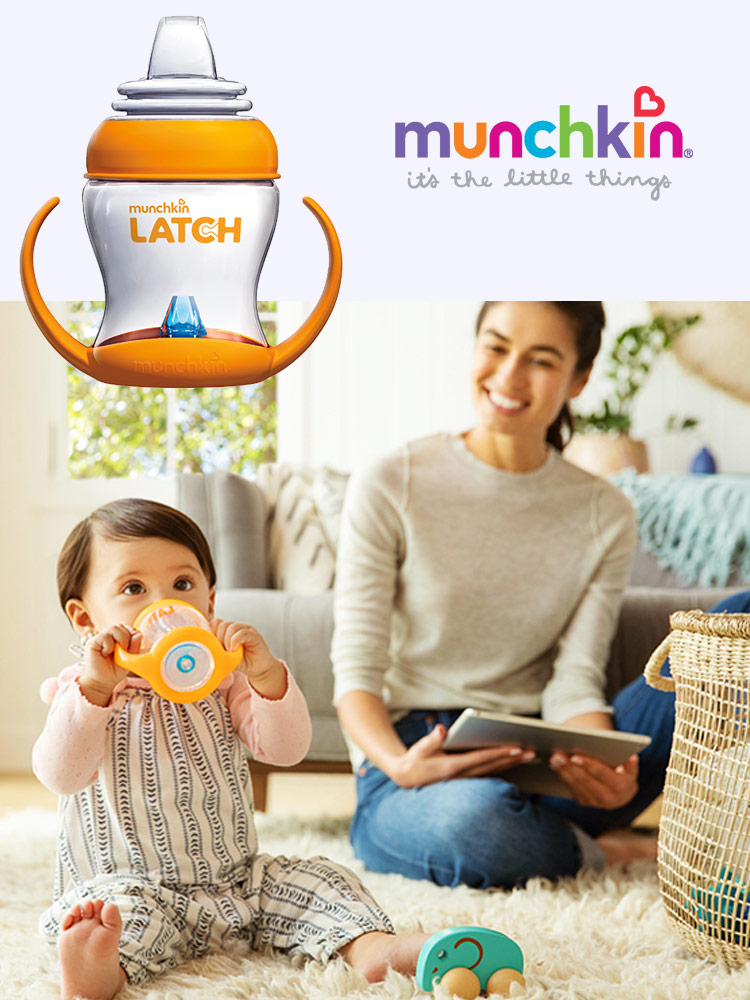 Designed to be a first sippy cup for babies 4 months and up, the Latch Transition Cup includes an innovative, flexible spout design. The Latch sippy cup and Latch bottles have interchangeable lids, making transition even easier as babies get used to handling the sippy cup. For pumping moms, Latch brand pump adapters will also fit directly onto this cup. These interchangeable features could help offset some cost with these sippies, which run about $8-10 per 4 ounce cup. The accordion style silicone spout moves responsively with babies as they drink, which is especially helpful to facilitate a successful latch for babies who were exclusively breastfed. Additionally, the Munchkin Latch includes an anti-colic valve inside the cup; the valve breaks up bubbles to reduce gas and fussiness after feedings. The Latch spout has a very slow flow compared to other sippy cups on this list. Some of the older test babies struggled to drink from the Latch, and parents tried and agreed this sippy is not designed with older babies in mind. Our test parents loved that the easy-grip handles were removable, and the snap-tight lid fits snugly down the length of the cover for added diaper bag protection. Munchkin bills this cup as "spill-proof" based on its snug-fit lid, and we will agree that the lid to cup seal is very sound. Moreover, the flexible spout holds up to jostles and upside-down shaking. However, like any soft-spouted sippy cup, the Latch will leak when babies explore and play with the spout, but this dripping is minimal compared to other soft-spout models.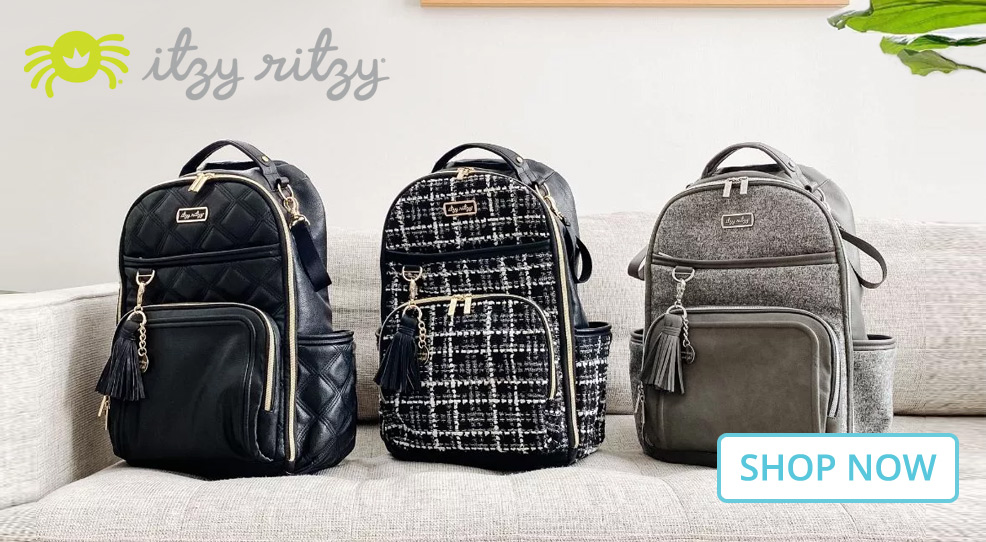 This BPA-free sippy cup is top-rack dishwasher safe, but some of its special features gave test parents concerns for cleaning and maintenance. Specifically, the flexible spout and the anti-colic valve, both of which set this cup apart from many others. All cup pieces must be disassembled for effective cleaning; this includes the anti-colic valve. While we were successful at reassembling the cup with a leak-tight seal, some parents agreed the constant pulling on this piece created concern for longevity before the valve became distorted or otherwise damaged. This cup really impressed in its customizations and favor among younger test babies. It has a decently spill-safe design, with drawbacks in the washing and maintenance department (and note that it might not fit well into the cup holders of a convertible car seat or stroller). Interested? You can check out the Munchkin Latch Transition Cup here.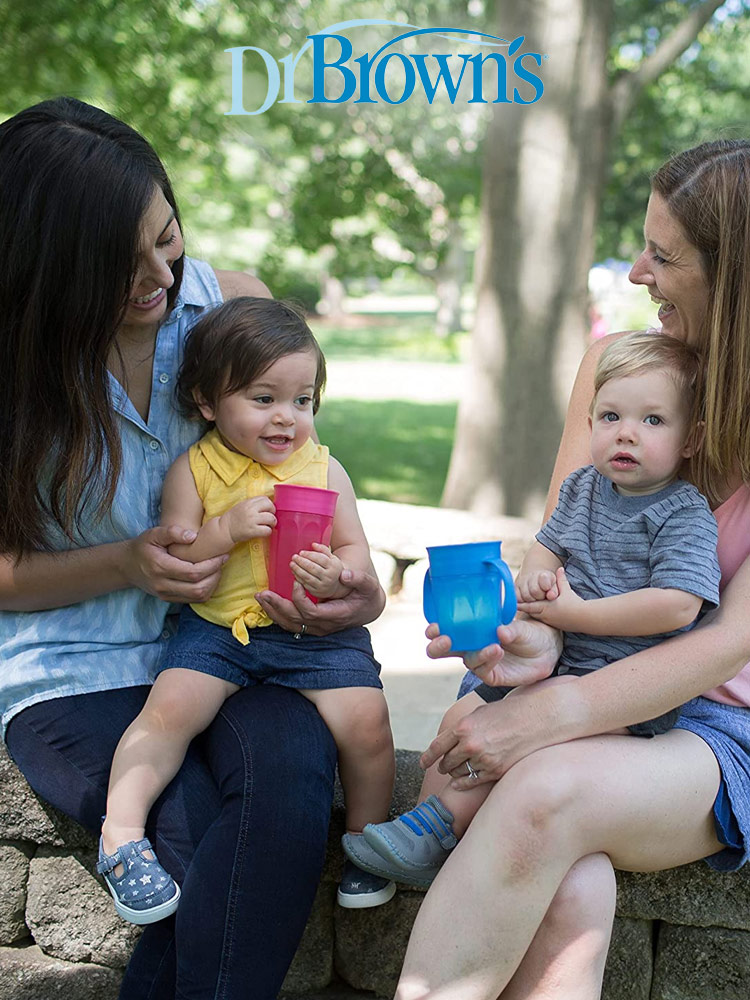 Best for babies 6 months and up, this sippy allows babies to sip from the edge just like a regular open-mouth cup. The bottom tumbler portion includes a sleek beveled design that gives the cup a more mature aesthetic and nice angles to little hands to grip. The Cheers 360 comes in pink and blue tones with volume options of 7 or 10 ounces and range from $6 for one small cup to $9 for two large Cheers 360 tumblers. The 7 ounce models include easy-grip handles attached to the cover, while the 10 ounce models remove the handles to encourage independent gripping. The spill-proof design is pretty solid when the cup is tipped. However, some leaking and splattering does occur when the cup is shaken and/or dropped (which tends to happen a lot with toddlers!). The two-piece cover design is similar to the Munchkin Miracle 360 cups (below), but the Dr. Brown's models have a clear top, which was appreciated by parents and babies alike.
Babies enjoyed being able to see inside their cup (which also encouraged them to try sipping), and parents liked that the clear top made refill-checks easier and made it easier to clean and ensure no food bits or other goo had been trapped below the gasket. The spoutless design allows access from any point along the rim (thus the "360" name), is easy to use and does not require biting to sip. Instead, the natural pressure from baby's lip releases the soft, silicone gasket from the cup's rim, allowing the child to drink. Some younger babies, however, were inclined to bite down on the soft silicone (which has the feel of a teether), and the thinness of the Dr. Brown's nipples concerned a few parents about rips and pieces being swallowed. The Dr. Brown's Cheers 360 transition cups are made from BPA free materials and are top-rack dishwasher safe. The simple design makes quick work of cleaning and reassembly. Interested? You can check out the Dr. Brown's Cheers 360 here.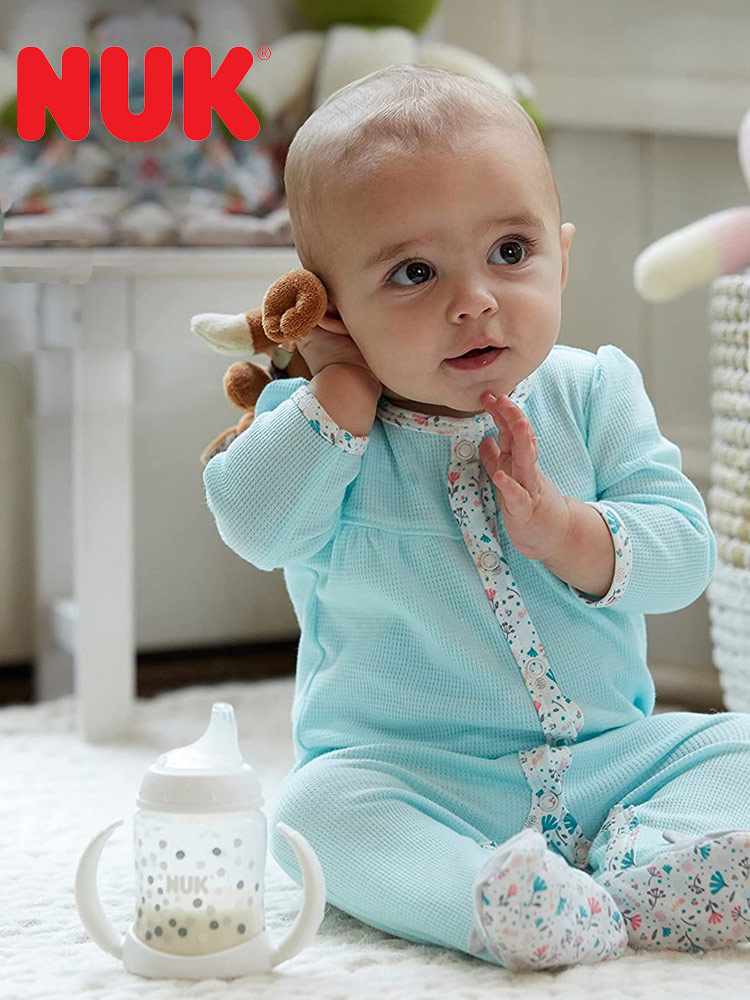 This 6+ month sippy recommendation is most similar to the Nuby No-Spill Super Spout. Both cups offer a soft silicone spout for delicate gums, and both have their own leaking issues, despite their no-spill promises. What gave the NUK Learner a leg up was the spout shape and our recognition that these cups are very temporary steps toward other, more sophisticated and dental-friendly options. Some babies are timid when presented with a new drinking vessel. One of our test babies was a big fan of the bottle, and the NUK Learner was the only sippy that really interested him. NUK advertises that the Learner is designed to resemble a bottle, to help ease babies toward sippy cup use. This is helpful for babies who have outgrown the bottle but need some help in the transition. The NUK Learner is moderately priced at $8 for one 5 ounce cup. It includes removable handles and a cover to keep the spout clean when not in use. The handles are well-designed and have a soft, anti-slip coating. The cup is BPA free and top rack dishwasher safe. It comes apart into three pieces and fits snugly back together after washing.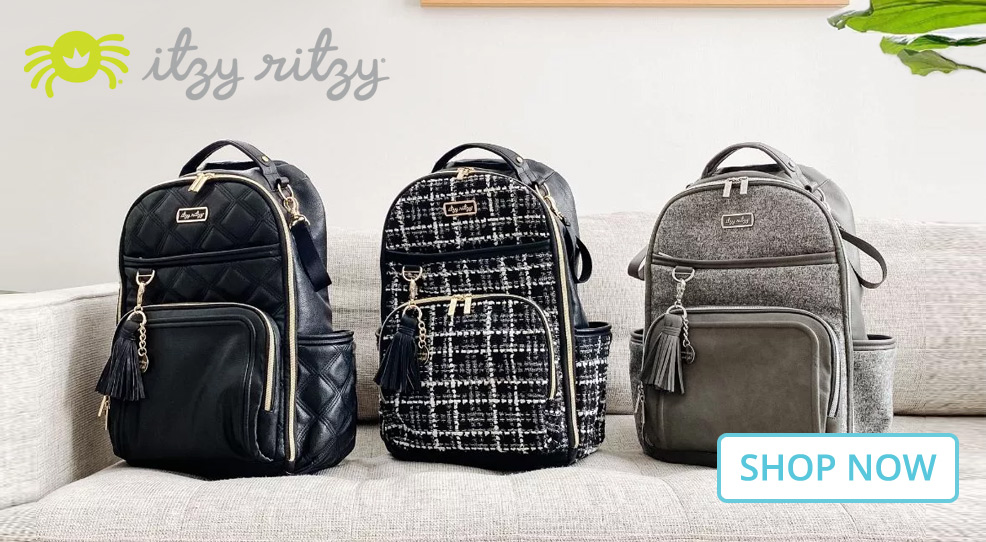 We really liked how tightly the spout attaches to the cup. The NUK Learner spout is made from soft, textured silicone and is flatter than the Nuby model, which will help babies adapt to drinking from other sippies and eventually a regular drinking cup. The downside to this sippy is that babies are definitely still sucking on it like a bottle, which was demonstrated by the spout collapse when our older test babies tried this cup. This created enough space between the spout and the collar for a steady drip to make a pretty big mess. Because of this, test parents agreed there is a functional age limit of probably 9-10 months for this sippy before its slow-flow loses adequacy for baby's drinking needs. Who else recommends the NUK Learner sippy cups? Our friends at Babygearlab and The Bump consider them a top pick! Interested? You can check out the NUK Learner Sippy Cup here.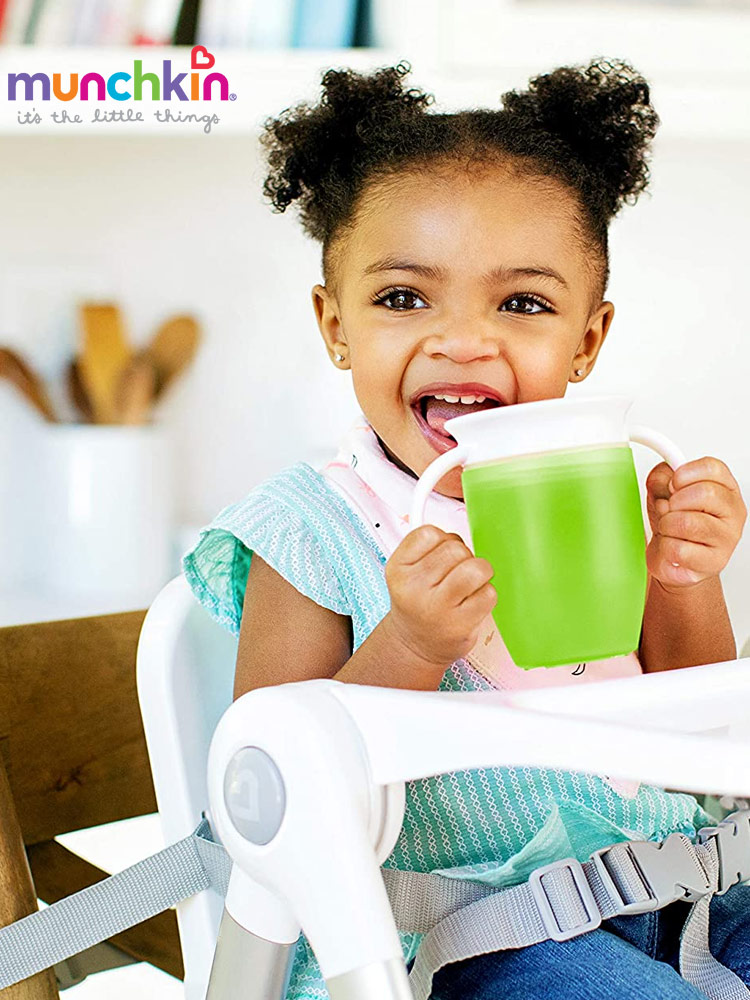 The Miracle 360 is another spoutless cup like the Dr. Brown's Cheers 360, suitable for babies 6 months and up. The Miracle 360 is a three-piece design, made from BPA-free materials. These sippy cups are available in packs of two, and they come in a variety of colors. Volume options are 7 ounce cups, which include built-in handles on the rim, and handle-free 10 ounce tumblers, and prices sit at about $13 regardless of size. Optional lids are available for added spill protection. When tested, these cups passed the tipping and upside-down shaking challenges better than the Dr. Brown's, but that didn't stop our test babies from pushing the limits—literally! A two-year-old test baby realized that pressing down on the gasket released the seal enough to let any liquid flow right out. Once we saw this trick in action, we tried it with the Dr. Brown's 360, but that model held up to the test. The gasket material on the Munchkin 360 seems a bit more durable, but cleaning is a bit more complicated.
This cup is top-rack dishwasher safe, and removing the gasket is absolutely imperative for thorough cleaning. The gasket sits over a full layer of plastic, which creates the perfect environment for mold to grow. To remove the gasket, the manufacturer recommends gripping the heart tab in the center of the gasket and pulling up. This releases the rim from a hard-plastic button underneath. However, this is easier said than done (especially with wet hands). Instead, test parents agreed the easiest way to remove the gasket was to slide a finger under the rim edge and pull from there. Unfortunately, this puts additional stress on the thinner part of the gasket material, causing concern for breakage. Additionally, there is a small plastic ring around the inside of the lid; this ring forms a seal when the cover is screwed onto the tumbler base. The ring does a great job at creating a tight seal, but it is not removable, so washing this cup is a more meticulous chore than the Dr. Brown's model without the inner ring. So, what this sippy offers in durability, dental-friendliness, and spill avoidance, it costs in cleaning and maintenance. During our exploration, we also noted Munchkin makes the Miracle 360 cup in various styles including fruit infusers and our favorites: stainless steel and larger, fast flow tumblers for parents! If you want to consider stainless steel model of the 360, you can find the Munchkin Stainless Steel Sippy Cups here, though they do not have the convenient handles. Who else loves the Munchkin Miracle 360 sippy cups? Our friends at Babylist, Babygearlab, and WhatToExpect also consider it a top pick! Interested? You can check out the Munchkin Miracle 360 here.
This is an interesting concept from Dr. Brown's - combine the best-selling Dr. Brown's Options baby bottle with a silicone sippy spout cap and a silicone handle, and you have yourself a hybrid sippy cup and baby bottle! What's cool about it is that it's great for transitioning babies (6+ months) who already use a Dr. Brown's Options bottle, because you can begin by using just the silicone handle on your existing Options wide-neck bottles (or on the one included) and nipples, and then transition to the spout when ready. This will help your toddler learn how to grip the bottle with the handles, and then transition them to learning how to manage drinking from the spout. The other nice thing is that the silicone handle slips on and off the bottles very easily, so you probably only need one or two of them. If you want to use your existing Options bottles, simply remove the vent, slide on the sleeve, and use the spout cap. Easy! The packaging for these was a bit challenging, with the tight plastic skin you need to remove, and then they folded paper instructions stuck down into the bottle - be sure to have some long tweezers or scissors available to get them out of the bottle!
We really liked using this spout bottle, and our test toddlers didn't have any issues with it - one was a bit overwhelmed by the high flow spout, but got used to it after a minute or two. We didn't have any issues with leaking when the bottle was tipped over, though if you put it upside-down it will leak quite a bit, which wasn't totally surprising. We were able to top-rack dishwash these, and they are BPA free, so the heat wasn't a huge concern. To be clear, this is not really a sippy cup and has a more similar latching and suckling requirement to a bottle nipple than a sippy. So technically this could make for a two-stage transition from bottle to sippy cup, with a little stop in the middle for a spout cup - though we're not certain that the order makes total sense given how much flow this spout has! We don't have any issues with any of this, we just want to make sure it's clear before you buy it. Overall, this is a great transition bottle and we think a spot on this list is well-deserved! Coming in at about $7 per bottle, it's not the cheapest option but it's not terrible either. Interested? You can check out the Dr. Brown's Options Sippy Bottle here.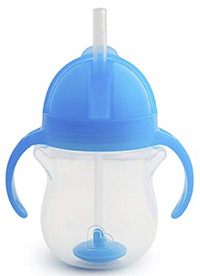 This is the best straw cup option for little ones over 6 months old, and is average-priced at around $6 per cup or a two-pack for about $11.50. The sippy holds 7 ounces, and color options include blue, green, and orange (two-packs are blue and green). This straw cup boasts a movement-friendly design to allow sipping access even when kids tilt their heads. This feature is very similar to the straw system used in the 8 ounce b.box Sippy Cup (below) but is available for half the price. The weighted element at the base of the straw moves with the cup, and the upper portion of the straw has a split-seal design to keep-in liquids when not in use. The sippy came with its own twistable brush to facilitate cleaning for the extra-long, flexible straw. Our test parents enjoyed the click-lock feature on this cup for that extra security, though some had a hard time both locking and unlocking the cover. The straw flow was decent, but slower than other models like the Nuby Flex Straw (below). Through tips, jostles, drops, and even upside-down shakes, this sippy did not spill. This sippy cup is recommended for babies six months and up. Test babies closer to three years old both enjoyed this cup and were able to open and close the flip-top with little difficulty. The younger babies seemed to appreciate being able to tilt and drink but opening the flip-top was near impossible for them. The double handles are a great feature and perfectly sized for little hands; however, they are not removable, so this sippy may not be a good fit for many diaper bag side pockets. Munchkin also offers a 10 ounce handle-free weighted straw cup. Sippy cup and straw are BPA free and top-rack dishwasher safe, and although the cups claim to be great for water, juice, and milk, most parents seem to agree that due to the long, narrow-straw design, this cup seems best suited for water drinking — which is not necessarily a disadvantage. Overall, this straw cup offered excellent functionality (and angle options!) for straw-users with an exceptional spill-proof design. Interested? You can check out the Munchkin Click Lock Straw Cup here.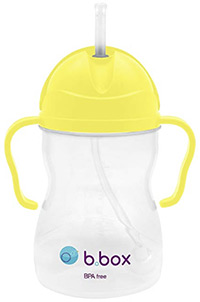 The b.box weighted straw design shares the any-angle sipping advantages with the Munchkin Click Lock Weighted Straw cups, but is best for children over about 9 months old. The soft, silicone straw includes a small, weighted ball on the inside end, allowing babies to tilt and tip their cups while drinking. One major difference between the b.box and the Munchkin is the optional replacement straws available for b.box—something Munchkin does not appear to offer for its weighted straws. All b.box weighted straw cups have a clear base, and covers are available in a wide variety of posh color options such as Pink Pomegranate, Orange Zing, Cobalt, Pineapple, and Watermelon. Parents enjoyed that this cup is BPA, Phthalates, and PVC free, and top-rack dishwasher safe. The sippy lid includes built-in handles that are thinner with a wider grip space for comfort. All the straw-users in our test group loved this cup, and we noticed the younger babies had an easier time functioning the convenient flip-top lid as opposed to the Munchkin cup. This cup is 100% drip and spill-proof through tips, shakes, and drops. The straw and seal handled well with both refrigerated and room temperature liquid. The price point, however, is much higher than many of the other cups on this list. One 8 ounce b.box weighted straw cup runs about $12, with cleaning brush and replacement straws sold separately. As with the Munchkin Weighted Straw cup, parents agreed that while the manufacturer recommended this cup for use with milk, we were more comfortable thinking of b.box as an excellent water cup. While cleaning this cup, we discovered that its liquid-tight seal is created by an inaccessible silicone ring in the cover (as opposed to a click-lock seal). This adds additional concern to ensure full and proper cleaning and maintenance if this cup is put through the dishwasher. Interested? You can check out the b.box Sippy Cup here.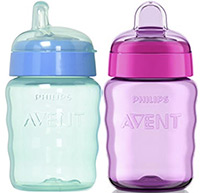 These are chubby, stage 2 cups designed with a soft silicone spout, and are great for babies over about 9 months old. These sippies are BPA free and have a wavy, easy-to-hold grip design. The My Easy Sippy Cup is compatible with the Philips Avent Natural and Classic+ bottle range (excluding the glass bottle). The first thing we noticed was Avent's signature flat spout design; this is seen on many of its transitional and sippy products. Due to the wide spout, we noticed test babies appeared to be sipping, more than sucking, which was a wonderful step toward open cup use. We also noticed babies were less inclined to chew on these spouts. The flow on these sippy cups was moderate to fast, so we agreed with the 9-month age recommendation. The My Easy cups are lower in cost than many of the other cups on this list, running about $7 for two 9 ounce cups. Each cup comes with a well-fitted, snap-on lid, and though the lid is small, we were surprised how well it held on through shaking, squeezing, and diaper bag jostling. Even better—the cup's no-leak promise held up to these tests as well! However, that signature wide spout was a magnet for little fingers, and every test baby wanted to play with it. If the cup is tipped while the spout is pressed back or forth, a significant liquid stream will spray everywhere. The My Easy cup comes apart into three, large pieces for easy cleaning. All pieces are top-rack dishwasher safe, and we had only minimal concern for dishwasher particles getting stuck in the thin spout. Overall, we found these basic sippy cups to be the perfect size for small hands and cup holder and diaper bag pocket friendly. We were satisfied with the spill-proof seal, understanding babies will always find a way to make a mess. Who else loves AVENT sippy cups? Our friends at Babygearlab and Babylist also consider them top picks! Interested? You can check out the Philips AVENT Sippy Cup here.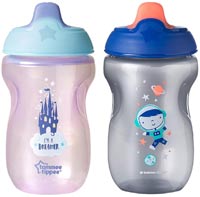 These adorable 10-ounce Tommee Tippee Sippee cups (I see what they did there!) are a great option for transitioning babies from about 9 months and up. They feature a nicely contoured shape that's easy for little hands to grip, a soft spout with a removable anti-spill (and anti-colic, anti-vacuum) valve, and BPA, BPS, and phthalate-free materials. They are top-rack dishwasher safe, and typically cost less then $5 each.
In our testing, we appreciated how easy it was to remove the lid and fill the cup, with its relatively wide top opening. The two-piece valve was easy to remove for cleaning, and it did a great job regulating the flow and preventing a vacuum from forming. It was also great when tipped over, preventing any major spills (there were a few drops, of course). The relatively firm nipple is great for transitioning from a soft sippy valve to a real cup, and uses a single flow hole (and an adjacent venting hole). We tried the cup ourselves and with two little ones, and they both took to it without any issues. Of course, they also love juice and milk, so what's there to complain about!? The only challenges we found were two-fold. First, it's surprisingly easy to cross-thread the screw-on lid, so you need to be careful. If you do, it will leak pretty badly. Second, and also related to the screw threads, the spout at the top doesn't always align perfectly with the grips on the sides of the cup. You'd expect it to align so that it's centered over the two contours, but sometimes it's off by a 90-degree angle. You can always screw it on more tightly to get it to align, but be careful because it might be hard to loosen afterwards! Overall, we think this is a great transition sippy cup for children over about 9-10 months old. Who else recommends the Tommee Tippee sippy cups? Our friends at Babygearlab and SheKnows also consider them top picks! Interested? You can check out the Tommee Tippee Sippy Cup here.
These Stage 3 cups are intended for babies 12 months and older. One of the things parents loved most about this cup from Playtex was its simple design with a short, hard spout. There is no concern for babies cracking or biting through the spout on this cup. These 9 ounce cups are sold in packs of two for $10.50, and they are available in a number of familiar character designs. The lids screw on tightly with a hard stop once secure. Inside the spout is a thick, silicone valve to ensure spill-proof handling. This cup passed our toddler trials and additional dropping and shaking from the parents—it is, in fact, 100% spill-proof. The Sipster are BPA-free and top-rack dishwasher safe. Clean-up and reassembly was a breeze with just one valve to remove. The valve is actually quite small and completely translucent, which is always nice when cleaning and inspecting for mold. Once the Sipster pieces have been washed and thoroughly dried, the valve is reinserted under the cover. It plugs in with two similar-looking nubs, and we are not embarrassed to say we put it in backwards the first time—this made drinking impossible because the second nub has no opening. In addition to the durable design, test parents liked this cup's narrow circumference, which made it easy to slip into a diaper bag pocket or stroller cup holder. It also provides growth options to further align with American Dental Association standards, which encourage parents to aim for, "A cup with a snap-on or screw-on lid that has a spout, but no valve." While the spouted Sipsters actually require children to suck rather than sip when the valve is in place, parents can eventually remove the valve when in use to allow children to sip through the spout (keeping in mind that without the valve the cup is no longer spill-proof). The Sipster "Ages and Stages" line of cups are also made with interchangeable lid options to grow with children including Straw and Sport Spout varieties. Interested? You can check out the Playtex Sipsters here.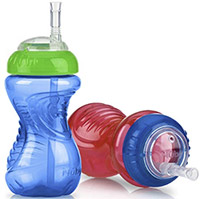 Nuby offers one of the most affordable sippy cup options on this list. The 10 ounce Flex Straw cups are available in packs of two for $7 and under. These cups are designed for babies 12 months and up, and it encourages straw drinking at a vertical angle. The clear, "Ultra-Hygienic" silicone straw is ideal for maintaining cleanliness and is designed with a pressure release valve to stop leaks. In tip and shake tests, this cup held up with almost no dripping; however, we did notice that when in use, the straw valve retains some liquid, which can drip out if the cup is dropped. One-year-old test babies loved this cup for is soft, grooved straw; however, they were inclined to chew on this piece, which raises safety concerns for cracks or breakage. While this cup is not designed for any-angle drinking like weighted straw models, parents were able to ease some drinking frustration for younger babies by removing the hard, inner straw and allowing babies to slowly adjust to straw use with only the silicone straw cover. Babies were then able to tip this straw cup up when drinking, similar to a spouted sippy cup. These cups are ideal for water, juice, and milk, and because the straw and silicone pieces are so short and wide, there is minimal concern for mold growth with diligent cleaning and maintenance. Cleaning is easy, as this cup is top-rack dishwasher safe. The cover and straw come apart into three pieces, plus the cup portion. After unscrewing the cover from the cup base, we easily pulled the hard straw from the valve, and then pressed the silicone straw valve section through the hard-plastic collar to remove. One important note when reassembling was to re-align the two slits on the silicone piece with the markers on the hard-plastic collar. Misalignment created enough of a gap to cause significant leakage with these cups. Overall, these are budget-friendly options for straw cups with easy cleaning and spill protection. Who else loves the Nuby No-spill Super Spout sippy cup? Our friends at WhatToExpect and The Bump also consider it a top pick! Interested? You can check out the Nuby Straw Cups here.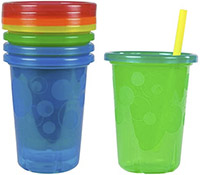 These are big kid cups designed for toddlers from about 12 months and up. The name may be a little misleading; when we first opened these cups, we thought they were intended to be "tossed" as disposables—which did not tickle our eco-conscious fancies. However, upon closer inspection, we discovered that in addition to being PVC, BPA, and Phthalates free, these cups are also top-rack dishwasher safe! Moreover, they are priced at just $3-5 per four-pack! The Take & Toss cups have no valve and no straw stopper, so test parents didn't get their hopes up on the spill-proof angle, but we were pleasantly surprised with how well these cups performed. To begin, the snap-on lids create an extremely tight seal—so tight, in fact, that some parents actually had trouble removing them. When the included straw is inserted, and the cup is held upside down, there is no leak. When the filled cup is knocked off the table onto the hard floor, there is a slight splatter (whatever was already in the straw), but the cover holds and there is no further spillage. The included straws are also dishwasher safe, but understanding small parts have a habit of getting lost, we tested the cup with disposable, bendy straws as well. The generic straws fit snugly and yielded the same spill-proof results. Along with these positive observations, there were some downfalls to this cup and its design. Even our 2-year-old test babies immediately removed the straw, nullifying the leak-proof promise. And even once we discussed leaving the straw in place, there was still some cup shaking at the table, which does allow a good amount of drink to splatter up through the straw. These cups may hold up in a stroller cup holder, but they are definitely not diaper-bag friendly. Finally, there was the surprise eruption when we were filling the cups. The first time we filled it a little more than 3/4, and because the tight-seal lid lacks any pressure-release, the liquid shot right up through the straw hole. Next, we filled the cup only half way, and tried putting on the cover with the straw in place—another geyser! The trick is to fill the cup between 1/2 and 3/4 and insert the straw after the lid is sealed. Test parents agreed these cups were more than we bargained for at a bargain price. They are best used for at-the-table meals and encourage positive drinking habits for little kids. Interested? You can check out the First Years Straw Cups here.
Here are additional sippy cups we tested but didn't make it onto this list:
- The Greens Steel Kids stainless steel sippy cup looked and performed awesome for the first few weeks, but then the spout cracked off and we were unimpressed.
- The Philips Avent My Bendy Straw Cup seemed simple enough, but when you open the cover milk squirts out, and it leaks like crazy even when sitting on a flat surface!
- The Dr. Brown's Soft Spout Transition Cup had a clever swing-open top, but it also would swing closed and our baby in the face while she drank, and it was a little leaky and too fast of a flow for a transition cup - pass!
- The True North Stainless Steel Sippy Cup came with a big warning sticker on the side that said it contains Nickel and is known to the state of California to cause cancer - pass!
Types of Sippy Cups.
There are three main sippy cup tops, and our test babies were immensely helpful in demonstrating the advantages and disadvantages of each. Most of the sippy cups we tested are pictured below, and you will notice there are several different styles. These are categorized as follows.
Spout Sippy Cups. These include sippies with both soft and hard spouts. Spout cups are the most likely transitional cups for younger babies as they are the most similar to breasts / bottles in terms of shape. Soft spouts are often silicone and may be either smooth like the Avent My Easy Sippy or textured like the NUK Learner. Soft spouts are arguably the easiest transition option and are gentle on baby's sensitive gums, but may also encourage chewing, which can quickly become dangerous in the case of cracks and breakage. Additionally, soft spouts tend to be the most difficult to clean, often discoloring or picking up odors over time. If you start your babies on soft-spout sippy cups, it is imperative they be inspected regular and discarded at the first sign of defect. Luckily, since soft spouts are so ubiquitous, many manufacturers sell replacements, which means you won't need to replace the whole cup! Hard spout cups are more rugged and travel better with less need for covers.
Straw Sippy Cups. ASHA identifies straw-top sippy cups as an excellent alternative to spouted sippy cups in terms of speech and swallowing development. So, if babies are open to trying them as a first transition cup or if they have mastered the spout cup and are ready to graduate, straw sippies are a great option. These cups are widely portable and even mostly spill-proof. While tilting straw cup designs were some of our favorites for their agility and flip-top lids, wider straws like the Nuby Flex Straw are more rugged and significantly easier to clean.
Spoutless Cups. Spoutless or 360 style models such as the Munchkin Miracle and the Dr. Brown's Cheers are perhaps the final step toward regular adult cups. These models offer drinking from any side of the cup's edge, while keeping liquids trapped under soft silicone when the cup is not in use. These cups are marked for use by babies as young as six months, but our testers younger than two-years-old showed a conceptual challenge with the design. Even when younger testers latched onto the cup's edge (rather than mouthing the middle of the cup in search of a spout), they still had trouble pulling in the liquids. Learning this new skill can take practice, and one thing we noticed with some of our testers who had never before used a 360 style cup—once they get that first sip, the concept seems to click immediately, so if you think the 360 cup is right for your kiddo, keep with it because the benefits of this cup are definitely worth the patience. In addition to a pretty decent leak lock, these cups are more preferred for their benefits to dental development since babies use the edge of the cup just like a regular open cup. The Munchkin Miracle cups even tout a Dentist Recommended seal.
When to Stop Using Baby Bottles
The American Academy of Pediatrics recommends parents begin phasing out baby bottles and sippy cups when babies are between 12 and 24 months of age. Bottle use long after the first year of life can negatively impact swallowing and speech development. The American Speech-Language-Hearing Association (ASHA) observes, "A bottle nipple rests over the front third of the tongue, preventing that essential elevation so necessary for being an effective and efficient eater. When toddlers continue to use the infant swallow pattern, chewing and swallowing new foods can be challenging or messy at best." This tongue-forward positioning can also negatively impact the development of jaw muscles and other physical complications, making it even more important that parents begin the weaning process from the bottle and toward regular drinking cups.
In comparison to bottles, sippy cups allow babies to begin experiencing a greater sense of independence. When babies drink from bottles, their intrinsic latch and suckle produces the flow they need to drink. With many sippy cup models, however, babies will begin to learn cause and effect, expanding their understanding for control and self-sufficiency. Bottles with straws (especially vertical models like the Nuby Flex-Straw or the First Years Take & Toss) require babies to maintain their own flow as they drink. Likewise, babies drinking from 360 style cups will regulate the flow rate with controlled tipping and neck / jaw flexing. For this reason, once you are ready to start transitioning, it is important to be consistent and help support baby's self-confidence. A good strategy is to buy two or three sippy cup models that meet health and development standards and begin offering them at meal times. Most of our test toddlers had preferred sippy styles when they began transitioning. Once babies appear comfortable with the mealtime sippy, remove all daytime bottles from morning through dinner. The AAP reminds parents to be patient with babies during this time, as it may take a couple of weeks for them to feel comfortable with the new routine. The bedtime bottle is often a comfort element for children, so you may want to save this transition for last.
Modern parents have enough on their plates without needing to wash every sippy cup by hand, which is why our test parents agreed that dishwasher-friendly cups were most preferred. Additionally, safety considerations for materials was at the tops of our lists. Most sippy cups on the current market are plastic, and even though the US Food and Drug Administration banned bisphenol A (BPA) from baby bottles and sippy cups in 2012, it was still important that we noted this certification on each sippy cup. There are still ongoing studies regarding the leeching of estrogenic and other potentially harmful compounds, even from BPA-free cups, "Sometimes the BPA-free products had even more activity than products known to contain BPA." So, when we were able to find stainless steel options compatible with sippy cups such as the Munchkin Miracle, we were further encouraged to support our test babies in learning these cups.
Finally, we were especially fond of sippy cups with removable handles (or no handles). While the handles may be helpful to start, they can become a nuisance when packing a diaper bag or trying to fit a sippy in the stroller cup holder. Our greater concern, however, came from considering what babies do best—move! They don't call them toddlers for nothing! That independence we talked about can—and often does—lead to falls. A study published by the AAP demonstrated that over the course of a decade between 1991 and 2010, emergency rooms treated an average of 2270 children annually for injuries related to falls while using either a bottle, a pacifier, or a sippy cup. Sippy cup injuries accounted for 14.3% of these injuries. We noticed that when many of our test babies used sippy cups with handles, they had a much easier time moving and drinking. However, when we removed the handles from sippies such as the NUK Learner or the Munchkin Latch, our testers were more likely to pause when taking a sip. We also noticed that cups like the Munchkin Miracle offered options to grow with baby, including a model without handles.
Conclusions
When it is time to start looking at sippy cup options for your baby, there are some key factors to consider to help selection. First, you will want to consider age/milestone appropriateness. Babies who are ready for a sippy cup are usually around six months of age and can sit up in a high chair. Many sippy cups are manufactured for age 6mo+, though, as demonstrated on this list, there are some that are more appropriate for older toddlers and a few designed for younger babies. That said, all babies are different, and a sippy that is well-received by one 6-month-old may be completely rejected by another, especially in cases where baby has formed an emotional connection with the breast or bottle. While open cups are the end goal, every baby is different. Some kids may have more trouble transitioning from the bottle or breast, and others may resist the transition altogether. Various sippy cup options can help ease the transition for these kids by offering a transitional step between bottles and open cups. Additionally, modern parents are concerned with spill proof options to help alleviate some frustration—for both babies and parents—and reduce messes during cup transition.
Sippy cup transition is a normal and necessary milestone for your toddler. One major purpose driving this milestone is healthy oral development. Baby Bottle Tooth Decay can be an unfortunate resuly of excessive bottle use. According to The American Dental Association, this condition is caused by prolonged exposure of baby's teeth to drinks that contain sugar, including formula, milk, fruit juice, sodas, and other sweetened drinks. It is also seen in children with lengthy feeding sessions. Once babies transition to regular drinking cups, liquids will bypass their teeth. Sippy cups are transitionary tools to get to this point—and some sippies (like straw cups and 360 style cups) are dentist approved for healthier drinking.