Best Nursing Pillows 2023, Tested & Reviewed
These nursing pillows hug your body and position your baby for comfort and digestion.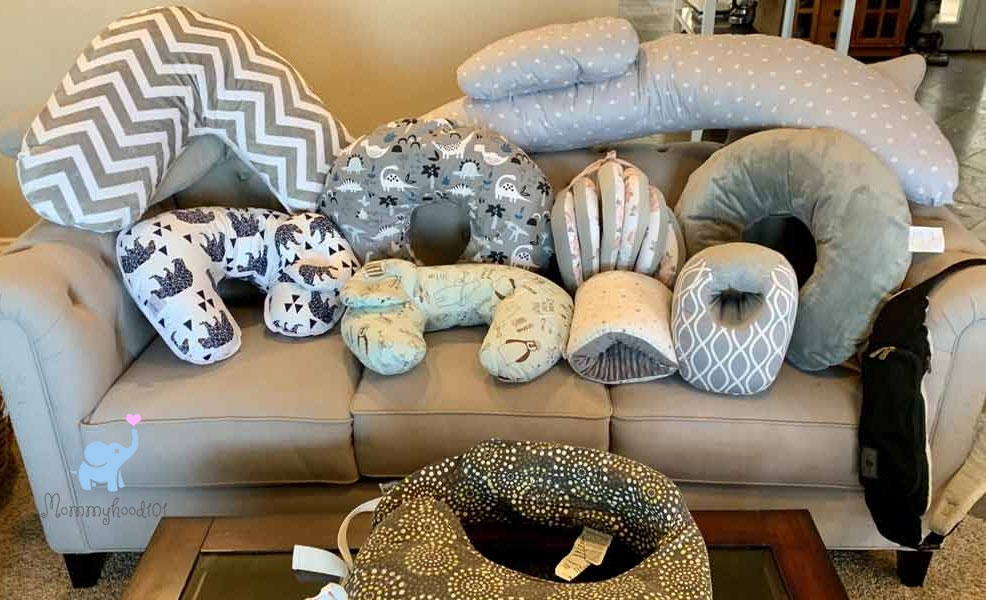 ---
Mommyhood101 independently tests and curates baby gear to help you make informed decisions. If you buy products through links on our site, we may earn a commission.
Whether you choose breastfeeding or bottle feeding, you'll be nourishing your baby about 8-12 times a day for 20-45 minutes at a time! The ideal nursing pillow will make these moments comfortable and relaxing for you and your little one.
Nursing pillows will help prevent a sore neck, arms, and back, and help you find the perfect position to aid your baby's digestion. Here are the top 5 nursing pillows we've tested, followed by in-depth reviews of several options.
In the past, parents were stuck stacking pillows, stuffed animals, and blankets under their arms and elbows just to be comfortable while nursing their little ones. The nursing pillow solves this problem while leaving those other pillows available for your head, lumbar, and feet!
The perfect nursing pillows will offer comfort, little to no slippage, ease of use, versatility, and assistance in getting the perfect latch without neck and back aches from leaning over or holding yourself in an awkward position. They are the perfect complement to a great nursery glider or rocking chair!
Note that breastfeeding experts like Dr. Patricia Mackin suggest an incline of about 30 to 45 degrees while breastfeeding, so keep that in mind while picking a nursing pillow. To find you the perfect solution to this problem, we put a dozen pillows through hands-on testing to find you the best nursing pillows of the year!
Full disclosure: Some of these nursing pillows, including the Daddy-O, Medela, My Brest Friend, and Boppy models, were sent to us as free test samples by the manufacturer.
Here are our Top Picks!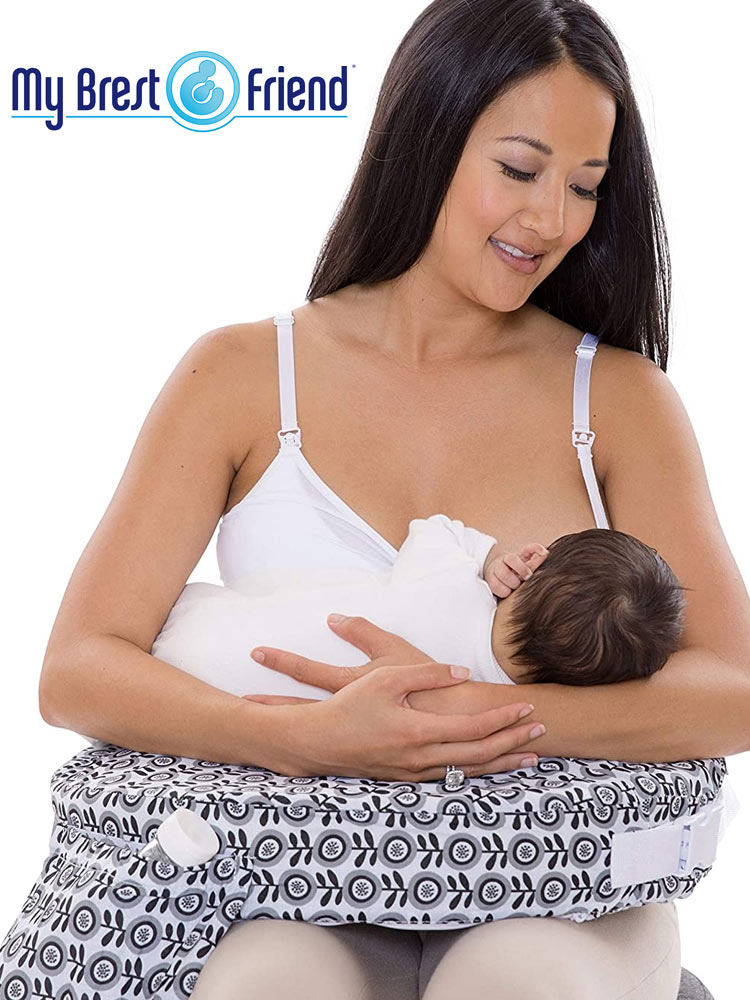 The My Brest Friend is our #1 pick and for several good reasons. This pillow is very versatile: it works for moms no matter what their shape and size (small, medium, large, or plus-size), what size breasts they have, and where they want to breastfeed their baby (nursing chair, couch, bed, floor, car, etc.). The pillow wraps around your body and secures with a buckle that is easy enough to use with one hand (the deluxe version of this pillow has a "no-noise" Velcro strap). The pillow is made of two different recyclable foams glued together. The bottom foam, which will sit on your lap, is a denser foam and the upper foam where the baby will lay is less dense (softer) for comfort. The cover is easily removed and completely machine washable, and there are additional covers available for purchase if needed. Since the pillow is made of foam and not stuffing or filling like many other pillows, the My Brest Friend does not lose its shape and develop an uneven surface. Even the strap that goes around your body is foam, providing nice back support. One interesting feature is that the pillow has two small humps called feeding risers that slightly elevate the baby's head. My Brest Friend incorporated the feeding risers based on recommendations from lactation consultants. Another plus to the feeding risers is that while one riser will raise your baby's head slightly, the other riser, which will be near your baby's butt, will help keep the baby from rolling. With the foam structure of the pillow, the feeding risers, and the wrap-around strap, your baby will be able to comfortably stay on the pillow even when they start becoming a little more wiggly.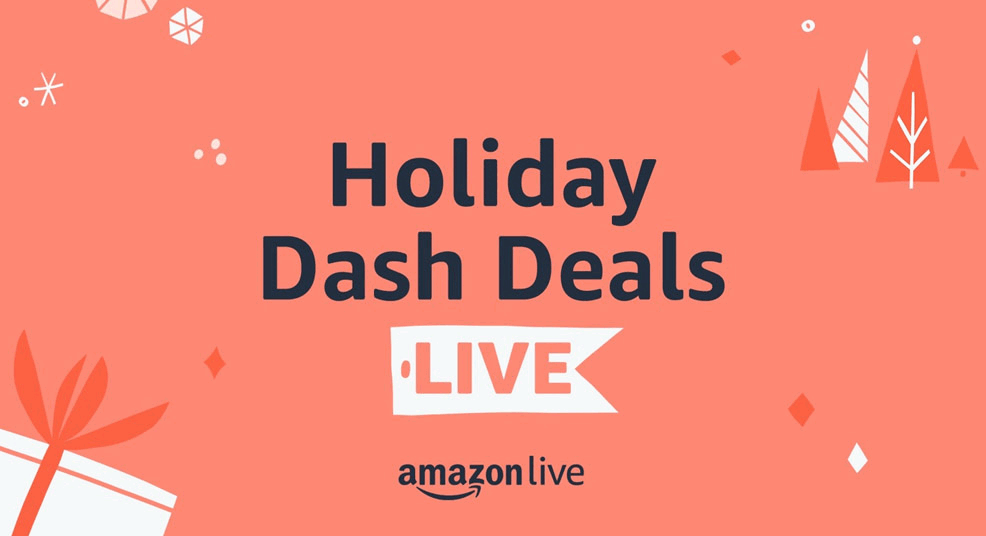 This nursing pillow allows you to nurse your baby with one hand free or if you can do it safely, two hands free. Something this pillow has that no other breastfeeding pillow has is a small pocket for you to put all your essentials like a bottle of water, a small snack, nipple cream, baby pacifier, or your phone. This pillow is also available in a deluxe version, an inflatable travel version, and a twin version. Two minor cons about the My Brest Friend: First, the zipper for the cover is on the bottom edge of the pillow, so if you are wearing shorts and your thighs are exposed, there is a possibility you will feel the zipper against your skin. Nothing terrible, but worth mentioning. Second, this pillow is certainly not compact and will take up a lot of space when traveling! All that padding and comfort does come at a cost to portability. Overall, the My Brest Friend is hands-down our favorite nursing pillow of the year, and has quickly become our "brest friend" for nursing! Who else loves the My Brest Friend nursing pillow? Our friends at Babygearlab, Babylist, WhatToExpect, and The Bump also consider it a top pick! Interested? You can check out the My Brest Friend nursing pillow here!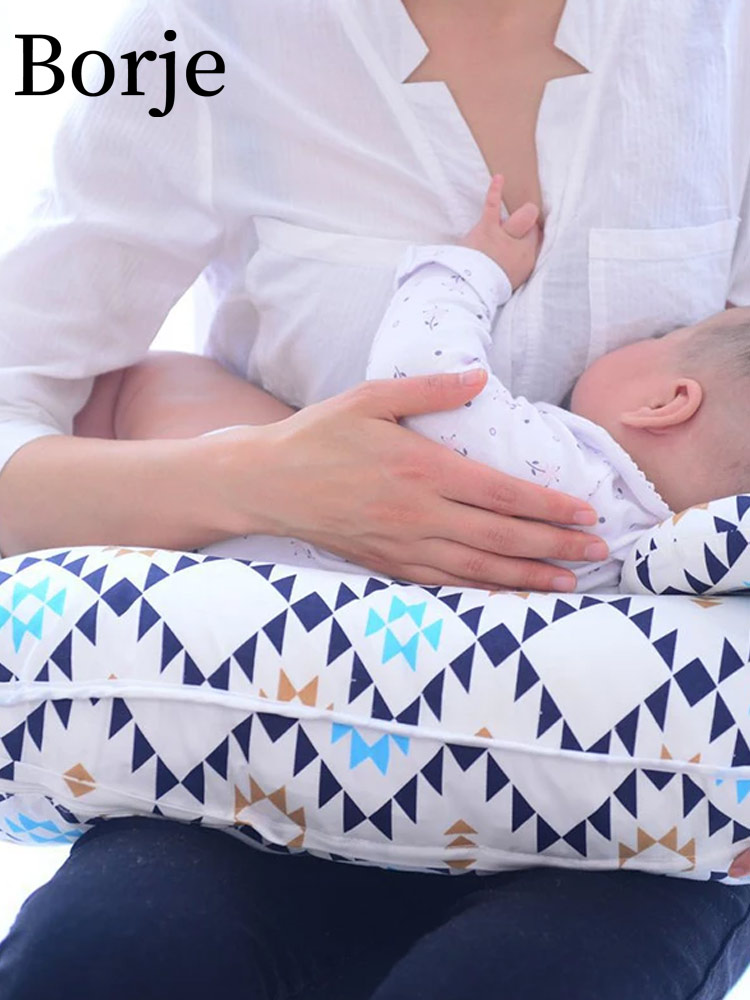 The Borje (not to be confused with Baby Bjorn!) pillow offers comfort, cute style, a good firmness, and comes with a little extra bonus you didn't know you needed. We found that this pillow is good for small moms and plus-sized moms. Have you ever bought a pillow (for sleeping) and just a few short months later the pillow lost its "firmness" or "fluffiness" and you had to buy a replacement pillow? Well, the Borje won't have that problem. What is great about the filling in the Borje is that the pillow will keep its shape and firmness much longer than other pillows, which over time will lose their density. The reason for this is the filling inside the Borje is very similar to the filling inside of a stuffed animal, with individual pieces of fluffy polyester packed together. This allows you to adjust the firmness to your liking by simply adding or removing the stuffing. When it arrives, Borje did a great job perfectly stuffing it to the ideal firmness to support your baby. The outer decorative cover is easily removable and machine washable. The cover is soft and made from 100% cotton. The Borje pillow also comes with a small removable pillow for your baby's head. The baby head pillow support stays on with a Velcro strap so it can be easily removed. Now for that little extra bonus you didn't know you needed: we were surprisingly impressed with how useful and comfortable the head pillow for the baby was. The pillow elevated the baby's head just right to get a nice latch and help their head stay elevated to reduce gas and help digestion. That head pillow also helps in a clever way: you never need to remember which side of the pillow you used last, because the pillow is still attached! The head pillow also eliminates the need to use your hand or arm to support your baby's head making this pillow almost hands-free! Sometimes the little things can make a big difference!
One last thing regarding the head pillow: Do you want a little comfort for your baby's head and to eliminate any skin-to-skin sweating when nursing without a nursing pillow? Remove the head pillow and place it on your arm when breastfeeding on-the-go, or on your partner's arm for bottle feeding (note: the head pillow strap is long to allow it to wrap around the nursing pillow, but it is too long to be secured to your arm). The "U" shape of the pillow suggests that this pillow will not wrap around you like a "C" shaped pillow but will instead rest straight at your side. Now if you are a plus-sized mom, you may find this pillow shallow when around your waist and the ends of the pillow will not pass the middle of your body. Overall, this is an awesome nursing pillow and definitely worthy of this position on our list! We are proud to say that we are the first major baby gear review site to test this nursing pillow, making it a Mommyhood101 exclusive pick! Interested? You can check out the Borje Breastfeeding Pillow here!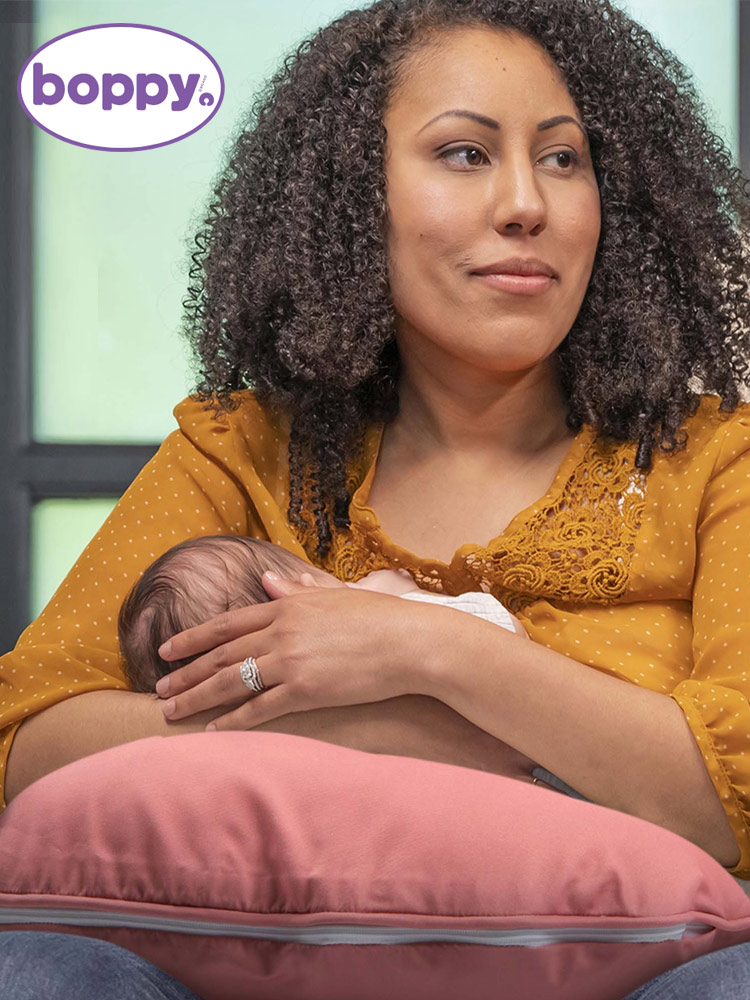 The Boppy is probably one of the most popular nursing pillows of all time, and for good reason! The Boppy pillow was invented by a mom and has been available and improved upon since 1989. The Boppy pillow is sold with one cover, and there are dozens of covers available to match your and your baby's personal styles that are available for additional purchase. Both the Boppy pillow and the covers are machine washable, which makes cleanup easy in case of any spills or spit-ups. With each new baby, breastfeeding can have its challenges. The Boppy Original Nursing Pillow has a very simple design. Being so easy to use, it leaves more time to focus on you and your baby. The Boppy is very versatile, this "C" shaped pillow can be used not only for nursing but also for propping baby up, tummy time, and learning to sit (baby should be supervised if using the Boppy for these activities); all important milestones as your baby grows. The Boppy pillow is similar in feel to a firm sleeping pillow. It offers a good amount of support for the baby when the baby is placed directly on the pillow or if you are using it to support your arm while holding your baby. This pillow is not only good for breastfeeding, but your partner or caregiver can also use this pillow to help relieve the strain of holding and supporting your baby while bottle feeding.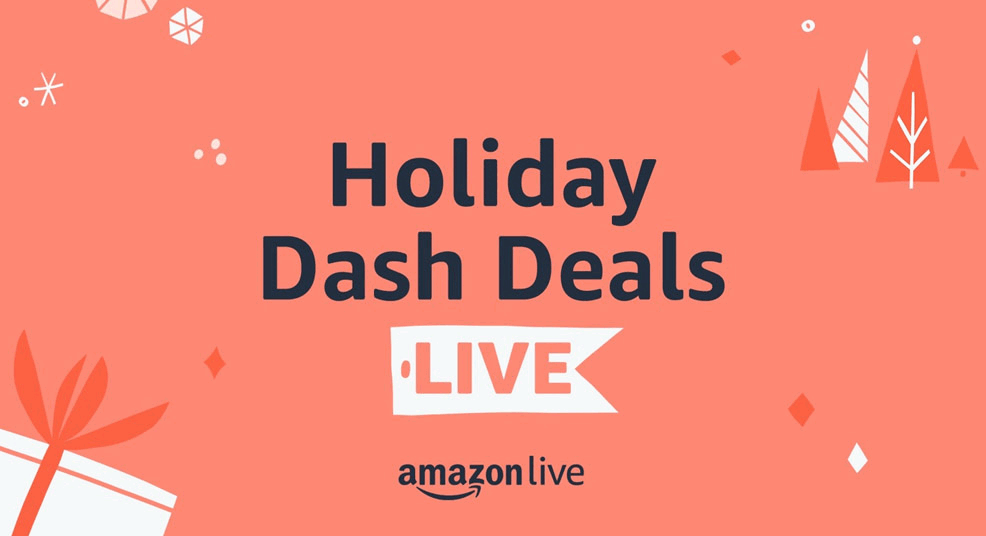 Let's be honest, not all of us are the perfect size before or after baby, but the Boppy is not ideal for larger women. The "C" shape and pillow material (100% polyester fiber) do not allow for ample adjustment. If you are in the larger size (about a women's size 12 and up), the pillow shape will become more of a wide "U" and the pillow will eventually slip away causing you to adjust yourself while nursing and bringing the pillow back towards yourself. If you are concerned with the pillow slipping, Boppy now offers a crescent moon-shaped pillow with a strap to keep the pillow close to you called the Boppy Best Latch. The Boppy Original Nursing Pillow is classic and has been the go-to and has been loved by many moms for decades. Coming in at about $40, it's a little pricey but it includes the pillow and one cover, and with the Boppy you are paying for quality and reliability. If you can't afford the pillow or you were not gifted it, Boppy offers the pillow without a cover, called the "Bare Naked" and it runs about $10 less. Who else recommends the Boppy Nursing Pillow? Our friends at Babygearlab, Babylist, WhatToExpect, and The Bump all consider it a top pick! Interested? You can check out the Boppy Nursing Pillow here!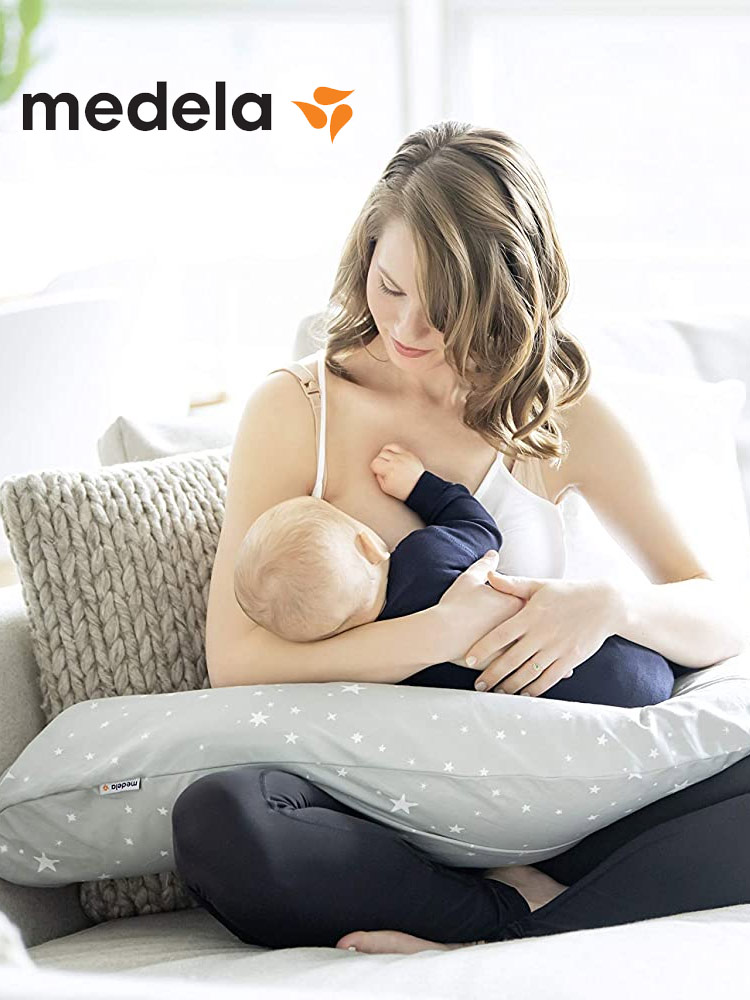 We all know and love Medela, from their top-rated breast pumps to their baby bottles, pacifiers, and more! As experts in everything infant feeding, Medela is trusted by millions of moms for making safe, high-quality, and comfortable products. Their maternity and nursing pillow is no exception, and we're excited to say that it's made in Germany (not China) and uses a 100% cotton cover that is both removable and machine washable! The Medela nursing pillow is relatively simple and versatile. It can be used as a comfortable maternity pillow to put between your legs and remove pressure from your hips and lower back. Then it can be used as a nursing pillow: you can wrap it around your torso like most nursing pillows, but you can also use it in any way you'd like. Other than a subtle crescent moon bend, there is no forced shape with this nursing pillow, which makes it effortless to configure in many different ways. At about 67" long (about 5 feet and 7 inches), the world is your (cozy) oyster!
In our testing, our first impression was that the pillow was large and well-made, and the simple star pattern was subtle but cute. The OEKO-TEX fabric of the cotton cover wasn't as soft as we thought it would be, but it also felt durable and easy to clean. The entire pillow is surprisingly lightweight, filled with a micro-pearl filling that does a great job holding its shape and thickness over time (and without being noisy when compressed). We appreciated how easy it was to move the pearl beads around inside to increase or decrease support in certain areas. It also makes it possible to fold completely in half, for when you need a thicker support. Overall, we think this is an excellent maternity and nursing pillow that will prove useful long after you're done nursing! We only encountered a few minor cons: the cotton cover wasn't quite as soft as we would have liked, the micro pearls were still audible when they're being moved or compressed (even if they're not noisy), and we thought it could use a little bit more padding inside. Other than that, we think this is an excellent and versatile nursing pillow that will prove its value for years to come! Interested? You can check out the Boppy Nursing Pillow here!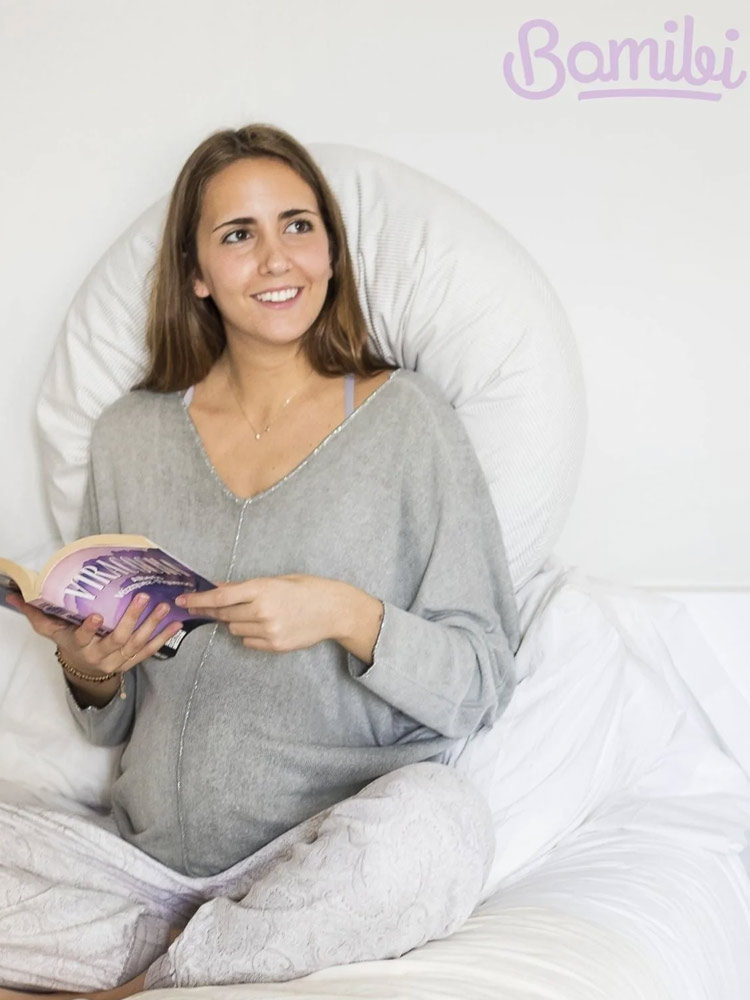 The Bamibi Multifunction Pregnancy Pillow and Breastfeeding Pillow is the largest of all the pillows we tested. It's definitely a "stay at home" pillow and not something we would recommend traveling anywhere with. Laid out, the pillow itself measures just under 73 inches long and anywhere from 9" to 12" wide, the size of a full-body pillow. The Bamibi also comes with a smaller, 9" x 18" pillow. This pillow is one of two pillows we tested that can be used during pregnancy and after your baby is born. The material inside the Bamibi is a polyester filing and the cover is made of 100% breathable cotton. Both pillows have an "invisible" zipper so you will not have to worry about you or your baby feeling the zipper. The pillow is pretty soft and not as firm as other nursing pillows, but again, that's because this is not strictly a nursing pillow. Since it can be used during pregnancy, we did sleep with it and it is comfortable to use and snuggle up with; it's even better than the Snoogle pregnancy pillow in our opinion, and for about half the price.
So, you might be thinking, how does a body pillow become a nursing pillow? Well, all you need to do is wrap the pillow around yourself and hook the toggle located on one end to the hoop located on the opposite end of the pillow. Then turn the pillow so the toggle and hoop are on your backside. Voilà, you have a nursing pillow! With how wide the pillow is when it is wrapped around you, it will be pretty easy to nurse your baby using any nursing hold. Or even nurse two babies at the same time using the football hold. There are several ways to use the smaller pillow. First, you can put it between your stomach and the larger pillow to get some added support for your baby. If you are considered a normal size woman, then you will definitely need to use the smaller pillow because there will be a gap between you and the pillow and you do not want your baby to roll into you. Even if you are plus-sized, there may still be a gap. If you are a smaller woman, the small pillow will not help with closing the space between the pillow and yourself and there will still be a gap for the baby to roll into. Since this pillow is "multifunctional," you can also use the pillow as a nest for the baby. Simply place the small pillow in the middle of the closed large pillow and you have an anti-roll seated cushion for your baby or a pillow for tummy time. Some things we didn't like about this pillow are that it takes a little time to fold up the pillow and get it ready to nurse your baby. You will need both hands to get the pillow wrapped around you and ready for nursing. So hopefully your baby isn't starving and crying when you need to use this pillow! If the large size of the pillow doesn't bother you because you do not plan on taking the pillow outside of your home, the Bamibi is a good combo pillow to have and at a good price. Interested? You can check out the Bamibi Pregnancy and Nursing Pillow here!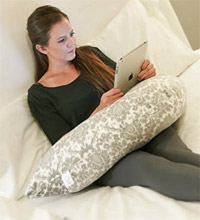 The Luna Lullaby Bosom Baby Nursing Pillow is a nice thick nursing pillow that is super plush and soft. It's so soft that it might be a bit better if it were a little firmer to aid in comfortably supporting your baby. Unlike other nursing pillows on this list, the cover is not secured to the pillow with a zipper but instead uses a fold at one end, similar to a sham cover. There are plenty of covers with different designs and colors to suit your taste. The pillow is "V" shaped so the arms of the pillow will fan out and end or rest at your hips. Since it's not "C" or "U" shaped, you don't have to worry about this pillow not fitting around your waist, making the Luna Lullaby Bosom a really nice nursing pillow for plus-sized moms. Though, like any pillow that does not securely strap around you, this pillow will eventually slip away from you creating a gap where your baby can slip into. And, if you are a smaller woman, the pillow may feel less secure against your body because the "V" shape can be very wide.
The pillow is not too large to take with you in the car but on an airplane or suitcase, this pillow will take up a good amount of space. If you are looking for a pillow that can do a little bit of everything during pregnancy and after, you may really enjoy the Luna Lullaby Bosom. The shape and thickness of the pillow would be good to sleep with to relieve hip pains common during pregnancy. Just like a lot of the pillows listed here, you can use the pillow for tummy time and to prop the baby up for assisted sitting. This pillow was the most expensive we tested, coming in between $43.00 and $59.00 depending on the fabric, cover, and/or any sales. This pillow is nice for what it is but it did not "wow" us, and it was not any better than other pillows tested. If you are a fairly large woman and you can find this pillow on sale, then it might be a good option for you. However, with nothing special about this pillow, you might want to buy something that is more in your price range or is more comfortable for your unique body. Who else loves the Luna Lullaby Nursing Pillow? Our friends at WhatToExpect and Babygearlab also consider it a top pick! Interested? You can check out the Luna Lullaby Bosom Baby Nursing Pillow here.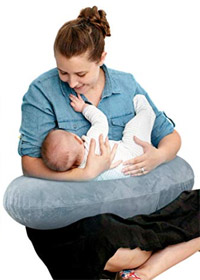 As the name suggests, this nursing pillow can be inflated by blowing air through a one-way valve mouthpiece. It is also the most compact and easiest to travel with as it can be easily inflated and deflated and stuffed into a diaper bag, purse, or suitcase, making it a great travel nursing pillow. What is really nice about this nursing pillow is that you can personalize the comfort simply by adding air or releasing air. And unlike other inflatable items, this pillow does not trap cold air and transfers it to the baby or your arm. Fully inflated the nursing pillow is 24" x 20", and is rated to support 300 pounds. The pillow itself is a heavy-duty puncture-resistant plastic material with a soft "plush-minky" cover which is removable and washable. When first inflated, the pillow is narrow and can be hard to put around the waist, especially if you are still carrying extra weight from pregnancy or you are a "little more to love" kind of woman. After a couple of uses, the pillow will stretch out making it less tight around the waist and more comfortable to use.
Similar to the Boppy, you may have to adjust yourself or bring the pillow back towards your body during feeding because the pillow will eventually slip away from your body. The pillow seems to lose a little air after a day or so of continued use; or if you are traveling in different elevations. However, the slight loss of air did not interfere with comfort and/or feeding. With the pillow fully inflated, if you choose to place the baby on the pillow, it can be very firm with little to no give. If you choose to rest your arm on the pillow and hold the baby, you may need to deflate the pillow a little bit to allow a proper position for latching. This pillow can be used daily at or away from home, especially if you have limited space. Overall, this nursing pillow is ideal for traveling, whether on a trip to the grocery store or a friend's house, but especially if you are going on an airplane. Because of its ability to fold up into a purse or suitcase, you would easily be able to use this pillow on your flight without taking up valuable space. And because you can control the size of the pillow with how much air you choose to inflate the pillow with, you will not encroach on other passenger's space! We are happy to say that we are the first major baby gear review website to test this nursing pillow, making it a Mommyhood101-exclusive pick! Interested? You can check out the Royexe Nursing Pillow here!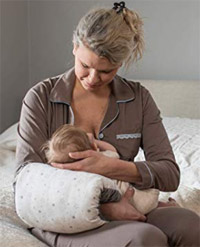 If you're an experienced mom and only enjoy the cradle hold, this small pillow (more like a nursing cuff than a nursing pillow) might be for you. This pillow is only really good for the cradle hold or maybe if you are talented and patient, you could do the cross-cradle hold. The Lansinoh Nursie is very easy to use. Simply slip your arm through the pillow and nurse or bottle feed your baby. The pillow is soft and plush and will assist in lifting your baby closer to your breast for nursing. The lining where your arm goes is very soft and comfortable, though we did notice that during warm weather your arm will become warm and may sweat, making the material a little wet. Because your arm will be inside the pillow, this pillow will probably be better for experienced nursing moms or moms whose babies have grown out of the newborn stage to the infant stage. A new mom with a newborn may find it hard to hold the baby and try to get a good latch with only one hand available. This pillow would also be great for a partner or other caregiver to use while bottle-feeding your baby.
Did you have a C-section or are you planning on having a C-section? Since this nursing pillow goes on your arm, you will not have to worry about the added pressure on your midsection that you would get from all the other nursing pillows that are required to sit on your lap, making it a great nursing pillow for c-section recovery. The Lansinoh Nursie is 11" x 9", just slightly larger than a piece of paper. With its small size, this pillow is ideal to keep in the car or for outings when you don't want to lug a larger nursing pillow around. The small size also makes traveling with it easier as it can fit in most diaper bags. There are no additional covers available for this nursing pillow. The pattern on the pillow is gender-neutral with gray colors. Another nice thing is the entire pillow is machine washable. The Lansinoh Nursie can have a bit of versatility - you can use the pillow to comfortably burp your baby, and when traveling with a toddler or older child, you can use it as a head pillow when not using it for nursing. Also considered a top pick by our friends at Babygearlab, you can check out the Lansinoh Nursie Nursing Pillow here!
When you think of a nursing pillow the Nurse-sling is not what first comes to mind! When you first look and feel the Nurse-sling, it may remind you of an extra-large and plushy fanny pack. That's right, a fanny pack! The machine washable Nurse-Sling has two zippered pockets. One pocket keeps a plush pillow in it and the other pocket can be used to keep essentials like a pacifier, diaper, burp cloth, nipple cream, small snack, etc. To be honest, we were a little nervous about trying this unique concept for a nursing pillow. To use the Nurse-Sling, put the padded strap over the shoulder opposite the breast you plan on breastfeeding with (there is a picture instructional book that comes with the sling to help you figure out how to put it on). Then put your baby's head and/or upper back on the pillow portion. Use the adjustable strap to adjust to your and your baby's comfort. That's it. For easy removal, there is a buckle on the opposite side of the adjustable strap. If you have a newborn, you can put your baby on the same side of the padded strap that goes over your shoulder and the pillow can support most or all of the baby's body.
While you are sitting and feeding your baby, you can rest the bottom portion of your baby's body on your lap or in your arm; giving you at least one hand free. If your baby is large enough, you will be able to rest your baby on your lap and then you can have both hands free, even if you have extra-large breasts. However, the larger and heavier your baby is, the more strain there will be on your neck from the strap. Even though the strap is padded, you will eventually start to feel the weight of the baby on your neck and shoulder, causing a bit of soreness over time. The sling is really only good for the cradle feeding position, but it does keep your baby elevated to aid in eliminating reflux. The Nurse-Sling is good for women of all shapes and sizes and it supports all different breast sizes. The sling is also great for traveling with. It is fairly compact and comes with a bag for storage, including a convenient carabiner on the outside of the bag to hook to whatever you want. Not only can you use this pillow while nursing, but you can use it long after you are done. Need a small diaper bag for the grocery store, running errands, or the zoo? Just remove the plush pillow from the larger pocket and you have a small diaper bag that can be strapped over your shoulder. The pocket is made of a canvas-type material like a backpack so it should be durable. Overall, a cool concept and we were happy to have given it a try! Interested? You can check out the Nurse-Sling Pillow here.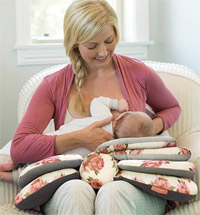 The Infantino Elevate Adjustable Nursing Pillow is designed to address the problem of lifting your baby to the breast for nursing. This pillow is adjustable to offer mom a variety of feeding positions with support for the baby. The Infantino Elevate is the only pillow that has a unique multi-layered design where the layers flip like a book. Relatively new to the breastfeeding market, this pillow is the only one of its kind that we could find. The Infantino is machine washable and you can throw it in the dryer too. The pillow has a very slight curve in it, like an ellipsis, just enough to comfortably sit on your lap, no matter what size of woman you are. And because the pillow does not have a "C" or "U" shape you can feed your newborn or older baby in the football, cradle, cross cradle, and angled holds. Not only can you do these multiple positions, but you can do them in three positions: flat, moderate, or maximum. Another thing this pillow can help with is if your baby has heartburn, reflux (GERD), and/or is just a very gassy baby. Nursing or bottle feeding your baby at a more upright position can help milk travel down the esophagus and stay in the stomach. If you are a woman with a longer torso, this pillow may just be the right one for you.
With the three elevation levels, you will be able to get the baby closer to your breast with little to no slouching; it's basically a fancy replacement for stacking random pillows to elevate your baby! When you are done using the pillow, you can fold it up and tie it together to save space and when it's tied up it looks like a pretty sea shell. Cons? A few moderate ones. The fabric has a very itchy or scratchy feel to it, making it less comfortable to touch, and after a feeding or two you may find some strains of baby's fine hair because the rough fibers grabbed the hair and either broke the hair or pulled it out. The fabric can only be described as the loop or pile side of Velcro (the softer part that Velcro teeth would stick to). The edging of the pillow is very firm/dense and the center where your baby will lie is a bit less dense. This can cause the baby to sink into the pillow. With the edging being so firm, it can be difficult to get the baby close to the breast especially if your breasts are on the smaller size. When feeding your baby at any elevation other than flat, the round center can cause the baby to arch their back or have an awkward space where you may have to hold the baby for comfort. The big plus with this pillow is the adjustability and if you can get past the fabric texture and the pillow's firmness, this pillow may just be right for you. Also recommended by our friends at Babygearlab and The Bump, you can check out the Infantino Elevate Nursing Pillow here!
Conclusions
We want to stress that nursing pillows are not a one-size-fits-all solution: not all women and babies are made equal. They are all different shapes and sizes and have very different needs. The same goes for nursing pillows: some are big, some small, some more comfortable, some more versatile, some need to be hand-washed, some you can throw right into the washing machine, etc. For these reasons, each mom and baby will likely find comfort and convenience in a different nursing pillow.
That being said, some things to consider when shopping for a breastfeeding pillow are your body shape and size (length of your torso, distance from your nipples to your lap, weight, etc.), your baby, and your breast size, believe it or not. Women with larger breasts, say as big or bigger than the baby's head, will need to have at least one hand available to hold the feeding breast so the baby can breathe and not be suffocated by the breast. When deciding which pillow you want, remember that fit is the most important thing. The pillow should be comfortable for your and your baby's bodies and stay put the entire time during use. The pillow should also offer the best height for your body type, size of breast, and the baby to support proper latching. Another important factor is firmness. You want a firm pillow so your baby does not sink into the pillow and lose his/her latch. Adjustable firmness is a bonus, for instance with the inflatable nursing pillows or the models that allow you to remove some stuffing to get the perfect firmness.
Breastfeeding is such a personal and intimate thing to do. Make sure you go to baby stores or stores that sell baby products (Target, Walmart, etc.) and try out some pillows to help you get a better idea of what will work for you. Amazon is a good choice when the pillow has free returns, just be sure not to actually use it for nursing if you might return it!