ByHeart Infant Formula Review & Analysis
The formula that's easy to love: We put ByHeart to the test and love what we found.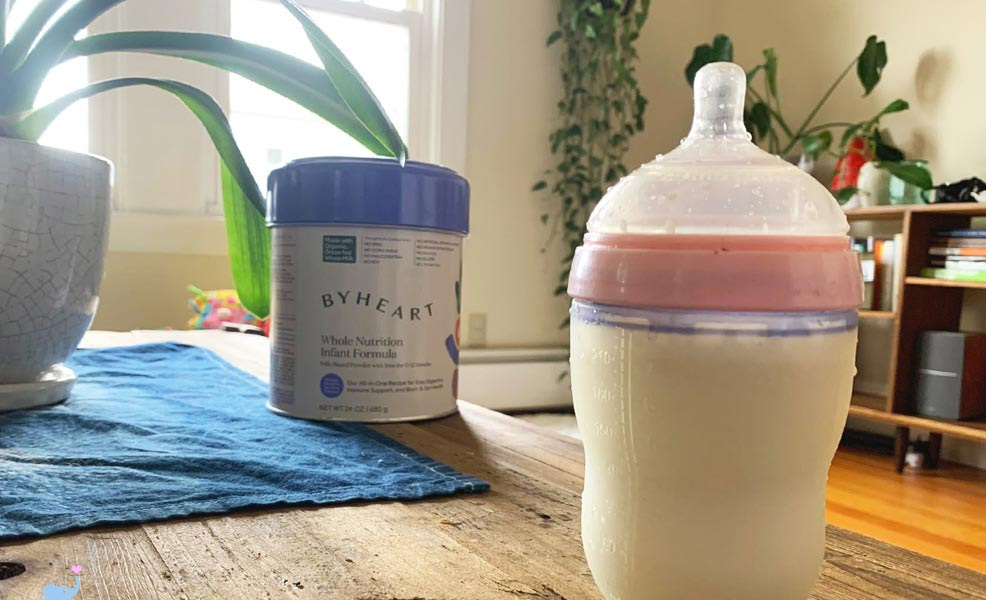 ---
Mommyhood101 independently tests and curates baby gear to help you make informed decisions. If you buy products through links on our site, we may earn a commission.
ByHeart went back to the drawing board and designed an all-new infant formula from scratch! But they didn't stop there, achieving success in a large clinical trial, acquiring a manufacturing facility, gaining FDA registration, and being certified by the stringent Clean Label Project!
Update: As of mid-July, ByHeart is shipping their formulas to new customers again!
European baby formulas have become extremely popular over the past decade with parents seeking simpler alternatives to the market-ruling Enfamil and Similac brands.
However, parents are not always happy that European baby formulas are not regulated by the FDA, they can have long shipping times, varied availability, and a steep price tag.
This opens up an obvious gap in the baby formula market: parents want an infant formula with a simpler and more transparent ingredients list that is made in the USA, FDA compliant, and easy to get their hands on.

To fill this gap, two new infant formulas have entered the market over the past year, both of which are making a huge splash: Bobbie and ByHeart.
You can learn about the former in our Bobbie infant formula review, and we will provide some comparisons in this article for parents trying to choose between Bobbie vs ByHeart.
To review the new ByHeart infant formula, we fed samples (thanks for the samples, ByHeart!) to two infants, a 4- and 7-month-old, consulted with a developmental nutritionist, and assessed ingredients and compliance with USDA and FDA guidelines.
Spoiler alert!
In a market increasingly saturated by European baby formula options, such as those by Loulouka, HiPP, Holle, Kendamil, and Lebenswert, ByHeart is an awesome new alternative from a high-quality US manufacturer.
ByHeart gives us a lot to love with their formula, including the organic whole milk formulation and an excellent nutritional composition.
Not only do they look great on paper, ByHeart formula was easy to prepare and showed extremely high acceptance and tolerance in our tests.
It is fairly priced, and ByHeart does a great job with feeding charts and its automatic subscription program.
We did find some very minor cons that are worth pointing out, mostly related to ingredients.
While ByHeart uses several organic ingredients, because it isn't fully organic it can't be included in our list of the best organic baby formulas. However, realistically we think that likely represents a negligible impact overall, and ByHeart is very likely the perfect option for your family!
Overall, we give the ByHeart infant formula a 4.8 out of 5, which puts it in direct competition with some of the most popular European brands. Keep reading to see how we reached these conclusions!
ByHeart Infant Formula: Take-home Message
Most people don't want to read this entire article to see what we found. So here is the summary of what we loved, and what we didn't.
✔️ High-quality non-GMO formulation.
✔️ Nutrition at FDA & USDA standards.
✔️ First ingredient is whole milk.
✔️ 80:20 whey to casein ratio.
✔️ Patented protein blend.
✔️ Nothing artificial.
✔️ DHA not extracted with hexane.
✔️ No maltodextrin or starch.
✔️ No sucrose or glucose syrup solids.
✔️ Kosher & gluten-free.
✔️ Soy-free.
✔️ Omega-3 via DHA.
✔️ Omega-6 via LA.
✔️ Inositol & Choline.
✔️ Amino acids.
✔️ GOS prebiotics.
✔️ High infant acceptance.
✔️ No gas, indigestion, or constipation.
✔️ No palm oil.
❌ Mortierella Alpina Oil.
❌ Schizochytrium Sp. Oil.
Overall, we think the new ByHeart infant formula is excellent, and we're not alone!
ByHeart is making waves on the baby formula market, and we're super happy to have gotten the chance to try it out!
Obviously, we found a ton of positive attributes to report, listed above. We were particularly happy about the inclusion of organic grass-fed whole milk as the first ingredient, and lactose as the second ingredient. We were also happy to see prebiotics, an 80:20 whey to casein ratio (similar to mom's first milk), the awesome protein blend, and the amazingly high acceptance and tolerance.
There were only a couple of little cons, including the addition of Mortierella Alpina oil and Schizochytrium Sp. oil.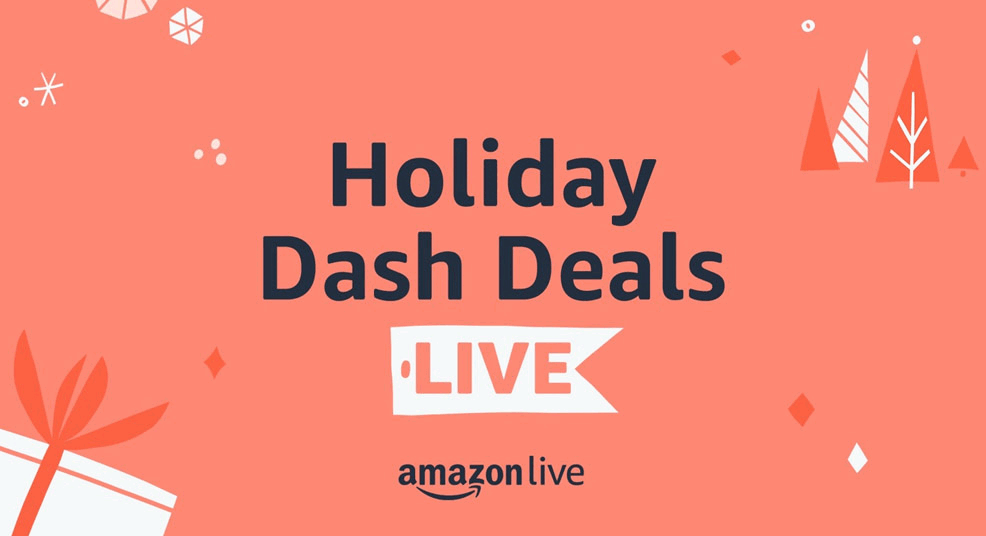 These are important sources of DHA and ARA, and they are extracted with water (not hexane). While we prefer natural fish oil, these are an excellent source of essential fatty acids and are found in most US baby formulas.

ByHeart Formula: Best Practices?
ByHeart was founded by Ron Belldegrun and Mia Funt, who wanted to help the formula industry catch up to the science of breast milk and breastfeeding.
When only three companies (Enfamil, Similac, Gerber) occupy about 90% of the USA's 4 billion dollar infant formula market, that means you have a few giant companies that are generally slow to innovate.
Over the past five years, Ron and Mia began their journey to revolutionize the US infant formula market, and it shows!
They began by recruiting a group of world-class pediatricians, scientists, nutritionists, and other formula experts. Then they built a new infant formula ingredients sourcing and production process from the ground up.
In 2019, they established a full small-batch manufacturing facility in Reading, PA. While all the other small infant formula companies outsource their production and packaging (for example, Bobbie formula and Burt's Bees formula use Perrigo as a manufacturer), ByHeart wanted to become one of only four fully integrated baby formula manufacturers in the entire country.
Here is a photo of their newly acquired (and revamped) facility: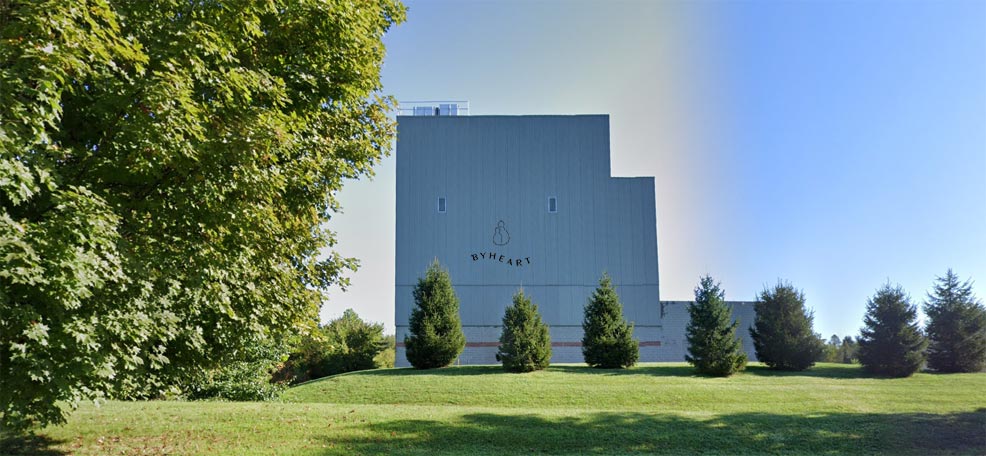 Also in 2019, ByHeart began the largest clinical trial of a new infant formula brand in over 25 years! A clinical trial is a highly-controlled scientific test of how the infant formula performs in a group of babies being fed exclusively ByHeart. They asked how babies fed with ByHeart experienced spit-up, bowel movement frequency and consistency, gassiness, weight gain, brain growth, sleep patterns, and nutrient absorption.
They compared the results to babies who were exclusively breastfed or fed with a different baby formula (we couldn't get information about what the comparison formula was).
The results of the clinical trial were compelling! Babies fed with ByHeart showed less spit-up, softer poop, less gas, more efficient weight gain and brain growth, shorter sleep latencies, and increased nutrient absorption relative to babies fed with the comparison formula.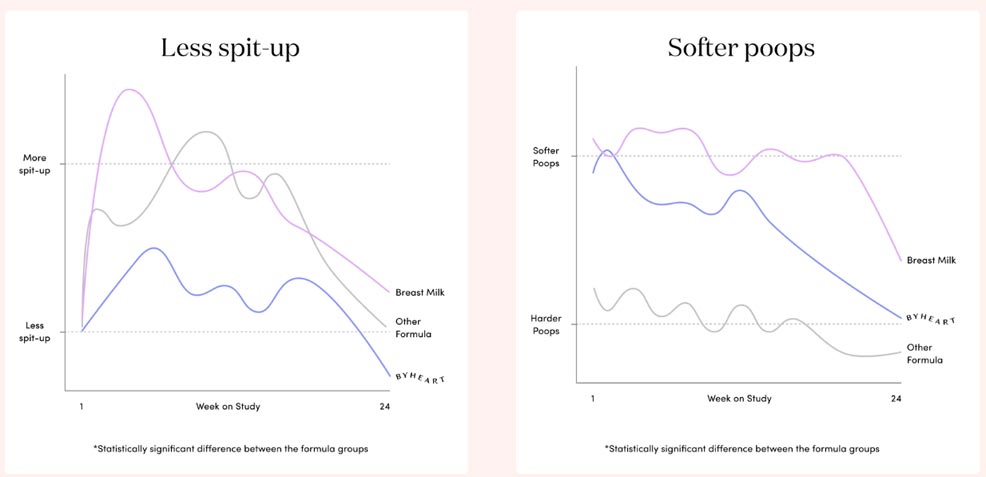 Note: As scientists, we love data, but also realize there are a few things we need to be careful about. First, we haven't seen these results published in a peer-reviewed scientific journal (as of mid-2022); without that, it's difficult to understand whether the study design, procedures, data processing, analysis, or interpretation were appropriate (and we can't find a clinical trial report either). Second, we don't appreciate graphs without labeled units on the X or Y axes, which make them nearly impossible to interpret. Third, there is no measure of variance (such as standard error) depicted on the plots, so it's hard to separate signal from noise. We would also advise against the extreme data smoothing used in the plots, which tends to mask fluctuations over time and misrepresents the discrete sampling used in the actual study. There are other issues too, but we'll patiently await the manuscript!
Nerding aside, we think these look like compelling initial results, but we'd like to see some real data and a peer-reviewed publication!
We do love that ByHeart conducted its own clinical trial. We also love their philosophy of "farm to formula," using strictly vetted dairy farms that deliver their milk from cow-to-ByHeart within 48 hours!
That's pretty impressive. In fact, their ingredient sourcing and manufacturing standards were so impressive that Clean Label Project awarded them the Purity Award, which is their highest possible level of recognition!
The Clean Label Project is one of the most stringent credentialing processes in the world, and their top-tier Purity Award evaluates for chemicals, industrial and environmental toxins, heavy metal contaminants, supply chains, quality assurance practices, and more. It's a very impressive certification for ByHeart to achieve, and they should be proud of the accomplishment!
In addition, ByHeart conducts its own random tests of product batches, testing for over 700 contaminants and ensuring consistent quality. Some other small things are worth pointing out: ByHeart sources its milk from grass-fed organic dairy farms, uses organic lactose and vegetable oils, and organic prebiotics.
We estimate that their ingredients are about 75-80% organic, which doesn't meet the USDA 85% organic requirement, but is pretty fantastic given that all the primary fat, carbohydrate, and protein sources are organic.
It's also worth pointing out that the micro-algae-based DHA used in ByHeart is not extracted using hexane.
ByHeart Formula Ingredients
The ingredient sourcing for ByHeart seems to be relatively rigorous, local, and largely organic.
This will provide some relatively intangible benefits for the quality and consistency of the ingredients, and the Clean Label Project certification is a testament to ByHeart's ability to keep all the nasty stuff (pesticides, herbicides, antibiotics, heavy metals) out of their formula.
Let's take a closer look at what ingredients they're using.
Here are the ingredients in the ByHeart infant formula (as of early 2022 manufacturing date):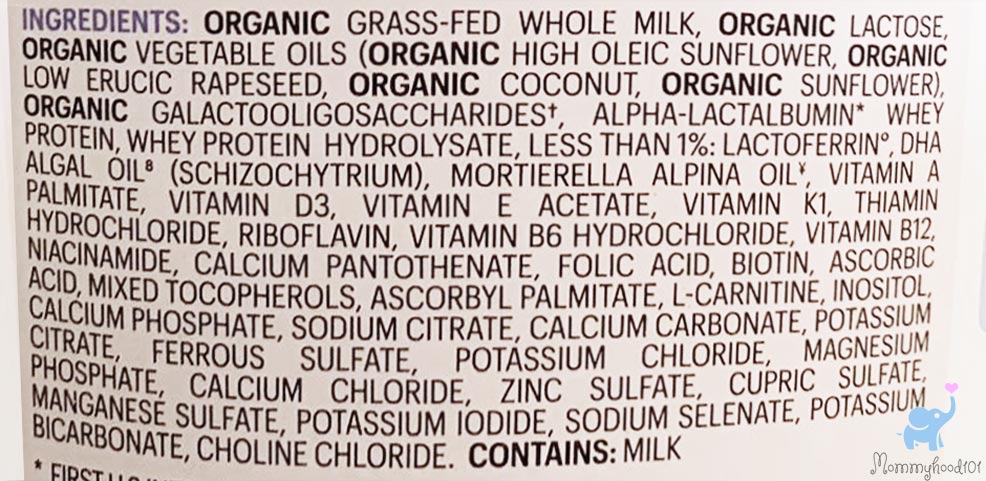 ByHeart Infant Formula Ingredients: Organic grass-fed whole milk, organic lactose, organic vegetable oils (organic high oleic sunflower, organic low erucic rapeseed, organic coconut, organic sunflower), organic galactooligosaccharides, alpha-lactalbumin whey protein, whey protein hydrolysate, less than 1%: lactoferrin, dha algal oil (schizochytrium), mortierella alpina oil, vitamin A palmitate, vitamin D3, vitamin E acetate, vitamin K1, thiamin hydrochloride, riboflavin, vitamin B6 hydrochloride, vitamin B12, niacinamide, calcium pantothenate, folic acid, biotin, ascorbic acid, mixed tocopherols, ascorbyl palmitate, L-carnitine, inositol, calcium phosphate, sodium citrate, calcium carbonate, potassium citrate, ferrous sulfate, potassium chloride, magnesium phosphate, calcium chloride, zinc sulfate, cupric sulfate, manganese sulfate, potassium iodide, sodium selenate, potassium bicarbonate, choline chloride. Contains: Milk.
We love that the first ingredient is organic grass-fed whole milk, and the second ingredient is organic lactose. Just like breast milk, ByHeart keeps all the goodness of the natural fats (without skimming!), and keeps lactose as the primary carbohydrate (just like breast milk!).
We also love how, similar to many modern European formulas, ByHeart doesn't use soy oil or palm oil in their recipe, opting to use sunflower, rapeseed, and coconut as the primary sources of fat.
Proteins are provided through whole milk, whey proteins, alpha-lactalbumin, and lactoferrin. Those last two ingredients require some explanation!
Alpha-lactalbumin: This is the primary protein found in breast milk, constituting about 40% of colostrum's protein content, and 25% of later breast milk's protein content (source). Alpha-lactalbumin contains several essential amino acids and is associated with intestinal health, growth, immune response, and iron and zinc absorption in infants (source).
Lactoferrin: This is a protein found in early breast milk (colostrum) and it is thought to have several nutritional benefits. One is that it can protect babies against bacterial, viral, and fungal infections (source), and second, it can help regulate the absorption of iron (source). We love that ByHeart is incorporating this important protein found in breast milk!
Here are some ingredients that we did not find in ByHeart formula: soy, palm oil, starch, maltodextrin, artificial colors, artificial flavors, preservatives, sucrose, gluten, genetically modified organisms (GMOs), carrageenan, or high fructose corn syrup.
Some other ingredients worth mentioning:
Schizochytrium Sp. Oil: There are basically two primary ways to get DHA (docosahexaenoic acid, an important Omega-3 fatty acid found in breast milk) into a baby formula. The first is by adding fish oil, and the second is by adding algae oil. ByHeart, like most US formula manufacturers (including Bobbie), decided to add algae oil, specifically schizochytrium sp. oil, which is oil extracted from freshwater microalgae. This oil is an excellent source of DHA, containing up to 40% DHA content. While some baby formula manufacturers use potentially hazardous chemicals to extract DHA from this oil, such as hexane, ByHeart uses a water-based extraction method. So while we prefer the use of DHA from fish oil, which is more common in European baby formulas, this ingredient is perfectly fine as a DHA source.
Mortierella Alpina Oil: This oil is an excellent source of ARA (arachidonic acid, an important Omega-6 fatty acid found in breast milk), which most adults introduce into their diets through eggs, poultry, and meat. Mortierella Alpina is a fungus that is fermented and has an ARA-rich oil extracted from it. Mortierella Alpina oil is considered generally safe for infant consumption, though there has been some controversy (particularly among parents reporting diarrhea and other symptoms) surrounding its use.

ByHeart Formula Nutritional Analysis
When we review a baby formula, we like to examine whether it meets the guidance put forth by the US Department of Agriculture (USDA, see references), Food and Drug Administration (FDA), and American Academy of Pediatrics (AAP). To do so, we consulted with a dietician nutritionist with expertise in infant feeding (Mr. John Anderson).
Note that the FDA publishes guidance in 21 U.S. Code 350a regarding nutrient requirements in infant formula. This regulation includes minimum protein, fat (and fatty acid linoleate) content. It also includes ranges for 15 vitamins and 11 minerals. Because ByHeart is an FDA registered infant formula, we didn't expect any surprises!
Here are the FDA requirements per 100 kilocalories of formula (see references). In parentheses, we show the amount included in ByHeart's formula.
FDA Nutritional Requirements:
| | |
| --- | --- |
| Protein | 0-6mo: 1.8g to 4.5g (2g) |
| Fat | 0-6mo: 3.3g to 6.0g (5.6g) |
| Essential Fatty Acid (LA Omega-6) | 0-6mo: ≥300mg (700mg) |
| Vitamin A | 0-6mo: 250IU to 750IU (300IU) |
| Vitamin D | 0-6mo: 40IU to 100IU (60IU) |
| Vitamin K | 0-6mo: ≥4μg (9μg) |
| Vitamin E | 0-6mo: 0.7IU (2IU) |
| Vitamin C | 0-6mo: ≥8mg (12mg) |
| Vitamin B1 | 0-6mo: ≥40μg (80μg) |
| Vitamin B2 | 0-6mo: ≥60μg (140μg) |
| Vitamin B6 | 0-6mo: ≥35μg (60μg) |
| Vitamin B12 | 0-6mo: ≥0.15μg (0.3μg) |
| Niacin | 0-6mo: ≥250μg (1000μg) |
| Folic Acid | 0-6mo: ≥4μg (16μg) |
| Pantothenic Acid | 0-6mo: ≥300μg (500μg) |
| Biotin | 0-6mo: ≥1.5μg (3μg) |
| Choline | 0-6mo: ≥7mg (26μg) |
| Inositol | 0-6mo: ≥4mg (6μg) |
| Calcium | 0-6mo: ≥50mg (78mg) |
| Phosphorus | 0-6mo: ≥25mg (46mg) |
| Magnesium | 0-6mo: ≥6mg (8mg) |
| Iron | 0-6mo: ≥0.15mg (1mg) |
| Iodine | 0-6mo: ≥5μg (15μg) |
| Zinc | 0-6mo: ≥0.5mg (0.7mg) |
| Copper | 0-6mo: ≥60μg (67μg) |
| Manganese | 0-6mo: ≥5μg (15μg) |
| Sodium | 0-6mo: 20mg to 60mg (36mg) |
| Potassium | 0-6mo: 80mg to 200mg (107mg) |
| Chloride | 0-6mo: 55mg to 150mg (63mg) |
In our review of the ByHeart formula, we found that it met all of the minimum FDA nutritional requirements (and did not exceed any of their maximums).
Here is a photo of the ByHeart formula nutrition facts: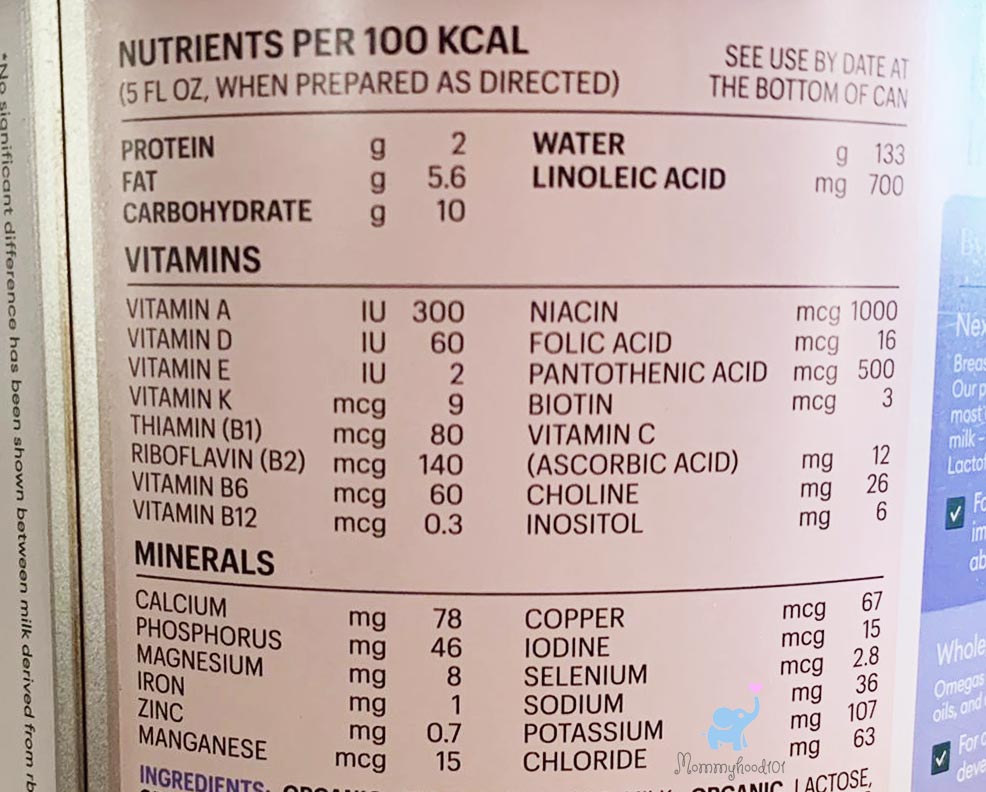 The USDA does not publish recommended daily allowances (RDAs) for infants between 0-6 months. Instead, they publish information about Adequate Intake (AI), which is used when there is not enough evidence to make a formal RDA. The AI is set at a level assumed to provide nutritional adequacy.
Here are the USDA's AIs (per day) for infants aged 0-6 months, and 6-12 months. Units are grams (g), milligrams (mg), micrograms (μg).
USDA Nutritional Recommendations:
| | | |
| --- | --- | --- |
| Carbohydrates | 0-6mo: 60g | 6-12mo: 95g |
| Proteins | 0-6mo: 9.1g | 6-12mo: 11g |
| Fats | 0-6mo: 31g | 6-12mo: 30g |
| Omega-3 | 0-6mo: 0.5g | 6-12mo: 0.5g |
| Omega-6 | 0-6mo: 4.4g | 6-12mo: 4.6g |
| Vitamin A | 0-6mo: 400μg | 6-12mo: 500μg |
| Vitamin B1 | 0-6mo: 0.2mg | 6-12mo: 0.3mg |
| Vitamin B2 | 0-6mo: 0.3mg | 6-12mo: 0.4mg |
| Vitamin B6 | 0-6mo: 0.1mg | 6-12mo: 0.3mg |
| Vitamin B12 | 0-6mo: 0.4μg | 6-12mo: 0.5μg |
| Vitamin C | 0-6mo: 40mg | 6-12mo: 50mg |
| Vitamin D | 0-6mo: 5μg | 6-12mo: 5μg |
| Vitamin E | 0-6mo: 4mg | 6-12mo: 5mg |
| Vitamin K | 0-6mo: 2μg | 6-12mo: 2.5μg |
| Folate | 0-6mo: 65μg | 6-12mo: 80μg |
| Niacin | 0-6mo: 2mg | 6-12mo: 4mg |
| Calcium | 0-6mo: 210mg | 6-12mo: 270mg |
| Iron | 0-6mo: 0.27mg | 6-12mo: 11mg |
You won't be surprised to learn that the ByHeart formula also meets all of the USDA recommendations.
If you assume that an infant around 3 months old needs to consume about 550 calories per day, that would be about 27.5 ounces of prepared ByHeart formula. That daily intake provides adequate macronutrient and micronutrient composition relative to the USDA recommendations.
If you need more guidance, check out this feeding guide from Johns Hopkins Medicine and always talk to your child's pediatrician about the proper quantity and frequency of formula for your unique baby!
The only challenge was figuring out the exact Omega-3 and Omega-6 contents.
The nutrition facts do disclose that each 100kcal of formula contains 700mg of linoleic acid, which is an Omega-6 fatty acid. However, we also know that the formula contains ARA, another Omega-6 fatty acid that's found in the vegetable oils used in ByHeart, but the amount is not disclosed on the nutrition label. Similarly, we also know that the formulas contain DHA, an Omega-3 fatty acid, but the amount is not disclosed on the nutrition label.
Note that disclosing these amounts on a nutrition label is not required in the USA (it's only required for linoleic acid). We reached out to ByHeart for more details and will update this article when they're provided.
ByHeart Testing in Infants
We were excited to test the ByHeart formula for a few reasons.
First, ByHeart uses an 80:20 whey-to-casein ratio, which is very similar to early breast milk (colostrum). Also similar to breast milk, they use lactose as a primary carbohydrate.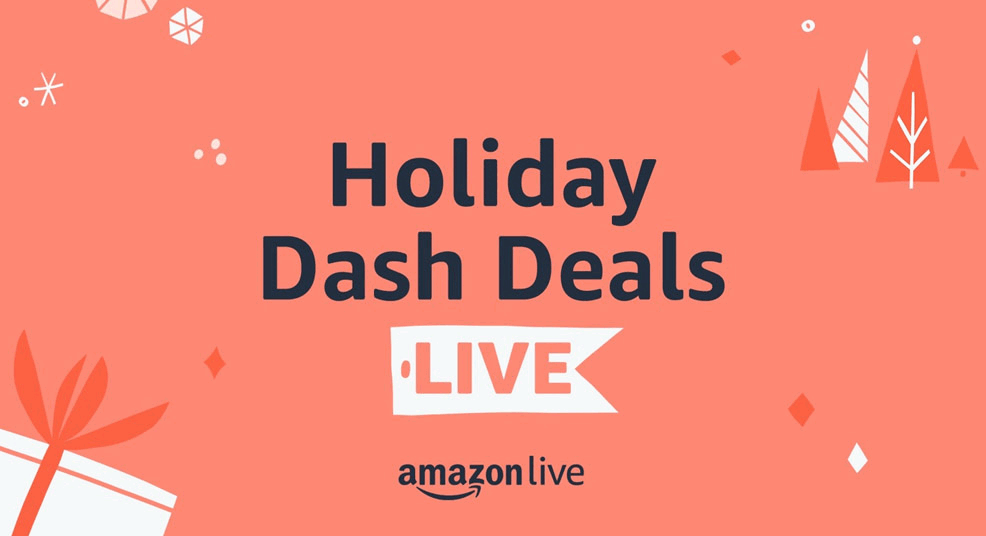 Second, we love the ingredients list, the nutritional profile, and the fact that it contains prebiotics. Moms have reached out to us with concerns about Bobbie causing some tummy upset in more sensitive babies, such as spit-up. Prebiotics can help a bit with that situation, so we were excited to give ByHeart a shot!
Mixing and Taste-Testing
We had no difficulty mixing ByHeart with warm (100 degrees F) water. It readily dissolved in the water and there wasn't any foaming or bubbling after shaking, which is great!
To prepare the formula, we followed the instructions:
Sterilize or boil water and utensils before use. Wash hands thoroughly before formula preparation.
Pour the desired amount of warm (approximately 100 degrees F/40 degrees C) into the bottle. Add powder according to the Mixing Guide. Use only the scoop provided. Store dry scoop in cap.
Cap bottle and SHAKE WELL to mix formula. Feed immediately. Once feeding begins, use the formula within 1 hour or discard. Here are the instructions: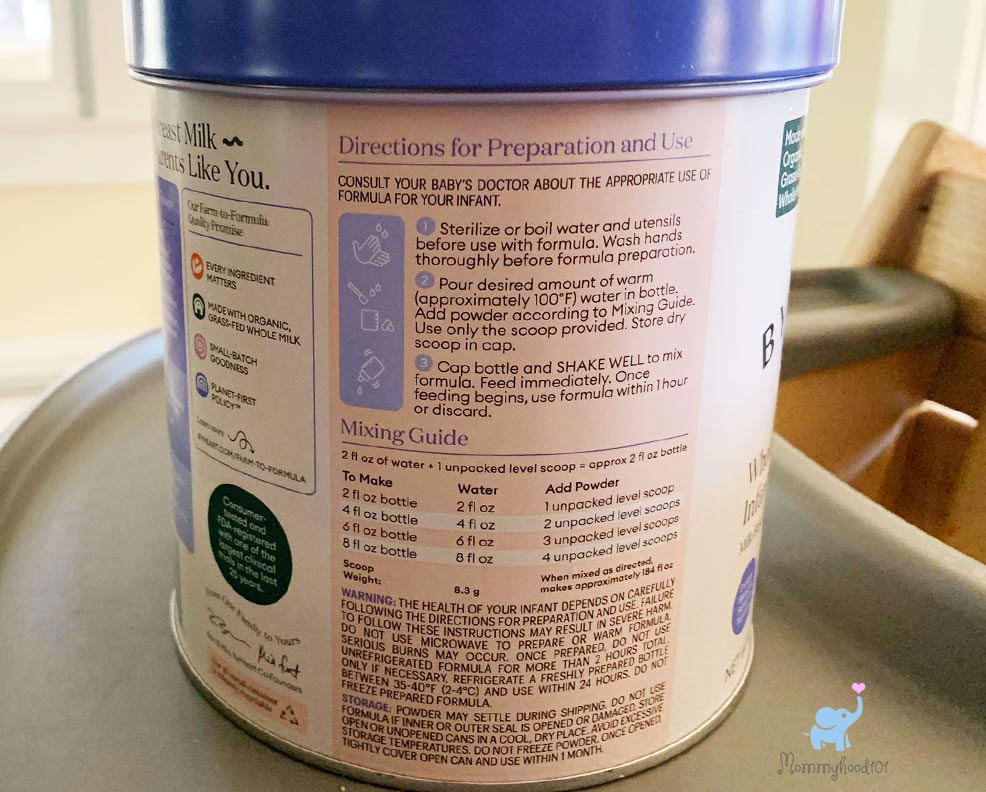 The powder was a faint yellowish color, just like most other formulas we've tested, and had a smooth and easy texture for scooping.
Here is what the formula and scoop looked like: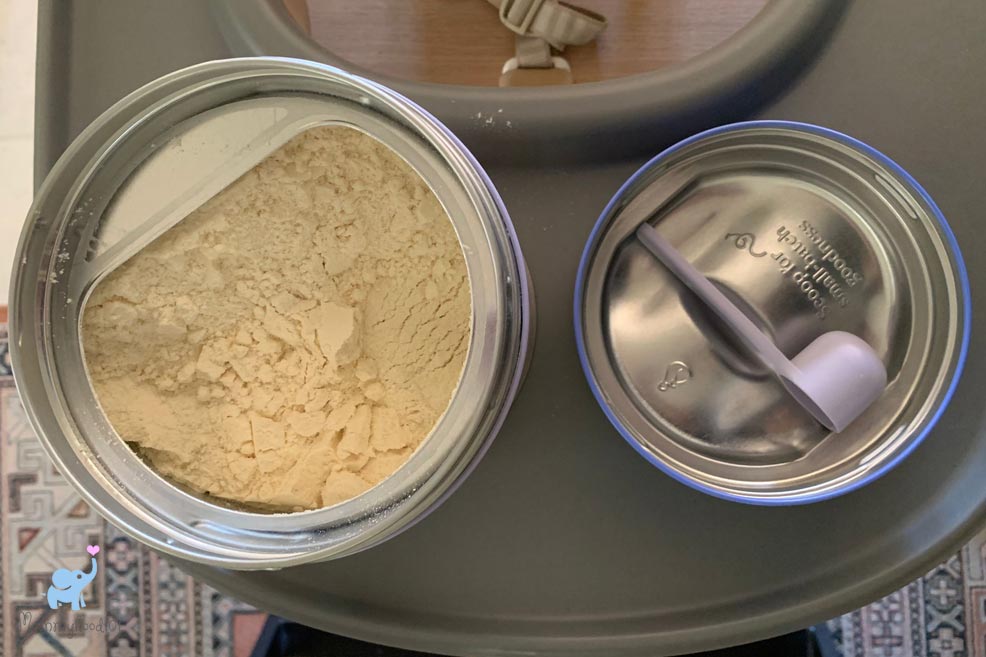 There are two truly awesome aspects of ByHeart that we need to emphasize!
First, the big blue lid is twist-off, which we love. Yes, it's harder to do one-handed, but it's also much less messy than a peel-off lid that tends to flip a bit of powder around each time you open it.
Second, the tin has a leveling ledge for the scooper, to help you make nice level scoops of formula. See the above photo for what we mean. We love that!
Third was a bit of genius: the scooper, rather than being buried down somewhere in the formula, was attached to the underside of the lid! We love it when it's clear that a brand is thinking about how to simplify the parent's experience! Awesome!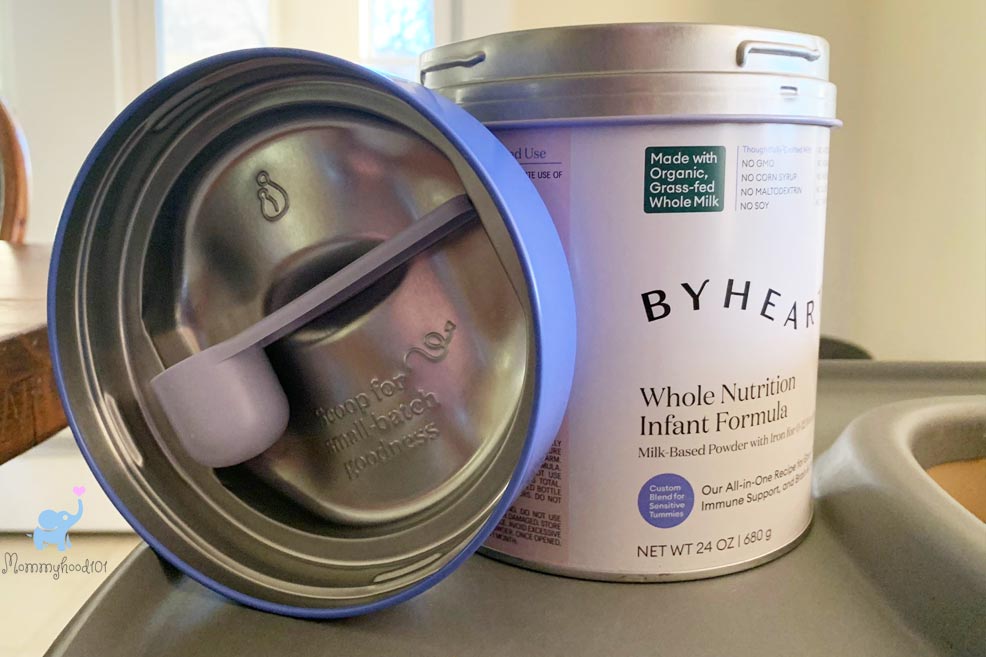 It's also worth pointing out that this container can be recycled with metals and plastics, which is a nice touch.
The mixing went very well! Here is a photo of the prepared ByHeart formula: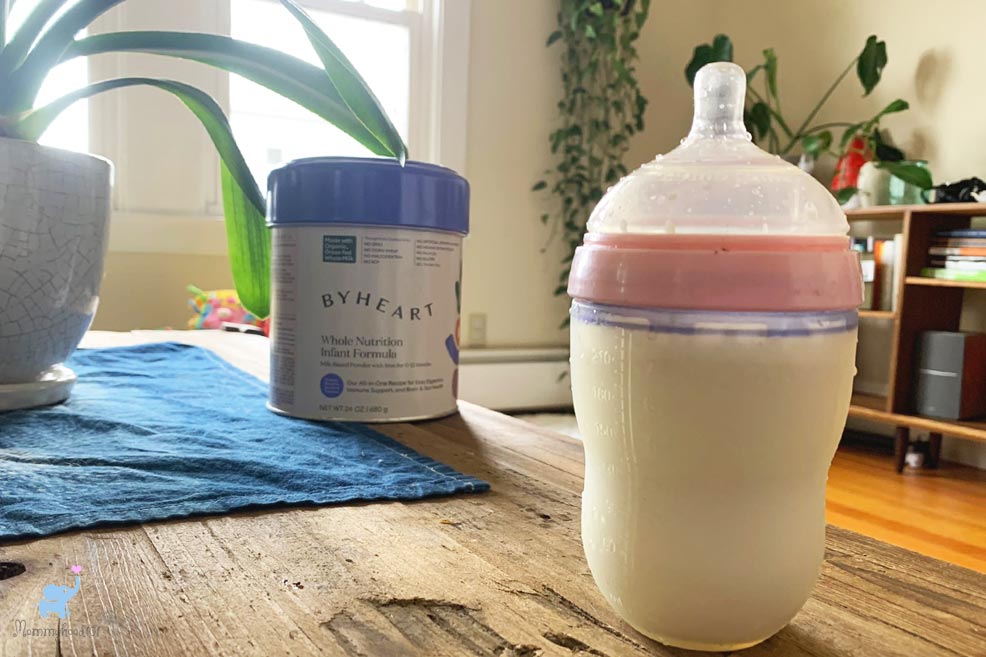 The bubbles and foam were minimal and settled very quickly after mixing, which is what we like to see!
Want to learn more about that awesome Comotomo baby bottle? Check out our list of the Best Baby Bottles of the year!
Overall, we were very happy with the mixing and preparation of the ByHeart formula and were excited to test it out with two infants: a 4-month-old and a 7-month-old.
Safety First: Never prepare powdered formula with anything but water. If you're interested in fortifying your breast milk with formula you must ask your doctor for guidance first, as this can be very dangerous for your baby.
Feeding with ByHeart
As always, we taste-tested ByHeart ourselves because we like to know what we're feeding our little ones (we also do this when testing the best organic baby foods).
The taste was very similar to Bobbie, with a great balance of sweet and savory, while maintaining a relatively subtle taste profile that is unlikely to make babies turn their heads away.
And that's exactly what we found - 100% acceptance of ByHeart formula in both babies! That's rare with any baby formula, and we were really happy!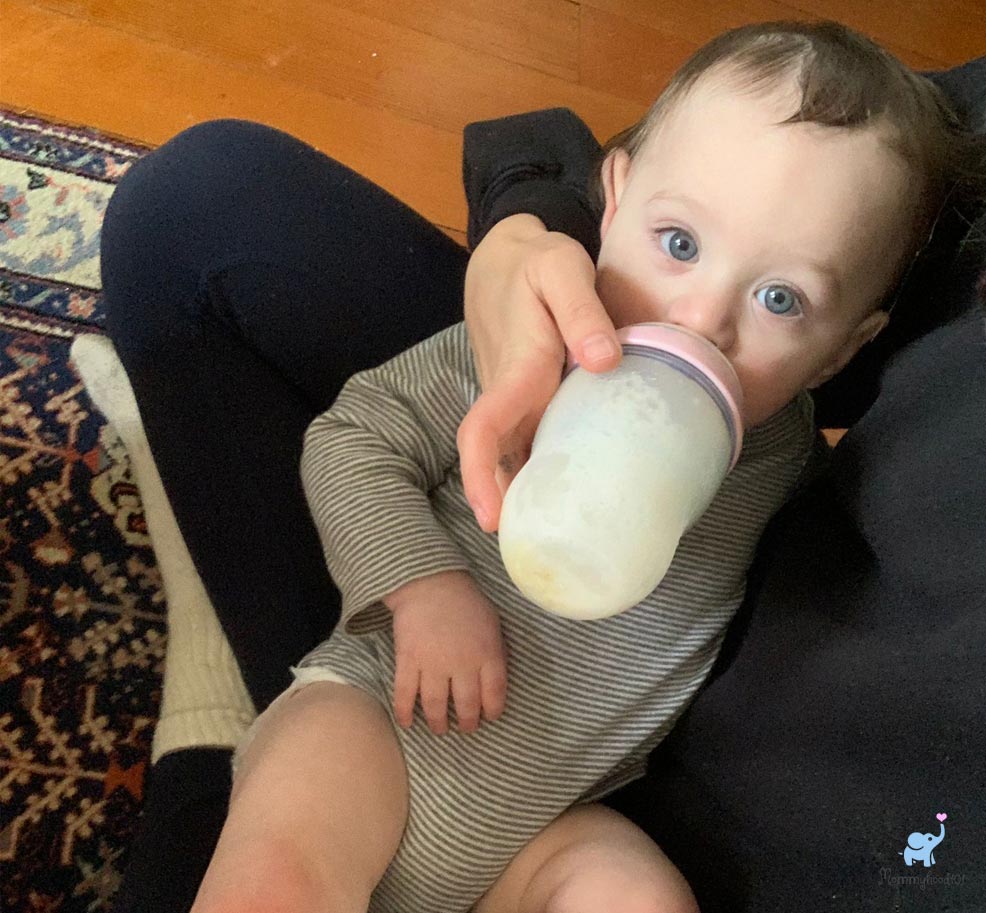 Not only did both infants readily accept ByHeart, but they also continued to consume their normal amounts of milk. One of the babies was primarily breastfed, and the other was formula-fed with Bobbie.
Neither baby developed any apparent gas or discomfort after feeding. In fact, we're happy to report that one of the test parents (who was using Bobbie) immediately switched to ByHeart to solve some spit-up-related issues her little one was having. And she's loving it! If that changes, we'll update this article.
ByHeart Feeding Charts and Auto-Delivery
One of the challenges parents face is figuring out how much baby formula to purchase, and on what schedule.
No parents want to be left with an empty formula tub before the next shipment arrives, or to start stockpiling tubs of formula when they're unsure if they'll keep feeding with it.
Well, ByHeart has prepared an awesome feeding plan tool that helps guide you through exactly how much formula you'll need (based on AAP guidance).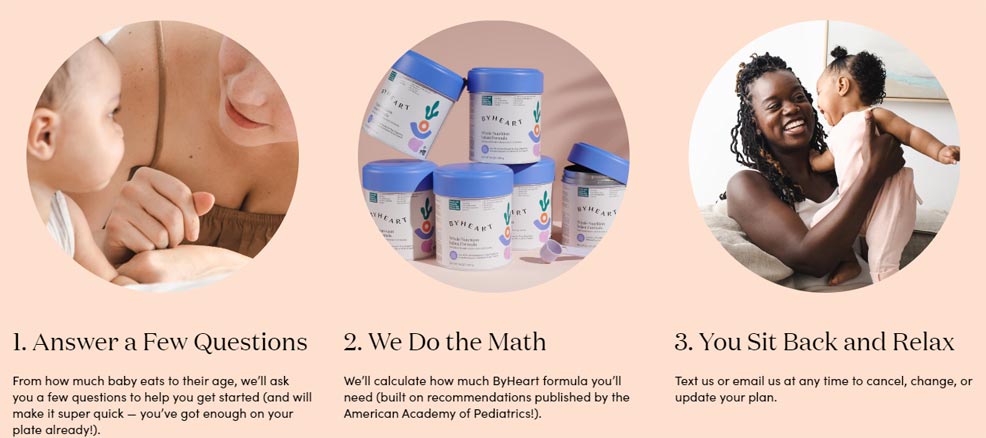 You can then use this information to subscribe to a regular formula delivery schedule that will suit your baby's current consumption, and grow over time with their development.
ByHeart vs Bobbie Comparison
Since ByHeart launched onto the market only a few months ago, we've already gotten a bunch of parents asking us to compare it to Bobbie. Here are some of our thoughts:
ByHeart advantages over Bobbie:
ByHeart uses alpha-lactalbumin as a protein source, which is found in abundance in breast milk (especially colostrum). Bobbie does not.
ByHeart also uses prebiotics (GOS) to aid digestion, but Bobbie does not. We've heard rumors that prebiotics will be mandatory in European baby formulas soon, which also suggests that it might end up becoming more common in US formulas.
ByHeart does not contain any soy or soy oils, which some parents try to avoid due to perceived allergy and hormonal risk. Bobbie uses soybean oil and soy lecithin.
ByHeart contains slightly more biotin, choline, inositol, and folic acid than Bobbie.
ByHeart has an amazing scooper attachment under the lid and a super convenient leveling edge in the tin. Bobbie has neither.
ByHeart provides results from a comprehensive clinical trial that compared it to both breastfeeding and another formula. Bobbie does not provide that.
ByHeart acceptance was the same as Bobbie's, but tolerance seems to be a bit higher with ByHeart. We do not know whether that is due to the prebiotics in ByHeart, or some other factor.
ByHeart manages the ingredients sourcing and manufacturing of their formulas. Bobbie outsources to other companies, such as Organic Valley and Perrigo.
One of our testing moms switched to ByHeart from Bobbie after giving it a shot, citing lower frequency and intensity of spit-up. We know how hard it is to switch formulas, so this speaks volumes!
ByHeart is a bit less expensive than Bobbie, coming in at about $1.63/ounce. Bobbie is about $1.84/ounce.
Bobbie advantages over ByHeart:
Bobbie is USDA-certified organic. ByHeart is non-GMO and uses many organic ingredients, but is not certified organic.
Bobbie uses the well-known Organic Valley consortium of dairy farms. ByHeart uses hand-picked local farms, but not this consortium.
Bobbie contains slightly more linoleic acid, iron, and zinc than ByHeart.
Bobbie has a web-based tool that allows you to look up the lot number of your formula and see its information, including quality test results. ByHeart does not.
Bobbie has an amazing feeding table to help parents figure out exactly how much to feed their baby, especially when starting from scratch. ByHeart has a planning tool, but it's not as helpful when starting from scratch.
Bobbie manufactures its products at the Perrigo facilities, which have an excellent reputation for safety and quality control, and was the first to manufacture a 100% organic baby formula in the US!
Overall, we think ByHeart and Bobbie's infant formulas are quite similar to one another. For parents who want a certified organic formula, Bobbie is likely the better choice. For parents looking for a formula with organic ingredients (but not certified organic), but with higher tolerance, prebiotics, and no soy-based ingredients, ByHeart is likely the better choice.

Given the importance of tolerance of a formula, especially for babies with more sensitive tummies, we think ByHeart is overall the better choice than Bobbie. We suggest giving both a try (check out our full Bobbie infant review here), and seeing which one your baby is more likely to accept and tolerate. Every baby is different, so it's worth the comparison!
Conclusions
We were super excited to get our hands on this new formula! We love it when disruptive innovations emerge in the formula market, and we think ByHeart is a great example of how a little idea can make a huge impact.
We love that the ByHeart team started from scratch and worked on research and development for over 5 years, conducted a large-scale (over 300 babies!) clinical trial, produced a formula that is super high quality, received the coveted Purity Award, and ensured excellent ingredients, nutrition, acceptance, and tolerance. Kudos to the ByHeart team!
The only con we encountered was the inclusion of some essential fatty acids extracted from microalgae and fungi. Not a huge deal and both are extracted without using hexane, which makes us feel much better about their inclusion. While we prefer fish oil, some parents and little ones don't appreciate the taste it can add to formulas, which we totally understand.
Overall, we highly recommend ByHeart infant formula and think it is an awesome new addition to the expanding US formula market!
Where to Buy ByHeart Formula?
The ByHeart formula is available exclusively through the ByHeart website, where they currently sell each 680g (24 ounce) can for $39.
That's about $1.65 per ounce, making it less expensive than Bobbie and about the same price as some European baby formulas such as HiPP Combiotik, but a bit more expensive than most other US organic brands such as Earth's Best and Happy Baby.
Great price for an excellent infant formula that we think you and your baby will love!

References Cited
Consulting Dietician Nutritionist (Mr. John Anderson)
United States FDA Infant Formula Nutrient Requirements (full list is here)
United States USDA Infant Nutritional Needs & Recommendations
Safety of Schizochytrium sp. Oil
Safety of Mortierella Alpina Oil
Disclaimer: To our knowledge, all ingredient and nutritional information contained in this article was accurate at the time of publication. We make no guarantees regarding the accuracy or timeliness of the information. Always read the packaging and instructions, and consult with your child's pediatrician before making nutritional and feeding decisions. Baby formulas manufactured and labeled for sale in Europe may or may not be approved for sale in the USA by the FDA or other regulatory bodies, so consumer discretion is advised.