Bobbie Gentle Formula Review & Analysis
If your baby has a sensitive tummy, they will love this new gentle formula from Bobbie!
---
Mommyhood101 independently tests and curates baby gear to help you make informed decisions. If you buy products through links on our site, we may earn a commission.
Bobbie infant formulas are quickly becoming very popular among discerning parents, offering a high-quality organic baby formula option that doesn't cut corners with ingredients, nutrition, or customer service.
One of the chief concerns we noted in our original review of Bobbie formula (which we loved!) was that some babies developed a bit of tummy upset, especially when first transitioning to the Bobbie formula.
Well, Bobbie answered the call with an all-new organic gentle baby formula that uses partially hydrolyzed proteins to ease digestion, and we were very excited to get our hands on it for testing!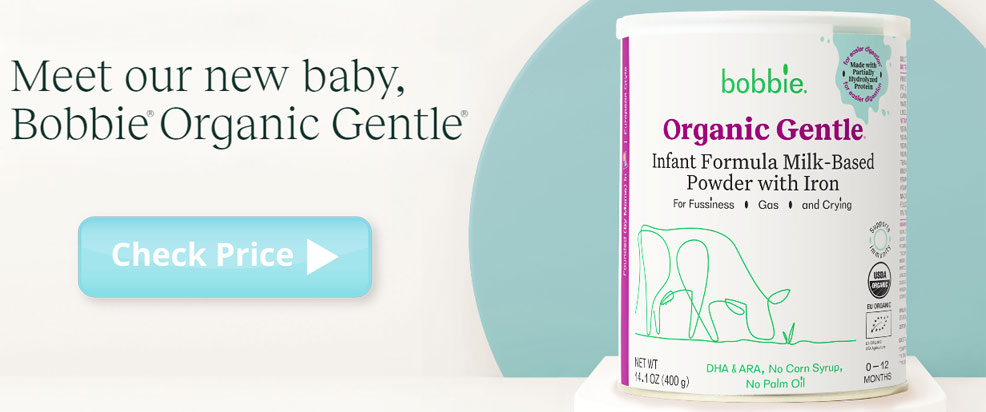 On paper, the new Bobbie organic gentle infant formula looks excellent in terms of its ingredients and nutrition.
That's a good start, but we needed to put it to the test!
To review the Bobbie gentle baby formula, we tested it with two infants (3 months and 9 months) and consulted with a developmental nutritionist to assess ingredients and nutritional contents relative to USDA and FDA guidelines.
Spoiler alert!
The US market, in part due to Operational Fly Formula, is becoming saturated by European and Australian baby formula options.
These include options such as HiPP, Holle, Kendamil, Aussie Bubs, and Lebenswert, giving Bobbie some fierce competition.
We're happy to say that there's a lot to love about this formula, including its organic ingredients and nutritional composition, and we are super excited to have a new gentle formula option on the US market!
The new Bobbie gentle infant formula is great for newborns and infants alike, showing high acceptance and tolerance. The nutrition is top-notch, the ingredients are thoughtfully sourced and well-composed, and Bobbie does an excellent job with their feeding charts and monthly subscription service.
The gentle formulation is superior in a few ways: it uses partially hydrolyzed whey protein, includes lactose as the primary ingredient (like Aussie Bubs), and has a tummy-friendly whey-to-casein balance.
We did find some very minor cons that are worth pointing out, mostly related to ingredients and preparation.
The original Bobbie formula is included on our list of the best organic baby formulas, which means it has a lot to live up to!
Overall, we give the new Bobbie organic gentle infant formula a 4.8 out of 5, which puts it in direct competition with some of the most popular brands on the market. Keep reading to see how we reached these conclusions!
Bobbie Organic Gentle Formula: Take-home Message
Most people don't want to read this entire article to see what we found. So here is the summary of what we loved, and what we didn't.
✔️ USDA Certified organic.
✔️ EU Certified organic.
✔️ Nutrition at FDA standards.
✔️ Nutrition at USDA standards.
✔️ First ingredient is lactose.
✔️ Clean Label Project Purity Award.
✔️ Nothing artificial.
✔️ Nothing artificial.
✔️ DHA not extracted with hexane.
✔️ No maltodextrin or starch.
✔️ No sucrose.
✔️ No soy.
✔️ No glucose syrup solids.
✔️ Gluten-free.
✔️ Omega-3 via DHA.
✔️ Omega-6 via ARA & LA.
✔️ Inositol, Choline & Biotin.
✔️ Amino Acids (in whey protein).
✔️ High infant acceptance.
✔️ Low gas, indigestion, constipation.
✔️ No palm oil.
❌ No prebiotics or probiotics.
Overall, we think there is a lot to love about the new Bobbie organic gentle infant formula, especially when it comes to the sensitive ingredients and excellent nutritional composition.
While Bobbie formulas do not include prebiotics or probiotics, most infants will not need supplemental prebiotics or probiotics in their formula, and some of the ingredients (such as lactose) have a natural prebiotic effect in the gut.
The Bobbie organic gentle formula (and their original formula) does contain Mortierella Alpina oil and Schizochytrium Sp. oil. While we used to prefer fish oil or other sources for DHA and ARA, these are excellent alternatives because they are extracted with water (not hexane).
This makes them not only an excellent source of essential fatty acids, it also helps parents stay confident that their baby is not consuming any nasty byproducts of solvents or other chemicals used during manufacturing.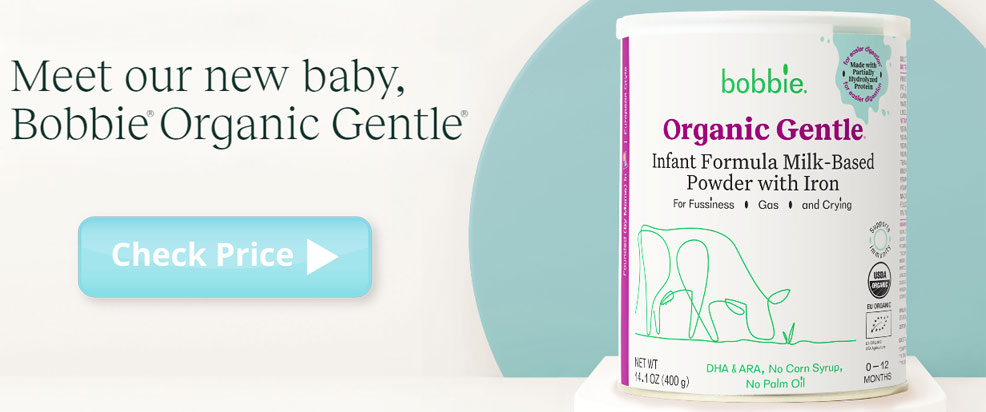 Bobbie Organic Gentle Formula: Best Practices?
Bobbie was founded by two moms, Laura and Sarah, in San Francisco, CA.
Their first baby formula was launched in early 2021, and they manufacture their formulas in Vermont through a contractual arrangement with PBM Nutritionals, LLC.
PBM Nutritionals, which does business as Perrigo Nutritionals, is one of the only ISO 9001:2000-certified infant formula-manufacturing facilities in the United States. They also conform to the Safe Quality Food Program and Quality Assurance International certifications.
According to our research, PBM Nutritionals has over 20 years of manufacturing and packaging infant milk. In addition to Bobbie, they also manufacture the Burt's Bees organic formulas, and several store brand formulas.

At their factory in Vermont, they conduct over 2500 different tests of baby formulas per month, ensuring quality compliance and reliability.
All told, while Perrigo is a large company that produces (and rebrands) generic baby formulas, they do appear to follow a rigid set of standards and certifications.
According to Bobbie, the dairy (lactose, nonfat milk, whey) in their formula is sourced from a cooperative of small family farms, including from Organic Valley pasture-raised cows.
The DHA used in Bobbie, which originates from micro-algae, is sourced from DSM Nutritional Products, makers of the popular Life'sDHA, which is used in nearly all US baby formula brands.
Bobbie Formula Ingredients
The ingredient sourcing for the Bobbie organic gentle infant formula is not quite as transparent as we'd like. Some companies, such as Löwenzahn, provide complete information about ingredient sourcing for every tin of formula.
However, we are happy to see that Bobbie has chosen dairy ingredient suppliers such as Organic Valley, which is reassuring.
The use of ingredients sourced from small organic farms provides some intangible benefits for the quality of infant and toddler formulas.
While these benefits may not appear on an ingredients label, this usually means that there is a lower risk of the products containing all the nasty stuff you don't want to occur (even in trace amounts), like pesticides, herbicides, antibiotics, or heavy metals.
Here are the ingredients in the Bobbie gentle infant formula (as of the mid-2023 manufacturing date):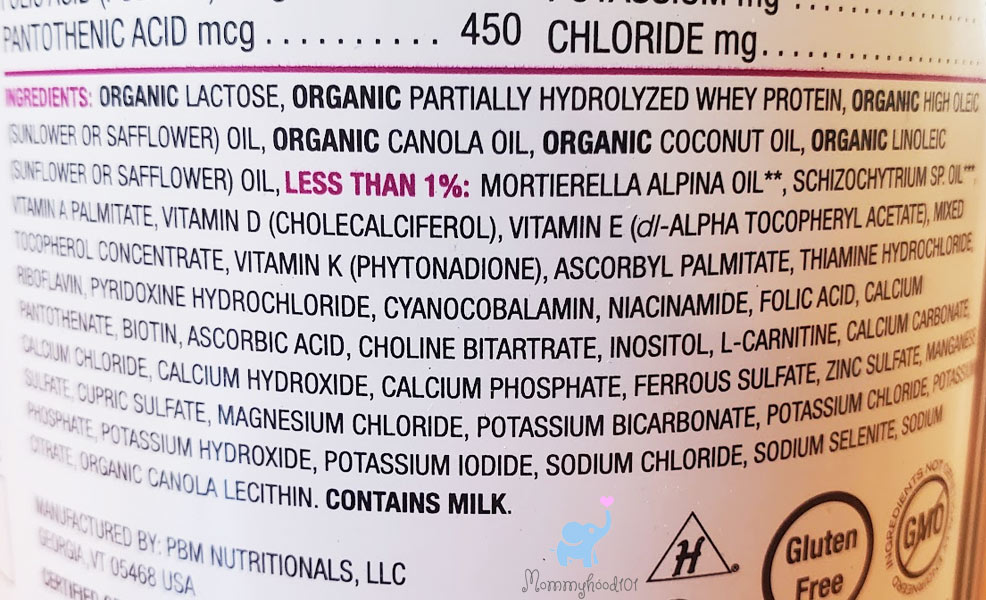 Bobbie Organic Gentle Infant Formula Ingredients: ORGANIC LACTOSE, ORGANIC PARTIALLY HYDROLYZED WHEY PROTEIN, ORGANIC HIGH OLEIC (SUNFLOWER OR SAFFLOWER) OIL, ORGANIC CANOLA OIL, ORGANIC COCONUT OIL, ORGANIC LINOLEIC (SUNFLOWER OR SAFFLOWER) OIL, LESS THAN 1%: MORTIERELLA ALPINA OIL**, SCHIZOCHYTRIUM SP. OIL***, VITAMIN A PALMITATE, VITAMIN D (CHOLECALCIFEROL), VITAMIN E (dl-ALPHA TOCOPHERYL ACETATE), MIXED TOCOPHEROL CONCENTRATE, VITAMIN K (PHYTONADIONE), ASCORBYL PALMITATE, THIAMINE HYDROCHLORIDE, RIBOFLAVIN, PYRIDOXINE HYDROCHLORIDE, CYANOCOBALAMIN, NIACINAMIDE, FOLIC ACID, CALCIUM PANTOTHENATE, BIOTIN, ASCORBIC ACID, CHOLINE BITARTRATE, INOSITOL, L-CARNITINE, CALCIUM CARBONATE, CALCIUM CHLORIDE, CALCIUM HYDROXIDE, CALCIUM PHOSPHATE, FERROUS SULFATE, ZINC SULFATE, MANGANESE SULFATE, CUPRIC SULFATE, MAGNESIUM CHLORIDE, POTASSIUM BICARBONATE, POTASSIUM CHLORIDE, POTASSIUM PHOSPHATE, POTASSIUM HYDROXIDE, POTASSIUM IODIDE, SODIUM CHLORIDE, SODIUM SELENITE, SODIUM CITRATE, ORGANIC CANOLA LECITHIN. CONTAINS MILK.
We love that the primary carbohydrate is lactose, just like breast milk!
Here are some ingredients that we did not find in Bobbie formula: palm oil, soybean oil, soy lecithin, starch, maltodextrin, food starch, artificial colors, artificial flavors, preservatives, sucrose, gluten, genetically modified organisms (GMOs), carrageenan, or high fructose corn syrup.
Some ingredients worth talking about:
Schizochytrium Sp. Oil: There are basically two primary ways to get DHA into baby formula. DHA stands for docosahexaenoic acid, and is an important Omega-3 fatty acid found in breast milk. The first way to get DHA into formula is by adding fish oil, and the second is by adding algae oil. Bobbie, like most US formula manufacturers, decided to add algae oil, specifically schizochytrium sp. oil, which is an oil extracted from freshwater microalgae. This oil is an excellent source of DHA, containing up to 40% DHA content. While some baby formula manufacturers use potentially hazardous chemicals to extract DHA from this oil, such as hexane, Bobbie uses a water-based extraction method. So while we prefer the use of DHA from fish oil, which is more common in European baby formulas, this ingredient is perfectly fine as a DHA source.
Mortierella Alpina Oil: This oil is an excellent source of ARA (arachidonic acid), an important Omega-6 fatty acid found in breast milk. Most adults get ARA in their diets through eggs, poultry, and meat. Mortierella Alpina is a fungus that is fermented and has an ARA-rich oil extracted from it. Mortierella Alpina oil is considered generally safe for infant consumption, though there has been some controversy (particularly among parents reporting diarrhea and other symptoms) surrounding its use. We haven't experienced this ourselves, and we cannot find any compelling evidence that it causes gastrointestinal distress.
What makes the Bobbie formula gentle?
The Bobbie gentle formula uses partially hydrolyzed whey protein, whereas the original Bobbie uses nonfat milk and whey protein concentrate.
What is partially hydrolyzed whey protein?
Whey protein can be difficult for sensitive little tummies to digest. Hydrolyzing the protein involves breaking down the protein into smaller components; namely, amino acids and peptides.
Research shows that when these two components are separated, they are faster and easier for infants to digest.
Research also shows they are linked with other benefits for infants, such as decreased rates of eczema (atopic dermatitis).
Many people wrongly believe that sensitivity to baby formula is caused by lactose content. It is very unlikely that your baby has a sensitivity or allergy to lactose, especially if they are full-term (lactase enzymes are present in the gut after about 36 weeks gestation). It is more likely that they have a sensitivity to cow's milk protein.
Interestingly, most gentle baby formulas have a few problems:
They tend to not taste as good as non-gentle formulas. This is because hydrolyzing proteins can change their taste profile.
They tend to be much more difficult to prepare, with clumps settling at the bottom of a bottle.
They tend to reduce lactose content and compensate by adding corn syrup, corn syrup solids, sucrose, brown rice syrup, and/or maltodextrin. These are very unhealthy ingredients to have in an infant formula. For example, corn syrup in infant formula is associated with childhood obesity, fussiness about food, and metabolic disorders.
We were impressed by the Bobbie gentle formula because it did not strip away the lactose and replace it with unhealthy carbohydrates. Instead, they kept the lactose (just like breast milk!) and broke down the dominant proteins to help your little one digest the formula more easily.
Regarding preparation and taste, we'll see what happens in our testing!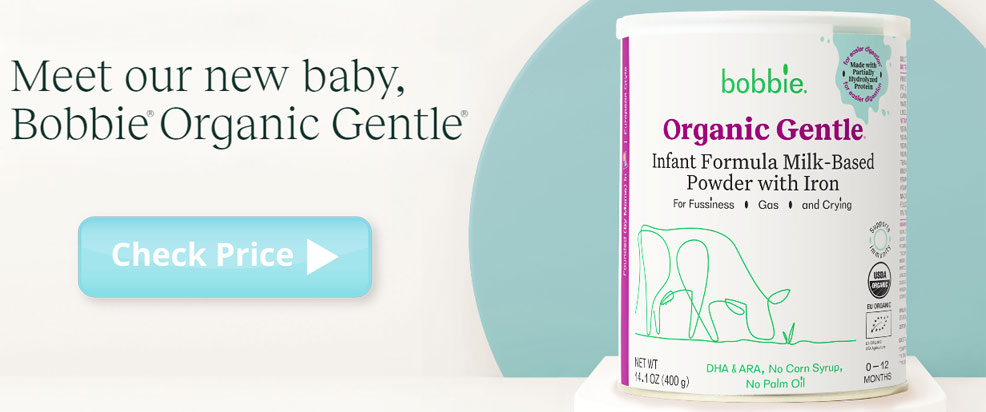 Bobbie Gentle Formula Nutritional Analysis
To examine whether the Bobbie organic gentle infant formula comes close to the stringent nutritional recommendations put forth by the US Department of Agriculture (USDA, see references), Food and Drug Administration (FDA), and American Academy of Pediatrics (AAP), we consulted with a dietician nutritionist with expertise in infant feeding (Mr. John Anderson).
Note that the FDA publishes guidance in 21 U.S. Code 350a regarding nutrient requirements in infant formula. This regulation includes minimum protein, fat (and fatty acid linoleate) content. It also includes ranges for 15 vitamins and 11 minerals.
Here are the FDA requirements per 100 kilocalories of formula (see references):
FDA Nutritional Requirements:
| | |
| --- | --- |
| Protein | 0-6mo: 1.8g to 4.5g |
| Fat | 0-6mo: 3.3g to 6.0g (≥ 30% of calories) |
| Essential Fatty Acid (LA Omega-6) | 0-6mo: ≥300mg (≥2.7% of calories) |
| Vitamin A | 0-6mo: 250IU to 750IU (75-225μg if retinol) |
| Vitamin D | 0-6mo: 40IU to 100IU |
| Vitamin K | 0-6mo: ≥4μg |
| Vitamin E | 0-6mo: 0.7IU |
| Vitamin C | 0-6mo: ≥8mg |
| Vitamin B1 | 0-6mo: ≥40μg |
| Vitamin B2 | 0-6mo: ≥60μg |
| Vitamin B6 | 0-6mo: ≥35μg |
| Vitamin B12 | 0-6mo: ≥0.15μg |
| Niacin | 0-6mo: ≥250μg |
| Folic Acid | 0-6mo: ≥4μg |
| Pantothenic Acid | 0-6mo: ≥300μg |
| Biotin | 0-6mo: ≥1.5μg (for non-milk-based formulas) |
| Choline | 0-6mo: ≥7mg (for non-milk-based formulas) |
| Inositol | 0-6mo: ≥4mg (for non-milk-based formulas) |
| Calcium | 0-6mo: ≥50mg |
| Phosphorus | 0-6mo: ≥25mg |
| Magnesium | 0-6mo: ≥6mg |
| Iron | 0-6mo: ≥0.15mg |
| Iodine | 0-6mo: ≥5μg |
| Zinc | 0-6mo: ≥0.5mg |
| Copper | 0-6mo: ≥60μg |
| Manganese | 0-6mo: ≥5μg |
| Sodium | 0-6mo: 20mg to 60mg |
| Potassium | 0-6mo: 80mg to 200mg |
| Chloride | 0-6mo: 55mg to 150mg |
In our review of the Bobbie gentle formula, we found that it met all of the minimum FDA nutritional requirements (and did not exceed any of their maximums).
This isn't surprising because all Bobbie formulas are FDA regulated and cleared for distribution in the USA.
Here is a photo of the Bobbie nutrition facts: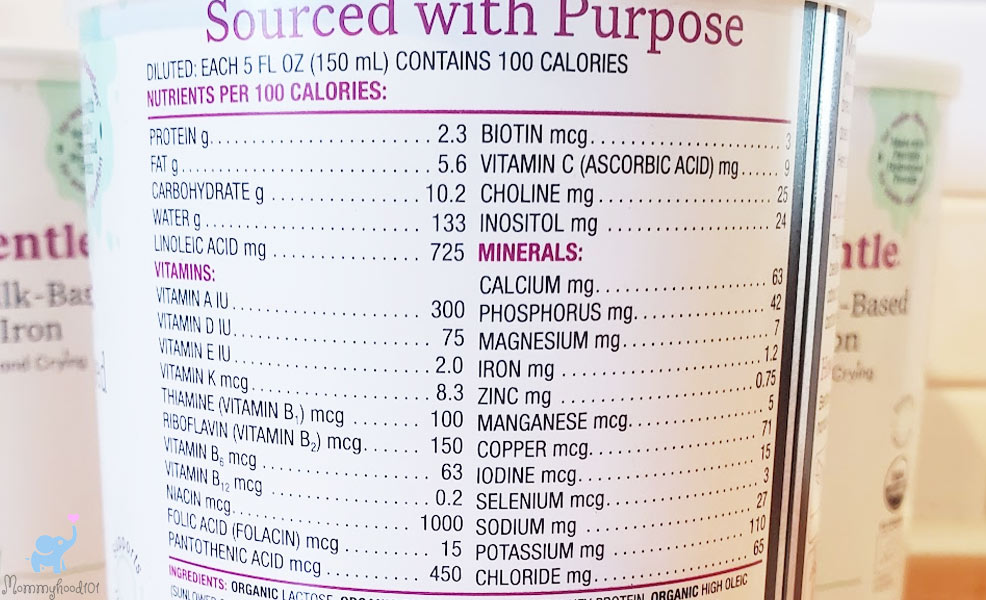 The USDA does not publish recommended daily allowances (RDAs) for infants between 0-6 months. Instead, they publish information about Adequate Intake (AI), which is used when there is not enough evidence to make a formal RDA. The AI is set at a level assumed to provide nutritional adequacy.
Here are the USDA's AIs (per day) for infants aged 0-6 months, and 6-12 months. Units are grams (g), milligrams (mg), micrograms (μg).
USDA Nutritional Recommendations:
| | | |
| --- | --- | --- |
| Carbohydrates | 0-6mo: 60g | 6-12mo: 95g |
| Proteins | 0-6mo: 9.1g | 6-12mo: 11g |
| Fats | 0-6mo: 31g | 6-12mo: 30g |
| Omega-3 | 0-6mo: 0.5g | 6-12mo: 0.5g |
| Omega-6 | 0-6mo: 4.4g | 6-12mo: 4.6g |
| Vitamin A | 0-6mo: 400μg | 6-12mo: 500μg |
| Vitamin B1 | 0-6mo: 0.2mg | 6-12mo: 0.3mg |
| Vitamin B2 | 0-6mo: 0.3mg | 6-12mo: 0.4mg |
| Vitamin B6 | 0-6mo: 0.1mg | 6-12mo: 0.3mg |
| Vitamin B12 | 0-6mo: 0.4μg | 6-12mo: 0.5μg |
| Vitamin C | 0-6mo: 40mg | 6-12mo: 50mg |
| Vitamin D | 0-6mo: 5μg | 6-12mo: 5μg |
| Vitamin E | 0-6mo: 4mg | 6-12mo: 5mg |
| Vitamin K | 0-6mo: 2μg | 6-12mo: 2.5μg |
| Folate | 0-6mo: 65μg | 6-12mo: 80μg |
| Niacin | 0-6mo: 2mg | 6-12mo: 4mg |
| Calcium | 0-6mo: 210mg | 6-12mo: 270mg |
| Iron | 0-6mo: 0.27mg | 6-12mo: 11mg |
You won't be surprised to learn that the Bobbie formula also meets all of the USDA recommendations.
The only challenge was figuring out the exact Omega-3 and Omega-6 contents.
The nutrition facts do disclose that each 100kcal for formula contains 725mg of linoleic acid, which is an Omega-6 fatty acid. However, we also know that the formulas contain ARA, another Omega-6 fatty acid, but the amount is not disclosed on the nutrition label. Similarly, we also know that the formulas contain DHA, an Omega-3 fatty acid, but the amount is not disclosed on the nutrition label.
Note that disclosing these amounts on a nutrition label is not required in the USA (it's only required for linoleic acid).
Because parents interested in European baby formulas tend to be interested in DHA content, the Bobbie website discloses that every 100 calories of the original Bobbie formula contain 20 milligrams of DHA, which meets EU requirements for infant formulas. We did not find DHA information for this Bobbie gentle infant formula, or information about its ARA content.
Bobbie Testing in Infants
We were excited to test the Bobbie formula for a few reasons.
First, Bobbie uses a 60:40 whey-to-casein ratio, which is very similar to breast milk. Also similar to breast milk, they use lactose as a primary carbohydrate.
Second, when we tested the original Bobbie formula, some of our test babies had some minor gastrointestinal upset. We were excited to see whether this new gentle formulation would help.
Third, we love Bobbie! They have a great parent-first philosophy, are transparent about their ingredients, sourcing, and manufacturing, and put tremendous thought and care into their formulas.
Mixing and Taste-Testing
As we alluded to earlier, gentle formulas can be more difficult to mix with water.
We found some evidence of that with this gentle Bobbie formula. Specifically, when we prepared bottles, we needed to shake them more vigorously than usual, and for more time. We found that about 50-60 shakes were perfect. In other words, shake it vigorously for about a minute and you will find that the powder will mix very nicely with water. Also, be sure to use water that is about 100 degrees (F).
To prepare the formula, we followed the instructions: Wash hands, bottles, and accessories. Add water (100 degrees F/40 degrees C) to the bottle, using the provided chart. Add powder to water using a scoop in the can, and close the can. Cap the bottle and shake well.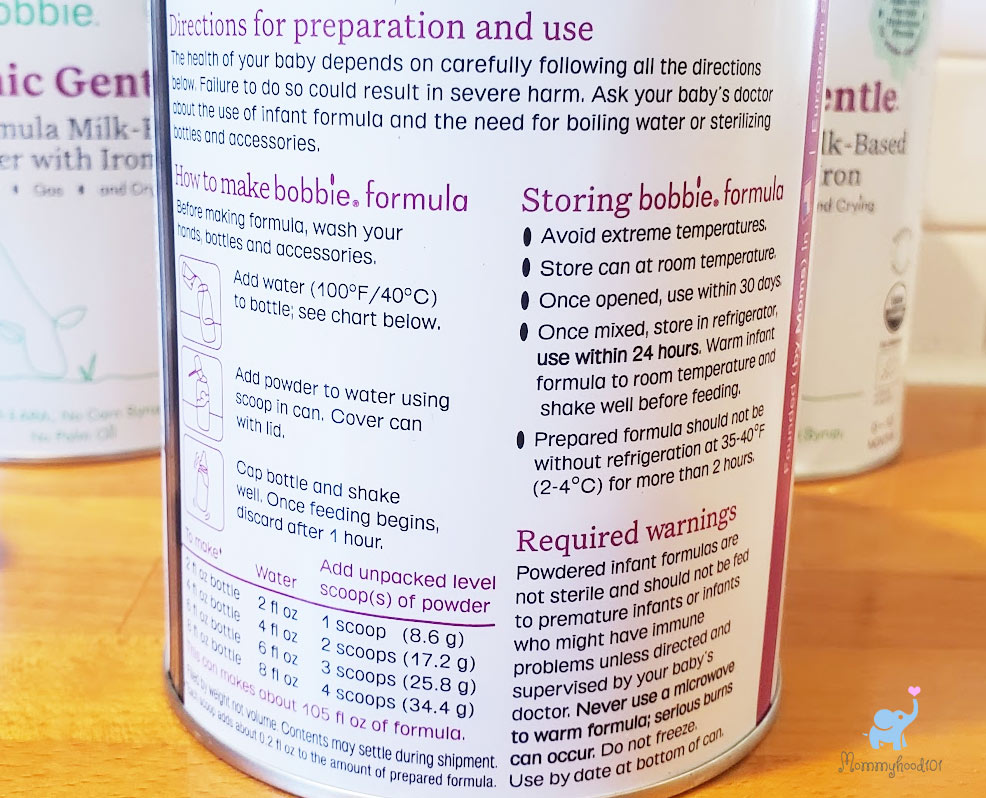 The powder was a faint yellowish color. You will notice that the hydrolysis process tends to produce a yellow tint, so it was totally expected (and we notice it in most gentle formulas).
The powder was very fine, and smooth, and had an easy texture for scooping.
Here is what the formula and scoop looked like: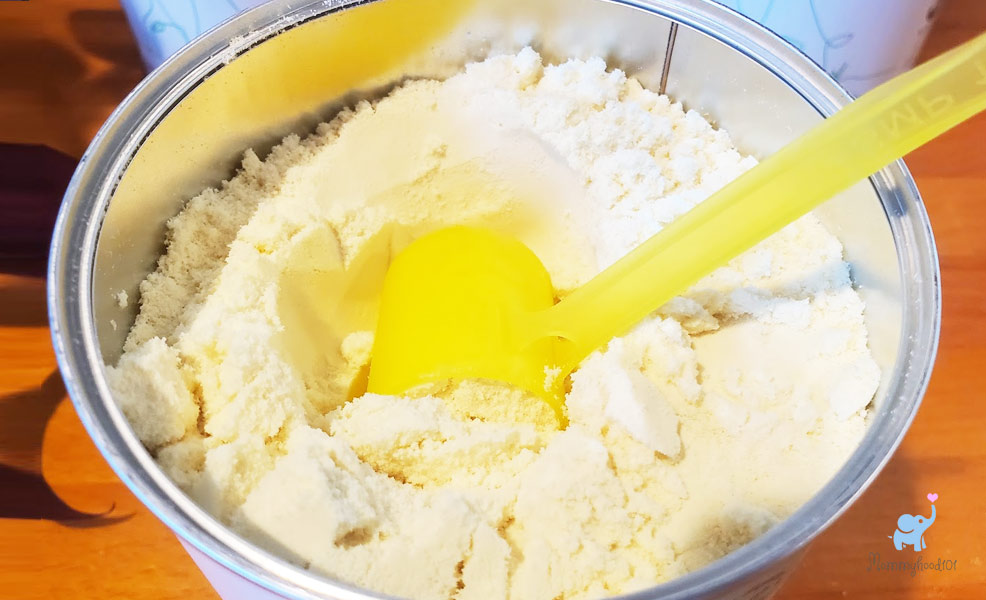 These are trivial points, but we wish there was a ledge to help you level the scoop, and that the scoop was attached to the lid (so it wouldn't be buried in the powder!).
A little frustrating, but again not a huge deal.
The mixing went very well, just be sure to use the right temperature water, and shake vigorously for about a minute.
Here is a photo of the prepared Bobbie organic gentle infant formula: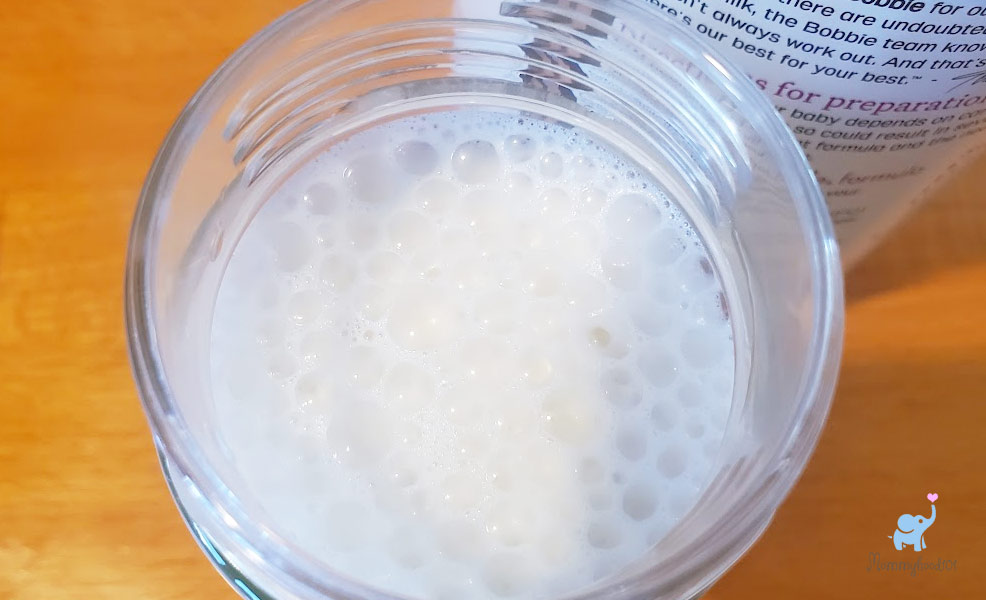 The bubbles and foam were minimal and settled very quickly after mixing!
Want to learn more about that glass-lined Chicco bottle? Check out our Chicco Duo review, and our list of the Best Baby Bottles of the year!
Picking up the bottle and flipping it over, we checked for any clumping of formula settling at the bottom of the bottle.
When we first mixed a bottle, we only shook it about 15-20 times but noticed clumps of formula settled at the bottom of the bottle.
The second time we mixed a bottle, we made sure to shake it vigorously for about a minute. The result is very minimal evidence of any clumping. Note that clumping is extremely common with gentle baby formulas.
In the below photo, we put arrows next to the tiny evidence of clumping. Basically nothing, so we were impressed!
Overall, we were very happy with the mixing and preparation of the Bobbie gentle formula and were excited to test it out with two infants: a 3-month-old and 9-month-old.
Note that the Bobbie gentle formula is labeled for use from 0-12 months.
Safety First: Never prepare powdered formula with anything but water. If you're interested in fortifying your breast milk with formula you must ask your doctor for guidance first, as this can be very dangerous for your baby.
Feeding with Bobbie Gentle Formula
We tasted Bobbie ourselves and it was surprisingly tasty for gentle baby formula that doesn't include corn syrup or other sweeteners.
Instead, this tasted surprisingly creamy and tasty for a gentle formula, and it was honestly difficult to distinguish from the original Bobbie formula.
That great flavor paid off in spades - both babies took to Bobbie immediately and seemed to love its taste.
That's very rare with our baby formula testing, and we were really happy!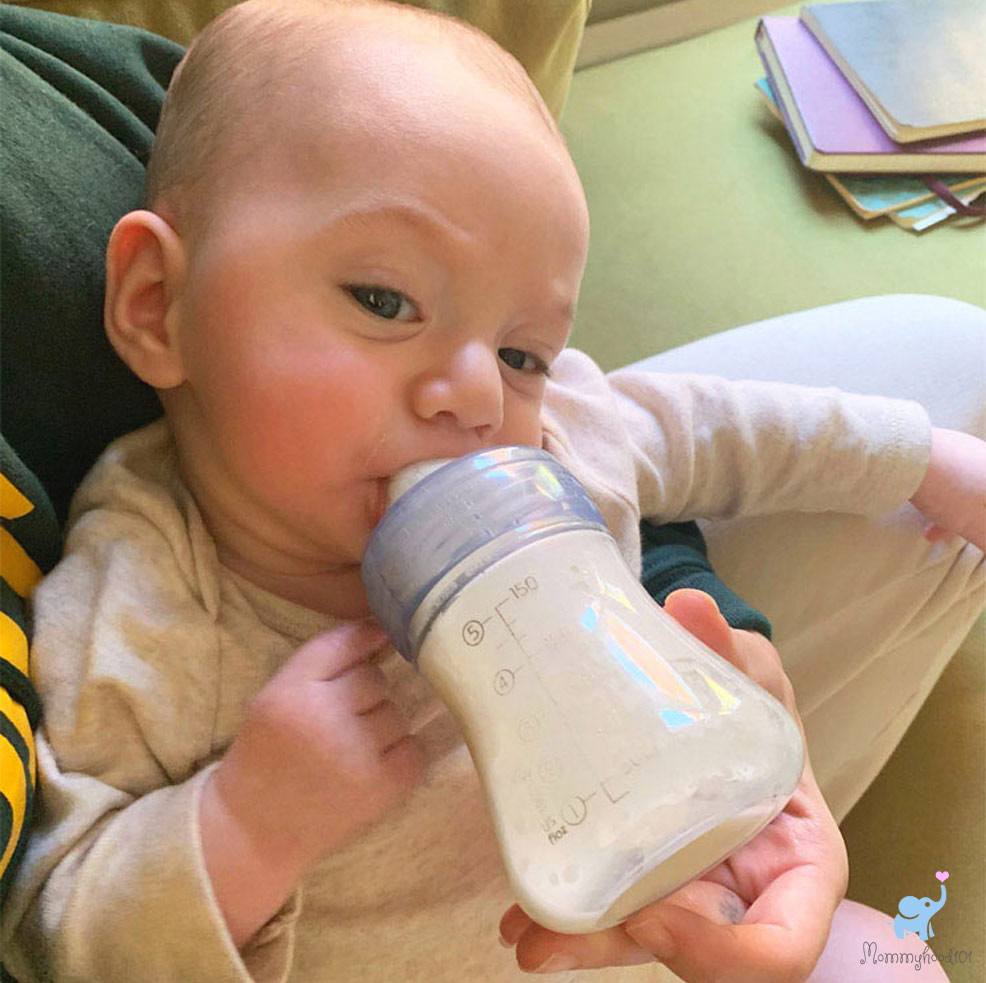 Even better, both babies consumed their normal feeding amount, and they showed no signs of any gastrointestinal distress.
The moms who did the testing with us continued feeding with the Bobbie gentle formula and reported that everything was perfect after 2 weeks of continuous use. This was especially surprising for the 3-month-old, who has a very sensitive stomach and typically can only tolerate HiPP Combiotic.
Bobbie Gentle Formula: Feeding Charts and Auto-Delivery
We would be remiss if we didn't mention one of the most amazing things about Bobbie: their easy-to-understand feeding charts, auto-delivery, and stellar customer service!
One of the challenges parents face when choosing and purchasing a baby formula is figuring out exactly how much formula their babies need, and therefore how much to order.
Well, Bobbie has prepared an amazing table that guides you through estimated feeding quantities during the initial weeks, months, and first years of your baby's life.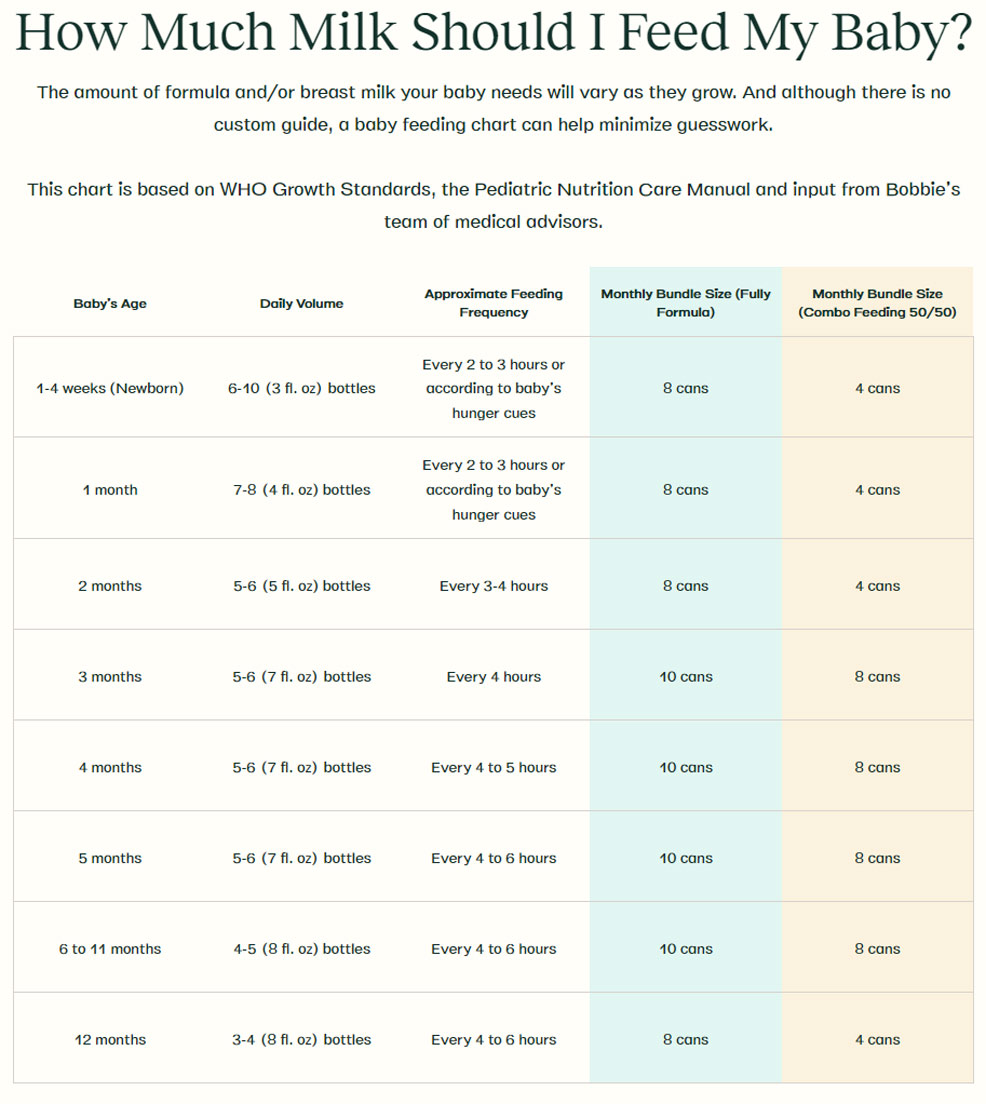 Not only is this table helpful for figuring out how much Bobbie you should be feeding, but it is also very helpful for guiding your ordering process.
Bobbie organic gentle formula is only available directly through the Bobbie website. One of the amazing features of the Bobbie site is their monthly subscription that mails you formula precisely timed to suit your baby's predicted consumption patterns (with free shipping!).
Even better is how easy it is to modify your order at any time. Baby eating more than you expected and needs some formula sooner? Easy peasy! Need to delay the next shipment by a week or two? No sweat!
Bobbie has made the overwhelming process of picking and purchasing baby formula so much easier for parents, helping them figure out what their babies need, and continually guiding and accommodating them with their flexible auto-delivery.
We love it!
Conclusions
This was our second time trying out a Bobbie formula. First with their popular original formula, and now with their new organic gentle formula.
And we fell in love!
European baby formulas are more popular than ever, but parents are seeking new alternatives that are made in the USA, FDA-regulated, USDA certified and do not experience shipping delays and unpredictability.
Bobbie filled this gap with a truly remarkable organic infant formula that uses a European-style formulation with excellent ingredient and nutritional composition, shows universal acceptance and tolerance among our test babies, and is managed by a company with a strongly mom-focused customer service ethos.
In terms of ingredients and nutritional contents, we think the Bobbie gentle formula is great, and it provides the perfect balance between what parents expect from an EU formula while also meeting the US-specific infant formula requirements.
We highly recommend this new Bobbie gentle formula for discerning parents looking for high-quality organic baby formula, with the added bonus of being excellent for sensitive tummies.
Note: Bobbie gentle formula is not intended for use by infants who have a cow's milk allergy. They are only intended for infants to have a sensitivity (intelerance) to cow's milk protein, which is more common than lactose sensitivity in full-term babies.
Where to Buy Bobbie Formulas?
The Bobbie organic gentle formula is available at the best prices (with the best shipping prices and auto-refill) through the Bobbie website, where they currently sell each 400g (14.1 ounces, or about 94 prepared ounces) can for $28 (in a 4-pack).
That's about $0.30 per ounce of prepared formula, making it around the same price as most European baby formulas (such as HiPP Combiotik), but a bit more expensive than most other US organic brands such as Earth's Best and Happy Baby.
A reasonable price for an excellent gentle infant formula that we think you and your baby will love!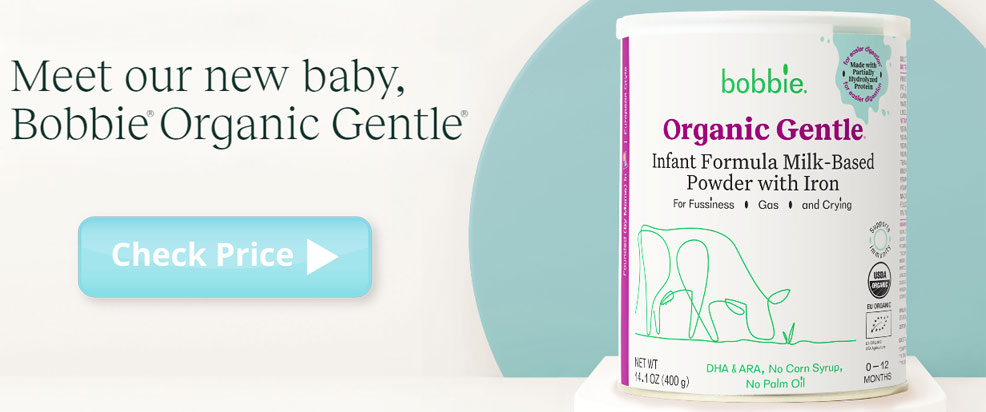 References Cited
Consulting Dietician Nutritionist (Mr. John Anderson)
Hydrolyzed Whey Protein Improves Digestion of Infant Formulas
Infant Formula with Hydrolyzed Whey Protein Reduces Eczema Risk
Low Prevalence of Lactose Sensitivity in Full-Term Babies
Corn Syrup in Infant Formula and Risk of Obesity
Metabolic Risk in Children Fed Infant Formula with Corn Syrup
United States FDA Infant Formula Nutrient Requirements (full list is here)
United States USDA Infant Nutritional Needs & Recommendations
Safety of Schizochytrium sp. Oil
Safety of Mortierella Alpina Oil
Disclaimer: To our knowledge, all ingredient and nutritional information contained in this article was accurate at the time of publication. We make no guarantees regarding the accuracy or timeliness of the information. Always read the packaging and instructions, and consult with your child's pediatrician before making nutritional and feeding decisions. Baby formulas manufactured and labeled for sale in Europe may or may not be approved for sale in the USA by the FDA or other regulatory bodies, so consumer discretion is advised.