Chicco Duo Baby Bottles: Hands-on Review
The first plastic baby bottle with a glass-lined interior, we put it to the test.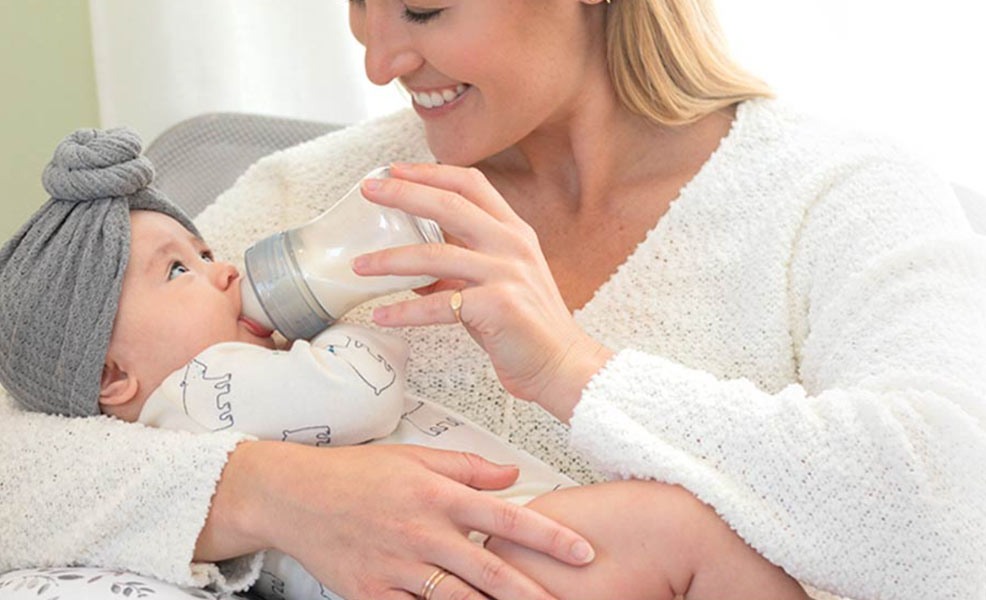 ---
Mommyhood101 independently tests and curates baby gear to help you make informed decisions. If you buy products through links on our site, we may earn a commission.
The Chicco Duo baby bottle is one of the most innovative baby products of the year, combining the best of both worlds - the peace of mind of a glass baby bottle with the break-proof and lightweight attributes of a plastic baby bottle.
But is it worth the switch? Read our hands-on review to find out!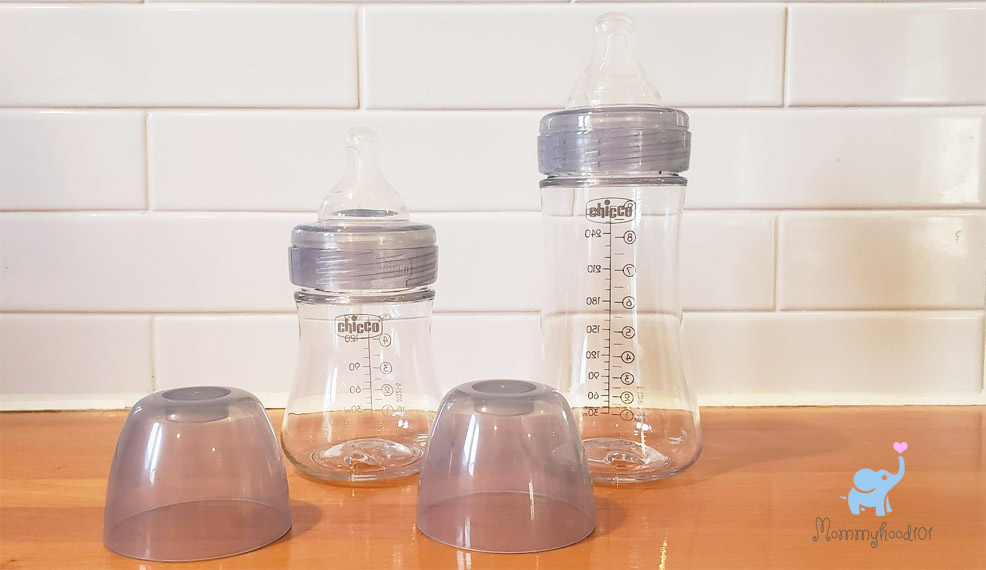 The Chicco Duo comes in 5-ounce and 9-ounce varieties, and we got our hands on it for testing late last year (thanks for the samples, Chicco!).
For this test, we used both the 5-ounce and 9-ounce bottles with 4-month and 9-month-old babies. We fed with them, washed and sterilized them, shook them upside-down, dropped them from the counter, and otherwise put them through pretty harsh testing!
Overall, we came away with a very positive impression of the Chicco Duo baby bottles, and think they're very deserving of a spot on our list of the best baby bottles of the year!
Chicco Duo Bottles: Overall Impression
Nobody wants to read through an entire article to get to the conclusions, you've got more important things to do! So here are our findings, right up front.
Spoiler alert, we love the Chicco Duo baby bottles and think they'll make a fantastic addition to your baby feeding arsenal!
Here is a summary of what we loved about the Chicco Duo, and some things that could be improved.
✔️ Super lightweight.
✔️ Durable build quality.
✔️ Wide and stable base.
✔️ Soft silicone nipple.
✔️ Great air venting, low gas.
✔️ Great nipple shape.
✔️ BPA-free plastics.
✔️ Glass-lined interior.
✔️ Dishwasher safe.
✔️ No leakage.
✔️ High compatibility (eg AVENT).
❌ Markings can be hard to read.
That's a lot of amazing attributes for any baby bottle, and we should also point out that it's pretty reasonably priced at about $10-11 per bottle.
Our two test babies accepted the nipples very easily, showed great latching, and were very happy feeding with the Chicco Duo. And honestly, that's probably the most important part of this review!
Overall, we think the Chicco Duo is not only innovative, but also fulfills a need that parents truly had: combining the safety and peace of mind of a glass baby bottle that doesn't leach potentially harmful chemicals into milk, and a plastic baby bottle that is break-proof and lightweight.
The only little con we found was that the graduated markings on the 5-ounce version can be a little difficult to read. They used a lighter grey font and it doesn't stand out as much against white milk.
Interested already? You can check out the Chicco duo here!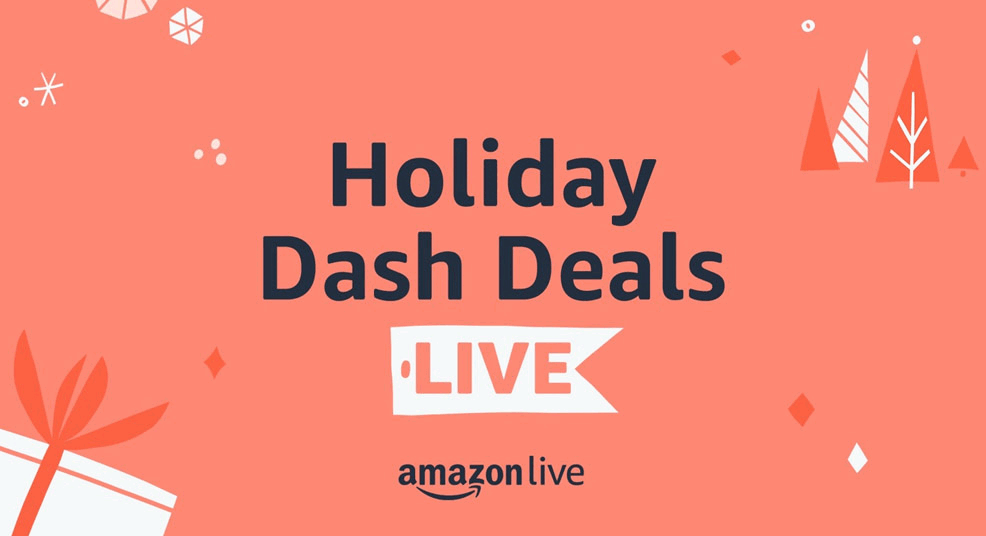 Feel like an expert on the Chicco Duo now? You should!
But if you're still uncertain, continue reading to see how we reached our conclusions!
About the Chicco Duo
Chicco is an Italian baby gear company that was founded in 1958 and makes a huge variety of baby products: from car seats to baby carriers they are known for combining high quality and functionality at a reasonable price.
One area they hadn't ventured into very strongly was the baby bottle market - but we're glad they did!
Chicco makes a lot of bold claims about the new Chicco Duo bottles, most of which are centered around the dual-material design, combining the glass inner layer with the plastic outer layer:

When we first got our hands on the Chicco Duo bottles, we honestly thought we got the wrong product: there was no evidence that there was in fact a glass lining inside the bottle.
Here we were expecting a thick glass interior liner. Turns out we were very wrong!
Chicco uses a very innovative barrier coating technology developed by SiO2 Materials, an Alabama-based materials science company.
The coating provides a glass lining to the inside of the plastic bottles while maintaining all the benefits of a plastic bottle. It's thin, very thin. About 100 times thinner than a single strand of hair! Suffice to say, don't expect to be able to see it.
More about the glass lining later!
The Chicco Duo is relatively new to the market and only comes in a few varieties. For sizes, it is available in a 5-ounce and 9-ounce variety, which are two of the most common baby bottle sizes on the market. For colors, it comes in silver or a soft pink.
Glass-lined Plastic?
SiO2 Materials developed what they call INVINCI-GLASS™, an amorphous silicate glass (SiOx) coating, which they apply using plasma-enhanced vapor deposition.
We read their technical articles and learned all about it!

So what is this stuff anyway!?
Well, amorphous means that it's a non-crystalline solid (i.e., it doesn't show the order of a crystal). This basically means it's glass, which is always amorphous.
Silicate glass just means glass based on silica, which forms a 3D network structure when bonded. Most of the glass you deal with on a daily basis is likely made from silica, including the glasses in your kitchen cabinets.
In other words, the company figured out how to make a spray-on glass coating, and they used it to coat the inside of the Chicco Duo bottles.
The next question you should be asking is whether it actually works to stop leaching from plastics, and the answer is yes! SiO2 materials science shows pretty compelling technical data demonstrating that their glass coatings not only bond very well with the plastic, they also do an excellent job sealing it and maintaining integrity in the face of heat, washing, bending, and impact.
Speaking of washing, the inside glass layer is very smooth and easy to clean, and it doesn't trap milky residue or form a film as we see with some other plastic bottles.
To be honest, we think this was a very innovative solution by Chicco and SiO2, and we're happy to see it being applied to this space!
Durability and Markings
The bottles themselves can be gently squeezed a bit, similar to most other baby bottles like the AVENT and Dr. Brown's.
They feel thin and lightweight in your hand, so we had to put them to the test. We dropped the Chicco Duo onto two floors from counter height: a tile floor and a hardwood floor.
On the tile floor, it bounced and then settled down without chipping or cracking, and on the hardwood floor it behaved similarly but without the bounce. With that, the Chicco Duo passed our durability test!
The graduated markings on the bottles are interesting. They are very visible on the 9-ounce version (on the right), but less visible on the 5-ounce version (on the left). Here is a photo to show what we mean: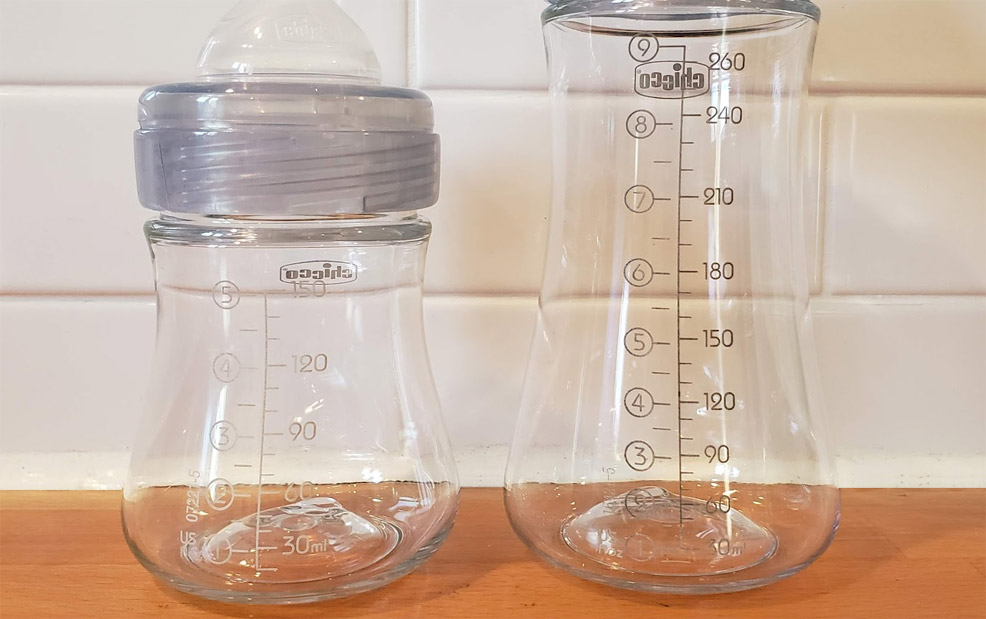 With milk inside, it's a similar situation. The 9-ounce is doing a great job with contrasting markings, but the 5-ounce is leaving a little to be desired: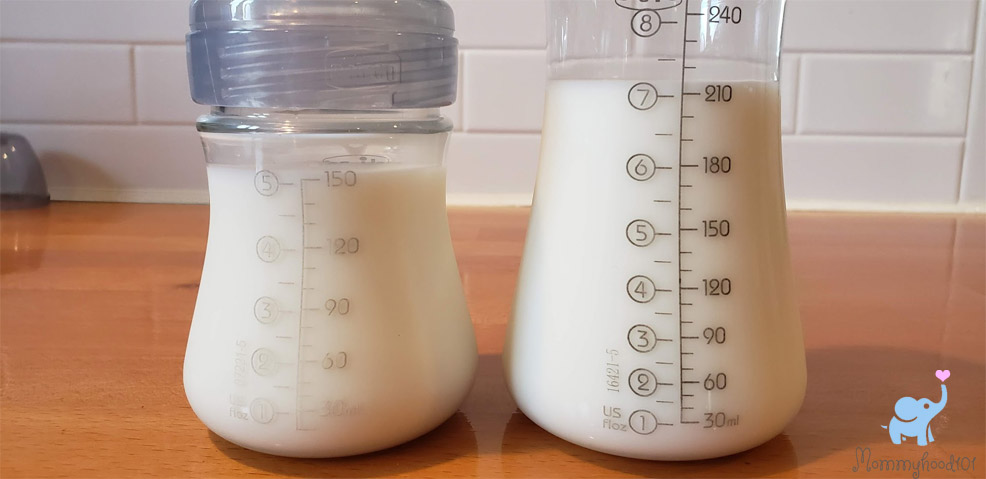 Not as bad as what we see with the Comotomo, which is nearly impossible to measure, but worth pointing out.
Another thing to notice about these bottles is how wide the base is. We love that! It makes the bottle much more stable, for instance on the tray of a high chair, or on the coffee table with a tail-wagging dog!
Chicco Duo Nipples and Venting
We love the soft silicone nipples on these bottles.
Check out the awesome texture to promote sensory feedback and the great shape for promoting a solid latch.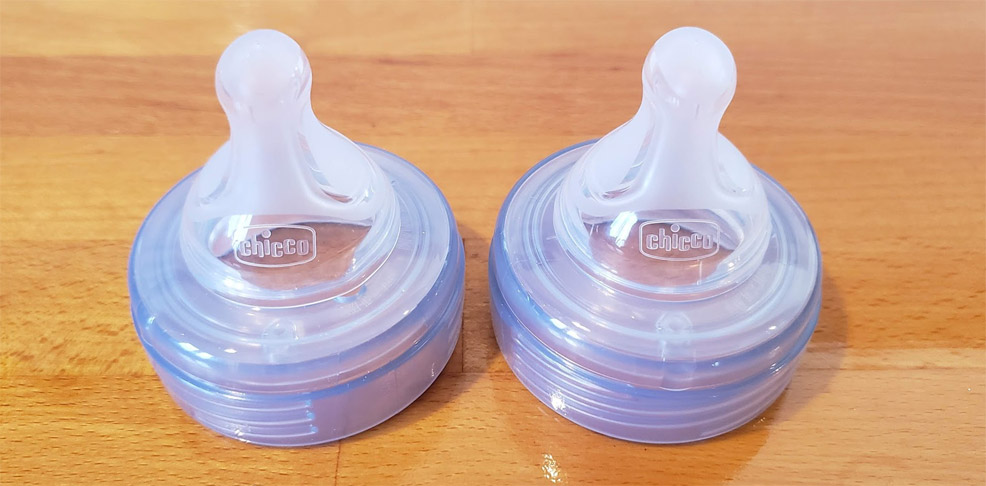 The slow-flow nipples (flow level 1) were perfect for newborns, and the entire nipple was easy to clean and sterilize without losing any of its shape, texture, or pliability.
Each nipple has a small venting slot adjacent to the Chicco logo, which you can see here (with the red arrow):
While small and less involved than something like on Dr. Brown's bottles, the venting actually worked very well in our testing to prevent gas and colic.
While feeding, Chicco suggests that the vent hole should be pointing to the left or right (not up towards your child's nose, and not down towards your child's chin). This proper orientation will keep the textured side of the nipple oriented towards the top of your baby's tongue, and the vent hole nicely exposed.
For leaking, when you turn the Chicco Duo upside-down, the nipple does drip as expected. With the cap on, however, we could hold and shake it upside-down and there was no leaking whatsoever: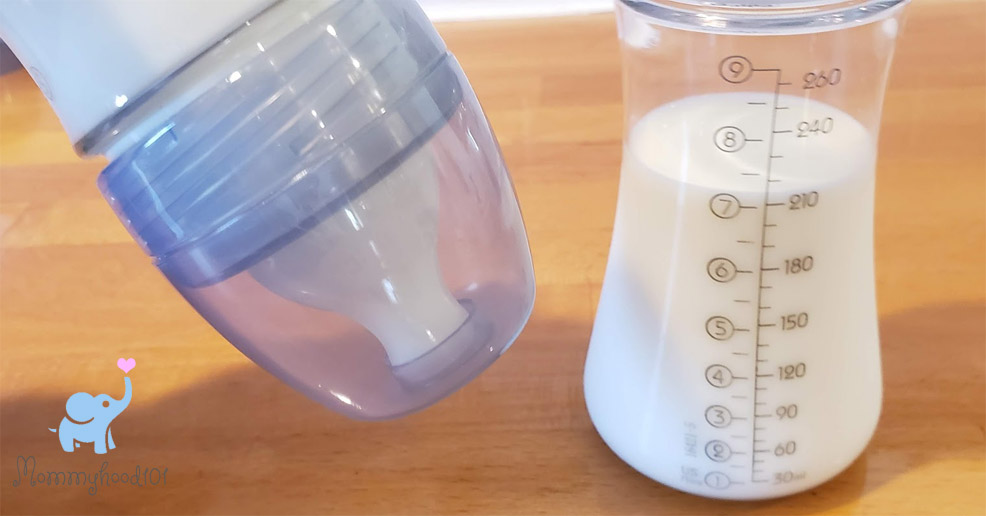 Another point worth making is that the thread size on the bottles is compatible with AVENT adapters for breast pumps, opening up a whole world of possibilities! We love it when companies use standard sizing and threads, making it much easier for moms to integrate with their existing pumps.
Feeding with the Chicco Duo Bottles
We tested the Chicco Duo bottles with breastmilk and Bobbie formula, and it worked excellently with both.
The 4-month-old took to the bottle like a champ and ended up preferring it to his usual Comotomo.
Which to be honest was somewhat surprising since he'd been using the Comotomo since birth!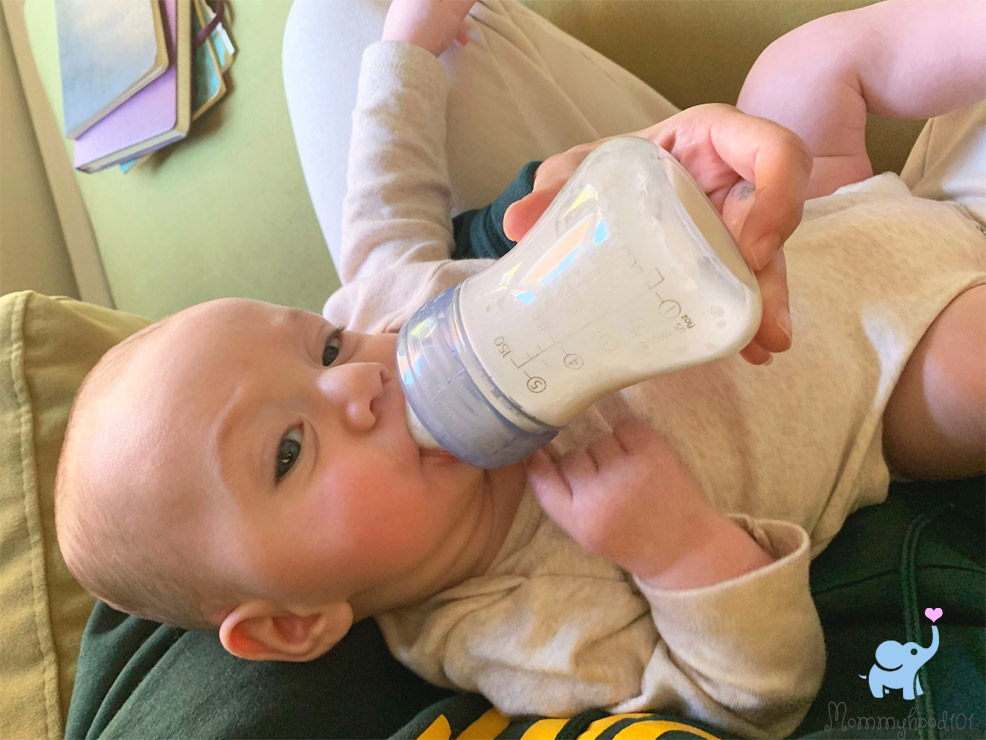 With the 4-month-old, there was no gas, burping, or other signs of discomfort, and he showed a nice solid latch onto the nipple.
The 9-month-old girl also loved it, though the parents thought it was too late to switch away from their usual AVENT bottles. Understandable!
Conclusions of our Chicco Duo Review
Overall, we give the Chicco Duo bottles really high scores, nearly reaching a perfect 5! We basically love everything about them, save for the one minor annoyance with the faint graduated markings on the 5-ounce version.
Looking broadly at the field of baby bottles, both plastic and glass, the Chicco Duo really stands out with its innovative glass lining. We also think it has great features and build quality and shows great acceptance and latching.
What else could we ask for!? It's worth every penny!
Interested? You can check out the Chicco Duo bottles here!
---
References
SiO2 Technical Report on Glass Coatings and Leaching