Unsafe Plastics: Time to Switch to Glass Baby Bottles
BPA, begone! It's time to switch to glass baby bottles.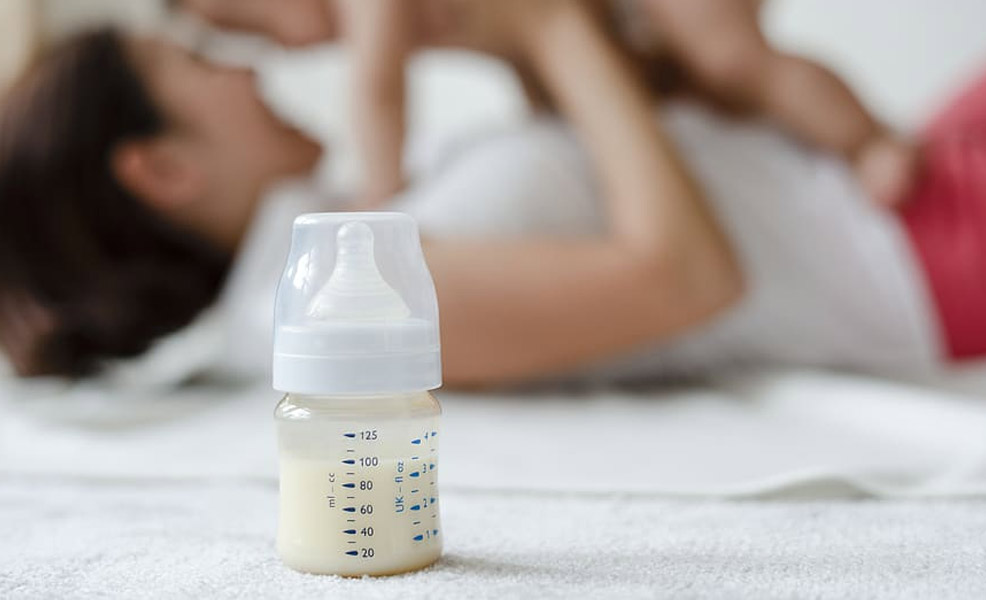 ---
Mommyhood101 independently tests and curates baby gear to help you make informed decisions. If you buy products through links on our site, we may earn a commission.
Scientists at Washington State University have discovered that many BPA-free plastics leach harmful chemicals just like traditional plastics containing BPA (bisphenol-A, a phthalate).
This could be the case for even the best baby bottles on the market, so it's definitely something to consider before making a purchase decision.
Not only that, but their recently published experiments showed that these leached chemicals caused genetic and hormonal changes that were very similar to the changes they see with BPA exposure.
Are BPA-free Baby Bottles Safe?
The big question that we've been getting from our followers is whether BPA-free baby bottles are as safe as we all thought they were.
For the past 10 years, parents have been scrambling to purchase BPA-free versions of anything that comes in contact with their baby's mouth or food.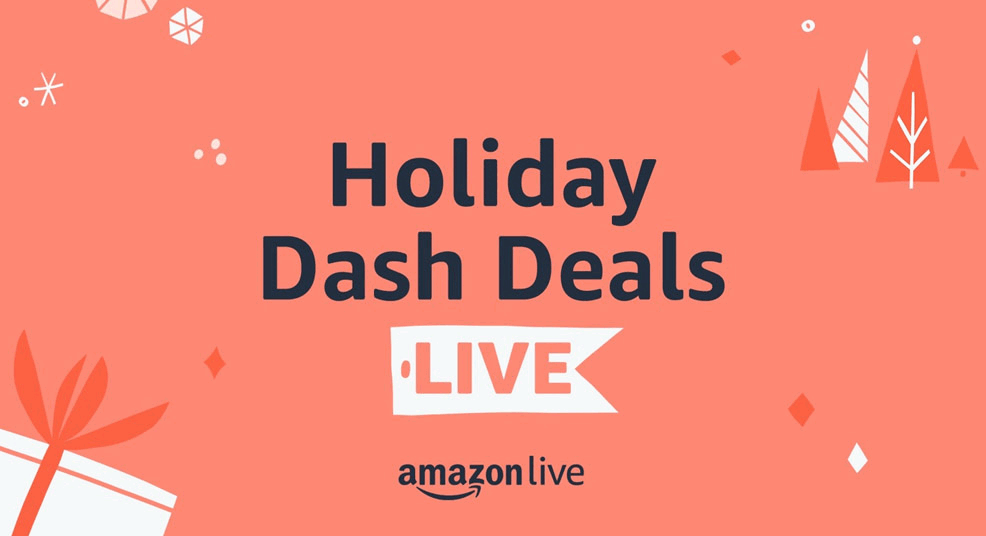 And baby gear manufacturers have reacted accordingly, making BPA-free versions of baby bottles, baby food makers, pacifiers, baby food containers, teethers, and more.
There are a few ways this was accomplished. One way was to simply use different plastics that already did not contain BPA, such as high-density polyethylene (plastic #2), low-density polyethylene (plastic #4), and polypropylene (plastic #5). These were welcome alternatives to the most dangerous plastics: PVC (#3), polystyrene (#6) and polycarbonate (#7).
Unfortunately, while companies have gone wild with their "BPA-free," "Bisphenol-free," and "Phthalate-free" packaging, they have shifted to using plastics containing BPS and BPF, which we now know leach several other harmful chemicals. Especially when they are heated or exposed to sunlight. These leached chemicals are linked to genetic mutations, hormone disruption, childhood and adult asthma, and several other illnesses in both animals and humans.
We've been saying it for 10 years: if you are at all concerned about chemicals in plastics, use glass baby bottles!
Nobody knows the long-term consequences of these chemicals for babies, toddlers, children, adolescents, or adults. In other words, we know they can be harmful, people are increasingly exposed to them, and they are in people's urine, but it's difficult to make causal links to specific illnesses or disorders in humans. So at this time, we cannot definitively say that BPA-free plastic baby bottles are unsafe. What we can say is that we are concerned, and we think you should be too.
We suspect that the long-term health impacts of plastic chemicals will emerge over the next 10-20 years. In the meantime, we make the same recommendation we've been making for the past 10 years: If you are uncertain at all about exposing your baby to harmful chemicals, use glass bottles!
Are Glass Baby Bottles Safe?
Your grandparents and maybe even your parents used glass bottles. The original Dr. Brown's anti-colic baby bottles, the best baby bottles on the market for over a decade, were glass with a silicone nipple. Because of the increasing demand for glass baby bottles from parents, several glass baby bottle options have emerged on the market. And some of them are top-rated on our best baby bottles list.
So why don't all parents just buy glass baby bottles instead of plastic bottles? Well, a few reasons. First, glass baby bottles are more expensive than their plastic baby bottle competitors. Second, glass baby bottles are heavier, making them a bit more difficult to manage for babies starting to hold a bottle on their own. Third, glass baby bottles are perceived as more fragile than plastic baby bottles, leading parents to worry that they might break or shatter easily if dropped.
Have you seen the new Chicco Duo bottle, which combines a glass-lined inside with a durable plastic outside!? If not, be sure to check out our new Chicco Duo review!
Some of these concerns are appropriate - glass baby bottles are more expensive to manufacture and therefore more expensive to buy, they are also heavier and harder to manage for a baby. Some of the new wide-neck glass baby bottles have a nice hourglass shape to help babies grip the bottle. And it's worth pointing out that in our experience, glass baby bottles are no more likely to shatter during a fall than plastic baby bottles (except for the silicone baby bottles, which are insanely durable). That's partly because many of the BPA-free plastics are quite brittle and break easily.
Additional advantages of glass baby bottles are that formula and breast milk will maintain their original flavor better than with plastic bottles, they last longer than plastic bottles, they don't discolor like plastic bottles, they don't hold odors as badly, and they can be recycled along with your other glass bottles (in most areas).
In our experience, glass baby bottles are not more likely to shatter during a fall.
So there are several reasons to choose glass baby bottles, and we definitely prefer them for their safety profile, especially if they come with a silicone sleeve to protect in the event of a fall onto a hard surface (like if thrown from a stroller or high chair). Nowadays all of the best glass baby bottles will either include the protective sleeves, or you can purchase them separately.
Top Picks for Glass Baby Bottles
We said before that there are several glass baby bottles appearing in our best baby bottles overall list, and we will discuss a couple of them here. You can also just check out that list and see which ones are glass. Be sure to check out our baby bottle and nipple buying guide as well.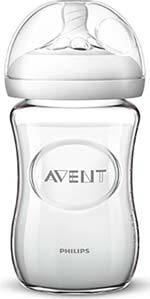 The AVENT line of baby bottles is truly fantastic and is rated very high in our overall best baby bottles list. It uses a nice naturally shaped nipple that babies easily latch onto and prevents nipple confusion for parents switching back and forth between breast and bottle feeding. They use a unique twin-valve venting system to prevent gas and spit-up, have a nice ergonomic shape to help babies grip the bottle, and there are no extra parts to clean since the venting is integrated into the nipple. While these glass bottles don't come with a silicone sleeve, you can get them separately (like these). Overall, these are excellent glass baby bottles that work exceptionally well, are safe, and are easy to clean and assemble.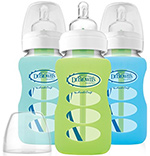 These are the original, classic glass baby bottles with an innovative anti-colic valve that parents absolutely love. Dr. Brown's pioneered the anti-colic glass baby bottles, and they are truly fantastic. But then they went through a phase when they slowed down manufacturing and distribution of their Original glass bottles in favor of their new BPA-free plastic bottles. But those plastic ones were never well-rated or well-received by the public, especially in comparison to their classic glass bottles. More recently they seem to have gotten back into the glass bottle business, but only for a wide-neck version called Dr. Brown's Options (see them here). You can still find their original tall glass baby bottles, but they are something like $50 each on Amazon right now, which is a little outrageous (but parents are desperate to get them!). The new wide-neck glass bottles come with silicone sleeves to protect them in the event of a fall.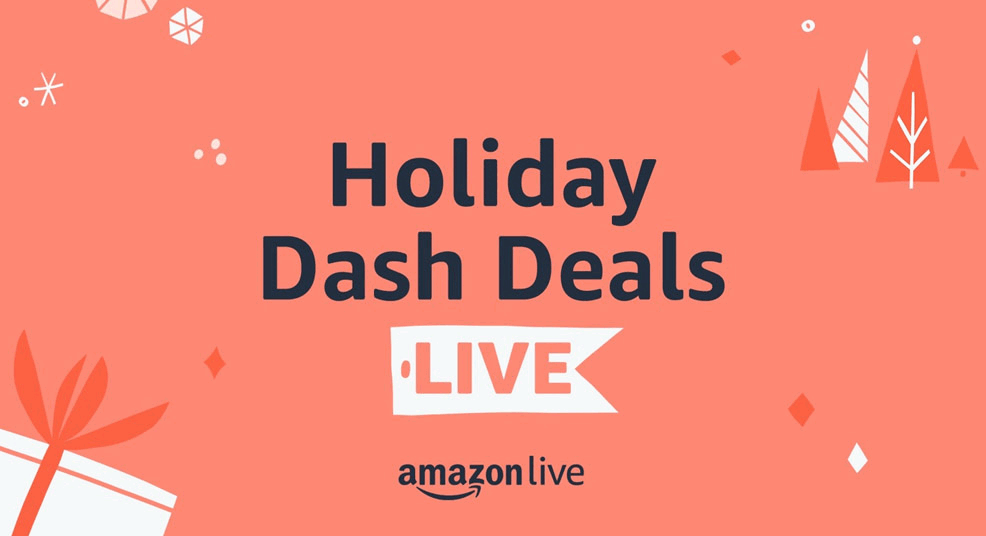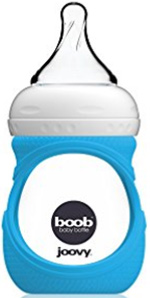 These were introduced onto the baby gear market just a couple of years ago and have become super popular. They are an awesome shape, come with silicone sleeves, have fantastic nipples, and in our testing they were very difficult to break. We also found that their plastic version without the sleeve is just as likely to shatter as the glass one with a sleeve, making it pretty tough. They are easy to clean given their nice wide neck and dishwasher-safe parts, easy for baby to hold given their hourglass shape, and safe to sterilize in boiling water or steam (or in one of our top-rated baby bottle sterilizers!). Their anti-colic venting system works really well, just about as good as the excellent one used by Dr. Brown's. Our only gripes are that they are a little time-consuming to put together given the unique venting system, and they say BOOB on the front of them (which may or may not matter to you!).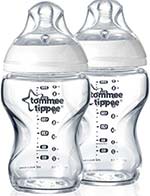 If there were awards for the most natural-looking and feeling bottle nipples, this would be a close runner-up to the all-around favorite Comotomo (see our review of that bottle here). This nipple is truly amazing with its super wide base that makes lip, cheek, and nose contact, and its unique shape and softness that makes for a very natural suckling pattern. It's the best nipple available for parents who want to switch between bottle and breastfeeding without having to worry about nipple confusion. Enough about the nipple, it's also the bottle itself that makes it great. The glass bottle has an awesome hourglass shape that helps babies grip it easily, and the anti-venting is fantastic. The only issue with these glass bottles is that they don't come with a silicone sleeve and we don't know of one available on the market. We will point out, however, that they are super thick glass and we dropped it from some pretty tall heights without breakage.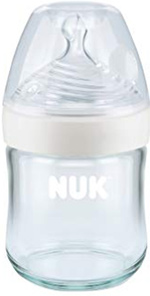 These glass baby bottles use one of the best overall nipple designs available on the market, designed to fit the mouth, tongue, and lip anatomy of a baby. Once your baby latches on, the nipple stays put in the mouth better than any other bottle nipple we've tested. But because of this, we found that these glass bottles are best for babies who are solely bottle-fed since that innovative nipple design can promote what's called a "lazy latch" making it a little more difficult for babies to go back to the breast. Another detractor is that it's really difficult to see how much milk is in the bottle since the volume lines and labels are printed in white (strange idea). Those are really the only detractors of these otherwise top-rated glass baby bottles that are perfect for bottle-fed babies. So definitely be sure to check them out.