Baby Jogger City Turn Review & Video
Access your little one with ease while keeping them comfy and safe in the amazing City Turn car seat!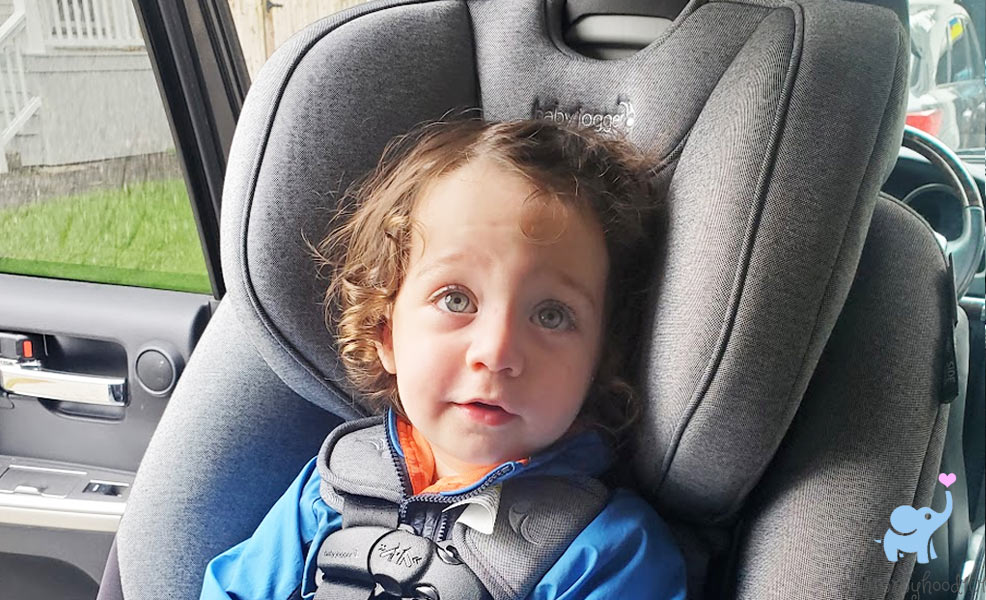 ---
Mommyhood101 independently tests and curates baby gear to help you make informed decisions. If you buy products through links on our site, we may earn a commission.
In our quest to find the best rotating car seat on the market, we were excited to get our hands on the Baby Jogger City Turn for testing.
Among the best convertible car seats we've ever tested, the City Turn takes quality, comfort, and convenience to an entirely new level!
We put the Baby Jogger City Turn through our hands-on testing and evaluated its ease of use, installation and adjustment, quality and comfort, safety, and bang for the buck.
Overall, we came away with a very positive impression. Rotating car seats are more expensive than their non-rotating counterparts. Is the City Turn car seat worth its high price? Absolutely. We think you will love it!
Our City Turn Review
Nobody wants to read this entire article to get to the point. You've got way more important things to do!
Here are our findings, right up front. Spoiler alert, we loved the City Turn and encountered very little room for improvement.
Here is a summary of what we loved, and some things that could be improved.
✔️ Smooth one-handed rotation.
✔️ Rotation brings a child closer.
✔️ Integrated belt lock-offs.
✔️ Easy installation.
✔️ Simple & wide adjustments.
✔️ Extreme comfort.
✔️ Steel-reinforced frame.
✔️ Quick-connect LATCH.
✔️ Removable infant inserts.
✔️ Included cup holder.
✔️ Wide weight range.
✔️ Preemie support (4+ lbs).
✔️ Moisture-wicking fabric.
✔️ No-rethread harness.
✔️ Beautiful design.
✔️ Machine washable cover.
✔️ TSA certified for air travel (forward-facing).
❌ Heavy & expensive.
❌ No rotation when front-facing.
That is a very impressive list, making it one of the best car seats we've ever tested!
Regarding the weight and expense, this is not entirely surprising: all rotating car seats are heavier and more expensive due to the weight and cost of the rotation mechanisms.
In comparison to other rotating car seats such as the Graco Turn2Me or Evenflo Revolve, the City Turn is a bit more expensive. However, it is less expensive than the Nuna REVV and about the same price as the Cybex Sirona S.
Regarding the restriction on rotation when front-facing, we do not believe this is a major limitation - once your child is front-facing they will be at least 2 years old and likely to be able to climb into and out of the car seat on their own. We don't believe this is a deal-breaker by any means, especially given the lengthy list of positive features and capabilities.
Feel like a sudden expert on the City Turn? You should! But if you're still uncertain, continue reading to see how we reached these conclusions.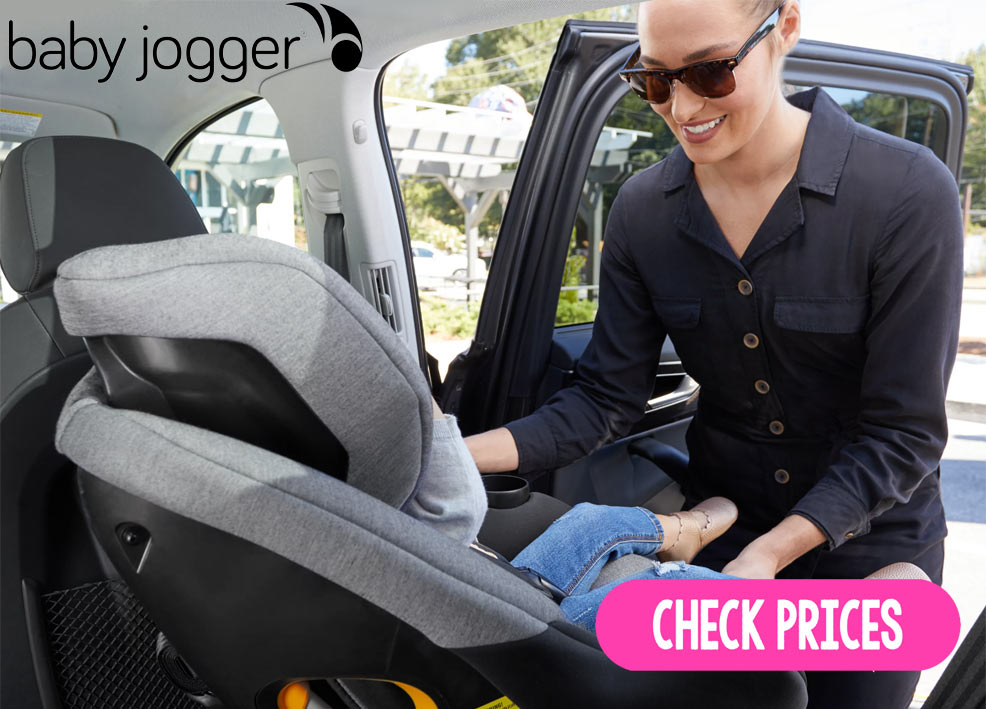 First Impressions
To be 100% transparent, Baby Jogger sent us a sample City Turn convertible car seat for testing (thank you, Baby Jogger!).
That doesn't necessarily bias us; in fact, nearly half of what manufacturers send us does not make it onto our site due to quality concerns.
A label on the box indicates that Baby Jogger is based in Atlanta, Georgia, but that the car seat itself is made in China. This isn't particularly surprising in comparison to most other car seats we've reviewed, but worth mentioning.
One of the things we loved about the packaging is that it's very manageable and relatively lightweight: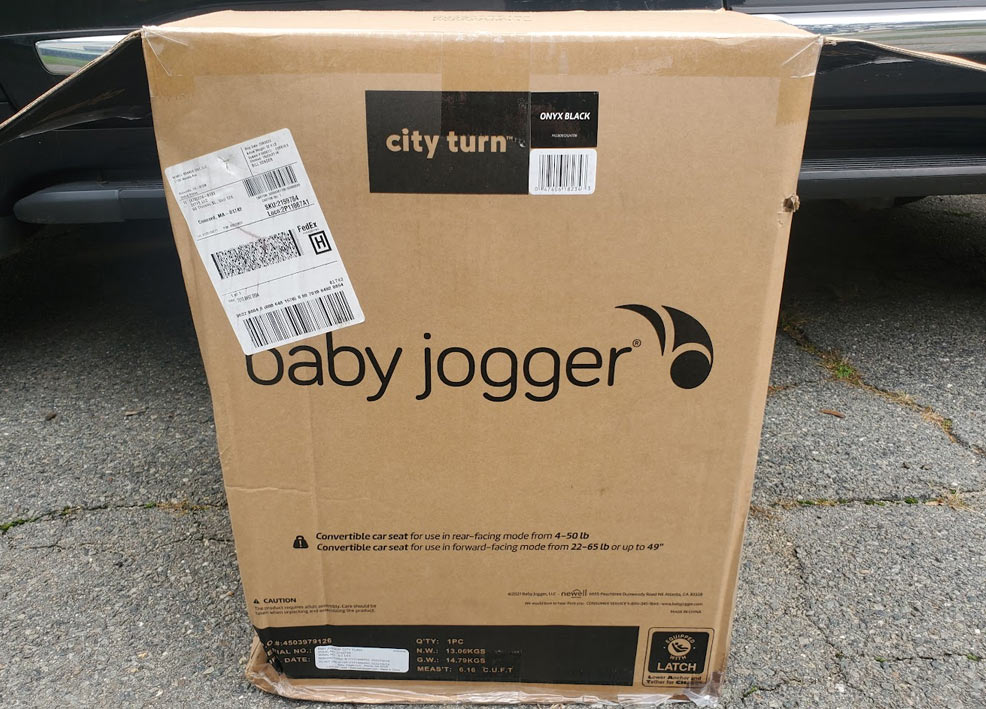 The box weighs about 32 pounds and is approximately 2 feet high and 20" wide.
Inside the box, the car seat is wrapped in plastic to keep it clean and dry, and is snug as a bug in a rug.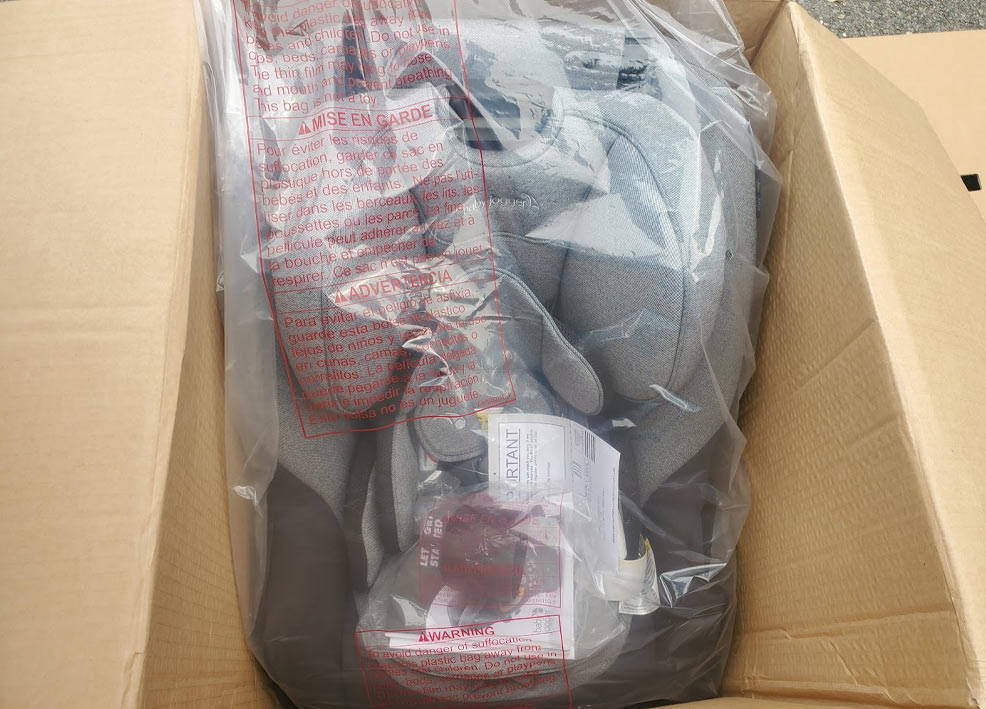 First impression: Wow! Taking it out of the bag, we were immediately struck by how plush the padding is and how soft and durable the fabric is.
The fabric itself uses a COOLMAX moisture-wicking material that is made of polyester fiber, making it easy to spot clean and highly durable, while also maintaining softness and airflow.
Second impression: Oof! This is a heavy car seat, coming in at 28 pounds.
Not surprising given the rotation mechanism, but worth considering if you need to install the car seat alone.
Third impression: We were visually struck by this car seat's beautiful design and high-quality finishing touches.
The design uses great color combinations, soft lines with high-quality plastics, and rugged adjustments, latches, and mechanisms.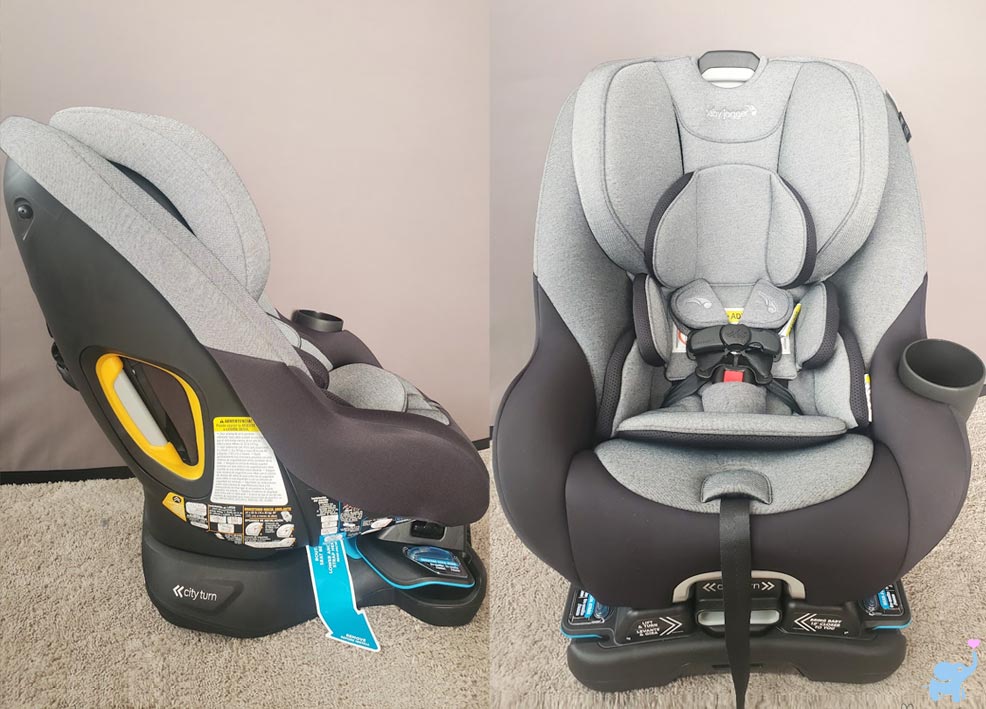 Looking good!
The stitching on the seams looks great, and the logos and labels don't stand out.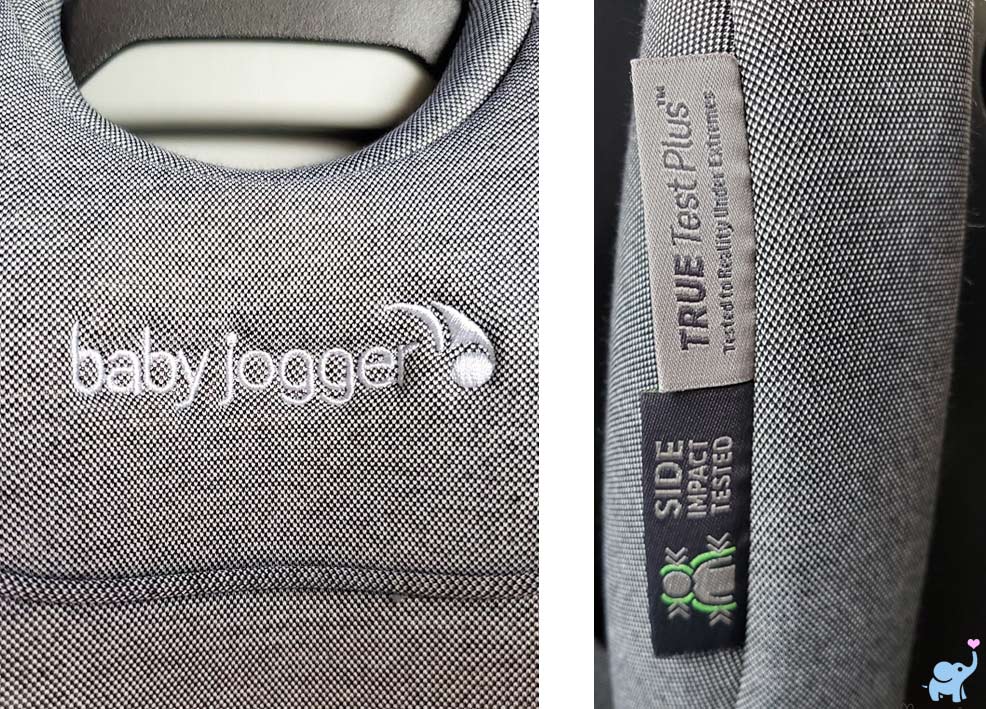 Overall, our first impressions were very positive!
The car seat looks and feels great, is very sturdy and durable, and we think it will have superior comfort for your little one.
Let's find out!
Installing the Car Seat
We've been installing car seats for nearly two decades, so we know an easy installation when we see one.
Suffice it to say, the City Turn makes installations super easy, for five primary reasons:
Clear stickers and labels.
Color-coded belt paths (blue for rear-facing, orange for front-facing).
Included push-button (quick connect) LATCH lower anchor straps.
RapidLock seat belt lock-offs that double as belt tensioners.
Adjustable 3-position recline with up to 2" of rise.
Reversible recline wedge to promote proper positioning in rear-facing vs front-facing.
Bubble levels on each side.
That being said, two small things tripped us up during installation.
First, the recline wedge on the bottom is reversible. It has two positions.
One is for rear-facing installations, where you swing the wedge towards the front of the car seat. The second is for front-facing installations, where you swing the wedge towards the rear of the car seat.
When we first installed the City Turn, we didn't realize the wedge was reversible and ended up installing it incorrectly. Here is what that looks like: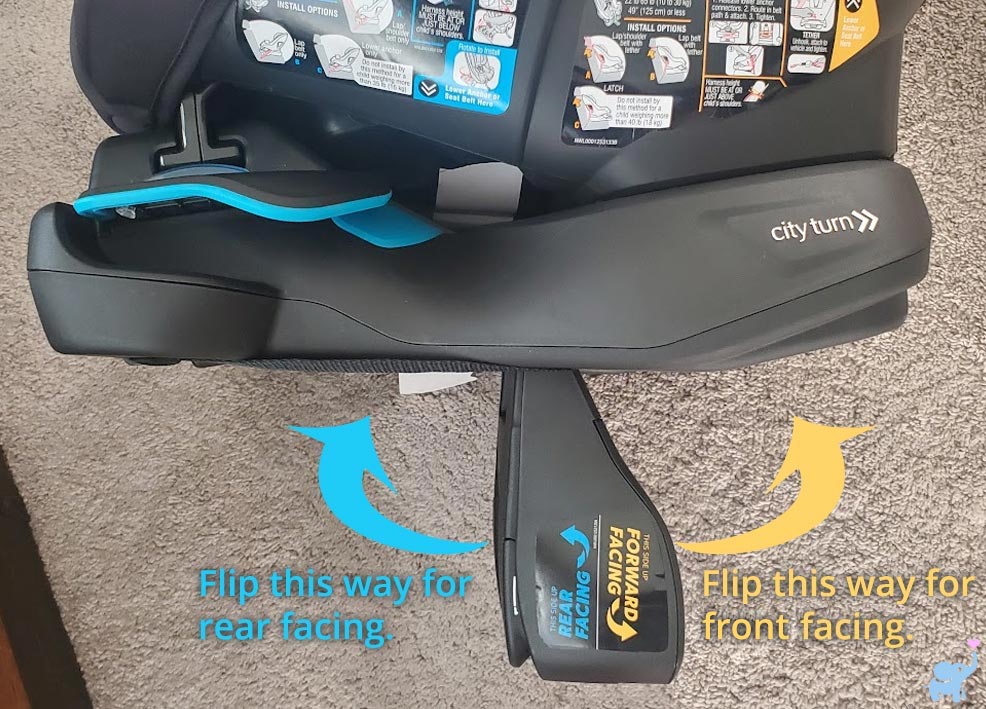 When you flip it one way or the other, it will lock into place, and then you can adjust the recline angle using the grey handle.
Here is what the three-position recline looks like: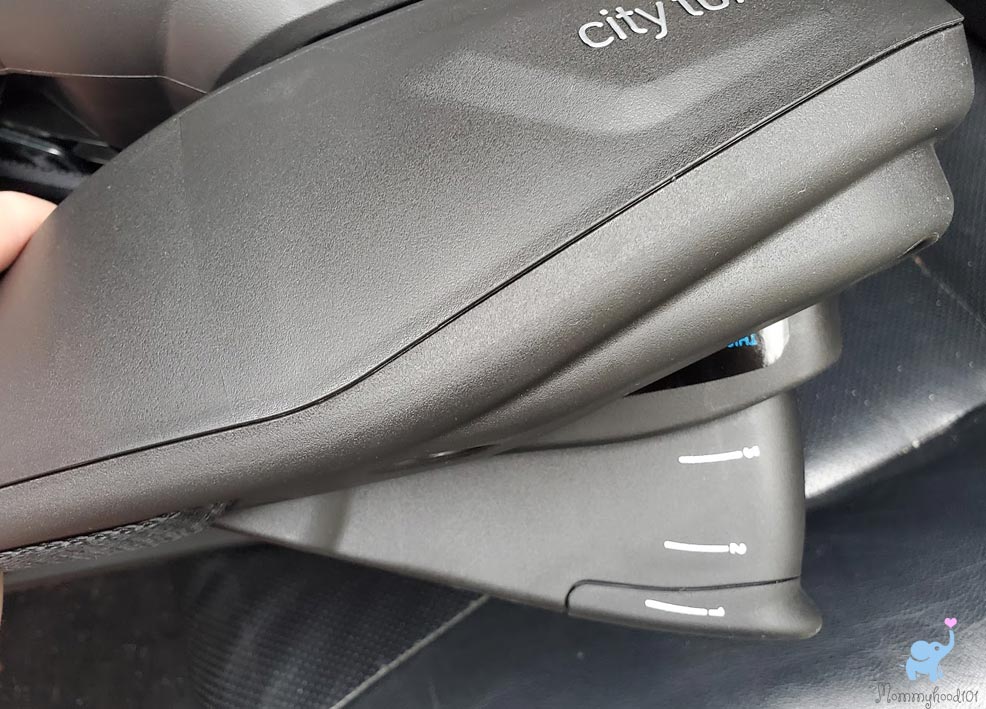 The second thing that tripped us up a bit was this area of the base that looked like a belt path: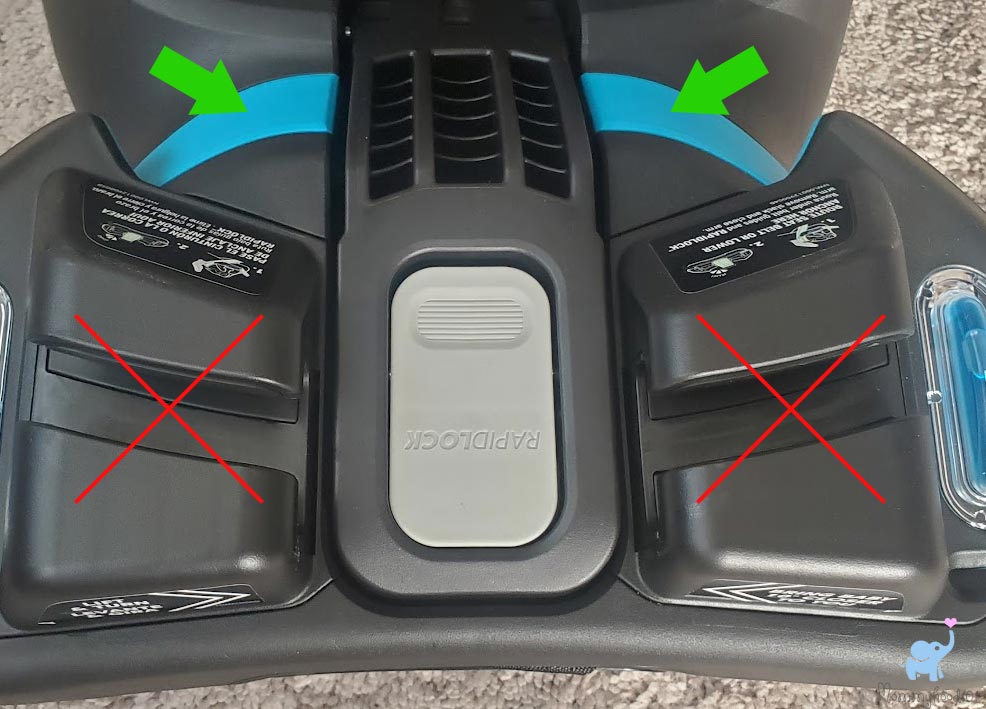 That is most definitely not a belt path, it is part of the rotation mechanism and should never be used to route the vehicle's seat belts.
Instead, you will route the vehicle's seat belt through the area where we placed the green arrows in the above photo.
This brings up the seat belt lock-offs, which are amazing.
The City Turn is equipped with lock-offs for both front-facing and rear-facing configurations, and they not only lock off the belt but also help tension it to achieve a secure installation.
Check out our video detailing how they work:
We love these lock-offs!
We also love how easy it is to access the lock-off in rear-facing mode when the seat is rotated out of the way.
You can install the City Turn car seat using either ISOFIX LATCH or your vehicle's seat belts.
Some guidelines for LATCH installation:
In rear-facing mode, you can use the LATCH attachments to install the car seat, but only until your child reaches 35 pounds.
In rear-facing mode, you can use a lap belt only (if that's all your vehicle has), OR the vehicle's lap and shoulder belt. You must use one of these options once your child is over 35 pounds.
In front-facing mode, you can use the LATCH attachments to install the car seat, but only until your child reaches 40 pounds.
In front-facing mode, you can use the lap belt and top tether (if your vehicle only has a lap belt), OR the lap and shoulder belt and top tether. You must use one of these options once your child is over 40 pounds.
In front-facing mode, if your vehicle is equipped with a lap and shoulder belt, you must install the car seat using both. However, you can install the car seat using only the lap belt if your vehicle does not have a shoulder belt.
Overall, we thought the installation process was intuitive and easy.
While we tend to prefer using the LATCH anchors, we were able to achieve secure installations with both methods, in both front- and rear-facing modes.
Here it is in rear-facing mode: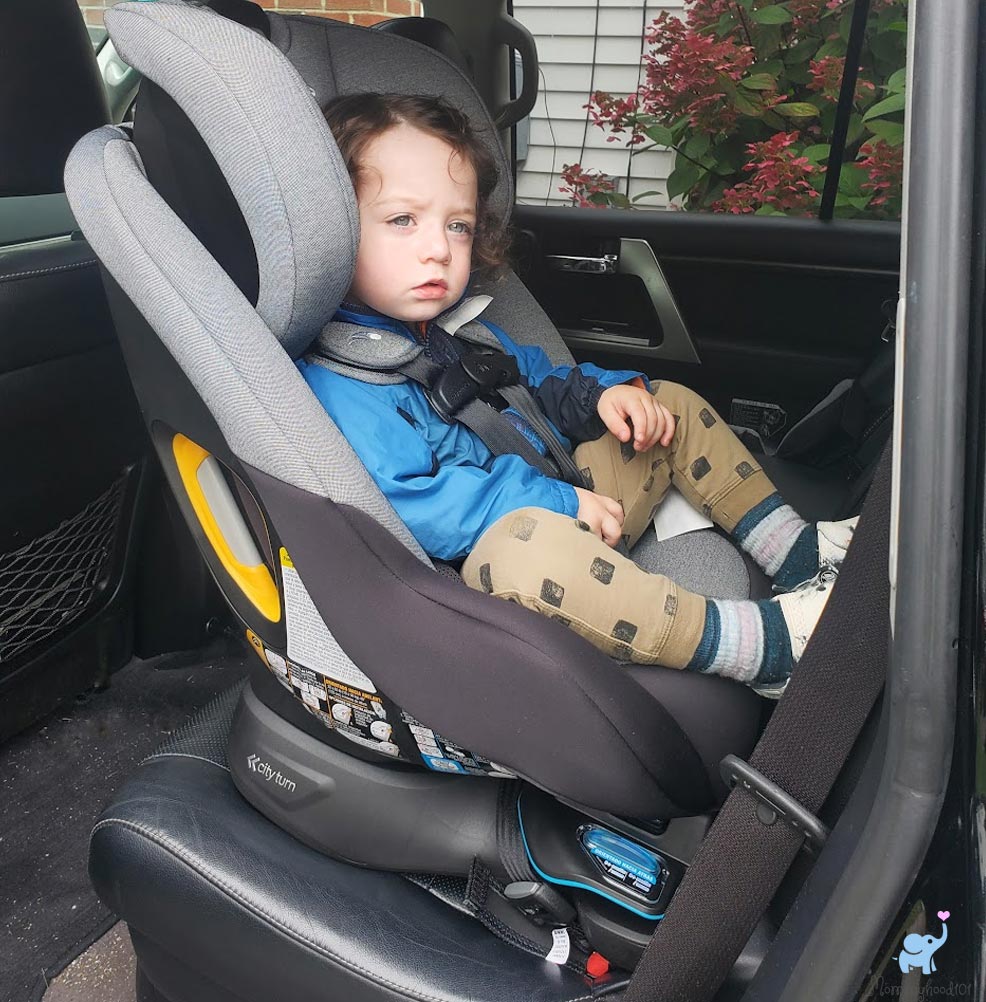 Someone skipped his nap, but we promise he was very happy and cozy in the City Turn!
Here it is in front-facing mode:
A few notes about harness height:
In rear-facing mode, the shoulder harness height must be at or just below the top of the child's shoulders, and the top of their head must be at least 1" below the headrest adjustment lever.
In front-facing mode, the shoulder harness height must be at or just above the top of the child's shoulders, and the top of the child's ears must be below the top of the headrest.
In both cases, the chest clip should be positioned at the armpit level, and the harness straps should be snug enough that you cannot pinch the strap at the shoulder.
Note that this installation is shown in a 2015 Toyota Land Cruiser, but we also achieved a perfect installation in a 2015 Acura MDX.
Adjusting the Car Seat
A proper installation is critical for car seat safety, and that includes proper adjustments.
Five primary adjustments can be made with the Baby Jogger City Turn:
The headrest can be adjusted between 10 height positions.
The recline can be adjusted between 3 angle positions.
The crotch buckle can be adjusted between 2 positions.
Harness tension can be adjusted continuously.
The infant inserts should be used for infants up to 15 pounds but should be removed once they are heavier. There are three infant support pieces: head and body support, lower seat pad, and lumbar pad.
The headrest adjustment is very easy given the no-rethread harness and smooth operation.
Changing the crotch buckle position requires rethreading from the back, but it's made easy by the rotating seat (more on that later).
Harness tension adjustments are smooth and we didn't experience any binding or tightness in the mechanism. You do need to stick your finger down pretty far past all the layers of padding to reach the adjustment lever, but it's still very easy to use.
The infant inserts are plush and easy to remove, and do a good job properly supporting an infant's head and torso.
Overall, there is a wide range of adjustments and we were very happy with the car seat's versatility and ease of use.
Testing the Rotating Car Seat Feature
This is probably what you've all been waiting to see!
The beauty of this car seat is matched by its superior functionality, with a smooth 180-degree rotation that helps you take your child in and out of the car seat when it's in rear-facing mode.
There is an easy latch on the front of the car seat that you can pull up one-handed and begin to rotate the seat.
Here is what the latch looks like: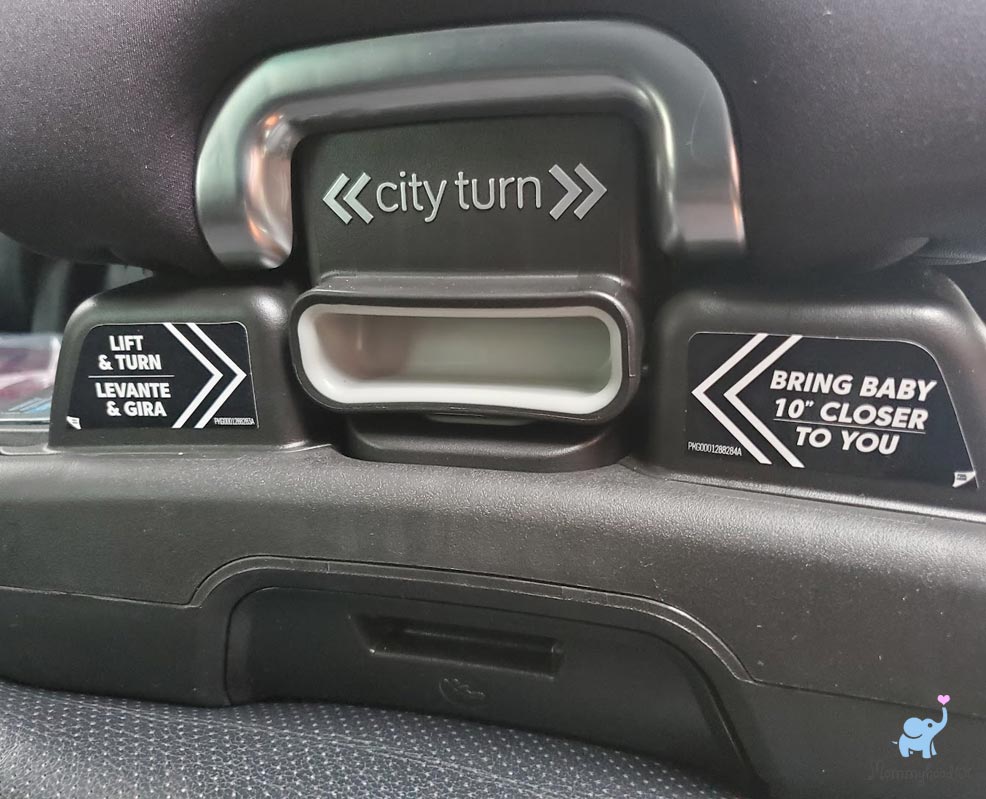 Simply lift that white handle and the seat will be free to rotate about 90 degrees in either direction (clockwise or counter-clockwise).
The beauty of the City Turn is that their unique rotation mechanism brings the child about 10" closer to you when they are rotated, making it very easy to use, especially when dealing with larger cars or SUVs.
And now for the fun part:
We loved how smoothly the City Turn rotated, how much easier it was to access our little one, and how you could rotate it one-handed!
We have tried several other rotating car seats over the past few years, and we must say that this is our favorite.
Never leave the car seat in a rotated position while the vehicle is moving!
Safety Features
The City Turn car seat is equipped with some excellent safety features, and it meets or exceeds the NHTSA's Federal Motor Vehicle Safety Standards (FMVSS).
According to Baby Jogger, the City Turn is engineered and tested with their proprietary TRUE Test Plus safety standards (TRUE stands for Tested to Reality Under Extremes), which helps protect your child in rollover, side impact, and front and rear collisions.
This sounds compelling, but we were not able to find any formal documentation of these testing protocols.
Here are the primary safety features of the City Turn:
Side impact protection.
Steel-reinforced frame.
5-point harness.
EPP energy-absorbing foam.
We love a steel-reinforced frame, even if it adds weight to the car seat. We also appreciate the other safety features, though some parents might be disappointed that there is no anti-rebound bar or load leg in rear-facing mode.
Specifications
Below we list the basic specifications of the City Turn, which are definitely impressive, especially in terms of its range of weights and heights.
Rear-facing modes from 4-50 pounds.
Front-facing mode from 22-65 pounds.
Weight: 28 pounds.
Height: 22.75"
Maximum width: 19"
Width at base: 13.75"
Depth: 23"
Expiration date: 10 years.
Warranty duration: 1 year.
We also took several additional measurements that parents often want to know.
Here are the minimum (about 20") and maximum (about 28.5") headrest heights: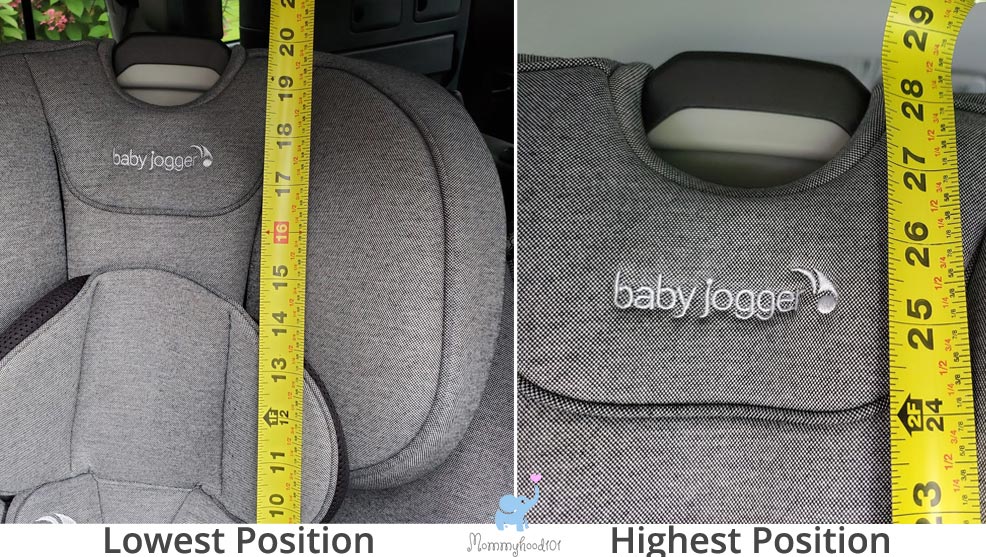 Here are the widths of the headrest (about 10.5") and infant insert headrest (about 6.5"):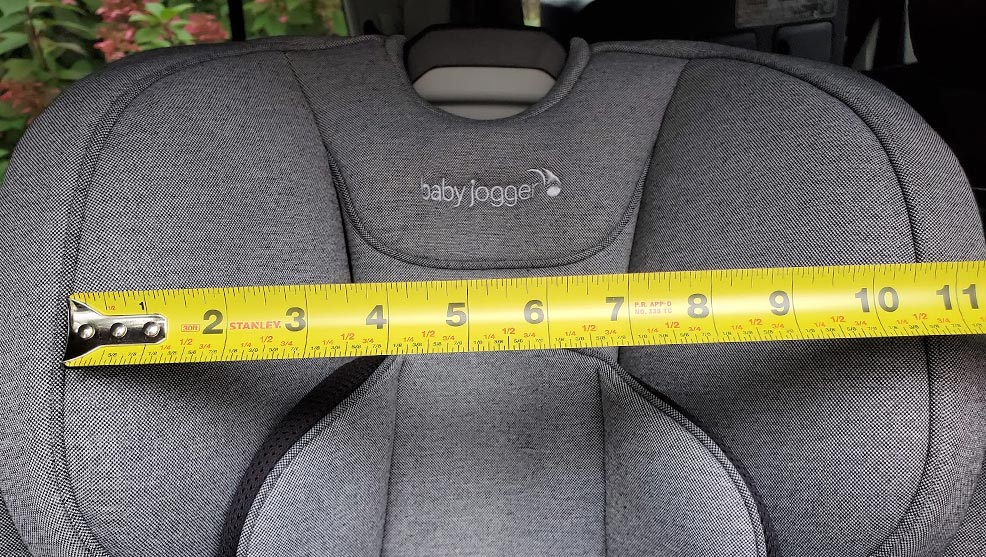 Here is the inside seat width (about 12"):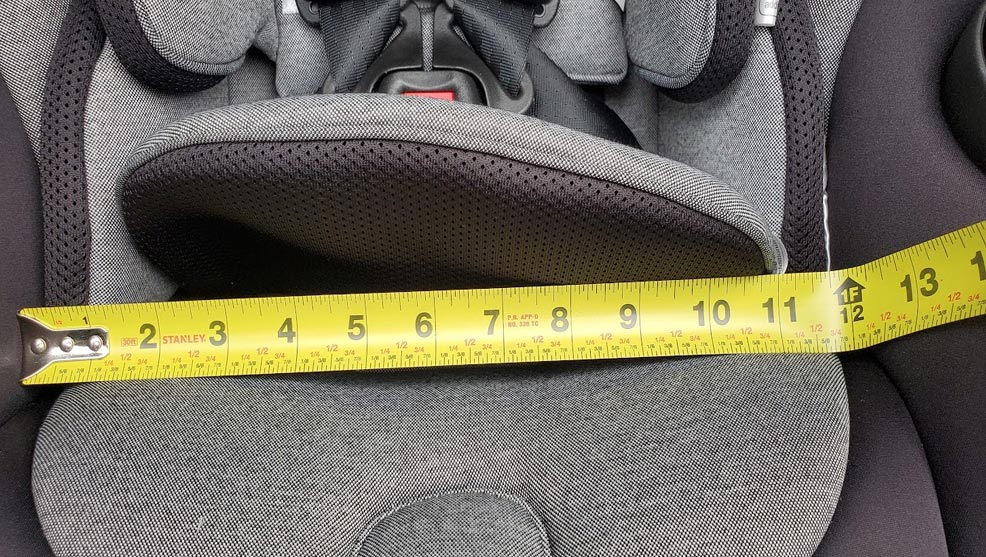 And finally, here is the inside seat depth (about 10.5"):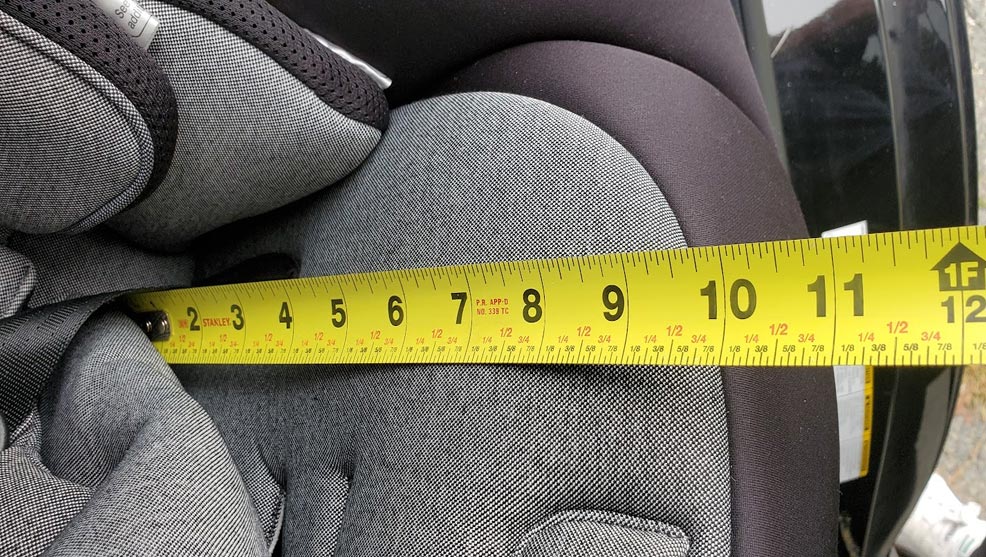 While 19" wide at the upper wings and 13.75" wide at the base isn't enormous, you would be challenged trying to use this seat in a three-across configuration.
If you are interested in a convertible car seat for that type of situation, see our review of the best car seats for fitting three in a row.
Conclusions
In summary, we were impressed with the Baby Jogger City Turn convertible car seat.
It offers quality and style with unparalleled convenience and functionality. While it is not as versatile as something like the Graco 4Ever, in that it will not support a belt-positioning or bottom-only booster mode, it makes up for it with comfort and convenience.
From start to finish, we were impressed with the City Tour throughout our hands-on review. We think it's a fantastic car seat that you and your child will love!
Yes, it is a little expensive, and the rotation mechanism adds a bit of weight and bulk. But if you have an SUV or full-size sedan, you'll be unlikely to notice either of those characteristics.
Overall, we highly recommend the City Tour car seat for parents willing to splurge a bit for a high-quality and highly functional car seat that will last your family for many years to come!
References Cited
Federal Motor Vehicle Safety Standards for Child Restraint Systems
Infant Car Seat Safety Features