Diono 3QX Convertible Car Seat Review & Video
Comfort meets safety and superior quality in the newest Diono car seat.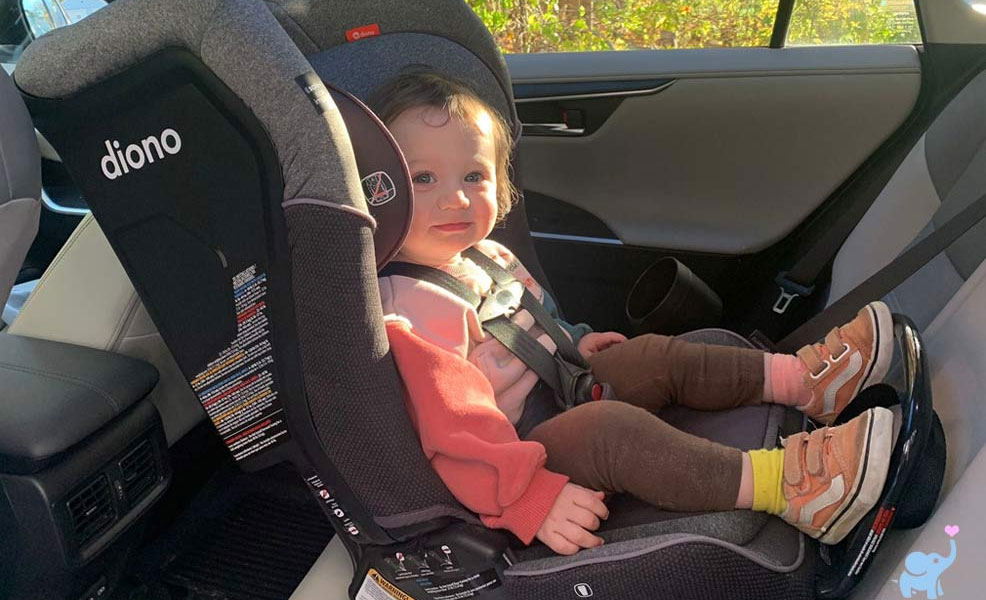 ---
Mommyhood101 independently tests and curates baby gear to help you make informed decisions. If you buy products through links on our site, we may earn a commission.
We put the Diono Radian 3QX convertible car seat to the test, evaluating installation, adjustability, comfort, versatility, and safety.
Let's see how it performed!
Featured near the top of our list of best convertible car seats, the popular Radian series is the time-tested flagship of the Diono lineup.
The feature-rich Diono Radian Q series includes three models - the Radian 3QX, 3QXT, and 3QXT+.
These convertible car seats have basically everything you could look for in a car seat, with a rich set of capabilities and advanced safety features.
But there is something very special about the Radian series: they are one of the narrowest car seats on the market, making it possible to fit three in a row in most vehicles!
With a relatively steep price tag (about $299-530), we needed to put the new Radian 3QX series to the test and see if they're worth the cost. Spoiler alert: we love the 3QX!
Our Overall Impressions
Nobody wants to read through an entire article to get to the conclusions, you've got more important things to do! So here are our findings, right up front.
We are extremely impressed with the new Radian 3QX (and 3QXT and 3QXT+) convertible car seats and are very grateful to Diono for sending us a sample for testing!
The installation is intuitive, and it was easy to get a secure install in about 10 minutes (see our tips below). There is a wide range of adjustments for all shapes and sizes, and the seating is very comfortable. The safety features, including the side impact protection, anti-rebound bar, energy-absorbing foam, and steel-reinforced frame are second-to-none.
While the Diono Radian series is a bit pricey, we think it's worth every penny for parents who value the ability to fit three car seats in a row without compromising on quality, safety, and comfort.
Here is a summary of what we loved, and a couple things that could be improved.
✔️ 10 years: infant to booster.
✔️ Preemie support (4+ lbs).
✔️ Comfy infant inserts.
✔️ Extended rear-facing (50 lbs).
✔️ Safe+ anti-rebound bar.
✔️ Beefy side impact protection.
✔️ Steel-reinforced frame.
✔️ Energy-absorbing foam.
✔️ Easy SuperLATCH attachments.
✔️ Wide adjustability.
✔️ Comfortable seating.
✔️ Removable & washable cover.
✔️ 3 year warranty.
✔️ Super narrow 17" design.
✔️ Easy folding.
✔️ High quality fabrics.
❌ Manual harness rethread.
❌ Tall for smaller cars.
❌ Limited front-facing LATCH use.
Clearly that's a lot to love!
From installation to comfort and quality, the Diono Radian 3QX was full of surprises! Add that to serious longevity with support from infant to booster, and the ability to squeeze three Radians in a row, and we think it's an obvious choice for discerning parents.
There were only a few small cons we encountered, which we detail below in our review.
Outside of those minor drawbacks, we think the Diono Radian Q series is nearly perfect in every way!
Suddenly feel like an expert in the Diono Radian 3QX? You should! But if you're still uncertain, continue reading to see how we reached these conclusions!
Radian Series: 3QX, 3QXT, versus 3QXT+
Diono has been marketing the Radian series in the USA for over a decade, and they've gotten remarkably popular over the years. The original Radian 3R, 3RX, and 3RXT were at or near the top of our list of the best convertible car seats for several years, a strong testament to their quality and capabilities.
The Radian car seats are well-known as the best on the market for fitting three car seats in a row (coming in at 17" wide, they're the three-across champion!), but also offer surprisingly great features and versatility.
In our experience, however, there were a few things missing from the original Radian 3R series. These include multi-layer robust side impact protection, an anti-rebound bar for rear-facing, a robust infant positioning system for preemies and smaller newborns, and plush seating surfaces.
Can you guess what the new 3Q series adds to the Radian!? A beefy six layers of side-impact protection (!), anti-rebound bar, excellent infant positioning, and memory foam seating comfort. They also added huge headrest adjustability across 12 positions and over 16" of range.
But that's not it! The Radian Q series is also available in three models, each with additional features: the 3QX, 3QXT, and 3QXT+. Here they are: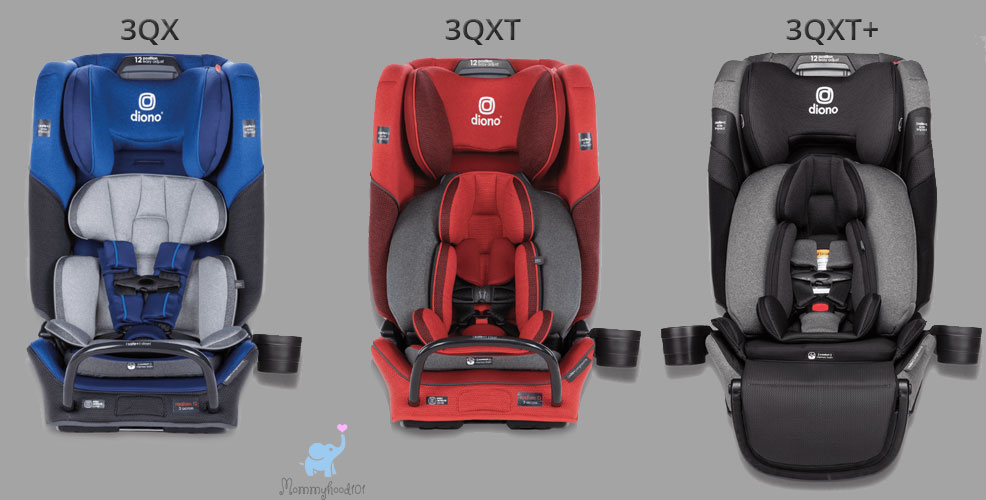 The 3QX is the flagship Radian 3Q model, offered at the lowest price (about $299) and with an excellent set of features.
The 3QXT adds a Safe+ newborn protection insert to the 3QX, which we recommend for smaller newborns and preemies (about $450).
The 3QXT+ adds a unique and luxurious calf support to the 3QXT, which serves as an anti-rebound bar during rear-facing and then an adjustable leg rest for front-facing children (about $530).
Which of these three models is right for your family will depend on your needs. If you have or anticipate having a premature infant or a relatively small (< 7-8 pounds) newborn, we strongly recommend the additional infant positioner in the 3QXT.
For families who want that extra comfort level for their front-facing big kids, and are willing to pay a premium for that added comfort and luxury, the 3QXT+ could be right for your family.
Diono Radian 3QX Review: First Impressions
The car seat arrived in a rectangular box that was surprisingly small, owing to the small footprint of this car seat when its folded (more on that later).
Sliding it out of the box, the first impression is that it's quite heavy, coming in at a hefty 31 pounds! That won't surprise you once you realize that it has a steel-reinforced frame and steel anti-rebound bar, both for added safety in the event of an accident.
Unwrapping and unfolding the car seat, the first thing we realized was how high quality the fabrics and seams, padding, plastics and metals were. Everything felt very substantial and designed with intent and function.
The branding was subtle, and we loved the little accents designed to stand out while also giving the impression of quality: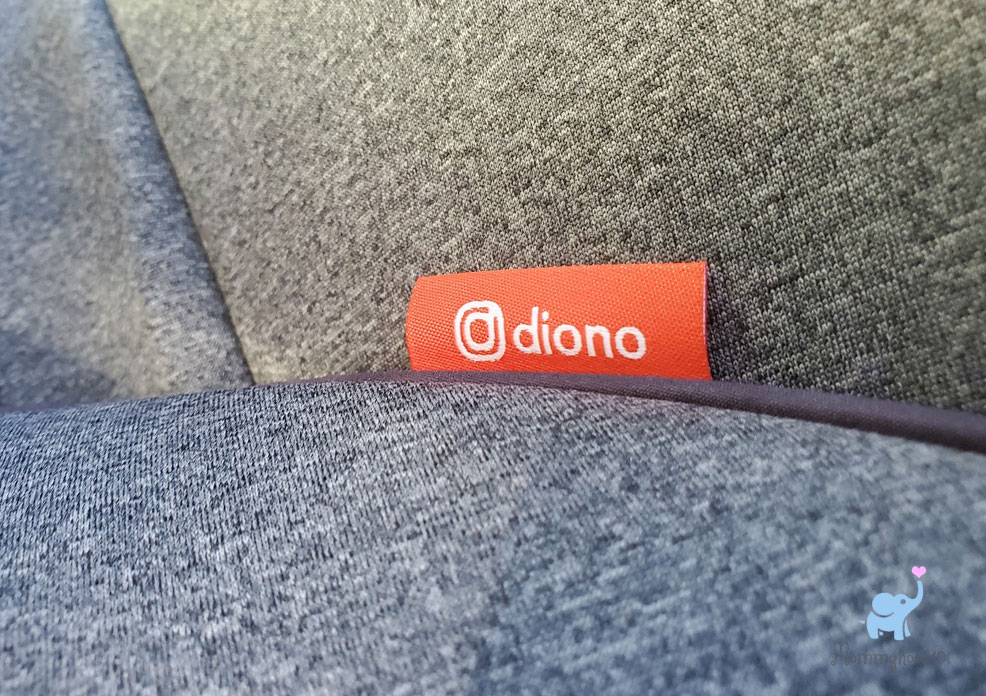 Unfolding the car seat and locking it into the open position was simple: open the red Velcro strap and unfold the seat until you hear it click into the unfolded position.
Here is the red Velcro strap that secures the Radian 3QX into its folded position: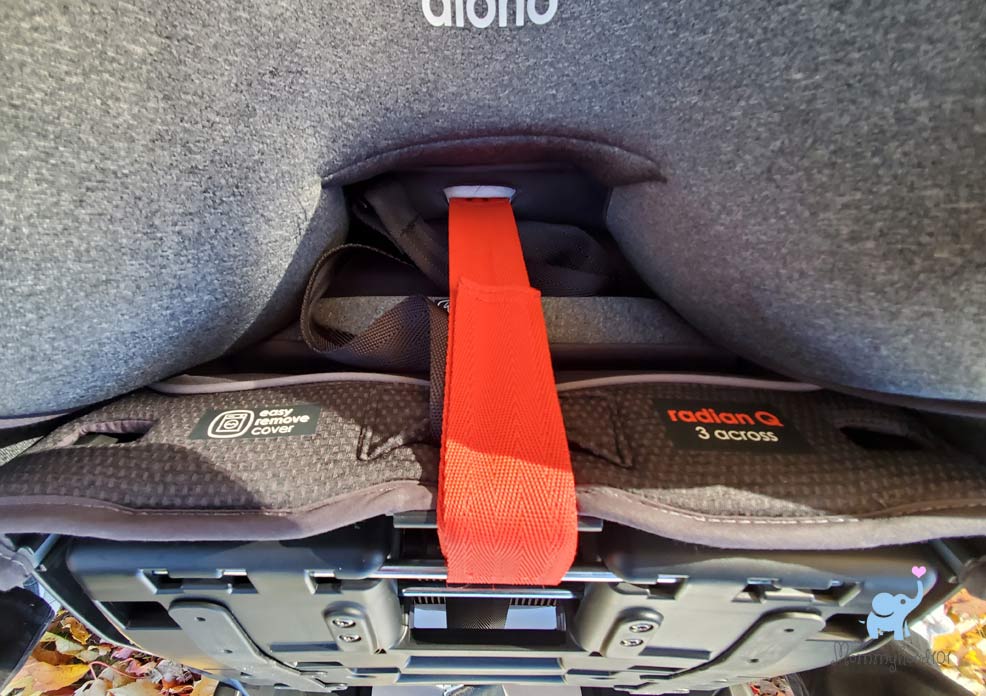 Once you unfold the car seat fully, you'll notice that the red strap will just hang awkwardly in the middle of the harness area.
Simply slide the harness down into the slot it comes out of, and it will end up looking like this: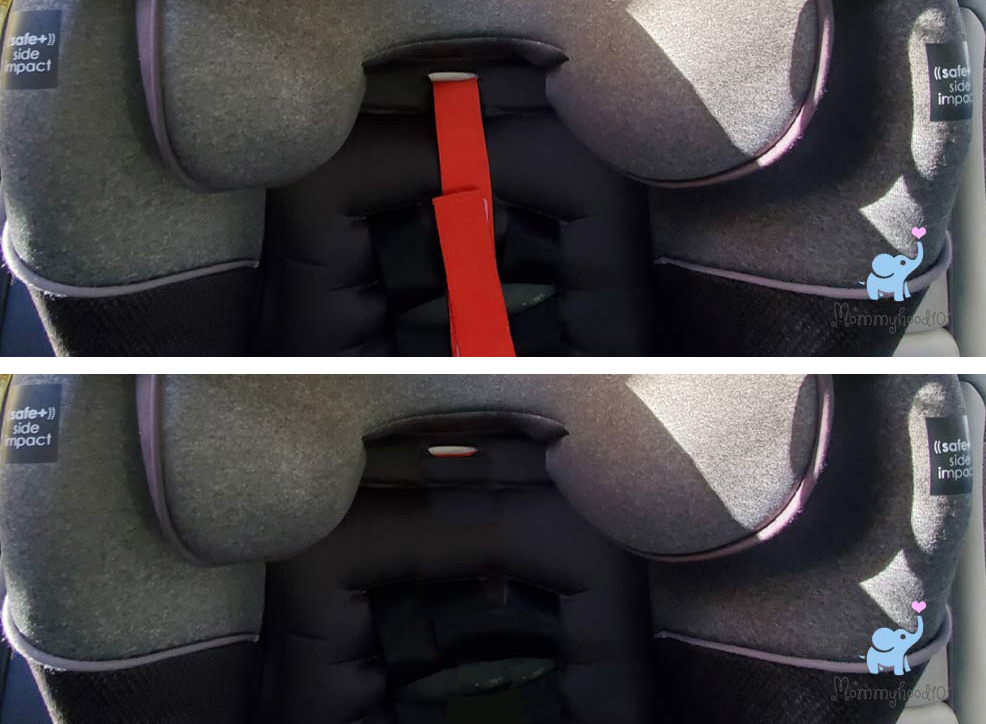 Overall, our first impressions were very positive!
We love how small it folds for storage or transportation, how high quality all of the materials are to the touch, and how safe and sturdy it feels.
Yes, it's heavy. You can't have this level of safety, comfort, and versatility without some weight. Relative to a key competitor with similar safety features, the Britax One4Life, the weight is basically identical.
Installation
Like all convertible car seats, the Radian 3QX, 3QXT, and 3QXT+ can be installed in rear-facing and front-facing configurations. Unlike most convertible car seats, the Radian 3Q series can also be installed as a belt-positioning booster for added versatility.
Here are the basic specifications for rear-facing, front-facing, and belt-positioning booster modes:
Rear-facing minimum weight 4 pounds.
Rear-facing maximum weight 50 pounds when using seat belt install.
Rear-facing minimum weight 35 pounds when using LATCH install.
Rear-facing maximum height 44".
Front-facing (with harness) minimum weight 22 pounds.
Front-facing (with harness) maximum weight 65 pounds when using seat belt install.
Front-facing (with harness) maximum weight 40 pounds when using LATCH install.
Belt-positioning booster (without harness) minimum weight 40 pounds.
Belt-positioning booster (without harness) maximum weight 120 pounds.
Maximum front-facing and booster height is 57.1".
According to the NHTSA, AAP, and several consumer agencies, the best way to ensure car seat safety is through proper installation and use!
Even the safest car seats are a risk to your child's safety when installed or used improperly.
For that reason, one of the most important aspects of a car seat is how easily and intuitively it can be installed in front- and rear-facing positions.
Well, the good news is that Diono has done a great job with not only the owner's manual but also the quick-look guides affixed to the sides of the car seat itself.
Here are a few of those stickers.
First, this one reminds you that you need to have the base installed when the car seat is used rear-facing: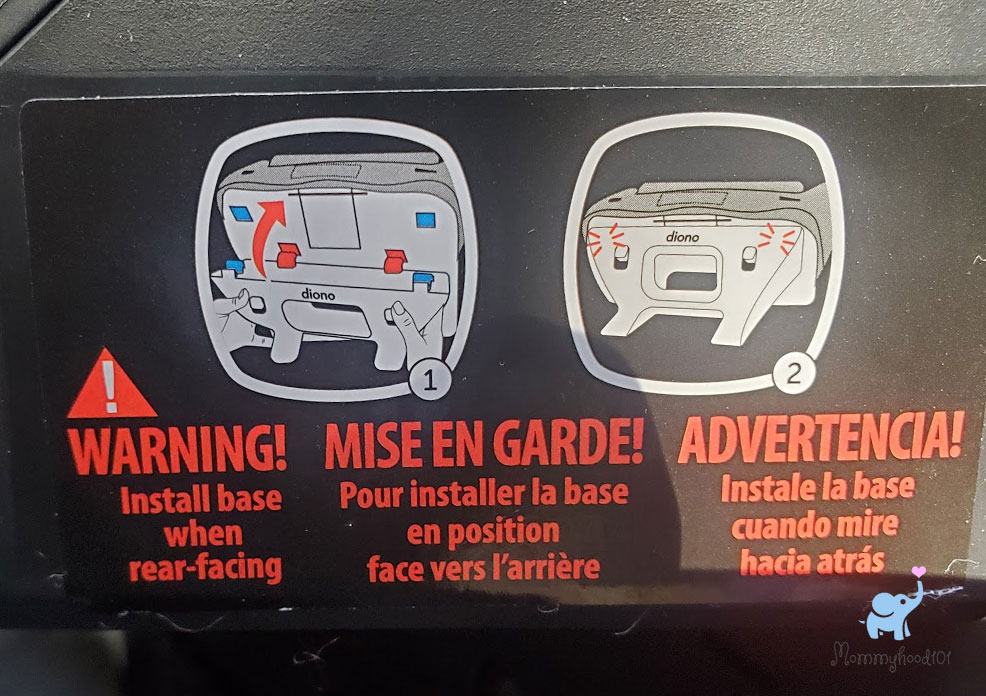 That's a great reminder, otherwise the incline angle of the install will be completely incorrect, compromising both safety and comfort.
Second, this one details the three methods for installing the car seat in a rear-facing configuration: using the vehicle's lap and shoulder belt, the LATCH connectors, or just the lap belt (this is rare).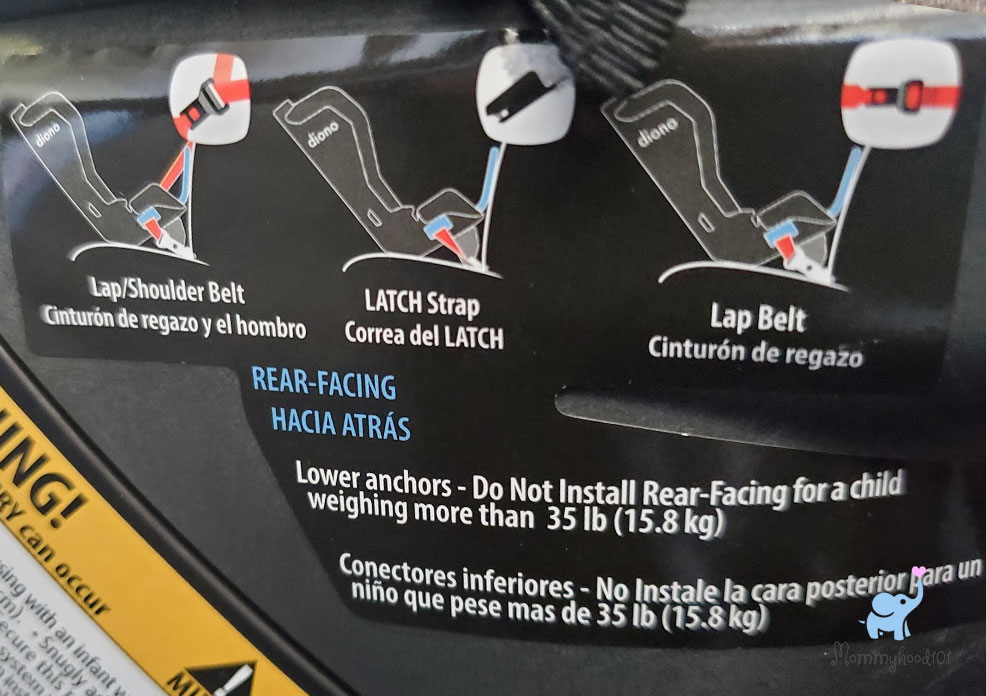 That sticker also reminds you not to use the LATCH installation method for a child weighing more than 35 pounds. This is important because the weight of the car seat itself plus the weight of your child would exceed the maximum LATCH weight limit (65 pounds).
Third, this one details the three methods for installation in a front-facing configuration: using the vehicle's lap and shoulder belt, the LATCH connectors, or just the lap belt (this is rare).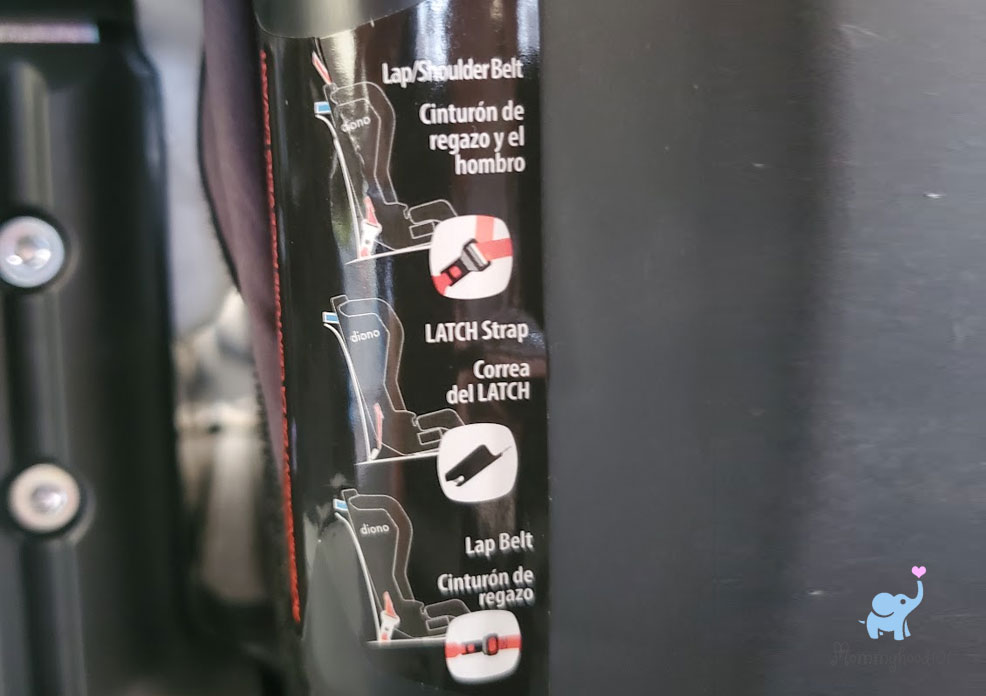 In our opinion, we strongly encourage you to use the lap/shoulder belt for all front-facing installations of this car seat.
In our testing, we installed the 3QX in both rear-facing and front-facing configurations, using the vehicle's seat belt and LATCH connectors.
All our testing took place in a 2022 Toyota RAV4, which is a compact crossover SUV with 37.8" of rear leg room and 39.5" of head room.
Here it is installed rear-facing with the lap/shoulder belt. Note that center seat positions often do not have correctly spaced LATCH anchors (with the exception of some minivans and larger SUVs), mandating a lap/shoulder belt install: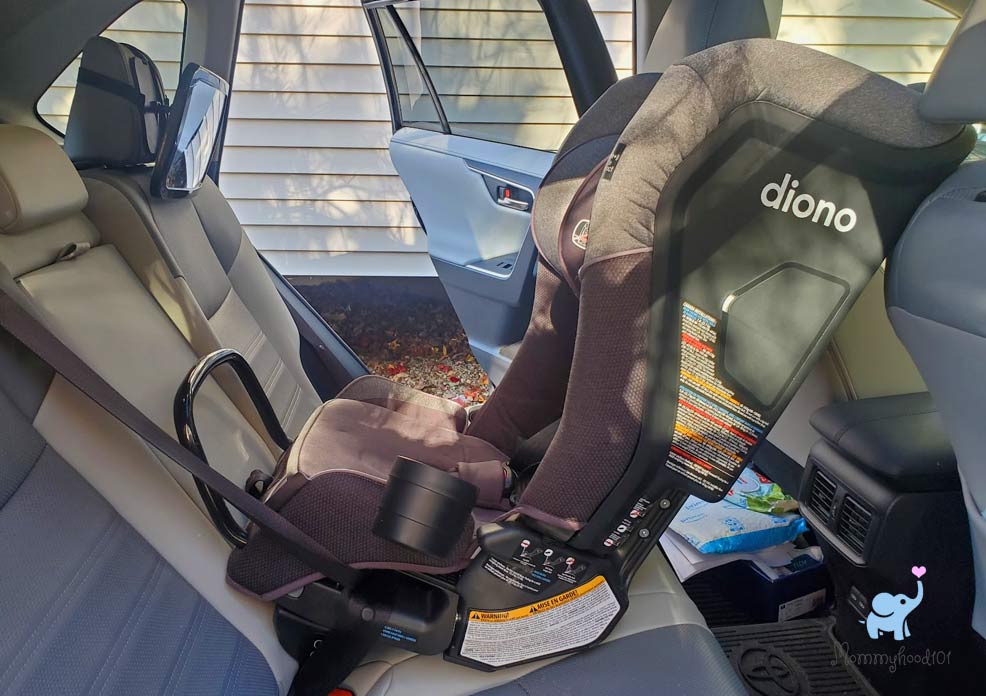 A couple things to notice in the above photo. First, the slot where you slide the seat belt through the bottom of the car seat is pretty large, probably large enough to fit smaller hands. This makes for an easier installation. Second, the angle of the seat is suitable for both infants and toddlers. It is inclined enough to help prevent head-sag in infants, and not too much to make it impossible for toddlers to peek out from the side. Third, the top of the car seat is hovering slightly over the front seats' shoulder bolsters, suggesting that we should slide the front seats forward a bit more.
If you want to use the LATCH connectors, they are hiding behind a door on the upper back of the car seat: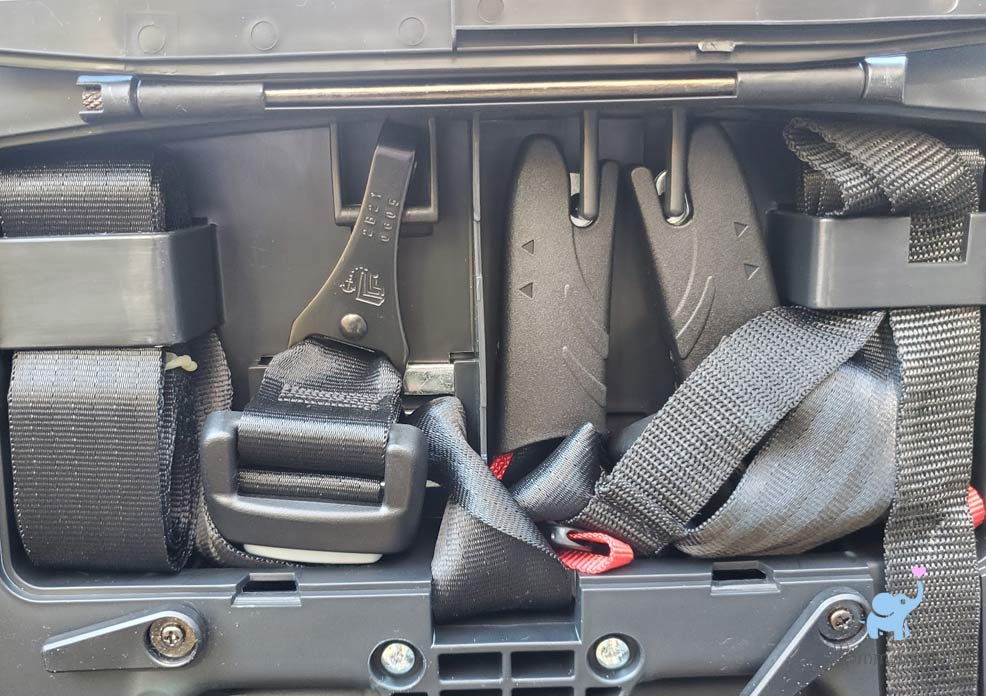 Inside the compartment, you'll notice the two adjustable SuperLATCH connectors, and a top tether for all front-facing installations.
In rear-facing configuration, the LATCH install was a breeze and we loved using the SuperLATCH connectors. They click onto the anchor very easily and pop off easily by pulling up on the little red straps.
In front-facing configuration, it was a slightly different story, and the LATCH connectors were a bit more difficult to use.
Specifically, it was very difficult to tighten the LATCH strap enough to get a tight installation in the front-facing position.
From what we could tell, the issue was that the adjustment point was positioned either too low or high up off the connector. No matter how hard we pulled up to tighten the strap, it would not remove the slack. It's hard to explain, but basically the adjuster is at a poor angle and position relative to the car seat, making it impossible to tighten. Here is a photo of the situation: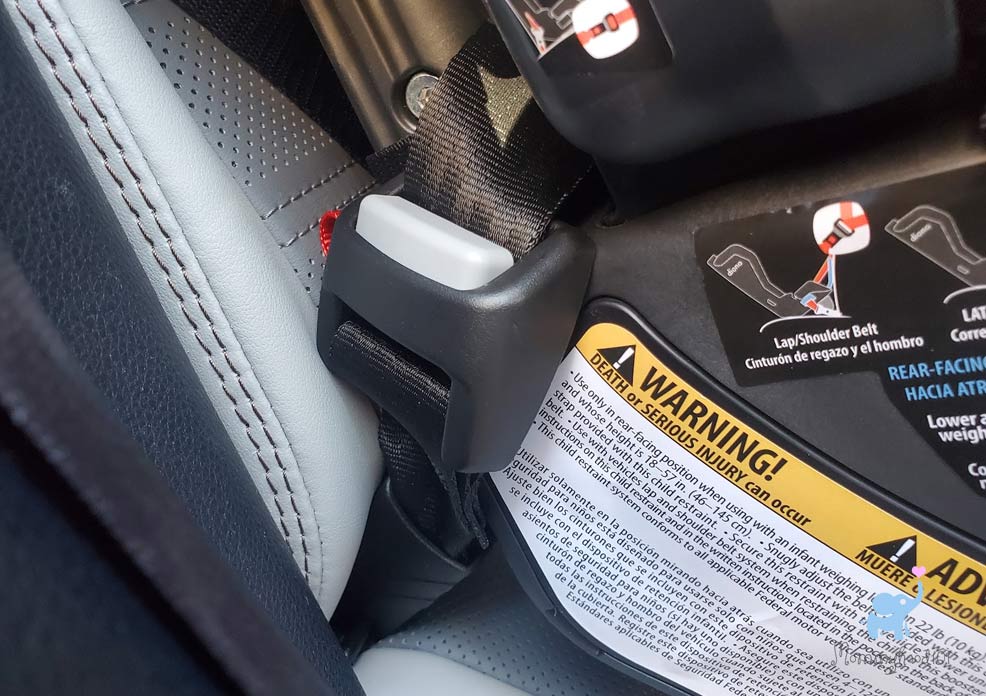 Notice how the adjustment point is up against the side of the car seat precisely at the point where it enters the car seat pass-through? That angle made it impossible to tighten sufficiently. We tried pulling the strap straight up, pulling it from the other side (through the pass-through), and even tightening it prior to fastening the connectors.
Due to this issue and the fact that you can only use the LATCH system until your child is 40 pounds in the front-facing position, we think it's not even worth attempting to install using LATCH in the front-facing configuration. We suggest using the lap/shoulder belt.
Outside of that issue, which is a non-issue for most parents who keep their child rear-facing until their second birthday, we thought the entire installation process was intuitive and easy.
Critically with the Diono Radian series, the entire seat is relatively narrow and allows for fitting three-across in most vehicles. This is made possible by a very narrow lower seat area (about 15.5" wide) that allows you to easily fit (smaller) hands between adjacent seats to help secure and adjust LATCH and buckle connections. It is also made possible by a narrow upper shoulder width of 17".
Adjustments
The Diono has ample adjustments to ensure that even the smallest newborns and biggest kiddos are riding comfortably and safely.
This includes a huge range of headrest adjustments, covering 12 positions and a class-leading 16" of height range.
Here is a quick demo video of the impressive headrest range:
The five-point harness height, while it requires manual rethreading from the back, is adjustable between five positions. These positions span from about 7" above the seat surface, all the way up to about 16.5" above the seat!
The crotch buckle is adjustable between three positions. The first (closest to back) is used until your child is 21 pounds, the middle is used when your child is 22-30 pounds, and the forward-most slot is used when your child is above 30 pounds.
In addition, there are expandable side wings on the bottom. As your child grows larger (and wider!) they can adjust those wings outward to accommodate wider hips and thighs. Of course, if you're trying to fit three car seats in a row, you'll want them pulled inward.
Note that the seat itself is about 12" wide, and total lower width is about 15.5":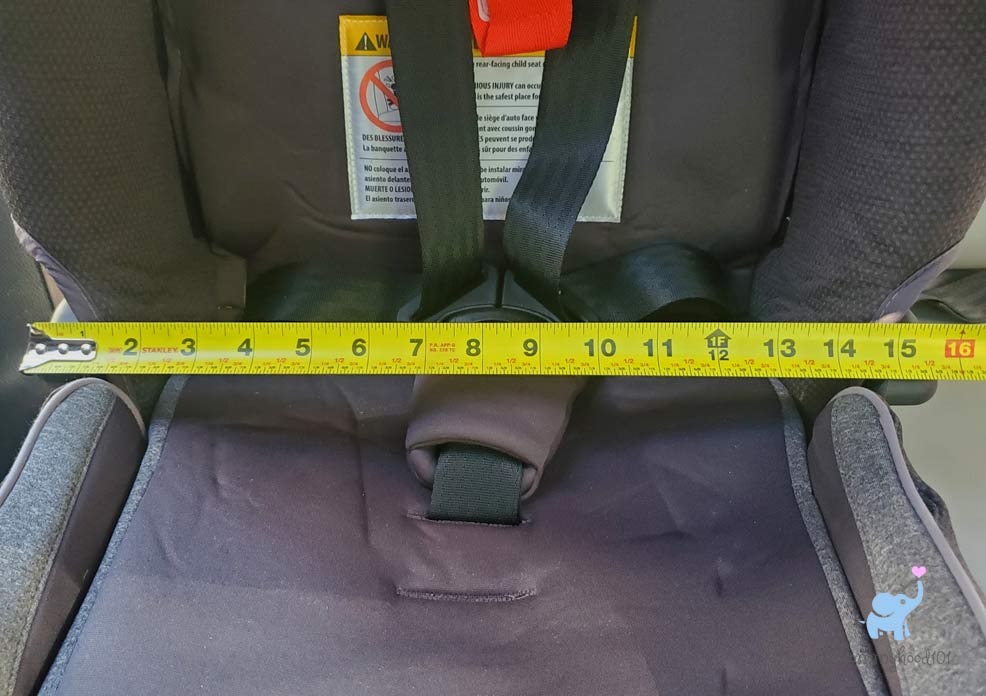 And, as advertised, the entire width from one side impact bolster to the other is less than 17" by our measurement: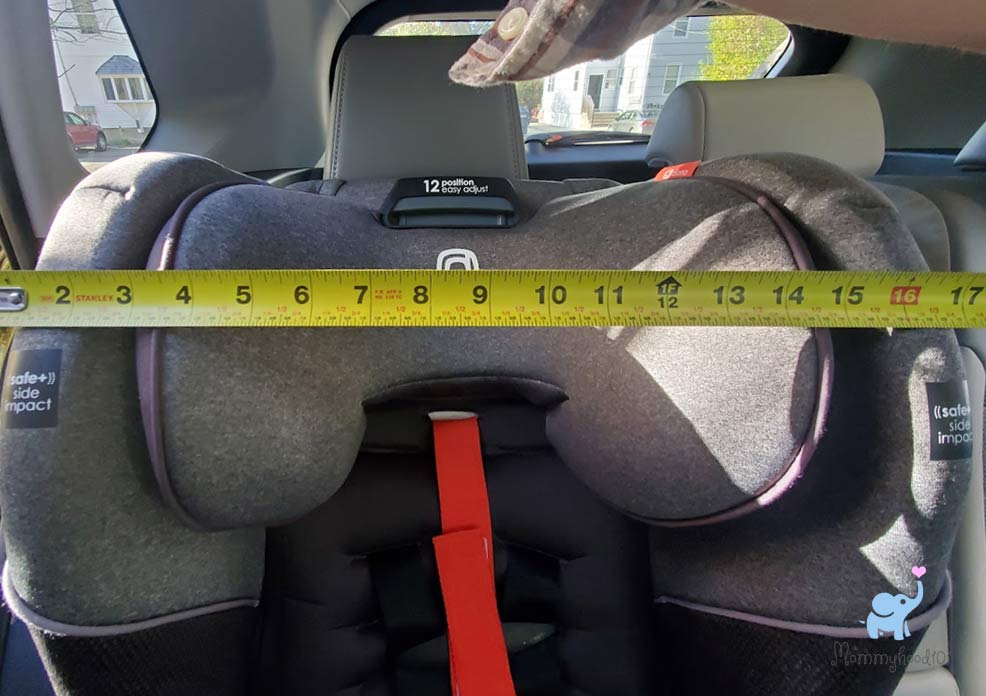 The only adjustment missing is recline.
In the rear-facing position, we strongly recommend using the included infant inserts to help your infant maintain a relatively reclined position.
Diono also sells a rear-facing angle adjuster for about $25, which can help you compensate for relatively steep rear seat angles.
In the front-facing position, recline isn't relevant.
Overall, we are impressed with the range of adjustments of the new Diono 3QX series, all of which we found easy to use and with great range.
Comfort
Diono made a few comfort improvements for this new Radian series.
First, we absolutely loved the new memory foam seat pad!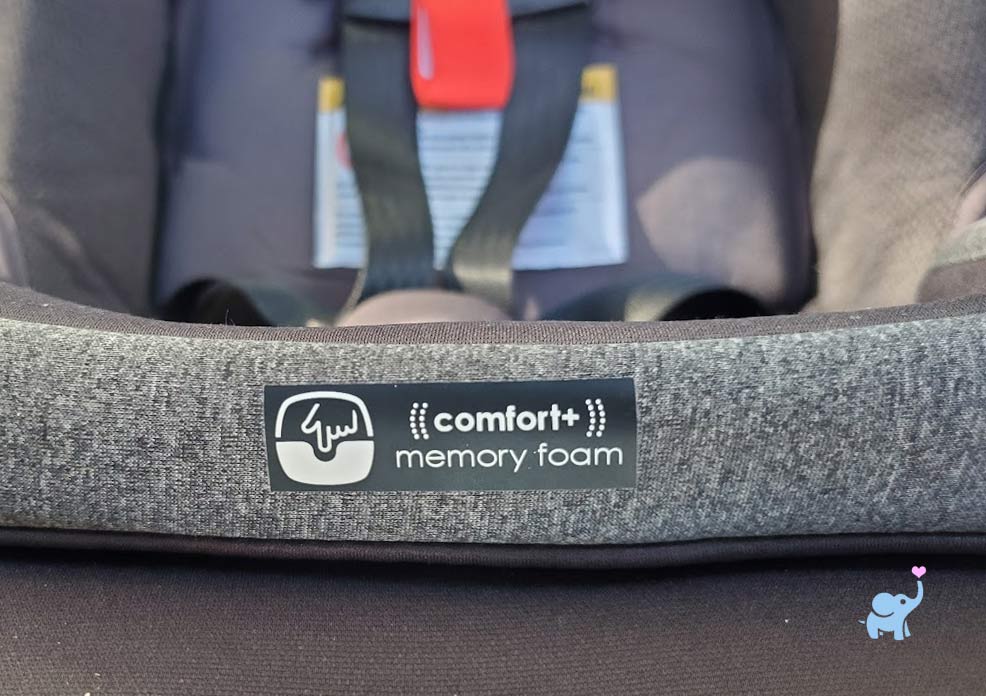 While infants and toddlers aren't likely to benefit much from this foam pad, as your child gets heavier, they will be very grateful for some padding on relatively long journeys!
Second, the headrest is very plush and comfortable: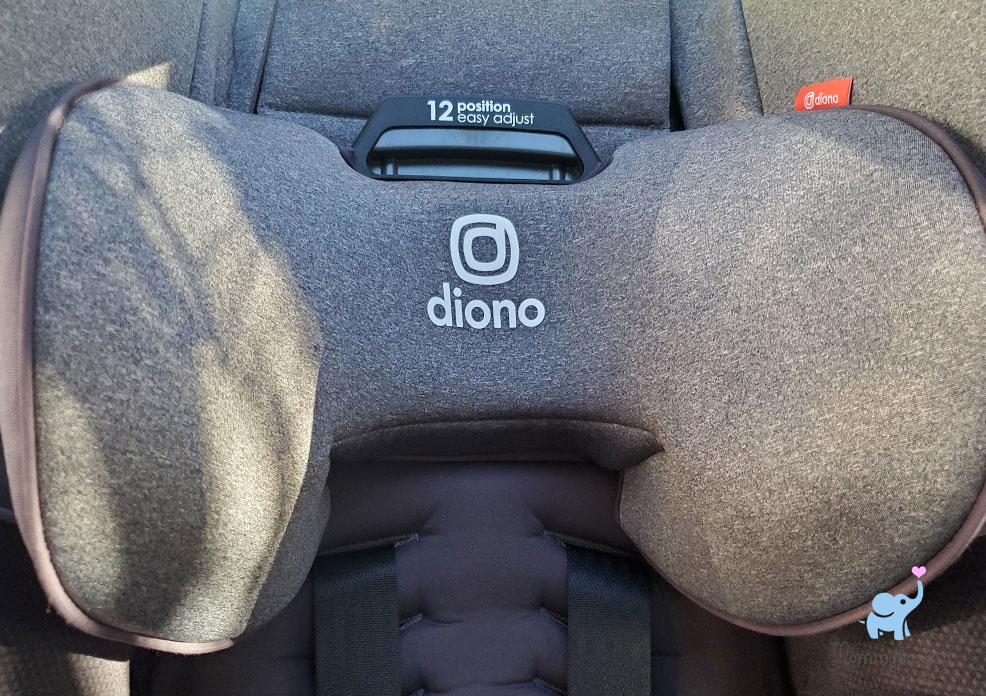 Very nice!
Third, all the cloth surfaces are soft to the touch, the shoulder harness pads are soft and comfortable, and the entire seat feels like it would be comfortable for longer car trips. The included removable cup holder is helpful too, and you can attach up to two of them if you buy one extra.
Of course, upgrading to the 3QXT+ would make things even more comfortable for big kids!
Versatility
The Diono has superior versatility in three different ways.
First, it is undeniable how amazing it is to fit three car seats in a back seat!
Even if you only have one or two children, or are not anticipating a third, this capability is great to have for a few other reasons: a narrow car seat makes it possible for a normal-size adult to sit next to (or between) two Diono Radian seats, and it's good to have the flexibility to accommodate a third child for playdates or family trips!
Second, obviously all the adjustability and 10 years of use make this an extremely versatile car seat! That means you can use it from newborn all the way up to when your child is too embarrassed to be seen in a car seat! In our experience, that's usually around 2nd or 3rd grade.
Finally, the Diono Radian series can fold flat for storage and transport.
To do so, there are two gray release levers on the back:
Simply pull down on both of those levers and the entire seat will fold in half. Note that you'll need to remove the anti-rebound bar first.
Once folded, it's impressively small and manageable. Gotta love the New England foliage!
Overall, we think these three features provide some excellent versatility for the 3QX, 3QXT, and 3QXT+!
Fit in Vehicle
When you use any convertible car seat in a rear-facing position, there are concerns over whether it will require the front vehicle seats to be slide forward into a relatively uncomfortable position.
If the car seat protrudes too far from the back seat, it will push up against the back of the front seats.
Installing the rear-facing car seat in the middle position is usually helpful, but often parents don't like to climb into the car to retrieve their infant from a center seat.
When installed in the outboard seat of the RAV4, here is the front passenger's leg room: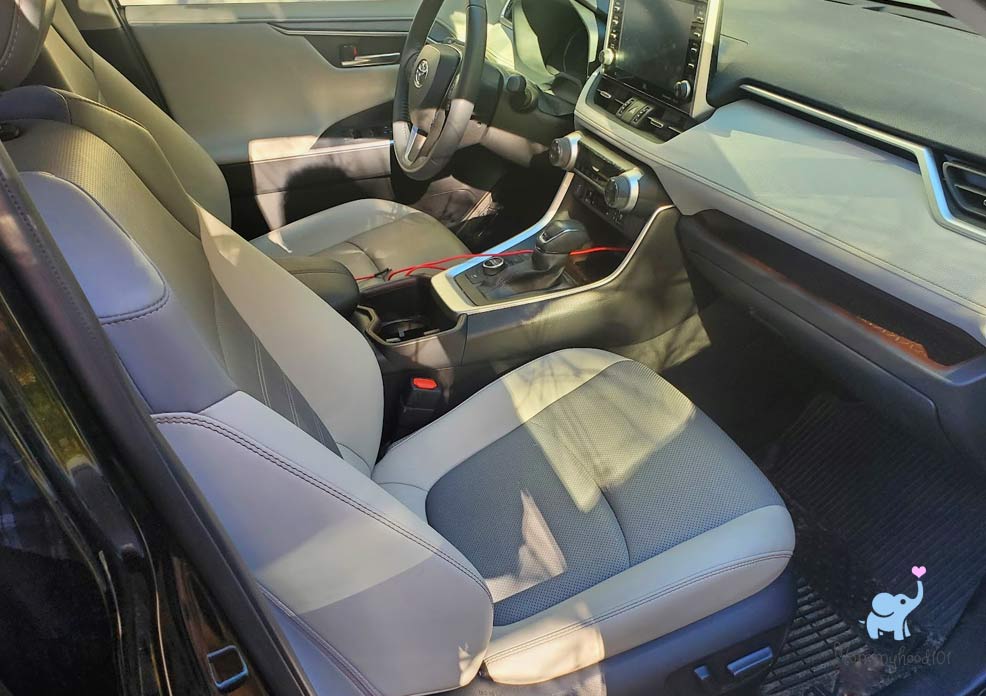 As expected, front passenger leg room and seat recline were limited by having the Diono installed rear-facing behind the seat.
When the Diono was installed rear-facing in the middle seat, here is what the front seat leg room looked like:
Much better! Of course, you want to be sure that the Diono car seat is not pushing up against the front driver's or passenger's seat and is not resting on top of the front seats' shoulder bolsters.
My tall (6' 3") husband was able to sit in the passenger seat without much complaining. Unless you're especially tall, we think you won't be bothered by the size of the rear-facing Diono.
Conclusions
We were very excited to get our hands on the new Diono Radian 3QX series of convertible car seats for testing!
The Radian series has a long-standing reputation for quality and safety, and the ability to fit three car seats in a row.
With the new 3Q series, Radian has upped their game in the comfort, safety, and versatility departments, and we were very impressed with all the new features.
On paper the Diono Radian 3QX is great but we think it's even better in person! The quality, safety, comfort, adjustability and versatility are second-to-none, and we think this new car seat is a strong contender to be featured among the top few best convertible car seats!
Save for a few minor limitations we encountered with installation, everything worked intuitively and smoothly, and while it's not cheap we think the quality and safety features make it worth every penny.
Speaking of pennies, we strongly encourage you to purchase the Diono seats directly from the manufacturer for the best prices (see coupon below!), best support, and to make sure you're getting a new and unopened product.
Overall, we give the new Diono 3QX a 4.8 out of 5.0, which is one of the highest scores we've ever given a convertible car seat!
References Cited
AAP Car Seat Information for Families