Review of the Elechomes Baby Food Maker & Processor
We put this baby food maker to the test and reveal its top features and quirks.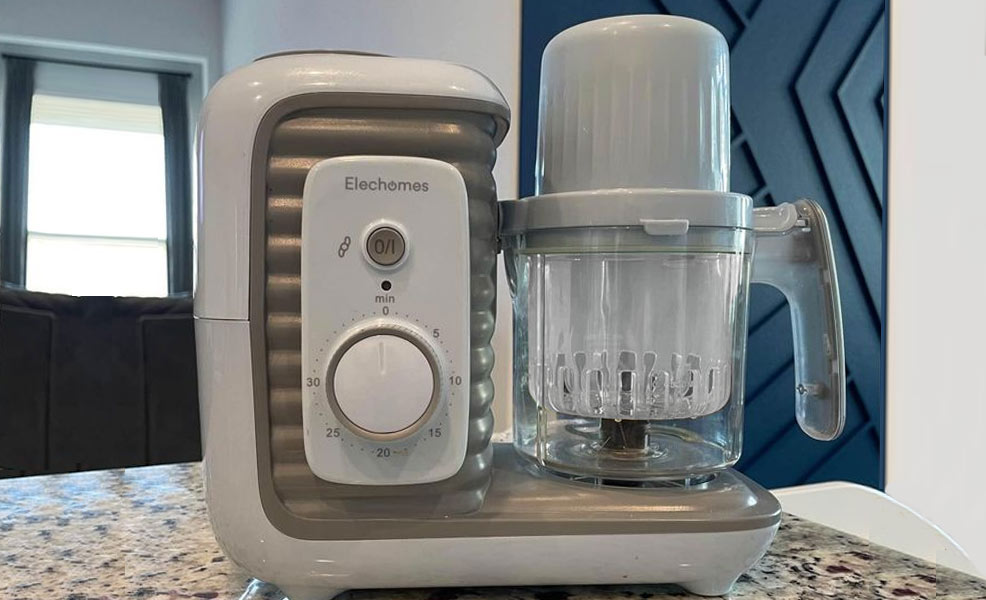 ---
Mommyhood101 independently tests and curates baby gear to help you make informed decisions. If you buy products through links on our site, we may earn a commission.
We tested the Elechomes Baby Food Maker (model BFP-2800MT) in September 2019, and thought that it did a pretty decent job steaming and pureeing foods, especially for its relatively low price (about $79). It's a great way to make some of your own organic baby purees from the comfort of your home.
Testing the Elechomes Baby Food Maker
In our hands-on review of the Elechomes Baby Food Maker, three of us independently tried out the steaming and puree functions with several different fruits and vegetables, including frozen peas, fresh carrots, and apples. The peas took 15 minutes to steam, the carrots took 20 minutes, and the apples took 15 minutes. Plus the time to puree, which is about another minute or so.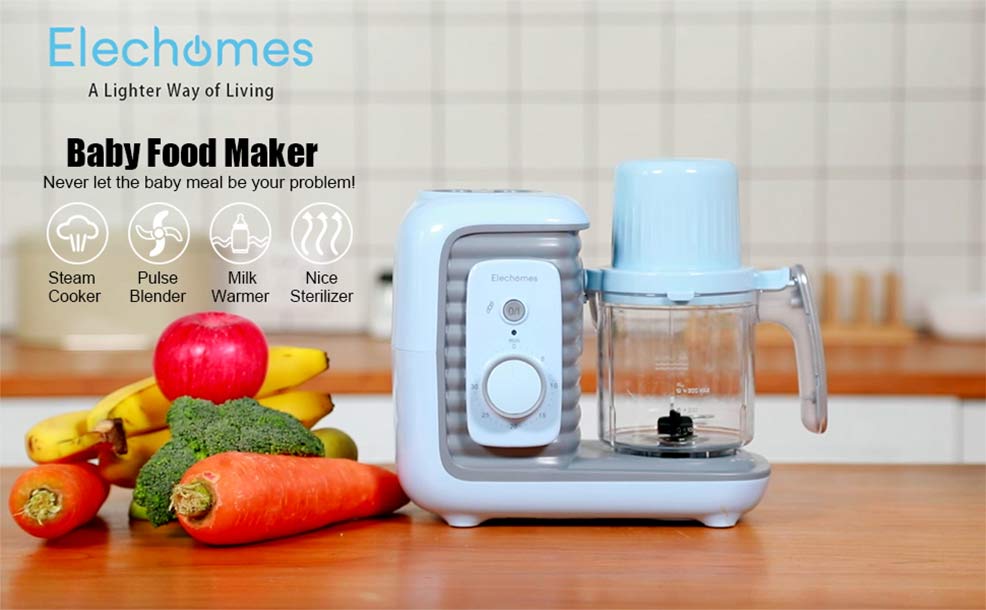 We also dishwashed all the parts in between each testing use, to make sure the parts didn't warp or discolor. We bought a gallon of distilled water to use with it, as the owner's manual says not to use tap water or anything other than distilled water. The water reservoir holds about 200mL of water, and we found that much water can steam for about 50 minutes (which means you can run a couple cycles with the same reservoir of water).
Setting Up the Unit
Out of the box, the baby food maker comes with five different parts in addition to the main equipment. You can see the parts in the below photo (excuse our dirty stovetop!). On the upper left is the lid that needs to be screwed on before steaming or blending. Upper right is the main blending/pureeing bowl, with a comfortable handle. Lower left is the upper steaming basket, and lower right is the main steaming basket. One thing that's not shown in the photo is the small plastic lid to prevent splashes and splatters during blending/pureeing.
The owner's manual is in English - and it's good enough English to figure out how to use it. It also has (on Page 9) of the manual a list of common fruits and vegetables and their steaming times (including meats, fish, fruits, vegetables). It also includes an extra little waterproof ring that's helpful if the first one ever becomes deteriorated or dried out from extended use. We never had to replace ours, but we thought it was a nice touch to include the extra.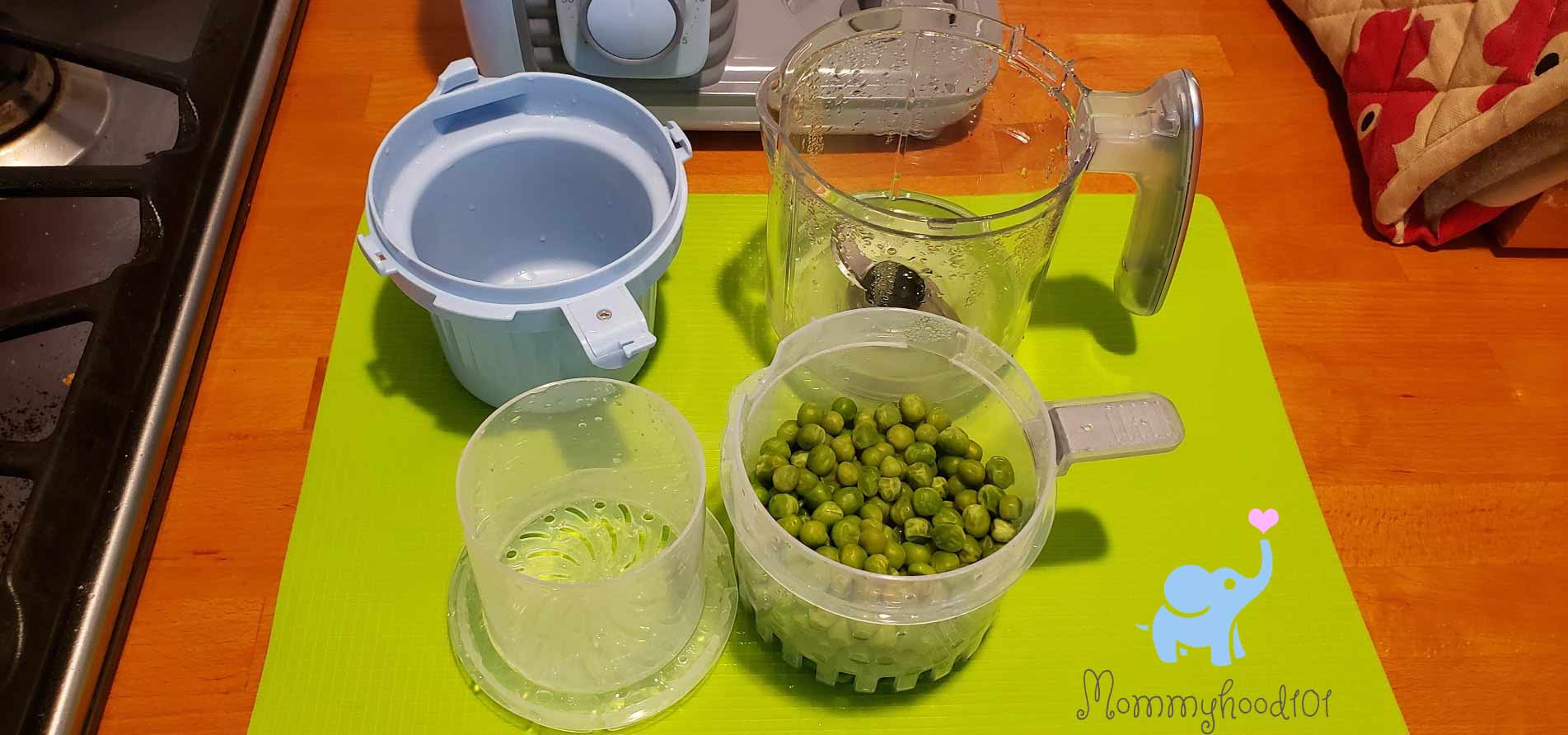 Using the Elechomes Baby Food Maker
To use the steamer, you first will want to fill the water reservoir with distilled water, up to the red MAX line you'll see inside (and put the lid back on!). Then place the main blender bowl onto the base (with a counter-clockwise twist), and lower the bigger steaming basket into the blender bowl.
Then go ahead and fill up the steamer basket. Our advice is to put the food that takes a bit longer to steam (like carrots or potatoes) in the main lower steaming basket. If you're going to use the upper steaming basket, this is the time to place that on top of the main steaming basket and fill it up with your second fruit or veggie. Once you have both steamer baskets filled up, go ahead and put the blue lid on (with a counter-clockwise twist).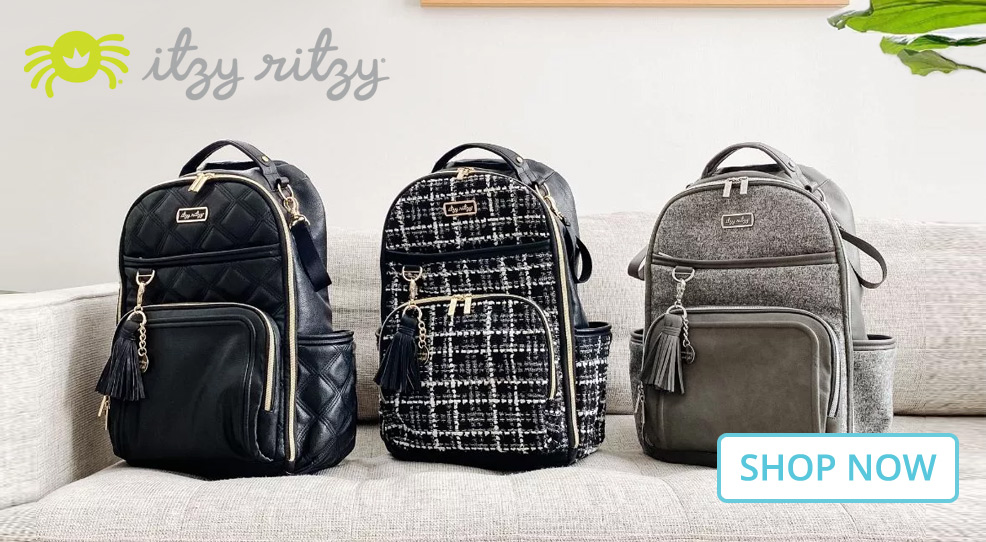 The blue lid has a nice ribbed perimeter to help you grip it with your hand and tighten it onto the blending bowl. In the below photo, we have fully set up the baby food maker - it should look like this once you're ready to get started!
Ready to go? To start the steamer, all you need to do is twist the timer to the appropriate time. In the below photo, we set it to 20 minutes to steam a basket of frozen peas. You will hear the timer the entire time - for better or for worse: for better, it gives a constant reminder that it's steaming your food. For worse, it's a little loud and distracting to have a ticking timer in your kitchen! When it's done steaming, it will ding and turn off automatically.
At this point, we suggest waiting a few minutes for things to cool down before moving onto the puree phase. Maybe 5 minutes or so. Speaking of which, that blue lid gets super hot and you'll probably not want to grab it for several minutes after the system stops steaming. Or just use an oven mitt, but be careful it's very steamy inside!
Now, the pureeing phase is really simple. Take off the lid and pull out the steamer baskets. Dump the steamer basket into the pureeing bowl - we usually left all the steamer water in the bottom, to make pureeing much easier. Put the splash/splatter lid on top of the steamer bowl, and then put the blue lid back on. Press the power button on the front to start pureeing, and hold it down for as long as you need. Unfortunately, you need to hold the button down the entire time to keep it pureeing (it's a button, not a switch).
Once your food is all pureed, go ahead and take off the lid and pull off the blender bowl. At that point, be really careful of the sharp blade at the bottom of the bowl! We suggest using a rubber spatula to get the pureed food out.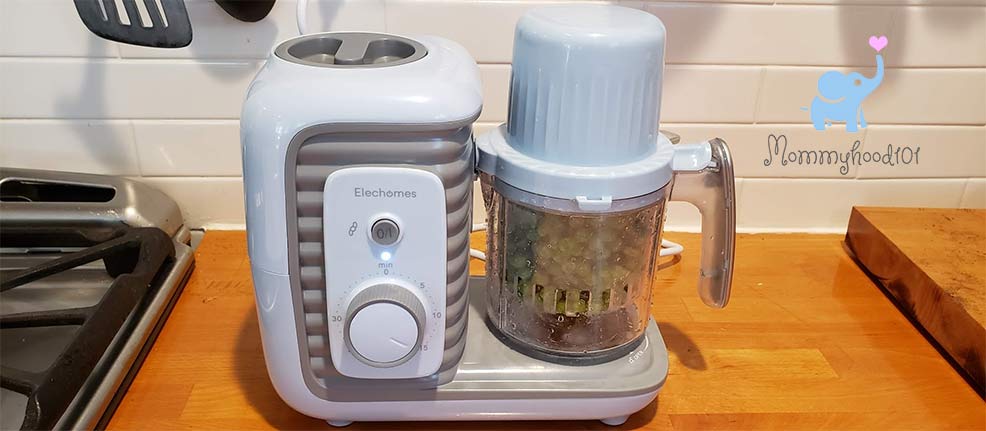 You can put the parts in the dishwasher for cleaning, though you might find it easier to just use a bottle cleaner, sponge, and some good dish soap. Again, be careful of that sharp food processor blade!
Review of the Elechomes Baby Food Maker
The Elechomes performed pretty well in our review! We were overall impressed with the style, quality, safety features, and effectiveness. Not to mention the relatively low price for a baby food maker.
Comments about Usability. We liked the simplicity of the design and controls. The various bowls, cups, and parts were a little confusing at first but we quickly got used to using it. The controls were simple enough: a timer for steaming, and a button for pureeing your food. The timer was a little noisy, which might get annoying for some parents - but it was nice to have an audible "ding" when it finished. One nice perk is that the timer works even when the baby food maker isn't plugged in - so you can use it as a kitchen timer even when not steaming anything. That's a nice touch.
One minor annoyance about the usability is the fact that you need to hold down the puree button the entire time the food is blending. That was quirky the first time, and then a little annoying the next few times. We get it: you only are pureeing for a minute or so, but who wants to awkwardly be pushing the button in for that long? First-world problems.
Comments about Safety. We liked how the system would not turn on for steaming or pureeing if the lid wasn't securely attached. That's the same as other baby food makers we've reviewed, but it was nice to test out that safety feature. That's not going to stop kids from possibly reaching in and touching that super sharp food processor blade, but that's no different from any other baby food maker or food processor. In terms of heat, the system got really hot and emitted a lot of steam out of the rear. Be sure when you're positioning it on your counter to avoid putting it under upper cabinets or anything else that might not respond well to hot steam. Speaking of heat, we want to reiterate that the blue lid gets super hot and the only way to remove it is to grab onto it (there's no handle), so that's definitely an annoyance with this model.
Comments about Effectiveness. This was an easy one - for everything we tested, we thought it worked impressively well! In the photo below, you can see the final product from our testing with frozen green peas. Looked so yummy we had to try it - nice and smooth! Despite its usability and safety quirks, we were impressed with the overall effectiveness of this baby food maker, and think it's a good option for parents looking to save some cash!

Our Verdict
Our Overall Rating:

Overall, we give this baby food maker a 4.1 out of 5, which considers our own experiences with the device and our perusing of reviews on several different sites.
For parents who are looking for a retro-styled baby food maker that doesn't take up a ton of kitchen counter space and won't break the budget, this might be an excellent option for you. Save for some usability and safety issues, we definitely recommend checking it out. For the price, it's basically unbeatable.
As with any baby product that we review, there were strengths and weaknesses. We think the weaknesses were definitely outnumbered by strengths, but they are also definitely worth considering.