Ergobaby Evolve Bouncer Review & Video
Keep your baby or toddler safe and entertained with this awesome baby bouncer!

---
Mommyhood101 independently tests and curates baby gear to help you make informed decisions. If you buy products through links on our site, we may earn a commission.
We got our hands on the new Ergobaby Evolve 3-in-1 bouncer (thanks for the sample, Ergobaby!) and put it through our hands-on testing with an infant and toddler.
Spoiler alert - we love it!
The Ergobaby Evolve bouncer is most like the BabyBjorn bouncer in both form and function. The good news is the BabyBjorn bouncer also claims a top position on our list of the best baby bouncers of the year.
In our review, we cover the initial unboxing and assembly, adjustability, quality, comfort, safety, and price.
Spoiler alert: we love the new Evolve 3-in-1 bouncer and are happy to have gotten a chance to try it out!
Ergobaby Evolve 3-in-1 Bouncer Review
Nobody wants to read through an entire article to get to the conclusions, you've got more important things to do! So here are our findings, right up front.
We think the Ergobaby Evolve 3-in-1 Bouncer is a welcome new addition to a market increasingly saturated by low quality bouncer seats that are cheap but also poorly constructed and uncomfortable.
The overall build quality of the Evolve bouncer is great, it is very easy to set up, adjust, and use, and it is very stable and safe for at-home use.
Here is a summary of what we loved, and a couple things that could be improved.
✔️ Easy assembly.
✔️ High quality frame.
✔️ Removable infant insert.
✔️ Adjustable incline.
✔️ Lays flat for storage.
✔️ Removable 3-point harness.
✔️ Muted style and color.
✔️ Lightweight and easy to adjust.
✔️ Fun toddler seat.
✔️ Newborn to 28 pounds.
❌ Realistic ~25-pound limit.
❌ Expensive.
Clearly there is a lot to love about this new baby bouncer! From easy assembly to superior comfort and versatility, we think the Evolve will take over the top spot on our list of the best bouncer seats!
The cons are minimal. In our testing, we thought our 25-pound toddler was plenty large for the seat, which sagged a bit under his weight. It's also expensive, but that's not unique to the Evolve, and its primary competitors are similarly priced (if not more).
Feel like an expert in the new Ergobaby Evolve bouncer now? You should! But if you're still uncertain, continue reading to see how we reached these conclusions!

First Impressions
The Evolve arrives in a large but relatively flat rectangular box.
The box has a convenient carry handle on the top, making it easy to move it into the house!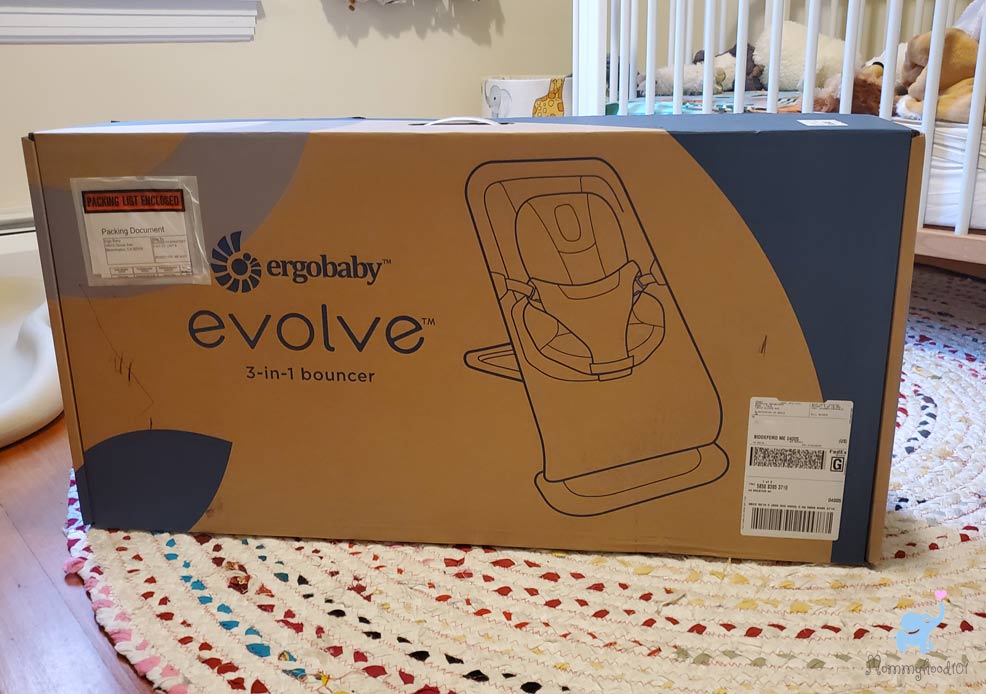 Opening the box, we weren't surprised to learn that it was folded flat for shipping.
It was nicely protected from damage (including some foam pads along the edges) and covered in a plastic bag.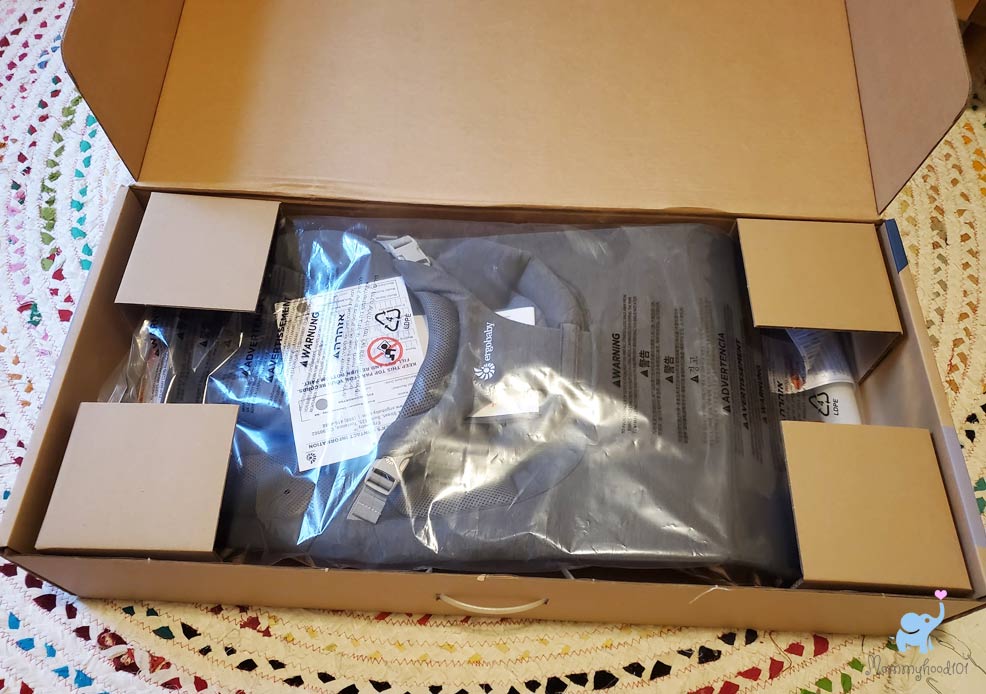 Pulling it out of the box, we first noticed that it is relatively lightweight, coming in at only about 8 pounds.
Taking it out of the plastic packaging, we immediately noticed that the fabric and cushioning were soft to the touch, and the entire bouncer felt high quality.
There is basically no assembly involved with the Ergobaby Evolve, you simply need to unfold it and set your preferred incline level.
It comes with a padded infant insert already installed in place - nice touch!
If first impressions mean everything, this bouncer is winning already!
Adjustment & Versatility
The Ergobaby Evolve adjusts between three incline positions: the lowest position is for newborns, the medium position is for infants, and the highest position is for toddlers.
The lowest incline position provides a near-flat position for younger infants.
The medium incline position is ideal for infants gaining more neck control and curiosity (and wanting to look around!).
Here is the medium position: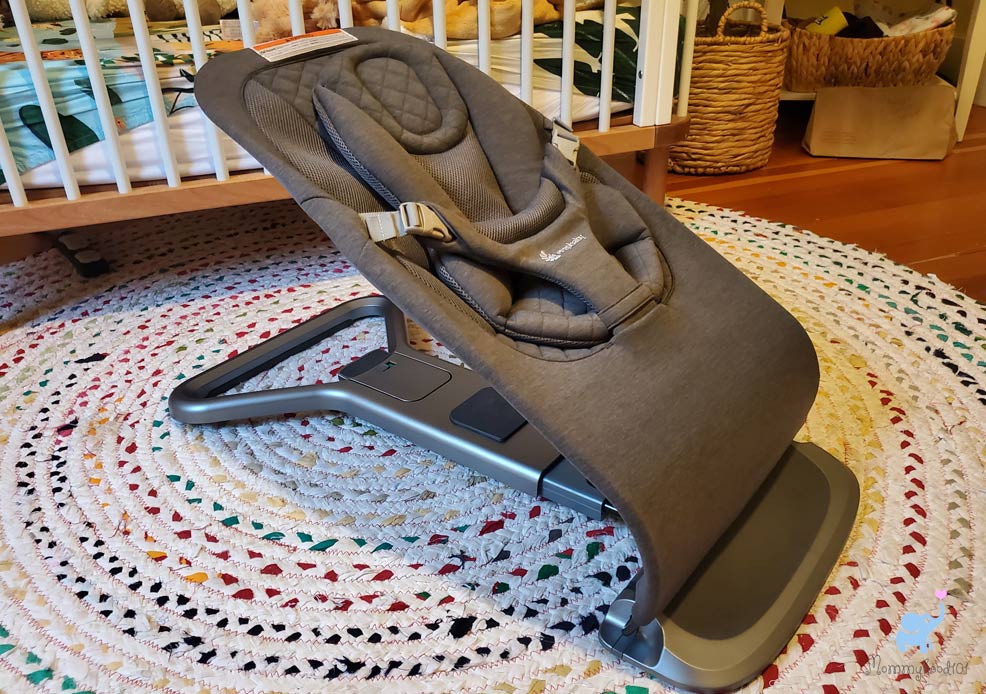 The high incline position is ideal from about 8 months onward, and is also the position you will use if you continue to the toddler seat mode.
Here is the high position: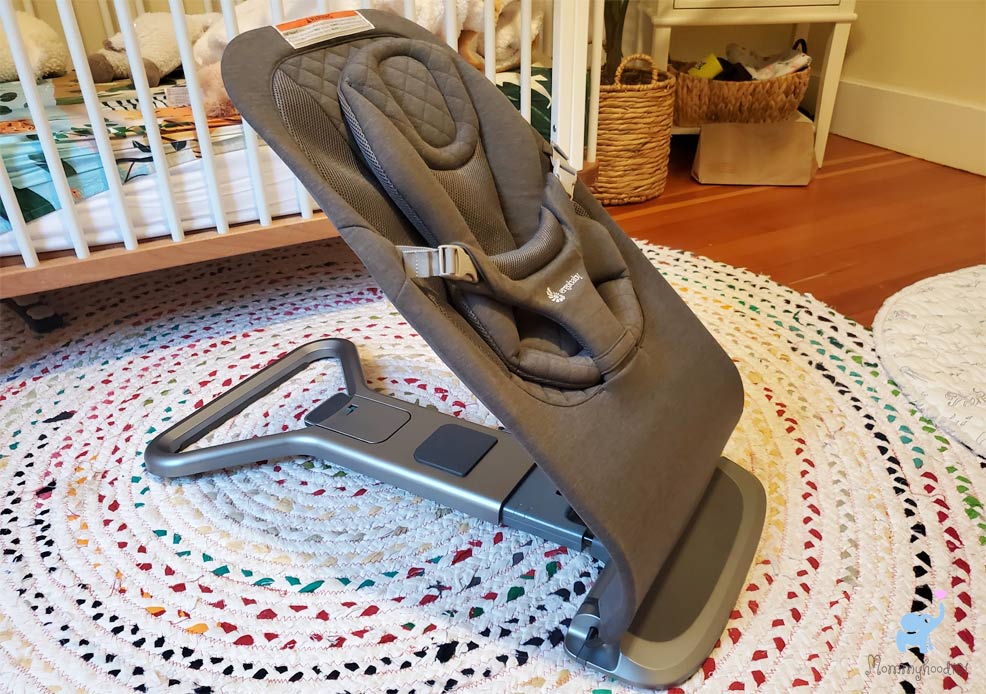 To adjust incline, you need to unlock the small pedal switch on the base (under the seat itself).
The switch looks like this: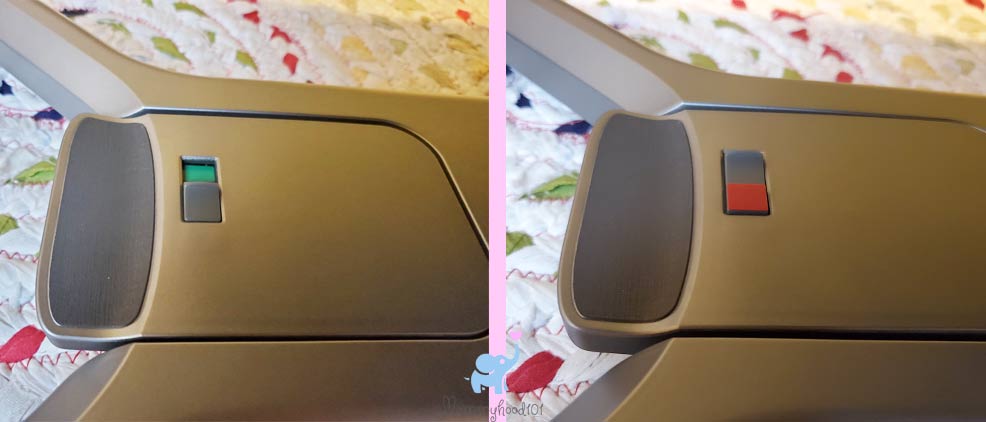 When it's green, you can use your foot on the pedal to allow adjustability. When it's red, pushing down on the pedal doesn't do anything.
Great safety feature, especially if you have older kiddos running around!
Pro-tip: Never adjust incline while your child is in the seat!
The three-point harness has buckles on the right and left, to help you adjust tightness and remove the harness entirely.
The infant insert can be removed entirely, which you'll likely want to do around 3-6 months of age depending upon how quickly your little one is growing out of it.
Here is a great video showing how easy it is to remove the infant insert:
Here is what the bouncer seat looks like (in medium incline position) with the infant insert removed: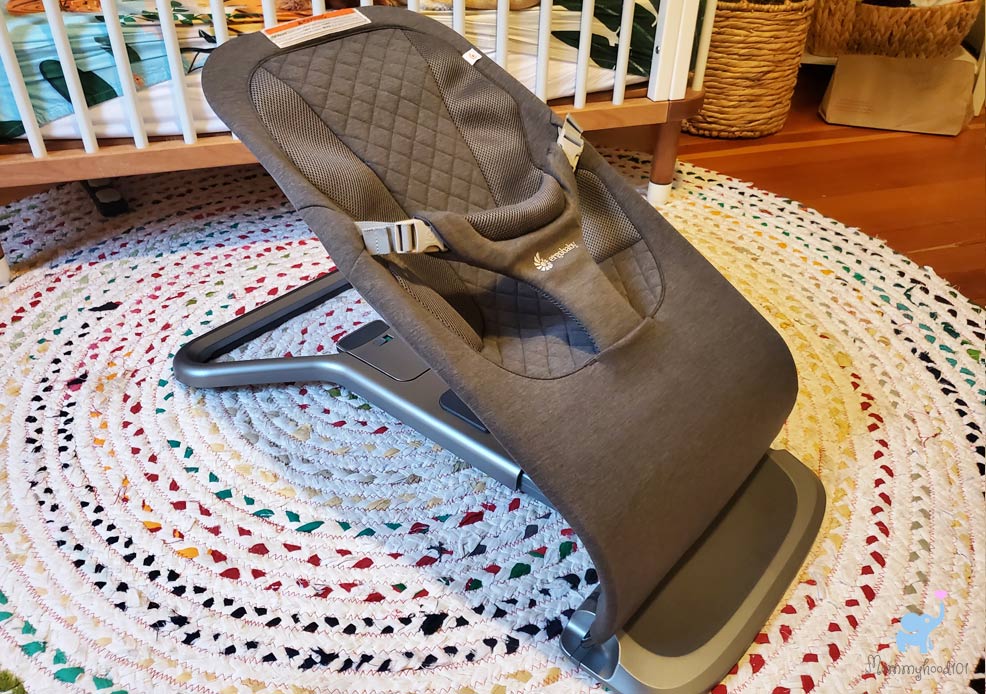 The Ergobaby Evolve can also be used as a toddler seat.
Once your little one has grown out of the harness, to convert to a toddler seat you will need to remove the harness.
Here is a great video demonstrating how to remove the harness and put the Evolve into toddler mode:
Another bit of versatility offered with the Evolve is the ability to fold it flat for storage.
To do so, you will need to release a small safety lever on the base, that looks like this: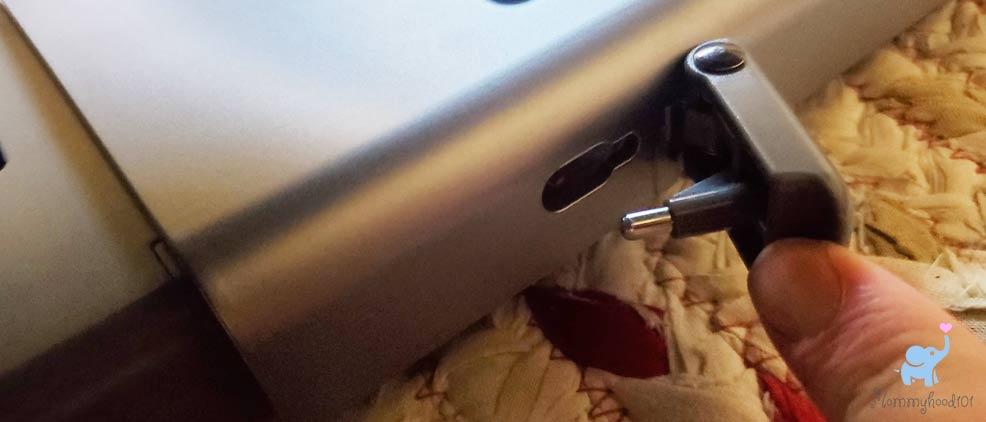 Here is a great video showing exactly how to fold it flat:
It's worth pointing out that someone might get a little sad when you fold it up for storage!
Open this thing back up! ❤️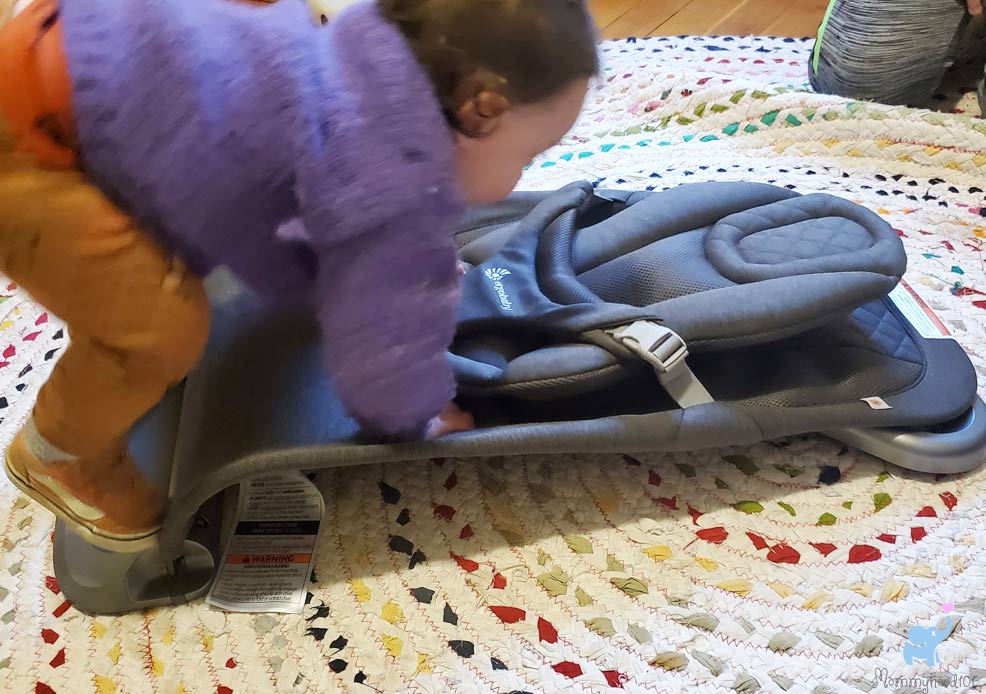 Finally, the entire fabric cover can be easily removed, and machine washed!
That's a ton of versatility for a bouncer seat!
Quality & Comfort
We were impressed with the overall build quality of the Evolve.
From the thick and rigid frame to the high-quality buckles and straps, the durable fabric, and easy to use mechanisms (foot pedal, switches, levers), it is clear that Ergobaby put a lot of thought into this bouncer seat.
Comfort is where the Evolve really excels.
The fabrics are not only durable but also surprisingly soft. Underneath the fabric is padding in all the right places, making for a very comfortable experience.
While there is plenty of padding and comfortable fabric, the seat is surprisingly not hot and sweaty. This is likely thanks to the airflow offered by a breathable mesh fabric in all the right locations - along the back and sides.
Just like with the awesome Ergobaby baby carriers, the Evolve promotes optimal leg positioning to help proper hip development. In fact, Ergobaby received AGR certification for the Evolve, which demonstrates how their design promotes healthy back development.
We also thought the three incline levels were perfect for supporting newborns, infants, and toddlers comfortably and safely.
Note that while a reclined seating position might be helpful for promoting sleep, bouncer seats are not safe for naps or overnight sleep!
We strongly encourage you to read the AAP's Safe Sleep guidelines for more tips.
Safety & Stability
In our testing, we found the Evolve bouncer to be very stable and secure.
The buckles and harness worked well to keep infants positioned well, and the infant insert did a great job helping newborns stay seated in a proper position.
Regarding stability, the bouncer is relatively bottom-heavy. This is great because it helps the seat maintain stability when curious siblings lean on the edge, or even when bigger toddlers are playing on it.
And trust me, toddlers will absolutely love sitting in the Evolve!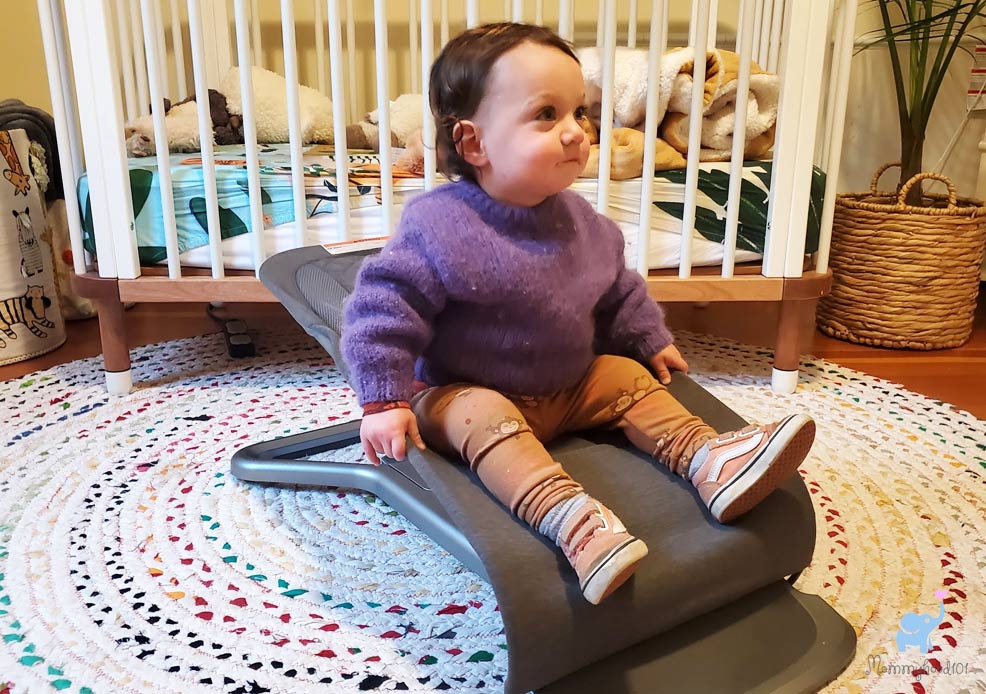 Not only can they sit on it, but they can also have a fun bouncy adventure!
Now you know why he was so upset when we folded it up!
While they have fun, you can rest assured that the Evolve remains surprisingly stable and secure.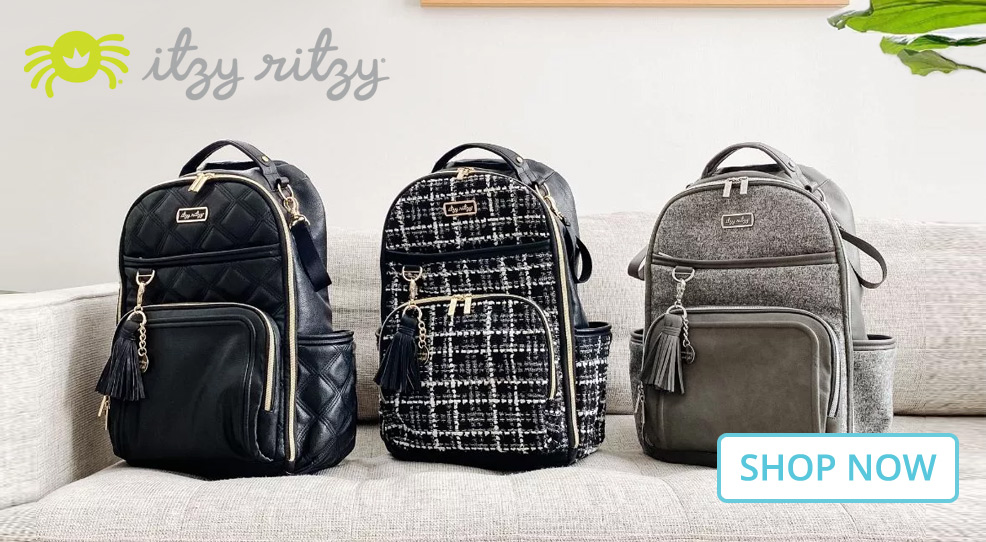 Ergobaby Evolve versus BabyBjorn Balance
We began this article by mentioning the similarities between the Ergobaby Evolve and the BabyBjorn Balance.
They are similar in style, features, and price.
However, after first-hand experience with both bouncers, we think the Ergobaby Evolve wins the battle against the BabyBjorn Balance.
This is for 5 primary reasons:
The Evolve includes a comfortable infant insert.
The Evolve has breathable mesh fabric to promote airflow.
The Evolve has a removable harness and toddler mode.
The Evolve has convenient step-pedal height adjustment.
The Evolve is AGR certified for back-healthy design.
In addition to these, the Evolve also has a range of accessories for fun and convenience: a toy bar, carrying bag, and extra fabric seat.
Finally, we should mention that the Evolve is about $199. While a bit expensive, it is slightly cheaper than the BabyBjorn Balance.
Specifications
The Ergobaby Evolve bouncer supports newborns all the way up to 29 pounds.
It only weighs about 8 pounds, and is about 32" long, 17" wide, and 22" high on its most inclined setting.
Do we think the 29-pound limit is realistic?
Certaintly not in infant (and harness) mode! Here is a photo of our 25-pound test toddler trying out the bouncer in harness mode!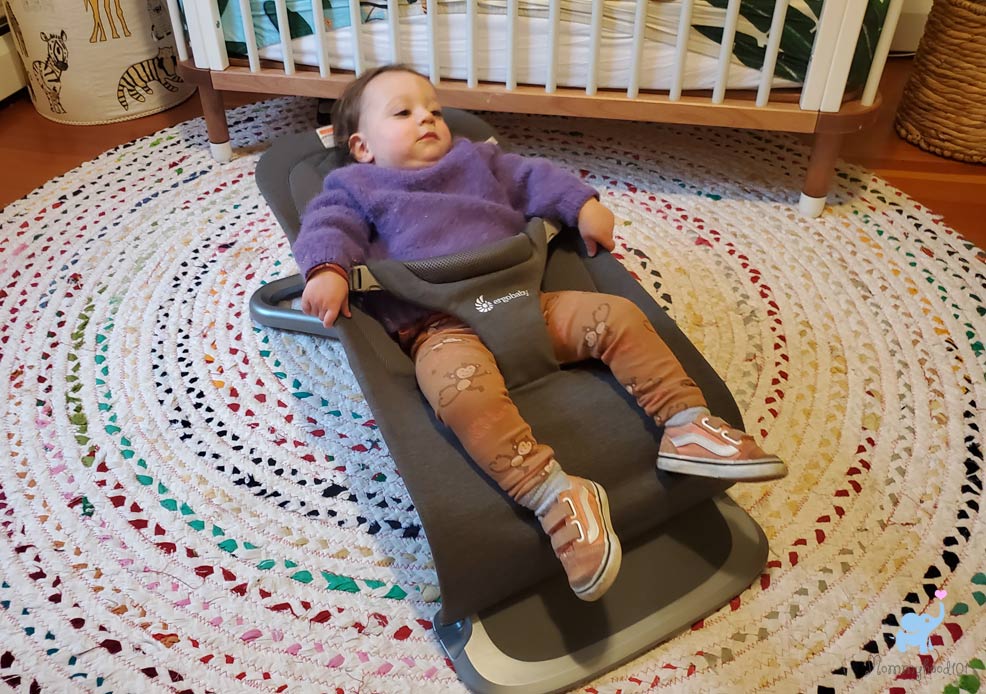 This is set to medium incline, and you can notice the considerable sag.
Of course, once your child is over about 20 pounds, they will likely start using this in toddler mode.
Conclusions
We love the Evolve. It combines an impressive set of features with a sleek design that is both high quality and versatile.
We also appreciate the notable absence of plugs, batteries, switches, remote controls, and smart features. Back to basics!
The build quality is impressive, and the entire seat is soft and comfortable for newborns and infants, and supportive for growing toddlers.
The only small limitations we encountered were some sagging with older and heavier kids, and the price is a bit steep. Not steeper than its competitors, but worth mentioning.
Overall, we think it's excellent and highly recommended, and give it a 4.8 out of 5.0!

References
AAP Safe Sleep Recommendations
You are here:  

Ergobaby Evolve...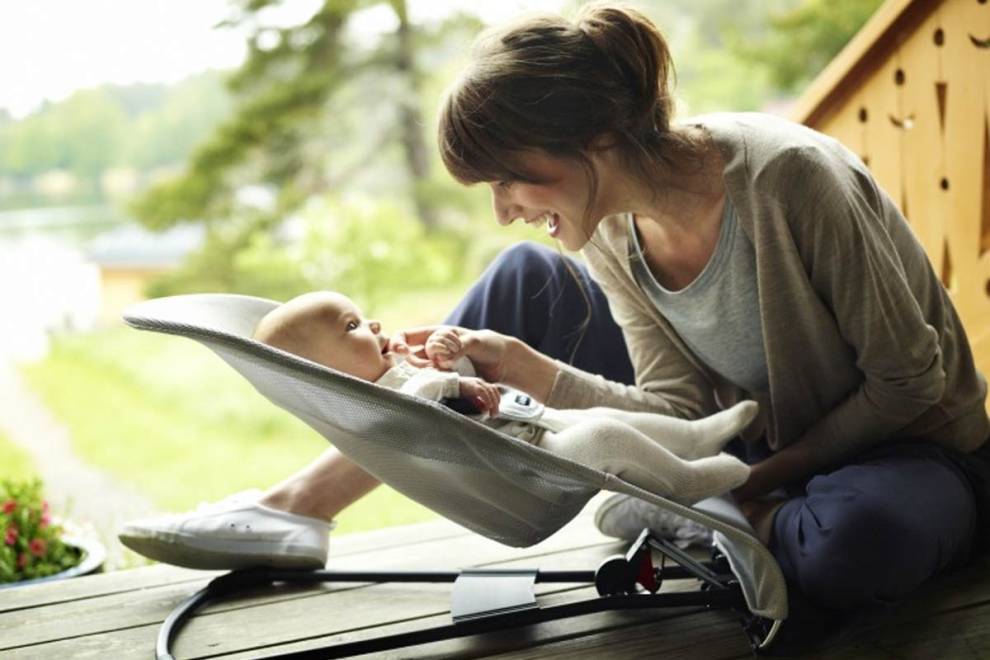 A bouncer seat is the perfect place to let your infant observe, play, relax, and take a...