The Best Baby Bouncer Seats of 2023
These top bouncer seats offer soothing and entertainment for your active baby.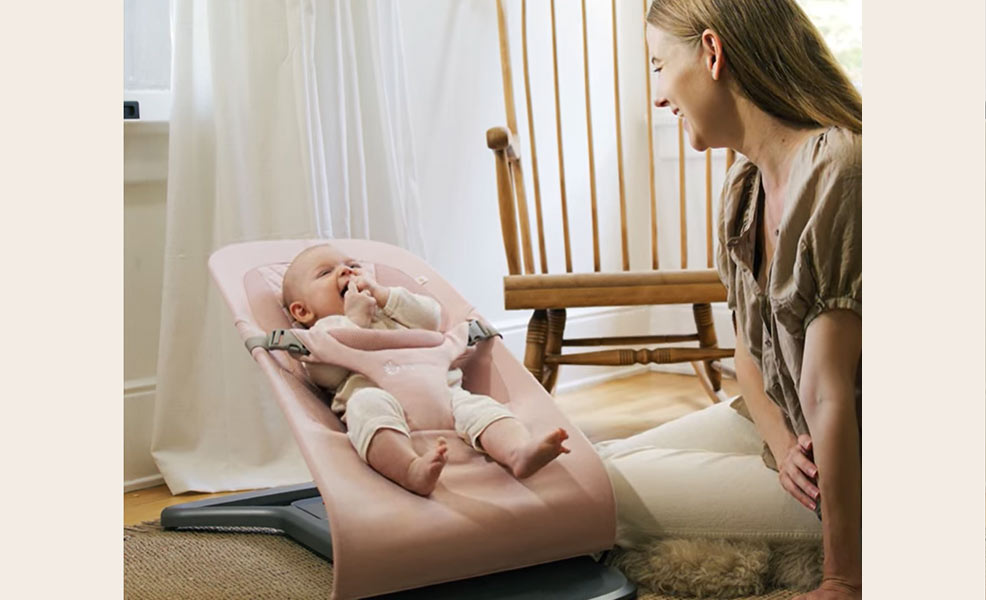 ---
Mommyhood101 independently tests and curates baby gear to help you make informed decisions. If you buy products through links on our site, we may earn a commission.
A bouncer seat is a perfect place to let your infant observe, play, relax, and take a short nap.
Cheaper and less stimulating than a large baby swing, baby bouncers offer superior portability and gentle self-initiated movement, without overwhelming sights and sounds.
Just for fun, what does ChatGPT-4 think is the best baby bouncer!?
"Based on expert and parent recommendations, the BabyBjorn Bouncer Balance Soft is the most highly recommended bouncer seat on the market." -ChatGPT-4
We've been reviewing bouncer seats for over 10 years, and if we made our own, here is what it would look like:
✔️ Weight limit > 25 pounds.
✔️ Newborn support.
✔️ JPMA safety certified.
✔️ Lightweight (under 5 pounds).
✔️ Adjustable incline positioning.
✔️ Easy assembly.
✔️ Removable 3-point harness.
✔️ Subtle bouncing motion.
✔️ No batteries or power.
✔️ Breathable fabrics.
✔️ Converts to a toddler seat.
✔️ Highly stable, not top-heavy.
✔️ Removable & washable fabric.
✔️ Lays flat for storage.
Of course, you will also want the bouncer to meet your style preferences and budget constraints. That's a lot to ask, and very few baby bouncer seats meet the needs of picky parents!
To help you find the best bouncer seat for your family, we tested over a dozen options ranging in price from about $30 to $300, each offering its own set of features, versatility, comfort and ergonomics, quality, and fun.
A place to relax, watch parents cook, learn from observing older siblings, explore new toys, and maybe doze off for a quick nap? Count me in - I wish these were made for parents! These bouncer seats are awesome!
Full disclosure: Some of these baby bouncers, including the 4Moms, ErgoBaby, and Maxi Cosi models, were sent to us as free test samples by the manufacturer.
Here are the Best Baby Bouncers of 2023!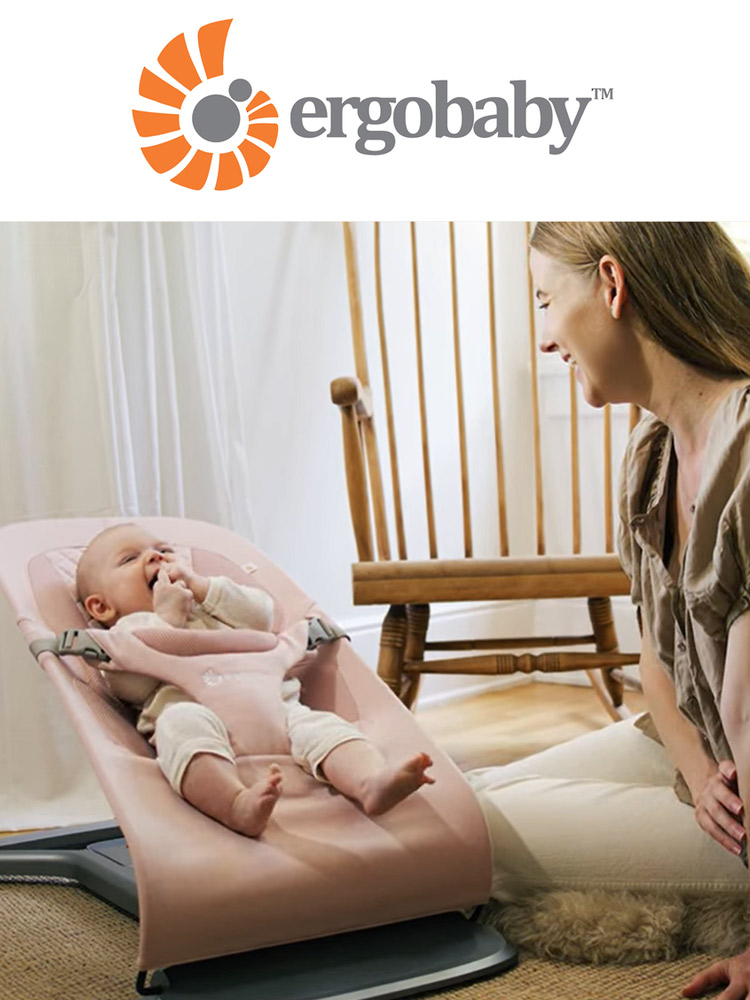 The BabyBjörn Balance was featured at the top of this list for several years, and we hadn't stumbled upon any bouncer seat that was competitive for the top spot. Then along came the ErgoBaby Evolve and blew us out of the water! ErgoBaby is world-renowned for its high quality baby carriers and they have been slow to diversify their product line; the Evolve is their first foray into the baby bouncer domain, and we're excited they took the leap! For basic specifications, the Evolve bouncer seat has adjustable incline, a removable infant insert, removable 3-point harness, a 28-pound weight limit, and an easy lay-flat storage mode. The design looks most like the BabyBjörn Balance so we can't help but compare them. In our opinion, the Evolve excels relative to the Balance for six primary reasons: it has an included infant insert, it uses a breathable mesh fabric to promote airflow, the harness is removable to turn it into a toddler seat, incline has a quick-adjust foot pedal, it is AGR certified for back-healthy design, and it's usually about $20 cheaper than the Balance. That's a lot of advantages!
We got our hands on the Evolve late last year for testing (thanks for the sample, ErgoBaby!) and we quickly fell in love! The assembly was quick and easy: simply remove the packaging and adjust the incline. The fabrics were high quality, removable, and machine washable. The infant insert was plush and cozy, and the breathable mesh sides of the bouncer seat were awesome for warm summer days. The seat has a three-position incline (which is very easy to adjust) and a convenient fold-flat mode, a sturdy but lightweight frame, great bounce responsiveness, and a great modern design. In our full ErgoBaby Evolve review you'll learn that our test baby and toddler both loved the Evolve bouncer: the infant seemed very cozy with the infant insert, and the toddler loved bouncing in it as a toddler seat (simply remove the harness and put it on the top incline setting). Overall, we are happy to have tried out the Evolve and excited to feature it at the top of our list! The only con worth considering is the high price, though it's cheaper than its main competitor. While we are the first major website to review and feature the ErgoBaby Evolve, but it's already loved by Babylist as well! Interested? You can check out the ErgoBaby Evolve here.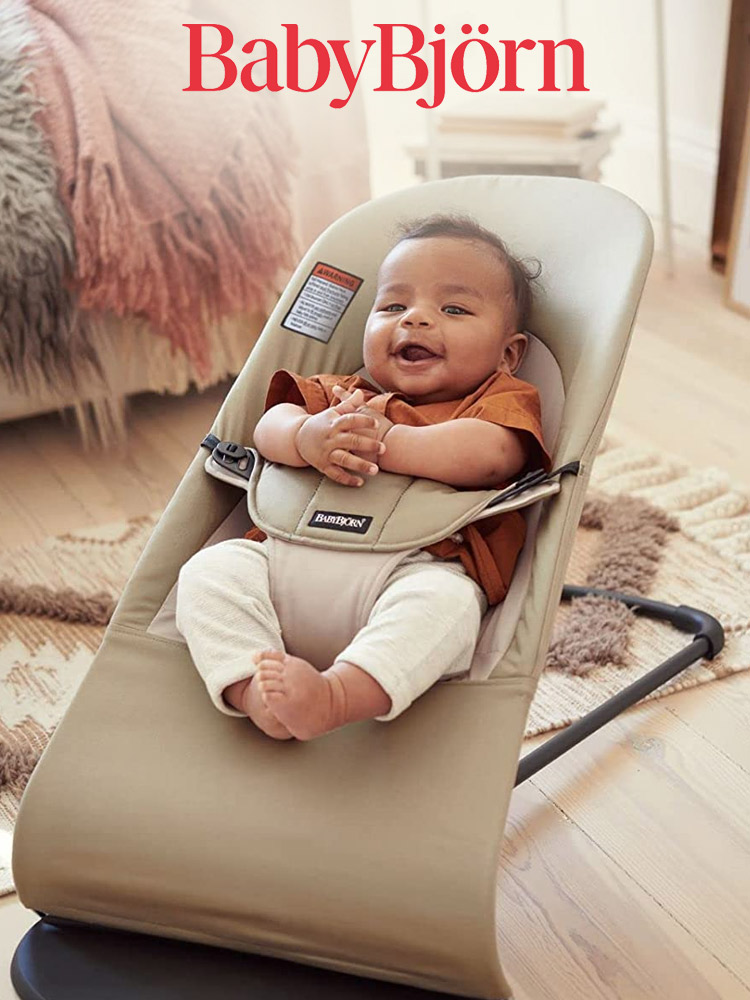 This is one of the best, simplest, and most versatile baby bouncer on the market. The BabyBjorn Bouncer Balance Soft is available in basic cotton, which is truly soft and durable, a cool breathable mesh for warmer climates, and an organic cotton version. We tested two versions, the basic cotton and breathable mesh. Spoiler alert, we loved them! The Balance Bouncer adjusts easily between sitting upright and laying completely flat, is soft and comfortable, and is beautifully simple. No music, vibration, or other electronic distractions. Out of the box, there was absolutely no assembly required and the seat was surprisingly high quality and well made. One thing we noticed immediately was that the legs on the Balance Bouncer stick out directly behind the seat and do not flare outward like most others; this helps the bouncer fit into tighter spots, but also reduces the tripping hazard.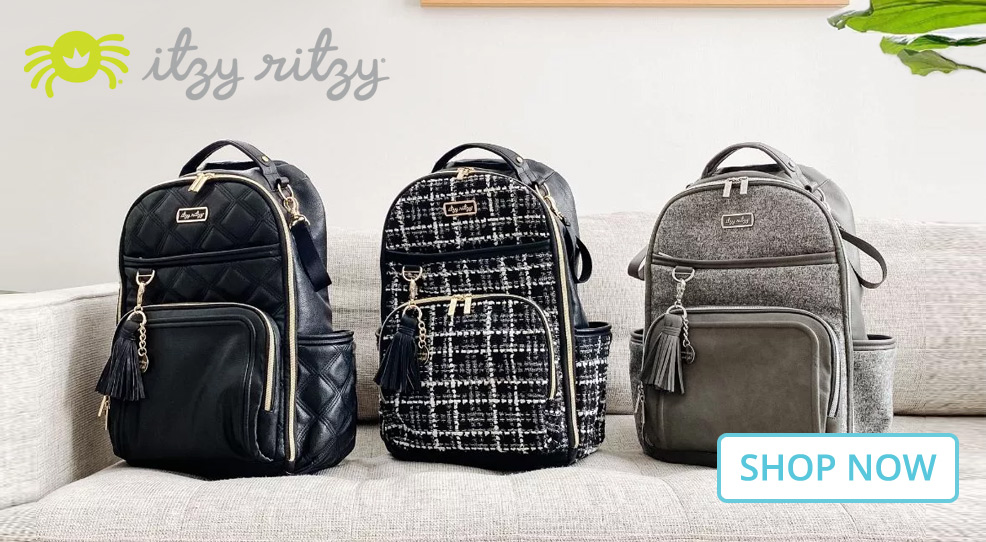 We tested the bouncer with a 3 month old and 8 month old, and the ergonomics were very good: both infants were positioned with some leg flexion and there was ample support around the neck and head. When your baby kicks, the bouncer responds with a nice gentle bouncing motion. Nothing too jarring, even for heavier infants. When you're done using it, the entire bouncer can be folded completely flat for storage (slide it right under your bed!), and the cover can be removed and machine washed (hang dry). The three-point harness works well, and BabyBjorn recommends flipping the cover over when your child reaches about 19 pounds (the overall weight limit is 29 pounds); the back of the cover has no harness, and once the cover is flipped your child can climb in and out of the bouncer (making it a great toddler seat). When they named it the Balance Soft, they weren't kidding - it's super soft, and it's also very well-balanced with great stability. Cons? Just some small things: the harness uses button-style attachments instead of buckle clips, which are a little more time-consuming to use. It's also quite expensive, coming in at about $200. If you have the budget to spare, we think it's an excellent pick! Who else loves the BabyBjorn Balance Bouncer? Our friends at The Wirecutter, Babylist, Babygearlab, and WhatToExpect all consider it a top pick! Interested? You can check out the BabyBjorn Bouncer Balance Soft seat here.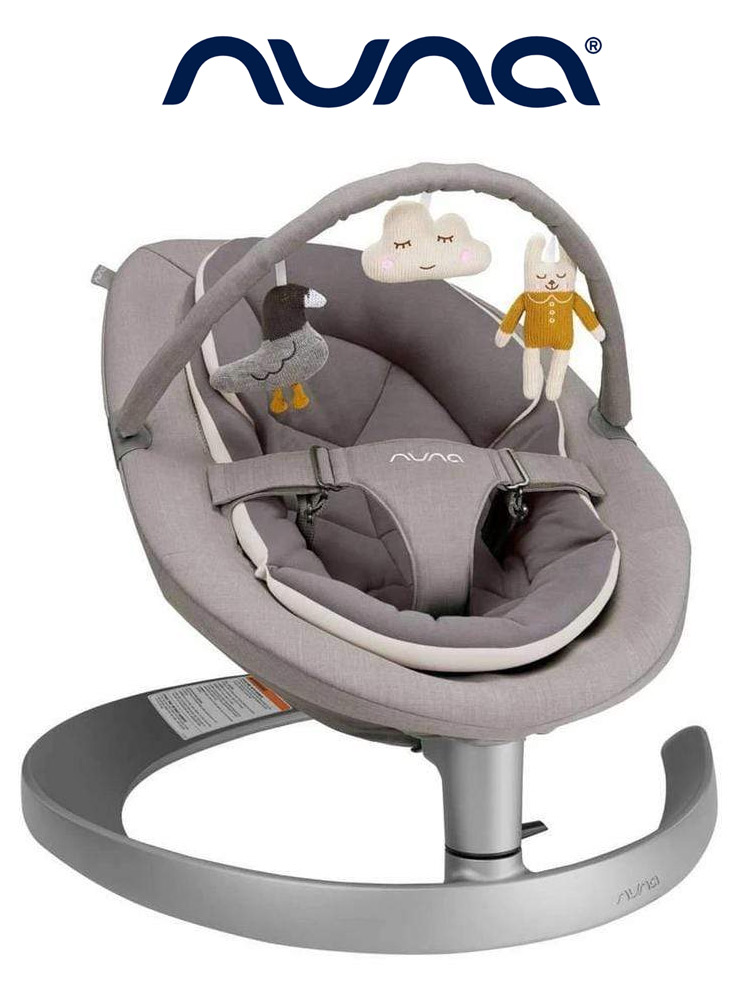 As one of the most expensive bouncers on our list, the Nuna Leaf Grow comes in at upwards of $300. Its unique movement design, quality, and features might make it worth the cost! The interesting thing about the Leaf is that it moves in a way unlike any other bouncer seat: it sways side-to-side like a leaf swinging in the wind. This places the Nuna Leaf somewhere between a baby bouncer seat and a baby swing, and we really love it! Out of the box, the Nuna Leaf takes about 10 minutes to assemble. It uses a clever center post that not only looks modern but also serves as the primary attachment and pivot point between the base and seat.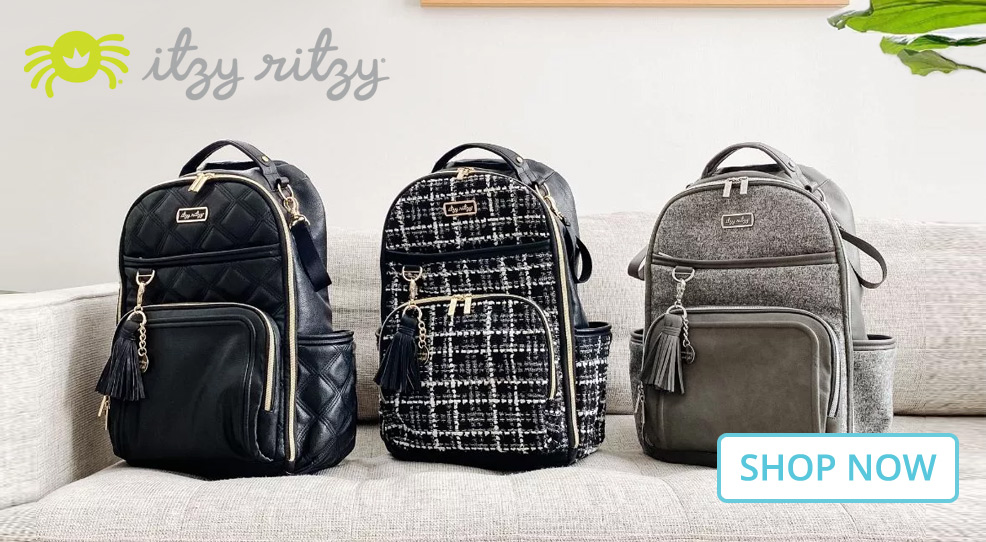 In our testing, we absolutely loved the motion: with a single push of the seat, the gentle side-to-side motion lasted for over a minute. Note that you can lock-out the bouncer motion for feeding time or rest, and it has three recline settings. The toy bar is cute and the plush toys are really adorable. The infant insert padding is super comfortable, made from GOTS certified organic cotton; when the infant insert is removed, you're left with a mesh-backed toddler seat that can be used all the way up to 130 pounds! That's the biggest weight range on this list - from birth to 130 pounds, and it does this by virtue of its super sturdy construction and reconfigurable seat. Fun, adorable, high quality, and versatile - but also very expensive! Who else loves the Nuna Leaf Grow? Our friends at Babylist and WhatToExpect also consider it a top pick! Interested? You can check out the Nuna Leaf seat here.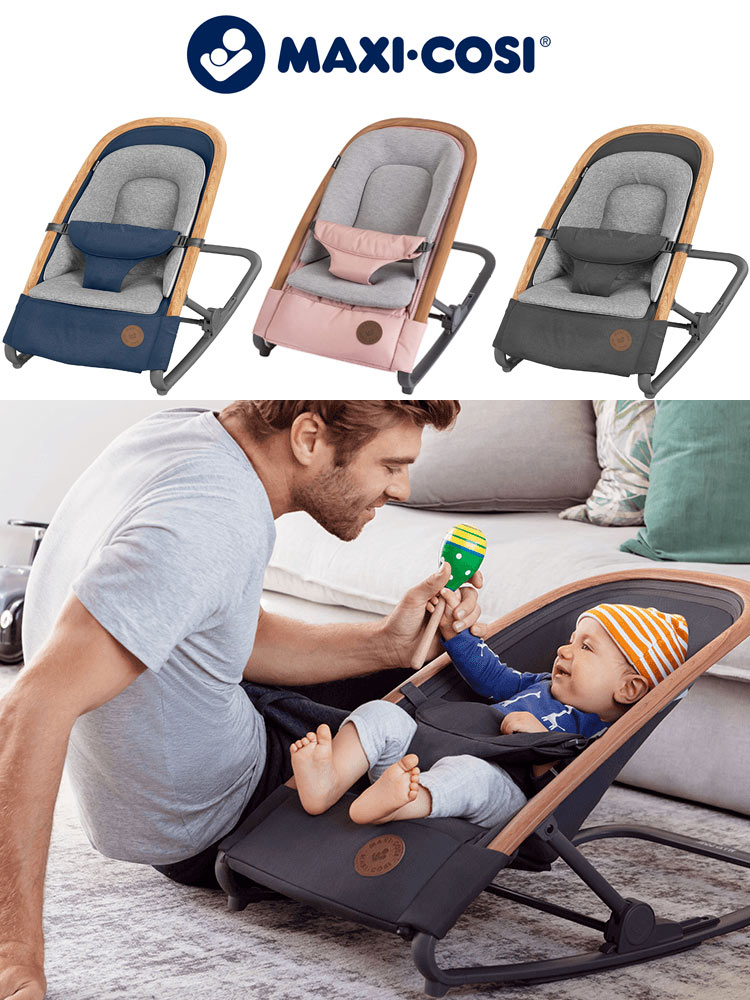 We're excited to be the first major baby gear website to test the Kori (thanks, Maxi-Cosi!), and we absolutely loved its style and functionality. This is technically a rocker not a bouncer, but we think it fits perfectly on this list. Out of the box, the Kori is fully assembled and folded completely flat. Using a lever on the back, you can easily adjust the recline level across 3 positions. Unlike most other bouncer seats on this list, there are two little flip-down feet that allow you to lockout the rocking motion when the goal is to relax. Nice touch! Speaking of nice touch, the infant insert is unbelievably soft and comfortable, making this one of the coziest bouncer seats on our list. The three-point harness attaches with easy-to-use buckles, and all of the surfaces are high quality and look great. We personally love the wood trim and modern lines of this option, and think it looks great in any decor. The rocking function is smooth and comforting. It's not as effortless as with a bouncer, and your baby is very unlikely to figure out how to trigger the full rocking motion until they are older. Speaking of older, this Kori rocker can only be used up to 20 pounds, which usually hapens around 9 months. When you're done using it, you can fold it flat for storage, and the cover can be removed and machine washed. Only two little cons we encountered: the limited weight capacity, and the rocking motion wasn't easy for babies to self-initiate. Then again, if you're looking for something less stimulating this is a great option, at a very reasonable price of about $120. Interested? You can check out the Maxi-Cosi Kori bouncer seat here.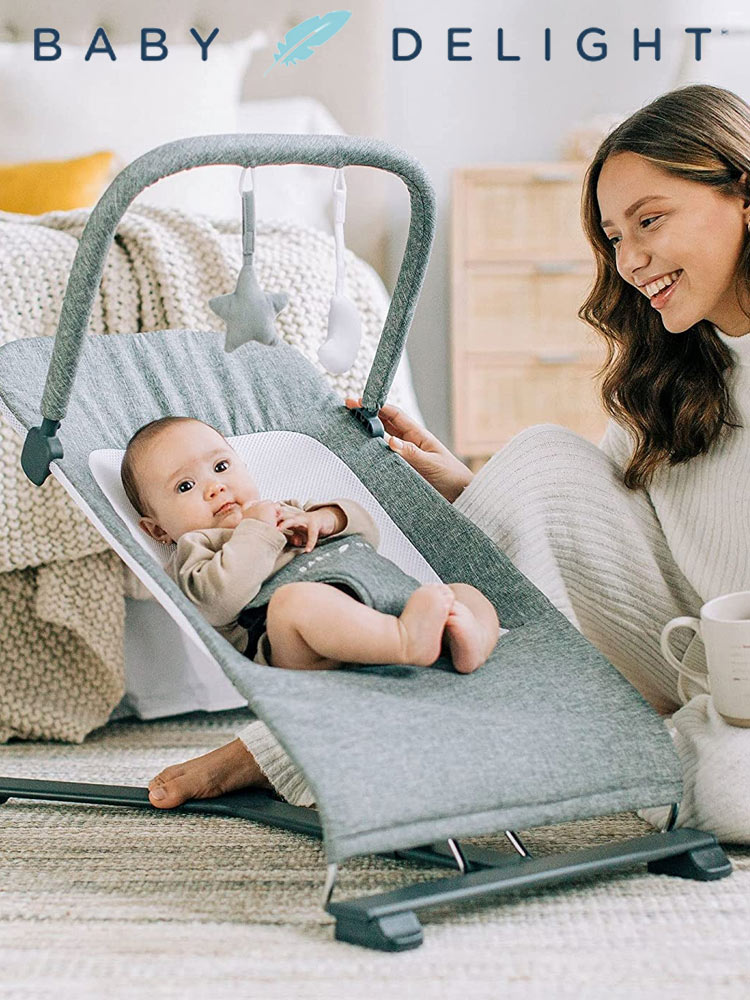 We love when a US-based company makes a big move towards disrupting a niche market, especially when they create a quality product at an unbeatable price! Well, Baby Delight, the makers of one of our favorite bedside bassinets, stepped up to challenge the BabyBjorn bouncer. And we think they did a pretty good job! Starting with price, this bouncer is less than half the price of the BabyBjorn, coming in at about $80. The specifications are also very similar. The overall dimensions are 28" x 18" x 21", which is only slightly smaller than the BabyBjorn. The weight range is from newborn up to 20 pounds, it has three recline settings, can be folded flat for transport, and the cover can be removed and machine washed. That should all sound familiar, though the upper weight limit is 9 pounds lower than the BabyBjorn. Given the similarities, we were excited to test it out!
Out of the box, assembly takes about 10 minutes and you'll need to bring a Phillips head (cross-head) screwdriver. First you'll assemble the frame, then slide the fabric over it, then secure it all together. The toy bar pops on and off easily, which is great for pulling baby in and out. One of the things we realized is that Baby Delight made the toy bar clips super versatile, allowing you to attach it anywhere on the frame according to your preference. For example, you can attach it relatively high up to make it easier to place or remove your baby without first moving the toy bar out of the way. That's a nice little advantage, in addition to having a toy bar in the first place! We also appreciated the mesh back to help airflow and breathability, and the overall sturdy construction. The bouncing motion was subtle and not too exaggerated, and the chair was stable even when our 9-month old sat up and leaned forward. The only limitations with this bouncer seat are the relatively low weight limit (20 pounds) and the somewhat spacious seating area that can make little babies slouch down a bit more than you might prefer. But overall, we think this is a great alternative to the BabyBjorn for parents looking to save some cash and still have a super functional and fun bouncer to entertain their baby! Who else loves the Baby Delight Alpine? Our friends at Babylist also give it high praise! Interested? You can check out the Baby Delight Alpine Bouncer Seat here.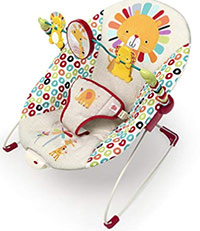 The Bright Starts Pinwheel baby bouncer seat is compact, comfortable, adorable, entertaining and only about 20 bucks! It's very similar in design to the original Fisher Price bouncer seats, with its curved metal legs, removable toy bar, machine washable seat pad, and vibration motor (have a C battery handy). It's basic, simple to use, and looks pretty cute regardless of your interior decor; in fact, it's a really good color pattern for girls or boys - so if you're looking for a registry gift that's gender neutral, this could be a good bet. The toys on the bar spin around and were a lot of fun for our test kiddos to swat at. The fabric is pretty decent quality for the price - it's nowhere near as soft and nice as the BabyBjorn, but it's durable and padded in all the right places. And it's pretty easy to pull off and wash in the machine. The harness is also easy to deal with - buckling and unbuckling is a breeze. When your baby kicks, it bounces a bit - not too much or too little, it's really just right. So why isn't it higher on our list? Well, for our 2 month old test baby, the incline was way too steep for a baby without solid neck and head control. We'd suggest using this was babies from about 3 months and up. The heavier your baby is, the more it will recline a bit under the weight of your baby, so that helps a bit. This was our primary issue with this bouncer, and we wish it either started with a more reclined seating position, or had adjustable recline. The manufacturer says it's good from 0+ months, but we're skeptical. The upper weight limit is 25 pounds, and you'll realize that the seat will sag considerably with a baby that heavy! Overall, there was a lot to like about this bouncer seat, especially at a price point around $20, but you might need to wait until your baby is a few months old to start using it. Interested? You can check out the Bright Starts Pinwheel Bouncer Seat here.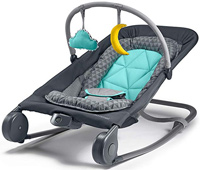 This is one our favorite baby bouncers because it doubles as a rocker by folding up a couple little legs on the bottom, two on the front and two on the back. When those little legs are folded up and the position is reclined a bit, your baby can create a natural front-back rocking motion, which is a nice touch. Additional features we appreciated were the fact that you can fold it flat for storage, the toys and cover are removable and machine washable, it comes with a comfortable padded insert, and it has vibrations (C batteries are actually included!). Out of the box, you simply unfold it and pop on the toy bar and toys, and you're off to the races. Getting baby in and out is easy thanks to the removable toy bar, and it supports babies from birth up to 20 pounds, which is a bit lower than most other bouncer seats. We liked how easy it was to adjust the recline, how easily the toy bar pops off, and how easy it was to remove the padded insert for washing. The rocking movement was subtle and relaxing, and we liked how lightweight (about 5 pounds) and portable it was. So this bouncer got a lot of points in our testing, and we were happy to have tried it! There are a few cons worth mentioning, especially given the $60 price point. First, there were some minor annoyances: one of the little legs also had a tendency to fall down on its own and stop the rocking motion, and the padded insert doesn't attach at many places so it has a tendency to slide down or fall forward. One of our bigger concerns was with the toy bar that doesn't secure into place, so some of our babies were able to pull it right off. This seemed like a bit of a safety hazard. We also thought it wasn't very suitable for newborns given the minimal head or neck support. Given that the price is towards the top of the range, we expected a bit more out of this new bouncer. Interested? You can check out the Summer Baby Bouncer Rocker Seat here.
This is one of two Fisher Price bouncers on this list. Not surprising given they are the original baby bouncer manufacturer and they have several different bouncer models on the market at any given time. This is what they call their deluxe bouncer. Relative to the comfort curve (below), this has some extra features. In addition to a generally plusher and more conforming seat (plus a newborn insert), it also includes a cute (non-motorized) mobile, super soft fabric, music, nature sounds, and vibrations. We really appreciated the adjustable volume for the music and nature sounds, and the fact that it only stays on for up to 20 minutes and therefore doesn't risk burning out the batteries when accidentally left on. We also thought the legs and feet were very stable, and provided a reasonable bounce level that wasn't too much for baby. It supports up to 25 pounds, and runs on three D size batteries, which we think is a bit much. The batteries do last for a long time even with frequent use, but when you need to replace them you'll wonder if it's worth the money! The Deluxe Bouncer comes in several color and pattern varieties, but the features are the same. Overall, this is a decent bouncer that's available for a very reasonable price.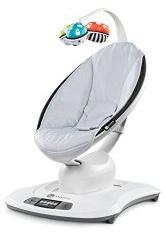 The MamaRoo bouncer (well, not really a bouncer at all) is a new addition to the bouncer market as of 2012, and it is a really impressive option. Expensive, yes, but also feature-rich and unique. The MamaRoo is both capable and stylish, and adds a whole new realm of motion to bouncers. It has 5 unique motions that simulate a baby's favorite and most relaxing activities: car ride, tree swing, rock-a-bye, ocean floating, and kangaroo bounce. There is built in music, including nature sounds and white noise, and you can also play MP3s if you attach your iPod. It has a highly adjustable seat recline, a machine washable seat, a nicely padded cover with good ergonomic support, and a sleek and unique style. This is an awesome option if you don't really need a bouncer, per se, but rather want something a bit fancier with more features. With all of its great features and style, there are of course some drawbacks. First, it does not take batteries so you need to position it in a place close to a wall outlet. Second, because of all the moving parts, some people complain of some odd clicking noises and reliability issues; this is rare but worth mentioning (note that they have a 1-year warranty, and if you buy from Amazon you can use their free return policy). If you're looking for something fancy and different, this is the option for you; odds are you'll love it and think it was worth every penny!
Discontinued: Tiny Love Take Along Baby Bouncer.
This was an awesome baby bouncer with great bang for the buck, while it lasted! Anyone who has used a bouncer for their baby knows that they can be really awkward and cumbersome to store, move, and travel with. The travel part is basically impossible for most baby bouncers on the market. Along came Tiny Love and made one of the best baby bouncers on the market, not only for its simple features and reliability, but also for its portability. We loved the simplicity of this baby bouncer, but for now it's gone!
How to Pick a Baby Bouncer Seat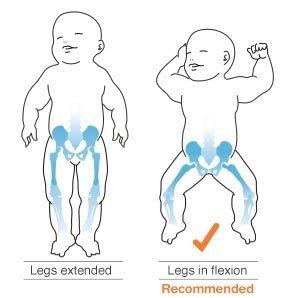 Comfort and Ergonomics: Given that you want a bouncer to give your baby a comfortable and relaxing place to unwind and maybe nap, you might find that your baby sits in the bouncer for an hour or two at a time. Maybe 15-30 minutes of play then a 45 minute nap, and the time adds up quickly. So it's important that your baby's posture is well positioned and supported in the right places, including the butt, back, and head. Many of the cheaper bouncers position your baby like a hammock without any posture support, and limit your baby's arm and leg movements. If your baby's legs are forced to extend straight, it's not a good position; ideally, your baby's legs should be slightly flexed as shown in the picture to the right. By the way, this point also applies to baby carriers and wraps, and also to baby walkers. Regarding head support, in the same way that you like to use a pillow in bed or on the couch when reclining, your baby's head should also be slightly supported with a contoured upper seat or small integrated cushion. The pricier baby bouncer options are best when it comes to comfort and ergonomic support, especially the Baby Bjorn and 4Moms bouncers.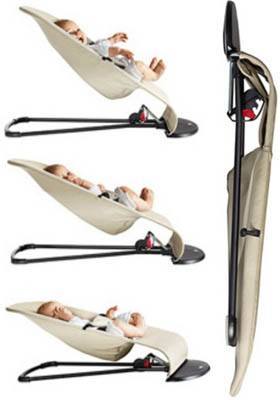 Adjustable Positioning & Portability: The best baby bouncers will serve several purposes: it can be great for playing or napping, but also for spoon feeding or finishing a bottle (check out the best high chairs). Some of the nicer bouncers have multiple seating positions, adjusting from high and upright (like for feeding), to moderately upright (like for play), to lying flat down (like for napping). Though the adjustable ones tend to be more expensive, they are much more versatile and you will find yourself using the bouncer for different activities; you'll get your money's worth.
Bouncers that can lie flat also tend to be more portable, making it easier to squeeze into your trunk, into a box when moving, or under the couch when cleaning up. When I first packed my car to travel with a 6-month old, we came to the realization that somehow our SUV wasn't big enough for all our baby stuff. A folding bouncer would have helped tremendously! More traditional models that have been on the market for decades, like the Fisher Price baby bouncer, are good cheap basic bouncers but they are really terrible for portability. The Baby Bjorn Balance Bouncer folds completely flat, as pictured to the left, which is a really great feature.
Soft & Washable Cover. Even the cutest and best behaved babies make messes. They spit-up, spill, crush little crumbs in every crevice, and occasionally blow out of even the best diapers, including cloth diapers. In any event, every once in a while you will need to launder the cover, so you'll want it to remove easily and be machine friendly. You also want it to be made with soft and high quality fabric and very well pre-shrunk so you'll be able to fit it back onto the bouncer after a good scrub and spin in the dryer. All of the best baby bouncers we recommend provide an easily removable cover that is soft and durable and is not only machine washable but will not shrink if you follow the instructions.