The Milky Box Review: The Best Baby Formula Store?
We review this popular new shop to find your favorite European baby formulas.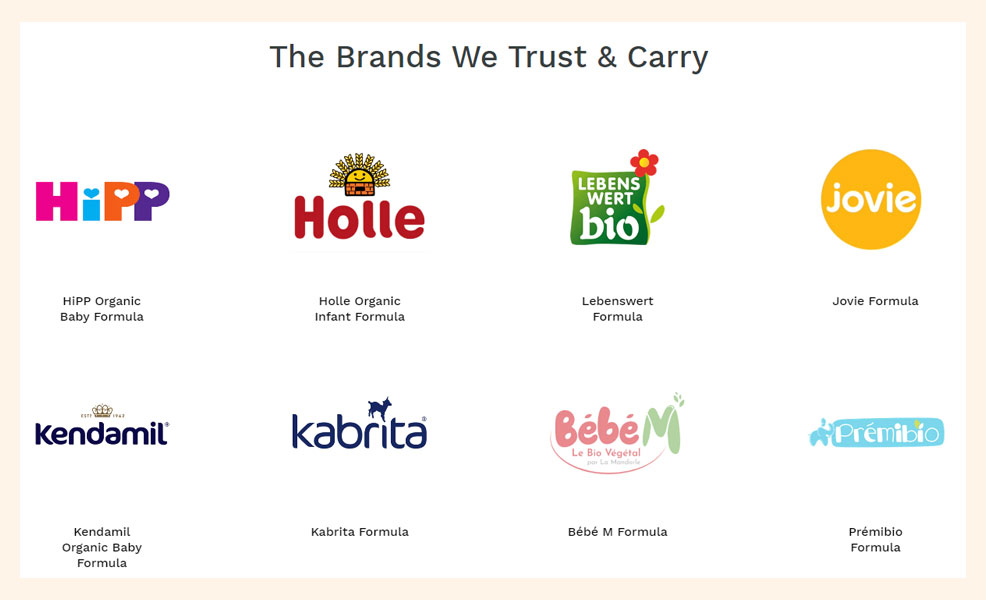 ---
Mommyhood101 independently tests and curates baby gear to help you make informed decisions. If you buy products through links on our site, we may earn a commission.
European baby formulas are more popular than ever but are also increasingly hard to find. Some of the most popular US-based stores, including Little Bundle and Organic Start, shut down over the past couple of years.
The Milky Box is one of the newest online stores for purchasing European baby formulas, offering brands like Kendamil, HiPP, and Holle at great prices.
But can you trust them to deliver a high-quality product in a reasonable amount of time? We put them to the test to find out!
We checked the website's security, pricing, and payment processes.
Then we placed an order for baby formula, tracked shipping times, and finally verified that the product was packaged well and of high quality.
Table of Contents:
Spoiler Alert: We love The Milky Box! We thought the prices were good, the shipping time was great, and the product quality was excellent!
The Milky Box Review: Security
The first thing we checked was the security level of The Milky Box website, which is at https://themilkybox.com
To do so, we used the Show Connection Details function on the Chrome browser. This will give you information about the site's security certificate, issuer, validity, and encryption level.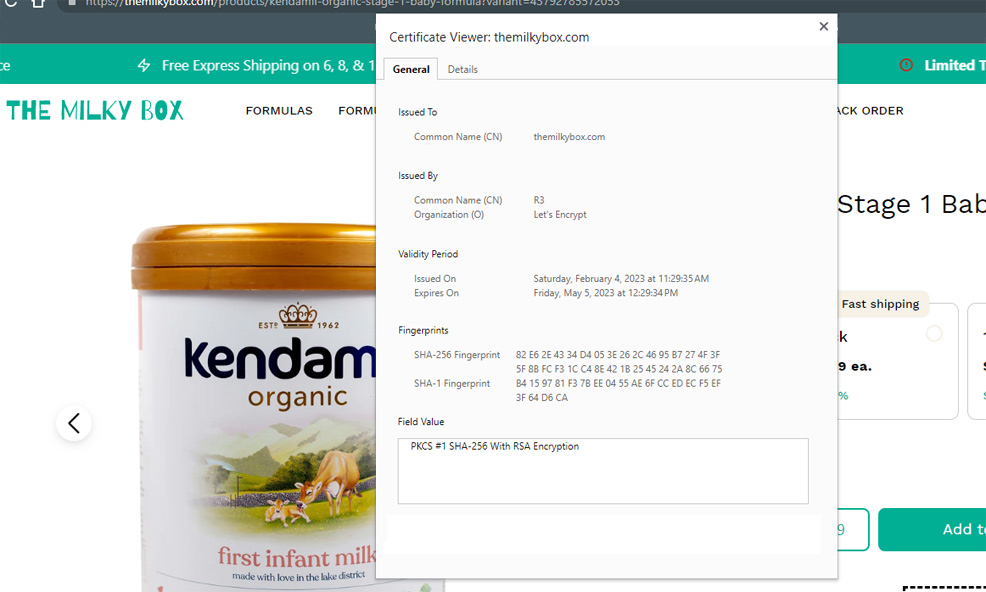 A few important things to point out about the security certificate:
The site has a valid security certificate.
The certificate is issued by the very reputable Let's Encrypt (Internet Security Research Group).
The certificate is valid for the full 90 days (that's the limit for this certificate type).
The site uses SHA-256 encryption with RSA, which is the gold standard.
Overall, in addition to an awesome and easy-to-navigate website design, this was a compelling first result of our testing!
The Milky Box Prices
To check prices, we compared The Milky Box to some of its primary competitors which include Formuland and MyOrganicCompany.
As a starting point, we compared prices for our top-rated organic baby formula, the Kendamil Organic Stage 1.
At The Milky Box, it was listed for $45.99 for a single pack, $44.99 for a six-pack, and $42.99 for a twelve-pack.
Note that for all of these prices, you can apply our MOMMYHOOD101 coupon for a 5% discount!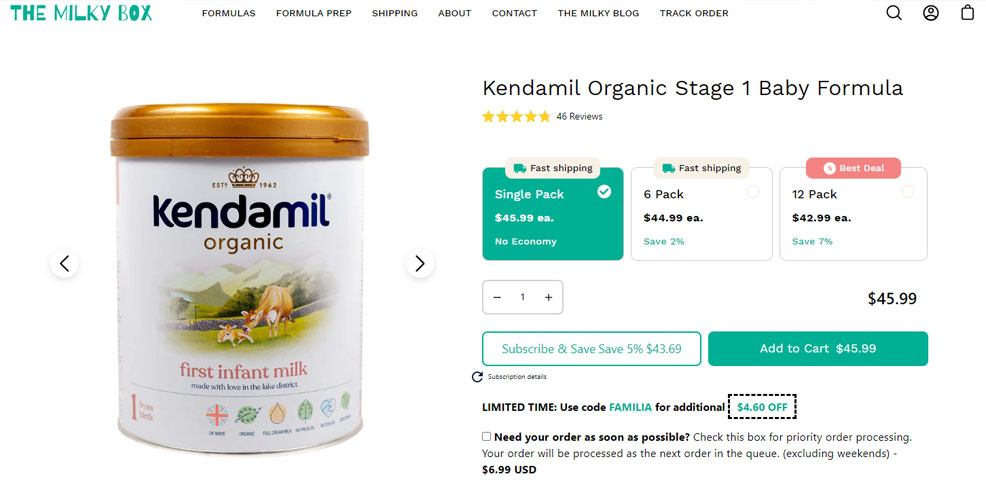 All of the major baby formula websites appear to be paying attention to each other because these prices (before including the discount) were exactly the same as all the others.
The only thing we noticed was that the larger quantities, the 6- and 12-packs, were cheaper at The Milky Box than most other websites.
To check competitive prices on baby formulas, check out our article about where to buy European baby formulas!
Overall, we were impressed with the prices and selection. In addition to Kendamil, we found the prices very competitive for Jovie, HiPP, Holle, Lebenswert, and several others.
The Milky Box Payment
Nobody wants to hand over their credit card information to a shady website, so we needed to do some research.
To do so, we used the Inspect Page tool on the Chrome browser to get information about how payments were being handled on The Milky Box website.
It turns out that they have two payment options, both through Shopify: credit card or PayPal.

Just in case you haven't heard of Shopify, it is one of the most popular and secure payment processors on the internet.
In fact, nearly 2 million websites use Shopify to handle their payments, including companies like Sephora, Red Bull, and Whole Foods.
Needless to say, Shopify takes its reputation very seriously and it would not risk associating itself with any shady websites.
Overall, we were happy to learn that The Milky Box uses the trusted and secure Shopify network, and also provides the flexibility and convenience of PayPal.
Placing an Order
Now that we confirmed The Milky Box has great prices, high security, and uses a secure payment processor, we were ready to place an order.
As we said, we love the Kendamil organic baby formula (see our Kendamil organic formula review here), so we definitely wanted to order more!
During the checkout process, you'll have the option to select Priority Processing for another $6.99 (and the MOMMYHOOD101 coupon discounts this as well).
We went ahead and selected it because all European baby formulas must ship from... you guessed it... Europe! We think about six bucks is worth it to make the trans-continental trip a bit faster.
Using the MOMMYHOOD101 coupon for 5% off, the prices became even more impressive: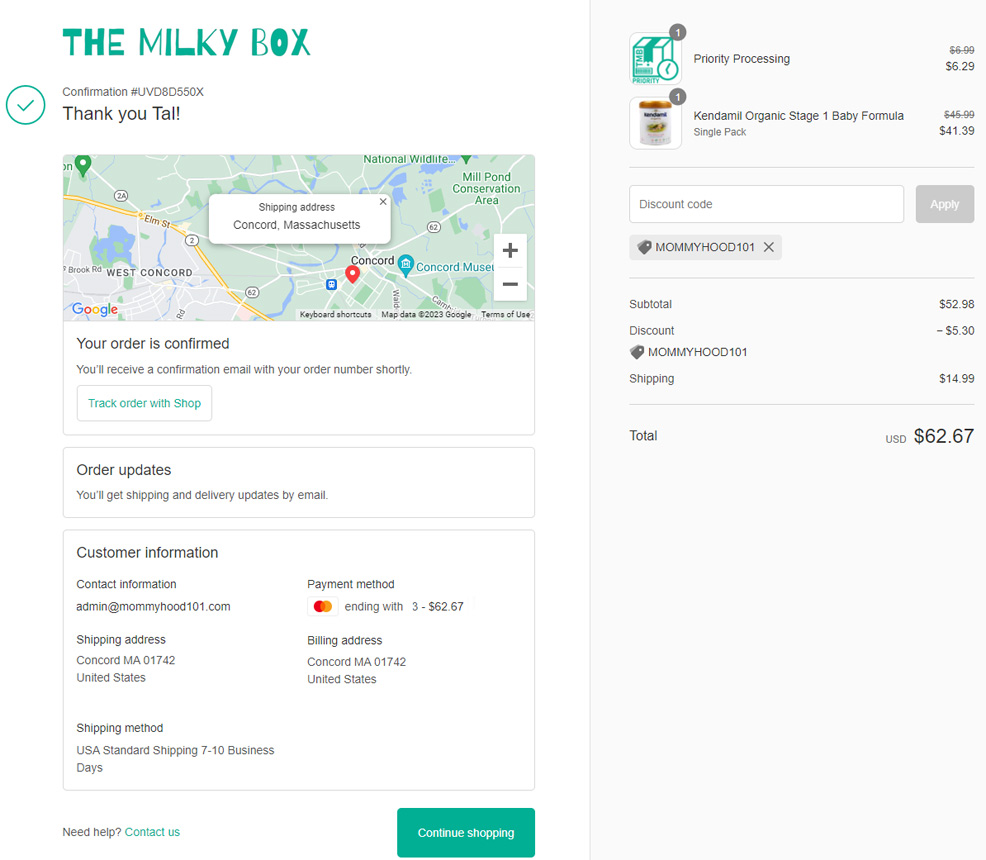 Shipping was definitely expensive, coming in at $14.99.
However, note that you can get free shipping if you order a 6-pack or 12-pack! Definitely recommended.
Also, notice there are no taxes or other fees.
Even if you had to pay the $14.99, we think it's a fair price given how far it needs to travel. The Milky Box is based in Estonia and seems to ship its product from England (more on that, below). Either way, that's quite a trek to the United States.
We've shipped smaller packages from Massachusetts to Michigan and paid nearly double that amount.
Overall, we thought the ordering process was easy and intuitive, and we were impressed with the shipping cost (especially for larger orders).
For reference, if you purchased a 12-pack of Kendamil Organic Stage 1 and used our coupon code, shipping is free and the final price is equivalent to only $38.69 per tin. That price is unbeatable!
The Milky Box Shipping Times
Once we placed the order, we were excited to see how The Milky Box did with keeping us updated and were very curious about how long it would take to arrive at our doorstep.
We placed the order late at night on February 13th and immediately received an order confirmation.
We received a shipping confirmation early on February 14th.
Here is the series of emails:

Inside the shipping confirmation email was a tracking link that allowed us to track the package's journey around the world.
We found that the most time-consuming part of shipping was when the package sat in customs in New York state. That introduced a 5-day delay, as seen below:
From what we could tell, the package began its journey in Manchester, England, then went to West London (Feltham), then crossed the border into the USA (New York).
It was handled by DHL for the entire journey until it got into Massachusetts, then was handed off to USPS for final delivery.
Once it was in the hands of USPS, we received an update the same day that our package was out for delivery.
Two hours later and in the aftermath of a 'Noreaster storm, it showed up at our doorstep!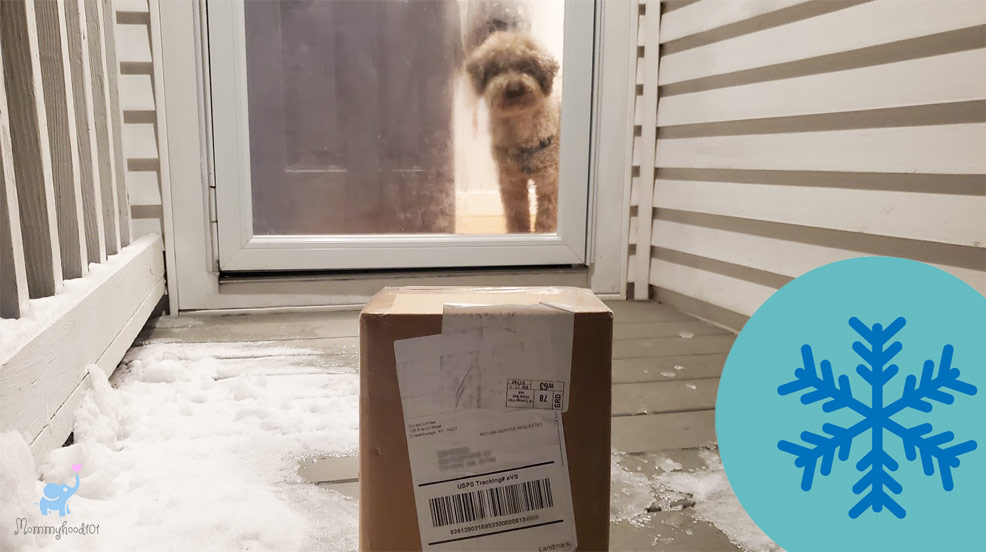 From ordering to delivery, it was exactly 10 days.
Overall, this went exactly as expected. If you've ever ordered something from Europe, you know that customs is a wild card. Packages can sit at customs for a couple of days or up to a few weeks, depending on how busy they are.
We always tell people to order European baby formulas early and often, to make sure they always have a good supply (even when customs processing slows down).
Packing and Quality
When a product is sent to you from halfway around the world, you want to make sure it is very well packaged and protected.
Nobody wants to wait 10 days to receive a damaged package of baby formula!
We are happy to report that the baby formula was extremely well packaged.
The Milky Box used an inflatable mailer that provided full protection from every angle: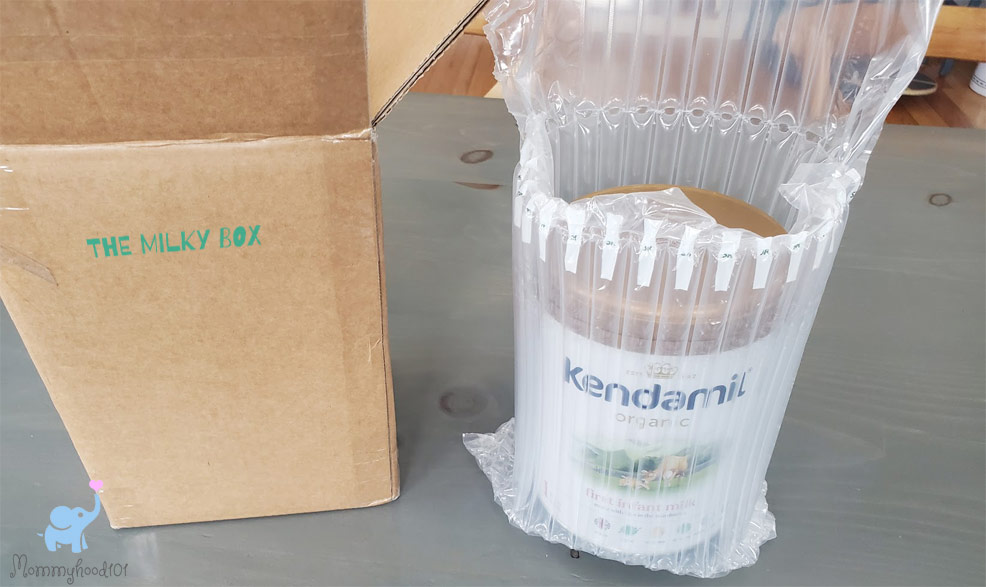 These inflatable mailing sleeves are so good that people even use them to ship laptops!
Not surprisingly, the formula was in perfect condition - no dents or scrapes.
More importantly, the formula's expiration date was a year and a half away: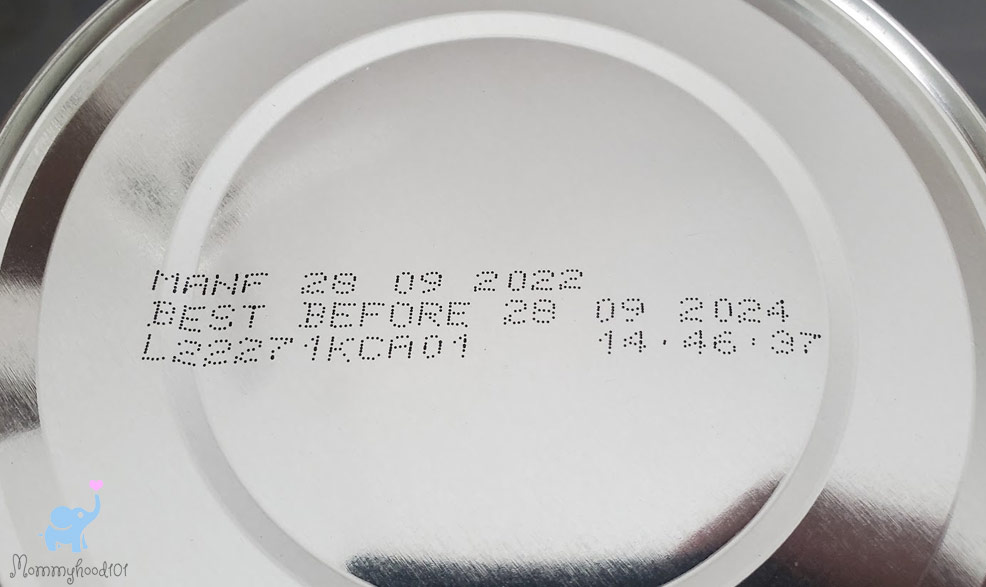 That gave us reassurance that we could order in bulk and be able to use all of the product before coming close to the expiration date.
Nice touch!
Overall, we were impressed with the quality and durability of the packaging and appreciated that The Milky Box is sending relatively new inventory.
Overall Conclusions
We're always excited to test new baby formulas, and this was the first time we tested a new baby formula vendor.
For full transparency, The Milky Box did not pay us for this review. We completed this review independently and were not biased in any way.
That said, this experience went so well that The Milky Box quickly became our go-to store for European baby formulas!
Overall, given the excellent prices, high levels of site and checkout security, fast shipping times, and high-quality packaging and products, we give The Milky Box a 4.9 out of 5!
The only thing stopping them from getting a perfect store is their low inventory of some very popular baby formulas such as HiPP Comfort.
We think The Milky Box is the perfect option for families looking for some of the best organic baby formulas at a trustworthy store with fair prices and fast shipping.
We hope you agree!
The Milky Box Coupons
To our knowledge, there are two currently active coupons:
Both of these coupons are applied to your entire order (except for any shipping costs).
FTC Disclosure: The Milky Box did not sponsor or otherwise provide compensation for this review. We loved our experience with The Milky Box so much that we now link to them as a recommended store; if you follow one of our links to The Milky Box website, we might receive a small commission on your purchase. These commissions are how we keep Mommyhood101 functioning without annoying ads or paywalls, and we are grateful for your support!