The Best Power Wheels of 2023
Cruise the neighborhood in style with one of these top ride-on cars and trucks!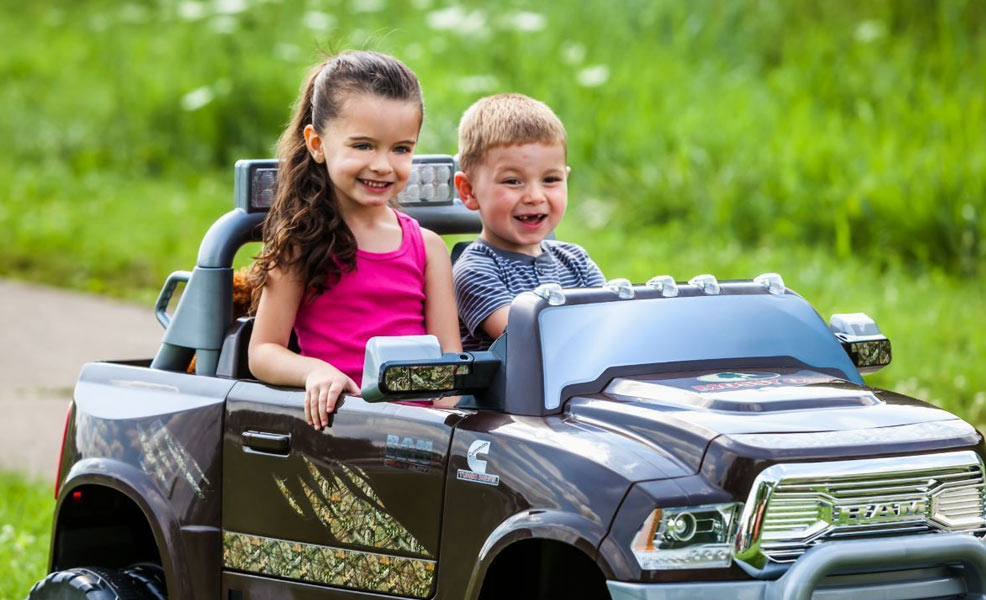 ---
Mommyhood101 independently tests and curates baby gear to help you make informed decisions. If you buy products through links on our site, we may earn a commission.
One of the most popular gifts for the holidays and birthdays is the Power Wheels or powered ride-on car, truck, or ATV. But quality and reliability vary dramatically across models.
Our hands-on tests considered the following factors: seating options, forward and reverse drives, traction capabilities, reliability, safety, fun, and of course, price! Below are the top 5 ride-on toys we found, followed by our full reviews.
Over the past decade or so, the prices on ride-on toy cars have gone down dramatically, and the quality has generally gone up. There has also been an influx of new brands on the market, attempting to compete with the biggest player in this market: Power Wheels, which is made by Fisher-Price. In most cases, the less expensive and newer brand names suffer in quality, but there are some instances where you can save a bunch of cash and still get a quality product.
We include some of those options in this review.
If you can afford a ride-on toy made by Power Wheels, they generally offer the highest quality and reliability. Peg Perego and Moderno are also great options.
Full disclosure: Some of these ride-on toys, including the Kid Trax models, were sent to us as free test samples by the manufacturer.
Here are the Best Electric Ride-on Cars of 2023!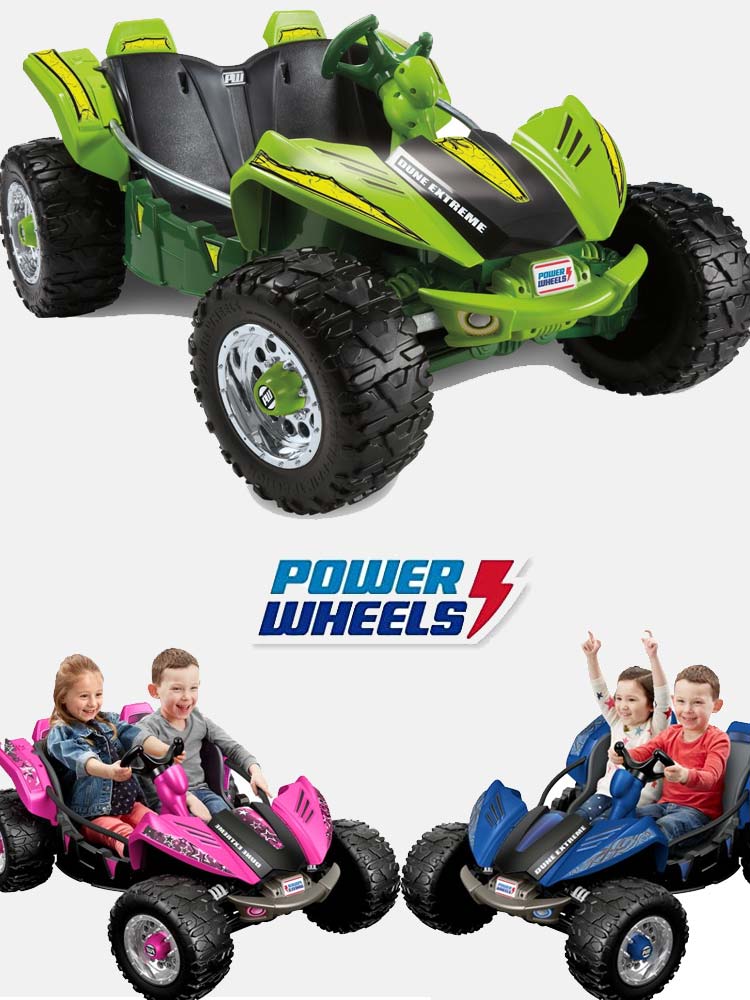 This was the ultimate winner, with some fantastic features, reliability ratings, and pure fun for kids from about 3 to 7 years old! This two-seater dune racer is low to the ground, making it really easy to get in and out of, giving kids a comfortable and relaxed seating position. That relatively low stance also gives a low center of gravity, reducing the risk of tip-overs and rolls. Because it fits two kids (one driver, one passenger), there is room for a friend or sibling to join in on the fun. The Dune Racer can support up to about 130 pounds of combined weight. It comes in a bunch of fun colors and patterns, including pink, camouflage, lava red & black, and green, so there's something to suit every kid's tastes. We also found a super cool Batman style version that seems to be limited edition. This dune racer has two speeds: 2.5 and 5.0 mph, and the ability to lock out the higher speed until your kid has mastered safe driving. It also has reverse at 2.5 mph, making it easier to negotiate tighter spaces. Like most powered ride-on toys, it uses automatic braking, which means that when your foot is not on the gas, the vehicle automatically starts braking (like a golf cart). Much safer than separate gas and brake pedals to figure out (your shins will thank Fisher-Price for this feature!).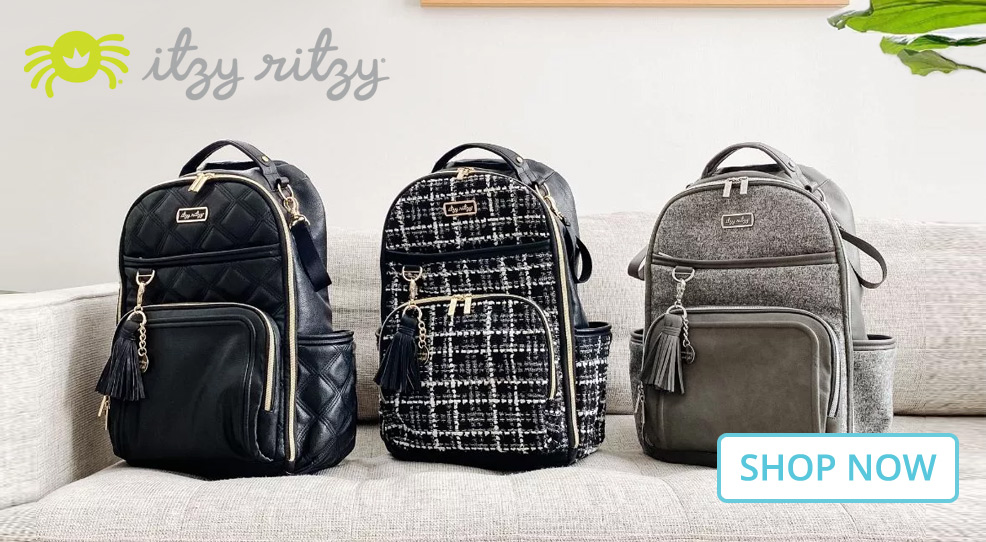 There is a tiny storage compartment on the back, which is a cool place for stashing toys that you want to bring on your journey. We found that this dune racer also has pretty good traction, with actual tire treads in the center of the tire to prevent spinning on slippery surfaces. The battery is 12V and is easy to plug in and charge. In our tests, at the lower speed it lasted for nearly 3 hours of continuous use, which is excellent. At the higher speed, we expect it would last for about 1.5-2 hours of continuous use. The heavier the load and the more difficult the terrain (like uphill), the shorter the battery life. Finally, being part of the Power Wheels line-up of awesome powered ride-on toys, this has excellent reliability and reviews. Note that it is very important to follow the charging instructions for this vehicle: after each use, charge for at least 14 hours but never for longer than 30 hours. Many parents do this by using a charging timer on their outlet, which they can set to charge for a specific amount of time and then automatically turn off. If you don't follow those instructions, it will void your warranty (and ruin your battery). Overall, this is an excellent choice that satisfies all our criteria and ensures years of fun! Price varies based on color and pattern selection, but usually ranges from about $300 to $400. Interested? You can check out the Power Wheels Dune Racer here!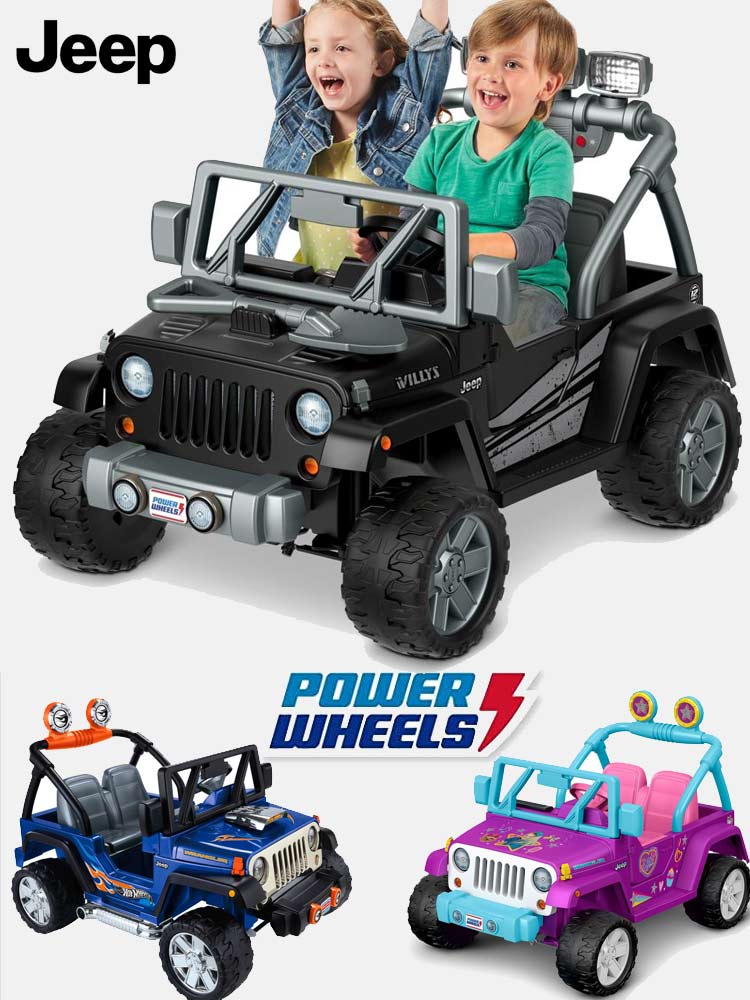 This is another excellent option. The primary differences between our #1 and #2 selections are: the Jeep sits a bit higher off the ground, the seats felt a bit more cramped for space when 2 kids were in it, and the tires don't have quite as good of tread on them, especially in the center of the tire (even the Rubicon version has these tires). For someone looking for the classic and distinctive look of a Jeep, this is definitely the way to go! All the other features are very similar to the Dune Racer. It has two speeds, 2.5 and 5.0 mph, and the ability to lock out the higher speed until your kid is ready to go a bit faster. It also has reverse to help get out of tight situations, which is really helpful when first learning how to use it, or even when backing out of the garage! Like the Dune Racer, it has a 130-pound combined weight limit, but it does have generally more storage area in the back (behind the seats), where you can stash larger toys to go along for the journey. Outside of that, the battery, hours of use, charging, and automatic braking, all are the same as with the Dune Racer.
Out of the box, this ride-on Jeep did take some time to assemble (about 1.5 hours); the roll bar, windshield, etc, all come as a bunch of pieces and screws. Be sure to leave yourself some assembly time! Once it's all put together, there's so much awesome fun to be had in this ride-on Jeep! There are a few different colors and styles: we found the red one (pictured), a cool Disney Frozen style that has a little radio that plays Frozen songs (!), a Game Day version, and blue or Barbie pink versions. Depending on which color and style you're interested in, prices range from about $250 to $400. Interested? You can check out the Power Wheels Jeep Wrangler here!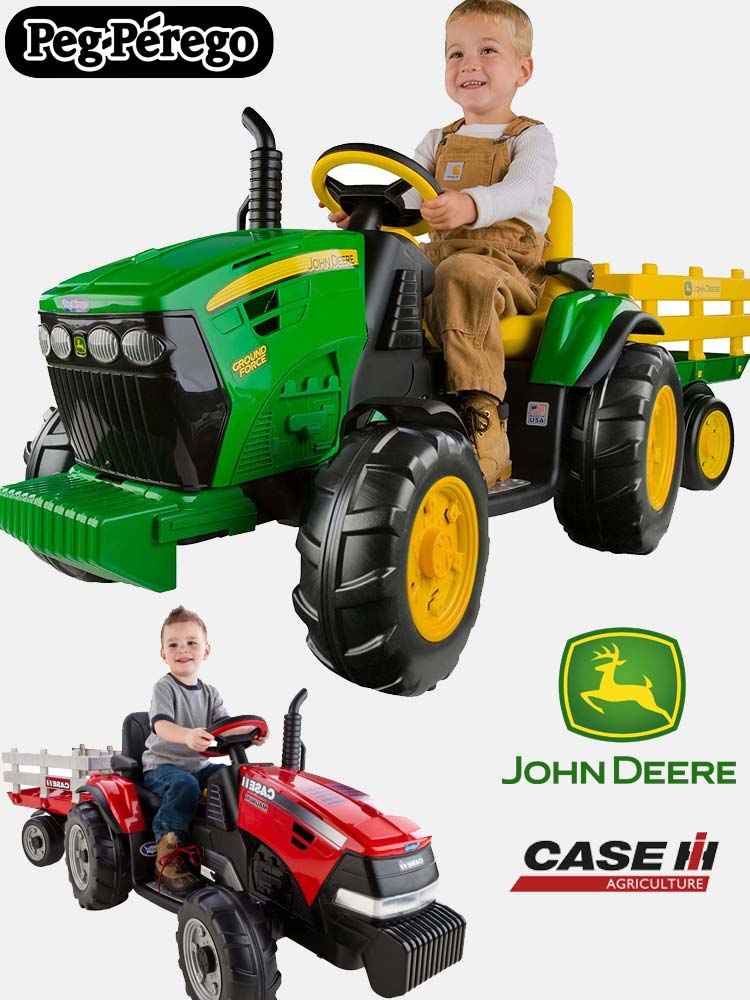 This is one of two options made by Peg Perego on our list, and they really did a fantastic job with this tractor! Not only does it look really cool and authentic, but it also does a really great job entertaining children for hours. Parents loved the detachable trailer on the back, which is awesome for loading up with equipment, toys, and in some cases other kids (though we don't recommend that!). It has a couple other cool features, like an FM radio, flip-up arm rests, and it's made in the USA, in Fort Wayne, Indiana. The tractor doesn't go quite as fast as the Power Wheels options, with two speeds, one at 2.25 mph and the other at 4.5 mph, but there is the lockout for the higher speed that you can use, and it also has reverse (at 2.25 mph). Of course, using reverse with a trailer is quite difficult and it's likely your kid will "jack-knife" it the first few times they try, before getting the hang of it! To be honest, we didn't really notice any speed difference between this tractor and the Power Wheels options, since a 0.25 mph difference is really negligible when it comes to this type of toy. Load up the Power Wheels with two kids and it's going to be slower than this tractor will be with one passenger. And that brings up the primary limitation here: there is only one seat, making this an independent-rider type of toy. You can't really bring a friend along, unless you put them into the trailer, which the manufacturer doesn't suggest!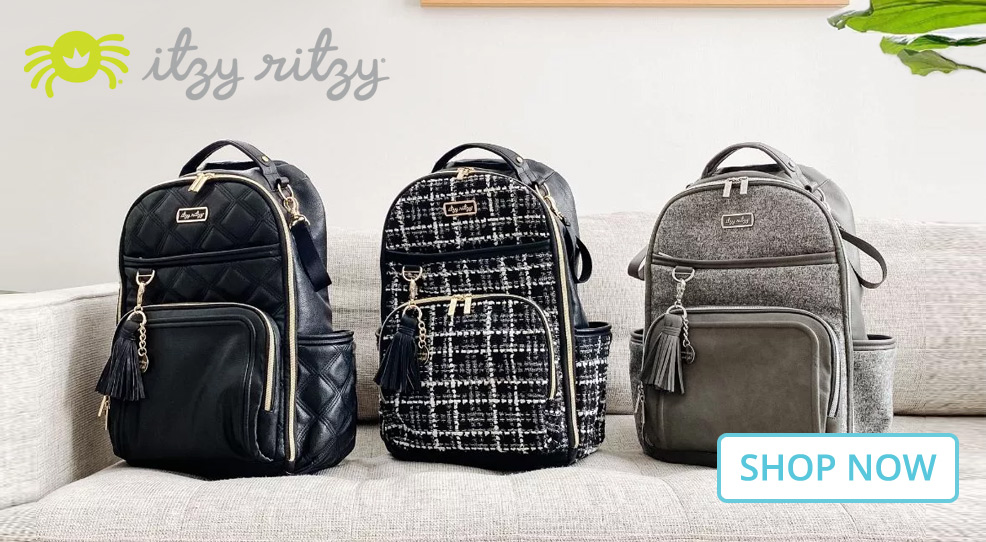 In our testing, we found out a few things worth knowing. First, the John Deere version has a better battery compartment cover than the Case model, so we suggest going with the John Deere. By the way, there is also a pink Case model for those interested. Second, the battery life isn't quite as long as with the Power Wheels options. Not certain why, could be the amperage of the 12V battery, or any other number of variables (gear ratios, drivetrain, weight, motor amperage, etc). If you love the tractor style and the trailer functionality, this is a definite best-bet for an adventurous kid who wants to load and unload just like you see on the farm! Good price too, usually under $250. If you're looking for a less expensive option, with pedal power instead of an electric motor, check out the Peg Perego pedal-power Case tractor. Interested? You can check out the Peg Perego Tractors here!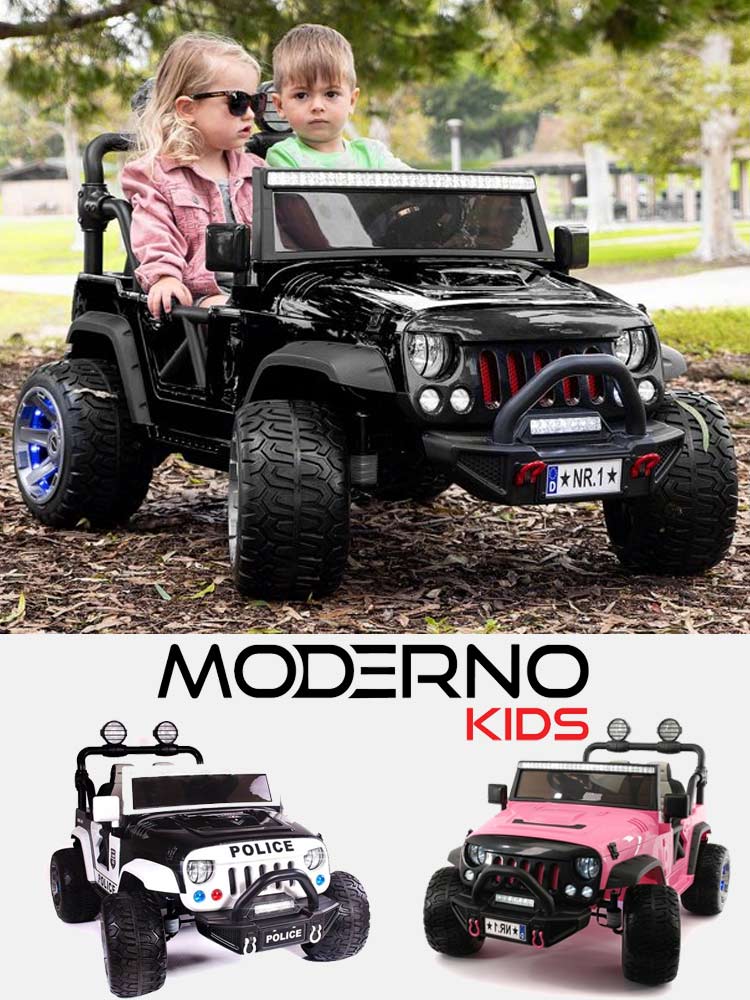 We're always hesitant to try out new companies, instead relying on the reputations of Power Wheels and Peg Perego, and avoiding a lot of the inexpensive ride-on toys coming out of China. You get what you pay for with a ride-on toy, and as one of the most expensive ride-on toys we've tested this Jeep is strong proof of that old saying! Coming in at a hefty $450, this is for the discerning parents who want to get their kids what is a truly ridiculous ride-on toy! And to be clear, we didn't buy it for testing - instead, one of our more extravagent neighbors bought it for their 3-year old and we got the chance to test it out. And boy was it impressive! It's the closest thing to basically buying your kid a tricked-out Rubicon, and has more features than any other ride-on car on this list. Let's start with the electronics. This uses a high amperage 12V battery to drive a ton of electronics features, including a stereo MP3 player and FM radio (or connect your phone via bluetooth!), LED headlights, LED light-bar, a battery life indicator, functional horn, and of course the electric motor. And the motor is really powerful and flexible, with two forward speeds (slow about 2 MPH, and fast about 4-5 MPH), reverse, and electric braking that is smooth and effective. We really liked how smooth the acceleration and braking were - unlike some of the other ride-on toys on this list, there was no jerking when pressing on and off the gas pedal. This Jeep ride-on also has a parent remote control to either stop the vehicle in an emergency or completely control it remotely (for younger kids or dare-devils!).
We've discussed the electronics, but let's also talk about these crazy seats - they are really nice and soft, using a (we assume fake) leather fabric and nice cushioning. The seat belt is lower only (no harness), but there are two of them - one for the driver and one for the passenger. The doors actually open and close nicely, and everything is put together really well and seems to be impressive quality, even for this relatively high price point. We also loved a couple little things - it has hooks on the front and back for towing - our kids attached a red wagon and pulled around a bunch of toys. And the tires aren't the junky hard plastic type, they are foam rubber which gives actual traction! That's really rare and helped a ton when the load is light (only one young child) and it's being used on smooth pavement. Note that the tires do not need to be inflated, they are filled with foam. Going back to the battery, it seems to last from about 2-3 hours depending on usage. If you blare the speakers, have the headlights on, and go at high speeds uphill, the battery will drain pretty quickly (less than 2 hours). But if you're cruising along more slowly with a lighter load, you'll be able to squeeze 2+ hours out of a single charge. Note that you can purchase a second battery to swap in and out for the longer days of cruising. We weren't directly involved in assembly, but the parents said it took about 2 hours and was pretty easy to follow the instructions. Overall, we were really impressed with this, and as a testament to reliability after a year we still see it driving kids around the neighborhood! Cons? None really to speak of other than the steep price, but we think it's actually worth it if you're looking for a high quality ride-on toy that looks cool and has some amazing features. The other little con is that it would be nice to have a shoulder belt as well, even with the smooth-start and stop features. Interested? You can check out the Moderno Kids Jeep Ride-on Toy here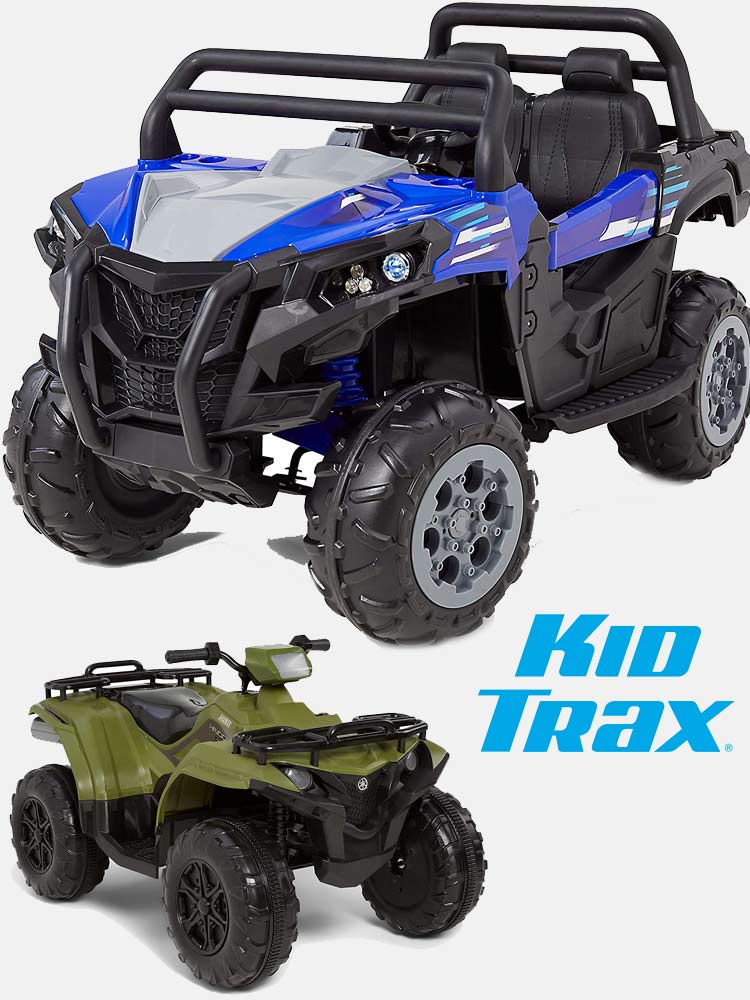 We got our hands on this ride-on all-terrain vehicle (ATV) for kids late last year, and were very impressed with what you're getting for the price: good build quality, unique style, and hours of fun! For its relatively low price of about $220, this ATV offers a lot of bang for the buck. For basic specifications, it is suitable for kids from about 3 to 7 years old (up to 88 pounds), has two speeds (2.5 and 5 mph), a 12V battery with included wall charger, and a reverse gear. Out of the box, the vehicle took about 30 minutes to assemble, and we were overall impressed with its features: the tires have good tread plus a middle notched rubber band to help traction on paved surfaces, the front and back cargo racks can actually support a little bit of weight (for toys, not people!), and the tires actually have working suspension to absorb little bumps. Once it's assembled, the ATV looks great (the fake tailpipe is hilarious) and a ton of fun to drive. The kids loved the realistic ATV seating position and steering, the knobby tires, and the working headlight. They also hooked up an mp3 player and played some tunes through the speaker - which was amusing. Rather than a crank-handle to control throttle like on a real ATV, this uses the typical foot-press throttle pedal with automatic braking when the pedal is released. The steering is a bit limited in angle, but that's a good safety feature - if you allow an ATV to steer at a harder angle, the child could slide right off the seat. While the ATV style does not provide two seats, you can definitely fit two smaller kids onto the seat, one in front of the other (just like on a real ATV!). The battery lasted for well over 2 hours of continuous riding, losing power around 2 hours and 45 minutes. That was on high speed (5 mph) with a 50-pound child riding it on relatively level, paved surfaces. Not bad! The wheels don't spin on pavement when trying to accelerate, and it gets pretty good traction on grass and dirt. After a week of testing, we've had no issues to report! Like with all power wheels or other ride-on toys, make sure you fully charge the battery before its first use (charge it for at least about 18 hours, but not more than 30), and charge the battery after each use (even if it still has power). Carfully following the charging instructions will help prolong the battery's life. Replacement batteries cost between $50-200, so you definitely want it to last! Overall, we are impressed with Kid Trax and think it's a great addition to this list! Interested? You can check out the Kid Trax Yamaha ATV here!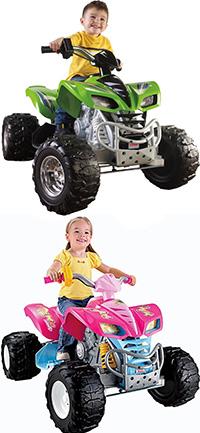 One of the only one-seater all-terrain vehicles (ATV) on our list, this is a truly unique looking and functioning powered ride-on toy! Just like a grown-up ATV, this awesome ride-on uses a twist handlebar grip to switch between the low and high speeds (if you choose to hook it up, otherwise it will stay on the low speed). For throttle, it uses a foot pedal, just like all the other options on this list. For low speed, it goes about 3 mph, and for high speed about 6 mph, making it the fastest option on this list! And it feels like it too, you can really feel the difference between 5 and 6 mph when it comes to one of these ride-on toys. We liked how the tires actually have a decent amount of traction on them for good grip in mixed terrain (grass, dirt, sand, snow). This ATV supports up to 65 pound weight capacity, which is usually around 8 years of age. In our testing, we found that the battery has very good life, outlasting many of the others on this list in our first test, coming in strong at just over 3 hours of use. That brings up a little con about charging: you have to remove the battery entirely from the ATV to plug it in and charge, which can be a bit of a pain. Another con in that it's just a one-seater and there really isn't any room on the back for a second kid to ride, plus the weight capacity wouldn't really support that (and they might end up doing wheelies if they tried). So it's a one-person toy, which can be frustrating for friends around the neighborhood, siblings, visiting relatives, etc, since your kid will need to be OK with sharing! We've always appreciated the two-seater ride-on toys for this reason. One of the cooler things about this ride-on is its looks: aggressive styling up front, chrome colored wheels, and a realistic looking engine on the side, make this thing look really cool! But while it's quite fast relative to others, it doesn't get very good traction from its tires (they are especially very smooth when new), so we tended to spin them quite a bit on pavement, grass, and dirt. Overall, a great option that comes in quite a bit less expensive than the others on the list, usually under $200.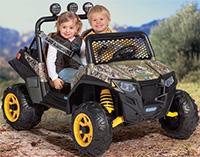 The only two-seater all-terrain vehicle (ATV) on our list, this is an awesome, rugged-looking and highly functional option. There are a couple features that really make this option stand out: it has cup holders for the driver and passenger, seat belts for both, adjustable bucket seats, a working horn, and a large cargo area behind the seats with tie-down straps. That all adds to a very rugged looking package that can comfortably fit two kids with a combined weight limit of 130 pounds. In our testing, we found that the seat belts aren't really for safety as much as they are for the look-and-feel of a real off-road vehicle. We do not think they really keep a child strapped into the vehicle safely, especially around corners in a vehicle without doors. We learned this the hard way when our neighbor fell out of the passenger side around a corner; luckily he fell into the grass and was completely fine (in fact he thought it was fun), but it demonstrated to us that those seat belts aren't really effective as a safety device. We were also a little disappointed that the roll bar lights and headlights are just there for decoration and don't actually work. Same goes for the coil suspension, which is just cosmetic. We also thought the windshield was a bit of an odd design: with shorter kids who can't yet see over the top of the windshield, it's awkward to try to look through the black plastic web holes. Again, it all looks cool, but the functionality doesn't seem well thought-out. Let's back to some basic information: it has two speeds, 2.5 mph and 5 mph, with the optional lockout of the higher speed. Also has reverse like the others. In our testing, a fully charged battery lasted just under 2 hours at the higher speed with two 4 year old kids riding inside. Not bad, but not great when the charging time is about 18 hours. We suggest getting an extra back-up battery to keep the fun going! Overall, this is a reasonably good option but with some drawbacks. It's also quite a bit more expensive than others on this list, coming in at around $350-400, bringing it down to the last spot.
How to Pick a Power Wheels Toy
When looking for the best ride-on "power wheels" toy, there are a ton of options and some important things you should be looking for.
First, Number of Seats Matters! Many parents overlook whether it is a one-seater or two-seater. The one-seaters tend to be a bit cheaper than the two-seaters, but they also are only fun for a single kid! This can be unfortunate when the neighborhood kids all want a ride: your child will appreciate giving others a ride in a passenger seat more than giving up control to their new gift! It's also nice that you can turn this traditionally-independent toy into a social experience for two.
Second, Number of Gears Matters! You want to find a ride-on toy that has both forward and reverse, and at least 2 forward speeds. Reverse helps get kids out of a bind quickly, and having more than one forward speed is very helpful for when younger kids are first learning how to use the toy. Many brands have a high-speed lockout option, which restricts to the slower speed while your kid learns, and can be turned off when you think they're ready to go faster.
Third, Traction Matters! When the grass is dry during the hot summer months, or wet during the spring, you'll find that the tires will spin a lot and not get any traction. This is for a few reasons. First, most ride-on toys don't have great tread on the hard plastic tires. Second, they tend to be very lightweight, as does your kid, so there isn't much weight to help those back tires get traction. Third, ride-on toys tend not to accelerate slowly; instead, they are basically on (pedal pressed) or off (pedal not pressed). So they start spinning the wheels the same speed as they spin at max speed, making starting a bit difficult on slippery surfaces. Our advice is to try to read reviews carefully and look at the tread pattern on the tires. We did that work for you. But if you still have issues, you can also do what many parents do, which is to modify the tires, like placing rubber tread around it (by cutting up a bicycle tire or something similar).
Fourth, Reliability Matters! What usually goes bad first on a ride-on toy? The battery. Improper charging sequences or just a cheap, poor quality battery, result in an upset kid when the battery is weakened after the first year, slowing them down and dying after a few minutes of use. This especially happens if you don't follow the specific charging instructions. To make charging easier and not void the warranty, we strongly suggest using a count-down timer on your outlet, such as this one from Amazon. Also, reliability of steering components and the motor are important, and these can only really be evaluated with the test of time. We've pulled together reviews from over a dozen parents who own various ride-on toys, and scoured reviews all over the internet, and have gotten a good handle on reliability.
Conclusions
After several months of hands-on testing, asking parents in our community who own powered ride-on toys, and filtering through thousands of online reviews, we have arrived at a set of best powered ride-on toys. Of the ones we tested, only a few made it onto this list. Of the ones fellow parents owned, only 2 made it onto this list. We were picky, so you don't need to be! If you're interested in something a lot less expensive and nearly as much fun, check out the best kids scooters!