The Best Kids Scooters of 2023
Scoot over, strollers! These are the top scooters for preschoolers and big kids.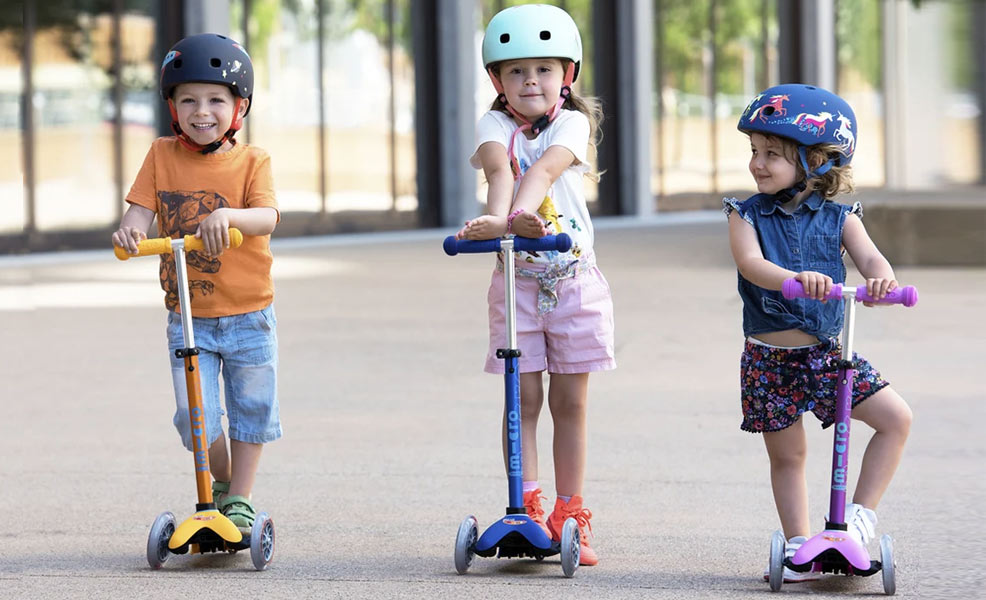 ---
Mommyhood101 independently tests and curates baby gear to help you make informed decisions. If you buy products through links on our site, we may earn a commission.
Kick scooters are a great way to get your kid outside exercising, training balance and coordination, and having fun!
Toddlers can begin with a sit-to-stand scooter with a seat, then graduate to a standing three-wheel scooter at around 3 years old. Finally, they can advance to a two-wheel scooter when they are around 6-8 years old. In line with guidance from the American Academy of Pediatrics (AAP), always have your child wear a helmet, and never let a child under 16 ride an electric scooter.
Just for fun, what does ChatGPT-4 think is the best kick scooter for kids!?
"The Micro Mini Original Kick Scooter is highly recommended by parents and experts. It has three wheels for stability, a lightweight design, and an adjustable handlebar to accommodate different ages and heights." -ChatGPT-4
We don't always agree with our robot overlords, but we think they're on the right track!
When you review kick scooters for over 10 years, you get picky about safety, quality, and features. If we made our own scooter, here is what it would look like:
✔️ Weight limit 80 pounds or higher.
✔️ Three-wheel, lean-to-steer design.
✔️ Large diameter (5") front wheels.
✔️ Adjustable handlebar.
✔️ Folding or removable handlebar.
✔️ Lightweight, under 5 pounds.
✔️ Anodized aluminum frame.
✔️ Wide and grippy deck.
✔️ Double rear wheels.
✔️ Rear wheel push brake.
✔️ Smooth ball bearings.
✔️ Simple assembly.
✔️ LED lights in wheels.
✔️ Durable & high quality.
✔️ At least a 2-year warranty.
Of course, you will also want the scooter to fit your child's style (color, patterns) preferences and meet your budget constraints. That's a lot to ask, and very few kick scooters meet the needs of picky parents!
Below are the top 5 kids' scooters we found, followed by in-depth reviews.
We have been reviewing kids' scooters for over 10 years, including both two-wheel and three-wheel kick scooters, and have found you a ton of excellent options. We consider these two primary types of scooters in this article: the first section considers two-wheel and three-wheel Kick Scooters for big kids, and the second section considers Sit-to-Stand Scooters for toddlers.
To learn more about how we conduct our hands-on reviews, scroll down to the bottom of this article. Open our table of contents to jump to reviews of specific models, or just scroll down to start reading!
Full disclosure: Some of these scooters, including the Svolta, Globber, Arcade, and Lascoota models, were sent to us as free test samples by the manufacturer.
Here are the Best Scooters for Kids 2023!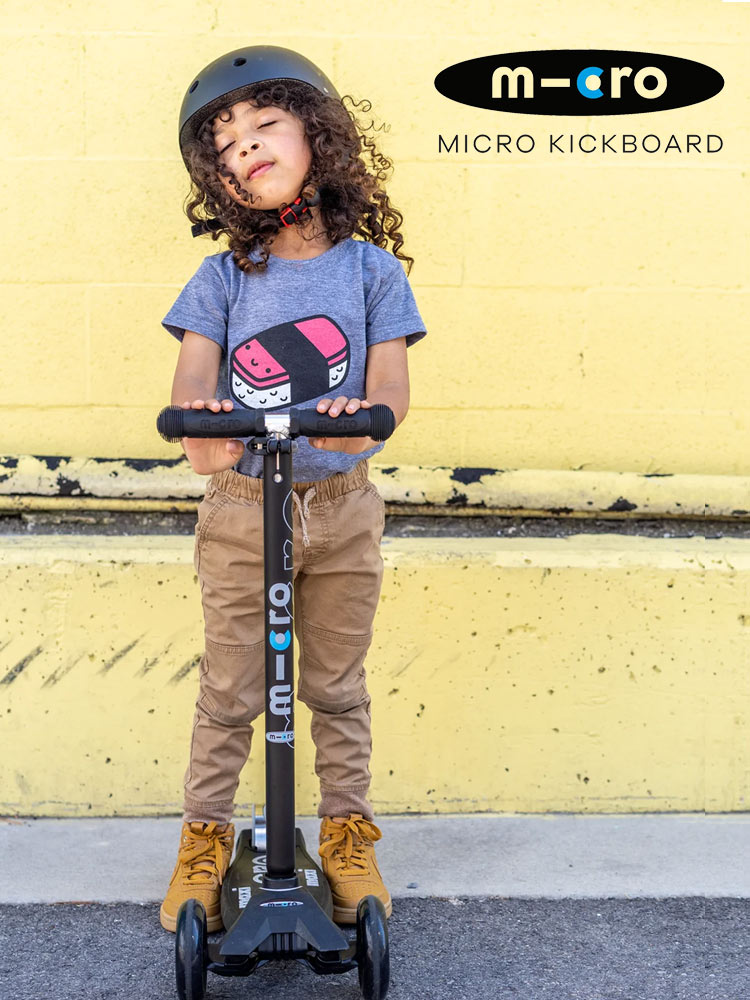 These are the best 3-wheel kids' scooters to get your child, and they make an awesome first scooter for kids about 4 years and up. The Micro Maxi has been at the top of this list for several years, and they have only improved with time. The new Maxi Deluxe version adds an easy-fold handlebar for storage and portability, and some new frame and deck materials for more durability and longevity. The Micro Maxi Deluxe is marketed for kids aged 5-12 with a weight limit of about 110 pounds. They are available in multiple fun colors, the boys who tested it liked the sleek silver Maxi version, and the girls tended to gravitate toward the purple Maxi. This is a safe, reliable, lightweight (about 5 pounds) scooter that is easy to learn, easy to maneuver, and tons of fun to ride! You might notice that there is a Mini and a Maxi version (the Mini is reviewed below). The Mini is a bit more basic than the Maxi. The Maxi adds an adjustable handlebar height (from about 24" to about 28" height above the deck), dual rear wheels, and higher weight capacity. It is recommended for kids 5-12 years old, though our 4-year-old started with the Maxi kick scooter and it wasn't anywhere near too big. The front wheels are over 4.5" in diameter, with smaller rear wheels that are doubled up side-to-side for better braking, stability, and less chassis flexing around corners.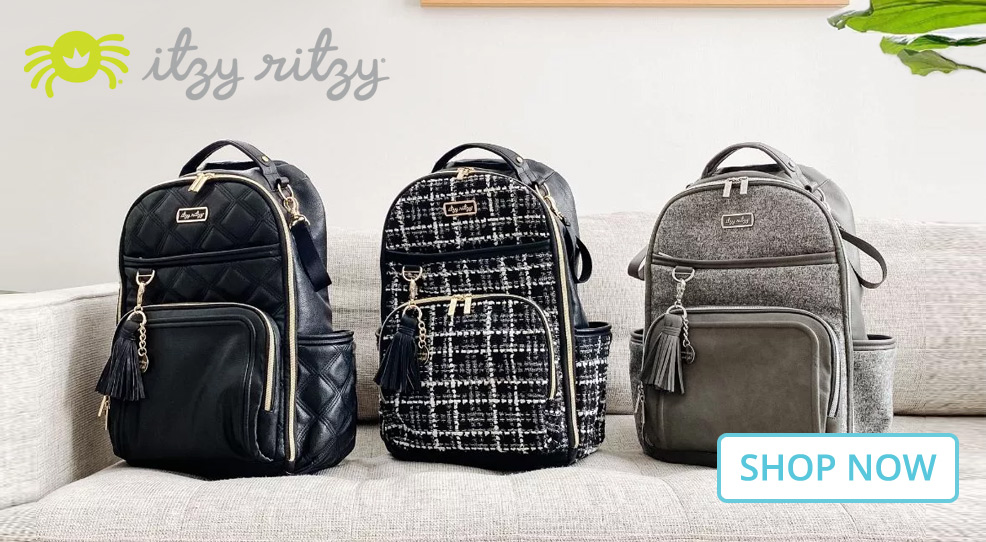 The tires are rubberized and hard; not hard enough to promote sliding, and not soft enough to increase rolling resistance and reduce the life of the tire. The steering is easy to learn and control; to steer, kids lean right or left rather than turning the handlebars (like you would with a 2-wheeled scooter). As you lean, a unique lever mechanism in the front wheels makes the wheels turn slightly in the direction you're leaning. The wheels are low resistance, the bearings are smooth and quiet, the handles are soft and grippy, and the brake works well unless the rear wheels are wet. That last issue happens with all kick scooters, and for that reason, we don't suggest riding in wet conditions with any kid's scooter. The Micro Maxi Deluxe sells for about $150-160 online and is sometimes less or more based on the colors or patterns selected. It is also available with light-up LED wheels for added fun! Note that no batteries are necessary for the light-up wheels. Who else loves the Micro Maxi kick scooters? Our friends at The Wirecutter and The Strategist call them a top pick! Interested? You can check out the Micro Maxi Deluxe Scooter here.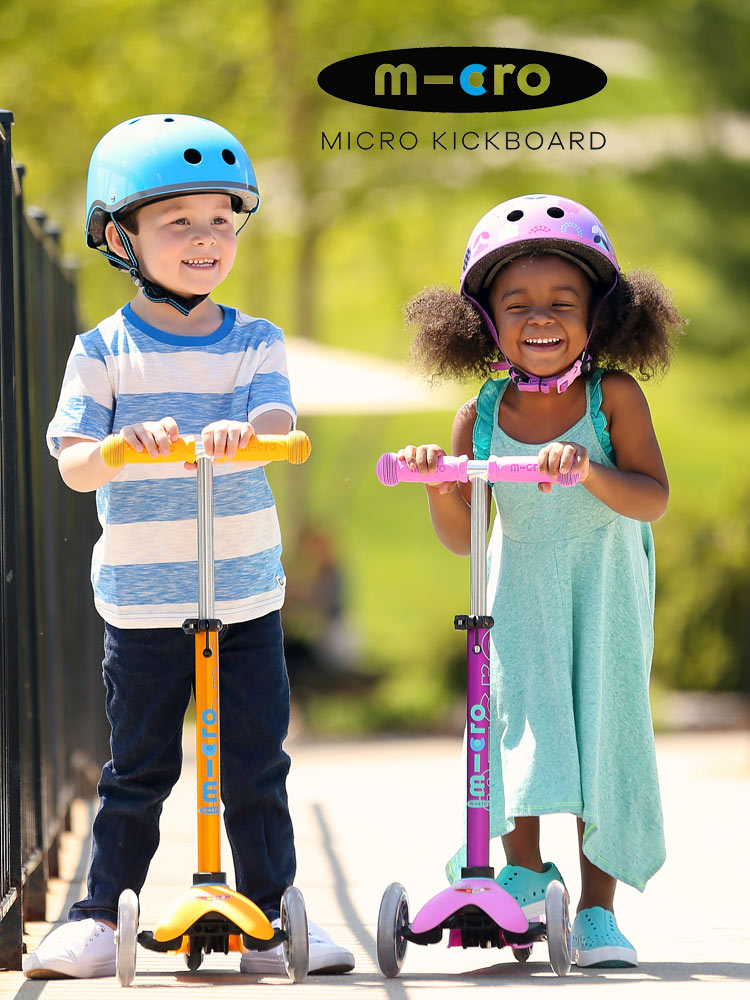 This is the smaller and less expensive version of the Maxi Micro Deluxe, intended for 3 to 5-year-olds up to 110 pounds. Micro scooters are world-renowned for being the highest-quality three-wheel scooters on the market, and the Micro Mini Deluxe is no exception! The original Mini scooter is being phased out in favor of the newer Deluxe version, which includes adjustable handlebar height, LED wheels, and a higher weight capacity. There are a few primary differences between the Micro Maxi (above) and Micro Mini. First, the Mini is aptly named - it has smaller dimensions than the Maxi, with a shorter deck (10.5") and lower height (21.5"). Second, it has a single rear wheel as opposed to the double rear wheel of the Maxi; all things being equal, including rider weight and surface, the Mini will have lower braking ability. Third, the Mini cannot fold flat like the Maxi, though you can detach the handlebar entirely for portability and storage. The Maxi and Mini do have the same front (120mm) and rear (80mm) wheel diameters, T-bar handles and grips, and adjustable handlebar height. They also both have LED lights on the wheels, which light up even at low speeds and don't require any batteries.
We recently got our hands on the new Micro Maxi Deluxe scooters for testing and tried them out with a 3 and 5-year-old. They were both in the normal percentile range for height (about 40-60th percentile) and were the perfect size for the Micro Mini. The Micro Mini is very lightweight and nimble, providing great maneuverability for little kids without overwhelming them with excessive leaning or quick steering. The Mini doesn't gather quite the same momentum and speed as the Maxi, which we preferred for the smaller kids. The rear brake worked very well, the adjustable handlebars moves smoothly and locked securely into place, and the kids loved he LED lights in the tires! We think the Micro Mini is perfect for smaller kids who want to try a three-wheel scooter without being overwhelmed by its size or complexity, but most kids will phase out of it by about 5 years old. At that point, they might be ready to transition to a two-wheel scooter; if not, they can transition to the Maxi very easily. Less expensive than the Maxi by about $50, we think this scooter is a great deal! Who else loves the Micro Mini scooters? Our friends at Babylist call it a top pick! Interested? You can check out this Micro Mini Deluxe Scooter here.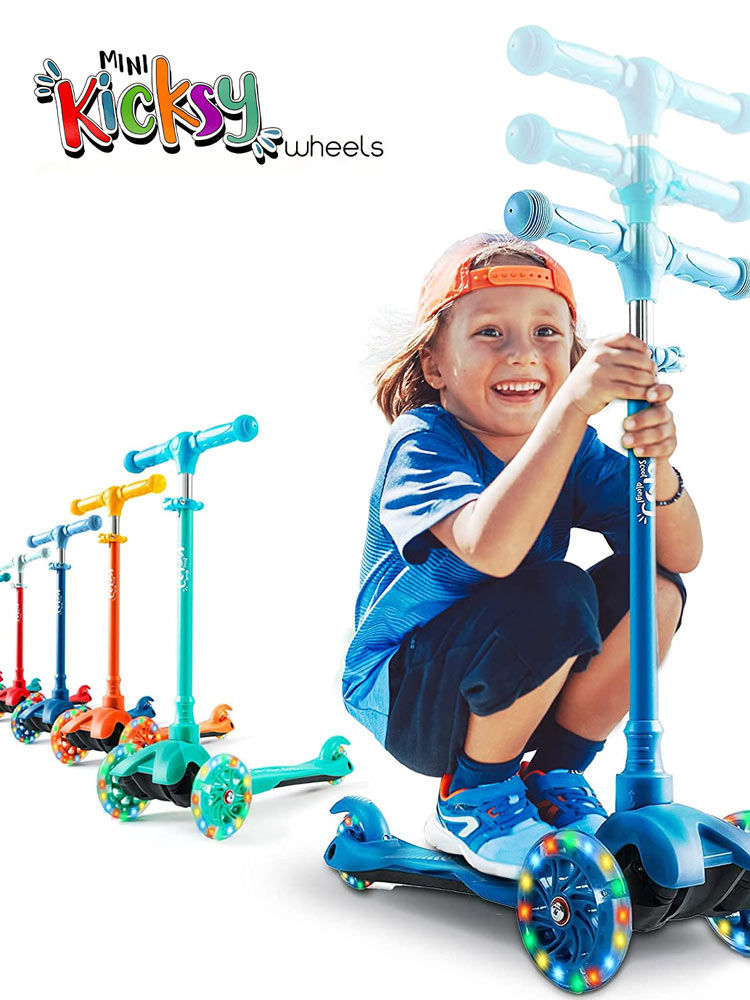 Looking for a less expensive option than the popular Micro Mini and Maxi scooters, and don't want to compromise on features? The Kicksy scooter might be a great option! The Kicksy is available in several fun colors and has some great features: light-up LED wheels, adjustable handlebar (23" to 30" height), removable handlebar for portability and storage, a 110-pound weight limit, lean-to-steer design, smooth tires, and wheel bearings. That is a lot of features for a scooter that is only around $40! We were excited to get our hands on it for testing, to see how it compares to the front-runner Micro scooters.
In our testing, we were impressed with the Kicksy scooters for a few reasons. First, they were easy to assemble and felt reasonably good quality. Second, the dimensions and wheel diameters were basically the same as the Micro Maxi. Third, the colors were cute and bright, and the LED lights on the wheels worked well, which our kids enjoyed! The rear brake worked reasonably well, and it was easy to adjust the handlebar height. The tires and wheels had low rolling resistance, and the lean-to-steer feature worked very smoothly. The only cons we encountered were relative to the Micro series: the handlebar is only adjustable to four fixed heights (not continuously), there is only one rear wheel for braking which isn't great, and the deck is not rubberized which makes it less grippy under the feet. The overall build quality also didn't feel as great, though we didn't run into any issues during our testing. Overall, if you're looking for an inexpensive three-wheel kick scooter, we think the Kicksy is a great option! Interested? You can check out this Kicksy Scooter here.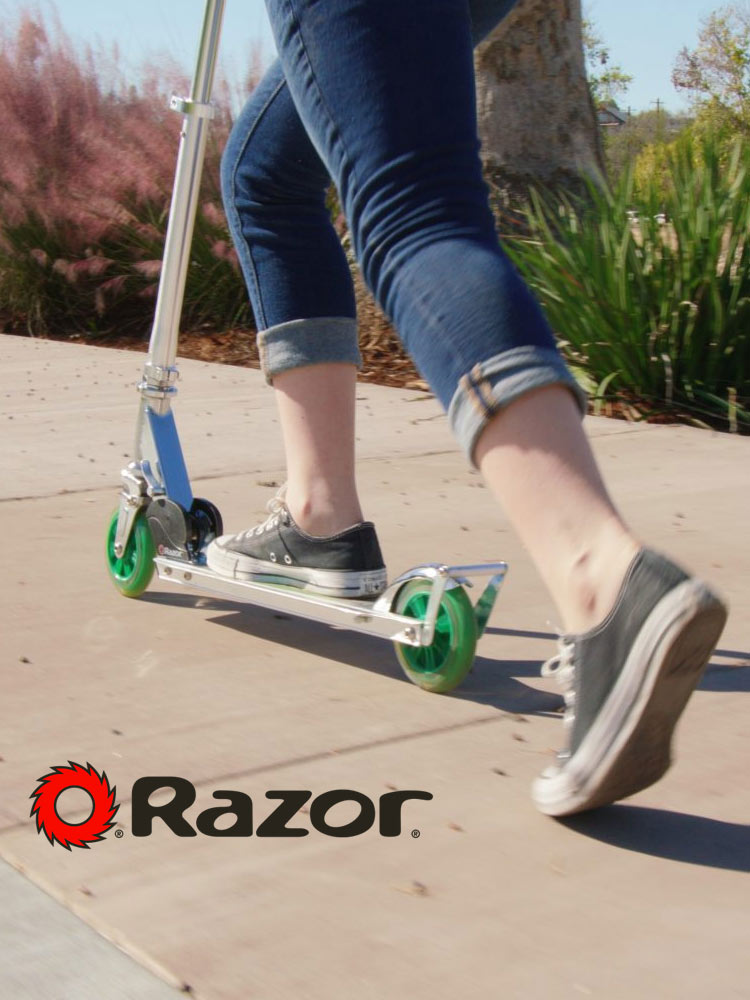 If you're looking for an excellent 3-wheel scooter, go with the Maxi Micro, but if you're looking for a little more challenge for a kid over 4-5 years old with great balance who wants to test his or her limits a bit, definitely go with the Razor A-series of scooters. The series starts off relatively inexpensive (around $50) but grows in price as the scooters get larger and more durable. Because of the variety of options, the A-series of scooters can be a bit daunting to figure out. We're going to help you out with that. The A-series scooters all have some great core features: adjustable handlebar height, durable and reliable rear brake, foldable to a portable size, lightweight aluminum frame, and a high weight capacity given their size and weight. They are all very well built, durable, high quality, and reliable. They have lower rolling resistance than the Micro series, due both to the fact that it only has 2 wheels and also harder tire rubber and good bearings. All things being equal (same kid, same surface, same exertion), that means the Razor will get moving a bit faster than the Micro. We liked the all-aluminum construction on the standing platform and handlebar, making it about the same weight as the Micro but more durable and with less overall chassis flex around turns. It also has a great and easy-to-use folding feature that makes transporting or storage very easy. The series begins at A, and then goes through A2, A3, A4, and A5. The A4 and A5 are really for bigger kids, aged about 7-8+ who have already been riding a scooter for a couple of years. They are larger and more unwieldy for a younger first-time scooter rider (we review the A5 below, for bigger kids and adults).
For a first-time scooter rider, we suggest starting with the A version, which we think is suitable for larger 4-year-olds and up. The A version is the smallest and lightest (and least expensive) in the series, coming in at only 5 pounds with a high 143-pound weight capacity. It has small, 98-mm diameter wheels, which we found to be high quality and have low rolling resistance. The handlebars adjust down very low for the shorter kids, and up high enough to fit a 7-8-year-old. The kids over 7 years old who tested the A version thought it was a bit too small for them (handlebars too low, platform too short, wheels too small). The next size we suggest is the A3 version (we suggest skipping the A2 scooter), which is an excellent 2-wheeled scooter that supports up to 143 pounds but also has a higher handlebar height and longer platform. It also has a few little extras for fun riding - the front wheel has a bit of suspension to dampen rides over rougher surfaces, and it has a little wheelie bar on the back. See the little metal bar popping out behind the rear wheel? If your kid is looking to start doing tricks, they can lean way back without flipping backward, dragging along on the wheelie bar for fun. One of our older and more spirited test kids (8 years) was popping wheelies all the way down the road! The wheels are a wider diameter, at 125 mm, which helps them get over smaller bumps and pebbles without stopping in place. This is a bit advantage over the A model, which tends to have some sudden stops over little pavement cracks and pebbles. So, what are the downfalls of the A and A3 scooters? Well, they are 2-wheelers so it will take a bit longer for a first-time rider to get used to them, and that might mean more falls in the interim. Also, the standing platform is very narrow, so while the pushing foot can rest temporarily on the deck, you'll be hard-pressed to fit more than a couple of toes onto it. Also, the small wheels on these scooters can cause them to get hung up on cracks and pebbles; the A3 is much better than the A, and the A5 is excellent but best for older kids and adults (see our review below). Note that the Razor, because it is a 2-wheeled scooter, uses the traditional steering system (not the leaning system). Overall, we love the Razor series of scooters and think it's a great option for most families. Who else loves them? Our friends at The Wirecutter and The Strategist also consider them a top pick!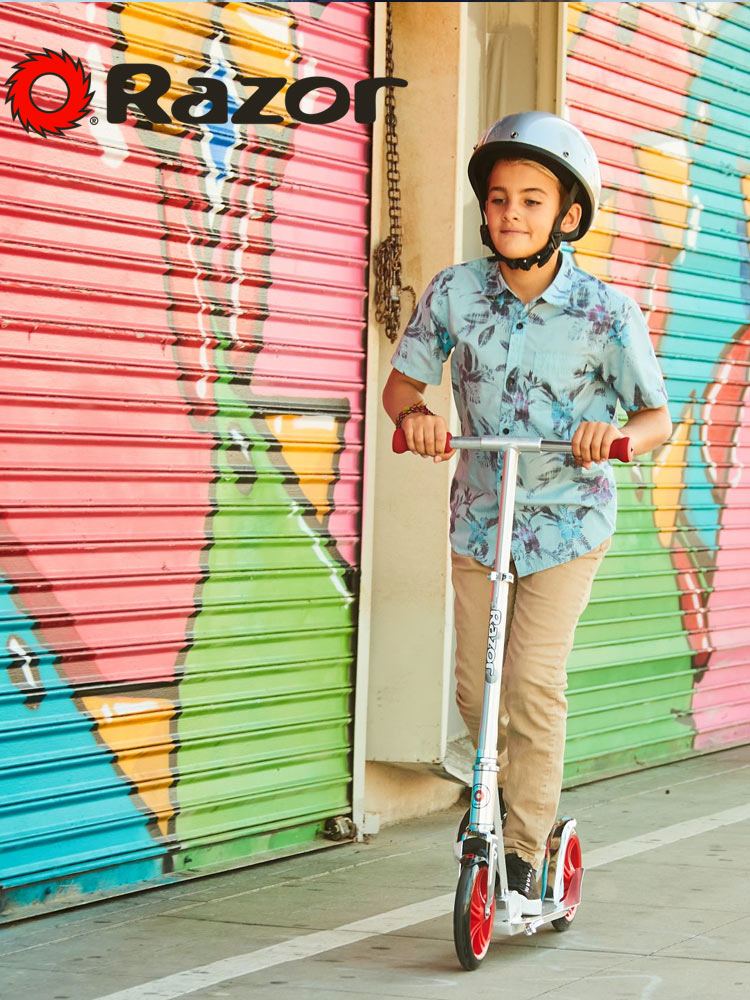 Every once in a while, we test a kid product and the adults in the group end up being drawn to it and enjoying it just as much as the kids! That's exactly what happened when we tested out the Razor A5. It was too big for most of our little kid scooter testers, but the 10-year-old and parents all had a blast on it. Even the tallest guy in the group, at 6'-3" tall and about 200 pounds, thought it was a blast. And he commented that he was impressed that it fit a size 12 shoe with some space to spare. The handlebars adjust to reasonably accommodate kids from about 46" tall all the way up to adults. The weight capacity is 220 pounds, and the scooter is really fun and stable to ride. The wheels are the biggest in the group, supporting higher weights but also less likely to slow down or stop over pebbles or cracks in the sidewalk, and overall a smoother ride without as much vibration. The brake worked really well, though it was a bit noisy - making the sound you'd expect to hear from an aluminum fender rubbing on a hard rubber tire; that's really the case with any of the big-kid and adult-sized scooters, so definitely not a deal-breaker.
This is the biggest of all our best kids' scooters, supporting the largest height, age, and weight range. Even folded up (yes, it folds up easily!) it was rather big since it's about 3 feet long. Definitely small enough to throw in basically any trunk, or in the back of a Jeep Wrangler. This kids' scooter is also relatively heavy, coming in at around 9 pounds. We appreciated that this kids' scooter has a very low standing height, so your inside leg (the non-pushing one) doesn't have to flex at the knee as much during pushing. It's very easy to fold open/closed, easy to adjust the handlebars (there is a little button on the side to put it back down after fully extending them) and feels very sturdy and well-constructed. We also really liked the built-in kick-stand, which didn't interfere with hard cornering and made life much easier when parking the scooter in the driveway, garage, or anywhere else. This is an awesome kid scooter that will really last you a lifetime. The adults in our group forgot how much fun scooters were, and several of them commented that a big-kid scooter that could also accommodate an adult is such an awesome concept. No more running alongside your kid, instead you can scoot right along with them for an awesome family activity. We found the Razor A5 for about $80-90, in a dark blue or red option. Finally, if you're a little worried about stability when learning to ride a scooter, you can get an awesome adult version of the Micro scooter (the three-wheeled ones) for adults up to 220 pounds! Who else loves the Razor scooters? Our friends at The Wirecutter and The Strategist also consider them a top pick!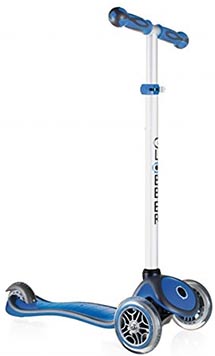 This is another great 3-wheeled kids' scooter that is in direct competition with the Micro Maxi. It has several similar features: it is a 3-wheeled scooter, with two 4.5" wheels in the front, and one wheel in the back. It has a height-adjustable handlebar to accommodate different height kids, ranging between three height settings: about 26", 28.5", and 31" handlebar height above the deck (it locks into those three height settings). And its capacity for growing heights is matched by its weight capacity, all the way up to 110 pounds, the same as the Micro Maxi. It uses a nice aluminum-colored handlebar with rubber and plastic accents. It's a good-looking scooter, and we found that it was a blast to ride. Our test kids said that it was fast, easy to turn, and the deck felt lower to the ground than the Micro scooter series. There is a really cool feature to this scooter that the others didn't have: a front steering lock. The steering lock makes the scooter's steering non-functional, making it only track in a straight line. Now, this isn't great for an experienced scooter rider, but it's really fantastic for a new rider. After a day or two of riding without steering, and learning to balance themselves on the scooter, most kids were ready to disable the steering lock and start using the lean-to-steer functionality. So, that's a nifty little feature that makes this scooter stand out in a growing crowd of kids' scooter options. The rubber urethane front wheels and the bearings both had low rolling resistance and seemed to be smooth and of high quality. The steering mechanism was just about as smooth as the Micro scooter series.
With all these great features, why is it not higher on our list? Well, though this scooter tends to be substantially cheaper than the competition, and its features are quite good, we did find some drawbacks. First, we thought the build quality was a bit below the Micro scooters. There was a bit more flex in the deck as kids bounced and turned, and the braking system seemed pretty flimsy. Second, though the brakes did, in fact, make the rear wheel skid to a stop quite easily, the rear tire wore down from the friction really quickly. It wore down symmetrically from the braking, and asymmetrically from the skidding. After a few skidding stops (that our test kids seemed to love doing), the rear tire had bald spots that made for a choppy ride. This isn't helped by the fact that there is only one wheel that needs to take all abuse, in contrast to the Micro Maxi's 2 rear wheels. Finally, we thought there was more flex in the deck than the Maxi, such that heavier kids (>70 pounds) would make the deck sag down quite a bit, just to the point where it was nearly scraping the ground during riding. So it's hard to imagine that the weight capacity is truly 110 pounds: maybe it won't break the scooter, but it also won't make for very fun riding if the deck is scraping the road! So, overall a great and inexpensive contender to the Micro Maxi, with some definite drawbacks. But if you're looking to save some cash, this could be a great option! Who else loves Globber kick scooters? Our friends at The Strategist consider them a top pick! Interested? You can check out the Globber Primo kick scooters here!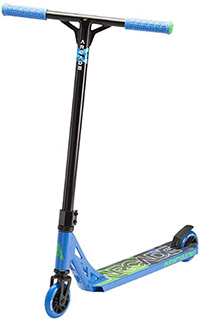 This is the best kids' trick scooter on the market, offering superior quality components, excellent durability, and a nice smooth ride. This is the perfect stunt scooter for the child (usually over about 6-7 years old) who is a bit more of a thrill-seeker than others. It's a great first scooter for kids interested in starting to try some tricks, like jumps, slides, and spins. Or, even if they're not ready for that yet, it gives them the opportunity to try things out when they're interested in exploring some more adventurous riding techniques. So what makes it a stunt scooter? A couple of things. First, it has a very solid construction with a sturdy 3D stamped neck (the part connecting the board to the headtube), 3D stamped steel fork (the part connecting the headset to the wheel), 3D stamped T-bar reinforcement, and the welding quality is quite good on all the components. Second, it has high quality and super smooth ABEC 7 bearings inside the 100mm wheels, which means that they are very low resistance, smooth, and didn't deteriorate in quality when we rode through some shallow puddles and dirt. Third, it's lightweight (just under 8 pounds) but strong enough to support riders up to 220 pounds and withstand impact during tricks. It also features a high-quality sealed headset with IHC compression, a slightly concave deck (where you put your foot), and swappable wheels (up to 120mm, not included). Out of the box, it comes with 3 parts. One is the deck and wheels, one is the headtube and T-bar, and the other is the plastic floor stand (since there is no kick-stand).
Assembly is pretty easy: you put the deck into the floor stand to hold it up, put the headtube onto the deck, and screw the two Allen bolts tight (Allen wrench included). The trick is to get the headtube and front wheel correctly aligned, by aligning the slots on each piece. On one of our test scooters (we had two), this alignment was simple and perfectly aligned, but on the other, we aligned the slots but the wheel was crooked. So that involved some manual adjustment. Assembling the scooter took about 5 minutes, mostly because you need to remove all the packing wrap first. Once it's assembled, you're off to the races! Overall, we found the scooter to be well-built and comfortable to ride. The handlebar grips were good quality, and angle of the headtube was pretty good, and it felt very stable and well-constructed. My husband (about 195 pounds and 6' 3" tall) rode it for about 30 minutes and was impressed by how good it felt under his weight. The brake worked really well, even when the wheels were a little wet. Steering had a tiny bit of resistance, which was nice rather than spinning around freely. The deck itself, at least the part where your foot can fit, is about 13" long and 4" wide. The height from the deck to the top of the T-bar is about 29.25" (the headtube is 22.5"), and the T-bar itself is about 18" wide. So what is this scooter missing? A few things: there is no folding headtube/handle-bars for storage and portability, no adjustable handle-bar height, and no kick-stand like some of the Razor scooter options. But those aren't features you'll typically find on a stunt scooter, they're features you find on a scooter designed for more recreational use, so they're excusable. Our 7-year-old son loved the scooter, though he already looked a little tall for it (though he's pretty tall for his age, at 53" tall). We do understand that stunt scooters tend to have relatively low handlebar heights, and this scooter isn't really designed for comfort per se. So overall we have an awesome and super fun kids' scooter here, but it's really designed for the kids who want to try their hand at tricks and stunts, rather than for the more recreational riders. If your kid is a thrill-seeker, this could be the perfect option for him or her! Interested? You can check out the Arcade Defender stunt scooters here.
---
Here are the Best Toddler Sit-to-Stand Scooters of 2023!
The sit-to-stand scooter is the best toddler scooter option, offering an easy transition from sitting and scooting around indoors and out, to standing and scooting around like a big kid! We have tested dozens of sit-to-stand three-wheel scooters, and here are the best ones we've found!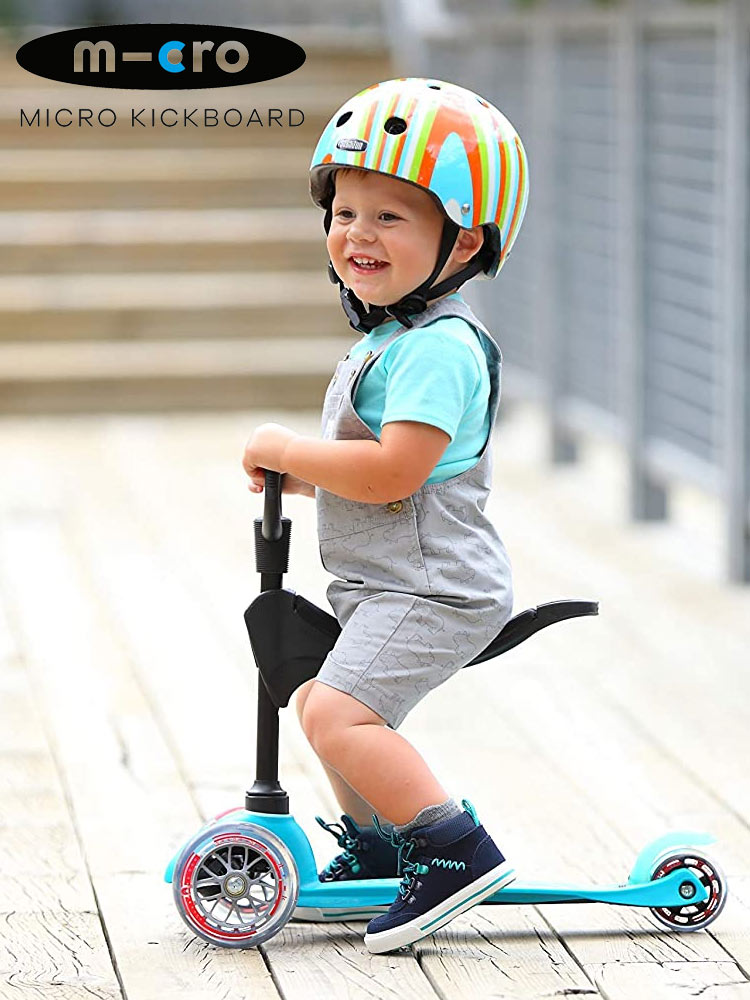 For more adventurous kids from about 2 years old and up, a sit-to-stand scooter is a fantastic way to get them to gain confidence and balance skills while sitting on a three-wheel scooter. When they are ready for something more challenging, you can remove the seat and make it a traditional standing three-wheel kick scooter. Of all the sit-and-stand kick scooters available on the market, Micro makes the best overall. Noticing a trend? Micro makes the highest quality scooters we've seen, and this Mini 3in1 scooter is no exception! The Micro Mini 3in1 is basically the same scooter as the Micro Mini Deluxe, which we review above. However, the 3in1 Deluxe version has two additions. First, it includes a separate handlebar with a circular handle that is much easier for toddlers and little kids to hold onto. In the photo, that is the black handlebar with a circular grip. Second, it includes a separate detachable seat that toddlers and little kids can sit on while scooting around. Both the black handlebar and seat attachment can be removed and swapped out for the included aluminum T-bar handlebar (the same one that comes with the Micro Mini Deluxe). So, for about $30 more than the normal Micro Mini Deluxe, you get the seat and separate handlebar. We think that's a great deal! The seat itself can support up to 44 pounds of weight, and without the seat, the scooter can support up to 110 pounds.
In our testing, we loved the new seat and handlebar! The seat has an adjustable height for growing legs, is reasonably comfortable, and has a parent safety handle on the back. The seat isn't padded, but remember your child will likely still be in diapers at this point. The new handlebar is cute and simple, and easy for small hands to grip. We were able to test the Mini 3in1 scooter with a 13-month-old toddler who had recently learned to walk, and he absolutely loved it! He's in the 40th percentile for height and his feet were able to reach the ground on the seat's lowest height setting. He quickly learned how to scoot around and had a ton of fun! He didn't learn how to use the lean-to-steer feature in the few days we tested it, but his older sister (26 months) learned quickly and had a ton of fun (with a higher seat position). It was great to see that even older kids had fun with the seat attached, and we appreciated the parent safety handle on the back, which can come in handy when you need to stop a runaway scooter! Overall, the quality was fantastic and the scooter was tons of fun for all ages, primarily from toddlers up to about 5 years old. Coming in at about $125, it's more expensive than other options (like the Lascoota, below), but we think the price is right given the quality and versatility. Interested? You can check out the Micro Mini 3in1 here.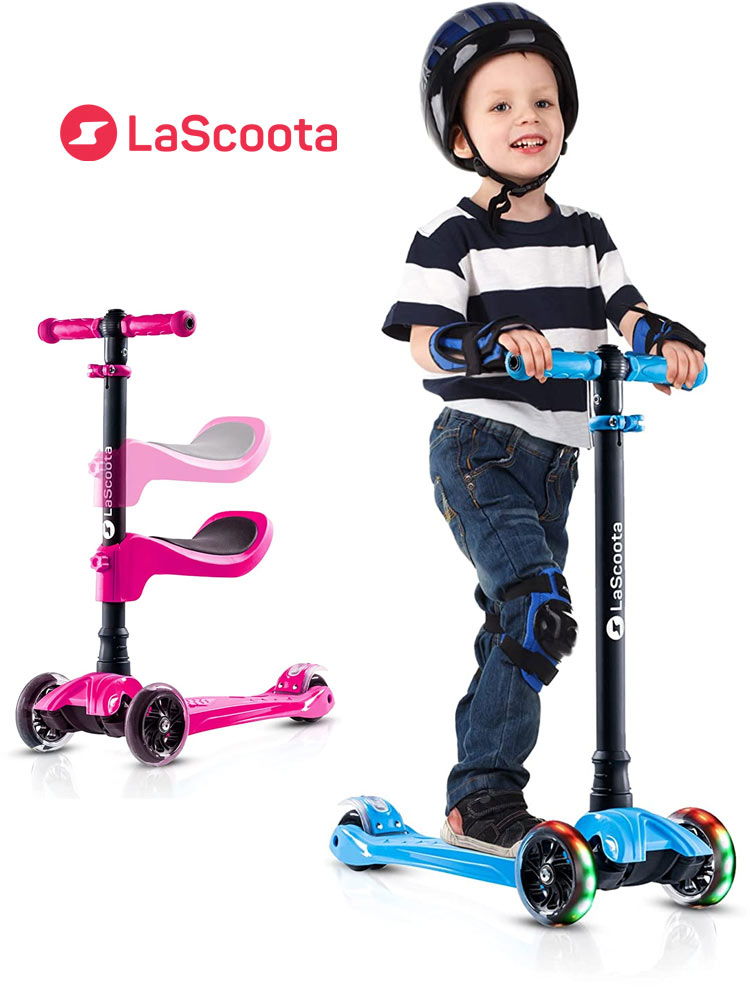 Here is a new 3-wheel scooter option that includes a detachable seat so kids can scoot while sitting to gain confidence and balance before venturing into a standing scooter mode. Of course, this isn't the only sit and stand scooter on the market, but it's definitely one of the best! It's overall very similar to the Maxi Micro and Svolta Mega in terms of size, construction, and features, but definitely wins in the price area, coming in at only about $60. It also adds a few features relative to those models. First, it has colorful LED lights in the wheels that light up when you spin the wheels - our kids loved these and wanted to ride after dark (which of course was a big no-no) - so they rode around in our dark basement and had a ton of fun. A note about the lights - if you don't want the wheels to light up while riding, you can disable them by removing a tiny magnet from each wheel (using the included Allen wrench). Second, it has the detachable seat that is perfect for helping toddlers learn how to maneuver and steer the scooter without needing to balance while standing.
The seat was a little low for our test kids, but it seemed perfect for a younger toddler, maybe a 2-year-old or shorter 3 year old would be more suitably sized for the seat. It attaches at two heights (both are pretty low overall), and it is super easy to attach and detach using a big knob, and no tools are required. Additional features include adjustable handlebar height (4 levels, from about 25" to 34" high), a weight limit of 110 pounds (same as the Micro Maxi and Svolta Mega), and a double rear wheel for high-friction braking (like the Micro Maxi). We found it to be smooth, stable, and have effective braking. Relative to the Svolta (below), it doesn't have the ability to stow its own seat when not in use - not a big deal but worth pointing out. After a couple of months of use, the scooter did have a couple of little minor issues. First, one of the wheels stopped lighting up when riding. Second, one of the screws came loose in the steering mechanism and we had to tighten it. Outside of that, we are still having a ton of fun with the Lascoota, over 2 years later it's still going strong! Overall, we think this is a highly capable scooter with some great features and an even better price, but you're going to compromise a bit on quality relative to some of the front-runners. Interested? You can check out the Lascoota Kick Scooter here.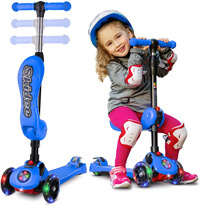 Once two of our neighborhood kids were zipping around on these adorable Skidee scooters, we had to give them a shot! Like the Lascoota, this Skidee model combines a seated scooter functionality with a big-kid kick scooter by virtue of an easily detachable seat. The seat is great developmentally when a child is first learning how to ride a scooter, but can also be great for versatility and when your child gets a bit tired on a longer ride. That's why we think these are the perfect option for kids from about 2 years old up to around 10 (or up to 60 pounds). To achieve that big of a range, Skidee made the foot deck nice and large, and the handlebars adjust about 6" up and down. One advantage of the Skidee over the Lascoota is that the seat can be folded up and brought along for the ride, just like with the Svolta. The Skidee scooters come in Y100 and Y200 versions. We purchased both so we could compare them. The Y200 is the overall better scooter for a few reasons. First, it has dual rear wheels under the brake, which makes the braking have higher friction and therefore more effective. Second, the Y200 is a bit larger and taller, so it's more appropriate for taller kiddos.
Other than that, there are only minimal differences between the two, such as the Y200 having a slightly larger seat and wider deck, and the Y100 has music in addition to the wheel lights (which both have). Overall, we think the Y200 is the better bang for the buck, since it offers a bit more versatility, stability, and safety, while still only weighing about 7 pounds. The one detractor for the Y200 versus the Y100 is that it doesn't fold for storage, you need to pop off the handlebar entirely. For us, this wasn't a big detractor since we only travel with it once a year, if that. In our testing, the Skidee scooter was surprisingly high quality, durable, smooth, and easy to ride and steer. The lean-to-steer handling was great, the brakes were super effective (even when a bit damp), and the wheel lights were a ton of fun. The seat folded down and up very easily, and it also adjusted easily across a pretty wide (about 6") height range. Overall, we love these new scooters and at about $60 we think the price is right! Who else loves the Skidee scooters? Our friends at Motherly and Scary Mommy also consider them a top pick! Interested? You can check out the SKIDEE Sit and Stand Kick Scooter here.
While the Micro and Razor series scooters are great for bigger kids, we also tested out scooters for the littlest kid in our group (he's 20 months). There aren't many options in this category, but we really liked the safety and features of the Radio Flyer Scoot 2 Scooter. This is a transitional scooter that starts as a sitting scooter and then transforms into a kick scooter. Before you make it a standing scooter, you can use it as a super fun sit-and-ride toy. Since this article is about scooters we'll focus on that aspect. In our testing, we found this scooter to be sturdy and safe. It has 4 wheels with a very wide wheelbase on the front, so it was very hard to tip side-to-side. The steering is a simple point-and-go, and it doesn't have any extreme turning angles to keep things safe. It's very simple and the two little ones in our group figured out how to ride it pretty well after a couple of tries. We think it's an awesome way to give kids exposure to the kick-scooter type of toy, and we think after a year or two using it they will hit the ground running with the Micro series. Cons? Well, for those looking for something that will provide a bit more of a scooter experience and less of a baby toy, hold off until about 2.5 years old and go with the Maxi Micro. Also, we think it's best suited for indoor play or a very smooth asphalt driveway. In our opinion though, this is a great and relatively inexpensive way to get your baby scootering and having fun! Who else recommends the Radio Flyer scooter? Our friends at WhatToExpect call it a top pick! Interested? You can check out the Radio Flyer here!
Electric Scooters for Kids?
We have personally tried the Mongoose React, the Razor E100 and Razor E300, and the Gotrax GKS electric scooters. All of them are great options, delivering a super fun ride, high speeds, and decent battery life and range. Unfortunately, we have also seen major electric scooter accidents, including broken arms and concussions, mostly in children 10-12 years old.
Even in college students and adults, recent studies demonstrate huge increases in accidents, serious injuries, and even fatalities after electric scooter rentals were introduced near college campuses (reference) and in urban centers (reference). Frankly, electric scooters and kids don't mix, and electric scooters and traffic absolutely do not mix, it's simply a recipe for disaster. It only takes one small mistake, or one inattentive driver, to cause a tragedy.
For that reason, we are hesitant to include electric scooters on this list because they're not really appropriate for children under 12-13 years old. If your child is going to ride an electric scooter in spite of our advice, we strongly encourage you to monitor their safety - including wearing not only helmets and pads at all times, but also teaching them how to stay away from trafficked roads.
How to Pick a Kick Scooter
Like with kids' bikes, all of the best kid scooters take a little bit of practice to get used to. If you start with a 3-wheeled kid scooter the practice time will be significantly cut down, your child will be less likely to fall and get road rash, and they'll be comfortable using it after the 2nd or 3rd try. It's even better to start with a scooter that has a little seat, to help them get familiar with how to scoot and steer before standing up on the platform.
Our children got their first kick scooters when they were 3, and they used them until they were about 6 and then switched to the 2-wheeled scooter. Three years of fun for a toy that costs about $100 is pretty good, and you'll definitely be able to use it again with a new kid or give it to a neighbor.
In addition to whether they have 2 or 3 wheels, kids' scooters vary in a few other important ways. These include weight and height capacity, wheel size/diameter, stability, safety, braking capability, price, and fun. All of our top-rated scooters are excellent in all of these regards. We suggest starting with a 3-wheel kick scooter and then advancing to a 2-wheel kick scooter as they gain confidence, skills, and height.
Here are a few additional factors to consider when searching for a great kick scooter:
First, weight and height capacity are important, as many little kids' scooters have rather low weight limits and handlebars that you will find a 4 to 5-year-old growing out of quite quickly. Make sure you purchase a unit with a weight capacity of at least 20 pounds heavier than your child and height-adjustable handlebars.
Second, wheel size (diameter) is important. The larger the wheels, especially the front wheels, the more versatile the scooter is across varied terrains (even with little pebbles and cracks on the road). If you purchase one of the less expensive scooters with tiny diameter wheels, there will be situations when your child will bump up against a pebble or crack in the sidewalk and the scooter will suddenly stop (possibly sending your child flying forward). This is the same thing that can happen with a skateboard. The best kids' scooters should not only be fun, but they also need to be safe, and the larger the wheel diameter, the safer the ride.
Third, stability is impacted by several factors, but we've found that the width between the two front wheels (on 3-wheel kids' scooters) is important, as is the standing platform width. In general, the wider the gap between the two front wheels, and the wider the standing platform, the better the stability. This will make the scooter easier to learn, and a more stable experience around the turns.
Fourth, a braking system is great to have and most are quite easy to use. Though most kids' scooters are equipped with the push-down rear wheel fender brake, some do not include a brake at all. The best kid scooters will always have a rear brake, which is especially helpful for those downhill rides when you simply need to slow down a bit while cruising. In our tests, we've found that the wider and sturdier the rear step-brake, the better it works. The thin aluminum ones don't work very well especially when the wheel gets a bit wet and reduces friction. As always, kids should use caution riding scooters, as the brakes are never super effective for stopping quickly.
Always watch your children when they are riding a scooter. Make sure they are wearing a helmet and elbow and knee pads, and are staying off the street. Safety first, fun second!