Elepho eClip Review and Video
Keep your baby safe and sound on the road with this popular monitoring device.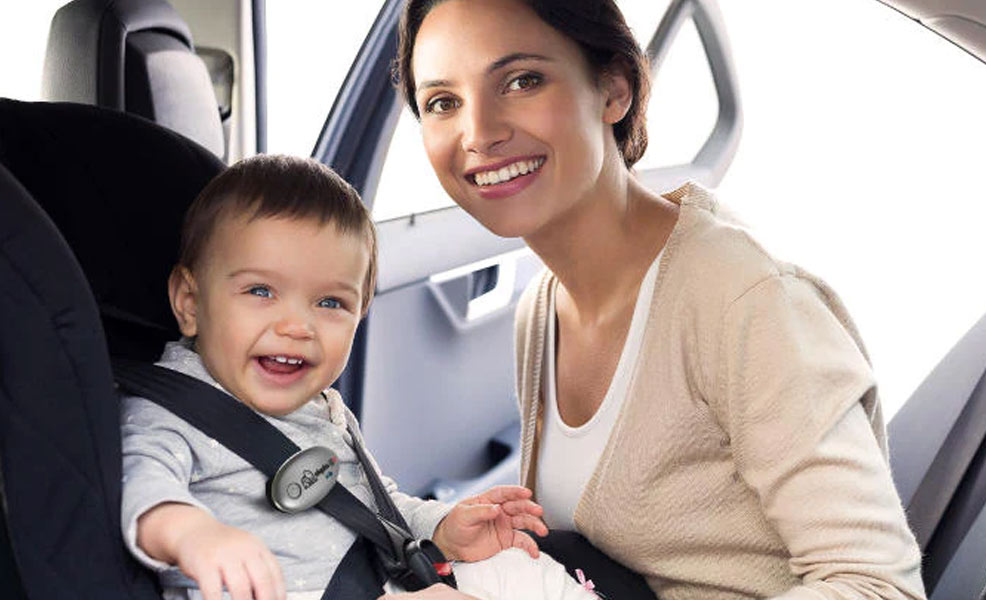 ---
Mommyhood101 independently tests and curates baby gear to help you make informed decisions. If you buy products through links on our site, we may earn a commission.
Did you know that the safety organization Kids and Cars did a study and found that about 37 kids die each year in hot vehicles?
It doesn't get much scarier than possibly leaving your baby or toddler alone in a hot car, and the Elepho does a great job lowering that risk.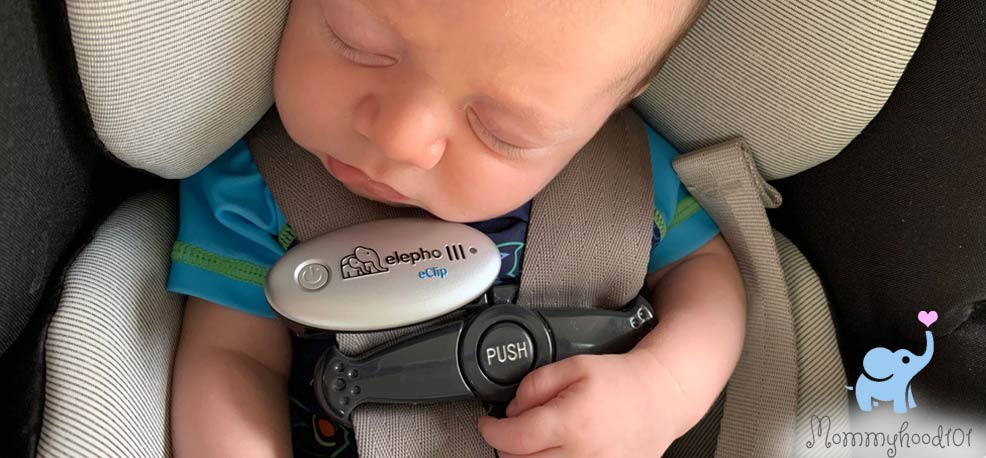 We got our hands on the Elepho eClip for testing late last year (thanks, Elepho!), and were super impressed with both the concept and the execution!
To be fair, we loved the idea before we even took the eClip out of the box for testing. Even the most attentive, responsible, and careful parents can have momentary lapses of attention and judgment, and we are not proud to admit that we have nearly walked away from our vehicle more than once - almost forgetting to take our baby along with us into the store or house.
That's the stuff nightmares are made of, and the Elepho eClip will help you sleep at night knowing that your baby is protected not just against your momentary lapses, but also from the same happening to grandma, the babysitter, or any other caretaker.
We think the eClip would be a great purchase for any anxious or forgetful parent who wants to make sure their little ones are safe and sound. Is it perfect? Not quite, but it's darn close!
Even if you invest in one of the best infant car seats or best convertible car seats on the market, and unless you're willing to fork over $350 for a specially-equipped Cybex car seat, the car seat isn't going to tell you when your vehicle is too hot for safety, or when you've accidentally left your child in the vehicle.
And that's where the Elepho eClip comes in, providing you with a universal solution to exactly these problems.
Elepho eClip Review
Nobody wants to read through an entire article to get to the conclusions, you've got more important things to do! So here are our findings, right up front.
Spoiler alert, we think the Elepho eClip is a great option for parents looking for a little extra safety and peace of mind. It's not perfect and absolutely doesn't replace responsible parenting; but the price is right, and we give it an overall 4.4 stars (out of 5)!
Here is a summary of what we loved, and some things that could be improved.
✔️ Easy to Follow Setup Guide.
✔️ Included Battery (size 2032).
✔️ Long Battery Life (500 hours).
✔️ Versatile Attachments.
✔️ Intuitive iPhone/Android App.
✔️ Reliable Temperature Alerts.
✔️ 25-foot Proximity Alert.
✔️ Lightweight and Portable.
❌ Finicky App Settings.
❌ Must be Manually Activated.
That is a lot of amazing benefits, making us pretty excited about the eClip overall!
We love that it is super simple to setup; it only took us about 5 minutes to open it, install it on our car seat, and get the app sync'd and working.
It includes a coin battery (size 2032) that lasts about half a year. Elepho recommends replacing it twice a year, around the beginning of summer and at the start of winter.
You can attach it to anything you take with you, including the baby, the car seat, a diaper bag, or using the accessory strap that can attach to nearly anything.
In our testing, the temperature alerts were reliable and loud, as were the proximity alerts.
The overall device is lightweight and portable, and we think the price is fair at about $50.
Cons include some finicky setup required for your device that can make the App work more or less effectively (read our review to learn more), and the fact that you need to turn on both the device and the App each time you want to use it.
Feel like an Elepho eClip expert now? You should! But if you're still uncertain, continue reading to see how we reached these conclusions!

Elepho eClip: First Impressions
To be 100% transparent, Elepho sent us a sample of the eClip for testing (thank you, Elepho!).
That doesn't necessarily bias us; in fact, nearly half of what manufacturers send us does not make it onto our site due to quality concerns.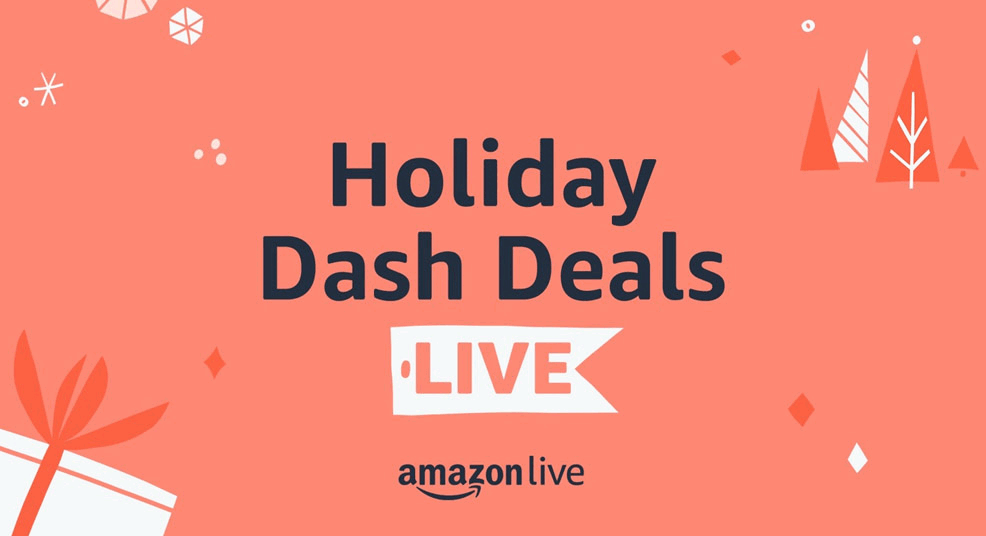 Shipping took just a couple days from order confirmation to arrival at our doorstep - very easy!
The box is small and the packaging is smart and easy to open.
Here is what's in the box: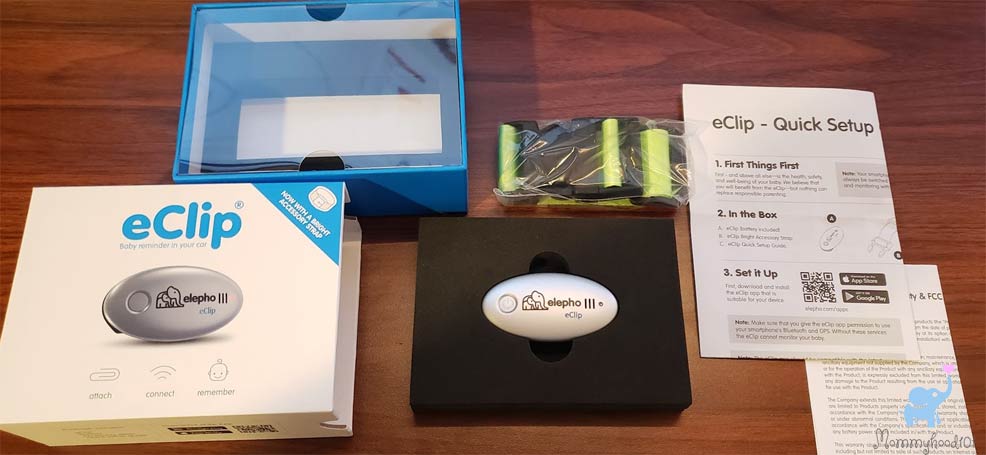 The box includes the eClip itself (of course), a quick setup guide, a bright green accessory strap, and a warranty information booklet.
When you flip the eClip over, you'll see two things. First, a screw-off cap that you can use to access the battery, along with a red plastic pull-tab to activate the battery. Second, you'll notice that it has grooves that you can use to thread your car seat's shoulder straps through.
The quick setup guide was surprisingly quick and useful. Basically, you need to download and install the (free) eClip app on your iPhone or Android.
Then, you need to install the eClip in your car, turn it on, connect it to your phone, and customize the settings.
It sounds like a lot, but realistically it took us about 5 minutes.
The device itself is super lightweight, coming in at only 0.7 ounces (or 15 grams), and it's very small (about 2.5" wide, 1.3" tall, and 0.6" thick).
First impressions? Very positive! And surprised with how easy and lightweight it is!
Installing and Customizing the App
Finding and installing the App was simple.
Once you install it, there are a few customization steps to follow in the settings.
Specifically, you'll want to set up a few things:
You can enter a name and photo of your child. This is pretty cute to be honest!
You can select how you want your phone to alert you when you leave a 25-foot radius of your vehicle. Examples are male or female voices, or donkey or starlight sounds! You can also select the frequency of these alerts: 30 seconds, 1 minute, 2 minutes, or 3 minutes.
You can set the temperature alerts, with both lower and upper bounds. For example, you can have an alert when the temperature drops below 50 degrees (F) or rises above 85 degrees (F). Of course, you can use Celsius if you'd like as well. Again, you can also set the frequency of the alerts, or turn them off entirely.
Here is a picture showing the customizations in the App: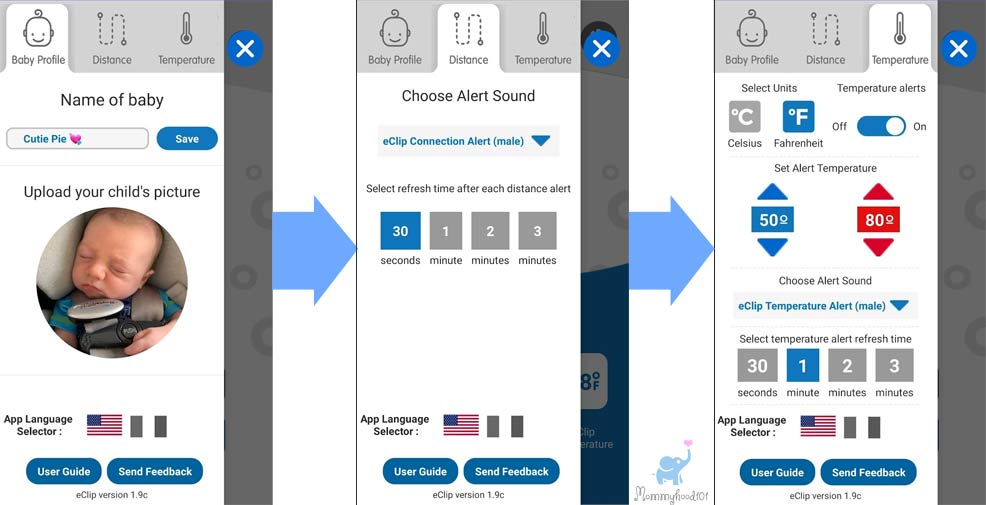 Here are a few important points about the app that we learned along the way:
Make sure your phone's Bluetooth is on.
Make sure your phone is NOT in power-saving mode.
Make sure your phone's sound is on, and notifications are turned on.
Once you've configured the eClip app, now it's time to get it connected!
For us, all we needed to do at this point was hold down the power button on the eClip for 3 seconds to turn it on, and it paired.
Here's what that looks like:
You'll notice a few things on the picture on the right. First is the battery level status. Second is the Bluetooth signal strength (in this case, 3 bars), and third is the currently sensed temperature (in this case, 68 degrees).
Everything worked very easily and intuitively, and we're happy to report that we haven't experienced any connectivity issues or crashing with the App.
Attaching to Car Seat
Like we mentioned previously, the primary method for using the eClip is to attach it to the car seat's shoulder straps.
On the back of the eClip there are slots to put the shoulder strap through, and it's pretty easy to attach.
Here is what that looks like: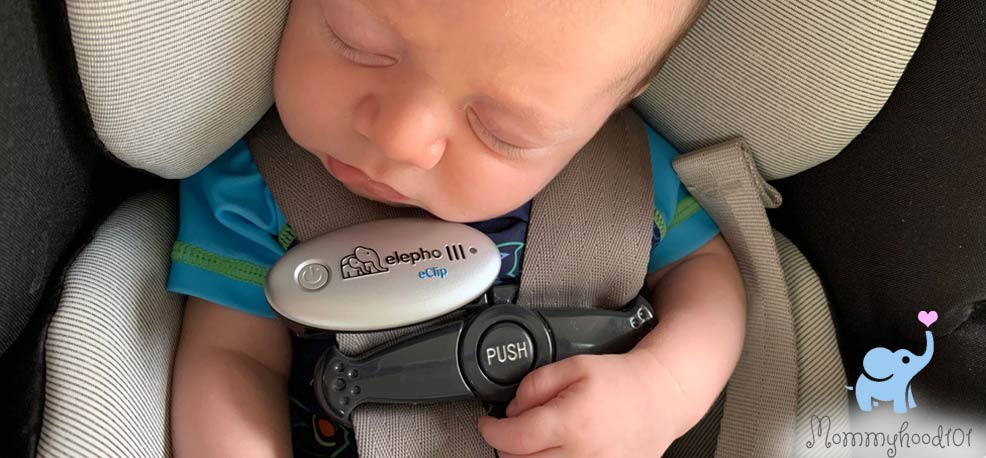 Of course, you can also use the included accessory strap to attach it to your diaper bag or anywhere else you might like.
We found it easiest to attach it to the car seat, since we needed to be buckling the chest strap anyway, and it reminded us to turn it on by pressing the button.
Then when you remove your baby, you can either turn it off manually, or simply shut down the app to turn it off automatically.
Overall, we found installation to be simple and versatile. The accessory strap worked well too, and we were able to attach it to our diaper bag, and even our baby's ankle! I'm not sure whether we should condone that sort of behavior!
Testing the Elepho eClip
This is probably the most important part of this review. Does the eClip really work!?
We are happy to report that it worked very well. The only thing you need to make sure is that you follow the above steps to make sure your phone is working correctly for it, that the eClip is turned on (duh!), and that the App is open and connected. In our experience, if you're using it correctly, it will work correctly for you!
To test the eClip we did a couple tests:
We locked it into our hot car and sat outside for a few minutes, to test the high temperature alert.
We put it in the refrigerator to cool it down, to test the low temperature alert. It was 91 degrees F outside when we tested it, this was the only way to test the cold alert!
We left it in the vehicle and walked away with our phone in our pocket, to test the distance/proximity alert.
We are happy to report that all three tests worked perfectly.
For the temperature alert, we got the following (very loud) message, along with a bright red App screen:
eClip temperature alert! Please check that your child is OK!
For the proximity alert, we got the following (very loud) message, along with a bright red App screen:
eClip connection alert! Have you taken your child out of the car?
Both alerts were very loud and clear, and the app lit up bright red and was pretty noticeable. Here is what that looked like on the app: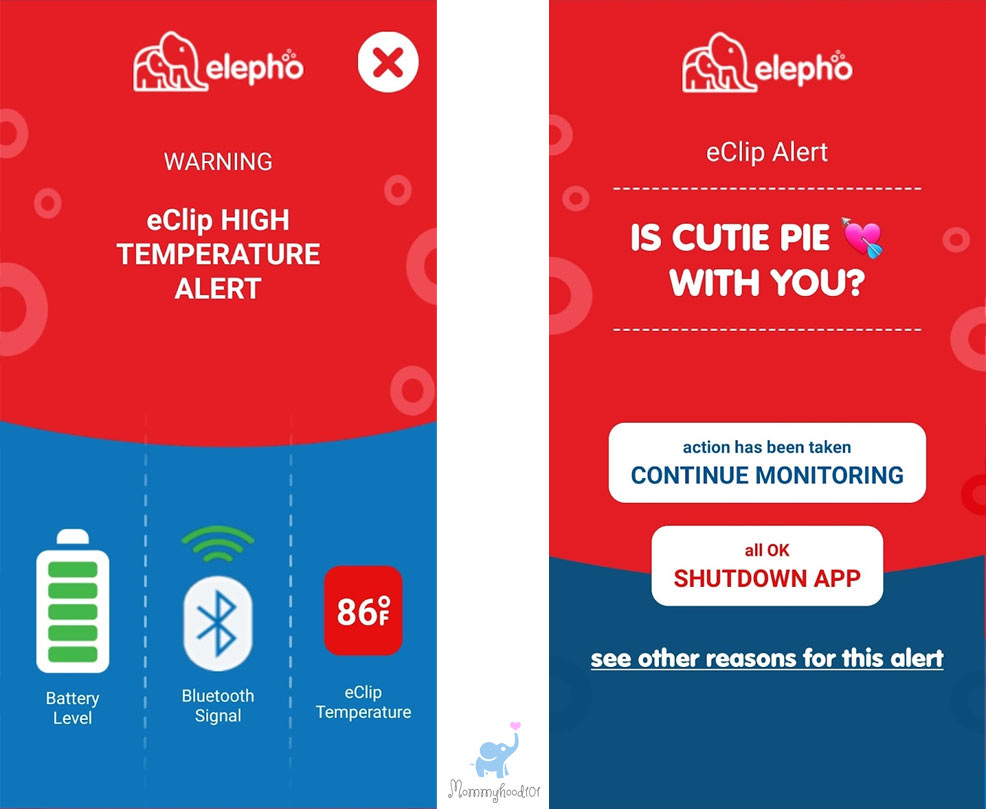 Simple and effective!
Conclusions of our Review
We were very excited to get our hands on the Elepho eClip for a hands-on review!
Is it perfect? Not quite, but it's darn close! We give it 4.4 out of 5 stars.
We absolutely love the concept, and think that it represents great progress towards smartphone-integrated baby safety devices.
It also does a couple important things, perhaps unintentionally:
By making you turn the device on when you put your baby in the car seat, it implicitly draws your attention to the fact that your baby is in the car, and you should be thinking about your baby's safety.
By powering up the app, the same thing happens, and it keeps your baby in the back of your mind as you monitor their situation during your trip.
Both of these attributes help focus your attention on your baby's safety. So even if you never get an alert, and never truly need the eClip, it may have done part of its job already: making you a more attentive and less forgetful parent! That peace of mind is definitely worth something.
We only found a few cons in our testing, both of which were relatively minor annoyances that there probably is no good solution for:
Problem: The fact that your phone needs to have Bluetooth on, power saving mode off, and the App running. Not sure about you, but I keep my power-hungry Galaxy S9 in power-saving mode 24/7, which includes turning off Bluetooth and killing background Apps. Solution: Be sure to plug in your phone to keep it charging while you're using the eClip!
Problem: You need to turn the eClip on every time you want to use it. It automatically powers off when you stop using the App, but does not automatically turn on when you start the App. This makes sense for saving battery life, but it's also yet another thing you need to remember when transporting your baby. Solution: We haven't found one yet!
Problem: Some parents might worry that their child is being exposed to Bluetooth radiation emanating from the eClip when it's powered on. To be fair, there is a very small amount of radiation emitted from these devices, just like with any Bluetooth-enabled gadget (your phone, wireless headphones, your car's stereo system, etc). Note: Interested in some awesome volume-limited headphones for kids? Check out our BuddyPhones headphones reviews! Solution: Consider placing the eClip on your diaper bag or something else baby-related in your vehicle.
Given all the safety features, customizations, and the results of our safety testing, we think the Elepho eClip is deserving of pretty high marks! Only a few cons to consider, so we give it a 4.4 out of 5 - which is very good!

References Cited
Kids and Cars Study on Car Seat Deaths