Whether you have 3 kids of your own or spend some time carpooling or otherwise hauling around more than two kids, you're in for some surprises the first time you try to fit 3 car seats in a row into a normal sized vehicle (like, not a Suburban!). When it comes to squeezing three in a row, you want to make sure that the kids are comfortable and safe, and that you won't be spending 15 minutes scraping your hands and fingers trying to buckle seat belts that are being mashed between two giant car seats.
Cars that are probably OK. If you drive a minivan (like the Sienna, Odyssey, or Caravan), full-size car (like the Taurus, Avalon, Impala), midsize SUV (like the Grand Cherokee, Pilot, Highlander, Traverse, Flex, or Explorer). or full-sized SUV (like the Tahoe, Sequoia, Expedition, or Armada), three seats should fit just fine into the backseat with some strategic placement. And if you have the third-row seat, you're in even better shape. Most of these larger vehicles will accommodate even the bulkiest setups, like having 2 rear-facing car seats along with a front-facing convertible, or 3 front-facing convertibles in a row.
Cars that are probably not OK. But for most of us, who happen to drive from compact to mid-size sedans, crossovers, and relatively compact SUVs (like the RAV4, CRV, Escape, CX-5), you might find yourself having some difficulty trying to squeeze three car seats into the back. For instance, we recently tried to squeeze 2 boosters (the Graco Highback and Evenflo AMP) into the back seat of our 2010 RAV4 along with a Britax Marathon front-facing convertible seat. Together, they could fit if the convertible was in the middle (using the shoulder belt to secure it in place), and the two boosters were on the outside. But it was a very tight fit, and parent assistance was needed during each booster buckle-up (even with a 6 and 8 year old) because the seats were squeezed up so tightly to each other that fitting two hands down in to the slots to buckle was basically impossible. The trick was to slide the boosters out toward the door a bit, buckle them, then slide them back in and close the door. This made for some frustrated kids and, as you can imagine, somewhat frazzled parents.
Some options. As you've probably figured by now, there are only a few ways around this situation. The first is to figure out whether you can get a third-row seat into your SUV or crossover. For instance, the RAV4 and CRV can fit a third row seat, either from the dealership or a company like this one that makes aftermarket third row seats for many SUVs. The second is to consider purchasing a different vehicle, either a larger one like a full-size sedan or SUV, that will fit three wide, or a minivan that will fit up to 2 adults and 6 kids. The final option, and likely the cheapest and best, is to be strategic about which car seats to purchase, and how to arrange them in your existing vehicle. To help you out, below we list some of the narrowest yet best rated seats on the market. Rather than give you long-winded technical reviews of each (like we usually do), we are going to focus on a few things. First, the width of each car seat, and second their versatility.
The secret fit. The secret, as we've come to find out, is to figure out the right combination of shoulder belt, LATCH, and 5-point harnesses that will make life easier for everyone. The ideal situation is to have every seat using the LATCH or shoulder belt to secure it in place, and then the kid only has to use the integrated 5-point harness. So instead of using a booster that relies on the vehicle's shoulder belt, the better option is to use a narrow convertible that can gets secured to the seat using the LATCH or shoulder belt, and then the kids can use its integrated harness. This is for a couple reasons. First, no matter which car seats you choose, when there are three in a row they will be squished up so tightly together that it will be very hard for kids to buckle their own booster with a shoulder belt. Second, you will have much more flexibility in terms of where to place a rear-facing versus front-facing seats if you're relying on the LATCH and shoulder belts to secure them in place. But just as important, we've also come to find out that seats vary tremendously in terms of width, with some being upwards of 20-21" wide, while others are down around 17" wide. In the below list, we only consider car seats that are 17" wide or less (at their widest point). Be careful about car seats that list the width of the base but then get larger as they go up - like infant car seats have especially wide handles even though the base might be skinny, and some boosters have wide shoulder and head supports even though the base might be skinny.
Here are the best options for fitting 3 car seats (first convertible options, then infant options).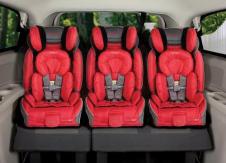 Best Full-Feature Convertible: Diono Radian RXT. This car seat comes in around $300 for most color options, and up to about $500 for some limited release colors. The beauty of this car seat is exactly as depicted in the image: you can fit three wide without issue in most mid-size vehicles (like the Accord, Camry, RAV4, CRV, Fusion, Altima, Passat, etc), as it is only 17" wide (note the the included cupholder is removed for this fit). The key here is having a car seat that is not only narrow at the base but actually continues to narrow toward the middle and top. Many boosters and car seats actually get excessively wide in the middle and have enormous side impact wings at the top, reducing the chances that you'll be able to squeeze three in a row into your back seat. For instance, the Diono Olympia is also 17" at the base but it gets much wider toward the top (and thus is not recommended for 3 wide situations). The second important feature is having the option to secure the entire car seat to the vehicle with either the LATCH or the car's shoulder and lap belts, and then having the kids use the integrated 5-point harness. This is the best way to go, because then they don't have to jostle themselves and the seats around to try and squeeze the buckle into the little gaps (and better yet, the parents don't have to help with this awful process!). This particular convertible car seat can be rear facing from 5 to 45 pounds, then front facing from 20-80 pounds using the 5-point harness, and up to 120 pounds using it as a booster with the car's shoulder belt. So this is one of the few convertible seats on the market that is only 17" wide and can go from infant car seat (using the infant insert as pictured), to convertible car seat, to a full-on booster seat (removing the back). It has side impact protection, includes a top tether, and uses the Diono SuperLATCH system. As an added bonus it also folds flat for easy transport. This is a bit pricey for a mainstream convertible car seat, but for those who need to accommodate 3 in a row, this is the best option out there!
Best Limited-Feature Convertible: Diono Radian R100. This car seat is more basic and limited than the RXT above, but it comes in at a more reasonable price point around $240. Just like the RXT, this car seat is only 17" wide, allowing you to fit 3 wide in most mid-size cars and SUVs. The basic frame size and shape is highly similar to the RXT, with only a few noticeable differences. First, it doesn't have the more substantial side impact padding. Second, it doesn't include an infant insert so it does seem quite roomy when used rear-facing with an infant. Third, its weight capacities are a bit lower than the RXT: it can support 5-40 pounds rear-facing, 20-65 front facing with the 5-point harness, and up to 100 pounds using it as a booster with the car's shoulder belt. For most situations the weight capacity and range differences will not affect your use of the product. The good news is that it is the same overall footprint as the RXT, also folds flat, uses the LATCH or belt to secure to the vehicle, and costs about $50 less than the RXT. To us, this equates to a lot of winning features and specifications to make this the best option out there for those who don't need the infant insert, are not overly concerned with the side impact padding, and don't anticipate being affected by the weight range differences. Though this does not come in nearly as many cool colors as the RXT, it does come in two similar colors, Stone and Shadow, that use a nice quality microfabric feel cloth. You can also check out the Radian 120 which has a 120 pound weight limit (like the RXT) but is a bit cheaper than the RXT.
Additional 17" wide convertible car seat options:
The Clek Foonf convertible car seat is 17" (actually 16.9" to be precise) wide, but it does not have the infant insert (14+ lbs only) and is too expensive for our tastes, coming in at around $450. Though the name is unique and you've likely never heard of it, it's very well built and stylish, and we're all for new-comers to the baby products market, this one doesn't seem worth the price tag.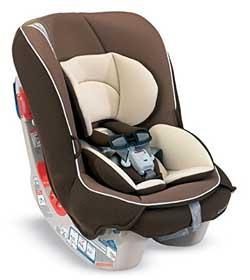 The Combi Coccoro is only 15.5" wide, but while it is marketed as a convertible it has a weight limit of 40 pounds and thus even our 3.5 year old child would have grown out of it by now. In our opinion, this better serves as a narrow infant car seat, but a very limited functionality one since there is no carrying handle or canopy. We review it in the infant list below since it's so narrow and actually a reasonable price-point, but keep in mind that it's really quite limited. Recently discontinued, likely not available in stores.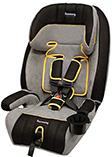 The Harmony Defender is a bit wider than other options on this list, coming in at 17.5" wide. It sometimes is marketed as a "convertible" but it is actually only for front-facing applications. We did like the overall build quality for the price point (usually around $130 or so), and thought the fabric was sufficiently soft and durable. Supports 22 to 65 pounds using the harness, and up to 110 pounds with the car's seat belt. Unlikely to squeeze 3 of these in a row into anything other than a full-size sedan or SUV. Some additional down-sides we encountered were: an annoyingly short crotch strap, an old-style LATCH system (much harder to get in and out quickly).

The Graco Milestone is another slightly wider car seat option, that is unlikely to fit three in a row in anything but a larger vehicle. Coming in at just over 17.5" wide, it's narrower than many other convertible car seats, but not quite as narrow as other options on this list. In our experience, we appreciated the wide range of weights, going from 5-40 pounds rear-facing, 20-65 front-facing with the harness, and 30-100 pounds front facing with the vehicle's seat belt. Reasonably priced around $200, this narrow convertible car seat is a pretty decent option worth checking out.
Here are the best options for fitting 3 infant car seats in a row.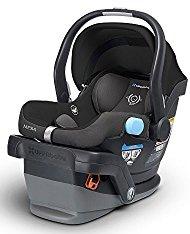 UppaBaby Mesa Safety Car Seat. This is the narrowest car seat we could find, coming in at only 15.5" wide. It's overall a decent car seat. It doesn't make our top 5 list (here) overall due to some suboptimal details: the fabric does not breathe well, the sunshade and handle interfere with each other a bit, sometimes the fit and finish is a bit subpar, and it's a bit pricey given these drawbacks (about $300). Outside of those issues, it is an extremely slim-line infant car seat that makes squeezing 3 in a row into the back seat a bit more possible. Note that, however, they make up for some of the narrowness in its length, so it does stick out quite a bit from the seat making for a tight squeeze between the back of the front seats and the edge of the car seat. It fits babies from 4 to 35 pounds.
Chicco KeyFit 30. Near the top spot on our best overall infant car seats list (here), this is an awesome, highly functional, safe, well-built, and stylish car seat. It is on the slimmer side coming in at 17" wide, but it is not anywhere near as slim as the Combi or UppaBaby options. It supports babies from 4 pounds (using the provided infant insert) to 30 pounds. It really has all the features you'll want in an infant car seat. The only reason we're listing it third here is because it's about an inch and a half wider than the other two infant options; that may not seem like a lot, but if you're trying to squeeze these into a compact or midsize vehicle it will make a difference. The Chicco KeyFit 30 sells for about $199.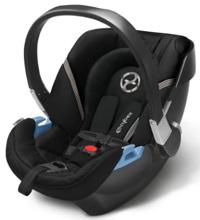 Cybex Aton 2. This is an extremely lightweight, ultra-portable infant car seat with some excellent safety features, reputation for high quality, and european styling and comfort. We didn't get our hands on an Aton 2 car seat until earlier this year, and we were very impressed. Coming in at only 8.8 pounds and 17" wide (17.5" with handle), the seat supports babies from 4 up to 35 pounds (with included infant insert). It has great safety features, including a load leg to reduce rotational forces during a crash, side impact protection, and LATCH capability. But for all that style, portability, and safety, you'll pay a steep price. Usually it's around $300 for just the seat. And the canopy is really small, and getting it into and out of the base isn't as easy as with the UppaBaby or Chicco.