Kabrita Infant Formula Review & Analysis
Kabrita could be the G.O.A.T. with its optimal ingredients and nutrition for your little one.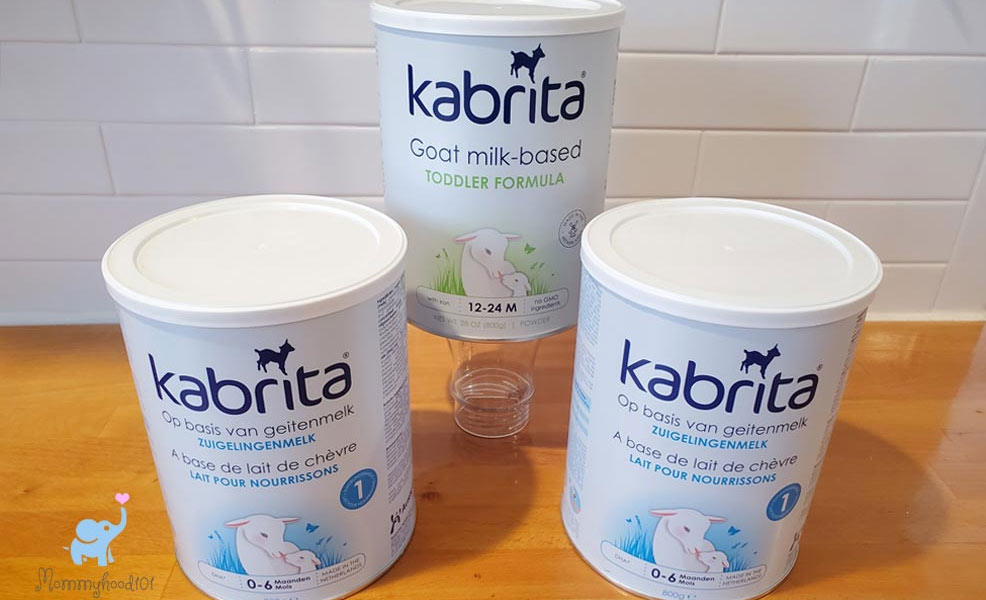 ---
Mommyhood101 independently tests and curates baby gear to help you make informed decisions. If you buy products through links on our site, we may earn a commission.
Kabrita goat milk infant and toddler formulas are made in The Netherlands using premium, non-GMO ingredients and offer superior nutrition, acceptance, and sensitivity.
There are two primary types of Kabrita formulas: the infant versions (stages 1-3) sold in Europe, and the toddler version (12-24 months) sold in the USA. This review is focused on the infant Kabrita (stage 1), suitable for newborns up to 6 months of age. Of course, you can get both versions shipped to the USA, which we will discuss later in the article.
Kabrita prides itself on being the world's best-selling goat formula, using some non-GMO ingredients, being made in The Netherlands, and conforming to rigorous EU farming and formula regulations.
But how does it perform!?
In our hands-on review of Kabrita infant formulas, we focused on testing the Dutch infant (stage 1) Kabrita with two infants, tasted it ourselves (we always do!), and consulted with a developmental nutritionist to assess ingredients and nutritional contents relative to FDA and USDA guidelines. We provide some basic comparisons to the Kabrita toddler formula that is found in US stores.
Overall, we give the Kabrita Stage 1 infant formula a 4.5 out of 5, which is a very high rating for our site! In fact, it's good enough to appear in a great position in our new list of the best goat milk formulas!
Kabrita Formula Review
Our review focuses on Stage 1 infant Kabrita, but it's important to point out that Kabrita offers three stages of goat milk formula, all of which use skim or whole goat milk and lactose: Stage 1 (0-6 months), Stage 2 (6-12 months), and Stage 3 (12-24 months). All three of those are sold in the EU only, though they can be easily shipped to the USA by sites like The Milky Box.
Kabrita also sells a Kabrita toddler formula (12-24 months) in the USA, which we will use as a basis for comparison. It is typically sold at major retailers, such as here at Amazon.
Most people don't want to read this entire article to see what we found. So here is the summary of what we loved, and what we didn't.
✔️ Non-GMO ingredients.
✔️ Goat milk first ingredient.
✔️ A2 Beta Caseins.
✔️ Nutrition at FDA standards.
✔️ Nothing artificial.
✔️ No maltodextrin or starch.
✔️ No sucrose or corn syrups.
✔️ Gluten & soy free.
✔️ No palm or M. Alpina oils.
✔️ Omega-3 via DHA & ALA.
✔️ Omega-6 via LA & AA.
✔️ Inositol & Choline.
✔️ Prebiotics via GOS.
✔️ Amino Acids.
✔️ High infant acceptance, good taste.
✔️ No gas, indigestion, or constipation.
❌ No added probiotics.
❌ 50:50 Whey to Casein ratio.

Kabrita Formulas: Some Translations
Because Kabrita Infant formulas are made in The Netherlands and labeled for sale throughout Europe, their labels are written in Dutch and French.
This can make it a little challenging for English-speaking families, so we've got a few translations that are worth knowing!
Magere Geitenmelk: This means "skimmed (skim) goat's milk," which is the first ingredient in the Kabrita infant formula (Stage 1).
Op Basis van Geitenmelk: This means "based on goat's milk," and is written on the front of the Stage 1 tin.
Zuigelingenmelk: This means "infant milk," and is written on the front of the Stage 1 tin.
0-6 Maanden: This means "0-6 months," and is written on the front of the Stage 1 tin.
Ingredienten: You probably figured out that this means "ingredients."
Gemiddelde Voedingswaarde: This means "average nutritional value," and is written at the top of the nutrition label.
Voedingsschema: This means "feeding schedule," which is accompanied by a feeding table.
Bereiding: This means "Preparation," which is accompanied by simple formula preparation instructions.
One of the biggest challenges with choosing European baby formulas is difficulty reading the labels (such as with HiPP and Holle), so we're going to help you out with additional translations and instructions. You can also read the entire translated label on the TheMilkyBox website.
Best Practices?
All Kabrita formulas, whether infant or toddler, are made in The Netherlands by a company called Ausnutria.
Ausnutria is a large Chinese (based in Hong Kong) company that produces formulas and milk powders (including Kabrita and Neolac) for worldwide distribution.
While Kabrita manufacturing is managed by Ausnutria, it is done locally in The Netherlands (in Ommen, Kampen, Leeuwarden, and Heerenveen) using goat milk collected from over 50 affiliated goat farms in The Netherlands.

These goat milks, and the other ingredients used in Kabrita formulas, are non-GMO, which means they are not genetically engineered or modified.
Farming Certifications
The European Union (EU) has stringent farming and food standards that apply to infant formulas, including restrictions on the use of antibiotics or hormones in the goats, and pesticides on the crops that are used to feed the goats.
While Kabrita infant and toddler formulas are not EU-certified organic (Bio), they are non-GMO, and we do appreciate that the EU has relatively strict guidelines about some of the nastier stuff you want to avoid: antibiotics, artificial hormones, and pesticides.
If you check out the Kabrita website, you will find inspiring stories about the goat farmers who provide goat milk for use in Kabrita formulas.
They tend to emphasize high-quality feed that is grown on the same farm where the goats are raised, the humane treatment of animals (including free range practices with access to natural light and air), and the expert-guided monitoring of vitamins and minerals in the feed to ensure proper growth and nutrition. You can read some stories about specific farmers and their goat farms at the Kabrita website.
Ingredients
All Kabrita infant and toddler formulas use very simple ingredients, without any added fillers.
They use skimmed A2 goat's milk as the first ingredient, then lactose.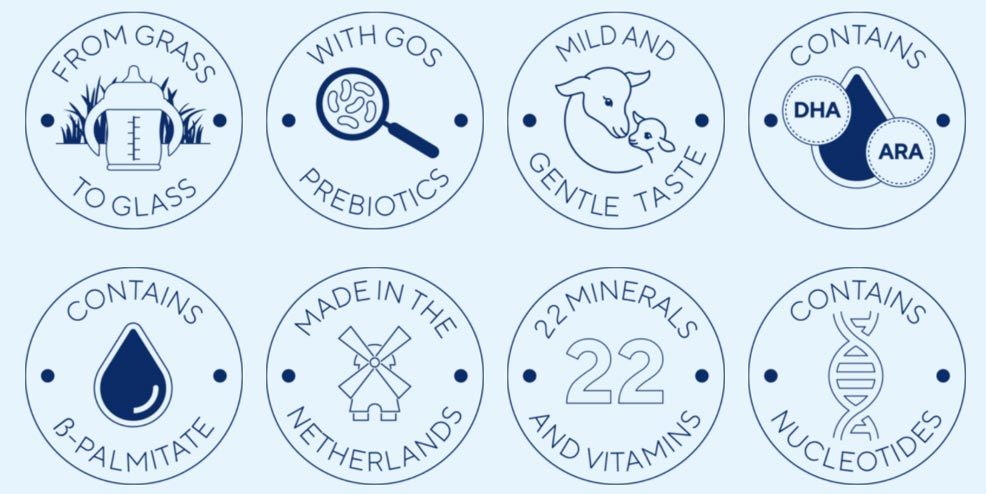 Because goat milk naturally has a 20:80 whey to casein ratio, which is very different from the preferred 60:40 ratio found in breast milk, Kabrita adds whey protein powder to bring that ratio up.
Specifically, Kabrita adds enough whey protein powder to bring the ratio up to about 50:50, which is very close to the natural ratio of breast milk.
We prefer this approach relative to what other goat milk formulas do, such as Loulouka Goat and Nannycare, which is to leave the 20:80 whey to casein ratio, which gives those formulas an unfortunately high level of casein.
In general, baby formulas with a whey-to-casein ratio closer to breast milk (60:40) tend to be easier for babies to digest, which can help reduce the chances of tummy distress (gas, spit-up, bloating, constipation, etc).
Here are the ingredients in Stage 1 Kabrita Goat baby formulas (as of 2022):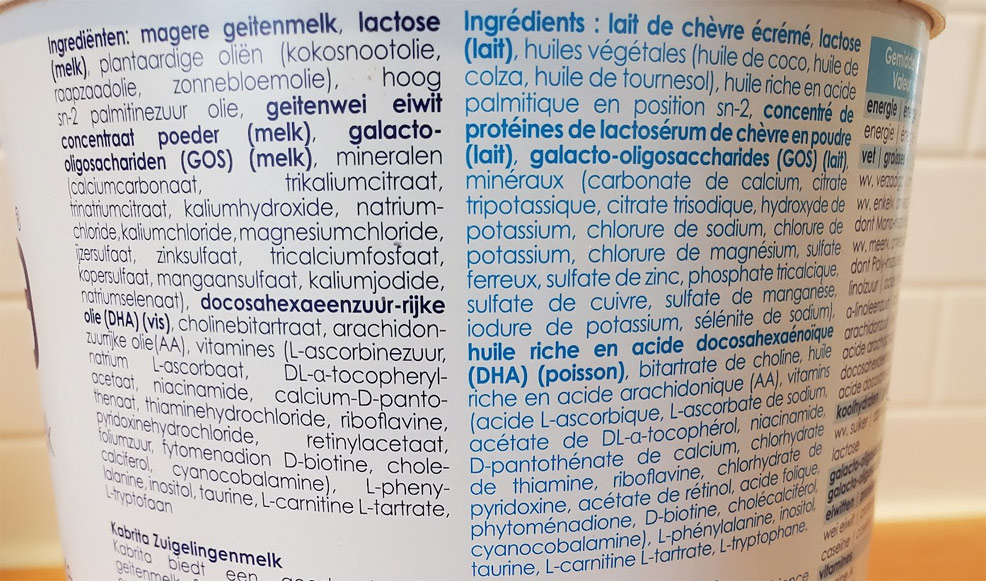 Kabrita Infant Stage 1 Ingredients: Skimmed goat milk, lactose (milk), vegetable oils (coconut oil, rapeseed oil, sunflower oil), high sn-2 palmitic acid oil, goat whey protein concentrate powder (milk), galacto-oligosaccharides (GOS) (milk), minerals (calcium carbonate, tripotassium citrate, trisodium citrate, potassium hydroxide, sodium chloride, potassium chloride, magnesium chloride, iron sulfate, zinc sulfate, tricalcium phosphate, copper sulfate, manganese sulfate, potassium iodide, sodium selenate), docosahexaenoic acid rich oil (DHA) (fish), choline bitartrate, arachidonic acid (AA), vitamins (ascorbic acid, sodium L-ascorbate, DL-α tocopheryl acetate, niacinamide, calcium D-pantothenate, thiamine hydrochloride, riboflavin, pyridoxine hydrochloride, retinyl acetate, folic acid, phytomenadione, D-biotin, cholecalciferol, cyanocobalamin), L-phenylalanine, inositol, taurine, L-carnitine, L-tartrate, L-tryptophan.
Note: For allergens, see ingredients in Bold.
For comparison purposes, here are the ingredients found in the US Kabrita toddler formula: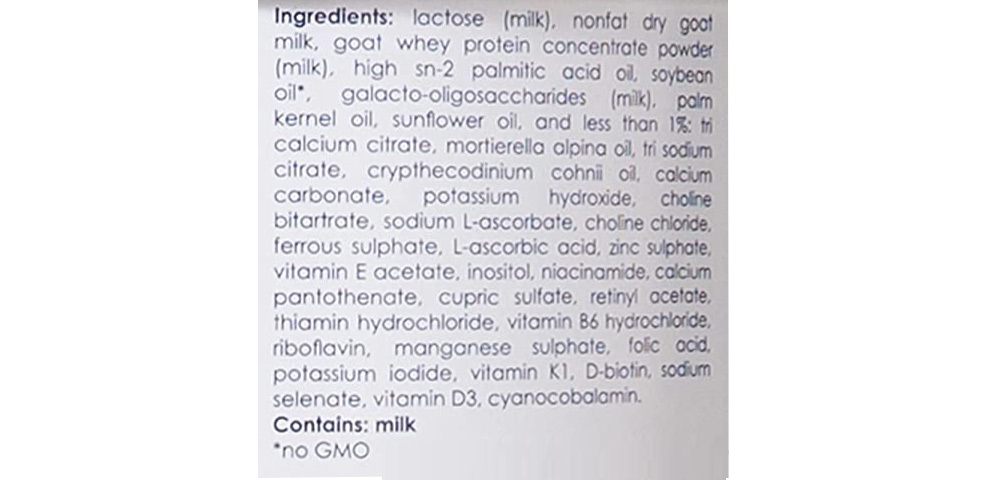 Kabrita Toddler (USA) Ingredients: Lactose (milk), nonfat dry goat milk, goat whey protein concentrate powder (milk), high sn-2 palmitic acid oil, soybean oil*, galacto-oligosaccharides (milk), palm kernel oil, sunflower oil, and less than 1%: tricalcium citrate, mortierella alpina oil, tri sodium citrate, crypthecodinium cohnii oil, calcium carbonate, potassium hydroxide, choline bitartrate, sodium L-ascorbate, choline chloride, ferrous sulphate, L-ascorbic acid, zinc sulphate, vitamin E acetate, inositol, niacinamide, calcium pantothenate, cupric sulfate, retinyl acetate, thiamin hydrochloride, vitamin B6 hydrochloride, riboflavin, manganese sulphate, folic acid, potassium iodide, vitamin K1, D-biotin, sodium selenate, vitamin D3, cyanocobalamin.
Contains: milk
*non-GMO
Here are some ingredients that we did not find in any stages of Kabrita formulas: corn syrup or corn syrup solids, artificial colors, artificial flavors, preservatives, sucrose, gluten, starch, maltodextrin, carrageenan, or high fructose corn syrup.
Some ingredients we didn't appreciate:
In the Kabrita infant formula, we thought the ingredients list was very clean overall.
We appreciate the inclusion of fish oil rather than DHA extracted from microalgae, and it's important to point out that there was absolutely no fishy odor or flavor with this formula.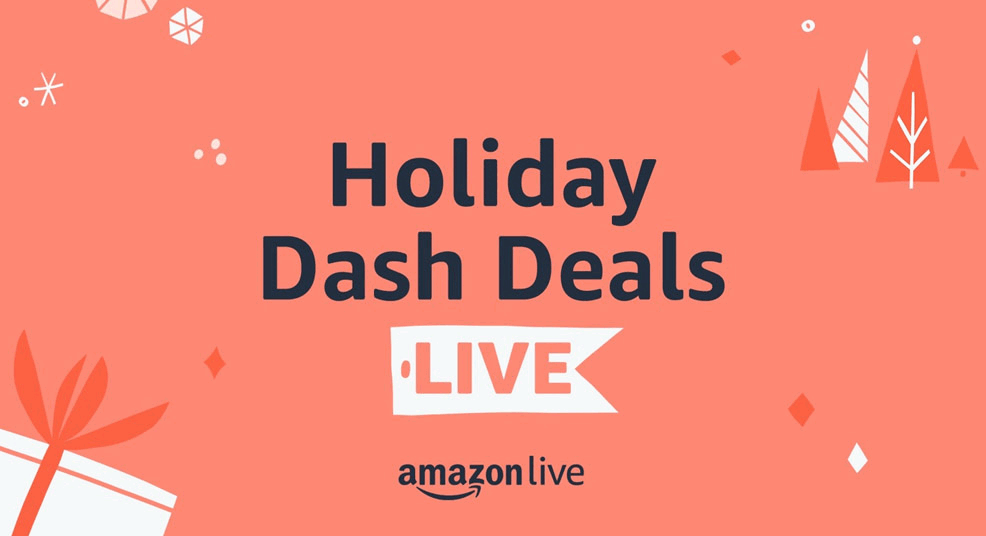 In the Kabrita toddler formula, we were slightly less impressed with the ingredients. Specifically, it included soybean oil, palm kernel oil, M. alpina oil, and C. cohnii oil.
Palm Kernel Oil. We were surprised to see the addition of palm kernel oil, which is typically used to increase the amount of sn-2 palmitic acid (which occurs naturally in breast milk), given that the formula also contains high sn-2 palmitic acid oil.
Studies show that palm oil used in baby formula can reduce the absorption of calcium, and some parents also believe it can lead to some GI distress. For those reasons, most of the best goat formulas have removed palm oil entirely from their formulations.
M. Alpina Oil. This is mortierella alpina oil, which is an oil rich in arachidonic acid (AA, an essential Omega-6 fatty acid) extracted from the mortierella alpina fungus. In many cases, including with Life's DHA (the company that produces this oil), the oil is extracted using hexane. Some parents fear that trace amounts of hexane remain in the oils, but Kabrita and Life's DHA disclose that it is undetectable in the final oil.
C. Cohnii Oil. This is crypthecodinium cohnii oil, which is an Omega-3 (DHA) source derived from the fermentation of algae plants. The challenge, in some parents' opinions, is that the extraction of C. cohnii oil from algae often involves the toxic industrial chemical hexane. While there is no evidence that hexane is detectable in C. cohnii oil, some parents prefer that fish oil is used rather than C. cohnii, or that the C. cohnii is extracted from algae using water-based rather than hexane-based methods.
Some other ingredients worth mentioning:
High sn-2 Palmitic Acid Oil: This oil is present in both the Dutch Kabrita infant and the US Kabrita toddler formulas. High sn-2 palmitic acid oil is increasingly common in infant formulas as a method for increasing the sn-2 palmitic acid concentration to match that of human breast milk, while also avoiding the use of palm oil. Studies show (see references) that high sn-2 palmitic acid is great for helping infants produce softer stools, and increased healthy bifidobacteria.
Prebiotics via GOS: We prefer baby formulas that include prebiotics to aid in digestion, such as by including galactooligosaccharides (GOS), which are dietary prebiotics that help promote a healthy gut microbiome through benefits to intestinal microbiota and gut barrier function. Both the Dutch Kabrita and US Kabrita formulas include GOS prebiotics.
Fluoride: Kabrita formulas do not explicitly add fluoride as an ingredient, though it is naturally present in very small amounts (less than 0.066 mg per 100ml of formula).
Kabrita Infant vs Toddler: Ingredient Differences
As we mentioned above, the Kabrita Infant formulas that are not typically sold in the US have a better overall ingredient profile relative to the US Kabrita toddler version.
This is for four primary reasons:
1. The Dutch Kabrita Infant formula uses fish oil as a DHA source rather than the C. cohnii oils used in the US Kabrita Toddler.
2. The Dutch Kabrita infant formula uses coconut, rapeseed, and sunflower oils rather than the soybean and palm kernel oils used in the US Kabrita Toddler.
3. The Dutch Kabrita infant formula uses goat milk as the first ingredient, whereas the US Kabrita Toddler formula uses the milk sugar lactose as the first ingredient.
4. The Dutch Kabrita infant formula includes two essential amino acids, taurine and L-carnitine, whereas those are not included in the US Kabrita toddler formula.
Note that the Dutch Kabrita infant formula lists arachidonic acid as the source of AA, but it is unclear how this is derived; it could very well be the case that this is from M. alpina oil, similar to the Kabrita Toddler formula.
Nutritional Analysis
To examine whether the Dutch Kabrita Infant baby formula (Stage 1) comes close to the stringent US nutritional recommendations put forth by the US Department of Agriculture (USDA, see references), Food and Drug Administration (FDA), and American Academy of Pediatrics (AAP), we consulted with a dietician nutritionist with expertise in infant feeding (Mr. John Anderson).
Note that the FDA publishes guidance in 21 U.S. Code 350a regarding nutrient requirements in infant formula. This regulation includes minimum protein, and fat (and fatty acid linoleate) content. It also includes ranges for 15 vitamins and 11 minerals.
Here are the FDA requirements per 100 kilocalories of formula (see references).
FDA Nutritional Requirements:
| | |
| --- | --- |
| Protein | 0-6mo: 1.8g to 4.5g |
| Fat | 0-6mo: 3.3g to 6.0g (≥ 30% of calories) |
| Essential Fatty Acid (LA Omega-6) | 0-6mo: ≥300mg (≥2.7% of calories) |
| Vitamin A | 0-6mo: 250IU to 750IU (75-225μg if retinol) |
| Vitamin D | 0-6mo: 40IU to 100IU |
| Vitamin K | 0-6mo: ≥4μg |
| Vitamin E | 0-6mo: 0.7IU |
| Vitamin C | 0-6mo: ≥8mg |
| Vitamin B1 | 0-6mo: ≥40μg |
| Vitamin B2 | 0-6mo: ≥60μg |
| Vitamin B6 | 0-6mo: ≥35μg |
| Vitamin B12 | 0-6mo: ≥0.15μg |
| Niacin | 0-6mo: ≥250μg |
| Folic Acid | 0-6mo: ≥4μg |
| Pantothenic Acid | 0-6mo: ≥300μg |
| Biotin | 0-6mo: ≥1.5μg (for non-milk-based formulas) |
| Choline | 0-6mo: ≥7mg (for non-milk-based formulas) |
| Inositol | 0-6mo: ≥4mg (for non-milk-based formulas) |
| Calcium | 0-6mo: ≥50mg |
| Phosphorus | 0-6mo: ≥25mg |
| Magnesium | 0-6mo: ≥6mg |
| Iron | 0-6mo: ≥0.15mg |
| Iodine | 0-6mo: ≥5μg |
| Zinc | 0-6mo: ≥0.5mg |
| Copper | 0-6mo: ≥60μg |
| Manganese | 0-6mo: ≥5μg |
| Sodium | 0-6mo: 20mg to 60mg |
| Potassium | 0-6mo: 80mg to 200mg |
| Chloride | 0-6mo: 55mg to 150mg |
In reviewing Kabrita Stage 1 infant formula, using a 1.49 multiplier relative to their nutrition facts label (to equal 100kcal of formula), we found that the Kabrita Stage 1 infant formula met all of the minimum FDA nutritional requirements (and did not exceed any of their maximums).
Note that the FDA calls for Folic Acid of at least 4 micrograms per 100kcal of formula; Kabrita contains folic acid on the ingredients list, and their nutritional label uses the same term. Folic acid is the synthetic form of folate.
The USDA does not publish recommended daily allowances (RDAs) for infants between 0-6 months. Instead, they publish information about Adequate Intake (AI), which is used when there is not enough evidence to make a formal RDA. The AI is set at a level assumed to provide nutritional adequacy.
Here are the USDA's AIs (per day) for infants aged 0-6 months, and 6-12 months. Units are grams (g), milligrams (mg), and micrograms (μg).
USDA Nutritional Recommendations:
| | | |
| --- | --- | --- |
| Carbohydrates | 0-6mo: 60g | 6-12mo: 95g |
| Proteins | 0-6mo: 9.1g | 6-12mo: 11g |
| Fats | 0-6mo: 31g | 6-12mo: 30g |
| Omega-3 | 0-6mo: 0.5g | 6-12mo: 0.5g |
| Omega-6 | 0-6mo: 4.4g | 6-12mo: 4.6g |
| Vitamin A | 0-6mo: 400μg | 6-12mo: 500μg |
| Vitamin B1 | 0-6mo: 0.2mg | 6-12mo: 0.3mg |
| Vitamin B2 | 0-6mo: 0.3mg | 6-12mo: 0.4mg |
| Vitamin B6 | 0-6mo: 0.1mg | 6-12mo: 0.3mg |
| Vitamin B12 | 0-6mo: 0.4μg | 6-12mo: 0.5μg |
| Vitamin C | 0-6mo: 40mg | 6-12mo: 50mg |
| Vitamin D | 0-6mo: 5μg | 6-12mo: 5μg |
| Vitamin E | 0-6mo: 4mg | 6-12mo: 5mg |
| Vitamin K | 0-6mo: 2μg | 6-12mo: 2.5μg |
| Folate | 0-6mo: 65μg | 6-12mo: 80μg |
| Niacin | 0-6mo: 2mg | 6-12mo: 4mg |
| Calcium | 0-6mo: 210mg | 6-12mo: 270mg |
| Iron | 0-6mo: 0.27mg | 6-12mo: 11mg |
Given that the Stage 1 Kabrita Goat formula is intended for use from birth (0-6 months), we evaluated its nutritional content against the USDA 0-6 month recommendations.
Because the USDA recommendations are for daily intake, we considered the daily intake recommended by Kabrita in their "Feeding Guide".
Stage 1 suggests an average of about 120 grams of formula per day for the first 6 months (about 5 scoops of 4.4g of formula, about 5.5 times per day). Kabrita doesn't provide ages in their feeding guide, they provide weight ranges, so we used the feeding guide for an infant weighing an average of about 4 kg (or about 9 pounds). Of course, this is lower if your baby weighs less, and more if your baby is heavier (up to about 130 grams per day of unprepared formula).
To derive an estimate of how much nutritional content a baby would receive each day when feeding exclusively with the Dutch version of Kabrita Infant Stage 1 formula, we used the average recommended serving for the first 6 months (about 120 grams of unprepared formula per day, or about 750 mL of prepared formula per day). This will overestimate nutrients in the early months, and underestimate in later months.
Does Kabrita Infant Stage 1 Meet USDA Nutritional Recommendations?
In general, yes, though it's a bit more protein- and carbohydrate-oriented than fat-oriented. Here is a table comparing the USDA recommendation for 0-6 months to what the Kabrita Infant Stage 1 provides (in about 120g of powdered formula):
| | | |
| --- | --- | --- |
| Carbohydrates | USDA: 60g | Stage 1: 56.3g |
| Proteins | USDA: 9.1g | Stage 1: 9.8g |
| Fats | USDA: 31g | Stage 1: 26.3g |
| Omega-3 | USDA: 0.5g | Stage 1: 0.11g |
| Omega-6 | USDA: 4.4g | Stage 1: 4.1g |
| Vitamin A | USDA: 400μg | Stage 1: 443μg |
| Vitamin B1 | USDA: 0.2mg | Stage 1: 0.47mg |
| Vitamin B2 | USDA: 0.3mg | Stage 1: 1.19mg |
| Vitamin B6 | USDA: 0.1mg | Stage 1: 0.41mg |
| Vitamin B12 | USDA: 0.4μg | Stage 1: 1.5μg |
| Vitamin C | USDA: 40mg | Stage 1: 78mg |
| Vitamin D | USDA: 5μg | Stage 1: 11.3μg |
| Vitamin E | USDA: 4mg | Stage 1: 8.3mg |
| Vitamin K | USDA: 2μg | Stage 1: 41.3μg |
| Folate | USDA: 65μg | Stage 1: 132μg |
| Niacin | USDA: 2mg | Stage 1: 4.5mg |
| Calcium | USDA: 210mg | Stage 1: 368mg |
| Iron | USDA: 0.27mg | Stage 1: 3.8mg |
Notice how close all of those numbers are to each other, with Kabrita infant formula (Stage 1) having a nutritional profile that is very similar to most other European baby formulas, prioritizing protein over carbohydrates and fats.
Specifically, European formulas tend to have slightly higher protein and slightly lower fat than American baby formulas, especially in a Stage 1 formulation, and that's exactly what Kabrita looks like.
USDA guidance for fat is 31g per day, which precisely matches how much fat is in breast milk (about 4.2g per 100mL, or 30.8g per 100g). Kabrita infant provides about 26.3g/day, a bit lower than many other formulas. Of course, it still exceeds FDA minimums, but USDA recommends higher fat content.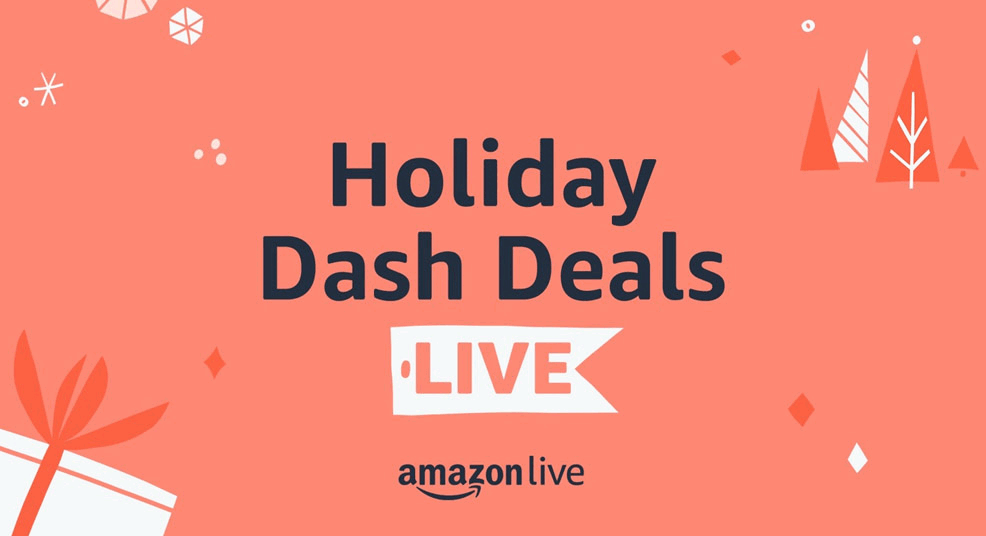 The only potentially concerning point is that the Kabrita infant Omega-3 content is quite a bit lower than USDA recommendations. The FDA does not set minimum DHA content for infant formulas, but the USDA does recommend its inclusion.

We also compared the Kabrita Stage 1 nutritional profile with the most popular Similac and Enfamil (American) formulas. Those brands are also slightly low relative to those USDA recommendations (Similac and Enfamil are usually around 27g of fat per 100g of formula).
Note that in 2020, the EU passed (well, it was passed in 2016, but enforcement started in February 2020) a requirement that baby formulas include Omega-3, and this is a new addition to most European formulas. This is why you see DHA and ALA appearing in new European formulas. This has not been implemented for Omega-3 in the USA, though it has been implemented for Omega-6:

Most parents start solid foods in addition to formula or breastfeeding. These usually first include rice and/or oatmeal cereals and then progress to fruit and vegetable purees. These will complement the nutrition found solely in the formula, including additional iron and carbohydrates.
Some parents might be interested to learn that many European baby formulas contain trace levels of fluoride. This is not usually added by the manufacturer but appears in trace amounts (e.g., this Dutch Kabrita Stage 1 contains <0.0066 mg of fluoride per 100mL prepared formula) due to the water used during manufacturing.
The level of fluoride in Kabrita is equivalent to about 0.07 mg of fluoride in a liter of prepared formula, which is considerably less than the fluoride levels found in bottled water (about 0.4mg per liter), and way less than those found in typical (fluoridated) tap water (about 5mg per liter).
Basically, Kabrita infant formula contains only trace amounts of fluoride, much less than what is probably in the water you're using to prepare the formula!
Testing in Infants
Kabrita and Formuland were generous enough to donate Stage 1 formulas for testing (thanks!).
We tested Stage 1 with two newborns: one was 9 weeks old and breastfed, and the other was 4 months old and formula-fed (Kendamil Organic formula) baby.
When we opened the tins to start our testing, we were pleasantly surprised to find that the tins have a convenient ledge that can be used to scrape the scoops, making them nice and level. You can see that in the photo below.
The only thing we didn't appreciate was that the scooper had sunk down into the powder and was hidden from view. We needed to boil a fork and then go digging around to find the scoop, which was a bit of a pain!
Here is a photo of what that looks like: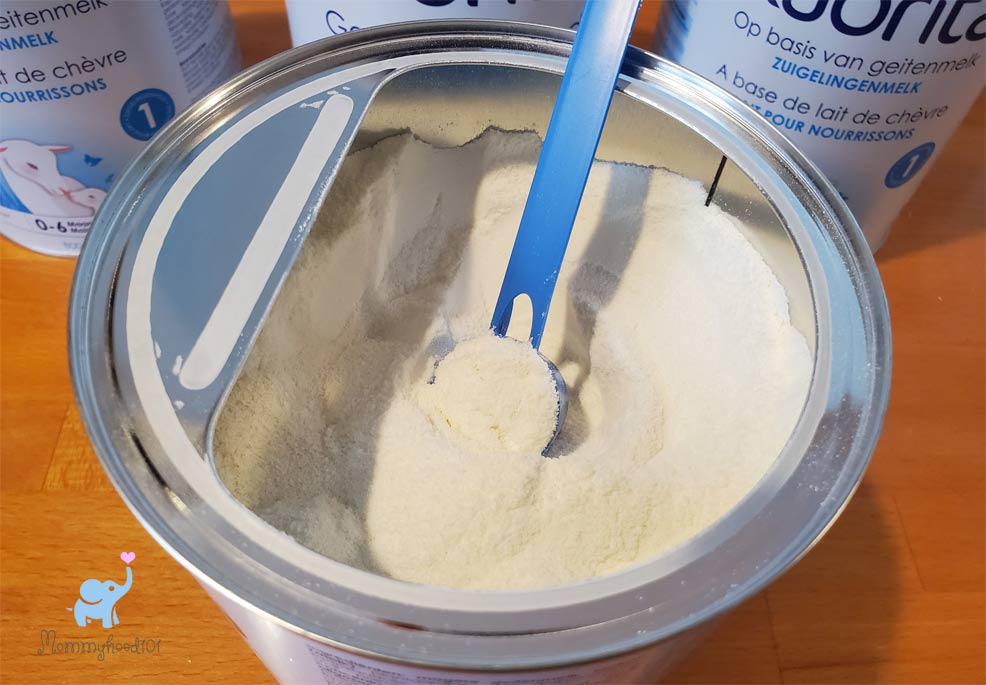 Mixing and Taste-Testing
We appreciated how easily the Kabrita infant powder was mixed with hot water, requiring minimal shaking to dissolve the powder.
When preparing Kabrita infant formula, they suggest using boiled water that is cooled to about 40 degrees C (104 degrees F).
Kabrita recommends adding the water to the bottle first, then adding the leveled scoops of formula. Then, close the bottle and shake it well.
Before feeding, always let the bottle cool to about 37 degrees C (or 98.6 degrees F).
Here are the preparation instructions on the back of the Kabrita Infant formula tin: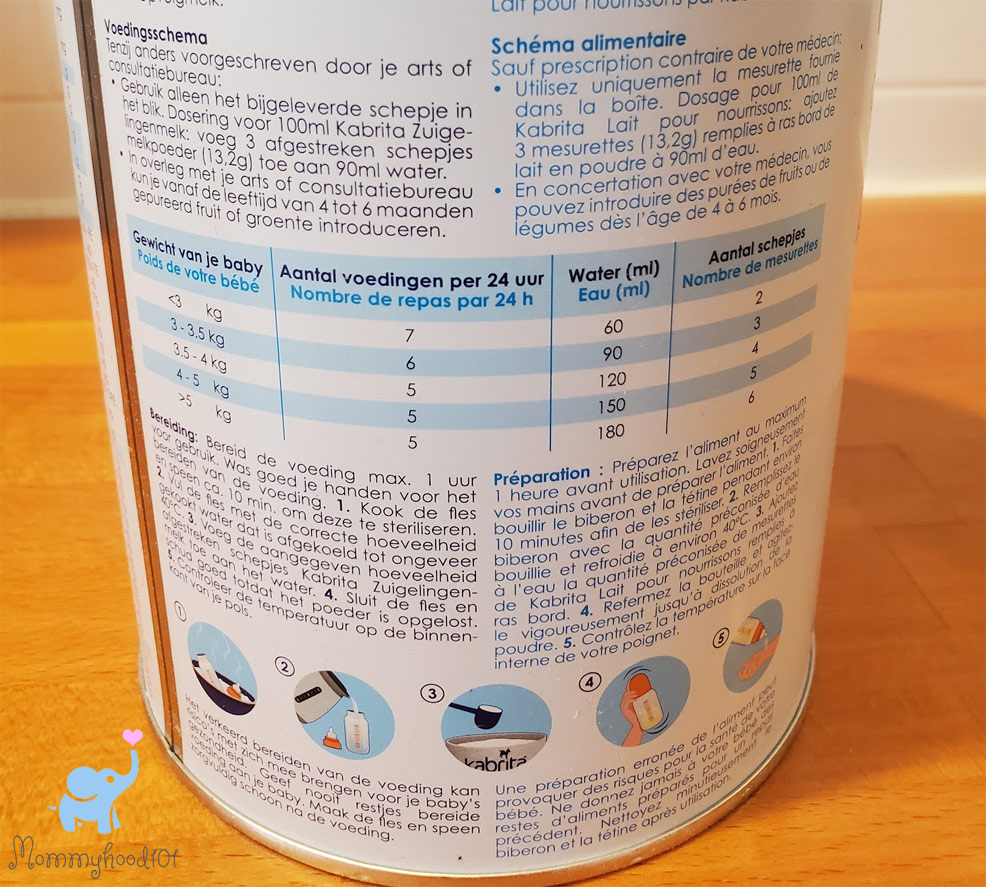 Translated, this reads:
Prepare the formula a maximum of 1 hour before use. Wash your hands thoroughly before preparing the formula.
Boil the bottle and nipple for about 10 minutes to sterilize them.
Fill the bottle with the recommended quantity of boiled water that has been cooled to 40 degrees C.
Add to the water the recommended quantity of measuring spoons (filled to the top edge) of Kabrita formula for infants.
Close the bottle and shake it vigorously until the powder dissolves.
Check the temperature of the prepared formula on the inside of your wrist.
Because you're using very hot water to prepare the formula, you may need to run the bottle under cold tap water (or place it in a bowl of cold tap water) before feeding.
As always, the goal is to get the prepared formula to about 98.6 degrees F (or 37 degrees C) before feeding.
Here is a picture of the prepared bottles after following the preparation instructions: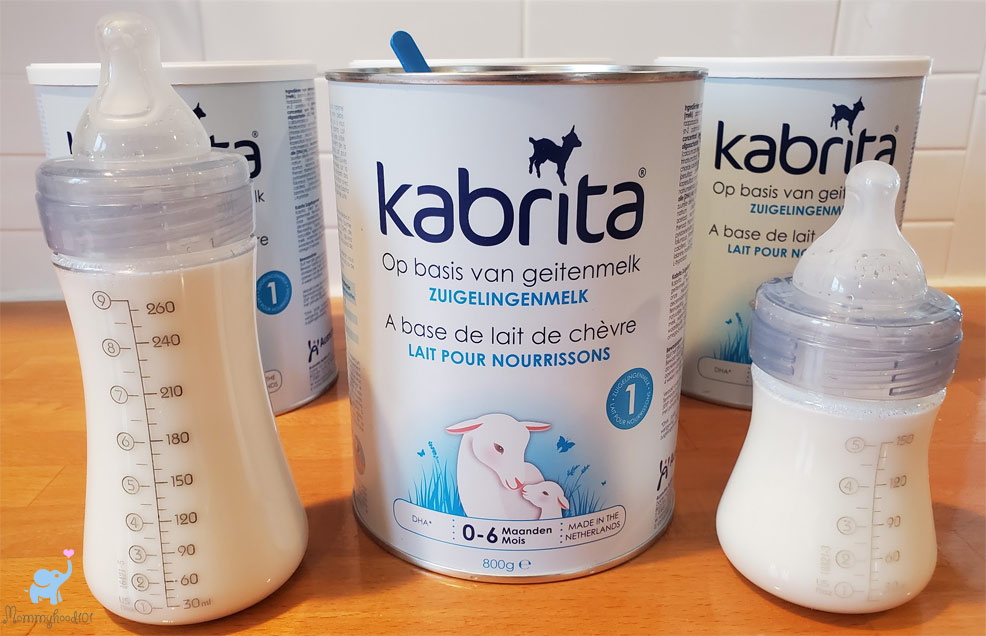 Safety first: Formula should always be close to body temperature (about 37 degrees C, or 98.6 degrees F) when feeding, to reduce the risk of burns.
In the above photo, notice how nicely the formula has mixed with the water, achieving a very consistent mix.
Here is the feeding guide for Kabrita Infant Stage 1:

Translated, the first column considers your baby's body weight (in kilograms, simply multiply by 2.2 to get pounds). The second column considers the number of suggested feedings per day. The third column indicates how much water to be used in each bottle, and the fourth column indicates how many scoops of formula to use.
For example, if your baby weighs 4.5 kilograms (9.9 pounds), Kabrita suggests feeding them 5 bottles throughout the day, with each bottle containing 150mL of water and 5 scoops of powdered formula.
Once the formula was shaken (we consistently shook each bottle about 50 times to ensure sufficient and uniform mixing), we didn't find any film, residue, or clumps inside of the bottles.
We love it when a formula powder (especially a goat milk formula) mixes so nicely with hot water!
If you've seen our Burt's Bees formula review, you know why we're mentioning this!
Here is a picture of the bottom of the prepared Kabrita infant formula bottle, to show how nicely things were mixed: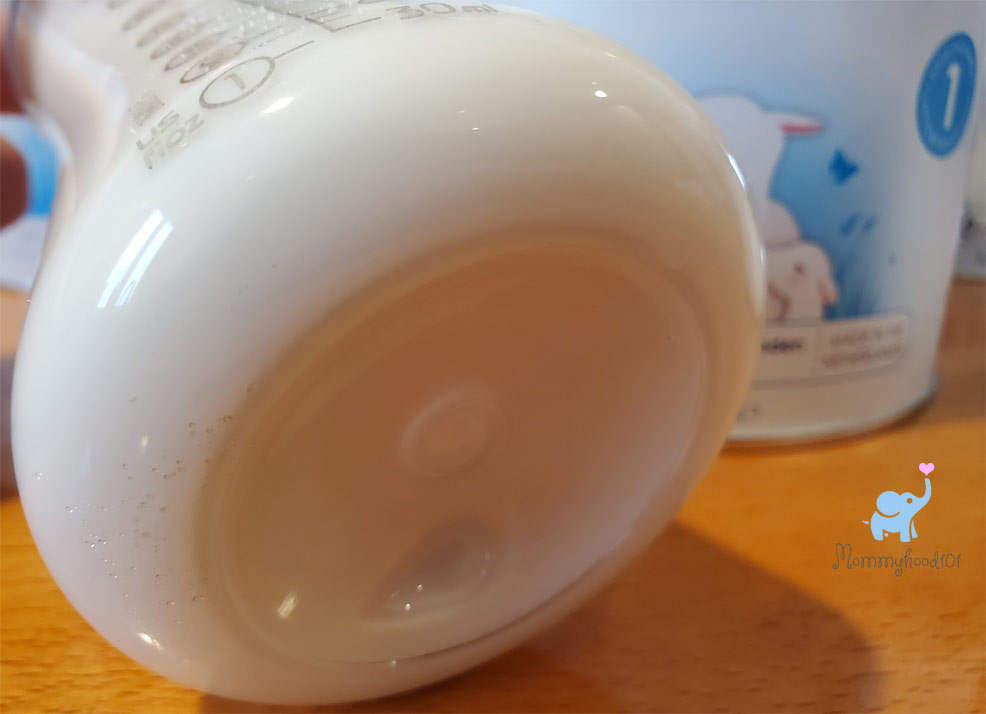 In our own tasting, we thought the Kabrita stage 1 formula was delicious!
There wasn't a discernable grainy texture and we thought the formula was smooth, rich, and mildly sweet (just like breast milk!). It wasn't as sweet as the Nannycare goat formulas and was about the same as Loulouka Goat, Kendamil Goat, and Jovie formula for sweetness and overall taste.
The prepared formula had very good flow through slow-flow or medium-flow nipples, with no clogging issues.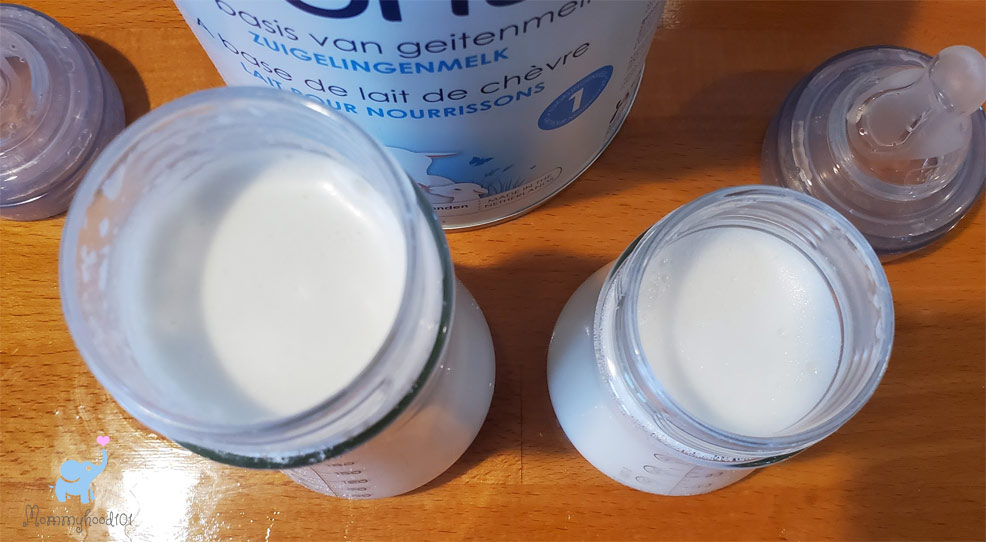 In the above photos, notice how the bubbles and foam settled very nicely after mixing and sitting for a few minutes to cool to around 99deg F.
Want to learn more about that Chicco bottle? Check out our list of the Best Baby Bottles of the year!
Here is a close-up video of each prepared bottle:
Safety First: Never prepare powdered formula with anything but water. If you're interested in fortifying your breast milk with formula you must ask your doctor for guidance first, as this can be very dangerous for your baby.
Feeding with Kabrita Infant Formula
First, a big thank you to the two parents who volunteered their little ones for feeding with the Dutch Kabrita infant formula!
They were very brave and provided a ton of feedback about preparation, acceptance, and tolerance.
The good news is that both infants who tried the Kabrita stage 1 infant formula accepted the formula without any major challenges.
The younger breastfed baby took about 10 minutes to get used to it, and the older formula-fed (Kendamil) baby accepted it without a fuss. Here's a picture of him feeding with it, from our top-rated Comotomo baby bottle!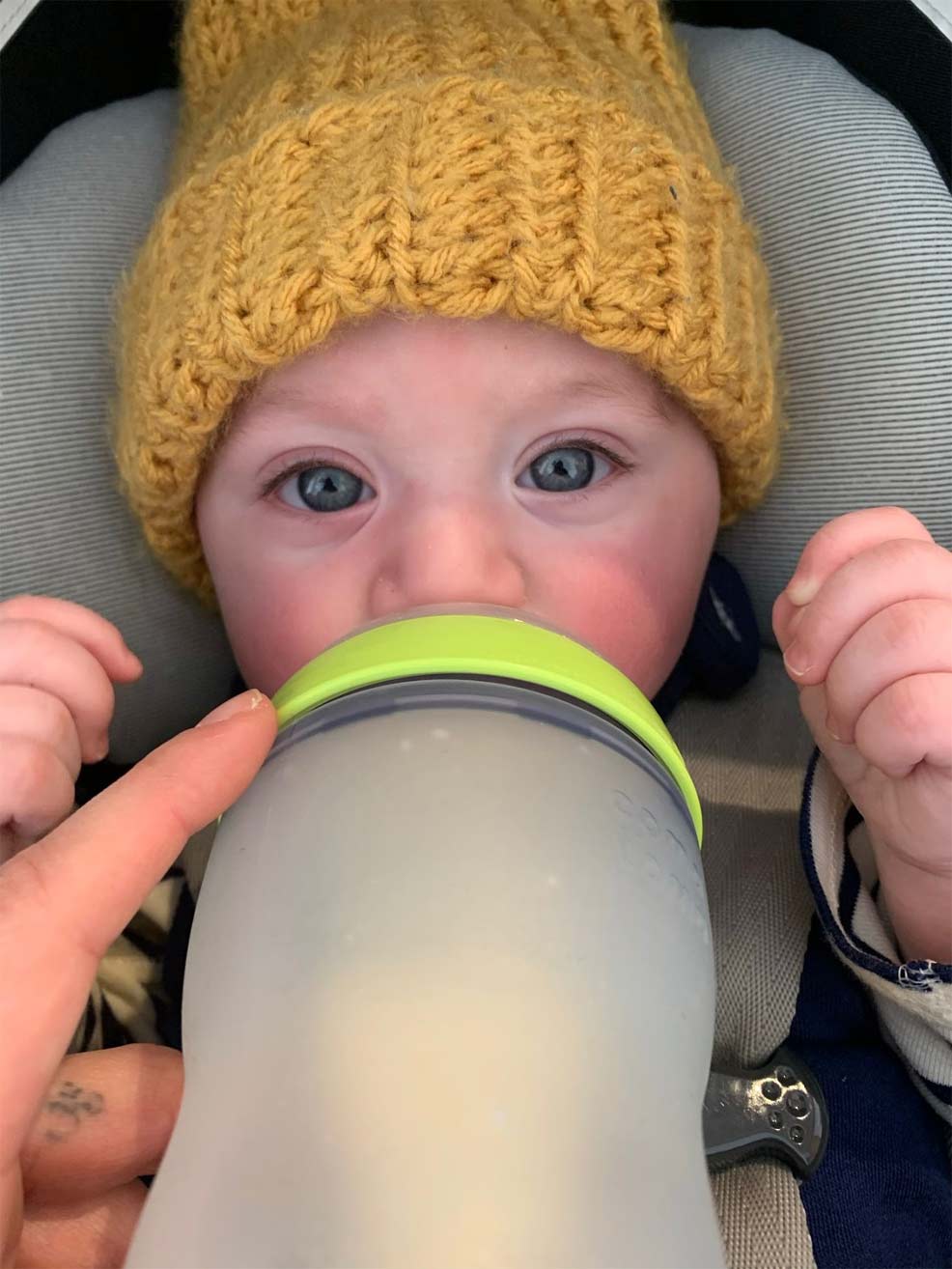 Both babies fed with Kabrita for a full day and showed no signs of gastrointestinal (GI) upset, including spit-up, gas, constipation, or any other issues. The mom who usually feeds her baby Kendamil said her baby boy's spit-ups were much less frequent than usual, and she's considering a permanent switch to Kabrita infant.
Overall, Kabrita's Dutch infant formula showed generally high acceptance and tolerance, which is to be expected of such a gentle and delicious goat milk formula.
Did you know that in comparison to cow's milk, goat milk contains proteins (such as A2 beta-casein) that are much easier to digest (and less allergenic)? This makes goat milk formula a very popular option for little ones who show some sensitivity to traditional formulas (such as gas, constipation, colic, and spit-up).
Conclusions
We were excited to get our hands on the Dutch formulation of Kabrita for testing!
There is a lot to love about the Kabrita infant formula, especially relative to the Kabrita toddler formula found in the US.
These include the specific ingredients and nutrition necessary for infant feeding (the Kabrita toddler formula is not intended for infant feeding), the omission of palm oil, M. alpina oil, C. cohnii oil, and soybean oil.
The Kabrita infant formulas combine the relatively digestible goat milk protein (A2 beta-casein) with lactose and whey protein, to achieve a formula that is easily digestible for two main reasons: first, the A2 beta-casein is very easy for babies to break down and digest, and second, the whey to casein ratio is quite similar to breast milk.
Note that goat milk baby formulas do, however, still contain lactose, which is the most prevalent carbohydrate in breast milk, so it is not suitable for babies with lactose intolerance (or with a real cow milk allergy).
Always talk to your child's doctor before switching to goat milk or selecting a formula for your little one.
Importantly, our research provided good evidence that the Kabrita infant formulas exceed the FDA recommendations for nutritional content in infant formulas.
Relative to some of the top-rated goat milk baby formulas on the market, Kabrita compares quite well. However, we do prefer goat milk that uses whole cream goat milk (rather than skimmed), that is certified non-GMO or organic (Kabrita claims non-GMO but we didn't find any certifications), has a 60:40 whey to casein ratio (like breast milk), and are more transparent about their sourcing of fatty acids (specifically arachidonic acid).
Those concerns aside, Kabrita infant formulas definitely deserve a top spot on our list of the best goat milk formulas!
We do not suggest the Kabrita toddler formula for infants, though it does seem like a reasonable option when your child is over about 12 months old.
Expensive? Yes. All baby formula is expensive, and Kabrita infant formulas and other European formula brands are among the most expensive on the market.
Where to Buy Kabrita Infant Formula?
Over the past 10+ years of operating Mommyhood101, we have worked with several companies that import and resell European baby formulas in the United States.
Most of the companies have come and gone, some were pushed out by new FDA labeling requirements for European formulas, and some couldn't maintain their supply chain logistics and tended to ship expired or poorly handled formulas.
The best place to purchase Kabrita infant formulas online in the USA is at the popular The Milky Box website, which sells a huge variety of EU formulas to US customers (with super fast shipping) and has some of the best prices on European baby formula. Of course, if you're looking for the Kabrita toddler formula, you can purchase that on Amazon and at other major retailers.

References Cited
Intestinal Effects of Prebiotic GOS in Infant Formula
Intestinal Effects of High sn-2 Palmitic Acid Oil in Infant Formula
MFGM Benefits for Infant Development
Consulting Dietician Nutritionist (Mr. John Anderson)
EU Legislation Requirements for Infant Formula Composition
Consulting Food Sustainability Expert (Dr. Alexi Ernstoff)
United States FDA Infant Formula Nutrient Requirements (full list is here)
United States USDA Infant Nutritional Needs & Recommendations
Published Analysis of Nutritional Contents of European Baby Formulas
Information about Iron Bioavailability and Anemia Risk in Children
Disclaimer: To our knowledge, all ingredient and nutritional information contained in this article was accurate at the time of publication. We make no guarantees regarding the accuracy or timeliness of the information. Always read the packaging and instructions, and consult with your child's pediatrician before making nutritional and feeding decisions. Baby formulas manufactured and labeled for sale in Europe may or may not be approved for sale in the USA by the FDA or other regulatory bodies, so consumer discretion is advised.
Full disclosure: Formuland, a major retailer of European baby formulas, offered us free Kabrita Goat samples for testing. The samples are pictured above, provided in infant (0+ months) and two follow-on varieties (6-12 months and 12-36 months).