The Best Goat Milk Formulas - 2023 Reviews
Keep your little one healthy and well-nourished with these top goat milk formulas.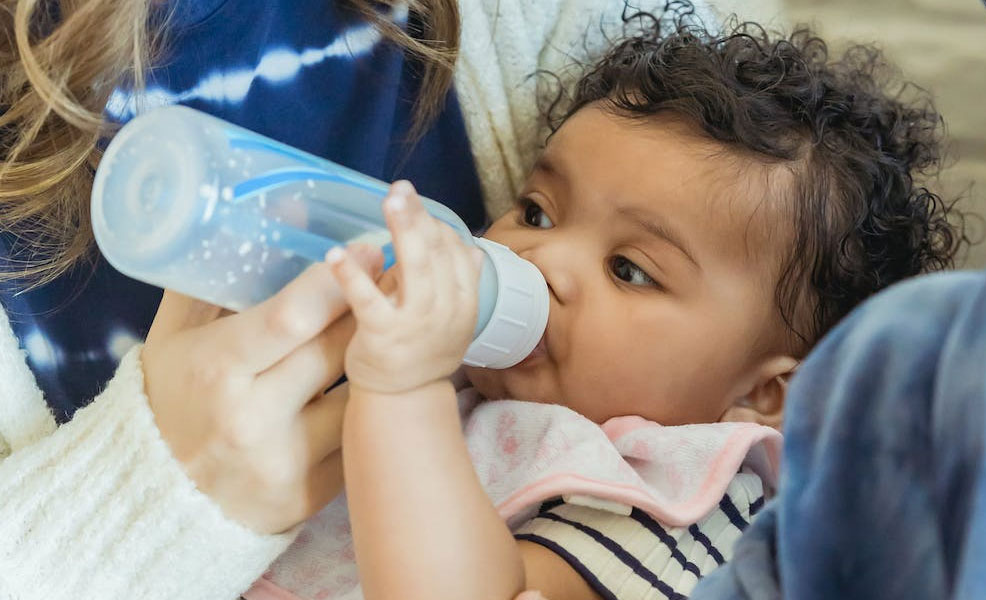 ---
Mommyhood101 independently tests and curates baby gear to help you make informed decisions. If you buy products through links on our site, we may earn a commission.
The best goat milk formulas, especially those made with whole cream goat milk, can provide your little one with essential nutrients (including oligosaccharides, A2 beta-casein proteins, and milk fat globule membrane MFGM) that very closely match those found in both cow's milk and breast milk (references 1, 2, 3).
In fact, recent research shows that goat milk-based infant formula has many similar benefits to breast milk, including maintaining a healthy gut microflora, immune development, and protection against infection (references 2, 4).
Just for fun, what does ChatGPT-4 think is the best goat milk formula!?
"One of the best brands of goat milk baby formula is Kabrita. Kabrita's formula is made with high-quality goat milk and fortified with essential nutrients, such as vitamins D, E, and K, as well as iron. The formula is also free from artificial flavors, colors, and preservatives." -ChatGPT-4
We don't always agree with robots, but we definitely agree that Kabrita is among the best!
We've been reviewing goat milk formulas for over 10 years and if we made our own goat milk-based infant formula, here is what it would look like:
✔️ Certified organic or non-GMO.
✔️ Meets federal feeding guidelines.
✔️ First ingredient is whole goat milk.
✔️ 60:40 Whey to Casein ratio.
✔️ Omega-3 fatty acids (DHA, ALA).
✔️ Omega-6 fatty acids (ARA, LA).
✔️ Amino acids.
✔️ Prebiotics.
✔️ Inositol, Biotin, & Choline.
✔️ Easily mixed, no clumps or bubbles.
✔️ High acceptance and tolerance.
✔️ No Gluten.
✔️ No sucrose, sugars, or corn syrups.
✔️ No maltodextrin.
✔️ No soy (soybean oil is OK).
✔️ No palm oil or palm olein.
✔️ No soy lecithin.
✔️ No carrageenan.
✔️ No DHA extracted with Hexane.
Of course, you also want the formula to fit your unique family's needs; these often include budget constraints and preferences about ingredient sourcing and traceability.
Full disclosure: Most of these goat baby formulas, including the Kendamil, Loulouka, Jovie, Nannycare, and Holle options, were sent to us as free test samples.
Here are the top 5 goat milk baby formulas we have found, followed by summary reviews of nearly a dozen options.
We do not recommend a goat formula unless we have tested it ourselves, and you can find links to our in-depth reviews of each option below. In our testing, we test ingredients and sourcing, preparation, acceptance and tolerance, and whether each formula has nutrition that meets FDA & USDA recommendations, even if they are made in Europe.
It's important to realize that goat milk formulas are not necessarily lower in lactose (milk sugar). Instead, they achieve higher sensitivity because they include A2 beta-casein proteins that are much easier to break down than the A1 beta-caseins that are predominant in cow's milk.
If you're also considering cow's milk baby formulas, be sure to check out our list of the best organic baby formulas. Once your little one begins transitioning to solid foods, you can find the best organic baby foods here!
Update: We're trying hard to keep our info updated in the midst of the formula shortage. As of now, we are able to get our hands on the awesome Jovie, Nannycare, Kabrita, and Baby's Only goat milk formula options.
Always discuss formula decisions with your child's pediatrician before switching away from breastfeeding or changing infant formulas.
Here are the Best Goat Milk Formulas of 2023!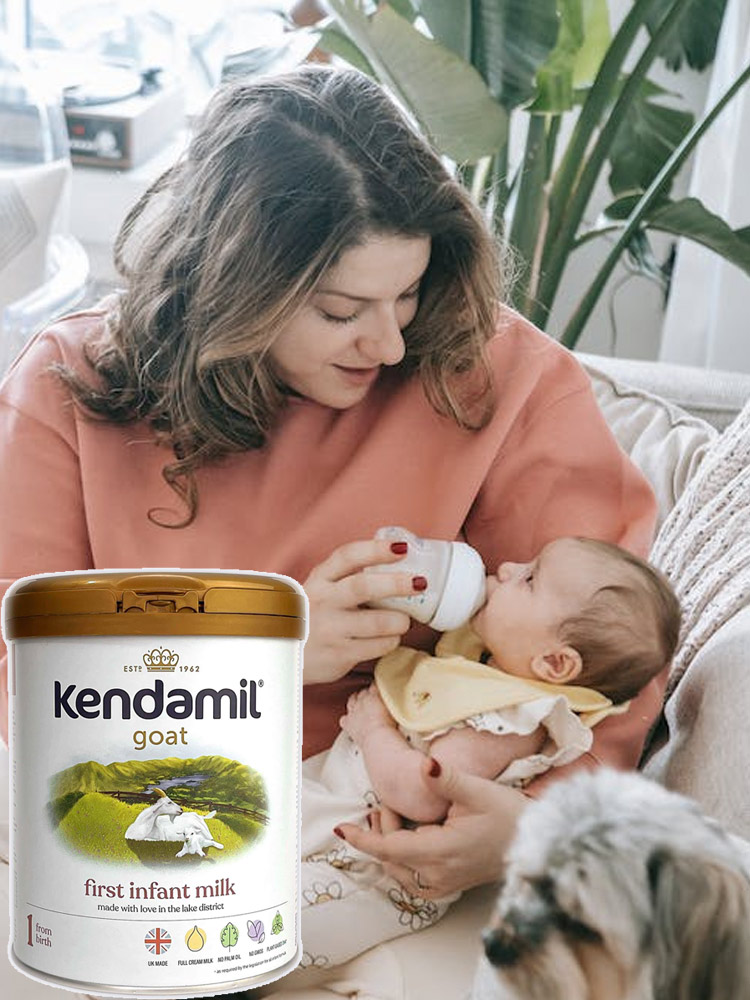 Kendamil has a long and celebrated history of making some of the highest quality baby formulas, including their popular organic Kendamil formula, and this delicious and nutritious goat milk formula. Kendamil makes its formulas in the famous and beautiful UNESCO World Heritage Lake District in northwest England and sources its whole cream goat milk exclusively from British farms, its whey from Somerset, England, its vitamins and minerals from Kent, England, and its oils from Yorkshire. The ingredients are non-GMO, the dairy is Red Tractor certified, and Kendamil holds the Gold Medal from Monde Selection for making the world's best baby formulas. If that's not enough to impress you, they are also certified Kosher and Halal, hold UK soil certification, their factory is 100% solar powered, and even the Royal Family uses Kendamil! But how is their goat formula!?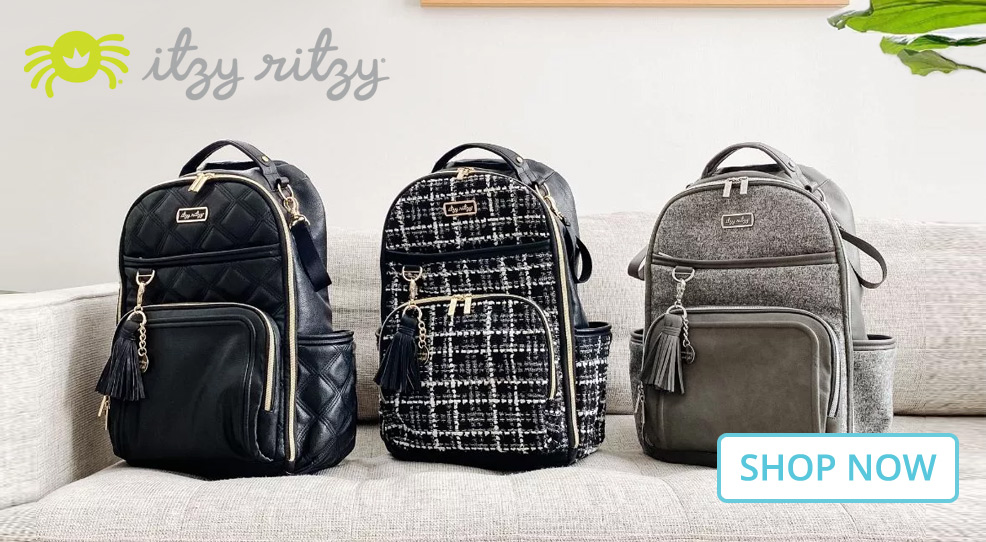 In our testing (see our full Kendamil Goat Formula review here), we fell in love with this formula, as did the little ones who tried it! We found that the Kendamil Goat formula mixed perfectly with hot water without any clumping, foaming, or bubbling. We were impressed with the use of full cream whole goat milk, which exclusively provides easily digested A2 beta-casein proteins and an abundance of wholesome nutrition (naturally including prebiotics, milk fat globule membrane MFGM, and many vitamins and minerals). While goat milk formulas, by default, have a non-preferred 20:80 whey to casein ratio, Kendamil Goat complements the whole goat milk with goat whey powder to bring that ratio up to match the ratio found in breast milk, which is 60:40. That's an ideal ratio for digestion, helping reduce the odds of constipation, gas, colic, reflux, and spit-up. The primary carbohydrate (sugar) is lactose, which is preferred, and it also provides prebiotics via GOS (Galacto-Oligosaccharides), omega-3 (DHA, ALA), and omega-6 (LA, AA) (all of which is extracted without using hexane!), tons of amino acids, inositol, choline, and biotin. Just as important is what this formula doesn't contain: palm oil, corn syrup, preservatives, sucrose, soy, gluten, GMOs, starch or maltodextrin, or carrageenan.
In our nutrition testing, we found that Kendamil Goat meets and exceeds all of the FDA recommendations for minimum nutrients. All of this applies to Stages 1, 2, and 3 of this formula. Finally, in our testing with infants and a toddler, there was excellent acceptance and tolerance, with no signs of gastrointestinal discomfort (even in the most sensitive baby). Overall, we love Kendamil goat and think you will too! The only real drawback with this goat formula is the price, coming in at about $2.00 per ounce, and while it's non-GMO it's not organic (see Jovie for that). We do have a 5% off "Mommyhood101" coupon code you can use here to help lower the price. Overall, we love the Kendamil Goat baby formulas, available in Stages 1-3, and we're happy to feature them here on our list! Interested? You can check out the Kendamil Organic Baby Formula here!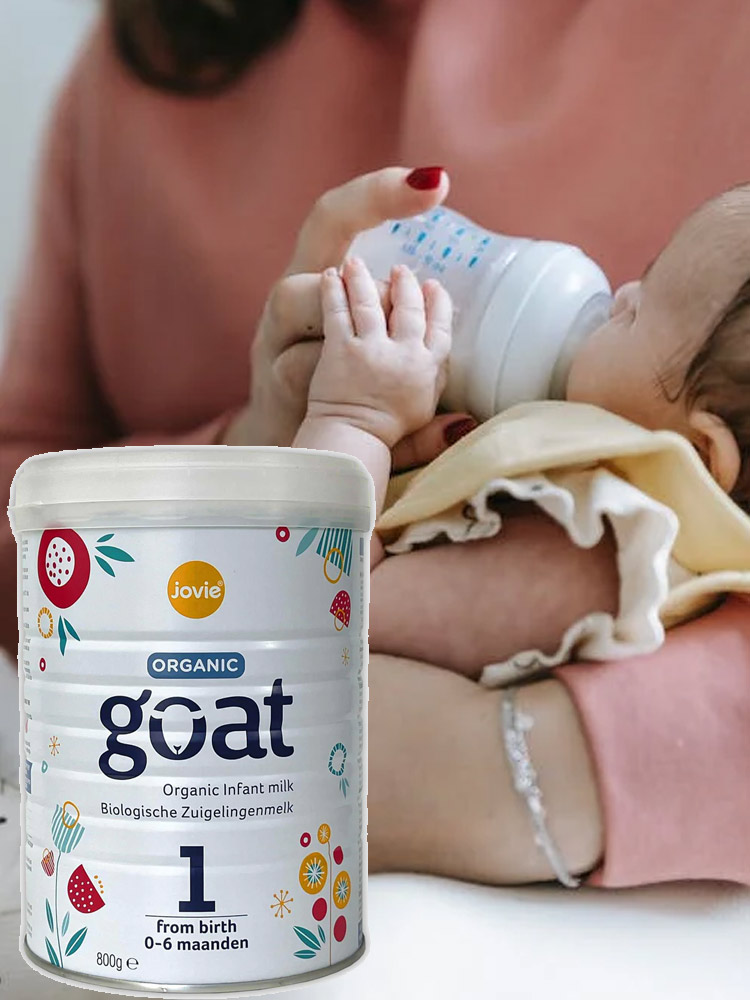 Jovie organic goat milk formulas are made in The Netherlands with organic ingredients sourced from throughout the EU and non-EU countries. Jovie formulas are made by Buisman Zwolle, is a well-respected European company that produces infant formulas and milk powders, and holds kosher, halal, and Scheme for Food Safety Management Systems (FSSC 22000) certifications. Furthermore, as an EU-certified organic (BIO code NL-BIO-01) product, Jovie conforms to the relatively strict EU requirements for organic products, containing a minimum 98% organic ingredients (versus the 95% minimum of the USDA). In Europe, organic certification requires no use of synthetic chemicals such as pesticides or herbicides, soluble mineral fertilizers, chemical growth regulators, or antibiotics. Also, the animals should be fed with farm-grown feed (not purchased). All of that sounds great, but how does the Jovie formula perform!?
In our testing (see our full Jovie Formula review here), we thought Jovie did an excellent job with its ingredients, nutrition, and ease of preparation and digestion. Our test kiddos felt the same way! When we prepared it, we found that Jovie powder mixed very easily with warm (about 104 degrees F) water and doesn't leave any residue, film, clumps, bubbles, or foaming. We appreciated the use of whole goat milk as the first ingredient (with its A2 beta-casein and MFGM), the addition of organic lactose as the primary carbohydrate, and the use of sunflower and rapeseed oil (rather than palm oil or soy-based oils). Unlike Kendamil Goat which uses a synthetic form of DHA that is very common in baby formula, Jovie uses fish oil, which some parents prefer. Jovie also provides prebiotics via GOS, inositol and choline (in stages 1-2 only), and amino acids, and meets or exceeds FDA recommendations for infant formula nutrition. Just as importantly, it does not contain palm oil, C. Cohnii oil, M. Alpina oil, maltodextrin or starch, sucrose or corn syrups, gluten, soy, or any other nasty stuff.
In our taste testing, the infants loved the taste of Jovie stages 1 and 2 and had no issues with acceptance (even for the pickiest one). Tolerance, in terms of gastrointestinal effects, was excellent and none of the little ones developed any major gas, constipation, reflux, or spit-up. This brings us to our primary concerns with Jovie. The first is that Jovie does not contain whey protein, which means that it likely has a 20:80 whey to casein ratio, which is not ideal (breast milk is 60:40). Given how casein-heavy this goat formula is (though it is A2 beta-casein), your baby might experience more GI distress than expected. Again, we didn't find that in our tests, but it's worth mentioning the possibility. The second reason is that the ingredient sourcing isn't as transparent as it is with Kendamil Goat, though the organic certification is reassuring. Like all the goat-based baby formulas, Jovie is not cheap, coming in at a higher price than Kendamil Goat, at about $2.25/ounce. You can save 5% with our Mommyhood101 coupon code at The Milky Box, which helps a bit! Unfamiliar with The Milky Box? Check out our The Milky Box review here! Interested? You can check out the Jovie Goat Formula here!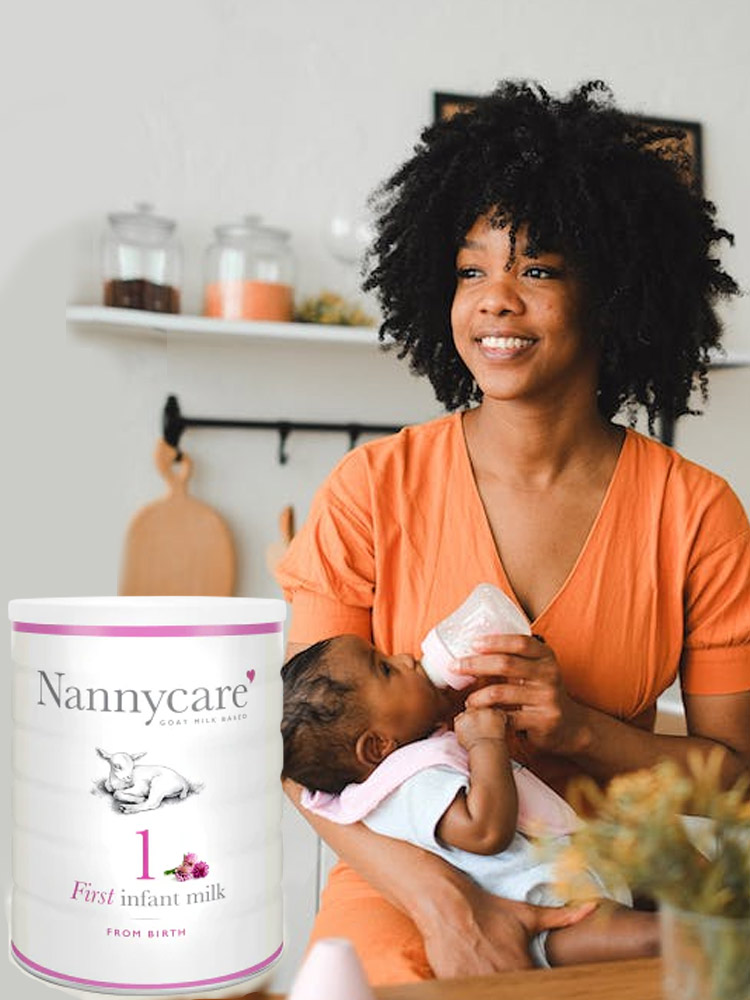 Nannycare makes the original goat (OG?) milk baby formula, the first in the world to be widely commercialized and distributed. In fact, Nannycare was involved in developing the new legislation in the EU and UK that paved the way for goat formulas to become more popular and widely available than ever before! While Nannycare has focused recently on marketing and distributing their goat formulas in Europe, they are actually made in New Zealand by a company called Dairy Goat Co-operative, which is a world leader in producing nutritional products based exclusively on goat milk. Nannycare, like Kendamil Goat, uses non-GMO ingredients (according to their website), and has certified Halal manufacturing (but not Kosher). The Nannycare website suggests they also use locally-sourced dairy, but we couldn't find any more information regarding the traceability of ingredients.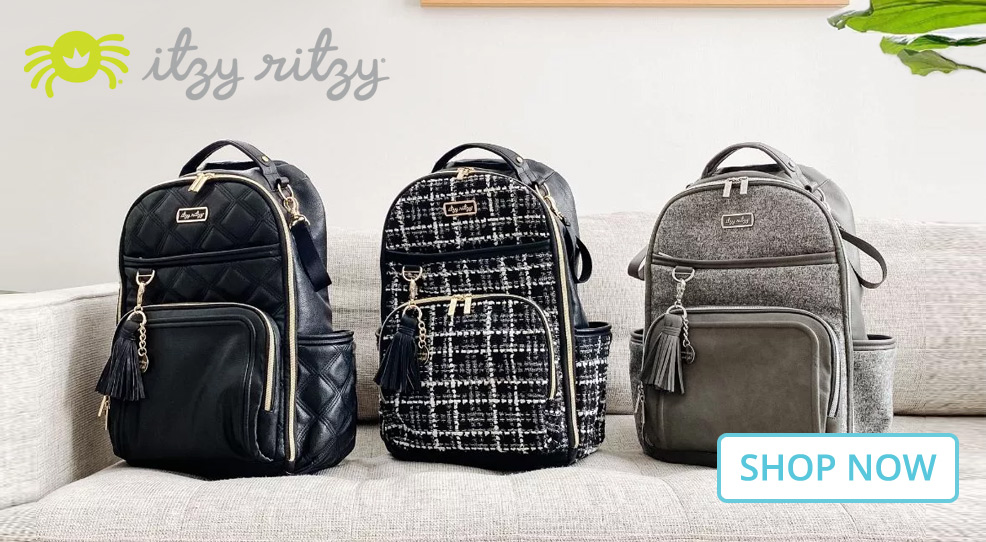 Nannycare uses a very simple combination of ingredients, including full cream A2 whole goat milk as the first ingredient, then lactose. Like Jovie, they do not add whey protein, giving them a non-preferred 20:80 whey to casein ratio (rather than 60:40 like Kendamil and breast milk). However, the simplicity of the ingredients also means that they do not include any of the nasty stuff: no palm or soy oils, no added corn or other syrups, and no starch or maltodextrin. They use fish oil as a DHA source, which we love, but they also use Mortierella Alpina (M. Alpina) oil as a source of Omega-6, which is fine but not necessarily preferred (due to possible extraction using hexane). Outside of that, they include several amino acids, biotin, inositol, and choline. For nutrition, the Nannycare Stage 1 formula appears to meet and exceed FDA minimum recommendations for infant formulas. You can see all the details in our full Nannycare formula review.
In our testing, we found that the Nannycare powder mixes readily with hot water, without any clumps or excessive bubbling, or foaming. The formula tasted smooth and rich, and (to us) tasted a bit sweeter than all the other options on this list. The moms who volunteered to test Nannycare on their infants really liked it, and one mom switched from Bobbie formula to Nannycare after realizing it produced dramatically less spit-up than Bobbie. Perhaps due to the sweet taste, Nannycare was readily accepted by all of the little ones, and we love how well it was tolerated by their GI systems! The only downfalls are the non-preferred whey-to-casein ratio, the limited traceability of ingredients, the lack of added prebiotics, and the use of M. Alpina oils. Not deal-breakers, but worth mentioning. Like all goat formulas, Nannycare is quite expensive, coming in around the same price as Jovie (but not organic), around $2.20/ounce! Interested? You can check out the Nannycare Goat Formula here!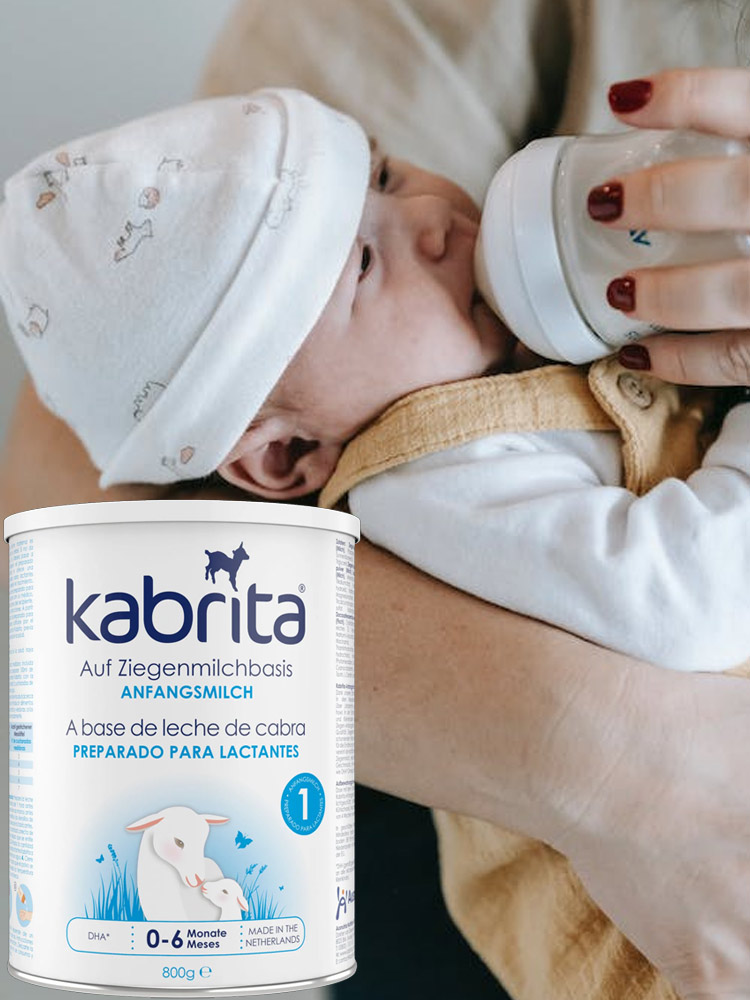 Kabrita is one of very few goat milk formulas that are sold in the USA, but unfortunately, only their toddler version is intended for little ones 12-24 months of age. Kabrita also makes infant formulas, both Stage 1 and 2, but they have never been cleared by the FDA for sale in the USA (similar to the other options on this list). Because the FDA does not specifically regulate toddler formulas, Kabrita has chosen to only market that version in the USA. The good news, however, is that Kabrita also makes excellent infant formulas that can be shipped to the USA! All Kabrita formulas are made by Ausnutria, a large Chinese (Hong Kong) company that produces formulas and milk powders. All Kabrita formulas, including the infant and toddler versions, are made in The Netherlands using non-GMO ingredients and conforming to EU standards for the use of antibiotics and growth hormones.
For this review, we focus on the Kabrita infant formulas (Dutch version). Unlike the other goat formulas on this list, Kabrita formulas do not use full cream whole goat milk, instead opting to use nonfat skimmed goat milk. In addition, they use lactose and goat whey protein powder, which brings the whey-to-casein ratio up closer to breast milk. For fats, Kabrita uses a blend of coconut, rapeseed, and sunflower oils, alongside something called high sn-2 palmitic acid oil, which is palmitic acid-enhanced vegetable oil (not palm oil) that seems to have good research support (5, 6). In addition, they include prebiotics in the form of galactooligosaccharides (GOS), fish oil for DHA, amino acids, inositol, choline, and biotin. The ingredients list also has arachidonic acid (AA), which may or may not be in the form of M. Alpina oil, it's not specified. The good news is there is no palm oil, starches or maltodextrin, added sugars (other than lactose) or corn syrups, GMOs, or C. Cohnii. Nutrition appears to be on par with FDA recommendations for infant feeding.
In our testing, the Kabrita formulas were very easy to prepare, including scooping and mixing with hot water. The labels are in Dutch and French, without any English translation, which can make things a bit challenging for English-speaking parents. Note that our full Kabrita infant formula review provides translations. Once it was prepared, there were no clumps and no excessive bubbling or foaming. The prepared formula tasted excellent, with a slightly chalky texture on the tongue. There was no fishy flavor, and we found it less rich and sweet than most of the other options on this list; that could be a result of using skimmed goat milk rather than whole cream goat milk, but we can't be sure. The two infants we tested it on had mixed responses, with one readily accepting and tolerating it, but the older one seems to not prefer it to their usual (HiPP) formula. After some prodding, the second infant ended up doing three feedings with it and seemed to tolerate it quite well - without any spit-up, reflux, gas, or constipation. Overall, we think it's a great option, except for a few cons: no English labeling, a slightly chalky texture, the presumed use of M. Alpina oil, and mixed acceptance among our test kiddos. Another small con is that Kabrita is effectively the most expensive goat milk formula on our list, coming at about $2.35/ounce! Interested? You can check out the Kabrita Goat Formula here!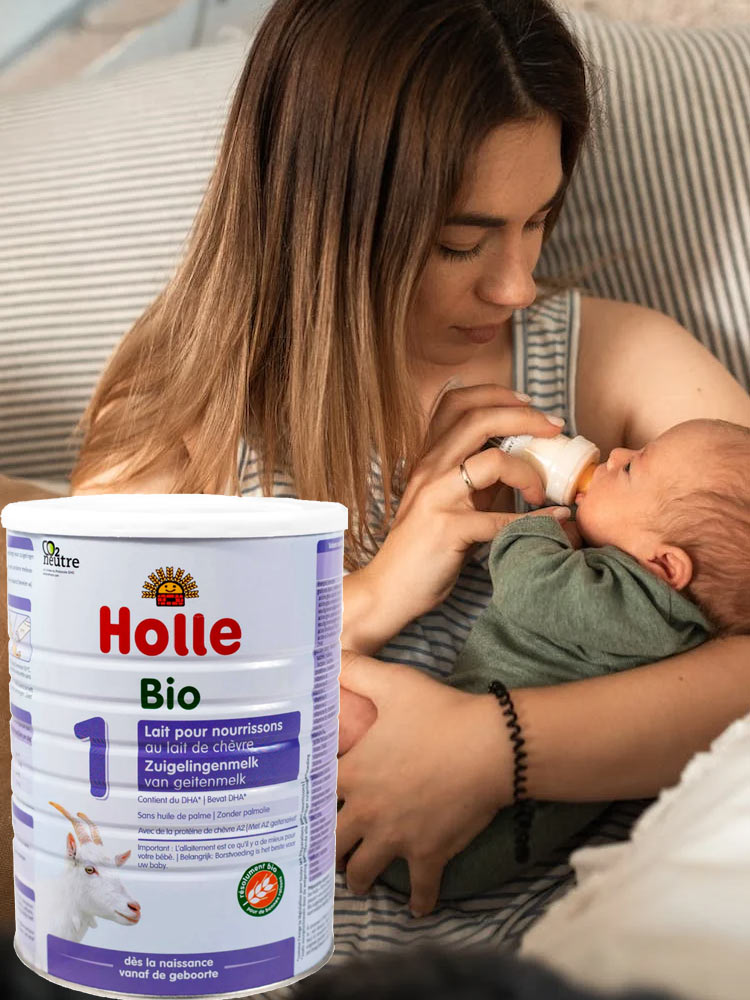 Holle is one of the biggest and most popular baby formula brands in the world, and one of the longest-running as well! Founded in 1933 in Switzerland, Holle has proven itself a leader in making high-quality, organic, and Demeter-certified (biodynamic farming) baby formulas. Holle follows strict organic and biodynamic regulations in Germany and the EU, following highly responsible and sustainable farming practices and ingredient sourcing, resulting in a very high-quality product. Holle goat formulas are no exception, meeting stringent EU (BIO) organic requirements, and following in Holle and Demeter's long tradition of sustainable farming. This includes soil conservation, water conservation, species protection, and very stringent animal welfare practices.
Holle Goat formulas use organic whole goat milk as the first ingredient, along with organic lactose as the primary carbohydrate. For fats, they avoid palm oil and include a blend of rapeseed and sunflower oils. Proteins are derived from the A2 beta-casein found in whole goat milk, and no whey protein is added, making this a likely 20:80 whey-to-casein ratio (which isn't ideal, in our opinion). The other thing we didn't appreciate about Holle Goat is that they use maltodextrin as a carbohydrate, which is a filler and thickener with high calories and glycemic load. Holle Goat also includes several amino acids, choline, inositol, and biotin. For DHA it lists Algae Oil on the ingredients list, which we suspect is C. Cohnii. Some parents be a bit timid about that, at least relative to fish oil. We could not find any information regarding whether this was indeed C. Cohnii, and if so, how it was extracted from the microalgae (i.e., with or without hexane). Nutrition is great, as would be expected, and seems to exceed FDA recommendations.
In our testing, preparation was a bit challenging due to the label being written in German. It was also a bit more involved, similar to Loulouka, requiring a partial (25%) and then full (remaining 75%) addition of water (with mixing/shaking in the middle). Using the preparation instructions (in English!) on The Milky Box website, we found that once mixed, it is very uniform and doesn't have any clumps or excessive bubbles, or foam. The formula tasted good and a bit sweet, with a smooth and rich flavor, and only a slightly chalky texture. We tested Holle Goat on two infants, 3 and 6 months old, and both readily accepted it without any issues. The parents commented that it was great in terms of gastrointestinal tolerance, without inducing any gas, constipation, or other apparent GI discomfort. Overall, we think Holle Goat is a reasonable option, though we aren't impressed with the use of maltodextrin, C. Cohnii (presumed), or the inferior whey-to-casein ratio. There's also the German labeling issue, though vendors will send you an English cheat sheet in the package. Similarly priced as Kabrita, at a steep $2.35/ounce! Interested? You can check out the Holle Goat Formula here!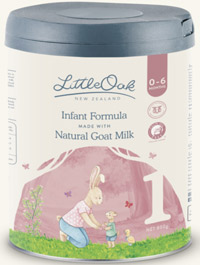 Little Oak is based in New Zealand and prides itself on being the first baby formula to be certified as palm oil-free, and using flaxseed oil to replace canola oil. Not only that, but they use only non-GMO ingredients, whole goat milk, and conform to New Zealand's highest food safety standards.
Little oak uses full cream goat milk as the first ingredient, then lactose as the second ingredient. For fats, they use a blend of sunflower, coconut, and flaxseed oils. They include several amino acids, prebiotics via GOS, DHA from Schizochytrium sp. (rather than C. cohnii), arachidonic acid from M. Alpina oil, and inositol, choline, and biotin. The lack of whey protein means this formula likely has a whey-to-casein ratio that is unlike breast milk, likely around the 20:80 ratio.
While we did not test Little Oak ourselves, we took feedback from a neighbor and friend who swears by its purity, gentleness, and nutritional value. Interestingly, this mom has tried three different formulas, including Bobbie, HiPP Combiotic, and then Little Oak. In her experience, Little Oak goat formula was the only product that helped reduce the incidence of spit-up, reflux, gas, and constipation in her baby. We tasted it and thought it had a nice flavor and texture, and preparation was simple and everything mixed very well. While we don't like the addition of M. Alpina oil and the skewed whey to casein ratio, at only about $1.52 per ounce we think Little Oak is a great deal if you can figure out a way to get it shipped cheaply all the way to the USA! You can check out the Little Oak goat milk formula here.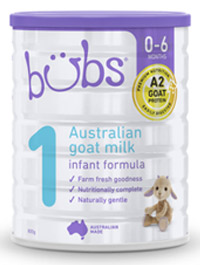 Bubs is based in Victoria, Australia, and was founded in 2006. They have become the largest producer of goat milk products in Australia, and pride themselves on using only locally sourced Australian goat milk in their infant formulas. Bubs are sold not only in Australia but it's also very popular in Asia and the Middle East. Bubs have three primary varieties of goat milk formula: Stage 1 (0-6 months), Stage 2 (6-12 months), and Stage 3 toddler (12-36 months). All three of them are relatively inexpensive, coming in at about $1/ounce (USD), making them a potentially good option for parents looking for a relatively inexpensive but high quality goat milk formula. While Bubs used to only ship to the US from Australia, it is now available shipped directly from the US thanks to Operation Fly Formula!
For ingredients, Bubs goat formulas use full cream goat milk, lactose, and goat whey protein, giving them a more ideal whey-to-casein ratio relative to goat formulas without whey protein. For fats, they use palm olein, soybean, coconut, and high oleic sunflower oils. They also include several amino acids, choline, biotin, inositol, prebiotics via GOS and fructooligosaccharides (FOS), ARA from M. Alpina oil, and DHA from fish oil. We weren't excited by the inclusion of palm oil or soy lecithin, but we did appreciate the use of fish oil as a DHA source and the full cream A2 goat milk.
In our testing, we found that the Bubs goat formula didn't mix quite as readily with water as some of the other options, leaving a thin residue and showing some bubbling and frothing upon shaking. The prepared formula tasted great, with a slightly sweet flavor, and no sign of fishy odor or flavor. We tried out Bubs with one infant and they seemed to appreciate the flavor and tolerate it (in terms of GI tolerance) without any issues. They usually feed with Kendamil Organic formula, and this seemed to be just as readily accepted and gentle for their tummy. Overall, we think this is a good option for parents looking for a relatively inexpensive goat milk formula for their baby, but we aren't impressed by the inclusion of soy lecithin or palm oil, nor did we think the mixing was as easy as it is with other options. Interested? You can check out the Bubs Goat Formula here.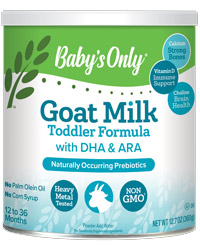 Baby's Only is made by Nature's One company, based in Ohio, USA, which manufactures not only this goat milk formula but also several other popular baby formulas, kid's snacks, diapers, and wipes. It is important to realize that only some of Baby's Only formulas are specifically approved by the FDA for use with infants, which does not include this Baby's Only Goat Milk Formula. Specifically, this goat milk formula is a toddler formulation, which means that it is intended for use by a toddler 1 year and older (12-36 months), or as recommended by your pediatrician. The good news, however, is that this formula is certified organic, non-GMO, and includes DHA and ARA, naturally occurring prebiotics, lutein, and choline. The first ingredients are organic brown rice syrup, skim goat milk, and organic oils (sunflower, canola, safflower, and coconut). In other words, the primary source of carbohydrates is rice syrup, and goat milk is skimmed; both of these ingredients are not ideal. However, Baby's Only does a great job including DHA and ARA which are not extracted using hexane but instead sourced from organic egg lecithin. They also avoid using corn syrup, palm olein, and soy protein. In fact, Baby's Only does such a careful job sourcing its ingredients that they were honored with the prestigious Clean Label Project Purity Award, which means it not only has purity and nutritional superiority but has been tested for over 100 contaminants (including pesticides, heavy metals, plasticizers).
In our testing, we found that the Baby's Only Goat Milk formula mixed very readily with warm or room temperature water (using one 8.5g scoop per 2 ounces of water); there was no foaming or clumping, and the prepared formula flowed easily through slow-flow bottle nipples. In our own tasting, we thought the formula had a sweeter taste than most other goat formulas we've tested, possibly due to the rice syrup and organic vanilla flavoring; in fact, it was surprisingly tasty! Our test toddlers, one 11 months and one 17 months showed very high acceptance of a bottle and sippy cup, and neither of them developed any indication of intolerance. Given the ingredients, we suspect this formula has an approximate 20:80 whey-to-casein ratio. Overall, we think this is a great option if you're searching for a great toddler goat milk formula, and it is very likely that your little one will love it too! Save for some unideal ingredient composition (specifically brown rice syrup) and its contraindication for infants, we think it's a delicious new addition to our list! Interested? You can check out the Baby's Only Goat Milk Formula here.
---
Note that this formula was intended for use by toddlers only, is not intended to be used as an infant formula, and was recently recalled for exactly that reason.
We do not recommend using the Designed by Nature goat milk formula with infants, as with any toddler-based formula.
Sammy's Goat Milk Formula.
Note that this formula is intended for use by toddlers only, is not intended to be used as an infant formula, and was subject to investigation by the FDA for that reason.
We do not recommend using Sammy's Milk goat formula with infants, as with any toddler-based formula.
Loulouka Goat Milk Formula.
Loulouka goat formula (and cow milk formula) was discontinued indefinitely. There was remaining inventory on the market through late 2022, but now it's basically impossible to find. If you do manage to find it, it's also very likely to be expired.
The word on the street is that Loulouka could be returning to the market in 2024. If that happens, we'll be the first to let you know!
---
Cow versus Goat Milk Formula
Tons of research, in both human and animal models, has gone into figuring out whether goat milk can be introduced into baby formula in a manner that makes it nutritionally adequate for infant feeding. We include some of those studies in the Reference section, below.
It is important to realize that goat milk alone, just like cow's milk alone, is not nutritionally sufficient for feeding an infant.
Baby formulas, whether cow- or goat-based, also include critical ingredients such as lactose, whey protein, oils, amino acids, omega-3, and omega-6 fatty acids, and several additional nutrients found in breast milk such as vitamins, minerals, biotin, inositol, and choline.
It's also important to realize that goat milk formulas are not appropriate for children with an allergy to cow's milk, including sensitivities to lactose or whey, since both of these ingredients are typically included in goat milk formulas.
In general, goat milk that is used for goat formula (which is actually unique) has a few advantages relative to cow's milk. These include:
Goat milk typically contains more A2 beta-casein proteins (and fewer A1 beta-casein and β-lactoglobulins), which can help ease digestion.
Goat milk tends to contain an abundance of oligosaccharides with prebiotic and anti-infection properties, many of which are structured identically to those found in breast milk (7).
Goat milk tends to contain more omega fatty acids, including linoleic and arachidonic acids, than cow's milk.
Goat milk tends to have smaller fat globules that are easier to break down (through gut enzymes), creating a softer curd in the gut.
Goat milk may contain more specific vitamins and minerals such as calcium, potassium, and vitamins A and B6.
Goat farming may be more sustainable and contribute less to climate change.
More importantly, when goat milk formula is properly farmed and processed, it carries a similar nutritional value relative to cows' milk formula.
However, there are a few cons to goat milk formula. These include:
Goat milk formulas can be more expensive than cow's milk formulas.
Because goat milk formulas have not been cleared by the FDA for infant consumption, they can be harder to find (especially in the USA).
Cow milk tends to be higher in folic acid and vitamin B12.
Goat and cow's milk both have a very low whey:casein ratio (20:80) which is not ideal relative to the ratio found in breast milk (60:40).
Overall, the most functional difference between baby formulas made with cow's milk versus goat's milk is the type of proteins predominant in the milk.
In goat milk, the A2 beta-casein proteins are generally easier to digest than the A1 beta-caseins found in cow's milk, leading both scientists and parents to realize that goat's milk formulas can help reduce gastrointestinal distress in some infants (see references).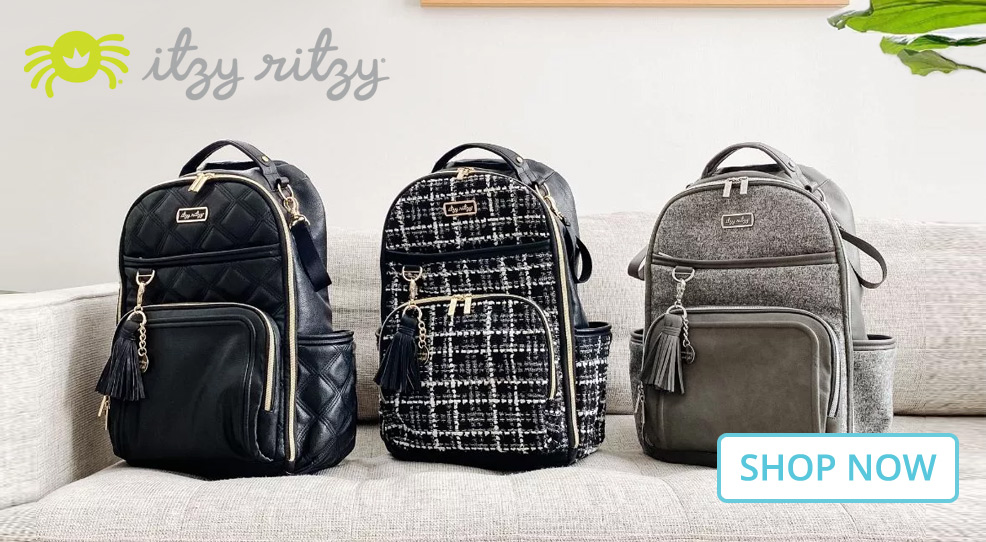 Goat Formula Ingredients: Good and Bad
The ideal ingredients in a goat formula are very similar to the ones we look for in cow's milk formulas. The same goes for the ingredients we try to avoid.
Here are some of the main ingredients we try to look for in a good goat milk formula:
Whole goat milk is the first ingredient, organic or non-GMO. Whole goat milk has excellent nutritional value, including natural prebiotics.
Lactose is the primary carbohydrate, which is also the primary carbohydrate in breast milk.
Whey protein increases the whey-to-casein ratio, getting it closer to what is found in breast milk.
Omega-3 (ALA, DHA) and Omega-6 (LA, AA) fatty acids from natural rather than synthetic sources. Learn all about DHA in baby formula here!
Biotin, inositol, and choline promote healthy brain, skin, hair, teeth, and nail development.
Prebiotics, either naturally (e.g., what is already in whole cream goat milk) or via GOS or FOS.
And here are some of the ingredients we try to avoid in goat milk formula:
Soy-based ingredients such as soybean oil and soy lecithin.
Added sugars (other than lactose), sucrose, or corn syrups.
Maltodextrine or corn starch.
Palm oil or palm olein.
Carageenan or any thickener or gelling agents.
M. Alpina or C. cohnii as sources of Omega-3 or Omega-6 fatty acids, due to concerns about manufacturing practices.
Does any single goat milk formula meet all of these criteria? We believe that Kendamil goat provides the best overall balance, followed by Jovie, making both of them excellent options.
Goat Milk Formula: Nutritional Considerations
We want to be clear that no goat milk-based formulas are currently FDA-approved for infant feeding in the USA. While Kabrita comes close, they have not conducted clinical trials to demonstrate that their toddler goat formula has sufficient nutritional value to support infants.
In Europe, it's a different situation, with federally-regulated goat milk baby formulas appearing on the market over a decade ago and continuing to become more popular for parents seeking an alternative to traditional cow's milk formulas. While European infant formulas do not fall under the purview of the FDA, they do fall under the requirements and standards of the European Commission for food products, which are generally considered even more stringent than FDA requirements.
For example, the European Commission does not allow infant formulas to contain corn syrup or corn syrup solids and dictates that at least 30% of a formula's carbohydrates must be in the form of lactose. They also state that carbohydrates must be gluten-free, and fats must not include sesame or cottonseed oils. Finally, infant formulas cannot contain gums such as locust bean gum or guar gum, or soluble fibers such as pectin or fructan.
A very recent study (8) examined 14 different European baby formulas, including options by HiPP, Holle, Lebenswert, and Topfer, and found that all of them met FDA-required nutrient levels except for one Topfer formula.
That's compelling news!
While most of the above regulation and science is concerned with cow's milk formulas, because that's standard, it also applies to goat's milk formulas. In other words, the very same European Commission requirements for cow's milk formula apply to goat milk formula.
So you can rest assured that all of the goat milk formulas approved for sale in the EU are meeting European Commission standards for nutritional composition. You can also rest assured that in most cases (so far with the only exception being one Topfer variety), European baby formulas also meet the FDA's requirements (even if they are not formally approved by, regulated by, or monitored by the FDA).
Is Organic Worth the Cost?
You'll realize that our #1 and #2 formulas are non-GMO and organic, respectively. This begs the question as to whether an organic goat formula is better than a non-GMO formula.
There are many reasons to purchase organic, including priorities for animal welfare and environmental sustainability, and seeking to avoid heavy metals and other contaminants introduced by pesticides, herbicides, and fertilizers.
In general, we agree that organic offers sometimes intangible benefits to the quality of a food product, including infant formulas. That is why we spend so much time finding the best organic baby formulas every year!
However, we also realize that sometimes organic food production is not necessarily leading to better outcomes, for example in terms of heavy metal exposure or overall food safety (9). In many cases, it might just be leading to higher peace of mind. We think it is up to you whether you value that peace of mind and the possibility that organic might be not only a bit safer in some cases, but also driving more sustainable agricultural practices in the long term.
Conclusions
Breastfeeding is always the best option for the first 12 months of life, but not all parents can breastfeed (for medical, professional, social, cultural, or other reasons!) and they turn to infant formula to replace or supplement breastfeeding.
However, some little ones find it difficult to digest cow's milk, particularly the A1 beta-casein proteins, and parents turn to other options. One option is to pivot to a baby formula that uses special A2 cow's milk, and another option is a goat's milk formula that is naturally abundant with this easier-to-digest A2 beta-casein protein.
Luckily, there are many excellent goat milk formulas on the market, including conventionally grown, organic, and non-GMO options. Unfortunately, at this point, they are all made in Europe, Australia, or New Zealand and therefore are not regulated by the FDA and sometimes require long and costly shipping times.
The good news is that they all meet the nutritional recommendations of the FDA (and USDA) for infant formula, and we have found many of them to have superior ingredients (in terms of quality and sourcing), high acceptance rates among discerning infants, and importantly very high tolerance with reduced gastrointestinal effects that sometimes accompany the consumption of cow's milk formula.
We hope this article has been a helpful guide! As always, if you have any questions or comments, we invite you to visit us on our Facebook page and send a message!
References
1. Zhou, S. J., Sullivan, T., Gibson, R. A., Lönnerdal, B., Prosser, C. G., Lowry, D. J., & Makrides, M. (2014). Nutritional adequacy of goat milk infant formulas for term infants: a double-blind randomized controlled trial. British Journal of Nutrition, 111(9), 1641-1651.
2. Gallier, S., Tolenaars, L., & Prosser, C. (2020). Whole goat milk as a source of fat and milk fat globule membrane in infant formula. Nutrients, 12(11), 3486.
3. Grant, C., Rotherham, B., Sharpe, S., Scragg, R., Thompson, J., Andrews, J., ... & Lowry, D. (2005). Randomized, double‐blind comparison of growth in infants receiving goat milk formula versus cow milk infant formula. Journal of paediatrics and child health, 41(11), 564-568.
4. Prosser, C. G. (2021). Compositional and functional characteristics of goat milk and relevance as a base for infant formula. Journal of Food Science, 86(2), 257-265.
5. Yao, M., Lien, E. L., Capeding, M. R., Fitzgerald, M., Ramanujam, K., Yuhas, R., ... & DeRusso, P. A. (2014). Effects of term infant formulas containing high sn-2 palmitate with and without oligofructose on stool composition, stool characteristics, and bifidogenicity. Journal of Pediatric Gastroenterology and Nutrition, 59(4), 440.
6. Bar-Yoseph, F., Lifshitz, Y., & Cohen, T. (2013). Review of sn-2 palmitate oil implications for infant health. Prostaglandins, Leukotrienes and Essential Fatty Acids, 89(4), 139-143.
7. Leong, A., Liu, Z., Almshawit, H., Zisu, B., Pillidge, C., Rochfort, S., & Gill, H. (2019). Oligosaccharides in goats' milk-based infant formula and their prebiotic and anti-infection properties. British Journal of Nutrition, 122(4), 441-449.
8. DiMaggio, D. M., Du, N., Scherer, C., Brodlie, S., Shabanova, V., Belamarich, P., & Porto, A. F. (2019). Comparison of imported European and US infant formulas: labeling, nutrient and safety concerns. Journal of pediatric gastroenterology and nutrition, 69(4), 480-486.
9. Magkos, F., Arvaniti, F., & Zampelas, A. (2006). Organic food: buying more safety or just peace of mind? A critical review of the literature. Critical Reviews in Food Science and Nutrition, 46(1), 23-56.