Annke Baby Monitor Review BM100
The Annke offers affordable peace of mind, but you can probably do better.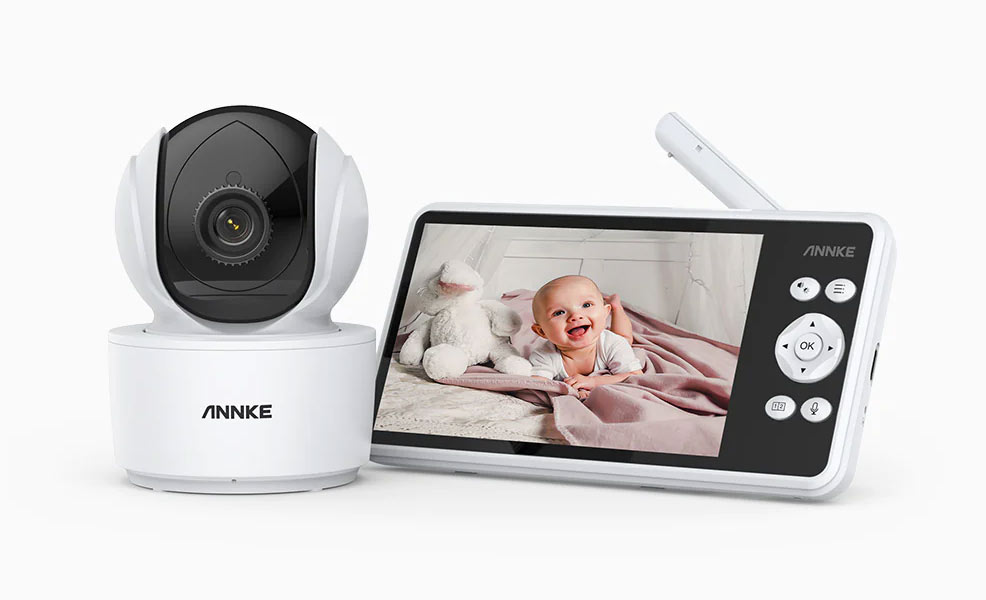 ---
Mommyhood101 independently tests and curates baby gear to help you make informed decisions. If you buy products through links on our site, we may earn a commission.
The Annke BM100 offers great baby monitor performance in a simple package that is both easy to use and inexpensive.
As one of the cheaper baby monitors on the market, it offers an impressive set of features and decent performance. But how does it perform!?
Rather than making you read through the entire article, here are the main things we liked and disliked about it:
✔️ 4.3" display with 480p resolution.
✔️ Remote pan-tilt-zoom camera.
✔️ Decent daytime and night vision.
✔️ Impressive signal range.
✔️ Nursery temperature monitoring.
✔️ Two-way intercom talk.
✔️ Temperature alerts and timer.
✔️ Dual camera (split screen) support.
✔️ Great price!
❌ Resolution is low.
❌ Screen size is small.
❌ Battery life could be better.
❌ Smart features false alarm a lot.
❌ No movement tracking or alerts.
The Annke is not quite the best baby monitor of the year, but it does have some impressive features for the price!
Coming in under $100, we think the price is great given the high quality video (day and night) and audio, signal reception, and reliability.
After our long-term review, we give it a 3.8 out of 5.0, with some room for improvement.
Click the below image to check prices at Amazon.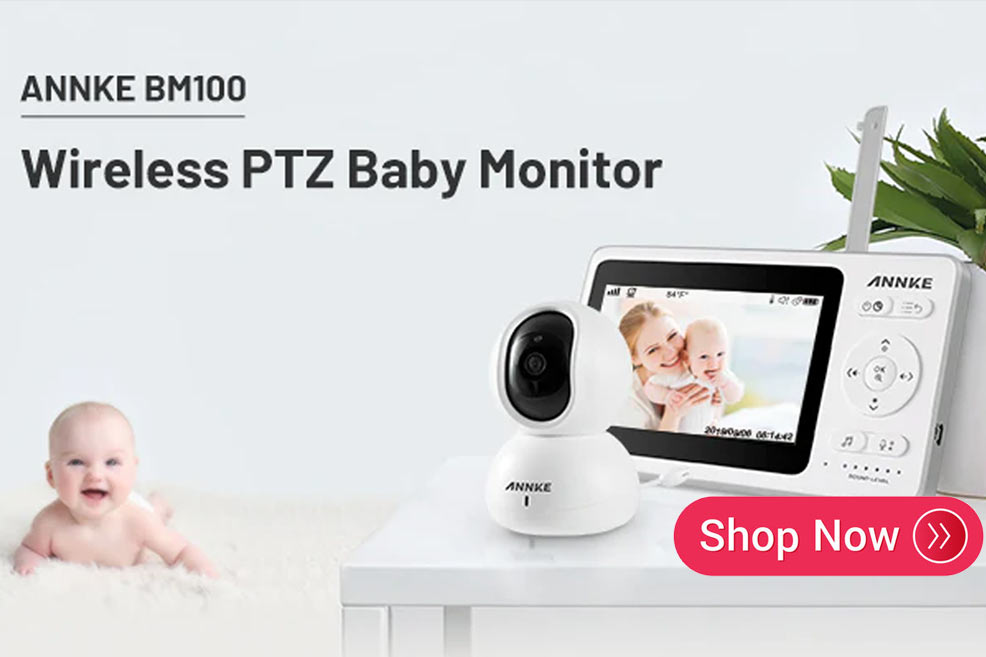 Want to learn a little more about the Annke BM100? Keep reading!
Annke BM100 Baby Monitor Review
The primary competitors to the Annke BM100 include the Eufy SpaceView, Infant Optics DXR-8 Pro, VTech VM901, and VAVA baby monitors.
In fact, those are some of the best-selling baby monitors on the market, and for good reason!
We got our hands on this video baby monitor for testing in 2019 (thanks, Ankke!), and were pleasantly surprised with its features, versatility, range, and overall bang for the buck.
Coming in at only about $99, this baby monitor offers a 4.3" LCD display, two-way talk, cry detection alerts, nursery temperature monitor and alerts, lullabies, and a few other little features like an included wall mount, feeding reminders, expandability to 2 cameras (with split screen!), and remote pan, tilt, and zoom.
It's most similar to the Eufy and VAVA monitor in terms of features, but we think those offer a bit more bang for the buck, especially given the bigger screens, longer battery life, and better quality video.
Out of the box, the Annke baby monitor is pretty simple and straight-forward to setup. The box includes:
Two charging adapters (both using micro-USB cables)
A three-screw (screws included) wall mount
A little reset pin for resetting the device
User manual
Once we plugged it all in, we didn't run into any challenges getting it up and running.
The screen is rather small at only 4.3", while the parent unit itself is still surprisingly large - a bit too large to easily fit in your pocket. The camera unit has a convenient tripod screw hole on the bottom, which gives you flexibility with mounting options (including the wall mount).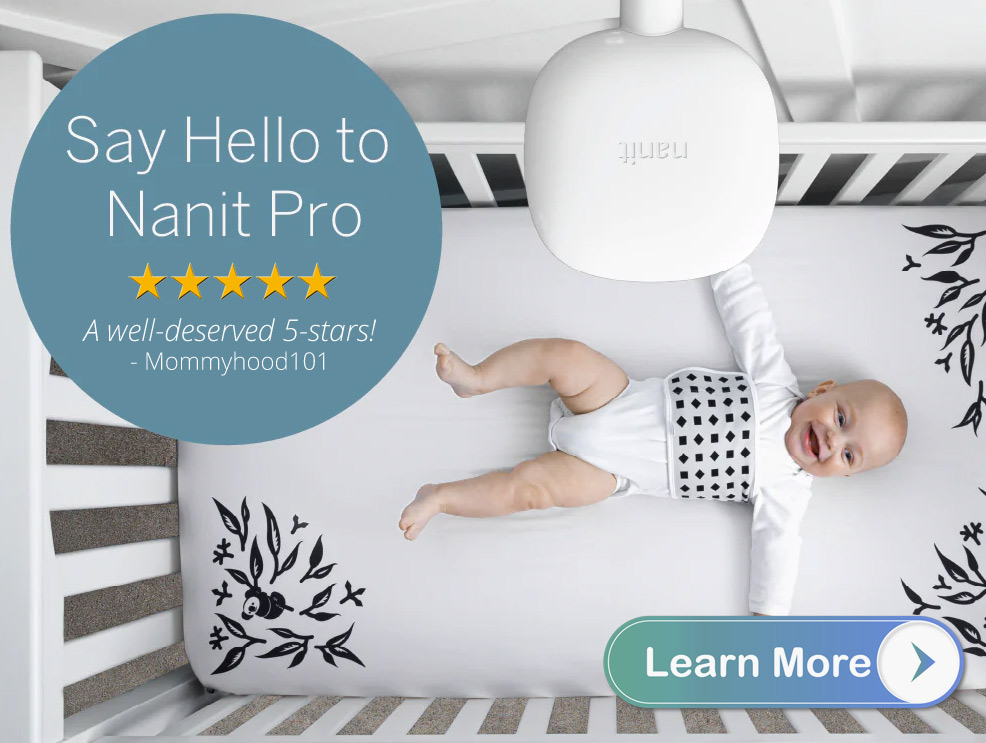 The first thing we noticed about this baby monitor is the video quality isn't on par with the 720p resolution of some of its primary competitors, like the Eufy, Infant Optics DXR-8 Pro, or VAVA. This includes both daytime and night vision.
Not to say that you can't see your baby at all times - you can - it's just that the overall resolution and size of the video leave something to be desired. It doesn't help that the camera itself does not have a very wide viewing angle.
The audio was quite good however, and we appreciated the little audio level indicator. The cry alerts also worked pretty well, save for a few false alarms when the HVAC system turned on, or when a loud truck drove by our house.
The buttons and menus were easy to use and reasonably intuitive.
For battery life, in our testing we got about 5 hours of continuous operation out of the battery with video on, and about 8 hours in power-saving mode.
This relatively low battery life isn't entirely surprising given that the battery itself is only 1200mAh, which is less than half the capacity of the Eufy monitor, and about 4 times lower than the VAVA monitor!
For reception, it was actually pretty good and among the best video baby monitors overall. We were very impressed with the range - both between floors of the house and also from indoors to outdoors. The Annke baby monitor is usually about $140 (check it out at Amazon).
Annke BM100 Baby Monitor: Cons
The Annke BM100 provides some great features at a very competitive price, but there are also some limitations worth mentioning.
First, it doesn't have any smart features such as:
Movement monitoring
Breathing monitoring
Smart alerts
Integration with Google Home or Alexa
Integration with your phone
Second, the screen is surprisingly small. Not small for a baby monitor made in 2010, but definitely small for a modern baby monitor. At 4.3" it's one of the smallest we've reviewed on our site. Coupling that small screen size with limited camera resolution (420p) and the relatively narrow angle camera lens, it can make viewing difficult no matter where the camera is placed relative to the crib.
Third, the monitor does allow you to setup an alert for when the baby appears to wake up and make noise, but it false alarmed several times in the middle of the night.
Finally, the battery life isn't great.
Overall, give the Annke a 3.8 out of 5. Not great, but pretty reasonable for the low price!
Still interested? You can check out this Annke BM100 baby monitor here.