VAVA Baby Monitor Review & Video
This popular baby monitor ruled the roost for several years. Is it still on top?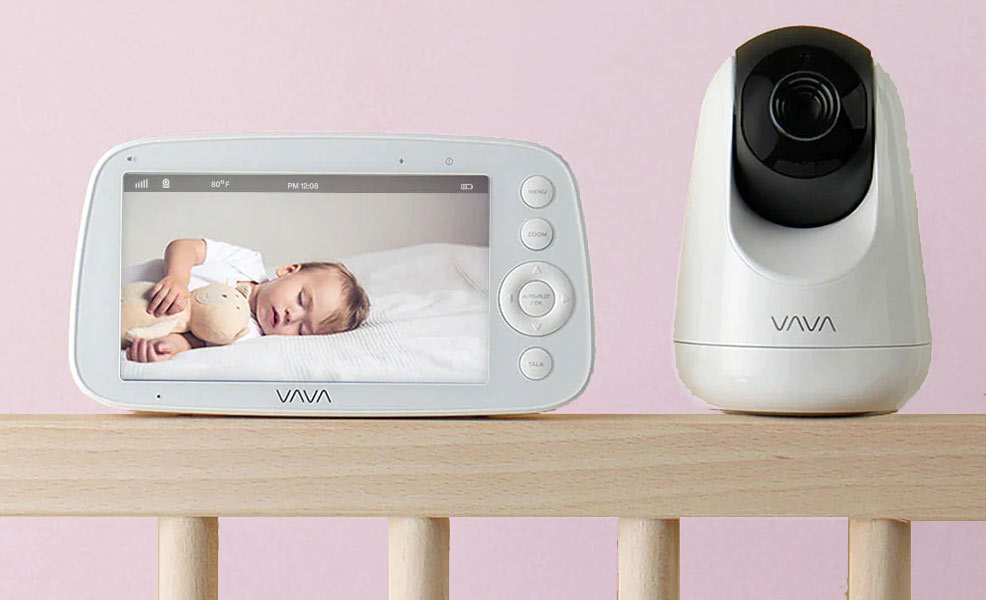 ---
Mommyhood101 independently tests and curates baby gear to help you make informed decisions. If you buy products through links on our site, we may earn a commission.
Update: Note that the VAVA has become difficult to find and their customer support is non-responsive. However, you can find this VAVA model rebranded as the HiPP baby monitor at Amazon, with all the same features.
The VAVA baby monitor is a very popular option, with a great set of features, a good reputation for quality and reliability, a high resolution 5" display, decent battery life, and more! All of this at a reasonable price point makes the VAVA a very competitive option.
Rather than making you read through the entire article, here are the main things we liked and disliked about it:
✔️ 5" display with 720p resolution.
✔️ Remote pan-tilt-zoom camera.
✔️ Expandable to four cameras.
✔️ Nursery temperature monitoring.
✔️ High quality night vision.
✔️ Two-way intercom talk.
✔️ Decent battery life.
✔️ Noise indicator lights.
❌ Intermittent connectivity issues.
❌ No smart features.
❌ No split-screen camera viewing.
❌ No movement tracking or alerts.
❌ Better options for the price.
❌ Kickstand breaks easily.
The VAVA is not the best baby monitor we've tested, but it does have some impressive features we're excited to talk about!
Coming in at about $180, we think the price is reasonable, though you might be able to find something better for slightly more.
After our long-term review, we give it a 4.1 out of 5.0, with some room for improvement.
Click the below image to check prices at Amazon.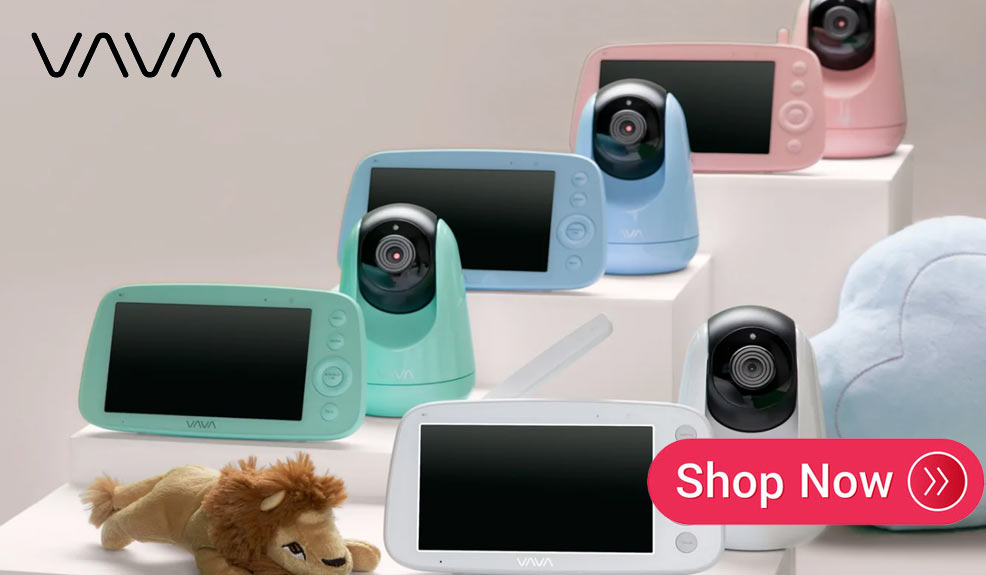 Want to learn a little more about the VAVA? Keep reading!
VAVA Baby Monitor Review
For some context, the VAVA peaked in popularity in 2018-2019 when the Infant Optics DXR-8 and VAVA were battling for the top spot on all the baby product review sites.
VAVA sent out tons of free samples to us and other reviewers (thanks, VAVA!) to increase coverage of their exciting new product.
Over the course of several months, a lot of positive press came out about the VAVA. Reviewers loved it: its features, design, and versatility.
As a result, the VAVA wound up in a top position on several trusted sites, including Mommyhood101 and Babylist, and likely sold millions of monitors as a result!
The VAVA was a great monitor when we initially reviewed it back in 2019.
Over the years, however, the VAVA's popularity has faded and several other options (see our list of the best baby monitors) have emerged on the market, many of which are at a better price point.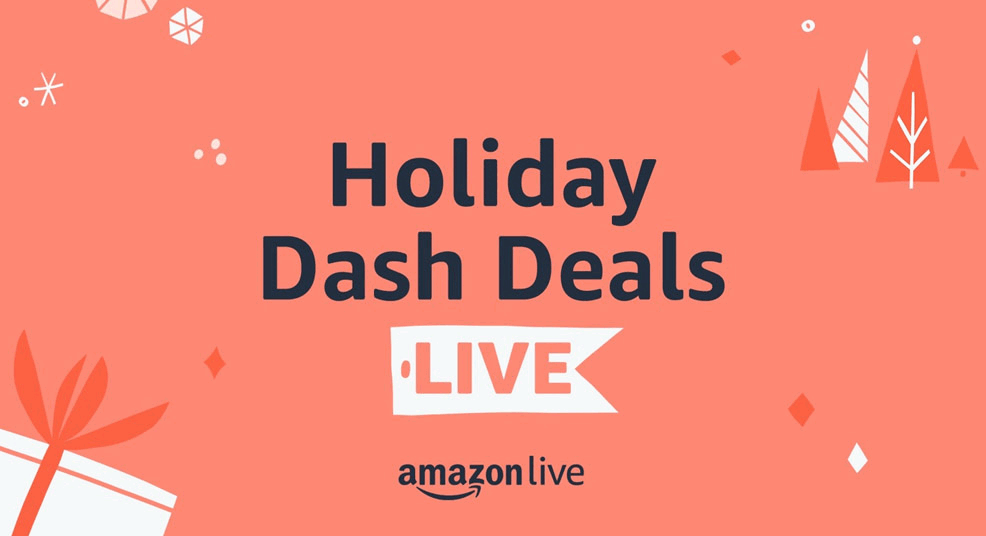 Here is our full video review of the VAVA baby monitor, in case you want some super in-depth details!
As you can tell, the VAVA offers tons of awesome features for the price.
When it first arrived, we were impressed by the quality of the packaging. It was like opening the package for a fancy new watch, only much larger!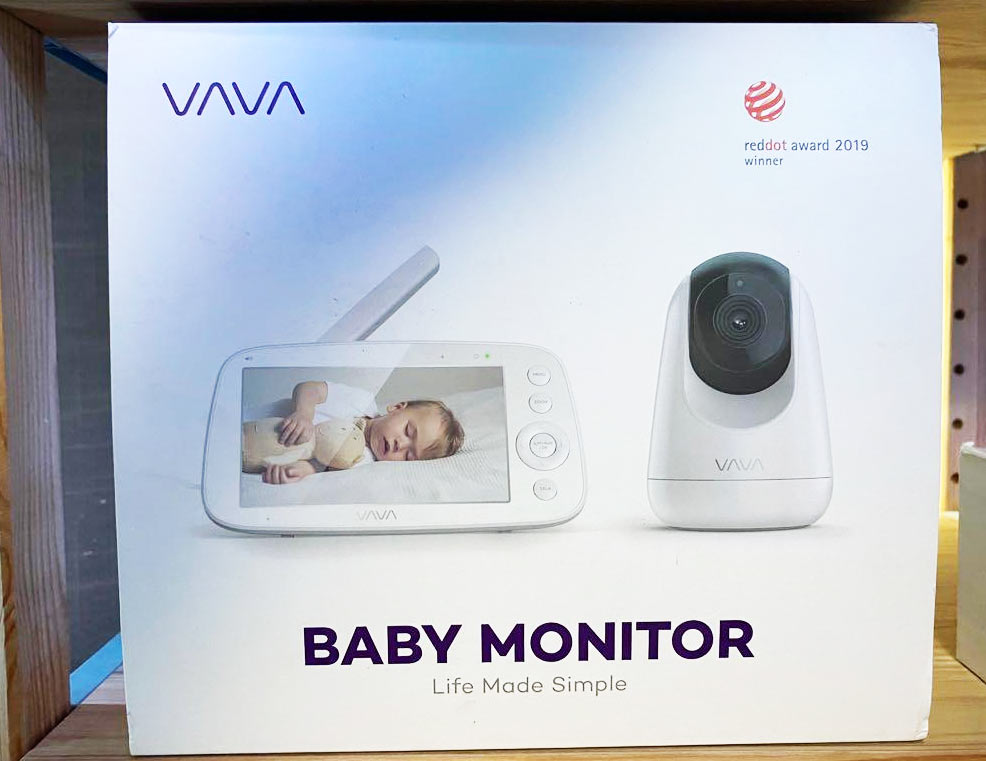 Slide off the top sleeve and pop open the top of the box and you'll reveal all the nicely-packaged contents:
The 5" display
The camera
Two charger cables
Camera mounting hardware
Instruction manual
Warranty guide (Note: the new HiPP version does not include this)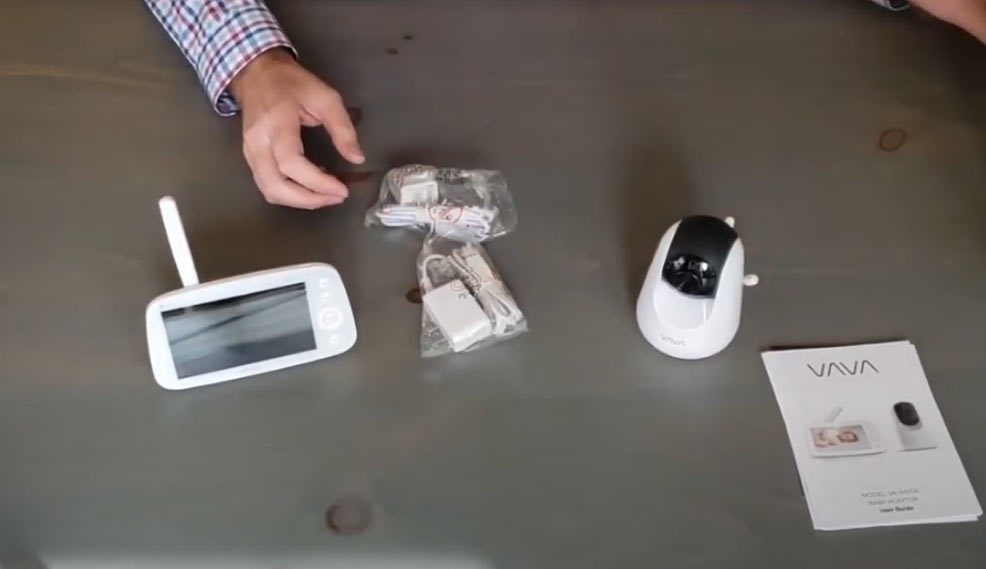 After plugging in the camera and display, everything powered on within a few seconds.
The start-up sequence was impressively fast, and we were off to the races.
Immediately, we noticed that the display was bright and had good color contrast and resolution. Even in bright sunlight, the display didn't appear washed-out or difficult to see.
Moving the arrow keys on the parent unit up and down allowed us to tilt the camera up/down, moving the arrows right to left allowed us to pan the camera right/left, and pressing the zoom button allowed us to zoom pretty far in (5x, 10x). It's a digital zoom (not optical) so the quality was decent when zooming, but nothing remarkable.
Along the top edge of the parent unit you can see the current time, a battery level indicator, an indication of which camera you're current viewing, the signal strength, and nursery temperature.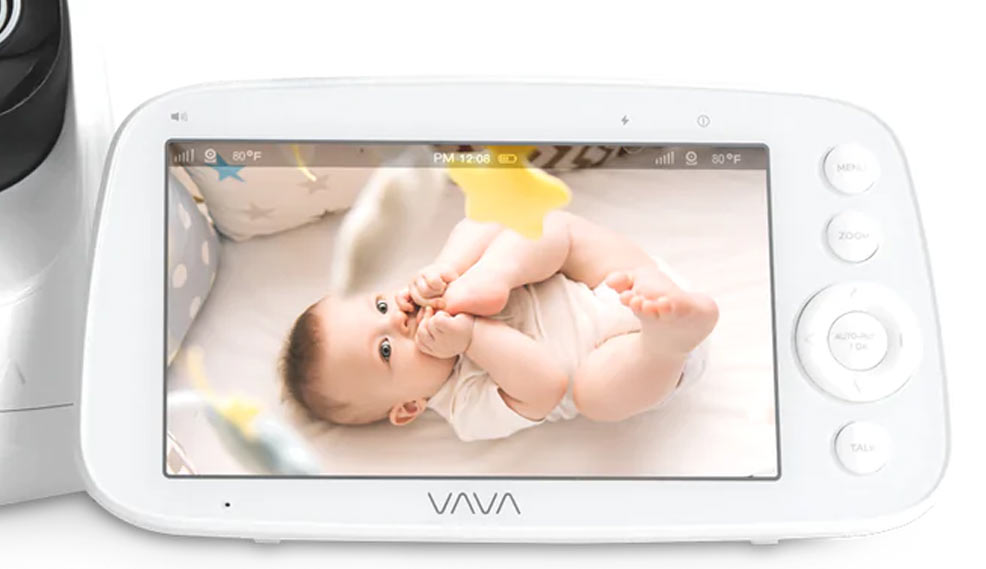 The menu options were easy to navigate and had intuitive icons. The capability to add additional cameras was also easy to use (including adding cameras, viewing cameras, and deleting cameras).
In our testing, we found that the battery life was about 8 hours with the screen on the entire time (at medium brightness), up to about 18 hours with the screen off but audio on. Not bad, though you can certainly do better with some models.
In terms of signal range, the reception was about as good as other models. You can go mid-way into the yard and across levels of the house without losing reception.
The signal strength indicator does an OK job warning you about poor signal quality, though it's usually too late by the time it tells you the signal is poor. Make sure you put the antenna up, or reception will be even worse (we learned that the hard way)!
Overall, we think this monitor has some great basic features for the price!
The VAVA baby monitor is usually about $180 (check it out at Amazon).
Some Limitations
Update as of 2022: In our long-term testing, we came upon some issues in the three models we tested. The kickstand broke on one, the screen stopped working on another, and the third one loses signal reception intermittently. While we think they did very well for about the first year of life, the next few years were not very impressive!
The VAVA provides some great features at a competitive price, but there are also some limitations worth mentioning.
First, it doesn't have any smart features such as:
Movement monitoring
Breathing monitoring
Smart alerts
Integration with Google Home or Alexa
Integration with your phone
Second, while we love the ability to add multiple cameras to this baby monitor, we don't appreciate that there isn't a split screen option to view more than one camera at a time. While most parents will be happy cycling through cameras, some parents will demand a split-screen view (especially if they have twins).
Third, the reception wasn't always great. It was similar to most other baby monitors operating on the 2.4GHz band, but definitely not as good as the Infant Optics.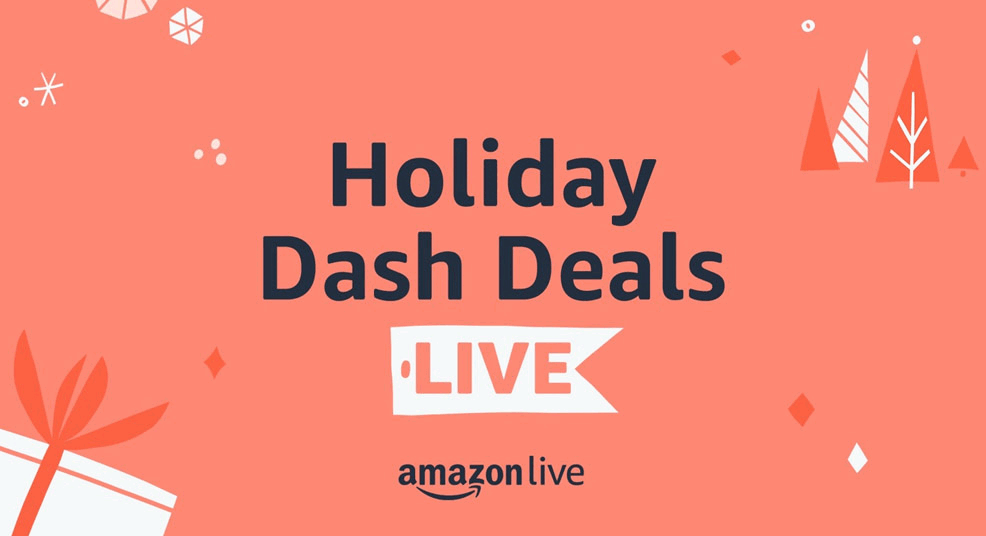 Overall, while our initial impressions of this baby monitor were excellent, over the long term we haven't been as impressed.
Overall, we still give the VAVA a 4.1 out of 5. Not great, but also not terrible!
Still interested? You can check out this VAVA baby monitor here.